Advance voting for General and Special Election Runoff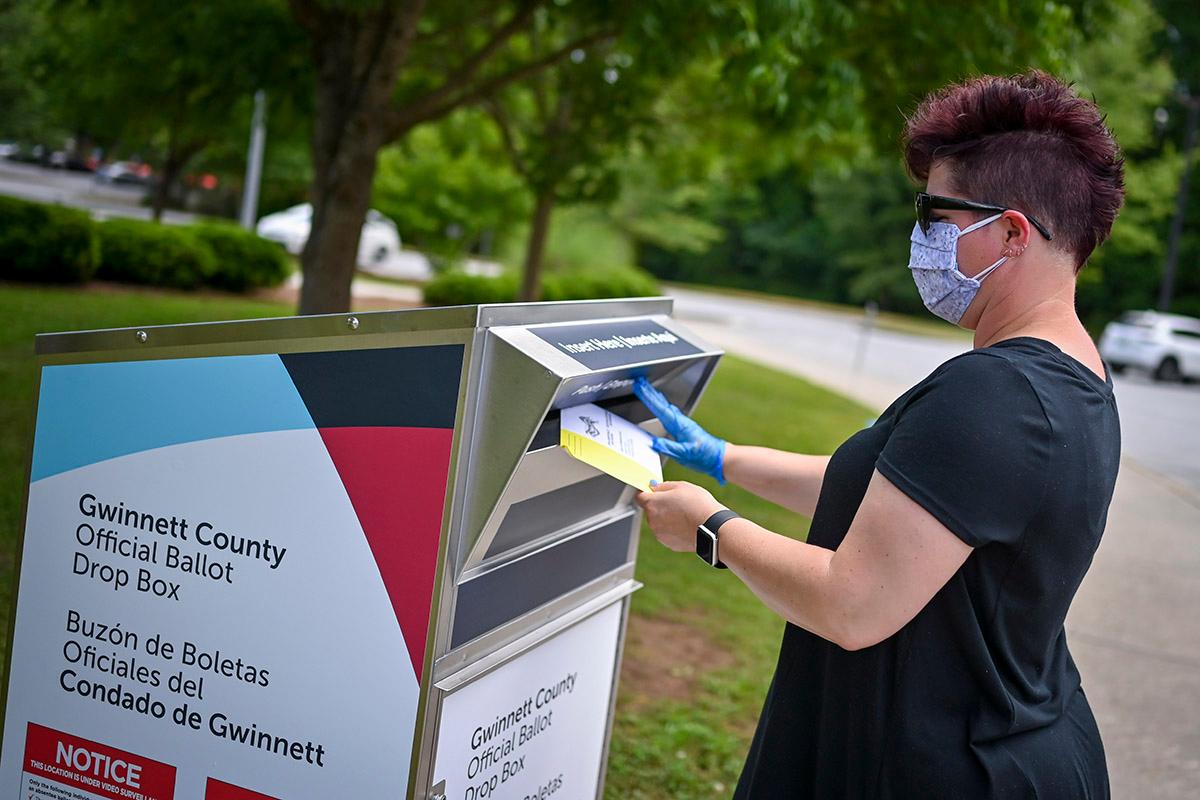 Gwinnett Voter Registrations and Elections is providing opportunities to cast your ballot before the January 5 General and Special Election Runoff. If you plan to vote advance in person, you can vote from December 14 to December 31 at the Beauty P. Baldwin Voter Registrations and Elections Office and eight additional satellite locations, including the Gwinnett County Fairgrounds. Find advance voting locations and hours here on the Elections website.
Voters may request an absentee/advance by mail ballot for the January 5 runoff election now through Thursday, December 31. Voters may apply for their absentee ballot online at BallotRequest.SOS.GA.gov, or by using the forms at GwinnettElections.com. Mail-in bal­lots must be delivered by hand, by mail to the Voter Registration and Elections Office, or dropped into one of the se­cure ballot drop boxes located across the County, including at all Gwinnett County Public Library branches. To check the status of your voter registration, see a sample ballot, and find your Election Day polling location, visit the Secretary of State's My Voter Page at mvp.sos.ga.gov.
Police Citizens Advisory Board to host first Town Hall on public safety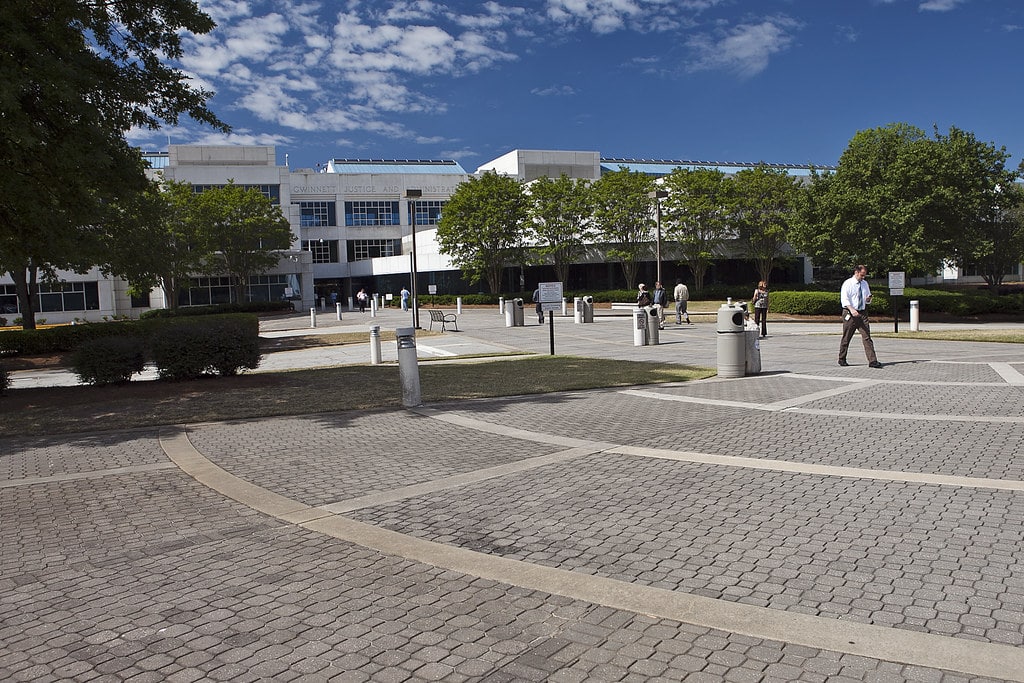 The Gwinnett County Police Citizens Advisory Board will hold its first town hall meeting Tuesday, Sept. 21 at 6 p.m. to give residents an opportunity to meet board members, hear from the chief of police and make their voice heard about public safety in Gwinnett.
The advisory board was established earlier this year to act as a liaison between the Gwinnett Police Department and residents to enhance public safety within the community.
The board also serves as a vehicle to help residents stay informed and involved in public safety by providing recommendations related to law enforcement policies, procedures, practices and training.
Residents are invited to submit comments for the meeting in person or online by visiting GCGA.us/PCATownhall.
The meeting will be held in the Gwinnett Justice and Administration Center Auditorium, located at 75 Langley Drive in Lawrenceville. For more information about the Police Citizens Advisory Board, visit GwinnettCounty.com
Councilmember Wins Two Civic Awards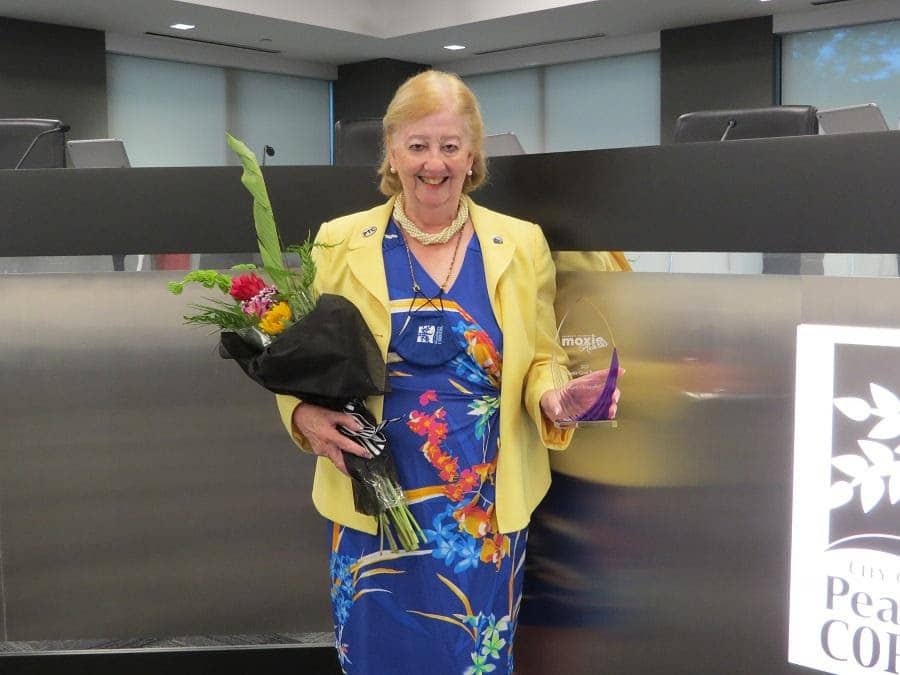 August was a banner month for Councilmember Lorri Christopher! The long-time Rotarian received the "Rotarian of The Year Award" for exemplifying this year's theme for the international organization, "Rotary Opens Opportunities" on August 18.
Then the following week, she was one of seven winners (out of 90 finalists) named in this year's Gwinnett Chamber's annual Moxie Awards. Lorri received the "Greater Good Award" from the chamber on Aug. 27.
The Greater Good Award recognizes a woman championing her community. Her innovative
ideas reach all members of her region and make her community an ideal place to live, work and play.
The Moxie Awards recognizes both individuals and organizations. Individual awards honor
those who are trailblazers in a male-dominated field, Gwinnett County champions, emerging
leaders, professionals who are at the peak of their career and those who are generous with
their time, talent, or resources.
Another Peachtree Corners citizen, Judge Kristina Hammer Blum, Chief Magistrate for Gwinnett County was part of event, participating in a panel discussing "Turning Your Obstacles into Opportunities."
Ms. Christopher has served on the Peachtree Corners City Council since the city was founded
July 2012.
Read more on the Gwinnett Chamber website: gwinnettchamber.org
Neighborhood Cooperative Ministries Celebration featuring Coach Mark Richt

October 5, 6 P.M. Atlanta Tech Park. Tickets on sale now. $100 for Individuals, $1000 for Table of 8. Register at ourncm.org/celebration/.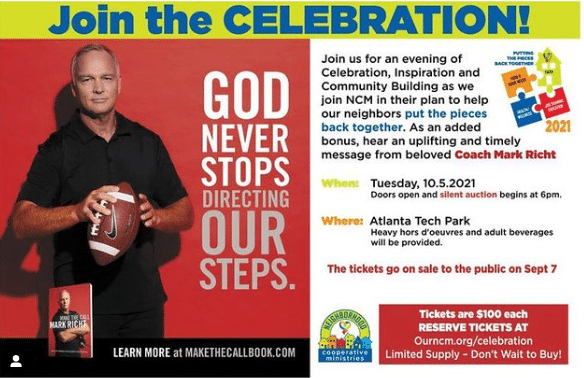 Join Neighborhood Cooperative Ministries for a fun and festive evening of good food, drinks, a silent auction and great people as they highlight the heroes of the last 18 months, celebrate how far the community has come and articulate their plan to walk alongside our community as they help "put the pieces back together". As an added bonus, hear an uplifting and timely message from beloved Coach Mark Richt. He is a retired head football coach for University of Georgia and University of Miami, an author, and current sports analyst for ACC Network and ESPN.
Thank you for joining this effort to make a difference in our neighborhood, one family at a time!