Pouch Pies Bring Comfort to Peachtree Corners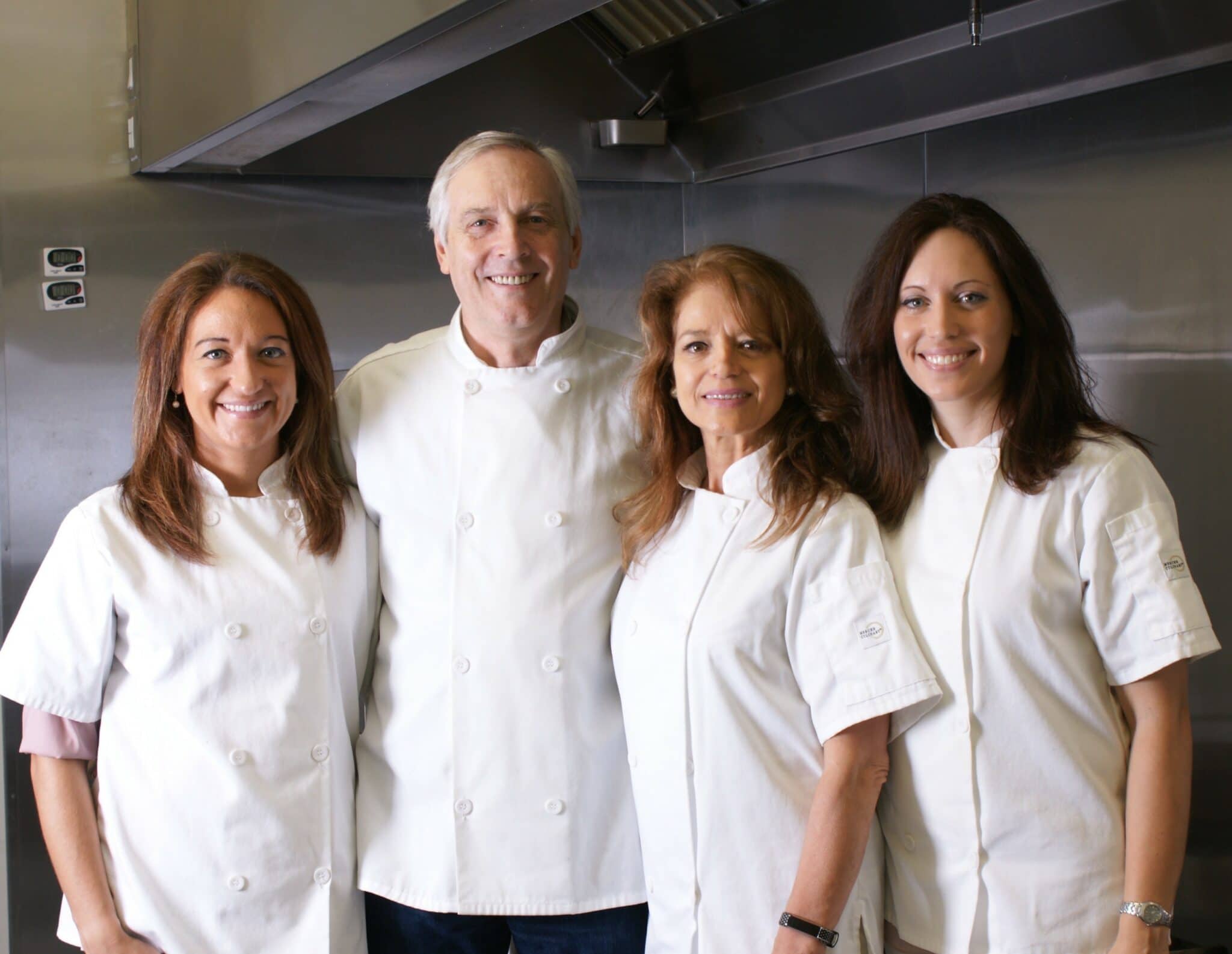 During this difficult time, when we are all looking for a little comfort for our families and ourselves, we need not look further than our own community. We can find it in the walks we take, the neighbors waving hello to us on the street, but especially in the meals we share with our loved ones.
That comforting feeling can be found in delicious Pouch Pies, made locally in a Roswell facility by an entrepreneurial Peachtree Corners family. Now that the holidays are fast approaching, it's hard to imagine how we will make this season feel "normal." Perhaps if we can't be with the people we love, we can still eat the foods that bring us a sense of nostalgia.
The Pouch Pies' Malcher family saw the value in bringing families together, when the two daughters, who were living in South Africa at the time, convinced their parents, who were living in Scotland, to move to the United States to be closer to extended relatives.
A taste of home
Once they made the move, they quickly grew homesick for a certain kind of dish that most other countries around the world have their own version of. "Pies," as they lovingly refer to them, are not the same thing as the sweet, fruit-filled treats we have here in the South. Latin countries have the empanada, India has the samosa and Jamaica has the beef pattie. Even George Washington used to make some version of it; in fact, it was his favorite dish.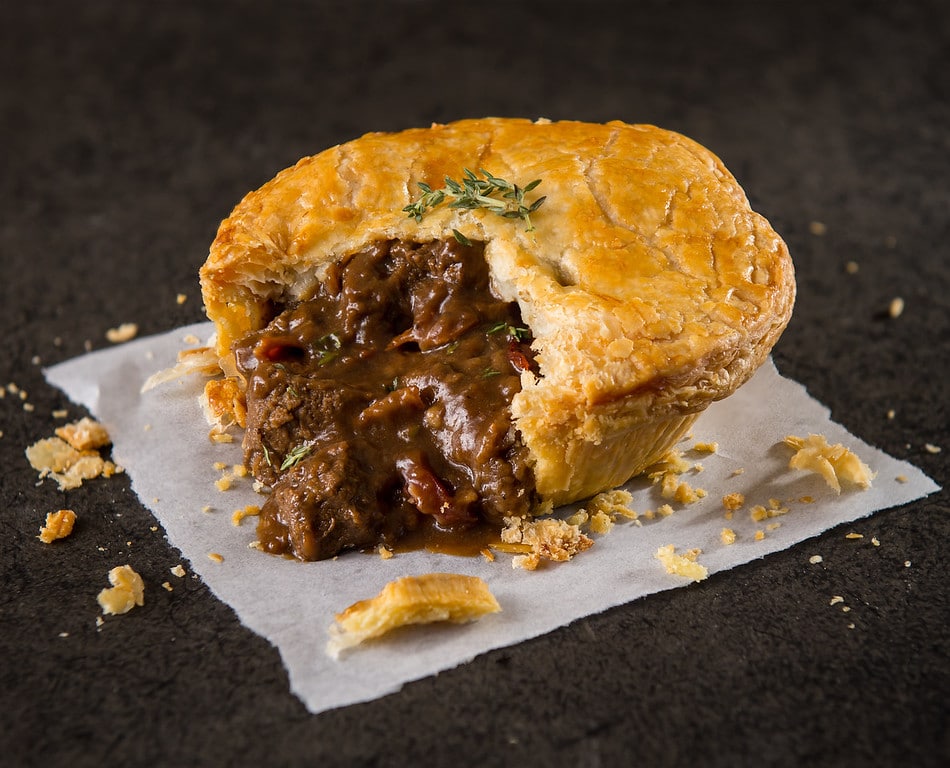 But when it comes to this common food, the closest thing the U.S. has would be the pot pie, which isn't handheld and convenient. "The U.S. had it, then somehow lost it. Now we're bringing it back," said Dave Malcher, the 'father' of Pouch Pies.
In 2015, the family — they call themselves the "pie"-oneers! — decided to open up a small shop in Athens, Ga., where they lived, and spent six months perfecting their recipes and trying new, exciting combinations. Using fresh, high-quality ingredients, they forged on to handmake each pie from scratch.
It was a hit! Not only did they get a ton of business from the local university students with late-night munchie cravings, they also started to notice something far more touching. Expats from all over the world would drive for hours and hours to their little shop in Athens — just to get a taste of home.
Finding more mouths to feed
Three years ago, they decided to close up the shop in Athens and move into a factory in Roswell, Ga. Once there, they expanded the operation, hiring more chefs and distributing to boutique stores and markets all over the country.
Now they ship all over the nation using cooled containers, while still keeping the tradition of hand-making each pie individually. It eventually caught the eye of some prestigious culinary awards and earned the Flavor of Georgia Award in 2019.
Once the pandemic hit, the Pouch Pies family worried about how their special little company might survive. "We learned not to take anything for granted," said Dave, speaking about the ability to stay quarantined with his family and still see them every day. "The way I see it, you can either adapt to it, or stop your life right there."
And adapt they did. In addition to distributing their pies to businesses, Pouch Pies started hipping directly to customers, even providing free local deliveries to members within the community. Now families of Peachtree Corners — and all over the country — can enjoy a homecooked meal on nights when they're exhausted from virtual learning, housebound kids or COVID-burnout.
"It was local businesses that first kept us going," Charmaine, one of the sisters, recalled. "Now we love being able to help out the community during this difficult time."
Familiar flavors
I, myself, was "coerced" into a taste test. (Yes, it's hard being a writer, sometimes!). After sharing with my family, I asked what they thought.
My mama's favorite was the Spinach and Feta, and she pointed out that while most American pot pies are mostly gravy, Pouch Pies are full of meat and vegetables. My husband's first response was that one of the pies — Beef, Bacon and Ale — reminded him of his mother's fabulous brisket. And that's what it comes down to, isn't it?
This holiday season, even though we can't physically be with our loved ones, we need to do all we can to find the comfort of the many holiday meals we've shared with them. Thank you, Pouch Pies for giving us a taste of home this holiday season.
As an exclusive perk for magazine readers, Pouch Pies is offering a 15% discount on their site — just order through their site at pouchpies.com and use the code PTCmag when checking out. You can also call at 470-545-3895. The offer will be valid until January 31, 2021.
Use the discount for the seven- or nine-ounce pies. Pouch Pies also plans to offer mini sausages and sticky toffee pudding, and they'll roll out a new flavor — Beef Bourgeon — for the holidays.
Dunkin' & Baskin-Robbins Bring Next Generation Combo Store to Peachtree Corners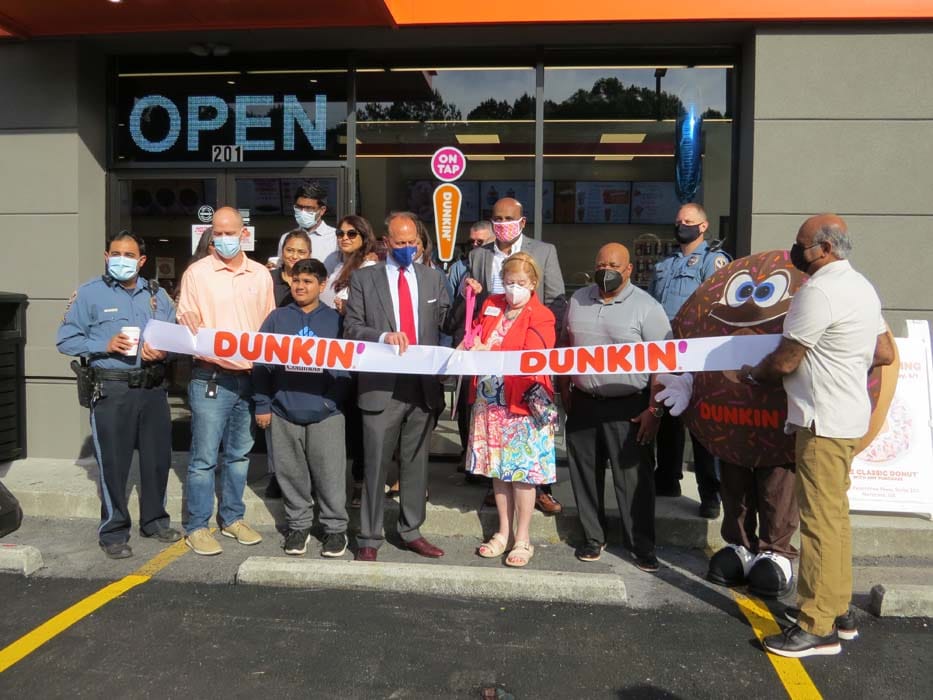 The newly renovated restaurant celebrating with a free donut with any beverage purchase offer 
Dunkin' celebrated the grand re-opening of its Peachtree Corners restaurant located at 5075 Peachtree Parkway on Friday, April 30. The newly remodeled store, which now features Dunkin' and Baskin-Robbins' Next Generation store designs, hosted a re-opening celebration on April 30 where guests can receive a free donut with any beverage purchase from Friday, April 30 through Saturday, May 1.*
Dunkin's Next Gen store design features innovative technologies to enhance the guest's experience and make their daily Dunkin' run faster and more convenient than ever before. 
Dunkin' franchisee network Macon Donut and Coffee Inc will hosted a socially distant ribbon cutting to celebrate the new store opening. Following the ribbon cutting ceremony, Macon Donut and Coffee Inc, alongside the Dunkin' Joy in Childhood Foundation', hosted a check presentation to donate $2,000 to Children's Healthcare of Atlanta. Children's aims to make kids better today and healthier tomorrow through more than 60 pediatric specialties and programs, top healthcare professionals, and leading research and technology.
The newly renovated 1,800 square-foot restaurant employs 12 crew members and is open daily from 5:00 AM to 12:00 AM. Additionally, it features Dunkin's new restaurant design, with a modern atmosphere, a convenient drive-thru, and innovative technologies, including:
Dunkin' on Demand: With fully-integrated digital kiosks, guests will completely control how they order by choosing to order with or without the help of a crew member. Dunkin' has also introduced an area dedicated to mobile pickups so that members of the DD Perks® Rewards program who order ahead via Dunkin's Mobile App can get in and out of the restaurant faster than ever before. For all orders placed for pick up inside the restaurant, guests will be able to track the status of their order via a new digital order status board.
Modern Design: The openness, colors and materials used in the design help to create an approachable, positive and energetic environment.
Premium Pours: Dunkin's signature cold beverages are now served through an innovative tap system serving eight consistently cold beverages such as coffees, iced teas, cold brew coffee and nitro infused cold brew coffee. Crew members will also use top-quality flavor-maximizing espresso machines to make hand-crafted drinks to order.
Increased Energy Efficiency: The new Dunkin' is a DD Green Achievement™ restaurant, which is designed to save 25% more energy compared to a standard Dunkin' restaurant.
The store will also offer the Baskin-Robbins next generation "Moments" store design to give guests an entirely new and engaging experience when they visit Baskin-Robbins. The new store concept is designed to deliver on Baskin-Robbins' commitment to bringing guests great flavors and memorable moments.
Key features of Baskin-Robbins' "Moments" next generation store design include:
Modern design: The special interior design features inviting and contemporary décor with bright colors to spark joy and optimism and creates an inviting environment for guests to create special moments. 
New ice cream dipping cabinets: An expanded row of modern and sleek glass cases prominently display premium ice cream flavors, ice cream cakes and a new "novelties" collection. 
Wall mural: A colorful wall mural features unique and interactive artwork to celebrate the key attributes of each local community and help create a strong connection between Baskin-Robbins and local guests. The mural also includes images that are intended for guests to engage with and share photos of on social media. The Fresno mural features local landmarks and features, including forest campsites and local parks. 
Upgraded digital menu boards: An entirely new digital menu board displays products in an engaging way with high quality photos and video imagery. 
To learn more about Dunkin', visit DunkinDonuts.com or follow us on Facebook @DunkinUS, Twitter @dunkindonuts and Instagram @dunkin. 
*Limit One Per Guest. Offer valid only from April 30 to May 1. Open to Peachtree Corners Residents, 18+/age of maj. Official Rules available upon request at 5075 Peachtree Parkway, Suite 201 Peachtree Corners, GA 30092 
Source: Casey Cargle, On Behalf of Dunkin'  
770-238-9890  cc@alliancemarketingpartners.com 
Best Brunches in Peachtree Corners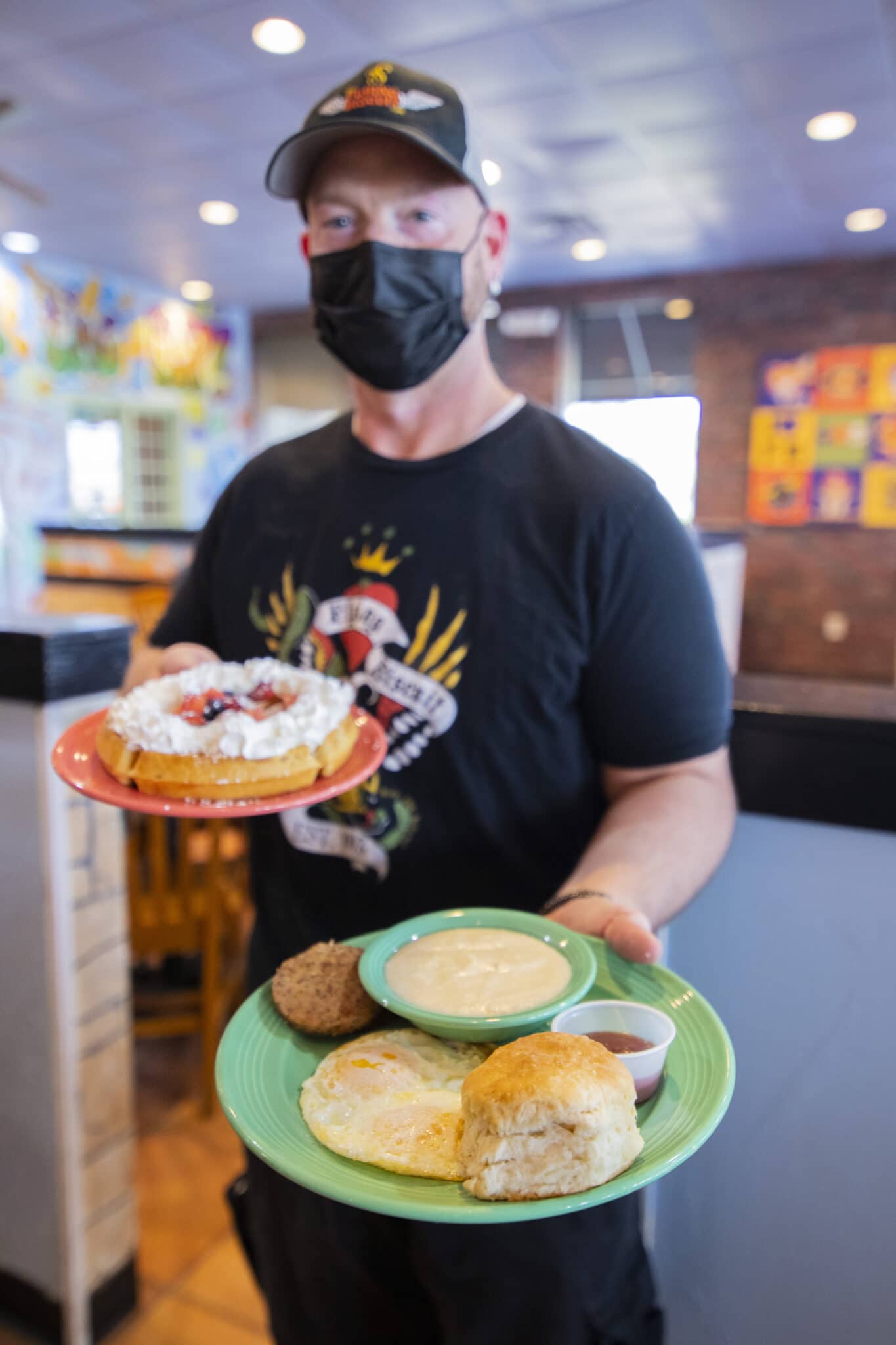 Eggs, waffles, toast. Pancakes, biscuits, and hash browns. Mimosas and Bloody Marys. Yep, we're talking about brunch. Brunch is one of the most beloved meals to share with friends, and that's not just because it's acceptable to daydrink; these feel-good comfort foods are warm, rich and packed full of flavor. As we prepare to see more in person dining, I anticipate a return to this popular weekend outing. So recently I set out to try some of Peachtree Corners' tastiest dishes at a few of the most popular brunch spots in town.
Flying Biscuit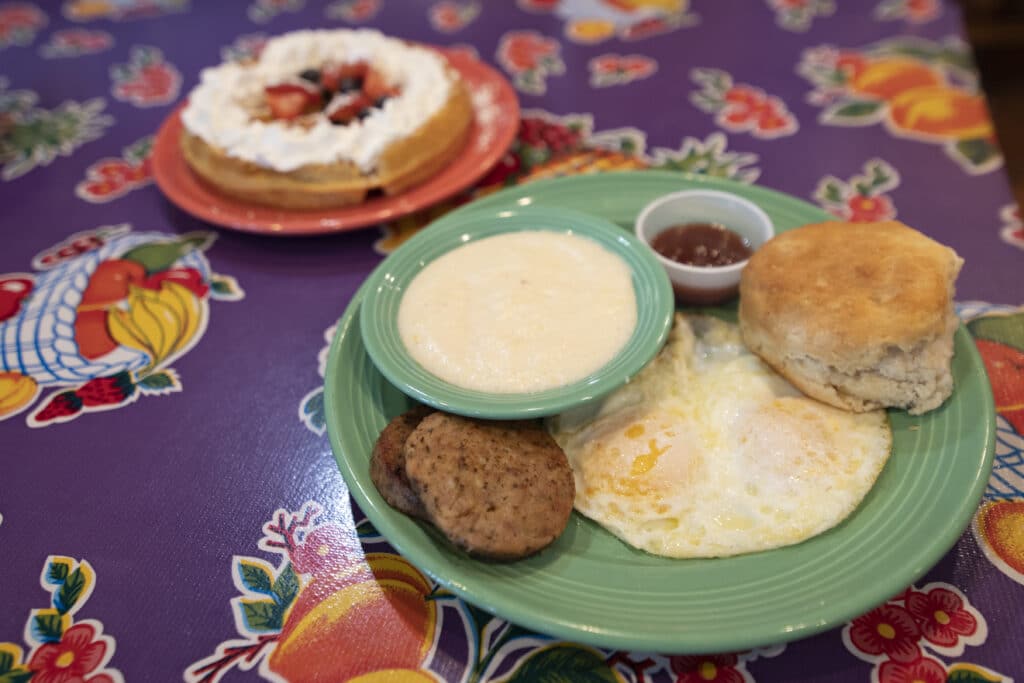 A local classic. Flying Biscuit is known for, you guessed it, their signature "fluffy flying biscuits." The first Flying Biscuit location opened its doors in Candler Park in 1993 and sold out of biscuits by 11am the first morning, so the founders knew they were onto something from day one. In the years since, they have expanded to 25 locations throughout Georgia, North Carolina, Florida and Texas.
When I stopped by the restaurant, I sampled their FL Sunshine Waffle Breakfast. This delectable offering features two eggs served with chicken sage sausage patties, "creamy dreamy" grits, plus a house-made Belgian waffle topped with berries, banana, powdered sugar and whipped cream. And, of course, a fluffy flying biscuit. $12.99
5270 Peachtree Parkway, Suite 120, Peachtree Corners 30092
770-407-5885 | flyingbiscuit.com
First Watch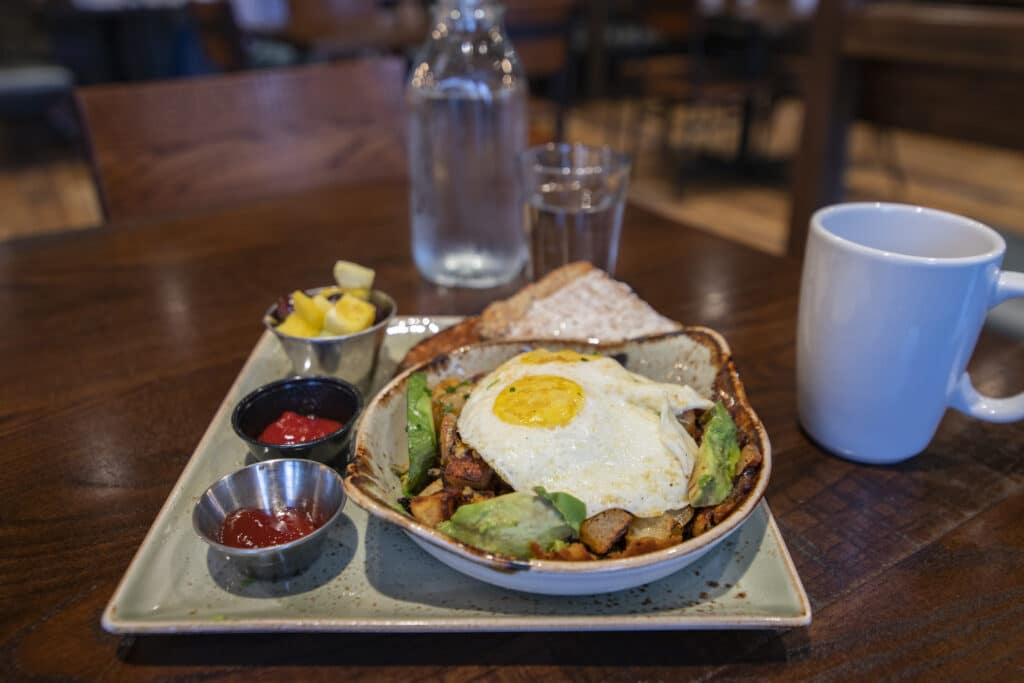 Touting fresh ingredients and made-to-order dishes, the First Watch philosophy can be summed up as "friendly, fast and accommodating service." On arrival, diners are greeted with a pot of their Project Sunrise Coffee, and free WiFi and complimentary newspapers add to the appeal for breakfast lovers.
At First Watch I ordered the Farmhouse Skillet Hash. This dish starts with a bed of fresh, seasoned breakfast potatoes cooked in a skillet loaded with bacon, avocado, house-roasted onions and tomatoes, cheddar and Monterey jack cheese, and two cage-free eggs. On the side are all-natural house preserves, fresh fruit, and whole grain artisan toast smeared with rich and creamy butter. If it needs an extra boost of flavor (hint: it doesn't), try adding ketchup or hot sauce on top. $11.99
5230 Town Center Boulevard, Suite 110, Peachtree Corners 30092
470-781-9190 | firstwatch.com
Pub Ten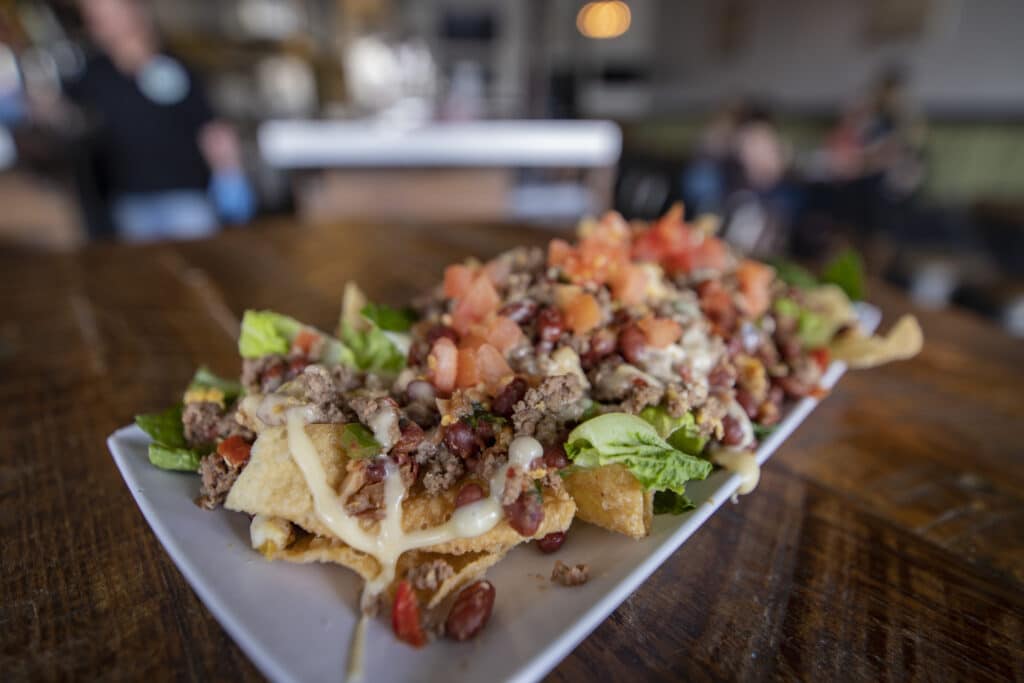 Looking for a more casual, laid-back vibe? While this bar is more known for its craft beers and elevated pub food, their growing brunch menu does not disappoint. Kick back and enjoy bottomless mimosas without the hectic atmosphere of most local brunch spots. Owner Marc Cloutier, who bought the business just before the pandemic shut things down last year, can often be found personally tending to his customers.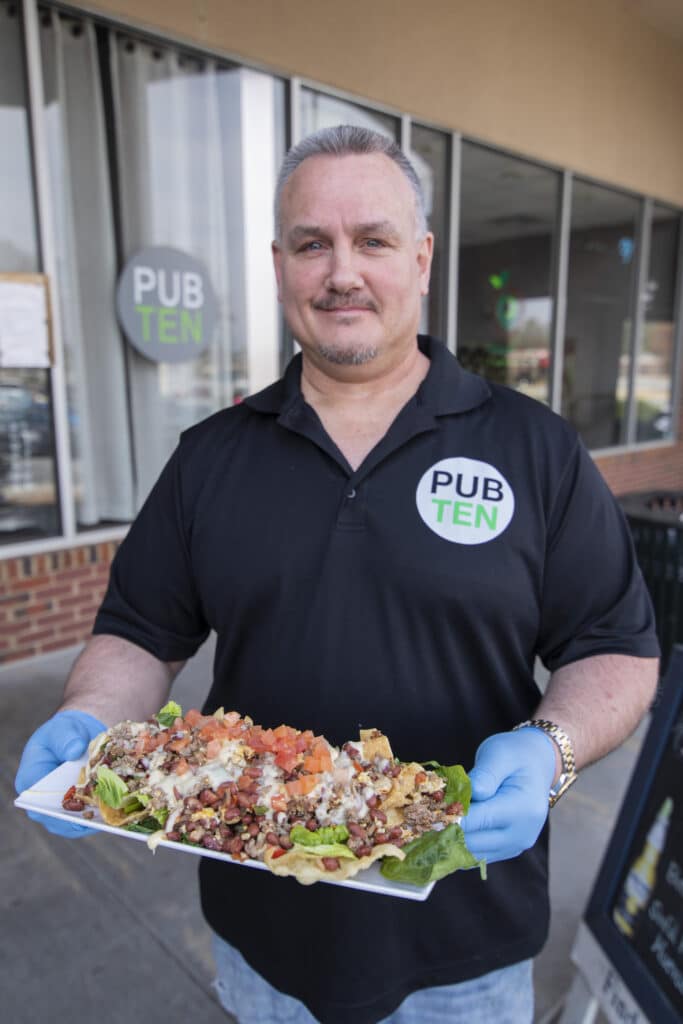 Here I decided to go for a slightly untraditional brunch dish — Huevos Rancheros Nachos featuring Wonton nachos. Topped with heaps of savory ground beef, red bean pico, salsa verde, cotija cheese, queso, cilantro and two scrambled eggs, this dish is sure to cure any hangover. $10.50
5270 Peachtree Parkway, Suite 118B, Peachtree Corners 30092
678-691-5041 | pub10.com
Eating Americana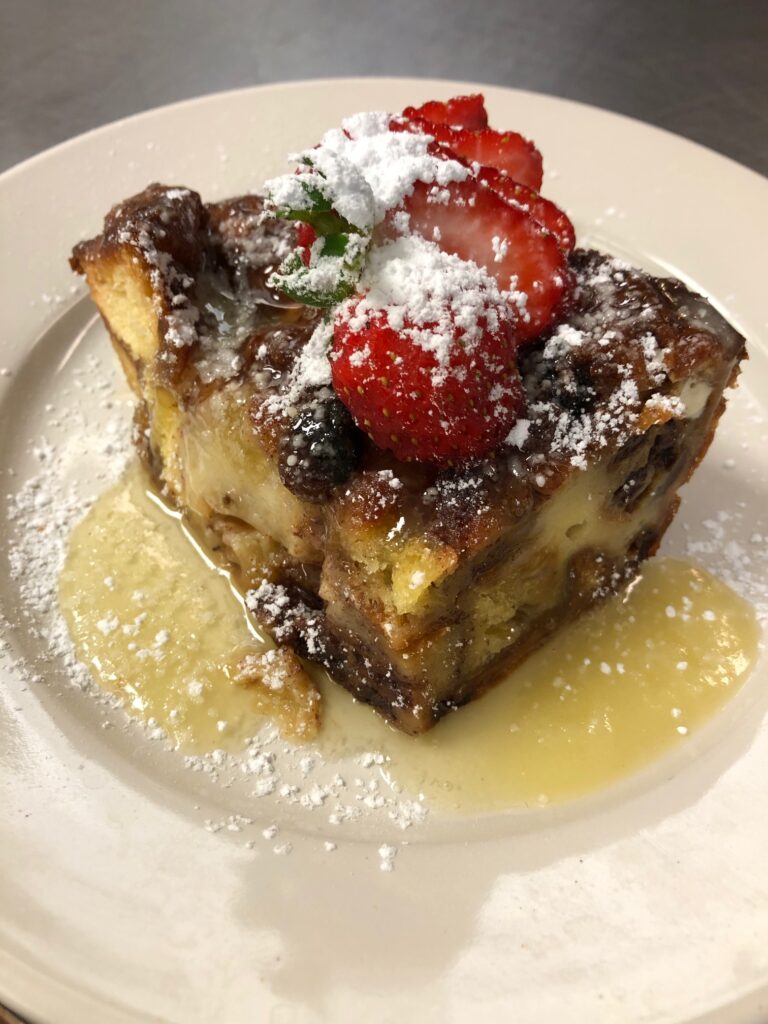 In the Peachtree Parkway Shopping Plaza sits a comfortable and no-frills restaurant by the name of Eating Americana. This casual eatery just celebrated their first anniversary, and what a trial by fire it must have been to open a restaurant during a global pandemic. And yet, the folks at Eating Americana have survived and thrived, offering comfort foods and traditional American cuisine first only available for take-out or delivery, until recently when they opened their dining room.
While Eating Americana is open only on Sundays for brunch, one of their most delectable dishes, Bread Pudding, is available daily. Composed of a variety of breads offering a complex combination of flavors and tastes, this dish features bright flavors of cranberries, raisins and pineapple folded into the layers of bread pudding. Hints of cinnamon and nutmeg add dimension to the overall flavor of this flavorful and decadent dish. $6.00 ■
5450 Peachtree Parkway, Suite 7A, Peachtree Corners 30092
770-676-5846 | eatingamericana.com
Other Great Brunch Places in Peachtree Corners
Grace 1720
Contemporary American cuisine in a casual upscale environment.
5155 Peachtree Parkway, Suite 320, Peachtree Corners 30092
678-421-1720 | grace1720.com
JR's Log House Restaurant
Old-school Southern breakfast served in a legit log cabin.
6601 Peachtree Industrial
Boulevard, Peachtree Corners 30092
770-449-6426 | jrloghouse.com
Peachy Corners Cafe
Friendly neighborhood cafe serving up coffee and tea, bubble teas, matcha and small bites.
6365 Spalding Drive,
Peachtree Corners 30092
678-691-0547 |
peachycornerscafe.com
Atlanta Bread
Counter service chain offering omelets, pastries, baked goods and breakfast sandwiches.
4880 Peachtree Corners Circle, Peachtree Corners 30092
770-662-0900 | atlantabread.com
Corner Bakery Cafe
Casual counter service cafe with classic breakfast favorites.
6050 Peachtree Parkway, Suite 500, Peachtree Corners 30092
678-281-2150 | cornerbakery.com
IHOP
Well-known chain offering a variety of pancakes and traditional diner dishes.
6125 Peachtree Parkway, Peachtree Corners 30092
678-231-0081 | ihop.com
Clean Eatz: Tasty, Healthy and Easy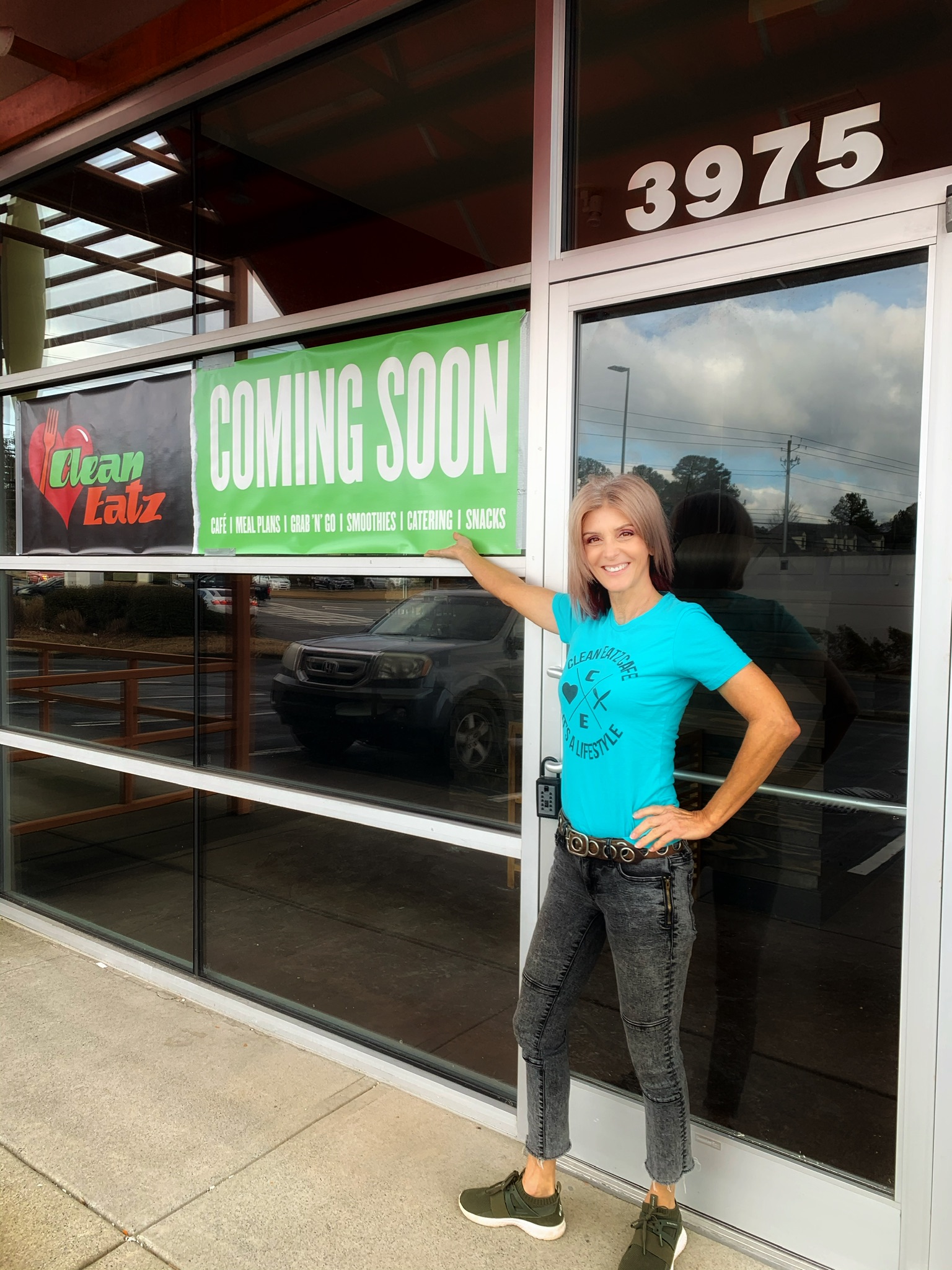 Clean Eatz, a healthy cafe that offers meal plan services, is coming to Peachtree Corners in late April 2021. Clean Eatz started construction on March 15 and will open tentatively around late April. The cafe will be open for two weeks before meal plans are offered.
When talking to owner Nancy Glass, she said what attracted her to Peachtree Corners was the active lifestyle displayed by the community. "When you go on the Peachtree Corners website it's all 'family, community, outdoor Living." It's all about active living! There's this feeling of family and that everyone is in it together." Clean Eatz's mission "is to help be the first step you take to living a healthy lifestyle," as well as giving the community "the tools needed [in maintaining a healthy diet] by preparing properly portioned sized meals with a balance of protein, carbs and fats." Meal planning has become popular in recent years for busy adults with families and others always on the go, especially in light of the pandemic.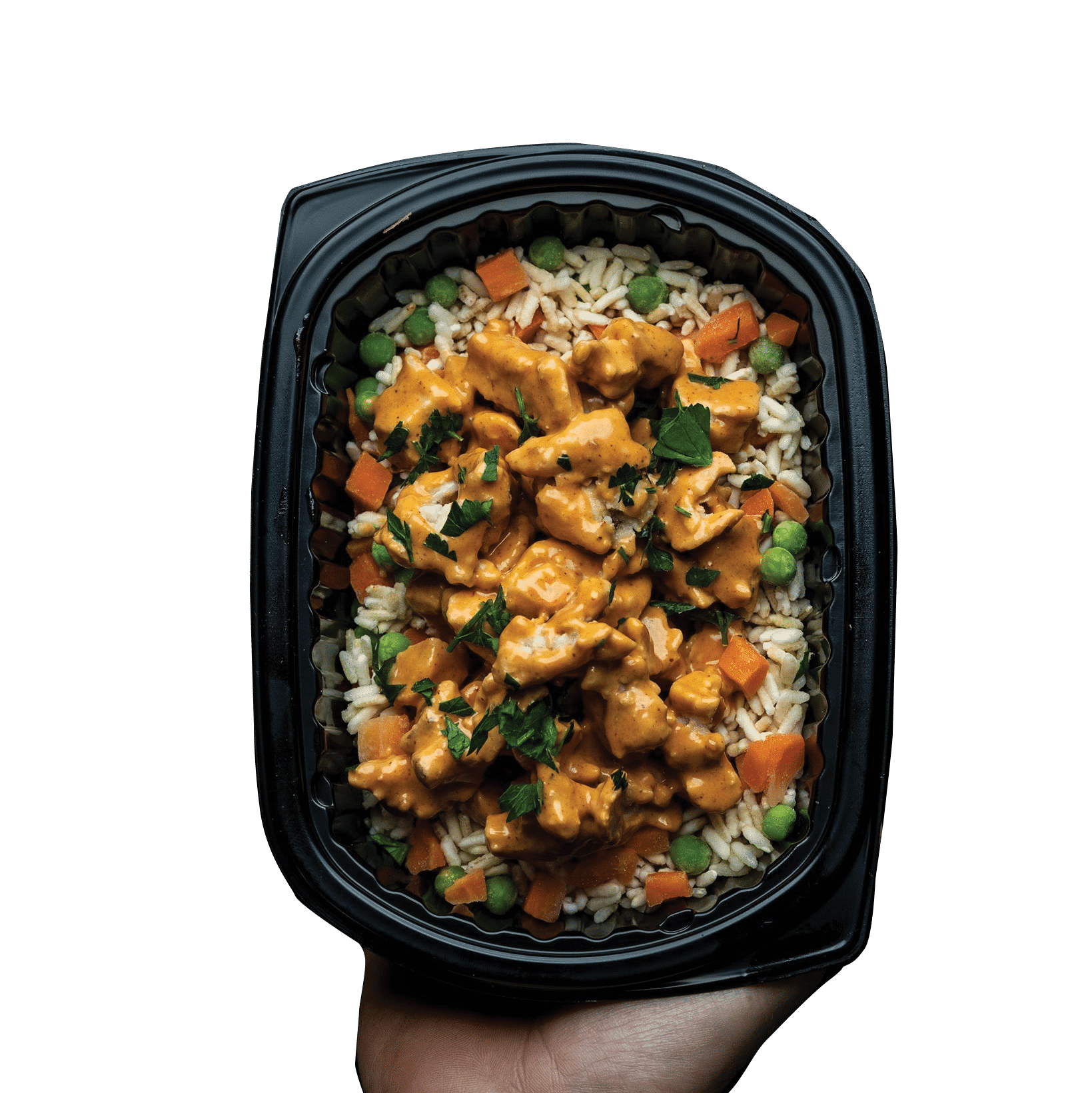 "COVID has brought on this whole new environment to our family dynamic," Glass said. "So at the end of the day, whether you're a parent or a single working adult, you just want to take a moment to breathe without having to stress about dinner. With a meal plan, you have nutritious meals ready-to-eat, which make it easier to maintain a healthy lifestyle… We simplify life!"
High on nutrition, low on cost and commitment
The Clean Eatz Meal Plans offers nutritious, personalized meals for those with active lifestyles at an affordable cost. Meal plans come in 5, 10, 15 and 21 meal options, and prices start at $38 for five meals ($7.60 per meal), and if you order 21+ meals, the price goes down to $6.10.
"Clean Eatz puts their money where their mouth is! If we say it's affordable, we will make it affordable," Glass said. The meal plan menu changes weekly but it is adaptable to each person's dietary needs, such as gluten-free, low or no-carb or extra protein. Meal plans can also be shipped to your house as well as picked up in-store.
The meal plans are also low commitment. "We don't take your credit card [information] or bring you into any contracts," Glass explained. "If we offer you a tasty, nutritious meal, it will be a delight. You will want to come back."
Wealth of options
In addition to meal plans, they have a separate cafe dining menu that provides "a balanced look at food while giving you several options." And they offer frozen grab-and-gos as an alternative to what is on the weekly meal plan menu, including gluten-free cauliflower crust frozen pizzas. They also provide catering, great for events like athletic competitions and after-school sports. Glass mentioned she had already been contacted by a CrossFit gym nearby to cater later in the summer.
On the cafe menu, there is a wide variety of smoothies that can work as a snack or a meal replacement when "First Form" protein powder is added. Customers can build their own burger choosing between turkey, salmon, black bean or bison and customize it any way they want.
Glass invites everyone to come by and grab some "Good for You Nachos" (sweet potato fries topped with shredded beef, guacamole, salsa, green peppers and red onion) or boneless wings or buffalo cauliflower bites as a snack. "Build a Bowl" options allow customers to choose and customize their meal to their liking — with a base, protein, veggies, sauce and spice.
Simple and tasty
About the menu, Glass said, "We've taken your favorites and made them good for you — tasty, delicious!" They also offer salads, wraps and kids' menu options such as "Pizza Rollz" and "Boneless Wingz".
Clean Eatz features healthy and balanced meals that taste good, while also offering variety to their meal plans and menus, making them stand out against other often bland diet programs. Their menu includes Keto and Celiac-friendly options, as well as choices for people who are on a diabetic diet.
"It's not easy going into the grocery store and know how to put a recipe together that is balanced and has all the necessary nutrients. We take away all the guesswork," Glass said. She added that it can be difficult to maintain a healthy lifestyle, and that's where Clean Eatz can help. "We're here to create a plan and then create a community."
Ahead of opening, everyone is invited to sign up for meal plans at cleaneatz.com/locations/peachtree-corners-ga. Once Clean Eatz is open, customers will receive an email notification with a menu on Thursday, with a reminder, to place their orders by Sunday.
For more information about Clean Eatz, follow @cleaneatzpeachtreecornersga on Instagram and Facebook.