City Names its New Multi-Use Trail and Unveils First of Six Trail Art Sculptures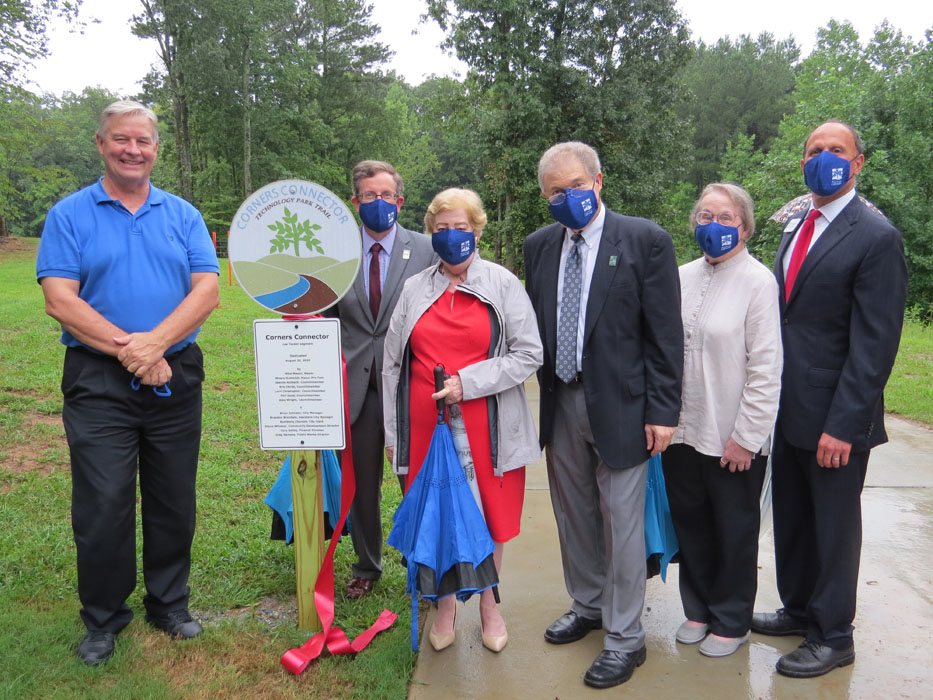 On Tuesday afternoon during a special presentation and ribbon-cutting event, the Mayor and Council celebrated the opening of a new section of its 11.5-mile multi-use trail system. They also announced the name selected for the trail — and unveiled the first of six sculptures to be placed throughout the city.
In the city's name-the-trail contest "Corners Connector" was chosen for the name of the city-wide trail which will wind throughout the community connecting neighborhoods to parks, shops, restaurants and offices. Mr. Randy Gilbert, a long-time resident, selected the winning name chosen from over 150 entries.
Mr. Gilbert was on hand to help cut the ribbon on the new 1/3-mile section of the trail which runs around a portion of the 7-acre Technology Park Lake. This newest section has a plaque dedicated to Mr. Lee Tucker in recognition of his efforts in ensuring the city had the land needed for the trail expansion. Future plans will include the trail to encircle the entire lake.
"The trail is a great asset to Peachtree Corners and well worth the effort to build it," said Mr. Gilbert. "I can see many people enjoying it in the years to come."
In several in-person and online surveys, citizens ranked multi-use trails among the most desirable and valued community recreational assets. The city envisions that the Corners Connector will not only serve as an alternate means of travel but will also be a linear park offering unique amenities and programs for its residents.
"This is an exciting moment for our city," said Mayor Mason during the event. "We hope our citizens, and those who work here in Tech Park, enjoy this new amenity. We look forward to celebrating each section of our "Corners Connector" trail as it is completed. We are also conducting feasibility study now to add a 3 ½- mile walking trail along Crooked Creek. We hope to have more news on that proposed section soon."
The new button-shaped sculpture, which is located at the entrance to the lake-side trail section, is part of a Gwinnett-wide effort by a nonprofit organization, Button Art, to showcase the county. The city plans to install a total of six of the round-shaped Button Art sculptures, each depicting a theme based on the area of town in which it is located. Button Art, Inc. is a nonprofit created to further the love of art in Gwinnett County. The project was inspired by Button Gwinnett, the county's namesake.
The city's first sculpture features a friendly-looking robot walking a robotic dog, a nod to the many high-tech businesses located within Technology Park. Local artist, Lance Campbell has designed the artwork for the city's six sculptures which are among 200 that will be sprinkled throughout the county.  
Visit www.buttonart.org for more information on the Button Art project.

Wesleyan Artist Market: Elizabeth Ables Talks about Art, Chemistry and Inspiration [Podcast]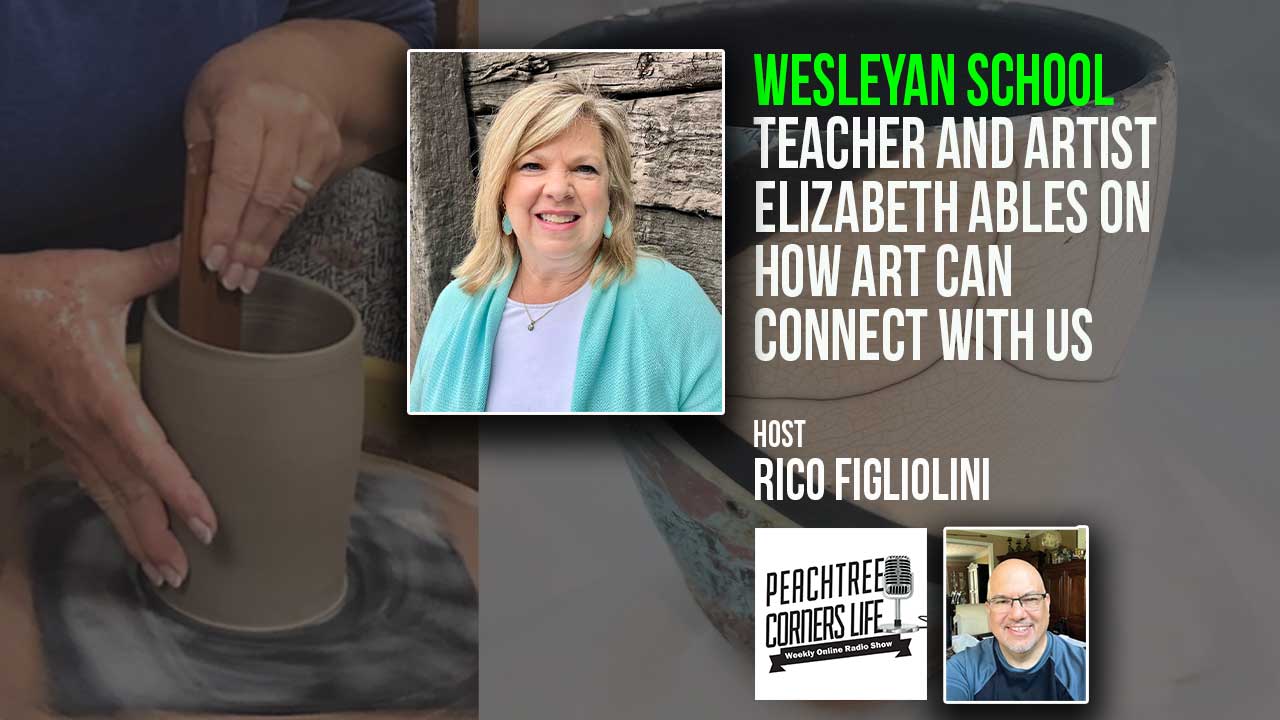 Elizabeth discusses the Market, her background and inspiration, and the impact that art has on our lives.
We're talking with another artist to be featured at the Wesleyan Artist Market. Elizabeth Ables is an artist working primarily in pottery, but she is also a teacher to the young artists attending Wesleyan School. Rico and Elizabeth discuss the Market, Elizabeth's history and inspiration, and the impact that art has on our lives.
Resources:
Elizabeth's Instagram: @Ables.Elizabeth
Wesleyan Artist Market: https://www.artistmarket.wesleyanschool.org/?fbclid=IwAR1CHO4OSbMxutNgMGk3X9B2YXFsOJiXVhjXvhu7jQ3fbqenUlW-bemPSSc
"There's always a risk that a piece is going to crack and that you're not going to get the color that you want to. But then with experience, you realize it's just clay. I can make it again. And I can try again. And sometimes you get happy accidents, where it might not have been what you were planning for, but what you ended up with was beautiful in its own right… It's just like life in that sense. But if you're open to what you get, often it's so much more beautiful."

Elizabeth Ables
Timestamp:
[00:00:30] – Intro
[00:01:58] – Being an Artist and a Teacher
[00:03:50] – Raku Pottery and Technique
[00:07:49] – Elizabeth's History and Inspiration
[00:11:18] – Teaching Young Artists
[00:18:18] – Wesleyan Artist Market
[00:22:11] – Fun Facts about Elizabeth
[00:25:04] – Closing
Podcast Transcript
[00:00:30] Rico: Hi everyone, this is Rico Figliolini, host of Peachtree Corners Life. The podcast that covers everything about Peachtree Corners, here in the great state of Georgia. Today, we have a special guest because it's artist month, right? Wesleyan Artist Market will be held at the end of this month and so we have one of the featured artists here today to talk to us about her art and about Wesleyan Artist Market. But before we get to that, I wanted to thank one of our supporters, EV Remodeling. Content is supported here by community-minded companies and organizations like EV Remodeling that help us produce editorially independent content. They are companies that underwrite us in additional ways beyond print advertising. And Eli, from EV Remodeling has come on board as a great sponsor of ours. Not only for the magazine, our new launch of a new magazine coming out in May called Southwest Gwinnett Magazine, but as well as these family of podcasts. So I want to thank them for their support. To find out a little bit more about their work and the philosophy of designing your space to design your life, check out Eli's website at EVRemodelingInc.com. So thank you Eli, I appreciate your support. I want to bring on our artist. Hey, Elizabeth, how are you?
[00:01:44] Elizabeth: I'm good, thank you. How are you this morning?
[00:01:46] Rico: Good, good. You're one of three artists that we're profiling in the latest issue of Peachtree Corners Magazine. That should be hitting the mailboxes this weekend.
[00:01:57] Elizabeth: I got mine yesterday.
[00:01:58] Rico: Did you really? Good. The Post Office is working overtime then. That's good. That's great. So, and that was written by Patrizia Winsper who's done some great work. And she's done, I guess the articles of profiles of artists for the last three years running for us. And I do appreciate you being on our podcast. I think we had, there were two students that we had from Wesleyan Artist Market just a few weeks ago on our podcast to talk about their work. So it's good to have, not only are you an artist, but you work for Wesleyan School as well, right?
[00:02:28] Elizabeth: I do. I'm the elementary art teacher. And so some of the students that are now participating as artists were some of my students when they were much younger. And it's so amazing to be able to watch their talents grow and to see their inspiration and to see kind of the, just the direction that they take. And some of them may choose to continue on with design and with art. But they're all just so incredibly talented that it's, that's one of the cool things about this art show is that you do get to see some emerging artists as well. And the community gets to celebrate the arts here in the springtime and see such a variety.
[00:03:04] Rico: Yeah. Interestingly enough, I mean, some people think art is just paintings, drawings, and maybe pottery. But there's a whole world out there of stuff. I mean, one of the kids does seamstress work and creates through fabric, creates her art.
[00:03:18] Elizabeth: Yes. And you think about our world nowadays with social media, there is so much visual communication. And we are all drawn to things that are attractive or have something that connect with us. Well, that's an artist who designed it.
[00:03:33] Rico: Yeah. From their perspective and what they see, the experience of creating the art. You know, I think one of the things Patrizia quoted you about is that art, if you want perfect you buy the manufactured pieces. There are a thousand molds just pieces, right?
[00:03:49] Elizabeth: Exactly.
[00:03:50] Rico: Because it was interesting to just, to read that article about the way you work. And the way pottery, the way glass, the way artwork, when you're firing up artwork even, how number one, it could be explosive in so many different ways, right?
[00:04:05] Elizabeth: Yes, exactly. And very unpredictable.
[00:04:09] Rico: Yes. Unpredictable. Where you might start out with what you think is a blue and chemistry will and fire will show you that no, it's a red.
[00:04:18] Elizabeth: Yes. And within the pottery world, specifically what I was talking about there, I was talking about Raku. Which Raku is very environmental that's where it's more unpredictable. In an electric or a gas kiln, which is the firing process, it is more predictable. And the chemicals that go into the glazes, you know the range that you could get. So speaking of this particular range in the Raku firing, I know if I don't put it in reduction, which is putting in one of those containers where there are combustible materials and you put a lid on it. So the fire sucks out, uses up the oxygen, sucks out certain particles, certain minerals in the glazes. You kind of know the range that you're going to get, but it is still unpredictable. And where that range is going to hit. Like, where is there a hotspot in the fire? And that sort of thing. And so whether your item is in the top of the kiln or on the bottom of the kiln. How fast it cools, how fast you put it in reduction, if you're doing Raku, all of that impacts the coloration and where it's going to be. So you can know a range is basically what you're going to get, but you it's unpredictable.
[00:05:26] Rico: Amazing. It's so you're, when people see movies where people are making pottery and stuff, and then they have to have to kiln it, they have to like bake it if you will. Yeah.
[00:05:39] Elizabeth: Exactly. And so one of the things, you know, that movie everybody thinks of, gosh, there was that one movie with Demi Moore and Patrick Swayze, and it really is very kind of sensual and informing it and very meditative, very cathartic. And so that part was so true. Ghost, that was the movie. That part is so true. And it just, the feeling of it, you just really can get lost in what you're doing.
[00:06:04] Rico: You do your work at, I think, if I understand correctly Spruill Art Center.
[00:06:08] Elizabeth: I do. Mostly because, in my classroom here at school, I don't have a wheel. It takes more strength. And so that's going to be in the upper levels. And so I do hand building with my students. And that's where they basically, they make pancakes and turn it into something. They form a, what's called a pinch pot, which is a centuries old process of starting with a ball and then forming it with your thumbs and your hands to form a pot. Then you can do coils. That's the way we work here and that's learning the fundamentals of clay. And that's what I started with when I was learning clay as well, was learning the fundamentals of hand building. And then I went into the wheel or throwing pottery. And that takes a lot of strength and it, the key to that is really being able to center your clay. So trying to get it completely in the middle and get it smooth. And that takes a lot of practice and skill and strength.
[00:07:03] Rico: I would imagine if you didn't have a good day, going to do that may not turn out well, or it could turn out well, I guess.
[00:07:09] Elizabeth: Exactly. Some days you get to the wheel and you're just like, wow. Things are just not quite working today. And then other days you do something and you're forming it and in 15 minutes you get a beautiful pot and you're like, wow. I've got the feel today, so.
[00:07:23] Rico: I think anyone with a passion, whether it's sports or it's art, when they're at that plate or they're on that field or they're at that seat, creating something. If it's not your day, it's not your day, right? To be able to create what you need.
[00:07:38] Elizabeth: Yeah, we really do. We have days where somehow it's all clicking, you're focused, you're in a feel, and you keep going. And then other days you decide it's time to clean your bucket and go with something else.
[00:07:49] Rico: You've had experience in different art work out through the years. I understand that you moved here to Peachtree Corners maybe about 28 years ago?
[00:07:56] Elizabeth: Yes, I did. I've been in Atlanta since '87.. And so, but I was in the Dunwoody area as opposed to up here in Peachtree Corners. And I did many different art forms through the years. One thing I did a lot of heirloom sewing, hand embroidery, hand dying, antique laces and things like that. And I've done some painting.
[00:08:16] Rico: Okay. But you're settling on the work you're doing now. And what is it? I would say pottery, but what, how would you describe it? Like, the work?
[00:08:26] Elizabeth: Yeah, pottery. I love, I love finding beauty in functional items. I'm not as much a sculptor for a, so I'm not looking for abstract. Even though some of the Raku pieces are more decorative than they are functional, due to their surface nature. But I just love having beautiful functional things around. And that's kind of what got me started, is wanting to be able to make those things that I could envision in my head. You know, little bowls on the counter that you want to put your recycling in or something, just that simple kind of stuff. But I wanted something really pretty and I wanted it sort of organic. I didn't want it commercial. I wanted to kind of come up with the vision, the size, the color, the texture, all of that, that I wanted on my own.
[00:09:07] Rico: So is it fair to say you get your inspiration from everyday life or the?
[00:09:12] Elizabeth: I do. I really get most of my inspiration probably from nature. I'm very much an outdoor kind of person and just love the beautiful colors that we find in nature, birds. The ocean is a big inspiration, and that's one of the things that I'm constantly trying to replicate in my glazes, is kind of just coming up with those colors of the ocean and the blended colors. So not really a solid, but blended. And textures from nature like bark. Yeah.
[00:09:38] Rico: So that must be difficult because talking about the color before, and how chemistry is a big part of this, and fire, and heat, and being able to stop the reaction. Does it get easier with experience or is it still hit or miss to where you feel?
[00:09:53] Elizabeth: It gets easier with experience, but there is some hit or miss to it. You've just got to know that there's a certain amount of unexpected and there's always the risk. There's always a risk that a piece is going to crack and that you're not going to get the color that you want to. But then with experience, you realize it's just clay. I can make it again. And I can try again. And sometimes you get happy accidents, where it might not have been what you were planning for, but what you ended up with was beautiful in its own right.
[00:10:24] Rico: A delightful surprise.
[00:10:26] Elizabeth: Exactly. It's just like life in that sense. And that you you've got these plans, but it doesn't always work out that way. But if you're open to what you get, often it's so much more beautiful.
[00:10:39] Rico: So do you find yourself sometimes driving or doing things and then all of a sudden think things, like darn, well next time I think I'm going to try to put horse hair on the layering of the pot to see if that burns off and becomes. Do you think like that? Is that something you do in the middle of?
[00:10:55] Elizabeth: Yes, but I certainly cannot claim to have inspired and created that process of the horse hair. Like that goes back hundreds of years, I believe in Japan. So, no, I don't claim that. But I would love to say, you know what, I'd love to do this and see what would happen if I do this. And maybe if I put just a little, or if I put a lot or if I do this kind of a shape, how is it going to change?
[00:11:18] Rico: Now you have young kids you're teaching and they're going through the process.
[00:11:22] Elizabeth: Yeah. My children, my students are young kids. My children are in their late twenties.
[00:11:26] Rico: That's what I meant your students at Wesleyan. And I grant that they're doing the basic work. But do you find that some of the students that come back to you have done more? Have done other things?
[00:11:38] Elizabeth: Oh, absolutely. Absolutely. Where they get to go on and they learn more and they experiment more, they develop more skills and develop their confidence to be able to go in the direction that they envision. You know, it takes a lot of confidence for children to risk failure to be able to create art. Cause you've got to fail a lot of times as we all know. And so, to be able to see them when they get up potentially to their AP art and they do it in AP 3D Art. I mean, there was just a special student a couple of years ago and he's at Kennesaw and he was just making some glorious things and just getting so intuitive with his forms. And then how he was altering those forms to represent an idea that he had was just so heartwarming and that, it's just exciting to see.
[00:12:29] Rico: So as a teacher, do you find some of them coming back or sharing things with you?
[00:12:33] Elizabeth: Oh, absolutely. I follow some on Instagram and to see what they're doing. I've got a little student now that was always enamored with birds and she's going to be a participating artist in the show and she has got some beautiful pieces showing birds. And now she's doing them, not in a traditional sense, but she's got her own view on how she's presenting them. And that's what an artist does, is sees things differently and helps other people see things in a different way through their art.
[00:13:02] Rico: Right. So, and the kids that you teach now, how old are they? What age?
[00:13:06] Elizabeth: Kindergarten through fourth grade.
[00:13:07] Rico: That's definitely a certain perspective different from high schoolers and middle schoolers, I'm sure.
[00:13:13] Elizabeth: Yeah. You know, in some of the ways they're more free. They just, they have no problem painting horses blue and doing all sorts of things, you know? But then as they do get a little bit more fourth grade, that's when the inhibitions and the insecurities of comparison to fellow students comes in. So that's when they start to withdraw a little bit. But my goal as the teacher is hopefully to give them skills and confidence and courage to be able to work through that, to be able to get past that fear of failure and realize, it's just paper, it's just ink, it's just pottery and clay. And that's how you know, I'm going to learn.
[00:13:49] Rico: You know what I think also as they get older, I mean, I've been speaking to my daughter lately, she's a psych master. So we sit down and we talk for an hour sometimes about stuff. And we talked about how, when you're younger, you see things much differently than an older person. Because an older person has so many years of experience and also years of a perspective, right. Which is a lot different than younger people. They, younger people see things very differently, I think. Because they're on that other end of life, right? And so sometimes, so I have a young son that also writes, and sometimes they don't want to share this stuff. Because, you know, it's just like, well, what are you going to think about it? Or what are you going to think about me reading this, you know?
[00:14:32] Elizabeth: Yeah, you're opening yourself up to being vulnerable to people. And that opens yourself up for judgment. It opens yourself up for failure and it brings out the insecurities that we all inherently have.
[00:14:44] Rico: Yeah, because art is personal, right? I mean, you do something and I'm sure you pour your heart into something and then you want to show it. And then as an artist, you might be listening, stepping back and listening to different people looking at it. And maybe they're not knowing you're around, and they will have different perspectives. And I'm sure, have you, have you heard anything that you could share that would be one of those surprising moments where someone said something about your artwork?
[00:15:10] Elizabeth: Oh, my goodness. Well, I will say this, my students are just some of my best cheerleaders. When they come to the Artist Market and they see my work, they're just like, oh, Ms. Ables you're just so good. And you know, and that's just so heartwarming because in my mind, when I look at some of the pieces, I might see the imperfections that I wish weren't there. And so, they're wonderful. So if you ever are having a bad day, just pull the young students out and they're going to remind you that you're kind of a rock star in a way. They're also going to tell you the truth sometimes that you don't necessarily want to hear, but they're, they're wonderful. And that's just one of the blessings of what I do. I can't think of a time when I was like eavesdropping or rather able to hear that.
[00:15:55] Rico: That's fine. Sometimes that happens. When you were young and you went to school, what did you study in college, for example? Was it art, I mean?
[00:16:03] Elizabeth: No, it was not art. It was actually communication and sociology. So I was planning on going into broadcasting. So I worked on a television show in the news program some and then I just ended up, I guess I chickened out. And I wasn't willing to go off and move to a really small market, really small town, and kind of be on my own quite at that point. So you know, life has a way of bringing things differently. And so through my children, I ended up getting my teaching degree and that's what brought me kind of back full circle. And that's why I said, even in the article that I think of myself more as a creator, because I'm not a formally trained artist. Which many of the greatest artists around and throughout history were not formally taught. So there's a lot to be said for the experience of trial and error. You know, I've had some great teachers and inspirational people along the way.
[00:16:55] Rico: I guess if you know, if we talk about like centuries ago, like the Renaissance. I mean, there were workshops, people became apprentices to famous artists and they would learn that way. I mean different now. You go to school, they teach you, you know, you go through these classes and levels and they teach you different materials, different mediums that you use.
[00:17:16] Elizabeth: So they can teach, your education can teach you the technical aspect and it can teach you I guess, skills and things like that. But it doesn't teach the heart and the passion for what it takes to really be able to communicate through your art, something that's unique to you.
[00:17:33] Rico: Yeah. Film school is like that. I think you could go and you learn the technical aspects of how to shoot something. Then you at least can know what rules to break, right? And if you have that passion and you have a great reel, then you're going to be able to make it somewhere maybe. But sometimes it's luck too, right? It's the, where you put yourself out and how much you put yourself out. You know, to get that praise or that judgemental. You know, I mean, people are going to judge your art one way or another.
[00:18:02] Elizabeth: It does help to have a little bit of success early on, and a little bit of that because it does, it just emboldens you to keep going in that direction and to keep trying. And if the door slammed a few too many times, you really have to dig deep to find that resilience to keep going.
[00:18:18] Rico: That's right. That's right, I'm sure. So how long have you been doing the Wesleyan Artist Market?
[00:18:24] Elizabeth: Well, as a participating artist, I think about six years. Actually when I came to Wesleyan School, 24 years ago I guess, when my son first started at Wesleyan school. I was familiar with an art show in another city. And I brought kind of my vision of trying to create an art show for Wesleyan. So I actually started the art show. So for the first five years, I was the chair of the art show. And then I took a hiatus and then I came back as working here and then I became a participating artist. So I went from being a customer, the founder, customer still, right? And now I'm a participant artist.
[00:19:05] Rico: Wow, okay. I didn't know that about you. That's good to know. So but now do you do any exhibition work or showings outside the Artist Market?
[00:19:15] Elizabeth: I don't. And the main reason why is I'm not a high production potter because this is not my full-time job. And so I just don't have enough time to create the inventory that I need to go do some of the other area art shows. So I find Wesleyan and the Wesleyan Art community, they get my first shot. They get my attention.
[00:19:36] Rico: Do you have an Instagram account or use that scene for your stuff?
[00:19:40] Elizabeth: You know what, I am developing my Facebook account, so I'm going to have Facebook Marketplace.
[00:19:46] Rico: Oh, okay.
[00:19:46] Elizabeth: And then eventually I will get to Etsy. It's been on the to-do list, but again, keeping up with the production of it is just the challenging part.
[00:19:54] Rico: Yeah, for sure. Etsy and social media has made it great for artists to be able to share their artwork, be able to find followers that are interested in the pieces that the artists produce. So it's a great time for our young artists, I think.
[00:20:09] Elizabeth: Yes, it is, really. Especially during this pandemic, it's been able to keep the arts going and keep people connected.
[00:20:16] Rico: For sure. And technology is just making it easier to be able to, even be able to see things in a three-dimensional way versus just a flat piece of art. Like image on the screen. It's becoming less expensive to create your artwork in a way that people can flip it and look at it at their leisure versus let's say a video. So just a lot, lot of good technology out there making it better for artists to be able to share their work. So it's kind of cool that way. Okay, because you do what you do when you go shopping and you, you know, you're going out at other, we're not talking about flea markets or art festivals and stuff, but just normal shopping. Do you see stuff that inspires you? Do you see things there that says to you, why is this even being sold?
[00:20:58] Elizabeth: Sometimes I see the things that are, why is this thing even being sold? Yes. But again, I do definitely see some things. I love italian pottery and I love that earthiness and that look of that. And I see things, and I keep thinking, I want to be able to achieve that color in my pieces sometimes. Cause I'm so drawn to color. And there are certain colors that are really difficult to get in the glazes. Just, and so I keep looking for the perfect color and keep looking, as I create my art and try and develop more and more patience with trying to take the time to create and to fine tune, particularly the glazing process. And so I do.
[00:21:38] Rico: Do you do sample glazes? That was just hitting me as you were saying, and we talked about chemistry before. When you're creating the chemistry for these glazes, if you will, do you test fire some samples?
[00:21:49] Elizabeth: Yes, you really should. Mainly because to get the layering and to see how they're going to react with each other. And so that is important. So you make little tiles that you are able to do that. Knowing that it's going to be a little bit different, but you try and create these little ridged tiles that are going to give you the vertical effect. So you know, if it's going to run or is it going to break and things like that.
[00:22:11] Rico: Alright, cool. I just want to ask you some other questions to tie things up a little bit that I normally ask my interviewees, I did this with the students. Just some quick questions, like what's your favorite, or most inspirational place in Peachtree Corners? Or in general.
[00:22:27] Elizabeth: In Peachtree Corners, my favorite inspirational place, I would kind of say my backyard. I've got beautiful trees and I've got beautiful azaleas and the birds. I do love taking walks and we're blessed here to have so many parks, which is wonderful. But in my neighborhood we have a park down along the river and that's just always so inspiring. I can almost feel the people that walked on those grounds 200 years ago, along the river, and yeah.
[00:22:54] Rico: For sure. What is your favorite book or movie?
[00:22:58] Elizabeth: Gosh, I will say modern day book would probably, where the Crawdads Sing was a good one. Redeeming Love is a pretty amazing one. And then kind of more of a classic, To Kill a Mockingbird. To go back and read that as an adult, and there's also the audio version, which Sissy Spacek narrated, which really brings a flavor to it, which is pretty cool. So I like that one.
[00:23:23] Rico: Yeah, the kids have read that. Obviously it's a classic book for reading in English class and seen the movie.
[00:23:29] Elizabeth: But to come back and read it years later and to really get the nuances, that's pretty.
[00:23:33] Rico: Yeah. Especially the original version versus, I think there's several versions of it, but as far as edited versions. Removing words and stuff. The original version really does make a difference to read it in that language.
[00:23:47] Elizabeth: It does. And to think about it in the current, the light of what's happening in current day.
[00:23:52] Rico: Yeah, for sure . What wouldn't you do without?
[00:23:56] Elizabeth: I would not do without, of course family doesn't count, but family. And my animals, right? My animals. I wouldn't do without creating of some sort.
[00:24:06] Rico: Okay. I think you said before, you're a cat person?
[00:24:09] Elizabeth: And dogs. I'm just an animal person. Yeah. I'd have a menagerie, if I could.
[00:24:15] Rico: What's your favorite food?
[00:24:17] Elizabeth: My favorite food. Gosh, I don't guess french fries is a good option. No, not allowed to say that.
[00:24:26] Rico: Extra fries please.
[00:24:28] Elizabeth: Yeah, really. Vegetables.
[00:24:31] Rico: Oh, okay. Cool.
[00:24:33] Elizabeth: I love vegetables.
[00:24:34] Rico: Alright. And last question is, if you had a superpower, what would that be?
[00:24:38] Elizabeth: Gosh, I thought about that one other time, and now I'm on the spot, you know, trying to figure it out.
[00:24:42] Rico: It's hard. You have Superman, you have Spider-Man you have.
[00:24:46] Elizabeth: And I'm thinking too, the first thing that came to my mind was to be able to create, to bring peace, but that's not the same kind of super power that we're thinking. I wouldn't want to read minds, I know that part I would not want to read minds. So, maybe to stretch and morph into any shape you want.
[00:25:04] Rico: There you go. That's very artistic actually, when you think about it. Alright, we've been talking to Elizabeth Ables, teacher and a student in a way of life, an Artist that's going to be at the Wesleyan Artist Market. So tell us where we can find out more about the Artist Market. Where can we find you there if we come visit? And all that or how can people follow you if that's the case?
[00:25:30] Elizabeth: So for following me, I am on Facebook marketplace and then I am on Instagram. Just, I think Elizabeth Ables. Now the Wesleyan Artist Market is on the campus, the beautiful campus here in Peachtree Corners. And it's going to be open on Friday, April 29th from ten to seven, and then on Saturday from ten to three, I believe. And there'll be about 70 plus professional artists, as well as student artists. There'll be food trucks. It'll be a wonderful celebration of the arts. And there's a variety of art styles, mediums, price ranges, you name it. And the artists have got to be present. And it's not reproductions, it's gotta be original art. And so it's a wonderful opportunity to meet the artist, to learn more about their process and what their inspiration was, and to really be able to connect in a personal way with what you want to bring into your home. And I think that's what makes the show special. Because you can go to a gallery, but this way you get to see the artist and speak to them. Bringing art into your home is a personal thing. It's going to be a part of your life for a long time. And so to know the reason why the artist created it helps you to connect, and it becomes part of your family. It's just part of your visual family.
[00:26:43] Rico: Yeah, for sure. You need that background. You need that understanding of how that art came to be. It is Friday, April 29th from 10:00 AM to 7:00 PM there's some special events that day also Handcrafted coffees and gourmet baked goods for sale all day long even. So feel free, right? There's pizza on the quad at 3:00 PM.
[00:27:03] Elizabeth: It's free parking. It's in the big gymnasium that's in the center of the campus. So you can get to it from many different directions. There'll be a lot of signs. There'll be a lot of people directing you there. And you know, it's just a great celebration. We're praying for good weather because that's always important.
[00:27:20] Rico: So to find out, just Google Wesleyan Artist Market or go to LivingInPeachtreeCorners.com or search them on Instagram because you can follow them there as well. Thank you, Elizabeth. I appreciate you taking your time with us and sharing a little bit about what makes art for you.
[00:27:36] Elizabeth: Well, thank you very much for spotlighting the Artist Market and for including me and giving me the opportunity to kind of talk about why I do what I do, and why I love what I'm doing, and bringing art to Peachtree Corners.
[00:27:49] Rico: This was fun. Thanks, Elizabeth.
[00:27:51] Elizabeth: I appreciate it.

The 24th Annual Wesleyan Artist Market – Up Close and Personal!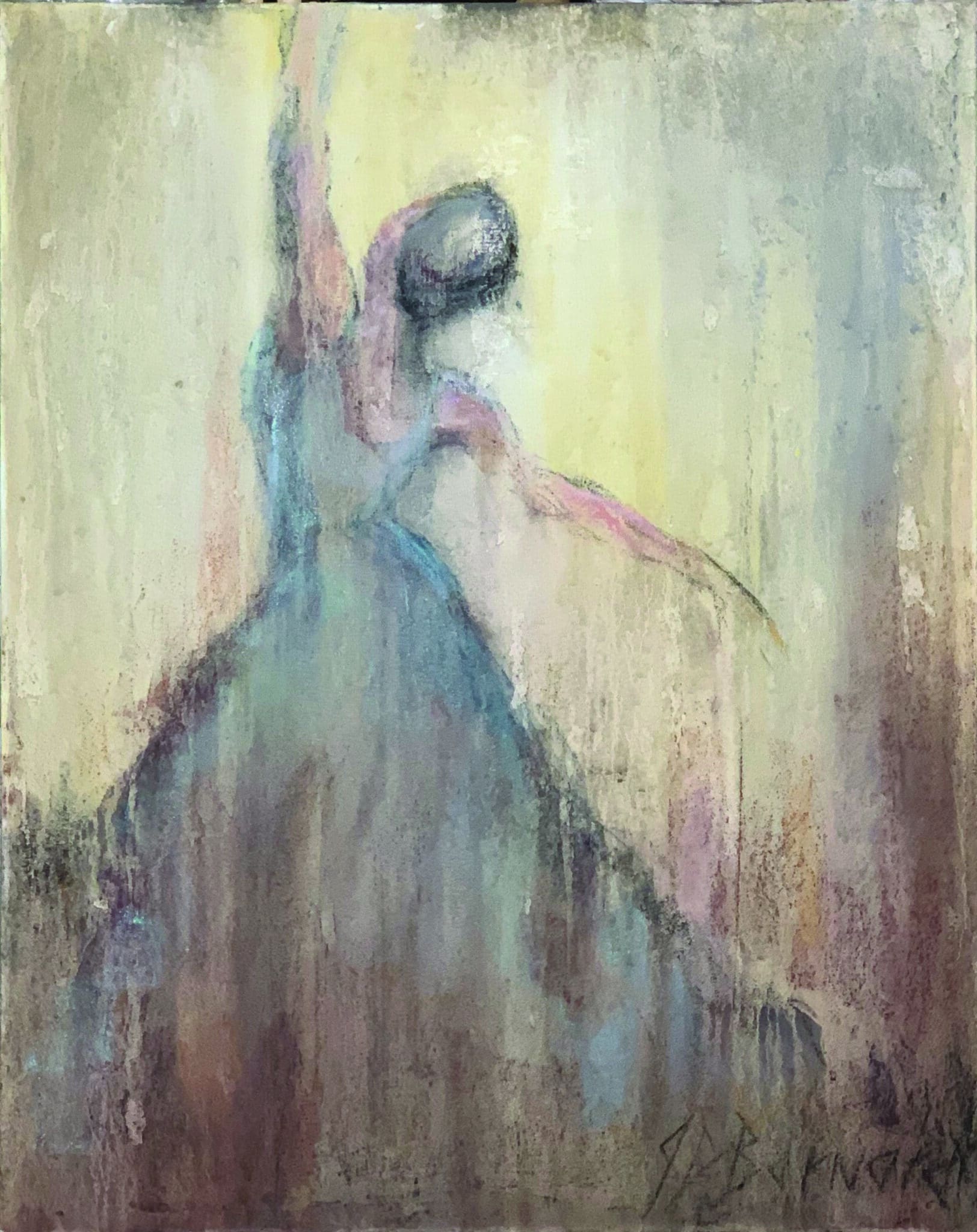 A Spotlight on Three Artists
Springtime in Peachtree Corners and surrounding neighborhoods is synonymous with a visit to the Wesleyan Artist Market (WAM). What better way to find treasures for our spaces than in person, discovering pieces that speak to us while connecting with the artists who share the vision behind their work?
After COVID canceled 2020 and then went virtual in 2021, WAM is thrilled to be back on campus this year. The market runs Friday, April 29, 10 a.m. to 7 p.m., and Saturday, April 30, 10 a.m. to 3 p.m. Admission and parking are free for this family-friendly event.
Browse an array of acrylics, oils, mixed media, watercolors, sculptures, jewelry, pottery, glass and more while enjoying gourmet coffee and treats, all available for purchase.
Participating artists undergo a rigorous selection process, so WAM brings you the best. This year, 80 professionals were selected out of over 100 applicants. Also featured will be the works of 14 talented students.
Prices range from a few dollars to thousands of dollars. There is truly something for everyone. A percentage of every sale goes to support the Wesleyan School fine arts program.
To preview participating artists and for more information, visit artistmarket.wesleyanschool.org.
Elizabeth Ables
Kristie Onorato
Jennifer Barnard
---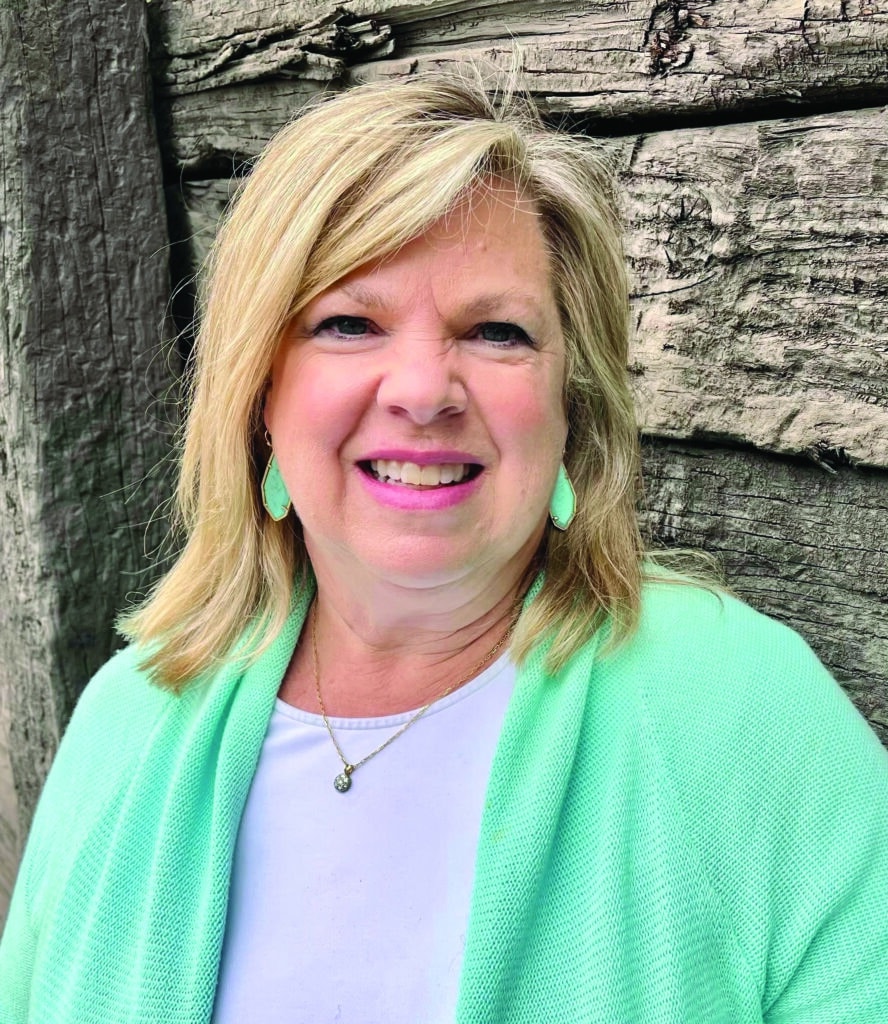 Elizabeth Ables
Stand by your mania to make
Nashville native Elizabeth Ables had classmates with star parents like Tammy Wynette, George Jones, Rony Millsap and Ray Stevens. As a teenager she caught Amy Grant performances at local bookstores before moving to Atlanta. Peachtree Corners has been her home for 28 years.
With a Communications and Sociology degree from Vanderbilt and an Education degree from Brenau, Ables has taught at Wesleyan for 15 years. She considers herself more of a creator than an artist, having dabbled in many different media over the years, from fiber arts, fashion design (particularly children's heirloom clothing) and quilting to painting with watercolors and acrylics.
Ables developed an affinity for ceramics while guiding students through the toil and joy of turning globs of clarified dirt into something serviceable. "I've always been drawn to beautiful, functional art. I used to entertain a lot and wanted unique pieces, so I started creating my own. It feeds your soul when you create something that didn't exist before," Ables said.
Art imitates life
A sense of peace and tranquility emanate from her work. Ables finds inspiration in nature, gravitating towards layering glazes in blends of blues and greens — colors that evoke the ocean. She never tires of experimenting to get just the right blue, having long admired the striking hue of Martha Stewart's Araucana chicken eggs, as well as robin egg blue.
Even her textures are inspired by the natural world. When creating surfaces on her vessels, Ables replicates tree bark and other things found in the environment.
A full-time teacher and busy mother, Ables creates her pottery at Spruill Center for the Arts where she also takes weekly classes, squeezing in workshops whenever she can. At Spruill, a community of artists support and uplift one another.
"I do what inspires me at the moment," Ables explained. "On a cold winter night, I made a cable knit cardigan sweater-type surface on a vase. It looked like a slouchy sweater because that's how I was feeling when I made it — I wanted something warm and cozy."
Led by what inspires her, she leans into her feelings and allows art to become an escape. "I create things that I want to see, that make me happy," Ables said.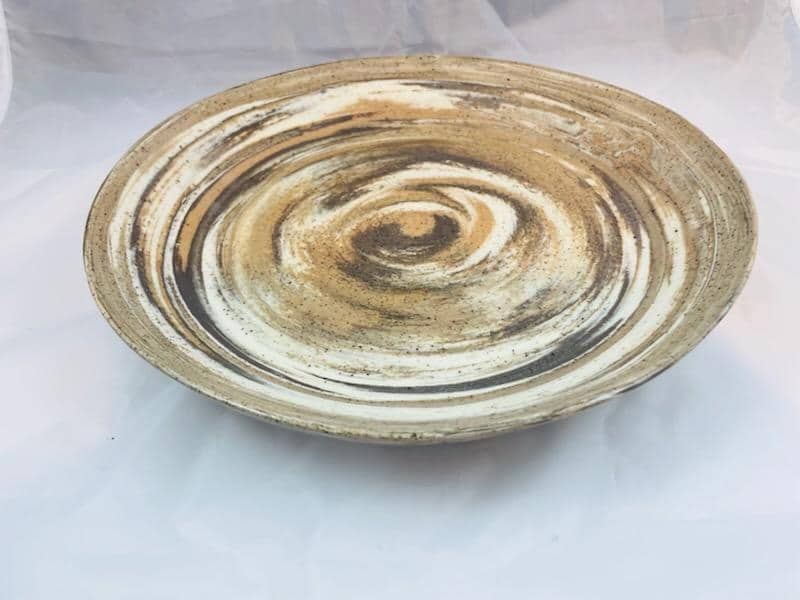 The science behind the art
Making pottery requires equal parts patience and skill. An understanding of the chemical processes taking place in the kiln is fundamental. Still, one never knows exactly what color patterns will emerge. A multitude of factors can impact the final look of a piece.
Glaze mixing recipes abound in the world of ceramics. The same glaze blend can produce a turquoise, red or golden hue depending on the weather, the speed at which the piece is transferred from the kiln to a container filled with combustible material and heat variations within.
"When it's hot outside, it doesn't cool off as quickly whereas in the winter, it cools off very quickly, giving it a shock," Ables said. Dealing with glazes is very scientific. "You're mixing chemical compounds and minerals — magnesium, iron oxide. [One must think:] What's going to happen when they're heated to 2000°F?"
A glaze can be pink in its liquid form as it's being painted onto a bowl and come out of the kiln royal blue — that's what happens when it gets fired. One can imagine the look of disbelief on students' faces when Ables explains this dramatic change in color will occur because the glazes undergo a chemical process. "You have to trust me," she tells them.
Playing with fire
Ables explores different techniques. Raku is a Japanese firing process consisting of removing pottery from the kiln when it's red hot at 1800°F and placing it into containers with combustible materials. When the materials ignite, the containers are closed, producing an intense reduction atmosphere (the oxygen is removed) which impacts the colors and finishes in glazes and clay bodies. "That's how you get the brown and blackness. It can also bring out color depending upon the glazes used," Ables said.
Horsehair can be applied to the surface of pieces when they are removed from the kiln to create markings. "The carbon in the hair sizzles and makes black streaks. It's a totally organic process. You never know exactly what you're going to get," Ables explained. The same can be done with feathers and sawdust.
The Obvara firing process, which originated in Eastern Europe during the Middle Ages, involves a bisqued pot being heated to 1650°F and removed from the heat. The pot is then dipped into a fermented yeast mixture before being dunked in water to rapidly cool the piece.
What's your clay body type?
Ables generally uses standard white clay in the classroom because it's not too messy, but there are many different options available to ceramicists. Speckled clay bodies have a natural textural component — they look like sand. Ables likes to create a water-colored interior and use a clear glaze on the outside of her vessels made with this clay, highlighting its earthy beauty.
"Spruill stocks eight different clay bodies. I've purchased some from Davens Ceramic Center in Chamblee. My favorites are the gray speck, the chocolate brown and raku clay which is less likely to shatter. Lizella red clay is mined in Georgia," she said.
Creating custom colored clay is also an option, albeit very time-consuming. By kneading powders into white porcelain clay, Ables made 10 clay body colors.
Embrace the imperfections
Shocking clay bodies inevitably comes with a 10% fail rate, sure to disappoint artists who put so much time and love into their work. Still, Ables turns kiln accidents into a learning opportunity for youngsters.
"As in life, sometimes things happen," she said. "We have to learn to fail and move on. We get the chance to make it again. The fear of failure and risk is crippling. I share with them times I've failed with breakage or cracks."
"We're not perfect and God created us just the way we are. If you want perfect, go get something that's commercially created, where they have a form and crank out thousands of them. Make something that's more personal, that has your fingerprints on it, your uniqueness. That's what makes it art," Ables smiled.
WAM
A longtime participating artist, Ables has seen the market grow into an incredible showcase for artistic endeavors. Having former students exhibit is especially rewarding.
"The opportunity to be back together this year is exciting. Being surrounded by so much creative beauty, it's like a springtime party that gets you enthusiastic about life," Ables exclaimed.
Watch our video podcast with Elizabeth Ables.
Instagram: @Ables.Elizabeth ■
---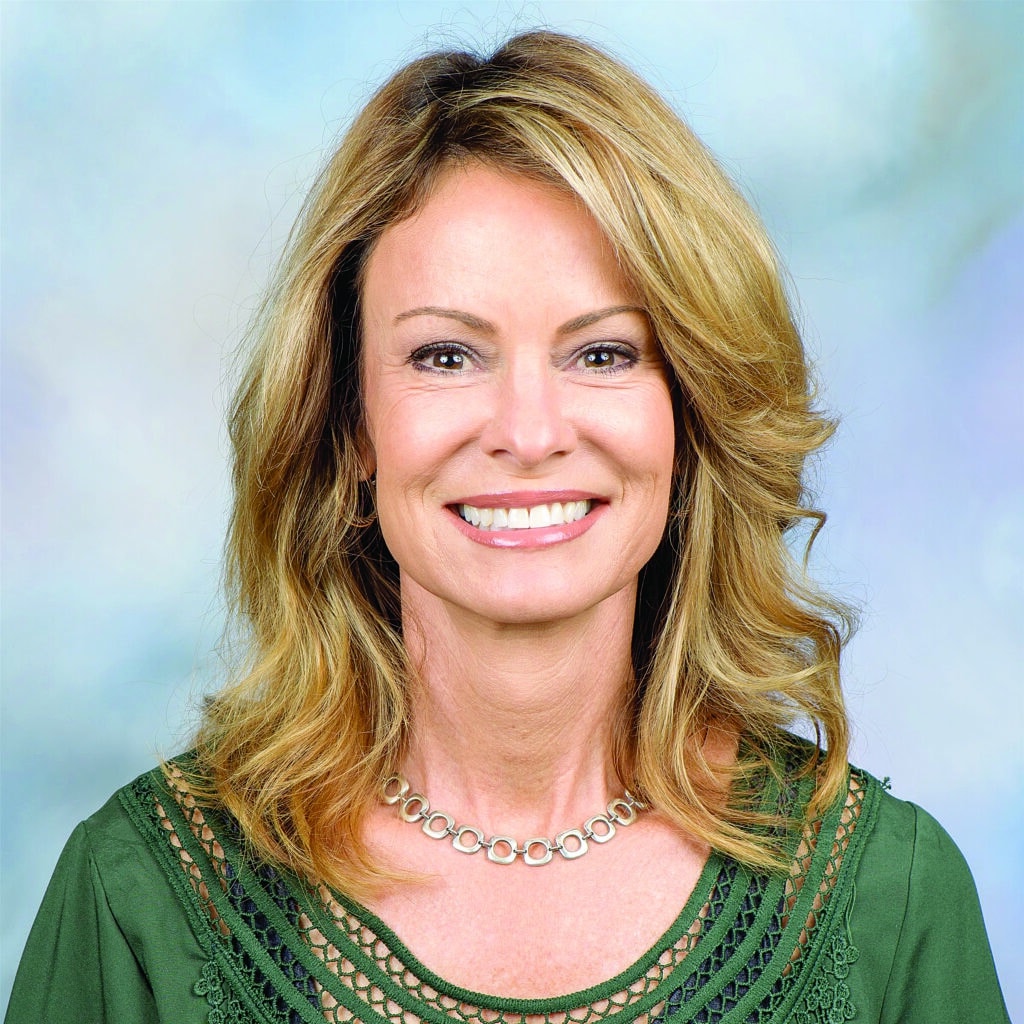 Kristie Onorato
A heart for art
Kristie Onorato has enjoyed painting for as long as she can remember, but she kept it on the backburner for several seasons of life. Originally from Cleveland, Atlanta has been her home for 20 years. Her move to Peachtree Corners four years ago came with the added perk of a four-minute commute to work.
Onorato has been teaching art since 1992. She's been at Wesleyan for 11 years. Despite being a busy single mom to two teenage daughters, she's been able to devote more meaningful time to her artwork over the last six years.
An undergraduate degree in Art Education from Ohio State emphasized Art History, Criticism and Aesthetics. To refine her artistic skills, Onorato took evening classes at the Cleveland Institute of Art and local studios. Visiting museums and ateliers in Europe provided further enrichment.
Onorato holds a master's degree in Administration with a Visual Arts focus from Parsons School of Design in New York. Her formation and experience enhance her lessons. She gifted her paintings to friends and family for many years before she ever considered selling her work.
So many styles, so little time
As many artists do, Onorato has gone through phases over the years, working in pastels, watercolor, ink and oils. She works mostly with acrylics on canvas now because they dry faster and don't emit fumes. Experiments with mixed media combine printmaking, her own torn-up artwork collages, glass, broken pottery, sand and different inks, "just to see what can happen."
Onorato is keen to try new ideas and is continually developing. While some have fully formed a personal style, Onorato can't imagine committing to any one approach. "I like to play and have fun," she explained.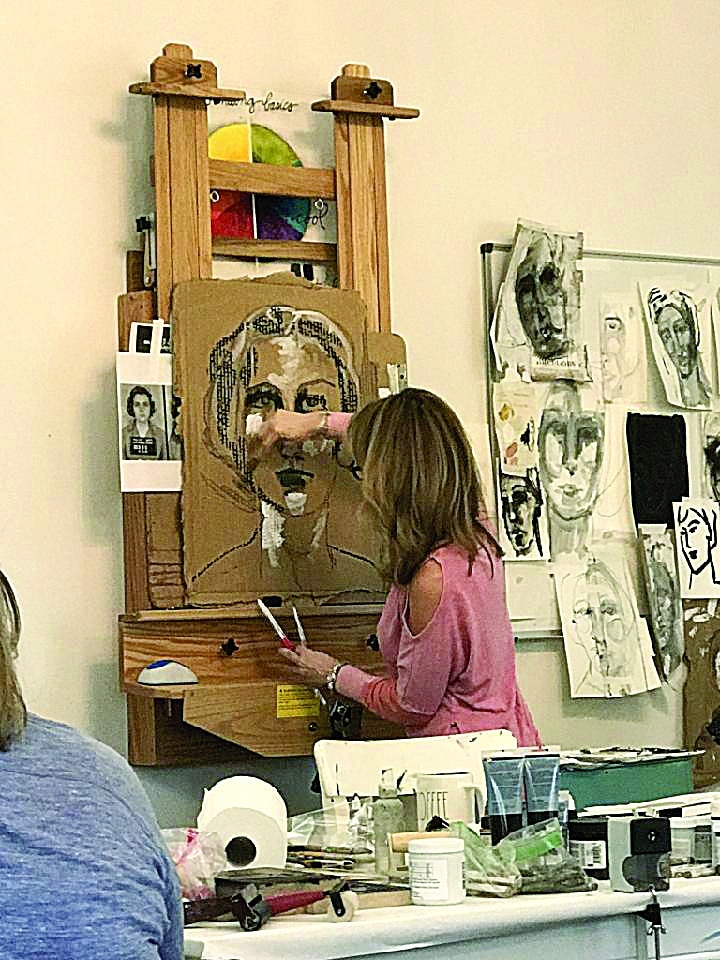 The sky is limitless
Inspired from above by both her faith and natural wonders like a breathtaking sky after a storm, she said that sunsets, flowers and people are among her favorite subjects. "How I paint them changes. My work continues to evolve. I won't get stuck in my ways, but will gladly revisit and tweak old pieces endlessly."
Impassioned by interior design, ideas that catch her eye in magazines, while visiting showhouses or browsing online are integrated in her works.
A self-professed lifelong learner and educator, Onorato is grounded in her spirituality. "My faith in God informs everything I do. Everyone is created in God's image, so we're all creators of some sort. Whether I'm creating images on a canvas, an environment in my home or classroom, or a meal for my family, being in touch with my creativity feeds my soul. Nurturing our creative gifts is a way to show gratitude for them," she said.
Onorato produces groups of similar paintings, or series. Squirting paint directly on the canvas and using palette knives, she creates pieces that vary in size from small, to 16×20 inches, to 3-foot by 3-foot squares. "It's fun doing big," she said.
Floating frames are her preference for the smaller ones. Larger paintings are on deep canvases that don't necessarily require framing.
Liquitex, Golden and Atelier Free Flow are some of her favorite paints. "I like to try different looks — it's more about the effect you can get than the brand," Onorato explained. She sources canvases conveniently from Dick Blick, though she had them shipped from wherever she could find them online during pandemic shutdowns.
Time flies in the art studio
A light-filled room with easy-to-clean floors on the main level of her home is where Onorato paints for hours as the rest of the world seemingly melts away. The home studio allows her to come and go freely. "I set aside days to paint. Once I'm on a roll, I don't like to stop," she said. "Everything else tends to fall apart because I'm so into it."
Completed paintings are stored in her spacious classroom so they're readily transferable to the WAM.
WAM
Onorato works on commissions and participates in Wesleyan's annual Artist Market. "I enjoy meeting artists from all over," she said. "It's exciting to learn about their artwork and the different shows they attend. I get to see friends and former students. It's like being part of a big celebration or hosting a party." ■
---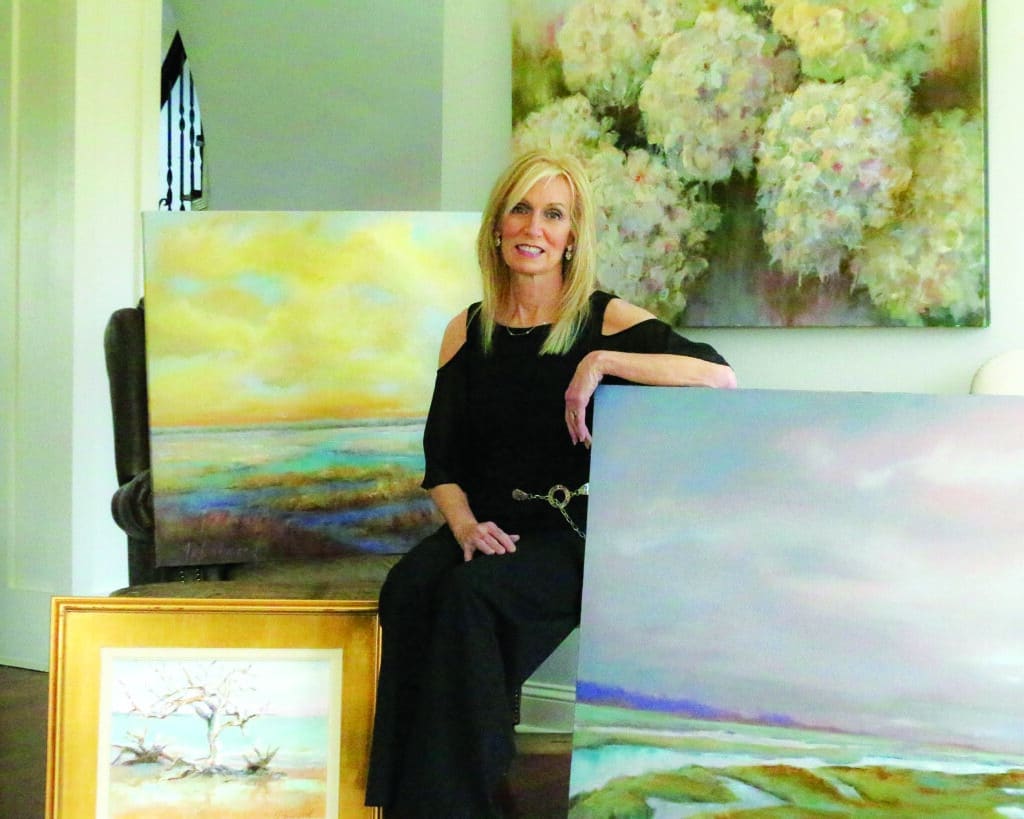 Jennifer Barnard
If you could say it in words, there'd be no reason to paint – Edward Hopper
Jennifer Barnard was born in Charleston, West Virginia, grew up in Decatur, Alabama and has lived in Georgia for 36 years. Her three sons attended Wesleyan. She has since moved from Peachtree Corners to a farm in Cherokee county.
Drawing is how Barnard has always processed the world. As a child, her profound silence worried her mother. "I was born an observer, always watching. I didn't talk," Barnard shared.
When she was 13, her grandfather passed away. "I didn't have words to express my emotions, but I remember drawing his face. It made me feel close to him," Barnard recounted.
Except for an art class in middle school, Barnard didn't take lessons. Nor did art figure into her college prep track. Yet she gravitated towards sketching, advancing on her own. "If it's there, it never goes away," Barnard declared of her innate talent.
Her professional trajectory led to a master's degree in Teaching the Hearing Impaired. After several years she also taught as a substitute at Wesleyan. When her boys were more independent, about 15 years ago, Barnard announced, "It's my turn now," to her spouse. She loved being a mother but was ready to nurture her talents.
As the boys got older, time increased. Now an empty nester, she can paint all day.
Today, her husband is her biggest fan. Barnard credits him with being supportive and occasionally allowing her to steal away with one of her paintings hanging in his office to sell it at an art show.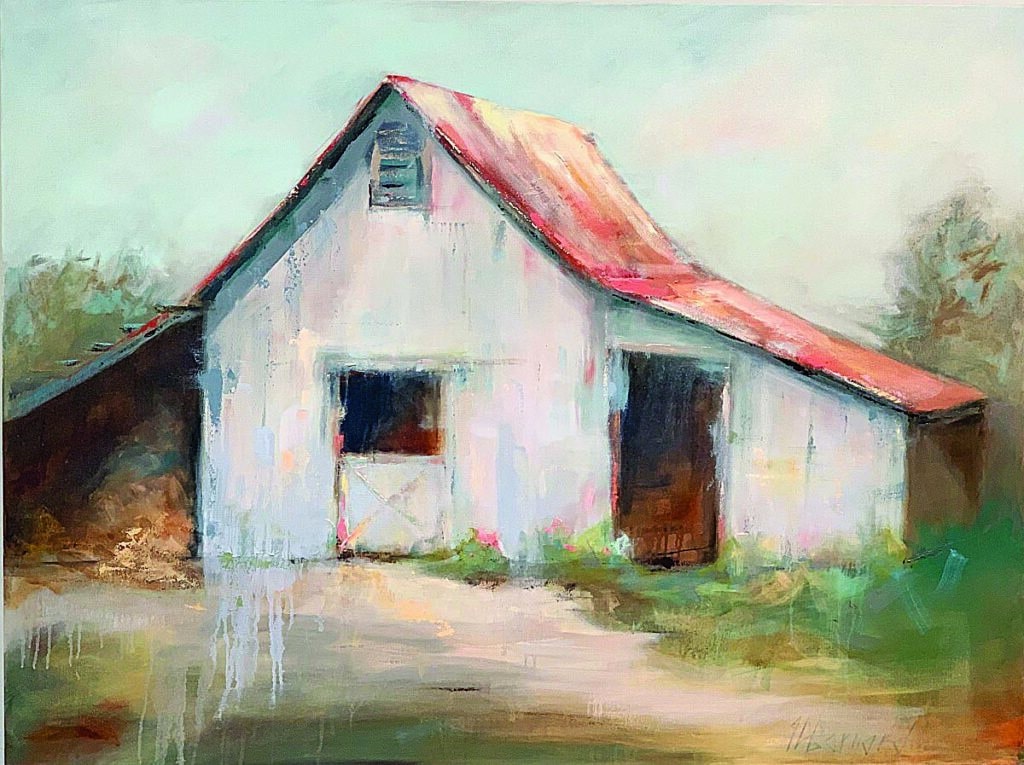 Every artist was first an amateur – Ralph Waldo Emerson
Carving out time to take classes in watercolor, pastels, colored pencils, color theory, portraiture, oils, and mixed media, as well as to paint, Barnard built her own curriculum. "I took 10 master level faux finishing classes which introduced me to materials like Venetian plaster, AquaStone and limewash," Barnard said.
Barnard studied at Spruill Center of Arts in Dunwoody, Scottsdale Arts School in Arizona, Quinlan in Gainesville, The Booth Museum in Cartersville and sundry artists' workshops.
"I seek those whose work I admire in magazines and, lately, on Instagram. Art is something you can never learn enough about. I'm continually growing and experimenting. I challenge myself to stay fresh," Barnard said.
Artists and their materials are travel partners
According to Barnard, there's an interplay between painter and materials. Sometimes the materials tell you what they want to be. Barnard uses archival quality products so her pieces will last. Oils are her first choice, but she switches between acrylics, mixed media, watercolors and pastels, pushing herself in different directions.
"Oils are buttery — fun to mix and layer. You can push and move them," Barnard said. "Pastels are home — drawing was my first love. Mixed media is fun — I use unexpected elements like stucco finish, limewash, charcoals, layers of acrylic and move them around, spraying with water. A piece emerges from this flow of dance and discovery."
The subject of her paintbrush is the deep truth that connects us
Drawn to beauty, Barnard finds companionship with God in nature. Her spirituality sprang from an inner quiet. Whether painting people, animals, flowers or landscapes, she listens to her subjects tapping into their unutterable essence. Barnard considers it her job to express this emotional connection as purely as possible.
A family history of breeding horses and her fondness for them make barns a special theme for her. She paints them with oils in a more traditional "modern impressionist" style. The subjects of her mixed media pieces, drippier and more abstract, tend to be figures — ballerinas, females, angels.
Barnard feels grateful to share her art. "What's genuine in me connects to what is genuine in others. That deep truth is what makes community. It's so important in this day and time to find what is genuine within ourselves," Barnard said.
Plein-air painting renews my 'art spirit' – Bonnie Paruch
"I love painting en plein air. On location at Lake Lanier, in my backyard, on the coast, wherever. I'll find places and either paint or do a study that later becomes a piece," she said
"Paintings can be a combination of what I see in my mind and what's in front of me. A quilt barn road goes through Pennsylvania, Virginia, North Carolina and Tennessee. A map shows all these barns with quilts painted on their sides. I started driving to those and photographing them on road trips," Barnard continued. "Some, I'll stay and paint on the spot."
Art is born of the observation and investigation of nature – Cicero
Ever on the lookout to capture beauty, Barnard has been known to drive to a location, open the back of her car and start painting. The backwaters of her hometown brim with lily pads and attract migrating birds. She was lured there last year, stopping on a road in the middle of the water to render the scene
"Last month I went to Jekyll Island to paint with a friend for three days," Barnard said.
During COVID, with shows canceled, Barnard took some online classes. She found color study helpful. "You take one color of paint, mix it with others, making a chart of each color," she said. Barnard completed eight such pages with 30 color squares on each.
Now when in the field, she reaches for those charts to find the exact colors she's studying and makes note of them. Back in the studio, she refers to her notes to paint with greater accuracy. "The colors in a photograph are never the same as what you see outside," Barnard explained.
When you always make your meaning perfectly plain you end up boring people – Edgar Degas
The gap between what she sees and how the observer views her work is invaluable to Barnard. Rather than "explain" too much, she allows onlookers to finish it with their imaginations. "The artist's unique insight gives art its vitality and an energy that unites people," she remarked.
Multiple works in progress
A barn loft under construction will soon be the site of Barnard's art studio. The space will allow gathering with other artists to paint and hold classes. Currently, she paints in a bonus room on the second floor of her home.
"I'll have four paintings going at the same time on different easels around my studio. Oils take long to dry so I do those in the morning. Then I flip to progress some mixed media pieces because they dry faster," she said. "I can go for four hours straight, moving from one painting to another."
WAM
Barnard has showcased her work at the Wesleyan Artist Market since 2008. "It's a great place to find art. When they first started, an art company would come in. Now it's a regional show. People come from all over the Southeast," she said. "I love being able to explain what my inspiration was and tell people where I painted each piece."
She finds the kind people at Wesleyan and the yummy snacks are part of what make the show fun. ■

Wesleyan School Student Artists Talk About Their Artwork And What Inspires Them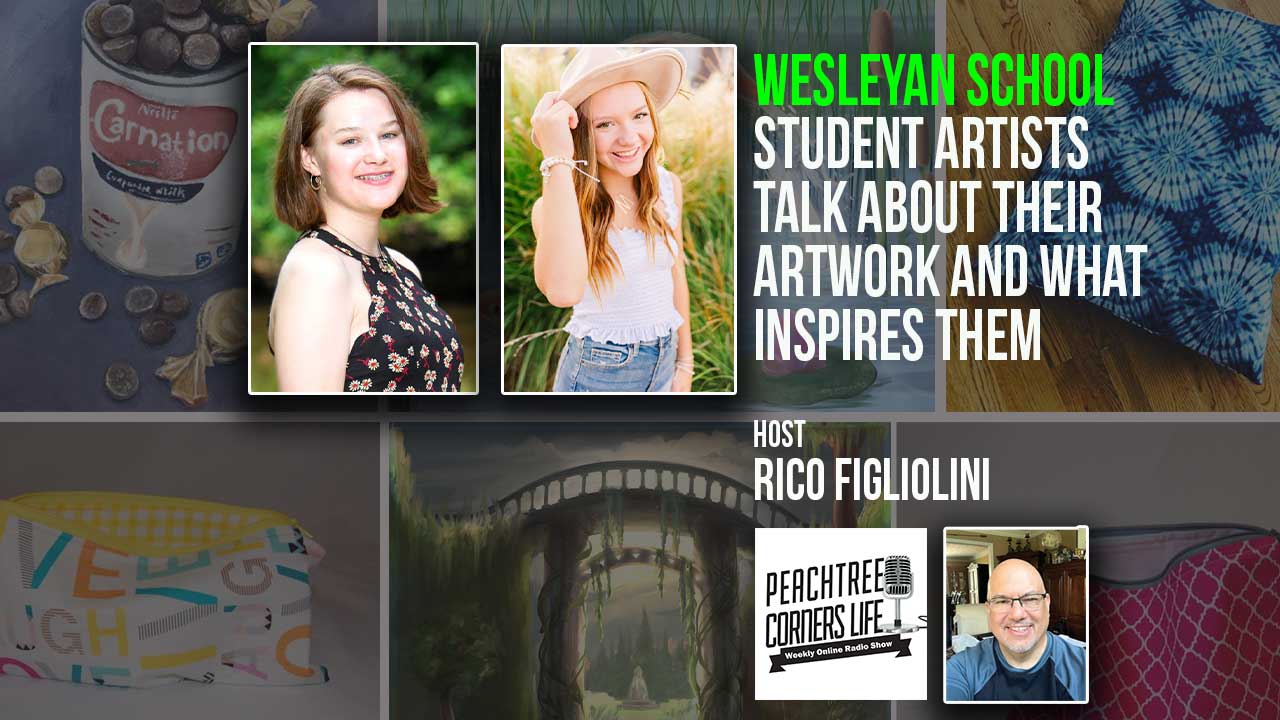 Young Artists, Makenna Wazevich and EG Pickering, Participating in the Upcoming Wesleyan Artist Market
The Wesleyan Artist Market is back again for another year to celebrate incredible local artists. On this episode of Peachtree Corners Life, Rico Figliolini is joined by two young artists, Makenna Wazevich and EG Pickering. Today they're here to share their artistic inspirations, aspirations, and presence at this year's market.
Resources:
Wesleyan Artist Market
EG's Instagram: @egg.illu
Makenna's Instagram: @hearttohomemadeco
Timestamp:
[00:00:30] – Intro
[00:01:45] – About EG
[00:05:04] – About Makenna
[00:06:34] – Digital Art and Physical Art
[00:09:30] – Inspirations
[00:16:01] – Moving into Creative Careers
[00:19:34] – Fun Facts about EG and Makenna
[00:23:10] – Closing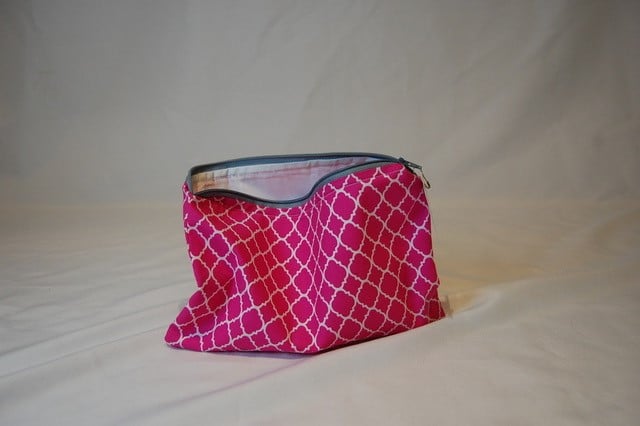 ---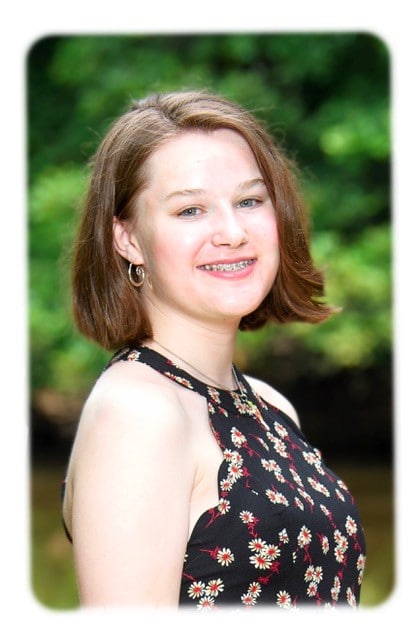 Podcast Transcript:
[00:00:30] Rico: Hi everyone. This is Rico Figliolini, host of Peachtree Corners Life and publisher of Peachtree Corners Magazine, the host of these podcasts and the sponsor. We have special guests today. Wesleyan Artist's Market is coming up soon and we're going to be doing coverage on that in our next issue highlighting three different artists that live or work or are around Peachtree Corners. But two today that we're talking to are student artists, that have a very different way they do their artwork. And I wanted to be able to bring them on. And we're going to be talking about some of their artwork, their experiences, and we'll be asking them questions about who they are, what they like, and what type of artwork they like to do as well. So let me bring them on. We have on the top left is Makenna Wazevich, and on the bottom is EG Pickering. Glad to have you guys on. So I did this last year with two other student artists, and we talk about the individuals. So I'm going to bring on, we're going to do EG first, right? We're going to bring on EG first and we're going to let her talk about her artwork and the type of artwork you do, and I'm going to try to share some of that, if I don't mess it up right now, on this podcast. So tell us a bit about what you do and why you chose to exhibit at Wesleyan Artist Market.
[00:01:45] EG: Sure. I've been doing art since, pretty much for my entire life. Doing art well into high school seemed a pretty obvious choice for me. I'm in AP art right now. So I joined the artist market just last year for the first time. But it was a really good experience, so I thought I'd try that again. So as for the kind of art that I do, I try to incorporate a few different styles just because I'm always learning. I'm trying to constantly improve my artwork. So I try to do a little bit of realism. I've tried to do some cartoon kind of stuff. And occasionally I try to do some like abstract. So it really kind of depends on what I'm feeling that day.
[00:02:33] Rico: So some of your artwork is the Carnation that we showed before.
[00:02:37] EG: I'm really proud of that one.
[00:02:38] Rico: It's a really good piece. If I can remove my logo would be even better, I guess. I really like that piece. I think that that was a great realistic sort of piece like that. The other piece that we showed before was the Koy Pond that you did. But you also do a lot of fantastical type, if you will.
[00:02:56] EG: I do, yes.
[00:02:57] Rico: And those are inspired by different things? Different pieces of work, I guess? Here's another one.
[00:03:03] EG: Yeah. So this one in particular was actually a part of my AP art project. So yeah, I really like that one.
[00:03:12] Rico: What was that inspired by? Almost feels like Harry Potter.
[00:03:17] EG: Actually I don't, I don't know that it was directly inspired by anything. Well, that's not true. It was inspired by, oh my gosh, there's a phrase. I cannot believe I've forgotten the phrase that I was inspired by for my own artwork, but it was inspired by a specific phrase. But yeah, I just, I tried to incorporate that. And tried to make it really fantastical and whimsical and just happy.
[00:03:38] Rico: Yeah, and you did a nice job up on that. Here's another one that you did as well.
[00:03:42] EG: Yeah, that was last year. And this was, you know, when pretty much everything was at home. So I actually had a little bit of trouble creating this one at home, because mostly I didn't know where I was going with it at first. You should have seen the canvas before I landed on that, but.
[00:04:02] Rico: Now you do everything in Procreate, you said on your iPad?
[00:04:06] EG: Most things, yes.
[00:04:07] Rico: So when you're doing that type of work, are you able to change things up fairly quick? I don't know how many people may know Procreate if it's similar to photoshop or not.
[00:04:17] EG: Yeah, that's one of the main benefits of digital art actually is that you can change things really quickly. You can kind of change the size, the color, the value. So if you know anything about like photo editing, that knowledge would be really helpful in digital art.
[00:04:32] Rico: Cool. Alright, so let's also bring on Makenna Hey, McKenna. So tell us a little bit, as we do this one, I'm going to also share some of your artwork as well. Tell us a little bit about yourself, what type of work you do. You're very different medium. You started out when you were nine years old sewing. And it's an interesting, because not everyone does this, obviously. But it's cool, right, because it's also three dimensions. Feel it in your hand, fabrics and all that. There's so much more to it as well. So tell us a little bit about that and I'll bring on some artwork.
[00:05:04] Makenna: Like you said, I started when I was nine. I can't remember like directly what inspired me to start sewing, but I got a sewing machine for Christmas and I took some lessons and I started doing it at home more. And just kind of creating my own patterns and kind of just going to the fabric store, and picking out different things and putting some of this stuff together. I've been doing the Artist Market for a couple years now. I can't remember exactly how many years, but I started when I was in fifth grade. And I really liked doing it because it's great exposure for like my business. And I've gotten a lot of customers from it.
[00:05:48] Rico: So you have a business doing this? You're actually selling artwork that you're doing. Here's another one that you did that we want to share with people. You want to tell us a little bit about that one as well?
[00:05:59] Makenna: Yes. So these are my patches. I have three different sizes. And this is actually the large pouch. That's the small one. I try to make them in all different like patterns and colors. So it's kind of versatile for everyone. And that's what I'm looking for when I'm going into the fabric store. And this is my Necessities Pouch, which is the smallest one.
[00:06:20] Rico: Alright, cool. And I think we have another picture.
[00:06:23] Makenna: All of my artworks are like different, things that I sell. So I have bookmarks, pouches, pillowcases, scrunchies, all that kind of stuff.
[00:06:34] Rico: Cool. Great. So I appreciate you ladies sharing the type of work you do. You know, it's interesting going from, fabric sewing, because you're looking at the outside, but there's also an inside. There's seamstress work you have to do. You're actually creating a pattern before you do any of that work, correct?
[00:06:51] Makenna: Yes.
[00:06:51] Rico: So have you ever thought about doing outfits, skirts, dresses?
[00:06:55] Makenna: When I did lessons a couple of years ago, I made shirts and stuff. But it's a little bit harder. So I prefer making like smaller stuff like this. I find like a lot more people find it more interesting, especially for younger ages.
[00:07:08] Rico: Gotcha. And you actually go to different places, or different home shows, I guess? To sell your stuff there?
[00:07:16] Makenna: Yeah, I've been to a couple of different shows. In 2021, I did the Wesleyan Artist's Market, but it was online. And then I did a show at Marist, which is their, I want to say it's their holiday tradition show. And then I did one at Lake Oconee.
[00:07:32] Rico: Oh, okay, cool. And people can always find your work online as well.
[00:07:37] Makenna: Yes. I have an Instagram, which is where I post pictures sometimes of some of the stuff I make. I do a lot of custom orders for people.
[00:07:46] Rico: Alright, cool. Now getting to EG, the work you do, obviously Procreate. Are you able to translate that? I know that as a publisher, I know that you could probably take your artwork digitally and actually put it on canvas electricly. You can put her on posters and stuff. Have you done that? Or have you tried the crypto art, encrypted art work?
[00:08:07] EG: Oh, NFTs?
[00:08:10] Rico: NFTs, thank you. I always mess that up. Sorry about that, yeah NFTs. Because that would be, that would be perfect, right?
[00:08:20] EG: I have not tried NFTs yet. Mostly because I don't know much about them. To be honest, what I have heard about them, isn't the best. So I'm a little wary of that. But otherwise there are a lot of transferable skills for digital art. So for example, before I was using Procreate, I was using Photoshop. And before Photoshop, I was using some free third-party software. And before that I was using like Kidpics when I was four, you know? But yeah, they're the, you know, it just kind of builds up over time.
[00:08:53] Rico: Right. When you do these things, I mean, you're going to be at the Artist's Market so how do you sell the artwork there? I understand how a pillow can be sold there because it's a physical item. So, but how would you sell your artwork?
[00:09:06] EG: So, I use a third party company to print them, print my artwork onto stuff. Because I can't, I unfortunately don't have the tools at home to print my artwork on a cup.
[00:09:19] Rico: So, is that what you print your stuff on cups? Or do you do other types of things?
[00:09:23] EG: That's just an example. I'm not quite sure yet if I'm going to offer my artwork on cups this year, but I might.
[00:09:30] Rico: Okay. Makenna, which artist or filmmaker or author do you take inspiration from?
[00:09:36] Makenna: There's not like a specific person. But I actually do remember when I started, got my interest in sewing was when I was younger, I used to watch Project Runway with my mom and that's kind of like what got me into thinking to want to sew.
[00:09:51] Rico: Okay. And that's good. I mean, you have your own sewing machine, obviously, right?
[00:09:55] Makenna: Yeah, I do it all from home.
[00:09:59] Rico: Right, cool. And that's not easy, I've got to tell you. I mean, my mother-in-law used to sew and she had a sewing machine, old fashioned, electric. Just being a seamstress work, my wife's whole family are pattern makers, seamstresses from New York and stuff. And they would make these beautiful dresses. In fact, we made her engagement dress from something I designed. That'll never happen again, that's a long time ago. And it's difficult, so you can imagine, so you can appreciate that, I think. EG what about you? A specific person or artist or artwork that you find inspiration from?
[00:10:32] EG: Honestly I draw my inspiration from a lot of what I see on social media. For example like, Instagram, Pinterest. I know those are kind of basic sources, but I like following different artists with different styles. I just think it's so fascinating to me, how many styles are out there and how artists can incorporate styles of other artists into their own style. So it becomes like a conglomeration of styles and I just, I think that's so cool.
[00:11:01] Rico: That is cool. And I also on Instagram and Pinterest follow a lot of different artists. And the great part about that is that they're from all over the world. I mean, and there's another source that Adobe has, which is I think It's a portfolio site. Yeah, you should look into that if you're into Adobe and stuff, because it's the same thing like Pinterest, actually their boards and stuff like that, right? But you're following an artist and they keep posting, it's almost like blog posts, with their art work. You're right. I mean, you can find inspiration anywhere that way, and it can even be photography, I would imagine. That might inspire and illustrate a type of work. Is there any art that you identify most with? If you could pick a piece of art out there, is there any artwork that you would identify with?
[00:11:43] EG: Like, that I've done or?
[00:11:45] Rico: That's out there or that you've done, whichever one is fine.
[00:11:49] EG: I don't have a specific piece of artwork that other people have done that I identify the most with. But I do have a genre that I identify a lot with. Or just like a kind of feeling that, that I identify with. It's just, art that has a lot of emotion behind it. I think when you have emotion behind it, it just, it automatically becomes a lot more powerful. And even if you don't know what exactly emotion that artist is communicating, it's still felt. And actually, I learned recently, well I saw recently a project that, a previous AP art student had done and I was so drawn to it. It was very illustrative, pastel colors, and very whimsical and fantastical. So it, it definitely drew me in. I kind of related to that style of art. But then I found out it had this very tragic source of inspiration that they had drawn from and all of a sudden it all made sense. I just, I really, I was really impressed by it.
[00:12:55] Rico: Artwork that comes with a story. I think it makes that artwork even more have feeling. I think that's why some paintings are worth millions of dollars. It's basically because of the artists and the pain, maybe that they felt as they were doing that artwork. Makenna, do you have an inspiration like that, that you draw from? Any favorite place that you work from?
[00:13:14] Makenna: Not really. Sometimes once I start one pattern or like project or a product, whatever you want to call it, I usually get ideas from more. So like in the past with my patches, I've done, obviously I've made different sizes of them and one time I even did patchwork. So I did different fabrics on the outside. So I just kind of like work with it and make different things and make my own inspiration, if that makes sense.
[00:13:42] Rico: It does. And what types of fabrics do you like working best in?
[00:13:46] Makenna: Cotton is the easiest to work in. I do a lot of flannel. And then when I make my pillow cases, those are flannel and there's a border around them if that makes sense. And it's a Minky almost, so it's much softer.
[00:14:02] Rico: Do you go out, there's fabric places I know, do you go out and look at all the fabric? I mean, there's tons. You can go into one of these stores and there's thousands of them.
[00:14:11] Makenna: Yes. I typically go to Joann's because they always have good coupons, which helps. And they have, like a wall of all their cotton fabrics and all the different colors. And so it's easy to like go in with what you're looking for. But it's also good to keep an open mindset, because there's so many different options.
[00:14:28] Rico: Sure. I can imagine, you can spend hours doing that, just looking at, through all the fabrics. Then even the stuff that you put onto it, right? The accents that you put onto it or sew onto it, depending on the project. So the Joanne's probably the store that you go to versus any other store I would imagine. But are there other stores that you might go to where, maybe Home Goods or something where you're there and you're noticing stuff and you say, Hmm that's cool. I'd like that. Maybe that's inspiring. Do you see that? Do you see yourself doing that? When you go shopping?
[00:14:59] Makenna: I do that all the time, yeah.
[00:15:02] Rico: Cool. EG what about, there's inspiration that you can find in all sorts of places. I know that you said Instagram, Pinterest and stuff, and genres right? I know one of the things that you pointed out, I think you like whimsical artwork and stuff. Anime was one of the areas there or anime art, which has also varies, right? Because there's a lot of different ways to do that. Are there any specific animes that you enjoy that's inspired you or artists within that realm?
[00:15:30] EG: So, like you said, anime is a very diverse genre. So certain kinds of artwork from that genre, I'll say. One that I really, really like is Studio Ghibli. Because I had heard about their movies and their stories and these beautiful, beautiful backgrounds that they've used. And so I started watching them. And man, I agree wholeheartedly with those assessments. They're absolutely gorgeous films. But they do follow the anime style. So that's one of my main inspirations.
[00:16:01] Rico: Cool. They're fantastic movies. It's a shame that, what's his name? Miyazaki retired. Actually, he might be coming out to do one more movie, I think. But my kids, Disney movies and those movies. So studio Ghibli is a great place. Let's go into a little bit of some other questions, as far as, you're doing artwork. Some people do artwork like they do sports, right? Some people do sports and they realize they'd love to be in that sport, but that's not where they're going to be. So they're going to study law or something else like, you know, something different. Or maybe even physical therapy, so something somewhat related. But people are different, right? But you're getting into art and you want to stay there, right? I mean, you want to go on to college or, maybe SCAD even, to do studies in art. Is that where you want to head to? And what ultimately, where ultimately, would you want to find yourself in like five, six years after you get out of school?
[00:16:56] EG: That's honestly a great question. I really have found that I really would like to stay in a creative field. Just because I think, you know working on an Excel document, I think, in an office setting. I do understand that that's not an option for a lot of people. But I realized that there is just as much risk in doing that as following what you really want to do. I guess in, in your heart or in your gut. So I really, I do want to do something creative. Even if I have to go a long way to get there. But yeah, I'm also interested in like photography and writing. So those are also creative paths that I could end up going down.
[00:17:40] Rico: Alright, cool. Yeah, the world is changing, right? It used to be before, a decade ago, 10 years ago, if you were a graphic designer. Pretty much, you were a graphic designer and you weren't doing other things. That changed. You know, obviously kids in school, even my kids, as they were going through high school, they were taking Photoshop actually in middle school, they were doing even Photoshop. So right. And HTML and programming even. Even if you weren't in school doing it. For example, I remember my daughter she loves, I think it's Horse Isle, which was a horse riding game. And you'd have to make your own sort of website within that world. So she learned HTML by herself. She learned how to use Photoshop by herself, different brushes and stuff. I was just impressed, one day when I saw her doing, I was like, where'd you get those brushes? Did you download that? She's like, no, I made those. And I was like, what? Really? So if you want to do these things and you have that talent and she's not going that way, she's doing something else. But it was a good fun time for her to be able to do that. Makenna, you're doing work that I know from my experience with my family seamstresses and stuff like that, that worked for large dress companies and design firms, fashion companies. We used to get dresses in the warehouses in New York. Sometimes they'd let us in and we'd go shopping. Your type of work is a bit different though. And you can sell that stuff on Etsy. I mean, you become your own business easily, just as well as illustration too. So tell me what you want to do. Where do you want to be when you leave high school? Where do you think you'll be going to and where do you want to be six, seven years from now?
[00:19:10] Makenna: I have a long time since I'm still a freshman until I kind of decide where I want to go and what I want to do. But I've definitely thought about fashion designing or kind of growing my business, as maybe even if it's just on the side. I've also, I'm a gymnast so I've also thought about doing something that relates to sports. So like sports medicine or physical therapy, like you said.
[00:19:34] Rico: Cool. And there's nothing wrong with having a business on the side. Sometimes that becomes lifestyle money. What's called lifestyle money, right? It adds to your other income. And who knows? It may take off and you might end up being full-time doing that. We never know. Let's go through a couple of other questions that are not necessarily on the artwork, but sort of hopefully a little bit more revealing of the type of person you may be. And I've asked these questions of other people sometimes. What superpower would you have and why? And let's start with EG on that one.
[00:20:04] EG: I'm going to be honest, I have thought a lot about this. I have not been able to come up with a complete answer. Because there's a lot of super powers out there and choosing one seems, you know, you might choose one and then you're like, ah, I wish I'd chosen that one. But, I think overall one of the best ones out there is flying. And I know that's really like, that's one of the more popular ones, but it's for a good reason. Because being an artist specifically, I could just casually float up over Atlanta one day and sketch that. That'd be fun.
[00:20:40] Rico: That would be. What about you Makenna? What superpowers, if you could pick one, would you have and why?
[00:20:46] Makenna: I don't know. Maybe super strength. And there's not like an exact reason. Like, I don't know. It just sounds cool. Just randomly like lift up a car or something.
[00:20:55] Rico: Alright, alright. Super strength is always good. What wouldn't you do without? Let's start with Makenna, maybe. If there was something that's your favorite thing, I guess, that you wouldn't do without. It could be anything. It could be time.
[00:21:09] Makenna: That's a really hard question.
[00:21:10] Rico: It is. It's more, really like life question, actually.
[00:21:13] Makenna: I'm not sure.
[00:21:14] Rico: Okay. EG, do you want to step in and say one? Do you have one?
[00:21:18] EG: I mean, I use my iPad and my Apple Pencil pretty much every day. I've actually started bringing them to school because I draw on them every single day. So pretty much my iPad and my Apple Pencil are essential to my life right now.
[00:21:35] Rico: Cool. Makenna, do you use anything to like sketch or keep a diary? Do you do any of that as well?
[00:21:41] Makenna: I do a lot of my stuff on paper. All my patterns are made of those either posterboard or cardstock. And so I'm able to like draw it out and like take measurements. I usually write it down in a notebook, what the measurements are and stuff. And like what I want it to look like.
[00:21:57] Rico: Alright, cool. So the next few questions are just the standard Q and A's that I drop in towards the end of an interview. What's your favorite food EG?
[00:22:06] EG: Ooh, as far as snack food, that would definitely be popcorn. I make popcorn a lot. So much so that we actually have a popcorn popper and we have to buy popcorn kernels, but it is really good. It is really good.
[00:22:20] Rico: Makenna what about you?
[00:22:22] Makenna: Favorite food is probably any type of Italian food. I love pasta or pizza.
[00:22:27] Rico: Okay. And what's your favorite book or movie EG?
[00:22:31] EG: I actually have not ever been able to come up with an answer for this one. But I do really, really like the Marvel movies. I'm a big fan of those.
[00:22:41] Rico: How about your makenna?
[00:22:42] Makenna: That's so hard. It always changes whenever I watch a new movie. I'm not the best at like keeping up and reading books, but I just like stick to the one's we have to read for school. But movie, it's really hard. But like she said, I also liked Marvel movies and like Disney movies.
[00:22:58] Rico: Do either of you speak a language other than English?
[00:23:01] EG: I'm trying to learn French. I'm in French classes right now, so.
[00:23:05] Makenna: Yeah, I'm the same. I'm taking French at school, but I'm definitely not fluent.
[00:23:10] Rico: Oh yeah, French is not easy. I spoke a little bad Italian and I decided to take French in high school, which was just a mistake. I should've stuck with an Italian, that would have been an easy A. So, let's go for one last thing that I'd like both of you, one at a time, we'll start with EG. Where can people, obviously the Instagram, your Instagram addresses are both below your names, above your heads on this video. But where can people find or follow you? Are there different places and where can they purchase artwork? Obviously, you're going to be at Wesleyan Artist Market so they can visit that too.
[00:23:46] EG: Yes. Please come visit me at the Wesleyan Artist Market, I'll have a lot of stuff out. But yes, obviously the Instagram. And then I also have a Red Bubble, if you don't know what a Red Bubble is, it's basically again, this service that you can upload your art onto and you can get that in pretty much everything. So I have uploaded just a few things to Red Bubble, but I'm hoping to upload more soon.
[00:24:13] Rico: I haven't heard of that one, alright. What about you Makenna? Where can people find out about you and buy your products and stuff?
[00:24:20] Makenna: Definitely through my Instagram, like DM me. My email is also in my bio of my Instagram, for my business. That's the main place. You can also find me at a boutique at Lake Oconee, it's called the Artisans Village. And I used to be in a boutique in Atlanta, but they recently closed. But yeah.
[00:24:42] Rico: Cool, great. The Wesleyan Artist's Market is happening in April. We're going to have show notes to this video podcast. Obviously if you're listening to this on Spotify or iHeartRadio, just Google Wesleyan Artist Market, and you'll be able to find out the date and such. But we'll have the link in the show notes on this. Feel free to look for other artists, but certainly EG Pickering and Makenna Wazevich. Check them out because they're talented kids. I appreciate your time here with me Makenna and EG. My name is Rico Figliolini. I want to thank you all for listening in to this podcast and check out Wesleyan Artist Market.