Pinckneyville Middle and Other Schools See their Soccer Season Fade Away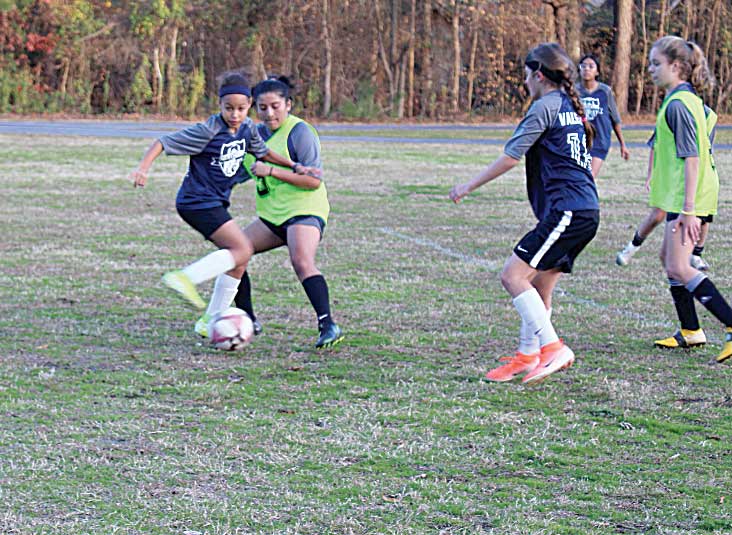 The field had never looked greener for the bright-faced squads of Pinckneyville Middle School Soccer at the 2019-2020 school year's start, but Gwinnett County Public School (GCPS) closures amidst the Coronavirus pandemic have left parents and students wondering if their season will reconvene.
According to Pinckneyville Middle School Soccer Coach Sara Sanders, Pinckneyville Middle School tryouts commenced in mid-October in preparation for the Middle School Soccer tournament that normally takes place in March, but it has since been postponed.
Pinckneyville Middle School Soccer functions as a popular club sport, with one Boys and one Girls team spanning grades sixth through eighth. Because of the classification as a club instead of an official Middle School sport, Sanders and her team must work creatively to equip their players with everything they need.
Each year Sanders contacts other coaches to get Pinckneyville Middle School Soccer uniforms made, though this does mean that each child keeps their uniform at the end of the season. From scheduling to transportation and everything in between, no small detail can be overlooked. Sanders credits Sonia Lee, Sandra Goring and Gene Rouille with keeping her sane and on track.
Pinckneyville MS Soccer Club background
The soccer club at Pinckneyville Middle School kicked off five years ago with Sanders at the helm, starting with eighth-grade boys then expanding to all grades, eventually adding a Girls team as interest grew.
Typically, both teams have set separate practices, but they often practice together as well. This gives players the chance to hone their skills and interact with fellow students who they might not otherwise have the chance to. Both teams are currently in the top five teams of their respective leagues, with the girls ranked first and the boys ranked third.
Sanders has had the opportunity to watch former Pinckneyville Middle School Soccer players go on to play as Norcross High School seniors, bringing everything full circle. In order to further that legacy, Sanders has made efforts to keep the players in-game shape should the season pick up again soon.
"We have been doing virtual practices to stay sharp. I send the kids two practice sessions that they complete during the week and then record myself the other three days of the week for them to practice simple foot skills and moves to help keep them technically and tactically sound," said Sanders.
She added that though parents and students are disappointed with the interruption in their season, the soccer club tries to stay positive through this difficult time. Pinckneyville Middle School soccer falls under the jurisdiction of GCPS and must abide by all extracurricular protocols handed down by Gwinnett County.
In the soccer community, the new suggested end-of-game procedure asks for touching of elbows or fist bumps instead of the customary handshake. It is unclear if more rules will change in response to the Coronavirus outbreak.
Pinckneyville Middle School Soccer anticipates reinstatement by GCPS along with all other extracurriculars on hold. Other school soccer programs in Gwinnett County face similar questions and challenges.
Cornerstone Christian Academy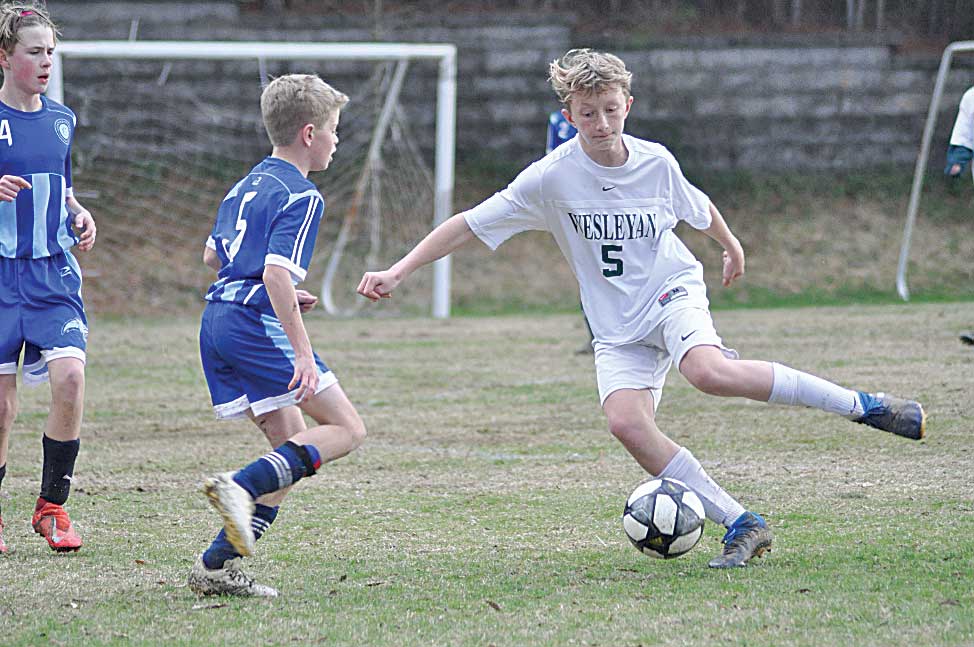 The nearby Cornerstone Christian Academy has faced similar challenges and setbacks, but the staff continues to celebrate past successes and remains hopeful for the future.
Cornerstone Athletic Director Chuck Faust had much to say in support of the growing soccer program. "The soccer program has come a long way in the last five years. We have quite a few soccer players who play on elite teams outside of our school, but the sense of camaraderie that our community provides has the players desiring to play at Cornerstone as well," he said.
Austin McDonald heads up the boy's program, while Chip Marsten and Helen West lead the girl's program. According to Faust, the school itself has grown at a quick pace, and therefore the talent pool for soccer and other sports has expanded. The sportsman-like atmosphere provided to Cornerstone Cougars helps to foster school pride, and sport successes seem to also boost admissions for parents searching for strong sports programs to augment their students' private school education.
"The players have a sense of pride when they compete for the school. We love feeling like an underdog when competing against the big schools. This passion is contagious for the parents and fans on the sideline," said Coach McDonald.
Regarding the benefits of the Girls program, Coach West had this to say. "Cornerstone soccer is a place where our girls can have fun, play with their friends and represent our school. For many of our players, the team is less stressful than their club programs. This brings a different kind of joy to their game," she said.
The soccer season had already kicked off for Cornerstone Christian Academy as well when the schools shut down in response to Coronavirus. Both boys and girls teams had already played about four matches, with the boys undefeated as well as achieving some big wins against large school rivals.
Play has been suspended along with school closure, but the season has not yet officially been postponed, according to Faust. Like many other schools in Gwinnett County and beyond, Cornerstone Christian Academy is monitoring how the current health situation develops and will utilize all information available to plan any protocols that may protect student athletes going forward.
Greater Atlanta Christian School
Some highly competitive schools, such as Greater Atlanta Christian School (GAC), have a significant number of student athletes in many sports eager to play once it is deemed safe. Greater Atlanta Christian School, a private school located in Norcross, fills its rosters with student soccer athletes from sixth grade to high school level. Their trophy case looks rather full, with five state championships and 15 regional championships, among other accolades.
Thom Jacquet has served as Varsity Soccer Head Coach at Greater Atlanta Christian School for 29 years, with two sons and a daughter that have worn GAC Spartan Soccer jerseys at one time or another. "We have had a very positive start to our season and would very much like to continue. Saying that, obviously we are mindful of the much bigger picture going on in the world and we fully stand by the decisions of our school and others in the decision-making process," he said.
When asked about how the current health crisis might influence the future of the game, Jacquet remarked that "the world will be in a different place when we are done, and some additional safeguards may be put in place either by us or mandated by health officials. Everything we do will be under review as we pick things back up."
Wesleyan School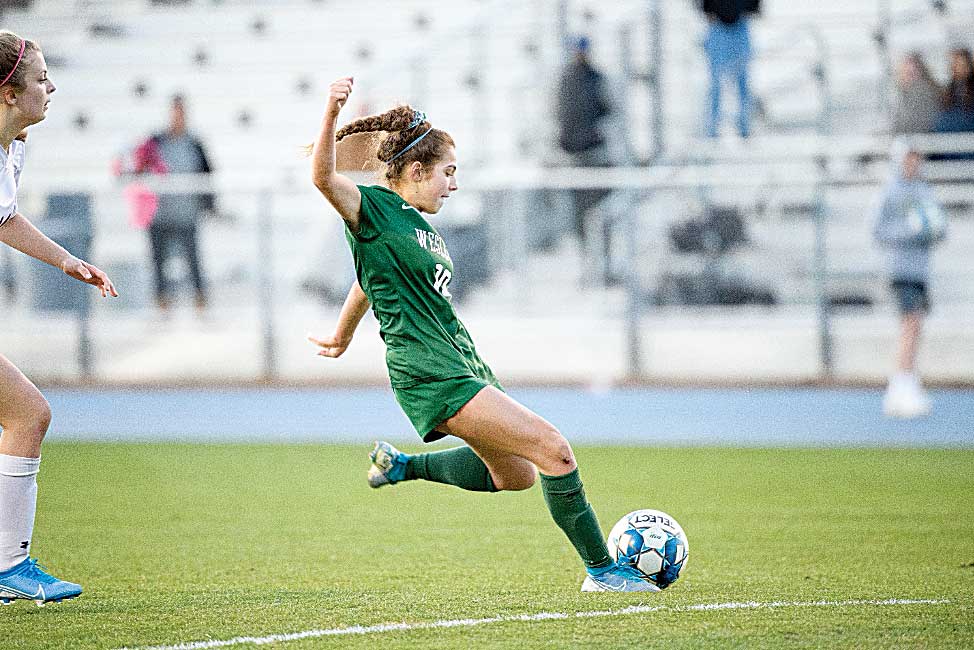 Similarly, Wesleyan School's varsity teams were roughly halfway through their season when the school suspended play due to the Coronavirus. The varsity boys had played eight games before suspension was called prior to Wesleyan's spring break.
Wesleyan CFO and Head Coach of Varsity Boys Soccer Billy Coxhead had much to say about the success of Wesleyan Soccer and its access to student participation. In the past six years, the varsity boys soccer team has been state champion twice and a state runner-up once, among other achievements. But despite its competitive nature, Wesleyan Soccer accepts the majority of students that tryout.
"At Wesleyan, most players can find a place to play on one of our teams. However, we play public schools every year before we play our Region schedule. Our varsity teams are competitive with the public schools even though we do not have the depth of players that public schools have," said Coxhead.
This ability to allow as many students to play as possible allows coaches to have yet another outlet to instill "life lessons more than remembering win-lose records", according to Coxhead.
"Soccer is vital to our school because we believe that athletics further the overall mission of Wesleyan," said Assistant Coach of Varsity Girls Soccer, Glen Archer.
But of course, the more names on the rosters simply means more kids waiting to see when they can return to the field.
The student athletes at Pinckneyville Middle School, Cornerstone Christian Academy, Greater Atlanta Christian School and Wesleyan School come from diverse backgrounds across the Gwinnet County community, but they all share a love for the game of soccer. It remains to be seen if these schools will finish their seasons, but of course the health and safety of the players proves top priority.
Wesleyan School Honors Coxhead, Delk, and Stafford As 2020 Inductees to Wesleyan School Athletics Circle of Honor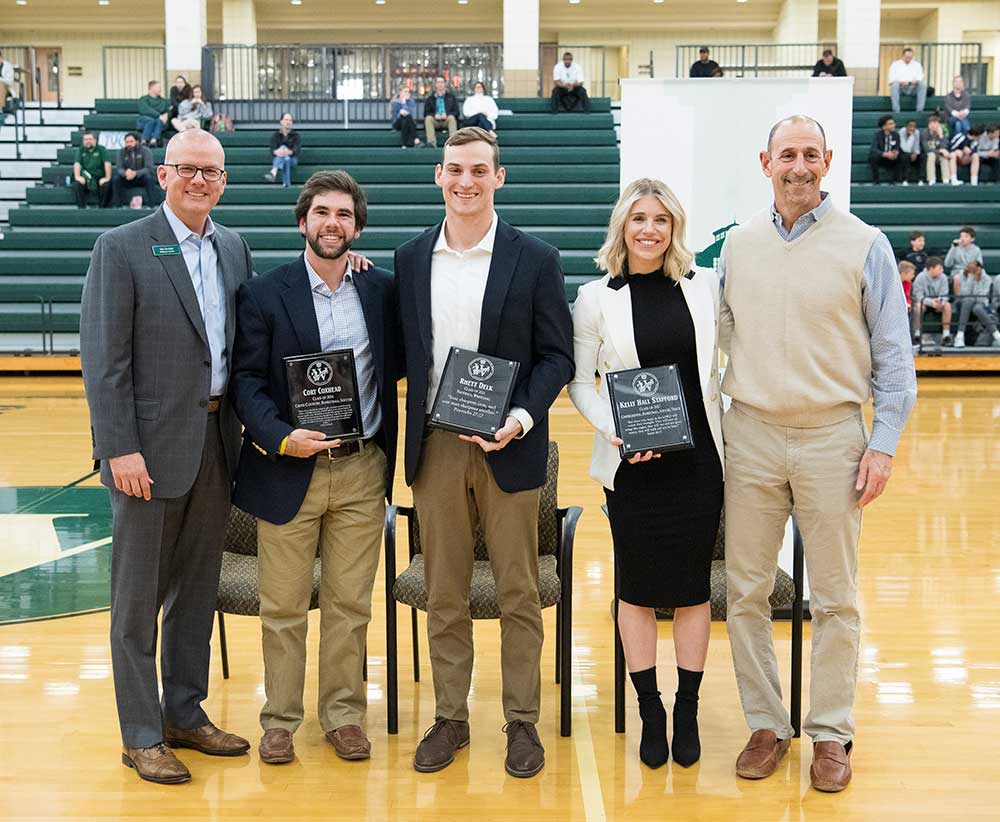 On Friday, January 10, Wesleyan School inducted the 2020 class to the Wesleyan School Athletics Circle of Honor. This year's inductees were Cort Coxhead, Wesleyan class of 2014; Rhett Delk, Wesleyan Class of 2014; and Kelly Hall Stafford, Wesleyan class of 2007.
While at Wesleyan, Cort Coxhead was a member of the soccer, basketball, cross country, and swim and dive teams. While Coxhead lettered in cross country and basketball, it was the soccer field on which he made the greatest impact. A four-year letterman and named to the All-County team for three years, Coxhead set records while at Wesleyan for assists in a season and assists in a career – and is now fourth in Wesleyan history for these records. After leading the team to the final four in 2014, Coxhead went on to play soccer at Davidson College where he was a four-year letterman and was co-captain of the team. He is now attending medical school at Emory University where he is studying internal medicine.
Rhett Delk lettered on both the Wesleyan football and wrestling teams. In football, he was named to the second team for both All-State and All-Region in addition to being named a Gwinnett County Scholar Athlete. Delk holds the school record for longest field goal, a 49-yard game winner. As a wrestler, Delk was named to the All-County Team in 2013, was the area and sectional champion the same year, and went on to become the state champion for 2013. While at Wesleyan, he was a four-time state place winner. Delk attended Washington and Lee University where he played football and wrestled. He is now back in the Atlanta area and is working in commercial real estate for Cresa Atlanta. Delk is also serving as a volunteer community coach in Wesleyan's wrestling program.
Kelly Hall Stafford earned a stunning fifteen athletic letters during her time at Wesleyan. Hall participated in cheerleading, basketball, track and field, soccer, and lacrosse. In basketball, she was named to the All-County Team in 2006 and 2007 and the All-Region Team in 2007. During her time at Wesleyan, she held the record for charges in a season and in her four years playing varsity basketball, she won three state championships and one state runner-up. Stafford went on to cheer at the University of Georgia. She is currently living in Michigan with her husband and their young children.
The Athletic Circle of Honor was created in 2007 to show appreciation to members of the Wesleyan community who have made significant contributions to Wesleyan athletics. Those chosen for induction into the Athletic Circle of Honor have influenced our community through their ability, dedication, and service to our athletic program while at Wesleyan and following their graduation.
Wesleyan School is a Christian, independent K-12 college preparatory school located in Peachtree Corners, Georgia. At the start of the 2019-2020 school year, Wesleyan enrolled 1,179 students from throughout the metropolitan Atlanta area. To learn more about the school, visit www.wesleyanschool.org.
Successful Norcross High Cross Country Teams Bring Home High Scores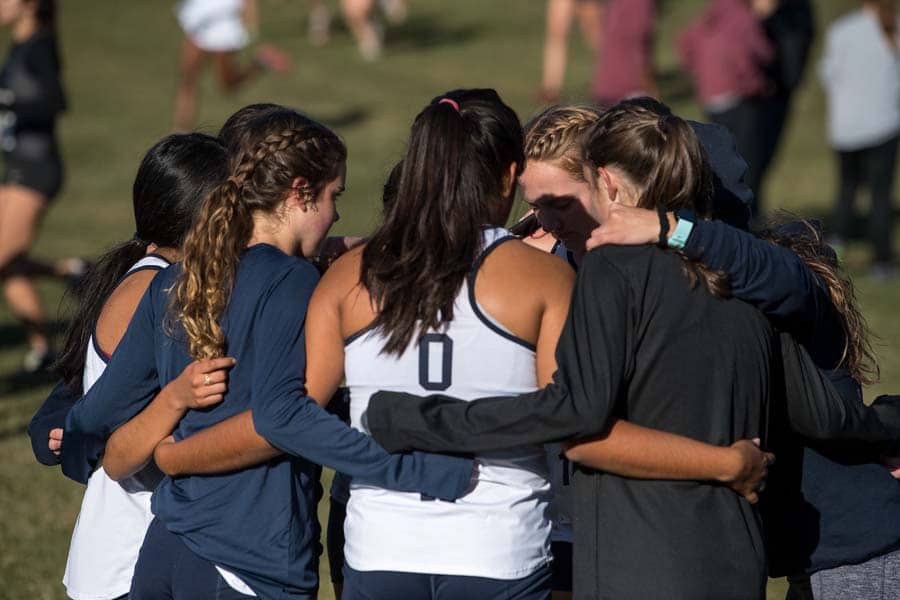 Everyone is invited to help support the team at the Blue Devil Run on February 8
The Norcross High School boys' and girls' cross country teams had significant success this season, making it a benchmark year for the Blue Devil runners.
The boys' team made waves by winning the 7A Area Four Championships, defeating powerhouse schools such as Brookwood and Millcreek, which Norcross High School hasn't done since 1982. The girls' team also scored well, placing 6th out of the 13 schools that competed there. Two of their runners, Merritt Blum and Claudia Gatti, placed in the top 12.
Nathan Brooks, who has been coaching the runners for three years, talked about how the experience brought the team closer as a whole. "We had to overcome a lot of different challenges, but the camaraderie and support that the seniors gave the rest of the runners will definitely be missed," he said.
Their journey didn't stop there. Winning at the regional championship was a stepping stone to the team's ultimate goal: competing at the Georgia High School Association (GHSA) state cross country championships in Carrollton, Ga.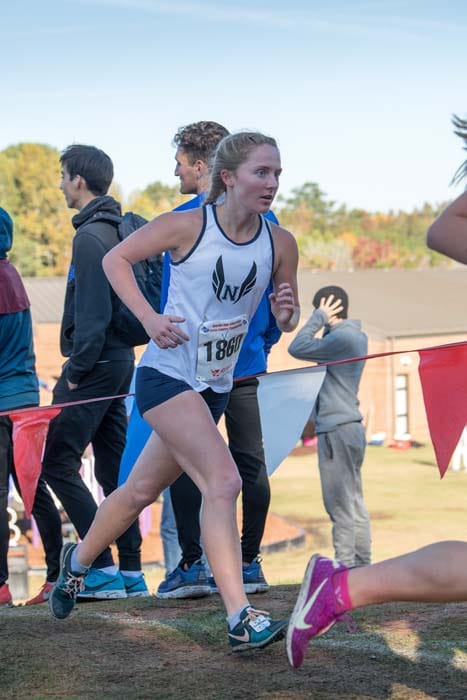 "Being able to take our boys' and girls' teams to the 7A state championships is a big accomplishment," said senior Merritt Blum. "You're going out there and running against the most competitive teams in the area, and by the end of the season, everyone is at their peak."
She added that despite the pressure, "…the chance to compete there gave us that second wind we needed to train ourselves even harder for the championships. Even though we work hard all season, knowing that we had the opportunity to go up against the best of all the cross country runners in Georgia gave us a new kind of motivation."
Their hard work paid off, and the boys' team placed 7th in the state. Four of the team's runners placed in the top 50 out of the runners who competed there: Miguel Schlicht (15th), Joseph Winters (33th), Gabriel Schlicht (34th) and Yonas Chimbanda (47th).
Gabriel Schlicht described his experience as something unforgettable. "It was very exciting. You could feel the energy as the 200-plus runners sprinted off the starting line—and the atmosphere was electric," he said. "My favorite part was the finishing downhill sprint because the spectators were going crazy."
The girls' team also performed exceptionally, and as a team ended up 14th out of the schools that competed. Junior Claudia Gatti finished 17th, and senior Merritt Blum rounded out the girls' score, placing 43rd.
The teams' accomplishments this season wouldn't have been possible without the support of their dedicated coaching staff: Nathan Brooks, Katherine Yost and Ken Almon.
Nathan Brooks said, "This year's team was a treat for me as a coach. We accomplished a whole lot winning the 7A area title for the first time in almost 40 years, and on top of that finishing 7th at the state meet. As an organization, we're looking forward to carrying that success into the track season and continuing the growth we have had this fall."
If you'd like to support the Norcross cross country team, you're invited to participate in the 10th annual Blue Devil Run on Saturday, February 8. The beloved community event is fun for the whole family. Proceeds of the race go towards funding Norcross's cross country and track teams.
You can register at bluedevilsrun.com to run or walk—or even to support the team as a phantom runner if you can't make it to the race. There'll be breakfast, coffee and sponsor tables for the runners to enjoy before and after the race, as well as a warm-up led by a YMCA instructor. The Blue Devil Run is a Peachtree Road Race qualifier.
Cornerstone Boys Swim Team Claim Runner Up at MS Championships

Cornerstone Christian Academy boys swim team made school history by taking home a trophy at the 40th Annual War Eagle Middle School Championships at Marist for the first time.
Cornerstone finished second out of twenty-seven teams. The boys started off the meet by breaking a school record and taking gold in the 200 Medley Relay (Noah Brown, Ethan James, Carson Credendino and Owen Archibald).
Eighth-grader, Noah Brown broke another school record in the 200 Free and combined with James, Archibald and Robby Syvertson to break the school record in the 200 Free Relay (finished 3rd in the event).
Here were the top ten teams scores:
Wildcat Swim Club (Duluth HS feeder program) 244
Cornerstone 219
Lovett 218
Marist 177
GACS 160
Westminster152
Renfroe 142
Wesleyan 135
Paideia 130
Woodward 124

Full results for the meet can be found here.