Successful Norcross High Cross Country Teams Bring Home High Scores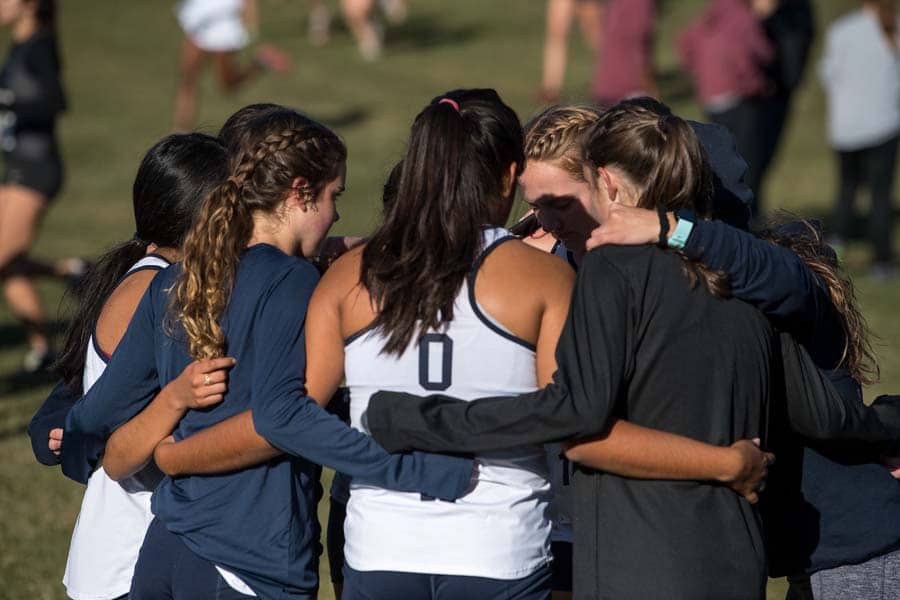 Everyone is invited to help support the team at the Blue Devil Run on February 8
The Norcross High School boys' and girls' cross country teams had significant success this season, making it a benchmark year for the Blue Devil runners.
The boys' team made waves by winning the 7A Area Four Championships, defeating powerhouse schools such as Brookwood and Millcreek, which Norcross High School hasn't done since 1982. The girls' team also scored well, placing 6th out of the 13 schools that competed there. Two of their runners, Merritt Blum and Claudia Gatti, placed in the top 12.
Nathan Brooks, who has been coaching the runners for three years, talked about how the experience brought the team closer as a whole. "We had to overcome a lot of different challenges, but the camaraderie and support that the seniors gave the rest of the runners will definitely be missed," he said.
Their journey didn't stop there. Winning at the regional championship was a stepping stone to the team's ultimate goal: competing at the Georgia High School Association (GHSA) state cross country championships in Carrollton, Ga.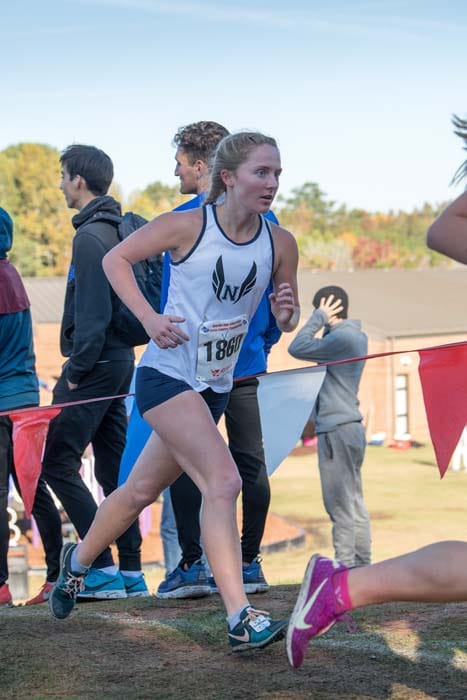 "Being able to take our boys' and girls' teams to the 7A state championships is a big accomplishment," said senior Merritt Blum. "You're going out there and running against the most competitive teams in the area, and by the end of the season, everyone is at their peak."
She added that despite the pressure, "…the chance to compete there gave us that second wind we needed to train ourselves even harder for the championships. Even though we work hard all season, knowing that we had the opportunity to go up against the best of all the cross country runners in Georgia gave us a new kind of motivation."
Their hard work paid off, and the boys' team placed 7th in the state. Four of the team's runners placed in the top 50 out of the runners who competed there: Miguel Schlicht (15th), Joseph Winters (33th), Gabriel Schlicht (34th) and Yonas Chimbanda (47th).
Gabriel Schlicht described his experience as something unforgettable. "It was very exciting. You could feel the energy as the 200-plus runners sprinted off the starting line—and the atmosphere was electric," he said. "My favorite part was the finishing downhill sprint because the spectators were going crazy."
The girls' team also performed exceptionally, and as a team ended up 14th out of the schools that competed. Junior Claudia Gatti finished 17th, and senior Merritt Blum rounded out the girls' score, placing 43rd.
The teams' accomplishments this season wouldn't have been possible without the support of their dedicated coaching staff: Nathan Brooks, Katherine Yost and Ken Almon.
Nathan Brooks said, "This year's team was a treat for me as a coach. We accomplished a whole lot winning the 7A area title for the first time in almost 40 years, and on top of that finishing 7th at the state meet. As an organization, we're looking forward to carrying that success into the track season and continuing the growth we have had this fall."
If you'd like to support the Norcross cross country team, you're invited to participate in the 10th annual Blue Devil Run on Saturday, February 8. The beloved community event is fun for the whole family. Proceeds of the race go towards funding Norcross's cross country and track teams.
You can register at bluedevilsrun.com to run or walk—or even to support the team as a phantom runner if you can't make it to the race. There'll be breakfast, coffee and sponsor tables for the runners to enjoy before and after the race, as well as a warm-up led by a YMCA instructor. The Blue Devil Run is a Peachtree Road Race qualifier.
Wesleyan School Honors Coxhead, Delk, and Stafford As 2020 Inductees to Wesleyan School Athletics Circle of Honor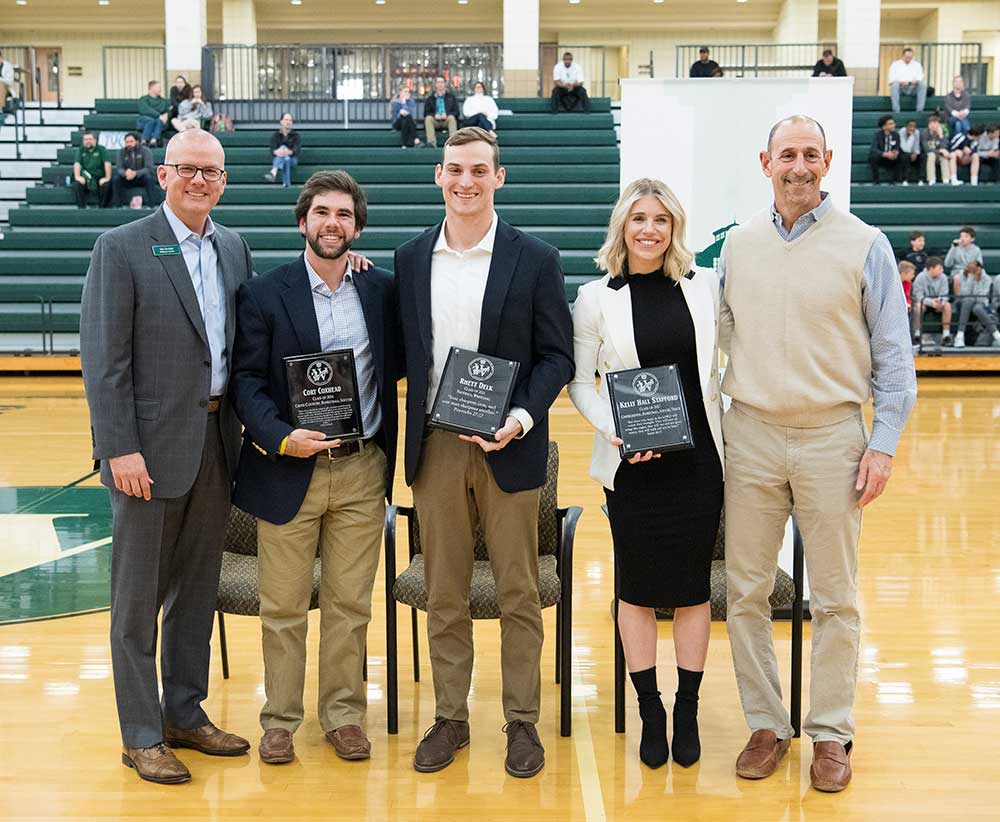 On Friday, January 10, Wesleyan School inducted the 2020 class to the Wesleyan School Athletics Circle of Honor. This year's inductees were Cort Coxhead, Wesleyan class of 2014; Rhett Delk, Wesleyan Class of 2014; and Kelly Hall Stafford, Wesleyan class of 2007.
While at Wesleyan, Cort Coxhead was a member of the soccer, basketball, cross country, and swim and dive teams. While Coxhead lettered in cross country and basketball, it was the soccer field on which he made the greatest impact. A four-year letterman and named to the All-County team for three years, Coxhead set records while at Wesleyan for assists in a season and assists in a career – and is now fourth in Wesleyan history for these records. After leading the team to the final four in 2014, Coxhead went on to play soccer at Davidson College where he was a four-year letterman and was co-captain of the team. He is now attending medical school at Emory University where he is studying internal medicine.
Rhett Delk lettered on both the Wesleyan football and wrestling teams. In football, he was named to the second team for both All-State and All-Region in addition to being named a Gwinnett County Scholar Athlete. Delk holds the school record for longest field goal, a 49-yard game winner. As a wrestler, Delk was named to the All-County Team in 2013, was the area and sectional champion the same year, and went on to become the state champion for 2013. While at Wesleyan, he was a four-time state place winner. Delk attended Washington and Lee University where he played football and wrestled. He is now back in the Atlanta area and is working in commercial real estate for Cresa Atlanta. Delk is also serving as a volunteer community coach in Wesleyan's wrestling program.
Kelly Hall Stafford earned a stunning fifteen athletic letters during her time at Wesleyan. Hall participated in cheerleading, basketball, track and field, soccer, and lacrosse. In basketball, she was named to the All-County Team in 2006 and 2007 and the All-Region Team in 2007. During her time at Wesleyan, she held the record for charges in a season and in her four years playing varsity basketball, she won three state championships and one state runner-up. Stafford went on to cheer at the University of Georgia. She is currently living in Michigan with her husband and their young children.
The Athletic Circle of Honor was created in 2007 to show appreciation to members of the Wesleyan community who have made significant contributions to Wesleyan athletics. Those chosen for induction into the Athletic Circle of Honor have influenced our community through their ability, dedication, and service to our athletic program while at Wesleyan and following their graduation.
Wesleyan School is a Christian, independent K-12 college preparatory school located in Peachtree Corners, Georgia. At the start of the 2019-2020 school year, Wesleyan enrolled 1,179 students from throughout the metropolitan Atlanta area. To learn more about the school, visit www.wesleyanschool.org.
Cornerstone Boys Swim Team Claim Runner Up at MS Championships

Cornerstone Christian Academy boys swim team made school history by taking home a trophy at the 40th Annual War Eagle Middle School Championships at Marist for the first time.
Cornerstone finished second out of twenty-seven teams. The boys started off the meet by breaking a school record and taking gold in the 200 Medley Relay (Noah Brown, Ethan James, Carson Credendino and Owen Archibald).
Eighth-grader, Noah Brown broke another school record in the 200 Free and combined with James, Archibald and Robby Syvertson to break the school record in the 200 Free Relay (finished 3rd in the event).
Here were the top ten teams scores:
Wildcat Swim Club (Duluth HS feeder program) 244
Cornerstone 219
Lovett 218
Marist 177
GACS 160
Westminster152
Renfroe 142
Wesleyan 135
Paideia 130
Woodward 124

Full results for the meet can be found here.
NHS Blue Devils Run 2020 Set for February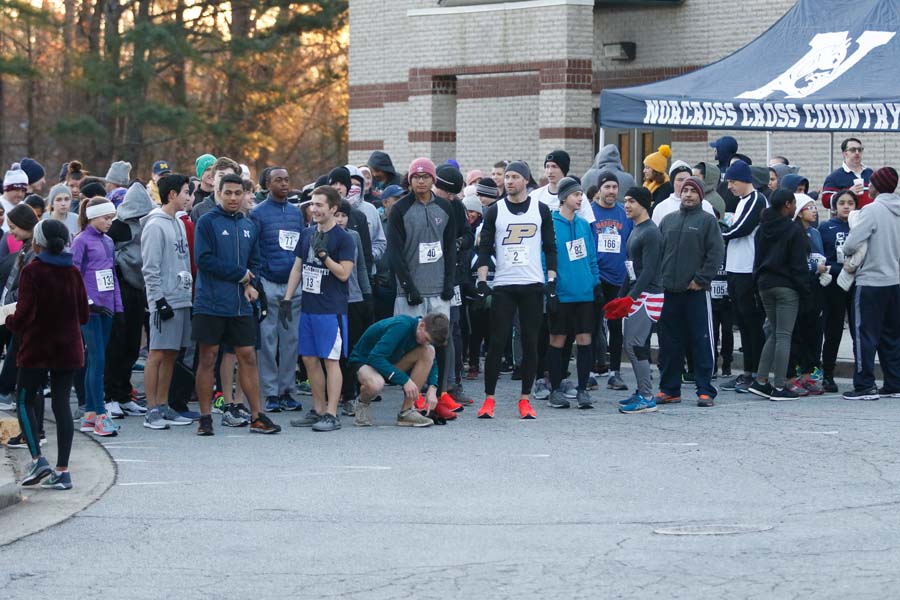 The 10th Annual Norcross Blue Devils Run will be held Saturday, Feb. 8, 2020 at Pinckneyville Middle School. For its 10th anniversary, organizers are planning to make the 2020 Blue Devils Run the biggest race yet.
Last year, more than 250 participants registered and raised over $5,000 for the running programs at Norcross High School. Many local businesses supported the Blue Devils Run by becoming race sponsors. The 2019 sponsor list includes: Big Peach Running Company; Blum & Campbell LLC; O'Leary Design Group LLC; Norcross Sports Training Academy; Bardi Heating, Cooling & Plumbing; Robert D. Fowler YMCA; Starbuck's Coffee at PIB & S. Old Peachtree; Active Care Atlanta; and Profile by Sanford.
Norcross High School is a Title 1 school and hasn't always had the funding available to support the cross country and track & field runners who wish to take part in the sport The Blue Devils Run was created in 2010 because the race creator, Amelia Watson, believed that any student interested in participating in the sport should be able to join the team regardless of financial status. Since 2010, proceeds from the Blue Devils Run have been used to purchase uniforms and equipment for both running programs, cover transportation costs and subsidize participation fees.
The race is a Peachtree Road Race qualifier.
You, your friends and family are all invited to get involved! Sign up at bluedevilsrun.com or go to RunSignUp.com and search for "Blue Devils Run." A packet pick-up night will be held at Road Runner Sports, 5275 Peachtree Parkway in Peachtree Corners, on Friday, February 7, 3-6:30 p.m. so runners can get their race numbers and t-shirts before race day.
Can't be there in person? You can still take part! Just sign up as a phantom runner to support the run and receive a race t-shirt.
Get your race on and sign up today!