How Five Community-Owned Businesses Were Bolstered with Cares Act Money- Anderby Brewing Feature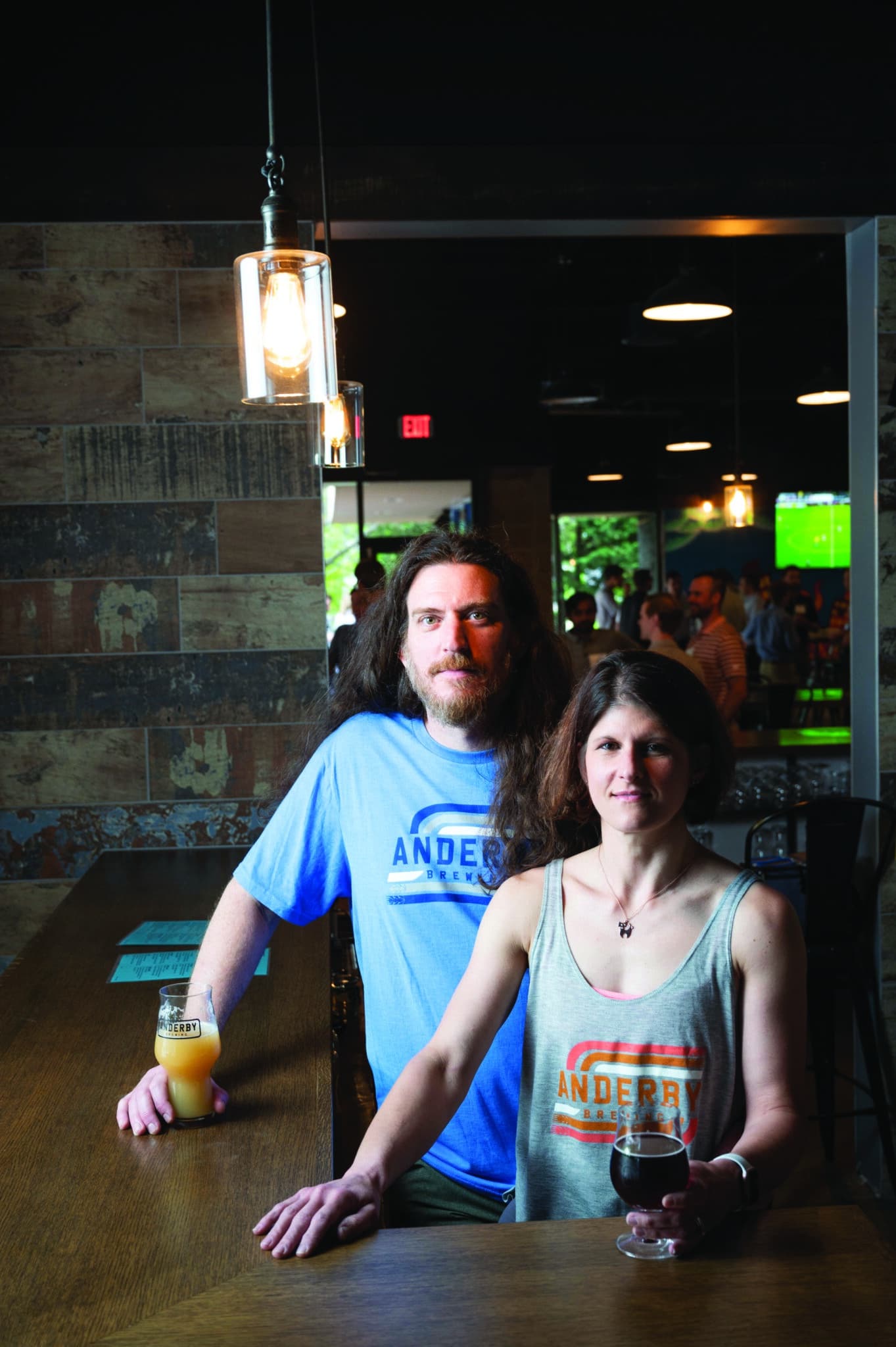 The grandly titled Coronavirus Aid, Relief and Economic Security (CARES) Act came quickly out of Congress and was signed into law after the namesake disease clamped down on both public and private life in March of 2020. A key provision was a $367 billion loan and grant program for small businesses.
Sometime later, the city of Peachtree Corners was allocated $4.5 million meant to aid those enterprises and divvied it up among each qualifying applicant. This is a story about five Peachtree Corners enterprises forced to weigh a number of considerations, from how to balance safety for customers and staff with a driving need for revenue — and about the help they got to stay afloat.
Anderby Brewing
Anderby launched in 2019 with owner Preston Smelt and spouse Michell, along with a small cadre of employees, brewing a variety of IPAs, stouts, fruited sours and other favorites. They built buzz through their taproom and by supplying kegs of beer to restaurants. Then came COVID, and the whole enterprise, well, went flat.
They got a COVID-19 grant through the Cares Act plus help through other government programs that, lumped together, was in the low six figures. It was badly needed as their taproom shut down until June. With restaurants closed, as well and many later limiting to pickup and delivery once open, that part of the business dried up as well.
Smelt said some stark numbers told the tale. He said a good month prior to COVID meant $35,000 to $40,000 in total revenue rolling in from product distribution and their taproom. After the onset of the epidemic, that shrank to $3,500 or $4,000.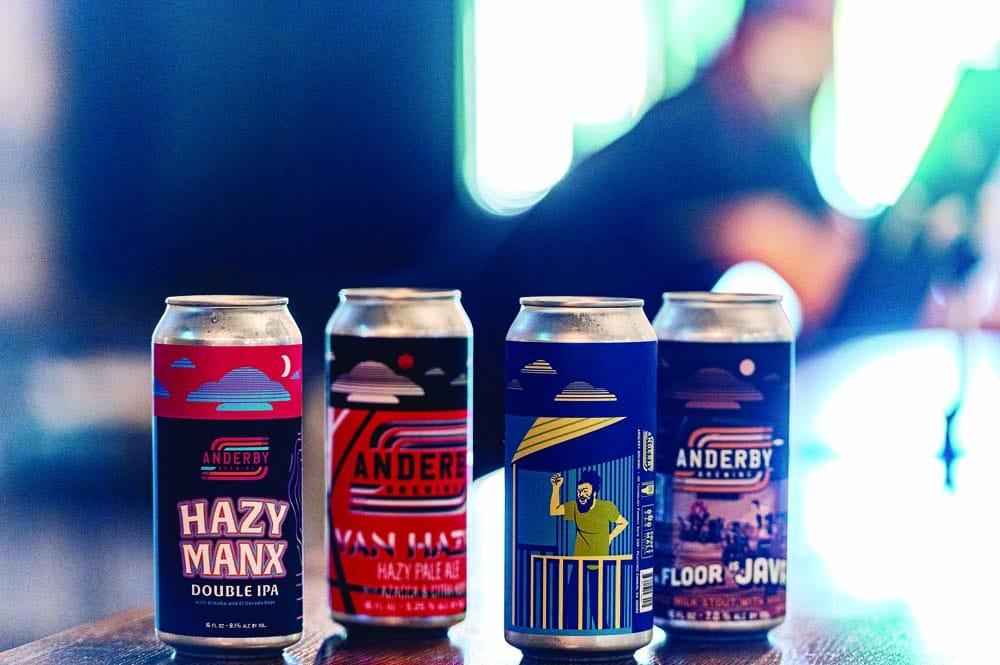 "And it wasn't like we were a long-established business where we could go to a bank and say 'we need a $100,000 loan and we'll be good for it as soon as we get out of this,'" he pointed out.
Smelt said, "The money got us to the point where we were able to make some reinvestment in product and stocking raw materials." He said it also helped to fund the acquisition of capital equipment for a canning operation "because that was one of the few ways to move beer during this period."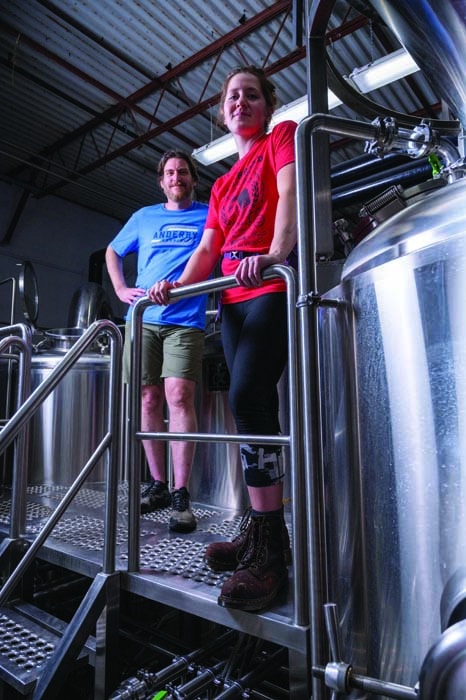 That canning equipment took until October to arrive. In the meantime, they resorted to a hand bottler, filling exactly two bottles at once and selling finished six-packs out the front of their digs. Ultimately the endeavor was a money-loser, but Smelt said it did provide some revenue, got their product into the hands of their boosters and gave them visibility.
It also kept them from pouring even more beer down the drain than they had already had to do.
Another factor in play, he said, was a "fantastic landlord" who worked with them on their rental obligations. "We would not have survived without those two things," he said bluntly.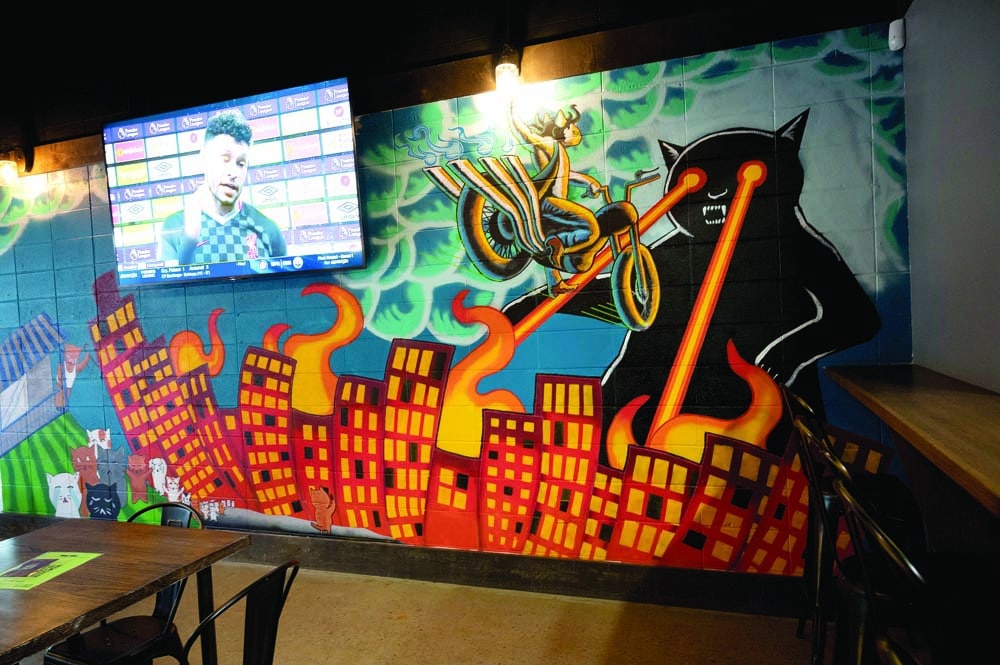 Smelt said he and his wife had just started talking about revamping their product lineup when the epidemic descended. The federal help helped enable them to settle on a core of three or four beers they think will help them expand throughout the region.
The couple is cheering the growing vaccination numbers and drooping COVID caseloads. With more companies reopening in the surrounding Technology Park and their workers beginning to stop in, and restaurants starting to clamor again for kegs, prospects are improving.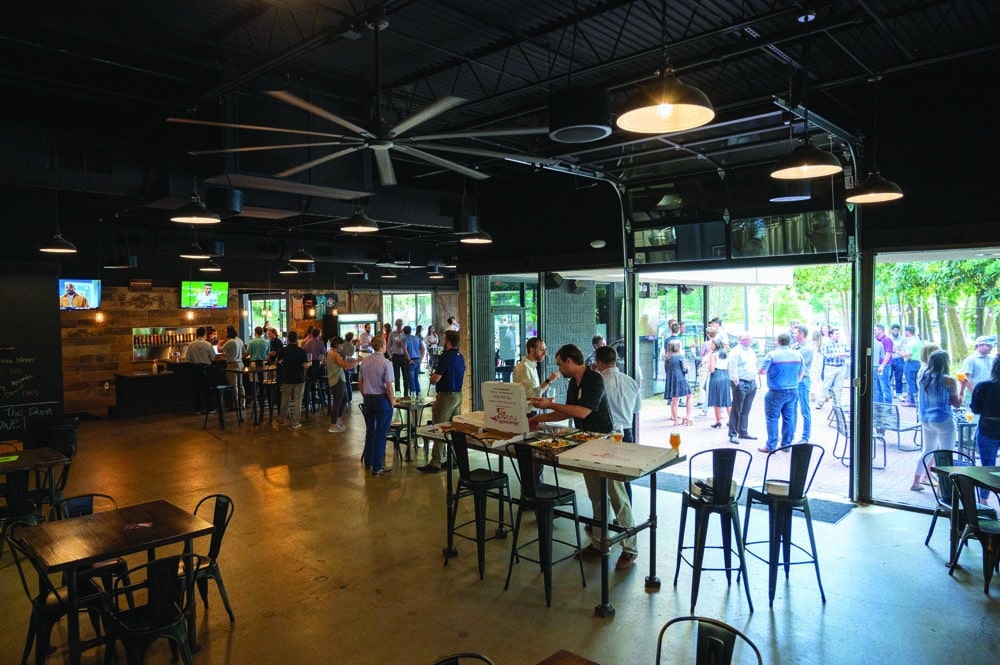 Another positive factor, he said, was that three new breweries have opened in the immediate area since they debuted. He said having several in close proximity will create a "brewing scene" that could become a destination choice.
At their own destination, they had cut taproom seating by 30-40% before reopening last summer and took other cleaning and sanitizing steps. "What we're wanting to do is create an environment where you can come in and spread out and feel comfortable," Smelt said.
In line with the push toward distancing has been a reluctance to re-start larger themed events. He said that if a bigger crowd shows up in conjunction with daily operations, they're OK with that, but a large blowout is not in the cards.
In another case of altered plans, Smelt said earlier plans to do a capital expansion have been put on hold. All the juggling of procedures, products and profit-and-loss numbers has taken a toll.
"There hasn't been a lot of sleep," he said. "There's still not. While things are improving, we're not back to normal yet."
Southwest Gwinnett Chamber of Commerce First Friday Breakfast August, with speaker Nicole Love Hendrickson
Please join at Atlanta Tech Park on August 6 for the Southwest Gwinnett Chamber of Commerce First Friday Breakfast August, with speaker Nicole Love Hendrickson. 7:30- 8:00 a.m. will consist of networking, followed by breakfast and the speaker until approximately 9 a.m.
About Nicole Love Hendrickson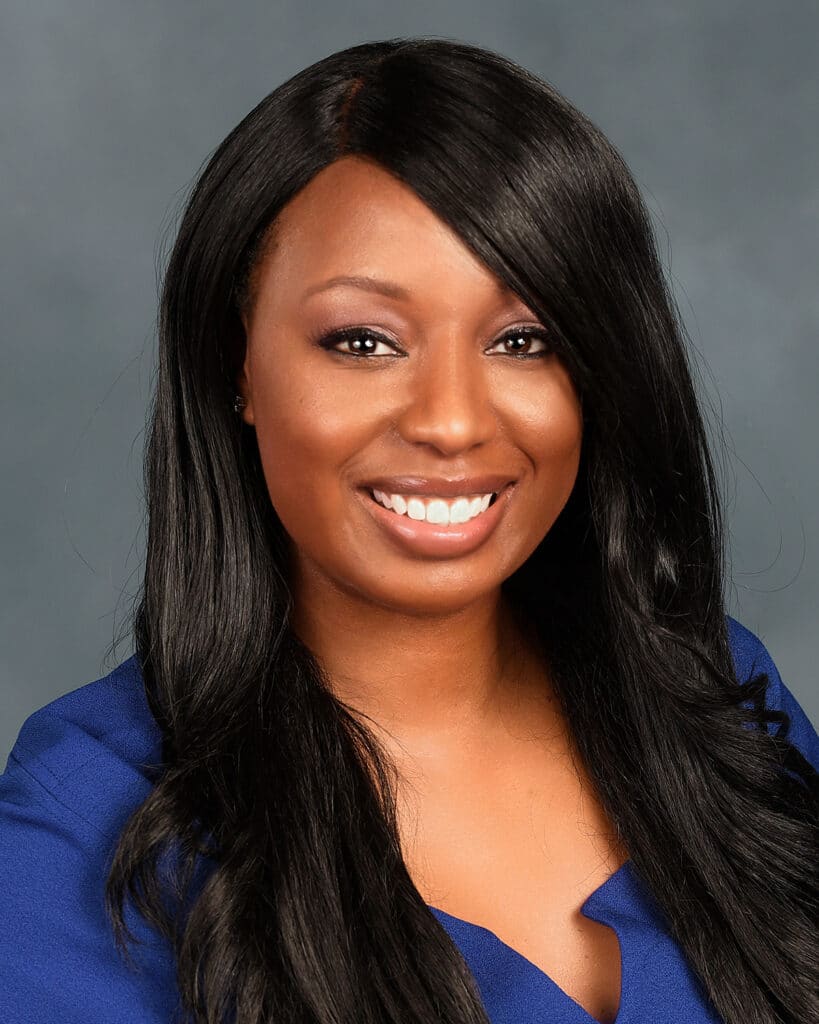 Chairwoman, Gwinnett County Board of Commissioners
She has served on the boards of the United Way Gwinnett Community Board, the Georgia Hispanic Chamber of Commerce, and the Aurora Theatre. She also served on the Children's Healthcare Community Board from 2013 to 2020 and chaired the board of the Gwinnett Young Professionals from 2017 to 2019. Nicole is a member of the Rotary Club of Gwinnett County, having held the positions of treasurer and public image chair.
Nicole is a 2010 graduate of Leadership Gwinnett, a 2016 graduate of the ARC's Regional Leadership Institute, and a 2016 graduate of the Georgia Hispanic Chamber's Cultivating Hispanic Leaders Institute.
Nicole was the recipient of the Gwinnett Chamber of Commerce Public Service Award in 2017, and Georgia Trend named her one of the state's Top 40 Under 40 in 2018. In the following year, she received the Trailblazer Award from the 100 Black Men of Metro Atlanta.Nicole earned a bachelor's degree in psychology from the University of Rhode Island and a master's degree in social work from the University of Georgia. A native of Rhode Island, Nicole moved to Gwinnett County in 2008. She currently resides in Lilburn with her husband and their son.
Registration and fees for the event
Register online at southwestgwinnettchamber.com and contact Beth Coffey with any questions.
Fees/Admission:
Includes a Breakfast Sandwich, Coffee & Juice
Register prior to noon Thursday, August 5, 2021 to reserve your seat.
$18 Members
$30 Non – Members
$20 First-time visitors
We're unable to accommodate walkups and we will not be doing an online presentation of this event.
Cancellation Policy: You can cancel with a full refund by noon August 4, 2021. After that date no refunds will be given, however substitution of an attendee is allowed if you are not able to attend the day of the event.
PCBA Business After Hours Speaker Series Networking Event at Atlanta Marriott Peachtree Corners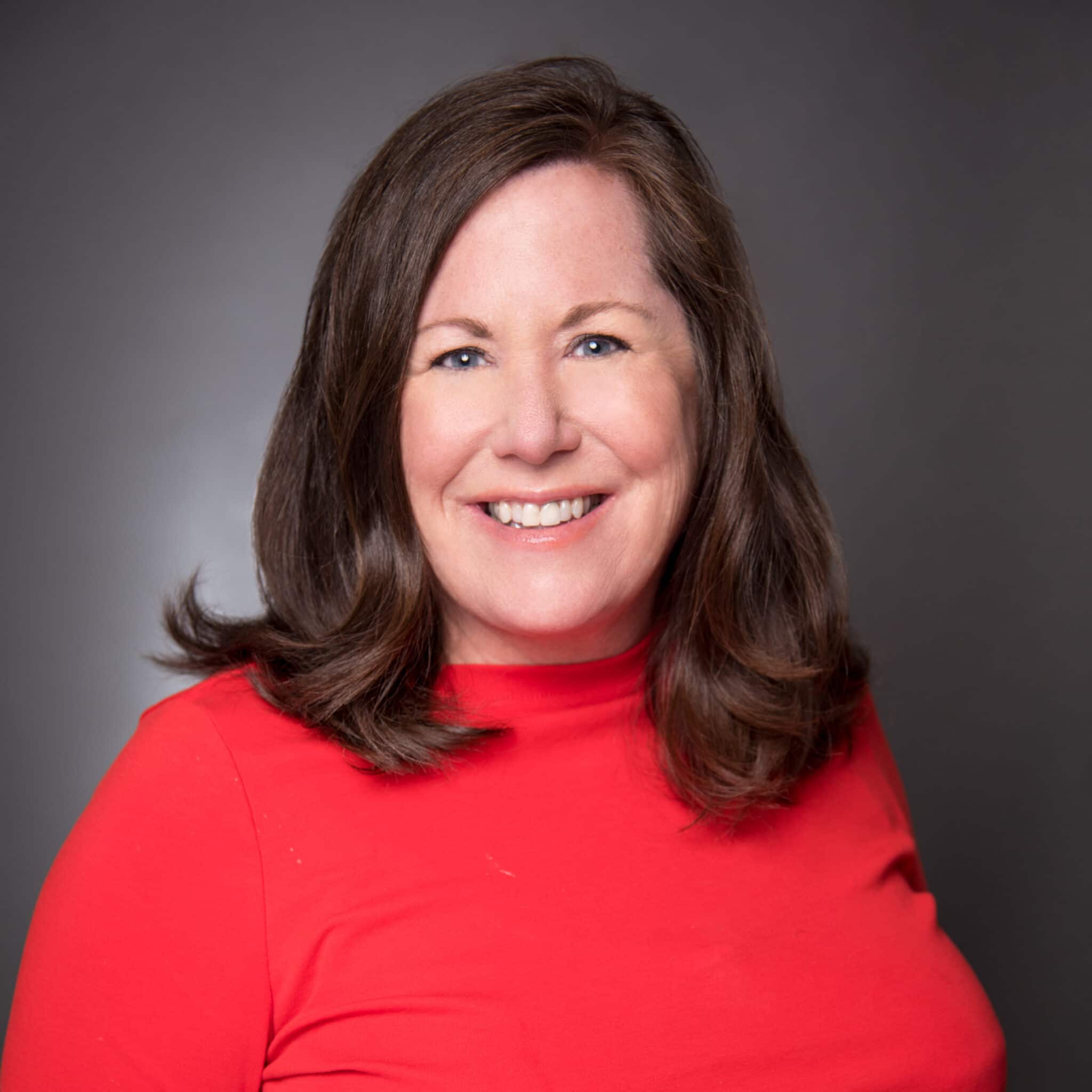 Please join in on Thursday, July 22 from 5:30 – 7:30 p.m, for the Peachtree Corners Business Association (PCBA) Business After Hours Speaker Series Networking Event. The event will be held at Atlanta Marriott Peachtree Corners, located at 475 Technology Parkway, Peachtree Corners GA 30092.

The speaker of the evening will be Lisa Anders, Executive Director of Gwinnett's Tourism + Film Office.  She will give updates on Gwinnett's hospitality industry, the post-Covid recovery as well as on Gwinnett's booming film/TV Industry.

Enjoy an evening of business networking, a variety of beverages and great food. 

The PCBA will be awarding a check to a deserving local charity, the Peachtree Corners Festival, to support their good works in our community. 

Come for the networking, have fun and see how PCBA impacts our community!
Event Registration – $30

Registration Required for Vendor Tables – Space is limited
Vendor Tables – Members – $100 – (includes 2 tickets to the event)
Vendor Tables – Non-Members – $225 – (includes 2 tickets to the event)
Explore Gwinnett Announces First Annual Gwinnett Beer Week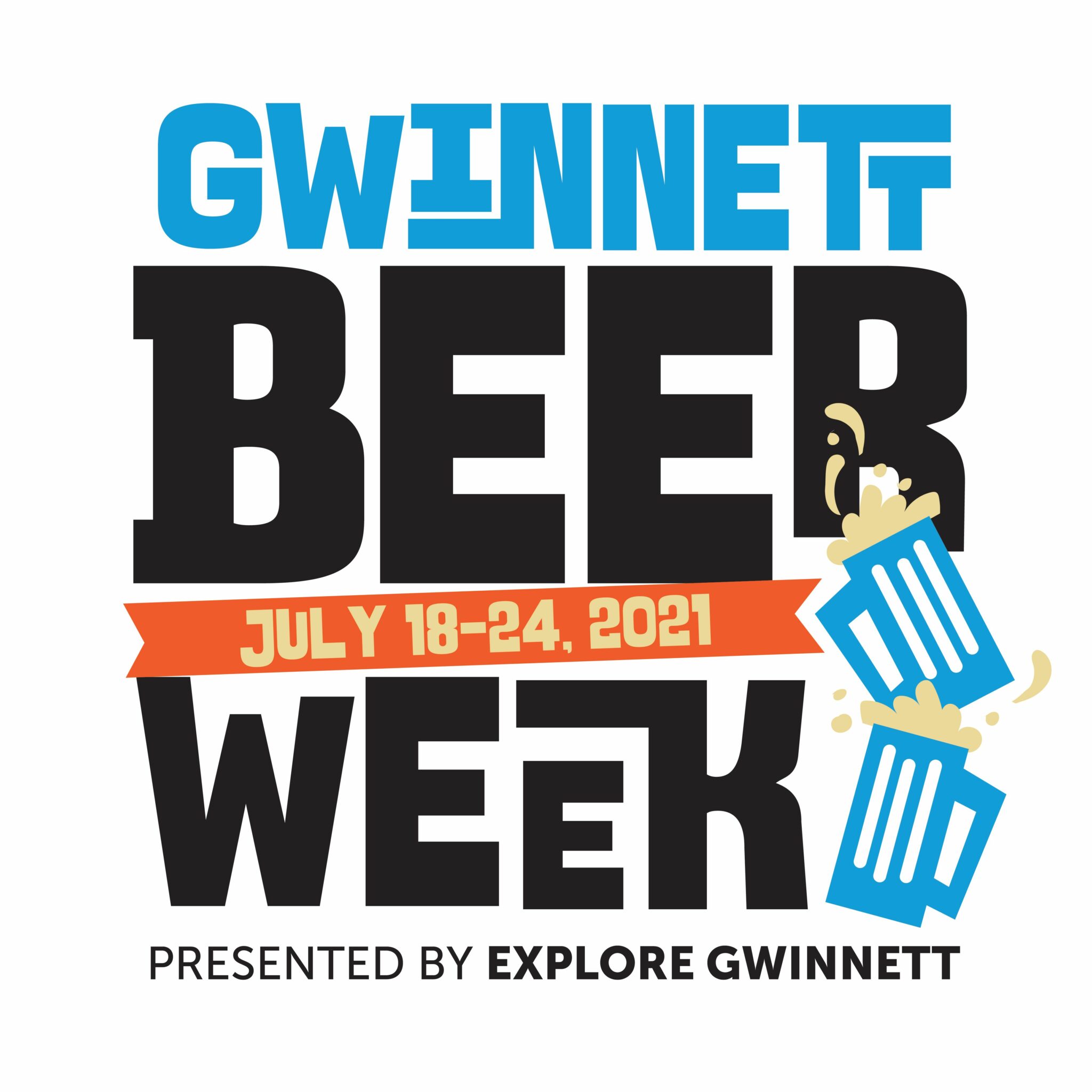 Explore Gwinnett, Gwinnett's official tourism and film office, is pleased to announce Gwinnett Beer Week, held July 18-24, 2021. Gwinnett Beer Week celebrates the 12 locally-owned breweries that call Gwinnett home, including familiar names from Peachtree Corners and Norcross. Many Peachtree Corners Magazine readers are proud patrons of Anderby Brewing, Kettlerock Brewing, Social Fox Brewing, and Cultivation Brewery.
"Gwinnett Beer Week provides an opportunity to celebrate Gwinnett's growing craft beer scene, said Victoria Hawkins, Explore Gwinnett marketing communications director. "Local craft breweries add to Gwinnett's destination appeal for visitors. We want to showcase them and all the events that they are producing."
Explore Gwinnett is producing 3 events during Gwinnett Beer Week.
-6S Brewing Beer + Chocolate pairing: Available all week at 6S Brewing. Pay $15 for a flight of beers and perfectly matched chocolates from the locally owned sweets shop, The Chocolaterie. Limited quantity available.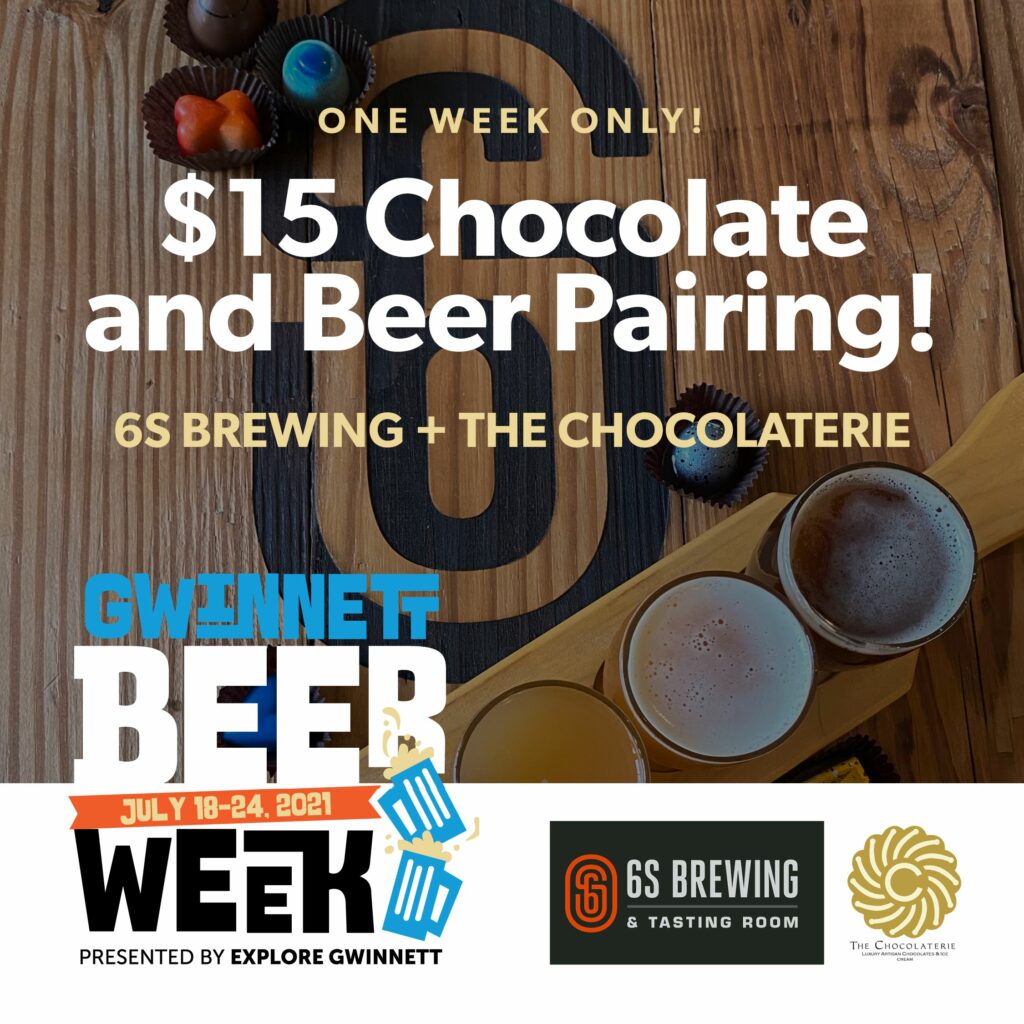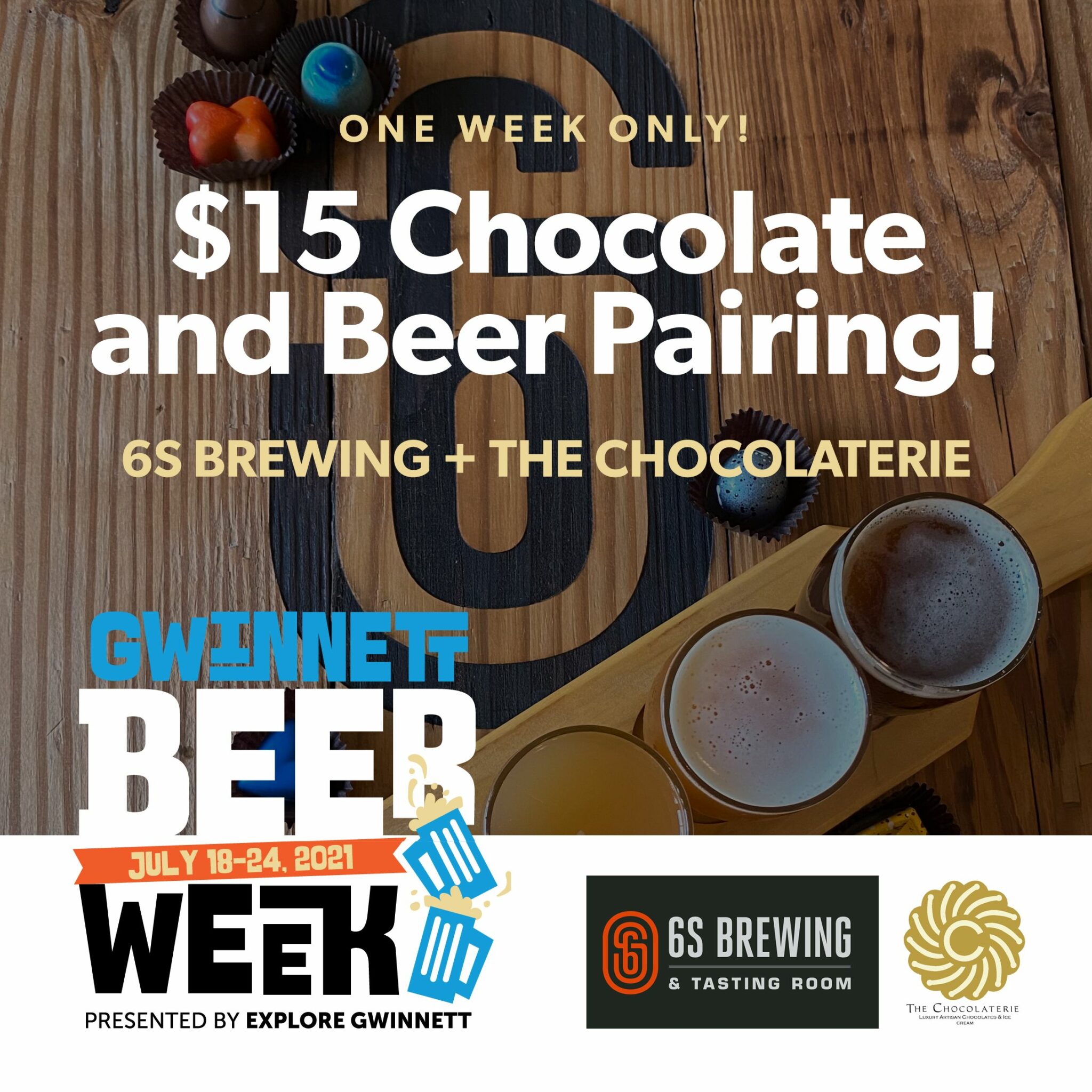 -Barks + Brews at Anderby Brewing: Dogs are welcome at this one day event on Thursday, July 22nd at Anderby Brewing. Free pet portraits by a professional photographer from 6:30-8:30pm. Gwinnett Humane Society will be on-site with adoptable dogs. Explore Gwinnett giveaways including Love, Gwinnett doggie bandanas and travel water bowls. Limited quantity.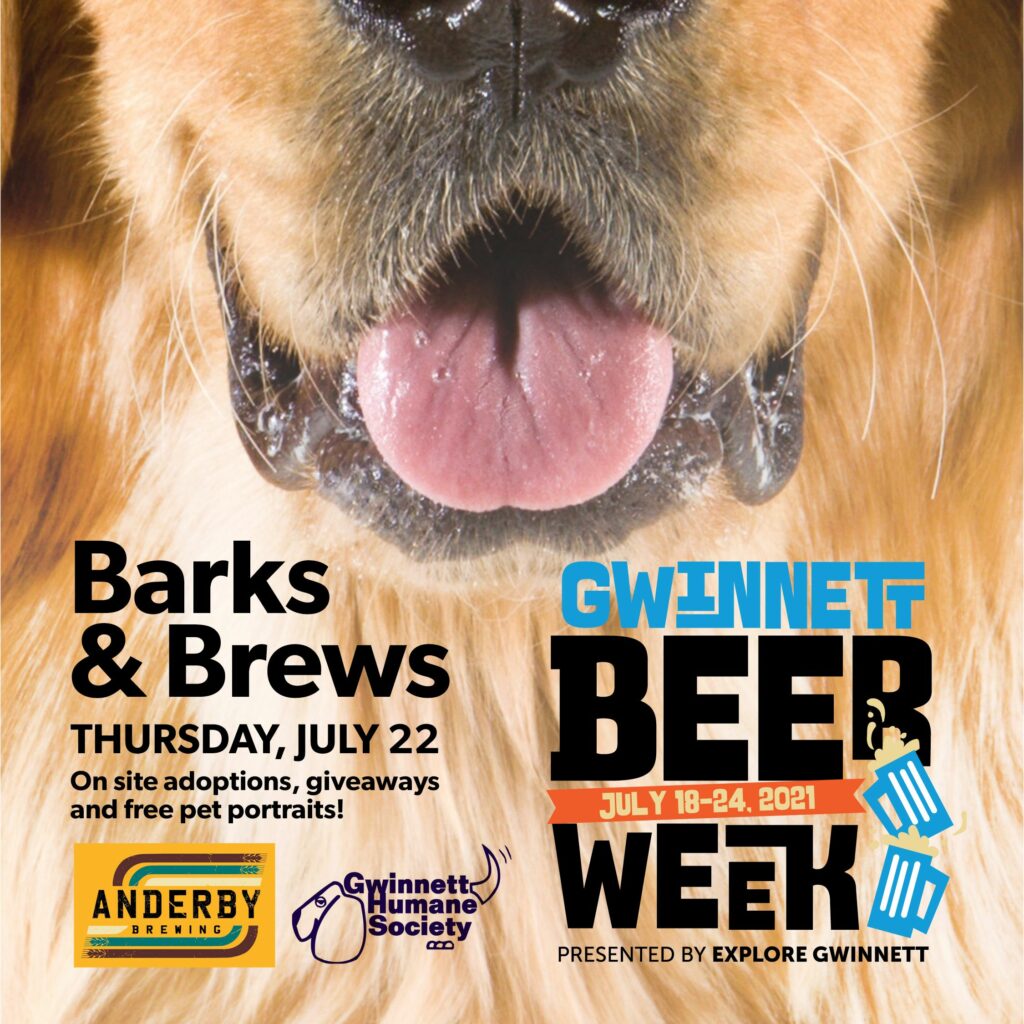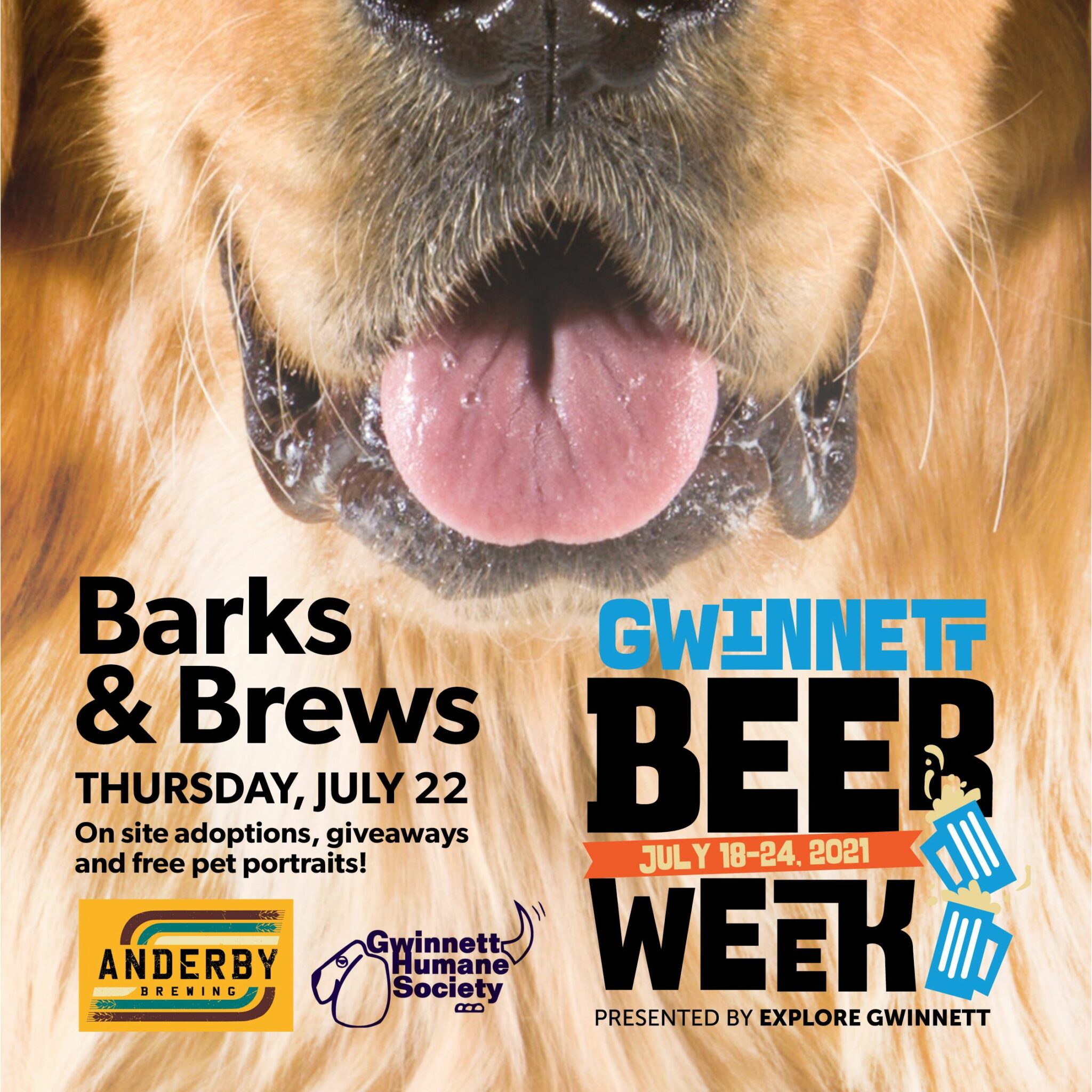 -Baseball and Beer Tour: Join Explore Gwinnett and Southern Beer Tours on a ticketed walking brewery tour in Lawrenceville. Add-on a Gwinnett Stripers suite ticket if you'd like to board the shuttle to Coolray Field after the beer tour for a ride to the baseball game. Food included during baseball game.
Visit GwinnettBeerWeek.org for a complete list of brewery events including live music, bingo, a car show and more.