How Five Community-Owned Businesses Were Bolstered with Cares Act Money- Anderby Brewing Feature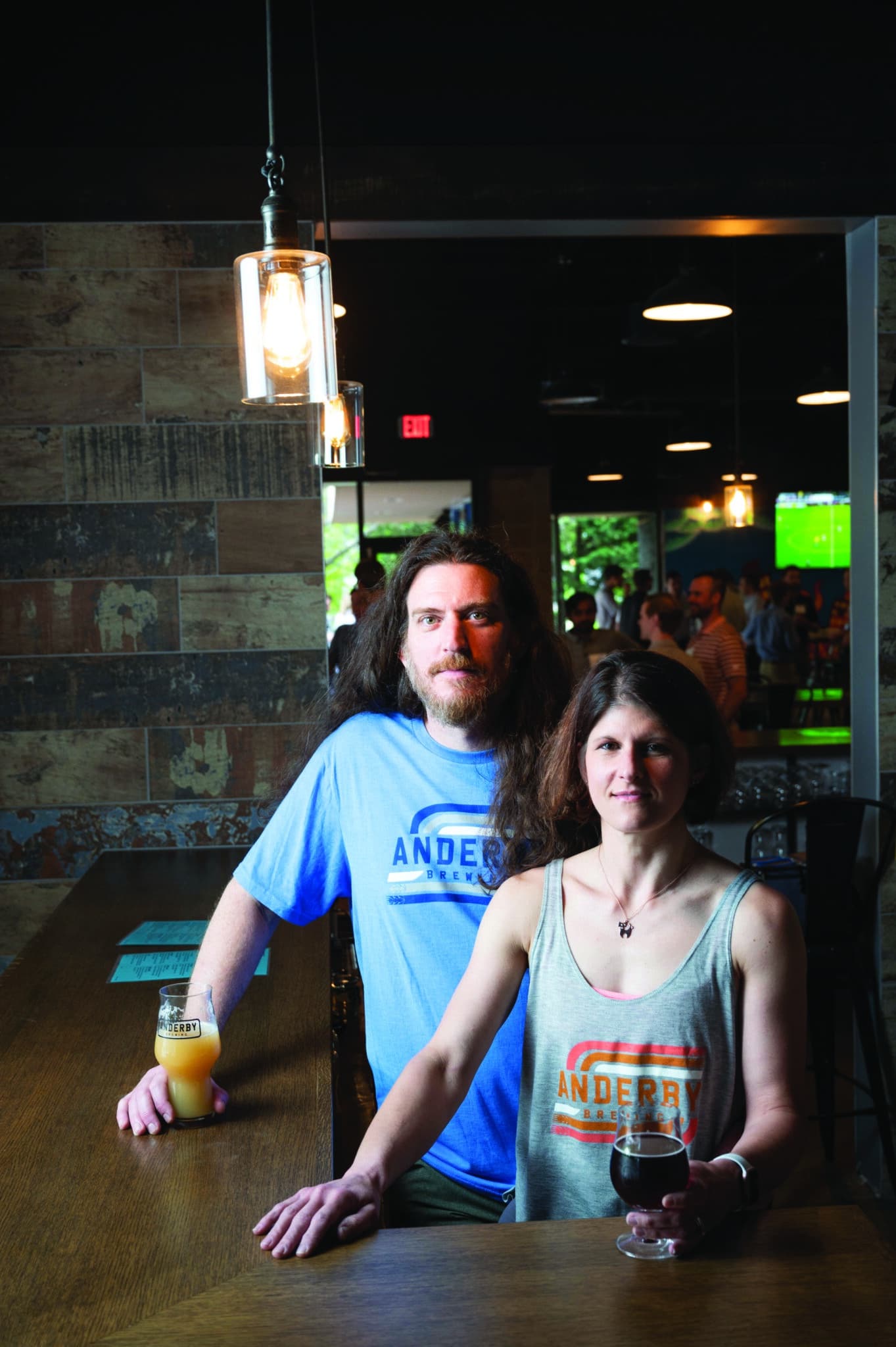 The grandly titled Coronavirus Aid, Relief and Economic Security (CARES) Act came quickly out of Congress and was signed into law after the namesake disease clamped down on both public and private life in March of 2020. A key provision was a $367 billion loan and grant program for small businesses.
Sometime later, the city of Peachtree Corners was allocated $4.5 million meant to aid those enterprises and divvied it up among each qualifying applicant. This is a story about five Peachtree Corners enterprises forced to weigh a number of considerations, from how to balance safety for customers and staff with a driving need for revenue — and about the help they got to stay afloat.
Anderby Brewing
Anderby launched in 2019 with owner Preston Smelt and spouse Michell, along with a small cadre of employees, brewing a variety of IPAs, stouts, fruited sours and other favorites. They built buzz through their taproom and by supplying kegs of beer to restaurants. Then came COVID, and the whole enterprise, well, went flat.
They got a COVID-19 grant through the Cares Act plus help through other government programs that, lumped together, was in the low six figures. It was badly needed as their taproom shut down until June. With restaurants closed, as well and many later limiting to pickup and delivery once open, that part of the business dried up as well.
Smelt said some stark numbers told the tale. He said a good month prior to COVID meant $35,000 to $40,000 in total revenue rolling in from product distribution and their taproom. After the onset of the epidemic, that shrank to $3,500 or $4,000.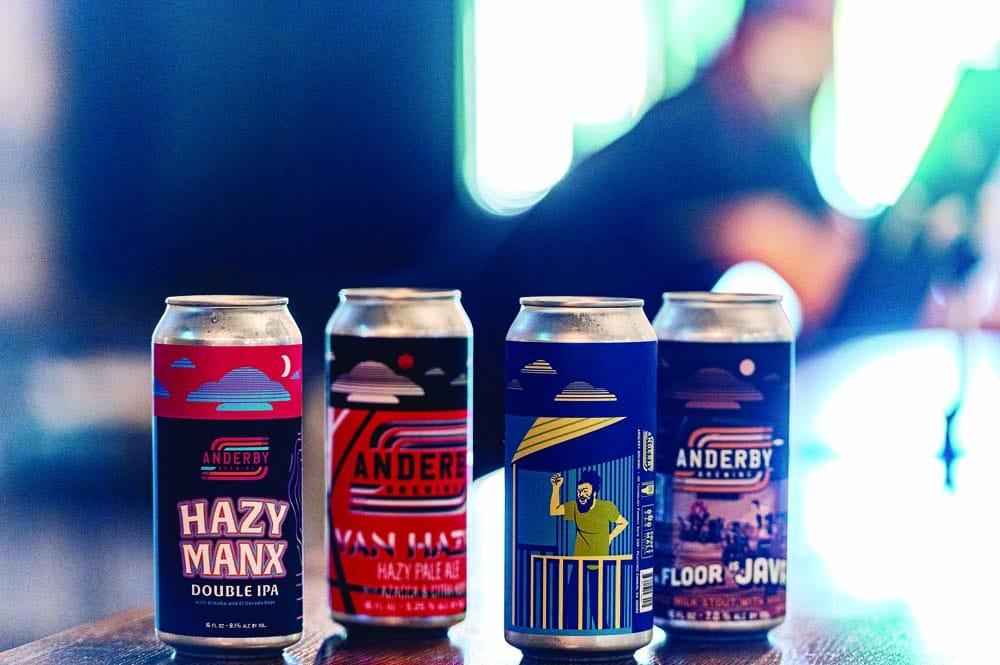 "And it wasn't like we were a long-established business where we could go to a bank and say 'we need a $100,000 loan and we'll be good for it as soon as we get out of this,'" he pointed out.
Smelt said, "The money got us to the point where we were able to make some reinvestment in product and stocking raw materials." He said it also helped to fund the acquisition of capital equipment for a canning operation "because that was one of the few ways to move beer during this period."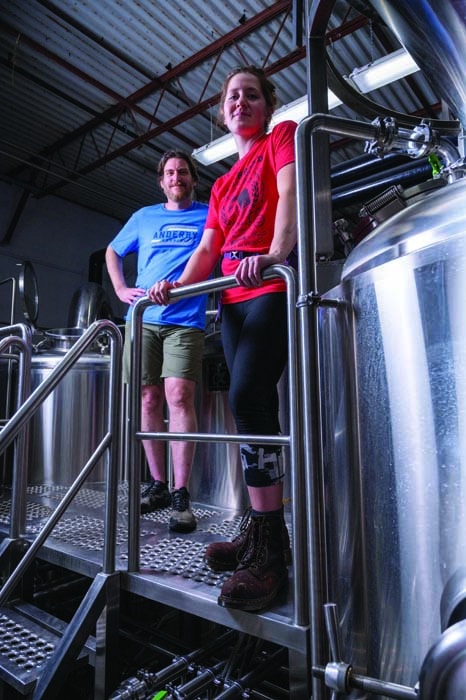 That canning equipment took until October to arrive. In the meantime, they resorted to a hand bottler, filling exactly two bottles at once and selling finished six-packs out the front of their digs. Ultimately the endeavor was a money-loser, but Smelt said it did provide some revenue, got their product into the hands of their boosters and gave them visibility.
It also kept them from pouring even more beer down the drain than they had already had to do.
Another factor in play, he said, was a "fantastic landlord" who worked with them on their rental obligations. "We would not have survived without those two things," he said bluntly.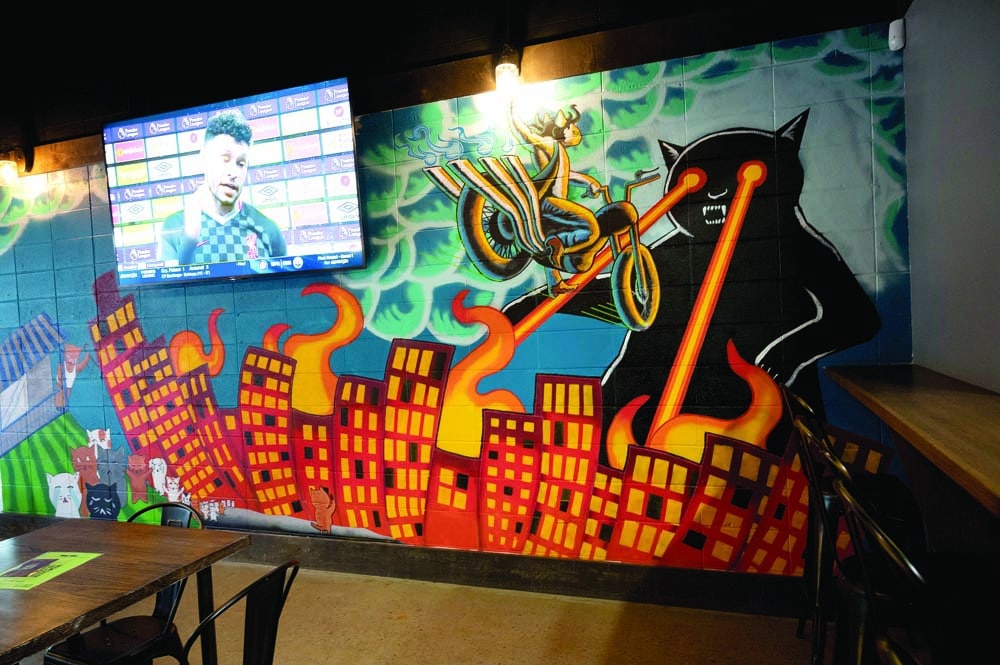 Smelt said he and his wife had just started talking about revamping their product lineup when the epidemic descended. The federal help helped enable them to settle on a core of three or four beers they think will help them expand throughout the region.
The couple is cheering the growing vaccination numbers and drooping COVID caseloads. With more companies reopening in the surrounding Technology Park and their workers beginning to stop in, and restaurants starting to clamor again for kegs, prospects are improving.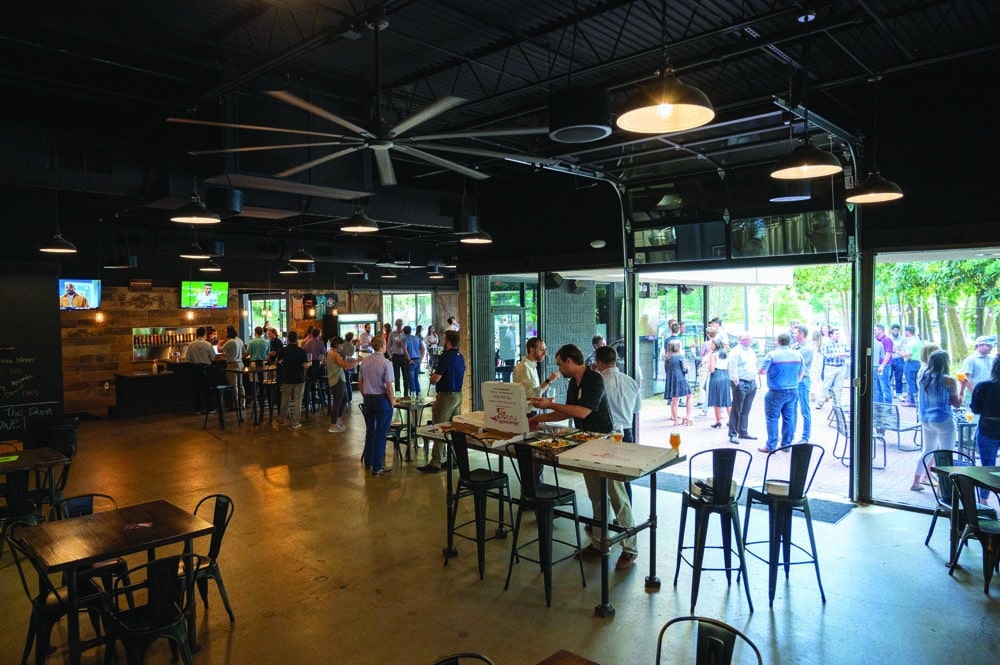 Another positive factor, he said, was that three new breweries have opened in the immediate area since they debuted. He said having several in close proximity will create a "brewing scene" that could become a destination choice.
At their own destination, they had cut taproom seating by 30-40% before reopening last summer and took other cleaning and sanitizing steps. "What we're wanting to do is create an environment where you can come in and spread out and feel comfortable," Smelt said.
In line with the push toward distancing has been a reluctance to re-start larger themed events. He said that if a bigger crowd shows up in conjunction with daily operations, they're OK with that, but a large blowout is not in the cards.
In another case of altered plans, Smelt said earlier plans to do a capital expansion have been put on hold. All the juggling of procedures, products and profit-and-loss numbers has taken a toll.
"There hasn't been a lot of sleep," he said. "There's still not. While things are improving, we're not back to normal yet."
Insight Sourcing Group Commits to 100% Renewable Energy by 2030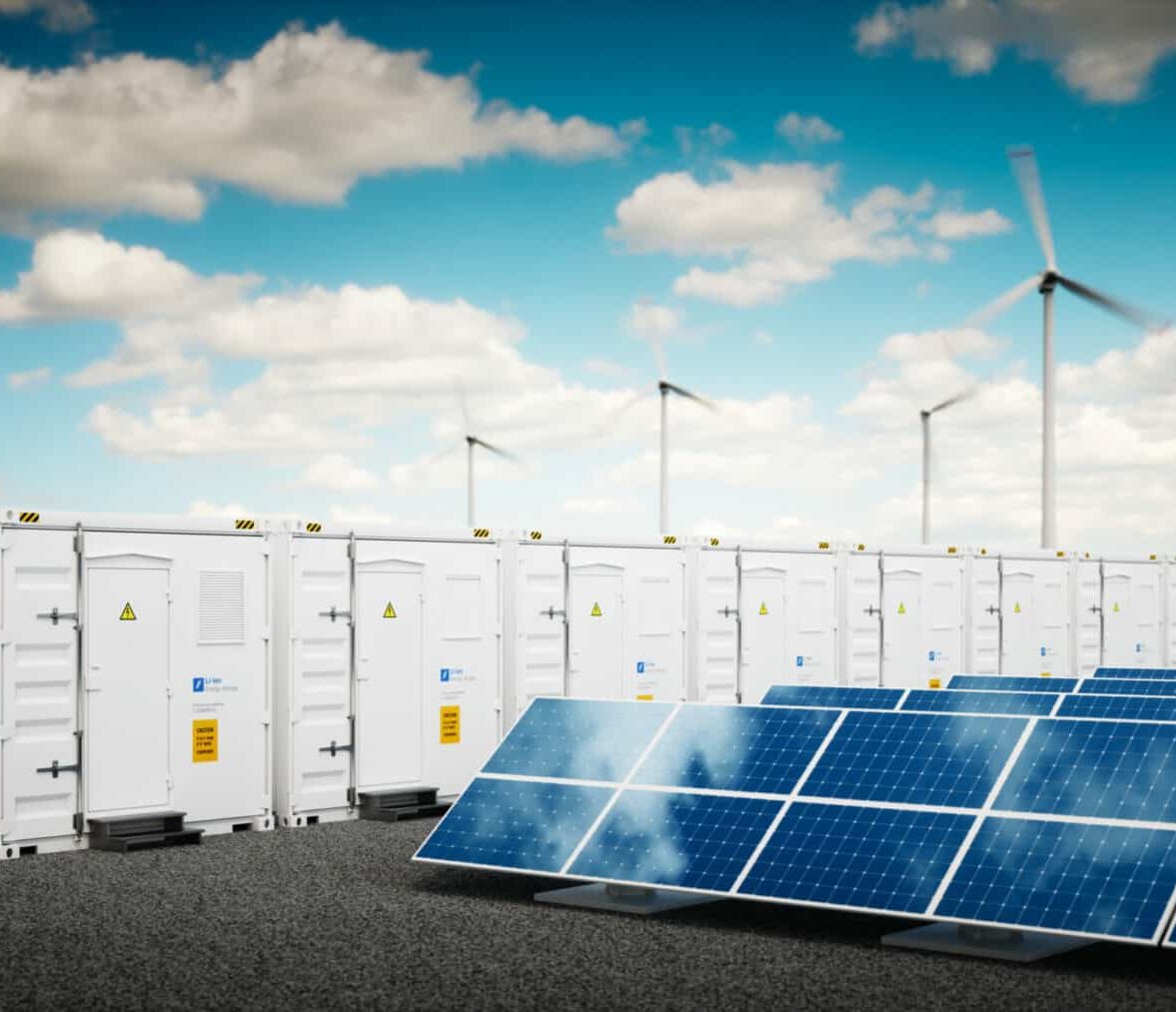 Sustainability initiative aligns with the same environmental standards it helps clients attain.
Insight Sourcing Group (ISG), a consulting firm located in Peachtree Corners, is focused on strategic sourcing and procurement-related services. Following a comprehensive analysis by Insight Energy, a subsidiary of Insight Sourcing Group that recently expanded, ISG set a 100% renewable energy goal for 2030.
The goal includes a commitment to sourcing its electricity from renewable sources at its Peachtree Corners headquarters beginning in 2022.
"Not only do we apply the same standards to ourselves that we help our clients achieve, but we also sought to pull back the curtain on this process and bring some transparency to this increasingly important service offering," said Brent Eiland, President of Insight Sourcing Group. "I commend the work of ISG's Internal Sustainability Committee led by Brandon Owens, Vice President of Sustainability at Insight Energy."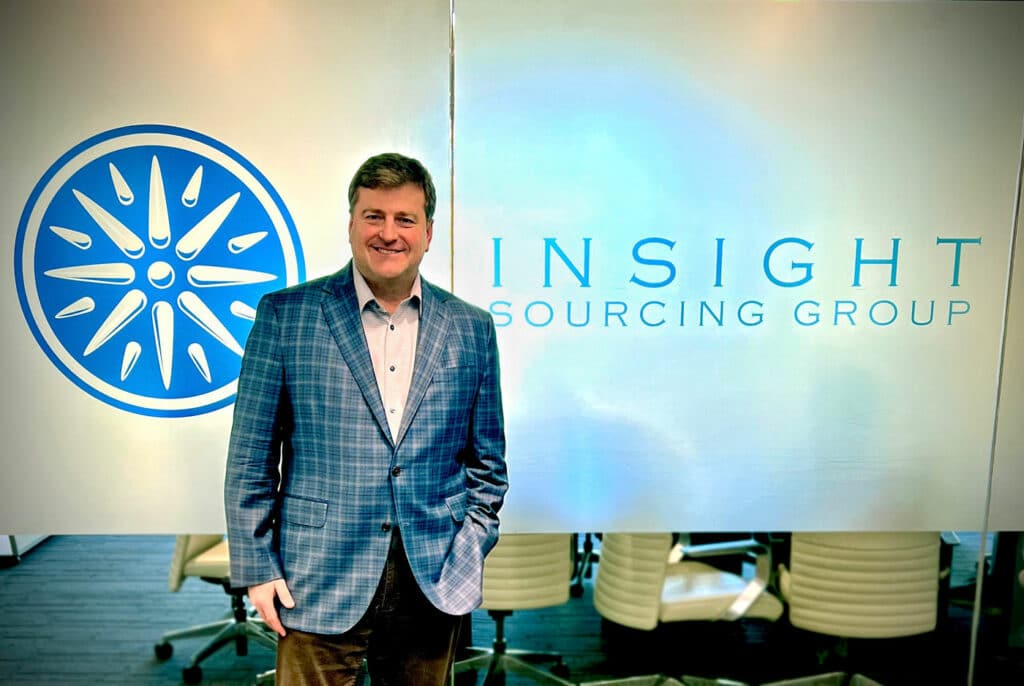 As part of the initiative, ISG conducted a measurement of its Scope 1, Scope 2 and selected Scope 3 emissions categories. Based on the findings, ISG developed a roadmap to achieve 100% renewable energy and established a plan to measure and reduce Scope 3 emissions, which are indirect emissions like business travel.
The Sustainability Committee also identified opportunities to reduce emissions from employee commuting via hybrid work models and a carpooling incentive program. Waste identification and reduction posed another opportunity to improve sustainability; internal audits revealed an opportunity to reduce the use of single-use paper cups.
Furthermore, ISG's procurement of Renewable Energy Credits (RECs) will certify the generation and consumption of renewable energy via wind or solar power.
Digital Technology Innovators Join Forces to Launch New Virtual Production Studio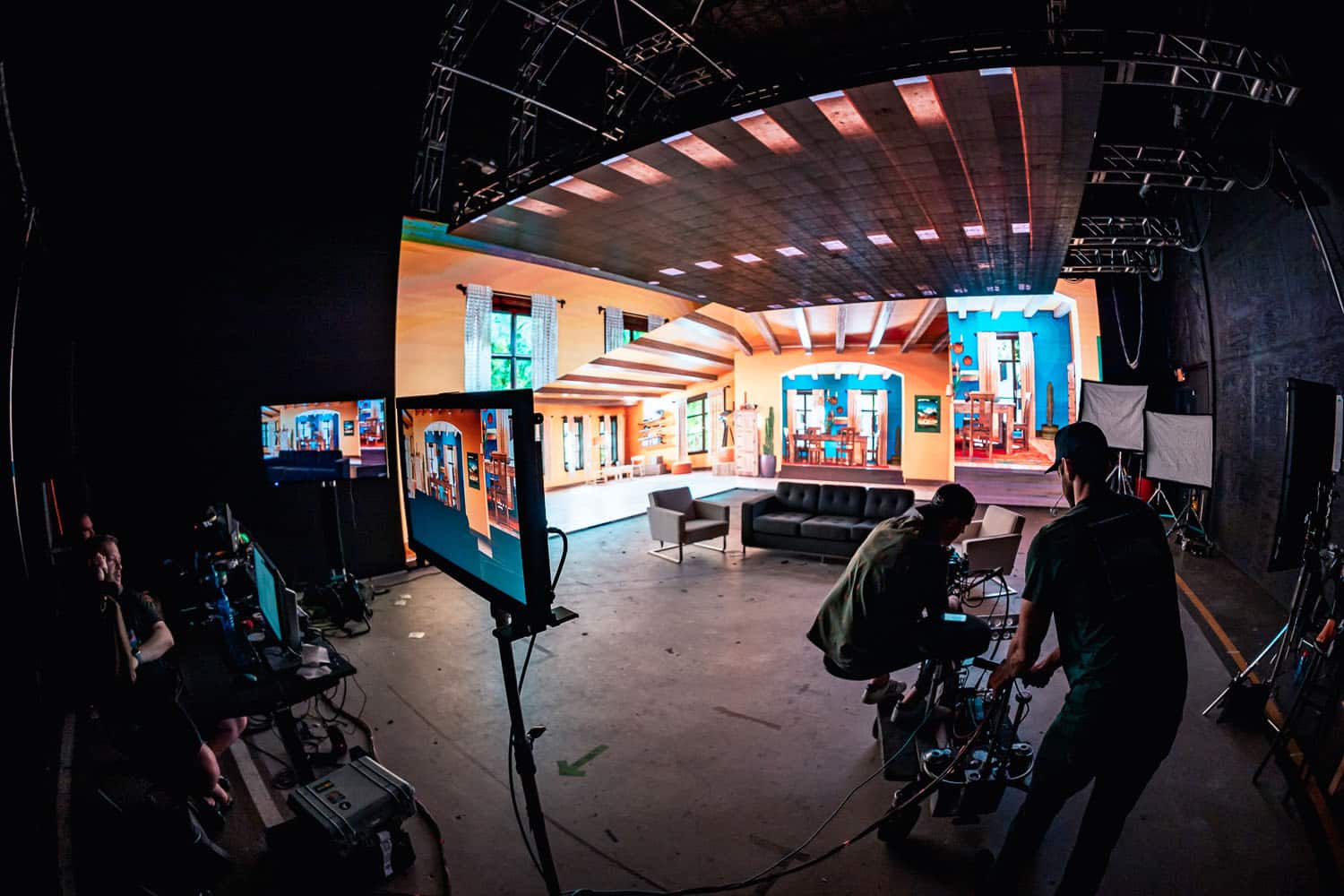 Everyone wants to have a taste of virtual reality. It can take you to far-away realms as you sit comfortably within your own room. Reveal XR, one of America's top virtual industries, provides this technology in its virtual production studios.
The company brought together Atlanta-based Music Matters Production and 3D animation and immersive content studio TRICK 3D to launch the newest Extended Reality (XR) studio in the state, Reveal XR — Atlanta, located at Eagle Rock Studios in Norcross, Ga
There has been a need for Virtual Reality (VR) and Augmented Reality (AR) in the area, so Chad Shockley, Aaron Soriero and Chad Eickhoff joined forces to meet the growing XR production demands.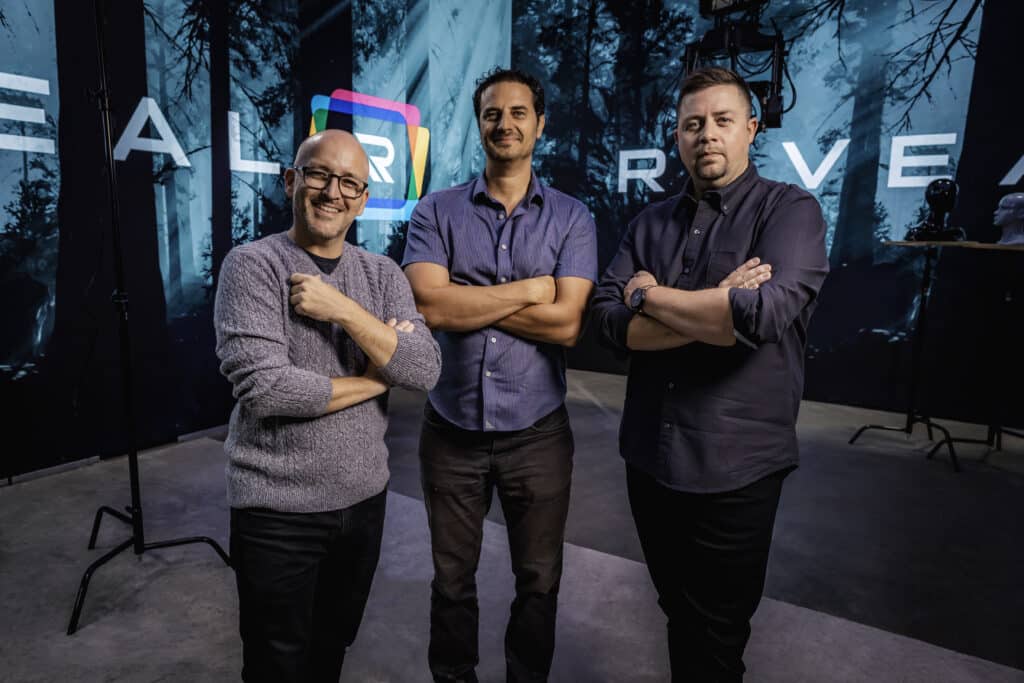 The three tech entrepreneurs opened Reveal XR — Atlanta, a highly accessible and multifaceted virtual production studio in Eagle Rock Studios.
Eickhoff said, "Today's brands need to connect with a digital-first generation of customers and, as such, the demands for creativity in content production is huge."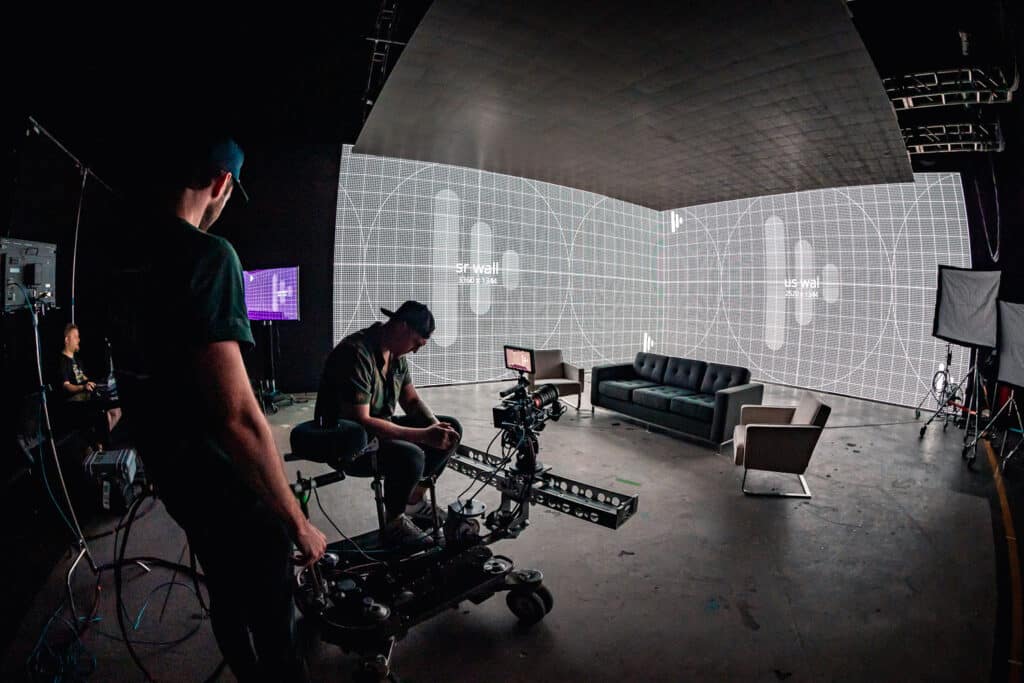 Some additional Facts and Specifications of the Studio:
As of the announcement, Reveal XR Atlanta is available for booking for brand, commercial, TV, film, and music productions.

Technical Specifications
● 35' x 75' sound stage at Eagle Rock Studios – full acoustic treatment and air conditioned
● 33' wide, 13' tall main LED wall, 25' wide, 13' tall wing LED wall, optional 3rd LED
wall up to 13' tall and 18' wide
● Absen PL 2.9mm pitch main walls – 90 degree configuration, next-generation Novastar
MX40 processing
● 18' x 20' LED ceiling, Absen X5 5.2mm pitch – high-bright, height adjustable
● Available ROE BM4 4.4mm Matte LED floor, 18' deep, 24' wide, high weight capacity
● Stype RedSpy Camera tracking system
● Disguise VX4+ for 4k 60fps compositing, RXII render nodes, uncompressed 10 bit video
workflow
● Available RED Komodo and RED Raptor camera packages
● Available Supertechno Technodolly automated telescoping crane
● Flexible staging and lighting options within the studio
● Full height truck docks and plentiful gear handling spaces
● Dedicated green spaces storage areas.

Names and Titles:
▪ Chad Shockley, owner Reveal XR
▪ Aaron Soriero, owner of Music Matters Productions
▪ Chad Eikhoff, owner of TRICK 3D

Location of Reveal XR Atlanta:
▪ At Eagle Rock Studios –
6269 Best Friend Rd, Norcross, GA 30071
Gate 4, E8
Cradlepoint, Bosch and T-Mobile Collaborate to Deliver IoT Solutions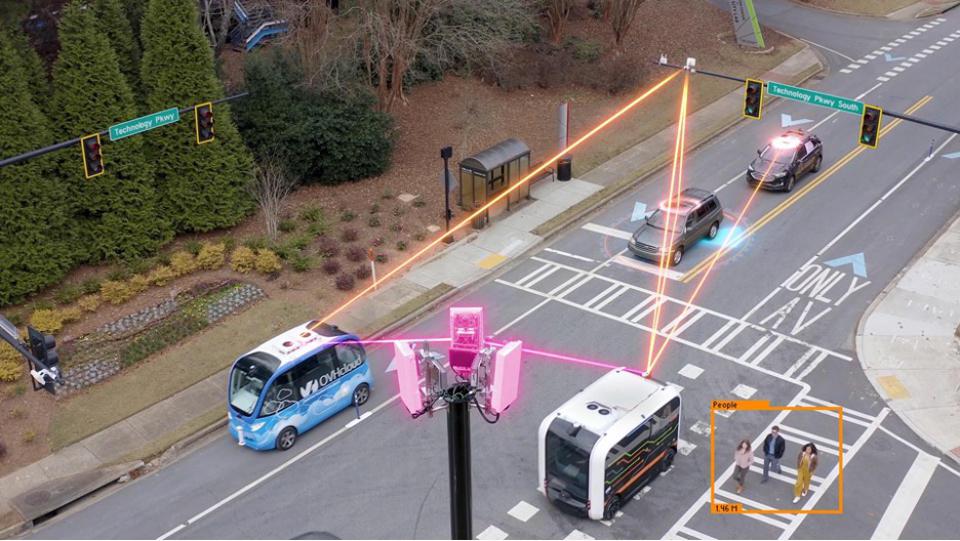 Advanced IoT Connectivity with 5G Wireless WAN Technology
Cradlepoint, the global leader in cloud-delivered LTE and 5G wireless network edge solutions, recently announced a collaboration with T-Mobile and the Curiosity Lab at Peachtree Corners to enable advanced IoT connectivity solutions, such as autonomous vehicles, robotics and AR/VR, using 5G Wireless WAN technology. The solution, developed by Bosch and Cradlepoint, leverages the high performance of T-Mobile's industry leading 5G network — America's largest, fastest and most reliable 5G network — with Cradlepoint's purpose-built wideband adapters and routers to facilitate near real-time parking and safety monitoring at Peachtree Corners, Georgia, one of the nation's first smart cities.
Companies and public sector entities are well positioned on the value of 5G cellular IoT connectivity, particularly when it comes to securing, managing and enhancing smart cities. Unlike traditional fiber connections that take months to deploy, cost thousands of dollars and have long-term commitment contracts, Cradlepoint's 5G Wireless WAN solutions enable an entire ecosystem of IoT partners to immediately deploy solutions with the security and remote management capabilities needed to support IoT deployments at scale.
"Real-world deployments of IoT are challenging the status quo of existing solutions. Couple that with the trend of businesses leveraging 5G technology to transform, and you'll see how this advanced connectivity is remodeling the enterprise," said Todd Krautkremer, Chief Marketing Officer, Cradlepoint. "Cradlepoint, T-Mobile and Bosch are at the forefront of this evolution, furthering IoT and 5G deployments for projects of all sizes."
"Improving safety, efficiencies and anticipating the needs of customers is what best-in-class smart cities can accomplish when powered by 5G and with innovators like Cradlepoint," said Chris Melus, Vice President of Product Management with T-Mobile for Business. "It's rewarding to see concepts from the Curiosity Lab, leveraging our 5G Advanced Network Solutions suite prove true value in the real world."
The solution uses near real-time IoT technology developed by Bosch in conjunction with T-Mobile's Ultra Capacity 5G network and Cradlepoint 5G hardware to assist Peachtree Corners shoppers and visitors in finding open parking as well as available charging stations for electric vehicles.
"In collaboration with T-Mobile and Cradlepoint, and our continued joint effort with the Curiosity Lab in the City of Peachtree Corners, we are demonstrating a scalable, affordable, adroit AIoT solution to serve the community," said Lewis Stallworth, Business Development, Bosch Security Systems, LLC. "The flexibility of this solution was only possible with this technology-forward collaboration and is changing the conversation of what is possible when there is a need for parking management, retail management, community safety and true community operational analytics."
In addition to improving the Peachtree Corners visitor experience, the technology also enables city planners to make real-time informed decisions on parking capacity, infrastructure planning, traffic management and security safeguards based on data around events happening throughout the city.
"Through our work with Cradlepoint, Bosch and T-Mobile, we are now able to better manage our public spaces. Cradlepoint devices having high-speed connectivity through T-Mobile's 5G is key – these devices now allow us to use smart parking applications through the Bosch cameras in our Town Center, while also providing a safety and security layer for our police department." said Brandon Branham, CTO and Asst. City Manager, Peachtree Corners. "The analytics these devices provide help us to better communicate with our residents about parking and safety in our downtown area."
To learn more about Cradlepoint's work with T-Mobile, Bosch and the Curiosity Lab at Peachtree Corners, please visit: https://resources.cradlepoint.com/success-stories/smart-city-uses-5G-for-connected-intersections-and-innovative-parking.