What ARPA Means to Local Nonprofits, People in Need and the Hospitality and Restaurant Industry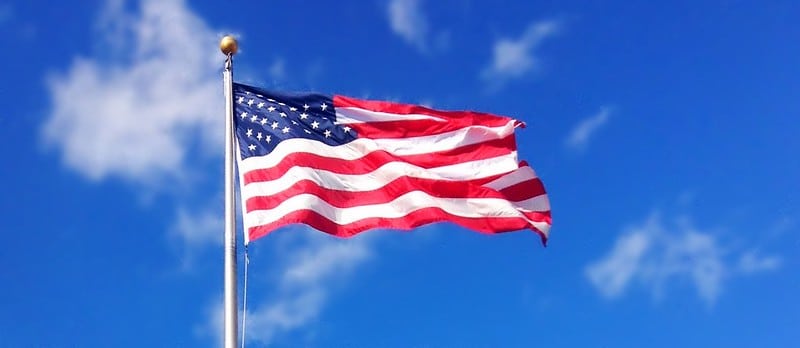 City officials and business leaders in the Peachtree Corners area are watching the unfolding of the American Rescue Plan Act (ARPA) and its sprawling variety of aid programs with great interest. They're encouraged by what seems to be more a nod to small businesses in the latest permutation, as well as an industry-specific approach — the addition of an aid program targeted to restaurants.
For City Hall itself, top of mind has been making progress toward a grant program that would potentially help local business as well as struggling non-profits and individuals.
That grant money comes in the amount of $9 million, said City Manager Brian Johnson. Half of that arrived recently, he said, while the other 50% will show up in city coffers in one year. It's part of $130 billion going out to local government entities nationwide, and the money has to be exhausted by three summers from now.
"The council's intent is to spend it as quickly as we can responsibly spend it," Johnson said, "and help those who have been harmed. We don't want to sit on this until 2024."
There are four general sets of federal guidelines under which grant program cash can be allocated, he explained.
The first is by far the most overarching, specifying assistance to households, small businesses and non-profits, and to such impacted industries as travel, tourism and hospitality. A second would reimburse the city for revenue lost due to the pandemic. A third set of guidelines is targeted to water, sewer and broadband improvements, and the last provides for premium pay for those doing essential work during the pandemic.
Johnson said a number of factors will be weighed in the vetting process, such as consideration of those who have gotten aid previously under the Coronavirus Aid, Relief, and Economic Security (CARES) and Economic Aid acts. Another is how and whether the money might be aimed at specific industries.
"It's a great problem to have, but it's still a challenge," he said. "How do we make $9 million useable in the most productive way possible?"
To that end, Johnson and other staffers distilled the general guidelines down into several "conceptual" areas. His May 11 proposal to the council sketched out possible uses, including operating and capital grants to non-profits and, within that bucket, emergency assistance to individuals and families.
Business assistance programs also emerged as a touchstone with operating grants and property improvement comprising that area. Expansion of broadband infrastructure to underserved areas of the city also made the conceptual cut, as did potential reimbursement to the city for revenue lost to COVID.
A "shop local" incentive program and money for nuisance abatement (such as helping faltering businesses bring their properties back up to code) and utility assistance rounded out the conceptual model.
After council approval of a set of more detailed recommendations, staffers planned to draw up criteria and create an application period and process.
Johnson said that, under the earlier CARES act money that they parceled out, small businesses could use the grants however they saw fit. He said under ARPA there's been talk about attaching more conditions, as opposed to "giving it to someone to put in their bank-account." That harks back to the council's stated goal of getting the money in circulation "to lubricate the economy."
Business groups are cheering the help expected to arrive through the city grants, plus several other channels of the plan. At least one hopes that past hiccups can be ironed out.
"People are flat confused," said Peachtree Corners Business Association (PCBA) President Lisa Proctor, the owner of a recruiting agency. "If you're large enough to have good tax advisors or someone who's focusing on the details, you're in good shape. If you're a small business having to navigate it yourself, it's a problem."
She cites, as an example, Small Business Administration (SBA) initiatives that have included a loan program, a grant program and a disaster assistance provision, making it difficult for businesses applying to determine what programs they might qualify for.
Proctor said that confusing verbiage and short application windows have created consternation. "I don't think the concepts of the programs are bad. It's the implementation," she said. "Do the funds go to where they need to?"
One new concept within the ARPA and its programs under the SBA umbrella is the Restaurant Revitalization Fund, which gets a nod of approval from Cally D'Angelo, Senior Director of Membership Services and Small Business Initiatives for the Gwinnett Chamber of Commerce. She said carveouts like that are necessary if the industry is to recover and rebuild.
"I think is very helpful. Money is flowing," she said, following the closure of the application period May 24. She added that users are not required to repay the money as long as it's used in eligible ways by March of 2023.
She also points out that the program casts a wider net than many might think, not only incorporating aid for traditional sit-down restaurants, but also food trucks, bakeries, caterers, brewpubs and wineries. $28.6 billion has been set aside from the program to help restaurants meet payroll and other expenses.
The PCBA's Proctor said their numbers show around 50 restaurants within three miles of Peachtree Corners Town Center, and that several have closed.
Smaller businesses are also getting a chance to move toward the head of the line, said D'Angelo. She said one example concerns the Economic Injury Disaster Loan program (EIDL), which now incorporates a targeted EIDL option for businesses in low-income areas. Those smallest and hardest hit of them can get an extra $5,000 that doesn't have to be repaid.
The revamp of the Paycheck Protection Program (PPP), which gained more than $7 billion in additional funding, is another. A special two-week period for PPP applications earlier this year was designed for businesses of 20 employees or fewer, she said. She added that a mid-May report showed that the average loan size of PPP loan help packages — typically those are proportional to the size of the business applying for the aid — had decreased by about half, spotlighting the more targeted small business approach.
In addition, the PPP program's eligibility criteria were expanded to include some non-profit organizations previously excluded.
To be sure, not only businesses are getting a helping hand. ARPA includes a broad menu of help programs for the public health workforce, schools, individuals and individual families.
Proctor's concern remains that the dollars will go to the entities most needful, given past confusion and such missteps as when the first round of Paycheck Protection funding went, in large measure, to what some regarded as an inordinate percentage of large businesses and publicly traded corporations. "Based on the first round of what the SBA did, I am cautiously not optimistic," she commented.
D'Angelo takes a more upbeat tone, saying that to put it in perspective, the SBA processed what's usually more than 14 years' worth of loans in 14 days at the outset of the pandemic, and that the agency has been adaptable. On a more local scale, she said that the Chamber and others have come together to form a small business resource group to provide information, webinars and feedback.
"Over time, responding to a crisis, you adapt to what the needs are. That's how it's supposed to work, right?" said D'Angelo.
How Five Community-Owned Businesses Were Bolstered with Cares Act Money – Mojitos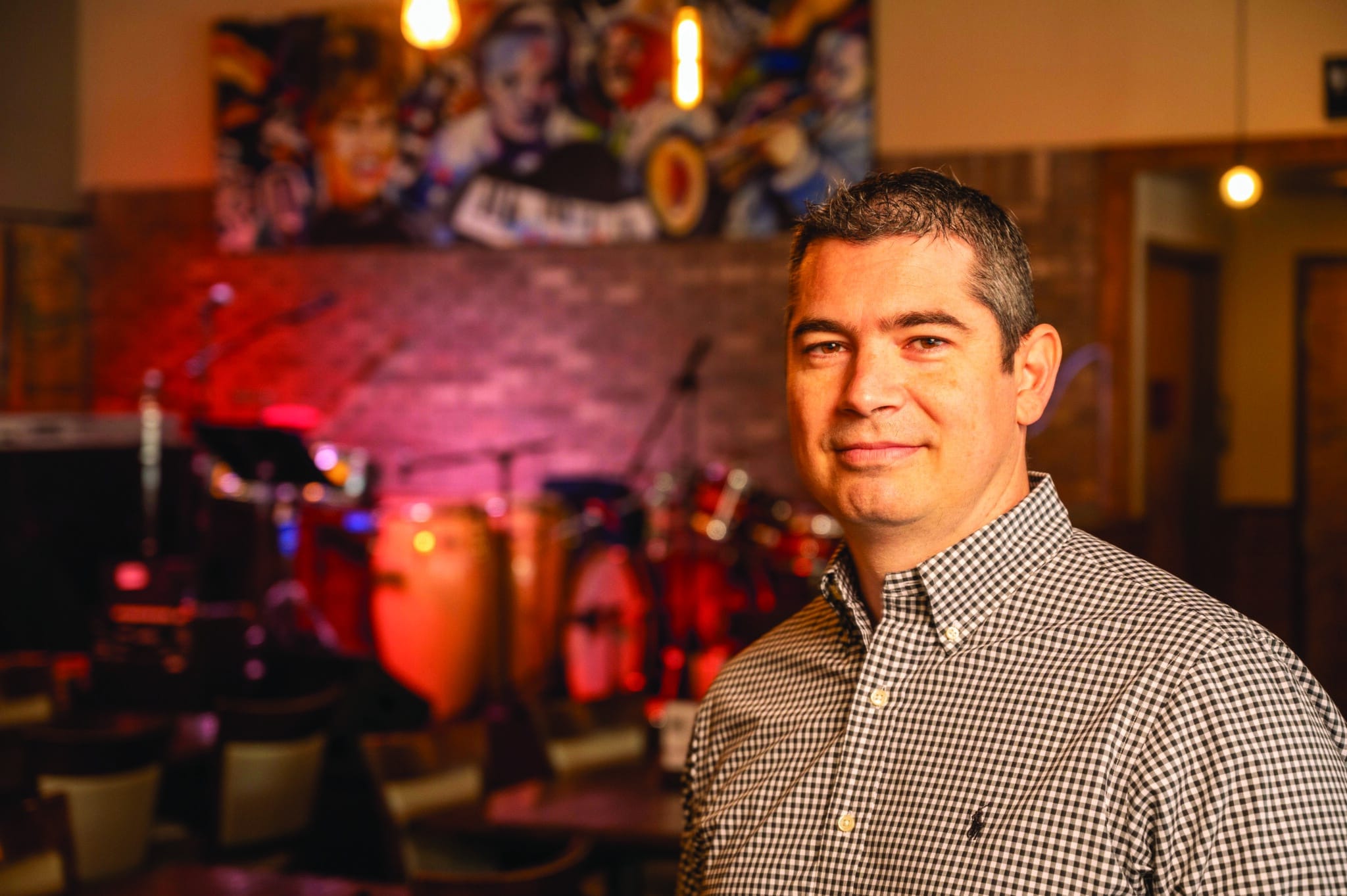 "I don't want to say it was a drop in the bucket, it was very helpful," said Luis Fernandez of the thousands in federal money his business got under the Paycheck Protection Program, a later COVID-19 grant and from elsewhere.
"But one rent check, one liquor license renewal and a couple of utility check payments and you just blew $50,000," said the owner of Mojitos Cuban American Bistro at the Forum as he recounted well over a year of struggle in his Peachtree Corners restaurant and other locations. He said without the money from the paycheck program, they wouldn't have made it until December of this past year, when they got the grant.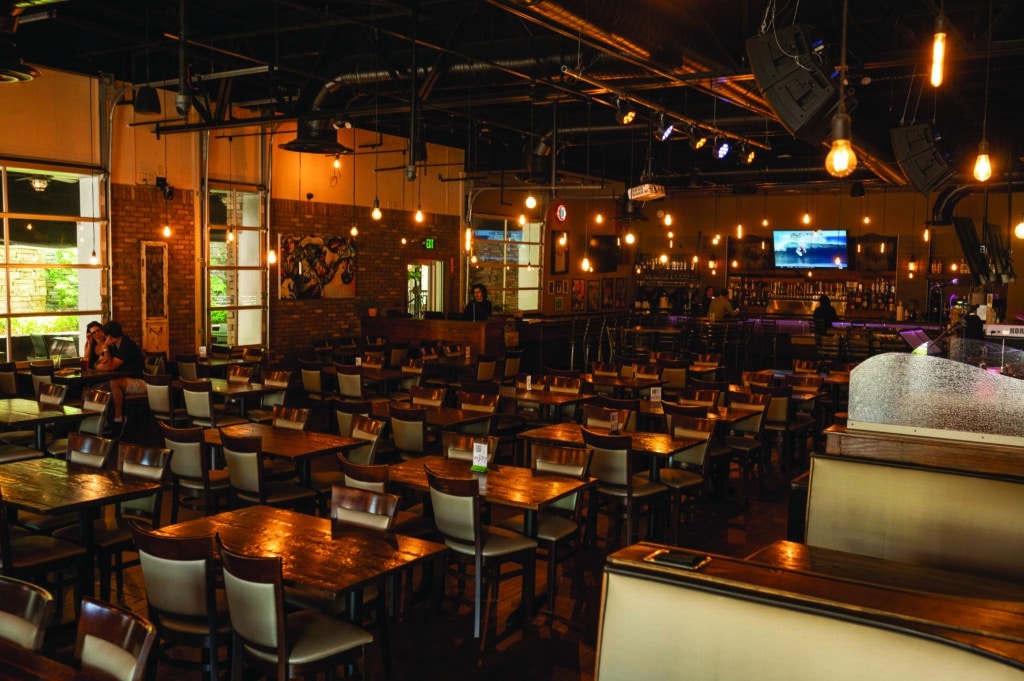 As the pandemic flickered to life in the spring of 2020, he said, the dining room was closed for more than a month, then open for takeout only, and when the dining area finally reopened, 80% of their square footage disappeared due to social distancing.
Thinking initially that the crisis would peak and begin to subside in 15 days, Fernandez said he gathered staff and told them that he was going to pay them as if all and sundry were going on a couple-week vacation.
When that span came and went with no sign of recovery, "that's when the body aches and the grey hairs came. I feel like I aged 30 years in ten months," he lamented.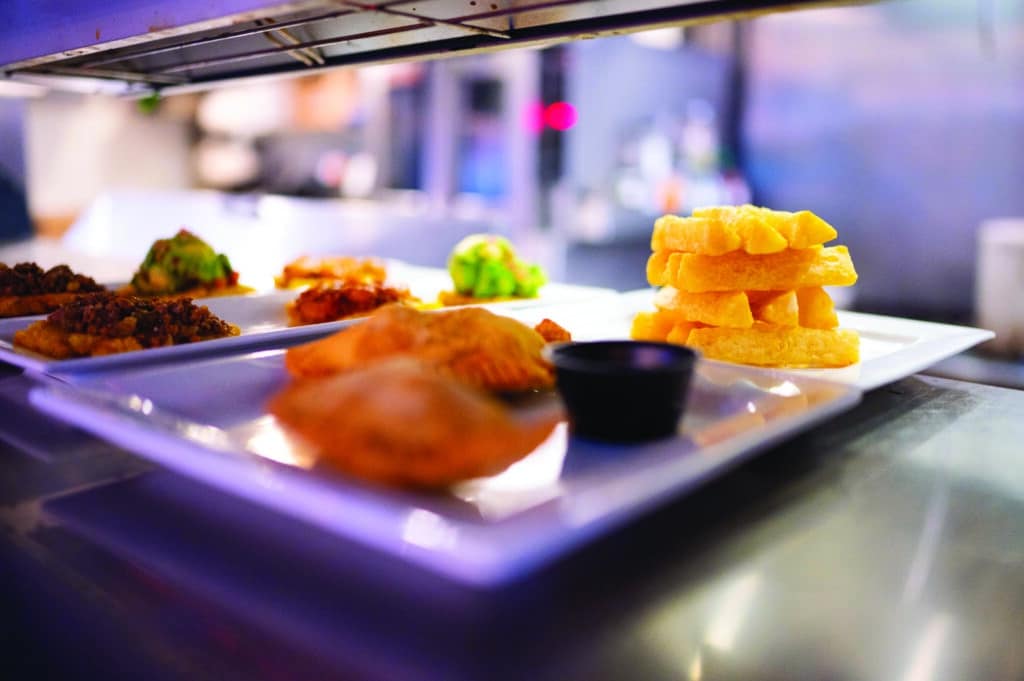 Efforts to stay afloat included them cashing in life savings and maxing out a home equity line of credit. Not so good.
But much better: Fernandez credits both the city of Peachtree Corners and ordinary citizens with being a huge help. The grant money that he had applied for in late November-early December came through a couple of weeks before Christmas — a very timely holiday gift, if you will.
As with Harwell, Fernandez said since reopening and easing back toward "normal," business has been a roller coaster ride. "We saw some amazing weeks of sales come in late May and early June (of 2020) and we said, 'Hey, baby, we're coming back.' And then the whole riots and everything started happening with spikes in cases and (business) went back down again."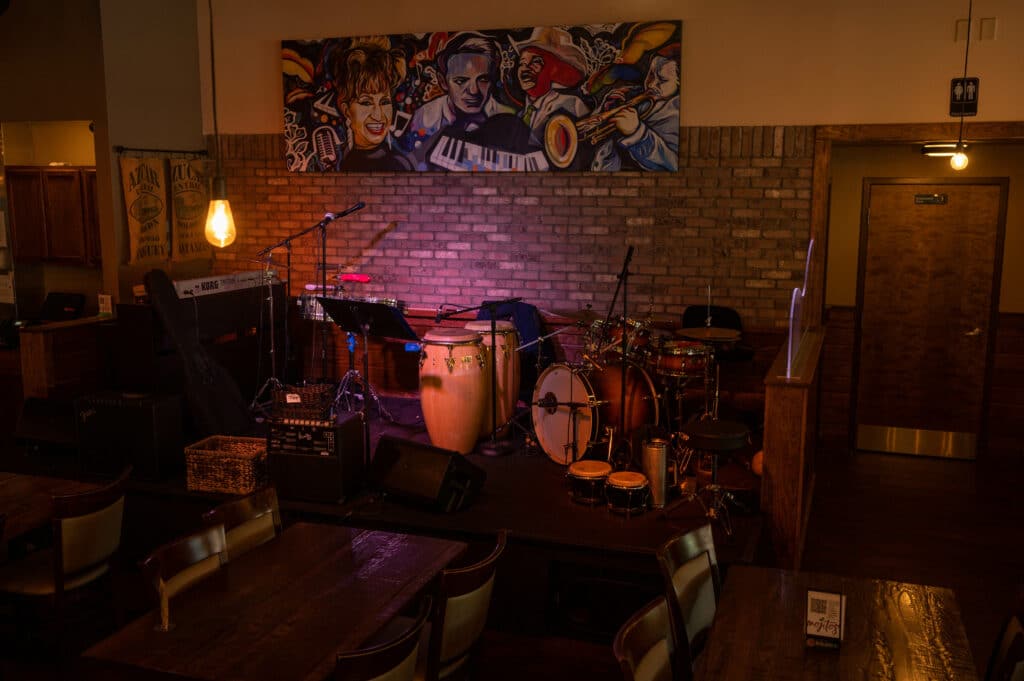 He credits the city with helping to stem the bleeding in a couple of ways. Fernandez said when they decided to reopen the dining room, he procured a large banner announcing the reopening. Unbeknownst to him, he said, was a provision in the city's building code limiting the size of such signage. A code enforcement agent drove the point home with a visit.
The Cuban restaurant owner decided to plead his case with city hall, emailing a member of the council and getting a sympathetic hearing. "A week later, the city announced they weren't enforcing the signage code," he said, adding, "you're not thinking about the city code when you're trying to save your financial life."
The city also eased up on late fees for paying liquor sales tax, Fernandez said, which alone saved thousands of dollars. The move made sense, he said, given that restaurants, with historically little profit margin, have to closely allocate their money in order to meet such obligations in a timely manner.
The community also rallied, buying gift cards while the restaurants were closed and placing garden-variety-sized orders with a $100 tip attached. "They really did bring tears of joy on more than one occasion, just knowing that we have a community that wants to help small businesses," he said.
Fernandez said the business is back to about 80% of its former level. He noted that the latest wrinkle involves finding enough staff. "We had an amazing Mother's Day weekend at all of our restaurants," he said. "But we have like 40% of the staff, so it feels a lot harder." He said the weekend was a mad scramble as a result.
While the trend is in a positive direction, he added, a business model meant to evoke a crowded, hopping 1950s Cuban nightspot faces a tough challenge in an era of social distancing and face masks.
How Five Community-Owned Businesses Were Bolstered with Cares Act Money – BeautifulLea Hair Salon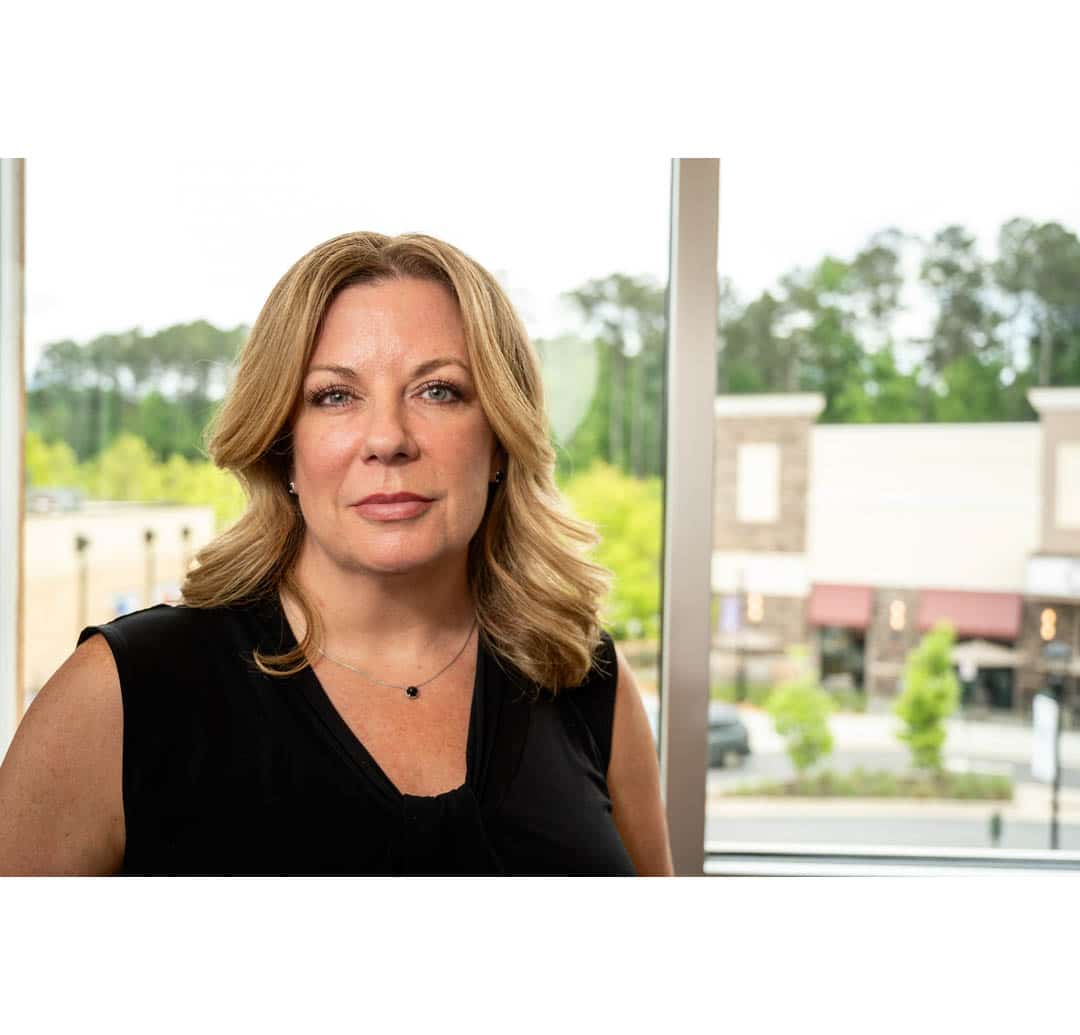 Businesswoman Lea Harwell said her business has been subject to ebb and flow since the onset of the pandemic some 16 months ago. Although she prides herself on having an "always prepared" mentality, being shut down for five weeks and then having to make operational concessions to COVID took a considerable financial toll.
She said the thousands of dollars in COVID grant money she received helped compensate for the weeks of no income. The veteran cosmetologist dipped into her own finances for business expenses during that time, then used some of the grant money to replenish her rainy-day stash.
She also utilized the help to get masks and additional safety supplies and institute cleaning measures. Then there were operational and scheduling changes that chewed away at her former income level.
"I work longer hours to do the same number of people because I'm not seeing two people at the same time," Harwell said. She occupies a one-room suite with three chairs at the MY SALON Suite – Beautiful Hair Salon and said in pre-COVID times she could have a client in one chair undergoing a color processing while simultaneously giving a haircut in the other. That's not possible now.
On the other hand, she allows that having an individual room instead of working as part of a larger open salon has been a plus.
In addition to the limitation on people, additional costs have come with completely sanitizing her room between clients and keeping mask and cleaning supplies on hand for her and for customers who want to feel more comfortable.
That has made her more adaptable, she inferred. "You can't cut hair very well around a mask," she said, although if clients insist on a covering, she can find a workaround.
She's gone the extra mile on Zoom to help clients who are even more ultra-cautious. Harwell said several who have feared venturing out have asked her to jump on a video call with her so they can trim a friend's or partner's bangs or clean up a bit around their ears.
She's willing to do that, but couples it with a cautionary note. "I tell them I will try to help, but I can't take any responsibility for what you do with your untrained hands." As she noted, "I have doing this for 40 years."
Providing what could be termed "tele-haircuts" is a second manner in which she's had to be nimble since COVID reached pandemic levels last year. Harwell said there are other examples as well.
Take what happened at the end of the five-week shutdown, for example. "I remember the day the governor was doing his press conference. He made the announcement at 4:00, and at 4:01 my phone started blowing up. That day was a scramble, and everyone wanted to be back," Harwell recalled.
She said that after initial rush, business tapered off. A couple of roller-coaster cycles followed, including a drop-off last July and August. Now her business has settled into a groove that's about 80% of the pre-pandemic level.
A couple of ancillary factors have brightened the picture. "Our owners were very generous to us," she said. Although they had to keep up with payments to their landlords, lease payments from individual salon tenants were waived during the time that they were not able to be open, she explained.
Harwell also cited working for a number of years in sales and marketing, which she pursued until coming back to the haircutting business some 13 years ago. "I can get out there and find business," she said confidently. "If business falls off, I just don't wait for something to happen. I need to work, and I want to work."
For now, she's playing it conservatively, using her much-appreciated help to rebuild her savings while keeping her fingers crossed that cases don't spike again to the point that another shutdown is required. She's still in recovery mode, financially.
Harwell said she thinks Governor Brian Kemp has done what he can to keep small businesses going during the pandemic and added that she's eternally grateful that Georgia is not in the same boat as California, where she said stylists weren't allowed to work for a year.
How Five Community-Owned Businesses Were Bolstered with Cares Act Money- Anderby Brewing Feature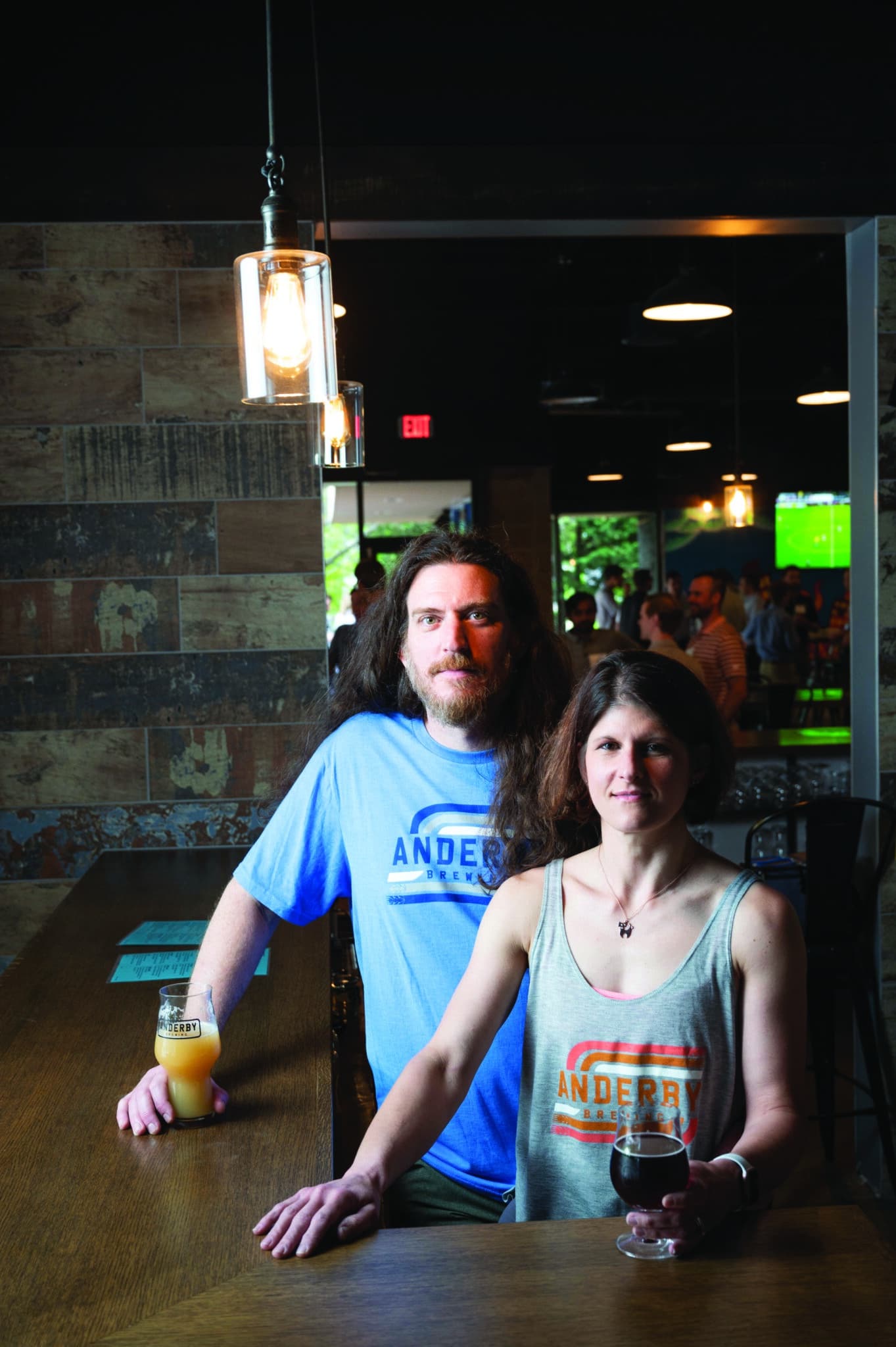 The grandly titled Coronavirus Aid, Relief and Economic Security (CARES) Act came quickly out of Congress and was signed into law after the namesake disease clamped down on both public and private life in March of 2020. A key provision was a $367 billion loan and grant program for small businesses.
Sometime later, the city of Peachtree Corners was allocated $4.5 million meant to aid those enterprises and divvied it up among each qualifying applicant. This is a story about five Peachtree Corners enterprises forced to weigh a number of considerations, from how to balance safety for customers and staff with a driving need for revenue — and about the help they got to stay afloat.
Anderby Brewing
Anderby launched in 2019 with owner Preston Smelt and spouse Michell, along with a small cadre of employees, brewing a variety of IPAs, stouts, fruited sours and other favorites. They built buzz through their taproom and by supplying kegs of beer to restaurants. Then came COVID, and the whole enterprise, well, went flat.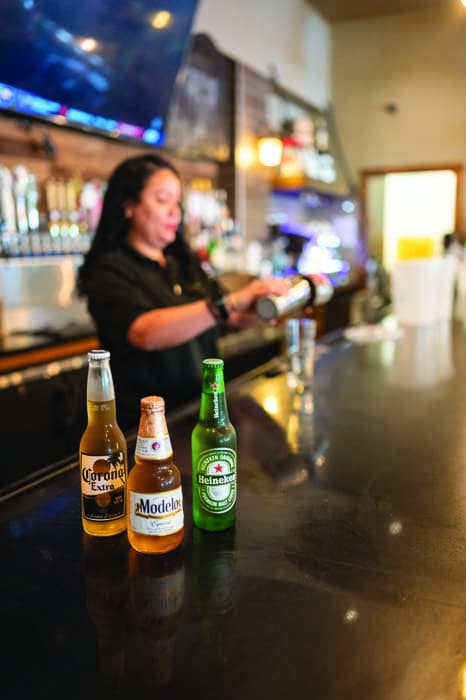 They got a COVID-19 grant through the Cares Act plus help through other government programs that, lumped together, was in the low six figures. It was badly needed as their taproom shut down until June. With restaurants closed, as well and many later limiting to pickup and delivery once open, that part of the business dried up as well.
Smelt said some stark numbers told the tale. He said a good month prior to COVID meant $35,000 to $40,000 in total revenue rolling in from product distribution and their taproom. After the onset of the epidemic, that shrank to $3,500 or $4,000.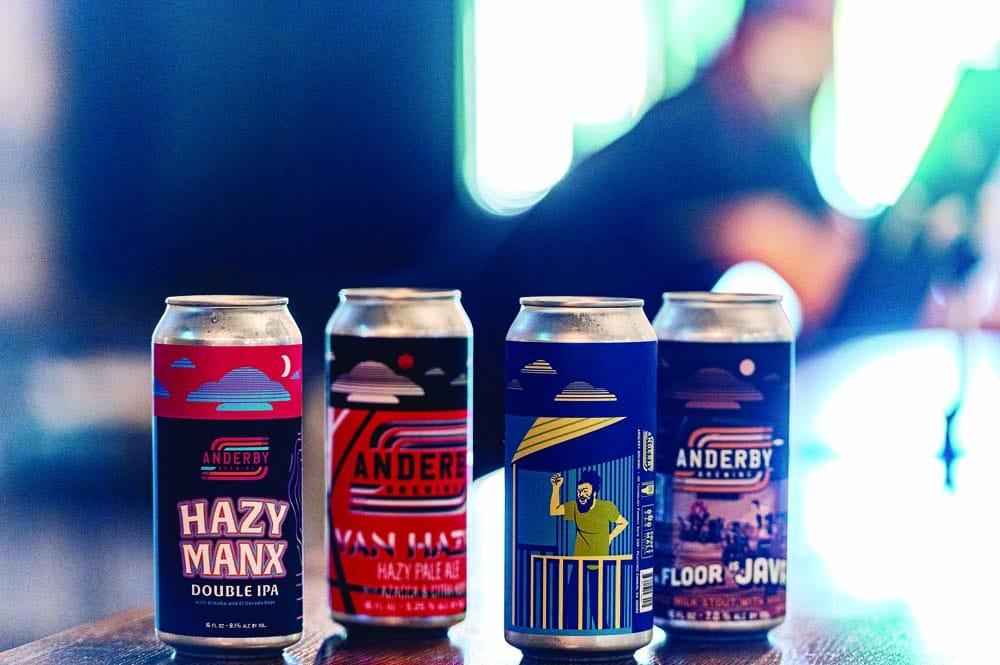 "And it wasn't like we were a long-established business where we could go to a bank and say 'we need a $100,000 loan and we'll be good for it as soon as we get out of this,'" he pointed out.
Smelt said, "The money got us to the point where we were able to make some reinvestment in product and stocking raw materials." He said it also helped to fund the acquisition of capital equipment for a canning operation "because that was one of the few ways to move beer during this period."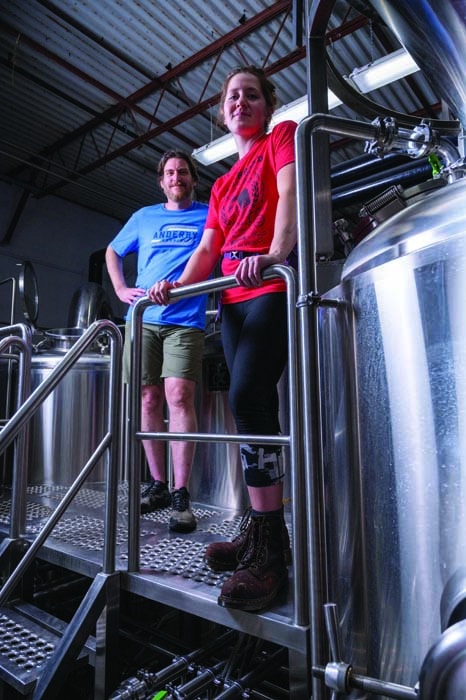 That canning equipment took until October to arrive. In the meantime, they resorted to a hand bottler, filling exactly two bottles at once and selling finished six-packs out the front of their digs. Ultimately the endeavor was a money-loser, but Smelt said it did provide some revenue, got their product into the hands of their boosters and gave them visibility.
It also kept them from pouring even more beer down the drain than they had already had to do.
Another factor in play, he said, was a "fantastic landlord" who worked with them on their rental obligations. "We would not have survived without those two things," he said bluntly.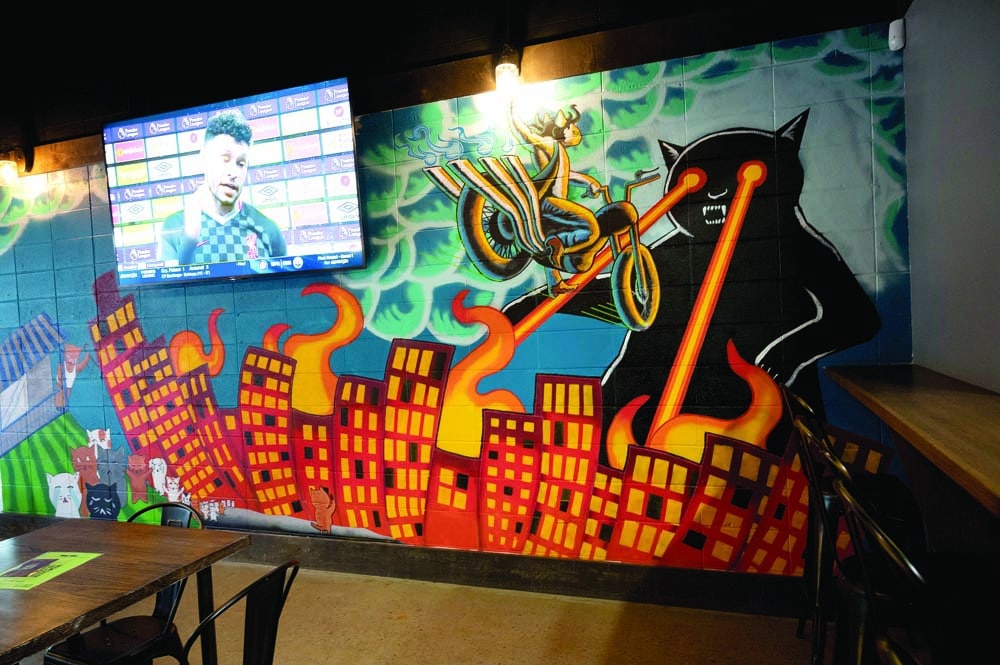 Smelt said he and his wife had just started talking about revamping their product lineup when the epidemic descended. The federal help helped enable them to settle on a core of three or four beers they think will help them expand throughout the region.
The couple is cheering the growing vaccination numbers and drooping COVID caseloads. With more companies reopening in the surrounding Technology Park and their workers beginning to stop in, and restaurants starting to clamor again for kegs, prospects are improving.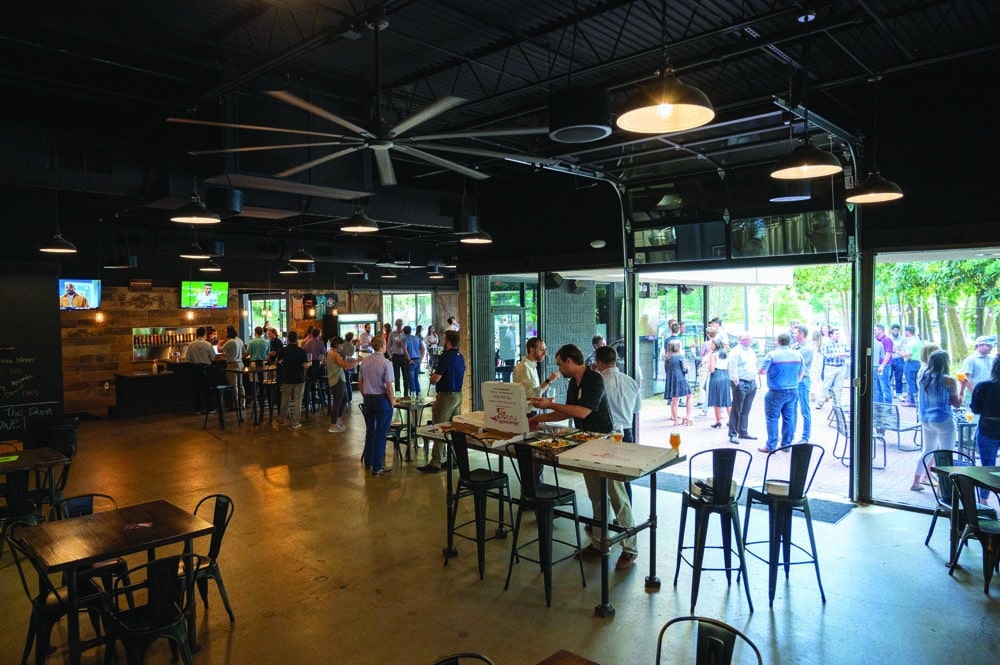 Another positive factor, he said, was that three new breweries have opened in the immediate area since they debuted. He said having several in close proximity will create a "brewing scene" that could become a destination choice.
At their own destination, they had cut taproom seating by 30-40% before reopening last summer and took other cleaning and sanitizing steps. "What we're wanting to do is create an environment where you can come in and spread out and feel comfortable," Smelt said.
In line with the push toward distancing has been a reluctance to re-start larger themed events. He said that if a bigger crowd shows up in conjunction with daily operations, they're OK with that, but a large blowout is not in the cards.
In another case of altered plans, Smelt said earlier plans to do a capital expansion have been put on hold. All the juggling of procedures, products and profit-and-loss numbers has taken a toll.
"There hasn't been a lot of sleep," he said. "There's still not. While things are improving, we're not back to normal yet."