Jacobs, Peachtree Corners, and Qualcomm Collaborate to Deploy Cellular Vehicle-to-Everything Technology in the City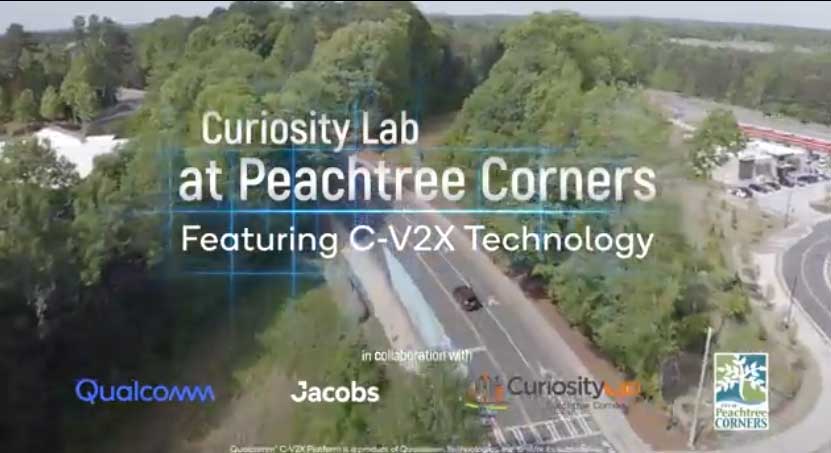 The city of Peachtree Corners and its Curiosity Lab utilize Qualcomm Technologies C-V2X solutions to enable advanced traffic efficiency and roadside safety
Jacobs, Peachtree Corners and Qualcomm Technologies, Inc. today announced joint efforts to deploy end-to-end smart solutions in one of the nation's first smart city environments powered by real-world connected vehicle technology and infrastructure. As a part of the working relationship, Qualcomm Technologies serves as ecosystem enabler by providing technology solutions, while Jacobs manages the installation commission project delivery. The program aims to demonstrate the continued momentum of smart cities and spaces, with Peachtree Corners serving as a model for other municipalities as they look to deploy smart solutions and programs.
Peachtree Corners is home to one of the nation's most advanced smart city ecosystems, with smart connected technologies actively being developed and deployed in real-world conditions. Its Curiosity Lab is home to technology developers and companies enabling the future, while smart connected solutions are being deployed across the community, bringing the region to the forefront in the development of next-generation, Internet of Things (IoT) technologies. Jacobs, Peachtree Corners and Qualcomm Technologies are working together to deploy the company's technology solutions, focusing initially on roadside infrastructure, traffic management and road safety, with the implementation of Cellular Vehicle-to-Everything (C-V2X) technology. As a part of the program, the city will work with Commsignia to feature roadside units (RSUs) equipped with Qualcomm Technologies' C-V2X solution. Utility vehicles equipped with Qualcomm Technologies' C-V2X solutions will also be utilized to demonstrate vehicle-to-infrastructure (V2I) direct communications.
The implementation of C-V2X within the smart city environment not only demonstrates the benefits of C-V2X communications in a real-world setting at scale but showcases C-V2X's safety critical communication capabilities needed to meet the evolving needs of transportation.
"We are pleased to be working with Jacobs and Peachtree Corners to build out a progressive smart city deployment. This implementation further exemplifies the value and leadership in the Qualcomm® Smart Cities Accelerator Program ecosystem and streamlined end-to-end deployment model capabilities," said Sanjeet Pandit, senior director, business development and global head of Smart Cities, Qualcomm Technologies, Inc. "This C-V2X program with the Curiosity Lab and Jacobs not only highlights the ability to implement digital road infrastructure to optimize traffic and enable safer streets across global cities, but our continued commitment to offer advanced solutions for traffic safety. This project is paving the way as an example of what communities can replicate and I expect these advanced end-to-end solutions to be an integral part of future smart city and smart connected spaces rollouts."
"In addition to procuring, installing and testing the Internet of Things infrastructure, we're bringing planning expertise to help Peachtree Corners realize its smart city vision," said Jacobs People & Places Solutions Senior Vice President and Regional Director Tom Meinhart. "From procurement to closeout, Jacobs and our partners work to improve safety and connectivity, while enhancing digital infrastructure and smart capabilities in the city."
C-V2X direct communication is designed to serve as a key feature for safety and mobility applications. Additionally, C-V2X aids in enabling cleaner and sustainable mobility alternatives as the technology is expected to reduce greenhouse gas emissions between 5-20%, according to the 5GAA.
C-V2X is globally compatible with 5G networks and complements other Advanced Driver Assistance Systems (ADAS) sensors, such as cameras, radar and Light Detection and Radar (LIDAR). The C-V2X direct communications is designed to offer vehicles low latency communications for vehicles to broadcast to other vehicles, roadside infrastructure and, in the future and with further optimizations, to pedestrians and other vulnerable road users without the involvement of a cellular network, or cellular network subscription, by operating in globally harmonized 5.9 GHz ITS spectrum.
"We're delighted to welcome Qualcomm Technologies to Peachtree Corners – reinforcing our shared leadership in bringing the smart city vision to life in the United States," said Brandon Branham, assistant city manager and chief technology officer of Peachtree Corners. "We've always stressed the importance of smart connected infrastructure to support all parts of an ecosystem – from autonomous vehicles and shuttles deployed for residents, pedestrians crossing the road, smart traffic management, public safety to other areas of everyday life. Qualcomm Technologies' industry-leading C-V2X technologies will greatly elevate our infrastructure, making it second-to-none for both technology developers and our residents as we connect more of society and business."
Through the Qualcomm Smart Cities Accelerator Program, Qualcomm Technologies has acted as a catalyst in enabling end-to-end smart deployments and the digital transformation of smart cities and smart connected spaces globally. Peachtree Corners intends to roll out additional smart solutions in the future by collaborating with Qualcomm Technologies smart cities ecosystem and Qualcomm® IoT Services Suite verticals.
For more information on the Peachtree C-V2X project, please log onto Qualcomm C-V2X site. To schedule a briefing with city leadership, contact Peachtree@GoDRIVEN360.com.
About Jacobs
Peachtree Corners Receives Sixth Straight Distinguished Budget Presentation Award
Temporary Closures of Portions of the Town Center Parking Deck Through Summer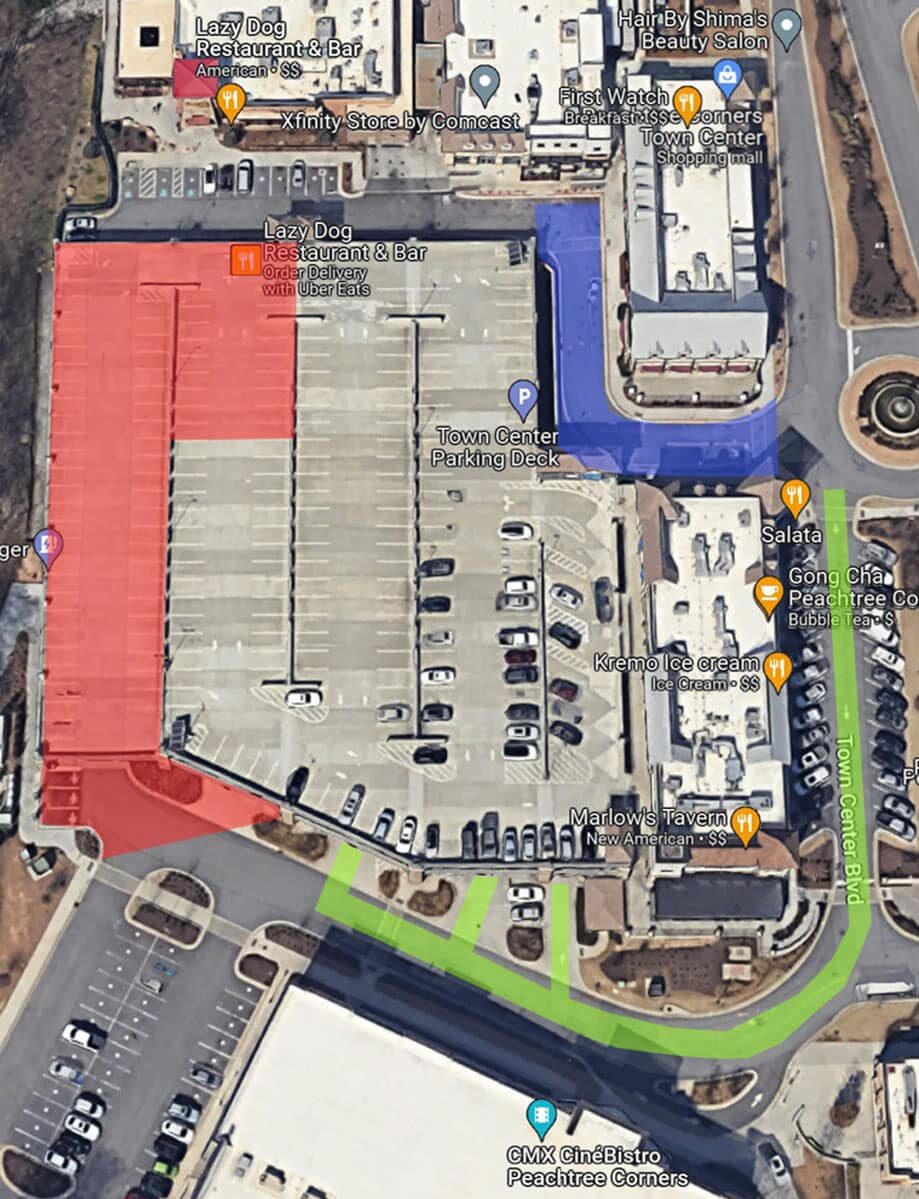 Beginning March 21, 2023, portions of the parking deck located in the Peachtree Corners Town Center will be closed to perform maintenance, repairs and area improvements.
These closures will affect the entrances immediately in front of Lazy Dog Restaurant, the entrance entering the lower deck closest to the CineBistro parking lot, and the southern ramp section in the area of the electric vehicle charging stations.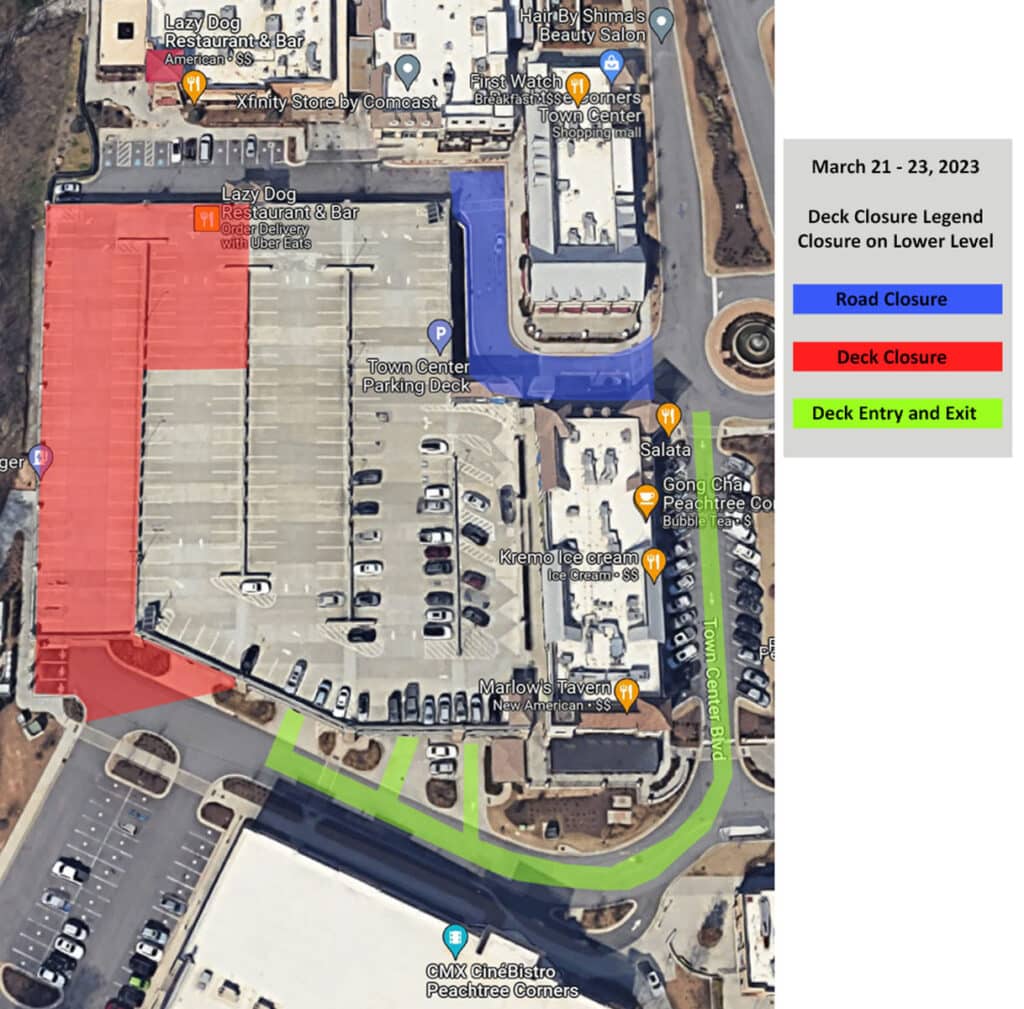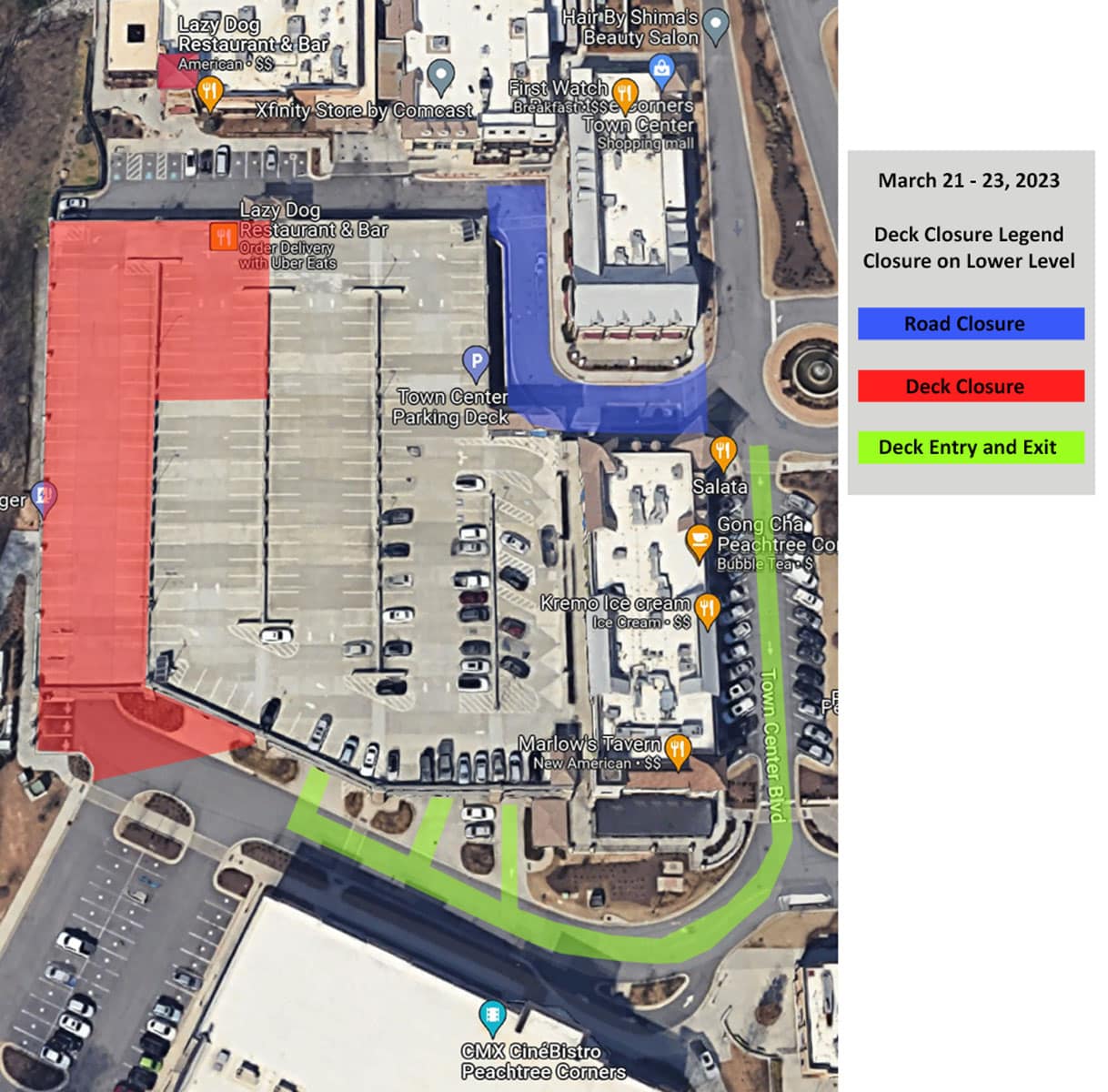 During the closures, from March 21 to March 23, all entry into the deck must be done through the lower deck entrances across from CineBistro.  The entrance nearest the traffic circle fountain will be temporarily closed to facilitate materials delivery for the project.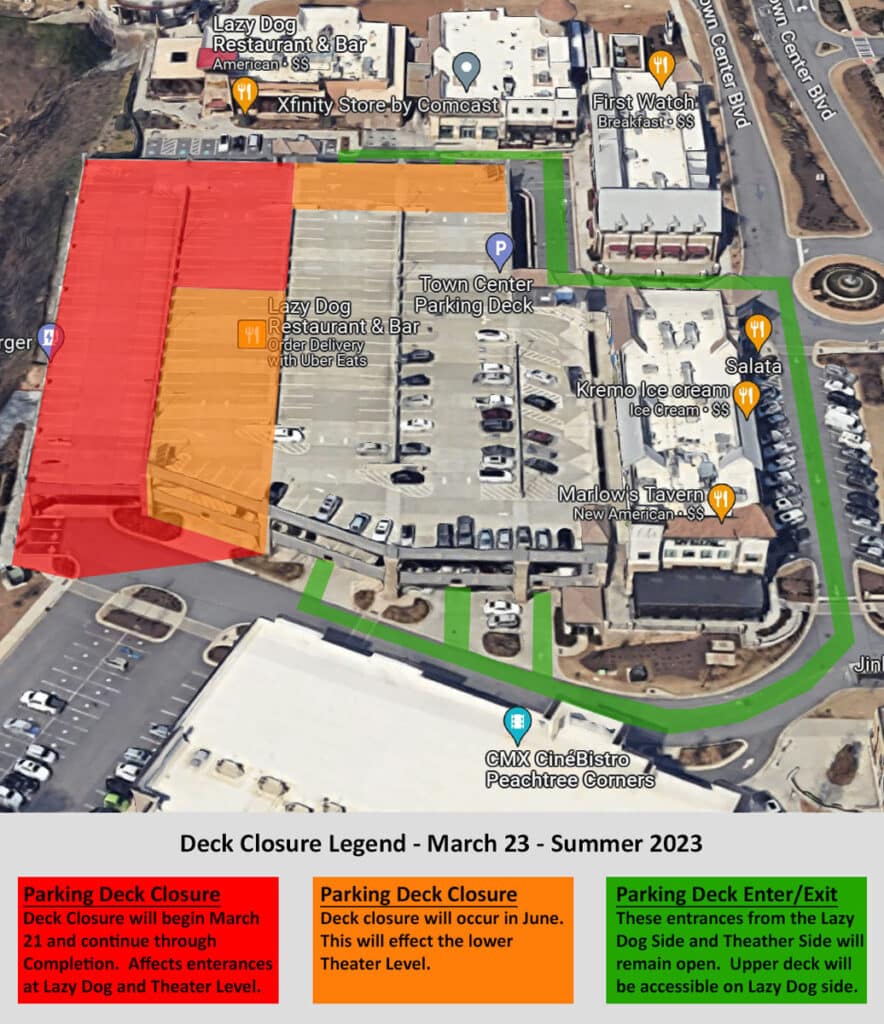 Following delivery, this entrance will be reopened for the duration of the project. Additionally, the ramp providing access to the upper level of the deck will remain open throughout the project.
During this time, the vehicle charging stations will also be inaccessible.
Peachtree Corners City Council Recognizes GCPD Officers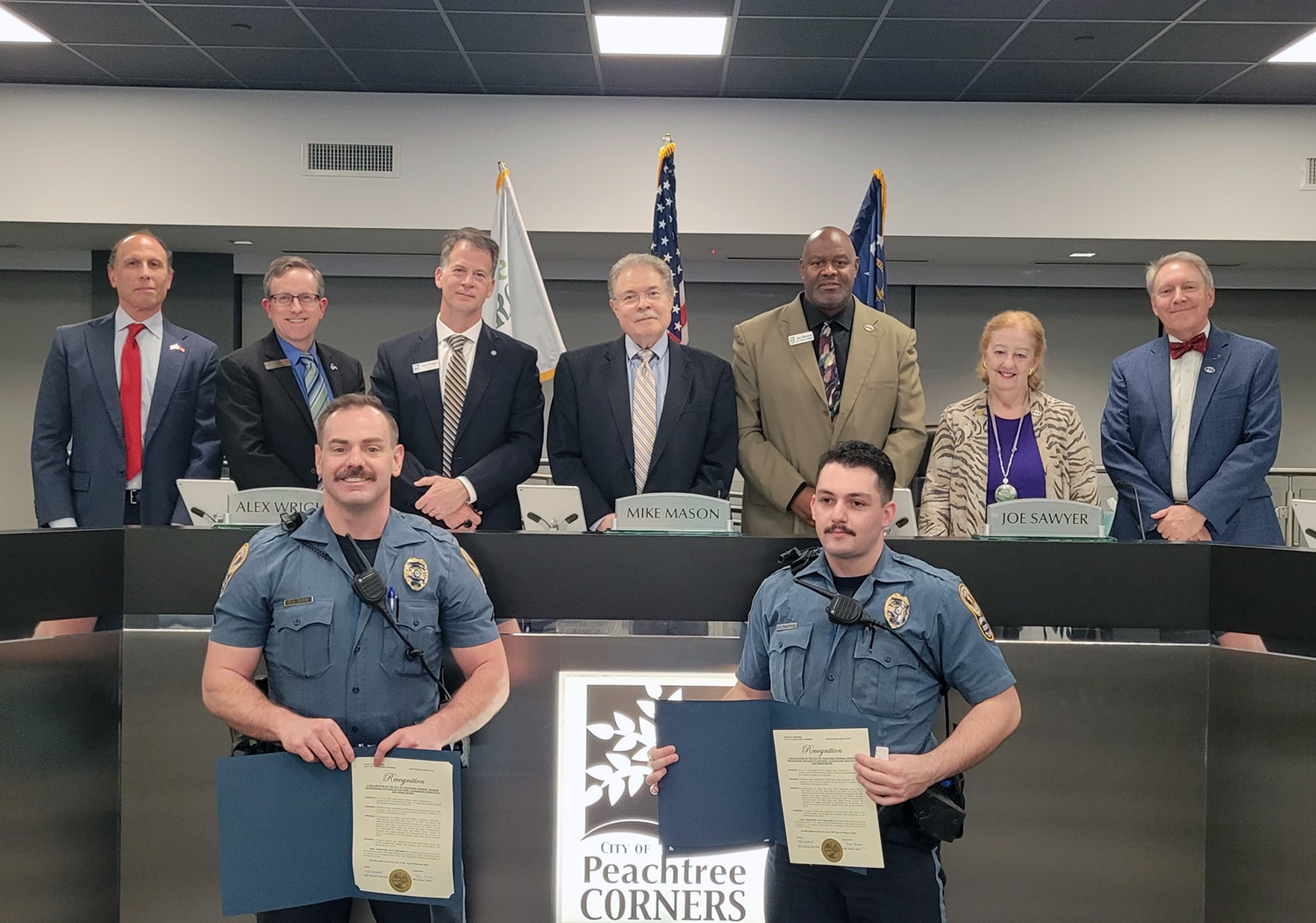 During the Council Meeting on February 28, the City of Peachtree Corners recognized three Gwinnett County Police Department Officers — Officers Dillon Burk, Aleksandar Panayotov and Amber Brown — for their actions last November.
The three officers worked quickly to stop alleged suspects involved in victimizing Peachtree Corners businesses.
City Manager Brian Johnson issued the following Proclamation:
A Declaration of The City of Peachtree Corners, Georgia Recognizing Officers Dillon Burk, Aleksandar Panayotov, and Amber Brown
WHEREAS, On Nov. 8, 2022 West Precinct officers were dispatched to a burglary at the SS Food Mart and Vape. A video was obtained showing four suspects smashing the front door.
WHEREAS, Detectives were contacted by Officer Burk, who recognized one of the suspects in the video as a juvenile he had previously been arrested on a shoplifting call alongside an adult.
WHEREAS, On November 12, Officer Burk and Officer Panayotov performed a traffic stop on a car with plates that did not match the vehicle. The driver was the adult female previously arrested for shoplifting with the juvenile. There was a book bag in the car that the officers recalled seeing in the burglary video. The female was taken to headquarters and interviewed by Officer Burk and Officer Brown. During the interview, the suspect disclosed her involvement in the burglary, as well as the location of the stolen goods, which were at the juvenile's home.
WHEREAS, A search warrant was obtained and stolen items were found. The female suspect was charged with burglary and contributing to the delinquency of a minor.
NOW, THEREFORE, BE IT DECLARED by the Mayor and Council of the City of Peachtree Corners that these officers be recognized for their good police work, for without it, the suspects would have likely continued victimizing businesses in Peachtree Corners.
SO DECLARED on this the day of 28th day of February 2023.