Meet the City Officials who Keep Peachtree Corners Humming: Brandon Branham Feature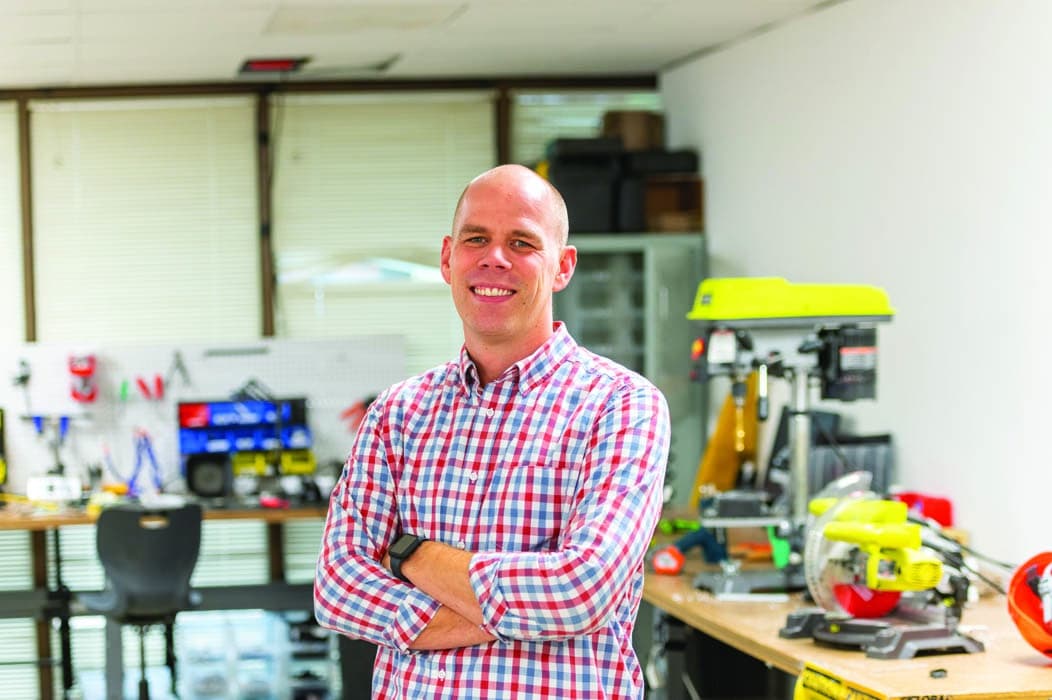 Photos by George Hunter
Consider a high-performance vehicle — bright, shiny and powerful. It leaps ahead quickly when it needs to, but can also settle back to a comfortable cruising speed. It's nimble, able to turn on a dime or smoothly reverse direction, if need be.
Ever wished for a vehicle like that? The good news is that if you live within the city limits of Peachtree Corners, you already have one.
Gwinnett County's largest and newest city has a most efficient "vehicle" for governing its home turf — a staff helmed by experienced department heads who put their shoulders to the wheel, are adept at balancing the sometimes-clashing interests of residents, the business community and other constituencies and aren't afraid to embrace unconventional approaches.
In a twist on an old saw, it can be said that behind every city manager stands a good assistant city manager. But Brandon Branham does more than support his boss in running the city. He wears an additional major hat — chief technology officer.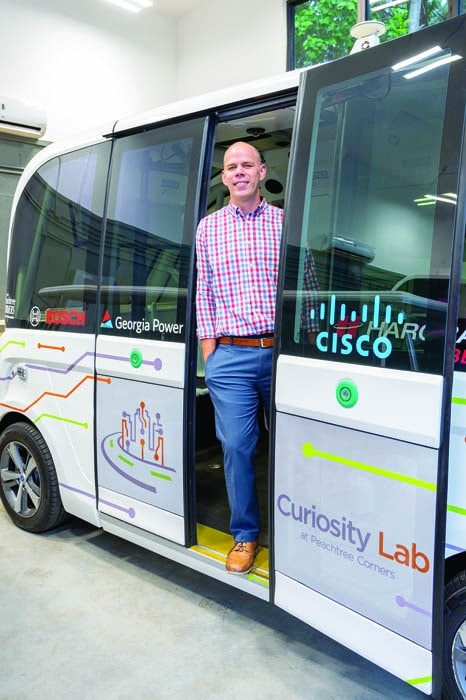 It's not the most frequent combination of duties for a municipal official, but Branham seems to thrive on it. His responsibilities are broad spectrum. He compares his role to private business, in which Johnson, the city manager, would be chief executive officer and Branham would have chief operating officer stripes.
His operational responsibilities include imbuing departments with strategy and efficiency updates, handling economic development with an emphasis on recruitment, overseeing Innovative and Smart Cities programs, managing facilities and doing partner engagement and management with the Curiosity Lab. Whew!
"We also make sure we're up to speed, pushing the envelope on the latest cutting-edge technology," Branham added for good measure.
In that vein, his proudest moment as a tech chief was when the city achieved NIST-171 compliance for the Curiosity Lab Network. He said that's the highest level of data security for unclassified data an organization can achieve.
"We have a pretty robust security network that blocks intrusions. We get attempts all the time," he shared.
No one day is the same as another, he said, and that's part of what jazzes him as he begins his day. One day he might be immersed in some technical aspect of Curiosity Lab, the next he could be helping with long-range financial projections and the day after THAT might find him out of the building taking a gander at a public works project.
All in a day's work, to be sure.
And, yes, there are roadblocks on occasions, but Branham said an easy-going personality helps navigate and smooth out any rough spots.
He seems to relish startups; he assisted in the birth of nearby Sandy Springs as a contract employee for CH2MHill. He came over to Peachtree Corners in the same capacity before landing on the city payroll.
"What we've been able to accomplish in nine years in Peachtree Corners has been pretty impressive," he said.
On a personal note, Branham said that living in The Corners and going out to dinner usually brings him attention, with folks wanting to ask him about some facet of the city and its government

Film Industry is Coming Back! Ozark, Disney and More Shot in the City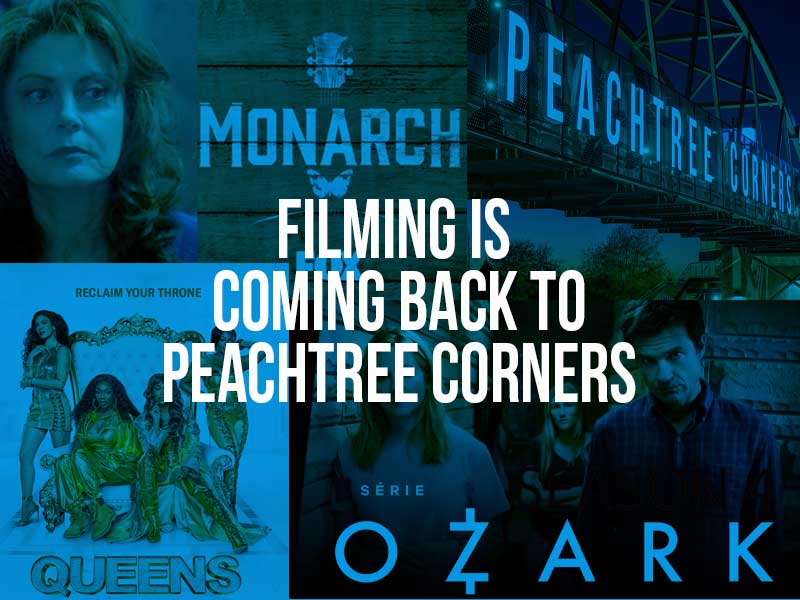 We are glad to see the film industry back up and running and, once again, filming in
Peachtree Corners. We have had 13 requests from production studios so far this
year, which is about the same as in 2019. Obviously, 2020 was a bust, with only one
Capital 1 commercial in January.
But the industry is winding back up, which is good to see. Blue Cat Productions
filmed in Peachtree Corners six times over the past year. You may know their work:
the series Ozark. The series Monarch also filmed in Peachtree Corners this past
summer, and most recently ABC Signature, a subsidiary of Disney Television
Studios, filmed some shots for the series Queens at The Forum shopping center.
A representative from Disney toured City Hall on Nov. 18 for another series.
Apparently, they are interested in filming a new series that involves an FBI agent.
They were looking for a meeting room with "gray government walls." It's called
Class of 09 and it's an FX/Hulu miniseries about the FBI that follows agents in the
years 2009, 2019, and 2065. It is under the Disney umbrella since they own Fox,
who owns FX. They need to make the front of City Hall look like Arizona, however,
which could be interesting.
We mentioned to the Disney folks that if they don't get exactly what they are
looking for, we do have an extended reality production studio in town that I'm sure
could give them a hand, Music Matters Productions. A lot of people know about
Eagle Rock Studios in Gwinnett County, near Norcross, but they may not realize all
the film activity taking place in Peachtree Corners.
We like to have film crews here because they often bring with them a lot of people
who need to eat and need a place to stay. This benefits our hotels and restaurants.
So, our city staff strives to review film permit applications the same day they are
received. Sometimes we have questions, like "Are you going to blow up any stuff?"
Ozark used some pyrotechnics a few years ago in Technology Park when they were
blowing the windows out of a building. Obviously, we don't want residents or
businesses to be disturbed, which is why we like the studios to let us know when
they are planning to do some filming here. In fact, we require it, actually. We
require that neighbors be notified and that police officers be on hand for any road
closures to help direct traffic. On occasion, we have had to say "no" because it
would be too disruptive to people or businesses or create safety concerns. But
overall, I think Peachtree Corners has a pretty good reputation for being
accommodating to the film industry.
If you have some vacant space in a shopping center or office building, the film
studios may be interested in renting it for a few months, perhaps longer. Our staff
can get you connected with the right people if you are interested in leasing space to
Disney or other studios. Just take some photos of the building, inside and out, and
send them to our economic development staff. Maybe the film studios will give
Peachtree Corners a mention at the end of the flick.
Stay safe, Mike Mason, Mayor
Source: Mayor's Letter

EV stations for business ready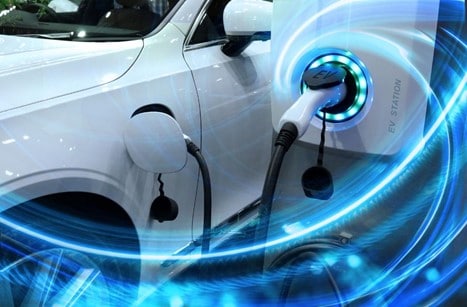 The City of Peachtree Corners is offering assistance to businesses in the city that are interested in installing electric vehicle charging stations.
As part of President Biden's $1 trillion bipartisan infrastructure bill, there are a number of incentives at the local, state and federal levels available to those looking to adopt electric vehicles. In addition, Georgia Power is also offering incentives as part of its Make Ready program.
For businesses, the first step is to determine what the stations need to do. Will they be supplying power to a fleet of vehicles, or enabling employees to charge vehicles at work? Perhaps the goal is to attract shoppers who want to park where they can get charged at the same time. Whatever the wish, the city of Peachtree Corners is available to help businesses determine the best arrangement for its needs and connect the people with the right resources.
There are a variety of cost off-sets currently available. Commercial property owners and businesses may set up a time to speak with experts who can help walk them through the process of installing EV charging stations on their property.
For more information, contact Jennifer Howard at jhoward@peachtreecornersga.gov

Construction Update: Bush Road at Medlock Bridge Road Project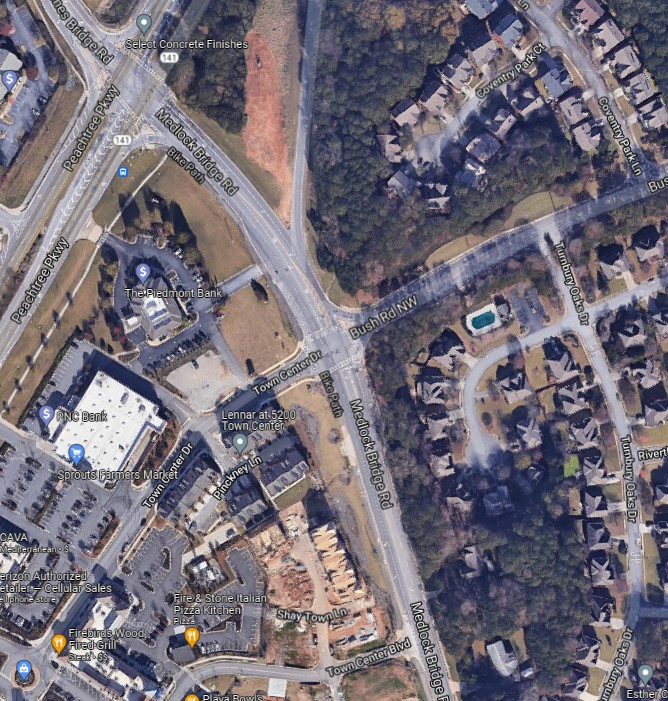 The City of Peachtree Corners is providing this information as a construction update for the Bush Road at Medlock Bridge Road project.  The goal of this project is to improve the intersection of Medlock Bridge Road, Bush Road, and the slip ramp to State Road 141. The project is currently under construction.
This project includes the following:
Two lanes added to northbound Medlock Bridge Road to accommodate a left turn lane
Through lane leading to SR 141 South
Through lane to East Jones Bridge Road
Through and right turn lane leading to both Bush Road and the slip ramp leading to North SR 141
Second right turn lane added to Bush Road that leads directly to the SR 141 slip ramp
New traffic signal installed to aid in the operation of these new lanes
Widening and traffic signal on Medlock Bridge Road and Bush Road
In addition, this project also includes a new concrete sidewalk, island, curb and gutter, asphalt paving, drainage improvements, modular block retaining wall, overhead signs, ornamental fence and ornamental trees.
Current Status of Project
Complete:
Drainage improvements, retaining wall, and general grading
Most concrete work
Base layer asphalt for the Medlock Bridge Road and Bush Road turn lane extensions
Remaining:
Overhead utility relocation
Traffic signal installation
SR 141 slip lane construction
Concrete island and ADA ramp construction
Final asphalt layer installation
Guardrail, sod, decorative trees, ornamental fence, signing and marking
Remaining Schedule/Milestones (estimated):
Georgia Power to set three joint-use poles and five utility poles – Mid December 2021
Traffic Signal Installation – January 2022
Overhead facilities relocated to new poles by Georgia Power, Comcast, AT&T, Zayo – February 2022
Existing pole removal by Georgia Power – February 2022
Guardrail, signs, fencing, trees, filling gaps in sidewalk, curb and gutter, sod, final asphalt paving and striping – March 2022