With the City Manager: The Forum sale and its impact, plus what is PadSplit?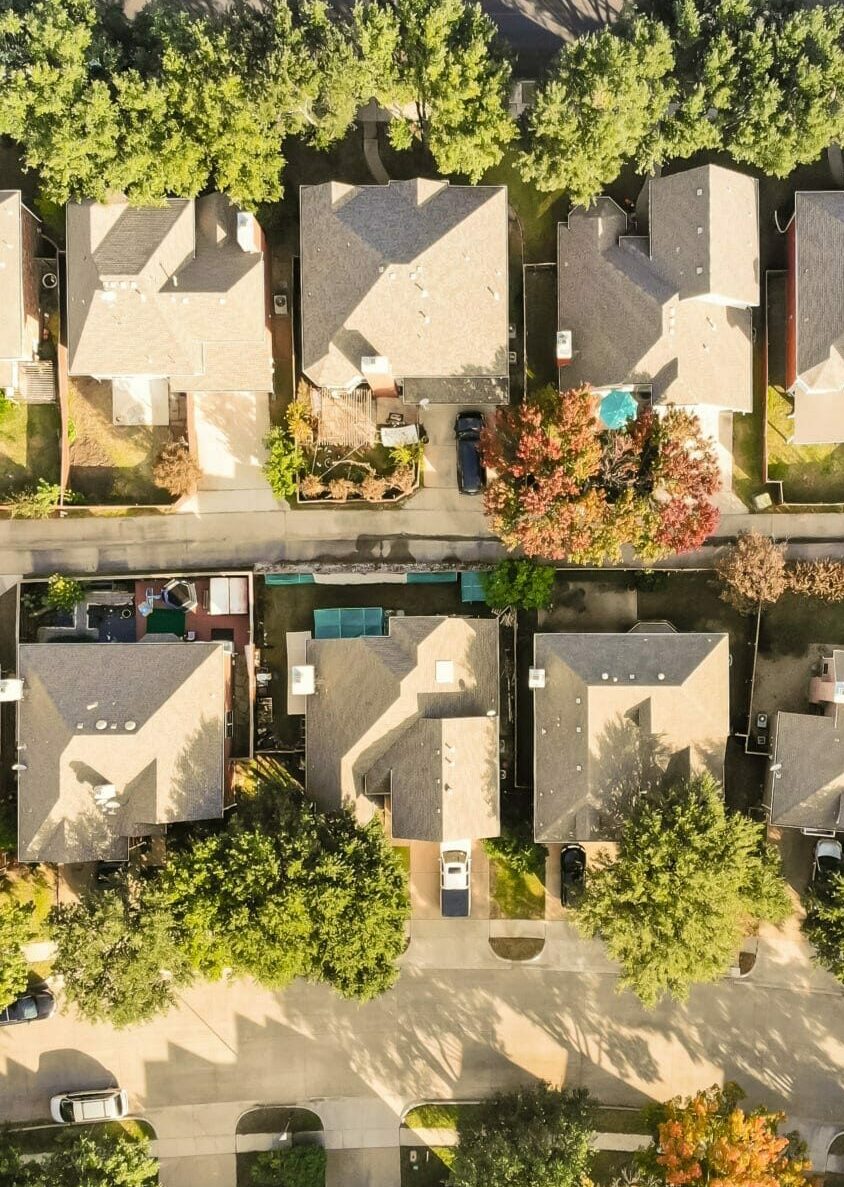 The Forum Shopping Center could be under new ownership soon, but the city of Peachtree Corners is determined to not let it become just another failing shopping mall.
City manager Brian Johnson said if the 500,000-square-foot mall does get a new owner, the city would like to work with them when it comes to any revitalization plan.
The Forum is currently managed by Bayer Properties, a commercial real estate firm based in Birmingham, Ala., which was granted third-party management rights in 2019. Its retailers include a Barnes & Noble, Trader Joe's, Old Navy, Home Goods and Pottery Barn, but there are plenty of suites open for new businesses, Johnson said.
"The Forum finds itself in a position where I think a new owner is going to do something beyond just becoming a new owner and just work hard to fill lease space," he said.
"Someone is going to buy this thing. When you add up all the lease revenue, it has to exceed their operating cost and the note they have on the property. To a degree, they are chasing numbers and they're not married to the community like us, and they'll fill space with tenants you just don't want to see at something like this. That's the first sign of a terminal illness."
The challenge will be coming up with ideas to make The Forum a place that is more attractive to young people, and the best way to do that is to utilize its 500,000-square footage and create a public gathering area that can be used as a venue for more events, Johnson said. He added that several proposals have already been made to do just that, including the construction of a two-story parking garage that will allow the current parking between facing stores to be converted into a large gathering space.
"Once you show there is a reason for people to hang out, there's something to do and space to do that, I think you're going to start seeing space get filled by tenants who cater to a younger crowd because now there's a reason for them to do it," he said.
"I think we can reinvent The Forum in such a way that we don't have such density that the parking is an issue and such density that the public space, there won't be such a crush of people that people will enjoy going there."
Another improvement Johnson wants to see is to make the Forum more accessible to nearby residents.
"On-site residential creates a stable customer base for the mix of uses that are there," he said. "If there's a boutique pet store that's within walking distance of where I live, I will shop there even if it's more expensive versus getting into my car to go some bigger pet place like PetSmart. The Forum doesn't have that."
With the success of the Peachtree Corners Town Center shopping mall on the other side of Peachtree Parkway, Johnson said the two shopping centers are the heart of the city, and he is determined to see both thrive.
"The Forum is an integral part of this community," he said. "It can't fail, and the city will not let it."
PadSplit 'problematic on a number of fronts.'
An Atlanta-based start-up that provides affordable housing has been running into legal battles as they've tried to expand.
PadSplit, founded in 2017 by CEO Atticus LeBlanc, has made its way into Peachtree Corners. The company allows landlords and property owners to rent out individual rooms within their homes to tenants, which means owners can rent out single-family homes to four or five (and in some cases as many as 10) tenants at a time, while each tenant pays a low weekly rent rate for a furnished room.
PadSplit does not own any of the properties listed on its website but is responsible for making sure all rooms are furnished. While the company's website states PadSplit conducts background checks on all its tenants and advertises high standards in terms of maintenance and furnishing, the company has run into legal trouble and backlash.
Last year, WSB-TV in Atlanta interviewed former PadSplit tenants as part of a seven-month investigation, and many of them complained about unsafe living conditions and violations of code enforcement. Johnson has concerns about those same issues arising in Peachtree Corners.
In Peachtree Corners, the city code prohibits short-term rentals of less than 31 days. Any property that provides less than 31 days of renting is considered a hotel and is subject to hotel code standards, Johnson said. Peachtree Corners residents cannot turn any property they own into an Airbnb for the same reason.
"We had a situation uncovered here in a neighborhood in which a property owner used a company called PadSplit," Johnson said. "It was brought to our attention that an owner there had been advertising for as many as 10 rooms in one house.
"There are those within the community who may have heard about this and are wondering what our stance is. We absolutely do not allow this kind of stuff to happen. We do not want our neighborhoods to end up getting into a situation where people are coming in and they're running some of these properties as investment properties."
City code also prevents more than six vehicles from being parked at a residence, and no parking on grass or dirt is allowed.
"It's problematic on a number of fronts," Johnson said. "Everything from, you know, where do you park all those cars?"
Johnson said the homeowner trying to advertise his home on PadSplit has already sparked action within city government.
"We're going to make our public code a little bit clearer so that if there is a homeowner digging into it saying, 'Hey, can I do this?' it will be clear," he said.
The article is in part based on a recent podcast episode of Prime Lunchtime with the City Manager.
Peachtree Corners named Finalist for Gwinnett Chamber Small Business Awards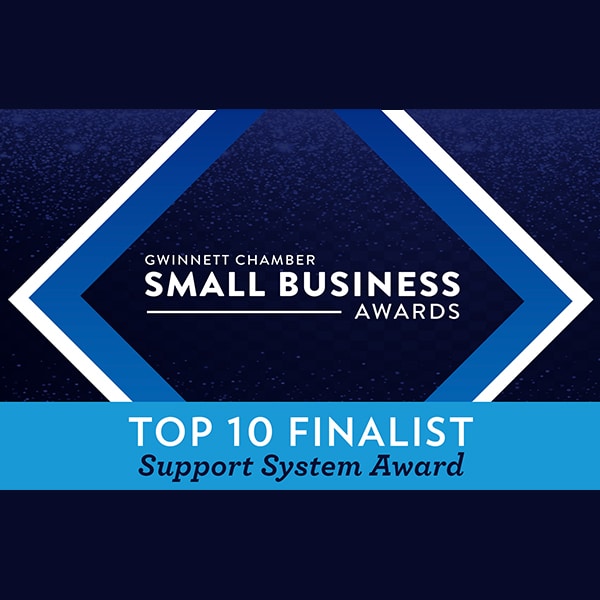 The City of Peachtree Corners has been named a finalist for the 2022 Gwinnett Chamber Small Business Awards. The annual awards program is designed to recognize entrepreneurs and small businesses in the greater Gwinnett region. This year's program will be held at 12Stone Church in Lawrenceville on Friday, December 9, 9 a.m.
"We are honored to be a finalist for the Support System Award by the Gwinnett Chamber," said City Manager Brian Johnson. "As a city government, we are dedicated to supporting our small business community.
"We put a large focus on their success by offering many free tools including grant programs, incentive programs, streamlined planning and development, and local organization support," he added.
Honoring individuals and organizations alike, there will be awards in 10 categories:
Community Contributor Award,
Culture Creator Award,
Emerging Entrepreneur Award,
Founder Award,
Launch Award,
Minority-Owned/Woman-Owned Small Business Award,
Small Business Award (0-5 employees),
Small Business Award (6-24 employees),
Small Business Award (25+ employees, and
Support System Award.
"Small businesses account for 90% of all businesses in Gwinnett and are a critical component to our thriving economy," shared Nick Masino, President and CEO of the Gwinnett Chamber. "We congratulate Peachtree Corners on their designation and look forward to celebrating with them at this upcoming awards program."
For more information on this event or to register to attend, visit GwinnettChamber.org/Small-Business-Awards.
Town Hall Hosted by Peachtree Corners Councilman Phil Sadd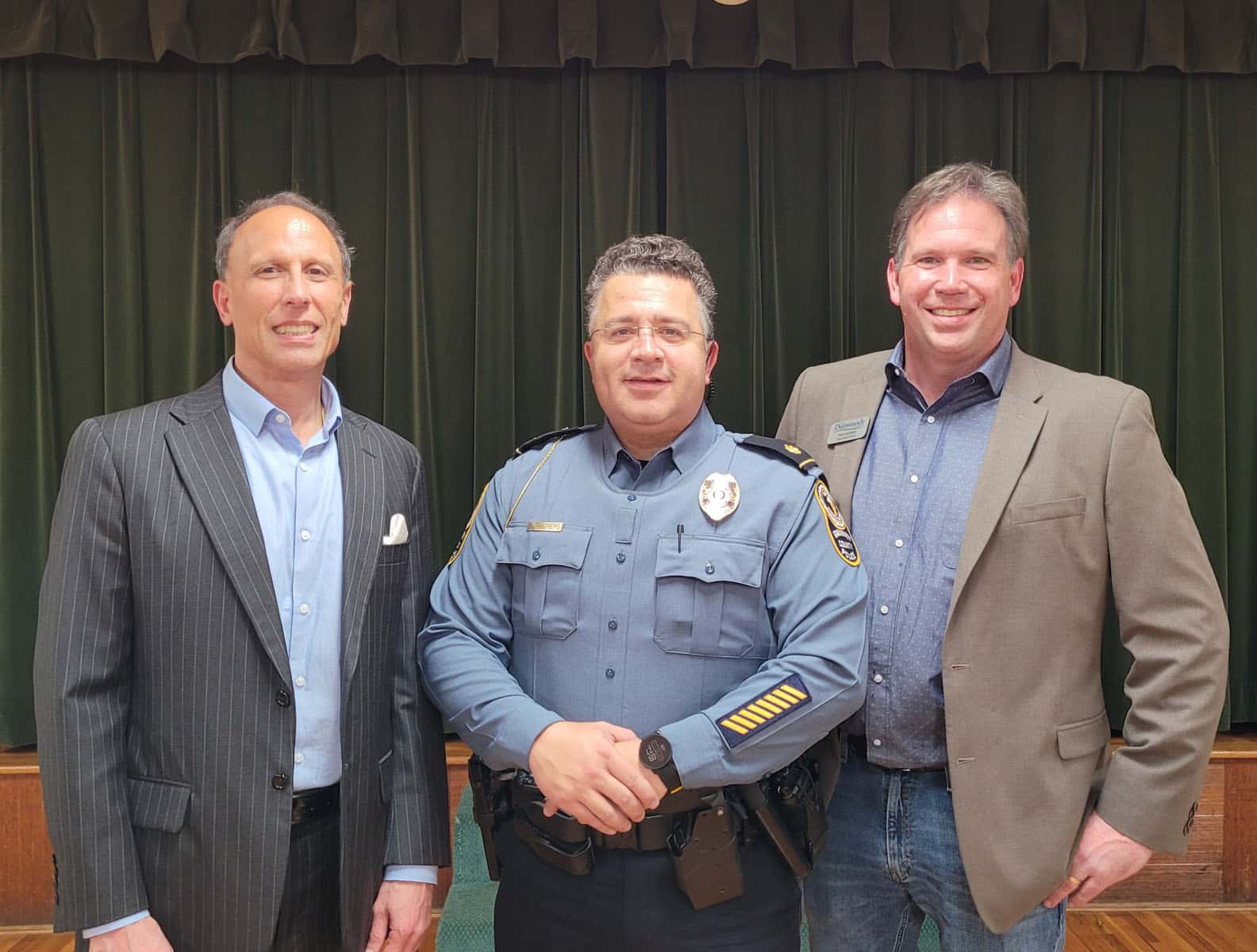 Peachtree Corners Councilman Phil Sadd held a town hall meeting at the Winters Chapel United Methodist Church on Nov 2. It was attended by a group of approximately 75 residents.
As part of the presentation, Sadd invited Gwinnett County Police Department's Major Edward Restrepo and Dunwoody Councilman Tom Lambert to be part of his panel.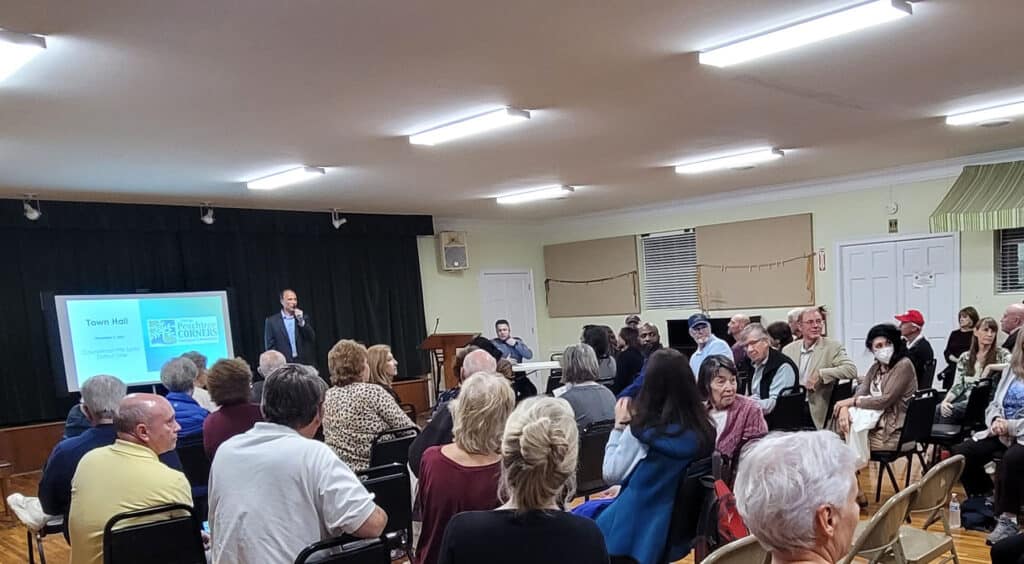 The presentation included information regarding a variety of topics. They included:
The Forum current state / future vision,
Key Construction Project Updates (including Spalding Drive widening; Winters Chapel / Spalding Drive; River Exchange / Holcomb Bridge; New Town Farms neighborhood; and Winters Chapel intersection at Dunwoody Club Drive),
Multi-use trail update,
Peachtree Corners Town Center update,
Curiosity Lab Innovation Center update,
What is on the November 8 ballot, and
Peachtree Corners Crime Prevention Initiatives.
The audience had the opportunity to ask questions of each panelist. Major Restrepo gave them greater insight on how the use of technology has enabled the police to quickly apprehend criminals and prevent future crimes.
According to feedback from one of the attendees, Major Restrepo's explanation of how law enforcement works to contain and control crime in our area was not only helpful but very encouraging. They said they went home feeling more secure and less concerned about crime control in the area and in the entire county.
Councilman Sadd began holding these town hall meetings in 2013. He believes that they are an important part of representing the city's residents.
"I believe that it is very important to meet with constituents and residents to provide them with information regarding the city," said Sadd. "These types of events not only allow me to provide our residents with information and answer questions, but also allow me to hear directly from them about their concerns, appreciation and what they expect from the city in the future."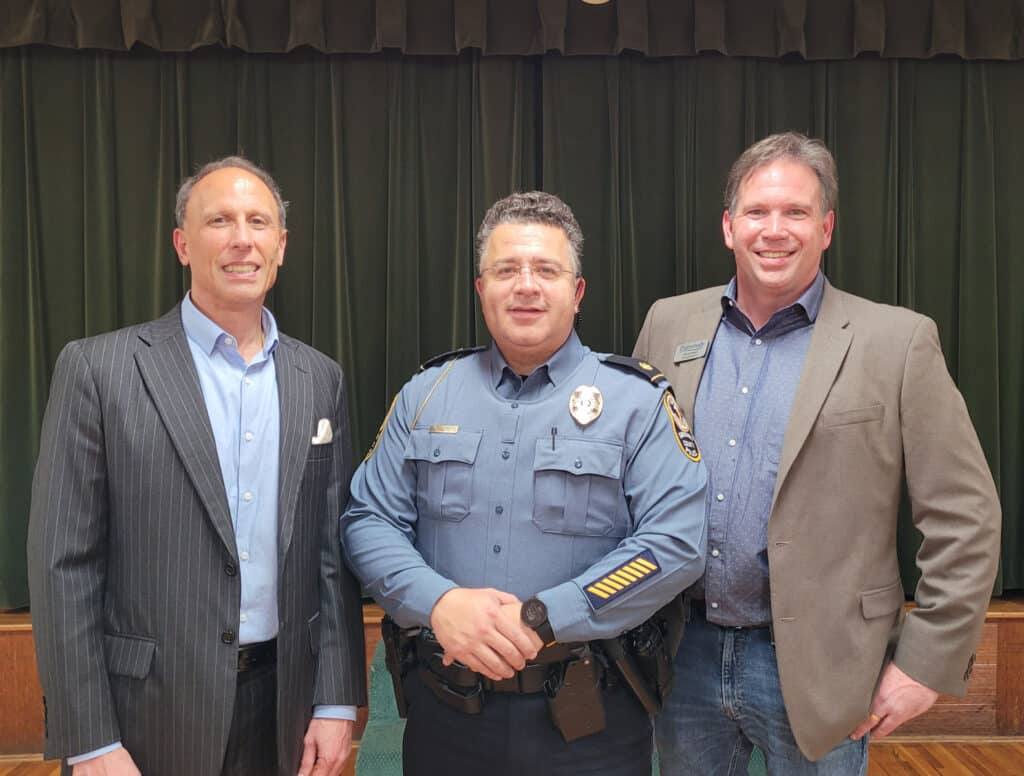 In addition to the audience, there were several local leaders and elected officials that attended the town hall. Attendees included:
Georgia House Representative Beth Moore,
Peachtree Corners Councilman Eric Christ,
Peachtree Corners Councilman Joe Sawyer,
Board of Education District 3 Representative Mary Kay Murphy,
Georgia State House Candidate Scott Hilton,
Georgia State House Candidate Ruwa Romman,
Georgia State Senate Candidate Austin McDonald,
Peachtree Corners DDA Representative Tim Le,
Peachtree Corners Planning Commission Member Alan Kaplan,
Peachtree Corners Zoning Board of Appeals Member Marcia Brandes, and
Winters Chapel United Methodist Pastor Steve Ring.
As it is an election year, Sadd spoke about the importance of voting. Sample ballots were made available to those in the audience at the completion of the program.
Peachtree Corners Enlists IMS to Conduct Pavement Survey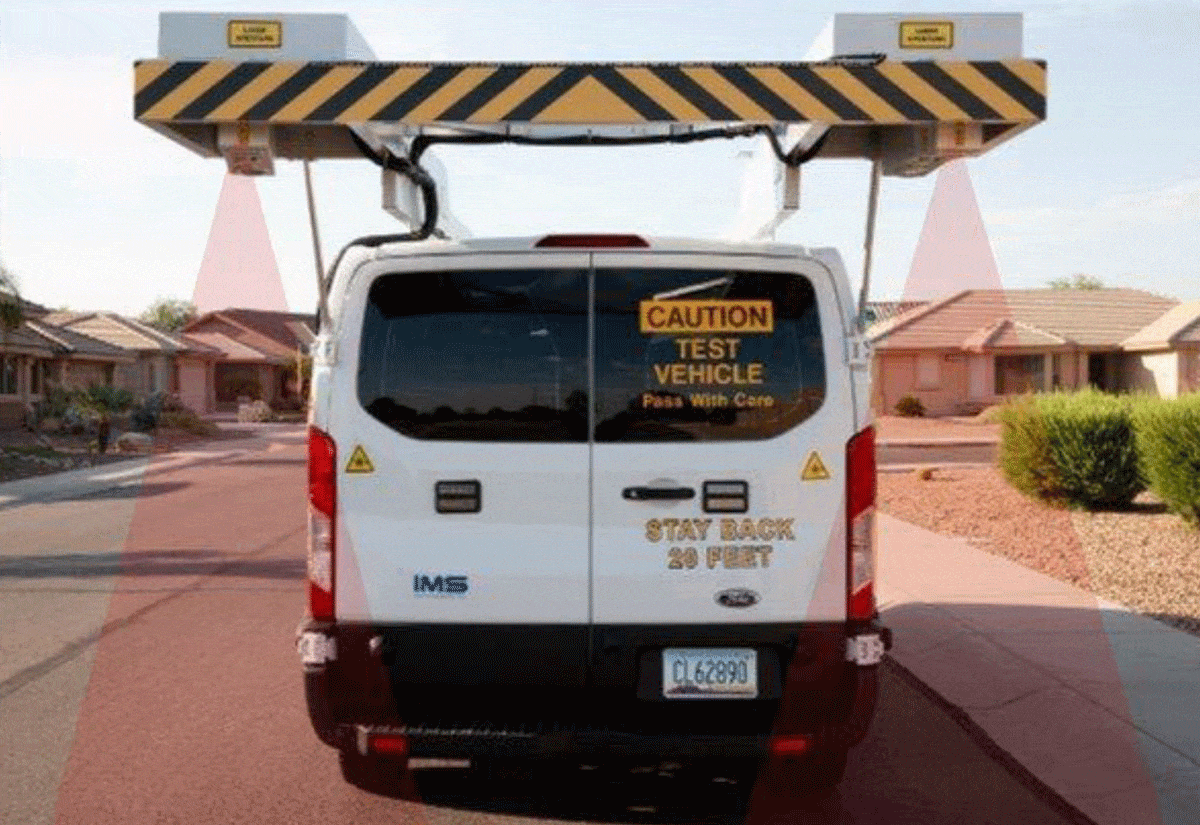 Residents of Peachtree Corners will soon have an objective assessment of the town's pavement. Using funds dedicated to infrastructure management, the City has contracted with Infrastructure Management Services (IMS) to conduct the pavement survey.
The company has over 30 years of experience in the field of pavement management and has helped municipalities throughout the United States and Canada. IMS will be responsible for completing an objective pavement condition survey as well as a budget and rehabilitation analysis.
IMS survey vehicles hit the streets in early October using their Laser Crack Measurement System (LCMS-2). The LCMS-2 is a 3D imaging sensor that collects continuous 3D pavement imagery along with rutting and roughness measurements.
How it works
The LCMS-2 will determine surface distresses including load cracking, block cracking, rutting, raveling, reflective cracking, loss of section, bleeding, edge distress and patched areas. Information will be collected on a segment-by-segment basis. The collected data and imagery will be linked to the City's existing GIS data system.
Once the data has been collected, the City will create a work program using a Pavement Condition Index (PCI) that will rate road segments between poor and excellent. The City will then use the PCI rankings to create an infrastructure work plan based on actual road conditions.
This data-based planning will allow Peachtree Corners to provide more efficient and equitable repairs and maximize the City's repair budget.