Mayor's Column: Providing Safety in Peachtree Corners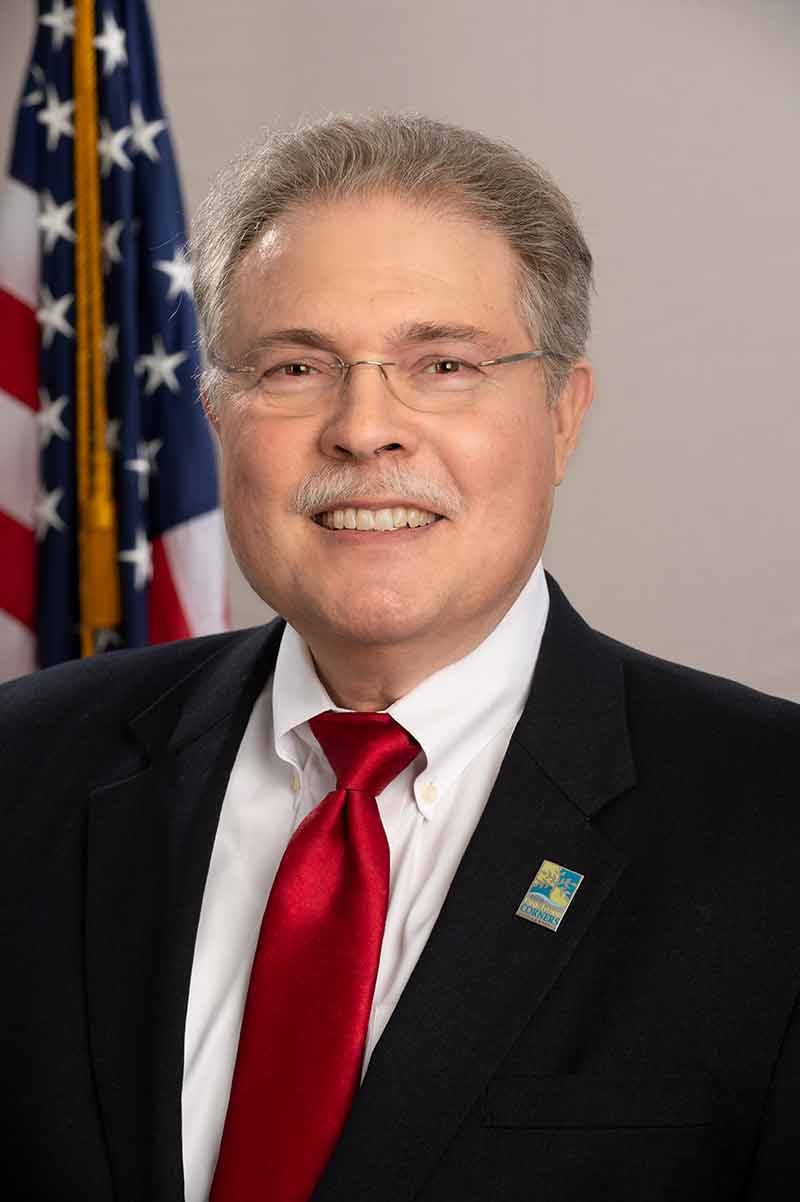 How Technology Plays its Part, December 2021
One of the most–if not the most–important responsibilities of local government, is to create a safe environment for its residents and visitors. The Council, Staff and I take this responsibility very seriously. To provide a high level of safety in today's world not only takes people, but technology as well.
We rely heavily on our Intergovernmental Agreement with the Gwinnett County Police Department (GCPD) to provide highly trained officers to enforce our laws and provide a high level of safety and security. Since we achieved cityhood, GCPD has provided Peachtree Corners with an outstanding level of service, but as the environment changes, we must continually search for ways to adapt and improve. As a city that prides itself on leading in the way of technology, we often look that way for innovative solutions.
As most of you know, the ability of police departments across the country to hire and retain qualified officers has become a challenge. Here in Gwinnett County, that is no different. As this challenge continues, the need for technology to support officers in the field has increased. The City has and will continue to work strategically with the GCPD to identify and launch solutions that support the officers in the field.
One solution that had been implemented by the City was the installation of 25 license plate reader cameras at strategic locations throughout the City. These locations were identified by GCPD as areas in which they needed more vision. These cameras are being used to scan license plates and use that information to identify any vehicles included on the 'Be on the Look Out' (BOLO) list issued by the police. In addition to the cameras installed by the City, GCPD has access to over 1,500 cameras in the metro Atlanta region and around 2,000 statewide. This network allows the GCPD to track a plate, over time, covering a large area.
These cameras have provided GCPD the ability to monitor multiple locations, with less officers, thus increasing the efficiency of their operations. Since the installation of these cameras, GCPD has used the technology to identify and arrest multiple suspects believed to have been involved in several shootings that occurred in the area. Additionally, the cameras have been used as a resource that has led to the recovery of over $1M in stolen property from June 2021 to October 2021. While these cameras in their current state have been successful, some criminals are aware of this type of technology and are finding ways to circumvent their current limitations.
As some of you may know, our City has dealt with a few street racing and intersection takeovers over the past couple of months. As has been occurring nationwide, those participating in these activities are not rowdy teenagers, but members of "car clubs". They use these events to monetize their activities by recording their activities, posting videos on various social media platforms and online sites and obtaining views, shares and likes on the platforms.
Unfortunately, these events are classified as misdemeanor traffic violations by the State, and by policy, GCPD does not engage in the active pursuit of these vehicles or those participating. Recently, the laws governing these crimes have been strengthened but are only applied to those deemed repeat offenders. In response, GCPD has recommended the City upgrade our cameras with an additional application that will allow them to identify the vehicle through means other than a license plate. As we move forward, this winter, the City will be adding an additional 25 cameras at other strategic locations identified by GCPD.
Another way the City is looking to move forward is to work with our neighbors and petition our State Legislators to find other ways to enhance the laws regarding these types of incidents. The City will continue to work to have these types of activities classified as a higher level, arrestable offense and to include increased penalties for those who violate.
As the City continues to grow, the need for monitoring increases. For example, the popularity of Town Center continues to increase, and there are few times when someone isn't enjoying the town green, playground equipment, restaurants or entertainment events. To secure the area, and to keep everyone safe, the City has enlisted the services of an off-duty police officer. To assist that officer, we will be installing a network of 76 cameras throughout the facility. This camera network will provide the officer with the ability to monitor multiple locations around town center from one central location, giving that officer the vision of 20 officers, without the need for that type of manpower. Also, when there is not an officer on duty, the video will be available to GCPD as notifications are received at their main surveillance center.
Regarding privacy, it is important to note that these cameras do not employ facial recognition capabilities or any other type of identification software. They have the technology built in to recognize crowds gathered and send notifications to the GCPD for them to verify in real time what is taking place in that field of view. This technology will provide officers with the ability to respond to a location quickly if the need arises.
The City of Peachtree Corners is committed to keeping our citizens safe whenever and wherever they may be in our City. Through our strong partnership with GCPD, we will continue to support them with technology that enhances and multiplies their effectiveness to patrol and provide the highest level of safety and security to our residents and visitors. While we fully support their role in providing public safety to our citizens, we understand and acknowledge that your public safety is our responsibility, and we will continue to work to make Peachtree Corners the safest city in the state

Technology & Partnerships May Help Deter Crime in Peachtree Corners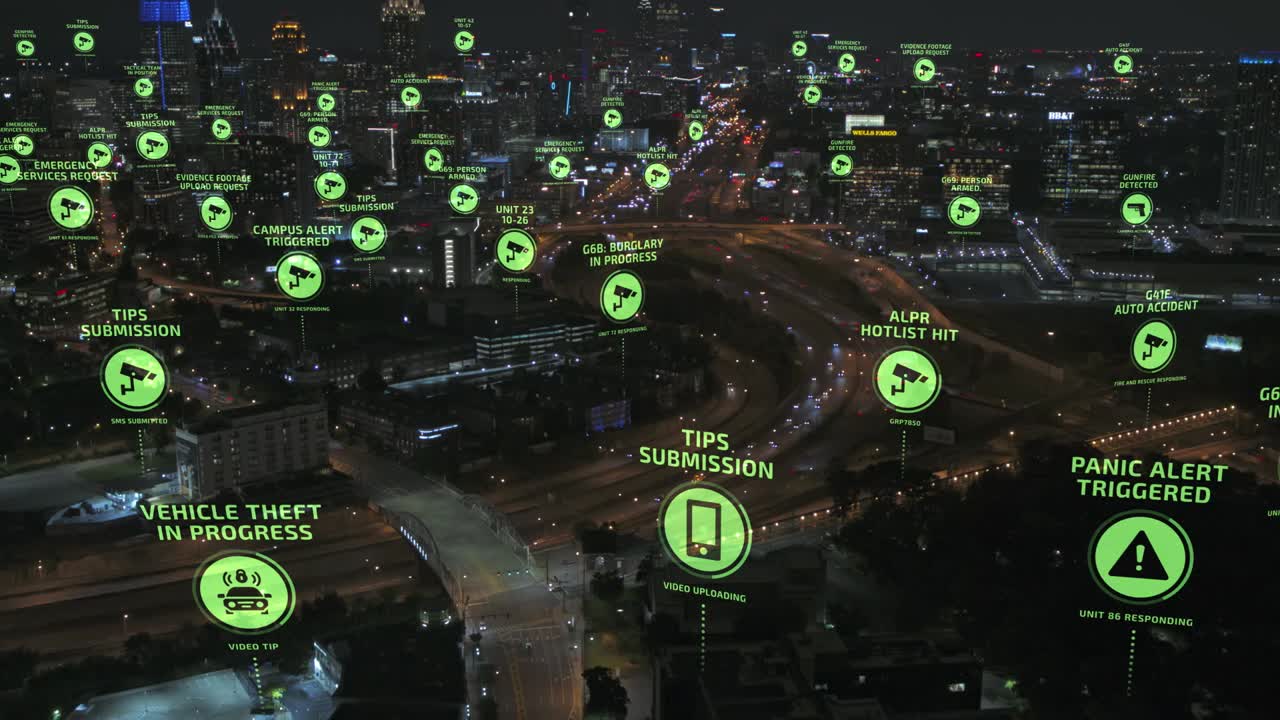 Meeting among local government, law enforcement, business interests and residents showcased how enhanced safety systems work.
With a perception that crimes such as car break-ins, burglary, and street takeovers are on the rise in the area, residents of Peachtree Corners met with local law enforcement agencies for a periodic overview of what's being done to combat crime. Hosted by the United Peachtree Corners Civic Association, homeowners, business owners, government officials and interested parties met at Christ the King Lutheran Church for the update.
Perhaps the most impactful weapon against crime, besides the officers themselves, is technology.
"One of our responsibilities with the resources that we have is to do what we can to support Gwinnett County police as they fulfill that obligation for providing a safe community. And one of the ways that we've found we can do it is using technology as a force multiplier," said Peachtree Corners City Manager Brian Johnson. "You've heard us talk in the past about using cameras to help the police department with the ability to collect data or use it to investigate or prosecute crime."
The use of high-end technology began with license plate reader cameras that are in certain intersections of the city, he said. Currently, there are 50 that take a snapshot of license plates coming through those intersections.
"They have been used on a number of occasions to solve crimes and apprehend a number of people that have committed crimes here," said Johnson.
He pointed out that the creation of the Town Center and the increased activity there is going to attract problems.
"You get knuckleheads who like to destroy property or get into altercations with people and so we are also … installing 68 video cameras at the Town Center," Johnson said.
Those video cameras are for use by Gwinnett County for surveillance to ensure it remains a safe environment. Just having the cameras there won't do much good without the technology to assist law enforcement in identifying threats.
RTC3 integrates systems for better public safety
Johnson explained that many businesses have their own video security systems and would be overjoyed to link them up with the local police. "We happen to be privileged and lucky to have a company here that actually has solved the way to do that," said Johnson. "We have a corporate tenant of the city, a company called Fusus that is very much in keeping with the technology."
Fusus is known in law enforcement and public safety circles for its leading-edge RealTime Crime Center In The Cloud (RTC3) platform. A 2020 member of Atlanta Inno's "50 on Fire," Fusus has been recognized as among the hottest new companies in the Atlanta area.
The company moved its headquarters to a larger office space in Peachtree Corners in 2020 due to rapidly increasing demand for its platform. The Fusus RTC3 platform's video intelligence and map-based awareness interface serves as the central integration point for law enforcement agencies' surveillance, security and life safety technology.
Fusus brings all personnel and emergency operations centers under a unified umbrella that aggregates video and data, and directly integrates with 911 Computer Aided Dispatch (CAD) systems, enabling agencies to geolocate officers and units in the field via the native fususOPS app, track calls for service and better coordinate their resources.
"I am a proud resident of Peachtree Corners and I intend to be for many more years," said Chris Lindenau, CEO of Fusus. "One of the things I love about the city is that we are pulling a lot of innovation to it from around the Atlanta metropolitan area. And for those of us in the technology sector, this has always a been challenge."
A graduate of Georgia Institute of Technology, Lindenau resisted the pull of San Francisco and Silicon Valley to stay right here and be a part of "Silicon Orchard." He started Fusus in June 2019.
"The reason we started this company is that we saw a real gap in law enforcement and the ability to pull in disparate technology sets to make use of what was there," said Lindenau. "We all understand camera technology. We understand radios, right? Law enforcement uses radios. We understand that they have vehicles, and they need to know where their officers are at any given time in those vehicles. We understand that they have 911 dispatch systems." He explained that the challenge in law enforcement is putting all those different systems together.
Business community and police collaborate more easily
Fusus found success in April 2020 by testing the system in Minneapolis. The real-world need was stepped up a month later with the death of George Floyd at the hands of police.
"So the concept of just putting more law enforcement in the field was no longer viable," said Lindenau. "We were born out of necessity to address an underlying issue that we knew was not just unique to Minneapolis, and that was that law enforcement needed new, novel ways to collaborate with the community. They could not go it alone. They needed their business community stakeholders to contribute back to that understanding of what was going on in the city."
The intent of the program is to allow Gwinnett County Police to work more closely with the business community in sharing, among other things, video data. The collaboration will improve real-time response and enable law enforcement to have a clearer, quicker operational understanding of what's going on in and around an issue. It will allow for things like graffiti on the bridge to not just be something that police respond to after the fact but perhaps deal with as it occurs. The program has already caught street racers in the midst of a "takeover" that resulted in multiple arrests.
The technology could also be a help in everyday issues like traffic jams. It doesn't have to work only for situations under duress, said Lindenau.
"But ultimately, the goal is to allow the business community to get back into work in concert with their partners and law enforcement. One thing I want to emphasize is that this is a completely voluntary program, and the owners of these video sources have full control over the circumstances in which they're shared. They can, through the flow switch, opt out of the program anytime," Lindenau added.
"It's very important to emphasize that we want to make sure that privacy is the bedrock foundation of everything we do, because I, as a fellow resident, don't want to concede my privacy rights for public safety and security here in Peachtree Corners. That's something I think we all share."
The video streaming is set to begin in non-residential areas. Unlike video that's shared on social media platforms like NextDoor, Facebook and Twitter, sharing with police is private. It won't live forever on the internet. And its sole purpose is to resolve investigations more quickly.
The technology is active in about 110 cities across the country. Now, the city where it was developed will be part of that number.
Video below from the C.O.P.S. meeting and a video from FUSUS

Community Forum to Address Crime, Safety Issues in Peachtree Corners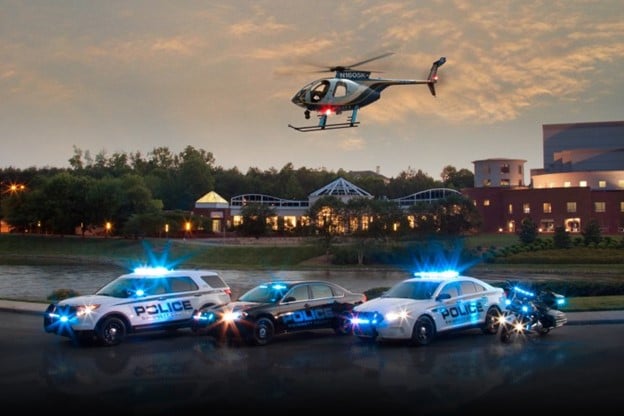 UPCCA hosts annual COPS program to allow face-to-face dialogue among residents, stakeholders and law enforcement.
Overnight car break-ins and vandalism, ruffians blocking key intersections and putting lives in danger with reckless stunts, bullying and name-calling at schools escalating to terrorist threats and violence — none of those scenarios are what Peachtree Corners residents want to see in their community. To inform residents and stakeholders of law enforcement actions to curb and eliminate this type of lawlessness, United Peachtree Corners Civic Association invites everyone to its annual C.O.P.S. Program. Set for 7 p.m. Thursday, May 26 at Christ the King Lutheran Church, 5575 Peachtree Parkway, government officials and police agencies will discuss crime prevention and present local Peachtree Corners crime statistics.
Among invited presenters are Mayor Mike Mason; the new Gwinnett County Chief of Police J.D. McClure; Major Edward Restrepo, commander of the West Gwinnett Precinct; MPO Andres Camacho, District 1 Community Oriented Police Service; a Gwinnett County Schools resource officer and other community leaders who will be available for questions and answers.
"With all that's going on in the world now, we are thankful to have our lovely pocket of relative peace here in Peachtree Corners," said Matt Lombardi, president of UPCCA. "But there's a perception that it's gotten worse for crime in the last few years."
Like many suburban areas of the country, Peachtree Corners has been victim of so called "takeovers" where groups of teens and young adults converge on a usually busy intersection and show off stunt driving like doing "donuts" and "drifting." With no regard to traffic or vehicular safety, there are often fireworks and sometimes weapons discharged as well as kids hanging recklessly out of cars.
Recently, a combined effort from several local law enforcement agencies took down one weekend gathering, but with school out and summer almost in full swing, it's inevitable that more will come.
That's one of the major topics that will be discussed at the meeting, said Lombardi, along with a look at license plate readers, the effects of crime on property values and other issues.
One topic that has been on the minds of some, said Lombardi, is the question of whether it's time for Peachtree Corners to have its own police force. As it is now, Gwinnett County police provide protection as well as the Gwinnett County Sheriff's office.
Instead of leaving the question lingering, this is an opportunity for residents to speak their minds.
"UPCCA is one of the few organizations in metro Atlanta that brings people to face-to-face with the law enforcement community," said Lombardi. "It's important to know who's protecting you and your property and how it's being handled."


Information: upcca.org

Peachtree Corners Partners with Israeli Startup to Advance Smart City Technology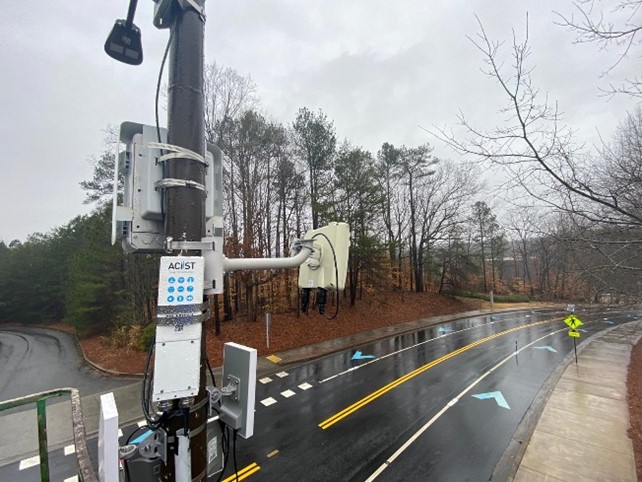 ACiiST will help the city with a connected infrastructure without tearing up roads or investing in miles of cables.
As one of the country's first smart cities powered by real-world connected infrastructure, Peachtree Corners recently announced a partnership with Israeli startup ACiiST – Smart Networks, the manufacturer of SD-LAN network solutions optimized for connecting outdoor cameras and sensors through a robust networking system. This partnership provides Peachtree Corners with connected infrastructure network solutions via fiber that allow various mobility technologies on Peachtree Corners' smart city streets to communicate with minimal digging, saving the city and residents time and money.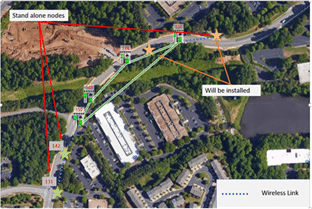 Installed in Technology Parkway earlier this year, ACiiST's technology spans across a half-mile of Peachtree Corners' "city street of the future," allowing deployed technologies and smart infrastructure with cameras, wireless links and other communication equipment, to be streamed directly to the Curiosity Lab's IoT Control Room, the first of its kind to be implemented in a city in the United States. Communication between the smart infrastructure and the IoT Control Room is possible via self-managed ACiiST Polarity units that create a low latency, high performance and fully manageable network.
"Working with ACiiST to demonstrate their technologies at Curiosity Lab is another great example of how international companies are showing great interest in the most unique real-world smart city ecosystem in the country," said Brandon Branham, Peachtree Corners Assistant City Manager and CTO. "We are able to demonstrate to other cities across the country the unique network connectivity, redundancy and monitoring capabilities of ACiiST's technology through this implementation on public infrastructure. This is a true testament of how the partnership between Israel and Curiosity Lab offers startups a one-of-a-kind experience to bring their products to the North American market."
ACiiST's network solutions allow Peachtree Corners to have a more secure smart city environment and make informed decisions based on data, such as traffic management. This solution also makes it easier for new edge devices such as cameras, radar sensors, digital signs, V2I access points and more, to be deployed and installed as smart infrastructure across the city street of the future, supporting the Curiosity Lab and Peachtree Corners' position as one of the leading smart cities in the United States.
"It was clear from the very first time we met with the Peachtree Corners management team that we are talking with leaders who want to promote positive change — with smart roads and streets as a platform to better manage their public spaces. They are open-minded to the implementation of new technologies, and we are happy to have our network solutions in action at the most unique smart city environment in the USA," said Sagi Gurfinkel, ACiiST Co-Founder and CEO. "The ACiiST network is already installed as the connectivity platform for multiple cities in Israel, Africa and the European Union, and we are excited to now add the United States to this list."