Light Up The Corners Races Through Town Again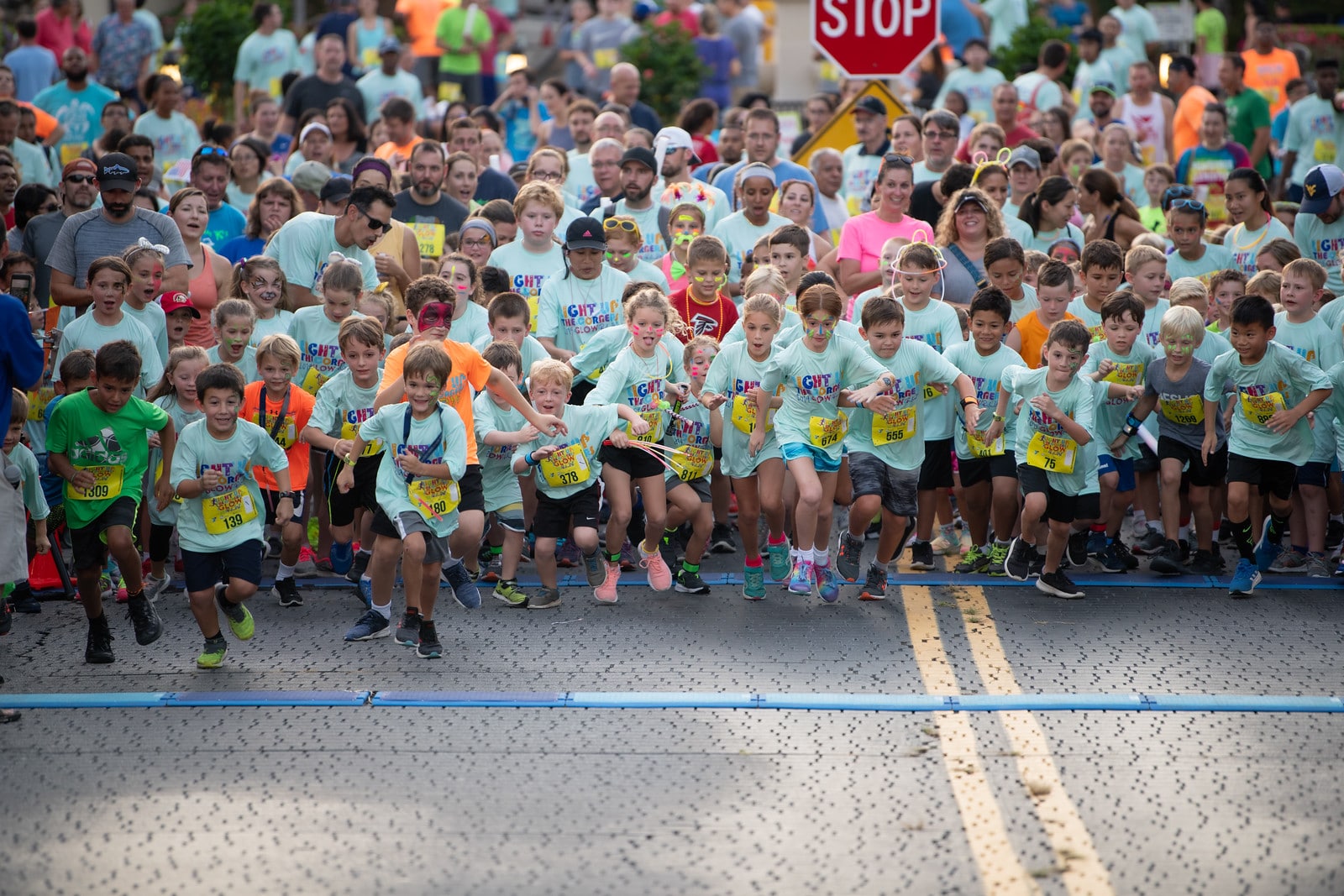 Coming just around the corner in The Corners is the much-anticipated Light Up The Corners Glow Run and Twilight Trot. The nighttime community race will be held Saturday, August 14.
This lighthearted fundraiser race benefiting the WHY IT MATTERS campaign for Robert D. Fowler YMCA kicked off its first year in 2012 with a couple hundred participants and rose to over 1,200 in 2019. Light Up the Corners took a hiatus last year for obvious safety concerns, but now people are lacing up their running shoes and itching to put rubber soles to pavement.
"First of all, coordinating a race of this magnitude takes the assistance of many people and the Light Up The Corners race committee is made up of some awesome volunteers who — like me — are running/fitness enthusiasts and also fans of the Fowler YMCA," said Race Coordinator Amy Massey.
Massey served on the board of the Fowler YMCA for a decade; therefore she "understood their mission and how important their annual campaign [WHY IT MATTERS] is to achieving that mission of enriching the lives of people in the community regardless of ability to pay for their life-changing programs and services." Massey's passion for running and compassion for the local community to have access to healthful resources made Light Up The Corners a serendipitous venture.
Putting together a program of this magnitude takes more than glow powder and willpower. There are many facets required to ensure a smooth and successful race day, such as soliciting sponsors to offset the costs, designing and ordering T-shirts, purchasing glow items, coordinating music, food and drink, course monitoring and ensuring the safety of participants. But like anything worth anything in life, the behind-the-scenes effort it takes to make it happens makes it that much more worthwhile.
Race and post-race info
This race is a great introduction for those new to public races, as well as a unique challenge for veteran runners. Festivities are divided into two main events, a 4-Mile Run and Twilight Trot 1k. This one-of-a-kind nighttime experience is less about how fast people can run or walk and more about much fun they can have!
The Forum at Peachtree Parkway is not only a proud sponsor but also serves as the location for the occasion. The course will be lined with blinking lights to illuminate the path and participants will be given glow sticks, a glow necklace and other glow bling to light up the course.
After the race, everyone is invited to stick around for the Post-Race Party, bursting with live music and free food and drink from generous sponsors: Grace 1720, Teds Montana Grill, Mojitos Bistro, Black Walnut Cafe, PokeWorks, Taqueria Tsunami, Press Blend Squeeze, Trader Joe's and Ingles.
There will be contests and prizes for the "glowiest" men, women, boys, girls and teams. Gift certificates will be awarded from many Light Up The Corners sponsors, such as Spa Sydell, Gigi's Cupcakes and California Pizza Kitchen.
Registration Information
Online Registration can be completed through lightupthecorners.com or directly at runsignup.com
Race Weekend Schedule
Saturday August 14, 2021
Twilight Trot 1k (6/10 mile) Start: 8 p.m.
4 Mile Run Start: 8:30 p.m
Location: The Forum on Peachtree Parkway, 5155 Peachtree Pkwy
A few things to keep in mind
■ Parking is limited so race coordinators suggest walking, running or carpooling to The Forum. If driving is necessary, please plan to park at one of the following locations: Fowler YMCA, Ingles Shopping Center, Peachtree Corners Baptist Church or Technology Business Park. There will be some spaces in the lots in front of Moe's/Yogurtland, and behind Trader Joe's off Peachtree Corners Circle.
■ This is a rain or shine event; but should there be lightning or thunder in the area at the time of the event or in the immediate forecast, the start may be delayed until it has passed.
■ Unfortunately, due to lack of insurance coverage for pets, dogs aren't allowed.
■ Currently Gwinnett County does not allow road closures for this race. That said, there will be a coned-off lane for the race as well as 20 police officers and many more volunteers on the course patrolling to keep cars at a distance.
■ The cost of both the 1k run and the 4-Mile run are the same, though 1k runners also receive a t-shirt, additional glow swag, a glow toy and a finisher's medal at the end.
So pick out a colorful neon workout shirt, throw on a pair of shorts and join in the fun! Visit the race website, lightupthecorners.com, for schedule updates and additional details.
UPCCA Community Service Scholarship Awards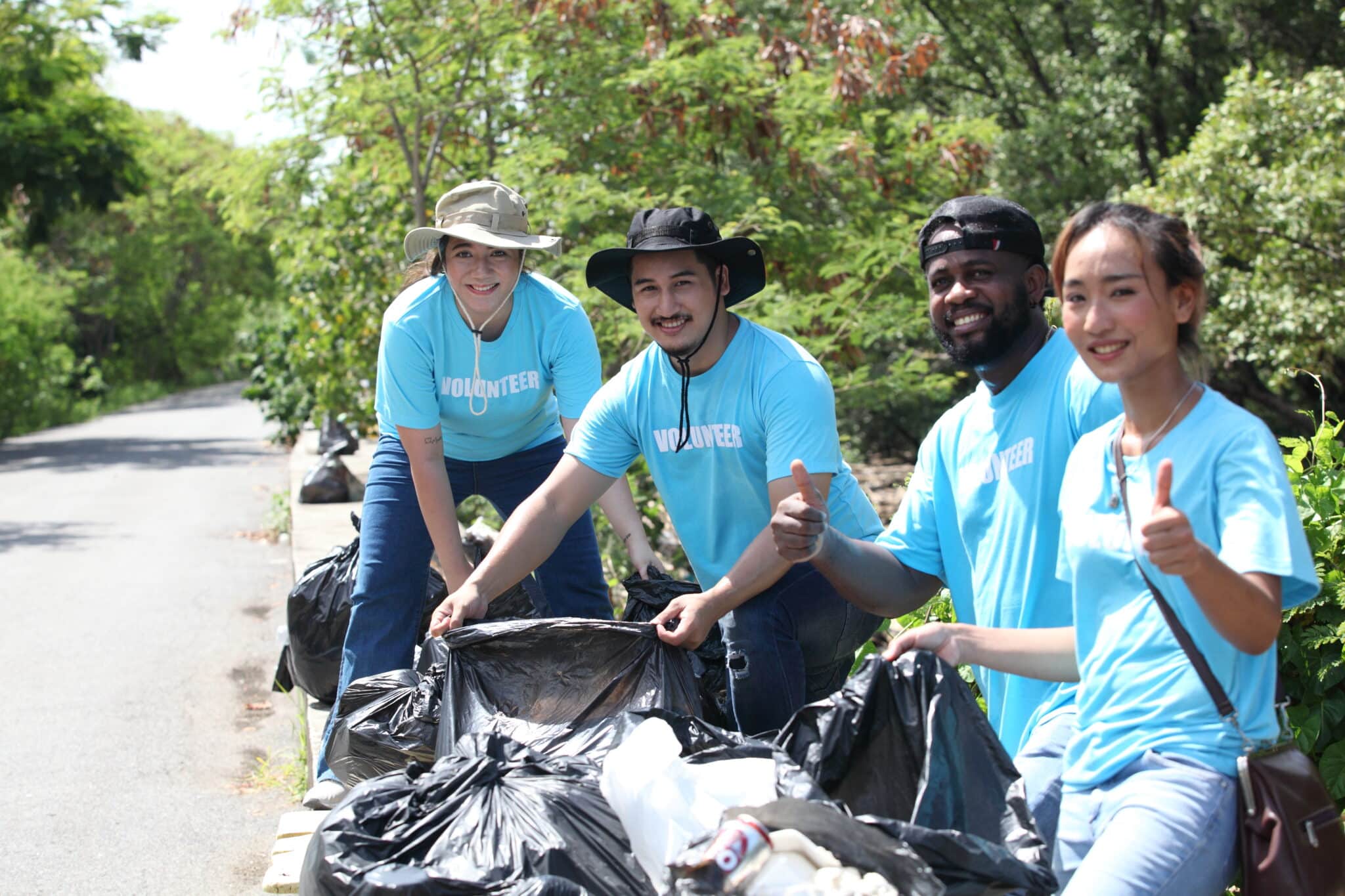 The United Peachtree Corners Civic Association (UPCCA) is again offering a Community Service Scholarship for high school seniors residing in Peachtree Corners. The 2023 scholarships will be awarded to students who have made the commitment to volunteer outside of school hours during their high school years.
New for 2023
Up to two UPCCA scholarships may be awarded.
The Debbie Mason Member Scholarship is a $1,000 scholarship. To qualify, the student or their HOA / neighborhood MUST be a member of UPCCA in good standing for the 2023 calendar year with membership fees paid on or before April 15, 2023.
If the applicant's HOA/ neighborhood is NOT a current paid member of UPCCA, they can contact their HOA, neighborhood board or president and encourage them to become a 2023 member.
Information for becoming a member of UPCCA can be found at upcca.org, or by contacting UPCCA president Matt Lombardi at 770-548-2989.
The Debbie Mason Community Scholarship is a $1,000 community scholarship in honor of Debbie Mason's commitment to serve her community. Students do not need to be a UPCCA member to qualify for this scholarship.
How to apply
High school seniors who meet the qualifications should:
1. Complete the Online Scholarship Application
The online application includes areas to upload documentation for the essay and service activities.
2. Write and/or video a 300-word essay about the community service work they have done that has had the greatest influence on them and why.
3. Include a Community Service listing of all activities they participated in while in high school.
Winners will be chosen strictly on their participation in community service.
GCPL Offers Opportunity to Earn Free Disney on Ice Tickets Through Reading Challenge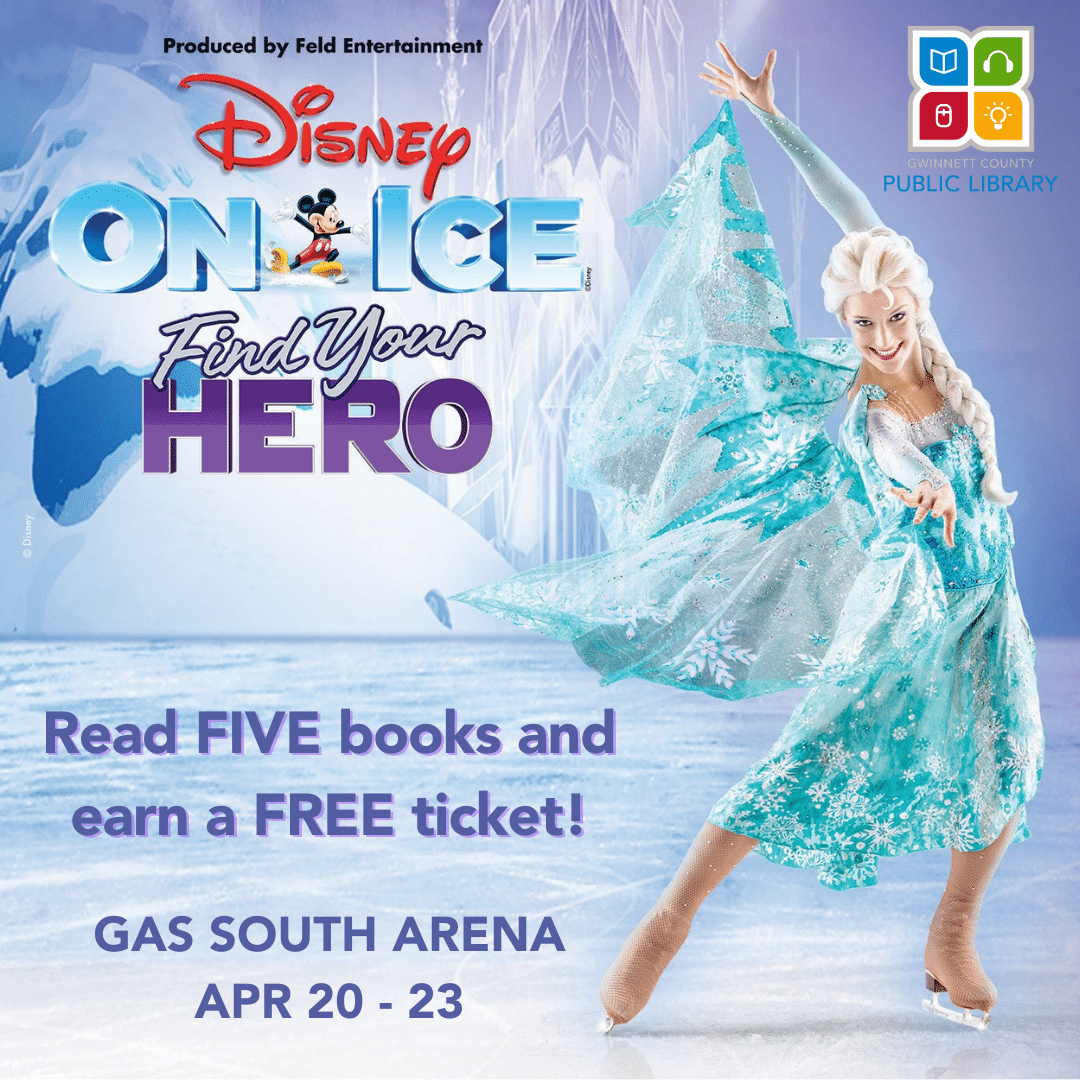 The Gwinnett County Public Library (GCPL) is giving local kids the chance to earn a free ticket to Disney On Ice Find Your Hero! The show will be at the Gas South Arena from April 20 to 23.
Children can their earn tickets by reading five books. Each participating child will receive one Reward Club Card. As children show staff their returned library books, the vouches will be stamped a corresponding number of times.
Find Your Hero!
The Disney On Ice presentation of Find Your Hero! brings together Mickey Mouse, Minnie Mouse, Donald Duck, and Goofy for an adventure filled with tales of heroism from everyone's favorite Disney stories.
Moana and demigod Maui, from the film Moana, bravely voyage into uncharted territories to return the stolen heart of Te Fiti. Anna and Elsa of Frozen go on a quest to protect the kingdom. 
The Little Mermaid tests the power of love, Rapunzel dares to explore the outside world on her own, and Belle, of Beauty and the Beast, boldly tames the fearsome Beast. 
Best of all, everyone discovers that courage, determination, and heart are all part of the hero within us all.
Details
Vouchers for free tickets can be redeemed at Gas South Arena's box office up until Sunday, April 23 for applicable shows on the following dates: Thursday, April 20; Friday, April 21; Saturday, April 22; and Sunday, April 23.
A parent/guardian ticket purchase is required when redeeming a child's voucher for the free child's ticket. One adult ticket must be purchased for every three free kids' tickets redeemed. 
Adult tickets for the show range from $19 to $49, depending on date and seat location. VIP, Rinkside and VIP Dining tickets are available at higher price points.
For more information, click on gwinnettpl.org/kids/disney-on-ice/.
City Of Peachtree Corners Designated as City of Civility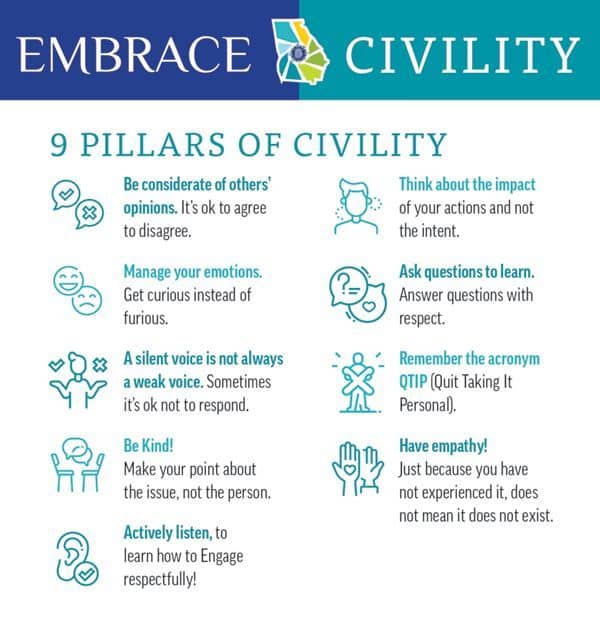 The City of Peachtree Corners has been designated as a City of Civility by the Georgia Municipal Association (GMA). The City adopted a civility resolution as part of GMA's new "Embrace Civility" program during the February 28 Council Meeting.
Peachtree Corners is just the 23rd city out of 537 in Georgia to earn this designation.
"Having seen first-hand the civility of the interactions among our council members and with our residents, I was pleased to introduce the resolution to earn us the designation as a Georgia City of Civility," said Peachtree Corners City Councilman Eric Christ.
GMA, in partnership with the Association's nonprofit organization, Georgia City Solutions, created the Embrace Civility program to equip Georgia's cities with resources to create more civility in their meetings and among their residents and meeting attendees.
According to GMA, Civility is more than just politeness. It is about disagreeing without disrespect, seeking common ground as a starting point for dialogue about differences, listening past one's preconceptions, and teaching others to do the same.
In a 2019 poll conducted by Weber Shandwick, Civility in America, 2019, 93% of Americans believe that incivility is a problem, with 68% identifying incivility as a major problem.
To become a City of Civility, city councils are required to adopt a Civility Resolution and pledge to engage in civil behavior with each other as well as with residents and meeting attendees. Cities also have a civility pledge that can be published or recited at meetings.
Learn more about the Embrace Civility program at gacities.com/civility. To view the Resolution, visit peachtreecornersga.gov/DocumentCenter/View/2570