A Match Made in Heaven-Husband and Wife Team Up as Simpsonwood UMC Co-Pastors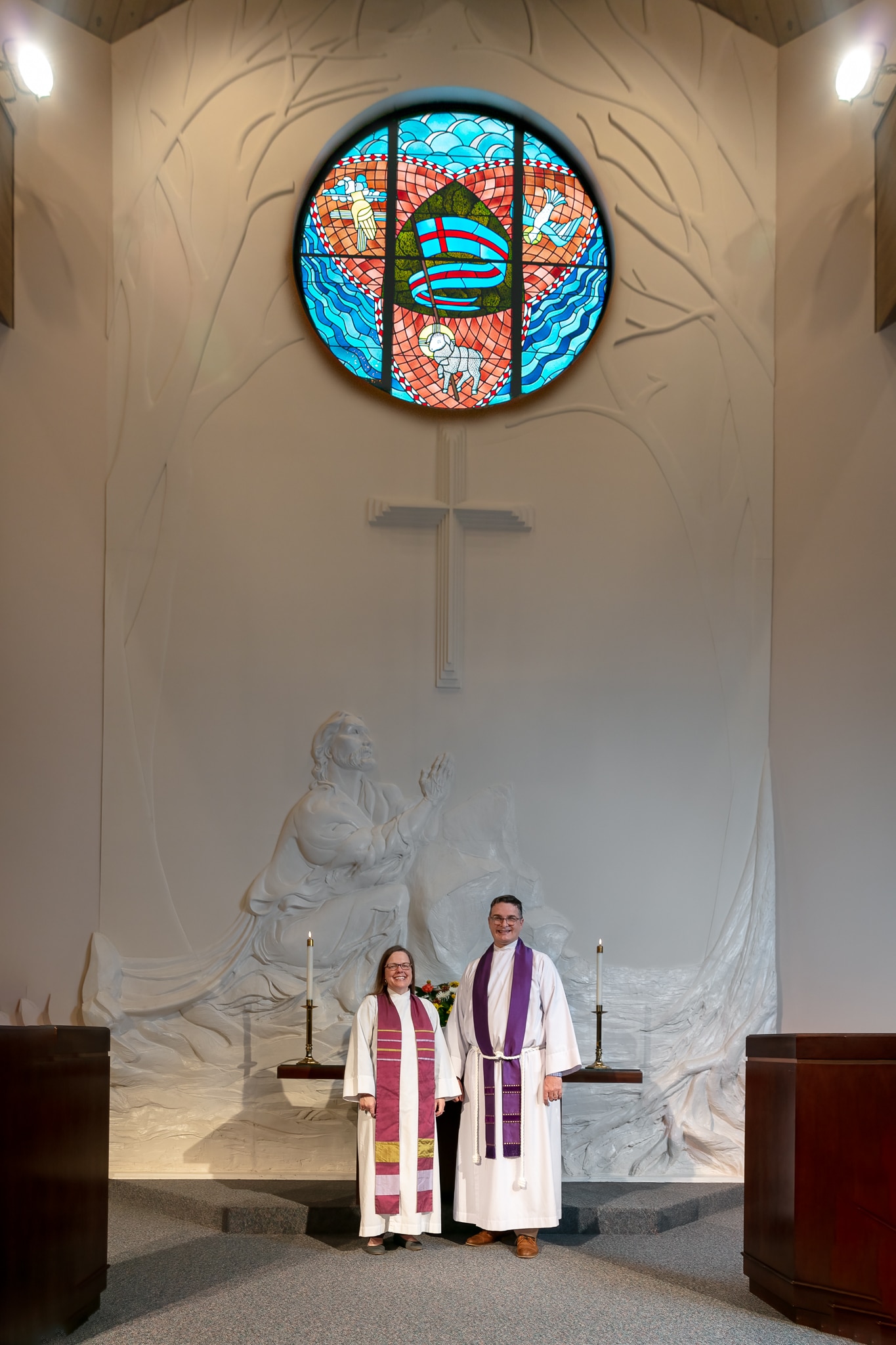 Photos by Tracey Rice
Some people might find working in a professional setting with their spouse a challenge, but for the two new co-pastors at Simpsonwood United Methodist Church, ministry is the family business that suits them just fine.
David and Susan Allen Grady assumed their leadership roles at Simpsonwood on July 6, and since then they have kept rather busy getting to know their faith community. Both pastors are first career clergy that have worked separately in several church management roles in different places. Most of their ministries have been in Intown Atlanta communities around Dekalb county, as well as churches in Cobb and Fulton Counties.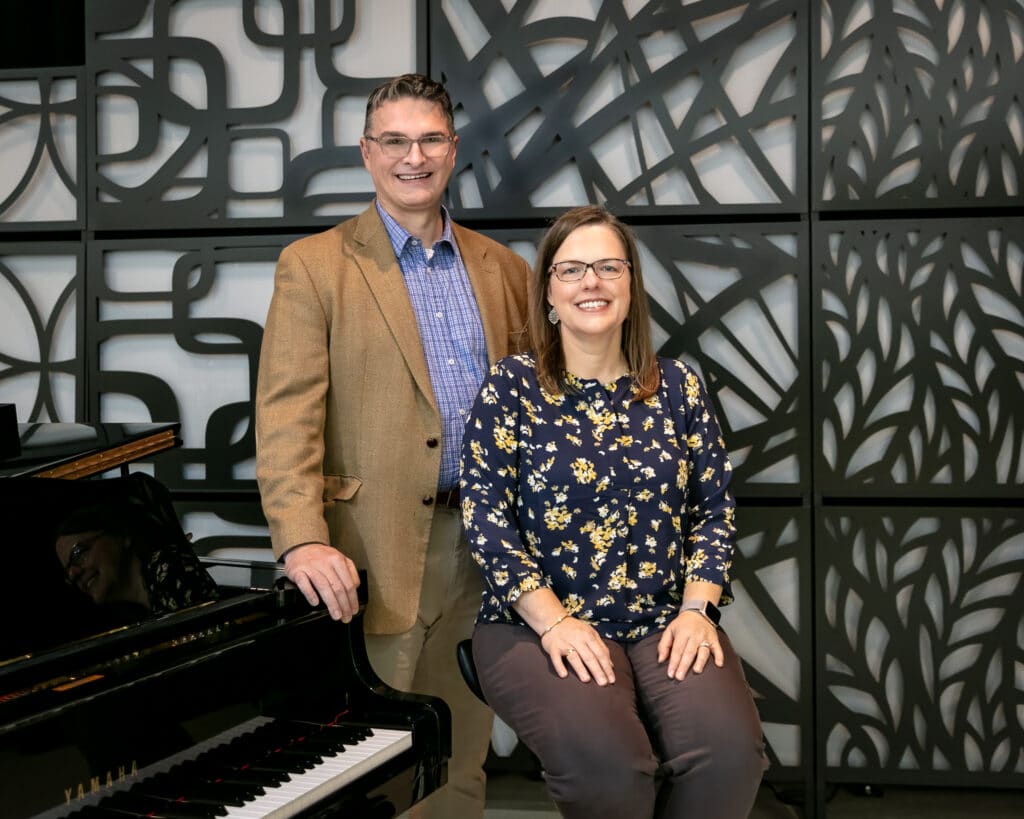 For a bit of background, the pair met during seminary at the Candler School of Theology at Emory University. David spent some time in the United Kingdom then went back home to Alabama, and later his marriage to Susan led them back to the Atlanta area. Since then, he has lived and worked throughout different parts of Georgia, serving congregations of various sizes in Roswell and the Chamblee/Tucker areas, to name a few.
Then the bishop surprisingly called both David and Susan to Peachtree Corners.
The family business
Susan grew up as a pastor's kid in Georgia, so she said, "we kind of jokingly say it's like our family business." And the cycle continues as the couple have a daughter in 7th grade at Pinckneyville Middle School. It's an unexpected perk of the job that with both parents working at the church, the whole family can spend Sunday mornings together in the same place.
In the unique position of serving together in the same church body for the first time, David and Susan remark on the blessings that the arrangement offers for them personally and for Simpsonwood.
"We are different. We have different gifts, different interests and different skills. We know each other well after being married for years, so it's a blessing to see each other really shining and doing the things that we are both gifted for and love, supporting each other in that," Susan said.
"And also, having that person that is your equal teammate to bounce ideas off of and to get advice from, to check in with when we're doing new things, those are some real blessings that we deeply value."
David had this to say in addition to Susan's thoughts. "And I think another blessing for our congregation and our life is that we get to model leadership a little bit differently, in kind of a shared model leadership. I think the other piece to this is that one of the things we might be learning is that Peachtree Corners is maybe at the front edge of a generational turning over," he said. "So we can, in our work, model ways of being professional, model ways of being in relationships, and model what is healthy and what healthy behavior looks like for life together."
In their short time here in Peachtree Corners, David and Susan have noticed that this is a town with a strong sense of identity and community-mindedness. "This is a destination for people, even more than just the next community over, as in 'I want to move to the next community over' for whatever reason. But Peachtree Corners is a place people are choosing specifically and there is a sense of identity in that also."
"It doesn't feel like a stereotypical suburb because you see people that you know when you go places. This is a community that people are investing themselves in, rather than just a 'bedroom' community."
Holiday events, traditional and new
As the holiday season approaches, there is a palpable sense of anticipation for the extraordinary events that will take place at Simpsonwood UMC. The locally famous Walk Through Bethlehem returns December 10-12 in its more traditional form, as opposed to last year's movie experience that was incorporated into the online Christmas Eve service.
"We are excited to offer a Christmas Eve service that is more what people are used to," David said.
Additionally, a brand-new Traveler's Christmas Eve service will also be available on December 19, in addition to the standard service times, to accommodate churchgoers that may be out of town at Christmastime.
So David and Susan will have ample opportunity to meet and greet with much of their community, and they will continue to dedicate themselves to getting to know what makes Simpsonwood tick.
"When we are new in a church, we spend, really, a full year — but definitely the first six month or so — really getting to know the place and the community," Susan said. "We are excited to see what the Christmas traditions are, those in Peachtree Corners and Simpsonwood, and bring our own ideas, like the Travel's Christmas service," Susan said.
For more information on David, Susan and Simpsonwood UMC, please visit simpsonwoodumc.org.

Simpsonwood United Methodist Defines 'Joyful Noise' Through Many Genres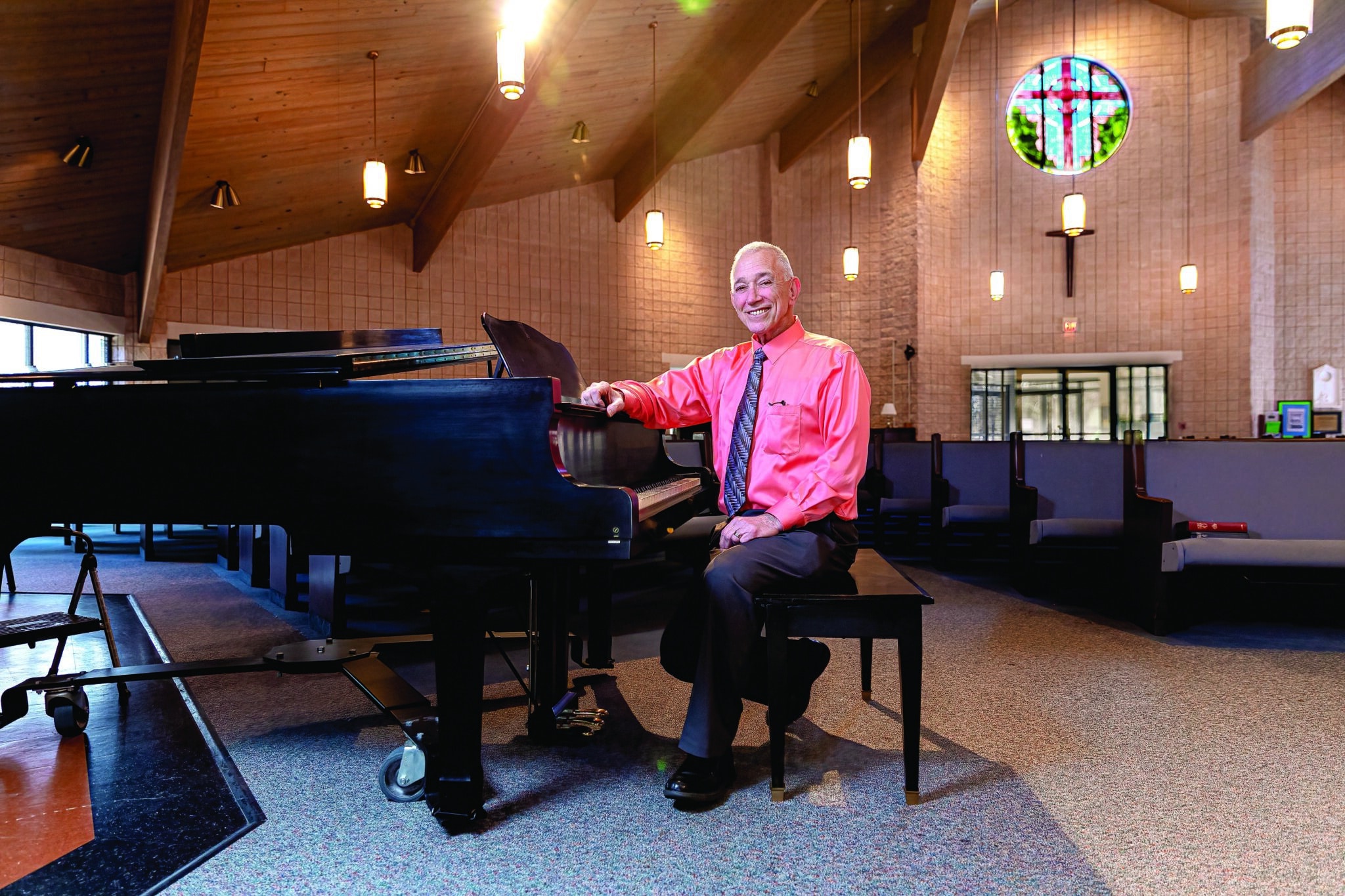 The church's new director of music blends gospel, classical, jazz, show tunes and even "Baby Shark" into its worship experience
A combination of passion, serendipity and an appreciation for the power of music to uplift the spirit brought David Francis to Simpsonwood United Methodist Church (UMC). The church had been without a Director of Music since the pandemic's early days. Francis assumed the role in November 2021 with a key goal of revitalizing the choir.
With a star-struck, half-century career encompassing producing, composing, recording and performing, along with his vast network of musical contacts (he is artistic producer of the Roswell Music Club and Alpharetta Music Club), he is steadily uplifting the entire music program at Simpsonwood and aiming toward a whole new realm of artistry.
Interestingly, Francis' career has come full circle. He last brought music to a church while in his twenties. Growing up in Memphis, Tennessee, he accompanied services for a very conservative, working-class Baptist church, but he wasn't positively accepted as an openly gay person. His experience at Simpsonwood is totally different.
"Our young co-pastors, husband and wife Rev. David and Rev. Susan Allen Grady, are kind, thoughtful and very progressive and open-minded people. I have great respect and admiration for them. This church also has a strong history of being mission-based and supporting worthy causes, and I like it when good intentions become good works," Francis said.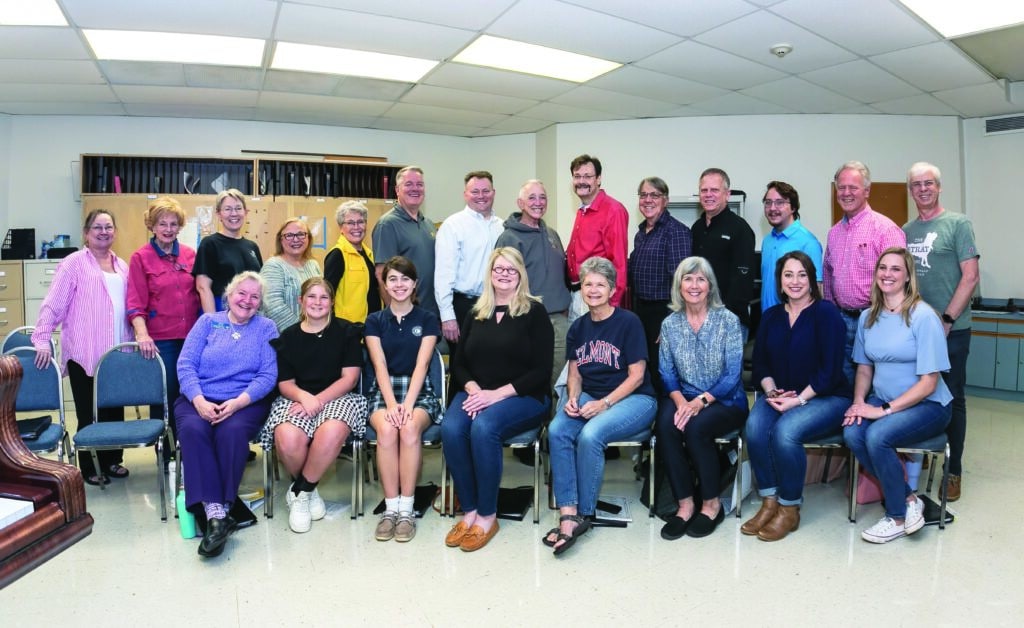 Opening the boundaries of music
Good works — in terms of music — are now materializing at Simpsonwood in abundance. Francis intends to broaden musical boundaries by exposing congregants to selections that come from religious, classical, theatrical, gospel and other genres. And he encourages participation by both amateur and professional musicians of all ages from the broader community.
At the Easter morning service, worshipers will be treated to eight string players, an oboist and percussionists — two from the Wesleyan School in Peachtree Corners — accompanying the choir performing "Gabriel's Oboe" and "On Earth As It Is In Heaven" from the film "The Mission," as well as "And The Glory of the Lord" from Handel's "Messiah."
Plans are in the works for a late summer theatrical production of "Carnival of the Animals" by Saint-Saens. It will feature instrumentalists and actors from the church, the Atlanta Youth Symphony and the community. Kids will enjoy renditions of songs from Disney film favorites to the ever-popular "Baby Shark."
Simpsonwood UMC is already gaining ground as a center for musical performance. On March 5, Simpsonwood hosted a piano competition for approximately 250 piano students. Taking advantage of its fine audio system and three quality grand pianos, the church hosted a two piano/four hand piano recital and will soon host a recital of young clarinet students.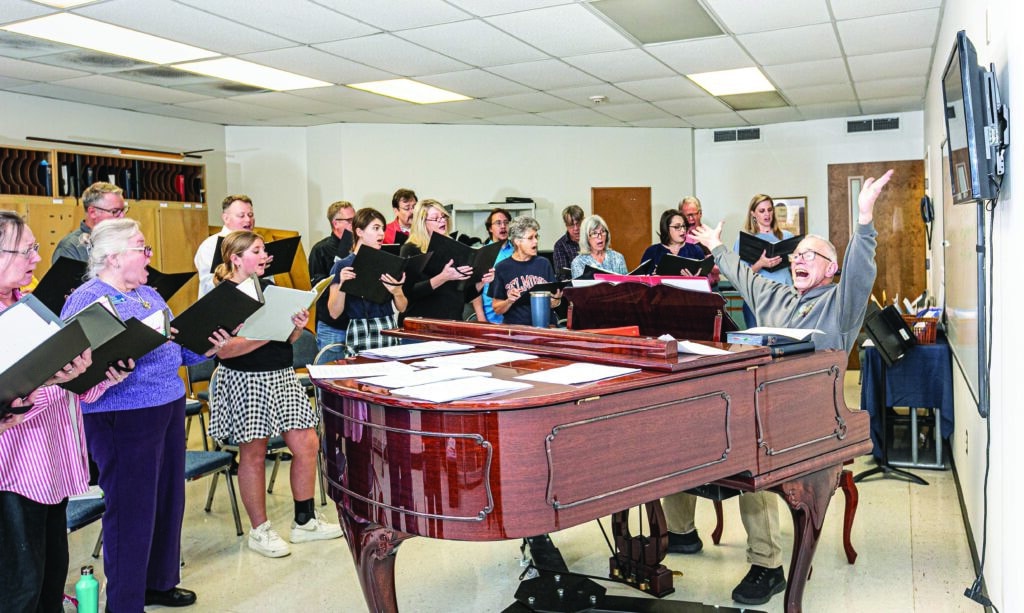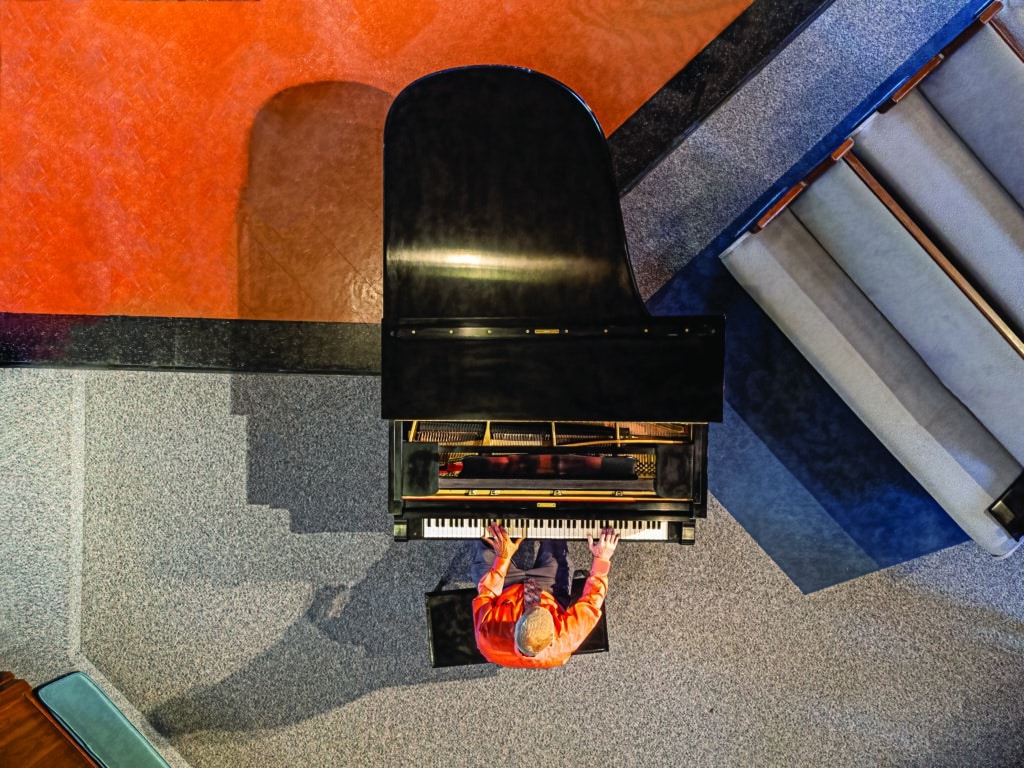 Bringing joy through music
The excitement and energy that Francis is infusing into SImpsonwood's music program says as much about his musical prowess as it does about his effervescent personality. And it is not going unnoticed.
Lindsey and John Evans are two of the choir's newest members. They both sang in their high school choruses but had no interest in participating in the choir, although they joined Simpsonwood in 2011. Lindsey's musical affinity (she dreamed of being a star on Broadway) resonated with Francis' own musical fervor.
"I've listened to a couple of his CDs, and it blows my mind that I even know this person. Yet, his strong purpose in building the choir here is not to have some sort of accolade; he just wants to bring joy to people through music," said Lindsey.
"And there is no condemnation if you don't hit the right note. It's all very positive," she continued. "It goes back to his whole basis for doing what he does, to bring joy and to have fun. Even if you only sang a little 30 years ago, you are welcome to give the choir a shot."
Lindsey Evans appreciates the positive impact of Simpsonwood's musical focus. "The congregation is becoming more invested in the music program, even if they don't sing," she said. "People are staying after the service to hear David play before they leave. They just stand around in the sanctuary listening. It's mesmerizing to watch him play. He plays the piano like no one I've ever seen. It's intense. You just see and feel all of his emotions when he plays."
Drawing in the community
Prior to the start of Sunday worship, Francis has instituted something he refers to as euphonious (pleasing to the ear) contemplation. It involves 15 minutes of music that differs week to week and is designed to appeal to a variety of tastes. Invited to perform so far have been several piano students, a flute player and an opera singer.
"It's easy to get caught up into just the people who are already here, the church's mission projects, and forget about the community," Lindsey said. "David wants to draw people in from the community and let them experience Simpsonwood in some way, even if they don't join the church."
Simpsonwood offers two distinctly different Sunday worship services. The main sanctuary features the talented choir focusing on more traditional hymns, while in the gym, a modern service takes a contemporary approach supported by a five-piece band.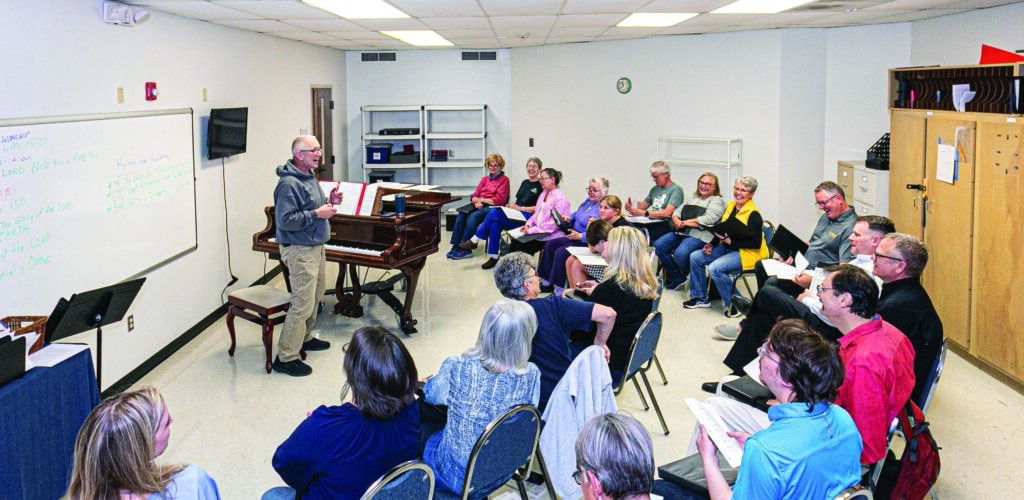 Simpsonwood's co-pastors, the Gradys, are thrilled to have Francis as a "teammate."
"The number of people participating in our sanctuary service is more than double what it was prior to Francis' arrival. He has brought such energy and joy and enthusiasm to our worshipers," said the Rev. Dave Grady. "He's taking his long experience and has begun to weave in everything from 20th-century music to classical music, and a little bit of Broadway.
"In my 20 years of ministry I've never had a choir director who will help out someone who wants to sing a song by writing a new arrangement to accentuate their individual voice," Rev. Dave Grady added. "Anyone who wants to offer musical gifts can bring something to the table for the glory of God."
Plans include initiating a youth choir and expanding the adult choir to 50 participants.
"It's always good to find opportunities for people working in artistic endeavors. And churches can pick up the slack when schools reduce music and arts programs," said Francis.
Offering a welcoming space
He aims to connect with music directors in local schools to see if they have ensembles that would like to perform in a non-judgmental, non-threatening environment, potentially transforming Simpsonwood into a safe and welcoming space for young people to nurture their skill and appreciation for music.
Relevance is another focus of Simpsonwood's musical program. A recent Sunday service featured a piece for two pianos/four hands with Maurice Ravel's "The Fairy Garden," dedicated to the people and children of Ukraine.
"It's very calming and impressionistic and ends with a glissando (sliding up and down on all the notes on the keyboard), which is so celebratory," Francis said. "It's like walking the path of the Ukrainians with the hope that they will reach that glissando without more pain and loss."
Choir member Lori Perozzi has been in and out of the choir for the past 30 years. She grew up in a gospel singing family and has sung professionally. Locals may know her from gigs with the Mark Tucker Trio, a jazz ensemble at 45 South Café in Norcross. Tucker also plays in the contemporary service's band.
"David has brought an excitement and music to our church that I haven't experienced since I joined in 1988. He's not afraid of doing anything music-wise and he is a blast to work with and so much fun," Perozzi said. "He's a very inspiring person both musically and personally. Plus, he's a good recruiter."
As in many churches, the high-quality music program at Simpsonwood is essential in binding worshipers together.
"Whether you can sing or not, when you have the congregation stand up and sing together there is unity. And for me, it's a personal thing because my faith is expressed through music," said Perozzi.
Francis concurs. "To me, music is the foundation of any religious service and always has been," he said. "I feel it must be diverse, and come from different genres, and must be performed to the best of anyone's ability. And it's always better when it's also entertaining."
---
Sunday services info
Table Service at 8:45 a.m. in the Sanctuary is a short service with full communion.
Traditional Worship is at 10:55 a.m. in the Sanctuary.
Contemporary Worship with Kids Church is at 11:10 a.m. in the Family Life Center gym.
The church also streams its Sunday worship service at 11:10 a.m. on the SUMC YouTube channel: simpsonwoodumc.org/sunday-worship-livestream
Simpsonwood United Methodist Church is at 4500 Jones Bridge Circle in Peachtree Corners.

Much to Rejoice: Father Charles Byrd Assumes Role as New Pastor at Mary Our Queen Catholic Church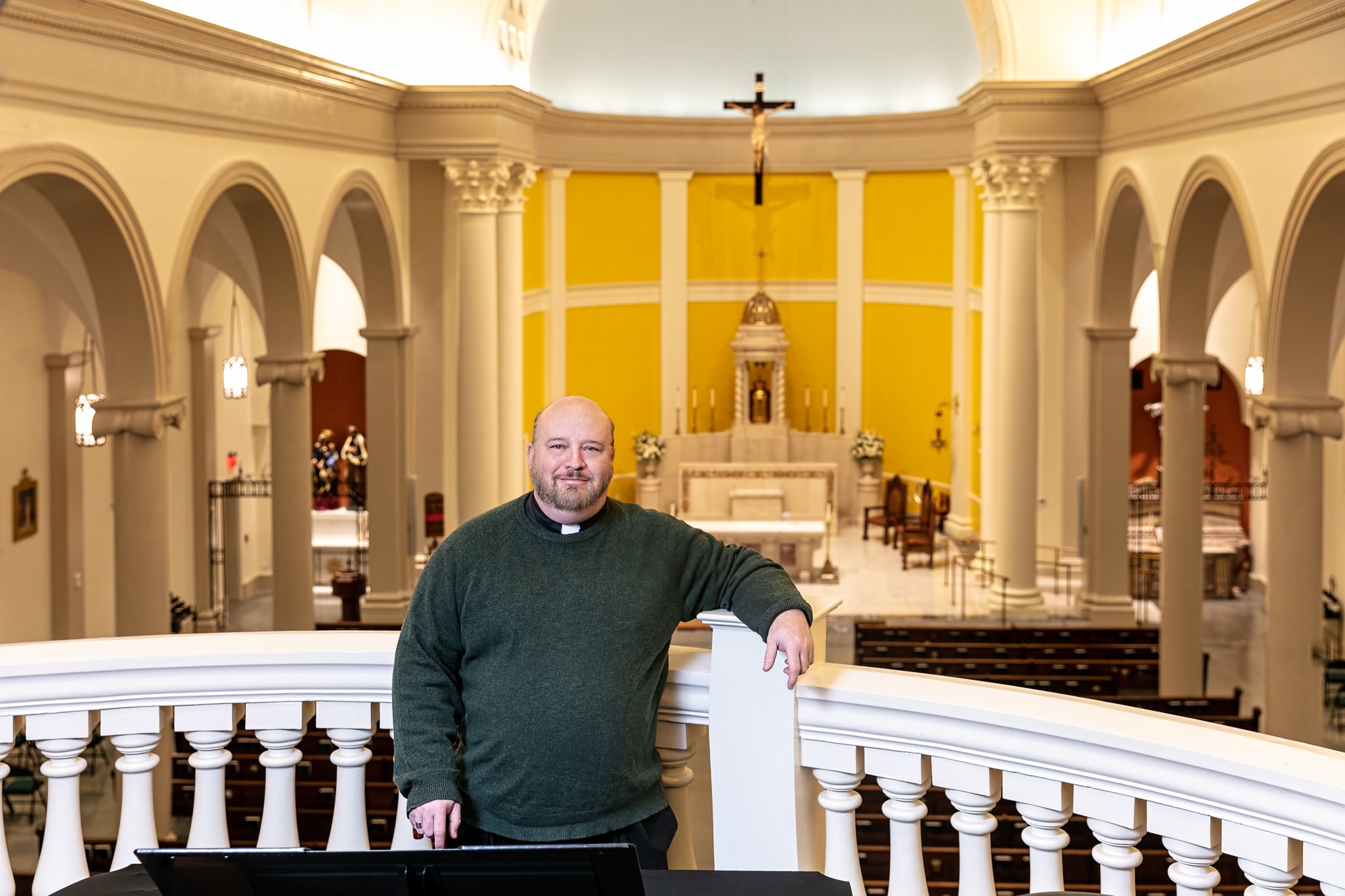 Photos of Father Byrd by Tracey Rice
Father Charles Arthur Byrd has led a rich, fulfilling personal and ministerial life prior to accepting his latest leadership role this July as the new Pastor at Mary Our Queen Catholic Church.
"Former pastors led in the building of our new church. Father Byrd, another visionary, will lead this parish forward," long-time parishioner Jim Gaffey said.
It's a daunting task to come into an established body of faith and make a positive difference, but Father Byrd is well up to the challenge.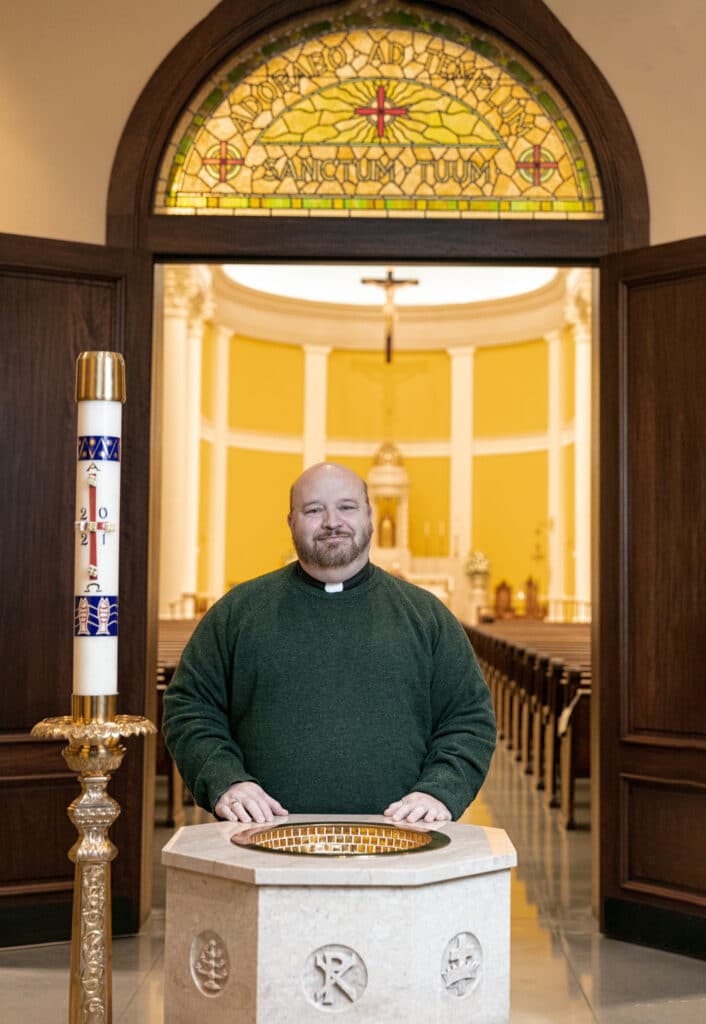 "[Peachtree Corners] is a wonderful community, with a lot of good families. A lot of names to learn, but it's a great parish," Father Byrd said.
Prior to seminary, Father Byrd worked in the exciting world of advertising, residing in Louisville, Kentucky for seven years. Father Byrd was raised Protestant, faithfully attending church in his hometown of Newnan, Georgia with his mother and father, brother and two sisters. During his time in Louisville, he was introduced to Catholicism and began singing in the choir at St. Martin's, as well as serving as the cantor for the Latin Mass there.
The road to Peachtree Corners
In his introductory letter to Mary Our Queen, Father Byrd describes his faith journey of self-discovery that eventually led him to pursue a higher calling of community service and a dedicated seminary program.
He finished his pre-theology at a Benedictine seminary in southwestern Pennsylvania, then his Bachelor's of Sacred Theology at a Jesuit University in Rome and his License in Sacred Theology at a Dominican University in Rome. Father Byrd was ordained a deacon in St. Peter's Basilica by the future Pope Benedict in 1999. Archbishop Donoghue ordained him a priest in Atlanta in 2001.
As a newly ordained priest, Father Byrd served for nearly two years at St. Andrew's Parish in Roswell. From there he was sent to teach and do formation work at St. Vincent Seminary in Latrobe where he had studied pre-theology.
In his letter to Mary Our Queen, Father Byrd expresses a profound love of the teaching aspects of being in a pastoral position, helping priests and parishioners alike in their spiritual and liturgical growth. Father Byrd's extensive career trajectory has taken him across the globe, and yet he continues to return to his home state of Georgia, to Atlanta for almost two years at The Cathedral of Christ the King, then to Jasper as pastor at Our Lady of the Mountains for over a decade.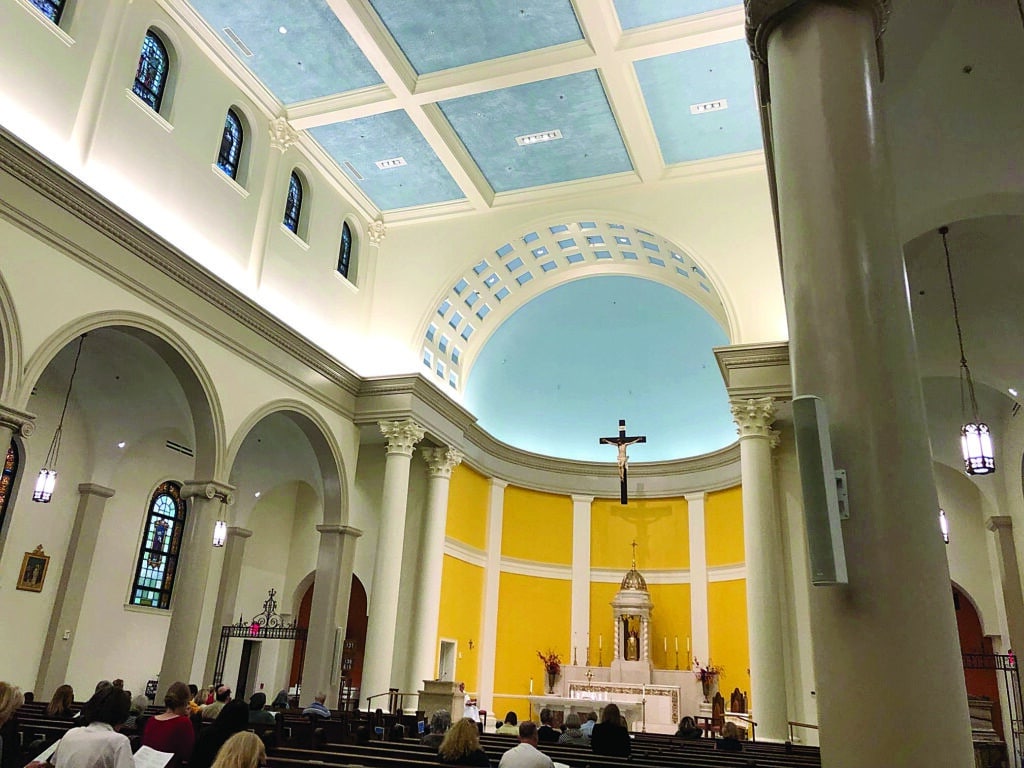 Now twenty years into his priesthood, Father Byrd shows no signs of slowing down and no waning of enthusiasm, as he is eager to begin a new chapter with Mary Our Queen. "Worship is, after all, who we are. I like embracing the whole of Catholicism. It is a great joy to me. The teacher in me will help us embrace together more and more of our rich heritage," Father Byrd said in his introductory letter.
"Father Byrd's unique background, focus and joyous approach, continuing the building of community, is already having an impactful effect," Gaffey reported.
Looking forward
There is much to rejoice about at Mary Our Queen, and much to look forward to in the coming season and year. "We have a busy schedule coming up. We just did our All Soul's Requiem mass and All Saint's mass," Father Byrd said. "Then we have Thanksgiving coming up and Advent starting. Christmas is going to be kind of complicated this year as it falls on a Saturday, so a busy time. We have the choir back, singing and doing a great job."
For more information about Father Byrd and Mary Our Queen, visit maryourqueen.com .

Norcross Presbyterian dedicates renovated historic church building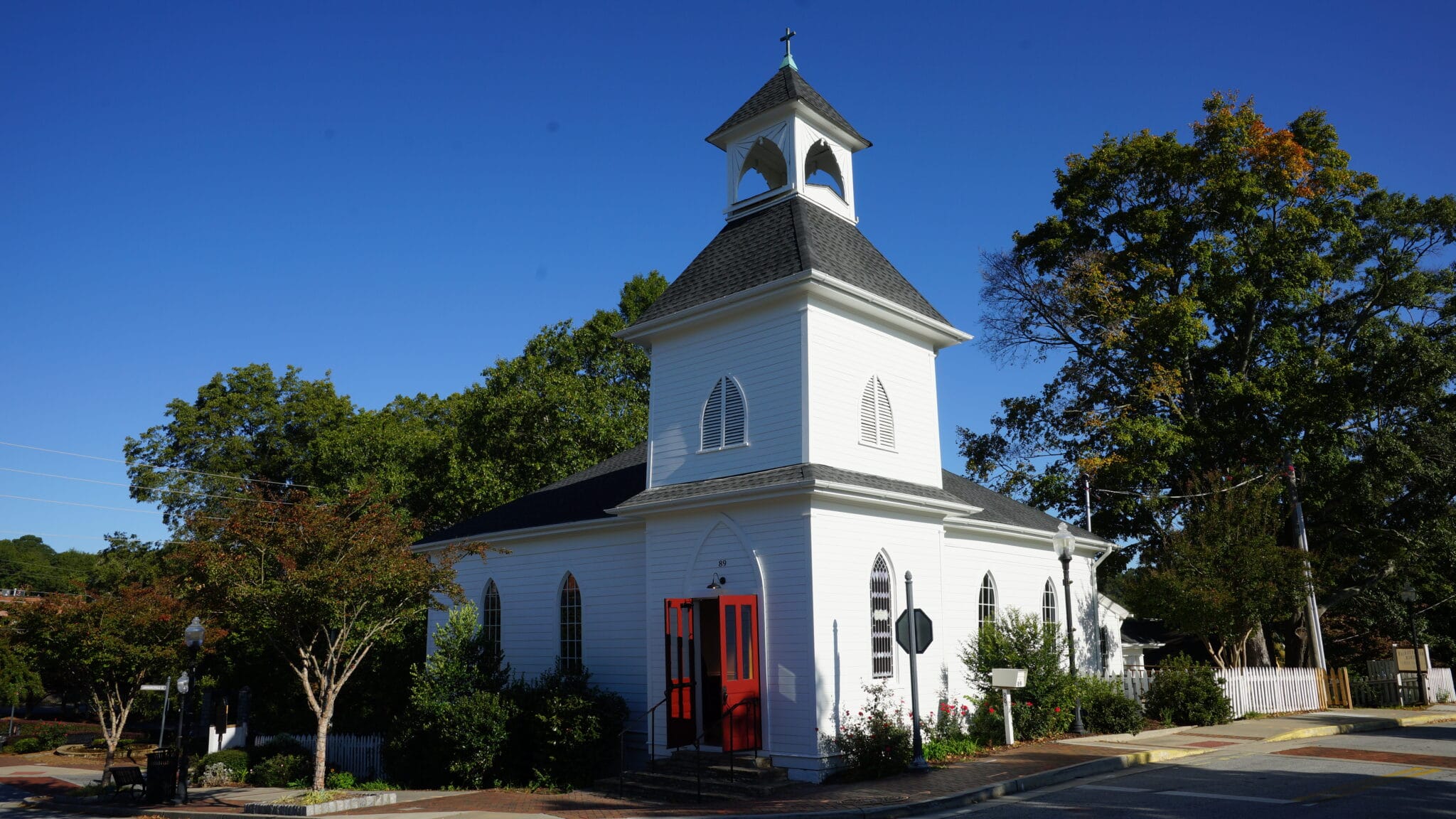 A very special and spiritual day occurred recently for Norcross Presbyterian Church (NPC) as an official dedication ceremony took place to celebrate the church's move into their newly renovated old church home of 89 Jones Street. On Sunday October 17 at 11 a.m., the congregation came together to commiserate.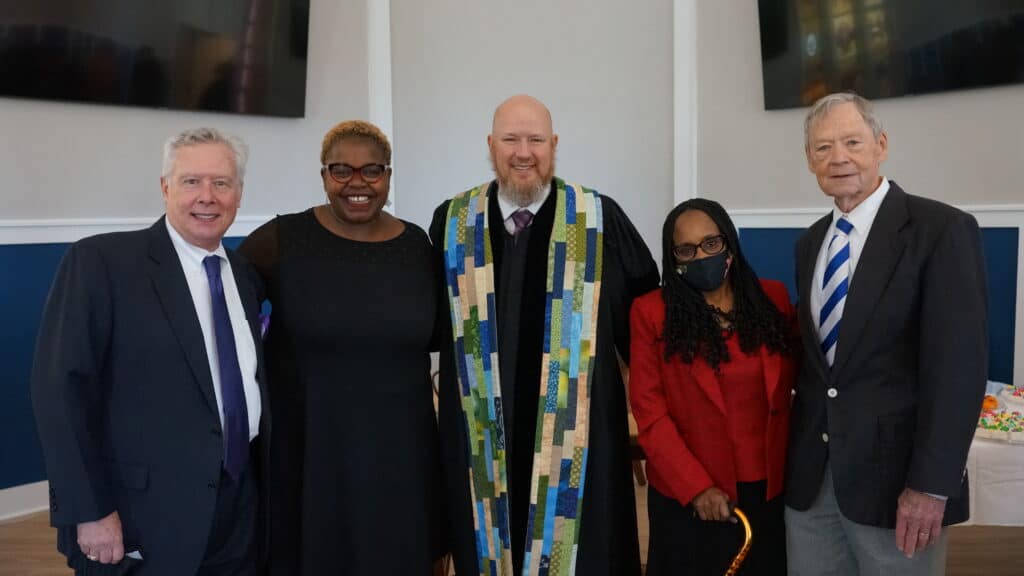 A revered guest spoke at this momentous occasion. Reverend Dr. Lewis Fowler, Jr. was the pastor of NPC from 1966 to 1974 during a turbulent time for Gwinnett County and the nation. He recounted some poignant moments in the life of the church, moments when the church was a progressive leader on issues like desegregation and the war in Vietnam. Fowler was the last pastor to preach in the historic church before the move in 1972.
Executive Presbyter Aisha Brooks-Johnson and other representatives of the Presbytrery of Greater Atlanta were present to support the mission of Norcross Presbyterian Church in its new home.
A bit of background is needed to pinpoint the meaning behind this move. Back in 1899, the NPC congregation built a small white church with a distinctive bell tower in downtown Norcross, the church on Jones Street. NPC worshiped there for 73 years.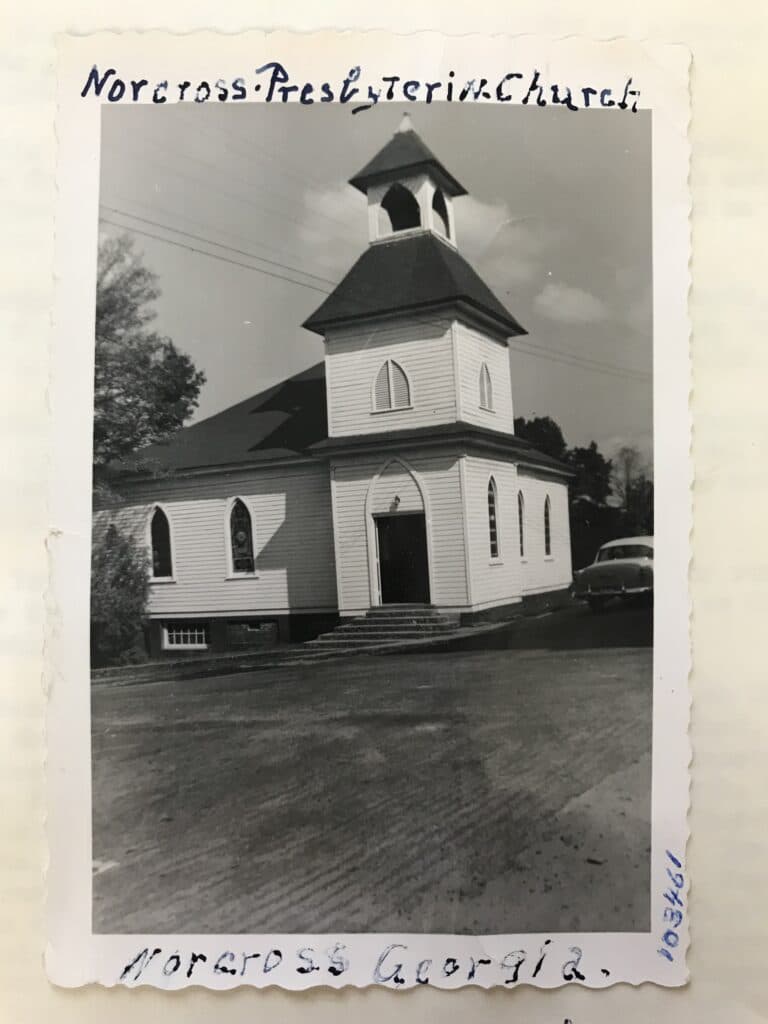 In 1972, they sold the property and moved to a more modern building not far away. The old church building endured. And now, 50 years later, the NPC congregation is moving back into their previous home church, in order to return to a more intimate religious setting that better suits a modest church body.
NPC Administrator Jason Bernando explains further implications of the move and the improvements to the building that have been made.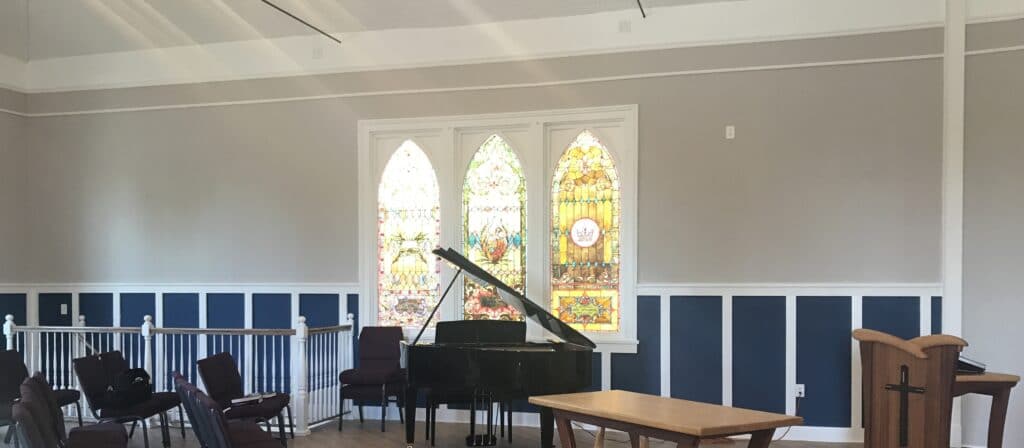 "The goal of the renovation was to maintain the historic look and feel of the building, but to also give it modern amenities and functionality. A great example are the stained glass windows. These windows were an original feature of the building in 1899.
The three ornate windows memorialize three historical persons from the early church. These windows were removed back in 1972 and installed in the church we moved into at that time. We are very excited to bring the windows back to the Jones Street building and restore them to their former glory," Bernando said.
Efforts have been taken to modernize the church, with features "that include wireless audio and video capabilities that amplify sound, show graphics and videos, and stream services live on the internet. Not bad for a building that was constructed before electricity came to Norcross!" Bernando said.
For more information about Norcross Presbyterian, visit norcrosspresbyterian.org