Where to Order or Eat Holiday Feasts, Foods and Treats

If you are like many of us, the idea of hosting everyone for a festive holiday dinner fills you to the brim with equal parts cheer and existential dread. Why? Because how are you going to feed all these people without completely losing your mind?!
Have no fear with your cheer this year. Local Peachtree Corners restaurants are here to help feed your multitudes, so everyone has a full belly and a happy heart.
Firebirds Wood Fired Grill
5215 Town Center Boulevard, Peachtree Corners
peachtree-corners.firebirdsrestaurants.com
Holiday Feast and Gift Cards
Order a fully prepared holiday meal for the whole family — no fuss, no muss. Pre-order by December 20 and pick up December 23 or 24.
PRIME RIB FEAST (Serves up to 6: $199.95)
Uncooked 4lbs. Hand-cut, Herb-Rubbed Prime Rib with Au Jus and Horseradish Sauce
Parmesan Mashed Potatoes
Cornbread Dressing
Asparagus with Roasted Garlic Thyme Butter
Broccoli-Cheddar Casserole
Apple Cinnamon Bread Pudding
Panella Bread and Whipped Butter
Otherwise, you can give the gift of a delicious meal by purchasing $100 in gift cards, then receive a $20 bonus (for a limited time). More info at peachtree-corners.firebirdsrestaurants.com/promotions/.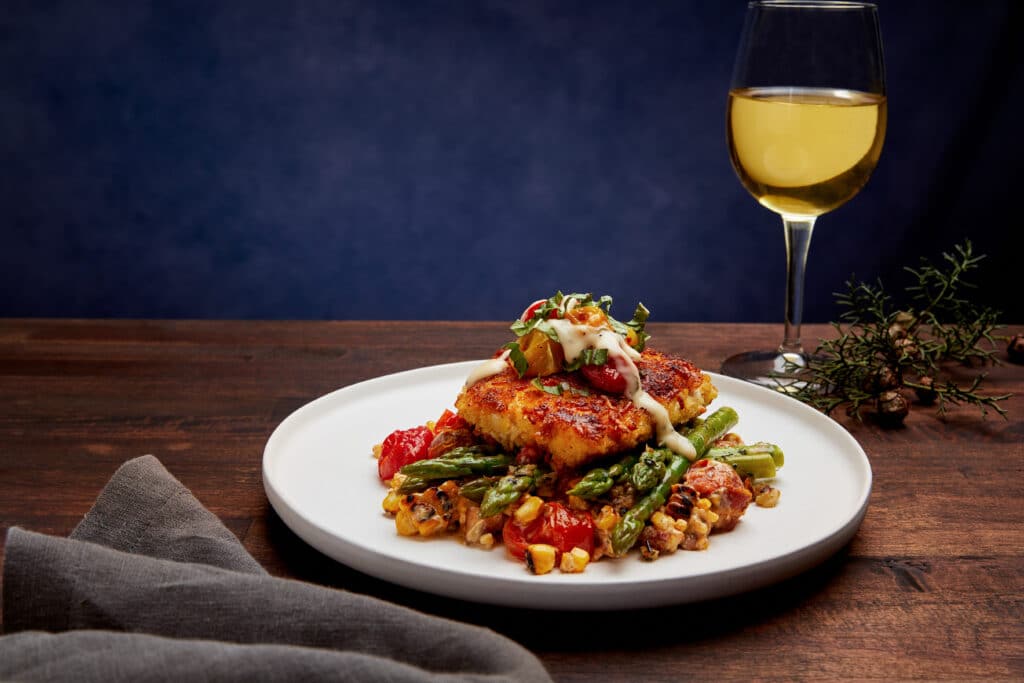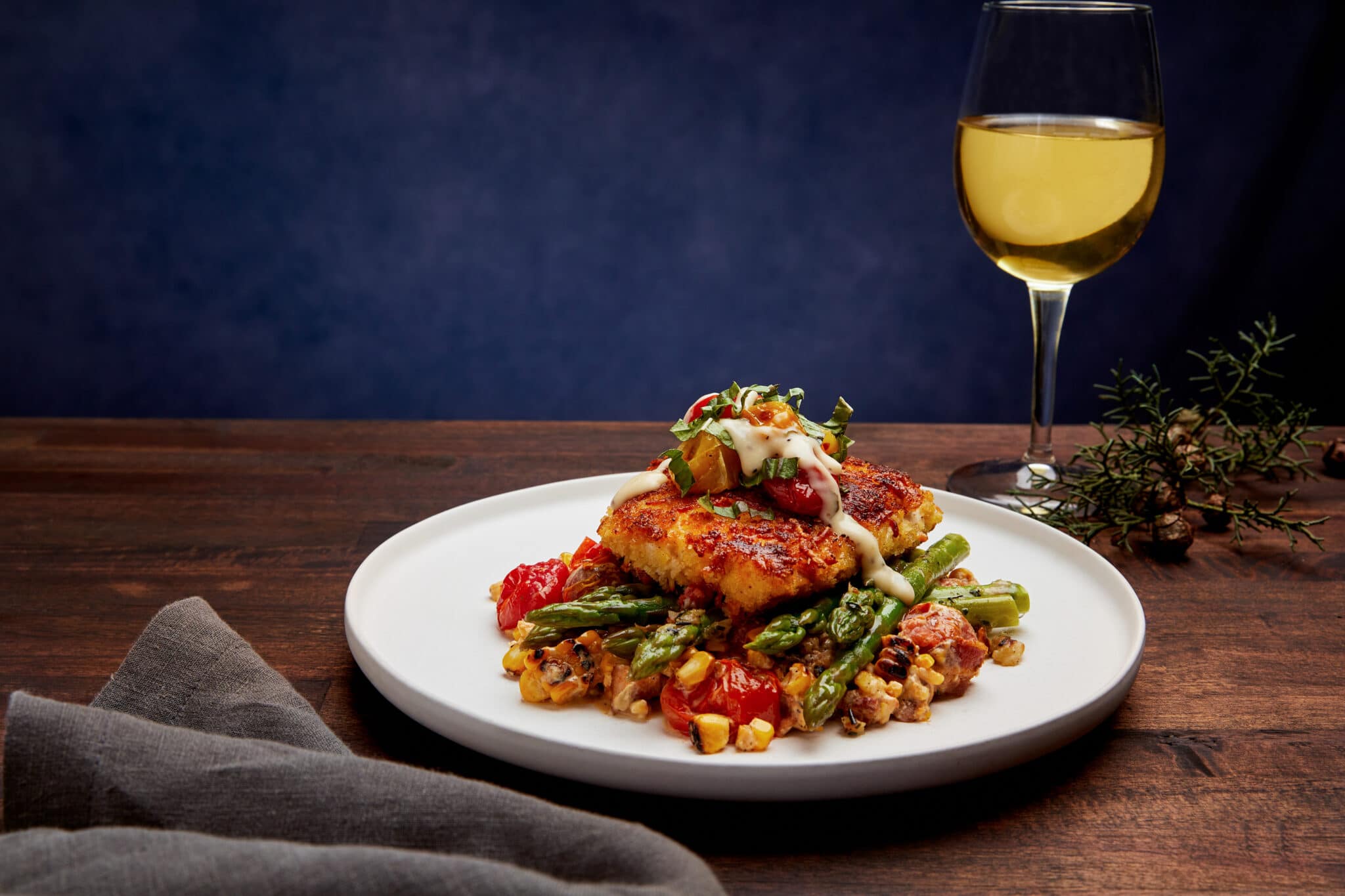 Winter Features
Firebirds Wood Fired Grill's Winter Features menu is set to impress this holiday season and will be available through January 4. The contemporary restaurant is known for its wood fired grilled steak, seafood, chicken and ribs. Firebirds' lunch and dinner entrées feature seasonal, fresh ingredients.
Shareables
• Fresh Burrata — a variety of fresh, ripe tomatoes, basil oil, balsamic reduction, smoky hot honey drizzle and charred bread.
• Bananas Foster Bread Pudding — vanilla bean ice cream, spiced pecans and crispy cinnamon-sugar tortilla.
Lunch
• Smoked Sea Salt-Crusted Grilled NY Strip (10-ounce or 16-ounce) — topped with Merlot-shallot butter and served with five-cheese killer mac and cheese.
• Lobster Fondue Salmon (8-ounceo) — wood grilled salmon topped with lobster and spinach fondue, served with Parmesan mashed potatoes.
Dinner
• Parmesan Crusted Red Snapper — served with "loaded" ember-grilled corn, fresh asparagus and topped with coal-roasted tomato-basil sauce.
• Smoked Sea Salt-Crusted Grilled NY Strip (10-ounce or 16-ounce) — topped with Merlot-shallot butter and served with five-cheese killer mac and cheese.
• Lobster Fondue Salmon — wood-grilled salmon, topped with lobster and spinach fondue, served with Parmesan mashed potatoes.
Eating Americana
5450 Peachtree Parkway, Suite 7A, Peachtree Corners
eatingamericana.com
Christmas Dinner Special for Four — oven-roasted tenderloin, scalloped potatoes and sautéed green beans, garnished with red bell peppers and complimented with Chef's demi. The cost is $120 per package, tax not included. Packages can be picked up on or before December 23 by noon, as the restaurant will be closed for a private catered event. The restaurant will be closed for the holidays on December 24-26.
Peterbrooke Chocolatier at the Forum
5135 Peachtree Parkway #930, Peachtree Corners
peterbrookeatlanta.com
Do you have a sweet tooth, or a loved one who dreams in chocolate? Then you better make a stop at Peterbrooke this holiday. The selection is endless, from irresistible popcorn trio tins and assorted chocolate gift boxes to office party platters, caramel apples and chocolate covered strawberries. Willy Wonka's got nothing on these guys.
Marlow's Tavern
5210 Town Center Boulevard Suite 260 Peachtree Corners
marlowstavern.com/locations/peachtreecorners
Buy a $50 gift card and get a bottle of Michelle Brut sparkling wine OR purchase a $100 gift card for a complimentary bottle and a bonus $20 gift card. Promotion through December 31. More information at marlowstavern.com.
Lazy Dog Restaurant and Bar
5224 Peachtree Parkway Peachtree Corners
lazydogrestaurants.com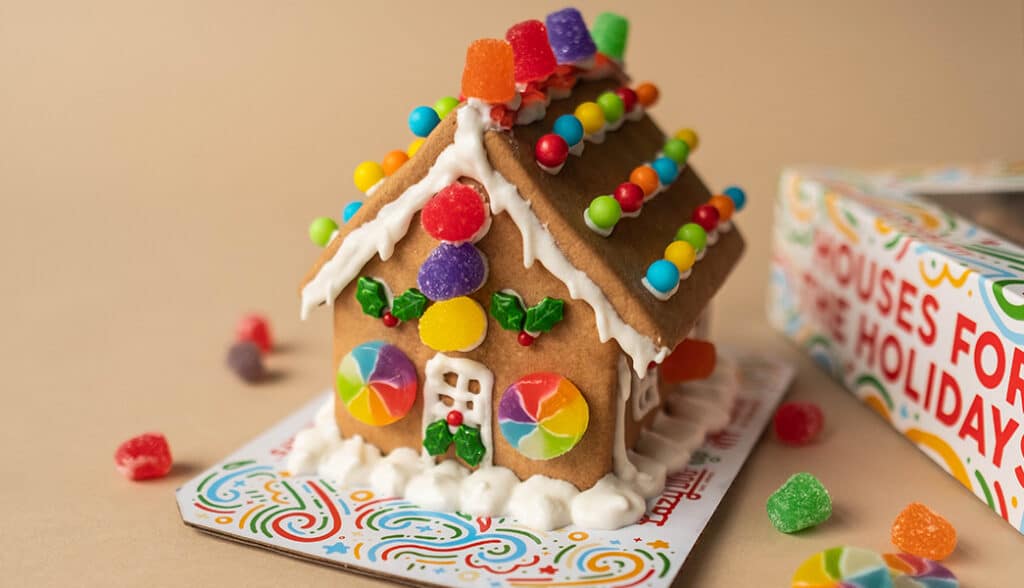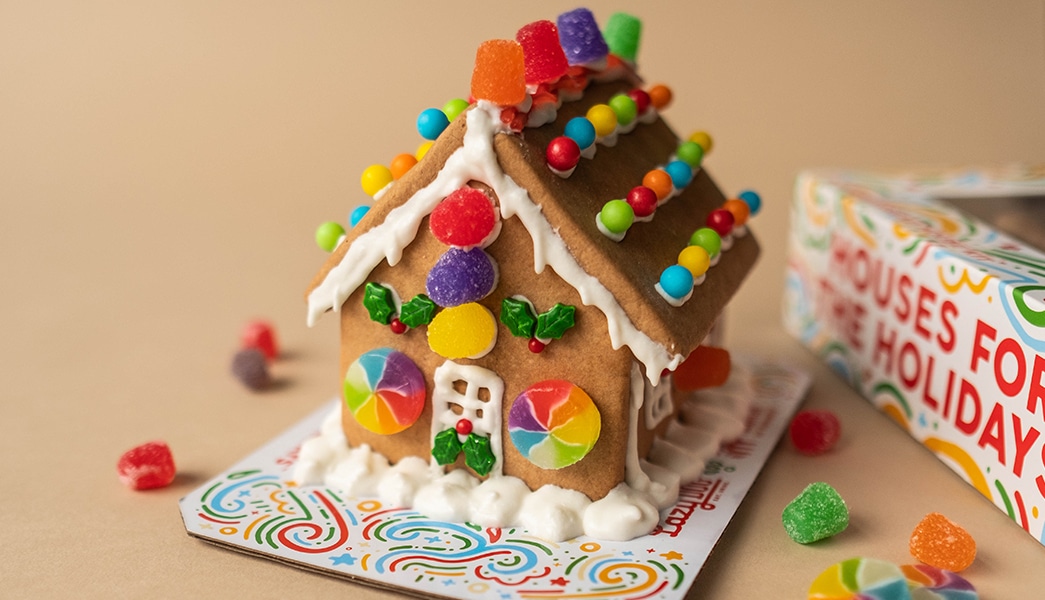 Houses for the Holidays —DIY Gingerbread House Kits, benefitting Habitat for Humanity, are available for $6.95 each.
Have memorable fun with the family by building a colorful home for a gingerbread family and help a real-life family at the same time. Lazy Dog is proud to support Habitat for Humanity this holiday season with a commitment of $100,000 through December 31. The net proceeds (sales price less cost of goods) of $2.12 per kit will be donated. Learn more at the Lazy Dog website.
Uncle Jack's Meat House
5222 Peachtree Parkway, Suite 920, Peachtree Corners
unclejacksmeathousepeachtree.com
Hosting a holiday party and need a nice location? Uncle Jack's Meat House in Peachtree Corners can accommodate groups of 15 to 200. The restaurant has three lovely settings to choose from: the Main Dining Room, The Ric Flair Suite and the Fire Pit Lounge and Patio. For reservations, call 470-532-1010.
Happy Tails & Ales Event at Anderby Brewing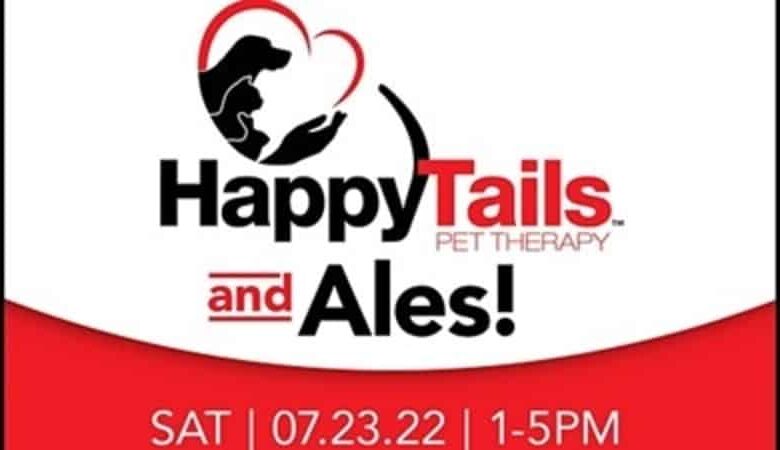 Happy Tails Pet Therapy and Anderby Brewing in Peachtree Corners are teaming up to for a pet therapy social event called "Happy Tails & Ales." Come out and meet the pet therapists from Happy Tails, a 501(c)(3) non-profit organization. Learn about animal-assisted therapy, how to volunteer, and the qualifications for an animal to become a therapy pet. Anderby is discounting all pints by a dollar to benefit Happy Tails. The event takes place Saturday, July 23, from 1- 5 p.m. outside on the patio.
Anderby is pet-friendly, so bring your pet! Happy Tails will rotate four teams of therapy
animals (primarily dogs) each hour for snuggles and meet and greets. So, join the fun and experience how a therapy pet can soothe your soul.
Happy Tails Pet Therapy began 31 years ago in Roswell, Ga. Since its inception, the
organization has brought animal-assisted therapy to hospitals, hospices, schools, assisted living facilities, learning centers, libraries, and other places within the greater Atlanta metro area. Happy Tails Pet Therapy volunteer teams provide physical, social, emotional, and cognitive therapy to people.
All Happy Tails pets are trained in obedience and pass a multi-stage assessment by
experienced Happy Tails Pet Therapy Evaluators before they and their handlers can join the
organization and do the job of pet therapists.
Bringing the Urban to the Suburbs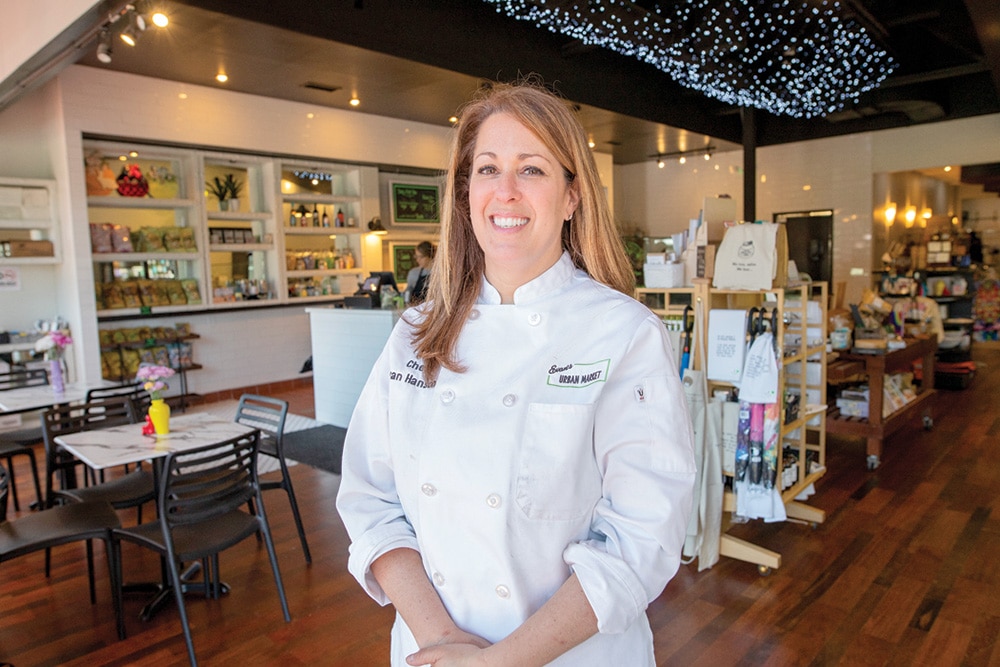 Evans Urban Market a Welcome Addition to Peachtree Corners
Clean, bright, friendly, enticing. All of these are words that describe the vibe at Evans Urban Market. Located in a storefront which once housed Ten Bistro in the Wellington Center Shopping Strip at 5005 Peachtree Parkway, Evans Urban Market is a refreshing homage to the types of markets and eateries you're more likely to find on the streets of New York City than in a Georgia suburb.
The space has been significantly transformed since it was purchased and renovated by owner Evan Hanson. This fun and casual eatery officially opened its doors for business in March of 2022. Prior to that time, when it was in operation as Ten Bistro and owned by Hanson's former husband, it was your typical dark and intimate bar setting.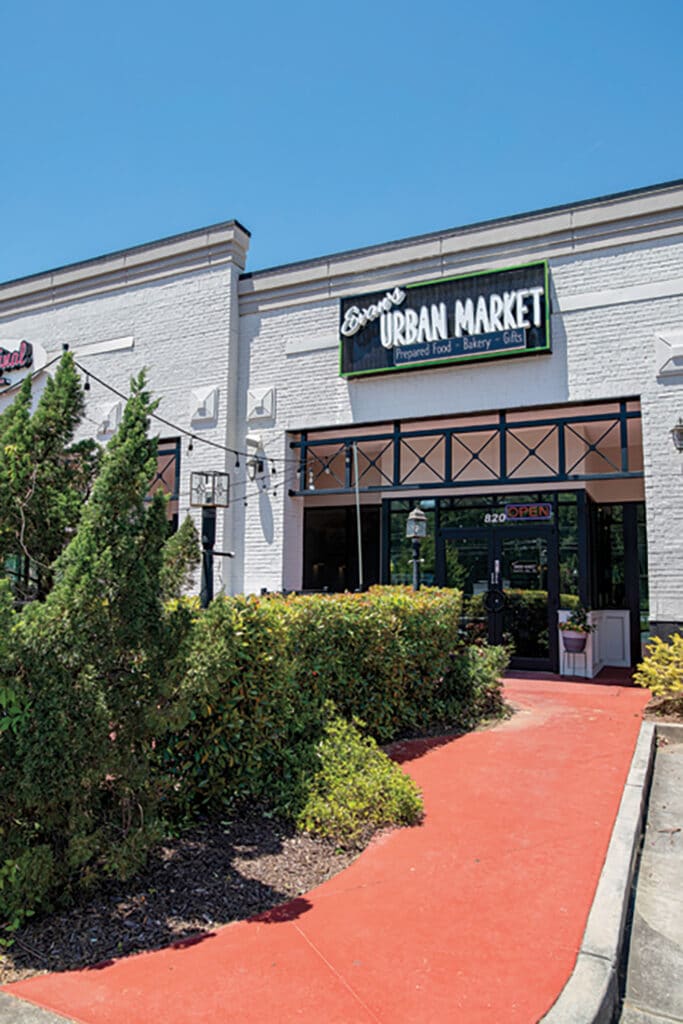 Today, there is a central L-shaped counter with a register and display cases, all bright and clean and white. The walls and displays are similarly clean and pretty. The ceiling features strands of twinkle lights hanging in a zigzag pattern the length of the restaurant. "I feel like it's a starry night in here," she said.
Behind a glass partition are the day's freshly prepared dishes. Offerings typically include salads, sandwiches and soups, plus specialty meals, such as meatloaf, biscuits, biscuit sandwiches, beef stroganoff, Asian beef with rice and even Moroccan and Belizean cuisine.
Nearby is also a dessert case full of decadent treats like donuts, cakes and cookies. Artists' works are set up on free-standing shelves, while a selection of dry goods and prepared meals to take home and heat up can be found around the outskirts of the shop. A few small tables are located by the front window and a patio outside offers additional seating.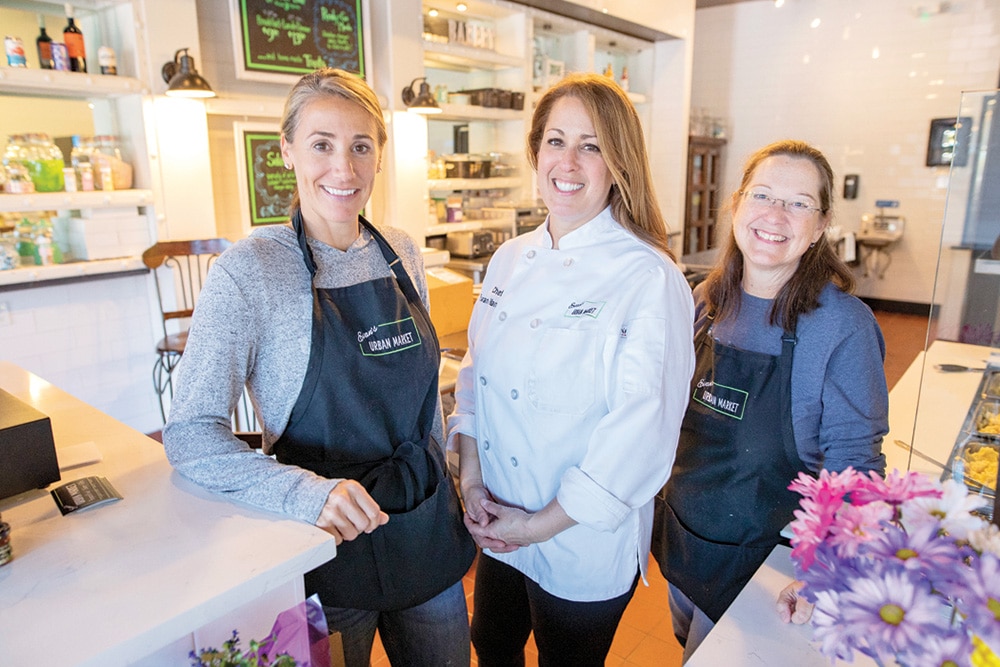 The road to the market
Hanson, the visionary behind this concept, has always loved cooking and baking. She recalled experimenting with brownies, emblazoned with her initials, as far back as eight or nine years old. At the time, Hanson wanted to become a baker. Her mother worried that this would not be a profitable and stable career, so for many years baking was relegated to a passionate hobby in her life.
Several careers and many paths later, today Hanson owns her own restaurant where she is able to use her creativity to craft a vibrant menu of dishes plus custom desserts. "This is a career that has stuck with me," explained Hanson, who says that owning and operating Evans Urban Market is truly her living out her dream.
Her career includes a variety of positions including sales, teaching, working at Ten Bistro and when she opened Pub Ten, she made desserts for both restaurants. It was during her time with Pub Ten that she developed many of her staple desserts, including the renowned dish called 'Sweet Heaven from Evan,' often shortened to Sweet Heaven. This dish, the market's most popular, features delectable bites of cake topped with mascarpone cream, a chocolate ganache and her mother's recipe for chocolate pecan brittle.
Following the separation from her second husband, she became determined to find a way to channel her love for baking into a career. So, when she saw the space that was formerly Ten Bistro for sale, she decided to make her move.
"I wanted to do something with cooking and baking. I loved cooking so much but didn't know if I could sustain doing just baking. I love cooking and wanted to support local artists. So that's why I ended up doing the gifts too," explained Hanson.
A family feel and home cooking
She hopes that this shop will function as a sort of one-stop-shop for locals. Whether you just need a quick bite, a prepared meal to reheat at home, desserts, corporate catering or even a gift for someone special, she hopes it fills a void for those who call the neighborhood home. "I used to say that it's comfort food elevated, but then someone else said it was 'home cooking that I don't have to cook.' I was like 'oh, I like that.'"
It's not just the food that is comforting, it is the very atmosphere of this cozy urban market. Clocking in at only 2,000 square feet, Hanson has to be thoughtful when deciding how many local artists she can invite to sell in her shop and who she employs to work behind the counter and in the kitchen.
Her careful selection of crew and employees is certainly a part of why the vibe at Evans Urban Market is so delightful. It's not uncommon to see a team of only women behind the counter. In fact, the majority of her crew are women, and like Hanson, most are also mothers.
This is part of what Hanson has curated here, a group that feels like a family. They look out for one another and step in when someone needs to attend to a child outside of work. As a result, her 15 staff members are all part time. This allows them to balance their family lives with work and encourages a healthy and, according to Hanson, drama-free work environment. "This is a neighborhood space. We treat the neighbors like we are friends. That's how people want to be treated. Here you're not a number."
Hanson gushed about her staff. "We all get it. We all chip in to help each other. That's one of the things with this group; they work so hard. This is my dream team. Everybody has a special skill that helps us to succeed. I tell them: this isn't just my place, this is for all of us." ■
GOHAN Market Brings Authentic Japanese Goods to Peachtree Corners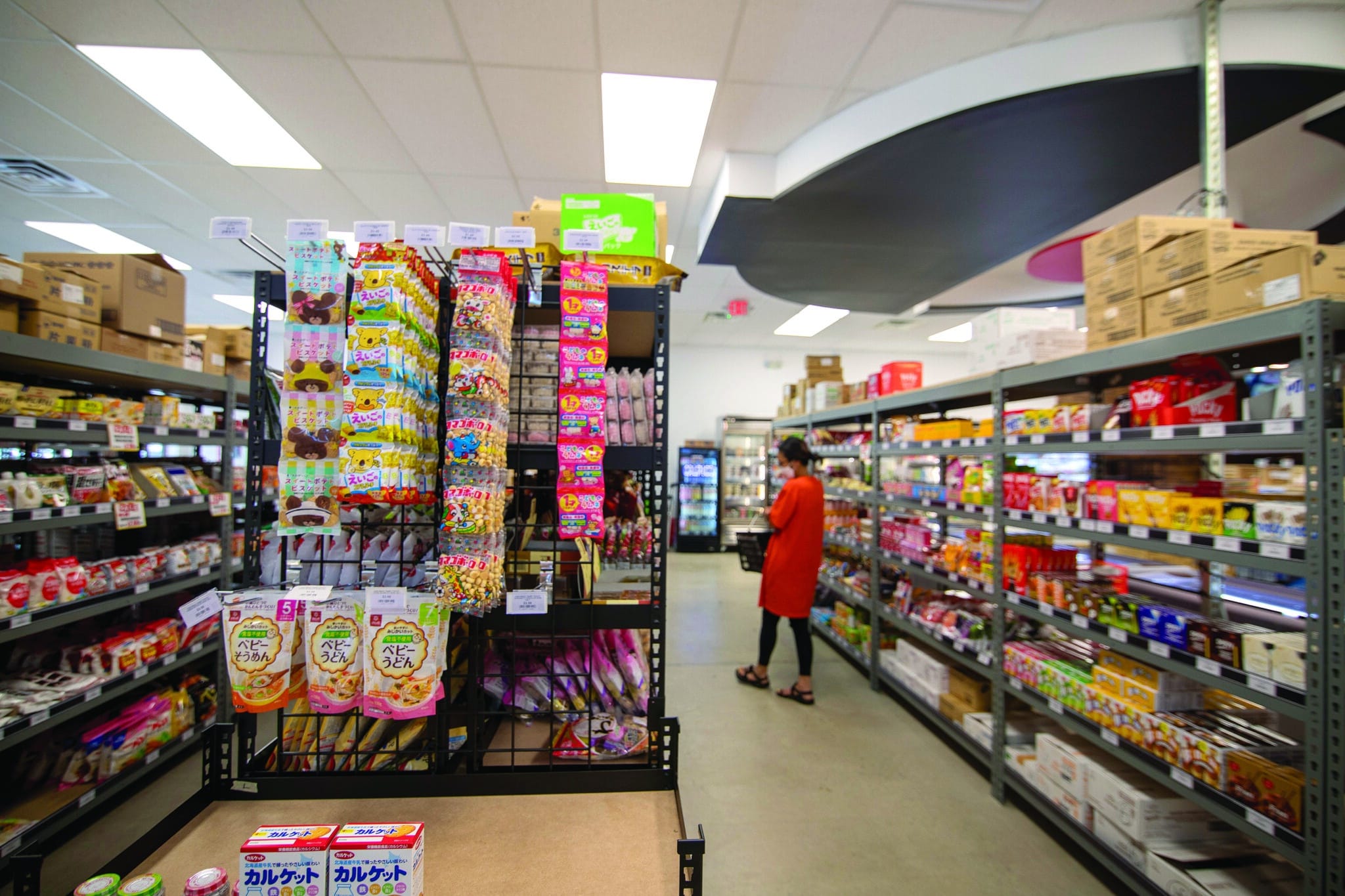 There's a new specialty market in town. Trading exclusively in Japanese goods and prepared foods, GOHAN Market is the first of its kind in Peachtree Corners. Whether you're an accomplished home chef looking for authentic ingredients, someone who calls Japan home and misses the cuisine, or simply curious about Japanese dishes and culture, GOHAN Market has an incredible selection of grocery items.
The shop officially opened on December 22 of 2021, and the reception has been overwhelmingly positive. While there are other similar Asian markets and shops, GOHAN is the only market specializing in Japanese items in Peachtree Corners. "Many people visit the store and inform us how they've been waiting for a market like this," explained owner Takahiko Sugita.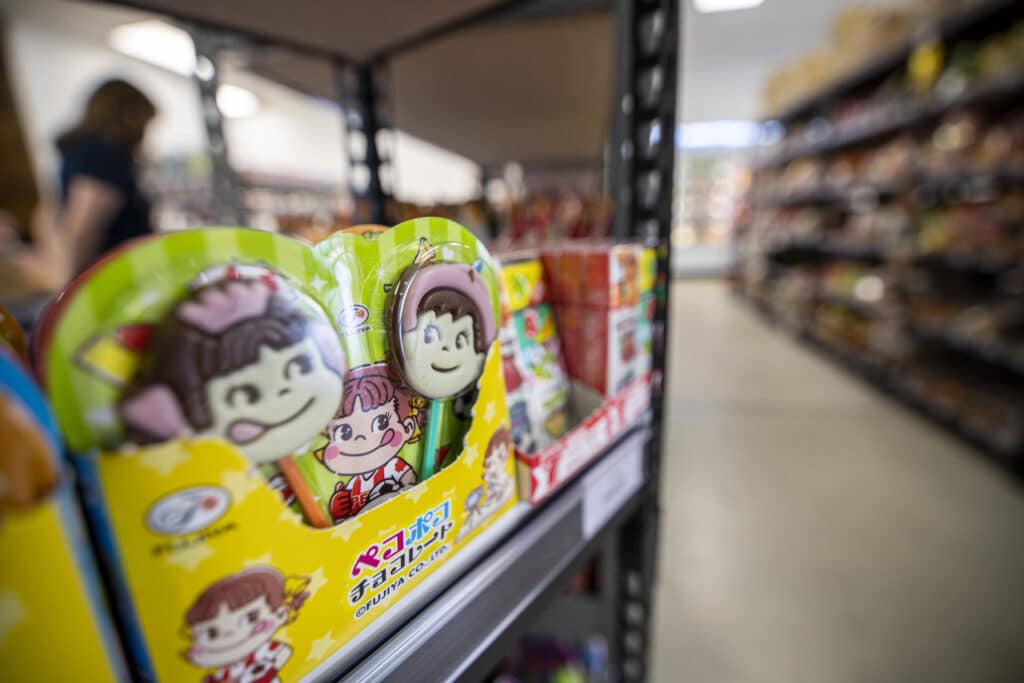 What really sets GOHAN apart is their commitment to selling Japanese foods and goods. As opposed to many Asian markets that might feature some Japanese items alongside Korean, Chinese and Thai options, GOHAN has chosen to stock only authentic Japanese goods for sale. "We wanted the customers to enjoy a Japanese market in Peachtree Corners," said Sugita. "There are many Asian grocery stores in Georgia, but I noticed that there's only a few stores that are dedicated to selling only Japanese items."
This 3,200 square foot storefront occupied by GOHAN Market in Spalding Woods Village has been transformed into a market akin to those you might find in Japan. Featuring row upon row stacked floor to ceiling with dry goods, snack foods and quality ingredients, the space is flanked by coolers and fridges that are similarly full of delectable, prepared foods, desserts and drinks.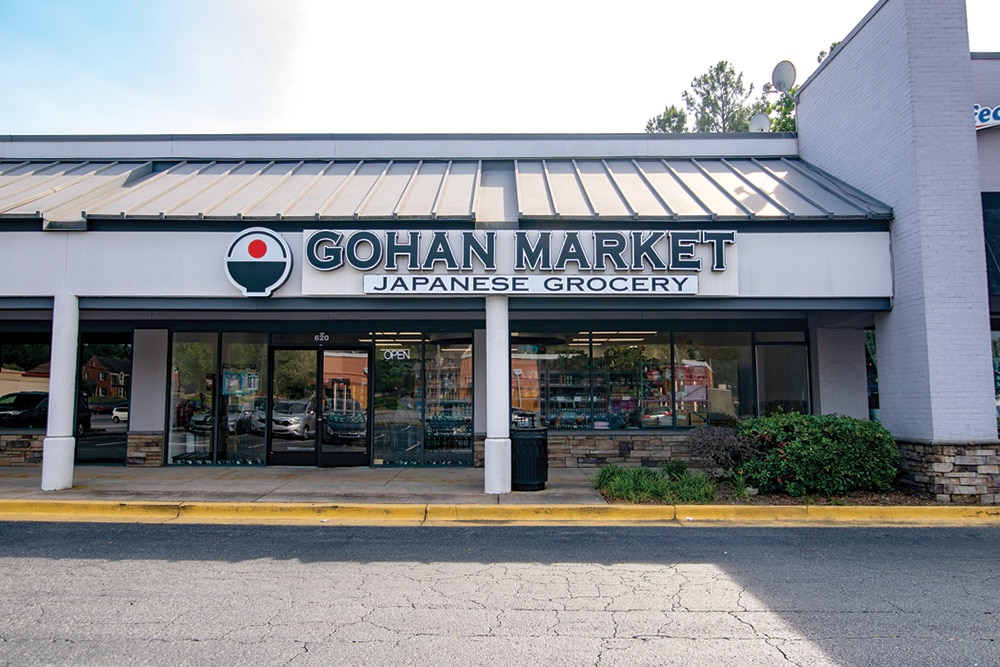 At the back of the store is Ozaku Cafe, a counter-service eatery where customers can enjoy rich and creamy authentic Japanese Tonkotsu ramen. "Our most popular products are the Onigiri rice balls that we make in our kitchen. Many customers compliment on how it reminds them of the convenience stores in Japan and how hard it is to find something like this here in Georgia."
A welcoming store in a welcoming city
With 9.3% of the Peachtree Corners population falling under the category of Asian per the 2020 census, and Forsyth County, which sits just north of Peachtree Corners, labeled the "fastest growing Asian population in the U.S." by WABE in 2019, the area is ripe for development of businesses that serve those communities. Additionally, the opening of the state-chartered Japanese-English dual-language International Charter Academy of Georgia in the area in June 2018 has cemented Peachtree Corners as a diverse community that is welcoming to people of all walks of life.
As I meandered through the market on the day I visited, I saw plenty of items that I did recognize, but there were far more I did not. With labels that are often exclusively written in Japanese, I found myself taking my time as I looked closely at pictures, reading the ingredients lists and trying to infer using context clues what exactly I was looking at.
If you, like me, have never been to Japan and don't read or speak Japanese, never fear. The staff of GOHAN Market were incredibly friendly and helpful from the moment I walked through the door. Greeting me cheerily, they offered me help and actually fetched me a basket when they saw my arms overloaded with goodies as I shopped.
Shoppers here can select from dozens of ramens, curries, soy sauces, marinades, snacks, sweets and much, much more. In one aisle, I recognized a snack food called Popin' Cookin', a gummy treat that you mix yourself and mold into different shapes like burgers, donuts and Kawaii characters. Knowing my niece loves these types of treats, I got one for her as well as some Hello Kitty green tea marshmallows and Pocky chocolates.
For myself, I picked up a bag of Jagarico Sukiyaki. I had never tried this before, but I was immensely pleased with the flavor. I am not ashamed to admit that I ate every last bite before I even got home from the store. It was that good.
A taste of Japan in Peachtree Corners
When asked what Sugita hopes that customers feel when they step into GOHAN Market, he said he hopes it feels relaxing and familiar for lovers of Japanese culture and foods. "I think many people who've been to Japan will say that they feel like they're back in Japan. Whether it's just the atmosphere or how the store is set up, it would be great if they are able to think they are back in Japan," he said.
Sugita has worked in a number of Japanese markets in various states in America, and when it was time to strike out and open a store of his own, Peachtree Corners was the perfect place to settle down and open up shop. "Even though Atlanta is a big city, I was surprised to hear that they don't have a Japanese Market."
Reminiscent of convenience stores that you might encounter on the streets of Japan, GOHAN Market is a unique store that fills a need in Peachtree Corners. Located in a popular shopping center on Holcomb Bridge Road, it is a welcome addition to the community.
Whether you're a ramen aficionado, a lover of all things anime, fond of authentic sushi, wanting to try a Bento box prepared meal or seeking hard-to-find staples like Kewpie Mayonnaise and fermented soybeans, you'll find that and much more at this unique and popular local shop.
Address: 4015 Holcomb Bridge Rd #620, Peachtree Corners, GA 30092
Phone: (770) 674-1263