A Look Inside the UPCCA: United Peachtree Corners Civic Association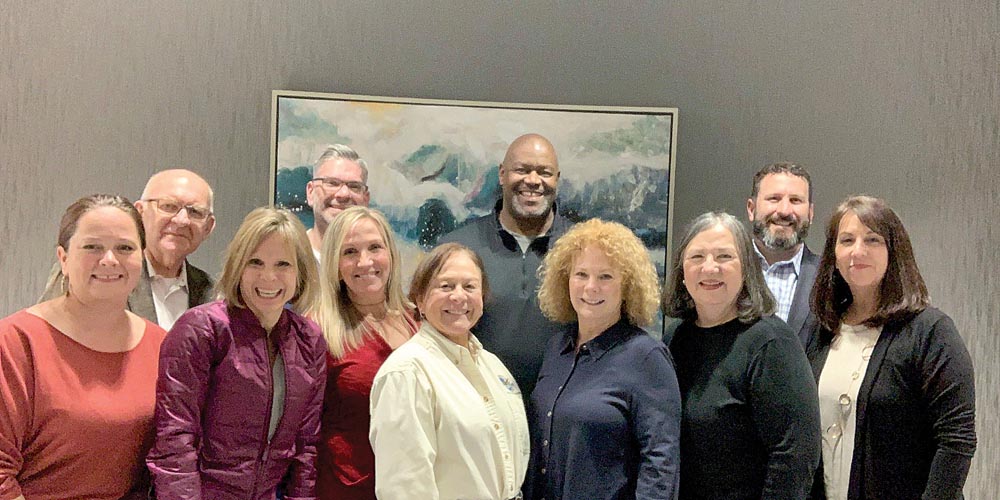 You may have wondered what it was like to work for the United Peachtree Corners
Civic Association (UPCCA). We've spoken with Gay Shook and Debbie Mason to find out about how the organization works, what they do and what they're looking forward to for the future of Peachtree Corners.
Longtime UPCCA member Gay Shook started out in the newspaper business. Her husband Ron worked for the New York Times for more than 30 years and retired as VP of his regional group.
From editor to chairman
When they moved to Peachtree Corners over 35 years ago, he noticed that Gwinnett County did not have its own newspaper. He saw a niche in the market and took a chance, starting the "The Weekly." He even pulled some strings with contacts at the New York Times, who helped design "The Weekly's" masthead. He then asked his wife, Gay, to be the editor, and they worked at the newspaper together.
The paper covered from Norcross to Duluth, turning out great news and talented journalists. Politicians even began to pay attention, Gay said. "We wrecked a few careers. Let's just say, if your moral compass spins, I am going to know about it."
When her husband fell ill in 1997, they had no choice but to consolidate to an online version. By this point, Gay had her pick of organizations to join, and she chose the UPCCA. She became the Chairman of the Peachtree Corners Improvement Project.
"Peachtree Parkway looks as good as it does now because of us," she beamed. They should be proud. The parkway is clean and green with manicured roadsides and tree-lined streets. It doesn't have any of the usual eyesores you would see on a major highway.
"Developers knew that if they wanted anything, they had to go through us," Gay said. She remembers their reputation preceding them with community leaders.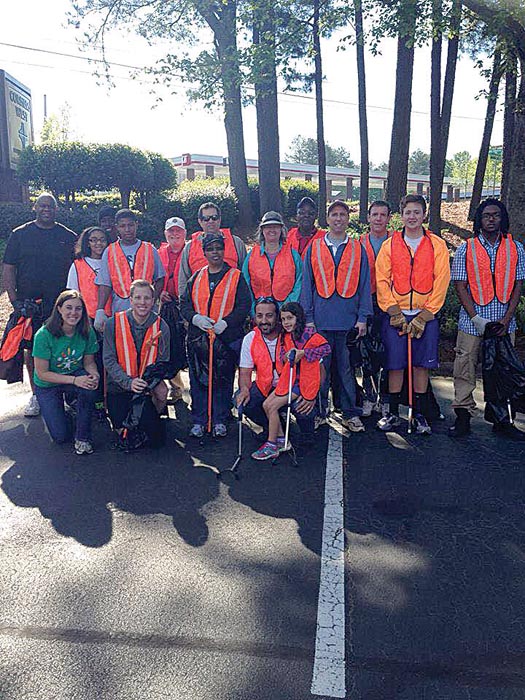 What you may not know is that the UPCCA actually got the help of Tech Park for the major cleanup project. They conducted a study and took aerial shots of the parkway to help calculate how much money it would take for mowing and garbage pickup. In the end, they came up with $1.41 per square foot as a goal for the cleanup project. The organization used that number to estimate how much money they would need to raise every year.
UPCCA decided to go with Piedmont Landscaping Company for the project because the President, Drew Watkins, was willing to go the extra mile. "There was an ugly pit next to the access road behind what is now Chicago Hot Dog," Gay said. I asked him if there was anything he could do to make it nicer, and he made it happen."
Securing the sign
But the greatest uphill battle that she remembers from her days in the UPCCA was the talisman to this beautiful city, the Peachtree Corners entrance sign. Originally, it was supposed to be positioned off the exit near what is now the Target shopping center. Gay had bigger plans, but that involved seeking special permission from the Georgia Highway Association.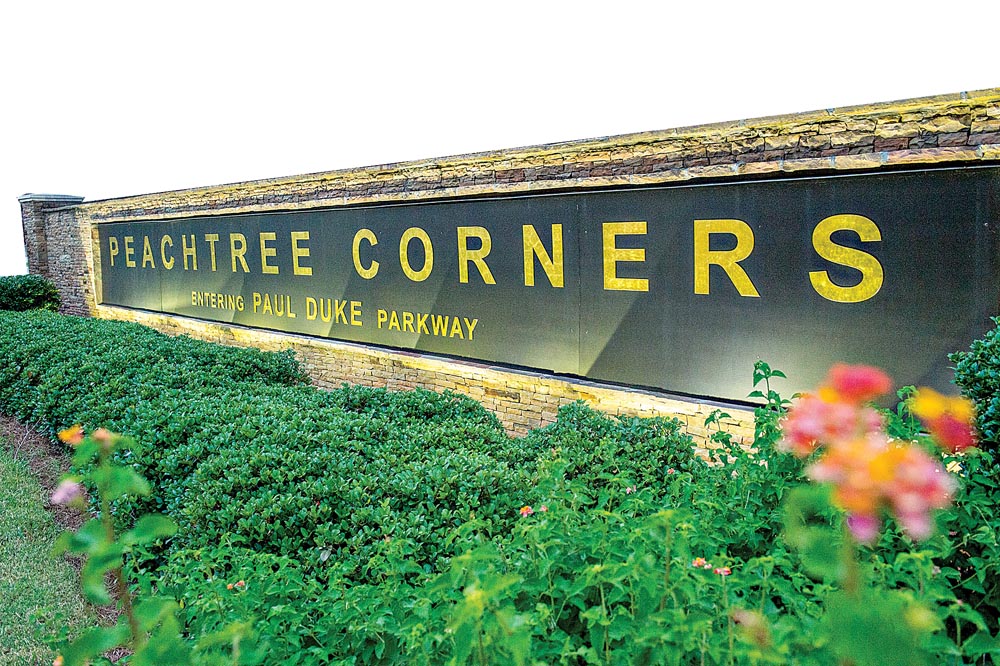 The commissioner of the Department of Transportation, Russel McMurry — who you may know as the person in charge of fixing the infamous burned overpass in Atlanta — was working as a district engineer at the time when he gave them the go ahead for the sign.
Then it was just a matter of finding a way to secure funds for the sign, and it was Representative Tom Rice who handed Gay the answer. He notified the UPCCA about a special grant that the city could apply for, and the county would match the funds to reach their goal.
The city got the grant, but even with that, the funds for the sign fell short. It was Paul Duke himself who provided his last gift to the City of Peachtree Corners. The UPCCA decided to get creative and change the sign — including the words "Entering Paul Duke Parkway" — and the Duke family made up the difference for the iconic entranceway we see today.
"When you enter, you know you're in Peachtree Corners, because it looks different than any other suburb of Atlanta," Gay said, noting that all the group's efforts were definitely worth it. "It just goes to show, you can make anything happen, all you need is the right person to help."
The first lady gets involved
Gay said she believes that the community members of Peachtree Corners are what make this city so special. Members like Peachtree Corners developer and innovator Jim Cowart. "I saw him do things for people that nobody knew about. If someone had a baby, they would find a baby basket full of supplies on their doorstep a few days later," Gay shared. "And I knew so many people like that, who were always doing things for other people silently."
Other important people in UPCCA's success story include the first lady of Peachtree Corners, Debbie Mason. Mason joined the UPCCA in 2007. Her husband, Mayor Mike Mason, was one of the founding members of the organization and eventually went on to be the president.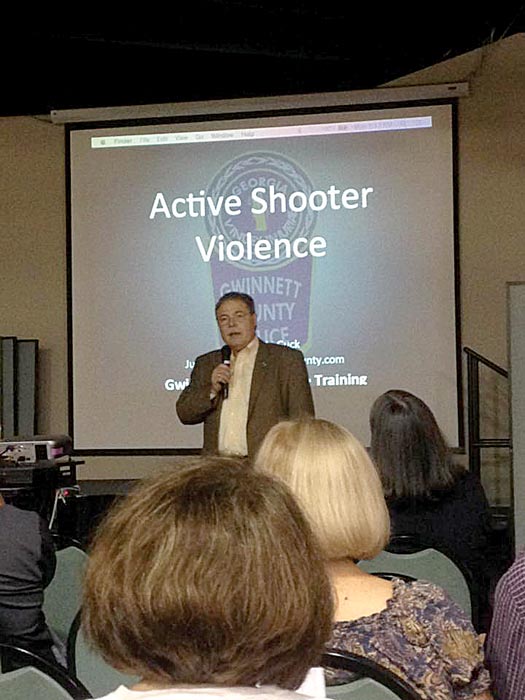 When Debbie's oldest son graduated college, Mike asked her to become a member. She took over as chairman of the Peachtree Parkway improvement project from Gay. "I was like Gay 2.0," Debbie joked, "I treated the project with just as much love as her."
The city eventually took over the highway improvement project and the UPCCA donated any leftover funds to the city. "I was glad to be rid of it," Debbie remarked about the more than $25,000 worth of funds they procured over the years. "It definitely was a labor of love."
UPCCA keeps it all together
So what have the members of the UPCCA been up to since achieving cityhood in 2010? "People always ask: what do we still need the UPCCA for, now that we're a city?" Debbie said. She explained that, even though they don't have any real pull in government office, the UPCCA acts as the liaison representing the people of Peachtree Corners to the county. In matters where the city and the county don't always agree, Debbie knows the UPCCA will always side with the citizens. "We keep the community connected at a time when people are as disconnected as they've ever been," she said.
And connected we are. The UPCCA now coordinates tons of city-wide meetings which are open to anyone. "We maintain a level of transparency with the city," Debbie said. Those meetings include their annual C.O.P.S. meeting, which allows residents to keep an open line of communication with the Gwinnett Police Department and stay informed about what is going on in their community. It always has a huge turnout.
There is also the "Great American Cleanup" where Peachtree Corners compete for the award in "most pounds of trash picked up." Not to mention the annual $1,000 scholarship the association gives to two resident students of the community. Despite the pandemic, Debbie is still planning the Peachtree Corners Festival, but it will likely be moved to later in the year than June.
This year, the UPCCA will also be bringing back the "Star Award Program" to recognize the unsung heroes of Peachtree Corners. Speaking of unsung heroes, Debbie was recently diagnosed with uterine cancer; even though she recognizes that it could be potentially problematic, she still plans on being involved in the UPCCA as much as possible.
"This will be the biggest challenge I have ever had to overcome. But I just have to try and listen to my body, and say no when I don't have the energy," Debbie said.
From the pandemic to the tumultuous election, Gay and Debbie are looking forward to seeing how the events of the last year will affect the future of Peachtree Corners. But one thing will always stay the same — UPCCA's dedication to serving its community.
To stay up to date on all the UPCCA events or nominate your hero, visit UPCCA.gov and subscribe to their newsletter.
Rich's Christmas Tree Lighting- Neely Farm History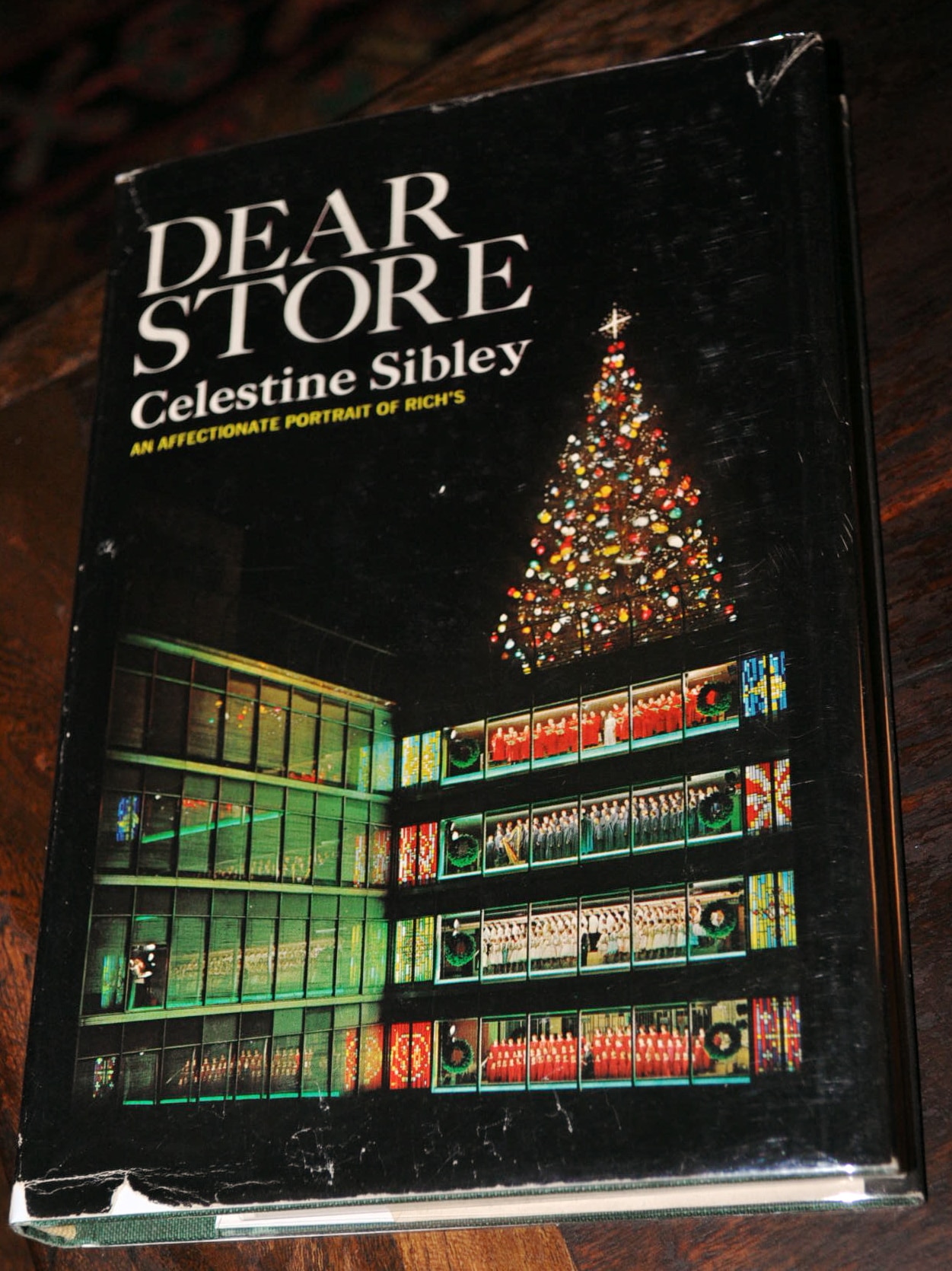 Rich's had one store downtown. When it took over a second building across the street, it was Rich's Home store (furniture, appliances). Neely was responsible for the building of the Crystal Bridge, a four-story, glass bridge connecting the two buildings.
It's one of the great Atlanta stories. Every year, different choirs would perform on each level of the bridge — starting from church choirs to very accomplished performers at the top. A renowned opera singer would sing, "O Holy Night." Each story would light up as they were singing, from the bottom to the top. At the high note of the song, a real Christmas tree on top of the bridge would light up. It could be seen from miles away.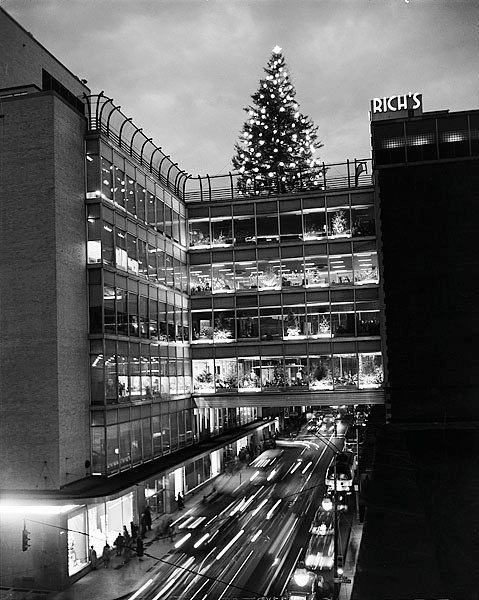 "Because we were his grandchildren, we got to stand on a parking garage roof to see that. This was in the '50s, and the audience was totally integrated. It was what you did on Thanksgiving evening, everybody came out to see this. It gives me chills just to think about it. Even a Jewish girl like me was in love with it. It was very powerful, incredible," shared Eve Hoffman. "As I've gotten older and look at these pictures, I see these faces — of all races, sizes and ages — everybody bundled up with a coat on. Neely envisioned that kind of thing. He got the architect, and they did it."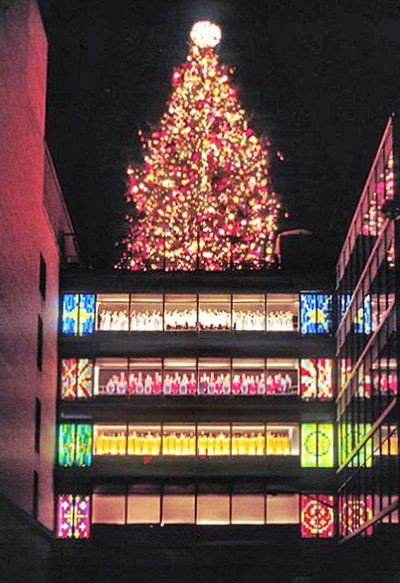 Down on the Farm- Neely Farm, Part One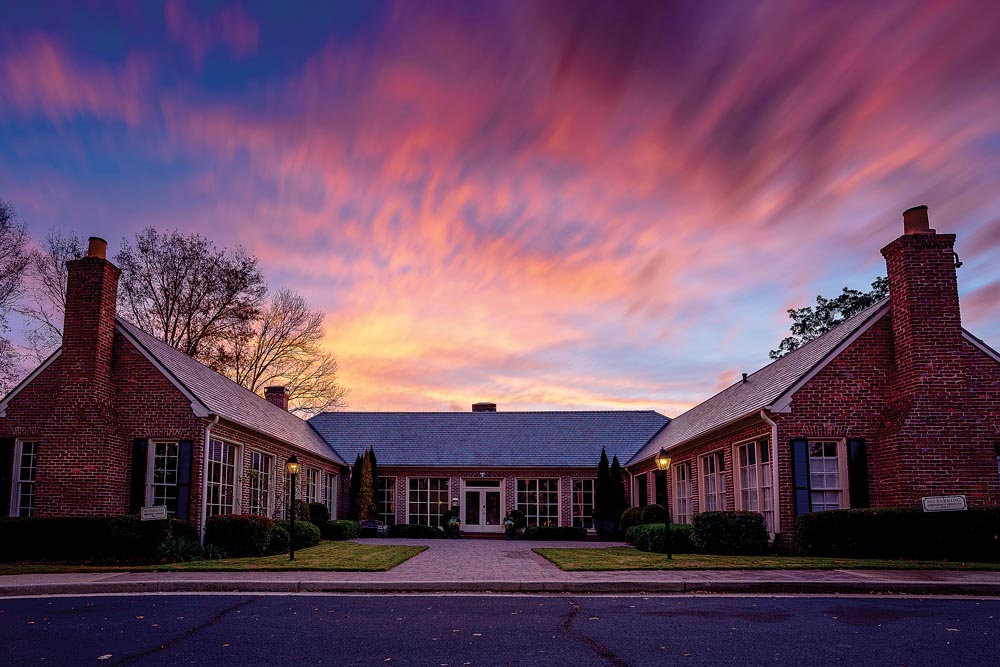 Besides the natural beauty along the Chattahoochee river, rolling hills, mature trees and a neighborhood developed during an era when builders still appreciated the value of beautiful properties, Neely Farm is also conveniently located to nearby grocery stores, churches, gyms, shopping and dining options.
The Forum and Town Center are more recent draws. It's an easy commute to Atlanta and a quick jaunt to John's Creek, Alpharetta and surrounding areas of interest.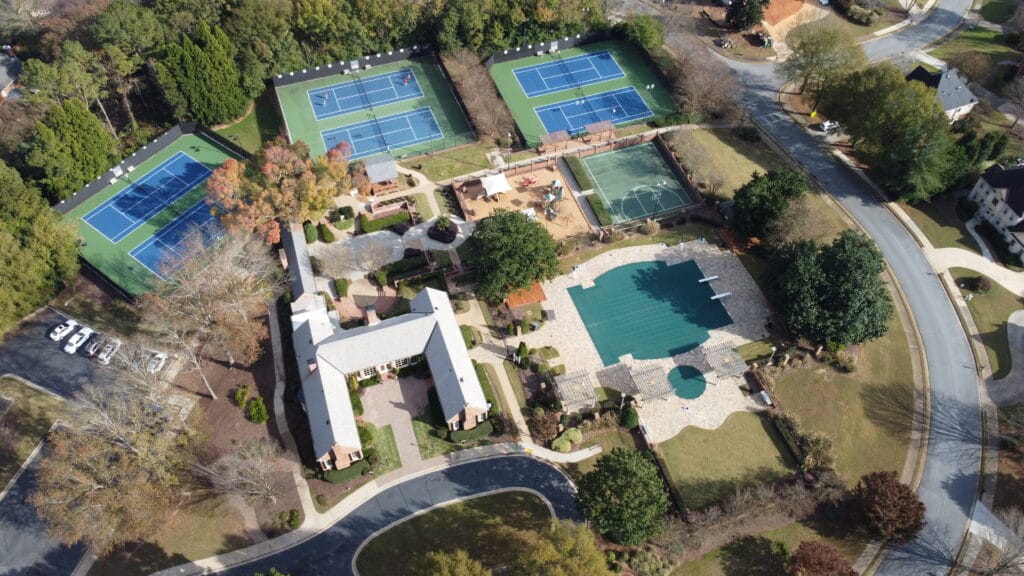 I spoke to Neely farmer of 26 years and former Homeowner's Association (HOA) President Pamela Brazell about some of the things that make Neely Farm a special place. "We were attracted to this community-oriented neighborhood," she said. "Neely Farm is more than a subdivision. It's a community where people care about their neighbors. You feel like you know everybody, people are so friendly. I love how our neighborhood has transcended time. It was beautiful when it was new, and it's even more so now."
Residents, known as "Farmers," have a community website and neighborhood watch group. They also leverage a Facebook Page to keep each other abreast of new developments, ask for recommendations, help of all sorts, and give praise or express grievances.
A group volunteers specifically to help those in need. "If you're sick and can't pick up groceries or medications, they'll do it for you," Brazell explained.
Neighborhood watch
The neighborhood watch group keeps the neighborhood updated if there are any alerts. Brazell said that they've implemented the Flock Safety Camera System to help police if there's ever any criminal activity.
"Several Peachtree Corners neighborhoods have it, and the city is on board as well. It's very cohesive. It's precise enough to eliminate registered neighbors in a search, showing only license plate numbers that are not registered," she explained.
Good sports and great schools
Tennis is king in Neely Farm. There is men's, women's, mixed teams — and, of course, kids' tennis. An old map of the subdivision shows four tennis courts. "We built two more because we needed more," Ned Richards said. Ned and his wife, Marsha, moved to the Neely Farm subdivision 32 years ago and are among the original residents. "If you went up Big House to the clubhouse and looked to the left on Neely Farm Drive, the barn and silo were still there," Ned recalled.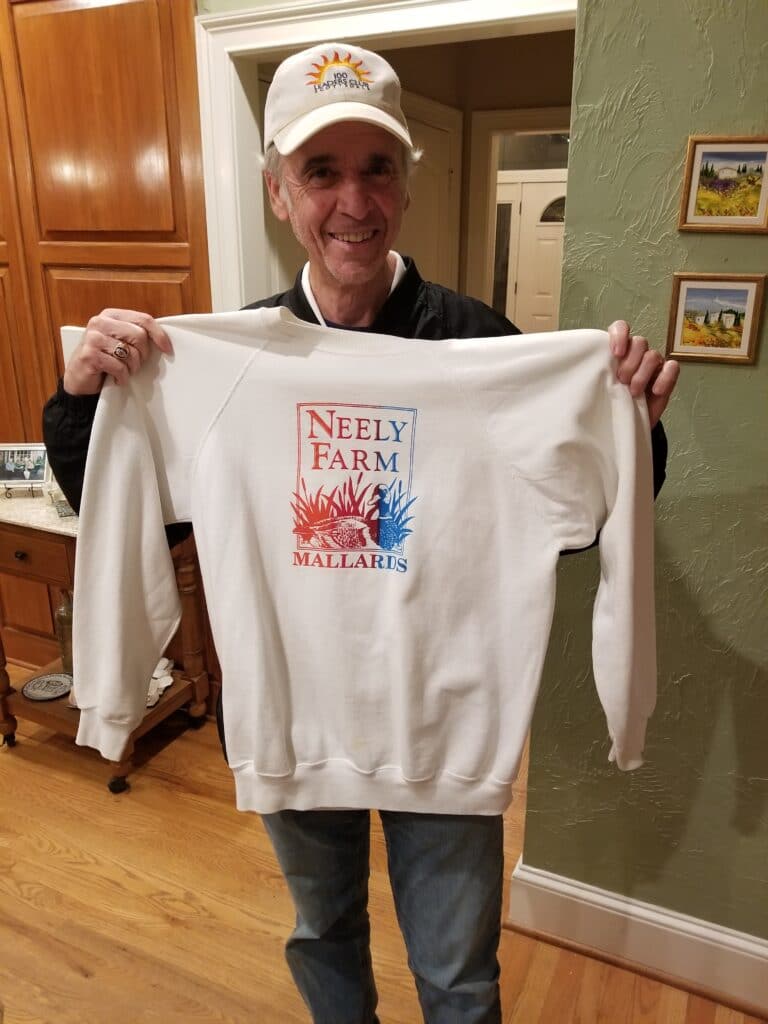 Pickleball is an up and coming sport, and several neighbors play on the tennis courts now, but the HOA is looking at possibly building a pickleball court in the next couple of years. Basketball is a walk-up-and-start-a-game-with-neighbors kind of sport.
The Neely Farm Mallards swim team started up almost immediately, Richards said. Kids from 4 to 18 take lessons at the pool and, besides competing with the swim team, may go on to other divisions. "A neighbor who worked for Wilson Sporting Goods had Neely Farm gear made — hats, shirts. I have a windbreaker. Back then, that was unheard of."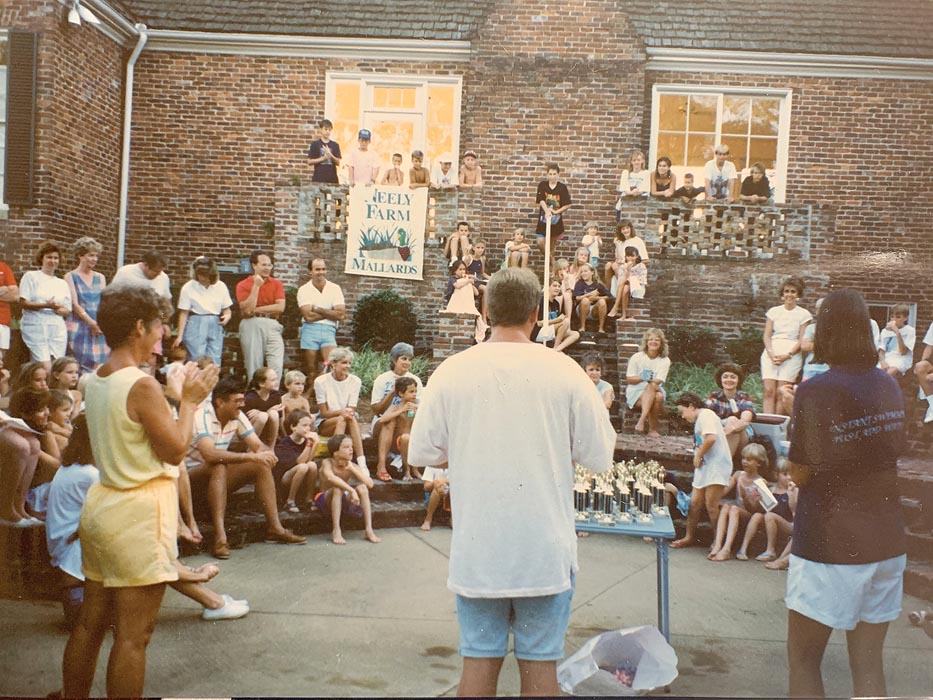 Richards said that in the early days on the Farm, almost everybody's kids went to Peachtree Elementary. "We were all in the same PTA," he recalled. All the Neely Farm teens went to Norcross High School, though there may have been one or two kids going to Westminster or Lovett.
"We all did the same activities, had vacation and school breaks at the same time. Kids were getting on the same school bus," Richards said. There was more interaction because everybody had opportunities to meet. Now the senior banner in the spring shows 10 or 12 different high schools represented."
Wesleyan moving here and the area getting redistricted into Simpson Elementary were a plus, and several families with school-aged kids are moving in. "That's helped a lot in terms of property values and resales," Richards said.
Unique homes
Another great thing about Neely Farm is the variety of home styles found here — they're not cookie-cutter homes. "When you selected a lot in Neely Farm, the builder came with it. By 1994, it was pretty well built out. They had eight builders to start with," Richards said. "Back then, it wasn't typical for a subdivision to have only one builder. Developers preferred a variety of builders so there'd be different styles of homes."
There are 334 homes in Neely Farm. Two of them are in the Reserve at Neely Farm, where homeowners have the option of paying into the Neely Farm HOA to gain access to the tennis and swim facilities.
The average price of a home in Neely Farm was between $650,000 and $675,000 in 2020. Typically, 18 houses are sold yearly. As of November 2020, 24 homes have sold; the increase is likely due to lower interest rates during the pandemic.
Sidewalks make good neighbors
Marchman was the developer who purchased 325 acres of land from Frank Neely's descendants and began the transition from a rural to a suburban setting in 1984. Richards noted that Howard Hoffman, the husband of Neely's granddaughter Eve, insisted that sidewalks be built on both sides of the street as a condition of the sale. It's an extra cost for the developer, but Hoffman was unflinching.
"Howard said, "You can build nice houses on nice streets, and people will wave. But if you have sidewalks, they'll stop and talk. Then you won't just have a subdivision, you'll have a neighborhood," Richards recounted. Residents make use of the sidewalks and cross paths with neighbors regularly. Some walk, some jog, some walk their dogs, others stroll with their children.
Richards shared an amusing bit of Farm history, "Depending on what was going on, or if there was something you did that warranted it, in years past, you may have woken up to a toilet on your front lawn. It rotated around the neighborhood as needed, depending on who 'deserved' it."
The clubhouse and River Park
The lovely historical clubhouse was built using bricks from the original Fulton County courthouse. They were transported by train and brought to the estate on a wagon. Built in the 1930s, it served as the Neely farmhouse and hunting lodge. It was newly remodeled this year.
Residents can book the clubhouse online. It has seen many weddings, baby showers and graduation parties over the years. It's a perk for neighbors to have the space to host gatherings.
Pictures on the walls show the original house and what the rooms were like. "It's really nice to have that kind of a treasure in your neighborhood," Brazell said.
One of the finest assets is the natural park with trails along the Chattahoochee River which will remain undisturbed. It's a certified bird sanctuary for bluebirds and a wildlife preserve. Residents can enjoy nature as they walk, jog, bike or picnic.
It served as an invaluable outlet this year during the pandemic. More than ever, people spent time in the quiet wooded area, enjoying wildlife and fresh air. "It was a godsend for our neighborhood," Brazell added.
The Street of Dreams
The Atlanta area real estate community sponsored "The Street of Dreams" in a new subdivision each year, as a way for the development to get positive PR and drive traffic to the houses. In the fall of 1989, that street was Indian River in Neely Farm. There were only six homes then, each designed by a different builder.
"The homes were nicely furnished. Interior designers were part of the presentation. The public paid for tours," Richards said. "A day was set aside for residents to visit for free."
He remembered that, at that time, "River Bottom, where Rachel dead ends, to the left, wasn't developed hardly at all. When you went up River Bottom the other way, up the hill, there was no Indian Field, Dairy Way or Harrow Trace. It was just wooded land. All that was built a few years later. There were no river lot homes. That whole area was totally open. Traffic wasn't a problem."
Farmers and socialites
"Social events bring neighbors and kids together," Brazell said. "We've enriched our programs for children to keep them an active part of the neighborhood. There is something for everyone here."
Neely Farm has a special Christmas tradition. What was once a Dine Around at different homes has evolved into a single gathering at the clubhouse. The Farm's very own Bruce Brett grows his white beard every year in preparation for "Christmas with Santa," an evening with the children, Mrs. Claus and an elf. "He is the perfect Santa Claus. The kids enjoy coming to see him and having cookies," Brazell beamed.
For Valentine's Day, the kids meet for an array of arts and cookies. They're welcome to make crafts and take them home. Parents join in to help and socialize.
The Easter bunny makes an appearance in Spring for an egg hunt and refreshments at the clubhouse.
Chastain Night is a fun event held in May. Around the pool deck at the clubhouse, a band plays while neighbors mingle, dine and dance around theme-decorated tables. Prizes are awarded to the best tables.
A highlight is the Pig Roast, held in fall. The men gather for comradery and set up tents the night before. Face painters, balloons, a DJ, and delicious food make the annual event fun for the whole neighborhood.
Halloween graveyard at the Lewis home in Neely Farm 2020. (Photo courtesy of Jess Lewis)
Fierce homemade BBQ sauce competitions at the roast have gone on for three decades, complete with campaigns and signs. Richards recalls that, in years past, "…we had skits, routines, sang songs. We made hand fans for Slap your Mama BBQ sauce. The last song of the night was always David Allan Coe's, 'You Never Even Called Me by My Name.' We'd all sing, a large group of us in a circle."
Brazell remembers that The Fourth of July used to be over the top. "A firetruck would park at the clubhouse. Kids would climb all over it and take pictures. Then we had a parade. Kids decorated their bikes, their little motor cars, wheelbarrows. With music playing, they'd march through the neighborhood," she said.
The Armchair Brigade was a fabulous part of the Fourth of July parade, she added. "Husbands would get together to practice. They used folding chairs. They would fold up, march, snap them open, snap them shut, put them down, sit down. It was a hoot!"
The Family Behind the Street Sign- Neely Farm, Part Two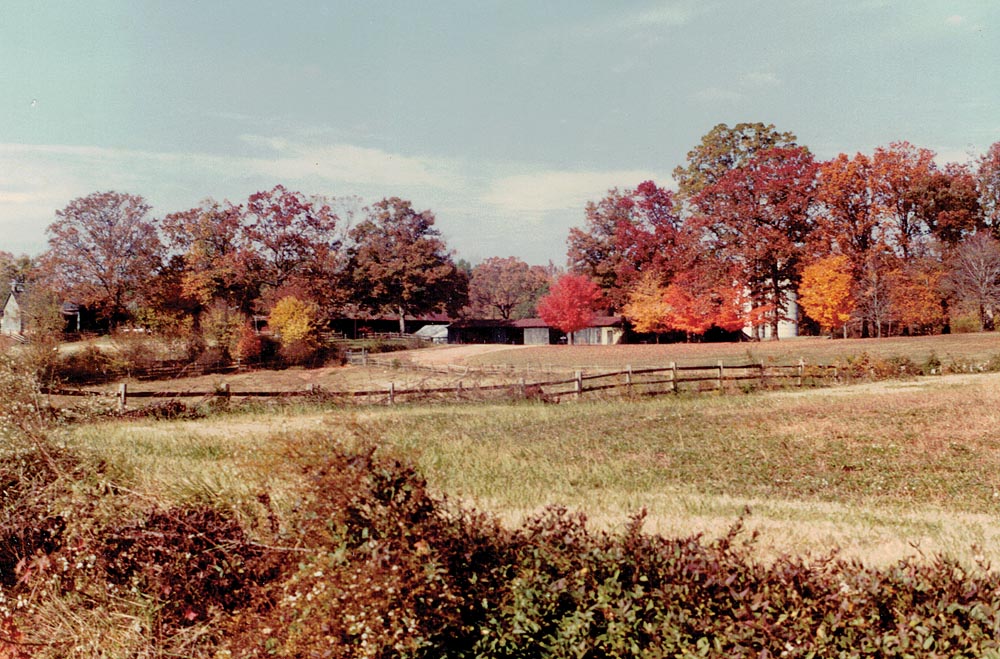 The Neely Farm name provides a glimpse into its rich history. It was the country retreat and dairy farm from the 1930s to the early 1970s in what was then Norcross, where Frank Neely — a Southern-raised Renaissance man, Georgia Tech graduate, mechanical engineer and Rich's Department store executive — delved into scientific agriculture in his spare time.
Neely purchased the land in the early 1930s from different owners, piecing it together into a 410-acre tract. "We don't know whether they sold their land in order to feed their families in the Depression, which very well could've been the case," Eve Hoffman speculated.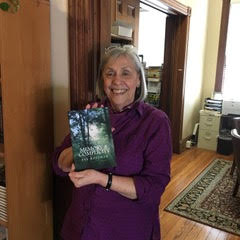 Hoffman is a local poet and author, the daughter of Neely's only child, the late Rachel Neely Parker. While Hoffman resides on property adjacent to the subdivision, deeded to her by her grandfather, her two brothers who also own land in the area live elsewhere.
"We know that he was extremely busy downtown. At some point, he thought about trying to find some land about 20 miles out, where he could go on the weekends. But he never did anything part way," Hoffman said. "What my brothers and I have really come to appreciate in the last 10 years is how forward thinking he was."
Hoffman has been learning more about her illustrious grandfather through her own research. "He was chairman of the bond commission that created the viaducts downtown. He was chairman of the commission that built the new city hall. He was Chairman of the Federal Reserve Board for the Southeast, where he instituted the notion of the kind of record keeping and statistics that has been picked up around the country. He was into computers when none of us had ever heard of them," Hoffman said, rattling off some of her grandfather's accomplishments.
He was talking about running nuclear power from Tech to Piedmont hospital for nuclear medicine, she noted. Georgia Tech even named their nuclear reactor after him; it was shut down in 1988.
"He wrote a book called "The Manager, a Human Engineer," Hoffman said. "He created the phrase, 'The customer is always right' — and [Rich's] instituted it. The stories are legendary. People would buy a set of dishes, have a dinner party and then bring all the dishes back. Rich's never questioned it."
She shared a story that during the Depression, schools in Atlanta didn't have money to pay teachers. "They gave them scrip. Rich's said, 'Bring the scrip here and we'll cash it. You don't have to buy anything.' The goodwill from that lasted well into the '50s and '60s."
Neely also helped found public radio in Atlanta. He worked on the design of I-285 and was instrumental in bringing Lockheed Martin to Atlanta.
"He was extraordinary in a lot of ways," Hoffman said. His interest in scientific farming led to the genesis of the Neely farm, which would eventually become the idyllic, suburban neighborhood we enjoy today.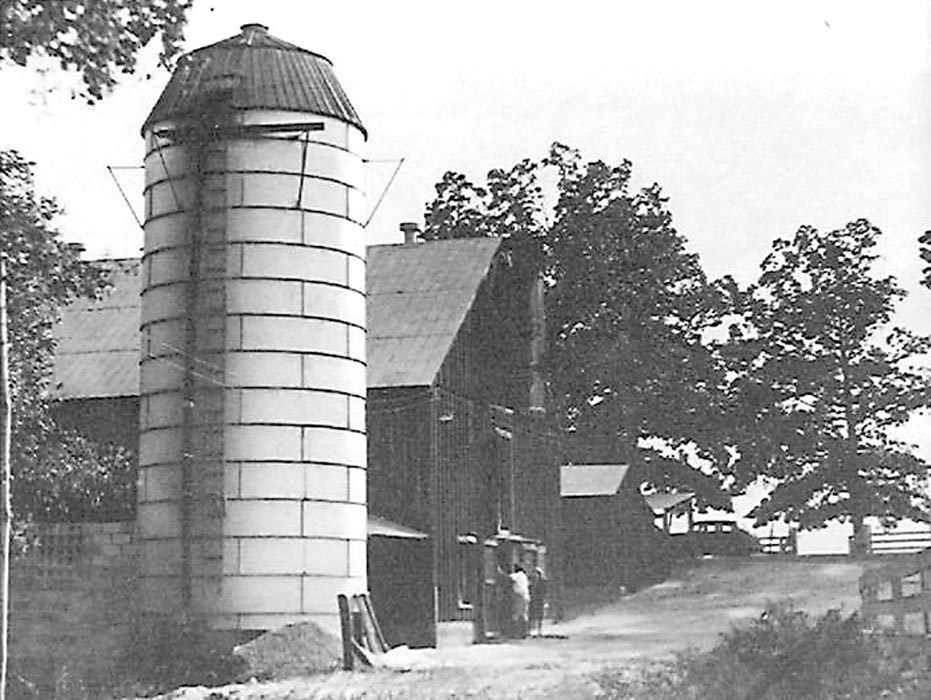 Memories of grandad
"We called him Mimi," she remembered. "He taught us our first swear word. He was a passionate GA Tech alum."
Hoffman recalled once accompanying her grandfather on a Jeep ride to check on Mr. Duncan's "corn crop" in the Spalding Corners area. Neely picked up some corn whiskey that day — Duncan was reputed to have the best. He would smuggle his supply on the creek that went through his property, came down through Neely Farm, onto the Chattahoochee and got off in Fulton County. The revenuers were never able to catch him.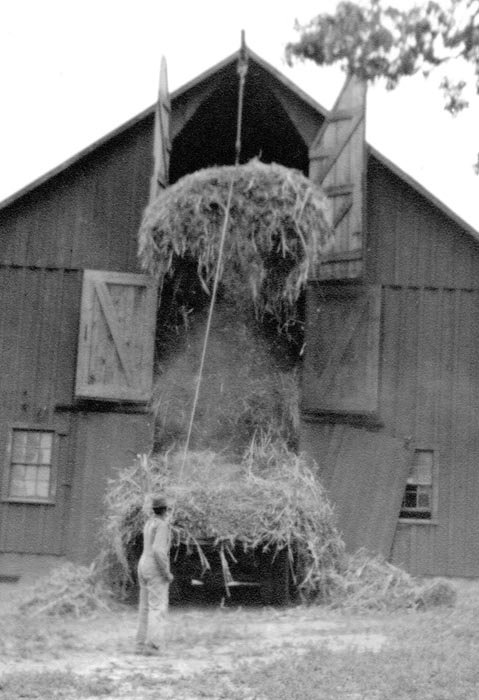 "I have one flat whiskey bottle. It would probably kill you if you drank it now, but I will not let it go," she chuckled.
The stuff of legends
Hoffman grew up in the circa-1850 two-story, white clapboard house on the farm that had been spared by General Sherman's troops during the Civil War. It's the oldest home in Neely Farm. Scrawled above the door in her old bedroom is the message: "Eve slept here."
A legend surrounds the reason this home was not burned down by Sherman's men. "I heard it growing up from different families, so I think there's a lot of truth to it," Hoffman recounted. "The men had all gone off to war. Sherman's men were camped across the river. They would come across, and this was how they fed themselves; they stole chickens and hams."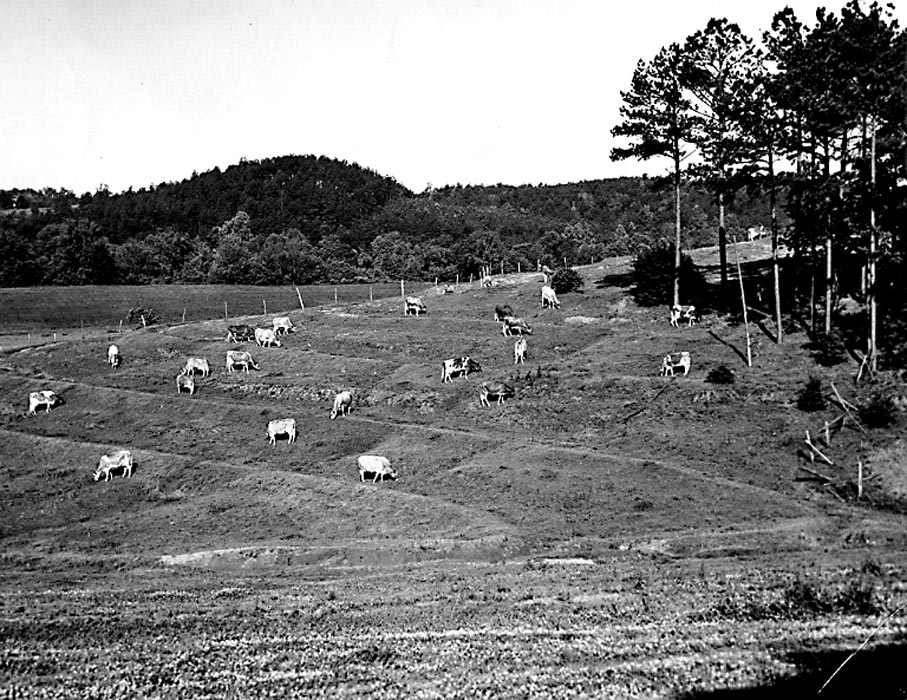 Tired of having their food sources stolen, the women fired a buckshot at the Union soldiers. A message was sent by the commanding officer, "Stop shooting my men!" The woman who lived there at the time — her last name was Nesbit — hooked her horse and buggy up, crossed the river at Holcomb Bridge and went to see the commanding officer.
"She went in his tent and visited for a long time. She was seen occasionally visiting again. No more chickens and hams were stolen," Hoffman said. We both erupted into laughter and chalked it up to Nesbit's courage, charm and diplomatic abilities.
Welcome to the farm
Neely and his wife, Rae, lived downtown and spent the weekends on the farm. "He would spend a good chunk of the weekend working with the farm people," Hoffman said. "Every weekend, he covered every inch of this property. He was very scientific about it. He knew where every tree had gone down, where every fence needed to be painted and where every bull was. He knew it all."
Neely was interested in agriculture as a means of rebuilding the impoverished South. His award-winning farm, a mixture of cultivated fields and open pastures, was one of the last two dairy farms in metro Atlanta.
"When the power went out due to storms, Neely Farm would be the first place in the county that Georgia Power would get back online — we had a 500-gallon tank of milk! Along Frank Neely Road, those trees would go down. They would come through with chainsaws, get that road cleared and those lines back up," Hoffman said.
Neely aimed to preserve the land and make it better. "He worked with the agriculture people at the University of Georgia who told him to terrace the hills to cut down on runoff and erosion, and to get cattle, because cattle would naturally fertilize the fields," she explained.
"The Neelys were never hungry, even during the Depression. But my grandmother had no fancy jewelry, no sign of wealth," she added. "The wealth really went into buying a tractor or building a silo."
The architect for the big house (now the clubhouse) was Henry Toombs. He designed part of Eleanor Roosevelt's extra house in New York and the Little White House in Warm Springs. "Eleanor Roosevelt came here at one point to see what Neely was doing in agriculture. I have a page of her diary about coming out here, in a photograph," Hoffman said.
The magnificent Mrs. Neely
Hoffman remembers that her grandmother, Rae, had magnificent gardens around the big house, and saw the farm as a way for her husband Frank to catch his breath. "She was an extraordinary woman. I always thought of my grandmother as protecting my grandfather. I didn't realize how many other things she was doing," Hoffman admitted.
Rae reworked the statistics office for the Superintendent of the Georgia Board of Education and was Secretary of the Georgia Women's Suffrage movement. "She was president of a gazillion different things: garden clubs, community clubs and the Council of Jewish Women," Hoffman said.
"I found articles she wrote about Women's Suffrage, one published in the Atlanta paper. She said that women's suffrage wasn't just about women having the vote, it was about improving the lives of families, children, pregnant women and addressing hunger."
Hoffman's mother, Rachel, went to Smith College, which was the equivalent of an Ivy League school for women. "I went to Smith; my daughter went to Smith. It started with Rae Neely who read about Smith College in the paper," Hoffman said.
Selling the farm
"Selling the farm was hard," she confessed. "Frank Neely was gone by the time we sold the land. My mother ran it for a while; she was a massive stroke patient for 13 years. My brothers were in other cities. We were the only ones here, my husband and I, and our kids."
Once the decision was made to sell it, Hoffman said there were all kinds of proposals. "When you have different people, their lawyers and accountants — I can tell you my husband [Howard Hoffman] was a genius."
She continued to live here, so she experienced firsthand the conversion of her beloved family farm from a rural to a suburban setting. "It was hard to see the place go — really hard when the bulldozers started cutting in," she said.
In her story, "Walking with Frank," Hoffman suggests she felt her grandfather's presence on her property. "I do believe there's some kind of energy out there. I was walking down that hill and he was with me. He was there," Hoffman affirmed.
To learn more about Eve Hoffman, find her latest book, "Memory & Complicity," at amazon.com and mercerceruniversitypress.com.
What's in a Name?
According to Eve Hoffman, the street names proposed by the developer were multi-syllabic, North American Indian names that bore little relationship to this part of the country. Instead, she and her family suggested they choose names that were meaningful to them. That's why I personally live on Rachel Ridge — the street named after her mother — and not on Hiawassee Drive.