Proposed Mixed-use Development May Include Luxury Hotel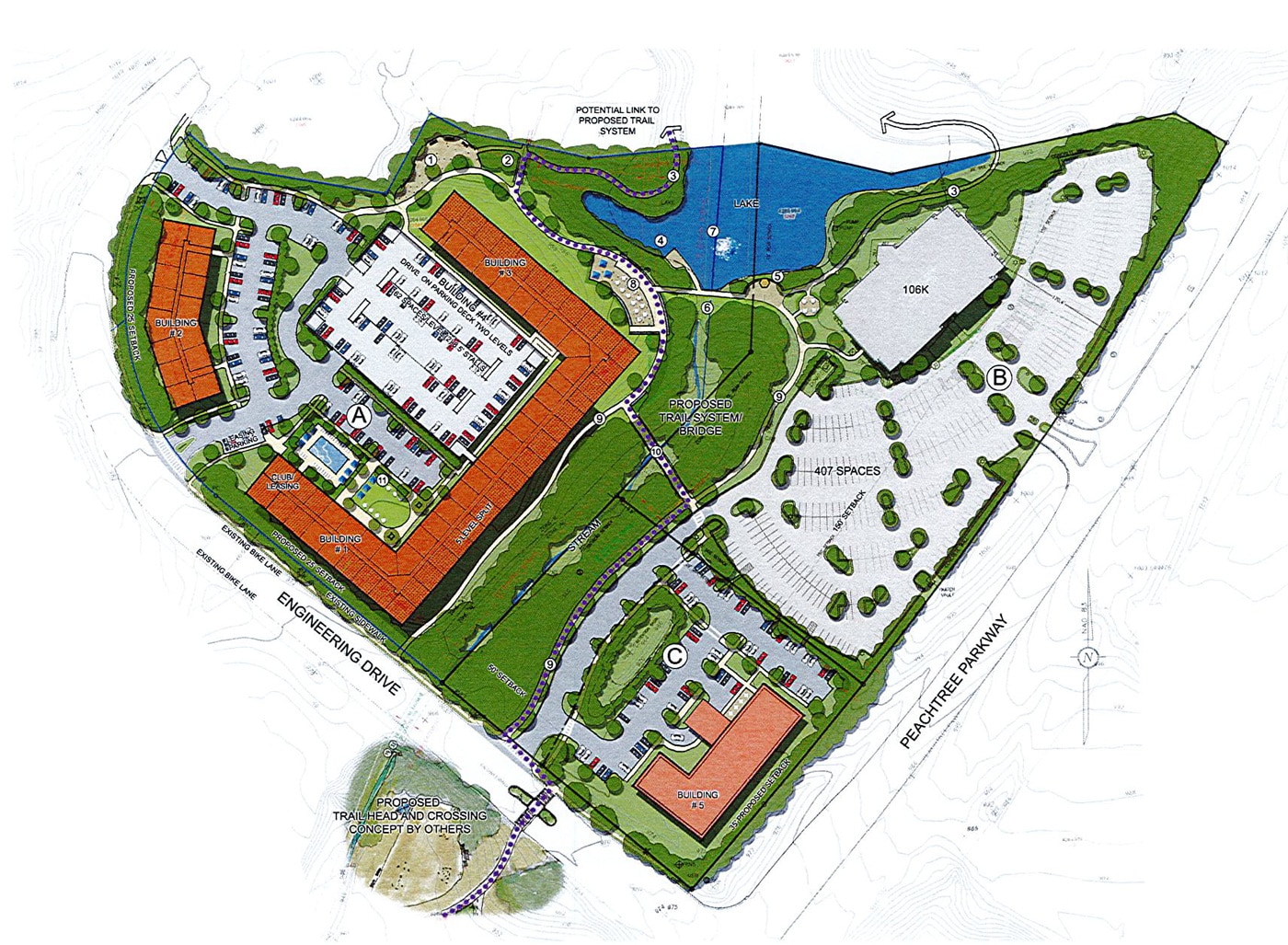 A rezoning request for a nearly 20-acre site near the Central Business District tabled for June's City Council meeting
A vacant office building located within the curve of Engineering Drive just west of Peachtree Parkway may become the site of a new luxury hotel. Atlanta-based TPA Residential has requested the rezoning of 19.46 acres from M-1 (Light Industry District) to MUD (Mixed-Use Development District) to develop a campus master plan consisting of an existing office building; a new five-story, 315-unit multi-family residential building; a new five-story boutique-style hotel; and an extension to the public trail system. 
The plan is to add more than 300 apartments and a five-story, 100-room hotel at Engineering Drive and Peachtree Parkway, according to documents submitted to the city of Peachtree Corners.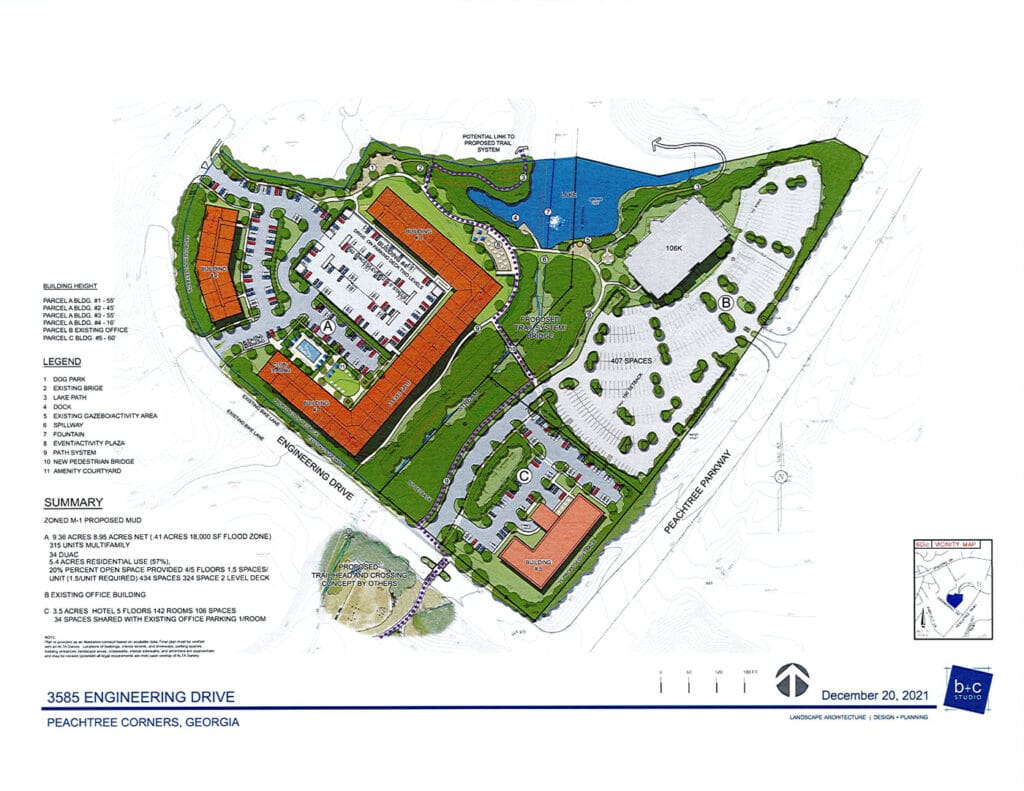 A subsidiary of The Dilweg Cos., a real estate investment firm based in Durham, N.C., the company also requested a variance to allow for a reduction in parking in the multifamily building from 1.5 spaces per unit to 1.38 spaces per unit due to the fact that the project has a majority of one-bedroom units. 434 total parking spaces are proposed, 324 in a two-level deck internal to the site and 110 surface parking spaces. 
The Peachtree Parkway properties are located at the northwest corner of Peachtree and Engineering, adjacent to the aforementioned property and directly south of the office building best known as the home of CarMax's Peachtree Corners offices. These properties share the same 5707 address as the CarMax building, but the CarMax parcel is not part of this rezoning request.
Both properties are across Engineering Drive from the city's future trail hub at the southwest corner of Peachtree and Engineering. This proposal plans to extend the trail system from the hub into this site and prepare it for future connections north to The Forum area.
The site plan submitted by TPA indicates two points of entry into the multifamily development from Engineering Drive. One point of access is shown to the hotel site from Engineering Drive. Additional cross-access is provided into the CarMax site and onto Peachtree Parkway via that property's existing driveway.
Most properties surrounding the subject property are zoned M-1 (Light Industry) with the exception of the city's trail hub site which is zoned T-O (Trails and Open Space).
The city's future Corners Connector trail system will run parallel along the west side of Peachtree Parkway from Holcomb Bridge Road to The Forum. TPA also proposed to construct the portion of the trail on its property with connections south to the city's trail hub and north to future expansion towards The Forum.  
The application included architectural elevations as part of the rezoning request which shows modern designs with flat rooflines, rectilinear massing, a mixture of exterior cladding materials and a variety of colors. The proposed structures appear to blend with the contemporary aesthetic of Technology Park.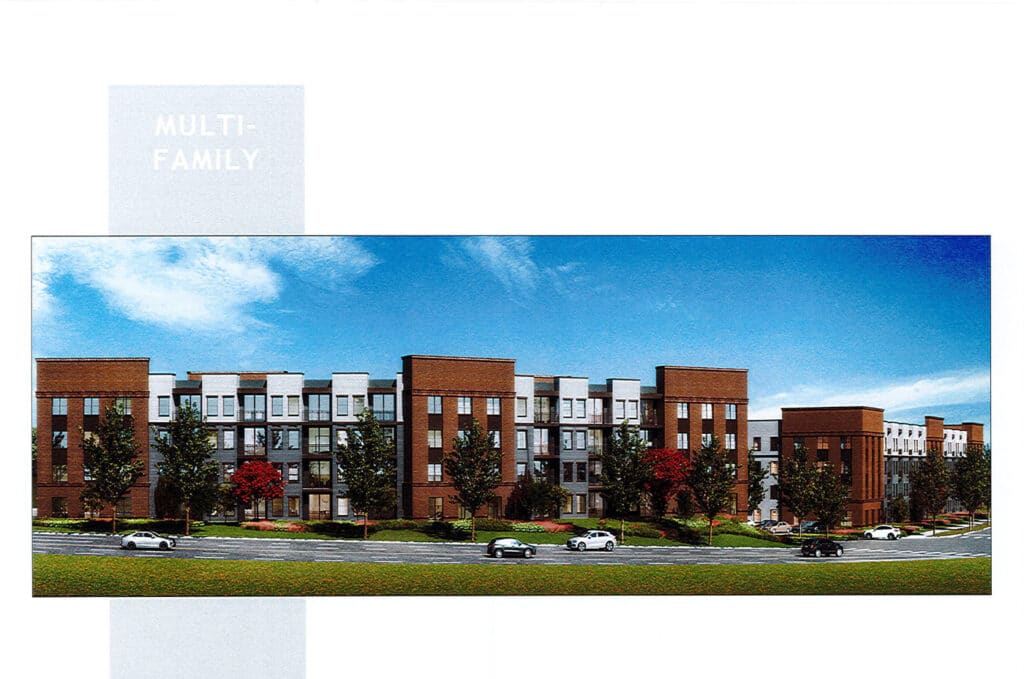 The site plan also includes numerous amenities that would benefit residents, office workers and hotel guests. These include a dog park, community garden, sports courts, event plaza, walking trails, lake trail, boat dock, water feature and connectivity to the city's trail system.  
City staff appeared in favor of the plan with conditions that included:
The site may be developed with up to 315 multifamily units. However, the maximum number of units is dependent on site conditions, compliance with zoning conditions and fully engineered plans that meet regulations. Units shall consist primarily of one- and two-bedroom units; however, up to 5% of the units may be three-bedroom units.
The property owner shall develop a Hotel Indigo or comparable boutique hotel as defined by the hotel industry, and as approved by the City Council. The hotel shall have a minimum of 100 rooms. The property owner shall be prohibited from developing a non-boutique hotel brand such as Holiday Inn or Hampton Inn. 
The developer shall construct the trail system as proposed including the trail connection to the trail hub across Engineering Drive and the trail around the lake along the entire length of the developer's property. Such trail system shall be built to city standards (width, depth, furnishings, etc.), and dedicated for public use by an easement or land conveyance that ensures its open access to the public. A minimum of 10 parking spaces on the hotel site shall be available for (non-exclusive) trail use.
The development shall incorporate public art in the form of a large wall mural on the side of the hotel building visible from Peachtree Parkway or in the form of a sculpture located at the corner of Peachtree Parkway and Engineering Drive. The design of the mural or sculpture shall be approved by staff with assistance from the Arts Council. Completion of the artwork shall occur prior to the issuance of the Certificate of Occupancy for the hotel building. The total cost of the artwork shall not exceed $25,000. 
Multifamily parking shall be designed to be 'electrical vehicle ready' by providing wiring and outlets in convenient garage locations to accommodate residential electric vehicle charging. A minimum of four electric vehicle stations shall be included in the hotel parking lot. 
An upscale hotel may be built as part of a mixed-use project in Peachtree Corners, a suburban city home to a growing technology park.
On March 22, Peachtree Corners City Council decided to defer a vote on the application until June.
SWGC First Friday Breakfast Meeting with Billy Boughey [Photos]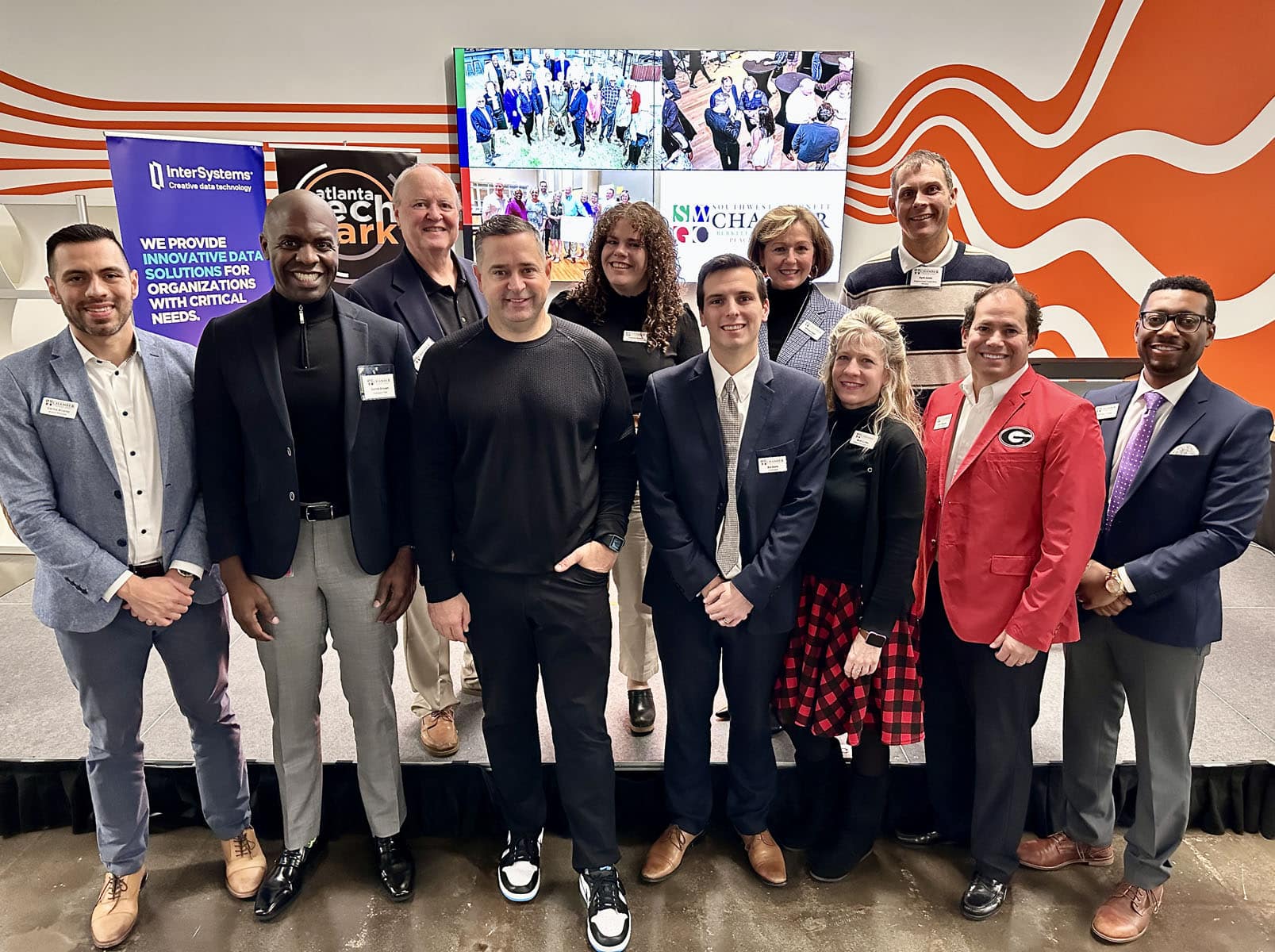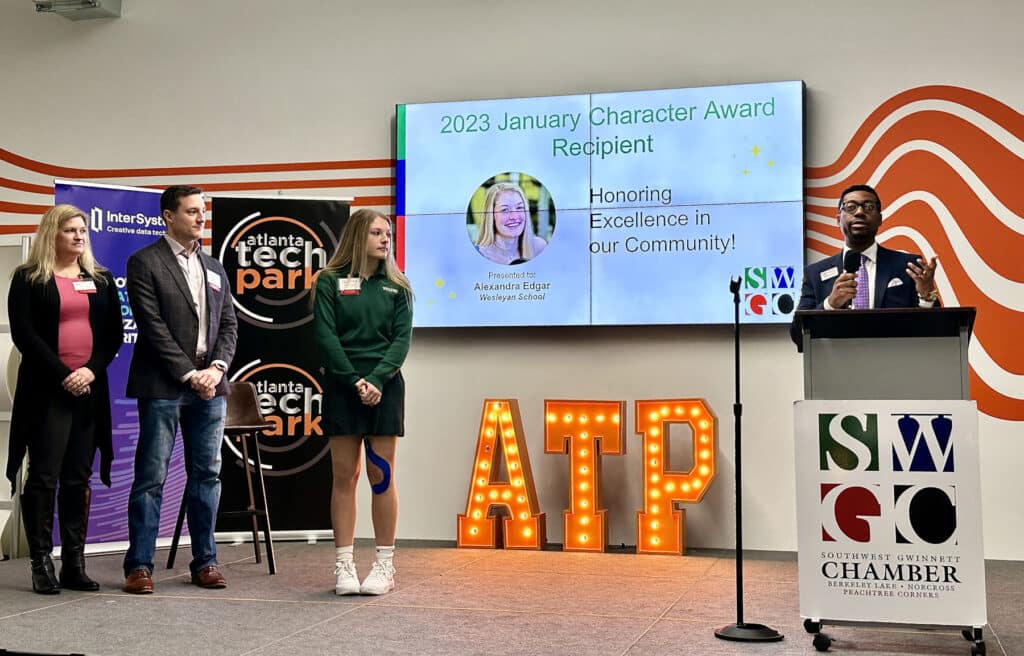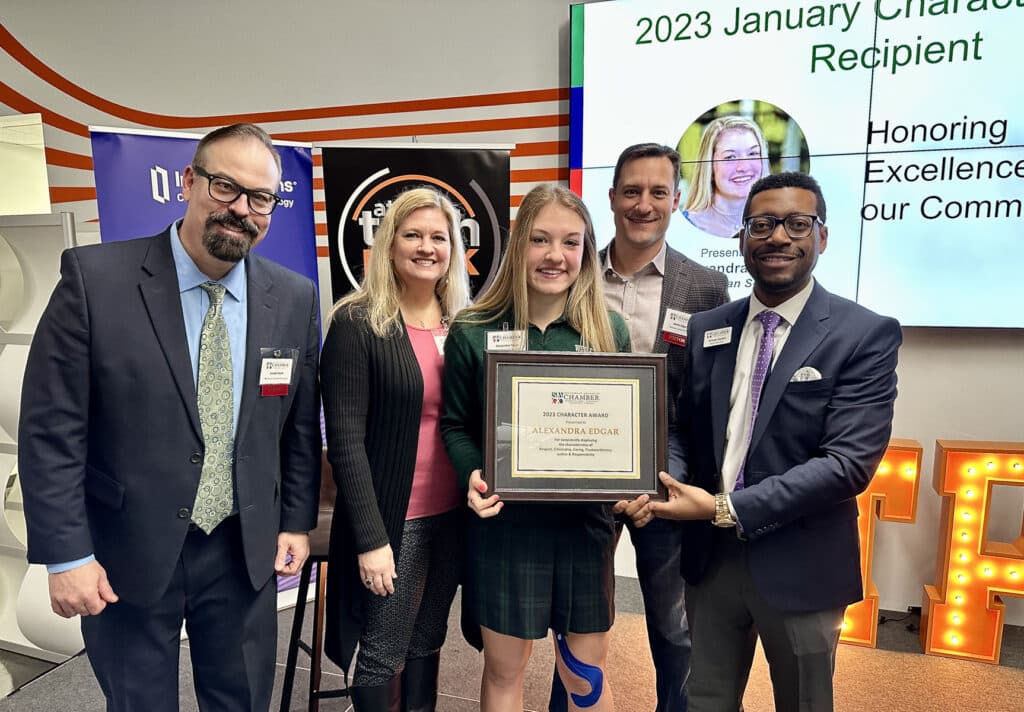 Photography courtesy of Bruce Johnson
He noted: Wow, you couldn't ask for a more motivational speaker to kick-start the year!
Billy Boughey is the Founder and President of the Atlanta-based company Elevate Experiences. His talents include keynote speaking, culture coaching, and consulting groups on company culture.
His first book, released in January 2020, titled Culture Reconstructed, is a start-where-you-are guide to building a remarkable team. Billy also hosts his own podcast titled Created for Experience, sharing how experience shapes your future. He's a certified consultant through Kolbe Corp and enjoys using this assessment to coach people on how to work more effectively in the workplace.
Billy has been featured on FOX 31 Denver, FOX Houston, and in Forbes and worked as a keynote speaker and large-scale emcee includes notable organizations such as Chick-Fil-A, Mcdonald's, Coca-Cola, Kroger, and more. His vision is to build a world with no unequipped leaders and he infuses that passion into every speaking event. His high-energy message will inspire ways to motivate and equip your organization to make your team members smile and customers rave.
Source Southwest Gwinnett Chamber
NAC International Signs New Lease at 2 Sun Office Building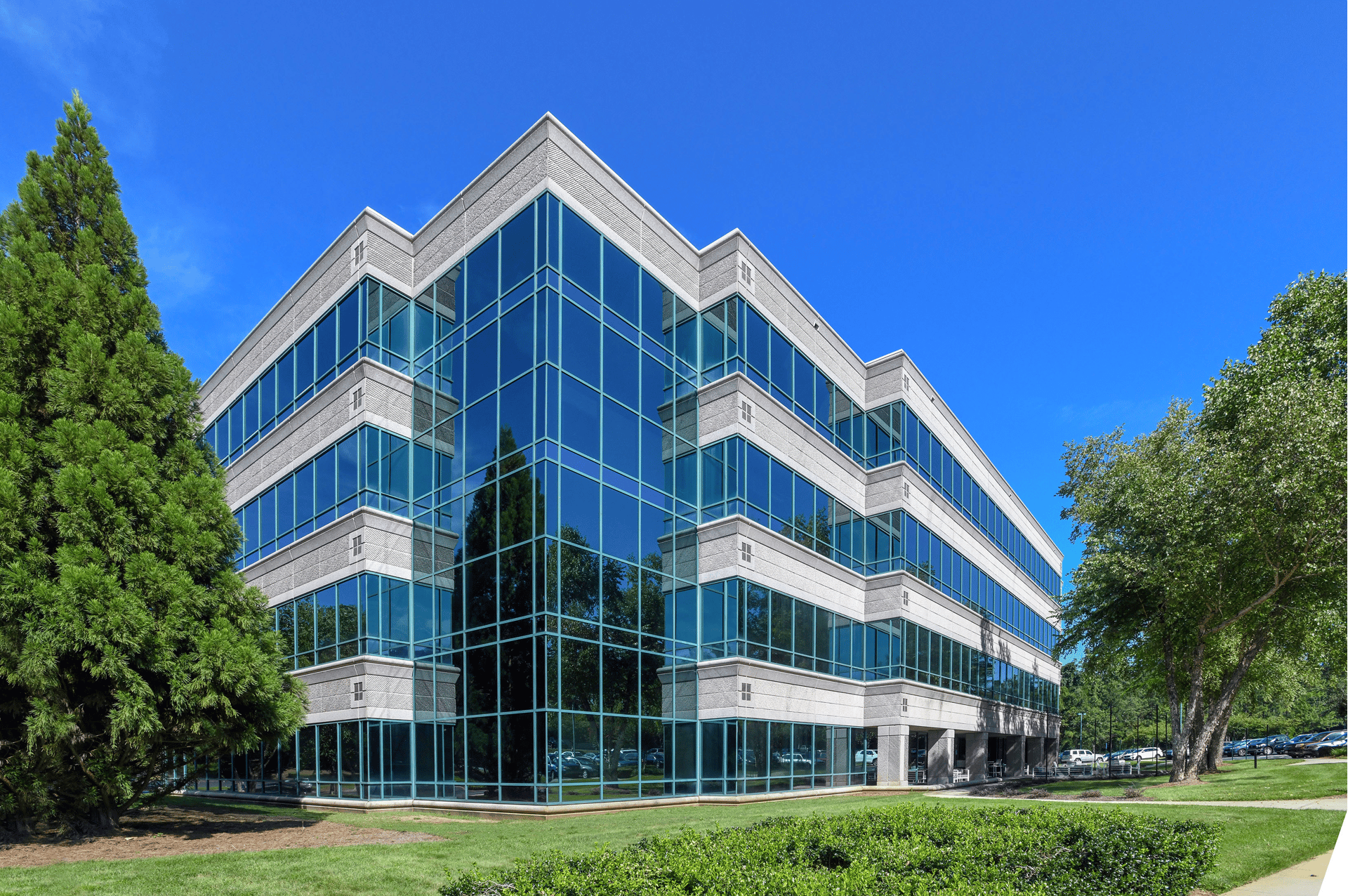 A world-leading provider of nuclear fuel cycle technology and consulting solutions,NAC International, has signed a lease at 2 Sun in Peachtree Corners. The company is leasing 23,000 square feet lease in the Class-A office building.
The 98,040-square-foot property in Technology Park recently underwent significant renovations to add amenities. 2 Sun now offers an outdoor tenant patio, campus-wide Wi-Fi and food delivery service for tenants.
Lincoln Property Company Southeast, one of the U.S.'s largest diversified commercial real estate companies, and Redline Property Partners made the lease announcement. Lincoln's Senior Vice President Michael Howell, Vice President Matt Fergus and Senior Leasing Associate Seabie Hickson represented the landlord, Redline Property Partners. Cory Hall and Bo Keatley of Savills represented the tenant.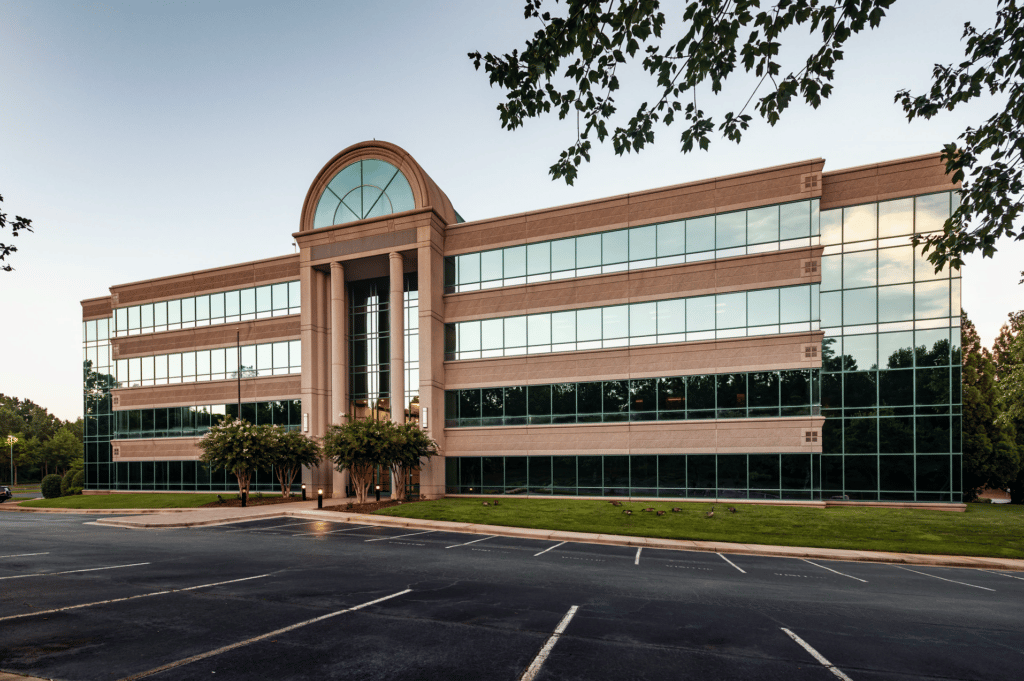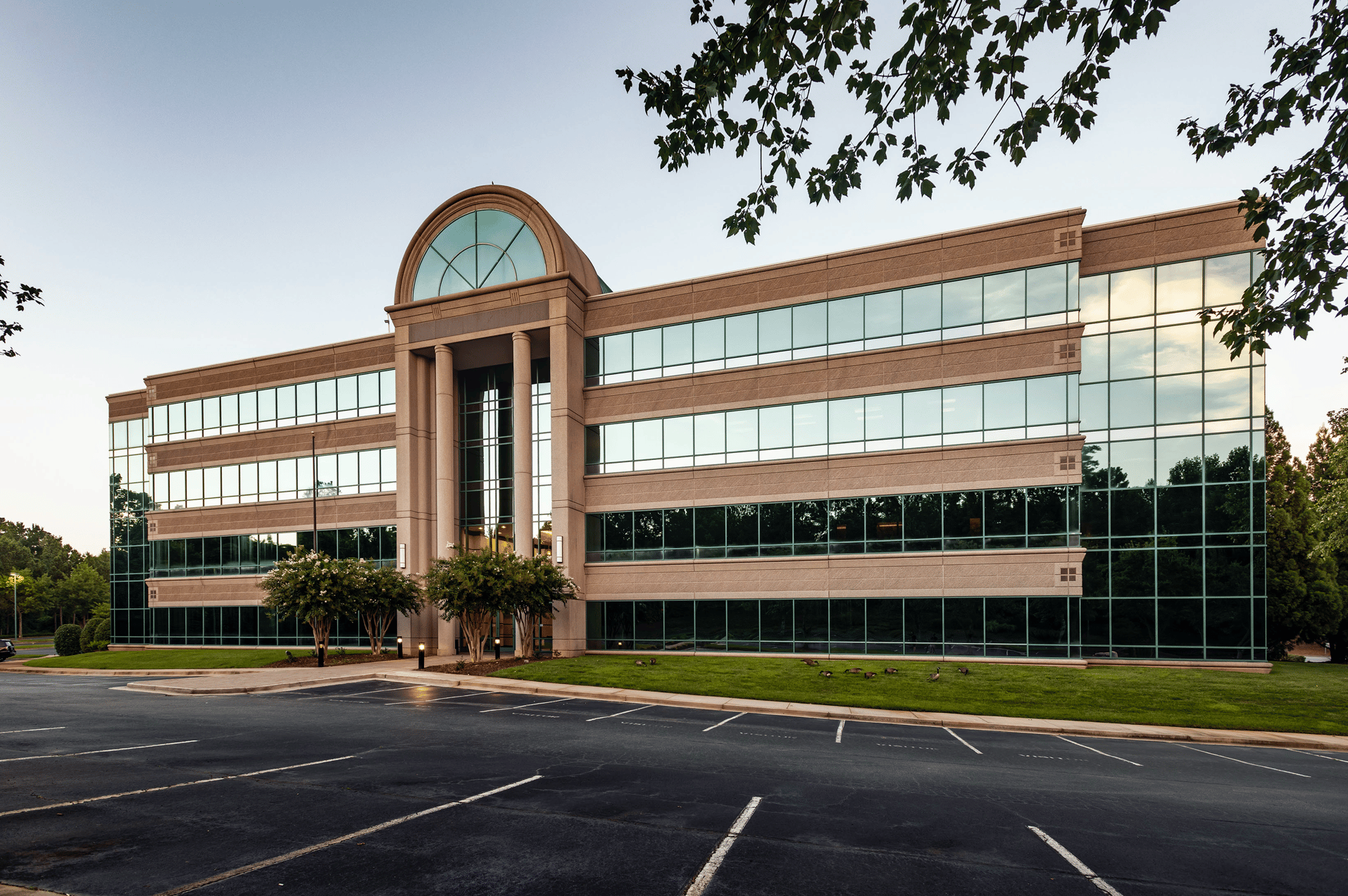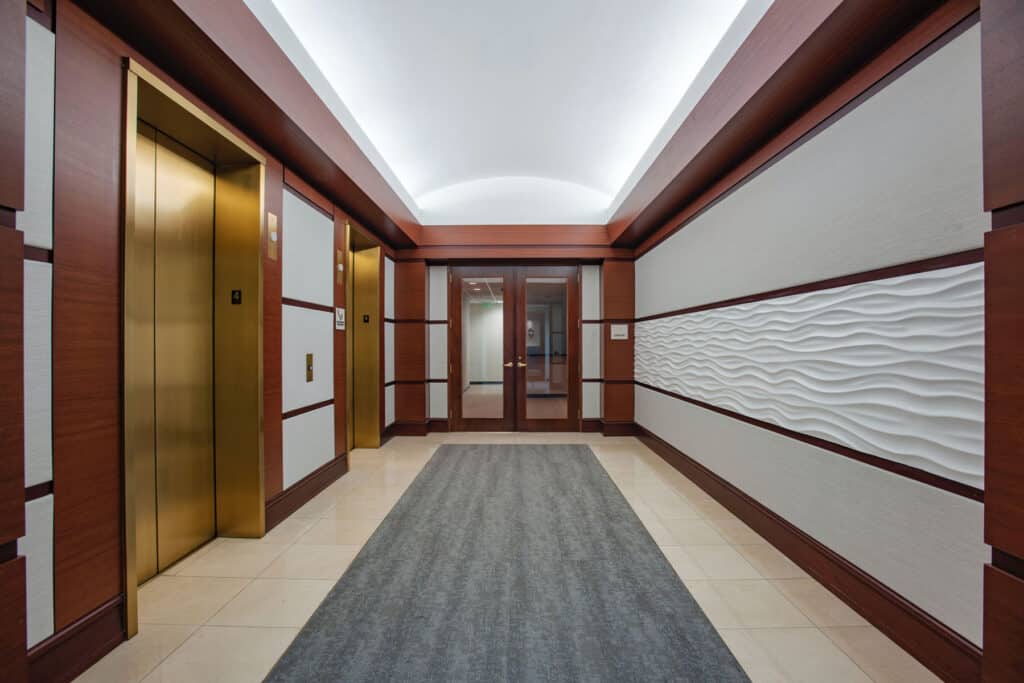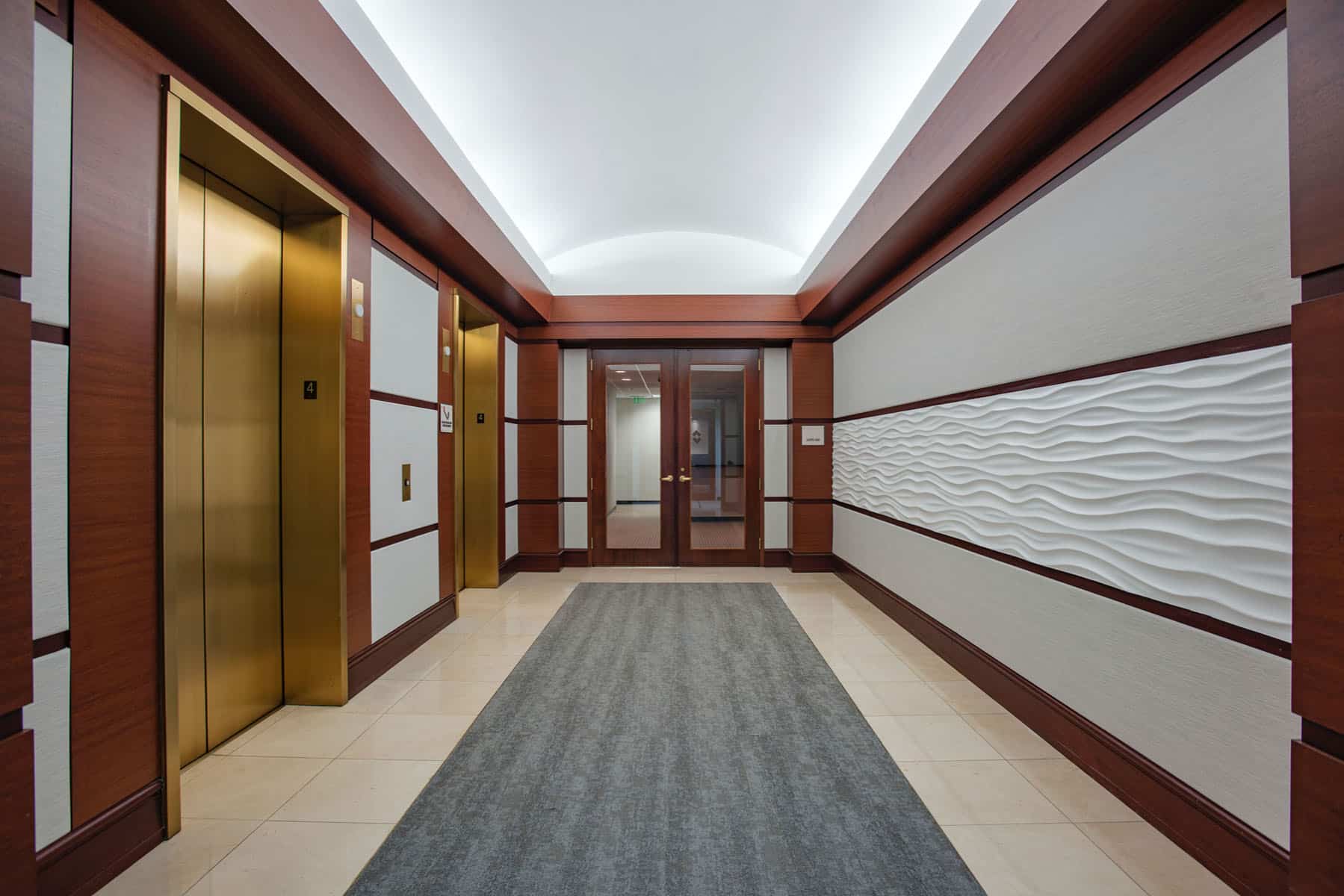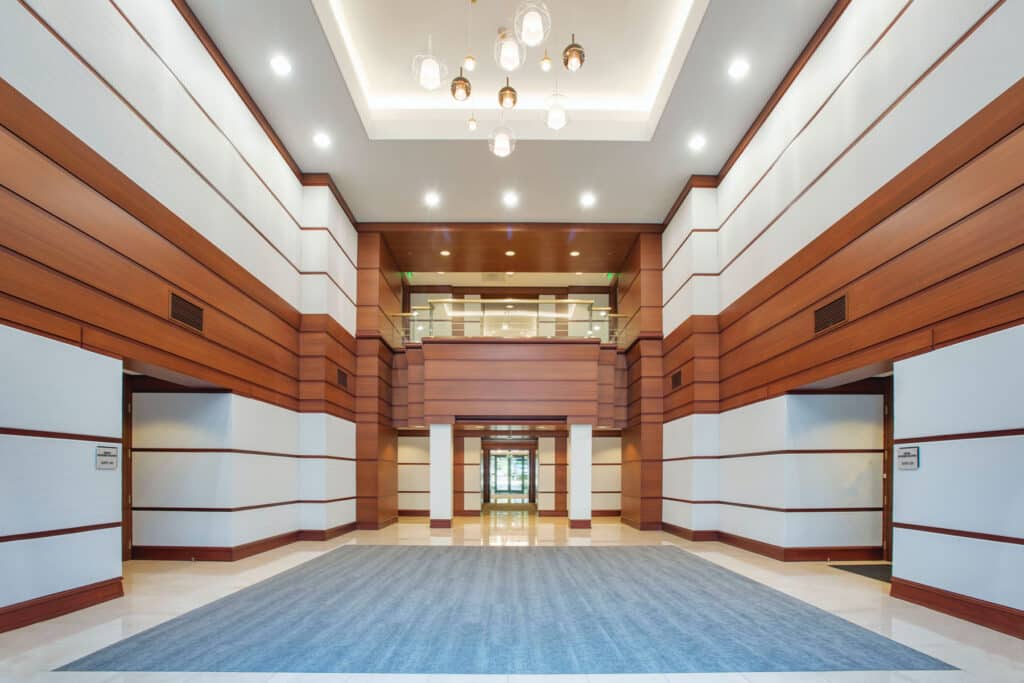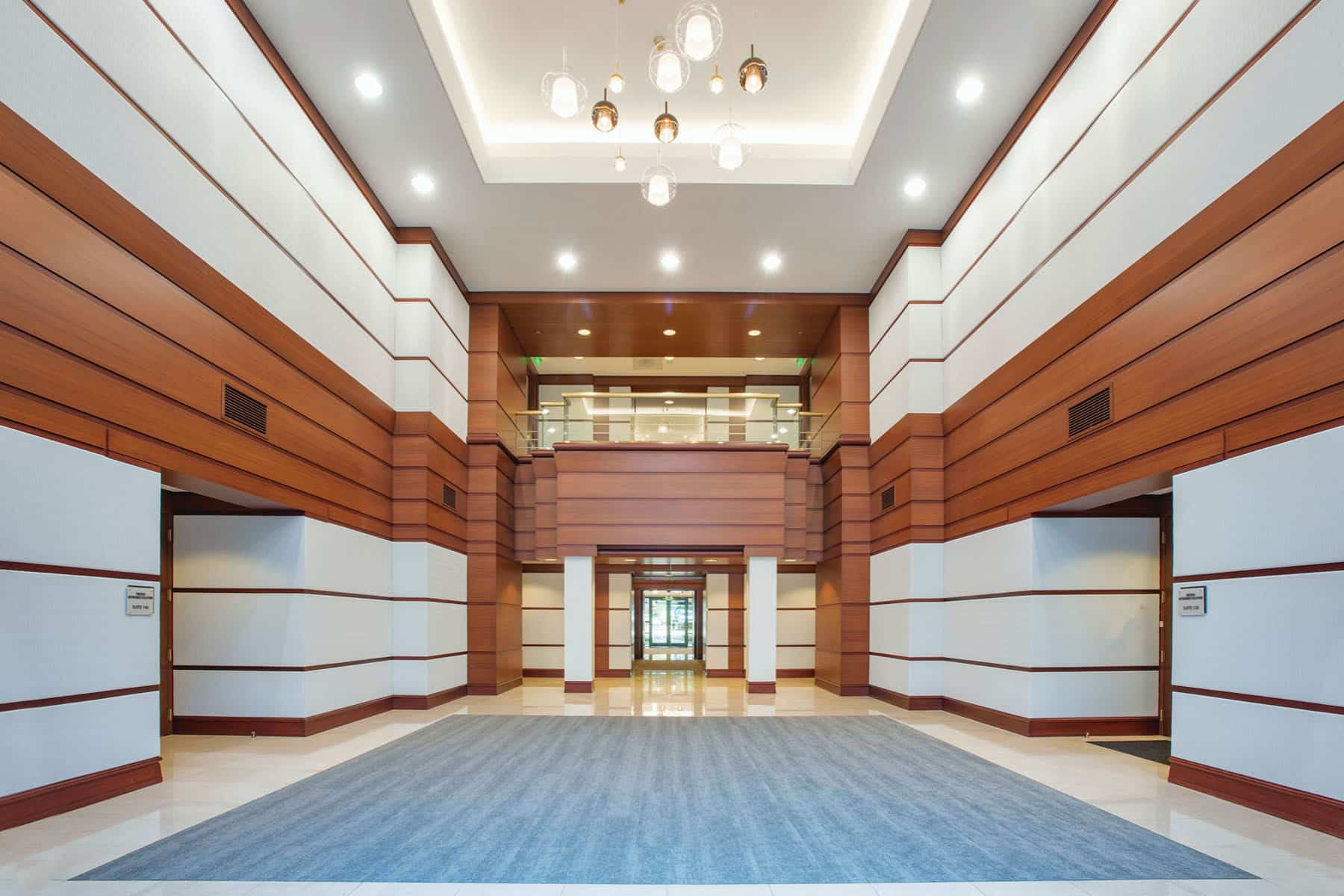 "Peachtree Corners is one of the premier business atmospheres in metro Atlanta, and 2 Sun offers a range of first-rate amenities both on and near the property," said Lincoln's Fergus. "The recent capital improvements allow 2 Sun to capture growing demand in the submarket."
Northeast Atlanta continues to outperform other submarkets over the past couple of years, boasting the lowest vacancy rate among major metro Atlanta areas at just 15.9% across all property classes.
The office submarket also saw positive absorption of 5,117 square feet in Q3 of this year, marking the fifth quarter in the past six with positive absorption, according to a report from Lincoln.
Peachtree Corners' Karl Barham Among Brokers Achieving 2022 GABB Million Dollar Club


Twelve members of the Georgia Association of Business Brokers (GABB) were named to the 2022 Million Dollar Club for helping broker the sale of more than $96 million worth of small, medium and large businesses.
Karl Barham, co-owner and President of Transworld Business Advisors of Atlanta Peachtree, is among the top five brokers with multi-million dollars in business sales for the year.
Barnham, a Peachtree Corners resident, is a licensed Georgia Real Estate agent and member of the GABB with 25+ years of expert knowledge in business that he uses to help business owners with valuations, business exit planning, M&A and Business Sales transactions.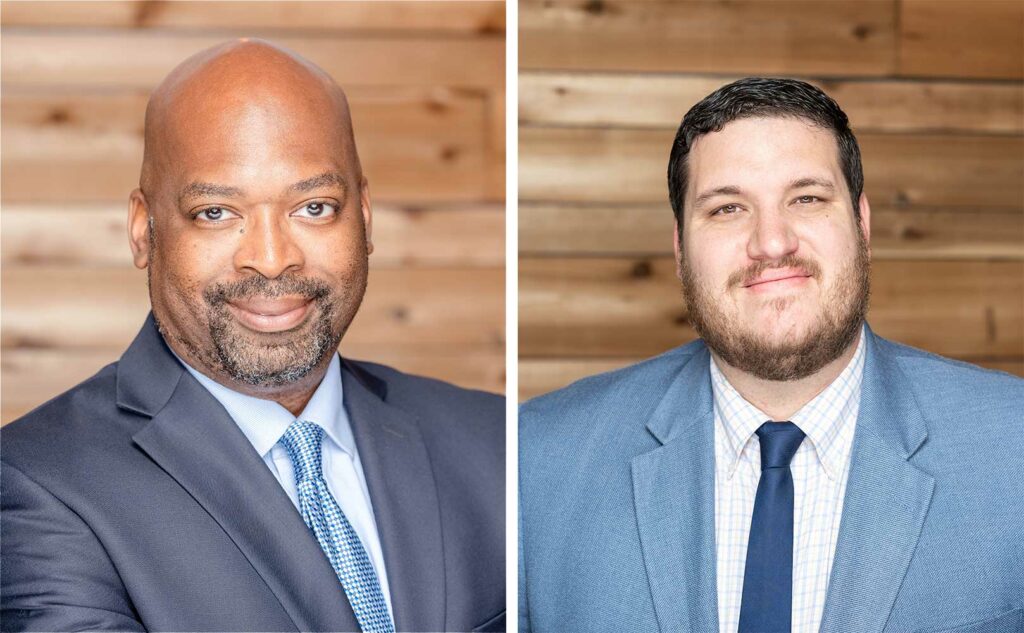 When he is not helping clients, Barnham can be found volunteering and supporting a number of great organizations in the Metro Atlanta area including Atlanta Black Chambers of Commerce, StartMe:Atlanta and Junior Achievement. He serves on several nonprofit boards including Southwest Gwinnett Chamber of Commerce, Cornerstone Christian Academy and Global Growers Network.
Among the other business brokers with multi-million dollars in business sales for the year is Barnham's teammate, Solomon Padilla, Business Advisor at Transworld Business Advisors of Atlanta Peachtree.
As a Business Broker and Real Estate Professional Padilla has a passion for helping small business owners accomplish a successful exit of their business. He previously worked as a Trade Activation Manager for Anheuser-Busch InBev, and a Manager for the Largest Italian Wine Importer in the United States.
Solomon is a Veteran of the Navy who served a tour of duty in 2012-2013 in Afghanistan for Operation Enduring Freedom as well as tours representing the U.S. Navy for NATO in Europe.
The GABB Million Dollar Club recognizes professional Business Brokers for successfully closing business acquisition transactions totaling one million dollars or more.
The top producer for 2022 was Rob Margeton, a Principal and Qualifying Broker at Ryco Advisors. Margeton was also honored as a Life Member of the Million Dollar Club for achieving more than a million dollars in sales for three consecutive years or any five years.
In addition to Margeton and Barnham, the other business brokers among the top five for the year are Matt Wochele, founder of Preferred Business Brokers, Inc.; J. Snypp, Vice President at Preferred Business Brokers, Inc; and Steve Josovitz, President Vice-President and Associate Broker at The Shumacher Group.
Business brokers with multi-million dollars in business sales for the year include Padilla; Pedro Ferreira, Business Advisor at Transworld Business Advisors of Atlanta North; Lisa Young, Senior Business Advisor at Transworld Business Advisors of Atlanta North; Jeffery Merry, founder of the BUSINESS HOUSE, inc.; and Deanna Dickinson, REALTOR® and owner of Team DMD Consulting.
Other million-dollar honorees were Brooke Hawkins, Business Broker at RamBiz Group and Mannie Maddox, REALTOR® at Coldwell Banker Commercial Metro Brokers.
To find a professional business broker, visit gabb.org/gabb-business-brokers.