Combining Cities' Teamwork Community and Development Solutions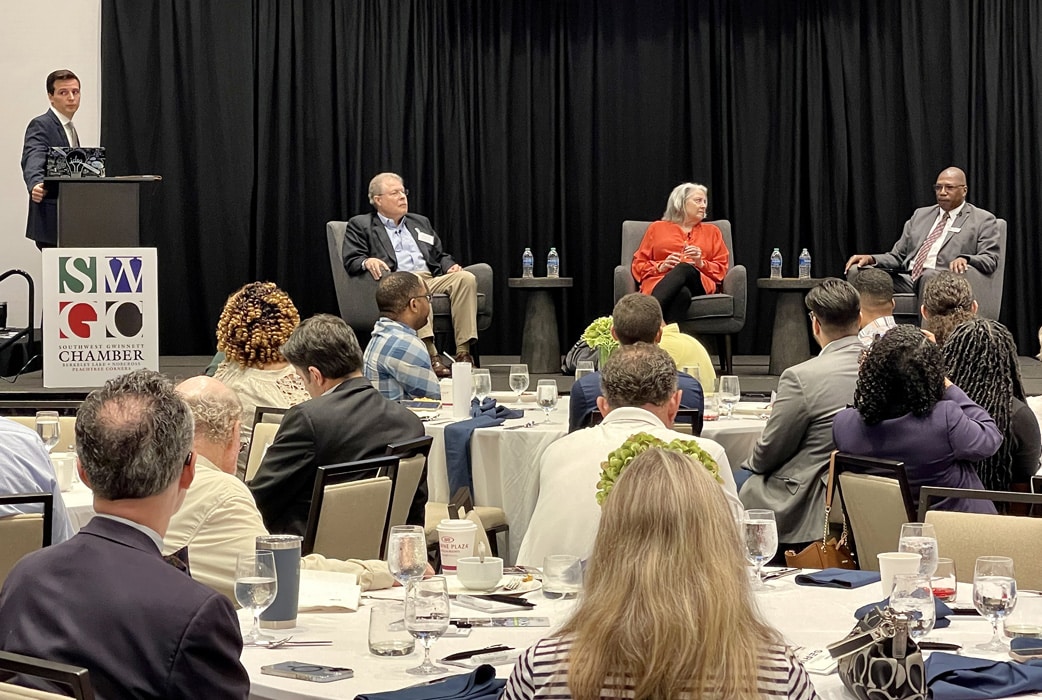 Mayors of Berkeley Lake, Peachtree Corners and Norcross agree that pooling each city's strengths will mean economic success for the area.
With mixed-used developments popping up all over metro Atlanta, Gwinnett County may be poised to catch up to or surpass Fulton County as the most populous county in the state. According to the U.S. Census Bureau, Fulton County's population is at 1.05 million and Gwinnett is at 926,000 at the last 10-year count.
Currently, more than 500 international businesses have a footprint in the county with booming industries such as information technology, health sciences, professional services and supply chain management. With a diversity index of 80.9% (meaning that if two people are picked at random in Gwinnett County, there's an 80.9% chance that the two would be of a different race or ethnicity), it is also the most diverse county in the southeast. Add that to a labor force of over 1.8 million individuals and along with a wide range of incentives and resources, Gwinnett is expected to continue growing and attracting companies of all sizes.
These facts are clearly evident in the southwest corner of the county. To add perspective to where the area is headed, the Southwest Gwinnett Chamber of Commerce hosted a panel discussion during its First Friday breakfast meeting on July 8 among the mayors of Berkeley Lake, Peachtree Corners and Norcross to enlighten residents, businesses and stakeholders of the potential future growth.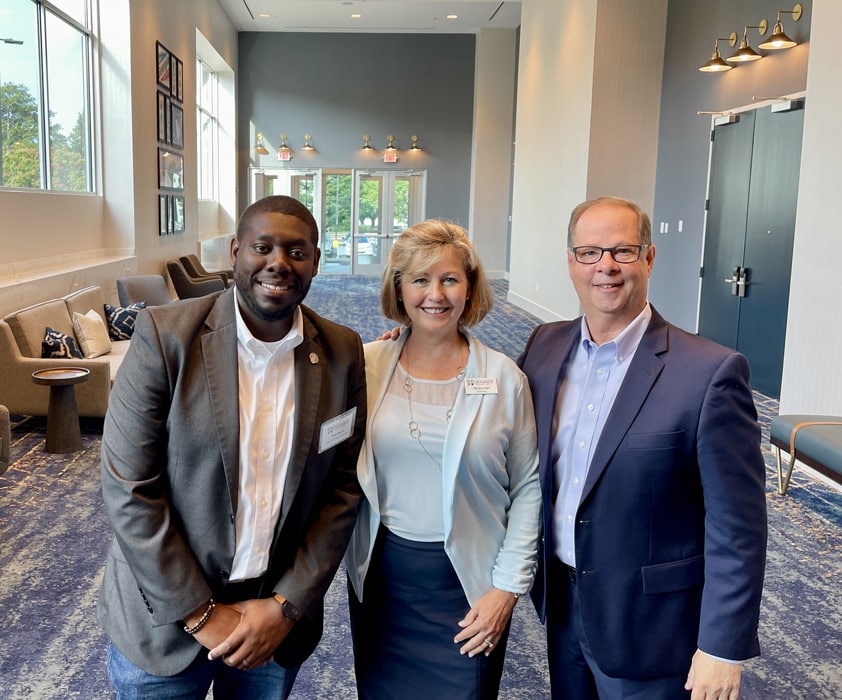 More growth on the way
Right off the bat, Peachtree Corners Mayor Mike Mason mentioned the $500 million expansion of Intuitive Surgical's Peachtree Corners operation. The robotic surgery systems company — the dominant player in the space — has had a presence in Georgia for a decade. The plan is to expand the Peachtree Corners campus to 750,000 square feet of manufacturing and engineering operations, training facilities for surgeons and hospital care teams and administrative offices.
The expansion will take place in phases, with completion in 2024. Intuitive Surgical plans to add 1,200 jobs on top of the 180 professionals it already has based in Peachtree Corners.
"Intuitive needs a highly educated, committed and diverse workforce; quality infrastructure; and the right geography to meet the rising demand for minimally invasive surgical technologies," Intuitive CEO Gary Guthart said when the company first announced the project. "We've found that here, and we're excited to continue to grow in the state."
This is an incredible boon to an area that is already bustling with technology advancements.
"You have people picking up and moving here with an average salary of $130,000," said Mason, adding that about 400 jobs will be filled locally, but another 1,000 or so will be moving into the area.
He pointed out that currently, there aren't 1,000 available housing units in Peachtree Corners even if the wider net of Berkeley Lake and Norcross were cast.
"There's not even 500," said Mason. "It's going to make a tremendous impact on this whole area. That's exciting. And it's the thing that the three of us have said many, many times — a rising tide lifts all boats."
Berkeley Lake looks for housing solutions
All the mayors agreed that housing is an issue across the board. However, it's not just about the influx of high-income residents that's cause for concern. The dearth of affordable housing across the country has governments, real estate professionals and social services agencies seeking solutions.
That led Berkeley Lake Mayor Lois Salter to mention her conundrum. "I would have to say honestly, that as the fourth most expensive place in the state to buy a house after Sea Island, Milton and Druid Hills, …I don't have anything to write about in that regard," said Salter.
According to recent data compiled by Zillow.com, the average home price in Berkeley Lake is about $750,000 which is a 30% increase in the past year and a 63% increase in the past five years.
"We have looked at the only way …to make some affordable housing is what's called accessory housing," she added.
Also known as accessory dwelling units (ADU), they are smaller, independent residential dwelling units located on the same lots as stand-alone (i.e., detached) single-family homes, according to the American Planning Association. ADUs go by many different names throughout the U.S., including accessory apartments, secondary suites and granny flats. ADUs can be converted portions of existing homes (i.e., internal ADUs), additions to new or existing homes (i.e., attached ADUs), or new stand-alone accessory structures or converted portions of existing stand-alone accessory structures (i.e., garages, outbuildings).
"That has worked in places like Buckhead and historic Savannah," said Salter. "They have carriage houses and garage apartments and things where single-family homes have been made."
The concept is slowly gaining support.
"We made a potential ordinance that required anyone who wanted to do that …to get a special use permit, and to control the people who were living there so that it didn't look like a duplex," said Salter.
Initial concerns were about on-street parking and diminished property values.
"People who are aging in place could have an additional income from that. And then they can have people live near them with them with their own privacy, but also accessible to each other in what could be a very positive way," said Salter. "We're not there yet in Berkeley Lake. That's the only thing that I can think of that Berkeley Lake can do that will create affordable housing."
Affordable housing a priority in Norcross
Norcross Mayor Craig Newton had a different perspective.
"Housing is important for a couple of reasons," he said. "In the last three months of 2021, institutional investors bought up 20% of all homes that were for sale. This is boxing residents out of homeownership. Now research shows that the shortage of affordable housing costs the American economy $2 trillion a year."
Newton went on to explain that this problem is affecting a family's ability for self-sufficiency and wealth building. When housing costs exceed 30% of one's income, that can lead to a downward spiral.
"Addressing this, the city of Norcross made housing a priority," Newton said.
Norcross is part of the Georgia Initiative for Community Housing, a three-year program that is jointly administered by the Georgia Department of Community Affairs and the University of Georgia. The program aims to help communities around the state meet their housing and neighborhood revitalization needs.
"We've partnered with …Norcross Housing Authority, created a new affordable housing development to transform a 50-year-old development into a modern, affordable community with over 150 units. We've also established a revised Norcross Development Authority and empowered them to address affordability along with economic development. And during the process, of creating a separate affordability product that will yield close to another 150 units."
Peachtree Corners balances development and livability
With Berkeley Lake and Norcross on nearly opposite ends of the spectrum, Peachtree Corners is somewhere in the middle.
"Housing is not the business of the city," Mason pointed out.
But Peachtree Corners has become a much sought-after area for developers. Mason cited the revitalization of Town Center as an indicator of its cachet. He pointed out that retail in the post-COVID world has changed and Town Center's new owner, North American Properties has a proven track record of success in this modern age.
"We're looking forward to what they have done," he said. "They have put a package together and given it to our community development folks that's very exciting."
But not every developer makes the cut.
"Developers, they come in and say, 'We've got a great idea, we just want to tear all this down and put in an apartment complex or mixed-use development,'" Mason said. "We've turned down a number of apartment complexes because people want to just put them everywhere."
Mason added that Peachtree Corners is working to be a good steward of its responsibilities and look at what's best for everyone — the newcomers as well as those who've been around since day one.
Ten years ago, when the city was founded, it was mostly filled with single-family houses. "And we were told when we became a city that …Tech Park was falling apart. People are leaving, the office is old, and you need to do something about it," said Mason. "So I got two wise men and women to do a survey and they told us …the young people who will work in these high tech companies want to live in Midtown where it's cool — where they can live, work and play."
That's where a lot of the new development is headed.
Mason mentioned the new Waterside development, too. "Waterside sticks out as 'old age restricted,' although there's an area that is not age restricted but is filling up with old folks. You need a mix of that as well," said Mason. "We don't have a housing plan for the city'; however, we do monitor what we've got and what we need."
With each city bringing a particular set of assets to the table, all three mayors agreed that achieving controlled growth relies on teamwork.
Peachtree Corners Launches Nonprofit Emergency Relief Grant Program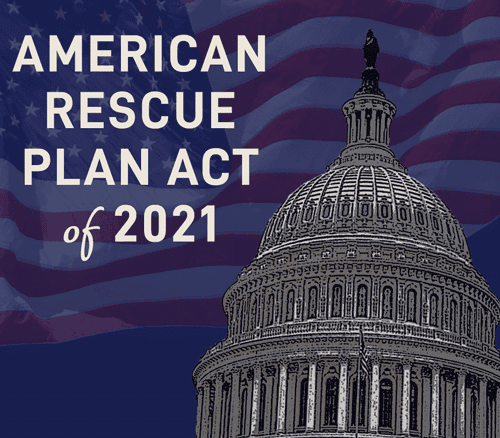 The City of Peachtree Corners has launched a Nonprofit Emergency Relief Grant Program that uses ARPA funding the city received as a result of the COVID-19 pandemic.
Through the American Rescue Plan Act of 2021, signed into law in March 2021, the city received funding in two disbursements. This program will be used to distribute funding to qualified nonprofit service providers who assist residents of Peachtree Corners with needs such as:
early childhood learning services,
literacy,
childcare,
mental health counseling,
housing assistance,
utility assistance and
food insecurity.
"We have worked to ensure the application process is as simple and seamless as possible and will benefit those residents that need our help the most," said Cory Salley, the city's Finance Director. "With funding from the federal government, there are restrictions on how the funds may be allocated and specific requirements that must be followed to receive funding. The details are included in the applications which are accessible through the city's website."
This program differs from the city's small business and nonprofit operating grant program 2021 as qualified nonprofits will be required to use the funding to provide direct services to residents. Funding will not be available to nonprofits seeking to replace or bolster operational funding.
"We are very pleased that the city can present this grant program to our nonprofit service providers. It will be the mechanism we use to distribute these monies into the hands of nonprofits who support those who need it the most," said Peachtree Corners Mayor Mike Mason.
"The council and I believe we must notify our nonprofit service providers of this grant program as soon as possible to distribute the funds as quickly and efficiently as we can," he added.
Learn more about the program and the corresponding grant application on the City of Peachtree Corners' dedicated web page, ARPA Nonprofit Emergency Relief Grant, at peachtreecornersga.gov/264/American-Rescue-Plan-Act .
In addition to the application available through the website, and to assist applicants, Peachtree Corners will host a webinar on February 1 at 2 p.m.
The grant application process launched on January 20 and ends on Wednesday, February 22 at 4:30 p.m. For questions, please email grants@peachtreecornersga.gov.
Peachtree Corners State of the City Address [Article]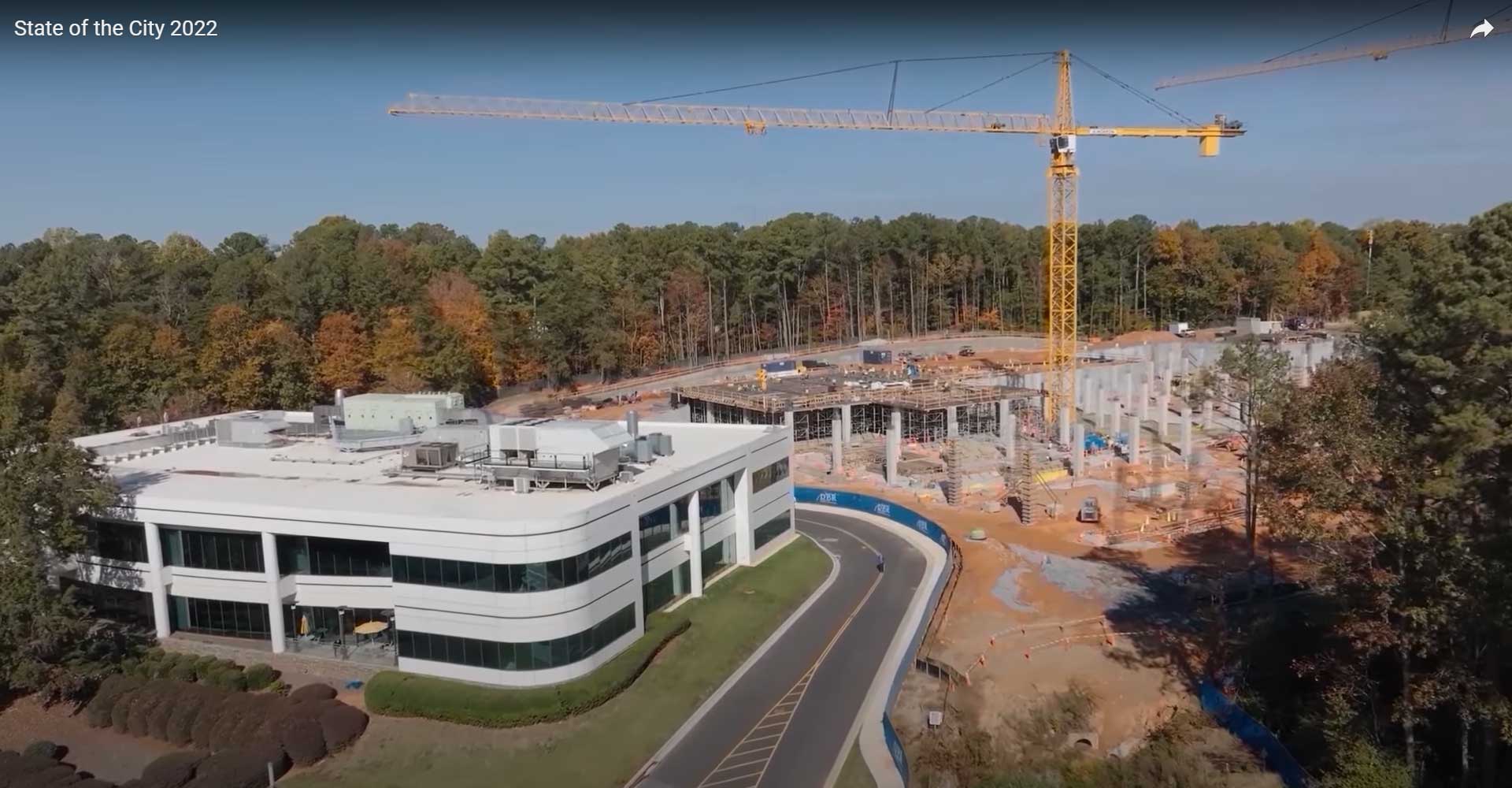 A decade of good management has resulted in brighter prospects and bigger plans.
With a decade of smart growth and responsible stewardship under its belt, the city of Peachtree Corners released its annual State of the City address online, just before the end of 2022. As a leader in incubating new technology, it's no wonder that one of the most prosperous fruits of what is quickly being called the "Silicon Orchard" has decided to use a new method of disseminating information about its future.
Through a video link, shared through email addresses of residents and stakeholders and accessible through the Peachtree Corners website, officials provided information about the city's growth and development. They included transparency about issues that have emerged and how they are being dealt with.
Everyone is invited to take a tour of the city with Mayor Pro Tem Weare Gratwick and learn more about the construction, recreation, infrastructure, education and redevelopment projects that have been completed — and to find out what is on the horizon for Peachtree Corners.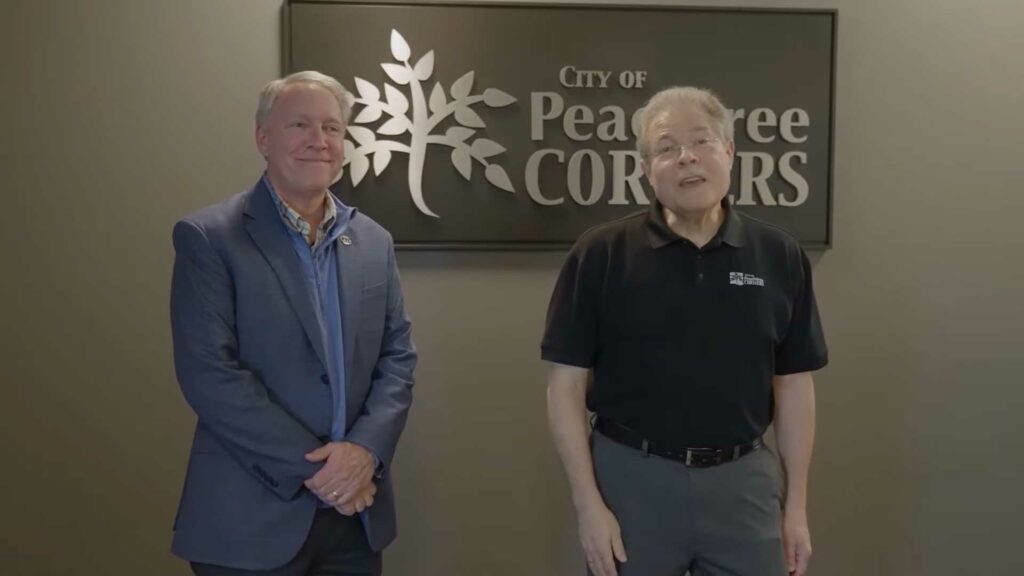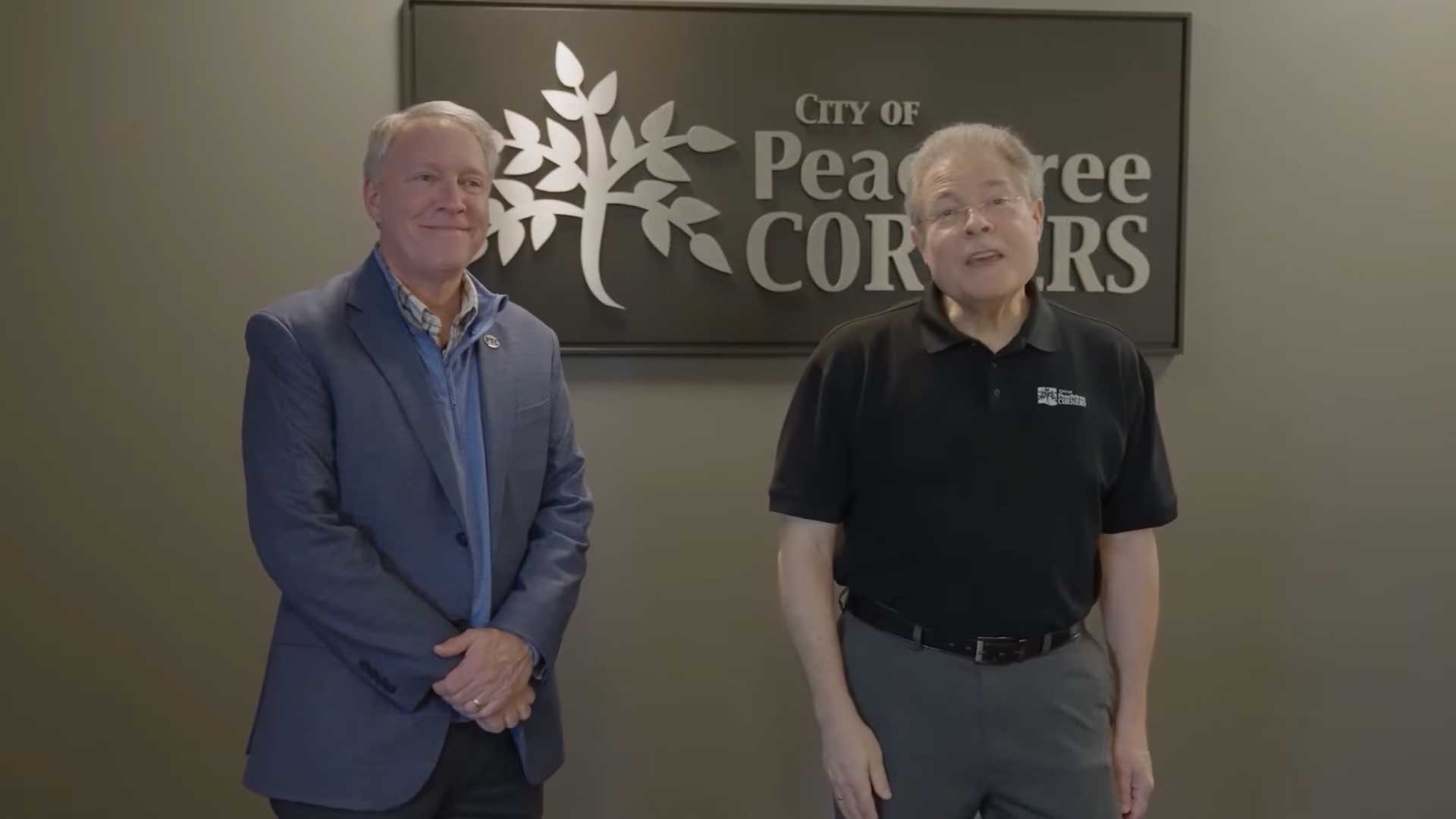 "We've been a city for 10 years and have a lot to show for it," said Mayor Mike Mason in the video's introduction. "For those of you who remember the "PTC Yes!" campaign, the theme was 'We're at the tipping point,' meaning we needed to act to give our community the tools to control our own destiny.
"At that time, our city was literally at the tipping point of decline," he explained. "Property values were stagnant, companies were moving out, and the area was starting to show its age. There were still a lot of great things about Peachtree Corners, and by focusing on a balanced approach to redevelopment, public safety and quality of life, we've tipped things back towards progress and continue to maintain a zero-city tax rate for all of us."
Mason and other city leaders don't take all the credit for the city's success.
"There's a lot to be proud of. And it's not just due to a great city council, but to the balanced approach to new development and redevelopment that we followed for the past 10 years," Mason concluded.
Updated vision
"As most of you may know, most of the development in this area was done by a gentleman named Paul Duke during the 70s and 80s. After 50 years, things were starting to look a little in need of redevelopment," said Mason. "So that's why, since the very beginning, we've adopted a balanced approach, with some new development and some redevelopment to our efforts."
Mason pointed out that nothing stays shiny and new forever, and that's why carrying out the vision and adjusting it as needed for the future is a cornerstone of economic development in Peachtree Corners.
Gratwick started his city tour at the Town Green where the new playground equipment was installed this year. To say it has been a big hit is an understatement. It was designed for children aged 5 to 12 and includes some equipment specifically for special needs children.
As one of the most substantially enhanced playground systems in the county, it has spiral slides, bridges, game panels and obstacle climbers, according to the manufacturer. The size of this commercial-grade structure permits it to entertain groups of more than 100 children.
The multi-leveled playhouse section boasts six slides: five tube slides and one open-aired spiral slide. Kids can dash between the slides along the various bridges. When they're not involved in high-octane activity, they can make music on the chime panel or marvel at the gear panel.
"There are places for parents to sit, and there will be a permanent shade structure once it comes in," said Gratwick.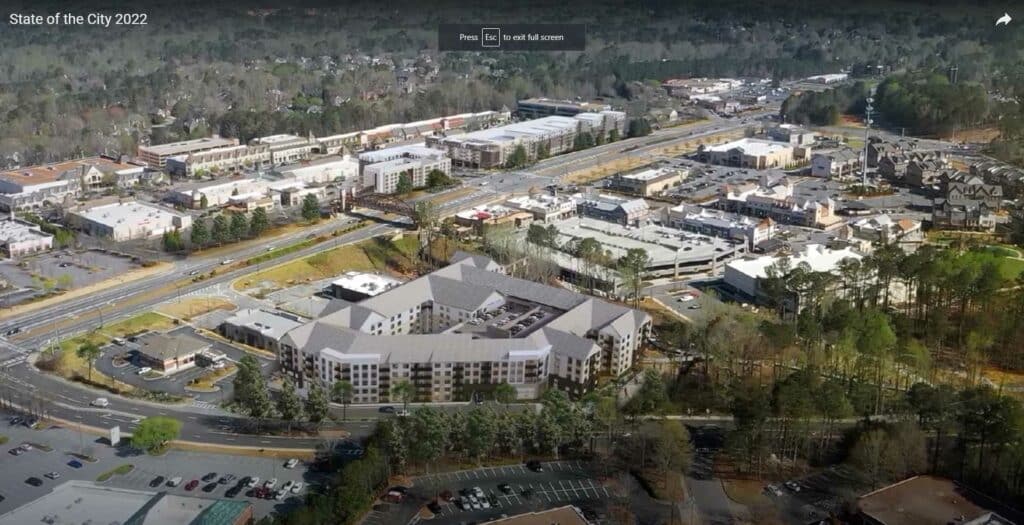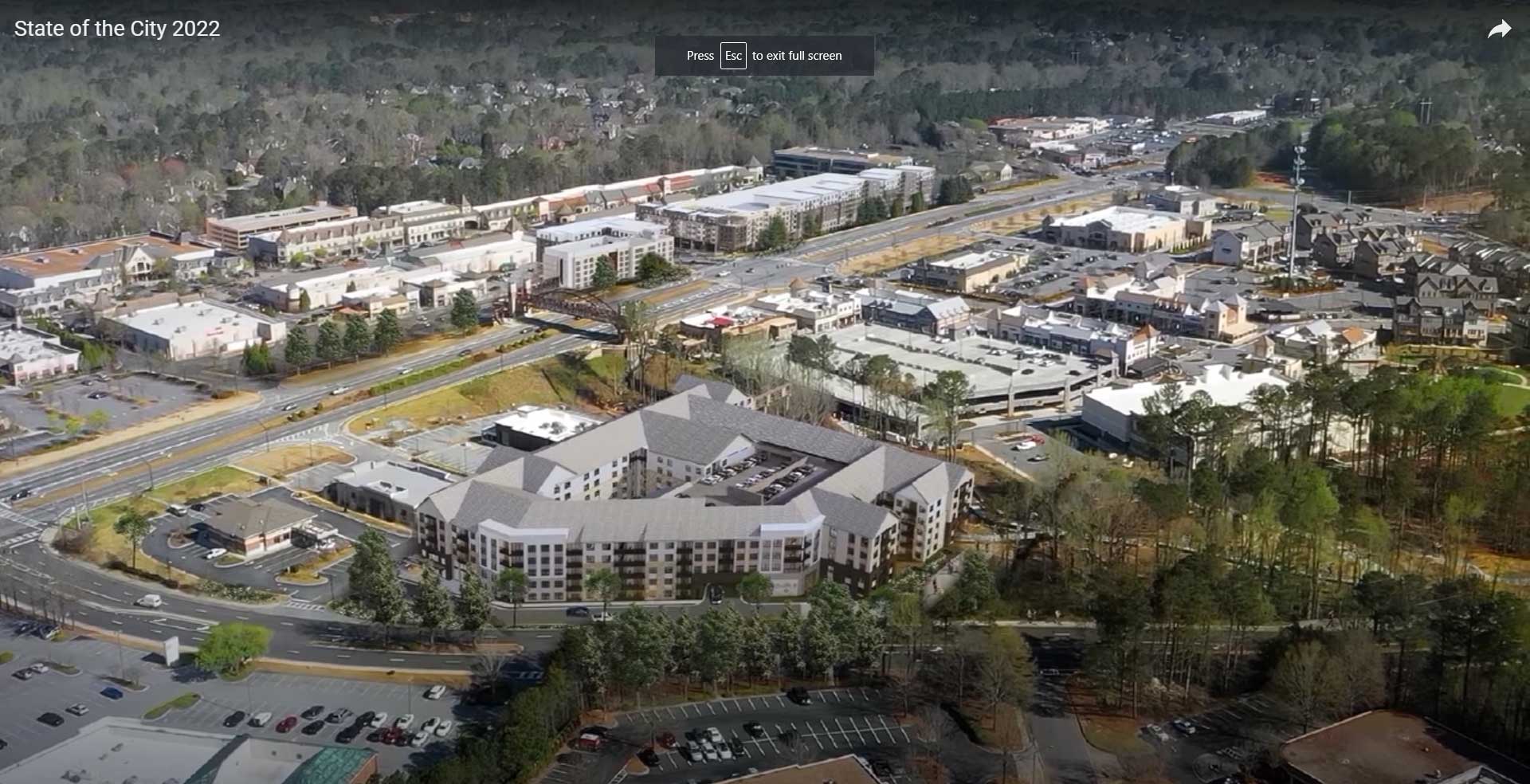 Residential, retail development
The enhanced park is just one amenity that encourages increased residential, and therefore retail and commercial, growth. Gratwick pointed out that The Forum, a hub of development has become the city's largest revitalization project.
"It is really hard to believe The Forum is over 20 years old now and in need of some attention. Vacancies had gotten to 25% and were threatening to go higher. Everyone agreed we needed to do something to save it," he said.
After North American Properties purchased the site, there was a difference of opinion about the role housing should play in the redevelopment plan, specifically apartment housing.
"In the end, a majority of the council felt additional housing was necessary to create the energy needed to support and improve our shops and restaurants at the Forum and offset the headwinds of changes in retail that have been accelerating since the pandemic," said Gratwick.
Phase one of North American Properties' plan includes enhancements to the middle of The Forum where it will relocate parking and create interactive community spaces, including a small green space and a food hall with outdoor seating.
Phase two will include new apartments which will be located behind the landscaping off Peachtree Parkway. This landscaping will remain in place with apartments behind where the pavement stops.
Phase three will include a new boutique hotel.
Gratwick went on to emphasis that a city can't have a "no apartments zone" and that Peachtree Corners City Council is looking at every proposed housing project on it individual merits and how it fits into the city's master plan.
"There is a state mandated requirement that every city rewrite its land use plan every 10 years," said Gratwick. The city is in the midst of a development survey and needs as much input as possible. There will be community forums and online surveys where residents and stakeholders are encouraged to learn more about the process.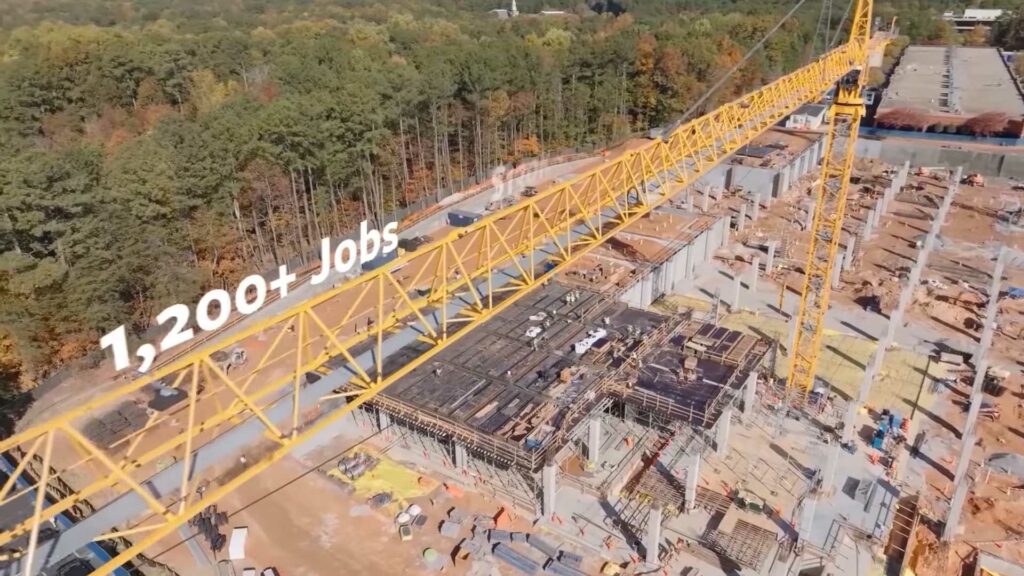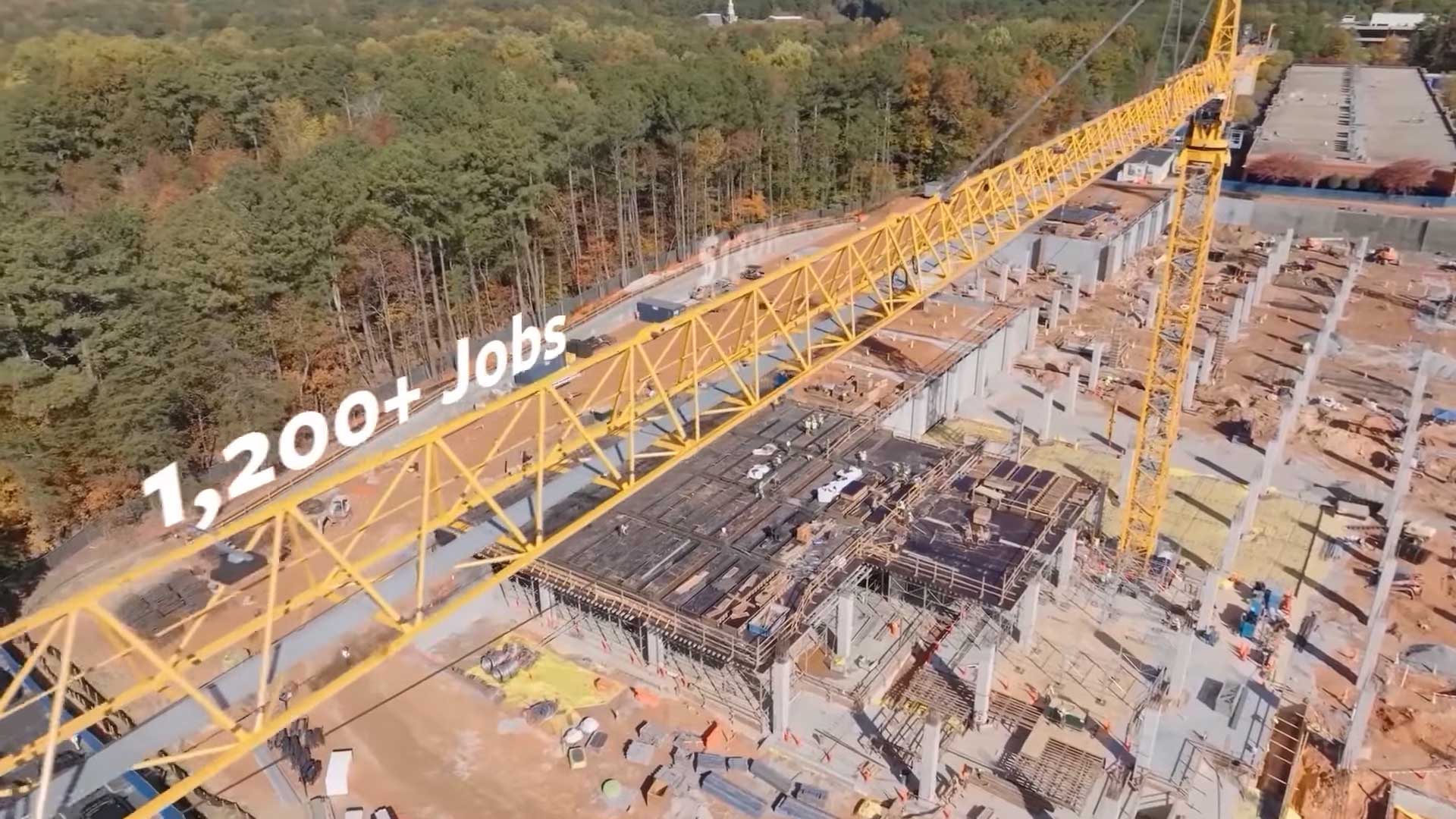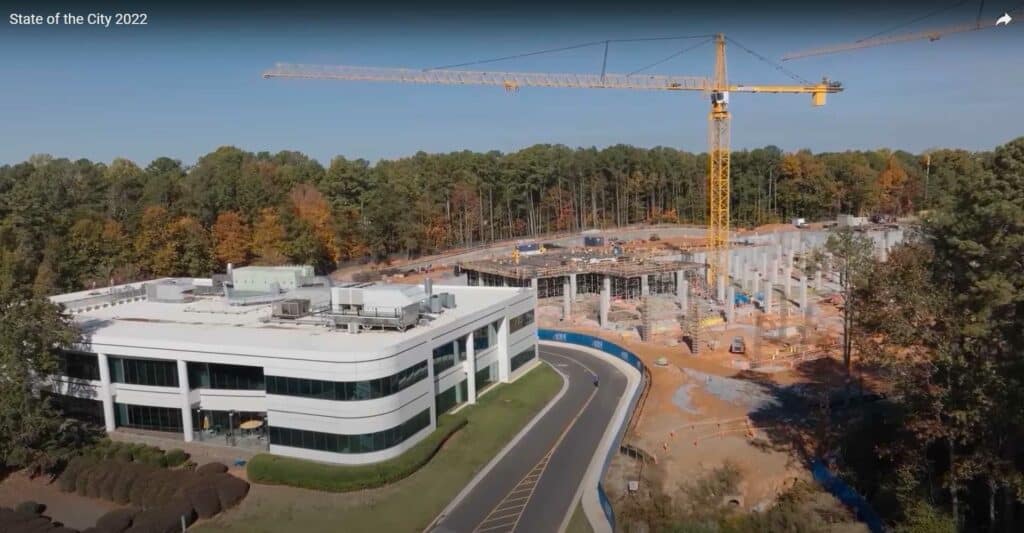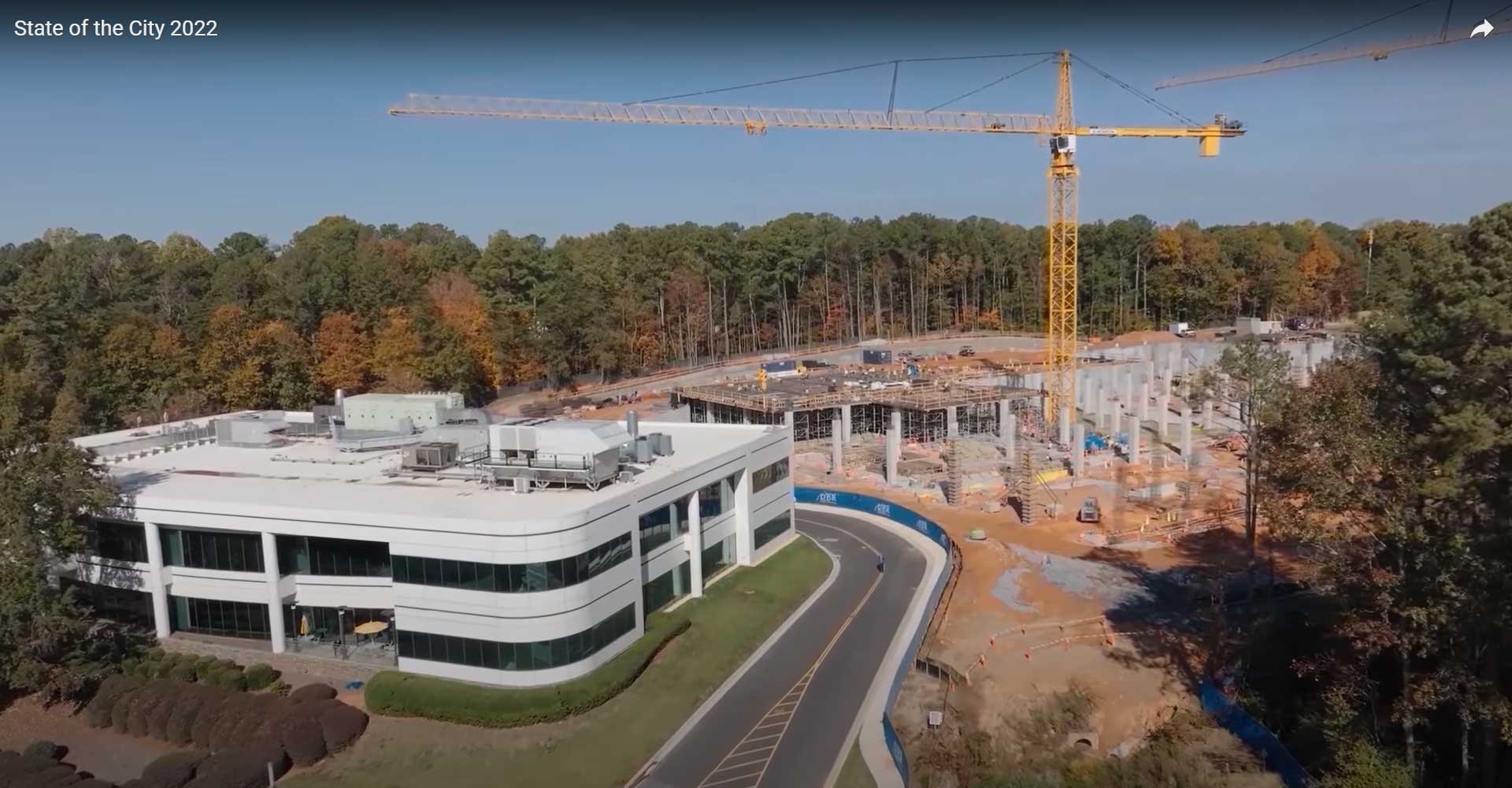 Jobs here help neighboring economies
Perhaps the most highly anticipated project in recent years is Intuitive Surgical bringing its East Coast headquarters to Peachtree Corners. The robotic-assisted surgery technology company is bringing more than 1,200 jobs with an average salary of over $130,000. It is investing more than $600 million to create a state-of-the-art medical campus that will bring visitors who will fill the 19,000 hotel rooms used annually in Peachtree Corners.
While that is a huge boon to the city, it means a lot to the surrounding area as well.
"We are approaching a point where we will have more jobs in the city than residents, which is a sign of a healthy, vibrant community," said Gratwick. "Of course, with that comes challenges; we will need to continue …to meet the right balance of growth and preservation of things that make us the great city to live in now."
To add to the employment growth, the city created Curiosity Lab as a smart technology incubator. It has attracted numerous businesses and thousands of jobs.
"Curiosity Lab was founded when our staff discovered there was a missing second step in the evolution of technology, particularly with autonomous vehicles," said Gratwick. "There was the initial phase, the controlled lab, the crawl space, if you will, and the run space which would be active in users, but there wasn't a place to test with variables in place."
Curiosity Lab sets Peachtree Corners apart from most other cities because of its 5G enabled living laboratory for testing and developing smart city Internet of Things (IoT) and mobility. Gratwick mentioned two companies that are making important strides.
SkyMul has created software to provide drones with the ability to remotely tie together rebar in construction projects. The young company, headed by CEO Eohan George, took over half of Curiosity Lab's design space to further develop its SkyTy drone solution, according to a press release. The goal is to tie reinforcing bar (rebar) at construction sites almost two and half times faster, 32% cheaper and with 84% less labor than manual rebar tying.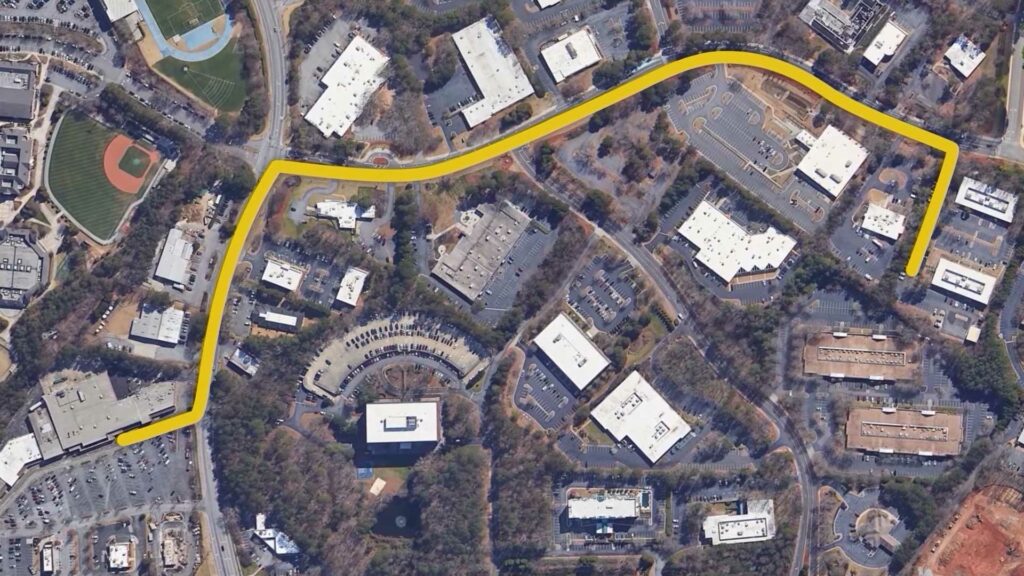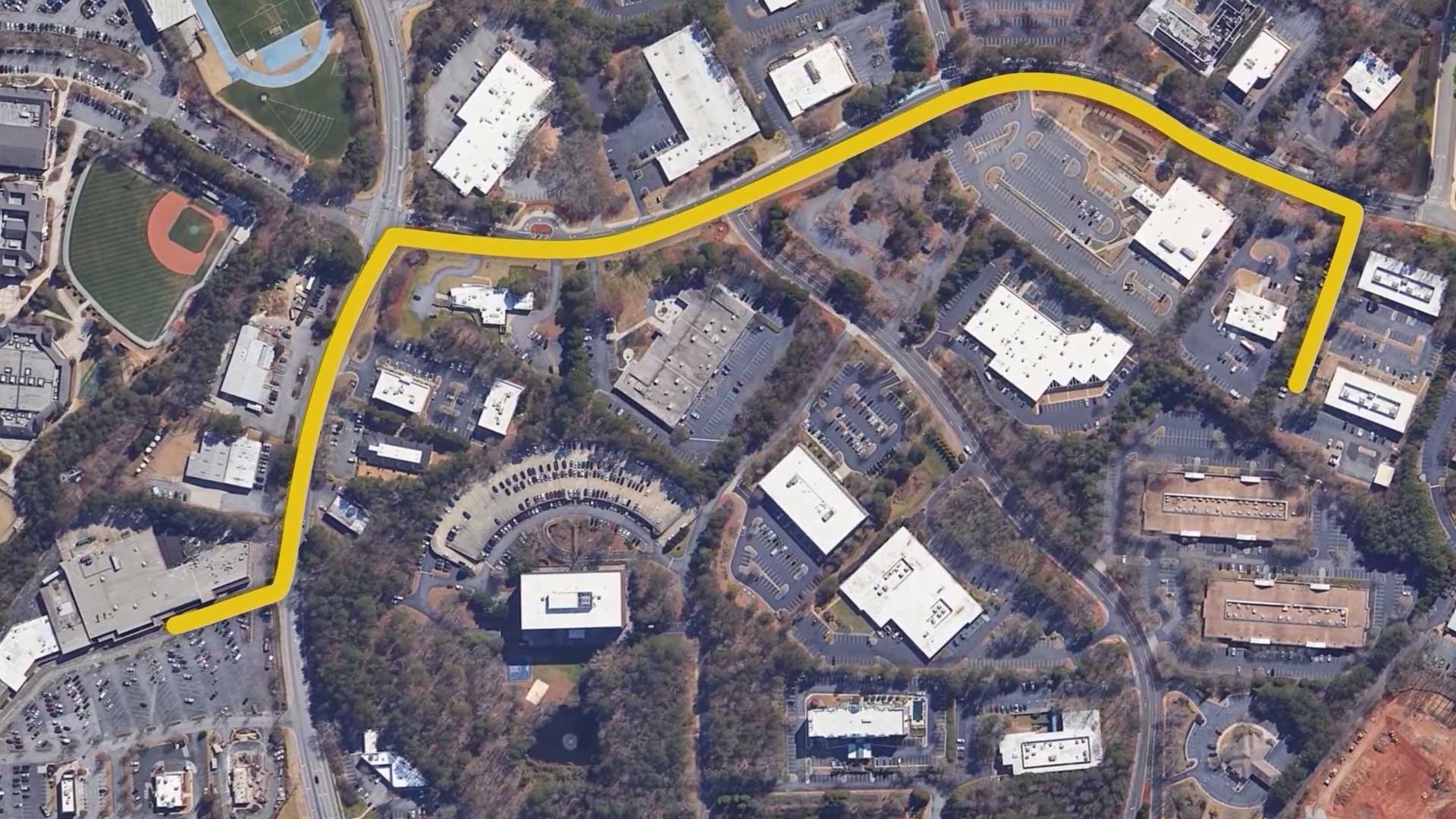 Gratwick also highlighted Pipedream Labs, a company that is testing an innovative underground delivery system. The company has leased space in the development and will be testing the delivery of packages and food.
Quality of life
In the video, Gratwick pointed out that the city has almost completed the 1.74 mile stretch of multi-use trail along east Jones Bridge Road.
"If you recall the mayor's presentation from last year, when he talked about the Atlanta Regional Commission's Chattahoochee RiverLands project, this will be part of a 150-mile stretch of multi-use trails from Buford Dam all the way down to Newnan," said Gratwick. "Our project will have a pedestrian crossing at Johns Creek." He added that discussions are already underway with the city of Johns Creek.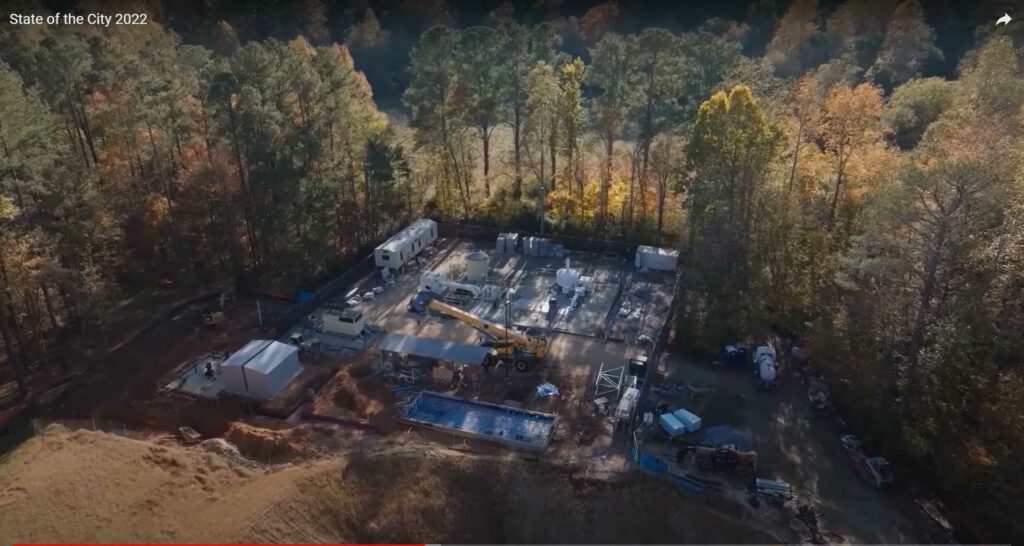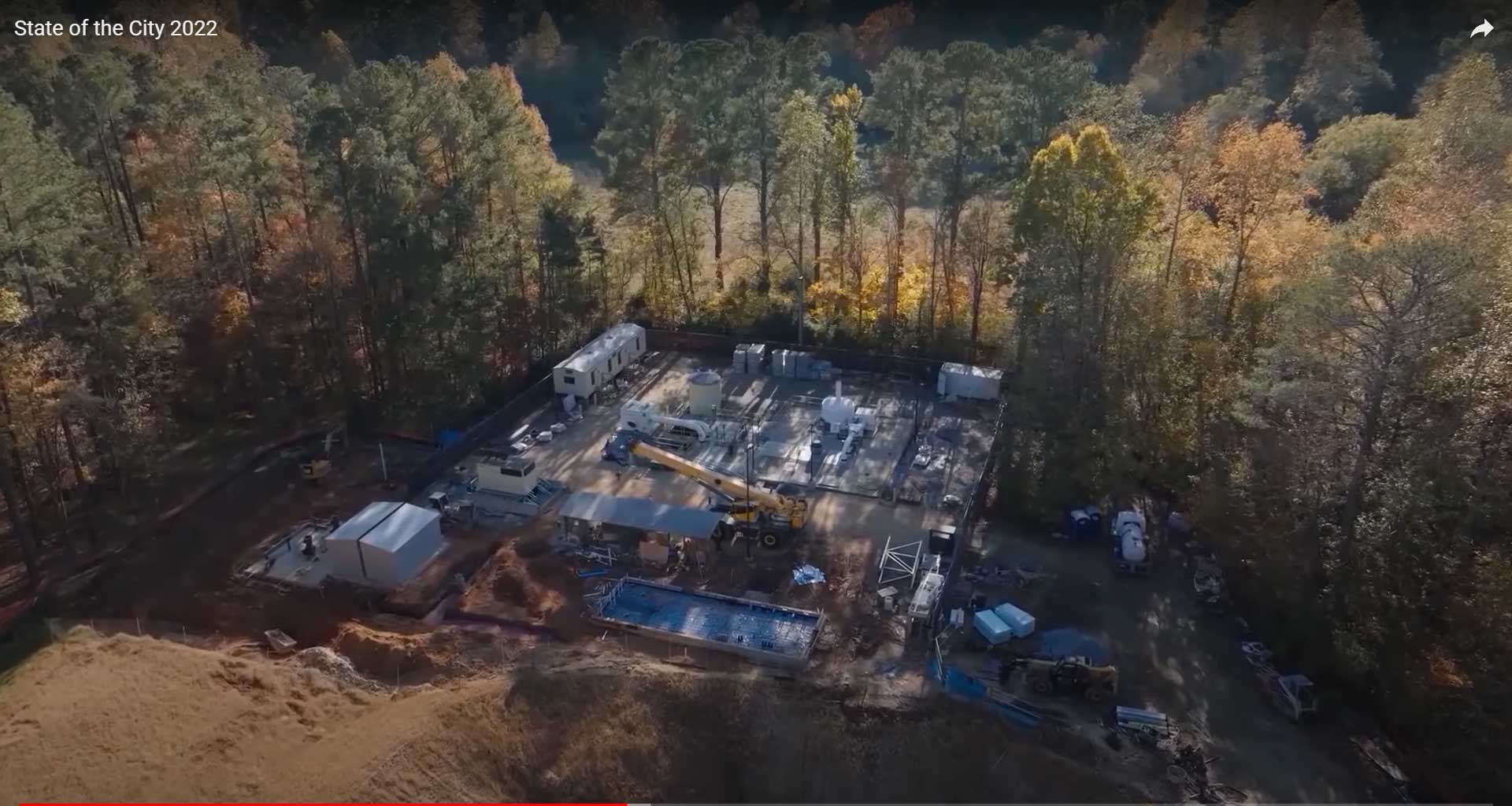 Gratwick wrapped up the presentation by pointing out efforts to improve the quality of life in Peachtree Corners. Parks, trails and retail developments are obvious, and they are projects that are highly visible. He added that just as important are the components you can't see.
"If you've been in Simpsonwood Park lately, you've probably noticed the Wolf Creek Lift Station improvement," said Gratwick. "While this is a county project and not a city project, it is a much-needed upgrade to the sewer that serves the northwest quadrant of our city. …This is not a sexy project, but it is one that will ensure that we will have ample sewer capacity and no interruptions to service."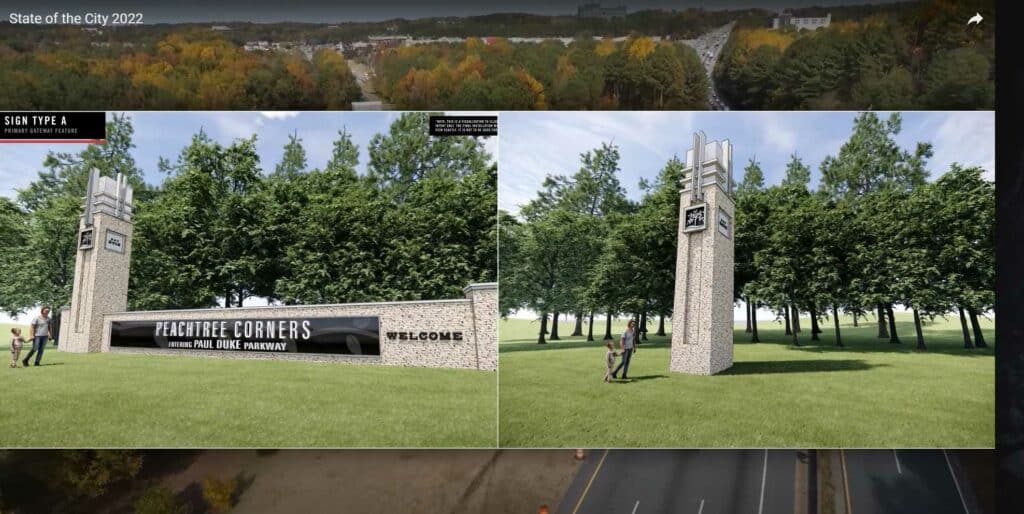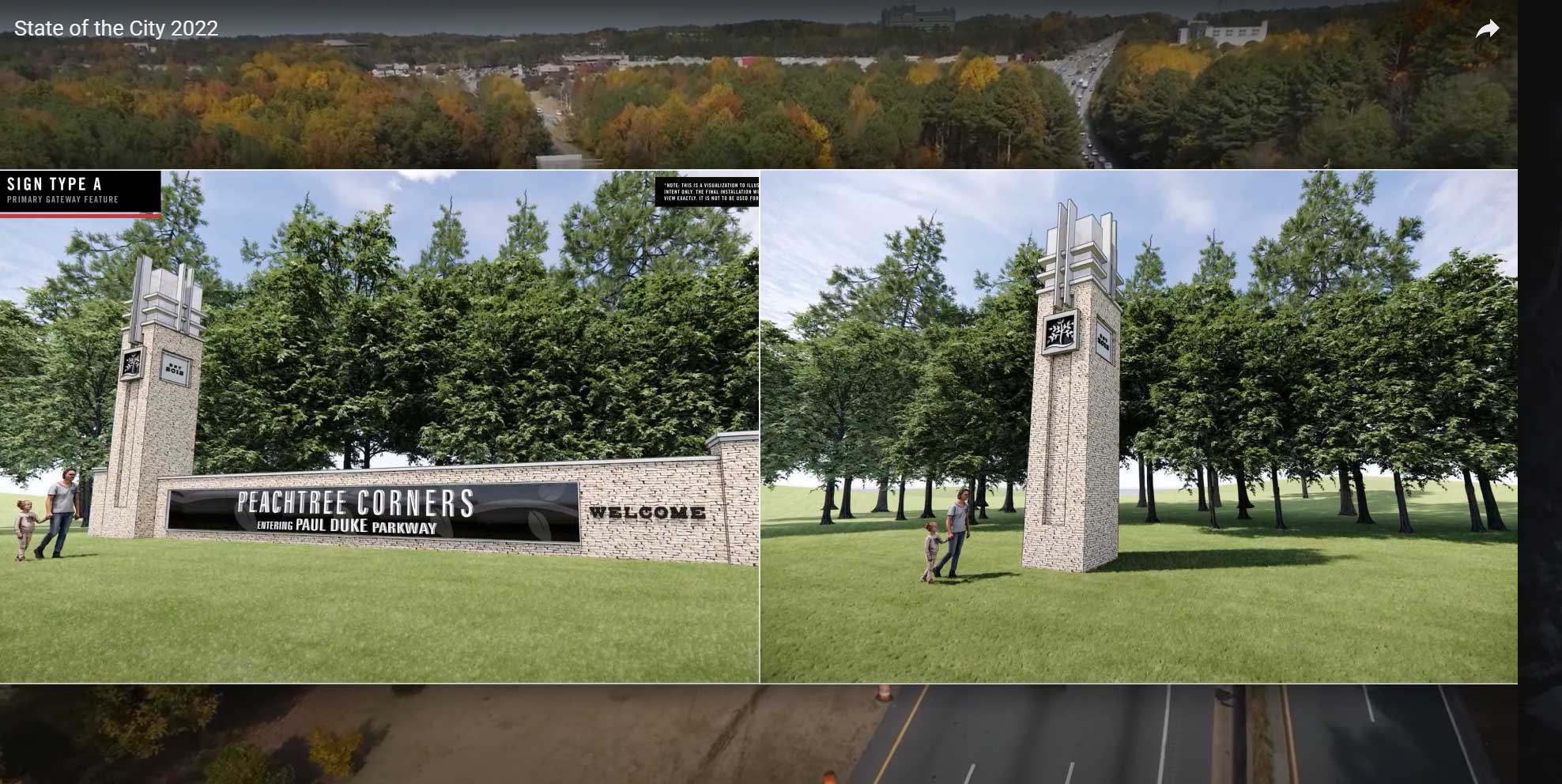 Additional projects discussed in the State of the City video is embedded below. Please scroll down.
---
Planning a city and keeping it vibrant, safe and efficient for its residents, businesses and visitors takes the input of the entire city. That's why Peachtree Corners has asked the community to help with its next development plan.
Officials estimate it will take about two minutes to answer the multiple choice questions that will guide growth activity, including projects and policies aimed at improving the economic climate in Peachtree Corners.
View the Peachtree Corners 2022 State of the City address at State of the City 2022. Take the business survey at Business Survey (surveymonkey.com).
State of the City 2022 [Video]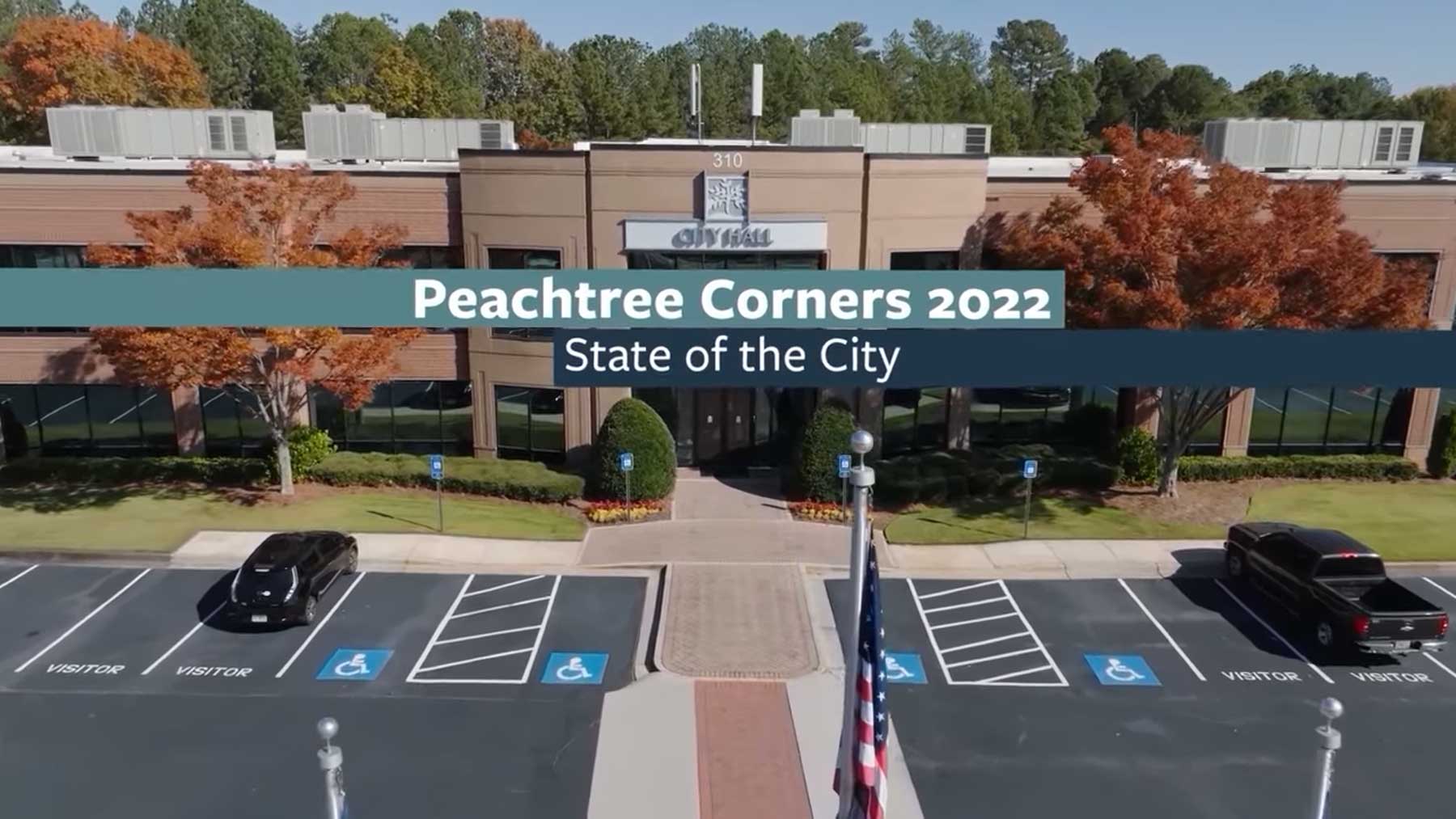 Peachtree Corners has now been a city for ten years and we have a lot to show for it. For those of you who remember the PTC Yes! Campaign, the theme was "we're at the tipping point," meaning we needed to act to give our community the tools to control our own destiny. 
At that time, our City was literally at the tipping point of decline. Property values were stagnant, companies were moving out, and the area was starting to show its age. There were still a lot of great things about Peachtree Corners, and by focusing on a balanced approach to redevelopment, public safety, and quality of life, we've tipped things back towards progress and continue to maintain a zero-city tax rate for all of us!
Take a tour of the City with Mayor Pro Tem Weare Gratwick and learn more about the construction, recreation, infrastructure, education, redevelopment, and more that have been completed and are on the horizon in Peachtree Corners.
We hope you can see why we say the state of the city is great. After 10 years as a city, together, we have accomplished a lot, and we look forward to a bright future. Stay safe, thanks for watching and we hope to see you around the City.
Scroll down for the Video
Courtesy of the City of Peachtree Corners