Combining Cities' Teamwork Community and Development Solutions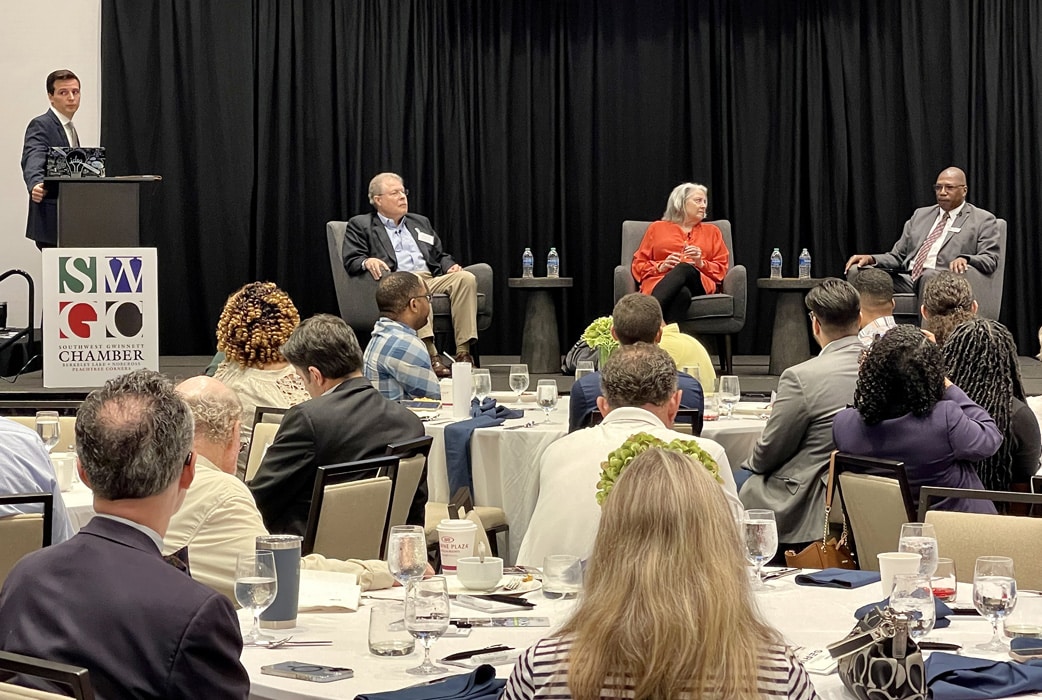 Mayors of Berkeley Lake, Peachtree Corners and Norcross agree that pooling each city's strengths will mean economic success for the area.
With mixed-used developments popping up all over metro Atlanta, Gwinnett County may be poised to catch up to or surpass Fulton County as the most populous county in the state. According to the U.S. Census Bureau, Fulton County's population is at 1.05 million and Gwinnett is at 926,000 at the last 10-year count.
Currently, more than 500 international businesses have a footprint in the county with booming industries such as information technology, health sciences, professional services and supply chain management. With a diversity index of 80.9% (meaning that if two people are picked at random in Gwinnett County, there's an 80.9% chance that the two would be of a different race or ethnicity), it is also the most diverse county in the southeast. Add that to a labor force of over 1.8 million individuals and along with a wide range of incentives and resources, Gwinnett is expected to continue growing and attracting companies of all sizes.
These facts are clearly evident in the southwest corner of the county. To add perspective to where the area is headed, the Southwest Gwinnett Chamber of Commerce hosted a panel discussion during its First Friday breakfast meeting on July 8 among the mayors of Berkeley Lake, Peachtree Corners and Norcross to enlighten residents, businesses and stakeholders of the potential future growth.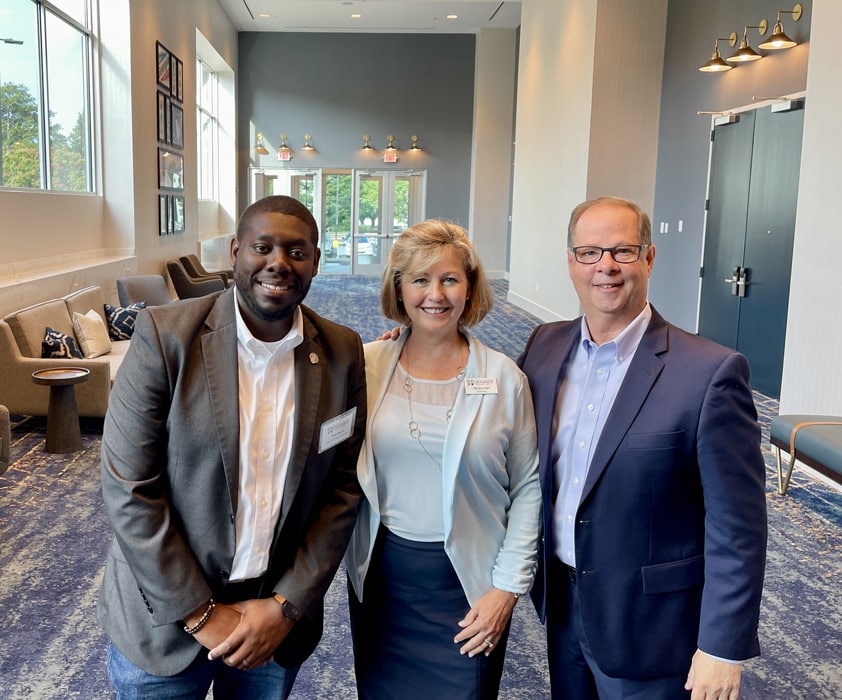 More growth on the way
Right off the bat, Peachtree Corners Mayor Mike Mason mentioned the $500 million expansion of Intuitive Surgical's Peachtree Corners operation. The robotic surgery systems company — the dominant player in the space — has had a presence in Georgia for a decade. The plan is to expand the Peachtree Corners campus to 750,000 square feet of manufacturing and engineering operations, training facilities for surgeons and hospital care teams and administrative offices.
The expansion will take place in phases, with completion in 2024. Intuitive Surgical plans to add 1,200 jobs on top of the 180 professionals it already has based in Peachtree Corners.
"Intuitive needs a highly educated, committed and diverse workforce; quality infrastructure; and the right geography to meet the rising demand for minimally invasive surgical technologies," Intuitive CEO Gary Guthart said when the company first announced the project. "We've found that here, and we're excited to continue to grow in the state."
This is an incredible boon to an area that is already bustling with technology advancements.
"You have people picking up and moving here with an average salary of $130,000," said Mason, adding that about 400 jobs will be filled locally, but another 1,000 or so will be moving into the area.
He pointed out that currently, there aren't 1,000 available housing units in Peachtree Corners even if the wider net of Berkeley Lake and Norcross were cast.
"There's not even 500," said Mason. "It's going to make a tremendous impact on this whole area. That's exciting. And it's the thing that the three of us have said many, many times — a rising tide lifts all boats."
Berkeley Lake looks for housing solutions
All the mayors agreed that housing is an issue across the board. However, it's not just about the influx of high-income residents that's cause for concern. The dearth of affordable housing across the country has governments, real estate professionals and social services agencies seeking solutions.
That led Berkeley Lake Mayor Lois Salter to mention her conundrum. "I would have to say honestly, that as the fourth most expensive place in the state to buy a house after Sea Island, Milton and Druid Hills, …I don't have anything to write about in that regard," said Salter.
According to recent data compiled by Zillow.com, the average home price in Berkeley Lake is about $750,000 which is a 30% increase in the past year and a 63% increase in the past five years.
"We have looked at the only way …to make some affordable housing is what's called accessory housing," she added.
Also known as accessory dwelling units (ADU), they are smaller, independent residential dwelling units located on the same lots as stand-alone (i.e., detached) single-family homes, according to the American Planning Association. ADUs go by many different names throughout the U.S., including accessory apartments, secondary suites and granny flats. ADUs can be converted portions of existing homes (i.e., internal ADUs), additions to new or existing homes (i.e., attached ADUs), or new stand-alone accessory structures or converted portions of existing stand-alone accessory structures (i.e., garages, outbuildings).
"That has worked in places like Buckhead and historic Savannah," said Salter. "They have carriage houses and garage apartments and things where single-family homes have been made."
The concept is slowly gaining support.
"We made a potential ordinance that required anyone who wanted to do that …to get a special use permit, and to control the people who were living there so that it didn't look like a duplex," said Salter.
Initial concerns were about on-street parking and diminished property values.
"People who are aging in place could have an additional income from that. And then they can have people live near them with them with their own privacy, but also accessible to each other in what could be a very positive way," said Salter. "We're not there yet in Berkeley Lake. That's the only thing that I can think of that Berkeley Lake can do that will create affordable housing."
Affordable housing a priority in Norcross
Norcross Mayor Craig Newton had a different perspective.
"Housing is important for a couple of reasons," he said. "In the last three months of 2021, institutional investors bought up 20% of all homes that were for sale. This is boxing residents out of homeownership. Now research shows that the shortage of affordable housing costs the American economy $2 trillion a year."
Newton went on to explain that this problem is affecting a family's ability for self-sufficiency and wealth building. When housing costs exceed 30% of one's income, that can lead to a downward spiral.
"Addressing this, the city of Norcross made housing a priority," Newton said.
Norcross is part of the Georgia Initiative for Community Housing, a three-year program that is jointly administered by the Georgia Department of Community Affairs and the University of Georgia. The program aims to help communities around the state meet their housing and neighborhood revitalization needs.
"We've partnered with …Norcross Housing Authority, created a new affordable housing development to transform a 50-year-old development into a modern, affordable community with over 150 units. We've also established a revised Norcross Development Authority and empowered them to address affordability along with economic development. And during the process, of creating a separate affordability product that will yield close to another 150 units."
Peachtree Corners balances development and livability
With Berkeley Lake and Norcross on nearly opposite ends of the spectrum, Peachtree Corners is somewhere in the middle.
"Housing is not the business of the city," Mason pointed out.
But Peachtree Corners has become a much sought-after area for developers. Mason cited the revitalization of Town Center as an indicator of its cachet. He pointed out that retail in the post-COVID world has changed and Town Center's new owner, North American Properties has a proven track record of success in this modern age.
"We're looking forward to what they have done," he said. "They have put a package together and given it to our community development folks that's very exciting."
But not every developer makes the cut.
"Developers, they come in and say, 'We've got a great idea, we just want to tear all this down and put in an apartment complex or mixed-use development,'" Mason said. "We've turned down a number of apartment complexes because people want to just put them everywhere."
Mason added that Peachtree Corners is working to be a good steward of its responsibilities and look at what's best for everyone — the newcomers as well as those who've been around since day one.
Ten years ago, when the city was founded, it was mostly filled with single-family houses. "And we were told when we became a city that …Tech Park was falling apart. People are leaving, the office is old, and you need to do something about it," said Mason. "So I got two wise men and women to do a survey and they told us …the young people who will work in these high tech companies want to live in Midtown where it's cool — where they can live, work and play."
That's where a lot of the new development is headed.
Mason mentioned the new Waterside development, too. "Waterside sticks out as 'old age restricted,' although there's an area that is not age restricted but is filling up with old folks. You need a mix of that as well," said Mason. "We don't have a housing plan for the city'; however, we do monitor what we've got and what we need."
With each city bringing a particular set of assets to the table, all three mayors agreed that achieving controlled growth relies on teamwork.

Limited Access to Town Green This Winter During Expansion Projects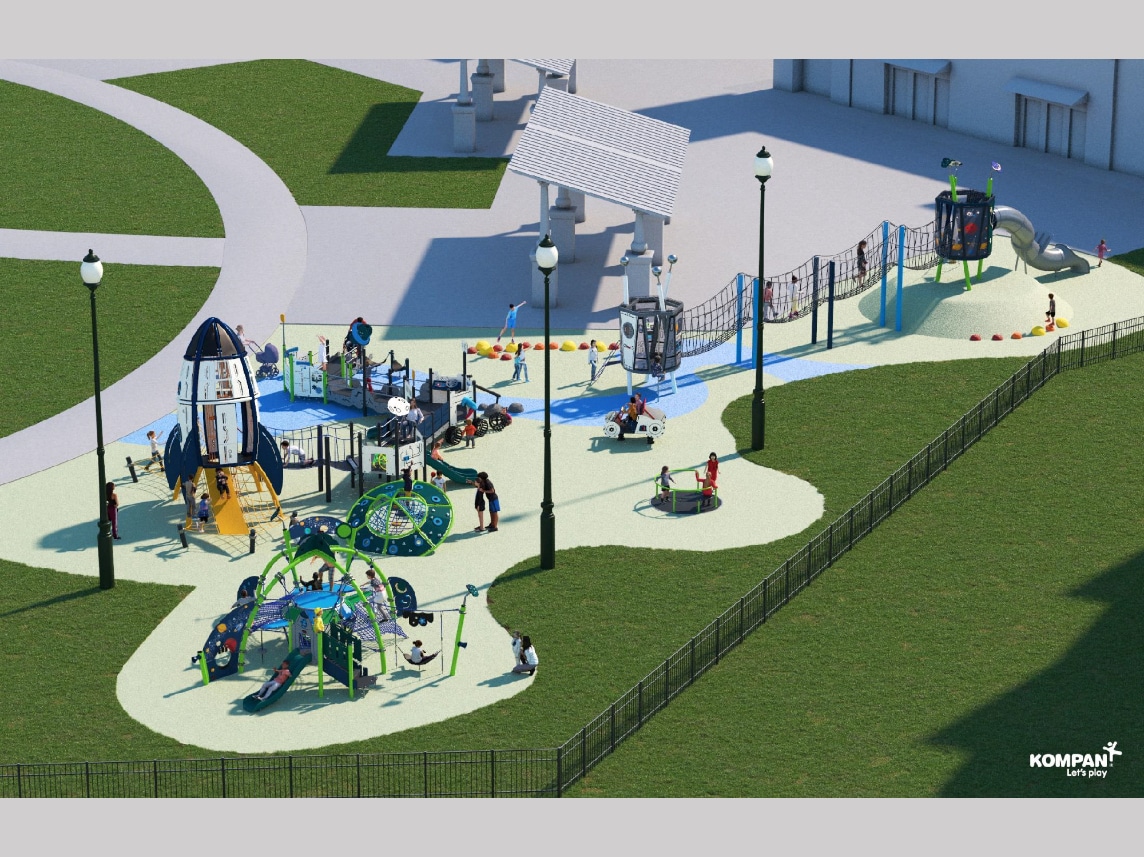 Beginning the week of Dec. 3, 2023, the City of Peachtree Corners will commence an expansion project for the Town Green and its associated amenities.  
Throughout the winter months, certain sections of the Town Green will be closed due to the ongoing expansion. This expansion initiative encompasses various projects to enhance the Town Green and introduce additional amenities to the area.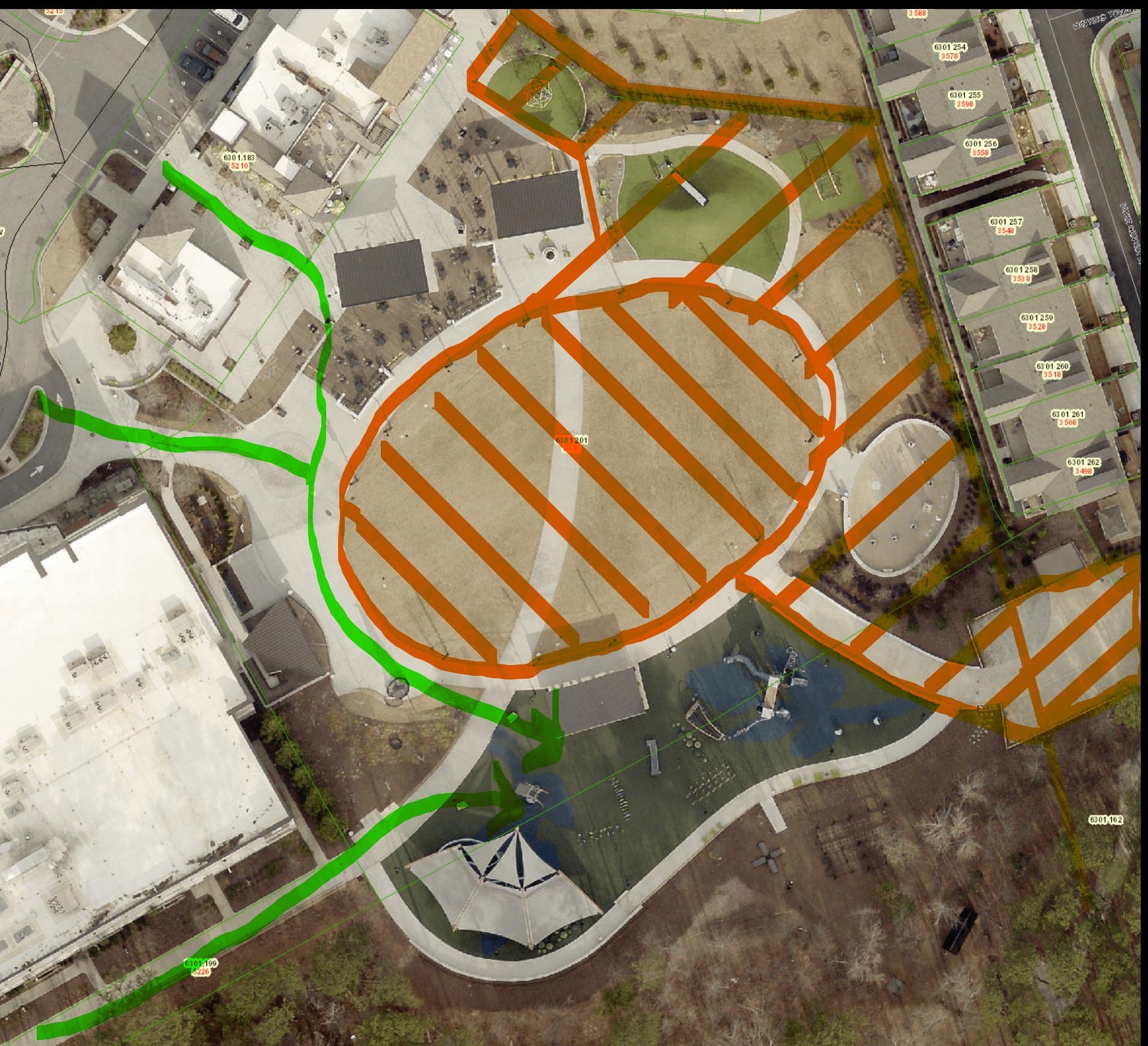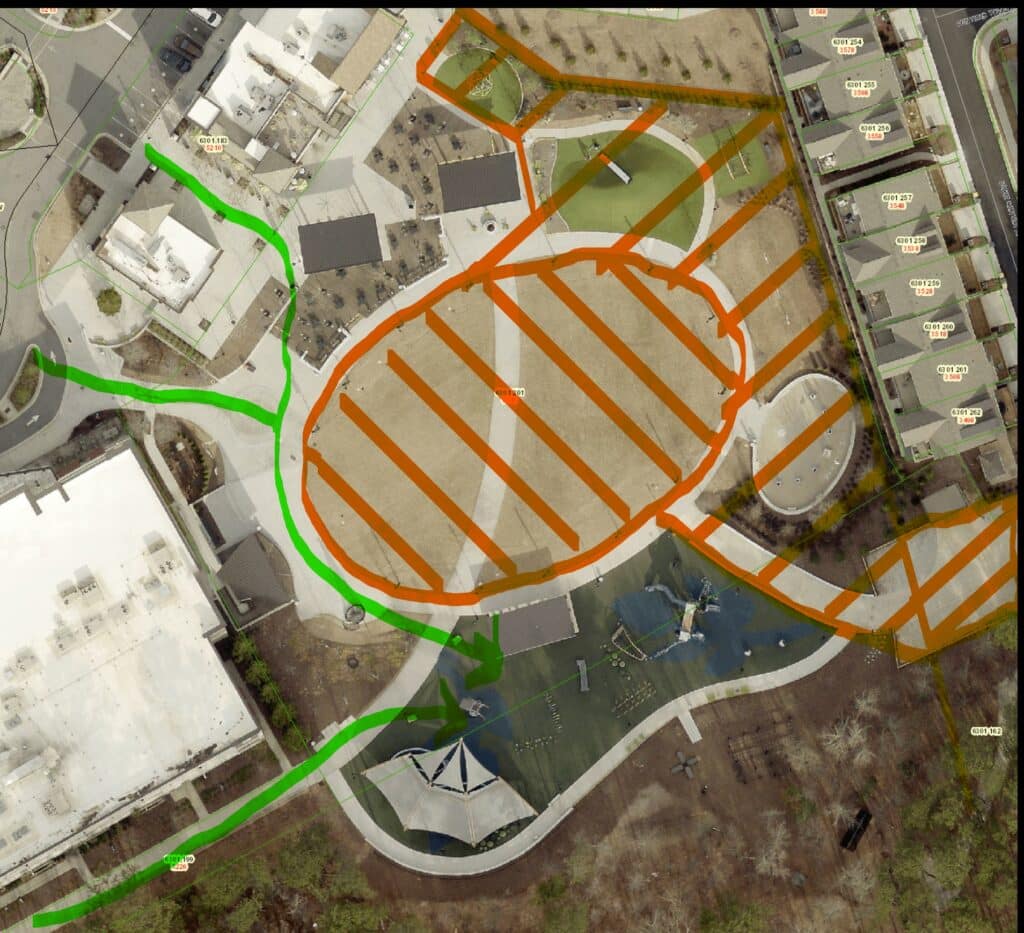 To begin, the center of the Town Green will be transformed as crews begin to install drainage upgrades and lay new sod in the park. During this project, the grass area will not be accessible to the public.
The City's new Tot Lot Playground is another addition to the Town Green. This playground, themed around space exploration, will be situated nearest the townhomes and is designed for children up to the age of six.
As part of this project, the current sliding hill and two existing jungle gym features will be replaced. Furthermore, one of the jungle gym features will be relocated to the playground installed last year.
The upcoming playground will showcase extraordinary elements such as a rocket ship, a moon rover, a crashed UFO and more. It is designed to be fully accessible, ensuring all children enjoy its offerings.
Presently, the construction of the City's off-leash dog park is underway. Situated behind the CineBistro building, this facility will span approximately 9,000 square feet and will be divided into sections for smaller and larger dogs.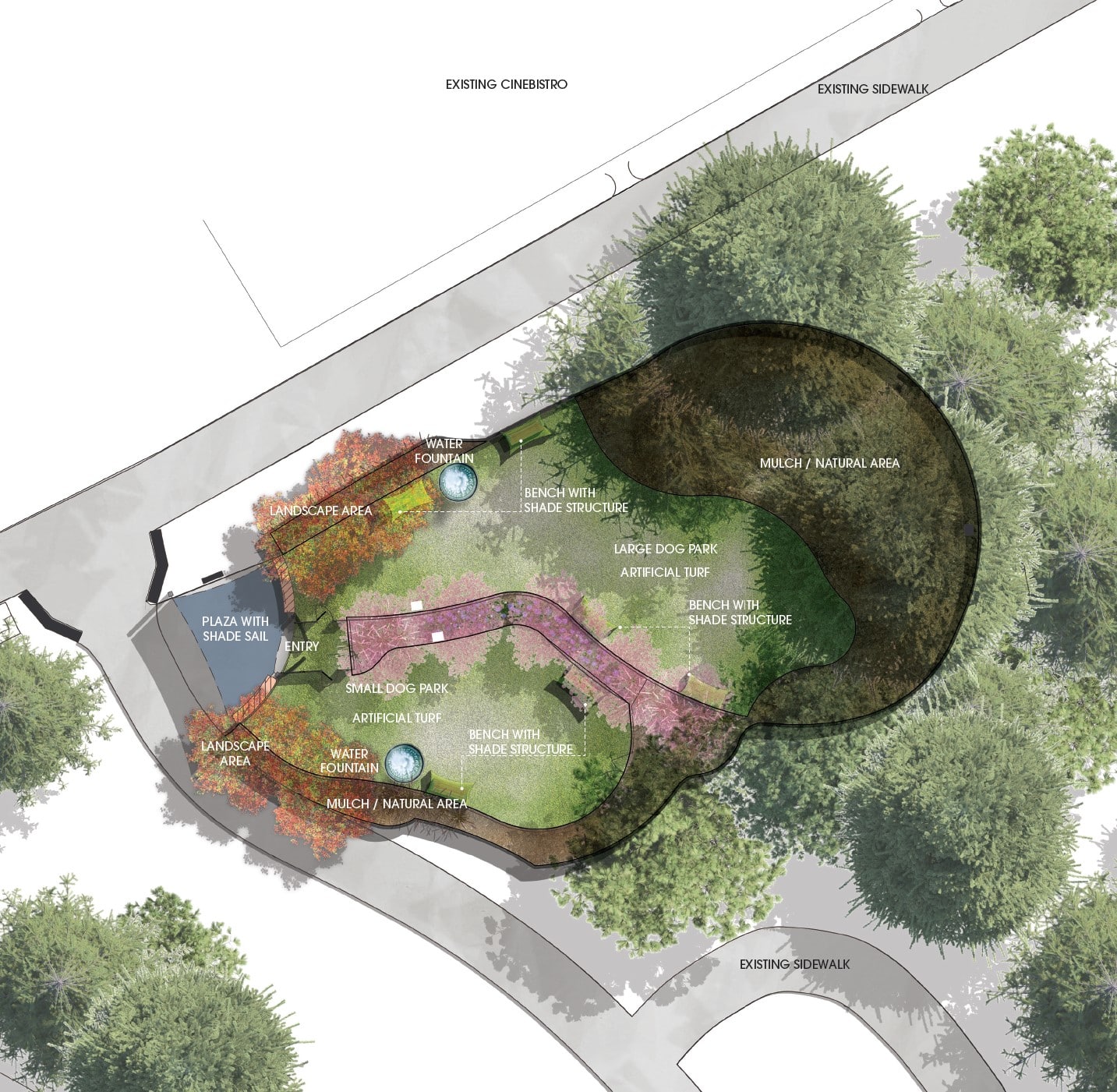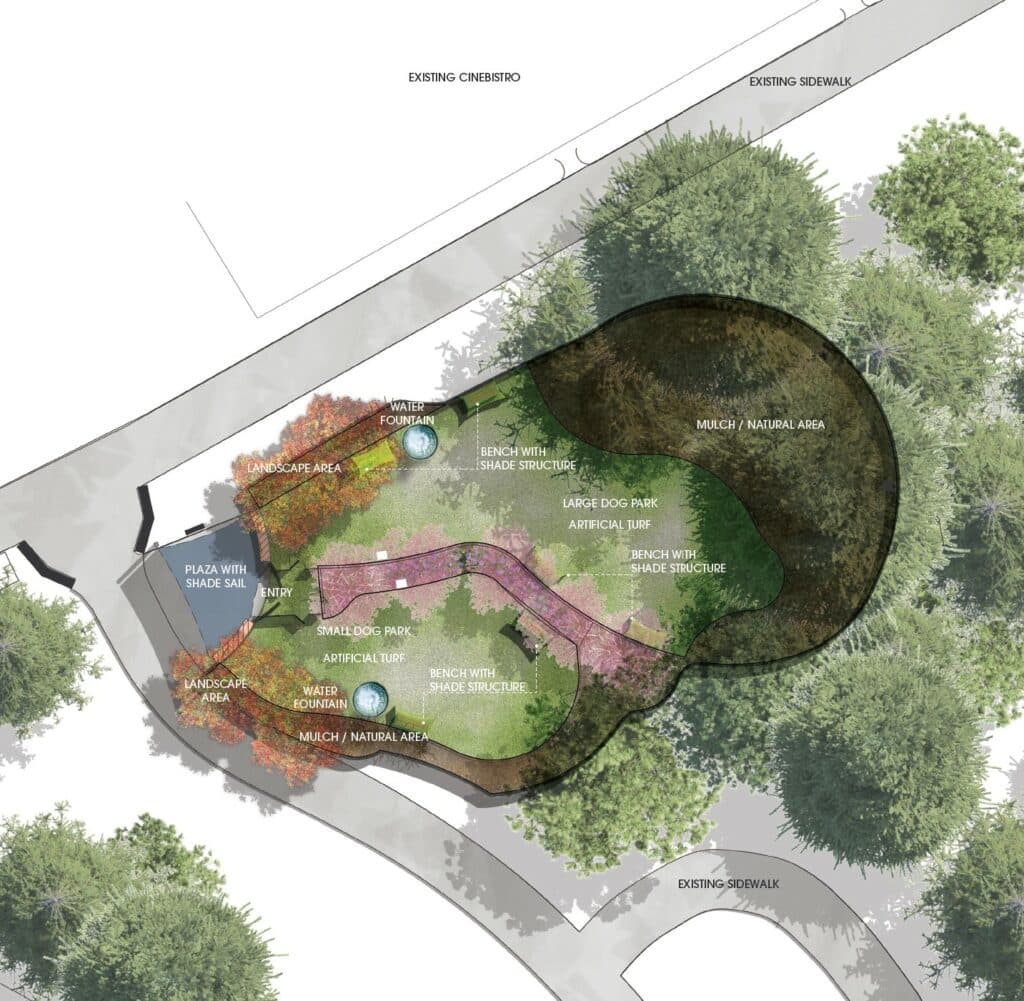 It will have both natural and artificial turf areas. Additionally, there will be a plaza featuring a shade sail, water fountains, pet waste containers, shaded benches and enhanced landscaping.
During the construction phase, access to the park will be limited. However, the existing playground and fitness path can still be accessed through the park entrances between Taqueria Tsunami and Jinbei West.
They are still accessible through the park entrance between Jinbei West and CineBistro and via the multi-use path behind CineBistro.
For more information, contact Louis E. Svehla, the Communications Director for the City of Peachtree Corners, at 770-609-8821 or lsvehla@peachtreecornersga.gov.

Candidates for Peachtree Corners Council Square Off at UPCCA Forum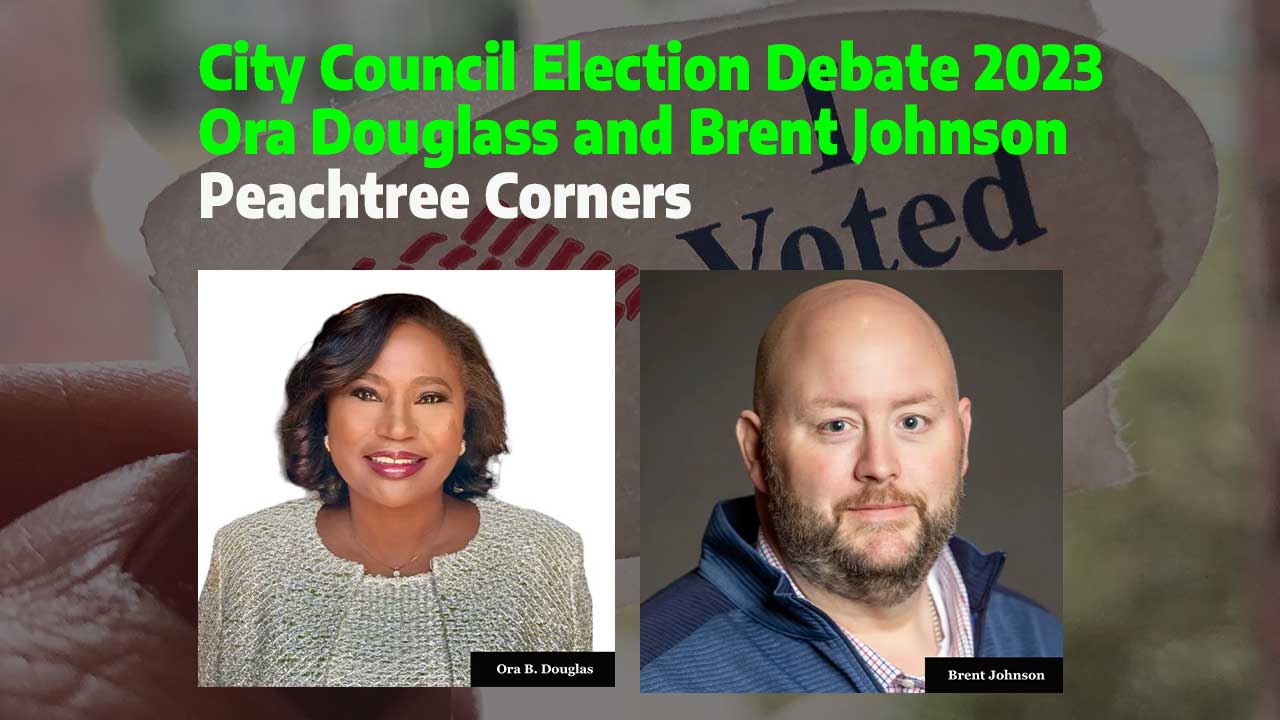 The city of Peachtree Corners Council Post 5/At Large is the only citywide race with at least two candidates, and it was imperative to let residents learn more about them.
United Peachtree Corners Civic Association hosted a forum on Thursday, Oct. 19, at Christ the King Lutheran Church to hear these candidates' voices.
Moderated by local attorney Jim Blum, candidates Ora Douglass and Brent Johnson appeared to have more viewpoints in common than in opposition.
Both candidates conveyed their love for the community and their passion to see it remain a great place to live and raise a family.
Community concerns about crime, growth and development
The first question asked the candidates what they thought were the top three issues facing the city that they would address if elected.
Douglass: "The citizens that have really been vocal as I've knocked on doors—they don't like the apartments. They want their property values to remain at a reasonable level. They don't like the traffic. They don't like the bridge. It's been there for a long time. Still, they don't like that bridge.
So, I think the top priorities for me would be communication between the council and the city because there's clearly a disconnect between what the residents feel and think and what's going on in the city council."
Johnson: "The top three things I want to accomplish if I get elected is to make the government smaller and more efficient. Right now, we're operating at a much higher efficiency than we were ever set out to be. We were supposed to be a small city—three services—we've kind of morphed into a full city now. We've lost more efficiencies that we need to have in place.
Second, the rapid development of high-density housing has got to stop. It's going to kill traffic. It's going to kill the schools and the crime rate is going to increase. We've got to stop that.
The last thing is public safety because of a lot of the high-density housing we're putting in place. We've got to curb the crime that's in Peachtree Corners like robberies at The Forum and shootings at Quik Trip. We've got to stem the tide on that and get out ahead of it before it gets really bad."
Doing good in the neighborhood
The candidates were then asked to describe the community service activities they each have led in Peachtree Corners and how they would continue those efforts if elected.
Johnson: "The community service I've done in Peachtree Corners has been more on the sports organization side from coaching sports with my kids—baseball and soccer. I help fundraise for food drives.
The biggest community service activity we need to implement, as I've stated before, is getting the community involved in what's going on.
A lot of people like to complain about things, but nobody wants to get involved with things. So, we've got to do something to bring the city together, to voice their concerns, and get with the government to actually listen to the concerns—not that they aren't.
If you like to complain and people over here are doing things, someone's got to get them together and bring them together. That's my biggest community service for the city that will make the city better—everybody on one page so we can make this a great place to live—continue to make this a great place to live."
Douglass: "My motto is service first because I believe in serving you first over self. I am the person who charted a chapter of Alpha Kappa Alpha [Sorority] right here in Peachtree Corners.
We clean up 1.6 miles of road of Peachtree Corners Circle, quarterly picking up trash from the south side. The other thing that I have done is, just a few months ago, I coordinated a clothing drive and a sanitary napkin drive for children and teenage girls over at Landmark Church. We had over 250 residents there.
We gave out food and we gave out clothing. Coming up here on November 11, mark your calendars, I am coordinating a veteran's event out at Town Center where we have all of our veterans and their families out there.
The thing that I would do when I'm elected is to bring more community service within Peachtree Corners—not just at The Forum, not just at Town Center, but on south side as well. I would like to bring activities that bring us together. Maybe we can have one and cross that bridge."
Taking a different approach
The candidates were then prompted to recall a city council decision that they disagreed with.
Johnson: "What I'm talking about, and brought up, is the $10 million bridge that we built, that probably didn't need to be built. We couldn't use it for heifers all said and done. It was a substantial amount of money that we spent on that bridge. That's one of the big things we've done.
Also, maybe not have done the condo for rent places right next to the liquor store. Those are the two big things that I will say most recently that we have done that I was not very pleased with because we started all this based on fear of apartments at the Town Center.
That's the reason for forming this city—was to protect property values and protect housing density."
Douglass: The first one is the intersection that's near my house off Bush Road. I go the wrong way there all the time. I understand from the people that I've knocked on their doors that there have been quite a few accidents there. That's one of the decisions that I just do not like.
I wish that they could hurry up and get it completed so that I can know which way I'm supposed to go. … I think I agree with Brett that those apartments behind the liquor store are hideous."
Closing statements
Both candidates remarked that they want Peachtree Corners to continue to be a place for families.
Douglass has raised children in the area and Johnson is currently raising children. Johnson pointed out that he works full-time and isn't retired, but still wants to devote a significant portion of his time to the betterment of the city where he was born and raised.
On the other hand, Douglass doesn't punch a clock but is heavily involved in many activities. She said she brings a vision and diversity that the city needs.
Watch the complete candidate forum here.
The next municipal election is scheduled for November 7, 2023.
Advanced voting will close at 5:00 p.m. Friday, November 3, 2023. 
All municipal elections take place at Peachtree Corners City Hall, 310 Technology Parkway, Peachtree Corners, Georgia, 30092, regardless of polling places for county, state or federal elections.
For information on where to vote and general elections visit the Georgia Secretary of State My Voter Page (MVP).

Peachtree Corners Councilmember Sadd Schedules Town Hall Meeting for November 2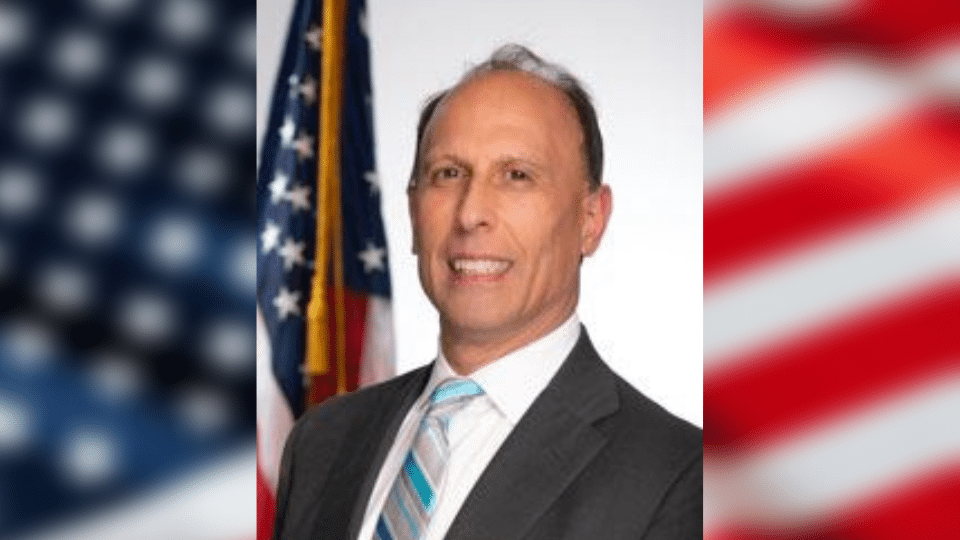 Post 1 Councilmember Phil Sadd is hosting a Town Hall Meeting on Thursday, November 2, at 7:00 p.m. at Winters Chapel United Methodist Church, which is located at 5105 Winters Chapel Road.
The issues that will be discussed include:
The new Marshal Program and Crime Prevention,
The Forum and Town Center initiatives,
Key transportation improvement projects,
Curiosity Lab Innovation initiatives and
Candidates for the City Council open seat.
"Meeting with constituents and residents to provide them with information regarding the city is vitally important for transparent communication," said Sadd.
"The upcoming Town Hall will not only provide our residents with information and an opportunity to ask questions, but also it will allow me to hear directly from them about their concerns and desires of our city for the future," he added.
The Town Hall Meeting will be held in Peachtree Corners District 1 and is a non-partisan event open to all citizens.
To get in touch with Councilmember Sadd, send him an email at psadd@peachtreecornersga.gov.