North American Properties Invests in Downtown Peachtree Corners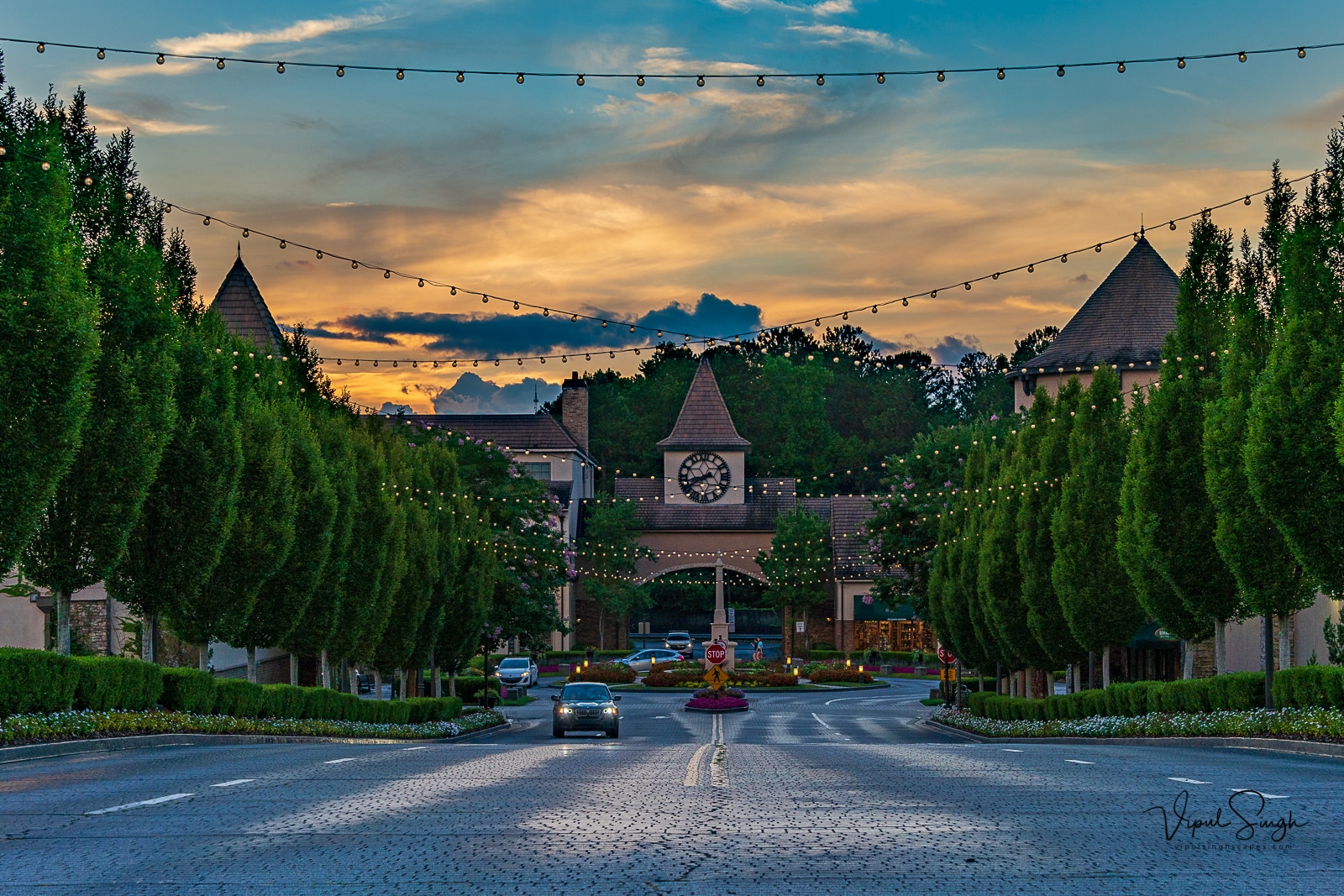 New owners of The Forum look to revamp downtown and create a live, work, play open-air experiential center
As anyone who's taken on a fixer-upper project can attest, you must have vision turn the worn-out into the worthwhile. Whether it's an old sports car sitting under a tarp in the garage, a rundown farmhouse or an aging retail center that's lost some of its luster, the artistry is looking beyond the rusted-out floorboards or rickety front porch and picturing what it could be.
A decades-old structure could become a space where people can live in amenity-laden accommodations, work in technology-forward office space and be entertained by the trendiest venues — all within a few miles' radius.  
That's why many in Peachtree Corners are excited about the prospect of North American Property's (NAP) purchase earlier this month of The Forum at Peachtree Parkway. For an undisclosed amount, it partnered with Nuveen Real Estate, another industry giant, to revitalize the 22-year-old site.
"To have an opportunity to get something like The Forum to own and be able to invest in a community like Peachtree Corners is important," said Tim Perry, NAP managing partner. "By far the best thing was that the community just loves the asset, and it just needs a little second-generation love and needs some renewed focus. And it's just rare you find something of such great quality with such great potential."
With an average household income of $102,564, according to City of Peachtree Corners statics, and State Route 141, a major thoroughfare carrying commuters from as far north as Forsyth County through the city into Buckhead, the town of about 45,000 has quite an appeal. Perry, himself, takes that route from his home in Johns Creek to his offices in Midtown.
Although it lies on the Gwinnett County side of the Chattahoochee River, Peachtree Corners has the potential to rival Roswell and Alpharetta for affluence and quality of life.
Proven track record
That's where the genius of NAP comes into play. It has already proven it can spin straw into gold, so to speak, when it comes to multi-use development. The rejuvenation of Atlantic Station in Midtown and Avenue East Cobb in Marietta, as well as starting from the ground up with Avalon in Alpharetta, are testaments to the expertise it has honed over the years.
Now The Forum stands to become the next shining example.
To make that transformation, NAP won't just slap on a few coats of paint and add some new fixtures. This is no house-flipping endeavor. The first step to success, said Perry, is to realize what the residents want.
Take Avalon and Avenue East Cobb, which aren't far from each other. Similarities include established, but still growing, communities and strong attachments to the reworked properties by the locals.
A retailer who wants to move into the metro Atlanta market can make a big impact and only needs to work with one company. They can obtain leases at three high-end developments that are far enough apart to avoid redundancy, but close enough to manage.
"It's one call for a tenant to say, 'Hey, I want to come into North Atlanta.' Alright, we got we got three spots for you right now. And they're far enough apart that they could conceivably be in all three," Perry explained.
After all, in the metro Atlanta area, a 30-minute drive is almost like being in another state.
Reimagined retail: don't call it a comeback
But the naysayers who worry that brick-and-mortar retail is dead haven't done their homework. "Retail constantly reinvents itself," Perry said. "If you're a student of history, you can look at the local Main Street retail that evolved into the category of big boxes, like Walmart and Target and then the separation of service needs … it continually changes and reinvents itself. And it's reinventing itself again."
A recent report by the Data & Services arm of financial services titan Mastercard revealed that to remain relevant, physical retail must strategically evolve in the face of changing shopper preferences and new technologies. That means innovations in customer experience and a symbiotic relationship between physical and digital stores as a singular retail enterprise.
The report added that "many often see increases in e-commerce business after opening physical stores in a particular geography. On the flip side, a strong online presence can drive traffic in-store, as customers seek to try before they buy."
According to Perry, "the new reinvention started with the experience and the injection of the experience and relationship that you have to have between the landlord and the tenant. So, on one end, that relationship is very transactional. And the guest experience, 'I want to park close; I want to be able to go in and get whatever it is' — whether that's getting your nails done or your hair done or buying hardware or buying groceries — they want to be able to go and do that. That's a transactional nature."
The successful reinvention, however, goes beyond that.
"But the relationship side of it, or as we call it, the experiential side, is the other sort of end of the barbell. 'I want to go there. I'm going to stroll, I'm going to have an experience, I'm going to socialize,'" Perry said. "Ultimately, we as humans are social beings."
For example, you may come to buy a shirt, but then you will meet friends for dinner.
"While there, you really have to have that great experience," he continued. "And the relationship starting between the tenant and the landlord is no longer landscaping and sweeping and lighting. It's now 'How can we have events that bring the community to the property and support those tenants?' So, we don't just do a yoga class, we do that yoga class in conjunction with Lululemon. Maybe we're pulling that tenant out, and we may do a 'Taste of The Forum' type of event, where we're getting the restaurants to come out and really put on display."
NAP has a group called "Better Together" that works on improving the experience collectively.
"And it has some very tangible focuses, like environmental safety, physical safety, and security — all that kind of stuff," Perry said. "But also has a very subjective approach as well, which is, 'How do we just become happier, and how do we invest from our side in the community?'"
'Skin in the game'
The group is focused on community interaction because NAP doesn't just parachute into a community, make its money and leave. It becomes a part of the community.
"We hosted over 600 community-driven events across our portfolio in 2021 and raised more than $154,000 for philanthropic partners in the markets we serve," Perry said. In serving the community, the company has to demonstrate to the city that its plans jive with the vision for the area.
To grow this wonderful live, work, play open-air experiential center — don't call it a mall! — taxpayer dollars are going to used to create sewers and streets and hire more police and garbage collectors, and all the other things that come with expansion.
NAP has met with Peachtree Corners officials and indicated that it will seek a change in conditions and rezone property on or near The Forum for residential use.
"Right now, we're early in the process of development for what will be a holistic property," said Brian Johnson, Peachtree Corners City Manager. "We're looking at how we can make The Forum and the area around it a global community for Peachtree Corners."
To create a robust downtown, the Town Center and The Forum are two halves that need to be connected, Johnson said.
This concept isn't unique to Peachtree Corners. It's the "it" thing right now. Where in the past, all the commerce would be in one part of town and the residential in another part, the latest trend is to combine those — whether it's in a macrocosm like the city of Atlanta, or more of a microcosm like the central business district in Peachtree Corners.
The city sees the project as a win for everyone.
"North American Properties looks at The Forum and the surrounding area and sees opportunities to enhance the downtown feel and expand the activities. And they have ownership, they have skin in the game," Johnson said. "It's good to hear them refer to The Forum in a proprietary manner. In our talks we take into account the city's master plan for development."
The end result is an improved downtown with the potential for growth to spin off in other areas.
With  Town Center just a few years old, this project came at the right time, added Johnson. "We'll work out the capacity for parking, power, water, sewer — all the details —because that's our job," he said. "The details marry up and both sides are sure to support each other."
Perry couldn't agree more. "The big, big goal at the end is we want to leave a lasting difference so that if one day — anytime in the future — North American Properties is no longer an owner, the property is establishing a strong relationship through some cause with the community that it will live on, and that we are truly passing something back to our guests," he said.
"To do that we've got to revamp the brand, which is step one. We've got to solidify a vision for all of Peachtree Corners. And then we've got to go and get tenants that you all want and restaurants and users that align with that vision to come in and join us and join you," Perry said. "There's an alignment with their brand and the qualities and values of the community. That's the big part of it."
Other NAP Successes
Avalon – 2200 Avalon Boulevard, Alpharetta 30009
At 2.3 million square feet, this site is a sustainably designed urban development in a suburban setting. It infuses resort-level hospitality throughout a walkable, seamlessly connected community featuring a carefully curated retail collection and chef-driven dining experience, entertainment, living and working.
86 acres
570,000 square feet of retail space
Full-service 330-room hotel
750,000 square feet of Class A office space
Luxury apartments and single-family homes
200-plus events per year
Avenue East Cobb – 4475 Roswell Road, Marietta 30062
The shopping and socialization center opened in August 1999 as one of the first outdoor, pedestrian-friendly retail developments. For over 20 years, the center has served as a key shopping and dining destination for residents of Cobb County, offering a collection of 44 retailers and restaurants. In July 2021, North American Properties entered a joint venture partnership with PGIM (formerly Prudential Investment Management) to reposition the open-air lifestyle center by enhancing the guest experience and creating a modern gathering place for the community.
230,000 square feet of retail space
Four Cobb County high schools ranked in the 25 Best High Schools in Georgia
Expansive green spaces, trails and Chattahoochee River access throughout Cobb County
Kimberly Beaudin, CEO of the College Football Hall of Fame, Guest at SWGC [Photos]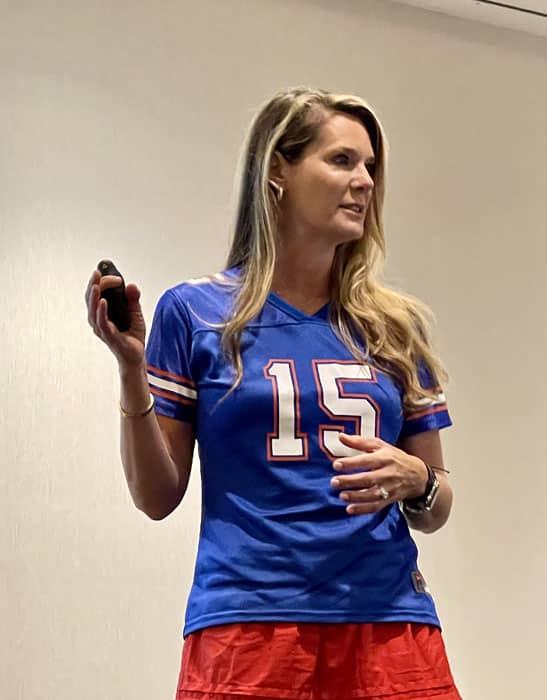 Beaudin was the Speaker at Southwest Gwinnett Chamber's "First Friday" Meeting at the Norcross Crowne Plaza Hotel
Kimberly Beaudin (CEO of the College Football Hall of Fame was the guest speaker.
Coach Mark Richt and Matt Stinchcomb (GA Bulldog player and college football HOF inductee) were also in attendance

Kimberly Beaudin is the President & Chief Executive Officer of the College Football Hall of Fame, a national nonprofit organization and top-rated experience based in Atlanta, Georgia.  Beaudin joined college football's mecca in June 2015 as the Vice President of Marketing and Communications.  With over 20 years of experience in leading brand development and marketing strategy, she was promoted to oversee the sales operations of the business in March 2016.
 
Beaudin was named President & CEO of the Hall of Fame in March 2020, making her the first female leader of the storied institution.  In her role, Beaudin's primary focus is on philanthropic development and she leverages her vast experience in partnership sales, strategic marketing, community and public relations and event and group sales to ensure a sustainable future for the Hall.
Photos by Bruce Johnson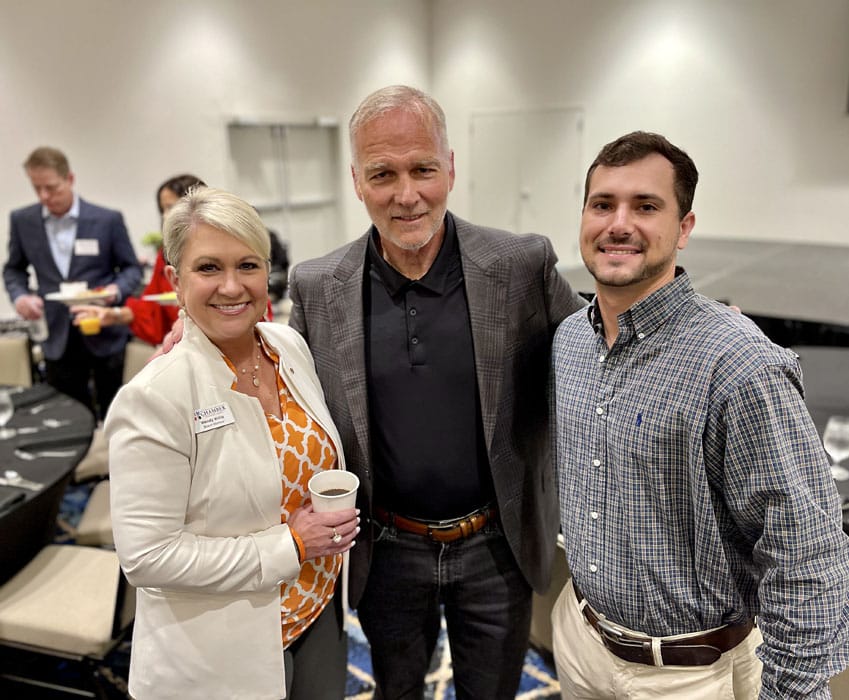 Peachtree Corners Business Association Donates to Neighborhood Cooperative Ministry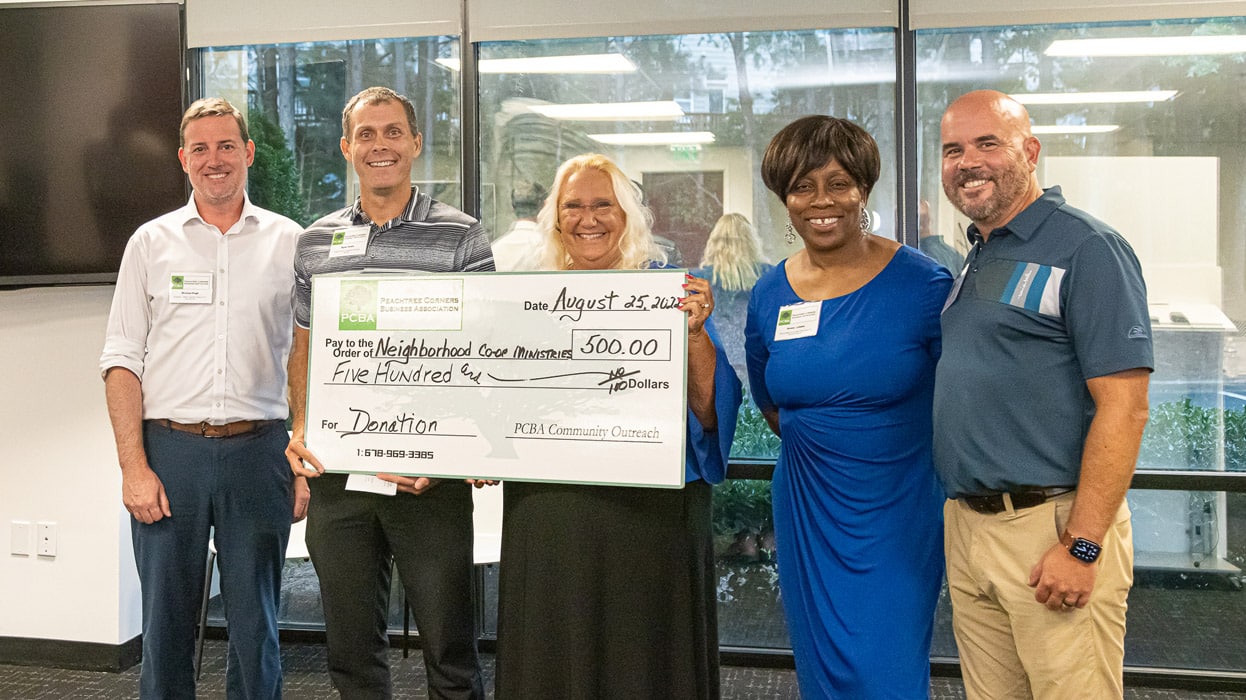 The Peachtree Corners Business Association (PCBA) awarded a check for $500 to Neighborhood Cooperative Ministries at our August PCBA Business After Hours Networking event. The PCBA was able to combine our "No Pressure Networking" event with doing good in the community!
The Neighborhood Cooperative Ministries provides physical (food & clothing, health), financial (rent & utility assistance, temporary hotel stay, job ministry) or spiritual assistance (counseling, prayer and church connections) to those in need.  Helping those in crisis by collaborating with the community to offer programs and services that transform lives through the love of Christ, Neighborhood Cooperative Ministries serves at-risk Gwinnett County residents from Doraville, Norcross, Peachtree Corners, and Tucker as well as Greater Gwinnett through community partner referrals and various funding cycles.
"The PCBA is pleased to award a check for $500 to the Neighborhood Cooperative Ministries to contribute to their ongoing need of restocking their pantry and providing financial assistance as part of our Community Outreach," says Lisa Proctor, PCBA President. Our Outreach Committee and Board are committed to supporting our community as our businesses continue to grow.

For more information about the association call 678-969-3385, email membership@peachtreeba.com or visit https://www.peachtreecornersba.com
The Secrets to Israel's Start-up Ecosystems Success Through the Eyes of a PTC Local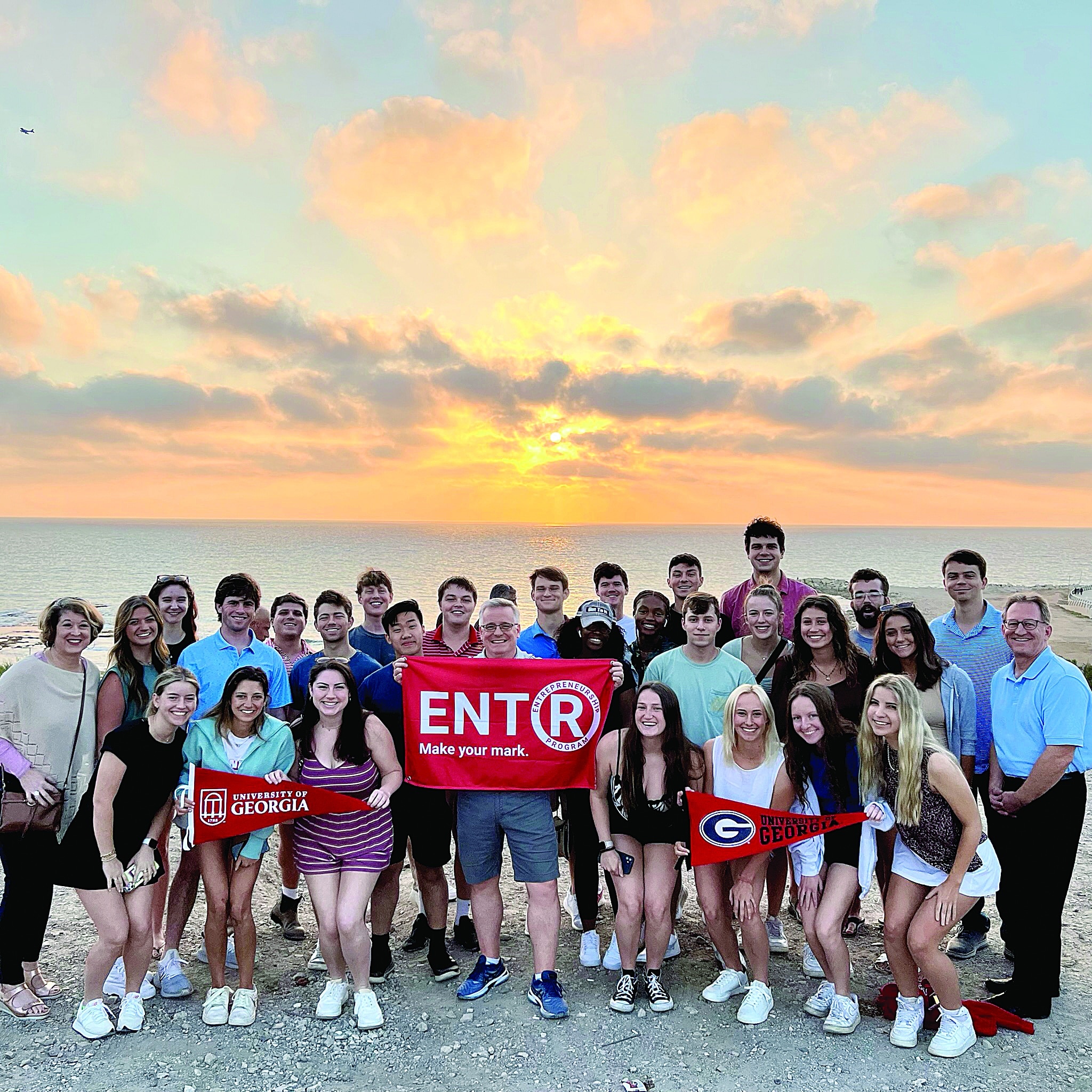 UGA entrepreneurship students seek the secrets to Tel Aviv's startup success.
Contribution by Stevie Bramble
About 6,000 miles across the Pacific Ocean, perched on the easternmost part of the Mediterranean Sea, lies Tel Aviv, Israel, a seemingly small entrepreneurial society that has transformed the start-up ecosystem worldwide. Israel has attracted large multinational companies such as Google, IBM, Apple and Fujitsu to their nation due to their start-up success, and it's continuing to grow today.
The successful start-up nation attracted University of Georgia's first study abroad group of Entrepreneurial students to spend time and learn about the ecosystem of entrepreneurship. They spent weeks studying the social and institutional infrastructure that supports one of the world's busiest start-up hubs. By visiting companies such as Monday.com and Overwolf, the students received an abundance of entrepreneurial knowledge from CEOs and employees in the tech sector.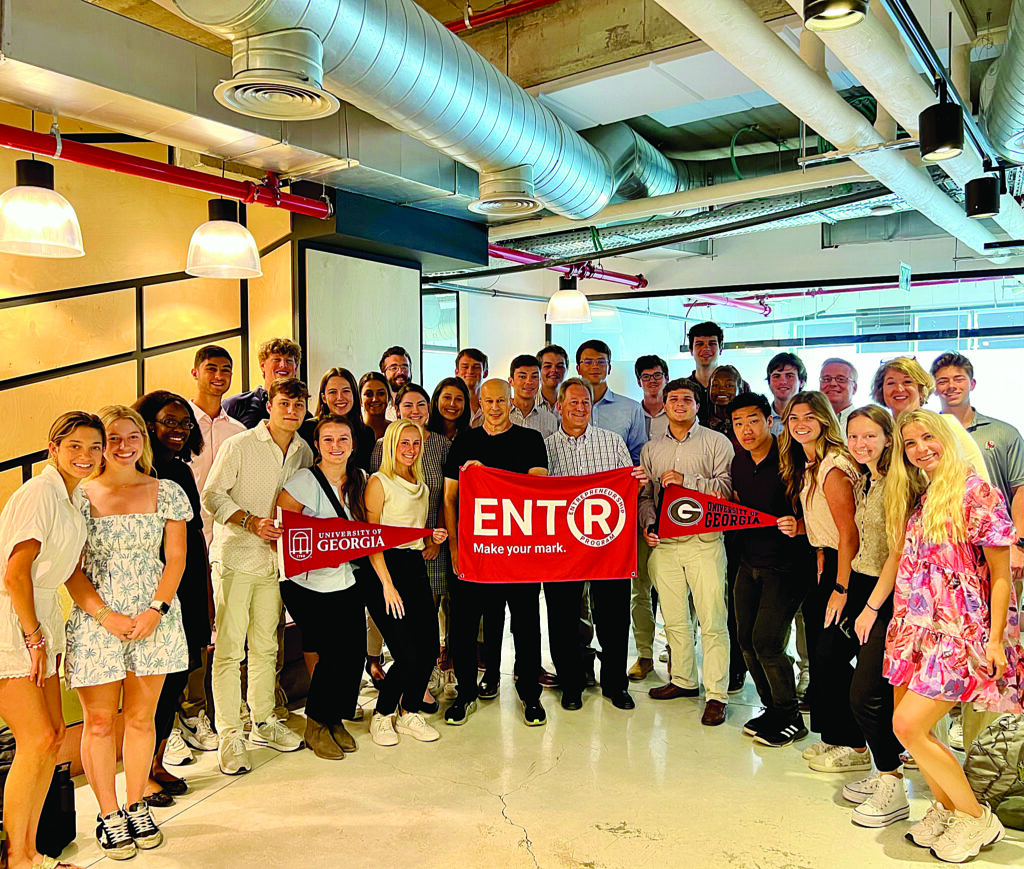 "I wasn't sure what to expect in Israel. However, I was so overwhelmed with the amount of knowledge I was able to grasp in three weeks," said Stevie Bramble, a rising UGA fourth-year student studying marketing and entrepreneurship. "Everyone in the cohort was excited to learn about this unique business environment, and the community was willing to teach us about it."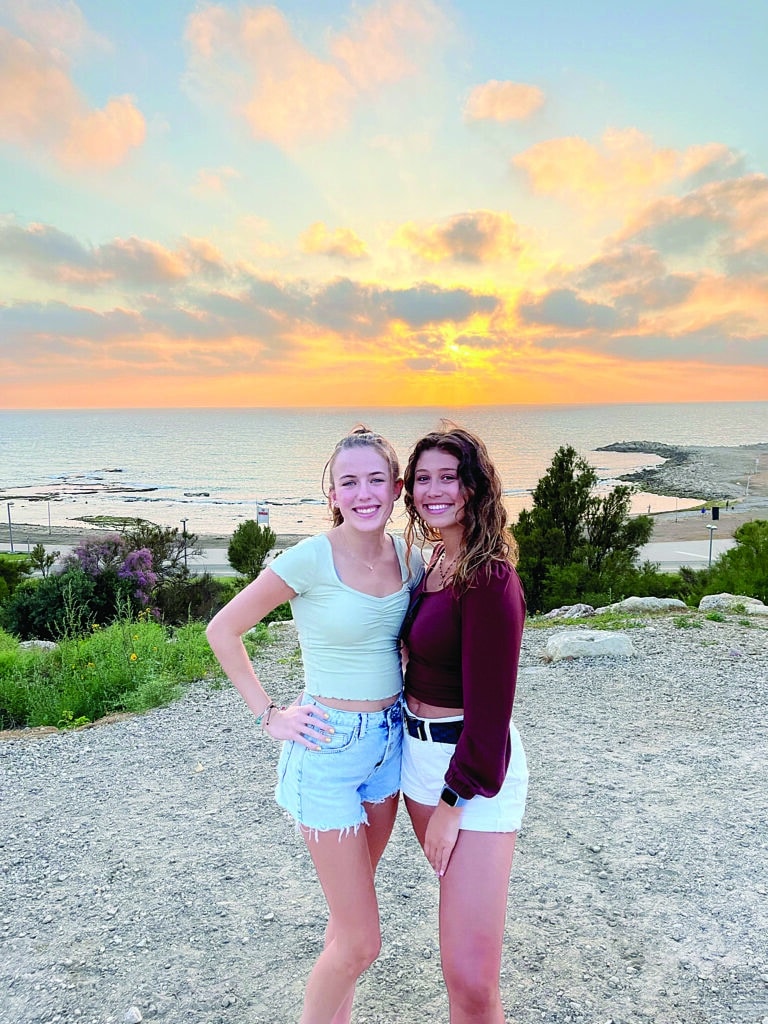 Bramble was one of 28 students who participated in the study abroad Maymester in Tel Aviv, partaking in two courses: The Study of Diverse Entrepreneurship and Innovation Ecosystems. Although the majority of students are pursuing a degree through the Terry College of Business, the trip included all majors.
Some other students are majoring in engineering, fashion merchandising, communications and international affairs. The program ensured a mix of people from all over UGA's campus to embrace differences.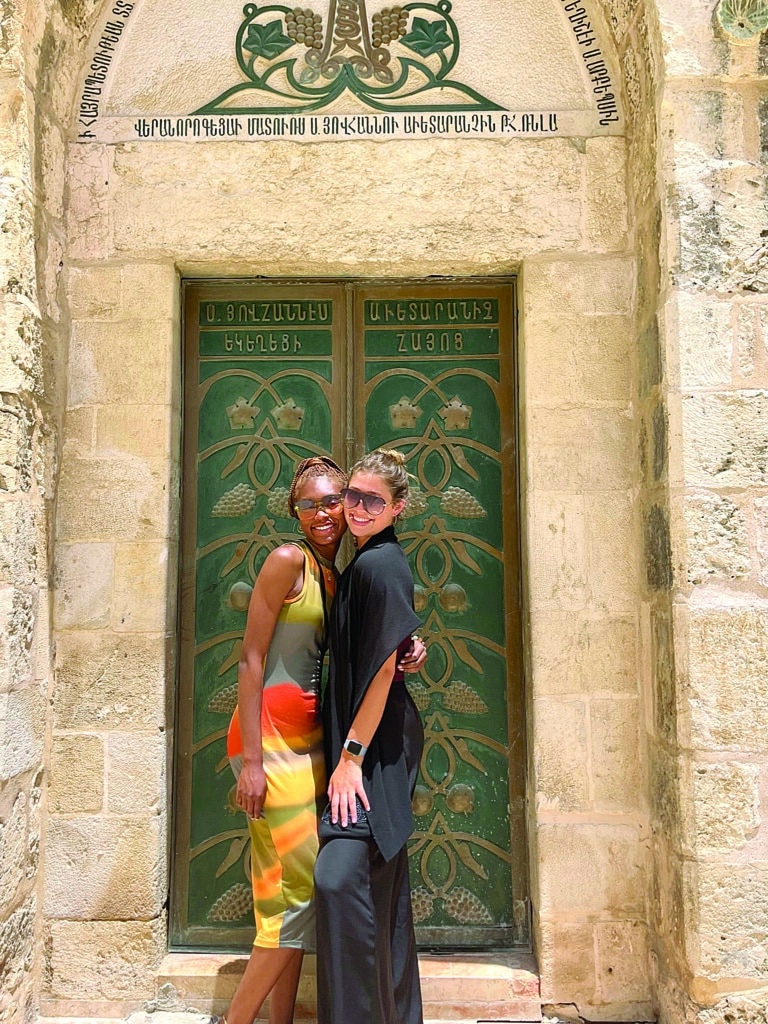 Survivalist engine
According to Shahar Sorek, Israel is a "survivalist engine." Sorek is the CMO of Overwolf, one of the businesses the students visited, and he spoke on Israel's ecosystem. He mentioned that the Israeli people have persevered through hardship and furthermore, have produced a community of assertive and risk-taking individuals motivated to work hard and survive for the future.
Right: At the Overwolf Office in Tel Aviv. Top row: Lindsay Mangum, Alex Boulogne, Kaleb Thibodeaux, Laura Neely, Ben Brown and Nina Boone; bottom: Stevie Bramble.
Left, Shahar Sorek, CMO at Overwolf
Adding on to this, Bramble learned that Israel has a military service that all Jewish men and women are required to partake in, called the Israel Defense Forces (IDF). After their 18th birthdays, they must serve for two to three years before pursuing any secondary schooling or leaping into the workforce. While Americans cringe at the words 'mandatory military time,' Israeli's embrace it.
"The army brings people together because everyone in Israel has to do it," said Hannah Laskow, the influencer marketing manager of Overwolf. " Israel is only 74 years old so it is pretty small, creating a tight community that is willing to lean on one another."
Laskow met with Bramble one-on-one during the trip to discuss Israel's ecosystem in depth. She mentioned that the IDF has different sectors, including, but not limited to, a tech sector and a combat sector.
The tech sector is where most of the multinational companies such as Google and IBM recruit. It's imperative to Israel's ecosystem to require the IDF due to the massive amount of talent being injected into society constantly.
In the Study of Diverse Entrepreneurship course, the students had the opportunity to create a plan to maintain Israel as a major hub for start-ups. One of the groups came up with a plan to create technology boot camps for individuals coming out of the IDF who participated in non-tech sectors to gain tech knowledge and fix the lack of talent issue. The students were able to solve some real-world issues happening around them, and it was reported to be one of their favorite projects.
In Israel, to be risk-tolerant is to survive. That's why the majority of individuals are able to go anywhere and meet others who share an entrepreneurial mindset with ideas and thoughts like their own.
Bramble and the rest of the group met with creators of start-ups, ranging from small local incubators to larger global companies, including Monday.com and Overwolf. Some of the speakers had taken multiple businesses public and now run large tech incubators. The group took away key points toward understanding the 'survivalist engine' they call Israel.
The key to success: failure
According to the students, there was one standout speaker. Yuval Tal, founder and president of Payoneer and BorderFree, made time in his busy schedule to talk to the UGA students about his new tech incubator, Team8, and how to survive in a fast-paced start-up nation like Israel.
The student's key take-away from his speech was the acceptance of failure. Tal mentioned that start-ups take risks, and with risks comes failure. He drove home the point that success doesn't come without many failures.
"Having the drive to keep going is what matters the most," said Tal. The students presented him with questions about Israel's ecosystem, teamwork and his own personal failures.
Tal mentioned his biggest failure was letting go of people and regretting it down the line. Tal hinted that one person he let go went on to start their own business and become successful in the sector he was working in himself. The lesson for the students was that it takes courage to work with and hire people who are smarter and better than yourself. However, it is imperative to do it because it will make your business better.
He also stated that "courage is over intelligence," meaning that it takes a person to become bigger than their ego to keep going forward even when it seems difficult. The take-aways from Tal were the importance of believing in yourself, having courage and accepting failure.
After considering Laskow's insights about the IDF, it is clear how Israel has become a high-demand place for multinational companies to set up research and development centers. The riskiness ingrained into the Israeli people from birth is beneficial in their workplace life, especially after their experiences in the IDF.
The IDF fosters a place where people must fail and learn from their mistakes to survive. It seems that Israel has mastered its survivalist engine perfectly. As many say "I'm Tirzu, Ein Zo Agadah" which translates into English as, "If you will it, it is no dream."
Future trip planned
The University of Georgia plans to host another trip to Tel Aviv, Israel in 2023 through the Entrepreneurship Program. For more information, please visit terry.uga.edu/entreprenuership.