North American Properties Invests in Downtown Peachtree Corners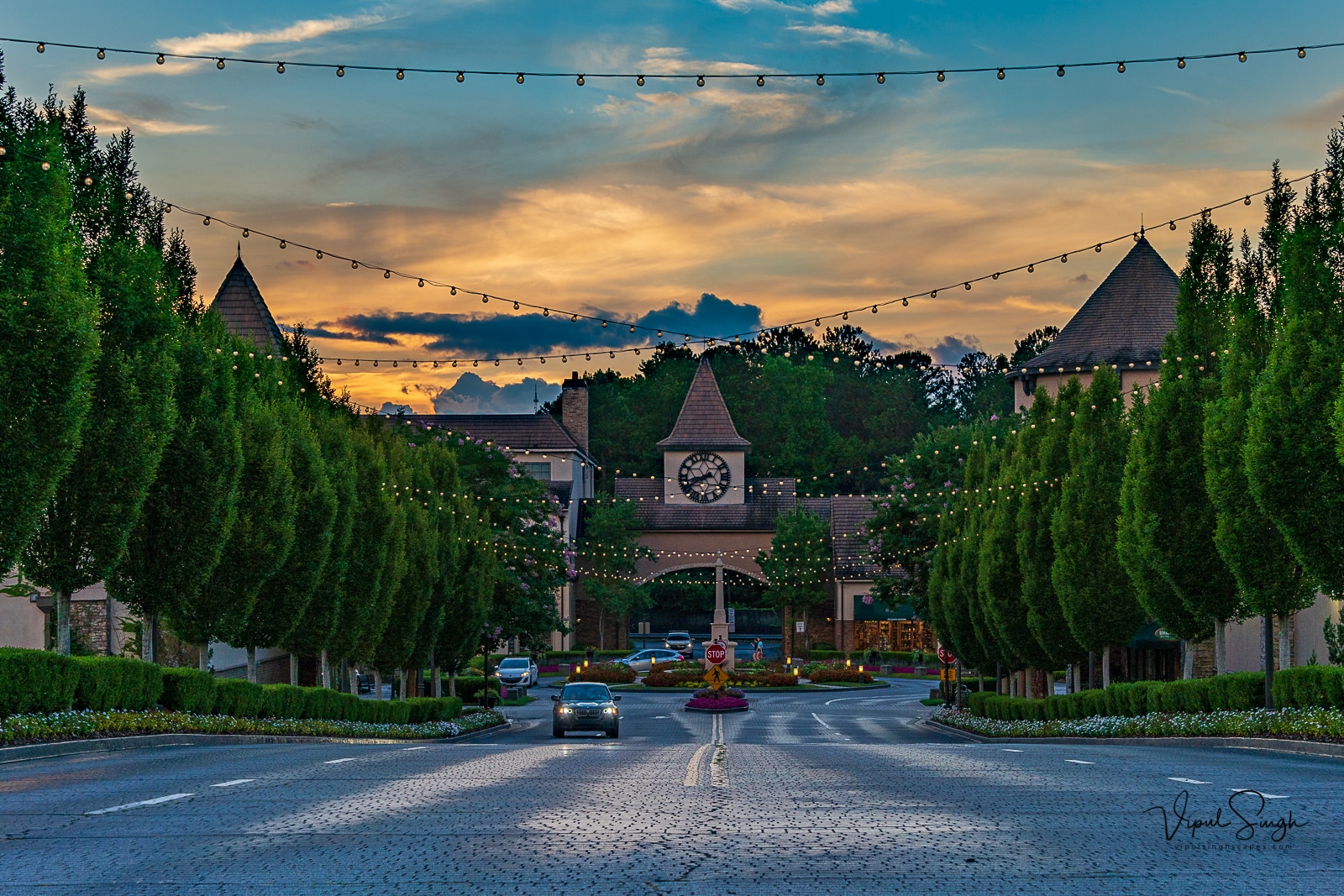 New owners of The Forum look to revamp downtown and create a live, work, play open-air experiential center
As anyone who's taken on a fixer-upper project can attest, you must have vision turn the worn-out into the worthwhile. Whether it's an old sports car sitting under a tarp in the garage, a rundown farmhouse or an aging retail center that's lost some of its luster, the artistry is looking beyond the rusted-out floorboards or rickety front porch and picturing what it could be.
A decades-old structure could become a space where people can live in amenity-laden accommodations, work in technology-forward office space and be entertained by the trendiest venues — all within a few miles' radius.  
That's why many in Peachtree Corners are excited about the prospect of North American Property's (NAP) purchase earlier this month of The Forum at Peachtree Parkway. For an undisclosed amount, it partnered with Nuveen Real Estate, another industry giant, to revitalize the 22-year-old site.
"To have an opportunity to get something like The Forum to own and be able to invest in a community like Peachtree Corners is important," said Tim Perry, NAP managing partner. "By far the best thing was that the community just loves the asset, and it just needs a little second-generation love and needs some renewed focus. And it's just rare you find something of such great quality with such great potential."
With an average household income of $102,564, according to City of Peachtree Corners statics, and State Route 141, a major thoroughfare carrying commuters from as far north as Forsyth County through the city into Buckhead, the town of about 45,000 has quite an appeal. Perry, himself, takes that route from his home in Johns Creek to his offices in Midtown.
Although it lies on the Gwinnett County side of the Chattahoochee River, Peachtree Corners has the potential to rival Roswell and Alpharetta for affluence and quality of life.
Proven track record
That's where the genius of NAP comes into play. It has already proven it can spin straw into gold, so to speak, when it comes to multi-use development. The rejuvenation of Atlantic Station in Midtown and Avenue East Cobb in Marietta, as well as starting from the ground up with Avalon in Alpharetta, are testaments to the expertise it has honed over the years.
Now The Forum stands to become the next shining example.
To make that transformation, NAP won't just slap on a few coats of paint and add some new fixtures. This is no house-flipping endeavor. The first step to success, said Perry, is to realize what the residents want.
Take Avalon and Avenue East Cobb, which aren't far from each other. Similarities include established, but still growing, communities and strong attachments to the reworked properties by the locals.
A retailer who wants to move into the metro Atlanta market can make a big impact and only needs to work with one company. They can obtain leases at three high-end developments that are far enough apart to avoid redundancy, but close enough to manage.
"It's one call for a tenant to say, 'Hey, I want to come into North Atlanta.' Alright, we got we got three spots for you right now. And they're far enough apart that they could conceivably be in all three," Perry explained.
After all, in the metro Atlanta area, a 30-minute drive is almost like being in another state.
Reimagined retail: don't call it a comeback
But the naysayers who worry that brick-and-mortar retail is dead haven't done their homework. "Retail constantly reinvents itself," Perry said. "If you're a student of history, you can look at the local Main Street retail that evolved into the category of big boxes, like Walmart and Target and then the separation of service needs … it continually changes and reinvents itself. And it's reinventing itself again."
A recent report by the Data & Services arm of financial services titan Mastercard revealed that to remain relevant, physical retail must strategically evolve in the face of changing shopper preferences and new technologies. That means innovations in customer experience and a symbiotic relationship between physical and digital stores as a singular retail enterprise.
The report added that "many often see increases in e-commerce business after opening physical stores in a particular geography. On the flip side, a strong online presence can drive traffic in-store, as customers seek to try before they buy."
According to Perry, "the new reinvention started with the experience and the injection of the experience and relationship that you have to have between the landlord and the tenant. So, on one end, that relationship is very transactional. And the guest experience, 'I want to park close; I want to be able to go in and get whatever it is' — whether that's getting your nails done or your hair done or buying hardware or buying groceries — they want to be able to go and do that. That's a transactional nature."
The successful reinvention, however, goes beyond that.
"But the relationship side of it, or as we call it, the experiential side, is the other sort of end of the barbell. 'I want to go there. I'm going to stroll, I'm going to have an experience, I'm going to socialize,'" Perry said. "Ultimately, we as humans are social beings."
For example, you may come to buy a shirt, but then you will meet friends for dinner.
"While there, you really have to have that great experience," he continued. "And the relationship starting between the tenant and the landlord is no longer landscaping and sweeping and lighting. It's now 'How can we have events that bring the community to the property and support those tenants?' So, we don't just do a yoga class, we do that yoga class in conjunction with Lululemon. Maybe we're pulling that tenant out, and we may do a 'Taste of The Forum' type of event, where we're getting the restaurants to come out and really put on display."
NAP has a group called "Better Together" that works on improving the experience collectively.
"And it has some very tangible focuses, like environmental safety, physical safety, and security — all that kind of stuff," Perry said. "But also has a very subjective approach as well, which is, 'How do we just become happier, and how do we invest from our side in the community?'"
'Skin in the game'
The group is focused on community interaction because NAP doesn't just parachute into a community, make its money and leave. It becomes a part of the community.
"We hosted over 600 community-driven events across our portfolio in 2021 and raised more than $154,000 for philanthropic partners in the markets we serve," Perry said. In serving the community, the company has to demonstrate to the city that its plans jive with the vision for the area.
To grow this wonderful live, work, play open-air experiential center — don't call it a mall! — taxpayer dollars are going to used to create sewers and streets and hire more police and garbage collectors, and all the other things that come with expansion.
NAP has met with Peachtree Corners officials and indicated that it will seek a change in conditions and rezone property on or near The Forum for residential use.
"Right now, we're early in the process of development for what will be a holistic property," said Brian Johnson, Peachtree Corners City Manager. "We're looking at how we can make The Forum and the area around it a global community for Peachtree Corners."
To create a robust downtown, the Town Center and The Forum are two halves that need to be connected, Johnson said.
This concept isn't unique to Peachtree Corners. It's the "it" thing right now. Where in the past, all the commerce would be in one part of town and the residential in another part, the latest trend is to combine those — whether it's in a macrocosm like the city of Atlanta, or more of a microcosm like the central business district in Peachtree Corners.
The city sees the project as a win for everyone.
"North American Properties looks at The Forum and the surrounding area and sees opportunities to enhance the downtown feel and expand the activities. And they have ownership, they have skin in the game," Johnson said. "It's good to hear them refer to The Forum in a proprietary manner. In our talks we take into account the city's master plan for development."
The end result is an improved downtown with the potential for growth to spin off in other areas.
With  Town Center just a few years old, this project came at the right time, added Johnson. "We'll work out the capacity for parking, power, water, sewer — all the details —because that's our job," he said. "The details marry up and both sides are sure to support each other."
Perry couldn't agree more. "The big, big goal at the end is we want to leave a lasting difference so that if one day — anytime in the future — North American Properties is no longer an owner, the property is establishing a strong relationship through some cause with the community that it will live on, and that we are truly passing something back to our guests," he said.
"To do that we've got to revamp the brand, which is step one. We've got to solidify a vision for all of Peachtree Corners. And then we've got to go and get tenants that you all want and restaurants and users that align with that vision to come in and join us and join you," Perry said. "There's an alignment with their brand and the qualities and values of the community. That's the big part of it."
Other NAP Successes
Avalon – 2200 Avalon Boulevard, Alpharetta 30009
At 2.3 million square feet, this site is a sustainably designed urban development in a suburban setting. It infuses resort-level hospitality throughout a walkable, seamlessly connected community featuring a carefully curated retail collection and chef-driven dining experience, entertainment, living and working.
86 acres
570,000 square feet of retail space
Full-service 330-room hotel
750,000 square feet of Class A office space
Luxury apartments and single-family homes
200-plus events per year
Avenue East Cobb – 4475 Roswell Road, Marietta 30062
The shopping and socialization center opened in August 1999 as one of the first outdoor, pedestrian-friendly retail developments. For over 20 years, the center has served as a key shopping and dining destination for residents of Cobb County, offering a collection of 44 retailers and restaurants. In July 2021, North American Properties entered a joint venture partnership with PGIM (formerly Prudential Investment Management) to reposition the open-air lifestyle center by enhancing the guest experience and creating a modern gathering place for the community.
230,000 square feet of retail space
Four Cobb County high schools ranked in the 25 Best High Schools in Georgia
Expansive green spaces, trails and Chattahoochee River access throughout Cobb County

5 Best Business Strategies for 2024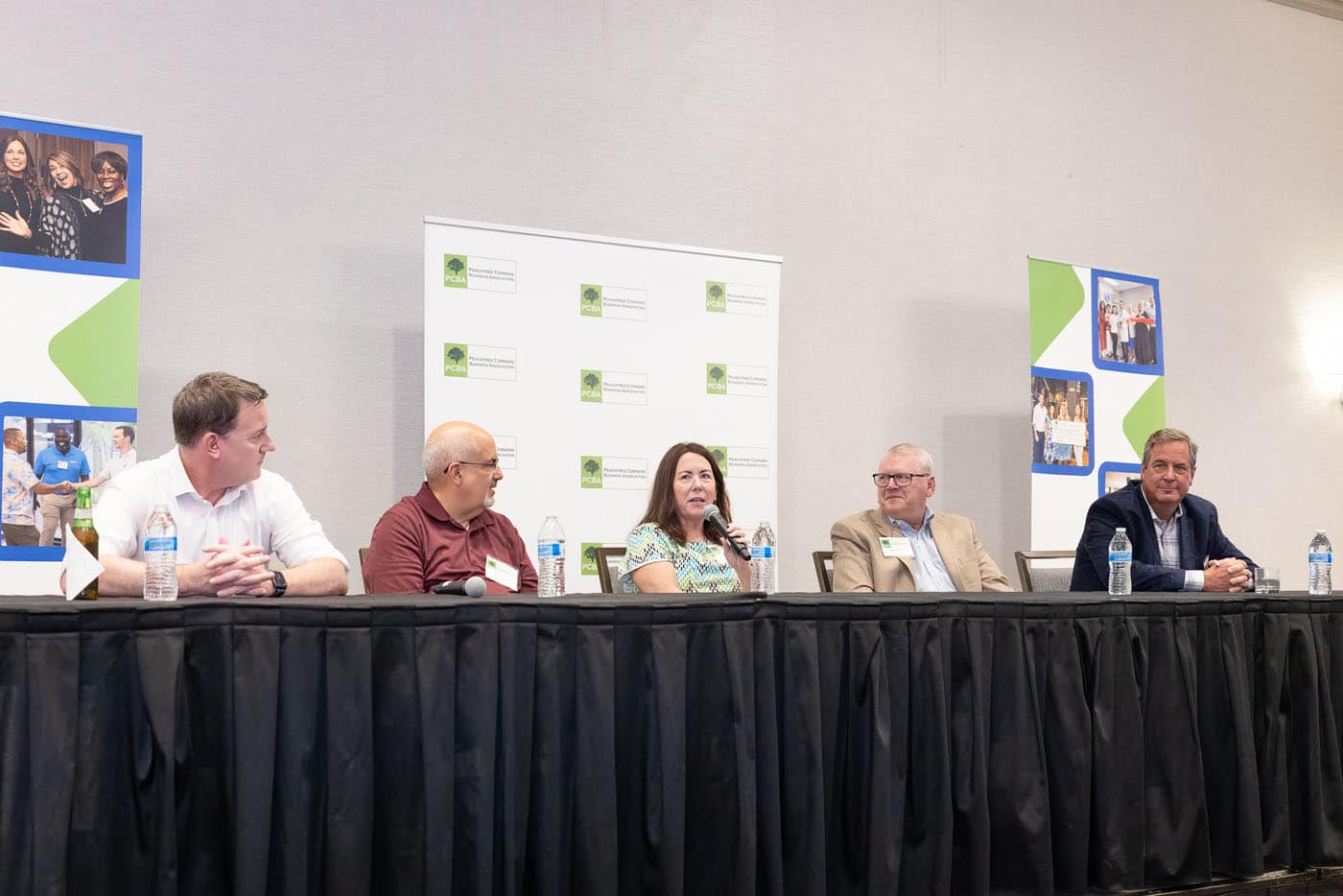 Peachtree Corners Business Association Speaker Series Panel Discuss Issues from AI to Leadership and Staffing
After 30 minutes of networking, light refreshments and 'death by chocolate' brownies courtesy of Marlow's Tavern, the Peachtree Corners Business Association (PCBA) After Hours Speaker Series Panel commenced.
This panel of local business owners and consultants gathered at the Hilton Atlanta Northeast on Thursday, Oct. 26, to discuss strategies and opportunities for business success in 2024 and beyond.
Moderator Amanda Pearch Marmolejo, owner and President of Forsyth Business Radio X, kicked things off by introducing the panel participants, which included: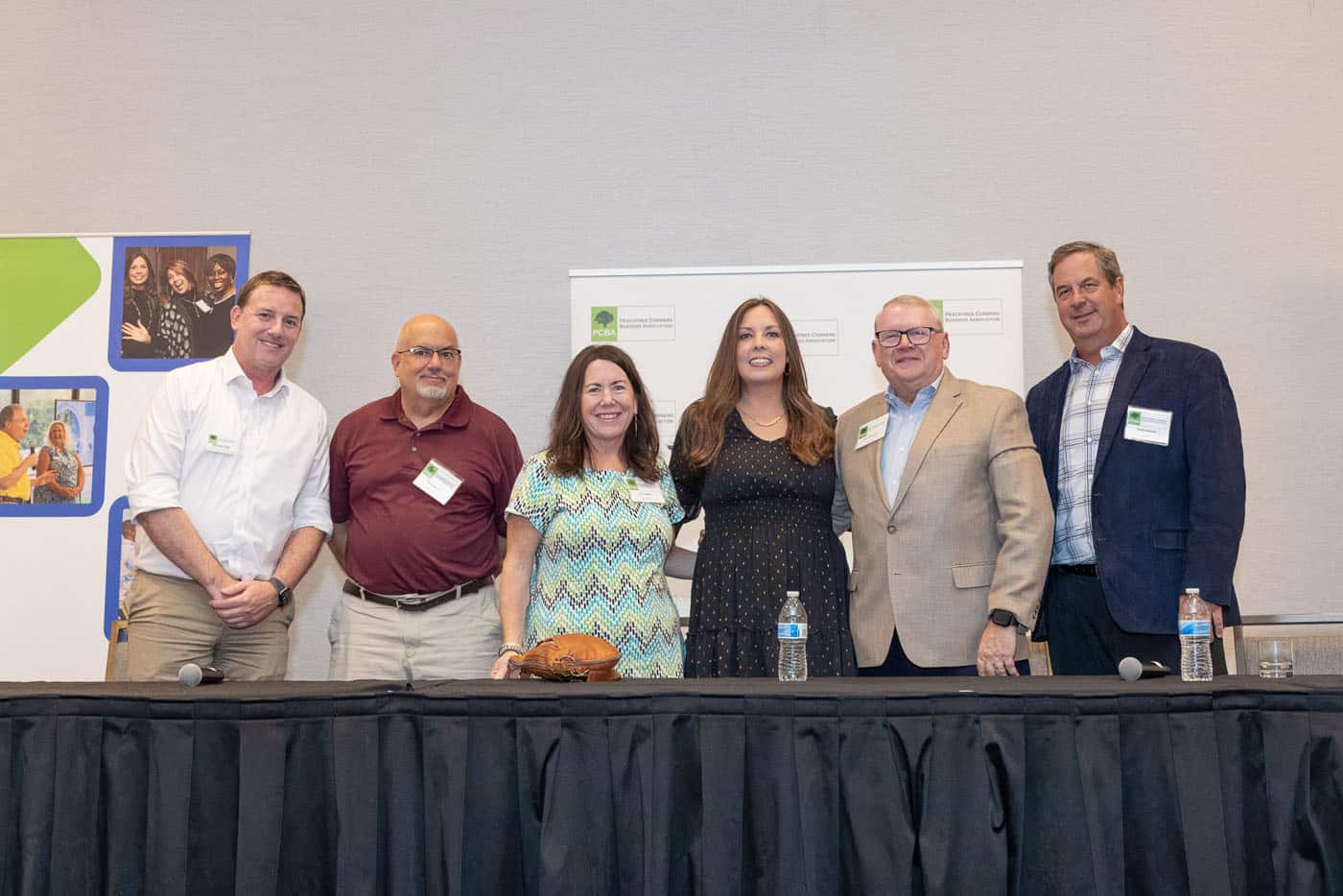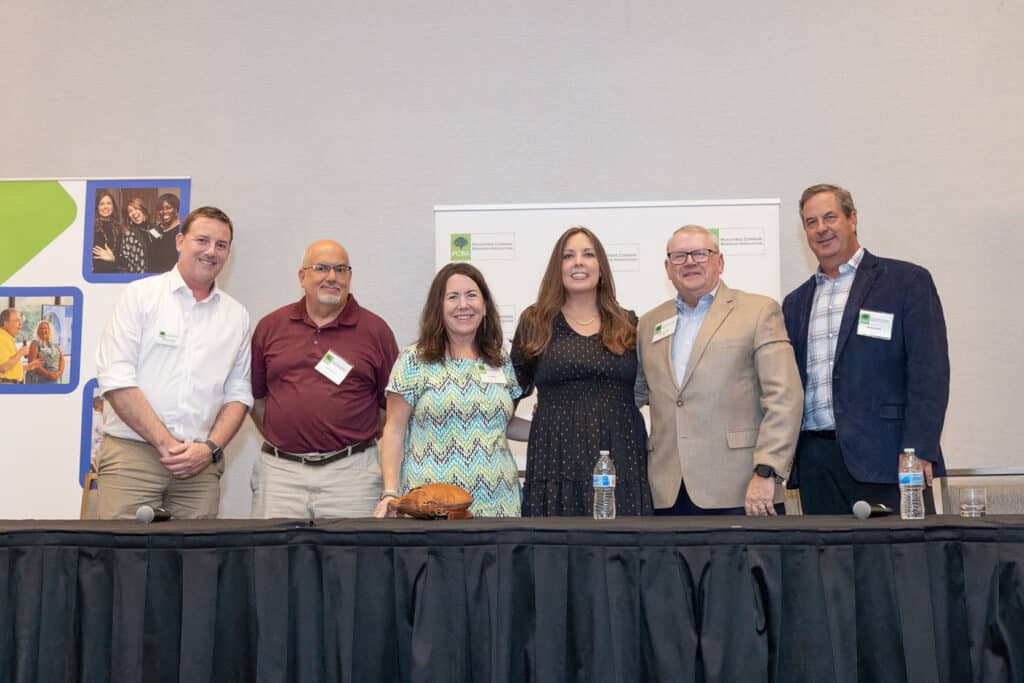 1. The importance of cybersecurity for businesses
Cybersecurity remains a top concern for small and medium-sized businesses. In fact, according to the Identity Theft Resource Center's (ITRC) recently published Business Impact Report, 73% of 551 surveyed small business owners encountered a cyberattack this year.
As the leader of technology solutions provider Rijoli, Gentry Ganote knows first-hand where businesses are the most vulnerable.
"What we're seeing is phishing attacks are really the number one nefarious act that's going on that we deal with on a daily basis. We provide security services for our customers, and we have spam filters and email filters and all kinds of artificial intelligence," said Ganote.
"But emails still get through, texts get through and people become susceptible to clicking on a link, putting their password in, changing bank records, giving money to the wrong people, and we see it every day," he added.
"If any of you guys hire interns, you should educate them quickly about scams that are out there. They don't know they're new to the workforce," Ganote explained emphatically.
2. Business succession and exit strategies
As some business owners head toward retirement or strive to preserve their legacy for future generations, transitioning both management and ownership is paramount.
As "The Profitability Coach," Bill McDermott has consulted many business owners on best executing their succession strategies.
"The particular work for a business owner is number one, identifying that there's value that can be transferred either to that seller, to the management team or to the outside buyer," said McDermott.
"Secondly, there's a growth plan that's required. Typically, there's a letter of intent or confidentiality agreement. There are asset purchase agreements, there are representations and warranties, and having an attorney is absolutely critical," he further explained.
"Selling a business in some ways is also selling real estate, except the numbers are bigger. So, it takes a business broker … it's a complex transaction, and there are a lot of moving parts, and there are a lot of important people that are part of that," he added.
3. Leadership, training and staffing
Industries like hospitality are innovating through adversity, developing new training programs to address service staffing shortages exacerbated by the pandemic and aiming to empower front-line employees through direct and tailored instruction.
Lisa Anders, the Executive Director for Explore Gwinnett, Gwinnett County's official tourism organization, shared her challenges and solutions in this area.
"We've been to a hotel recently. There used to be 30 employees; now there's 15 employees. And it is just a challenge. Pre-COVID, we had a full-time education director who worked on training and hospitality training. We had a very robust program … and just now we are reinventing it, and we're going to roll it out in 24,' but it's completely different," said Anders.
"We have a lot of research and a lot of conversations with our hotels and our other hospitality departments on the very frontline; the very front desk is the problem. People are under-trained and under motivated. It is just a problem," she added.
Yet, Explore Gwinnett is taking positive steps forward with its training efforts.
"We're instituting a new training program. We're going to be going into every single hotel district … going directly into those hotel districts and doing training one-on-one with our hotel partners and with frontline employees. Our hotels are super excited because it's not just customer service, it is learning how to de-escalate situations," Anders explained.
4. Content creation and podcasting
Podcasts have emerged as a powerful tool for storytelling and marketing. Drawing inspiration from a family history in journalism, McDermott leveraged the power of narrative to create a successful podcast that not only celebrates the entrepreneurial spirit but also serves as a cornerstone in his marketing strategy.
"Marketing is the number one weakness in any broken firm," McDermott said.
"I started a show, we just celebrated our 50th episode, and I was able to tell stories of business owners and professionals that advise them. Three years forward now, my podcast has become actually the linchpin in my marketing strategy. It is the number one thing that I do," he went on.
"Podcasting is actually a great way to get to know and trust people and a lot of my guests have now become clients," McDermott added.
Rico Figliolini, the founder of creative services company Mighty Rockets, echoed this sentiment.
"It's a great way to soft open a prospect. … If you want to get a lead prospect in your industry, you should become that authority of that industry," said Figliolini.
5. Artificial intelligence and technology
Increasing efficiency while maintaining the human element using AI applications is at the forefront of business strategy heading into 2024.
The legal realm is catching up with AI's transformative impact. Tools that once seemed futuristic are becoming standard, reshaping how legal professionals approach their work while maintaining the essential human touch through client interactions.
Michael Pugh, an attorney at the law firm of Thompson O'Brien, is witnessing this transition first-hand.
"The legal industry is just starting to incorporate AI … There's one program called LexisNexis where I can write a legal breach and upload it to Lexis, and it'll check my cases. It'll suggest other cases to incorporate; it'll analyze my arguments and tell me what percentage I'm likely to succeed," Pugh explained.
"That's a bit scary, but sometimes it's pretty cool. So, we're definitely going to be using more AI, but at the same time, people want to see who they're working with face-to-face. So, we do meet regularly with our clients," he added.
The next PCBA Business After Hours Speaker Series will be held on Nov. 16, 2023, from 5:30 p.m. to 7:30 p.m. Kathryn Stewart, owner of Performance Trucking, will discuss how she carved out her path as a female executive in a male-dominated industry.

Gwinnett Chamber to Host Multi-Chamber Mixer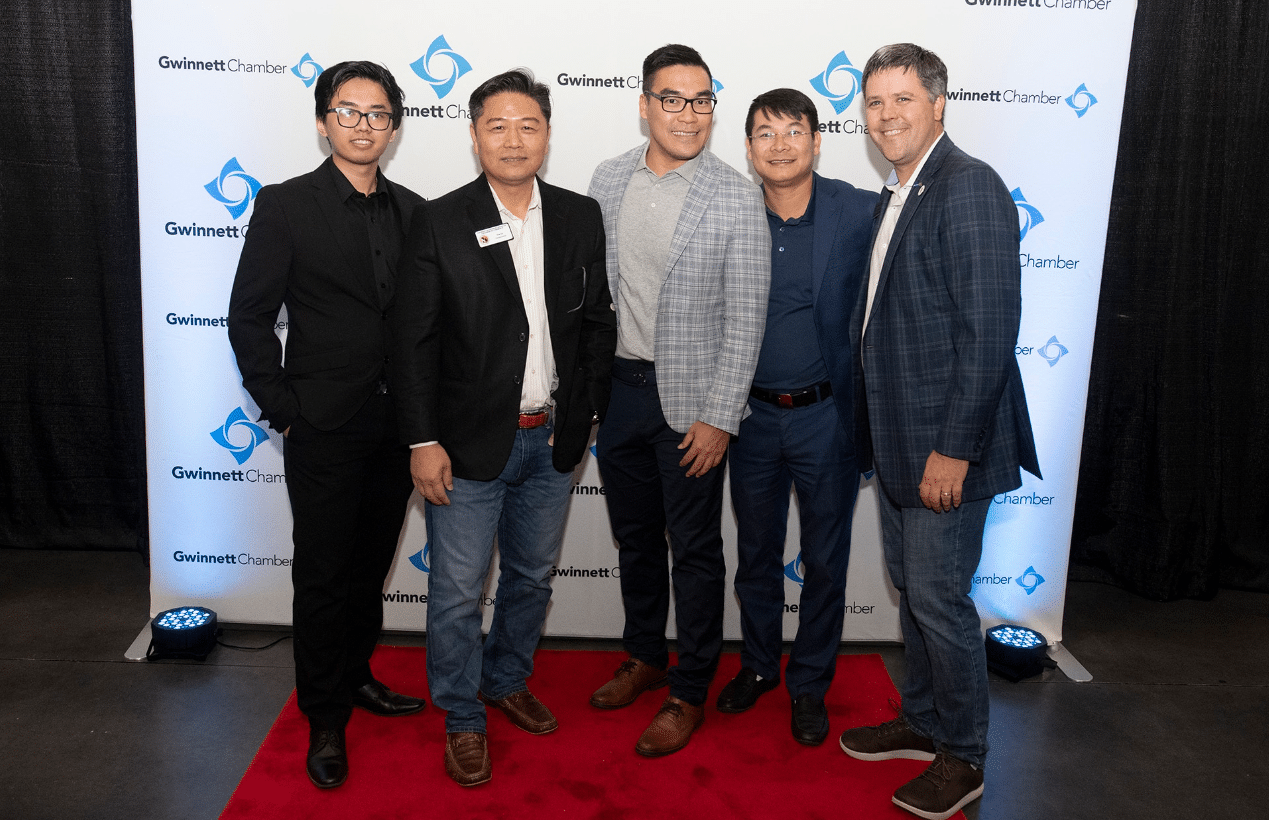 The Gwinnett Chamber is set to host the 2023 Multi-Chamber Mixer at After Hours, an end-of-year event designed to celebrate Gwinnett's inclusive business community.
The program will be held at the Gas South Convention Center on November 1, starting at 5 p.m.
This program brings organizations from around the world together to celebrate Gwinnett's diverse and international business community.
Partners in this event have historically included business groups such as:
The Georgia Indo-American Chamber,
Japanese Chamber of Commerce of Georgia,
Korean American Chamber of Commerce of Georgia,
Latin American Chamber,
German American Chamber,
French American Chamber,
Georgia Hispanic Chamber,
Georgia Pakistan Business Council,
Liberian Community Association of Georgia,
Atlanta Chinese Entrepreneurs Club and
the Italy America Chamber Commerce Southeast, Georgia Chapter
"Collaboration with these organizations enables connection and a deeper understanding of business needs in our region," added Gwinnett Chamber President and CEO Nick Masino. "We are pleased to partner with these entities in hosting an event designed to celebrate our collective success and ever-evolving growth opportunities."
Registration is required to attend and includes international food tastings, drink tickets and networking with more than 300 business professionals. To register, please visit GwinnettChamber.org/Events.

Insight Sourcing Unveils Refreshed Brand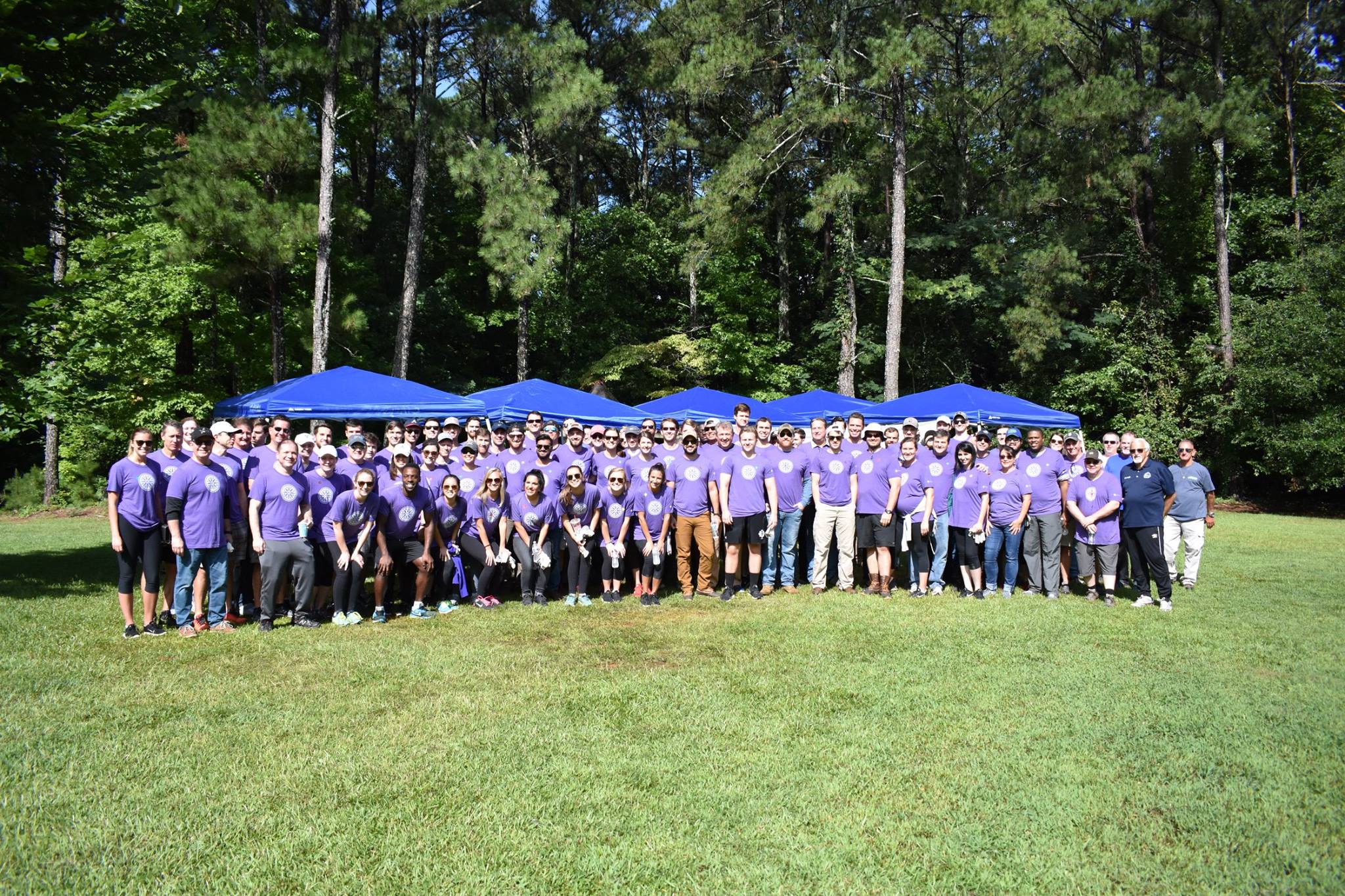 Insight Sourcing, a North American consulting firm focused exclusively on strategic sourcing and procurement-related services, is marking 21 years of client commitment with a brand refresh.
The firm has updated its visual identity with a new icon and font and is dropping "Group" from its brand name, previously Insight Sourcing Group.

The decision to refresh the brand underscores Insight Sourcing's dedication to the procurement and sourcing domain.
"Since day one, Insight Sourcing has remained innovative, agile and always ready to leverage market intelligence, and digital assets to meet the ambitious goals of our clients," said Tom Beaty, CEO of Insight Sourcing.
"We never rest in our pursuit of excellence, and neither should our brand. It reflects our deep appreciation for our past as well as the dynamic nature of our future," he added.
It's important to note that this refresh signifies a renewed pledge to clients and their needs. It does not signify a change of ownership or operating structure.
For further details about Insight Sourcing, visit the organization's website at www.insightsourcing.com.
Read more local business news here.