Peachtree Corners Awards ARPA Funds to 11 Nonprofits, Here's Who's Received It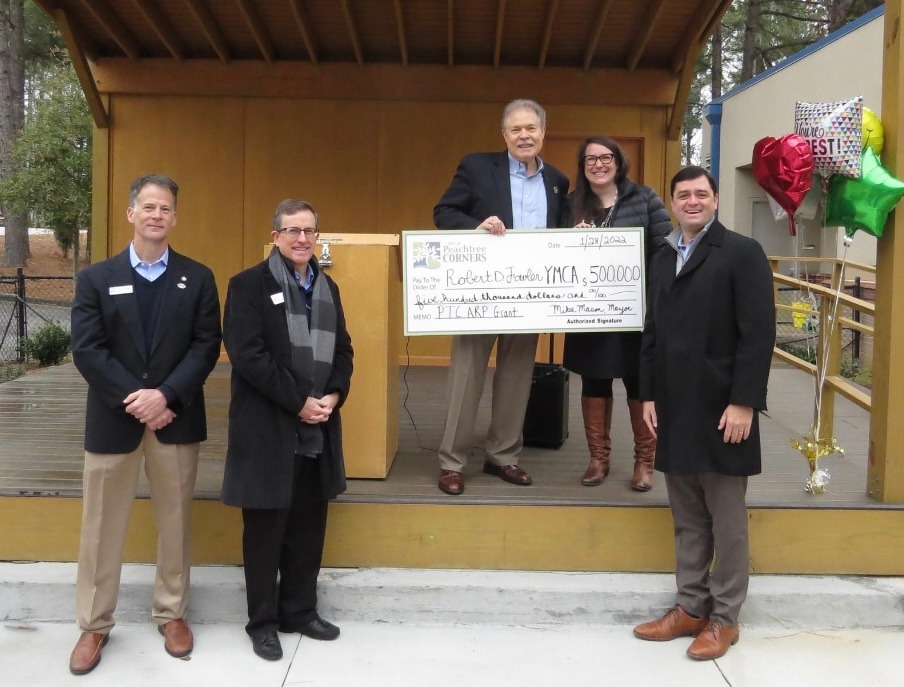 Although the COVID-19 pandemic has taken an unprecedented toll on all aspects of life, perhaps one area that is feeling the sting especially hard is nonprofits. The need for their services has doubled, or even tripled in some cases, but donations, government funding and volunteers have diminished exponentially. That's why the signing of the federal American Rescue Plan Act on March 11, 2021 brought new hope to many whose mission is to bring hope to others. (What is ARPA?)
With its share of the $1.9 trillion allotment, the city of Peachtree Corners diligently set about devising a fair and equitable way to distribute the funds.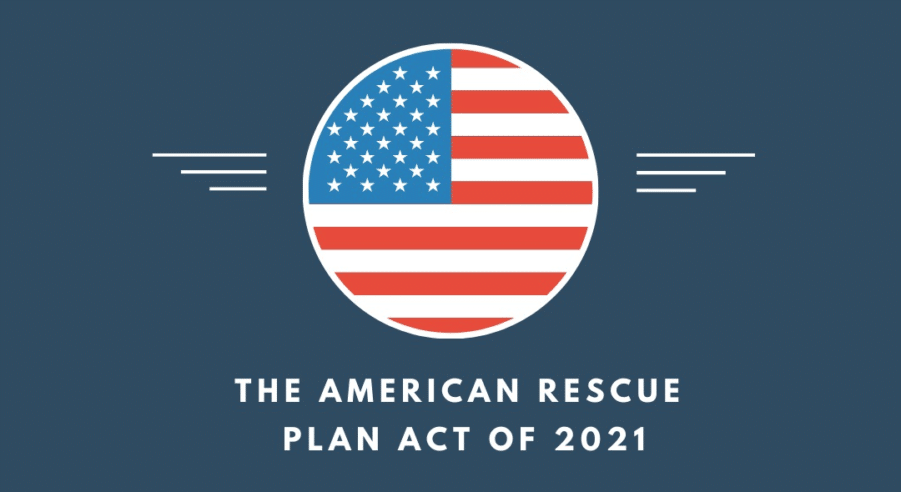 "We have the ability to use some funds internally, not just for nonprofits," said Louis Svehla, spokesman for the city. "We're also using the funds to help businesses and individuals directly."
Although Peachtree Corners is no stranger to providing support for worthwhile causes, the $16,395,722 it received (half in July 2021 and the remainder sometime this year) and guidelines for disbursement were a lot for the city government to handle. It eventually split the funds into four piles:
The Nonprofit Emergency Relief Fund is to assist Peachtree Corners residents who have been severely impacted by COVID-19. The funds are to be awarded to qualifying nonprofits that will distribute them to individuals.
The Nonprofit Operating Fund is to assist qualified nonprofits that have been especially impacted by the COVID-19 pandemic with funding for operating costs.
The Business Assistance Fund is to assist small businesses within the Peachtree Corners city limits that have been negatively impacted by COVID-19.
The Capital Project Fund is to assist businesses and nonprofit organizations in modifying their facilities to address COVID-19 prevention measures such as upgrading ventilation systems, enabling social distancing, etc. or improving the exterior areas of their business.
The Nonprofit Operating Fund was allotted over $1.5 million with 11 organizations receiving funding.
"We hired a consultant to help with the process," said Svehla. The city used Alabama-based Azimuth Grants, a grant consulting firm with offices in Atlanta. A women-owned business established in 2010, Azimuth helped the city develop an application and a rubric to ensure that the process put money in the hands of the most-deserving organizations.
"It was very in-depth," said Svehla. "It took two months to score the applications and review the narratives."
Doling Out the Dollars
The 40-page document seemingly left no stone unturned to vet the 100-plus organizations that applied. Although the total amount awarded seems huge, the need is greater. And not all the nonprofits have their operations inside the Peachtree Corners city limits. What was important was that they provide services to city residents.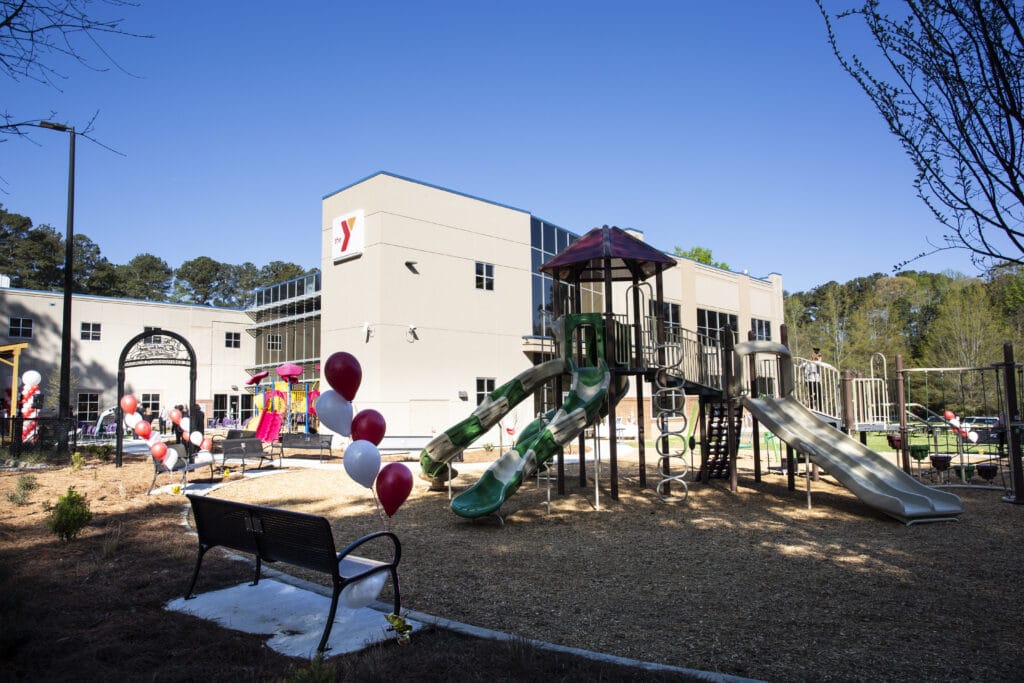 The awards to local nonprofits were handed out last month. One of the first to receive a big check was the Robert D. Fowler YMCA with $500,000. On Friday, January 28, Mayor Mike Mason and Councilmembers Eric Christ and Alex Wright presented it during the YMCA's 25 Year Anniversary Celebration.
Although the Y received the lion's share of the pot, its need is by no means annihilated.
"We are so thankful, and just so blessed to have received the money that we did," said Katie Furlough, executive director of Robert D. Fowler Family YMCA.
She went on to explain that plans for the money are twofold. "Some is going to go to facility improvements that were deferred because of the cost of improvements during COVID. … Like everyone else, we had to shift some things around when COVID happened, so that we could really serve the community in ways that it needed at that time. … There were some projects that we moved to future plan so that we could use those resources in different ways."
Now that it appears the pandemic is headed in the other direction, or at least stabilizing, the Y will replace and repair the whirlpool and get it up and running. As for the rest of the funds, Furlough said the leadership wants to get feedback from the community.
"What can we do to better impact the community and serve Peachtree Corners? And the people in need, really with a focus on physical activity?" she said.
The list of possibilities includes extending the backpack program where kids go home with food to tide them and their family over during the weekend. Many students rely on a free breakfast and lunch, and Saturdays and Sundays can become hungry days. By the same token, the Y is also considering expanding the summer lunch program as well.
"We also, in 2021, served 50 kids with safety around water," said Furlough. "Drowning is the second leading cause of death for kids under 12."
The grant could also provide scholarships to kids in the camp program, sports programs, and/or after school programs. "Providing opportunities for kids to build connections and build friends, to have a sense of belonging and a sense of achievement, and to create strong relationships with peers and adults is an important part of what we do. And some kids aren't able to do that, or some families aren't able to do that on their own," she said.
And of course, funds could also go toward activities for seniors. "We're trying to really create a space for seniors to feel like they belong and have a sense of community because we know that when seniors experience things like loss of a partner, or just changes that happen, that can be lonely, and that loneliness really creates a lot of health concerns for people."
So even though the huge award from the city is a blessing, the need is ever-present.
Smaller Awards Still Make Big Impacts
The same holds true for other area nonprofits.
Although Rainbow Village and the Norcross High School Foundation received the smallest amounts of the ARPA funds, both have big plans for stretching the dollars.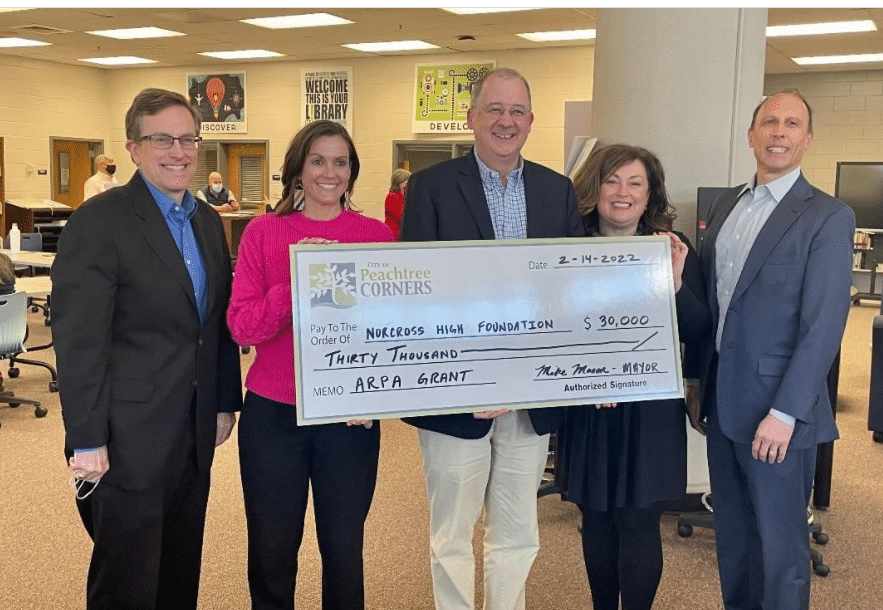 The NHS Foundation for Excellence was awarded $30,000 from the City of Peachtree Corners which it will use to better support NHS students and families.
"The Foundation is grateful for the support of the City of Peachtree Corners to help further our mission of positively impacting all students by cultivating excellence in academics, arts, and athletics," said organizers in a statement.
Its mission is accomplished in part with a tutoring and mentoring program for at-risk 9th and 10th grade students that meets after school.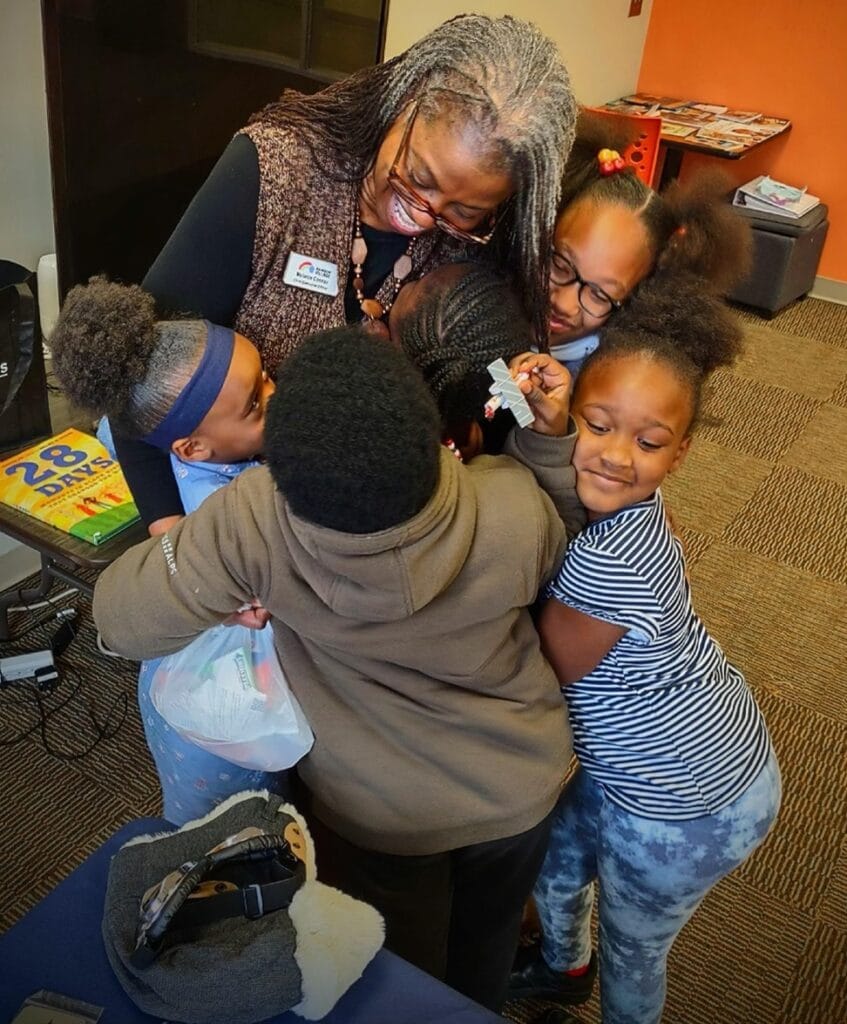 Similarly, Rainbow Village, is grateful for the award. "Every dollar counts for us. My staff and I say that all the time," said Rev. Melanie Conner, director. "So, whether it's a small or large gift, it's always greatly appreciated."
It offers a different kind of community support. "Primarily we provide help, hope, healing and housing for families that are experiencing homelessness," she said. "On our campus, we actually have 30 apartments where the families can live … for up to two years. And we provide all of the supportive services that a family would need to get back on their feet and become self-sufficient."
Unlike day shelters that may give a bed for the night, meals, clothing and showers, Rainbow Village works with families exclusively — in any composition — to break the cycle of homelessness.
"We have a grandfather raising his granddaughters, we had a grandmother raising her grandchildren, but the majority of our families are single moms," said Conner. "There's nothing wrong with day shelters, they certainly have their place and serve a need. We just take a different approach."
Rainbow Village assigns success coaches (a name change from case managers) to meet with families regularly to review their finances and to ensure that they are still employed in a job that's paying a livable wage. The coaches also help with mental health services and legal services if the clients have any issues with those. And of course, there is childcare, tutoring for kids and life skills training.
"So really we help with every aspect of their lives, especially because they live with us," said Conner. "They're here in our village."
The program has a high success rate, too. Conner keeps up with "graduates" and her stats show that in the organization's 30 years, as much as 92% of those who leave after the two years manage to stay afloat with a job and a roof over their heads.
It wasn't hard for Conner to find a use for the grant. The funds will support the children in its academy, a program that provides academic enrichment, social skill development, and a safe haven for children from elementary to high school age. At Rainbow Village, all the children of participants in the residential program must participate in an afterschool program of some kind. Those who do not already have an afterschool plan are enrolled in the Rainbow Village Academy.
"With the onset of the pandemic, we found that we needed additional staffing to support the children," said Conner. "At any time, we can have anywhere from 50 to 100 kids, depending on the makeup of the families that we're serving. So that's a lot of kids for one person to be responsible for."
There are volunteers, but Conner feels strongly that a staffer needs to lead the charge for ensuring the children's favorable outcomes in the school year and over the summer. "A lot of times people don't like [to use donations] to support staffing, but I always say that without the staff, the programs don't operate," said Conner.
The city of Peachtree Corners will be making announcements soon about plans for more of the ARPA funds. Check back with Peachtree Corners Magazine for updates.
Peachtree Corners ARPA Distribution to Nonprofits
| | |
| --- | --- |
| Organization Name | Amount |
| Peachtree Corners Baptist Church | $175,000 |
| Norcross Youth Baseball Softball Association (Capital Funding) | $105,000 |
| Robert D. Fowler Family YMCA | $500,000 |
| Annandale at Suwanee, Inc. | $200,000 |
| Norcross High School Foundation for Excellence | $30,000 |
| Revved Up Kids | $110,000 |
| Neighborhood Cooperative Ministries | $80,000 |
| Norcross Youth Baseball Softball Association (Capital Funding) | $16,000 |
| Rainbow Village, Inc. | $30,000 |
| Corners Outreach | $150,000 |
| | |
| Total | $1,563,000 |
On-street Parking in Peachtree Corners – Be safe, be courteous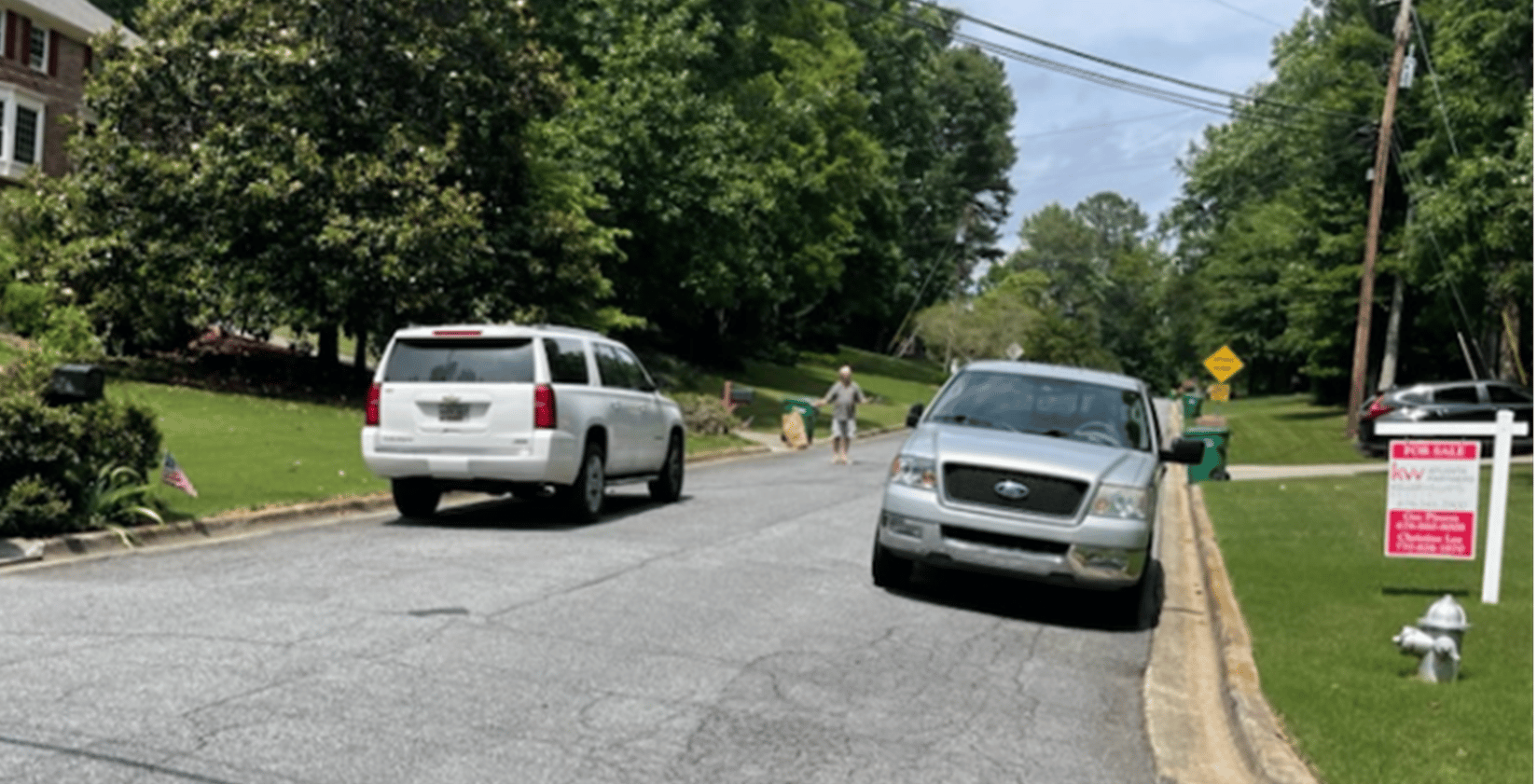 On-Street Parking means designated spaces where vehicles can be parked on a temporary basis, located on a public highway, street, avenue, parkway, or similar type of road. On-street parking spaces often provide direct access to residential, commercial, office, and other facilities.
While on-street parking is legal on public roads, there are rules that must be followed. The State of Georgia requires that on any two-way road, all street parked cars must be parked with the right-side wheels parallel and within 12 inches of the curb.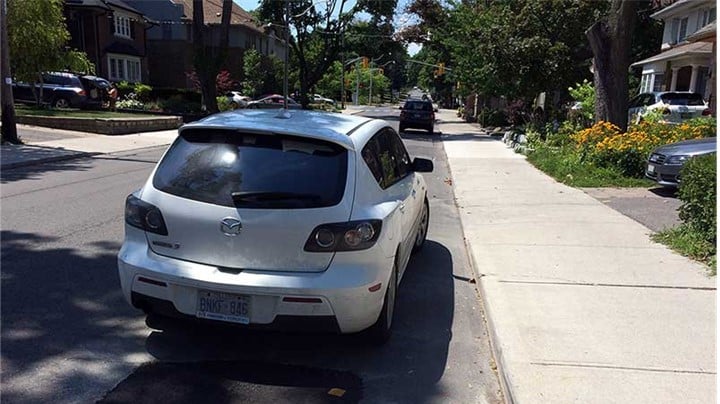 Do not park against the flow of traffic. While it might seem safe when the car is parked, you would need to drive on the wrong side of the road to park. The same applies when you pull out into head-on traffic. This creates two potentially dangerous situations and sets up a scenario that is contrary to other drivers' expectations. Most things contrary to typical driving behavior or driver expectancy are unsafe.
Additionally, double parking is illegal in all circumstances. Double parking is the term used for parking on the street side of any vehicle that's stopped or parked at a curb.
Other violations include prohibitions against parking in the following areas:
In a space on public or private property marked for vehicle parking for the handicapped unless you have the legal authorization and the plates or placards to prove it.
Within 25 feet of a crosswalk at an intersection, or sideline of a street or intersecting highway, except at alleys
Within 20 feet of a fire station without signs. If they post signs, you are not allowed to park within 75 feet of the station.
Between a safety zone for pedestrians and the adjacent curb or within 20 feet of the end of the safety zone
On the sidewalk or within 20 feet of a crosswalk
Within an intersection
In a crosswalk
In any tunnel
On railroad tracks or within 50 feet of a railroad crossing unless you are loading or unloading
Within 15 feet of a fire hydrant
Within 30 feet of a stop sign, traffic light, or flashing signal
In a bus stop zone
In front of a public or private driveway
Near properly marked street construction
In addition to illegal parking, there are other things that should be done to ensure the safety of your parked vehicle as well as the surrounding community.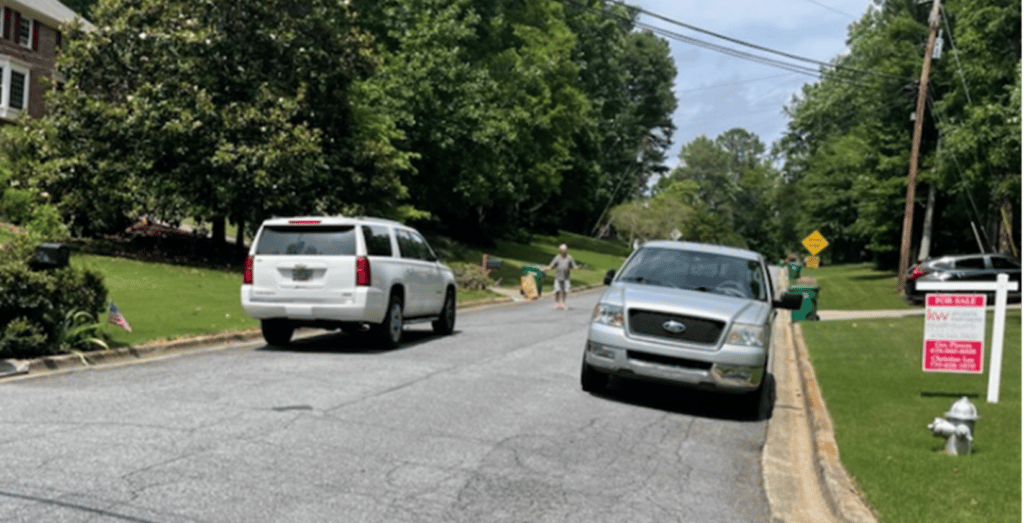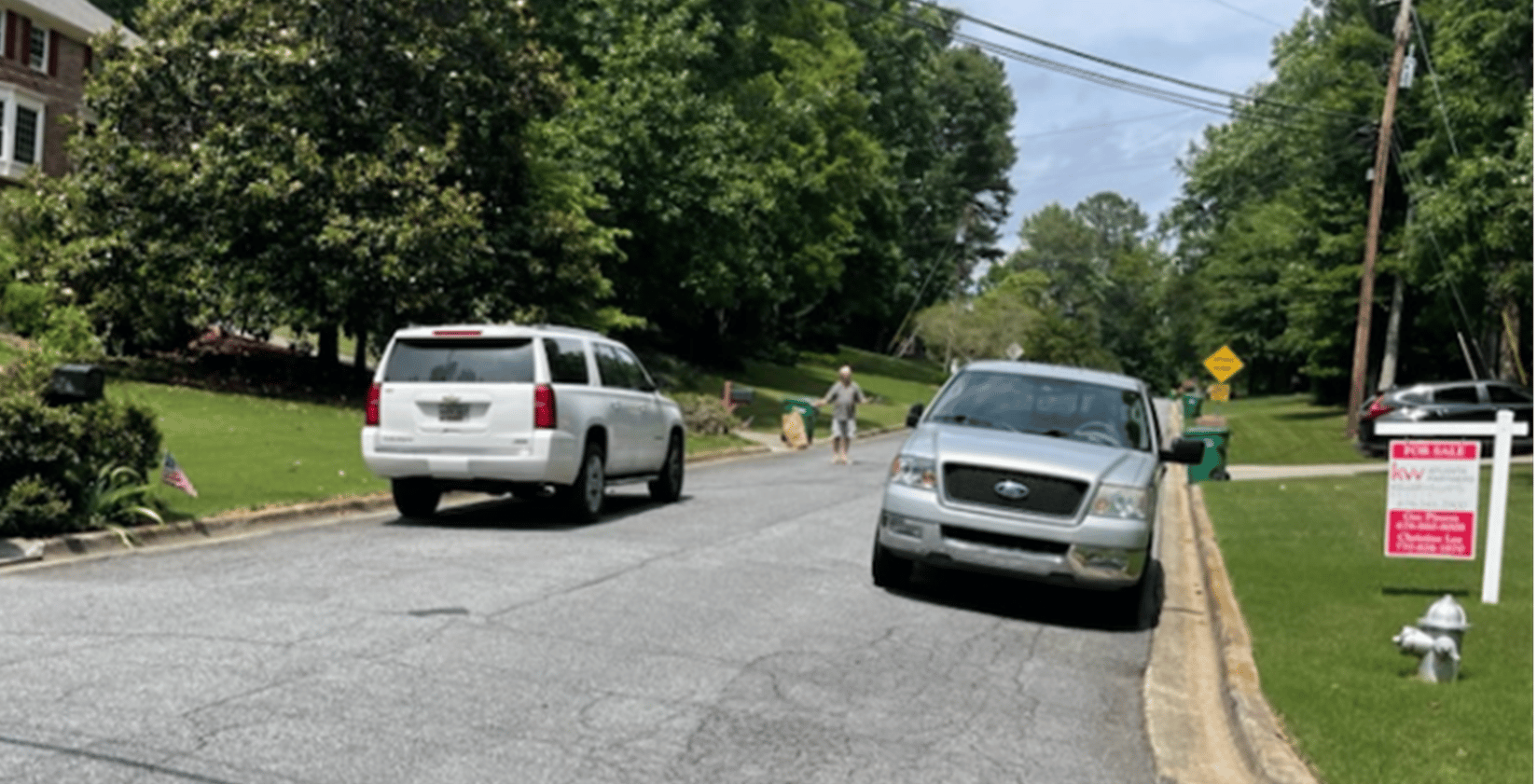 On limited-width feeder roads, cars should refrain from parking across from each other on opposite sides of the road. (See image). This is not only unsafe for pedestrians; it creates a bottleneck on the road that increases traffic conflict points.
Also, when cars are parked across from one another, the limited width of the road creates a safety hazard as it does not allow for the entrance and exit of school buses, sanitation trucks, construction vehicles, EMS and fire vehicles, or other larger vehicles into or away from the area.
If your car has mirrors that will push inwards, towards the driver's window, always do this before leaving your vehicle. This will prevent your mirrors from becoming broken or dislodged due to being sideswiped by a passing driver.
Do not park your car on a street where no other cars seem to be parked. Even if there are no signs saying that you cannot park on the street, there may be a rule that the other drivers are aware of. If a street is completely devoid of parked cars, there is probably a reason why. Take the hint from other drivers and steer clear of it. Street parking that seems too good to be true probably is.
Do not block other cars. Leaving enough space ensures that everyone's cars will stay free from dents and dings. If it doesn't seem like drivers and passengers can move around freely once you park, find a different spot.
Don't take up two spaces on the street. In residential areas where the parking spaces are limited and not marked, always park as close to the end of the open space as you can. Often there is room for two cars between driveways. If you park in the middle, you make it impossible for another car to park in that space.
Remember, safety is of the utmost importance. Street parking can be dangerous to vehicle owners, bicyclists, scooters, and walkers.  Let's all do our best to be safe and courteous. 
Source: City of Peachtree Corners
The First Days of the City of Peachtree Corners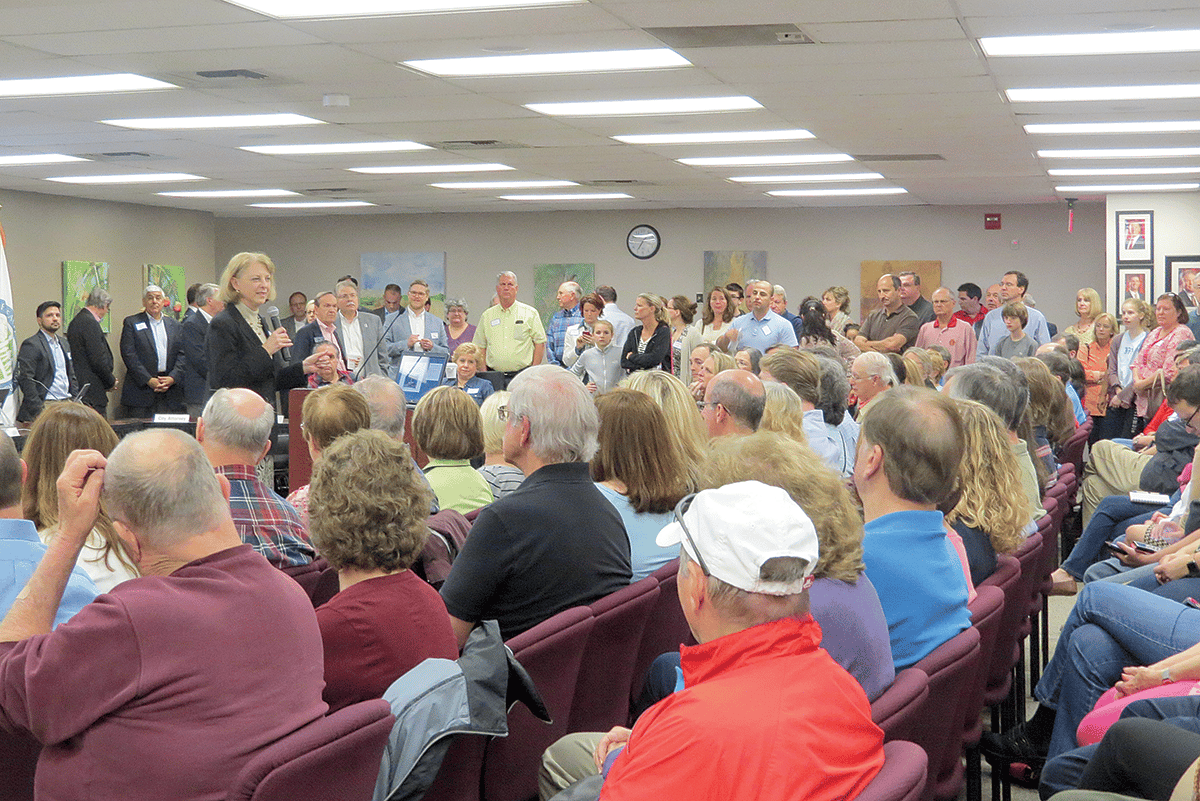 Peachtree Corners Community Development Director and first full-time city employee Diana Wheeler recount the early days.
Ten years ago, when I was offered the opportunity to become Peachtree Corners' first employee, I eagerly accepted because I thought that with over 25 years of government experience, I could make a real contribution to this new city.
I didn't realize until I visited the first City Hall building for the very first time that I would be contributing more than just my knowledge and experience. I would also be contributing my cell phone, car, laptop and credit card.
The fledgling city of Peachtree Corners had a framework for governance in place and several part-time consultants to manage operations, but there were no other permanent employees or much of anything else. The space that had been leased for City Hall was an old, empty building with glass walls and a poor ventilation system.
I had my pick of any empty office I wanted. With my architectural training and an understanding of the building's orientation, I could tell immediately that I would have a choice of either being too cold in the winter or too hot in the summer. (I went with too cold in the winter and invested in a space heater.)
Setting, and resetting, priorities
I spent that first morning in August 2012 making a list of everything that needed to be done and then got to work on my list. The first item was a call to the cable company to sign up for internet service. There was only so much I could do on my phone. Without computers and internet, there would be no way to start up this start-up.
Next on my list was a trip to a used furniture store to see about buying desks, chairs, file cabinets and other essentials. There was no time to order new furniture and wait for delivery. I needed to buy things that were on-hand — or second hand. Fortunately, six matching office sets were found, and I told the salesperson that I would take them all.
I was feeling a great sense of accomplishment until he asked how I wanted to pay for them. I told him that the furniture was for the City of Peachtree Corners and asked if he could create an account for the city. He said he never heard of Peachtree Corners, but he could set up an account if it was tied to a credit card or a bank account.
Well, of course, Peachtree Corners had neither, so I contributed the use of my credit card and hoped that the purchase cleared. Luckily, it was the beginning of the month, so the transaction was approved — and I was off to my newly re-prioritized next destination: the bank.
All went well there, but I thought it might still be prudent to call my credit card company and see if they would raise my card limit. They did and that made me happy until I started to think about explaining the next month's credit card bill to my husband.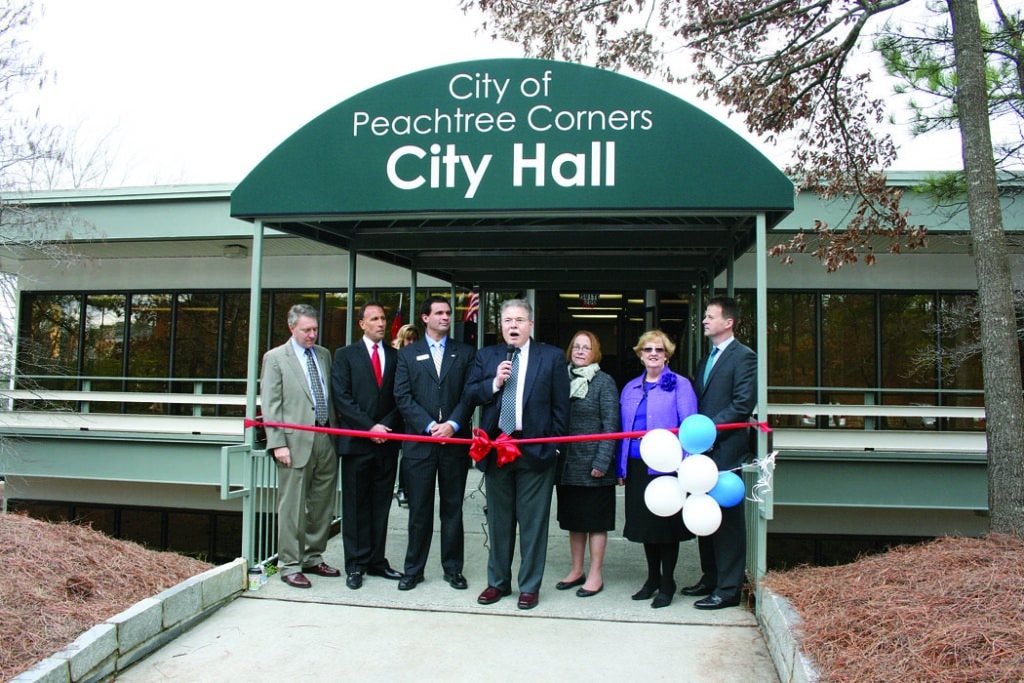 Challenges and accomplishments
Over the next few weeks, I worked to secure office equipment, including copy machines, a plotter (for maps and plans) and AV equipment, as well as basic office supplies. Fortunately, my credit card with its increased spending limit was up to the challenge and carried us over until the bank issued the city a line of credit.
Meanwhile, without the benefit of coworkers, I often needed to find creative solutions to routine challenges. For example, when trash got dumped along Peachtree Corners Circle, I reached out to Gwinnett's Sheriff Department and made arrangements for an inmate work crew to pick it all up. And when deliveries were made to City Hall that I couldn't physically manage, a staffing agency sent folks with strong arms to assist.
I even put my family to work. Large tables and file cases with drawers were needed for building plan review and large format projects, so my husband Robert and son John assembled big IKEA dining room tables and cabinets that were later outfitted with glass tops. They worked hard interpreting Swedish instructional hieroglyphics over the course of a weekend, and I supplied a picnic lunch of peanut butter sandwiches, because a refrigerator hadn't yet been purchased for the break room.
Celebration for the new city
One of the biggest challenges came at the beginning of December 2012 when the City Council announced that there would be a Grand Opening of City Hall with an open house in January — and the entire community would be invited.
It seemed like an impossible goal, but the City Council had just hired City Clerk Kym Chereck and that made all the difference. The two of us worked with a consultant, developed an action plan, delegated assignments — and everyone got very, very busy.
We worked up until the very last minute. A Boy Scout troop was even recruited to raise the flag at City Hall on opening day. It didn't occur to me until the week before that the national anthem should be played when the flag is raised for the first time. It was too late to solicit a volunteer, so again, I pressed my good-natured, trumpet player son John into service. He did an admirable job and set the tone for a jubilant day.
The highlight of the Grand Opening came when Mayor Mike Mason unveiled the city name and logo on the wall of the new Council Chambers. The unveiling generated a standing ovation and marked the realization of a dream for all those involved and for a brand-new city. It was a truly remarkable achievement.
And 10 years later, we're still living the dream. Happy Birthday, Peachtree Corners! ■
City of Peachtree Corners Finance Dept. Awarded Certificate of Achievement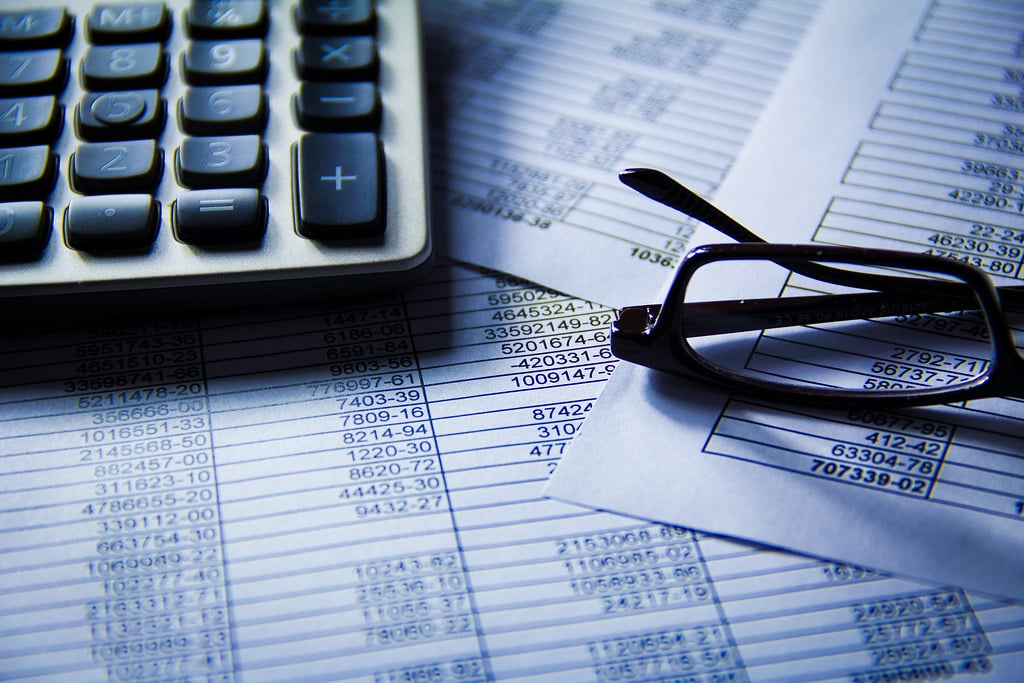 The City of Peachtree Corners' Finance Department has been awarded a Certificate of Achievement for Excellence in Financial Reporting from the Government Finance Officers Association of the United States and Canada (GFOA) for its 2021 financial year-end comprehensive annual financial report (CAFR).
The GFOA's Certificate of Achievement is the highest form of recognition in governmental accounting and financial reporting, and its attainment represents a significant accomplishment by a government and its management. It is the city's fourth year receiving the award and represents a significant accomplishment by the City's Finance Department and its leadership.
"We are pleased to again receive this honor," said City Manager Brian Johnson. "Our finance department, and Finance Director Cory Salley, are to be commended for this achievement as it is the highest form of recognition GOFA presents."
The city's Finance Department produces the CAFR each year and works with independent auditors to verify the city's financial situation and standing. The CAFR is judged by an impartial panel to meet the high standards of the program, which includes demonstrating a constructive "spirit of full disclosure" to clearly communicate its financial story and motivate potential users and user groups to read the report.
"This is an important award that validates Peachtree Corners' commitment to go beyond the minimum requirements to prepare comprehensive annual financial reports in the spirit of transparency and full disclosure," said Assistant City Manager, Brandon Branham.
The Government Finance Officers Association, based in Chicago, is a non-profit professional association serving approximately 17,500 government finance professionals. With offices in Chicago and Washington, D.C., it serves the member organization by advancing uniform standards and procedures in financial management for governments and assisting with professional development for public finance managers.