Transforming Peachtree Corners: 2022 Development Roundup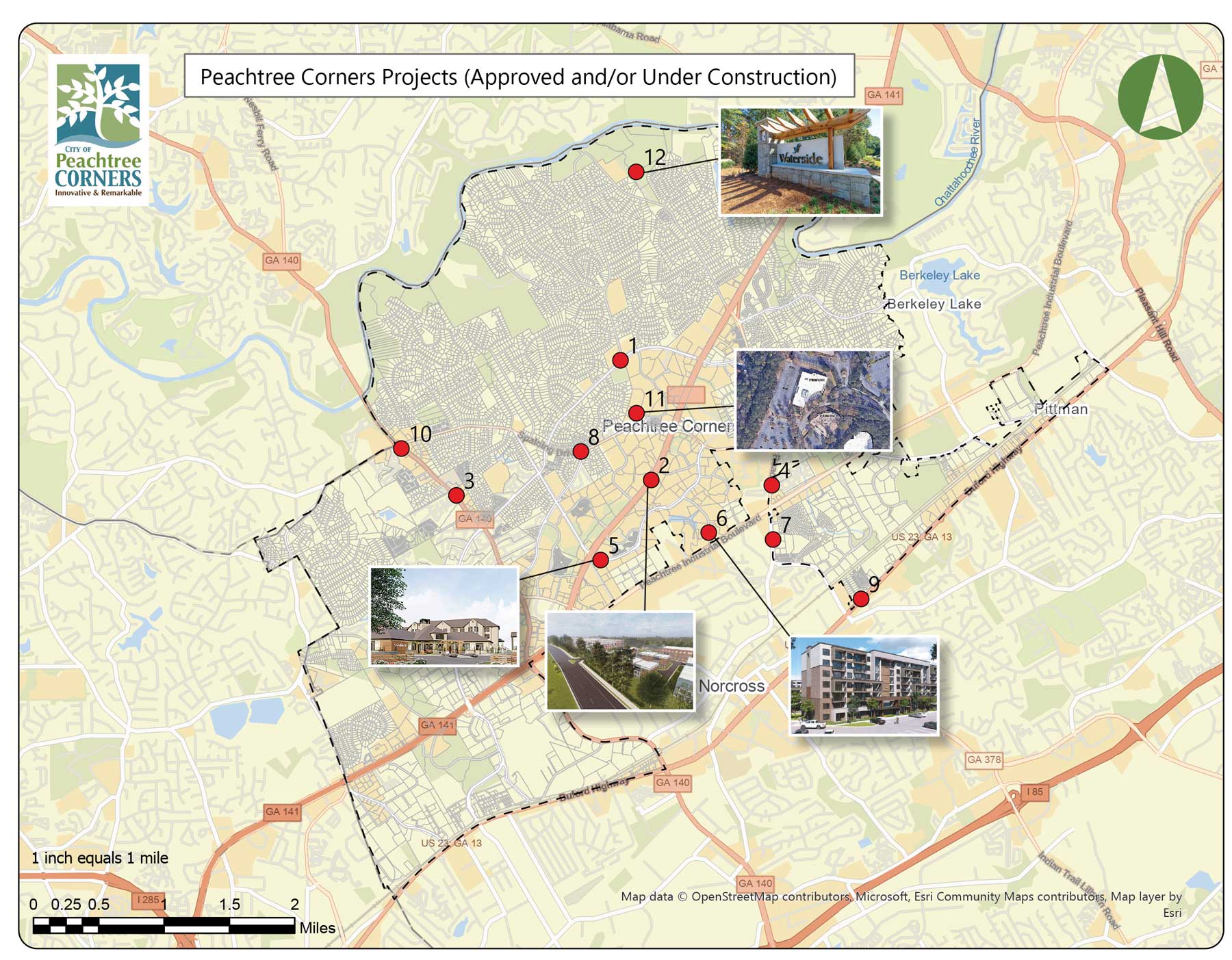 12 Areas that are Evolving this year
From high-profile mega-projects to small gas stations and churches, development is booming around Peachtree Corners. A dozen projects around town are coming to fruition in 2022, according to city records. Some have been in the works for years, while others were recently approved for a construction start and others are already underway. Some will change the entire city; others may just affect your local corner.
Here, in no particular order, is a roundup of what is rising in the new year.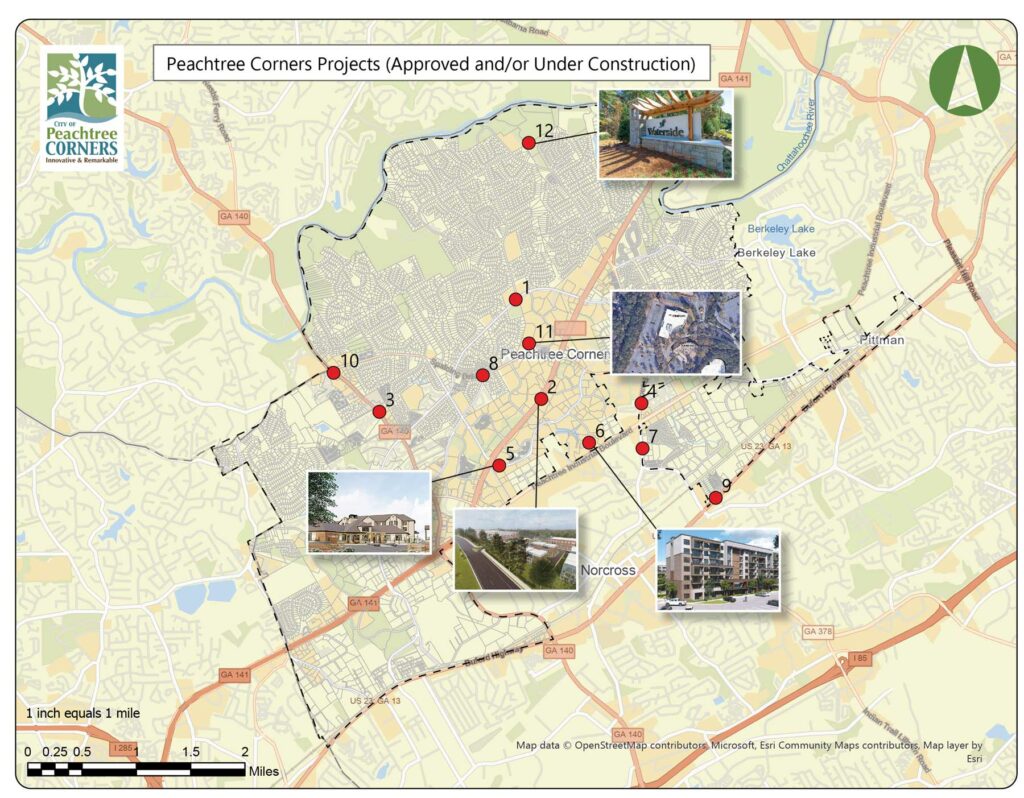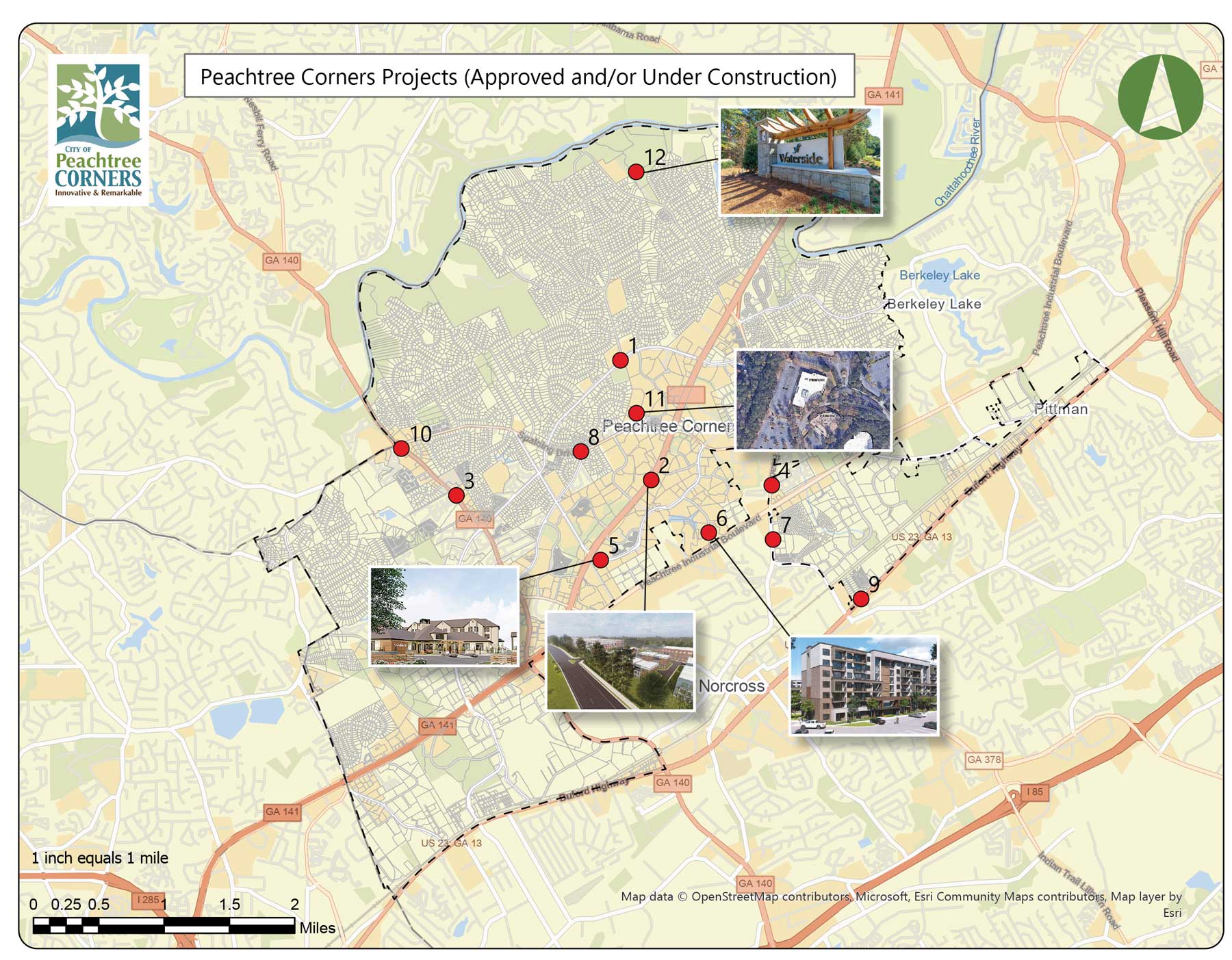 1. Cornerstone Christian Academy
4480 Peachtree Corners Circle
Cornerstone Christian Academy began in 2001 as a church school for Peachtree Corners Baptist Church. Now it's growing and seeking more room for recreational and outdoor space. This roughly 11-acre project replaces an office building with expanded sports fields, a gazebo and a campus mall, part of which students began using in October. Still in the planning stages is a gymnasium.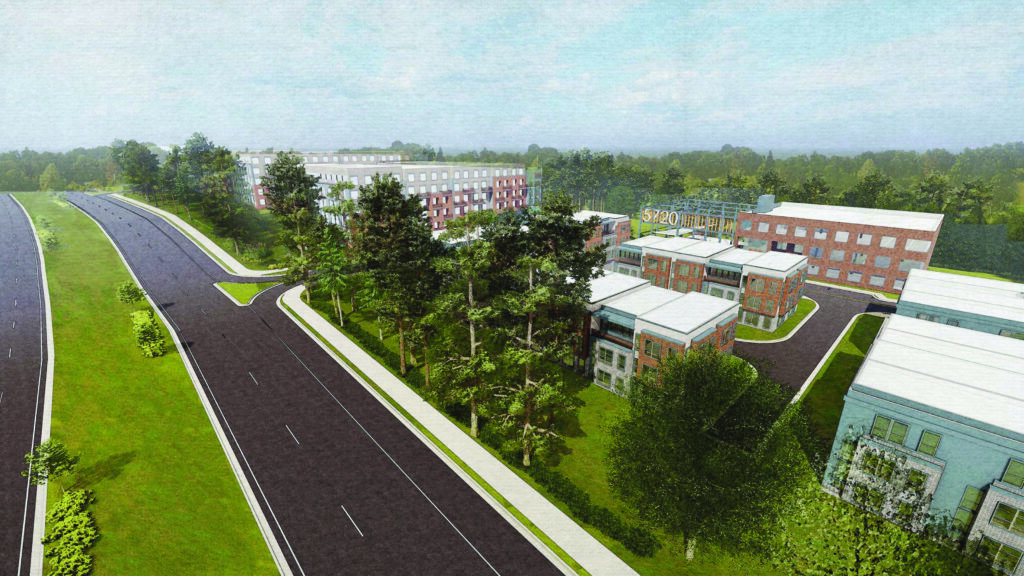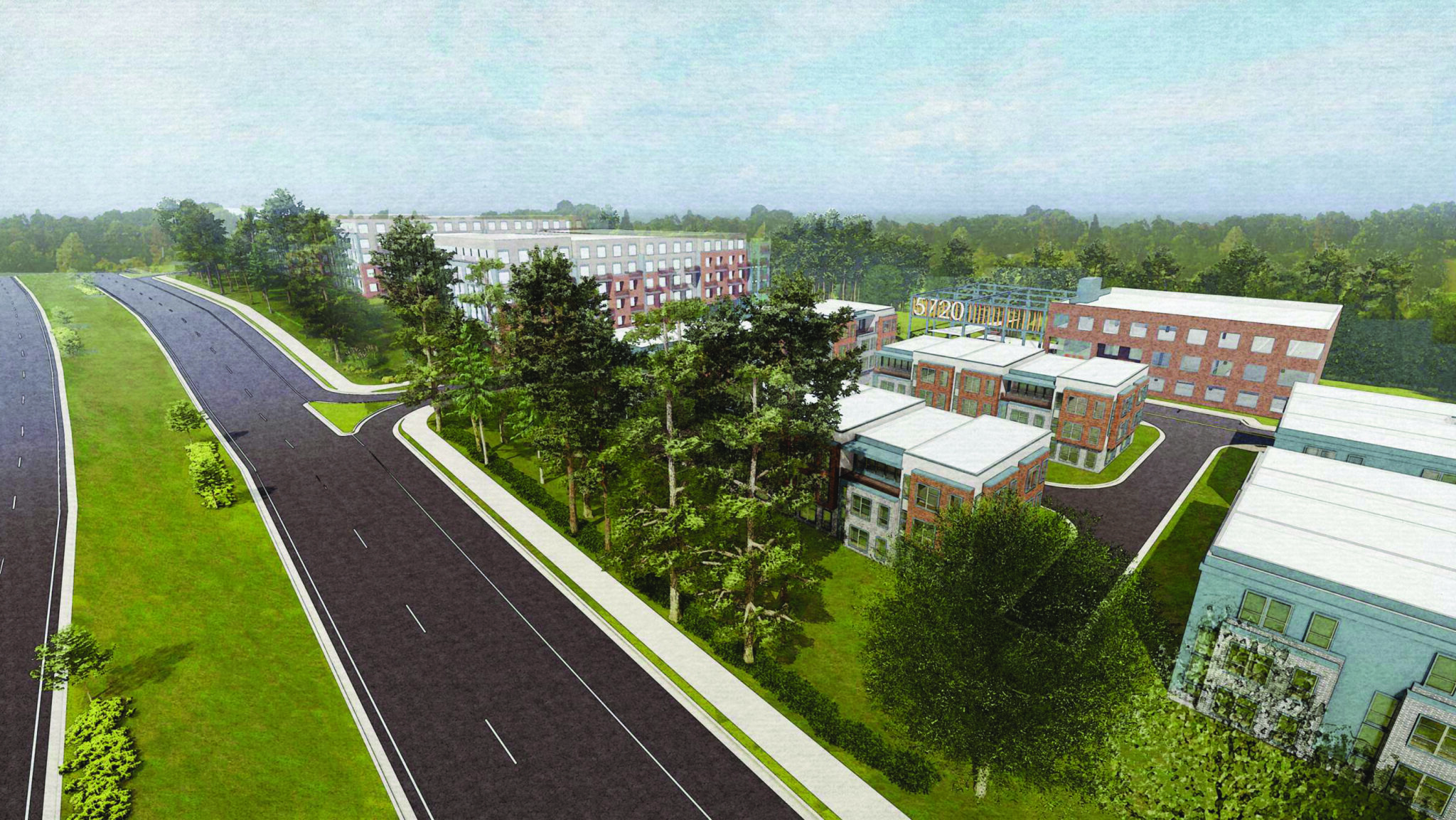 2. Alliance Residential mixed-use project
5672-5720 Peachtree Parkway
This major project will remake two office building complexes dating to the 1980s into a mixed-use site including 295 multi-family units and 26 townhomes aimed at workers in Technology Park and the Curiosity Lab. Retail space is part of the mix, and one of six existing office buildings will remain. A total of 1.75 acres will be preserved as open space.
3. Townhome complex
3770 Holcomb Bridge Road
This project will turn a 1.6-acre wooded lot crossed by a stream into a complex of six single-family townhomes. The City Council last year approved the project, allowing it to encroach into a stream buffer, under several conditions, including that all townhome garages be wired for electric vehicles. The plan calls for saving some of the trees.
4. Grace Korean Church
3274 Medlock Bridge Road
The 200-member church gained City Council approval last fall to move into an existing office building in the Medlock Bridge Business Center. It's part of what appears to be a boom in church founding and expansion in the city and Gwinnett County.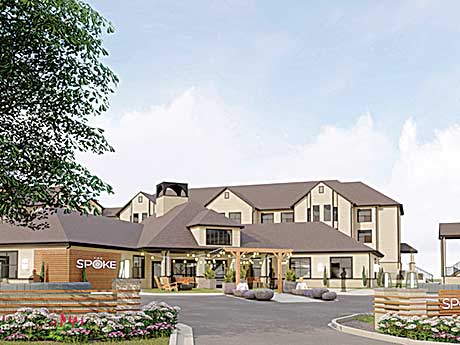 5. The Spoke at Peachtree Corners
450 Technology Parkway
This controversial project is renovating a Homewood Suites Hotel, dating to 1989, into a 92-unit apartment building. It's the first such project allowed by a new city ordinance enacted in response to the hospitality industry continuing to reel from the COVID-19 pandemic, among other factors. The City Council approved the project last fall, but it was a divided vote amid some local opposition based on concerns that apartments would decline in quality and attract crime.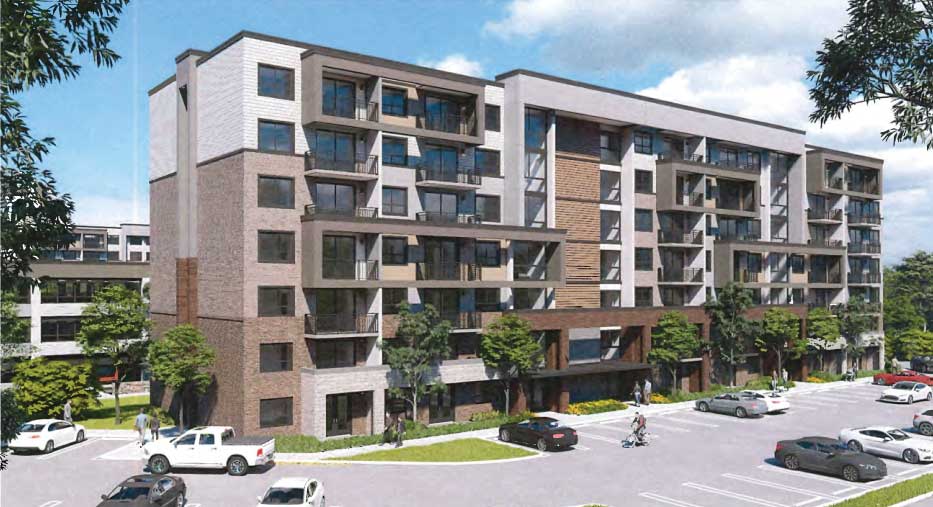 6. AHS Residential mixed-use project
20 and 22 Technology Parkway South
This major project will remake an over 10-acre office building complex into apartments and retail and office space. The mix also includes more than 2.5 acres of open space and a multiuse trail. An existing five-story office building will be retained and adapted to residential and commercial uses, plus a 335-space parking deck. The total of 382 multifamily units in the project includes two new apartment buildings of seven and eight stories.
7. City Gate Church
3100 Medlock Bridge Road
Run by Kairos Transformation Ministries, this church celebrated its inaugural service Jan. 18 in an existing office complex.
8. Chabad Enrichment Center of Gwinnett
5830 Spalding Drive
Currently based in rented space on Smithpointe Drive, this Jewish center is finally fulfilling a decade-old dream of building its own facility on Spalding Drive. Rabbi Yossi Lerman says there are only two synagogues in Gwinnett, so this will meet a need. The project ran into opposition in 2020 after Chabad bought an adjacent residential property on Crooked Creek Drive and aimed to add it to the overall project. Lerman says that property is no longer in the mix and a rabbi is now living in the single-family home. Land-clearing for the center has begun and Lerman says the goal is to have it finished and open in 2023.
9. Gas station and retail space
5211 Buford Highway
This gas station at the intersection with Herrington Drive will include a convenience store and two other retail spaces. An attorney for the developer did not respond to questions about who the tenants might be. The city approved the project in late 2020 with several conditions, including a limit on gas station hours to 6 a.m. to 11 p.m.
10. Gas station
4057 Holcomb Bridge Road
This project will convert a shuttered Burger King into a gas station with a convenience store inside the old restaurant building.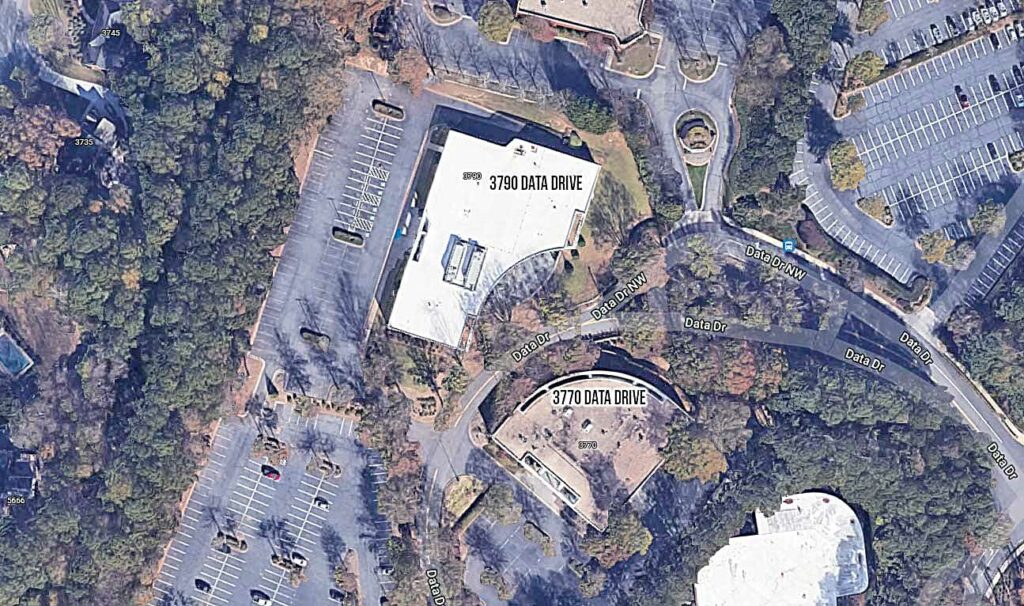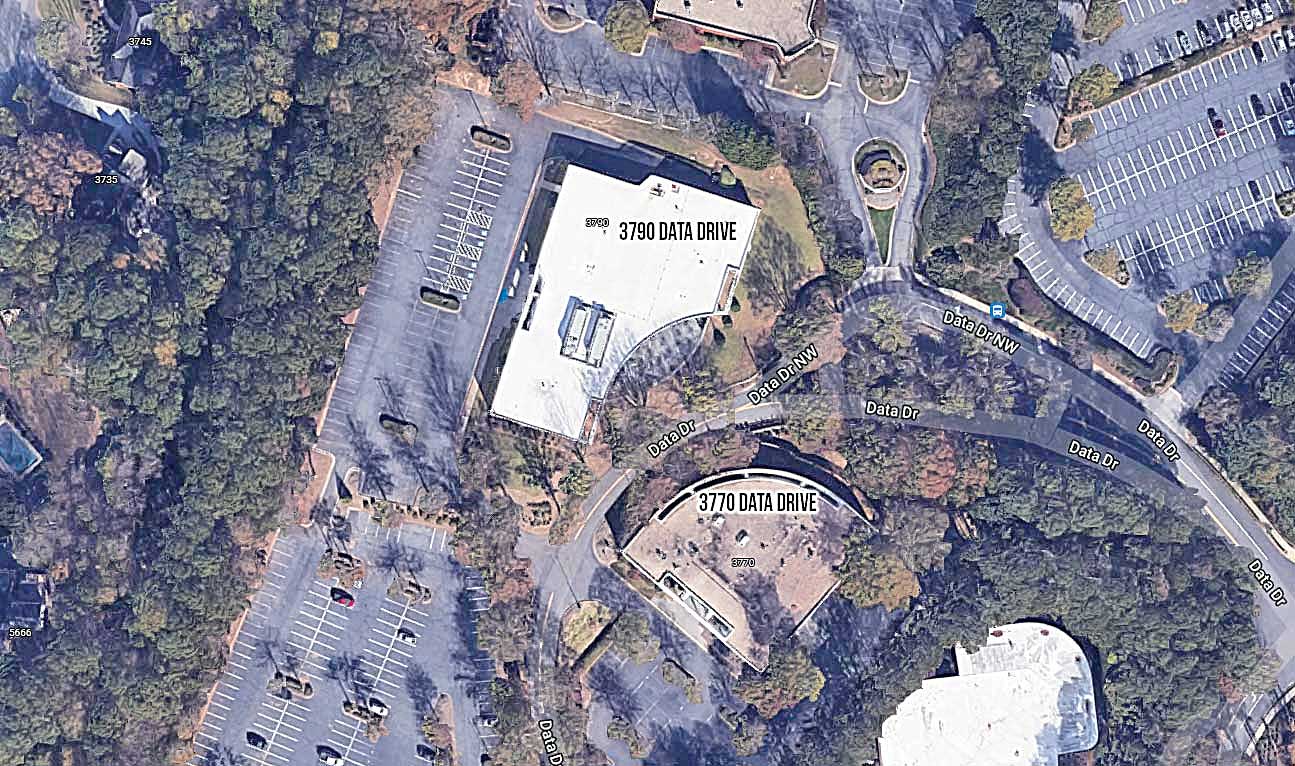 11. Intuitive Surgical renovations
3795 Data Drive
The renovations to the regional headquarters of the surgical robot manufacturer are just part of a massive campus expansion that will make Intuitive the city's largest employer by far. Demolition of other buildings on Data Drive is already underway for the $540 million expansion, which is expected to bring 1,200 net new jobs to the city sometime between 2024 and 2031.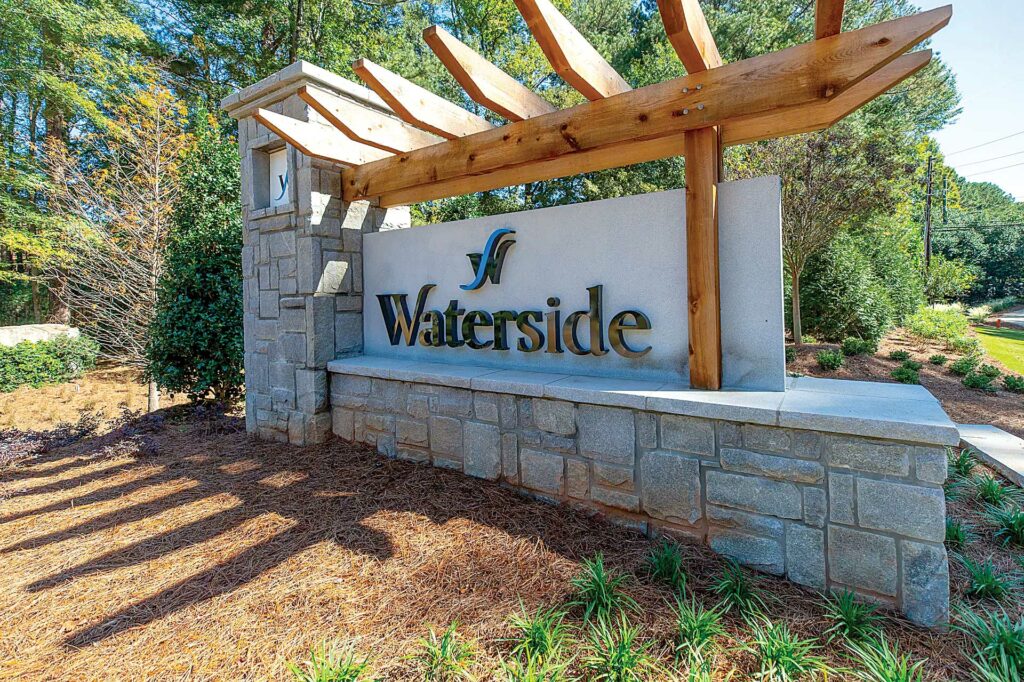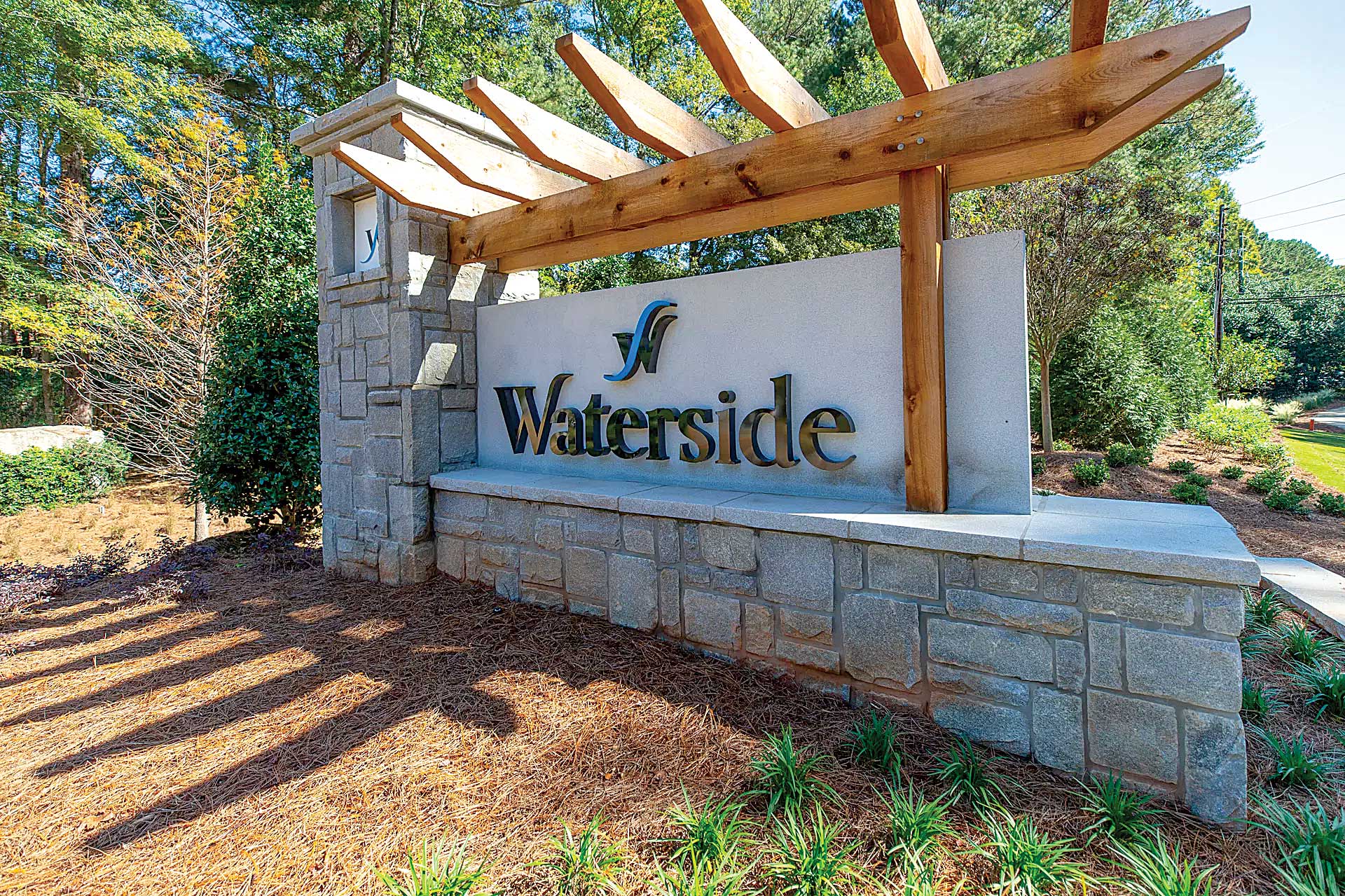 12. Waterside
4411 East Jones Bridge Road
One of the city's biggest projects, Waterside is a remake of a 115-acre former corporate headquarters along the Chattahoochee River into an aging-in-place community largely (but not exclusively) targeted at those 55 and older. Home to the payment software company Fiserv until 2014, the campus is now being redeveloped by the Providence Group into a luxurious gated community. The mix is to include at least 200, and up to 500, stacked flats and independent living units; at least 75 units of assisted living and memory care units; at least 53 units of detached cottage homes; at least 22 units of duplex cottage homes; at least 65 townhomes; and at least six townhome lofts. Of those, 50 townhomes have been built and others are under construction, according to the city.
Kimberly Beaudin, CEO of the College Football Hall of Fame, Guest at SWGC [Photos]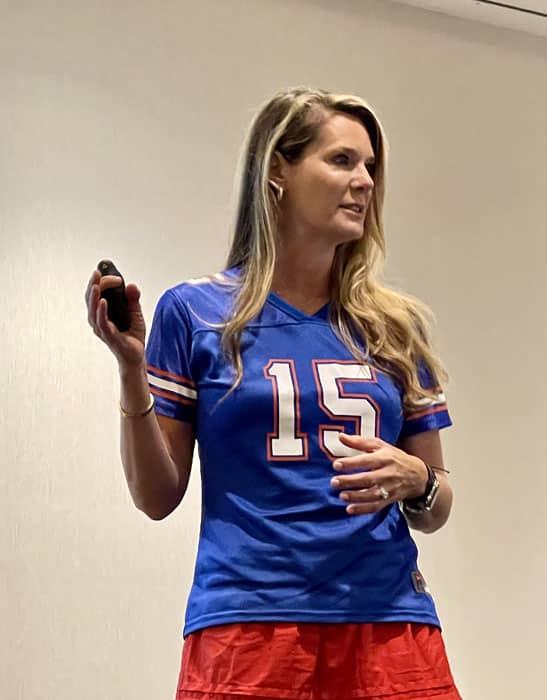 Beaudin was the Speaker at Southwest Gwinnett Chamber's "First Friday" Meeting at the Norcross Crowne Plaza Hotel
Kimberly Beaudin (CEO of the College Football Hall of Fame was the guest speaker.
Coach Mark Richt and Matt Stinchcomb (GA Bulldog player and college football HOF inductee) were also in attendance

Kimberly Beaudin is the President & Chief Executive Officer of the College Football Hall of Fame, a national nonprofit organization and top-rated experience based in Atlanta, Georgia.  Beaudin joined college football's mecca in June 2015 as the Vice President of Marketing and Communications.  With over 20 years of experience in leading brand development and marketing strategy, she was promoted to oversee the sales operations of the business in March 2016.
 
Beaudin was named President & CEO of the Hall of Fame in March 2020, making her the first female leader of the storied institution.  In her role, Beaudin's primary focus is on philanthropic development and she leverages her vast experience in partnership sales, strategic marketing, community and public relations and event and group sales to ensure a sustainable future for the Hall.
Photos by Bruce Johnson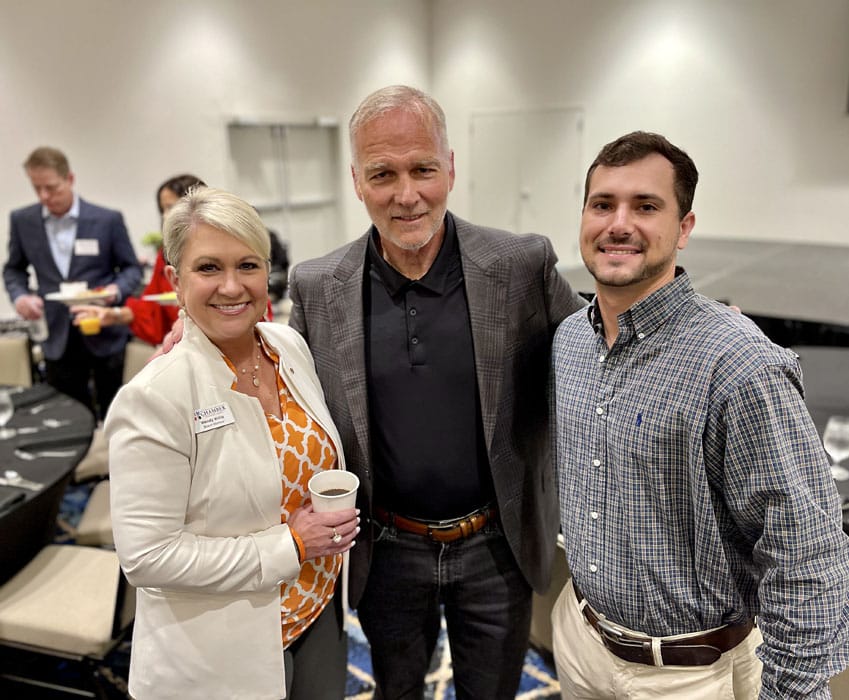 Peachtree Corners Business Association Donates to Neighborhood Cooperative Ministry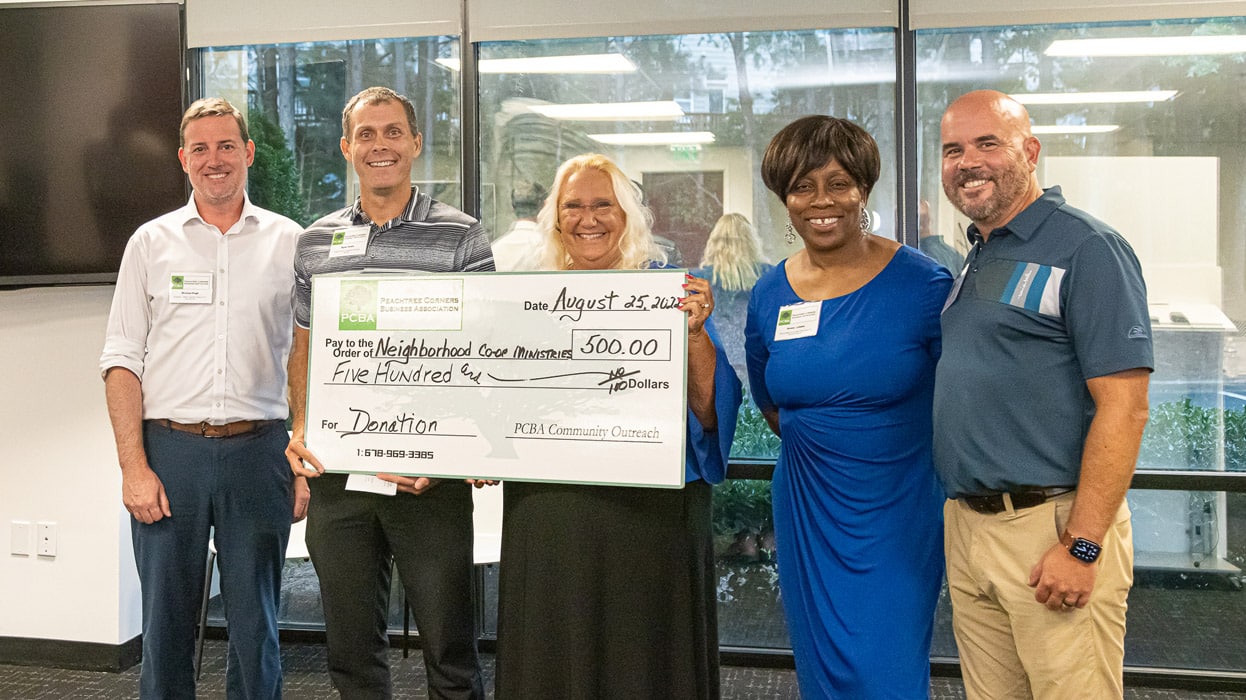 The Peachtree Corners Business Association (PCBA) awarded a check for $500 to Neighborhood Cooperative Ministries at our August PCBA Business After Hours Networking event. The PCBA was able to combine our "No Pressure Networking" event with doing good in the community!
The Neighborhood Cooperative Ministries provides physical (food & clothing, health), financial (rent & utility assistance, temporary hotel stay, job ministry) or spiritual assistance (counseling, prayer and church connections) to those in need.  Helping those in crisis by collaborating with the community to offer programs and services that transform lives through the love of Christ, Neighborhood Cooperative Ministries serves at-risk Gwinnett County residents from Doraville, Norcross, Peachtree Corners, and Tucker as well as Greater Gwinnett through community partner referrals and various funding cycles.
"The PCBA is pleased to award a check for $500 to the Neighborhood Cooperative Ministries to contribute to their ongoing need of restocking their pantry and providing financial assistance as part of our Community Outreach," says Lisa Proctor, PCBA President. Our Outreach Committee and Board are committed to supporting our community as our businesses continue to grow.

For more information about the association call 678-969-3385, email membership@peachtreeba.com or visit https://www.peachtreecornersba.com
The Secrets to Israel's Start-up Ecosystems Success Through the Eyes of a PTC Local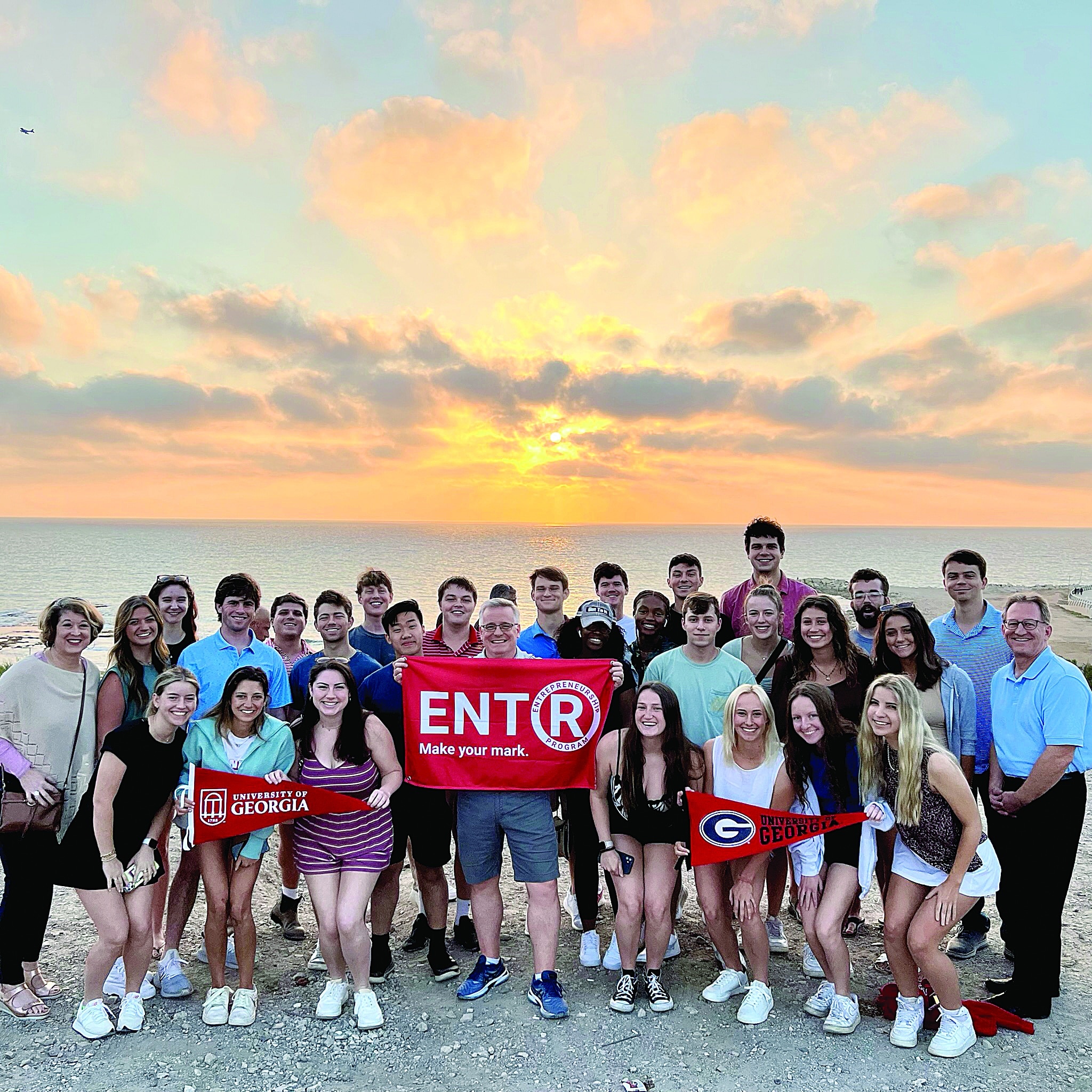 UGA entrepreneurship students seek the secrets to Tel Aviv's startup success.
Contribution by Stevie Bramble
About 6,000 miles across the Pacific Ocean, perched on the easternmost part of the Mediterranean Sea, lies Tel Aviv, Israel, a seemingly small entrepreneurial society that has transformed the start-up ecosystem worldwide. Israel has attracted large multinational companies such as Google, IBM, Apple and Fujitsu to their nation due to their start-up success, and it's continuing to grow today.
The successful start-up nation attracted University of Georgia's first study abroad group of Entrepreneurial students to spend time and learn about the ecosystem of entrepreneurship. They spent weeks studying the social and institutional infrastructure that supports one of the world's busiest start-up hubs. By visiting companies such as Monday.com and Overwolf, the students received an abundance of entrepreneurial knowledge from CEOs and employees in the tech sector.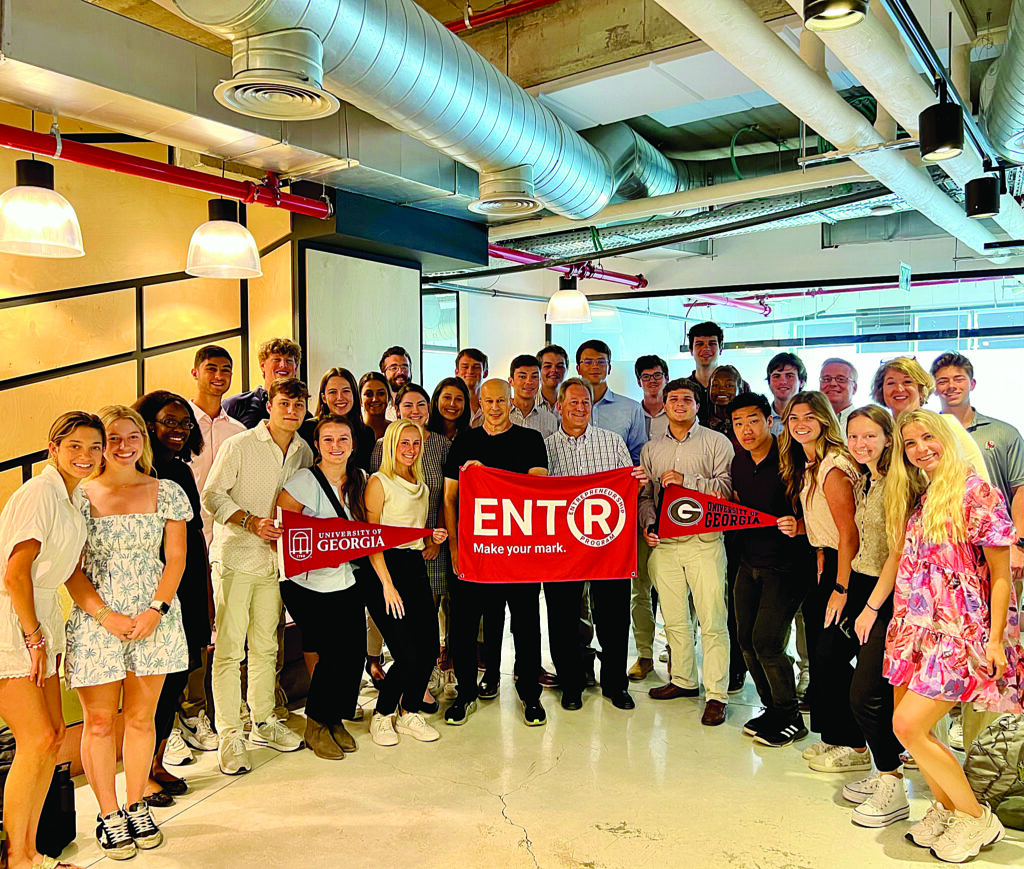 "I wasn't sure what to expect in Israel. However, I was so overwhelmed with the amount of knowledge I was able to grasp in three weeks," said Stevie Bramble, a rising UGA fourth-year student studying marketing and entrepreneurship. "Everyone in the cohort was excited to learn about this unique business environment, and the community was willing to teach us about it."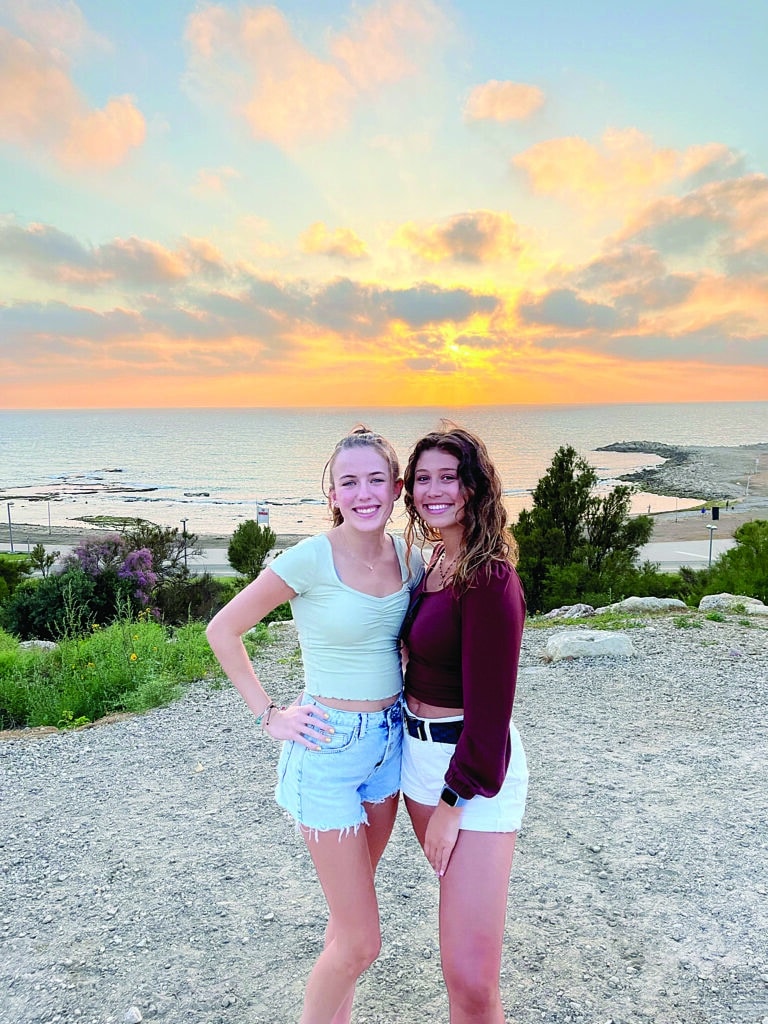 Bramble was one of 28 students who participated in the study abroad Maymester in Tel Aviv, partaking in two courses: The Study of Diverse Entrepreneurship and Innovation Ecosystems. Although the majority of students are pursuing a degree through the Terry College of Business, the trip included all majors.
Some other students are majoring in engineering, fashion merchandising, communications and international affairs. The program ensured a mix of people from all over UGA's campus to embrace differences.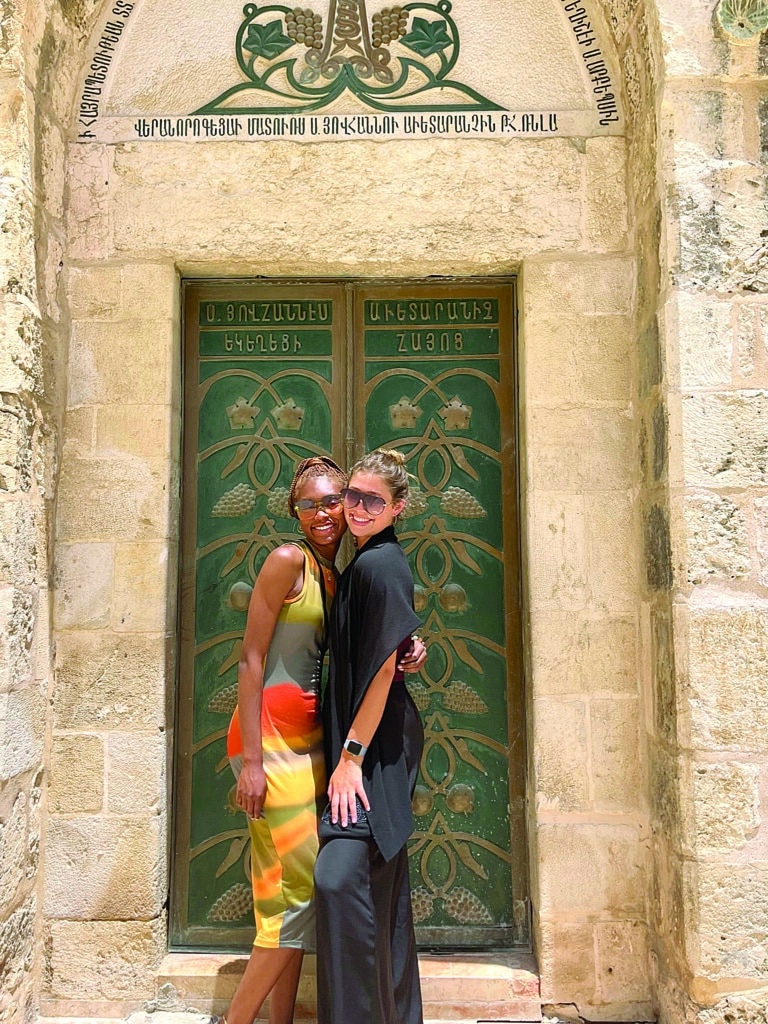 Survivalist engine
According to Shahar Sorek, Israel is a "survivalist engine." Sorek is the CMO of Overwolf, one of the businesses the students visited, and he spoke on Israel's ecosystem. He mentioned that the Israeli people have persevered through hardship and furthermore, have produced a community of assertive and risk-taking individuals motivated to work hard and survive for the future.
Right: At the Overwolf Office in Tel Aviv. Top row: Lindsay Mangum, Alex Boulogne, Kaleb Thibodeaux, Laura Neely, Ben Brown and Nina Boone; bottom: Stevie Bramble.
Left, Shahar Sorek, CMO at Overwolf
Adding on to this, Bramble learned that Israel has a military service that all Jewish men and women are required to partake in, called the Israel Defense Forces (IDF). After their 18th birthdays, they must serve for two to three years before pursuing any secondary schooling or leaping into the workforce. While Americans cringe at the words 'mandatory military time,' Israeli's embrace it.
"The army brings people together because everyone in Israel has to do it," said Hannah Laskow, the influencer marketing manager of Overwolf. " Israel is only 74 years old so it is pretty small, creating a tight community that is willing to lean on one another."
Laskow met with Bramble one-on-one during the trip to discuss Israel's ecosystem in depth. She mentioned that the IDF has different sectors, including, but not limited to, a tech sector and a combat sector.
The tech sector is where most of the multinational companies such as Google and IBM recruit. It's imperative to Israel's ecosystem to require the IDF due to the massive amount of talent being injected into society constantly.
In the Study of Diverse Entrepreneurship course, the students had the opportunity to create a plan to maintain Israel as a major hub for start-ups. One of the groups came up with a plan to create technology boot camps for individuals coming out of the IDF who participated in non-tech sectors to gain tech knowledge and fix the lack of talent issue. The students were able to solve some real-world issues happening around them, and it was reported to be one of their favorite projects.
In Israel, to be risk-tolerant is to survive. That's why the majority of individuals are able to go anywhere and meet others who share an entrepreneurial mindset with ideas and thoughts like their own.
Bramble and the rest of the group met with creators of start-ups, ranging from small local incubators to larger global companies, including Monday.com and Overwolf. Some of the speakers had taken multiple businesses public and now run large tech incubators. The group took away key points toward understanding the 'survivalist engine' they call Israel.
The key to success: failure
According to the students, there was one standout speaker. Yuval Tal, founder and president of Payoneer and BorderFree, made time in his busy schedule to talk to the UGA students about his new tech incubator, Team8, and how to survive in a fast-paced start-up nation like Israel.
The student's key take-away from his speech was the acceptance of failure. Tal mentioned that start-ups take risks, and with risks comes failure. He drove home the point that success doesn't come without many failures.
"Having the drive to keep going is what matters the most," said Tal. The students presented him with questions about Israel's ecosystem, teamwork and his own personal failures.
Tal mentioned his biggest failure was letting go of people and regretting it down the line. Tal hinted that one person he let go went on to start their own business and become successful in the sector he was working in himself. The lesson for the students was that it takes courage to work with and hire people who are smarter and better than yourself. However, it is imperative to do it because it will make your business better.
He also stated that "courage is over intelligence," meaning that it takes a person to become bigger than their ego to keep going forward even when it seems difficult. The take-aways from Tal were the importance of believing in yourself, having courage and accepting failure.
After considering Laskow's insights about the IDF, it is clear how Israel has become a high-demand place for multinational companies to set up research and development centers. The riskiness ingrained into the Israeli people from birth is beneficial in their workplace life, especially after their experiences in the IDF.
The IDF fosters a place where people must fail and learn from their mistakes to survive. It seems that Israel has mastered its survivalist engine perfectly. As many say "I'm Tirzu, Ein Zo Agadah" which translates into English as, "If you will it, it is no dream."
Future trip planned
The University of Georgia plans to host another trip to Tel Aviv, Israel in 2023 through the Entrepreneurship Program. For more information, please visit terry.uga.edu/entreprenuership.