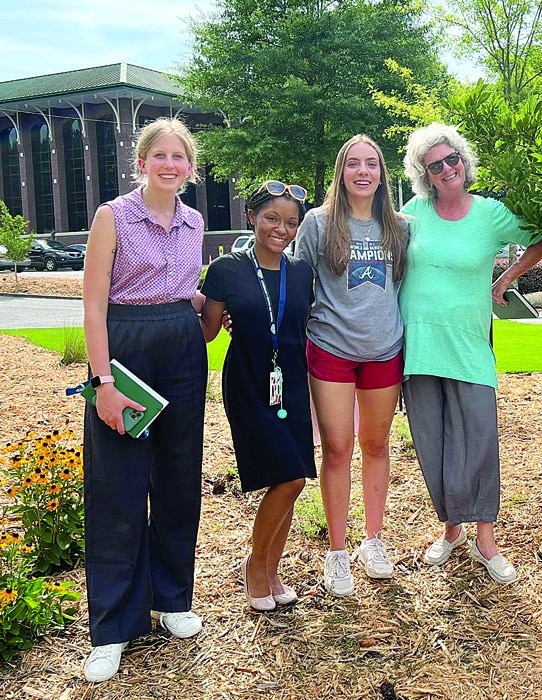 Madison Mitchko's Gold Award project attracts and protects pollinators.
Girl Scout Madison Mitchko has been working to make a positive difference in the community by attracting more pollinators with her Gold Award project.
The Peachtree Corners resident lives in the Riverfield neighborhood and is a Junior at Rivers Academy in Alpharetta. She has received approval on her project and plans to complete it this fall.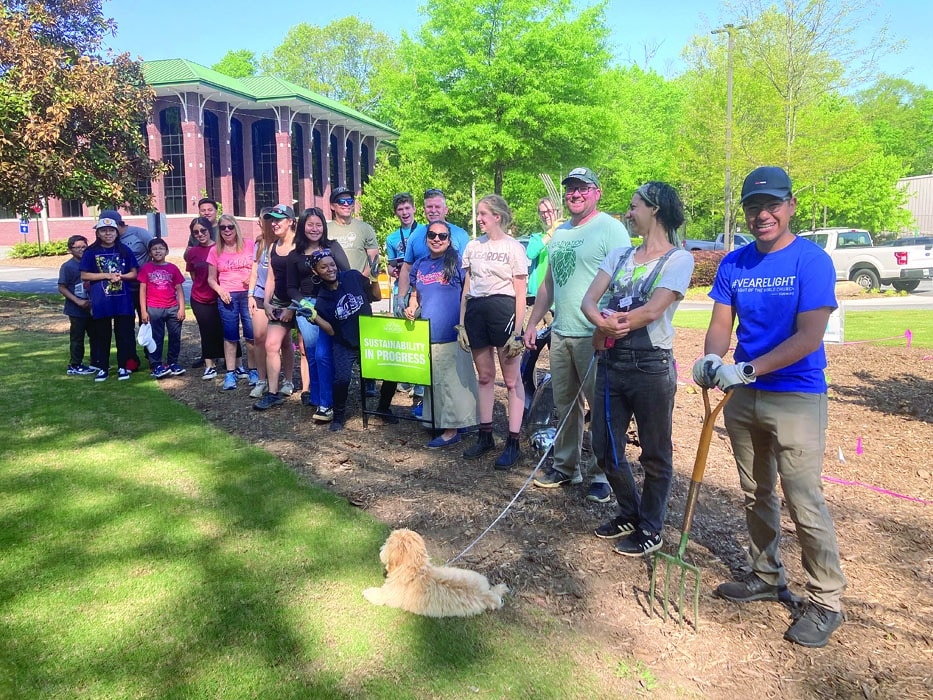 "My Gold Award Project aims to make the world a better place to live in by increasing healthy habitats for pollinators, including bees, butterflies, birds and moths," Mitchko said. "Native pollinators are very important because they are the most effective pollinators and help plants reproduce and support other species of wildlife."
Planting, some girls from Madison's Girl Scout Troop that helped and are working on their own Gold Award Projects (Riley and Evelyn).
She explained that pollinators are responsible for approximately one-third of the food and drink that human beings consume. In fact, it's estimated that the value of crop pollination is between $18 and $27 billion each year in the U.S.
"There is a worldwide decline of pollinator populations because of habitat fragmentation, pesticide use and climate change," Mitchko added. That's what inspired her to take on the project, she noted.
Since last March, Mitchko has been working with the City of Norcross, a certified Bee City USA, to build a pollinator habitat in front of their City Hall. Bee City USA provides a framework for conserving native pollinators through healthy habitats rich in native plants and nest sites and protected from pesticides.
"Another big aspect of my project has been teaching young people in Peachtree Corners about the importance of pollinators," she said. "I also teach them how to plant native plants that attract pollinators." Mitchko notes that she has seen an increase of butterflies and bees in her yard after she added native plants there.
She gives a lot of credit for the project to her team, and specifically to one member, Gold Award Coach Jennifer Skurpski. Also a Peachtree Corners resident, Skurpski is the leader of Girl Scout Troop 2427.
Mitchko has reached out to city officials in Peachtree Corners hoping to stir up interest in the city becoming a Bee City and building its own pollinator garden. If it does work out, she plans to be on the front lines, ready to help out.
PCBA Scores Big with Tailgate-Themed Fundraiser

Once again, the Peachtree Corners Business Association pulled off a spectacular fundraising event that not only garnered much-needed support for three local non-profits, but also kicked off football season with a fun and entertaining evening.
"We kicked off the night with three key objectives — I wanted everyone to have a great time, help us raise a lot of money and make sure to sign into the silent auction early and get their bidding strategy set so that people did not have problems logging in at the end when last minute fitting got fierce," said Lisa Proctor, PCBA president.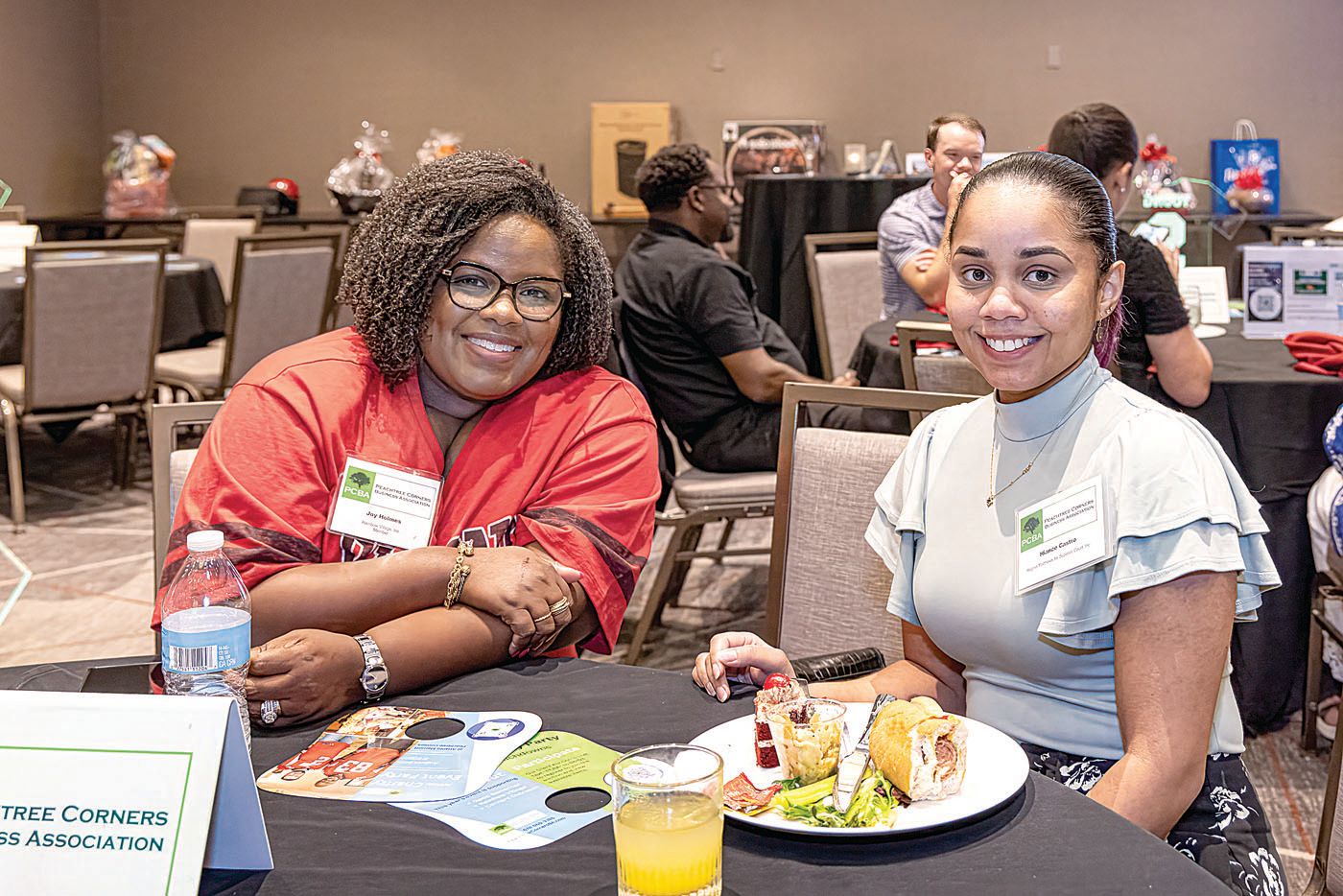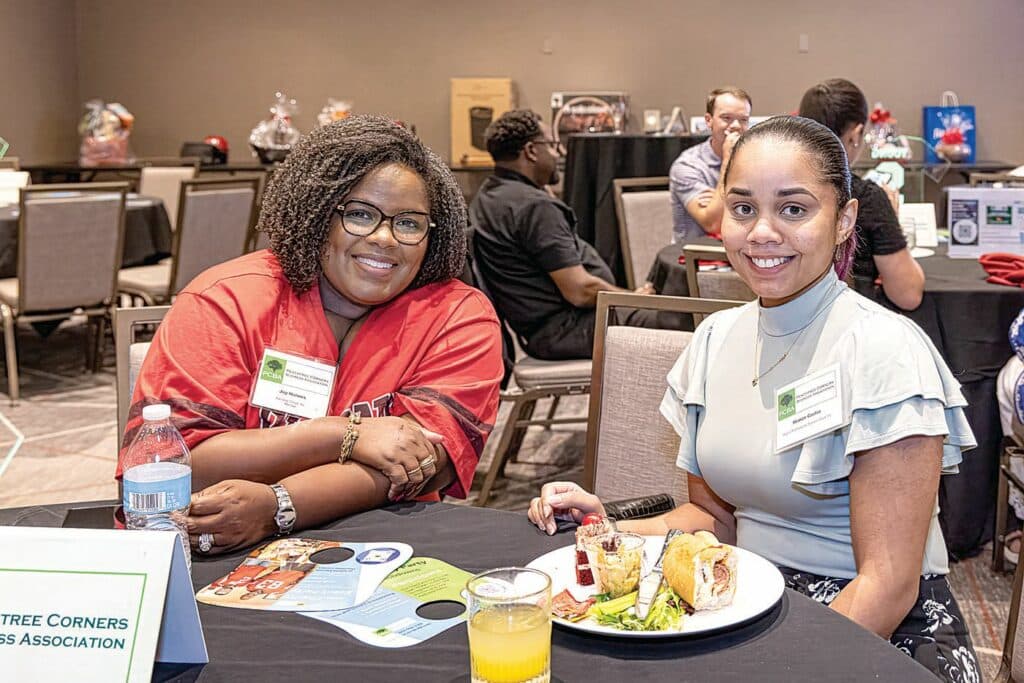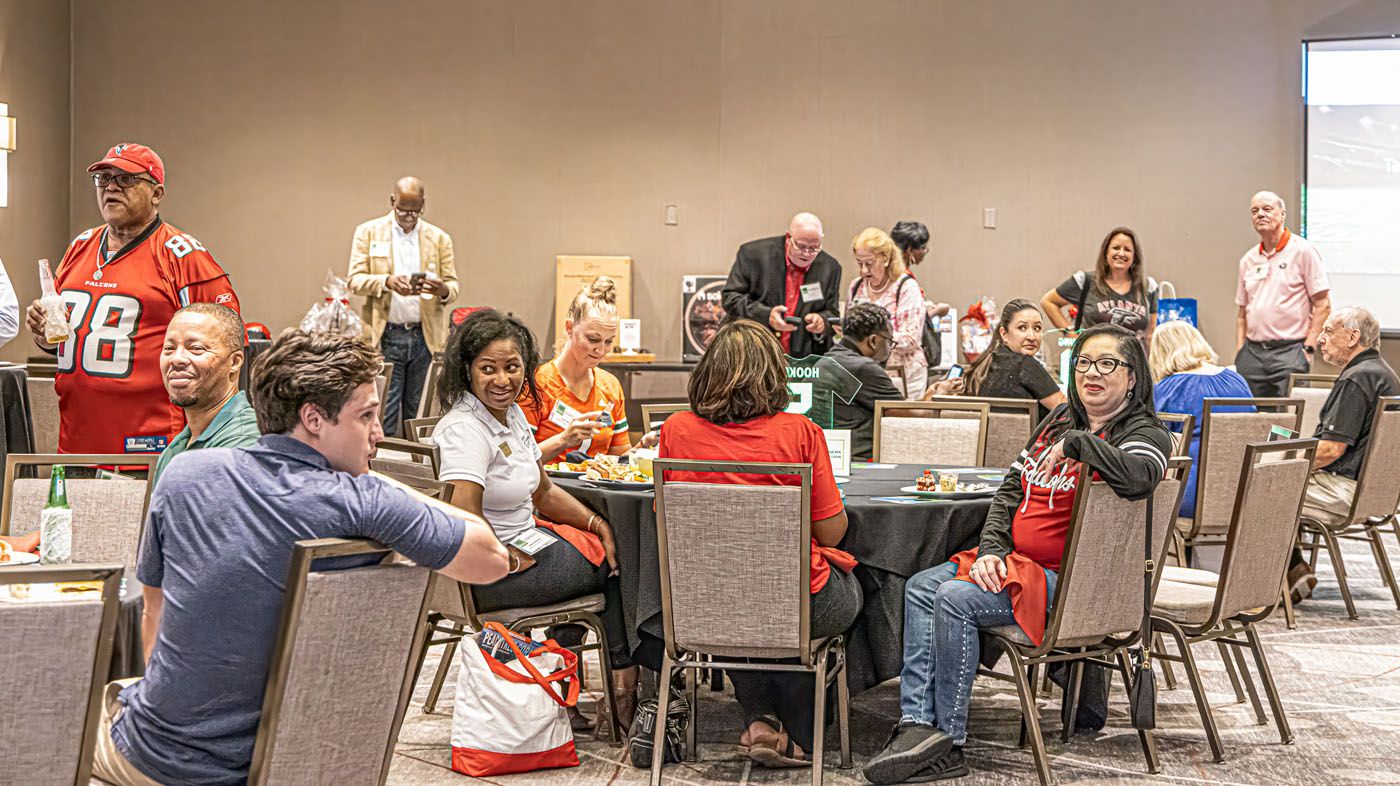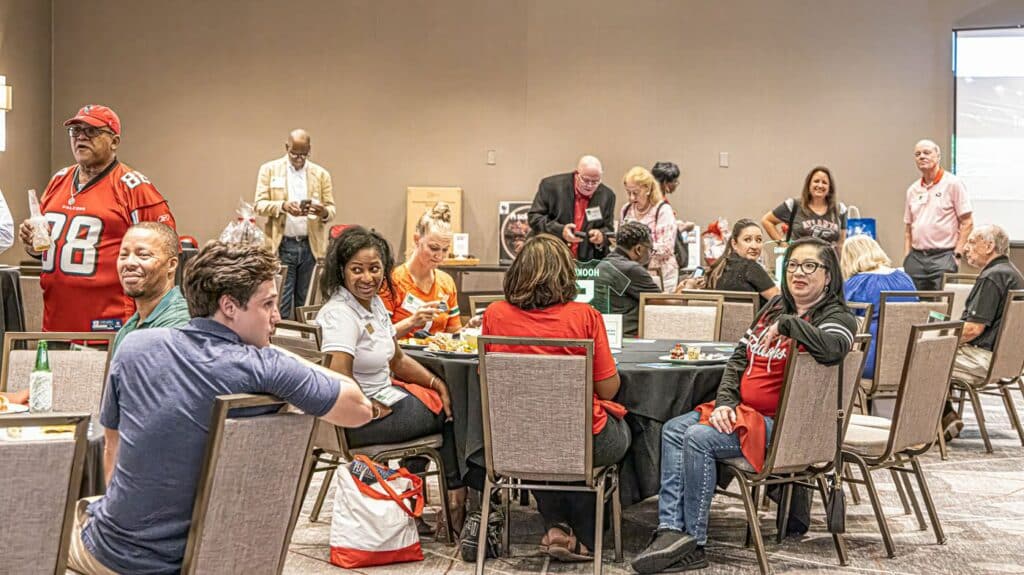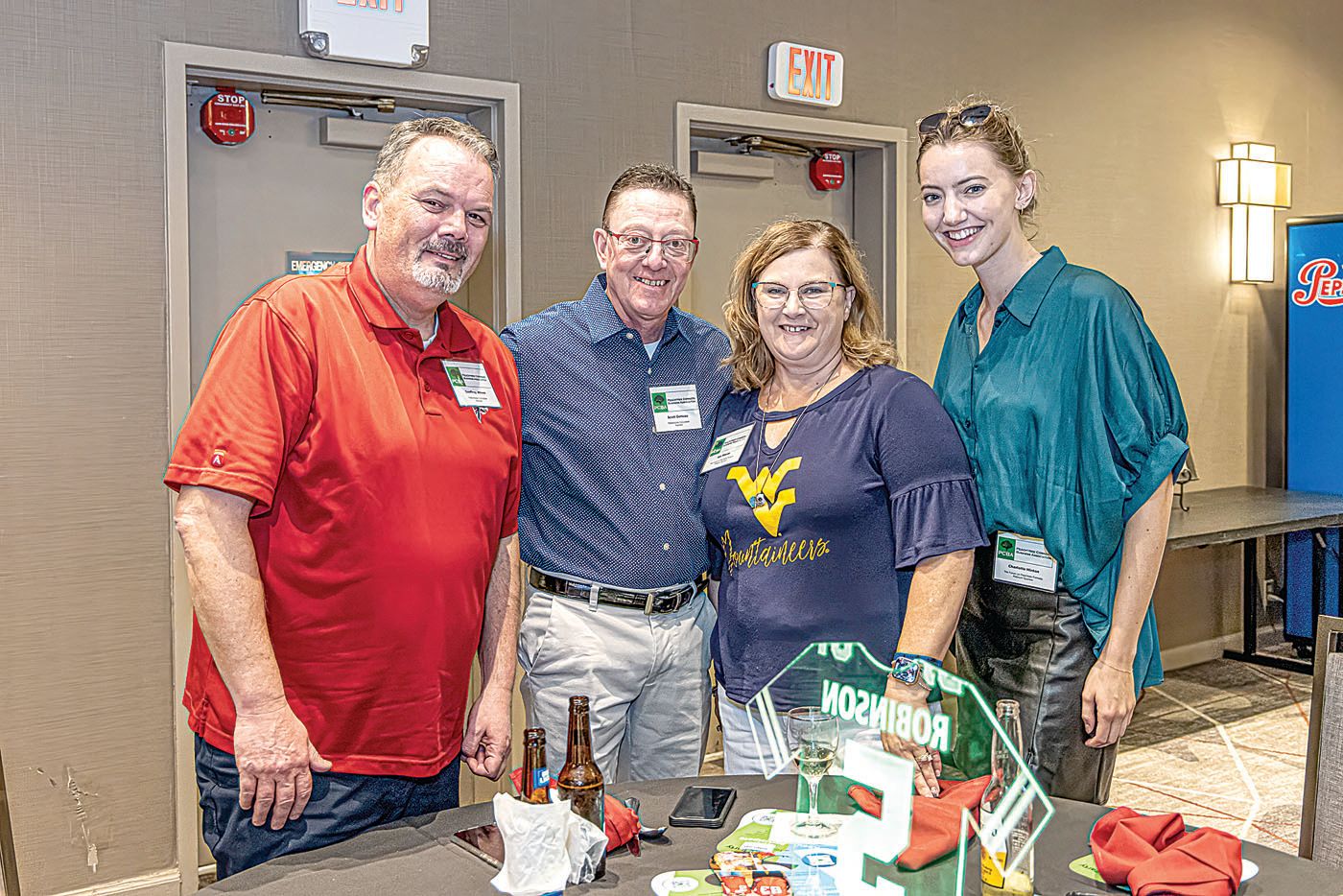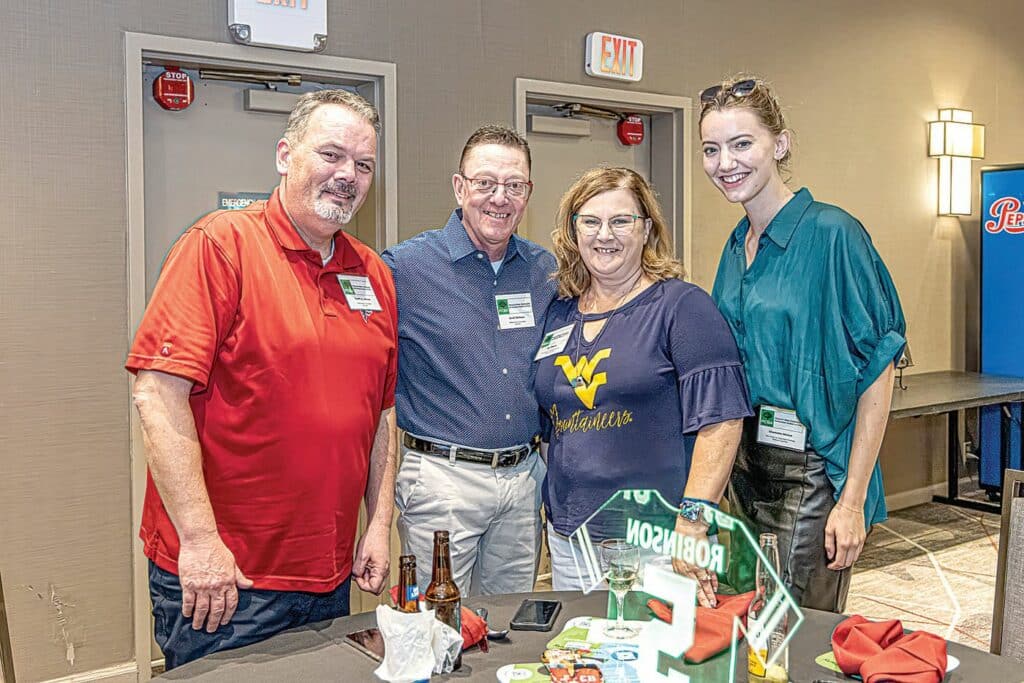 The final numbers are still being calculated since the second chance auction ran through the end of September 29. Still, Proctor said the tally so far guarantees that at least as much will be donated as last year — $4,000 per charity. That number rose as new items continued to be donated for auction even after the event.
The fundraiser did so well, PCBA was able to include an additional donation.
"The PCBA is proud to donate a check for $1,000 to be used to positively impact the community and support the Peachtree Corners Festival. This year is especially impactful as the festival celebrates one of their founding members, Ms. Debbie Mason," Proctor said. "Our Outreach Committee and Board are impressed with their mission and their ability to continue to provide a quality event for our community."
Volunteers and sponsors make it happen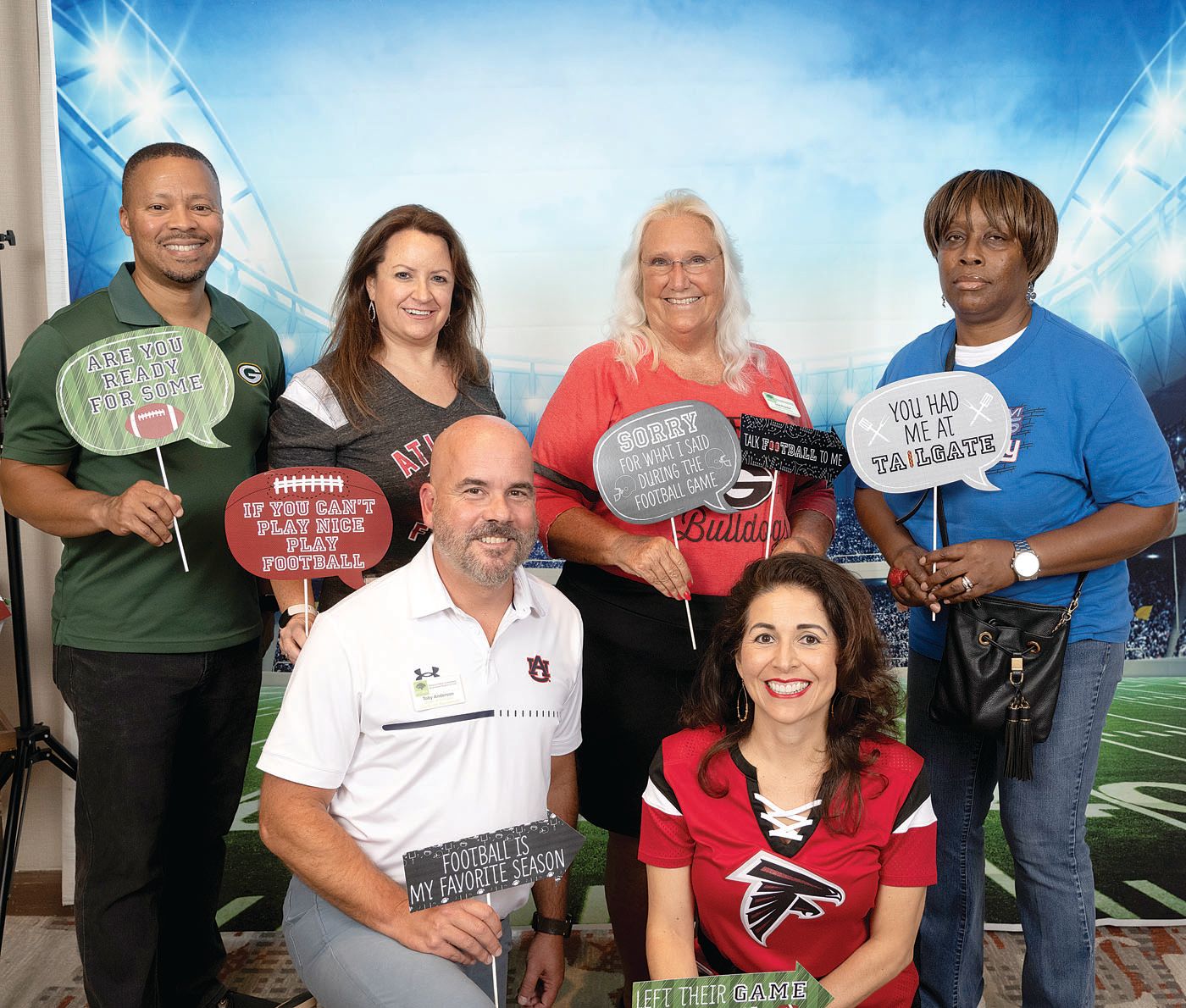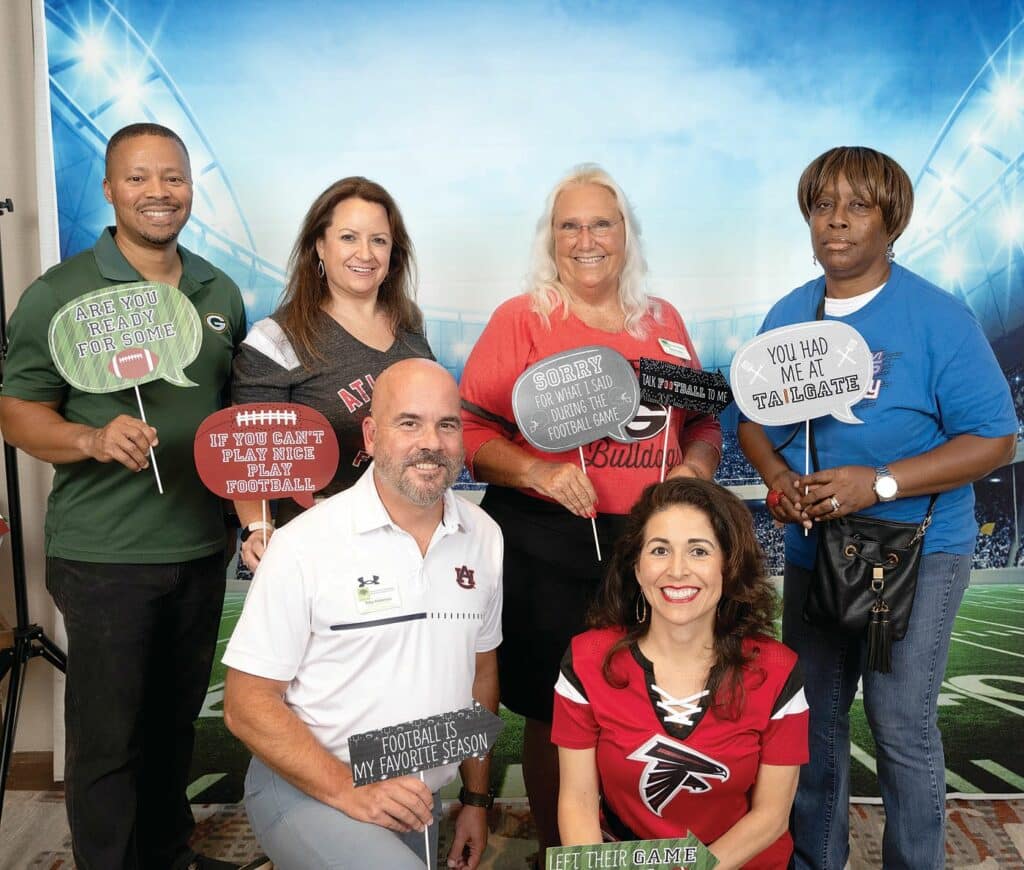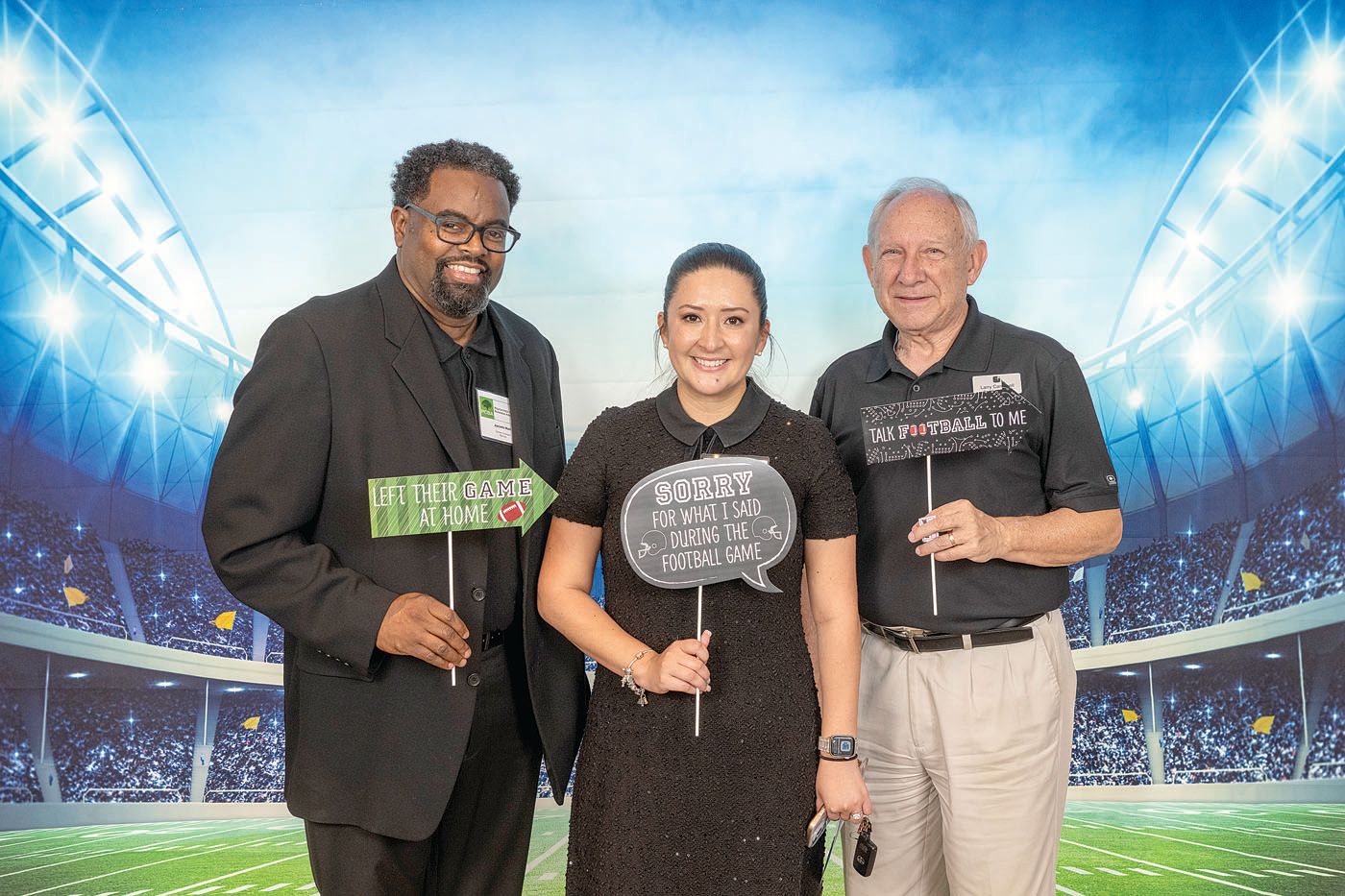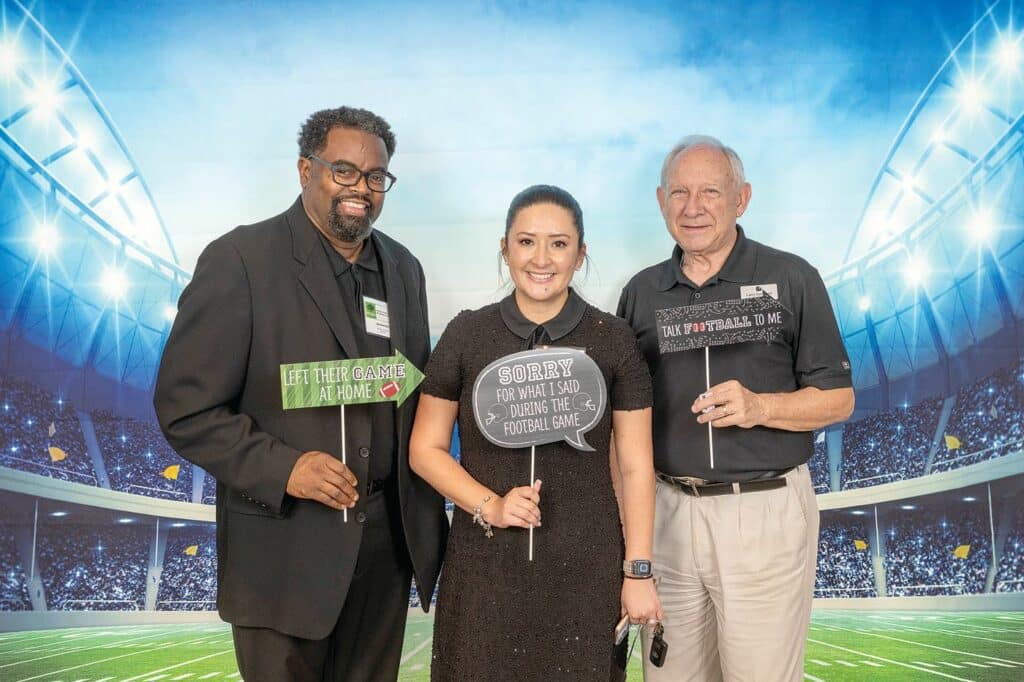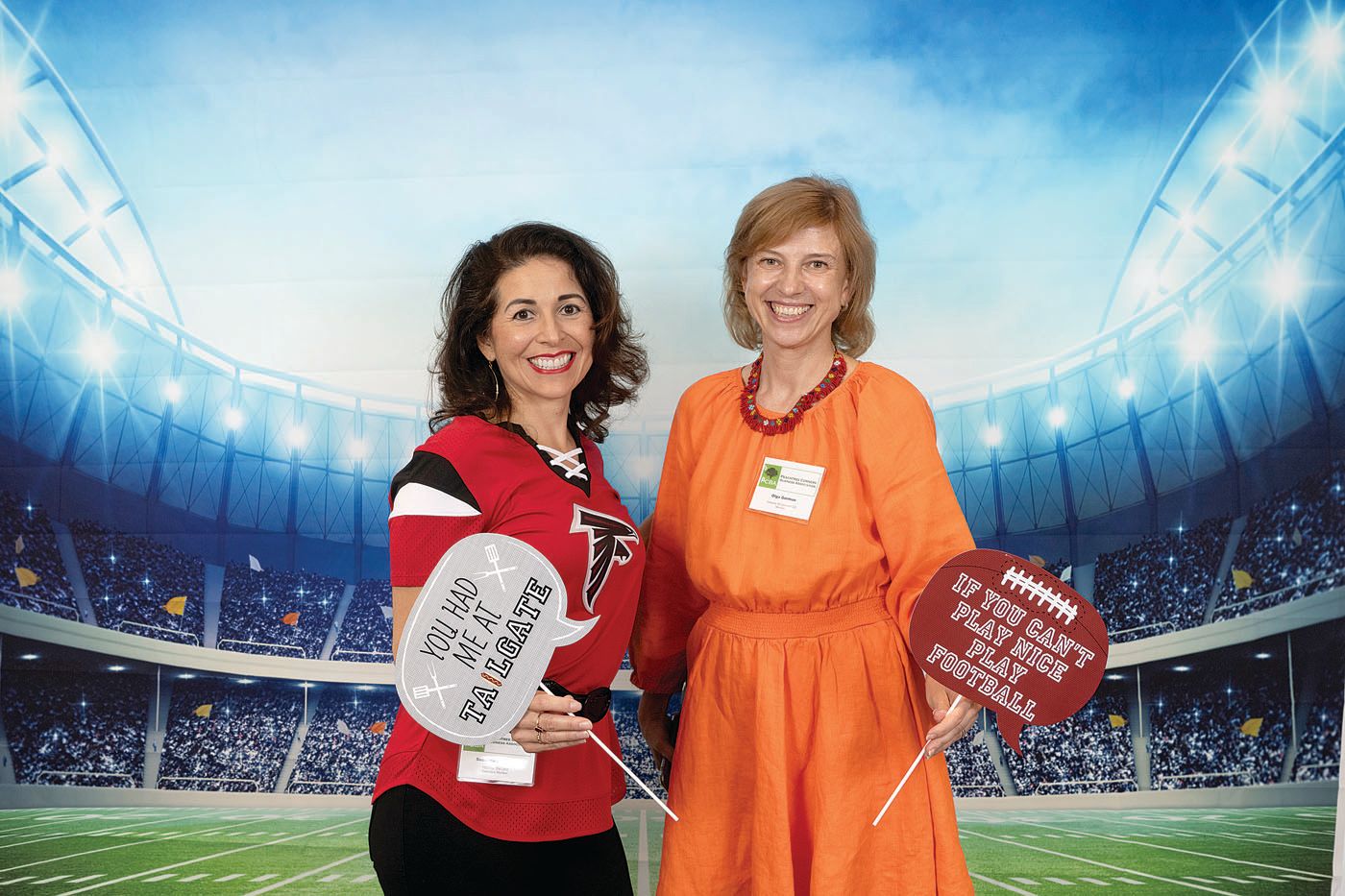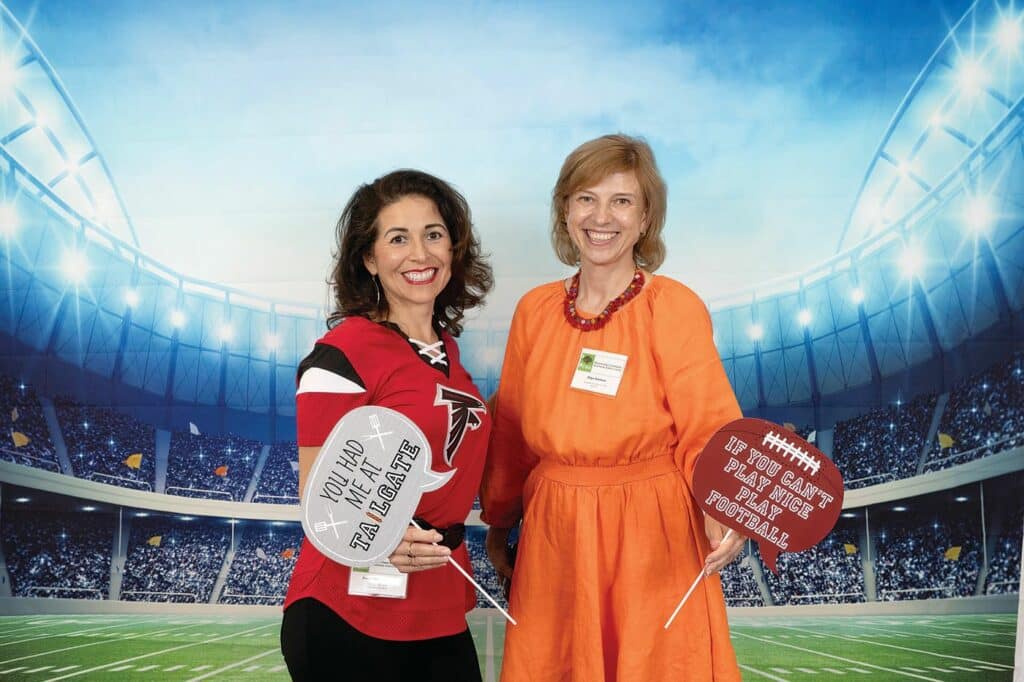 All positions with PCBA are held by volunteers, and Proctor thanked everyone for the extra effort to make the event a success.
"Our board members — Allison Reinert, Michael Pugh, Toby Anderson, Donna Linden, Suzanna Martinez and Jeff Fairchild worked on this event 365 days a year to ensure the success of this night's event," she said. "We're already working on the 2024 annual charity event and look forward to sharing more details in the near future."
She also thanked the 13 sponsors that gave money and had representatives who attended the event. 
Highlights of the evening included the 32 different silent auction donors. A Dynatrap ½ Acre Mosquito and Flying insect Trap, donated by Sanford Rose Associates – Lake Lanier Islands, garnered the most bids.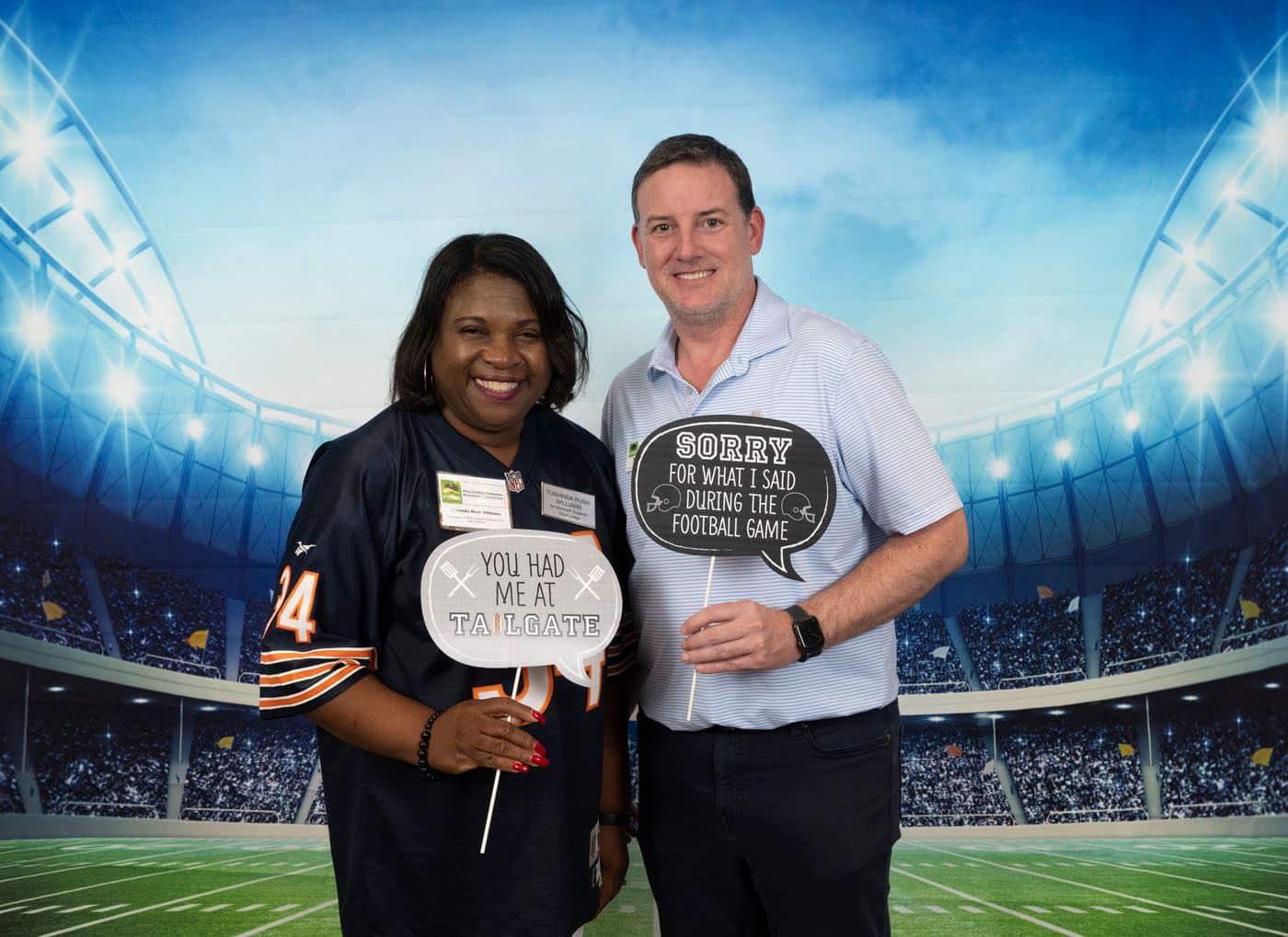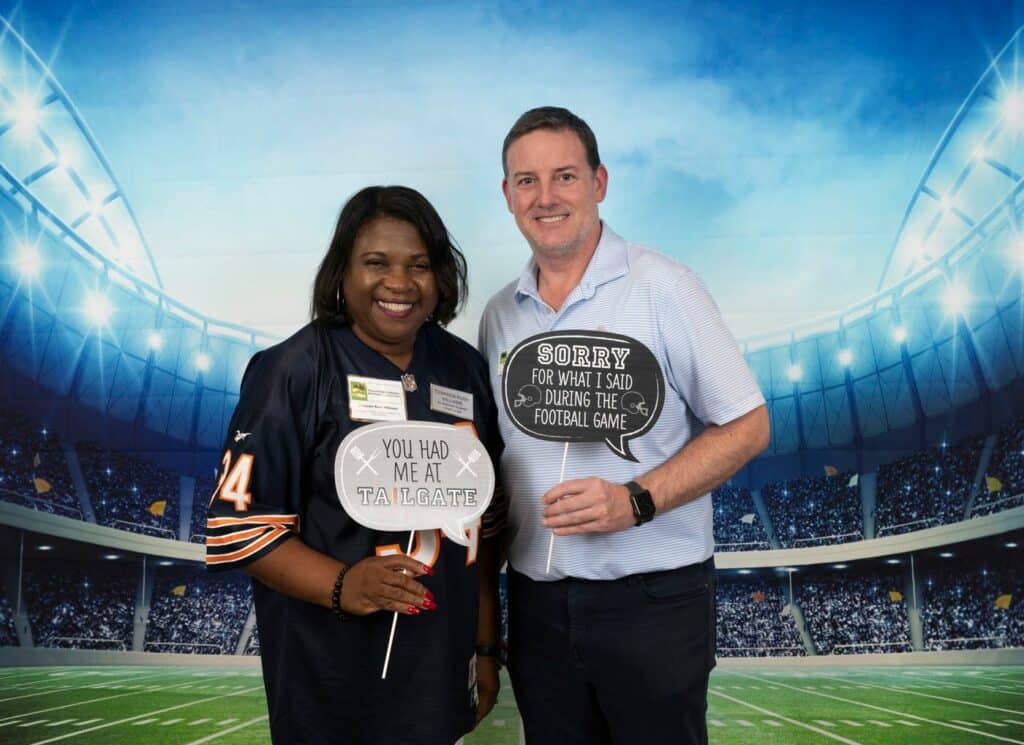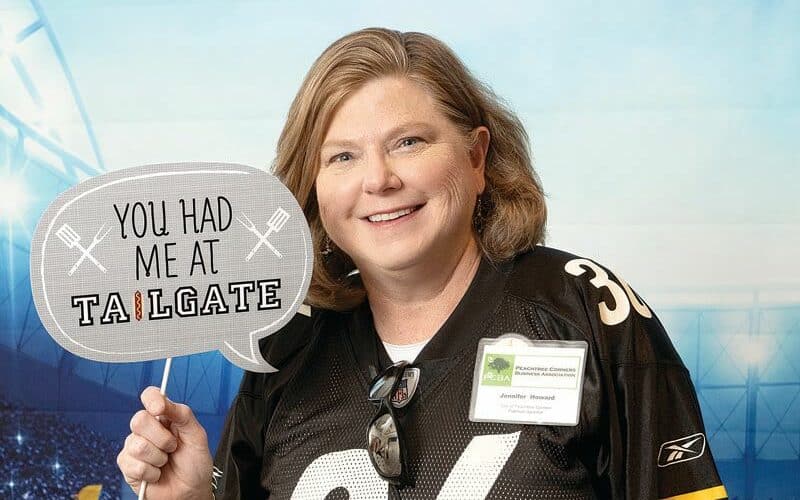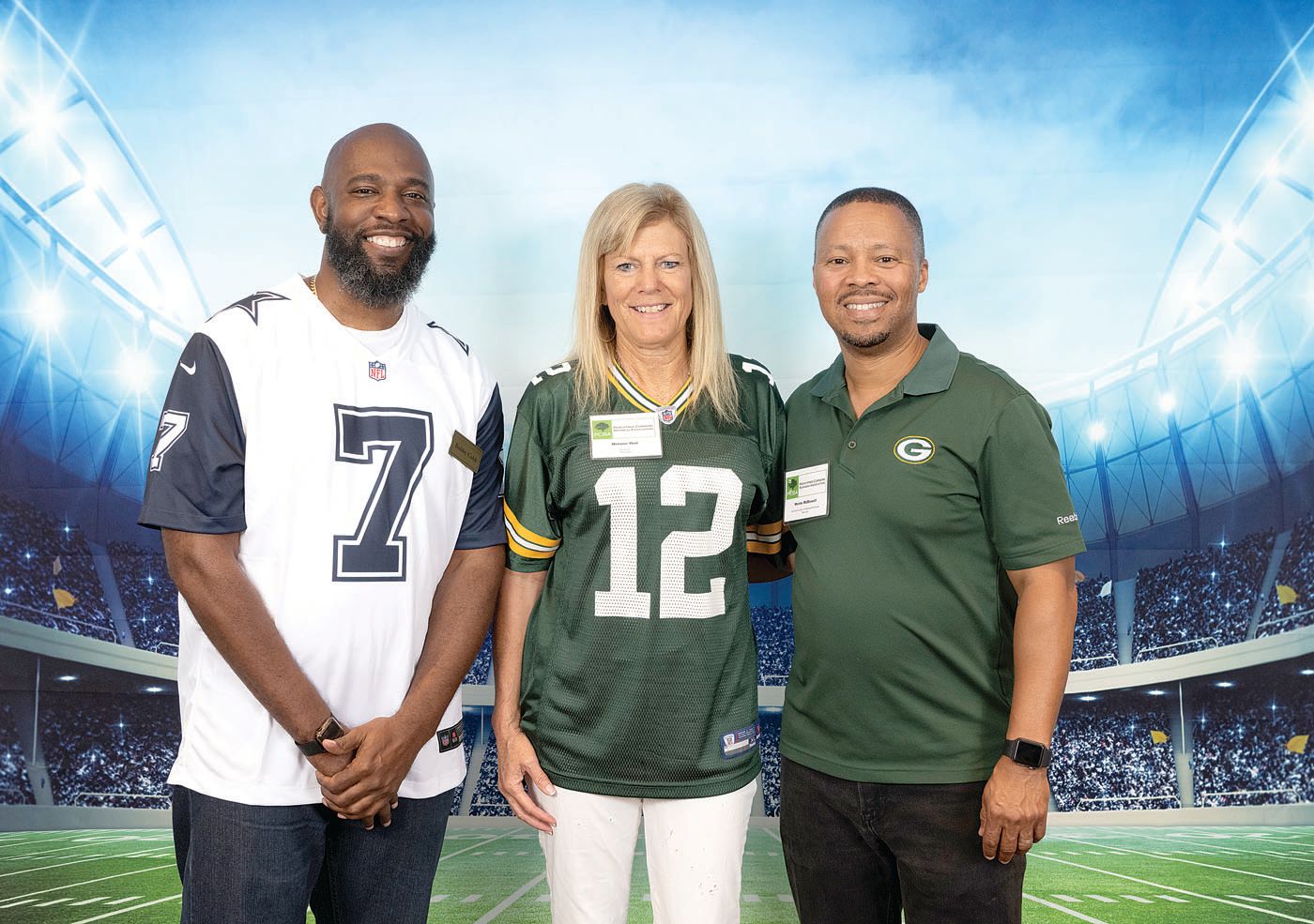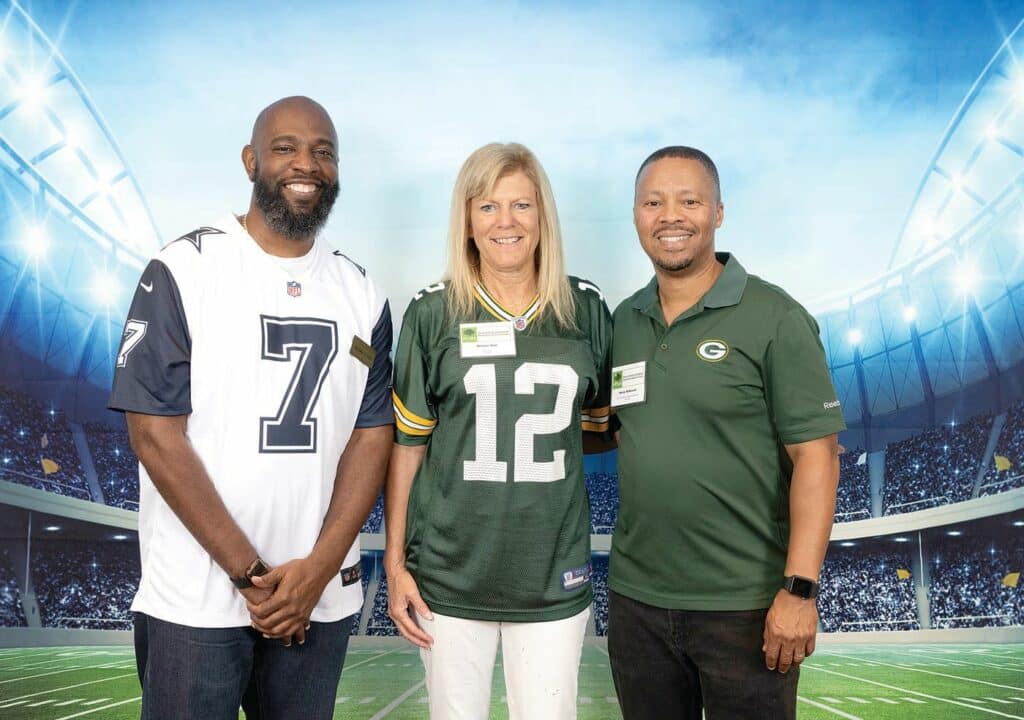 Other top items bid on included: cryotherapy treatment from Icebox Peachtree Corners, Marlow's Gift Cards, Henri's Bakery & Deli gift cards, Peterbrooke Chocolatier gift cards, a Solo Stove Bonfire 2.0 donated by Thompson O'Brien and four suite tickets with parking pass to an Atlanta United game donated by Flagship Solutions Group.
To find out more about PCBA, contact the association at 678-969-3385 or membership@peachtreecornersba.com or visit their website, peachtreecornersba.com.
Photos by Tracey Rice and Richard Phillips
Water at Work Ministry and Its Impact on Communities Across the Ocean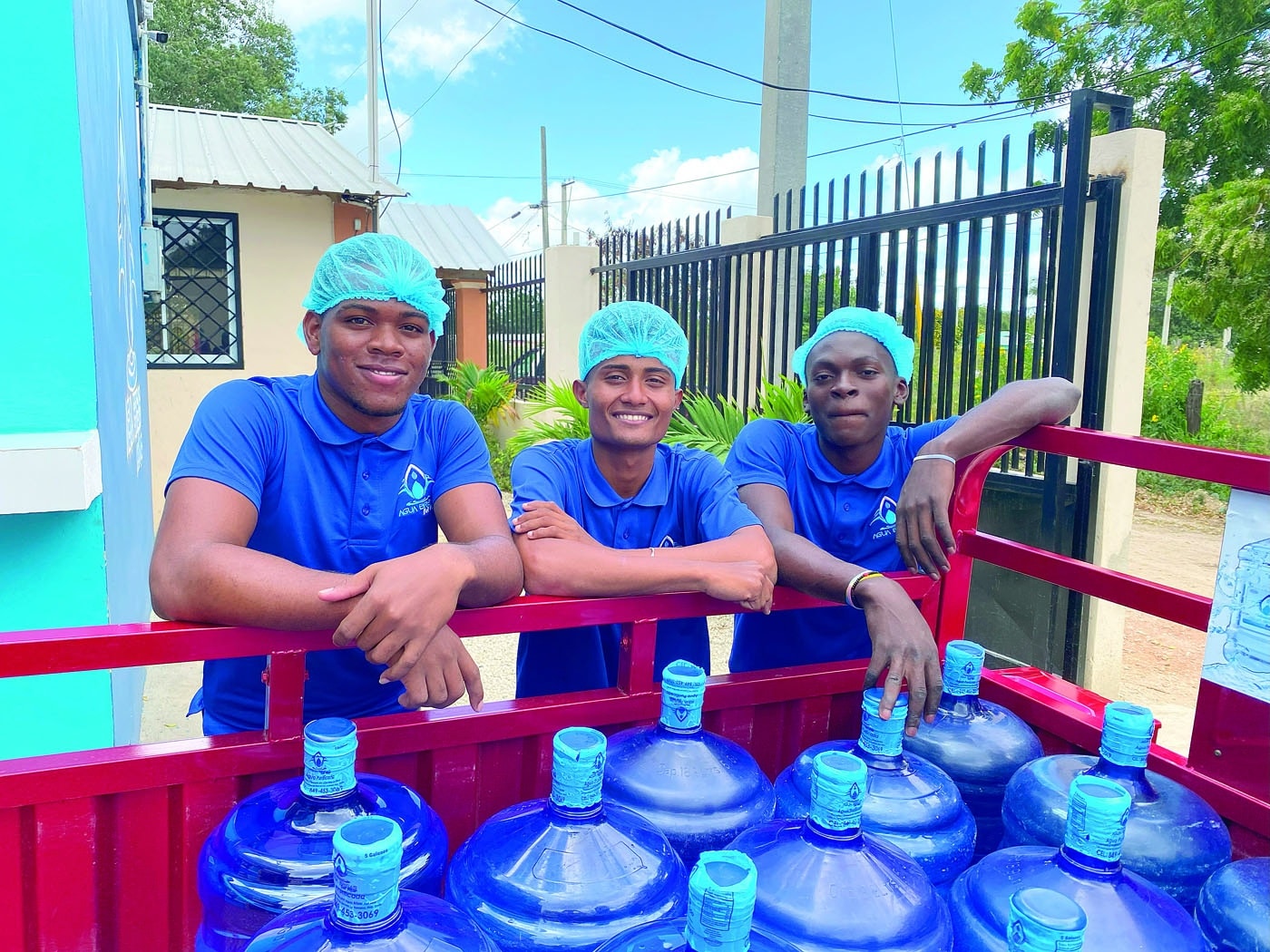 When the Dominican Republic (DR) comes to mind, many of us envision stunning all-inclusive resorts located in Punta Cana. However, for Jennifer Yin, a resident of Peachtree Corners, the country's appeal goes beyond indulging in crystal-clear waters and delicious cuisine.
She doesn't find herself continuously in the Dominican Republic for luster and splendor, but rather for something much humbler and wholesome.
Yin previously worked as a schoolteacher but found a calling to work to improve safe water supply to developing countries. To help provide clean, safe water, Yin started a simple lemonade stand in her front yard with her two sons.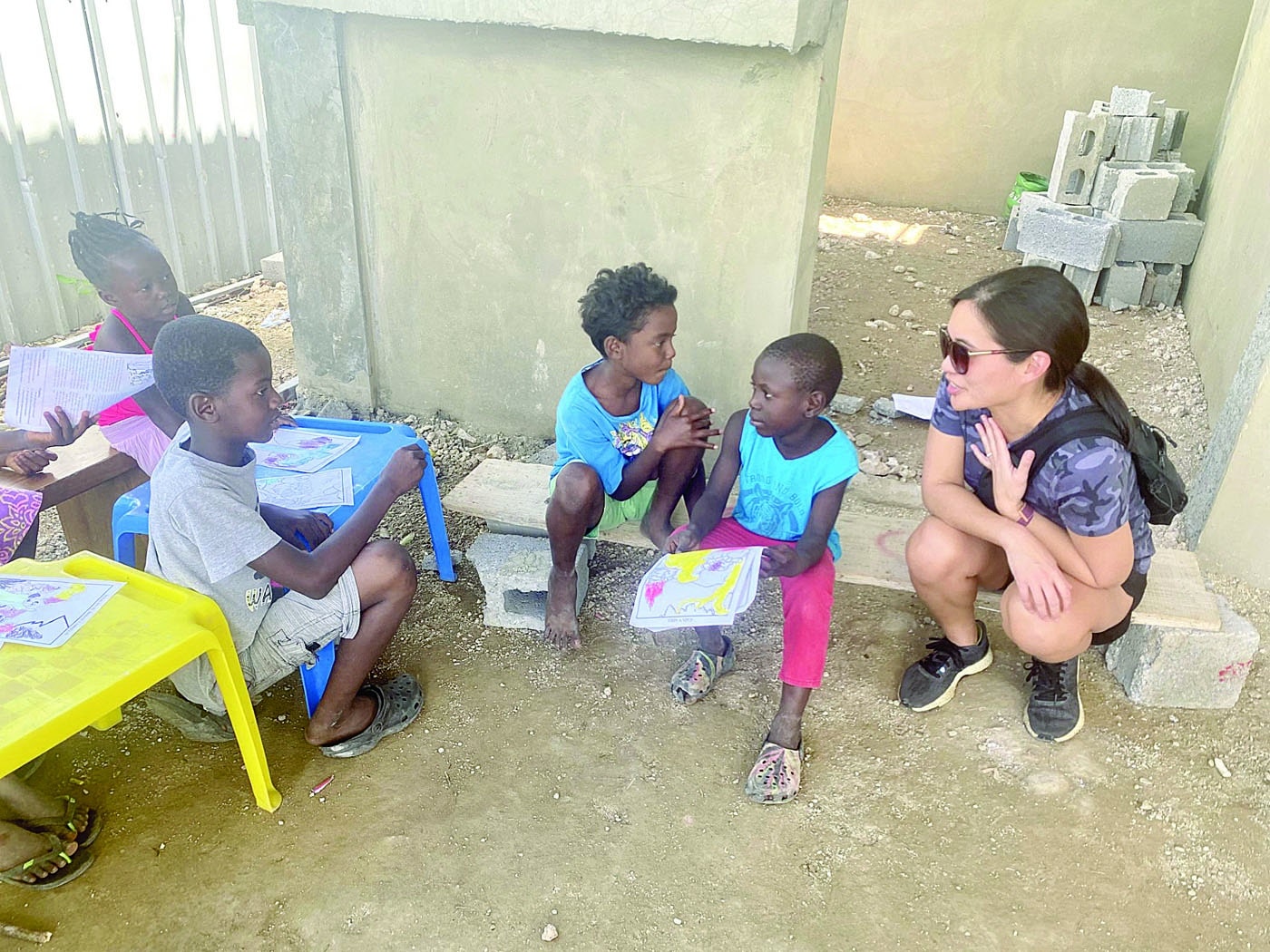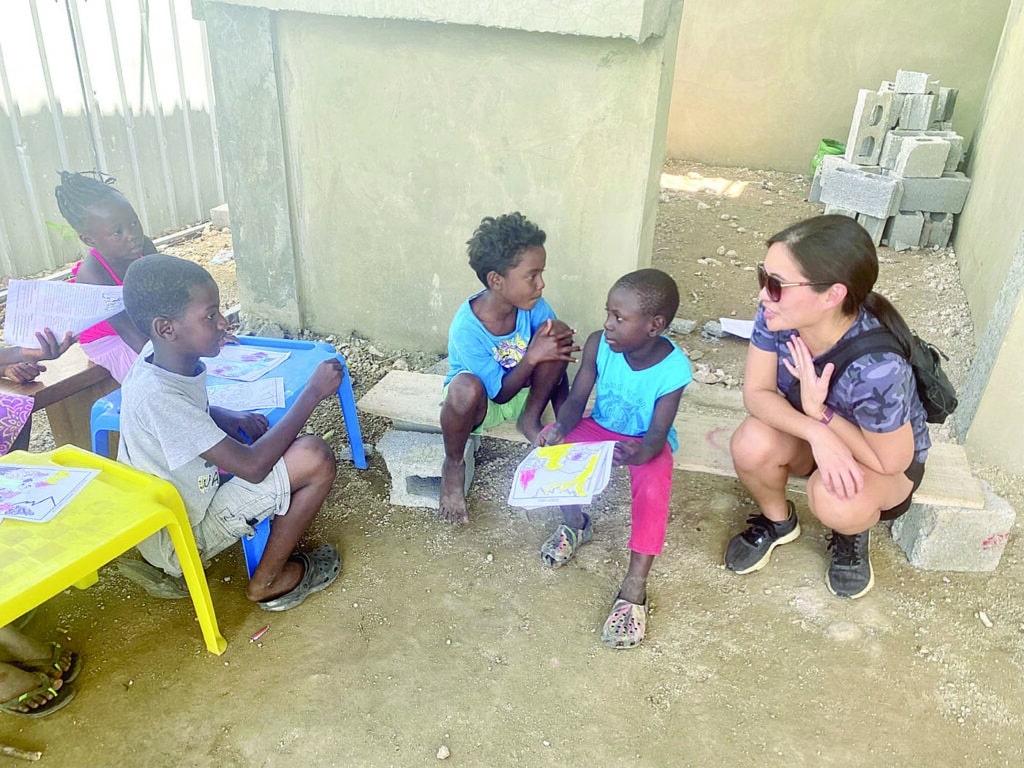 From this modest lemonade stand, Yin was redirected by neighbor Dan Blevins to look into Water at Work. Blevins is the Executive Director of the Water at Work Ministry. Their mission is to transform the lives of over one million of the poorest people in the Dominican Republic through clean water production plants, business development and access to the gospel of Jesus Christ.
Water at Work
Water at Work had humble beginnings. Over 10 years ago, Tom Flaim created the Water at Work Ministry after visiting the DR with his church group and being astounded by the lack of clean water available to residents.
Since then, the ministry has created a partner organization in the DR. Water at Work establishes small water businesses in the country through partnering with local churches and ministries, helping to provide many communities access to clean and safe water.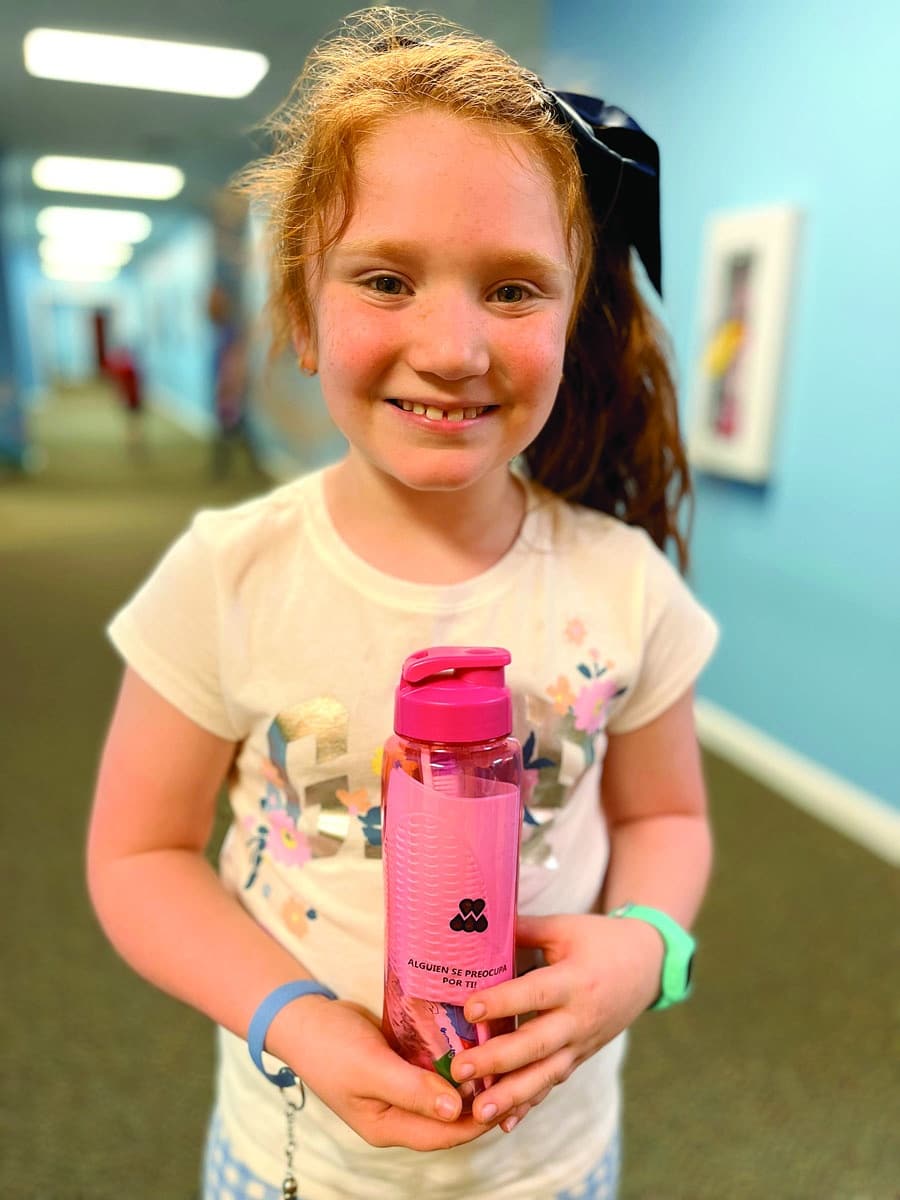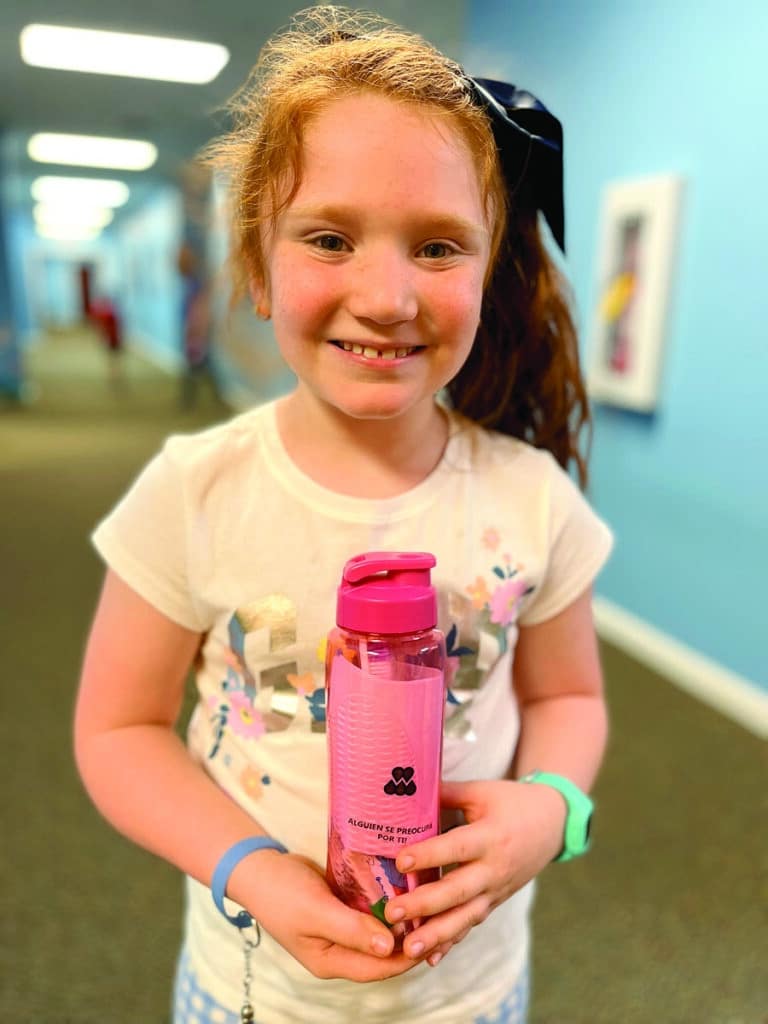 Yin, the Director of Donor Relations, visits the DR annually. Her last trip was in the middle of June. On every trip, Yin continues to connect with residents like Rosemary, a staff member who leads community development efforts and recently created mobile dental clinics in the communities they serve for a very low cost. 
During the mobile dentist clinics, Yin saw the fruit of her efforts and witnessed Rosemary and other dentists enter the Consuelo community and treat over 50 people in eight hours with no running water or air conditioning.
Additionally, on this most recent trip, Yin visited House of Light, an orphanage for disabled children where Water at Work had installed a water purification system 10 years ago. However, the upkeep of the basic water purification system had become too expensive for the orphanage to maintain, so the ministry began installing a new system.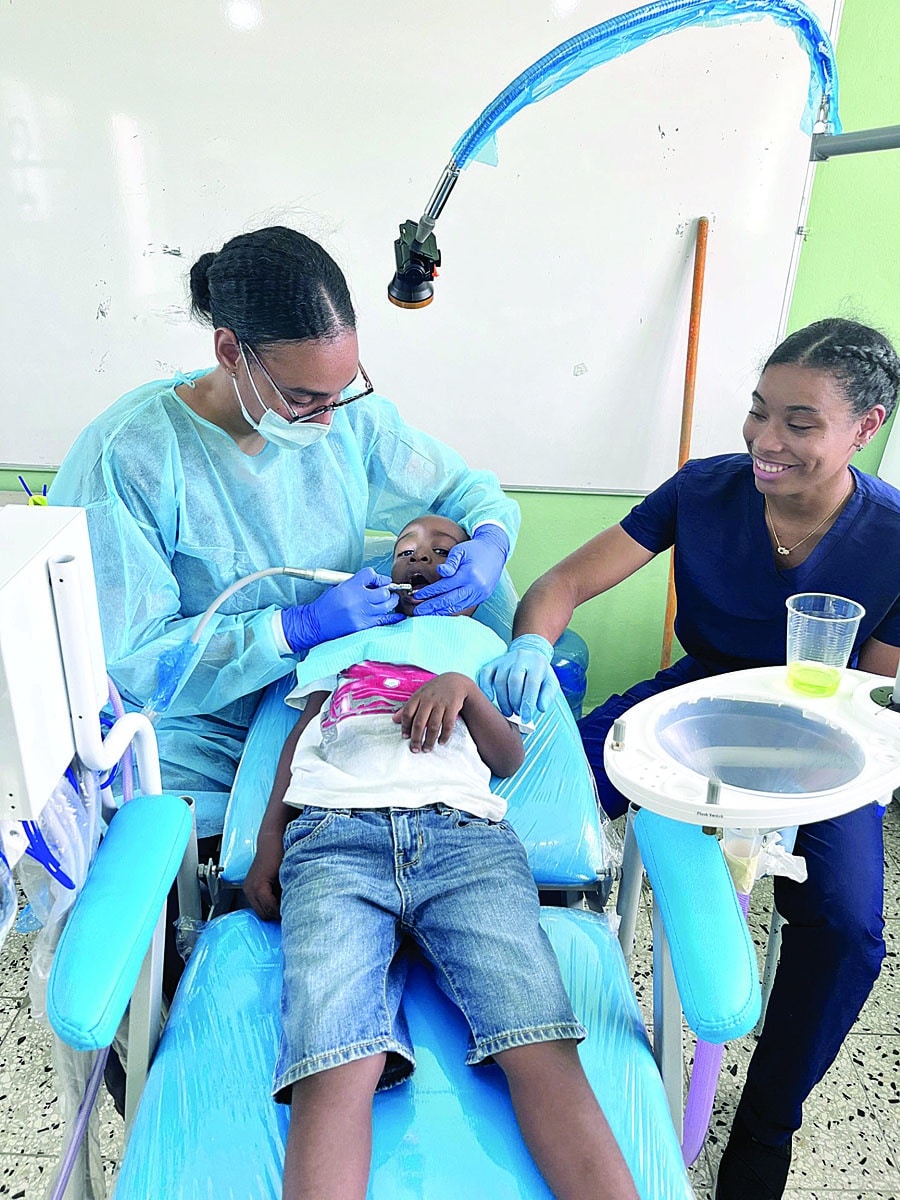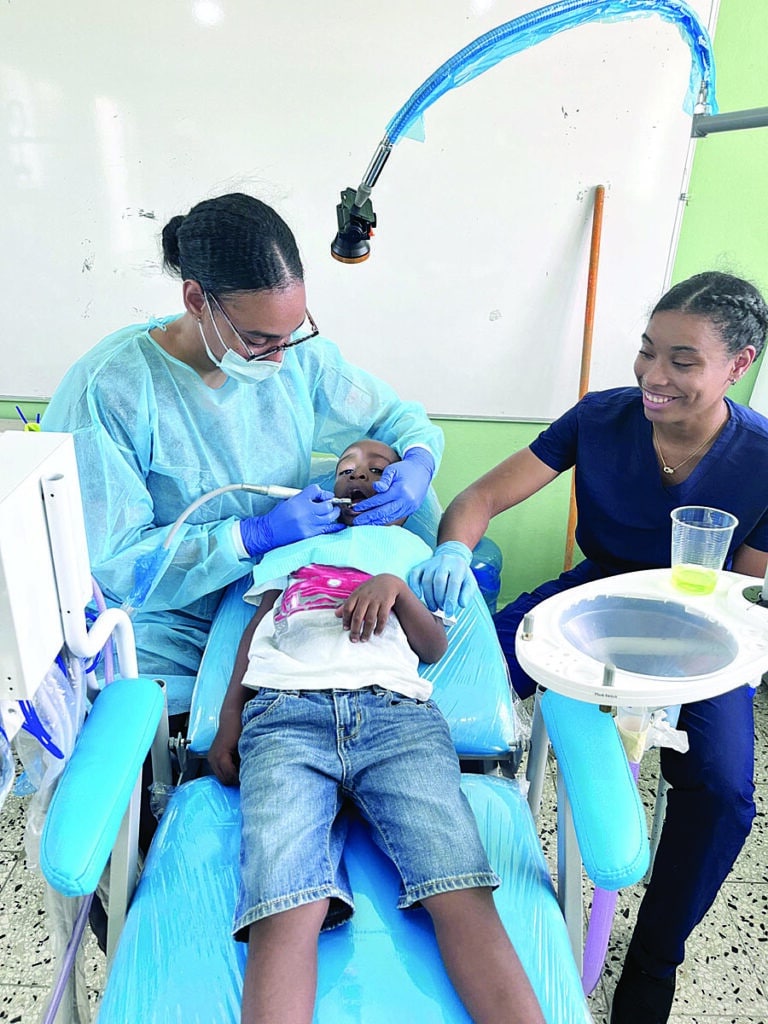 "We are in the midst of building them a completely renovated, state-of-the-art water purification system where they will be able to provide clean water for all the orphans who live there," said Yin.
Through this system, they will also be able to bottle and sell water to residents nearby and use those profits to benefit the orphanage. It's not charity, it's a sustainable business model.
Thinking beyond your borders
Yin has greater aspirations for Water at Work but needs support. She wants to challenge the Peachtree Corners people to look beyond their own community. 
"I challenge people to think outside of their immediate communities because I've found that when you're able to do that, it opens up your heart and your mind to so much more," said Yin. "It's amazing. The joy that you can get from helping others is something that is indescribable."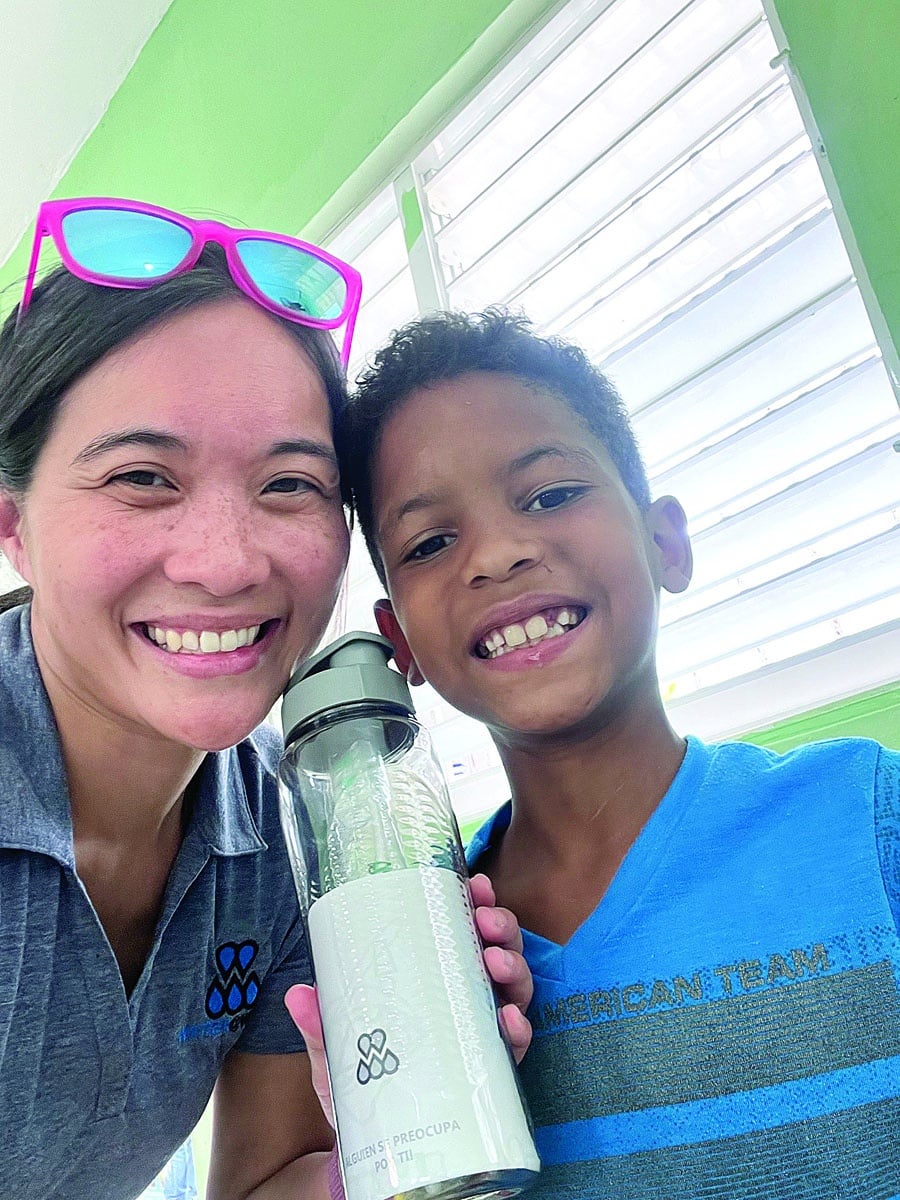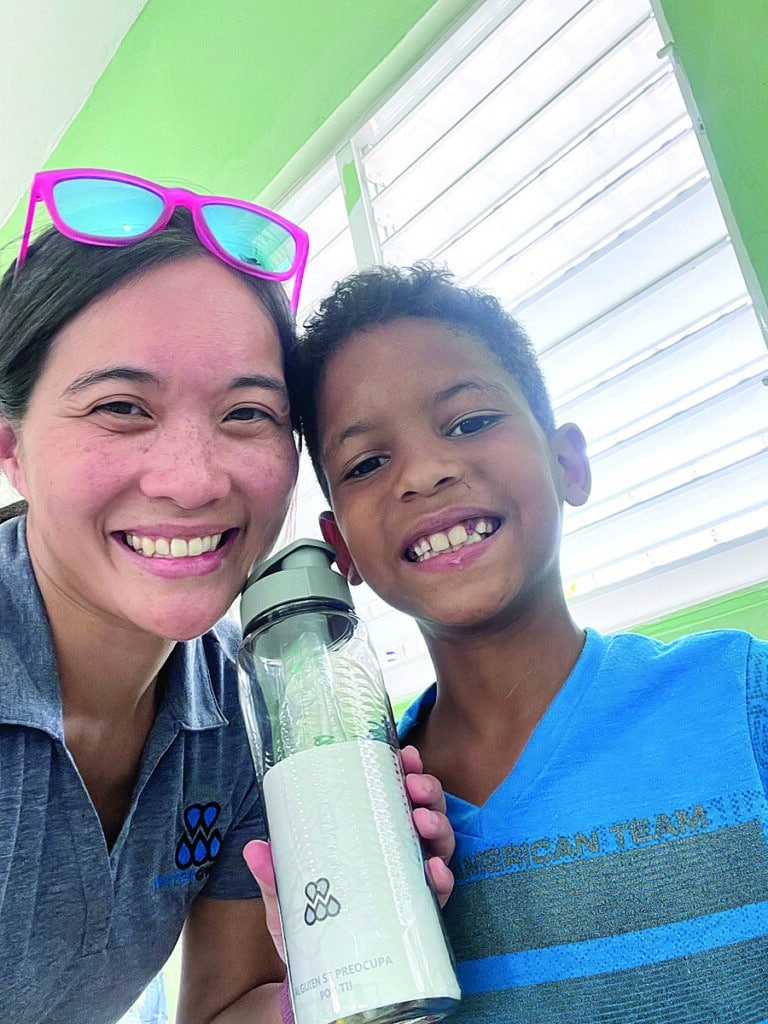 There are many ways to support the Water at Work Ministry, one of which is Giving Tuesday. On the Tuesday after Thanksgiving this year, November 28, Water at Work will have a fundraiser.
"It is a fundraiser we do every single year, and we'll have a matching donor for it," said Yin. "Every dollar that is donated on Giving Tuesday will be matched 100% by someone else. So that's a great way to band together with other people worldwide to make a difference in the nonprofit world," Yin explained.
Also, becoming a donor is a great way to support the ministry and its mission at any time.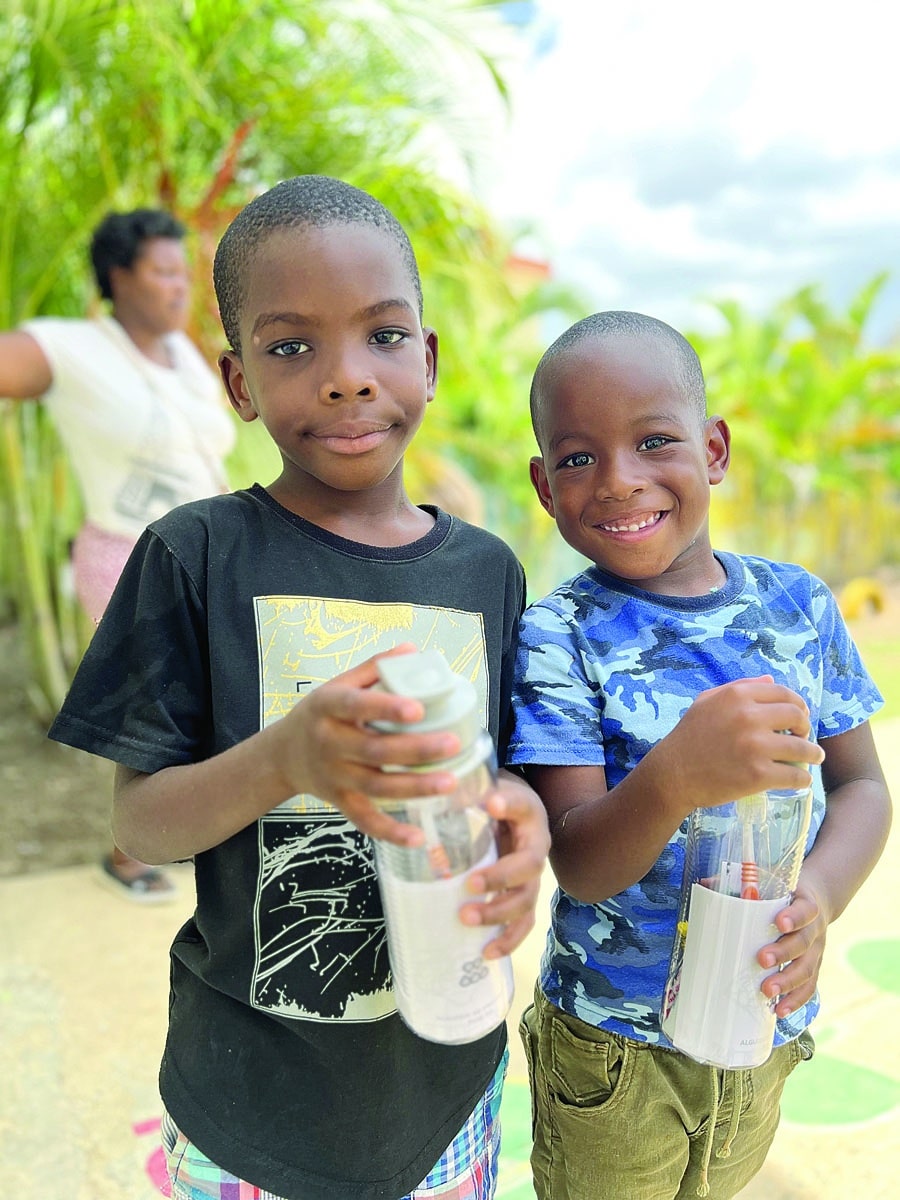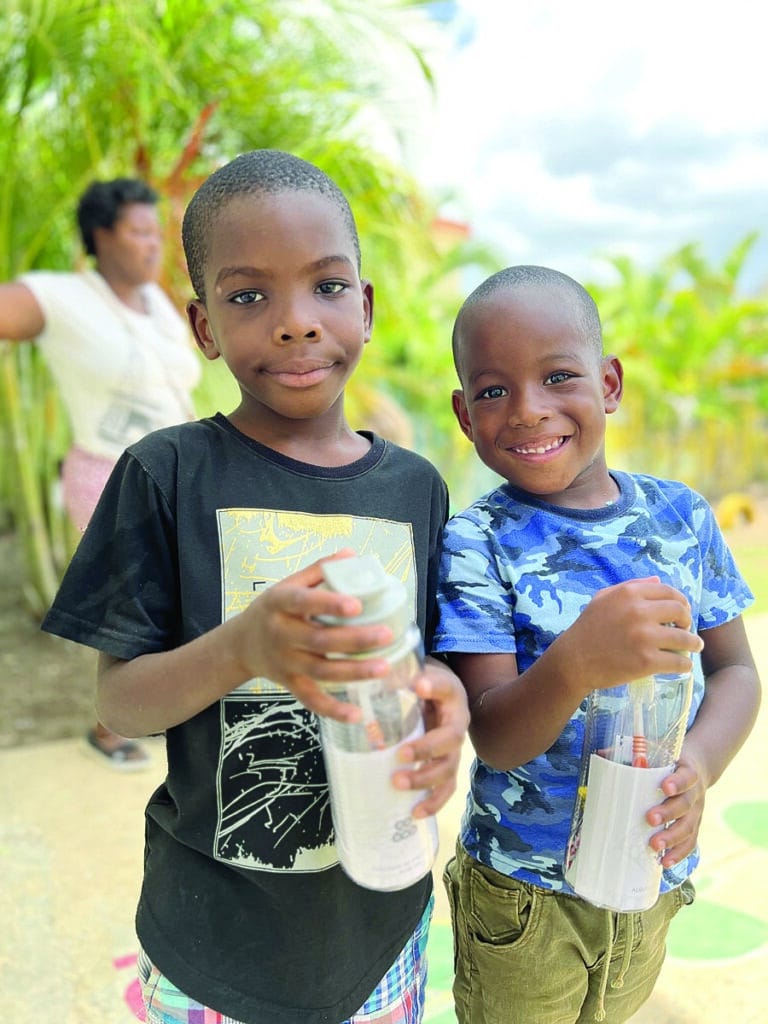 "We love when folks sign on to be monthly givers. It costs just $17 a month to provide one person with clean, safe water going forward for their lifetime," she said.
Churches can easily get involved in the ministry's efforts too. Simpsonwood United Methodist Church and Peachtree Corners Baptist Church put together Water and Sanitation and Hygiene (WASH) bottles before Yin's trip to DR. Later, those WASH bottles made in Peachtree Corners were handed out to DR residents during dental clinics.
Learn more about Water at Work Ministry at wateratworkministry.org, or contact Jennifer Yin at jyin@wateratworkministry.org.
The Ripple Effect of Local Philanthropy: Local Nonprofits to Consider this Giving Tuesday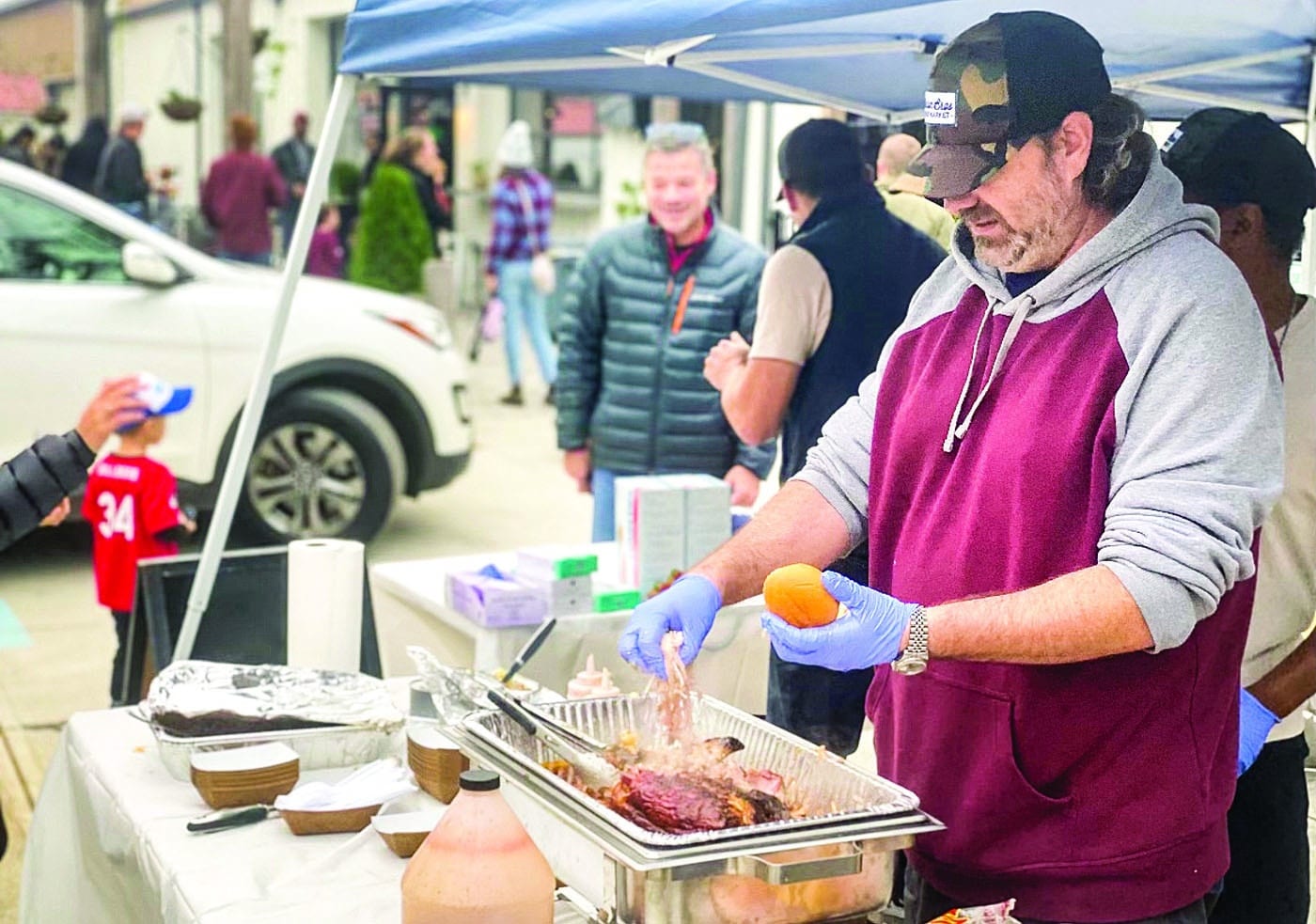 Giving Tuesday is a global day for giving back. It falls on the Tuesday after Thanksgiving, following the shopping frenzies of Black Friday and Cyber Monday.
Launched in 2012 by New York's 92nd Street Y and the United Nations Foundation, the day aims to shift focus from consumerism to charity. Some ways to celebrate include donations, volunteering and doing social good.
Over the years, it has become an international movement, inspiring generous acts worldwide.
This Giving Tuesday, consider the impact you can make in your local community. There is competition for donations from large, national nonprofits. Yet, local organizations provide an opportunity for meaningful, close-to-home contributions.
Below are five local organizations worthy of your attention and support.
Boy with a Ball: transforming communities through youth
Boy With a Ball, a nonprofit rooted in faith, collaborates with a diverse network of leaders, donors, volunteers, religious groups, educational institutions and businesses.
The organization's core mission is to empower young people to make sustainable changes in their communities. According to Communications Director Molly Johnson, Giving Tuesday serves a purpose beyond a single day of fundraising.
"It's not just a 24-hour donation window for us," Johnson said. "It actually kicks off a season of impactful giving that extends through the end of December."
During this giving season, the organization solicits contributions and releases special content to underscore the long-term effects of these donations.
"From Thanksgiving to December 31, we share updates and insights about the tangible impacts of giving," Johnson explained. "We also outline our vision for the upcoming year. It's an exciting and crucial time for our mission."
Financial transparency is a hallmark of Boy with a Ball.
"These funds are used to broaden our efforts in communities and schools," Johnson said.
Donations can serve multiple purposes, such as providing snacks for the mentoring program or funding tutoring for a student for an entire year.
In fact, Giving Tuesday has evolved into one of the nonprofit's most crucial fundraising days, often drawing first-time donors. On some occasions, the day's contributions have funded specific initiatives like Velocity, a school-based mentoring program.
Boy with a Ball is committed to transforming Gwinnett County by empowering its young population and strengthening family bonds.
"We're here to help young people realize their dreams, bolster family cohesion and, in turn, build a safer, more vibrant community," Johnson added.
Those interested in contributing can do so either by volunteering or offering financial support.
"Both kinds of giving make a transformational difference in young lives across Gwinnett County," Johnson said.
Monetary gifts grant access to resources and mentorship, while volunteers contribute to the personal development of emerging leaders.
For more information or to get involved, contact Maria Bortolucci at Maria.Bortolucci@boywithaball.com or visit the organization's website at boywithaball.com.
Cultivation Foundation
Cultivation Foundation, stemming from Cultivation Brewery in Norcross, Georgia, established its roots in the late summer of 2022.
Born from a modest brewery, this philanthropic endeavor prioritizes community relationships.
Its vision revolves around supporting local charities and the local environment. This foundation's mission is to create positive change for the underprivileged members of its local community.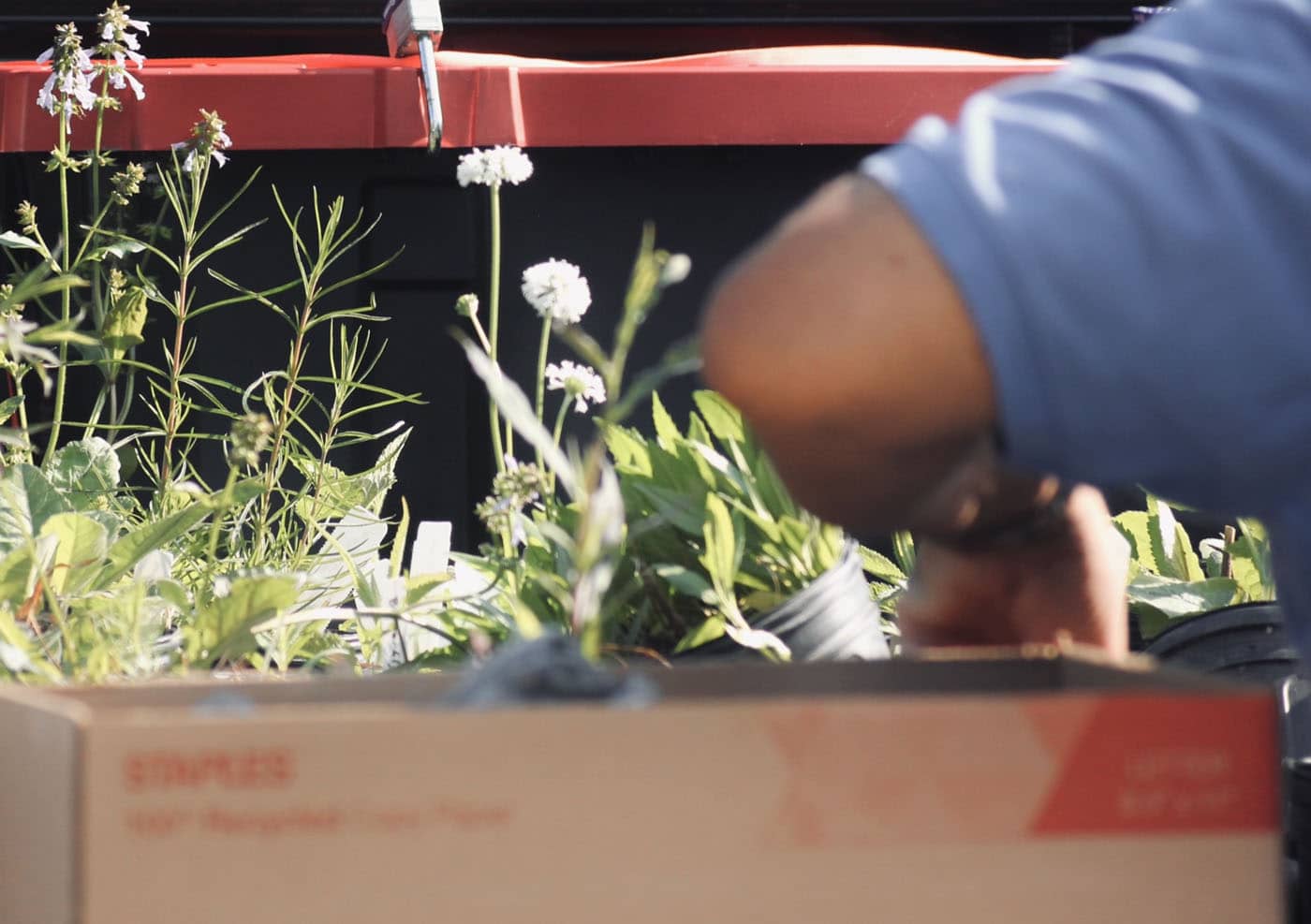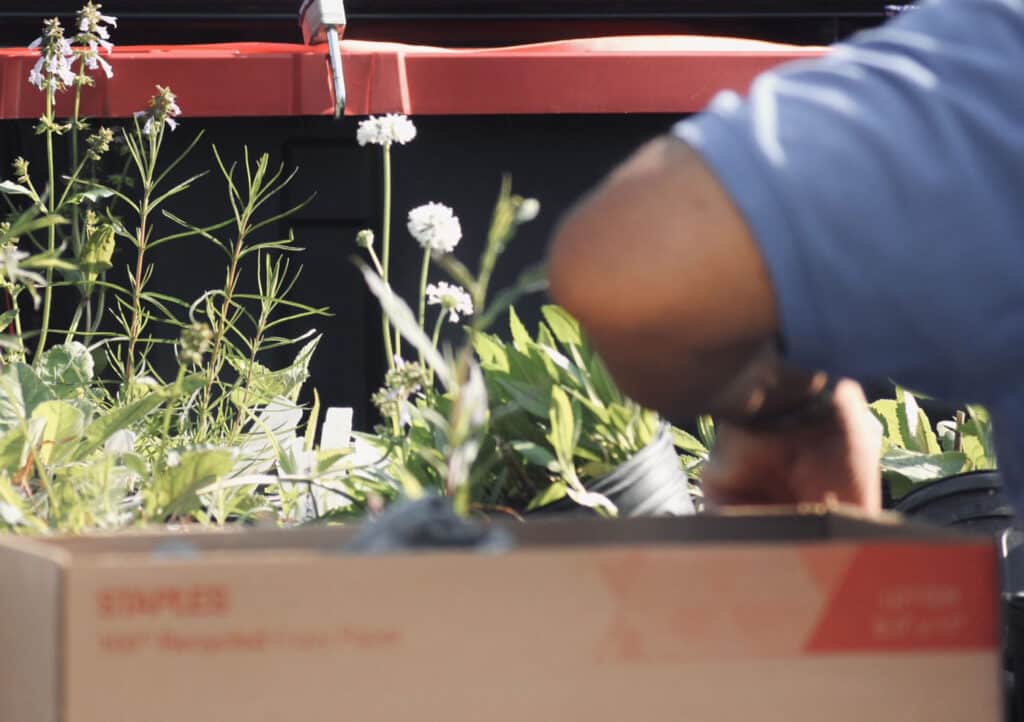 The term "cultivate" deeply resonates with the team at Cultivation Foundation. They have ambitions to leave a lasting mark on the Norcross community. By identifying and supporting local charities that mirror their values, they aim to fill gaps where assistance is needed.
Their contributions include donations to local food pantries, aiding in setting up family holiday gift stores, and collaborations with organizations like Norcross Cooperative Ministries.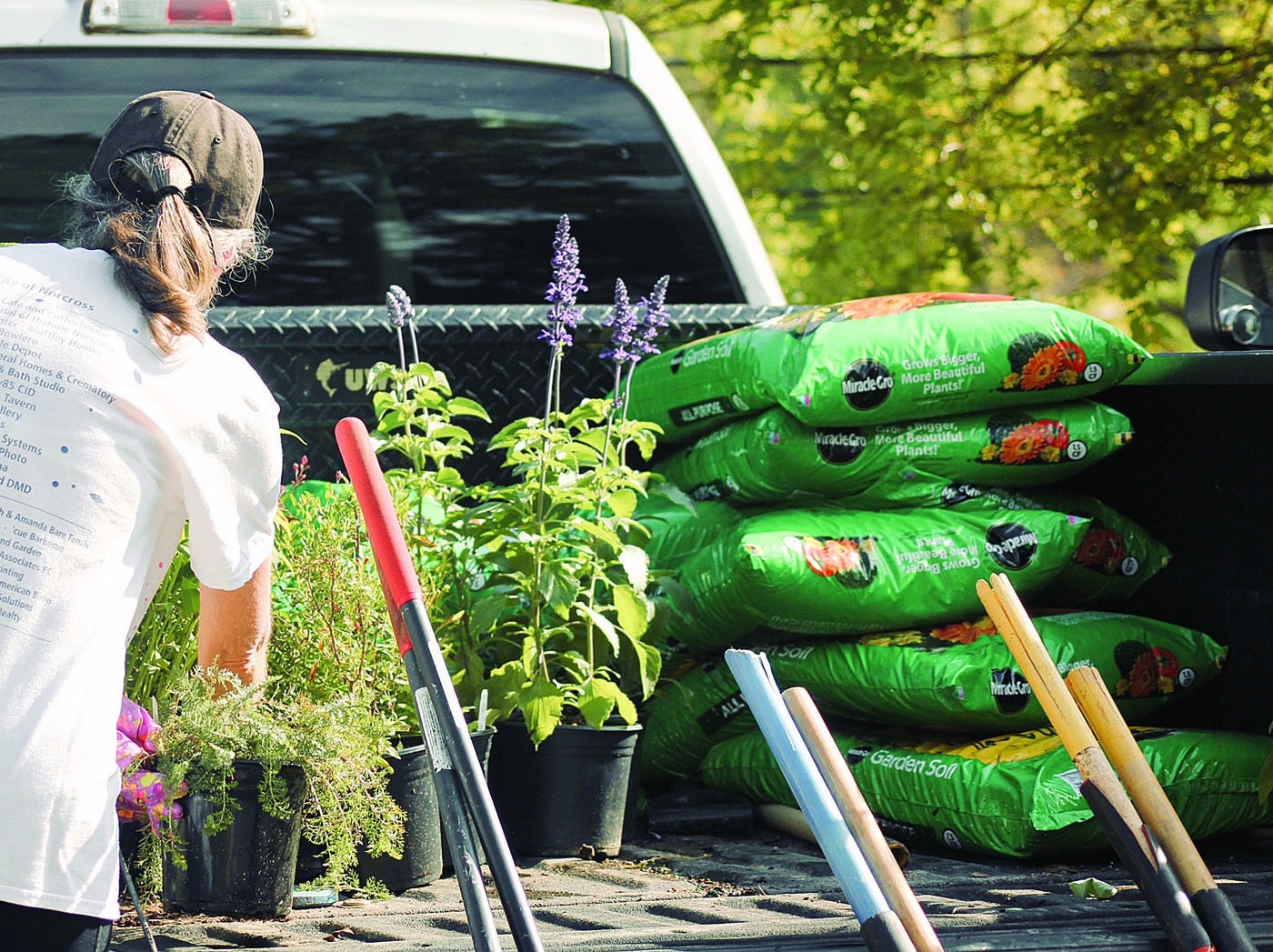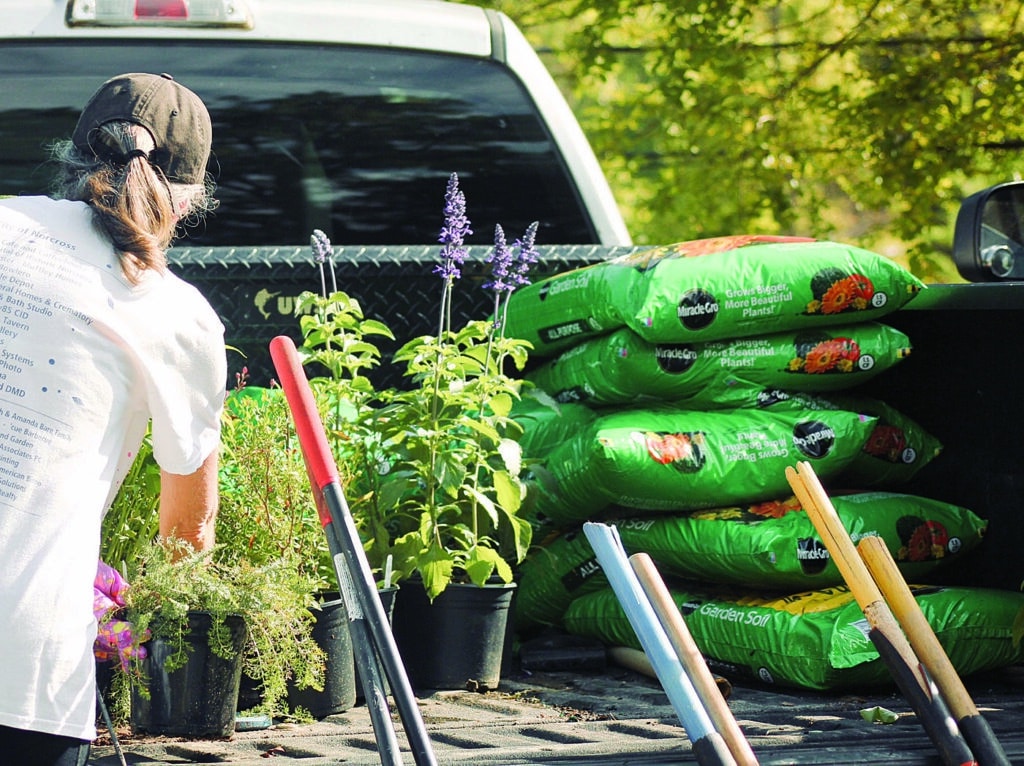 They also partnered with Peachtree Corners' newest meat market, Union Brothers Market, to raise money with a whole pig roast in 2023. Such activities further highlight the vast scope of charitable work that lies ahead.
This Giving Tuesday, the spotlight shifts to hyperlocal philanthropic initiatives as the holiday season commences. The foundation works hard so that its impact in Norcross remains innovative, substantial and beneficial to those in need.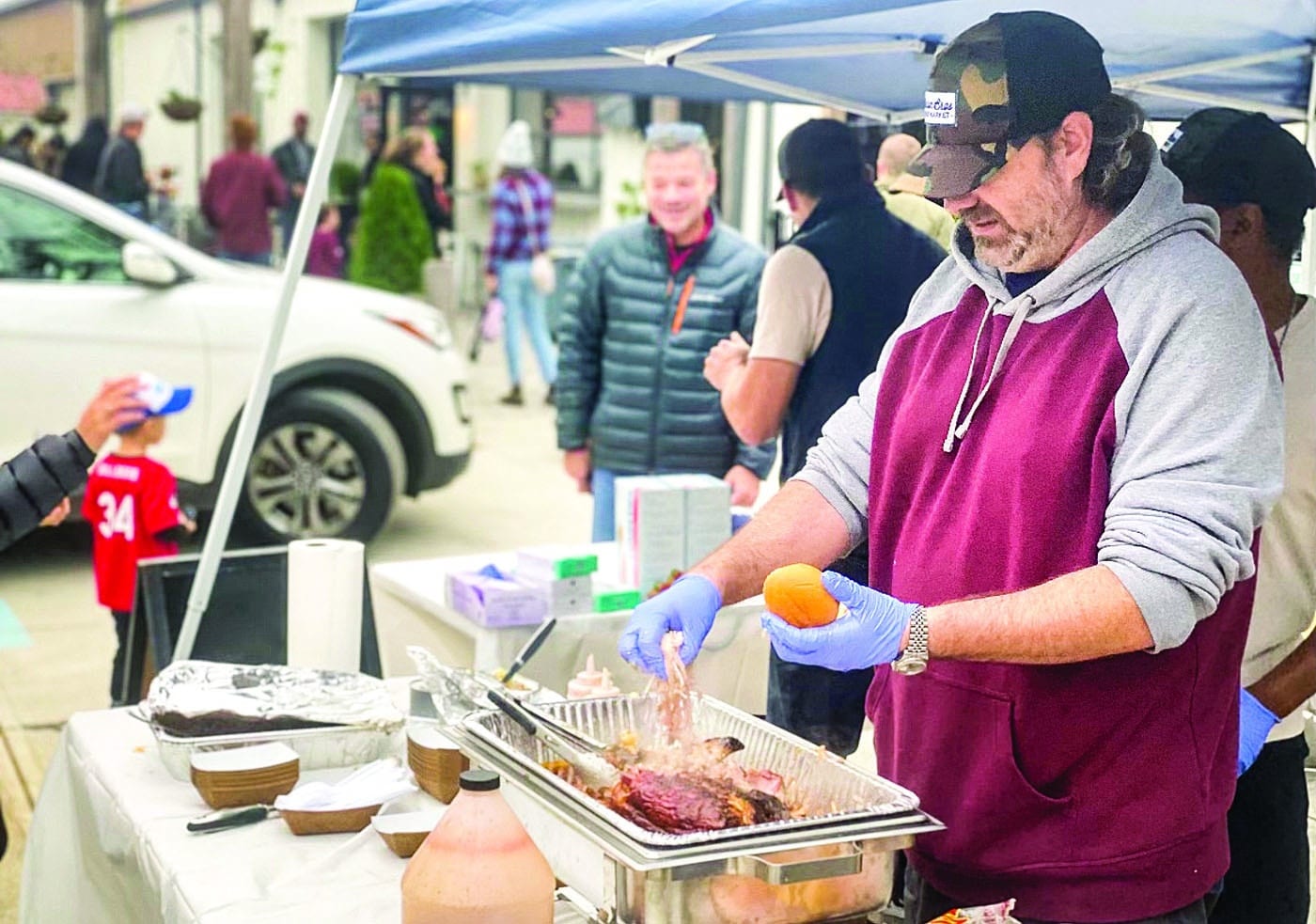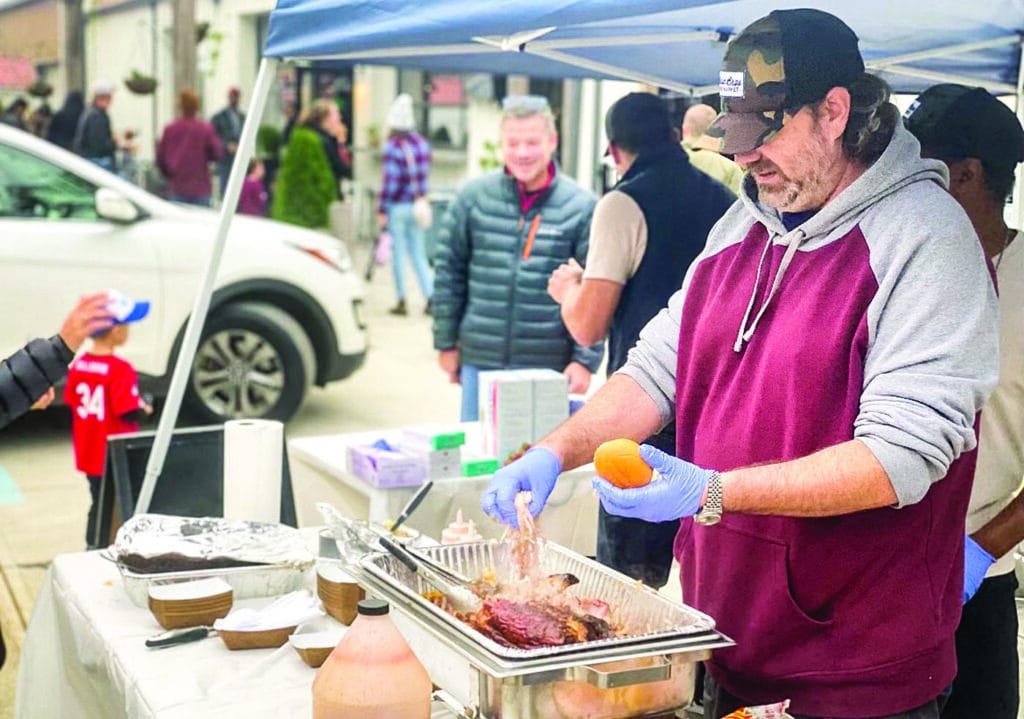 As part of its journey, the foundation is unveiling the 2nd Annual Cultivation Cup Golf Charity Tournament, scheduled for October 30, 2023.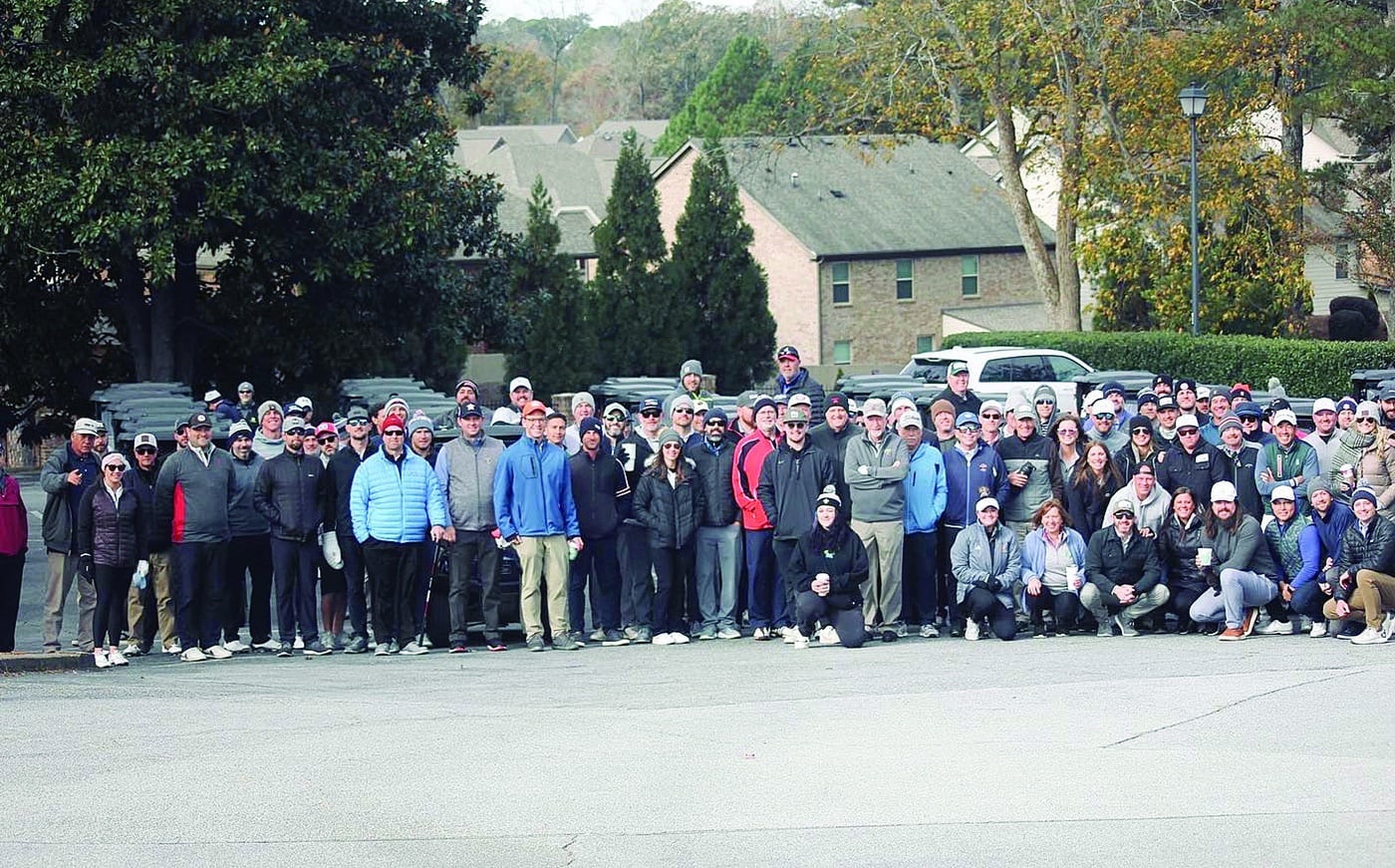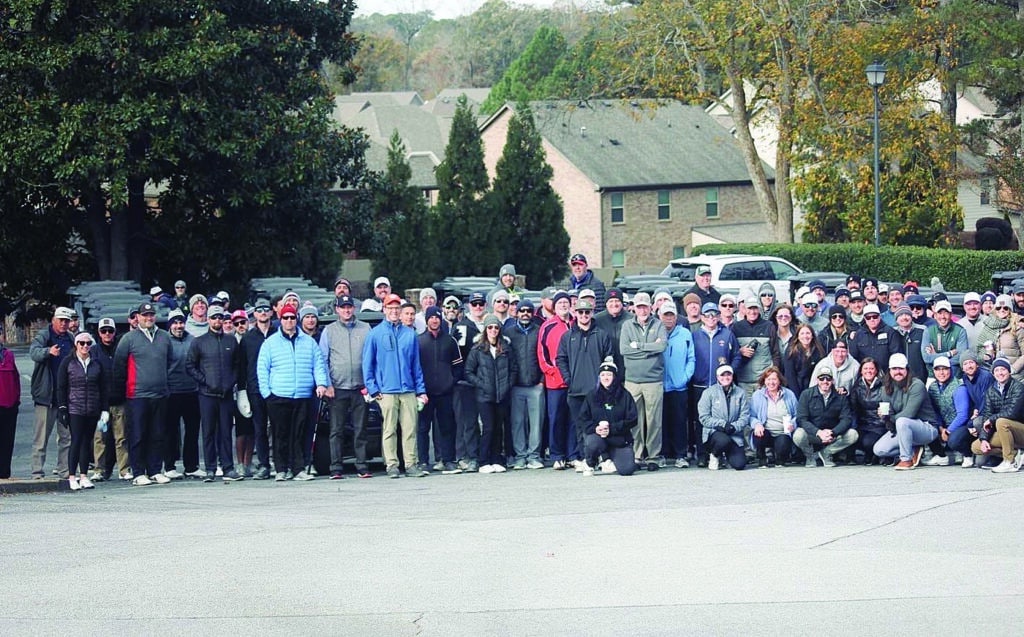 Profits from this event will bolster both the Cultivation Foundation and Norcross Cooperative Ministries. Interested participants can register on their website.
Those wishing to support Cultivation Foundation can learn more at cultivationfoundation.com or email info@cultivationfoundation.com.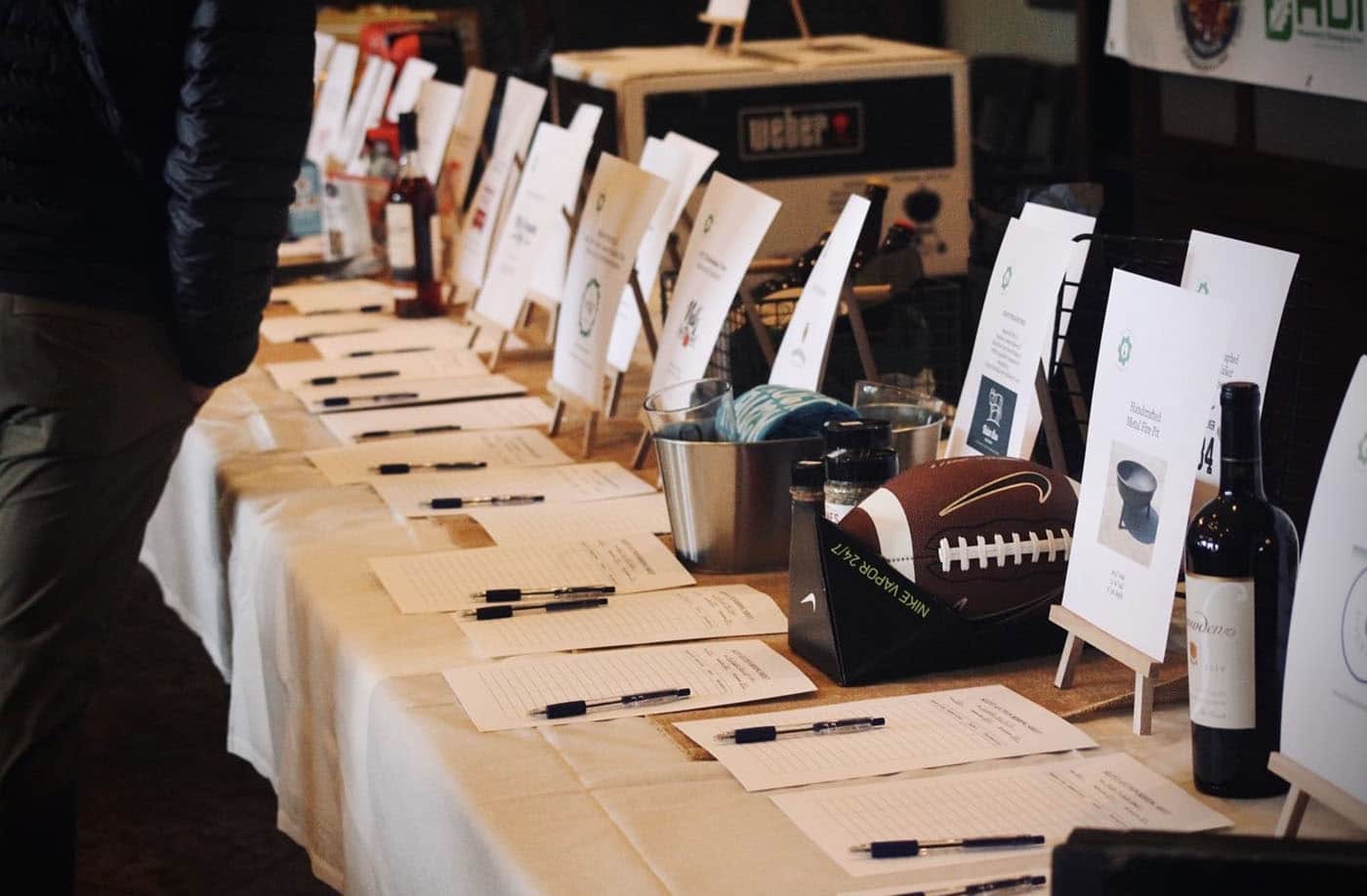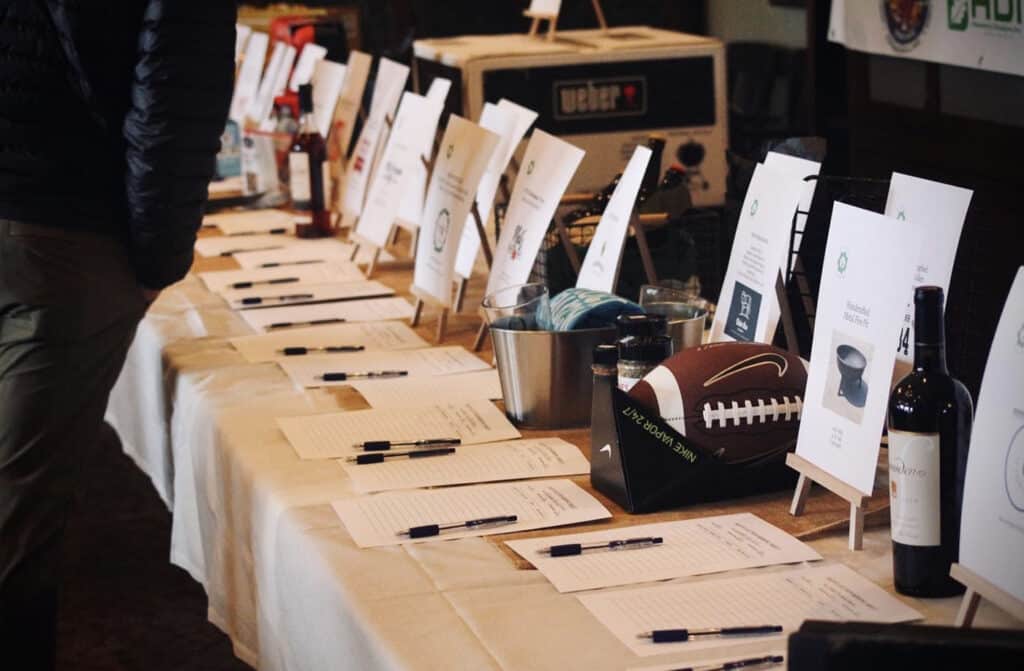 Georgia Center for Opportunity: investing in lives and communities
The Georgia Center for Opportunity aims to break down the barriers that perpetuate poverty, working both at the grassroots level and advocating for policy change at state and federal levels.
In addressing community challenges, the Center believes a multifaceted approach is essential.
The organization goes beyond meeting immediate local needs by actively engaging with the community to gather insights. These interactions inform wider policy initiatives aimed at fostering a thriving environment.
This Giving Tuesday, the center is spotlighting transformative tales and introducing fresh pathways to support its mission, like Ms. T's journey.
After a separation, Ms. T, a mother of five, grappled with homelessness, losing her apartment and vehicle.
The Lawrenceville Response Center, an instrumental partner, stepped in to provide shelter and later put her in touch with the Georgia Center for Opportunity in June. The center connected her to a local business and coordinated an interview with partnering employers.
The mentoring initiative addressed Ms. T's challenges, like participation and childcare constraints. Collaborating with Heirborn Servants, the center facilitated Lyft transport for her interview.
By June's end, Ms. T secured a warehouse associate position that started in July, which offered a sustainable wage. Working with her new employer, the center ensured a morning shift, facilitating afternoon time with her children and minimizing childcare hurdles.
Her contributions at work didn't go unnoticed. Employers commended her proactive participation, spotlighting her zest during the company's backpack drive project.
Reflecting on her two-month tenure, Ms. T remarked, "Things are going great. I'm beyond pleased with the job. It's hard to believe it's approaching two months; it feels longer."
The center emphasizes that continuous backing, via one-time or recurring donations, provides stability.
Beyond financial aid, it encourages mentorship and volunteering, allowing the community to aid peers in their ascent from poverty. To collaborate with the Georgia Center for Opportunity, reach out to Info@foropportunity.org or dial 770-242-0001.
Growing Leaders: cultivating tomorrow's trailblazers
Marking its 20th year in 2023, Growing Leaders focuses on more than just academics. The organization places equal emphasis on helping students develop emotional intelligence, interpersonal skills and academic achievement.
Giving Tuesday is a key funding moment for them, attracting both longtime supporters and newcomers. These financial contributions allow the group to expand its reach, helping underserved students gain essential life skills and emotional well-being.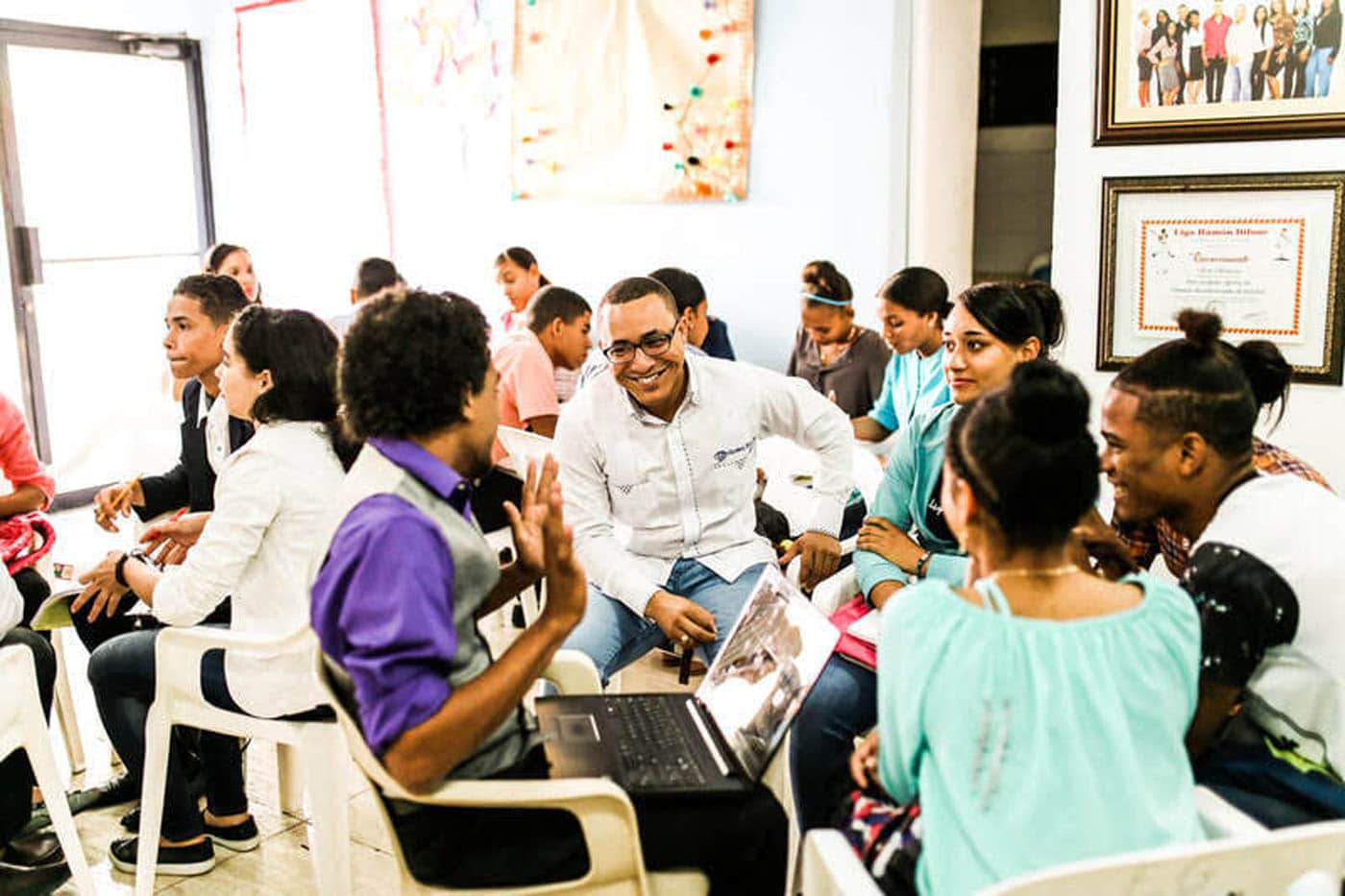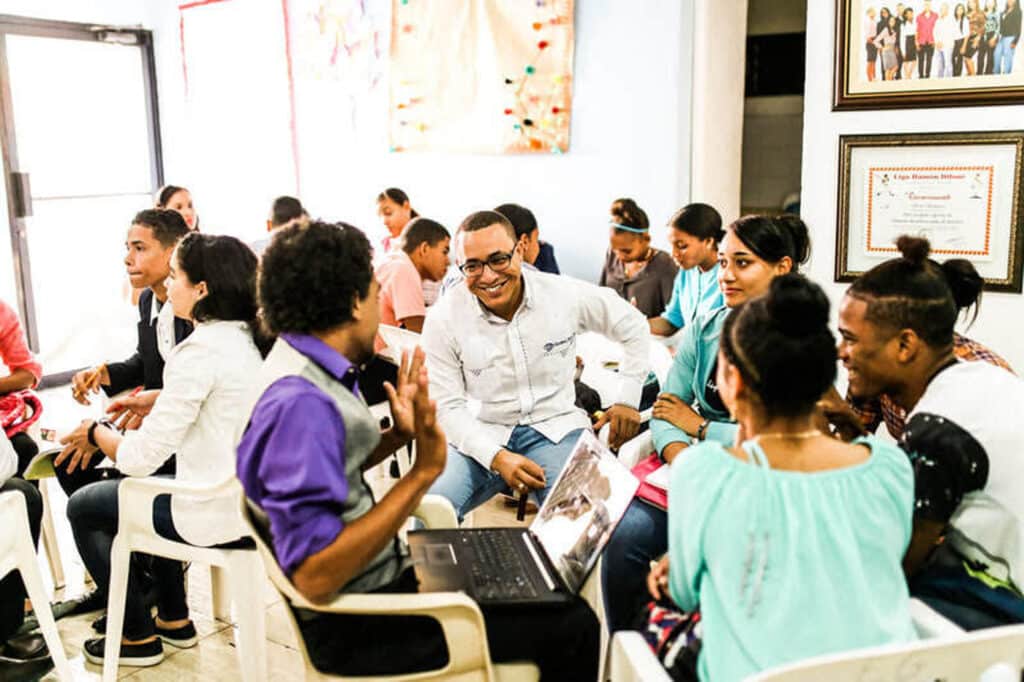 Growing Leaders celebrated its 20th anniversary in September 2023, marking two decades of imparting life skills and leadership to 2.8 million children.
At the event, the organization also shared its future plans, including a merger with the Maxwell Leadership Foundation and a goal to reach 40 million students.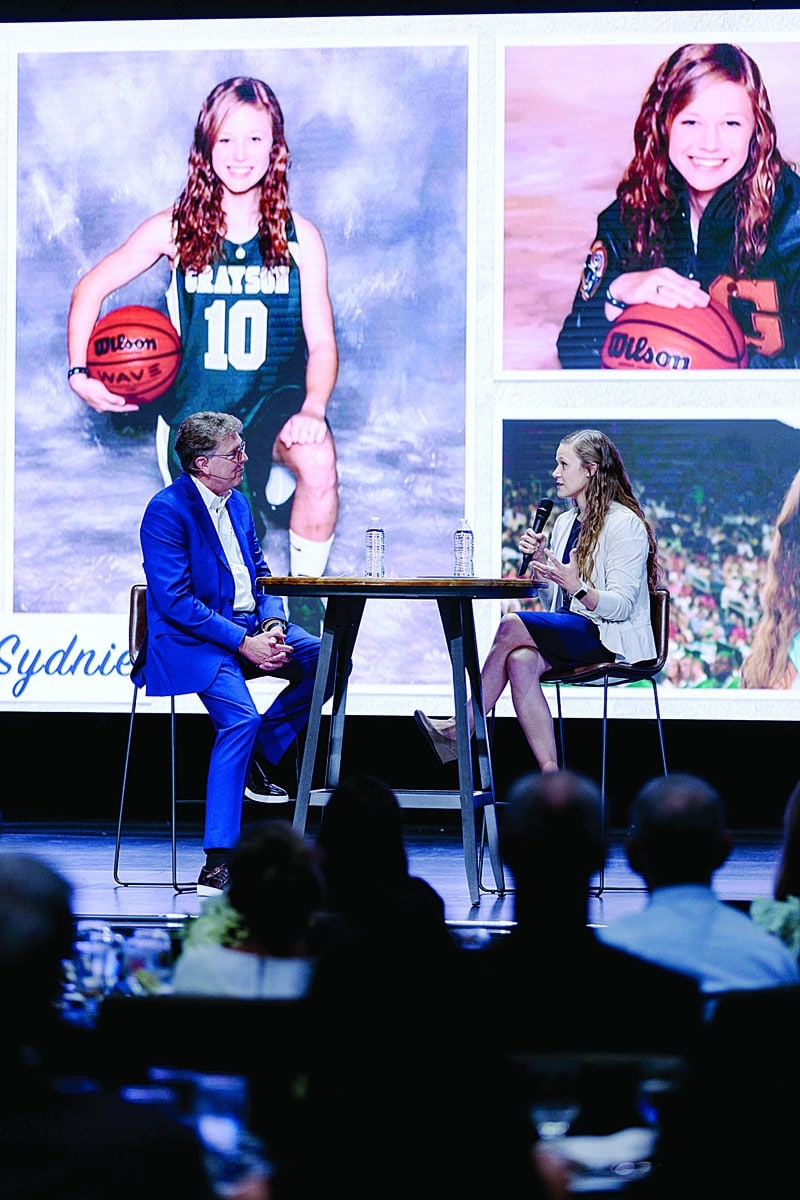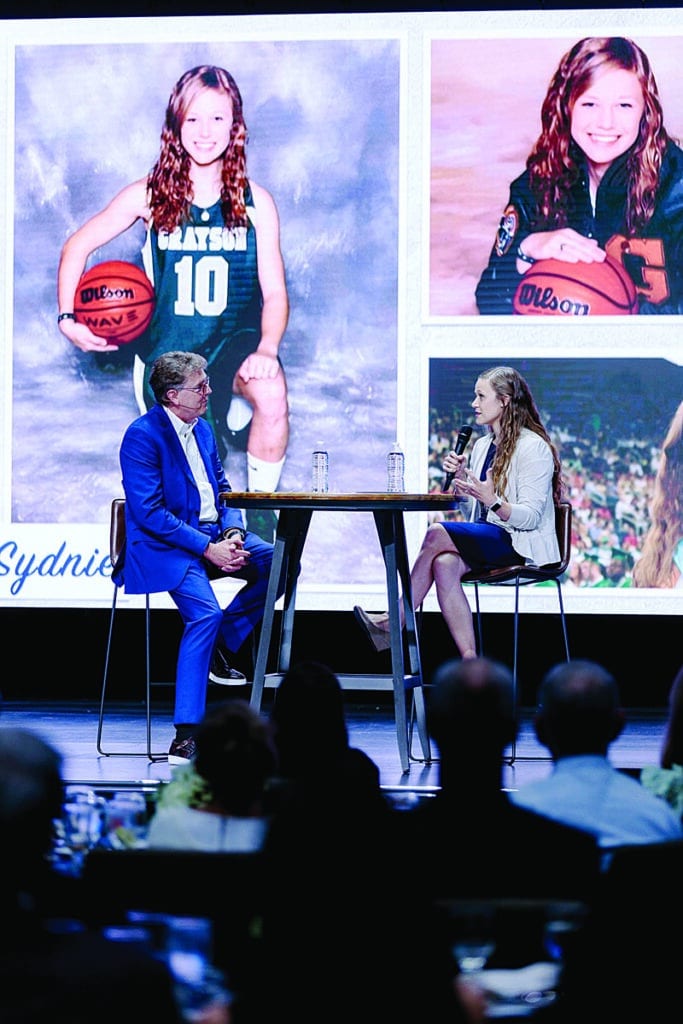 Unlock lasting impact by becoming a partner with Growing Leaders. Your year-round volunteer efforts or financial commitments don't just sustain the organization — they power transformative work in underserved schools and enrich extracurricular programs.
It's more than a contribution; it's an investment in shaping tomorrow's leaders. For opportunities to make a long-term difference, reach out to Anne Machemer at Anne@GrowingLeaders.com.
Promise686: changing lives in the child welfare system
Aiming to drive positive change for vulnerable children in the child welfare system, Promise686 has embarked on a campaign to amass $50,000 this Giving Tuesday.
These designated funds offer a lifeline to families in the adoption pipeline and ensure they aren't financially strained.
Promise686 channels approximately $300,000 in grants annually to families in the adoption process. A snapshot of this impact resonates in Eliana's narrative, as shared by her adoptive parents.
"Eliana was introduced to us via a hosting program for Ukrainian orphans. At age 10, she spent six weeks under our roof. As her departure neared, she was candid: she wanted to stay," they recalled.
"Echoing her sentiments, we had, unbeknownst to her, already initiated the adoption process, nearing the tail end of our home study. Regrettably, she returned to Ukraine amidst a myriad of paperwork awaiting clearance. Over the subsequent six months, amidst a sea of forms, medical exams, and fingerprinting sessions, a Promise686 grant emerged as our saving grace," they added.
"It bridged our financial gaps, setting Eliana's adoption in motion. Six months down the line, our voyage to Ukraine marked a celebratory reunion. Today, as we vie for a Post Placement Support Grant to bolster Eliana's educational needs, our gratitude runs deep."
But Promise686's fundraising isn't restricted to Giving Tuesday. The organization offers many donation avenues, from tapping into their bespoke software to grassroots engagement in local church, Family Advocacy Ministries.
To learn more about partnering with the organization, John Flores, VP of Strategic Growth, encourages you to reach out to him at JFlores@Promise686.org.
ReClif Community: amplifying autism support through collective giving
Since its launch in 2019, ReClif Community has emerged as a haven for families touched by autism, providing invaluable resources and events ranging from sensory-friendly movie outings to intensive parent communication training workshops.
As they gear up for this year's Giving Tuesday, the spotlight is on the collective power of small donations, which have been a game-changer for this growing organization.
What started as discounted events has blossomed into a rich catalog of fully funded community activities, thanks to the generosity of Giving Tuesday supporters in previous years.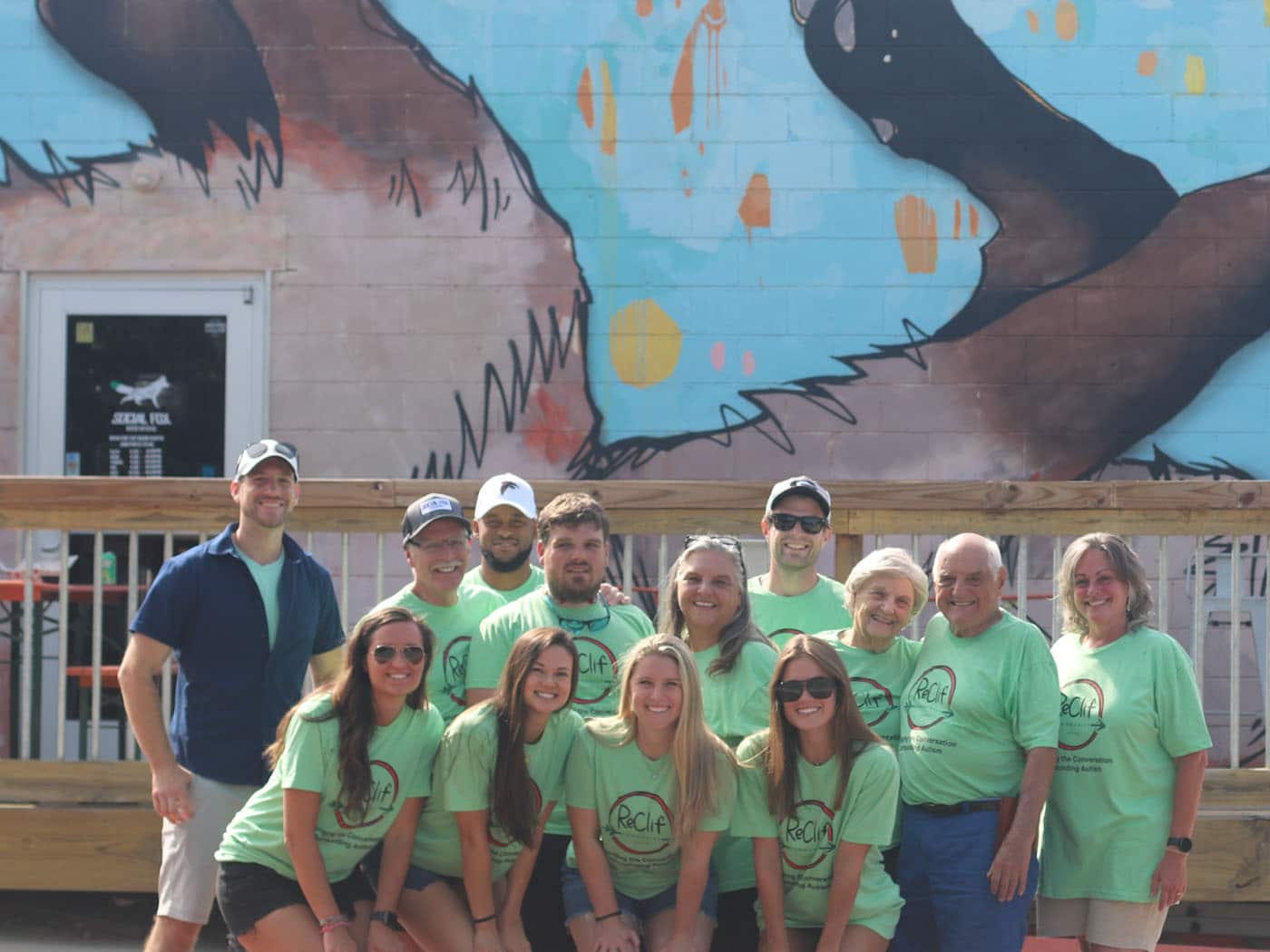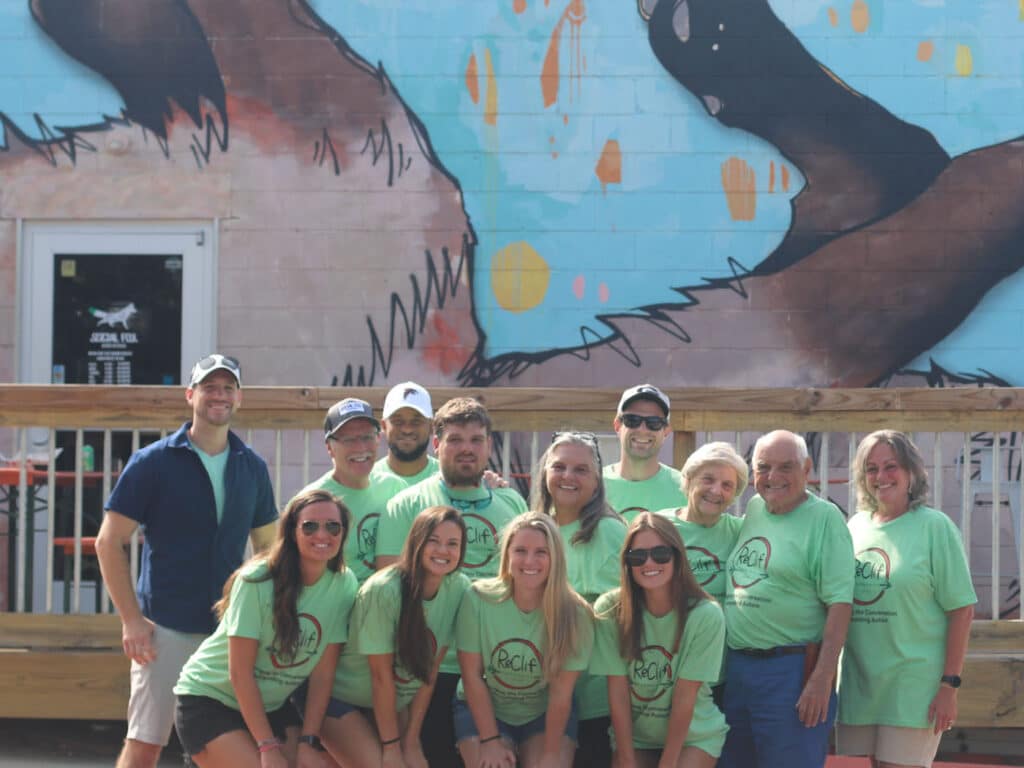 Activities include age-appropriate, sensory-friendly movie outings featuring titles like "Top Gun" and "Dungeons & Dragons," family trivia nights, bowling at Bowlero and specialized events such as painting workshops.
During the COVID-19 pandemic, ReClif pivoted in its mission to emphasize scholarship opportunities, providing financial assistance to families impacted by autism.
Now, with the easing of pandemic restrictions, the focus is back on organizing more community outings, including a potential visit to the Fernbank IMAX or Planetarium, an initiative strongly championed by founder Reece.
The organization's rise has been assisted by enduring relationships within the Lilburn community and beyond.
Among them are Janice and David Whitcomb, title sponsors of the yearly "Aces FORE! Autism" golf fundraiser. Matt Olson, Atlanta Braves first baseman, along with his wife, Nicole, continue to be strong advocates and supporters of ReClif.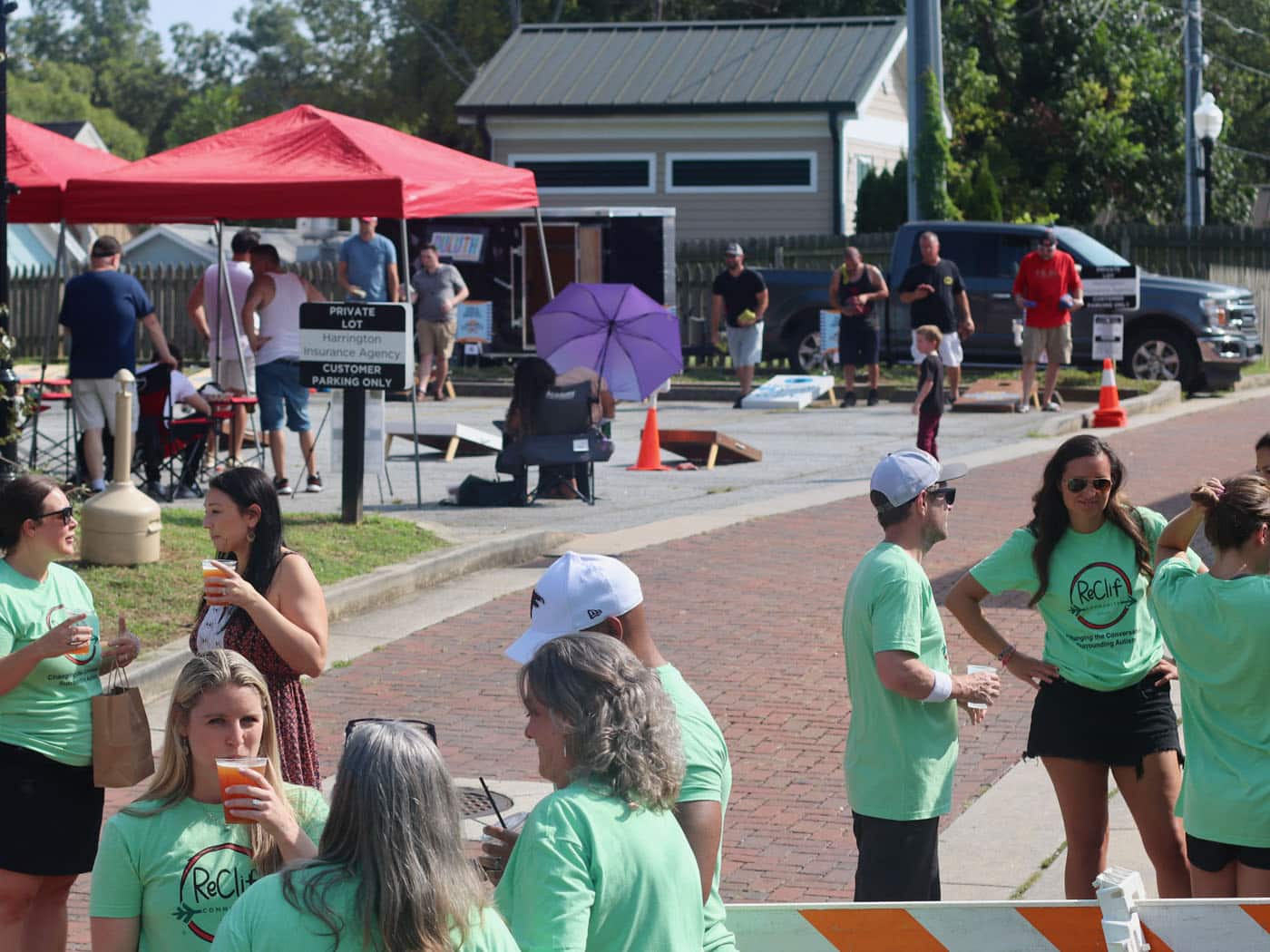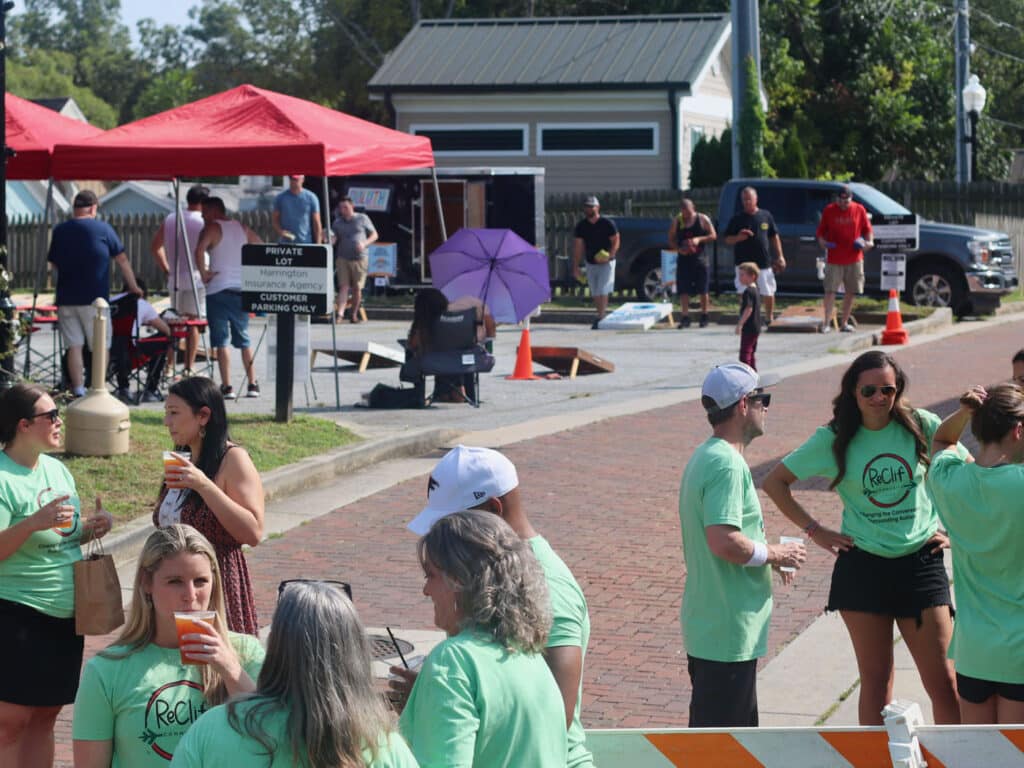 Over 95 families have attended free Braves games through partnerships with the Atlanta Braves Foundation, cementing community ties.
With Giving Tuesday just around the corner, ReClif Community is optimistic about building momentum. The global movement has not only enabled them to expand their reach, but also allows them to make their offerings free to participants.
For those interested in contributing to the impactful work of ReClif Community, involvement isn't just a donation; it's an investment in a cause that transforms lives every day.
For more information, reach out to Reece at reece@reclif.com. Participation in Giving Tuesday can have a lasting impact, creating a ripple effect of goodwill that benefits not just individuals, but the entire community.
Building community together
As Giving Tuesday continues to grow in prominence globally, its message remains clear: even during rampant consumerism, we must prioritize giving back.
Embracing this spirit, focusing on local organizations can lead to tangible change right in our backyards. The efforts of such groups, often overshadowed by larger entities, serve as a cornerstone of community welfare.
This year let's redirect our attention to those working tirelessly nearby and recognize that sometimes, the support we can give is closer to home than we think.