Peachtree Corners Business Association Donates to Neighborhood Cooperative Ministry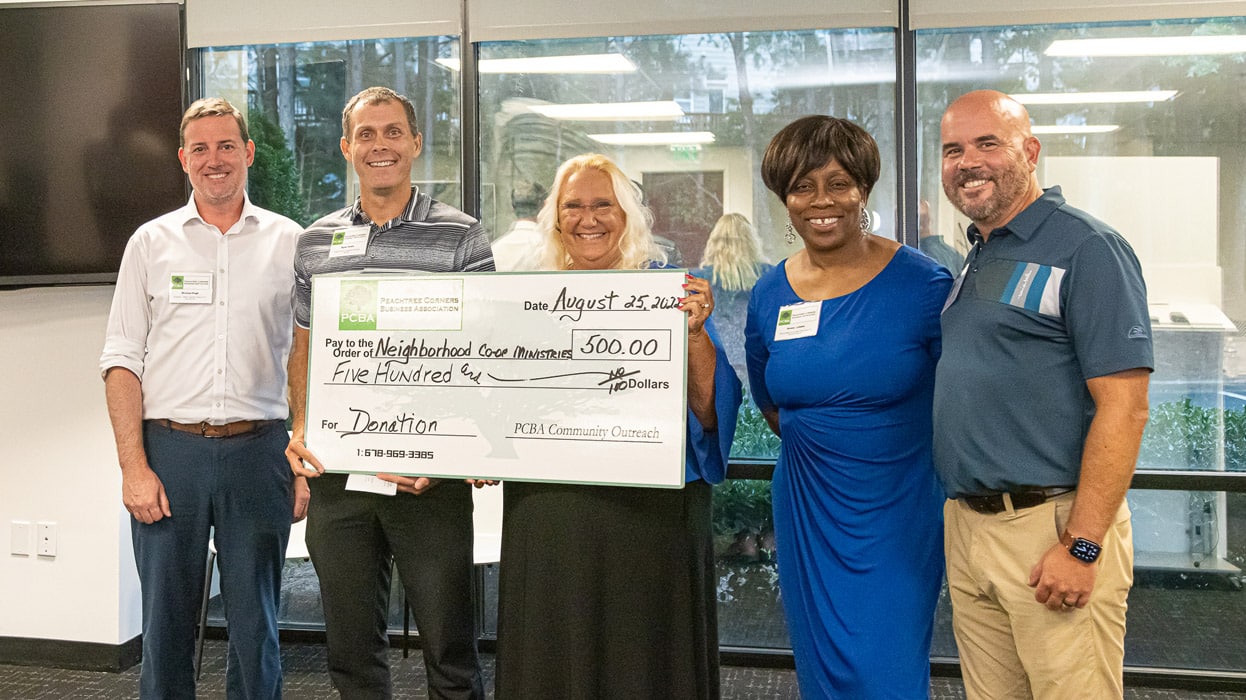 The Peachtree Corners Business Association (PCBA) awarded a check for $500 to Neighborhood Cooperative Ministries at our August PCBA Business After Hours Networking event. The PCBA was able to combine our "No Pressure Networking" event with doing good in the community!
The Neighborhood Cooperative Ministries provides physical (food & clothing, health), financial (rent & utility assistance, temporary hotel stay, job ministry) or spiritual assistance (counseling, prayer and church connections) to those in need.  Helping those in crisis by collaborating with the community to offer programs and services that transform lives through the love of Christ, Neighborhood Cooperative Ministries serves at-risk Gwinnett County residents from Doraville, Norcross, Peachtree Corners, and Tucker as well as Greater Gwinnett through community partner referrals and various funding cycles.
"The PCBA is pleased to award a check for $500 to the Neighborhood Cooperative Ministries to contribute to their ongoing need of restocking their pantry and providing financial assistance as part of our Community Outreach," says Lisa Proctor, PCBA President. Our Outreach Committee and Board are committed to supporting our community as our businesses continue to grow.

For more information about the association call 678-969-3385, email membership@peachtreeba.com or visit https://www.peachtreecornersba.com
Kimberly Beaudin, CEO of the College Football Hall of Fame, Guest at SWGC [Photos]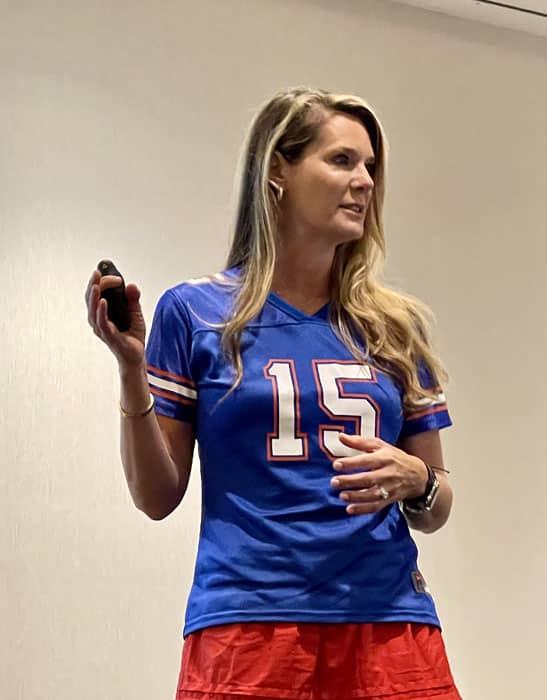 Beaudin was the Speaker at Southwest Gwinnett Chamber's "First Friday" Meeting at the Norcross Crowne Plaza Hotel
Kimberly Beaudin (CEO of the College Football Hall of Fame was the guest speaker.
Coach Mark Richt and Matt Stinchcomb (GA Bulldog player and college football HOF inductee) were also in attendance

Kimberly Beaudin is the President & Chief Executive Officer of the College Football Hall of Fame, a national nonprofit organization and top-rated experience based in Atlanta, Georgia.  Beaudin joined college football's mecca in June 2015 as the Vice President of Marketing and Communications.  With over 20 years of experience in leading brand development and marketing strategy, she was promoted to oversee the sales operations of the business in March 2016.
 
Beaudin was named President & CEO of the Hall of Fame in March 2020, making her the first female leader of the storied institution.  In her role, Beaudin's primary focus is on philanthropic development and she leverages her vast experience in partnership sales, strategic marketing, community and public relations and event and group sales to ensure a sustainable future for the Hall.
Photos by Bruce Johnson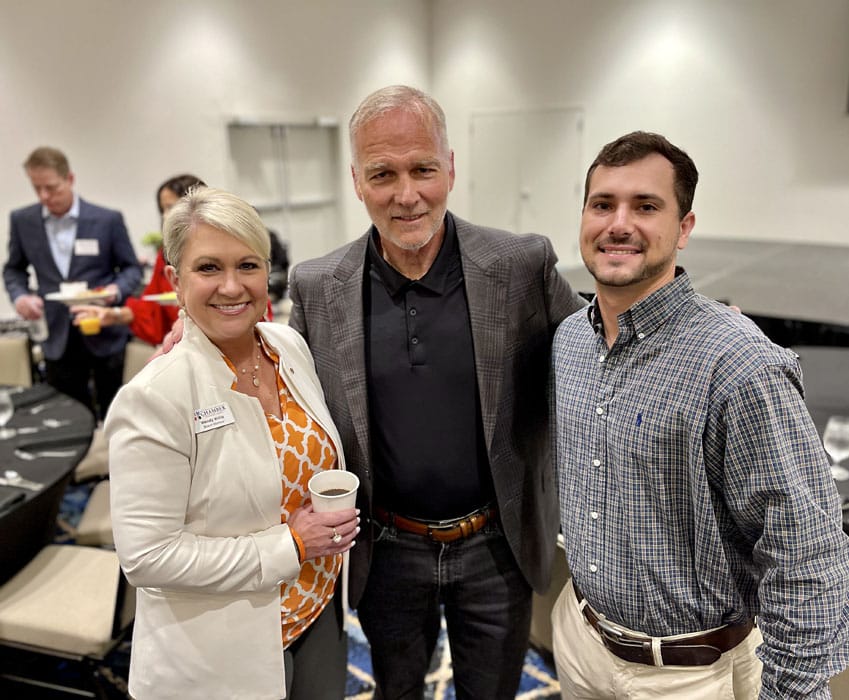 The Secrets to Israel's Start-up Ecosystems Success Through the Eyes of a PTC Local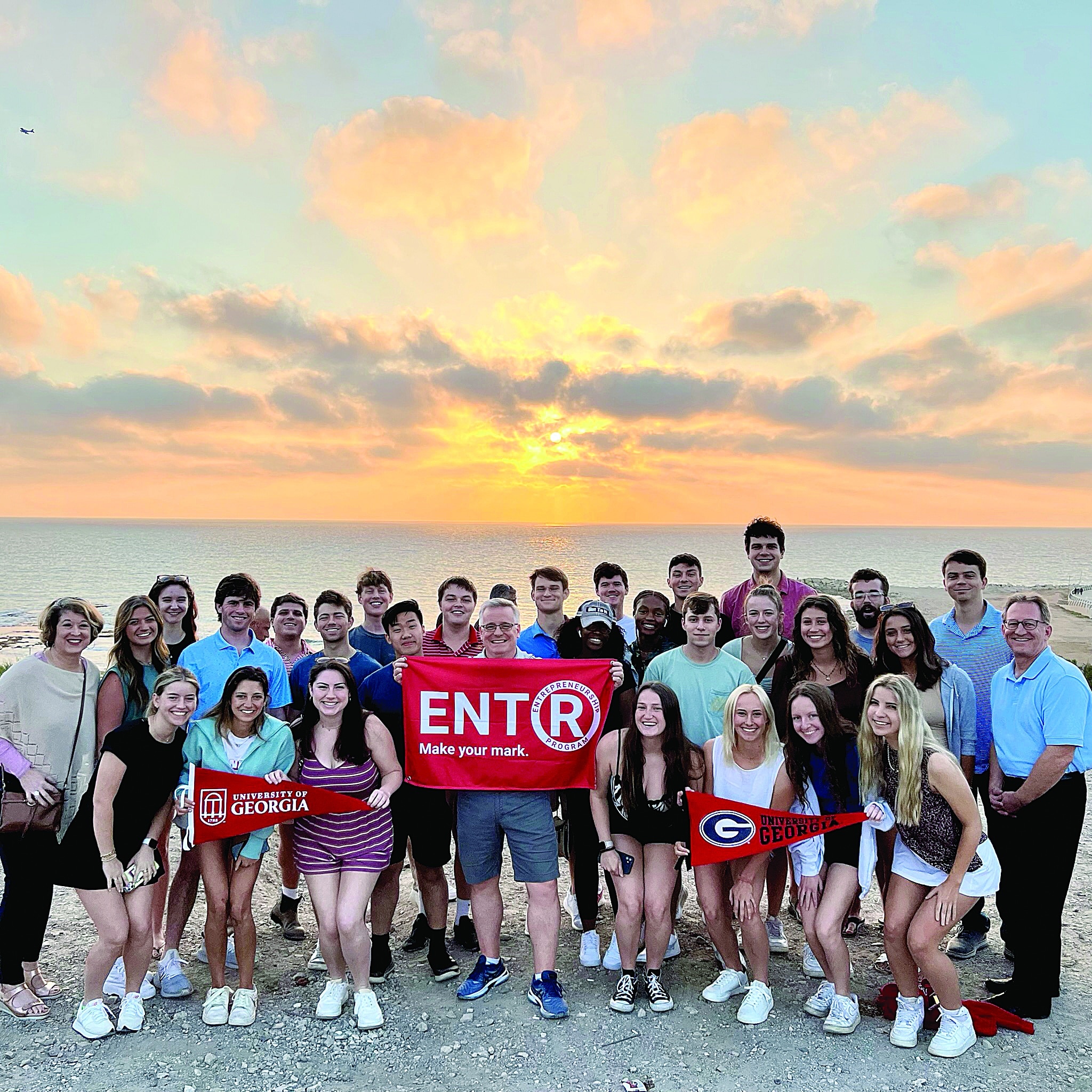 UGA entrepreneurship students seek the secrets to Tel Aviv's startup success.
Contribution by Stevie Bramble
About 6,000 miles across the Pacific Ocean, perched on the easternmost part of the Mediterranean Sea, lies Tel Aviv, Israel, a seemingly small entrepreneurial society that has transformed the start-up ecosystem worldwide. Israel has attracted large multinational companies such as Google, IBM, Apple and Fujitsu to their nation due to their start-up success, and it's continuing to grow today.
The successful start-up nation attracted University of Georgia's first study abroad group of Entrepreneurial students to spend time and learn about the ecosystem of entrepreneurship. They spent weeks studying the social and institutional infrastructure that supports one of the world's busiest start-up hubs. By visiting companies such as Monday.com and Overwolf, the students received an abundance of entrepreneurial knowledge from CEOs and employees in the tech sector.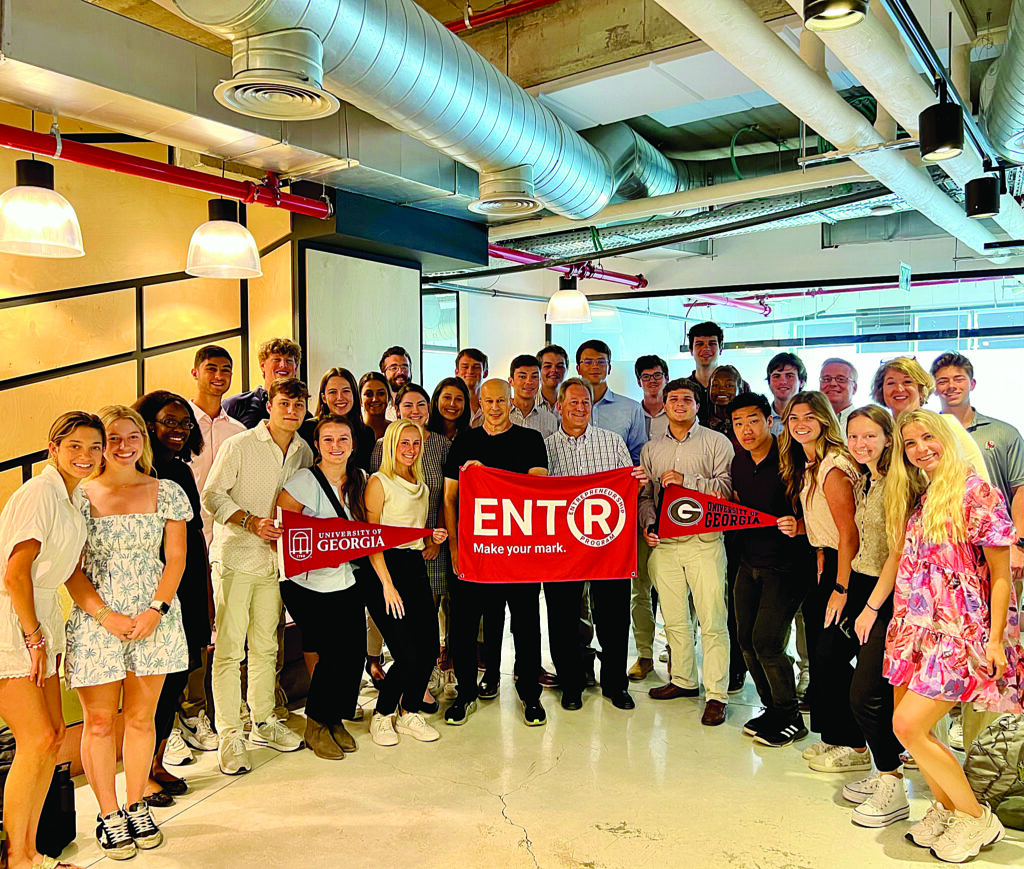 "I wasn't sure what to expect in Israel. However, I was so overwhelmed with the amount of knowledge I was able to grasp in three weeks," said Stevie Bramble, a rising UGA fourth-year student studying marketing and entrepreneurship. "Everyone in the cohort was excited to learn about this unique business environment, and the community was willing to teach us about it."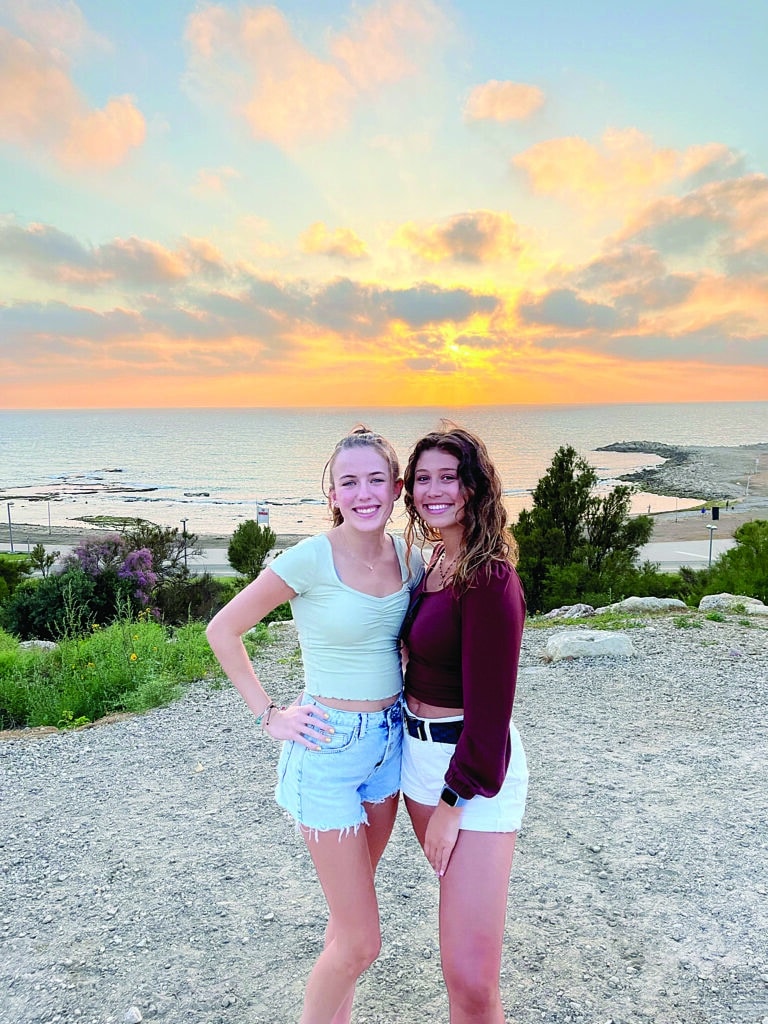 Bramble was one of 28 students who participated in the study abroad Maymester in Tel Aviv, partaking in two courses: The Study of Diverse Entrepreneurship and Innovation Ecosystems. Although the majority of students are pursuing a degree through the Terry College of Business, the trip included all majors.
Some other students are majoring in engineering, fashion merchandising, communications and international affairs. The program ensured a mix of people from all over UGA's campus to embrace differences.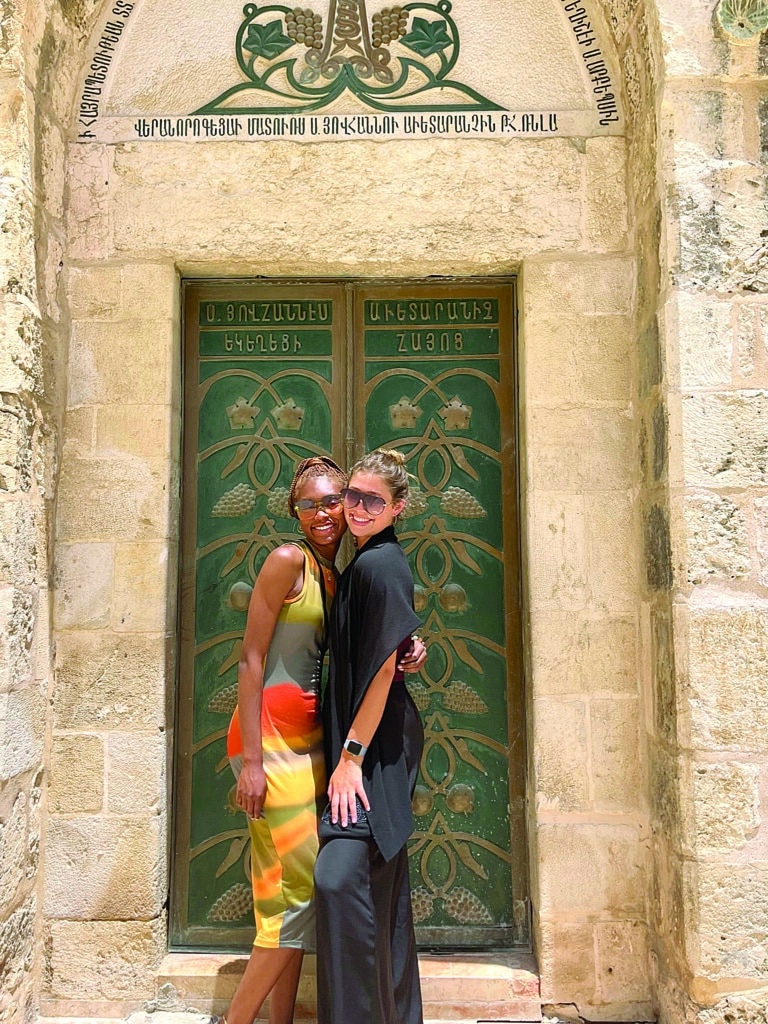 Survivalist engine
According to Shahar Sorek, Israel is a "survivalist engine." Sorek is the CMO of Overwolf, one of the businesses the students visited, and he spoke on Israel's ecosystem. He mentioned that the Israeli people have persevered through hardship and furthermore, have produced a community of assertive and risk-taking individuals motivated to work hard and survive for the future.
Right: At the Overwolf Office in Tel Aviv. Top row: Lindsay Mangum, Alex Boulogne, Kaleb Thibodeaux, Laura Neely, Ben Brown and Nina Boone; bottom: Stevie Bramble.
Left, Shahar Sorek, CMO at Overwolf
Adding on to this, Bramble learned that Israel has a military service that all Jewish men and women are required to partake in, called the Israel Defense Forces (IDF). After their 18th birthdays, they must serve for two to three years before pursuing any secondary schooling or leaping into the workforce. While Americans cringe at the words 'mandatory military time,' Israeli's embrace it.
"The army brings people together because everyone in Israel has to do it," said Hannah Laskow, the influencer marketing manager of Overwolf. " Israel is only 74 years old so it is pretty small, creating a tight community that is willing to lean on one another."
Laskow met with Bramble one-on-one during the trip to discuss Israel's ecosystem in depth. She mentioned that the IDF has different sectors, including, but not limited to, a tech sector and a combat sector.
The tech sector is where most of the multinational companies such as Google and IBM recruit. It's imperative to Israel's ecosystem to require the IDF due to the massive amount of talent being injected into society constantly.
In the Study of Diverse Entrepreneurship course, the students had the opportunity to create a plan to maintain Israel as a major hub for start-ups. One of the groups came up with a plan to create technology boot camps for individuals coming out of the IDF who participated in non-tech sectors to gain tech knowledge and fix the lack of talent issue. The students were able to solve some real-world issues happening around them, and it was reported to be one of their favorite projects.
In Israel, to be risk-tolerant is to survive. That's why the majority of individuals are able to go anywhere and meet others who share an entrepreneurial mindset with ideas and thoughts like their own.
Bramble and the rest of the group met with creators of start-ups, ranging from small local incubators to larger global companies, including Monday.com and Overwolf. Some of the speakers had taken multiple businesses public and now run large tech incubators. The group took away key points toward understanding the 'survivalist engine' they call Israel.
The key to success: failure
According to the students, there was one standout speaker. Yuval Tal, founder and president of Payoneer and BorderFree, made time in his busy schedule to talk to the UGA students about his new tech incubator, Team8, and how to survive in a fast-paced start-up nation like Israel.
The student's key take-away from his speech was the acceptance of failure. Tal mentioned that start-ups take risks, and with risks comes failure. He drove home the point that success doesn't come without many failures.
"Having the drive to keep going is what matters the most," said Tal. The students presented him with questions about Israel's ecosystem, teamwork and his own personal failures.
Tal mentioned his biggest failure was letting go of people and regretting it down the line. Tal hinted that one person he let go went on to start their own business and become successful in the sector he was working in himself. The lesson for the students was that it takes courage to work with and hire people who are smarter and better than yourself. However, it is imperative to do it because it will make your business better.
He also stated that "courage is over intelligence," meaning that it takes a person to become bigger than their ego to keep going forward even when it seems difficult. The take-aways from Tal were the importance of believing in yourself, having courage and accepting failure.
After considering Laskow's insights about the IDF, it is clear how Israel has become a high-demand place for multinational companies to set up research and development centers. The riskiness ingrained into the Israeli people from birth is beneficial in their workplace life, especially after their experiences in the IDF.
The IDF fosters a place where people must fail and learn from their mistakes to survive. It seems that Israel has mastered its survivalist engine perfectly. As many say "I'm Tirzu, Ein Zo Agadah" which translates into English as, "If you will it, it is no dream."
Future trip planned
The University of Georgia plans to host another trip to Tel Aviv, Israel in 2023 through the Entrepreneurship Program. For more information, please visit terry.uga.edu/entreprenuership.
Business Association and City Work Together for Community Success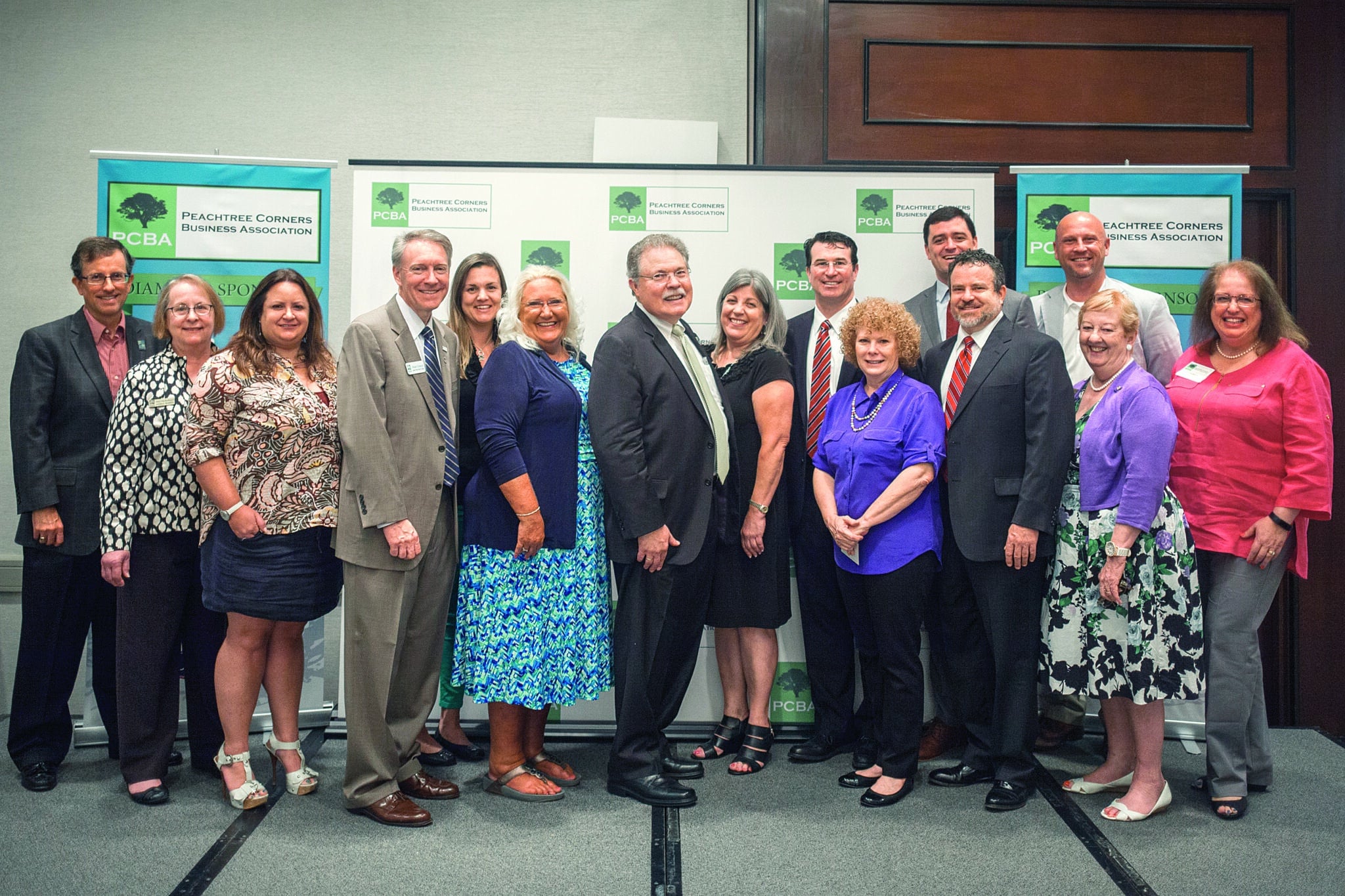 Peachtree Corners Business Association celebrates 10 years of making us better
Asking which was established first, the City of Peachtree Corners or the Peachtree Corners Business Association (PCBA) is kind of like asking which came first, the chicken or the egg. While philosophers, religious scholars, scientists and the like ponder the chicken and egg question, there is a correct answer to the former. PCBA is a few months older than the city itself.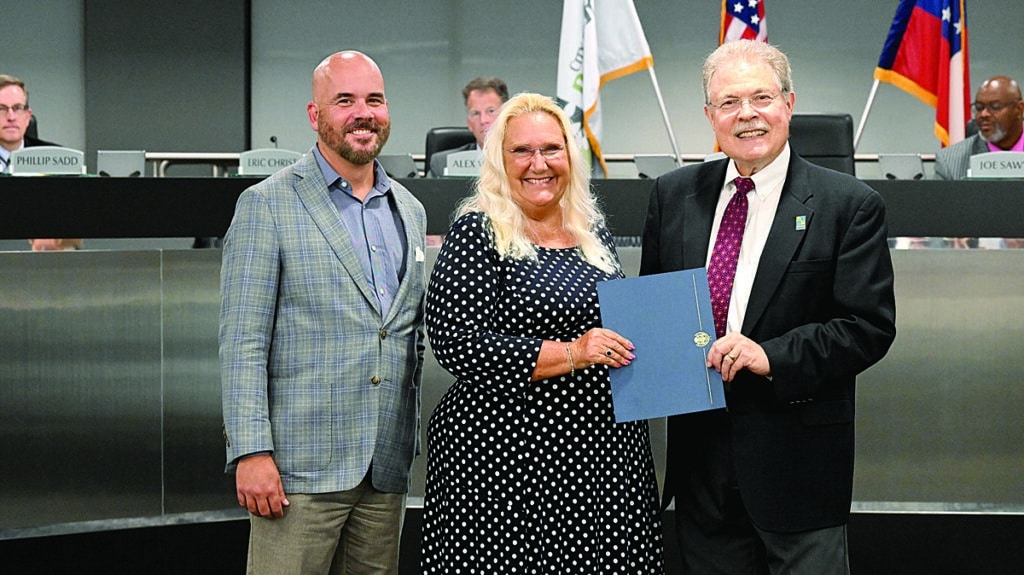 That's significant because they are interdependent.
"When the City of Peachtree Corners was founded in 2012, the PCBA and the city recognized the importance of having an organization focused on our business community," said President Lisa Proctor. "The PCBA was established as an integral part in growing and developing our business community with all businesses that want to do business within our community."
Peachtree Corners Business Association is a business membership organization that focuses on innovative approaches, programs, shared resources, community outreach and opportunities for its member businesses and professionals to connect, develop, grow and prosper.
Just like its motto says, it's "Where Businesses Come to Grow!"
Local businesses strengthen the community
Any Economics or Political Science course will point out the symbiosis of local businesses and local governments. Cities need businesses to contribute expertise and resources in support of public/private funding solutions for special projects.
Locally owned businesses provide many economic benefits to a community, such as:
■ Local businesses are owned by people who live in the community and are less likely to leave. They are more invested in the community's future.
■ Increasing local businesses means creating more jobs to encourage more people to stay in the area. This not only allows people to work closer to home, but also improves the quality of life for the community by increasing city revenue, creating a more self-sustainable community and connecting the community together.
■ Locally owned businesses also build strong communities by sustaining vibrant town centers, linking neighbors in a web of economic and social relationships and contributing to local causes.
The list of positives can go on and on. It's important to note that these benefits from supporting local businesses are at risk of being measurably reduced by the increase of national chain competition.
PCBA strengthens local businesses and the city
The PCBA is made up of businesses of all sizes and types who want to expand their reach and grow their business within Peachtree Corners and the greater metro-Atlanta area. According to its website, PCBA affords its members the opportunity to:
■ Gain exposure and brand awareness for their businesses,
■ Highlight their businesses,
■ Generate new customers and forge relationships,
■ Support local businesses, and
■ Give back to the community.
That last item on the list, giving back to the community, is a huge part of what the Peachtree Corners Business Association does. Through its Community Outreach Program, it has donated over $115,000 and awarded 15 scholarships to deserving charities and students over the last 10 years.
10th-anniversary celebration
To celebrate its 10-year anniversary, PCBA is pulling out all the stops to raise as much money as possible to help three more charities. "This year, we're focusing our fundraising efforts on local charities that are addressing three important needs — community, health and education," said Proctor.
The annual charity event, Celebrating 10 Years and Touchdowns Charity Party, is set for Sept. 22 from 5:30 to 8 p.m.
"It's going to be our best one yet and we would love for [everyone in the community] to be a part of it," said Proctor. "There will be plenty of time for business networking, enjoying tailgating activities including a cornhole tournament, a live auction, drawings, food and adult beverages as we raise money for three great causes and award a check that evening to another local charity."
Tickets for the fundraiser are on sale now and there are sponsorship opportunities. Perhaps best of all, a silent auction is underway that features one-of-a-kind items, such as a football signed by Peyton Manning and another signed by Rob Gronkowski; a boxing glove signed by Mike Tyson; trips to Hilton Head, The Biltmore and more distant destinations like Sydney, Australia and Greece.
There are also adventures, including a supercar driving experience and a chance to swim with sharks. Visit peachtreecornersba.com/about-charity-event to get details, register for the charity party or place bids for the silent auction.
Focus on Local Charities
The Peachtree Corner's Business Association is proud to focus its fundraising efforts on three local charities.
Corners Outreach has a mission of equipping Atlanta's underserved students of color and their families to lead full lives through educational development and economic opportunities. It offers three paths to impact the community: volunteering, donating and becoming a customer. All three paths change lives and are accomplished through: Corners Academy — early learning, elementary tutoring and teen development; Workforce Development — basic needs, life skills, job skills and educational advancement; Family Engagement — adult workshops, food assistance and health services; and Corners Industries & Staffing — sustainable living wage and career advancement certification. More at cornersoutreach.org.
Paint Gwinnett Pink 5K is a celebration of survivorship, while raising awareness and funds for breast cancer programs at Northside Hospital Gwinnett. Community support and donations fund Northside Hospital Institute cancer patients in Gwinnett County by providing improved access to cutting-edge imaging technology for earlier diagnosis, mamograms, transportation and other assistance needed for cancer treatments. Funds raised in 2022 will go to the installation of additional imaging units.
The event is the largest 5K supporting breast cancer in Gwinnett County. The annual Paint Gwinnett Pink 5K Walk/Run is held at Coolray Field in Lawrenceville every October. The 2022 event will be held on Saturday, October 15. More at paintgwinnettpink.com.
A. Worley Brown Boys & Girls Club provides an environment where all youth feel safe and secure to dream, discover and develop. It works with hundreds of kids and teens each year to help them reach their full potential. The programs focus on helping kids succeed in school, live healthy and become leaders.
The club focuses on a variety of programs including culinary arts and gardening, STEM, computer coding, music studio/music production, photography/film production, visual and performing arts, fashion and design, creative writing/comic book creation, science, career readiness, a Diplomas to Degrees program, tutoring and homework support, toastmasters, sports and character and leadership development clubs. More at bgcma.org/club/aworley/.