Wesleyan teacher in group that climbed Mount Kilimanjaro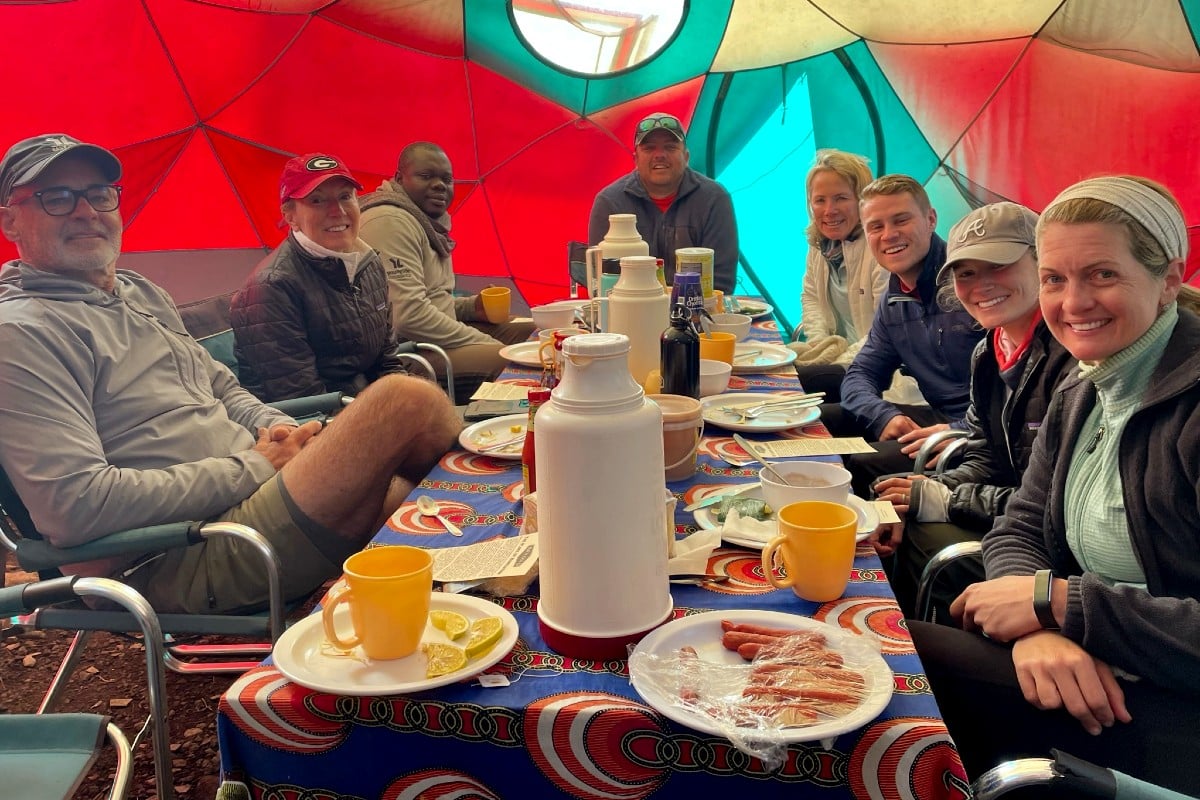 [Gwinnett Forum Editor's note: the following account of a lifetime mountain climb is from the Pre-First teacher at Wesleyan School. She is also the wife of Ryan Jensen, pastor of the Lawrenceville Presbyterian Church, and the mother to two, Camille, 10, and Knox, 8. The Wesleyan summer Sabbatical Grant encourages faculty to pursue a lifetime of learning. Faculty members may apply for grants for scholarly work. She was awarded the grant in 2019, but because of the pandemic not able to complete it until 2022. Total cost of the climb was $6,495, but for travel, shots, insurance, etc., the total was $10,000.]–eeb
This June I climbed Mount Kilimanjaro in Tanzania with Beyond Adventures, bringing to fruition a 20-year dream!
Our group of eight climbers required four guides and 20 porters. Our lead guides have been climbing Kibo, the highest of Kili's three peaks, for over 20 years with 250+ trips to the summit. Their knowledge and experience put us at ease. Our porters faithfully cooked, set up tents, pumped water and carried equipment on their backs, shoulders, and heads.
The hike took us through Kilimanjaro's four climate zones – rainforest, moorland, alpine desert, and glacier. We tackled each day with conversations, as our group bonded instantly. We learned about the mountain and its beauty from our guides.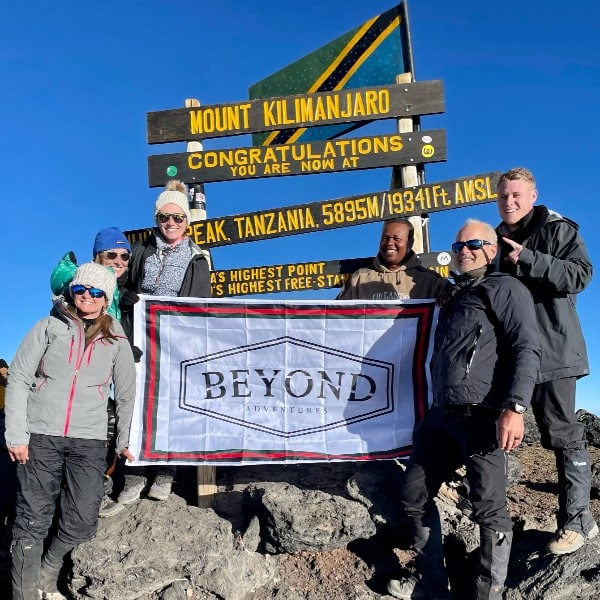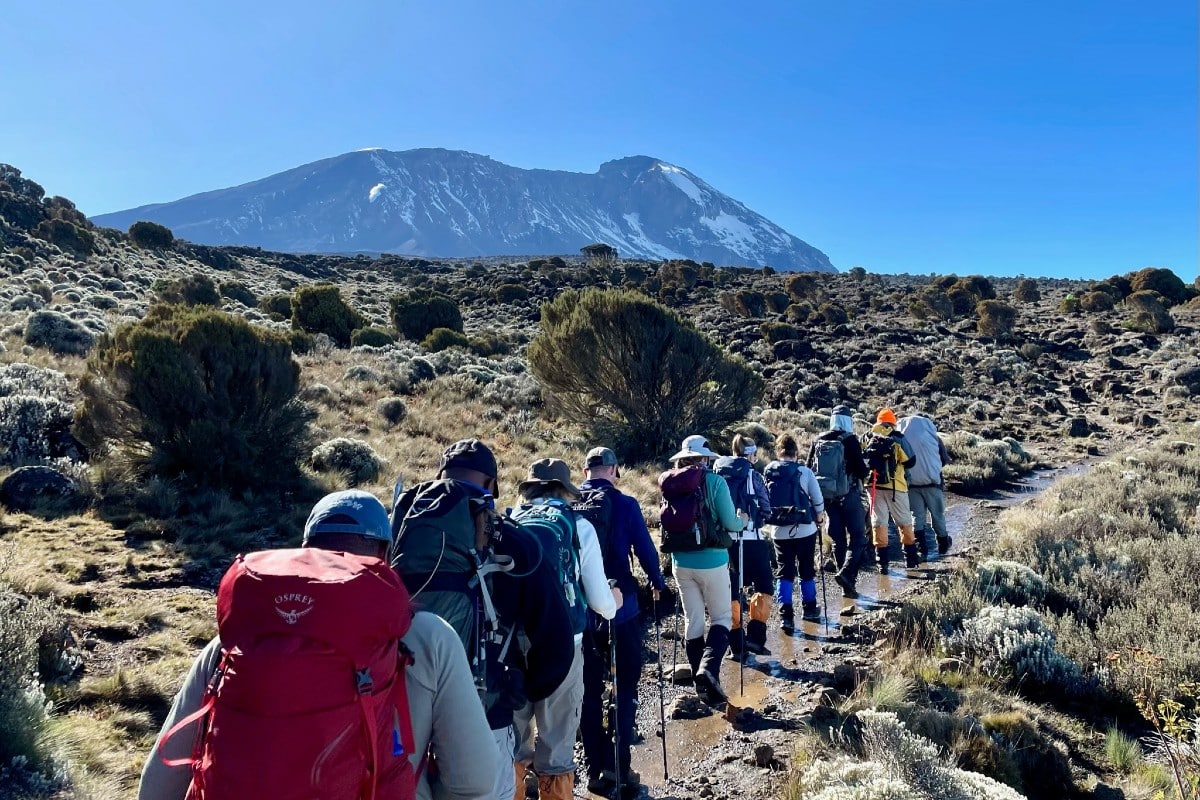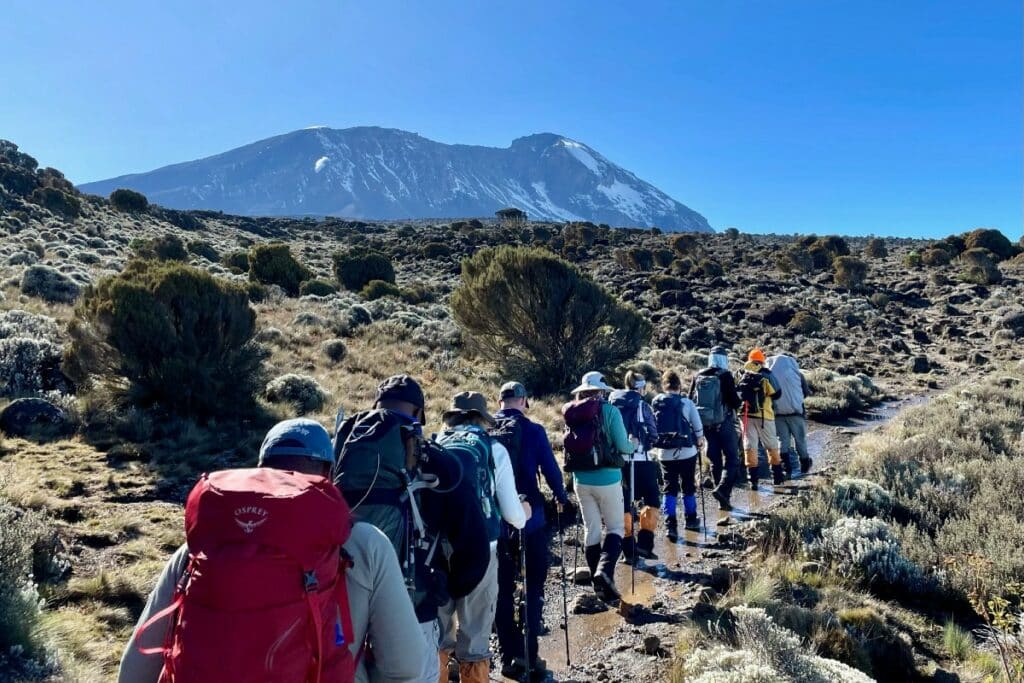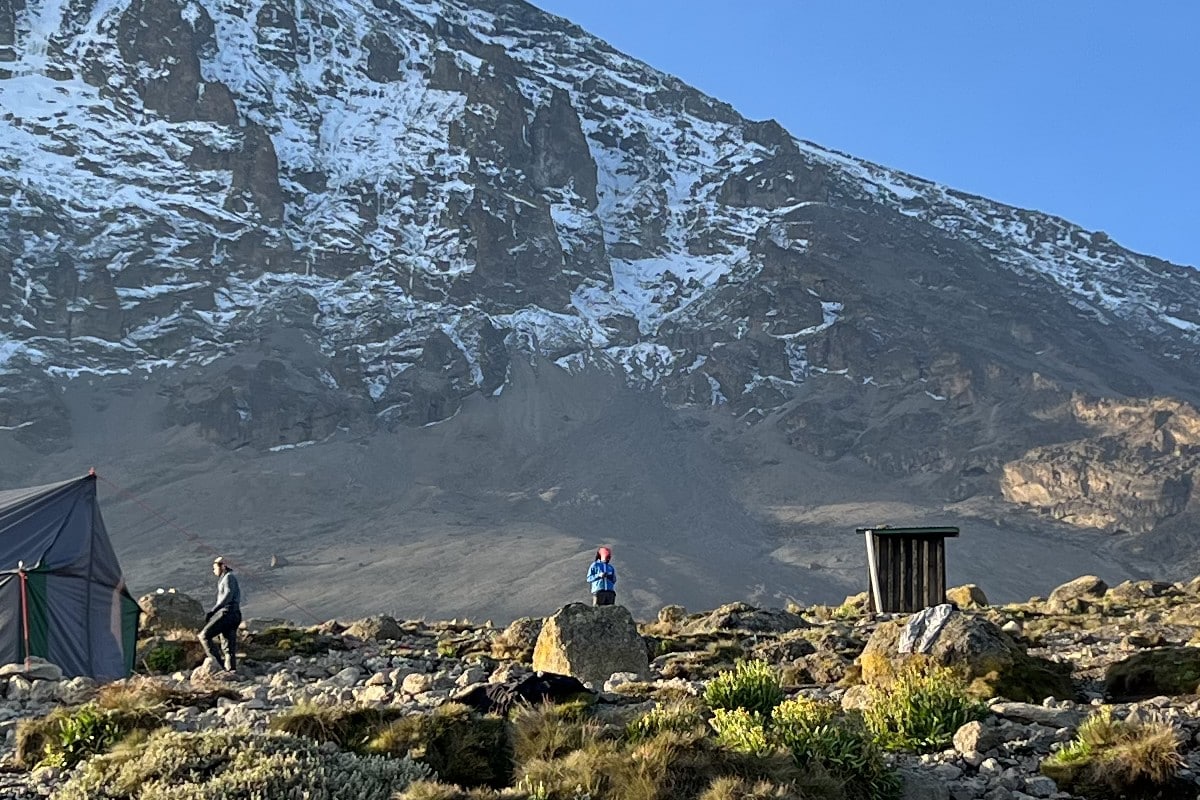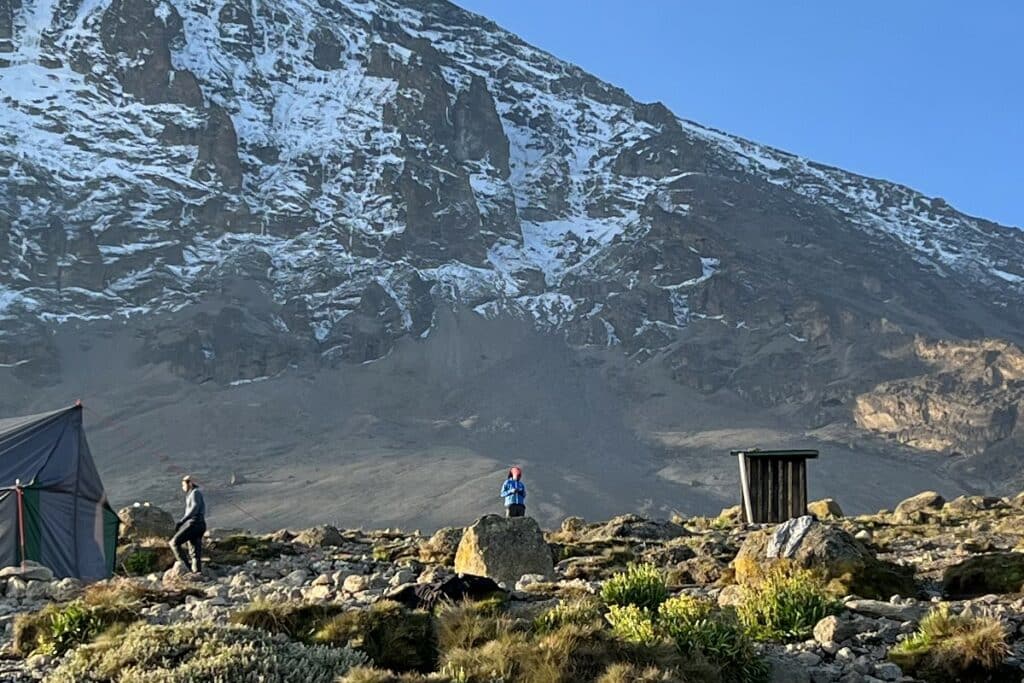 Walking the moors.
Each day began with a delicious breakfast, prep for the climb, and praying for the day ahead. We set off silently to reflect on our experience. Our second day, I was so surprised to see the mess tent set up at lunchtime with tables, chairs, and a hot meal prepared. Afterwards we headed to higher altitude for acclimatization before descending into the valley to sleep.
Meanwhile, our porters broke everything down, raced past us yet again to the next camp, and set everything up for the evening. Lead guide Gabriel would say at our rest stop, "Okay guys, let's go home!" We arrived to cheerful porters, a bustling campsite, and time to rest. Our days ended around the table, reflecting on the day, and receiving details for tomorrow. Early bedtime to the sounds of our porters finishing the day laughing and talking in Swahili helped us drift off to sleep.
We hiked for five days through stunning and rugged terrain. We challenged our bodies to acclimate to altitudes and slept on inclines in a tent. We celebrated our successful scaling of an 800 foot vertical rock wall. Each day I grew more aware of the impending final push to the top.
We rested at 16,000 feet before waking at 12:30 a.m. for a 1:30 a.m. departure. We left under a full moon with headlamps lighting the way. Our guides and summit porters carefully watched our every step. After five hours of hiking, we began to glimpse a breathtaking sunrise over the horizon. We continued all the way to 19,354 feet at Uhuru Peak. After congratulations and photos, we quickly began descending to 13,000 ft. for a final night of camping.
Our last morning brought a celebration of gratitude – singing, dancing, giving out tips, and a prayer over the guides, porters, and their families in both English and Swahili. A long day of steep descent was filled with stories, laughter, and sore muscles.
The team rejoices at the summit.
We hiked quickly through the moorland and back into the rainforest. It had rained recently and left the trail very slick. After walking "pole, pole" (slowly, slowly in Swahili) for 5½ days, this rapid pace for 7,000 feet down the mountain felt like a sprint! Despite the rapid pace, we all tried to look around to appreciate the lush beauty of our surroundings, listen for the sound of monkeys and hornbills, and soak up these final moments together on the trail. Arriving at elevation 6,000 feet officially ended our trip. After final hugs, high-fives, and thank you's for our guides and porters, we boarded a bus to head back to Arusha.
Reaching the summit I will always remember. Yet the greater gift was spending time with the amazing group that included not just those of us climbing, but the crowd of witnesses who loved and served every step of the way.
Written By Laura Jensen
This material is presented with permission from Elliott Brack's GwinnettForum, an online site published Tuesdays and Fridays. To become better informed about Gwinnett, subscribe (at no cost) at GwinnettForum

Pinecrest Academy Named to AP School Honor Roll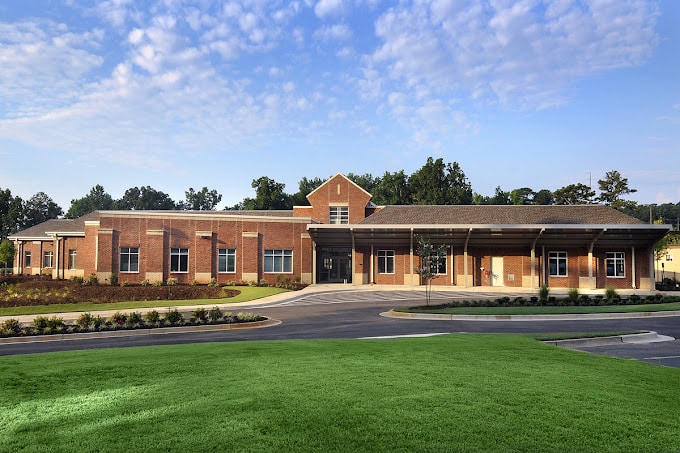 College Board has announced that Pinecrest Academy has been named to the Advanced Placement® Program (AP®) School Honor Roll, earning Platinum distinction.
The AP® School Honor Roll recognizes schools whose AP programs are delivering results for students while broadening access.
Schools can earn this recognition annually based on criteria that reflect a commitment to increasing college-going culture, providing opportunities for students to earn college credit and maximizing college readiness.
Pinecrest had 87% of seniors who took at least one AP exam during high school. 78% of seniors scored a three or higher on at least one AP exam, and 74% took five or more AP exams.
Twenty-two AP courses were offered during the 2022-2023 school year, representing 21 sections taught by 12 high school teachers.
"We are so honored to have received this AP Honor Roll Award, as we strive each year to provide every student with a college preparatory experience, which includes the successful completion of challenging AP courses," commented Amy Bowman, Pinecrest Academy High School Principal.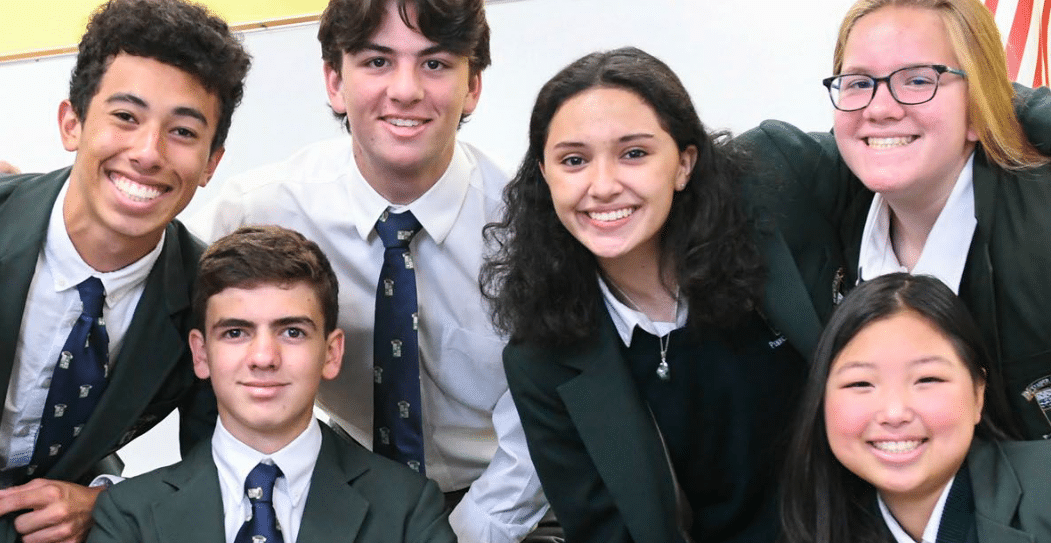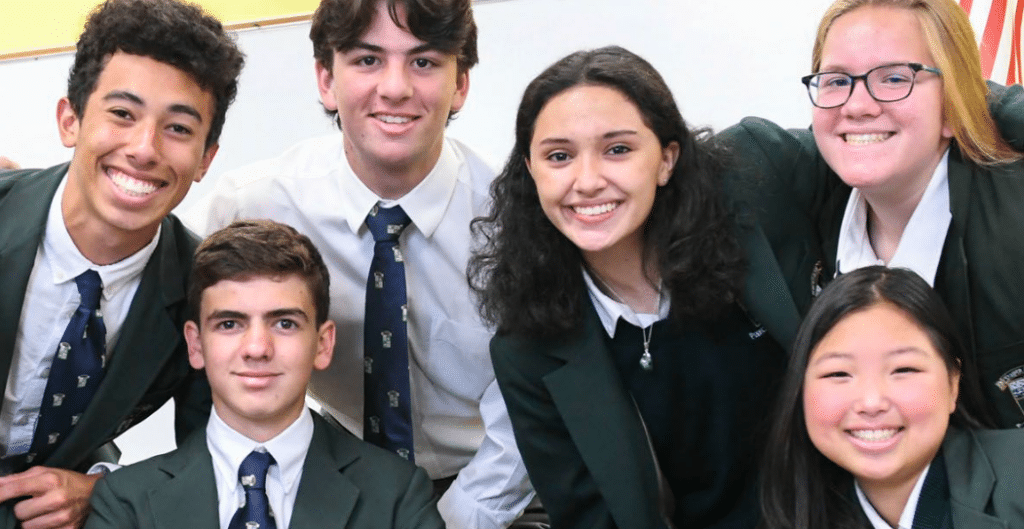 "The Platinum designation from AP speaks to the excellence that our faculty strives for in delivering challenging content that prepares our students for college," she added. 
"AP represents an opportunity for students to stand out to colleges, earn college credit and placement, and potentially boost their grade point averages," explained Trevor Packer, head of the AP program.
"The schools have shown that they can expand access to these college-level courses and still drive high performance – they represent the best of our AP program," he said.
Pinecrest Academy was also awarded the AP Access Award. The AP Access Award recognizes schools demonstrating a clear and effective commitment to equitable access to advanced coursework. In addition to these honors from the College Board, Pinecrest Academy's Class of 2023 earned a 100% acceptance rate into The University of Georgia. Since the school's first graduating class of 2007, Pinecrest's high school has maintained a 100% graduation rate every year.
Click here for more Peachtree Corners education news.

Greater Atlanta Christian Seniors Named National Merit Scholarship Semifinalists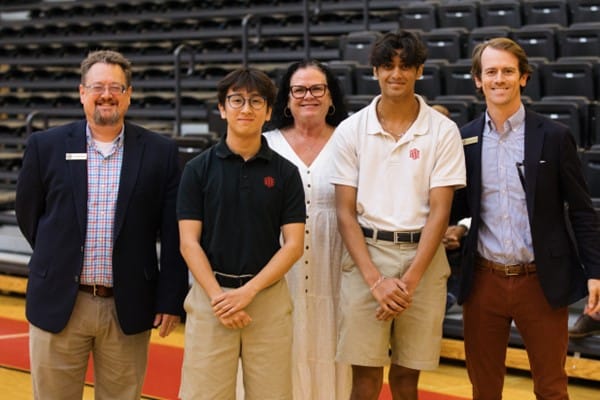 Earlier this October, Greater Atlanta Christian School (GAC) seniors Kevin Liu and Akhil Sarikonda were named National Merit Semifinalists in the 2024 National Merit Scholarship Competition. 
Liu and Sarikonda are among over 16,000 Semifinalists in the 69th annual National Merit Scholarship Program.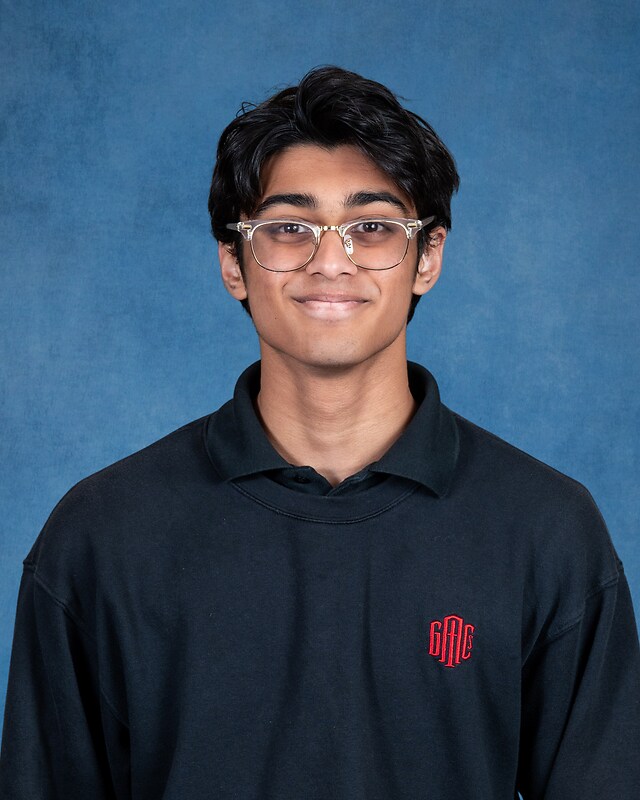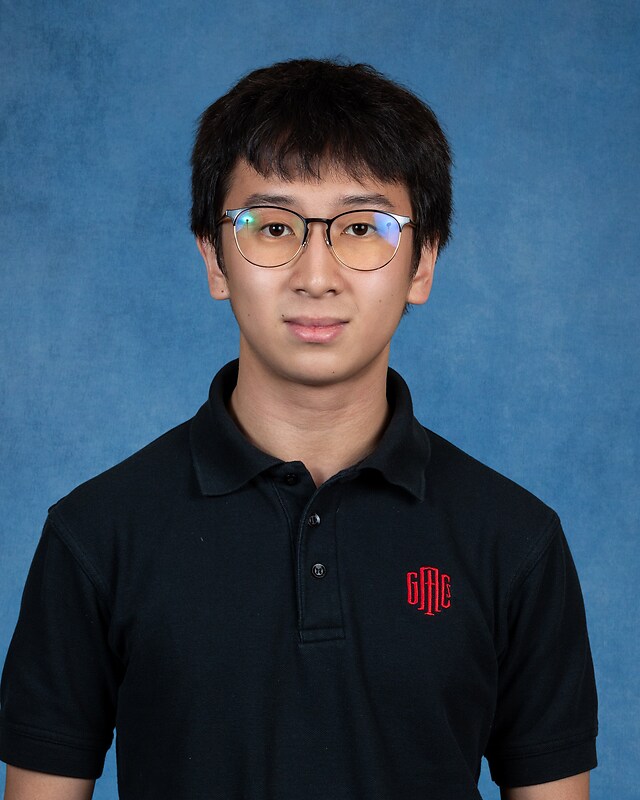 Semifinalists must have outstanding academic records, a recommendation from a high school official, an essay submission and SAT or ACT scores that confirm the student's earlier performance on the qualifying PSAT test.
Semifinalists are chosen from 1.3 million high school students who took the 2022 Preliminary SAT/National Merit Scholarship Qualifying Test (PSAT/NMSQT) during their junior year.
These semifinalists are competing for 7,140 National Merit Scholarships worth nearly $28 million. Winners will be announced in the spring of 2024.
To be considered for a Merit Scholarship award and advance to the competition's final level, semifinalists must submit a detailed application.
This application includes the student's academic record, participation in school and community activities, demonstrated leadership abilities, employment and honors or awards received.
"Kevin and Akhil are dedicated to their academics and pursue excellence both in the classroom and in their many activities within GAC and out," Dr. Paul Cable, GAC High School Principal, said.
"We couldn't be prouder of their accomplishments and eagerly anticipate the bright futures ahead for these exceptional students," he added.

National Merit Scholarship Corporation Recognizes Eight Wesleyan Seniors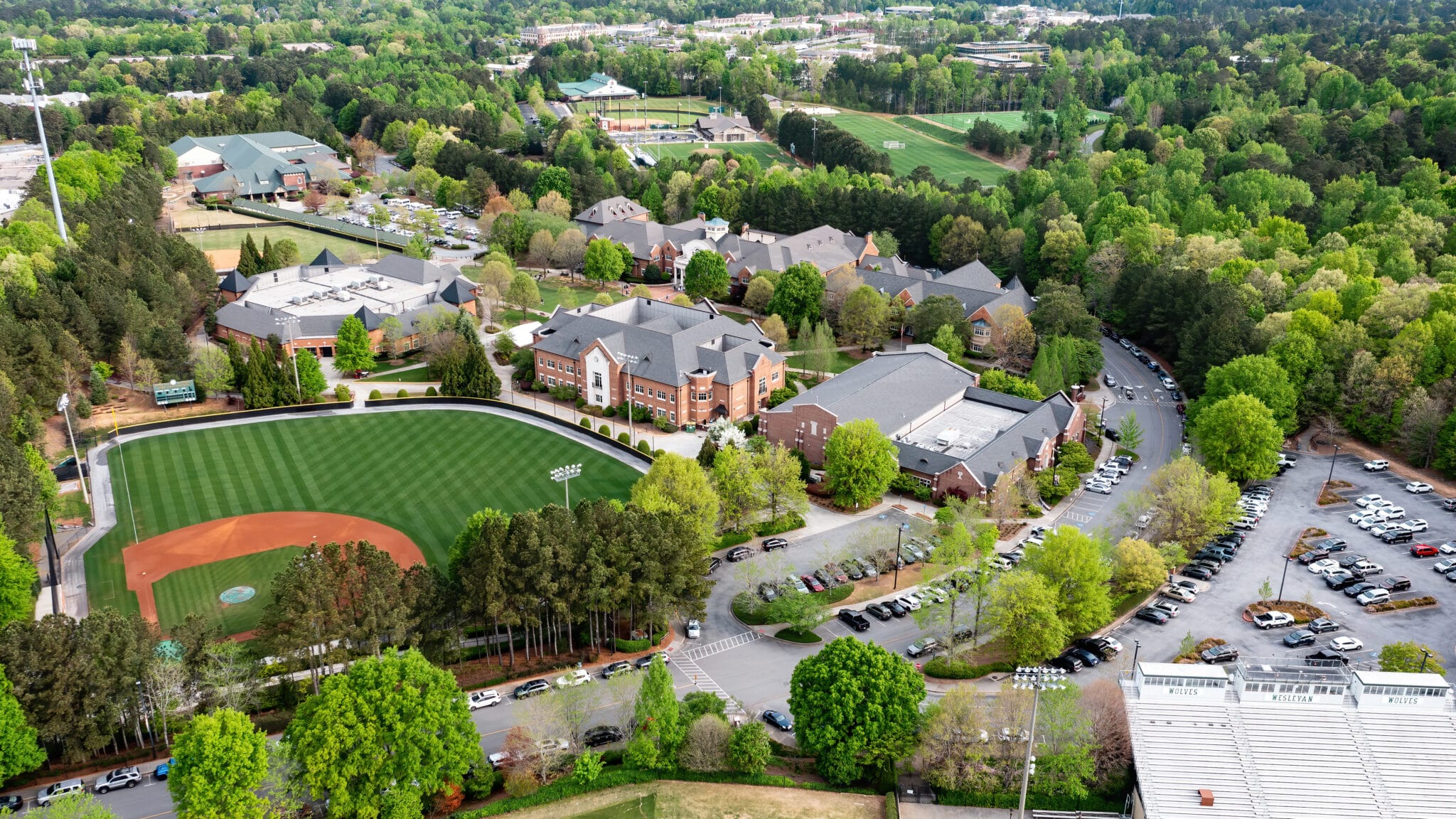 The college advising office at Wesleyan recently announced that eight of its high school seniors were recognized by the National Merit Scholarship Corporation for exceptional academic achievement.
The National Merit Scholarship Program is an annual academic competition that recognizes a student's outstanding performance on their junior year PSAT.
Seniors Josh Kavel and Dina Samson were named National Merit Semifinalists, an honor that only 1% of seniors (approximately 16,000 total) nationwide, receive based on their PSAT scores.
These seniors will submit essays, hoping to become finalists and earn scholarship money from the National Merit Scholarship Corporation. Finalists will be announced in February.
Additionally, seniors Alex Ebert, Kallaghan Freeman, Daniel Lim, Papa Ohemeng-Mensah, Junie Shin and Tengle Wang were named National Merit Commended students. Approximately 2% of seniors nationwide receive this recognition.
Congratulations to these seniors and their families.