With School Enrollment Deadlines Looming, Middle School Choice May Be Toughest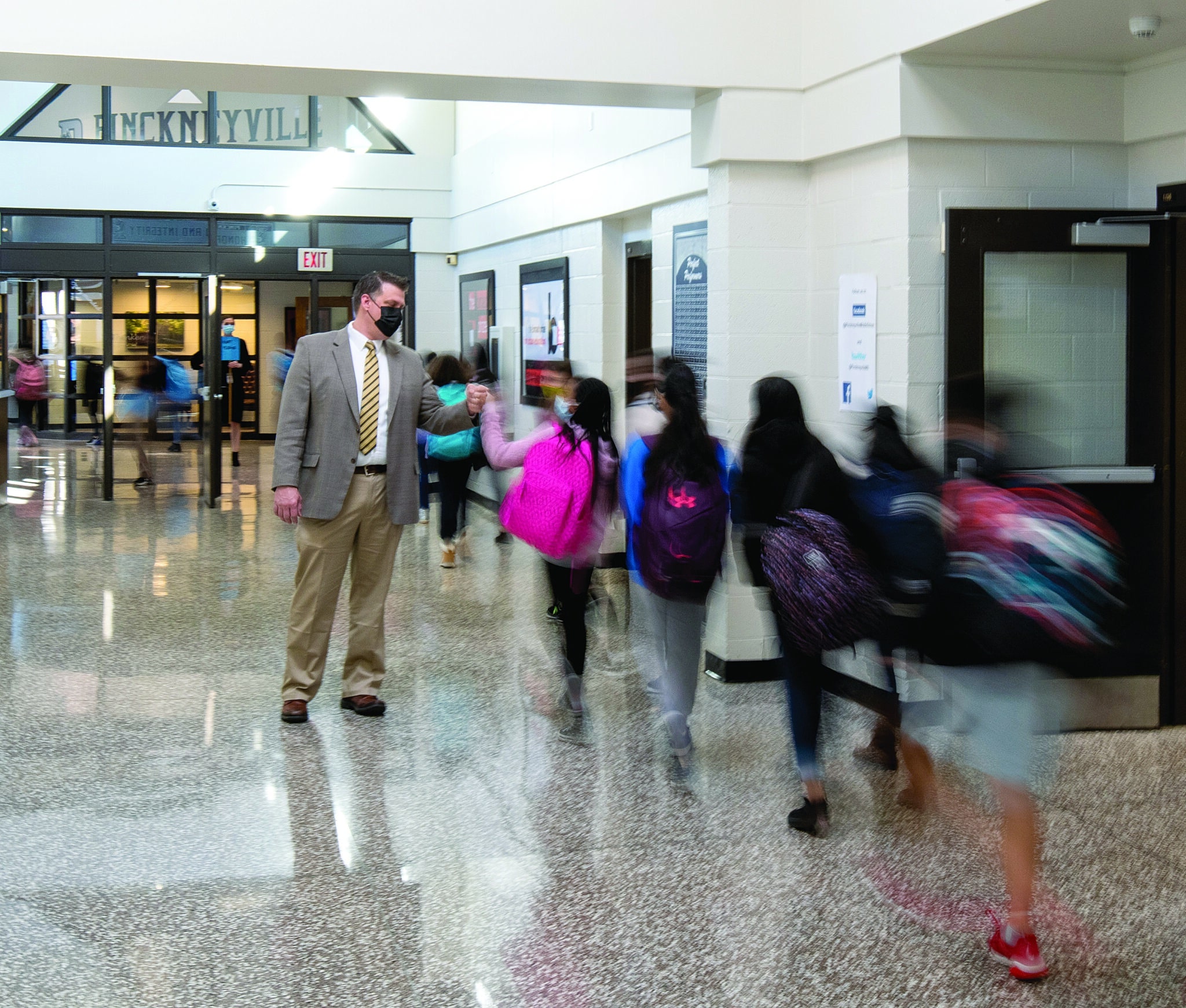 Although the second half of the school year has just gotten underway, it's time for many parents and students to consider the transition from elementary school to middle school. It's certainly not the only shift students make in their academic life, but it's probably the most dramatic, most challenging and many say the most important.
During this time when children are going through physical, emotional and social changes, they are uprooted from a familiar setting and a routine that many have known for several years. Changing classes during the day, taking a different bus to school and often having to change out for gym class can be traumatic for even the most well-balanced individuals.
That doesn't mean that it must be a scary experience.
Peachtree Corners has a hidden gem of sorts with Pinckneyville Middle School. Principal Todd Marschke is not only a long-time Gwinnett County Public Schools administrator, he lives in the neighborhood and his children have attended, currently attend or will attend the school.
"My own daughter went here my first year as principal," Marschke said. "I have a son who attends now and another one who will be here soon. But all the students are my kids and I want the best education possible for all of them."
Marschke is a product of Gwinnett County Public Schools where he attended Head Elementary, Shiloh Middle School, and graduated from Shiloh High School. He is also a graduate of Georgia State University. His teaching career started as a middle school gifted math and science teacher at Alton C. Crews Middle School. Marschke transitioned from Crews Middle School to Lanier Middle School for his first administrative position. For seven years, he served as principal in the Norcross cluster at GIVE Center West before coming to Pinckneyville in 2018.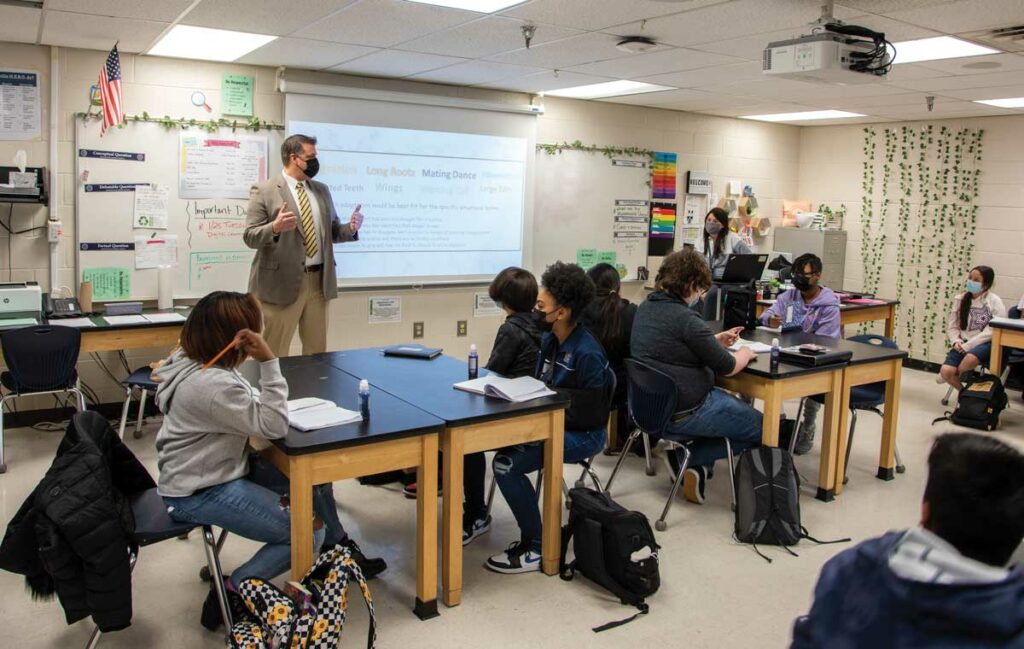 Good relationships
In his many years of educating youngsters, he's realized that it boils down to strong, healthy relationships.
"It all starts with relationships – with all the staff, with the students, with the parents," he said. "If you leave yourself open to develop those trusting, nurturing relationships, you can do great things."
It's that kind of focus and dedication that drew PTSA mom Shana Cooper to the school. She currently has an 11-year-old daughter and a 13-year-old son who attend Pinckneyville. She said right from the start Marschke made her feel welcome and showed that he's an open, honest and reliable leader.
She cited an example of the TikTok craze where kids were encouraged to pull off pranks at school, such as clogging toilets with paper towels, slapping teachers on the behind, stealing school equipment and other forms of mischief.
"At a general meeting back in November he was just kind of talking about the upcoming year. … New students and parents were coming by and asking if it's a dangerous school or a bad school," she said.
Marschke asked parents not to confuse Pinckneyville issues with middle school issues. Every time kids make transitions they are exposed to new situations. For example, there is a lot more freedom and lot more kids in middle school than in elementary school.
Add to that COVID protocols and bouncing from in-person to virtual learning, and Marschke had a lot to deal with. The Tik Tok "devious lick" had to be dealt with swiftly and efficiently.
"The poor man has about 1,300 to 1,400 students at that school. And he's got to basically parent and direct everyone through all of this COVID and Tik Tok, and just regular middle school craziness. And he does it with such a good outlook and such grace and positivity," Cooper said.
"They isolated the situation [with the TikTok incidents] and figured out what kids are involved. They had the disciplinary action for them. And then they do a school wide announcement and usually an email," Cooper added.
Marschke explained that it may seem cool to post hijinks on social media, but a lot of those situations can lead to bigger consequences like expulsion and trouble with the police. Fortunately, the Pinckneyville students got the message and the reign of capers was short-lived.
Great results
But Marschke likes to focus on the things that make his school shine.
As one of the few International Baccalaureate schools in the system, it has a high focus on academic excellence for all students.
"When you have high expectations, you help bring about high results," he said.
Pinckneyville Middle School placed in the top 30% of all schools in Georgia for overall test scores (math proficiency is top 50%, and reading proficiency is top 30%) for the 2018-19 school year, according to Public School Review, a non-profit that provides free, detailed profiles of USA public schools and their surrounding communities.
It added that the percentage of students achieving proficiency in math is 49% (which is higher than the Georgia state average of 44%) for the 2018-19 school year. The percentage of students achieving proficiency in reading/language arts is 55% (which is higher than the Georgia state average of 45%) for the 2018-19 school year.
And as one of the most diverse schools in metro Atlanta, the administration makes extra efforts to showcase the various cultures and ethnicities. Black History Month, Hispanic Heritage Month, International Night and many special celebrations in between foster an atmosphere of inclusion.
"I encourage anyone who wants to know more about Pinckneyville Middle School to come for a visit, attend an open house and/or call me directly," said Marschke. "We have a lot to offer, and I believe every student can thrive here."

Mayor Mason Visits BIA Charter School for Mayor's Reading Program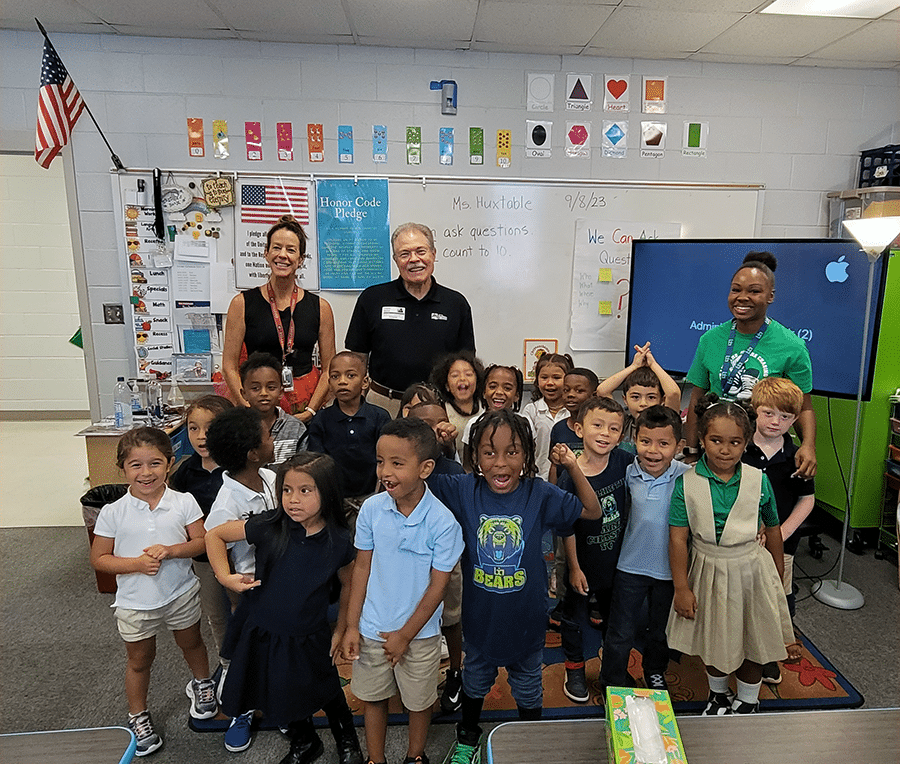 On Friday, September 8, Peachtree Corners Mayor Mike Mason visited the BIA Charter School to read to the kindergarten class of Meredith Huxtable.
The mayor visited BIA as part of the Mayor's Reading Club. Launched in August, the program is designed to support literacy skills and early reading success for children in Georgia cities.
During his visit, the mayor read "Georgia Caroline Visits City Hall," and answered student questions. Following his reading of the book, the mayor took part in an interview conducted by the school's morning news team, that was broadcast to the entire school.
The Mayor's Reading Club was developed by Georgia City Solutions and is designed to foster partnerships between the city, county, local nonprofits, schools, libraries and businesses. Other elected officials, city staff, youth and community members can participate in the program as guest readers.

Four Wesleyan School Faculty Members Named GISA Master Teachers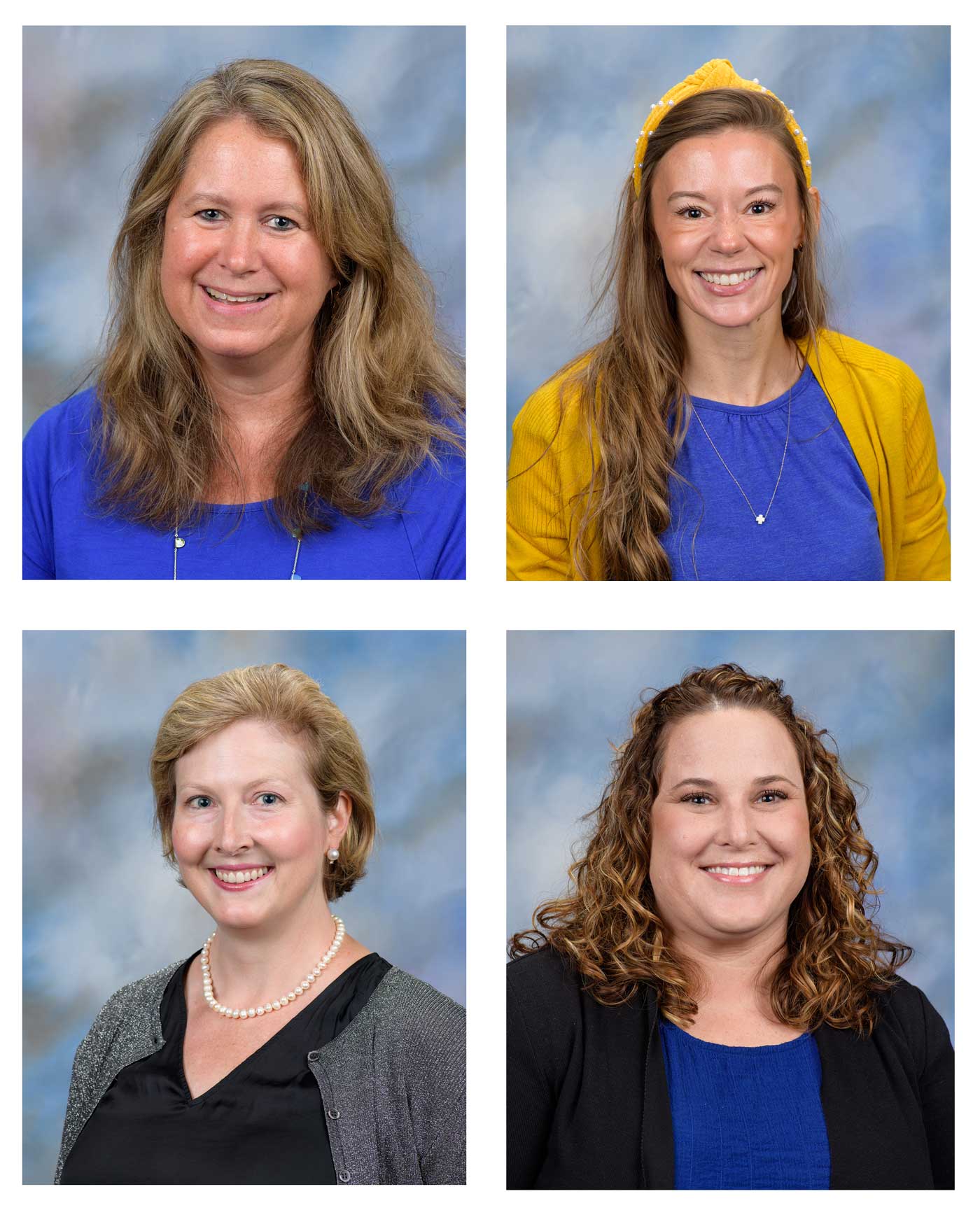 The Georgia Independent School Association (GISA) recently named four Wesleyan School faculty members GISA Master Teachers.

After completing a comprehensive application process through GISA this past spring, the following teachers were honored:
Juliette Ball, lower school lead teacher;
Paige Glass, lower school lead teacher;
Suzanne Ragains, a high school modern and classical languages teacher and
Laura Riester, middle school math teacher.
To be accepted into GISA's Master Teacher program, candidates must submit a portfolio featuring three examples of outstanding work related to the classroom and collaborating with other educators.
The final part of the application is an unedited video of the candidate's classroom teaching as well as five letters of recommendation from colleagues, administrators, parents and students.
"We are delighted that GISA has acknowledged the hard work of these committed educators through the Master Teacher program," said Chris Cleveland, Wesleyan Head of School.
"Juliette, Paige, Suzanne, and Laura are outstanding classroom teachers and have been impacting the lives of Wesleyan students for many years. They are each deserving of this honor."

Paul Duke STEM High School Students Build a Legacy at National Conference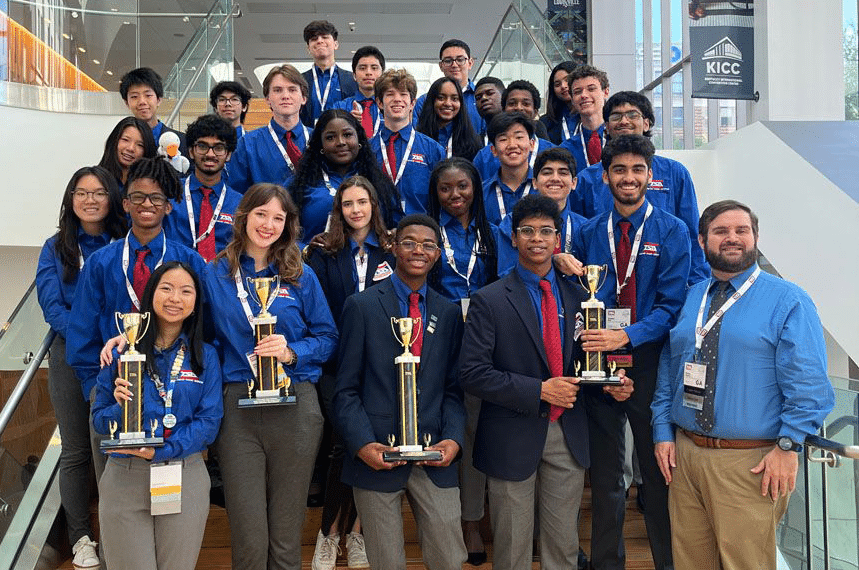 From June 28 to July 2, the Paul Duke STEM High School Technology Student Association (PDSTSA) chapter left a lasting mark at the 2023 National Leadership Conference (NLC) in Louisville, Kentucky. The group's dedication to their work and unwavering support from chaperones and advisors led to nine Top 10 finishes and four Top 3 placements.
The Technology Student Association (TSA) is a national Career and Technical Student Organization (CTSO) compiled of passionate students who are thoroughly involved in STEM. TSA has over 200,000 members nationwide and 2,000 involved schools across 49 states.  
The theme of this year's conference was "A Legacy of Innovation," a theme that the PDSTSA chapter certainly excelled at.
The PDSTSA chapter competed in the following areas: Data Science and Analytics, Video Game Design, Manufacturing Prototype, Future Technology Teacher, On Demand Video, Virtual Reality Visualization, Biotechnology Design and Geospatial Technology. Within each respective area, Paul Duke STEM High School (PDHS) had great success.
Aside from regional and state-wide competitions, the PDSTSA chapter competed at the annual National Conference where expert judges score groups and individuals on more than 70 different STEM-based educational challenges that covered topics such as architecture, communication, engineering, leadership and technology research.
Pursuit of excellence
Within their group, the PDSTSA chapter had an impressive four awards given out to groups and individuals within places first through third.
Notably, members Donald Iwejuo, Rohan Kumar, Hannah Le, Caleb Odunade, Mihir Pai, Rohan Pai, Phuong Truong and Keon Wilson won an astounding first place for their work in the Manufacturing Prototype category.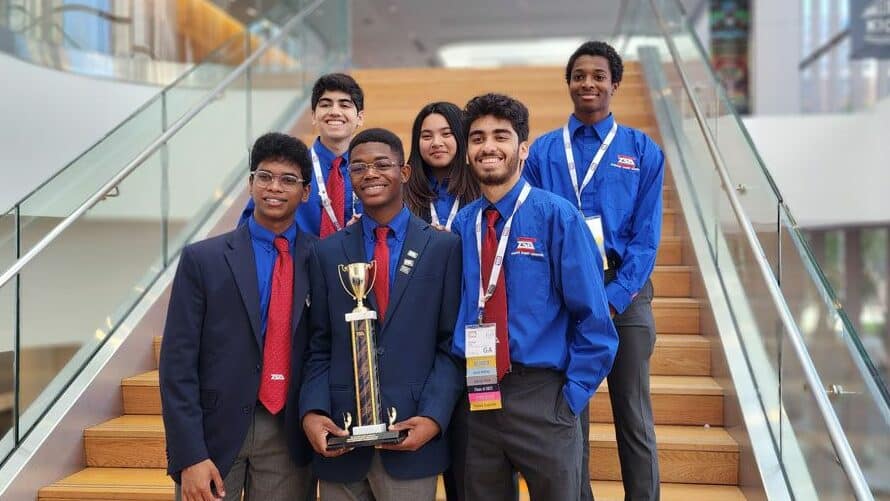 For their challenge, they were asked to create a Fourth of July-themed decoration. The team problem-solved and worked to create a customizable condiment and utensil holder with replaceable tops that incorporated the shapes of fireworks and the Liberty Bell, and symbols of the American flag, winning PDSTSA their first national title.
Additionally, within the realm of Data Science and Analytics, PDSTSA members Oswin Cervantes, Meagan Harris and Rohan Kumar took home third place by using and studying data found online and provided by them through science experiments involving Blue Zones teas, JASP (an open source program for statistical analysis) and the aging of Saccroymeces cerevisie (more commonly known as brewer's yeast or baker's yeast).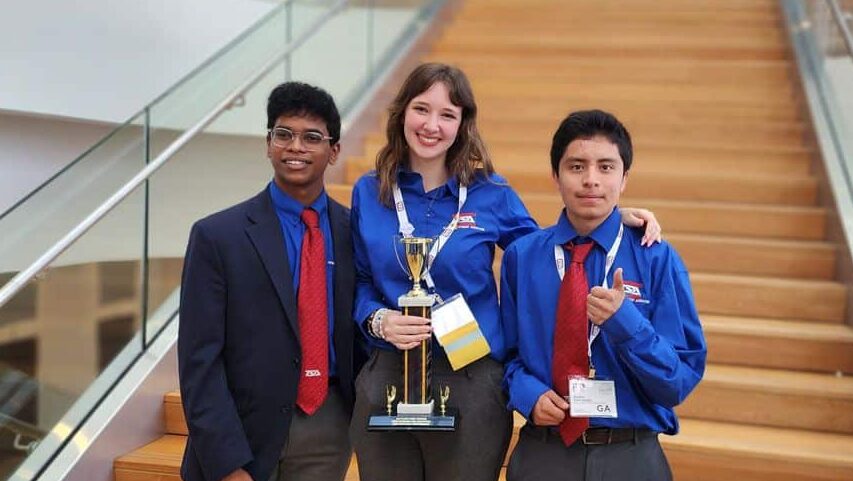 In the category of Biotechnology Design, Chloe Au, Brandon Auyoung, Meagan Harris, Joshua Odunade, Quincy Robinson and Phuong Truong won third place for finding a solution to adequately address food preparation, storage and sustainability issues in space, specifically for a trip to Mars.
After creating a rocket-shaped display containing their solution, the team was awarded based on their problem-solving abilities.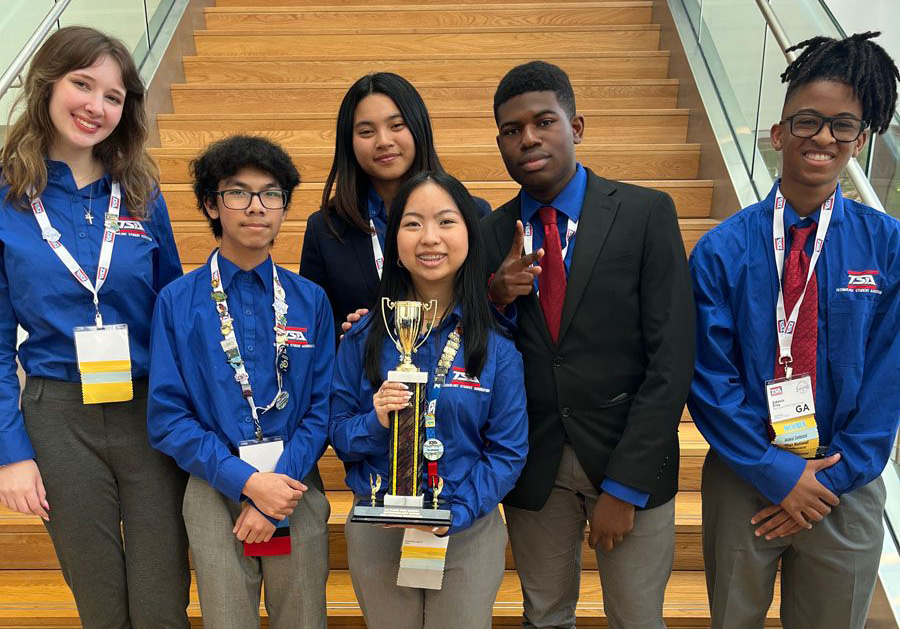 Caleb Odunade won third place in the solo category of Future Technology Teacher. For this category, competitors were required to choose an application that could be used for teaching and then demonstrate how to implement it in the classroom.
Odunade made a video for the preliminary round on how to use TinkerCAD, an engineering and 3D design application, and was challenged to also present a lesson plan he had designed.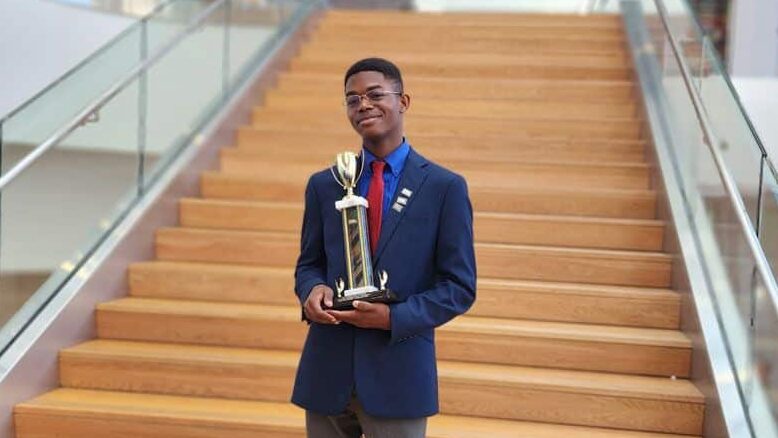 More notable accomplishments
However, the accomplishments didn't end there. Others include:
Fourth place in Video Game Design for members Ali Akbar, Frank Hammock, Varun Iyengar, Rohan Kumar, Joshua Odunade and Sahana Parekh
Fifth place in Virtual Reality Visualization for members Aqil Afsar, Charlie Boalch, Rohan Kumar and Mihir Pai
Sixth place in Geospatial Technology for members Aqil Afsar, Mihir Pai and Rohan Pai
Sixth place for Future Technology Teacher awarded to member Myra Wu
Tenth place award in On Demand Video by members Baylor Brown, Abigail Donkor, Princess Igwe, Tristan Kim, Rohan Kumar, Caleb Odunade, Joshua Odunade, Rohan Pai and Landon Shell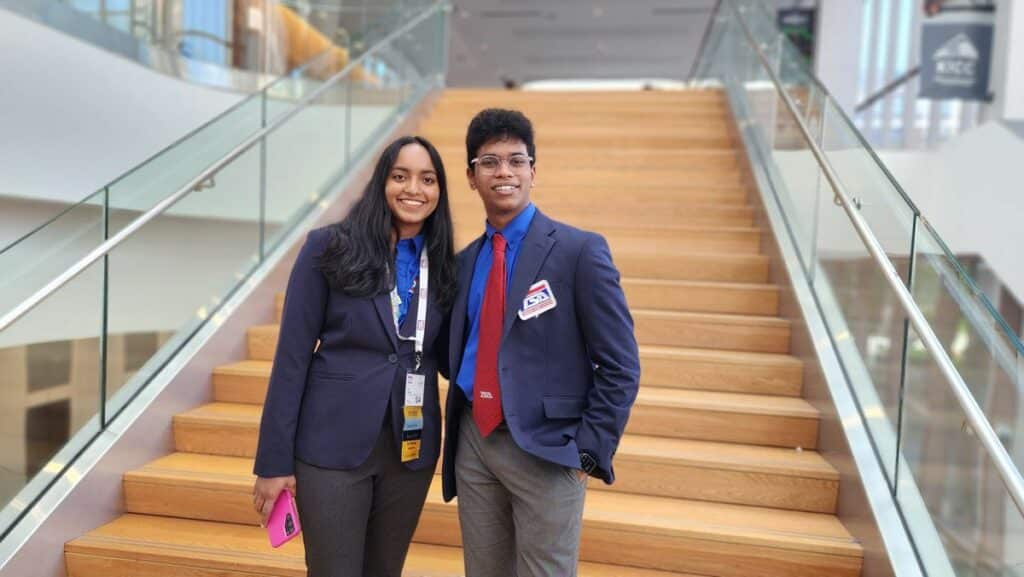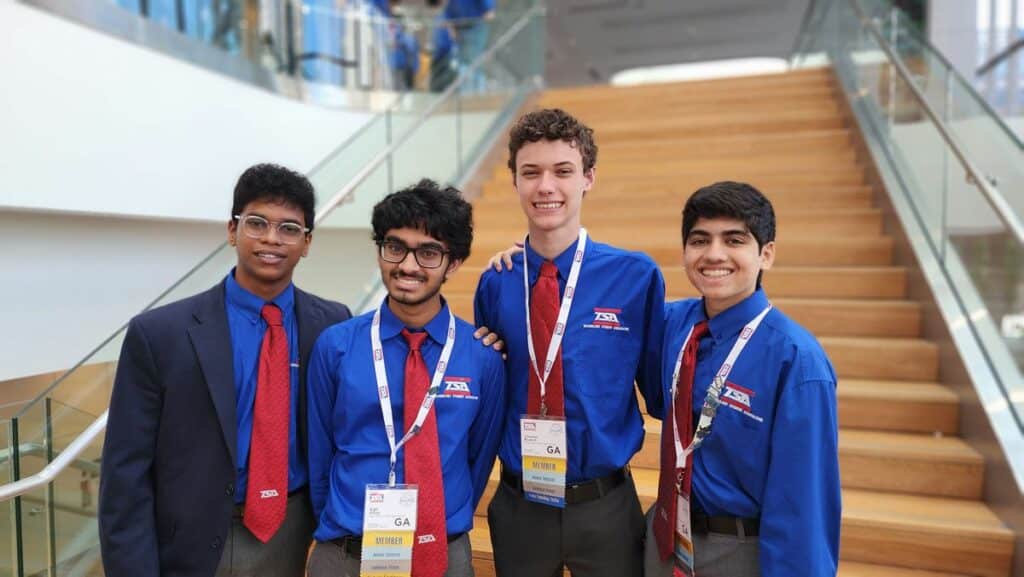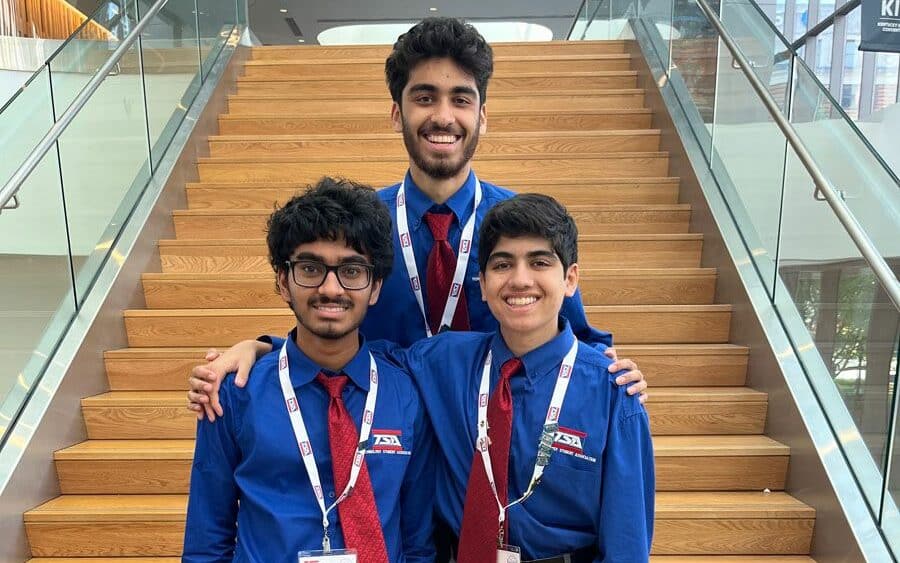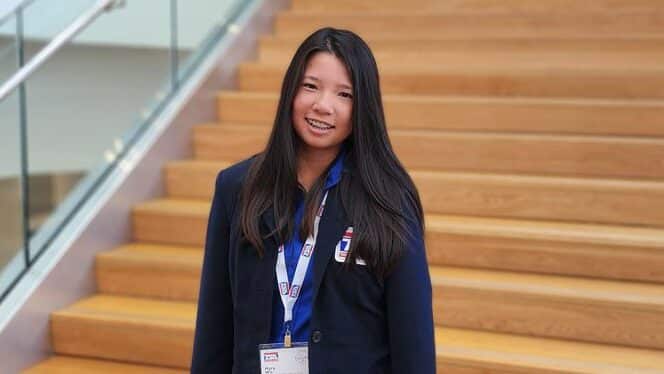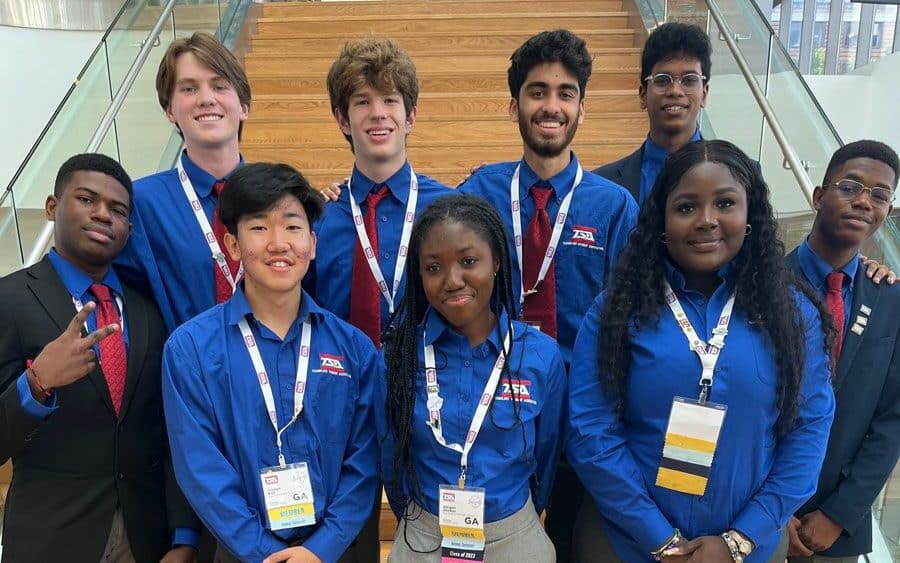 More to come
This was only the PDSTSA team's second time participating in the NLC. The team is excited with their success and are looking forward to working towards even greater success in the future. 
Check out the PDSTSA Instagram at @pdstsa. Learn more about TSA at tsaweb.org.