The Peachtree Corners Festival 2022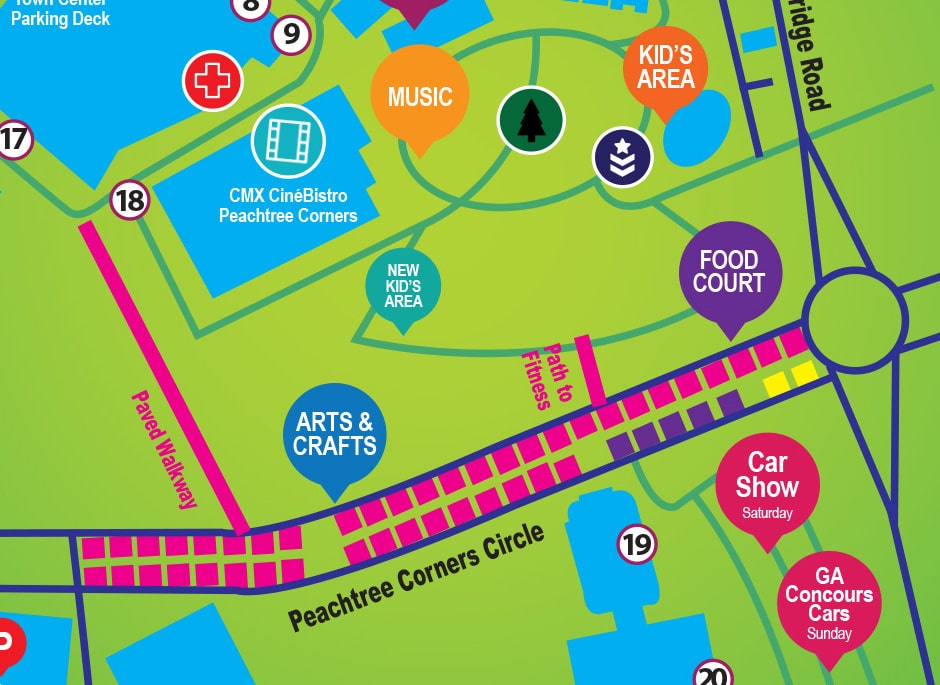 Returns Triumphantly for Its 11th Year, the Second year at Town Center
July 1-3 is gearing up to be an exciting weekend for Peachtree Corners. Not only is it the lead up to Independence Day, but it's also the 10th anniversary of Peachtree Corner's founding. Why not celebrate it all at the 11th annual Peachtree Corners Festival? Enjoy food, entertainment, music and art with your family and friends — not to mention, the festival (and parking) is free and open to the public.
The Peachtree Corners Festival has been a staple of Peachtree Corners since before the city was even officially, well, a city. The festival is a nonprofit "dedicated to bringing a safe, wholesome and family-friendly festival to the City of Peachtree Corners," according to peachtreecornersfestival.com. It's volunteer-run, so its success is due to the passionate citizens who are driven by pride for their homes as well as its sponsors. Funds earned by the festival are directed towards beautification and education projects in Peachtree Corners.
Dave Huffman has been involved with the festival for 10 years and served as its president for nine. He said that it can be stressful at times to handle the hundreds of details that go into planning a festival, but the volunteers make it manageable, and the sponsors' funding makes it all come to fruition.
"As our city has grown, the festival has kept pace with that growth," Huffman said. "That makes the work a bit more every year, but when we see the smiles of our attendees and hear good things from our vendors and sponsors, it makes it all worthwhile and we start to think about how we can make the next year even better!"
As the saying goes, it truly takes a village. Huffman cited several members of the Peachtree Corners Festival team who make the dream come true, including Arts Director Ayanna Graham, Music Director Becky Lyon and the First Lady of Peachtree Corners, Debbie Mason, as vice president.
"Debbie was one of the founders of the festival and spearheads our work with the many sponsors we depend on," Huffman said. "She is wonderful!"
This year, the festival will return to the Town Green located in the Town Center development, which has become the entertainment hub of the city. Due to the tight fit and muddiness that the festival experienced last year, though, it will also be returning to its roots in a sense: while the Town Green will still host music and kids' activities, a section of Peachtree Corners Circle will be blocked off to make room for the booths, food court and classic car show.
Saturday's Classic Car Show and Sunday's Georgia Concours d'Elegance will be located in the Hexagon building parking lot next to the food court.
The weekend-long event will kick off with a concert at 7:30 p.m. on Friday, July 1, followed by a festival on Saturday from 10 a.m. to 6 p.m. and Sunday from 12 p.m. to 5 p.m. Read on for more information about what to expect from this year's Peachtree Corners Festival.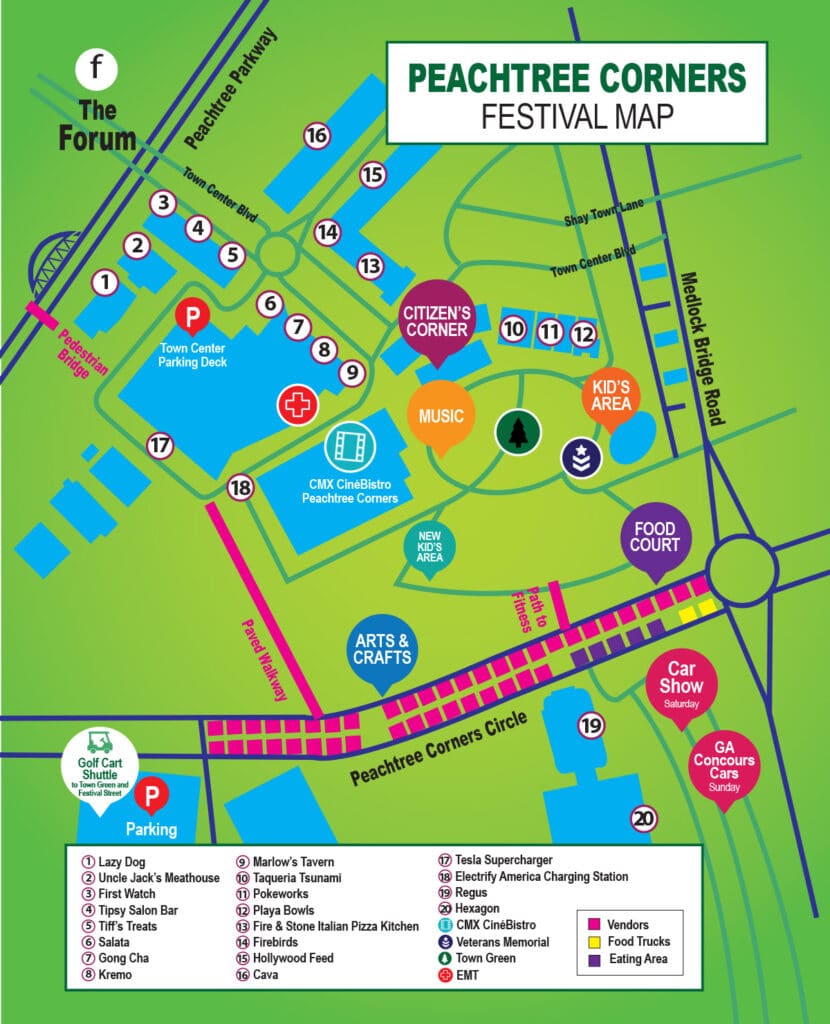 Music
The Saturday and Sunday entertainment lineup will be one of the highlights of the festival, according to Huffman. Lyon has carefully evaluated and selected entertainers from a myriad of submissions. Festival attendees are encouraged to bring picnic baskets and coolers full of food and non-alcoholic beverages to enjoy during the perfor­mances.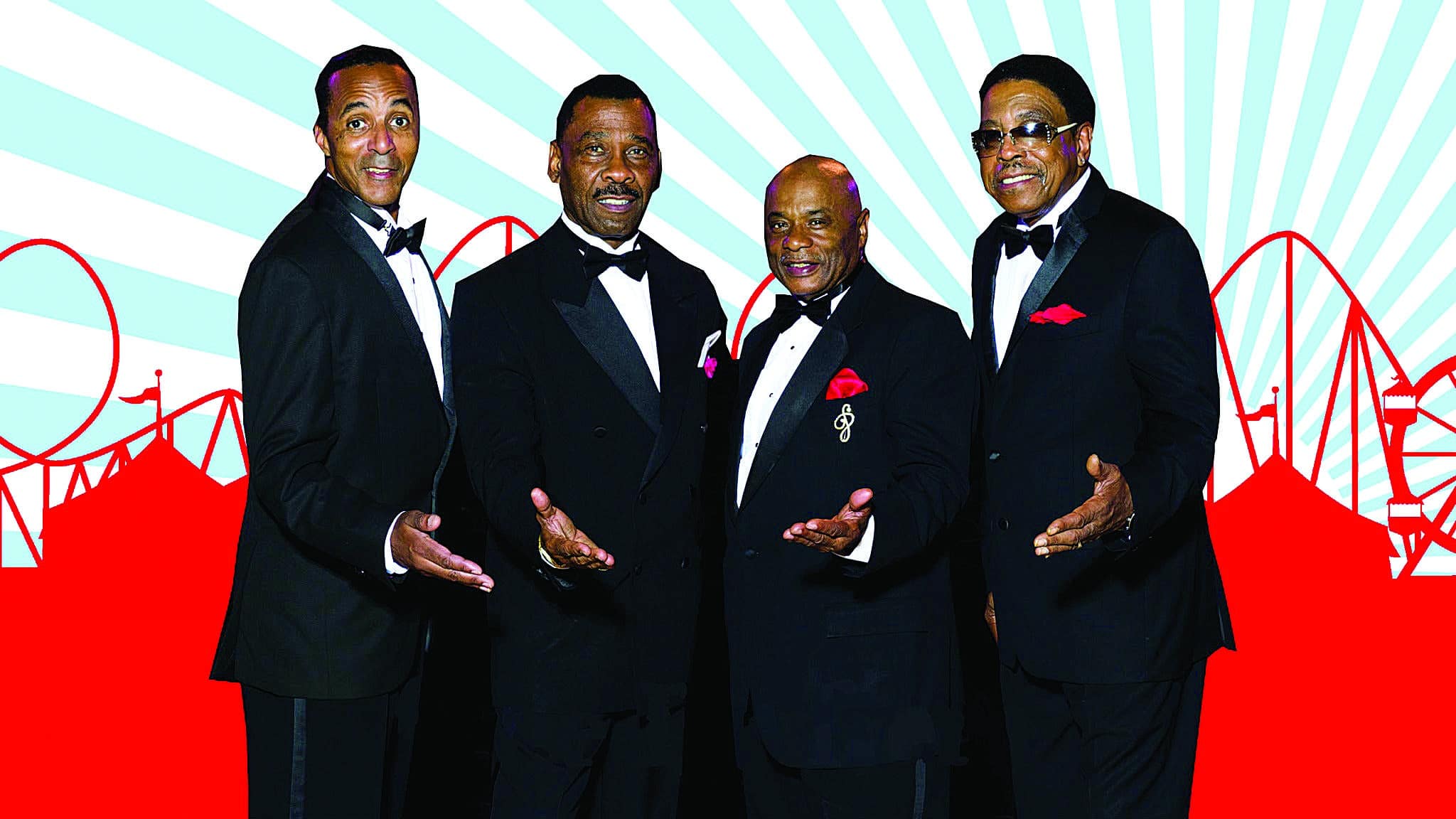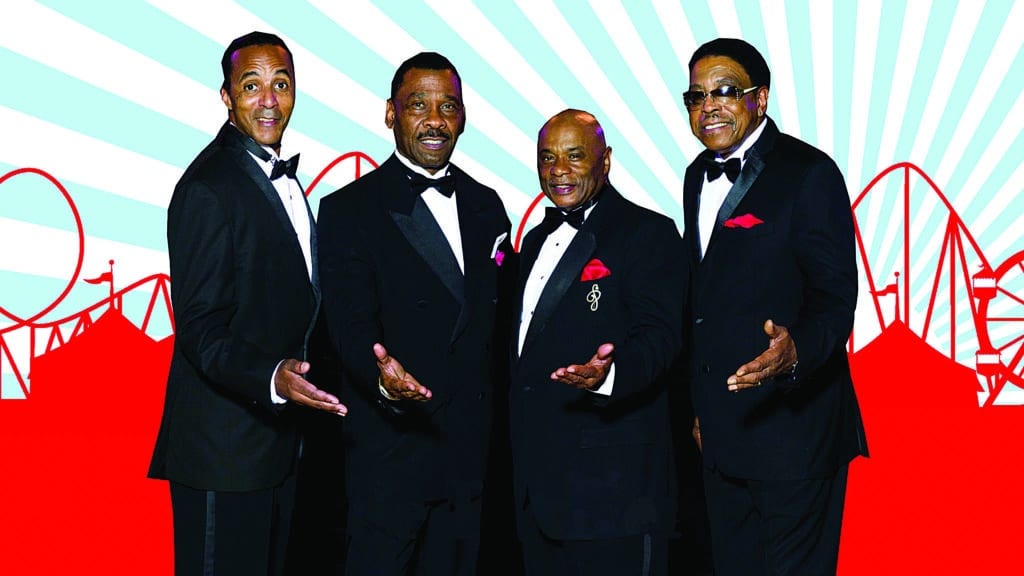 The Friday night headliner has been announced as the iconic R&B group of the 50s and 60s, The Drifters. Best known for their classics "Under the Boardwalk," "Save the Last Dance for Me" and "This Magic Moment," among numerous other hits, The Drifters will have you swaying and celebrating on the Town Green.
Saturday's musical lineup starts with Leah Bell Fraser, 12-1 p.m., a singer who delivers compelling original songs as well as those from some of her favorite artists, including Patsy Cline, Linda Ronstadt and Janis Joplin. A rock band from Virginia, Bulletproof, takes the stage 1:15-2:15 p.m.
They're followed by Sonic Alley, a rock and roll cover band that features classic tracks and deep cuts performed by veteran musicians from the Atlanta area, 2:30-3:30 p.m. From 3:45-4:45 p.m., the New Bridge Band will rock the house with their unique mix of familiar and eclectic songs from across the musical spectrum.
On Sunday, 12-1 p.m., Catherine Wynder performs performing Lind­sey Stirling covers, pop songs and movie soundtracks. The Hearsay will continue the celebration, 1:15-2:15 p.m., with their combination of rock and pop that has hints of 90s alternative, pop-pun, and modern indie music.
More musical acts will be finalized soon, so please check peachtreecornersfestival.com for the latest updates.
Cars, Bikes, Hot Rides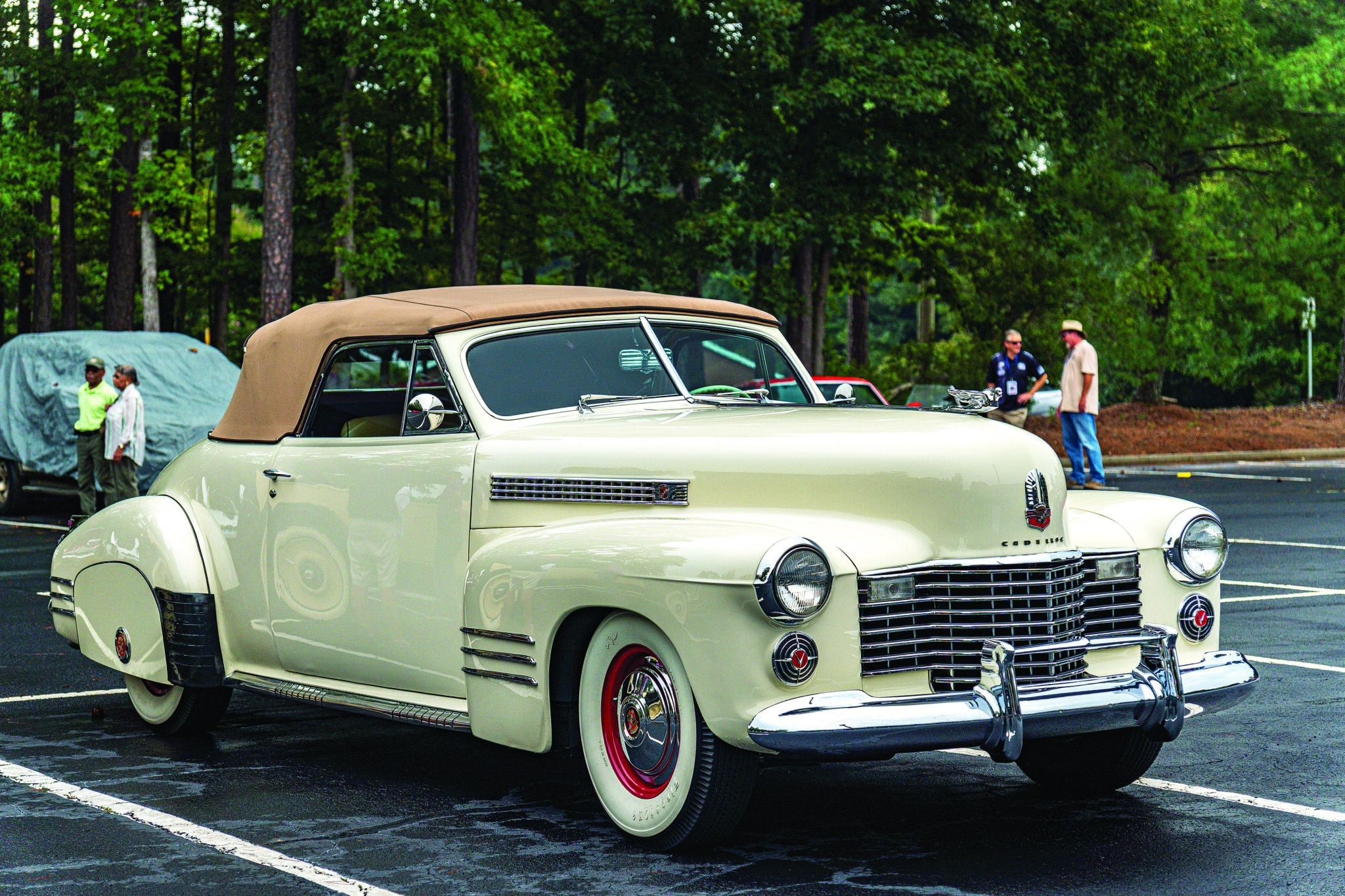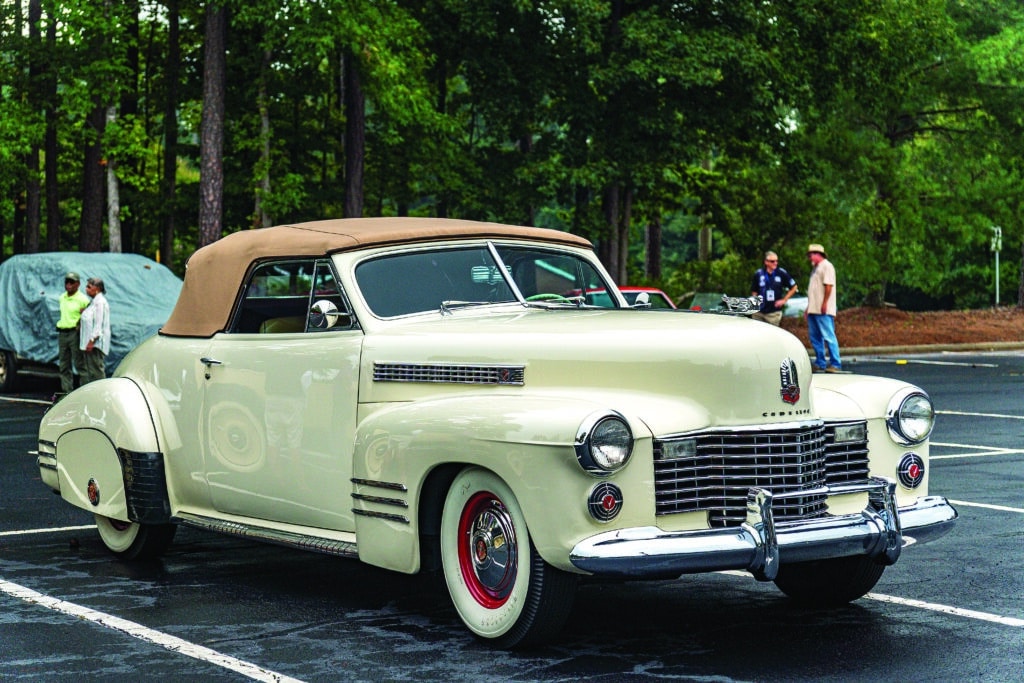 The Classic Car & Bike Show ("classic" for both the types of cars it represents and its traditional presence at the Peachtree Corners Festival) will take place on Saturday, July 2, from 10 a.m. to 4 p.m. It's free for spectators; if you decide to register your car or bike on-site, you'll only pay $15. The awesome vehicles will be lined up at the ready for you to photograph and admire. Meanwhile, trained judges will assess which rides are worthy of the coveted Top Car & Bike Awards and Top Class trophies. Enjoy food, a DJ and fantastic door prizes.
Georgia's Concours d'Elegance will exhibit on Sunday, July 3, from 12 noon to 4 p.m., and admission is also free. Here, you'll be witness to a lot of rare, collectible and vintage cars. The special "Sneak Peak" will show what's coming in 2023 to Atlanta.
A classic car is more than merely a car. It's an aesthetic, an artwork, a relic of history, a feat of technology. Concours d'Elegance brings that glorious showmanship and craftsmanship directly to you — and for free at the Peachtree Corners Festival. Support Peachtree Corners' Concours with your attendance this year so that even more beautiful motor vehicles can be brought in next year and continue to unite our community in the pursuit of beauty.
Arts, Crafts and More
Local artisans and business owners will represent their wares at the festival. They'll be selling everything from home goods to jewelry to crafts, so be a good neighbor and shop 'til you drop!
Built by Bees: Tim Haratine started his honey business in 2015 with two goals: to make customers and employees happy, and to do so by promising good products and great value. All of Built by Bees' many delicious products use raw honey and earn repeat customers. Visit builtbybees.com.
Chili P. Designs: Owner Julia channels her artistic skill and love for her family into creating beautiful wood signs perfect for home decor. Gift a design to a family member or display it in your own home for guests to admire. More at chilipdesigns.com.
Goddess Luxe: Necklace chains of delicate gold or silver, rings embedded with dazzling crystals, elegantly shaped earrings: this shop lives up to its name and makes jewelry fit for a goddess. See the collection at goddessluxejewelry.com.
Discover Atlanta Chinese Art: Godwin Kou and Kuansoi
(Christine) Kou are both accomplished painters and calligraphers dedicated to sharing authentic Chinese art with the world. Their work is delicate and striking while staying pure and unconfined. Go to discoveratlantachineseart.com for info.
Kettlerock Brewing: You can support this new, up-and-coming, family-run brewery boasting good stories and great beer with a purchase of their shirts or mugs. Go to kettlerockbrewing.com.
Knox Carter Kandles: The 100% soy candles melt into a gorgeous marbling so, with their pretty packaging and wide variety of scents, they look just as incredible as they smell. More info at knoxcarterkandles.com.
Puppy Present Designs: Specializing in matching collars and leashes for all sizes of dogs, your puppy is sure to be the prettiest at the park. Find their shop on Etsy.
Reminis Soaps: Stacey, the maker of Reminis Soaps, began her soap-making journey in 2016 because she was looking for a solution to her oily skin and post-shower itchiness. Now she handmakes beautiful, delicious-smelling soaps using only all-natural ingredients. Check out reminissoaps.com.
Whatnot Bear Mobile: This business is family-owned and operated. It began with the purpose of bringing children support and joy. Make your own child happy at the festival by coming home with a fuzzy friend! Find more at whatnotbearmobile.com.
XOC Designs: Specializing in a variety of materials to handmake stunning furniture and other homewares, you're sure to wow your guests with these pieces. Browse xocdesigns.com for details.
Ziparoos: Committed to a sustainable home, Ziparoos makes and sells multi-purpose, reusable storage bags — but they also sell other eco-friendly products that are perfect for the kitchen or cleaning around the house. And they come in cute prints, so they're fun for the whole family!
Find the full vendor list on the Exhibitor page at peachtreecornersfestival.com.
Food and Beverage Vendors
Whatever you're craving, Peachtree Corners Festival is serving it up. From sweet treats to cool down in the heat or a little spice to intensify your day, the food court has you covered.
Speaking of sweet and spicy, Chocolate & Spice Eatery will be dishing it out both ways. Their Caribbean-French-Brazilian fusion-inspired offerings include islander's sorbet served in pineapple, a Creole low country boil served with your choice of protein and vegetables, savory Brazilian barbecue and, of course, the classic festival food — turkey legs. Find them at facebook.com/chocoandspice.
Or chew on this: Chew-on Chuan stands out at festivals with their Latino-Asian fusion street food, and the Peachtree Corners Festival is no different. Smack on Asian street skewers (your choice of protein) with a side of mango salsa and tortilla, Dominican empanadas that sound so good they'll make your mouth water just looking at the ingredients list, yucca fries, Thai Tom yum soup, scallion pancakes and grilled corn in a 13-spice barbecue sauce. Yum! Check them out at facebook.com/chewonchuan.
For more can't-miss-it, gotta-have-it festival food, check out Tasty Yum Yum. Not only do they have the classics — fried Oreos, funnel cake, sweet tea and ice-cold lemonade — but they'll also be selling hearty stuff like rice and peas, steamed cabbage, loaded fries, sausage, Philly cheesesteak and chicken any way you want it: popcorn chicken, chicken on a stick, jerk chicken, curry chicken–yum! Visit them on Instagram.
Thirsty? Phoenix Roasters will be roasting up a full espresso and cold brew bar. If you haven't tried a nitro-based craft drink yet, this festival will be your chance! Get details at phoenixroasters.coffee.
What's lunch without a snack, or dinner without dessert? After your meal, top it off with national award-winning homemade ice cream from Daddy O'Brien's Irish Ice Cream Pub. Find out more at daddyosicecream.com.
If ice cream's not your taste, Sweetacular Treats will have every other treat available to choose from, including popcorn, cotton candy, candied pickles and apples, Rice Krispies, cake, soda and lemonade.
Sponsors
It cannot be said enough times how important sponsors are to making the Peachtree Corners Festival great. This year's sponsors can be found by clicking on the Sponsors page at peachtreecornersfestival.com; from there, you can click on each of their logos and be directed to more information. Notably, the Title Sponsor is the City of Peachtree Corners, and Peachtree Corners Magazine has been recognized as a Silver Sponsor. Come visit our table when you attend the festival.
Call for Volunteers
Need to complete volunteer hours this summer? Part of a service group and looking for a direction to channel your goodwill? Or just need to kill some time this season?
The Peachtree Corners Festival is volunteer-run, and volunteers are still being sought. With so many fun things to do all weekend, there are multiple avenues to get involved, no matter what your interests are — whether that's assisting with the car show, distributing water to thirsty festivalgoers, setting up vendor booths or managing the hospitality suite.
Volunteers need to be above the age of 18 or have parental permission if younger. Volunteers will receive a commemorative T-shirt and pride in having supported their home city. Sign and return the 2022 volunteer waiver form via the Volunteer page on the festival's website, peachtreecornersfestival.com.

Gwinnett Co. Commissioner Spreads Holiday Cheer with Toy Drive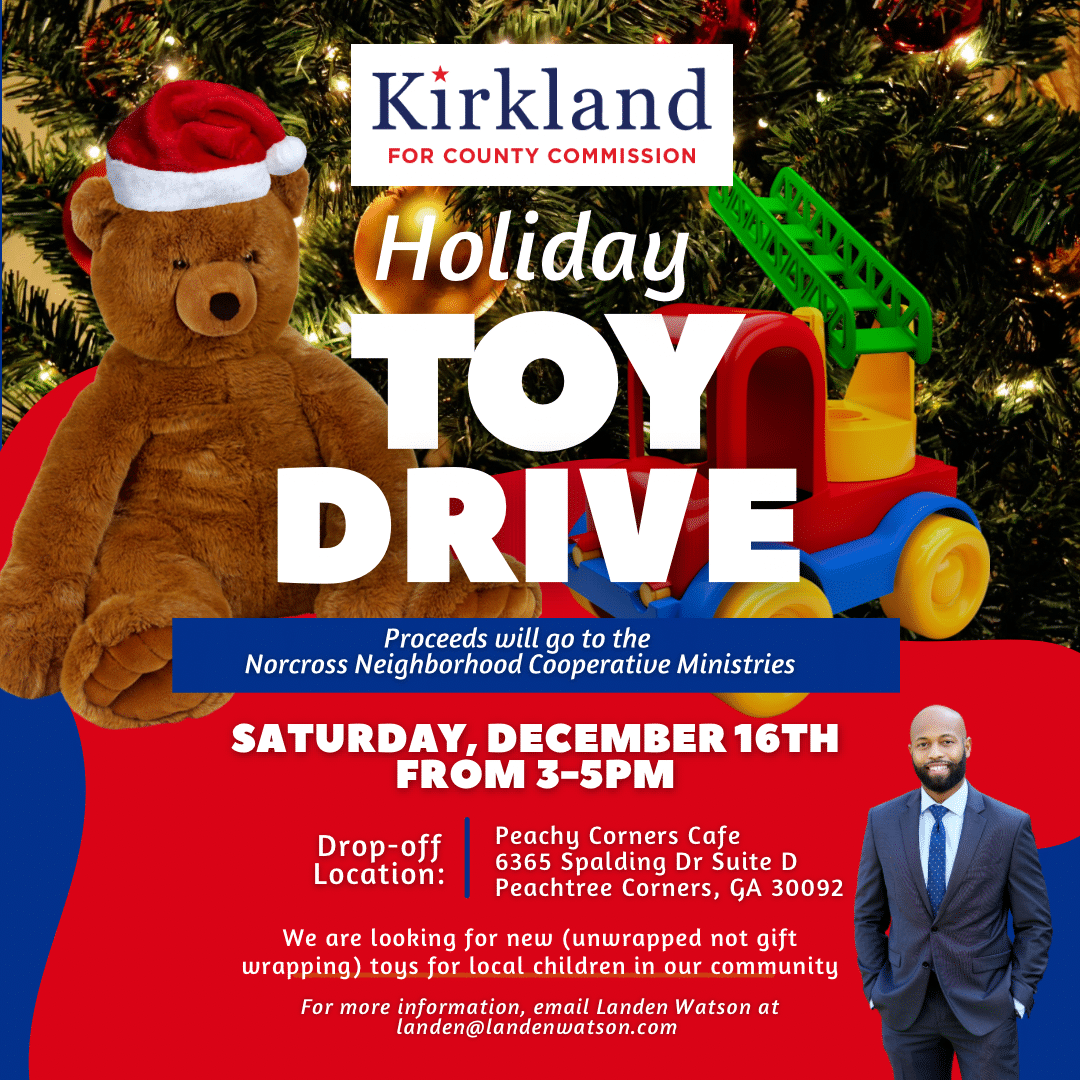 As the holiday season approaches, times can be challenging for those less fortunate. With this in mind, Gwinnett County Commissioner District 1 Kirkland Carden continues to find opportunities to give back to the community.
Join Team Kirkland for a special holiday toy drive for the Norcross Neighborhood Cooperative Ministries on Saturday, Dec. 16, from 3 p.m. to 5 p.m. at Peachy Corners Cafe off Spalding Dr in Peachtree Corners.
Neighborhood Cooperative Ministries (NCM) is a faith-based, non-profit, ecumenical ministry dedicated to providing emergency assistance to families in Norcross, Peachtree Corners, Doraville and Tucker, Georgia, since 1988.
NCM is supported by 23 local churches, numerous businesses, civic and social organizations, foundations and individuals.
For this toy drive, Team Kirkland and the Norcross NCM are looking for new, unwrapped toys for local children in the Gwinnett community. Hear from your Commissioner and donate a toy to a family in need.
To attend, RSVP here. For more information, reach out to Landen at 256-624-0669 or email landen@landenwatson.com.

Local Indie Author Day is Coming Back to Gwinnett County Public Library Branches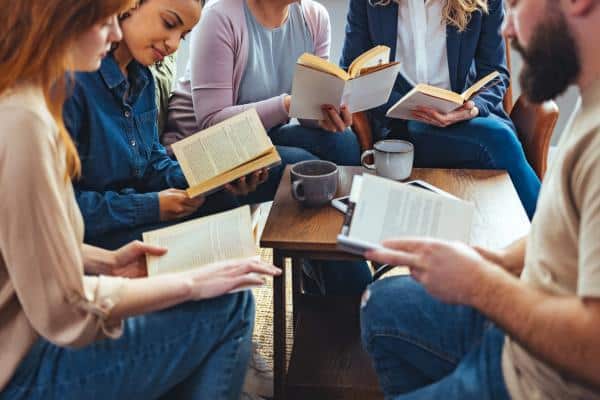 Gwinnett County Public Library looks forward to celebrating Local Indie Author Day on Saturday, November 4, 2023.
The library invites independent local authors to showcase their works with author talks, readings, book sales and signings each year. This event aims to unite libraries, indie authors and readers throughout our community.
Multiple library branches are hosting author talks or author panels. Participating branches include:
Buford-Sugar Hill,
Centerville,
Dacula,
Duluth,
Five Forks,
Grayson,
Norcross and
Suwanee.
Local Indie Author Day will begin at the Duluth Library branch at 2:30 p.m. and features authors Stella Beaver, Chere' Coen, Tamara Anderson and Cassandra Kempe-Ho.
The Norcross Library branch will host its showcase at 3:30 p.m. with authors Linda Sands and M.W. McKinley.
Check the library's event calendar for author information and times. All events are free and open to the public. For questions or comments, contact Duffie Dixon, Director of Marketing and Communications for Gwinnett County Public Library at ddixon@gwinnettpl.org.
Click here to explore more public library events happening in November.

Good Grief: Life After Loss, Part 3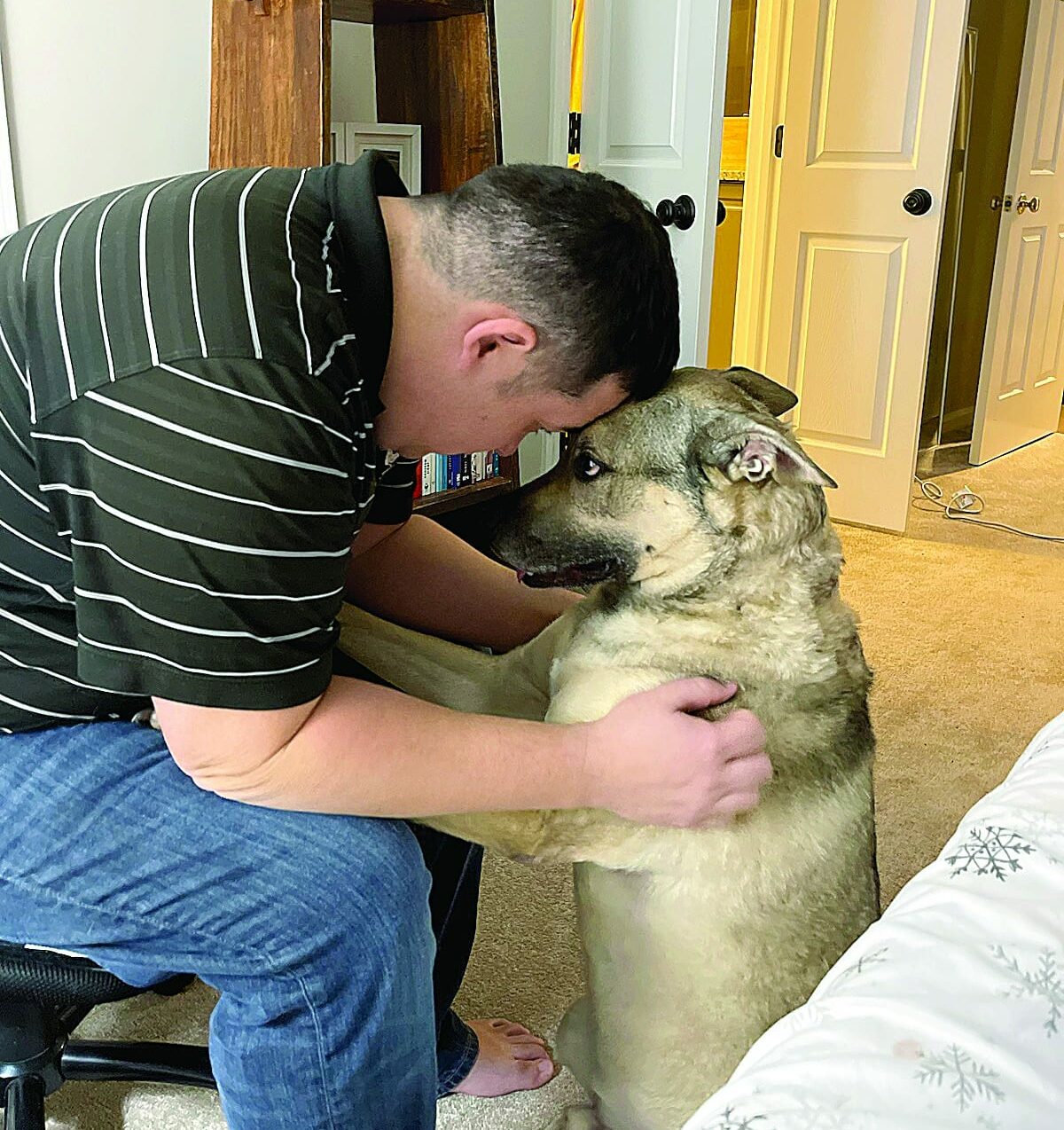 Losing Our Furry Friends
The conclusion of my "Good Grief" series seemed ideal in this issue featuring pets and their people. Paris Hilton lost her beloved chihuahua this year. In a farewell tribute on Instagram, the socialite wrote, "In 23 amazing years, she brought endless love, loyalty, and unforgettable moments to my life."
Some may not understand — eye rolls may ensue — but fellow pet people know all too well that losing a companion animal is just as heartbreaking as losing a human loved one.
"The pain I feel right now is indescribable," Hilton posted.
Yet our cultural playbook is devoid of any protocols for those mourning pets. There are no pet obituaries, no official rituals or religious ceremonies to support us through the loss of a fur baby. When such perfectly normal and deep emotions can be considered a mere overreaction by some people in our own tribe, one could argue that losing a pet is even more difficult.
The ultimate interspecies bond
Though domestic companions can be scale or feather-covered too, I spoke to the bereaved owners of the furry variety.
Thousands of years of evolution have led to dogs morphing from the wild wolves they once were into man's best friend, able to read our emotions and willing to sit, bark, roll over and play dead on command – all to please us. If you're not a pet owner yourself, you're sure to have friends with pets.
Max, tennis ball chaser extraordinaire
Long before Matt and Faith Harding had children, they had their dogs, Jazzy and Max, who were part of their lives for over 11 years. Losing them was hard.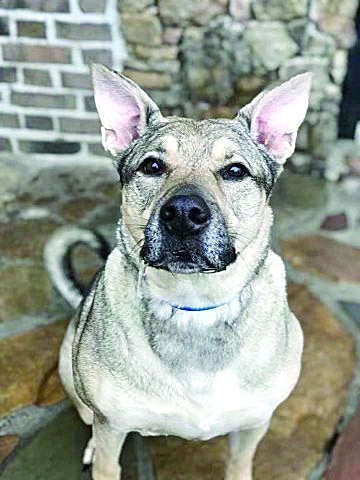 "We lost Max and Jazzy within a year of each other. We had to put Jazzy down because she was older and suffering. It was the right thing to do. What made it more difficult with Max was that it was so unexpected," Matt said.
The Hardings had been treating Max, who suffered from seizures common to Belgian Malinois. They were able to keep the seizures under control for years.
What makes a grown man cry
It was a week like any other. Faith had gone out of town. The kids and Max were left in Matt's care. Max chased tennis balls in the backyard. There were no warning signs that something was about to go terribly wrong.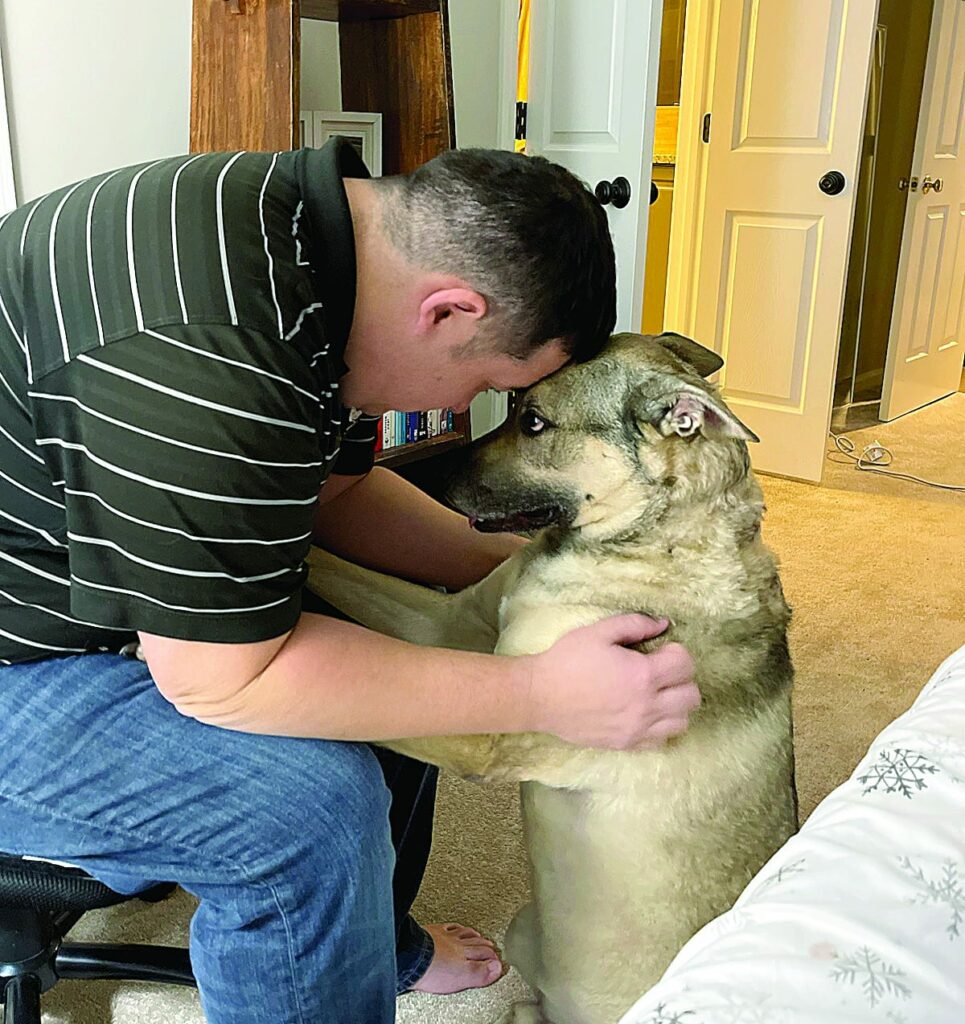 Matt found Max in his kennel when he came home one evening. It looked as though he'd had a seizure — like those he'd recovered from many times before. Matt rinsed him off and brought him back inside.
When Matt came downstairs after putting his daughter down for a nap, Max drew his last couple of breaths and passed away. "He waited for me to come back," Matt said.
Having to call Faith to share the sad news while she was traveling was heartbreaking. "After the initial shock and plenty of tears, you're stuck with trying to figure out what to do next," Matt said.
With their baby on one arm and their wailing toddler holding his hand, Matt walked the kids over to the neighbors' house. The only thing he could utter was, "Please watch them." Seeing his tear-streaked face, his neighbor took the children without hesitation.
"I had to text her and let her know what was happening. I could not even get words out of my mouth. They were a huge help and very sympathetic to what was happening," Matt shared.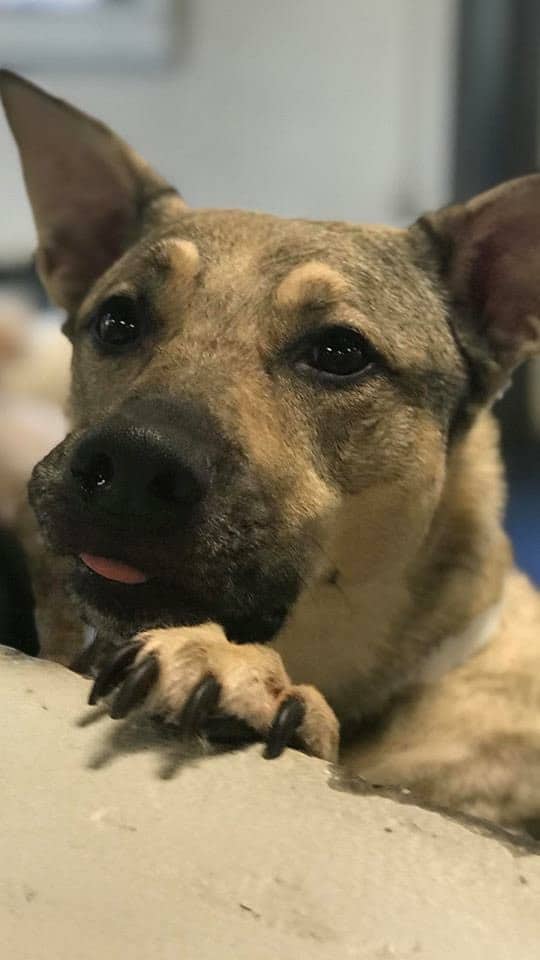 Maximize the memories
What helped the Hardings most was looking at pictures and reminiscing about their "incredible dog," Max.
"He loved people. Plenty of people reached out to tell me some of their favorite memories with him and I couldn't help but smile and laugh at how he left an impression on so many," Matt said.
Conversely, Matt viewed the act of putting away the dog beds, bowls and toys as an admission that Max was now just a memory. "I couldn't bring myself to do it," Matt confided.
"The loss of Max is still hard to think about. Faith and I budget. We have a line item for Max. We were doing the budget a couple of nights ago and couldn't bring ourselves to remove him as a line item," Matt said. "Thank you for letting me share our story."
Triple grief
Before Sandra Hutto and her siblings could spread their parents' ashes, she was faced with the sudden death of her 11-year-old Doberman, Rio.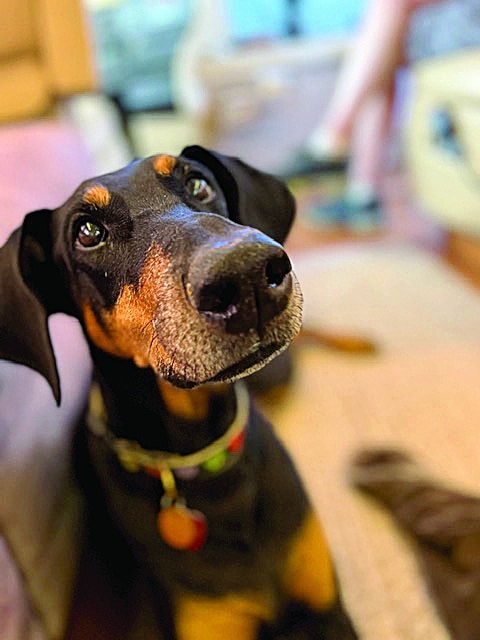 Three losses in rapid succession were a hard knock-back for Hutto. She is grateful for supportive friends and being able to process her grief with the help of her husband Mark, a psychiatrist.
According to Hutto, sharing stories about her parents was as helpful in dealing with her loss as it was funny. "There were things I didn't know. It was fascinating," she said. "Family stories are important. Apparently, my mother was kind of a floozy," she laughed.
Her aunt had shared about her mother misleading a boy to spend a day at the lake. When he asked her out, she claimed to have gotten a headache from all the sun. But later, she called another boy about going to a movie.
Hutto advised, "You have shared stories and individual stories. You can let that isolate you or bring you closer. You could say, "That wasn't my experience, I'm shutting it out," but it lets you know more about your parents. They have stories from before you were born."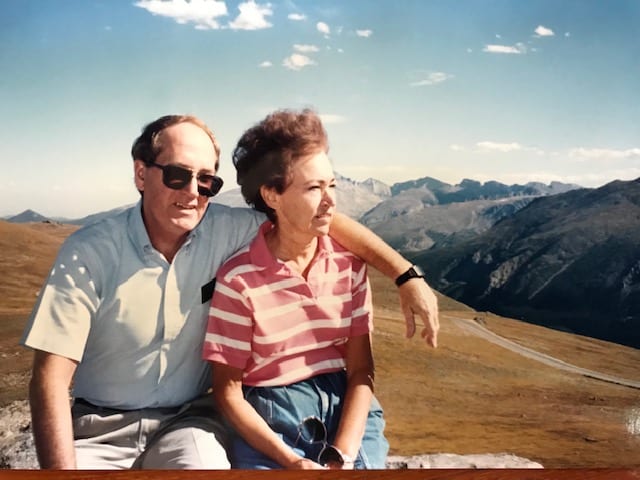 Dad and the Doberman Pinscher
Before her father's passing, Hutto and her husband took her dad on a road trip to Wyoming, along with Rio, in their 1993 Bluebird Wanderlodge to visit her sister. Unsure how her father would take to such a big dog, she was pleased when they bonded.
"He fell in love with her. Rio would get up in the middle of the night to lay down next to him. I joked with dad, "You know daddy, we do keep the dog.""
After he died, people said, "That trip was great for him. He never stopped talking about how much fun he had." That was heartwarming," Hutto said.
She danced on the sand
An American Kennel Club purebred dog, Rio's registered name is, She Dances on the Sand, after the Duran Duran song.
Bred in Germany to be the intimidating protectors of tax collectors, Dobermans are strong, intelligent dogs, able to attack on command. Rio didn't exactly fit the bill. Terrified of a neighborhood Yorkie, she'd watch him as she cowered behind Hutto.
Her tail was docked but she had natural, floppy ears. She wasn't steely-looking, but she did have a big bark. "Mostly she would try to convince people that she was neglected. She was a drama queen; such a good, funny dog," Hutto said.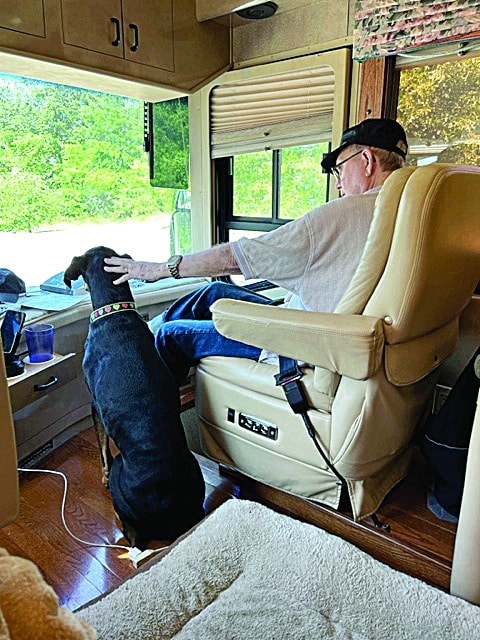 Déjà vu
Rio passed almost exactly the same way their previous Doberman, Jet had. (Jet was named after the Paul McCartney and Wings song.) Though Rio had a longer life, Hutto expressed the common sentiment among pet-owners: it's never long enough.
Rio had received a clean bill of health and a rabies shot that day. By the evening, she was restless and wouldn't settle in her bed. Mark had gone out.
"She got up and started walking around. She walked into our dining room, went around the table, her back feet collapsed from under her. She struggled to get up. She howled a couple of times and she was gone," Hutto said.
Hutto believes cardiac arrhythmia killed both Jet and Rio. Heart issues are common in Dobermans, partly because of breeding and because they're deep-chested dogs.
"Not again!" Hutto remembers shrieking as she witnessed Rio's passing. Jet had passed away in the same manner, but she was with Mark. The swift but horrible departure allows for the only consolation, "at least she didn't suffer."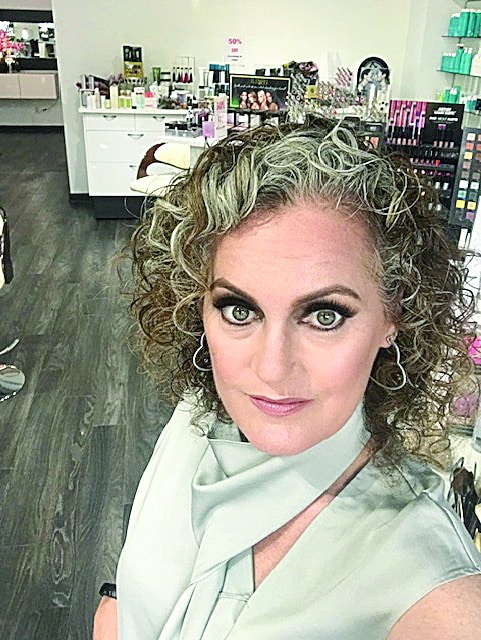 A Dobie's departure
After the ordeal of burying 70-pound Jet in the rain, the Huttos decided to have Rio cremated. They were pleased with Deceased Pet Care, Inc. in Chamblee.
"They were kind, empathetic and respectful. They knew we were in pain. They took good care of her, made a point to tell us that they cremate each dog individually, and gave us her paw print in clay," Hutto recounted.
Walk alone
"Peachtree Forest is the neighborhood to live in if you want to come back as a dog. People here love their dogs. They'll greet your dog — and then they'll say hi to you," Hutto chuckled. When neighbors learned about Rio's passing, some sent sympathy cards.
Hutto was almost thankful for a sprained knee shielding her for a while from the inevitable moment she takes her first walk alone and people will ask, "Where's Rio?"
"I'll probably bawl in the street," she predicted.
Able to better prepare for losing her parents, Hutto remarked that her grief journey is different for Rio because it was so sudden. "It was a shock and harder in some ways. It's important to talk about it so people see you can get through it," she said.
When they're ready, the Huttos plan to get another Doberman. "I'm going to name her Roxanne. You're not going to be able to help yourself when you call her. You're going to have to do the song," she said.
Paw prints on our hearts
Pets are not "just animals," as some may be tempted to say when we lose them. For those who form strong bonds with our four-legged friends, they become part of our favorite routines, our protégés, our sweetest companions, delighting us daily with joy and unconditional affection; they become family.
If the emotional connections we can form with pets are virtually indistinguishable from those we form with people, it stands to reason that pet bereavement can be on par with the grief we experience for our cherished, human loved ones. Let's remember to be kind to those grieving the loss of their pets.