The Peachtree Corners Festival 2022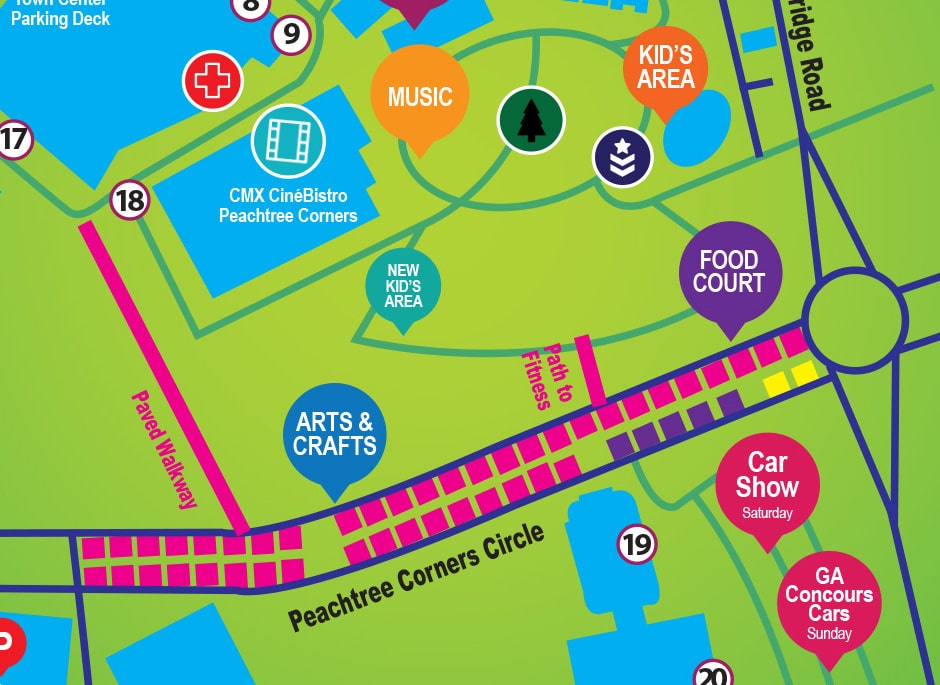 Returns Triumphantly for Its 11th Year, the Second year at Town Center
July 1-3 is gearing up to be an exciting weekend for Peachtree Corners. Not only is it the lead up to Independence Day, but it's also the 10th anniversary of Peachtree Corner's founding. Why not celebrate it all at the 11th annual Peachtree Corners Festival? Enjoy food, entertainment, music and art with your family and friends — not to mention, the festival (and parking) is free and open to the public.
The Peachtree Corners Festival has been a staple of Peachtree Corners since before the city was even officially, well, a city. The festival is a nonprofit "dedicated to bringing a safe, wholesome and family-friendly festival to the City of Peachtree Corners," according to peachtreecornersfestival.com. It's volunteer-run, so its success is due to the passionate citizens who are driven by pride for their homes as well as its sponsors. Funds earned by the festival are directed towards beautification and education projects in Peachtree Corners.
Dave Huffman has been involved with the festival for 10 years and served as its president for nine. He said that it can be stressful at times to handle the hundreds of details that go into planning a festival, but the volunteers make it manageable, and the sponsors' funding makes it all come to fruition.
"As our city has grown, the festival has kept pace with that growth," Huffman said. "That makes the work a bit more every year, but when we see the smiles of our attendees and hear good things from our vendors and sponsors, it makes it all worthwhile and we start to think about how we can make the next year even better!"
As the saying goes, it truly takes a village. Huffman cited several members of the Peachtree Corners Festival team who make the dream come true, including Arts Director Ayanna Graham, Music Director Becky Lyon and the First Lady of Peachtree Corners, Debbie Mason, as vice president.
"Debbie was one of the founders of the festival and spearheads our work with the many sponsors we depend on," Huffman said. "She is wonderful!"
This year, the festival will return to the Town Green located in the Town Center development, which has become the entertainment hub of the city. Due to the tight fit and muddiness that the festival experienced last year, though, it will also be returning to its roots in a sense: while the Town Green will still host music and kids' activities, a section of Peachtree Corners Circle will be blocked off to make room for the booths, food court and classic car show.
Saturday's Classic Car Show and Sunday's Georgia Concours d'Elegance will be located in the Hexagon building parking lot next to the food court.
The weekend-long event will kick off with a concert at 7:30 p.m. on Friday, July 1, followed by a festival on Saturday from 10 a.m. to 6 p.m. and Sunday from 12 p.m. to 5 p.m. Read on for more information about what to expect from this year's Peachtree Corners Festival.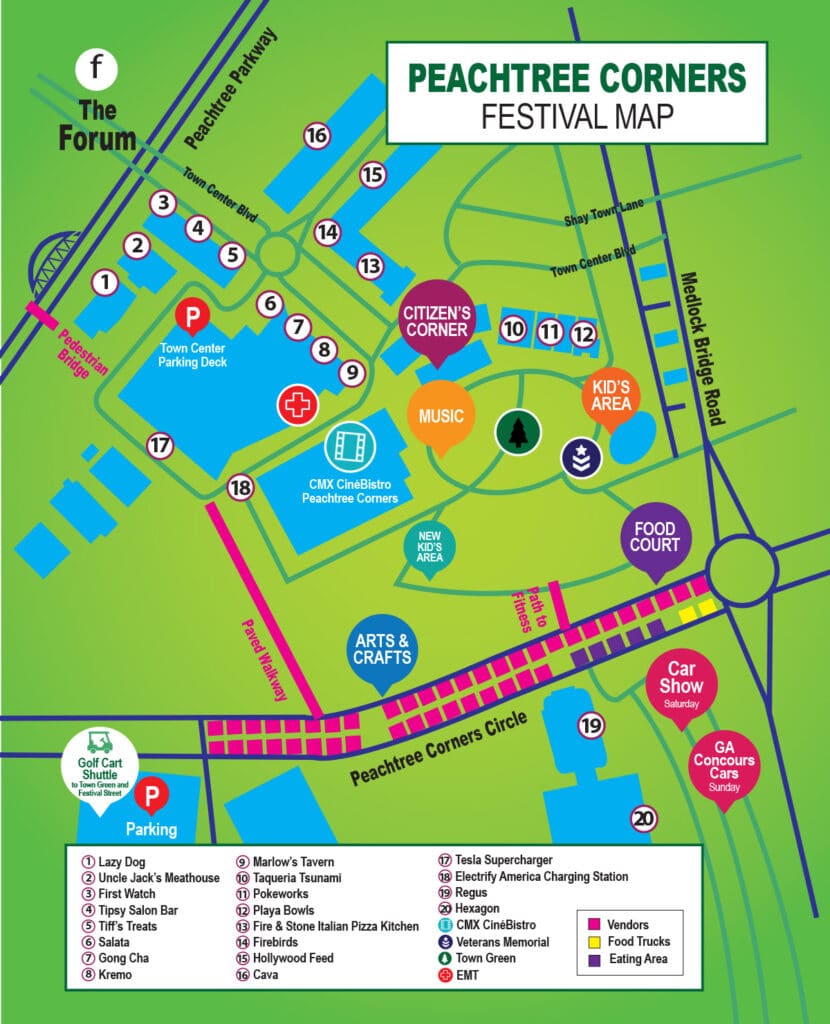 Music
The Saturday and Sunday entertainment lineup will be one of the highlights of the festival, according to Huffman. Lyon has carefully evaluated and selected entertainers from a myriad of submissions. Festival attendees are encouraged to bring picnic baskets and coolers full of food and non-alcoholic beverages to enjoy during the perfor­mances.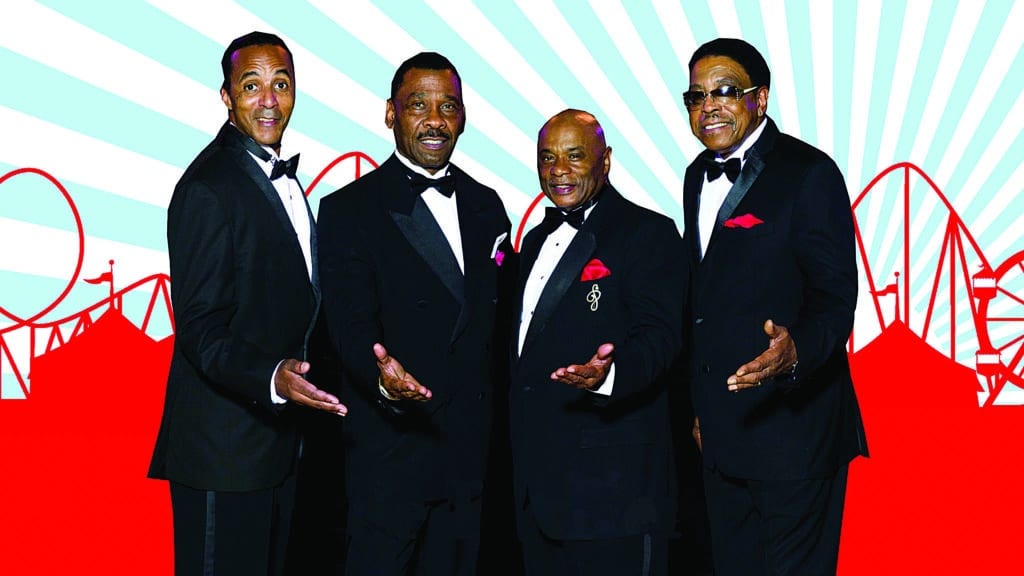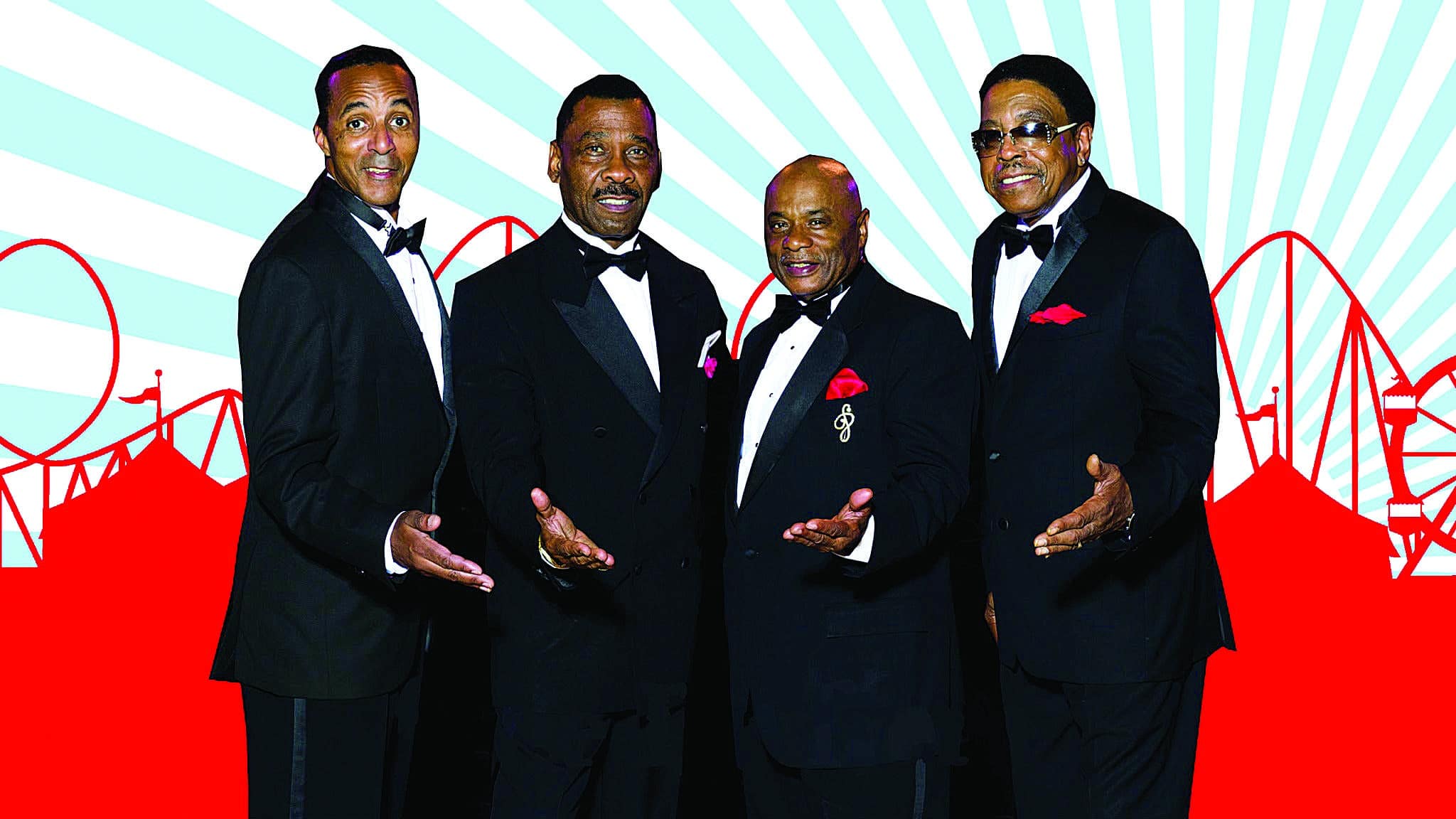 The Friday night headliner has been announced as the iconic R&B group of the 50s and 60s, The Drifters. Best known for their classics "Under the Boardwalk," "Save the Last Dance for Me" and "This Magic Moment," among numerous other hits, The Drifters will have you swaying and celebrating on the Town Green.
Saturday's musical lineup starts with Leah Bell Fraser, 12-1 p.m., a singer who delivers compelling original songs as well as those from some of her favorite artists, including Patsy Cline, Linda Ronstadt and Janis Joplin. A rock band from Virginia, Bulletproof, takes the stage 1:15-2:15 p.m.
They're followed by Sonic Alley, a rock and roll cover band that features classic tracks and deep cuts performed by veteran musicians from the Atlanta area, 2:30-3:30 p.m. From 3:45-4:45 p.m., the New Bridge Band will rock the house with their unique mix of familiar and eclectic songs from across the musical spectrum.
On Sunday, 12-1 p.m., Catherine Wynder performs performing Lind­sey Stirling covers, pop songs and movie soundtracks. The Hearsay will continue the celebration, 1:15-2:15 p.m., with their combination of rock and pop that has hints of 90s alternative, pop-pun, and modern indie music.
More musical acts will be finalized soon, so please check peachtreecornersfestival.com for the latest updates.
Cars, Bikes, Hot Rides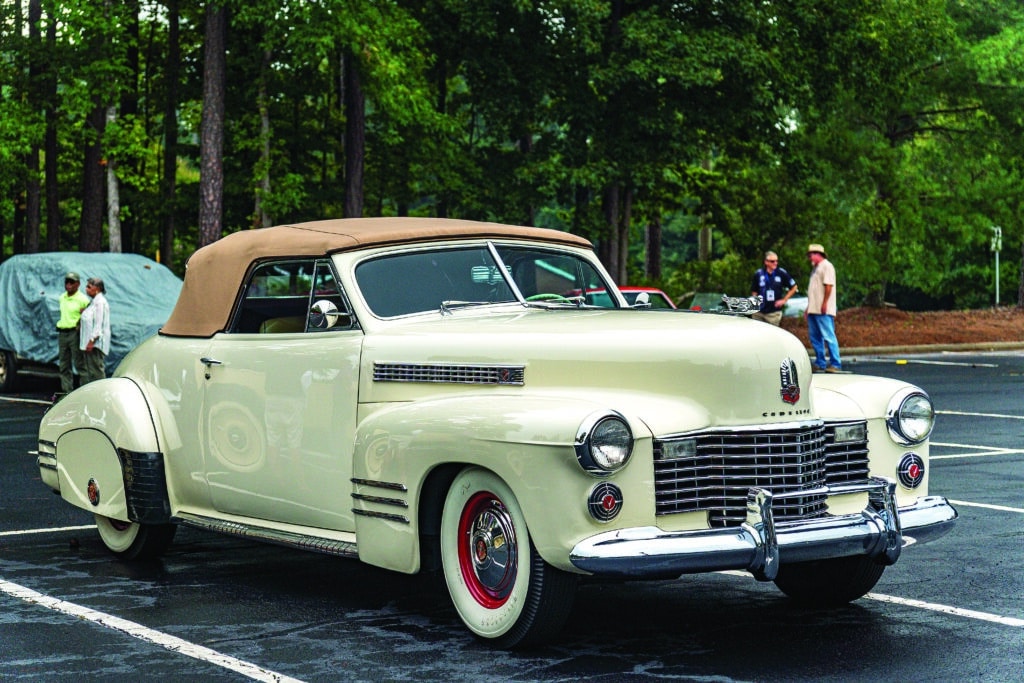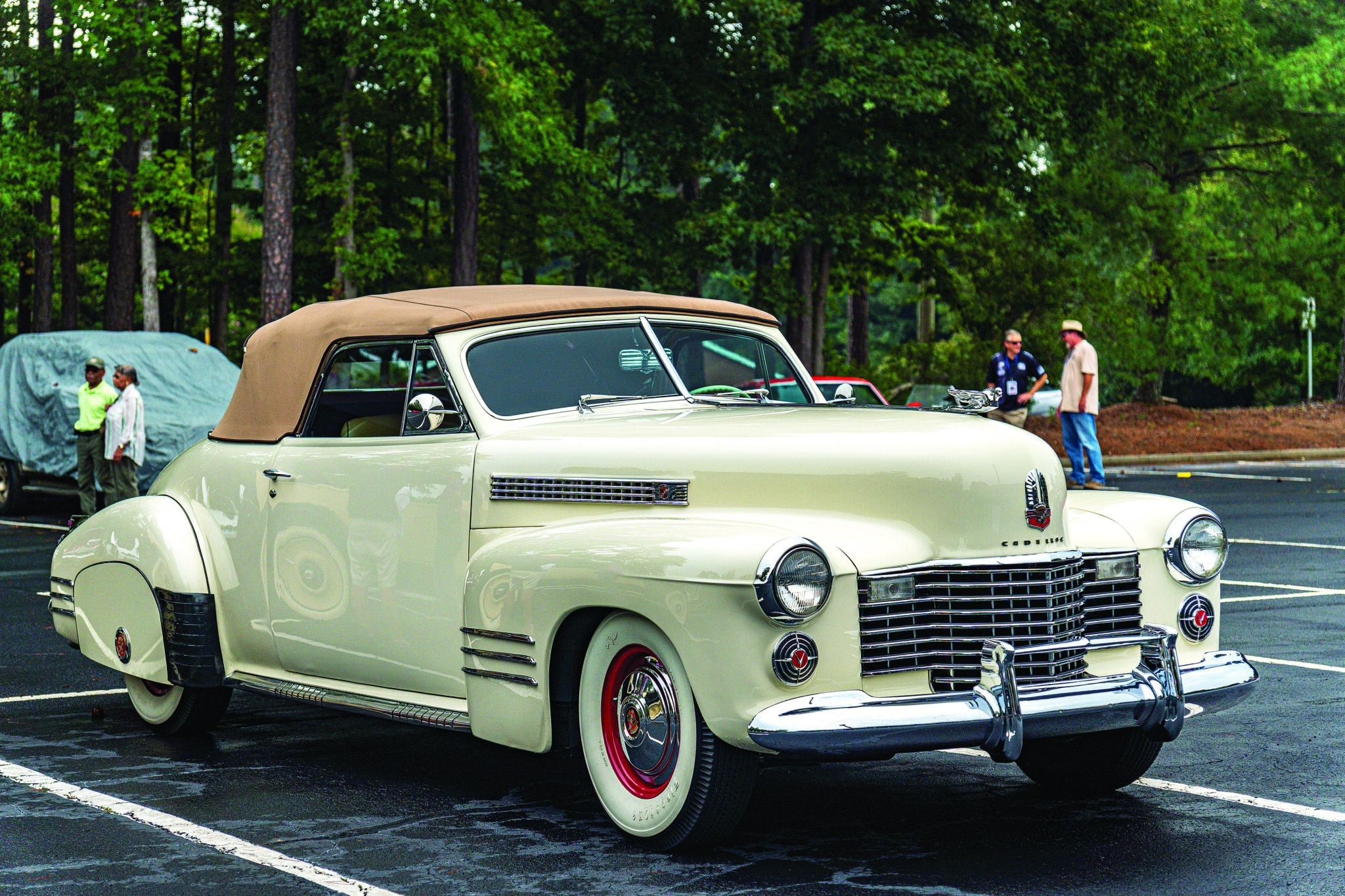 The Classic Car & Bike Show ("classic" for both the types of cars it represents and its traditional presence at the Peachtree Corners Festival) will take place on Saturday, July 2, from 10 a.m. to 4 p.m. It's free for spectators; if you decide to register your car or bike on-site, you'll only pay $15. The awesome vehicles will be lined up at the ready for you to photograph and admire. Meanwhile, trained judges will assess which rides are worthy of the coveted Top Car & Bike Awards and Top Class trophies. Enjoy food, a DJ and fantastic door prizes.
Georgia's Concours d'Elegance will exhibit on Sunday, July 3, from 12 noon to 4 p.m., and admission is also free. Here, you'll be witness to a lot of rare, collectible and vintage cars. The special "Sneak Peak" will show what's coming in 2023 to Atlanta.
A classic car is more than merely a car. It's an aesthetic, an artwork, a relic of history, a feat of technology. Concours d'Elegance brings that glorious showmanship and craftsmanship directly to you — and for free at the Peachtree Corners Festival. Support Peachtree Corners' Concours with your attendance this year so that even more beautiful motor vehicles can be brought in next year and continue to unite our community in the pursuit of beauty.
Arts, Crafts and More
Local artisans and business owners will represent their wares at the festival. They'll be selling everything from home goods to jewelry to crafts, so be a good neighbor and shop 'til you drop!
Built by Bees: Tim Haratine started his honey business in 2015 with two goals: to make customers and employees happy, and to do so by promising good products and great value. All of Built by Bees' many delicious products use raw honey and earn repeat customers. Visit builtbybees.com.
Chili P. Designs: Owner Julia channels her artistic skill and love for her family into creating beautiful wood signs perfect for home decor. Gift a design to a family member or display it in your own home for guests to admire. More at chilipdesigns.com.
Goddess Luxe: Necklace chains of delicate gold or silver, rings embedded with dazzling crystals, elegantly shaped earrings: this shop lives up to its name and makes jewelry fit for a goddess. See the collection at goddessluxejewelry.com.
Discover Atlanta Chinese Art: Godwin Kou and Kuansoi
(Christine) Kou are both accomplished painters and calligraphers dedicated to sharing authentic Chinese art with the world. Their work is delicate and striking while staying pure and unconfined. Go to discoveratlantachineseart.com for info.
Kettlerock Brewing: You can support this new, up-and-coming, family-run brewery boasting good stories and great beer with a purchase of their shirts or mugs. Go to kettlerockbrewing.com.
Knox Carter Kandles: The 100% soy candles melt into a gorgeous marbling so, with their pretty packaging and wide variety of scents, they look just as incredible as they smell. More info at knoxcarterkandles.com.
Puppy Present Designs: Specializing in matching collars and leashes for all sizes of dogs, your puppy is sure to be the prettiest at the park. Find their shop on Etsy.
Reminis Soaps: Stacey, the maker of Reminis Soaps, began her soap-making journey in 2016 because she was looking for a solution to her oily skin and post-shower itchiness. Now she handmakes beautiful, delicious-smelling soaps using only all-natural ingredients. Check out reminissoaps.com.
Whatnot Bear Mobile: This business is family-owned and operated. It began with the purpose of bringing children support and joy. Make your own child happy at the festival by coming home with a fuzzy friend! Find more at whatnotbearmobile.com.
XOC Designs: Specializing in a variety of materials to handmake stunning furniture and other homewares, you're sure to wow your guests with these pieces. Browse xocdesigns.com for details.
Ziparoos: Committed to a sustainable home, Ziparoos makes and sells multi-purpose, reusable storage bags — but they also sell other eco-friendly products that are perfect for the kitchen or cleaning around the house. And they come in cute prints, so they're fun for the whole family!
Find the full vendor list on the Exhibitor page at peachtreecornersfestival.com.
Food and Beverage Vendors
Whatever you're craving, Peachtree Corners Festival is serving it up. From sweet treats to cool down in the heat or a little spice to intensify your day, the food court has you covered.
Speaking of sweet and spicy, Chocolate & Spice Eatery will be dishing it out both ways. Their Caribbean-French-Brazilian fusion-inspired offerings include islander's sorbet served in pineapple, a Creole low country boil served with your choice of protein and vegetables, savory Brazilian barbecue and, of course, the classic festival food — turkey legs. Find them at facebook.com/chocoandspice.
Or chew on this: Chew-on Chuan stands out at festivals with their Latino-Asian fusion street food, and the Peachtree Corners Festival is no different. Smack on Asian street skewers (your choice of protein) with a side of mango salsa and tortilla, Dominican empanadas that sound so good they'll make your mouth water just looking at the ingredients list, yucca fries, Thai Tom yum soup, scallion pancakes and grilled corn in a 13-spice barbecue sauce. Yum! Check them out at facebook.com/chewonchuan.
For more can't-miss-it, gotta-have-it festival food, check out Tasty Yum Yum. Not only do they have the classics — fried Oreos, funnel cake, sweet tea and ice-cold lemonade — but they'll also be selling hearty stuff like rice and peas, steamed cabbage, loaded fries, sausage, Philly cheesesteak and chicken any way you want it: popcorn chicken, chicken on a stick, jerk chicken, curry chicken–yum! Visit them on Instagram.
Thirsty? Phoenix Roasters will be roasting up a full espresso and cold brew bar. If you haven't tried a nitro-based craft drink yet, this festival will be your chance! Get details at phoenixroasters.coffee.
What's lunch without a snack, or dinner without dessert? After your meal, top it off with national award-winning homemade ice cream from Daddy O'Brien's Irish Ice Cream Pub. Find out more at daddyosicecream.com.
If ice cream's not your taste, Sweetacular Treats will have every other treat available to choose from, including popcorn, cotton candy, candied pickles and apples, Rice Krispies, cake, soda and lemonade.
Sponsors
It cannot be said enough times how important sponsors are to making the Peachtree Corners Festival great. This year's sponsors can be found by clicking on the Sponsors page at peachtreecornersfestival.com; from there, you can click on each of their logos and be directed to more information. Notably, the Title Sponsor is the City of Peachtree Corners, and Peachtree Corners Magazine has been recognized as a Silver Sponsor. Come visit our table when you attend the festival.
Call for Volunteers
Need to complete volunteer hours this summer? Part of a service group and looking for a direction to channel your goodwill? Or just need to kill some time this season?
The Peachtree Corners Festival is volunteer-run, and volunteers are still being sought. With so many fun things to do all weekend, there are multiple avenues to get involved, no matter what your interests are — whether that's assisting with the car show, distributing water to thirsty festivalgoers, setting up vendor booths or managing the hospitality suite.
Volunteers need to be above the age of 18 or have parental permission if younger. Volunteers will receive a commemorative T-shirt and pride in having supported their home city. Sign and return the 2022 volunteer waiver form via the Volunteer page on the festival's website, peachtreecornersfestival.com.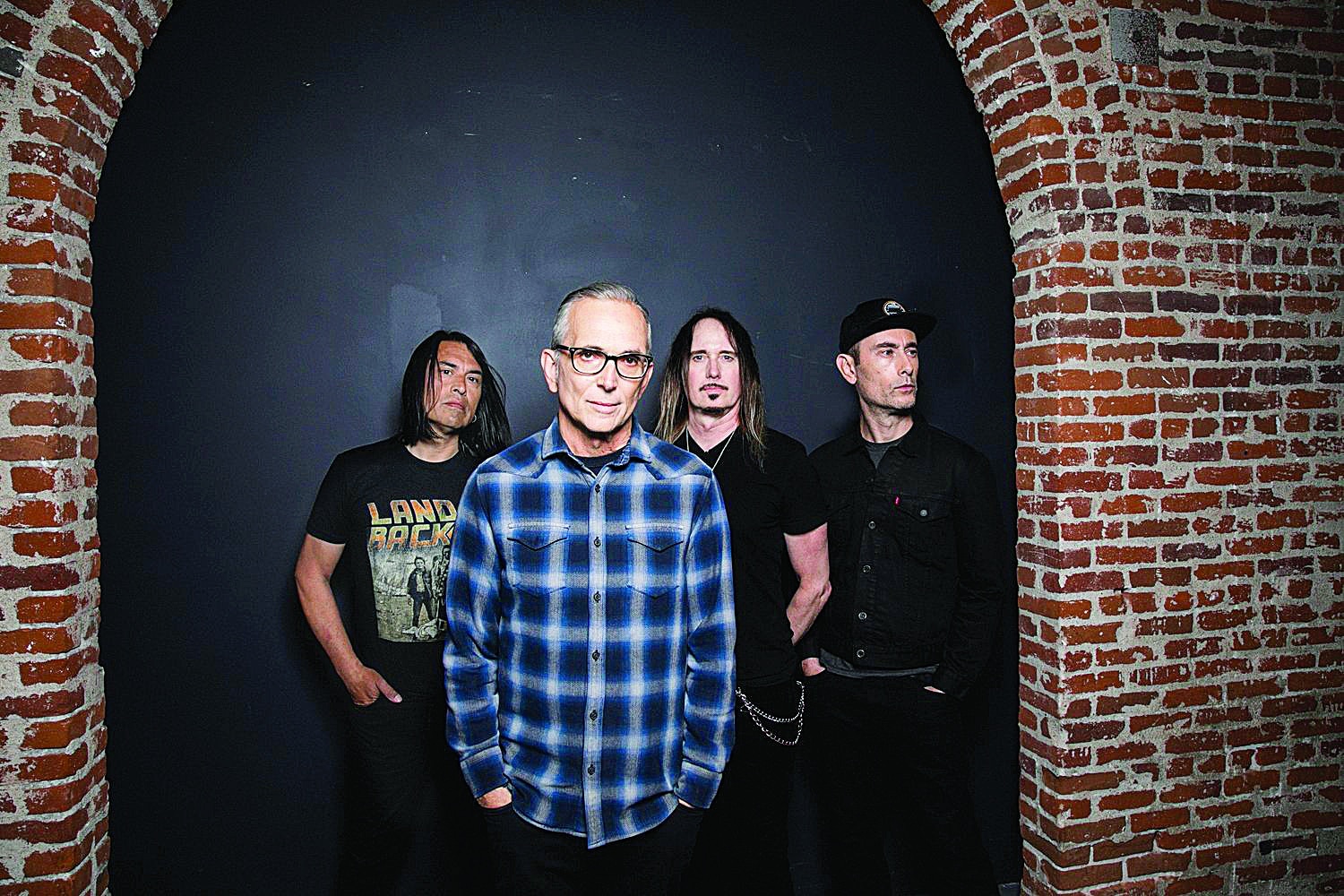 Save the gas and enjoy the local concerts and events
Peachtree Corners residents can save gas and avoid escalating airfare prices by enjoying the many summer activities right at home. From the various trails and parks nearby, to a flurry of regular activities at the Peachtree Corners Town Green (and soon to be regular events at The Forum), fun for all ages abounds.
It's a significant year for Peachtree Corners as it celebrates its 10th anniversary as a city. Now that the pandemic is largely a thing of the past, residents can count on a regular schedule of activities, all of which can be found on the city's calendar at tinyurl.com/PTC-Calendar.
According to Diana Wheeler, Peachtree Corners Community Development Director, "We are trying to help the community become accustomed to consistent timing of events at the Town Green."
She noted that residents can enjoy a meal or snack at any of the more than 15 eateries located in the Town Green before or during an event. Most restaurants will even deliver food to the Town Green during a local concert. "Dinner and a movie or a show… Hopefully, people will come out and enjoy themselves," added Wheeler.
Free music events at Town Green
The second Saturday of each month is dedicated to local bands in the Night Music Series. Residents might even spot a neighbor on stage from time to time. Larger, touring bands can be found on the last Saturday night of the month in the Summer Concert Series. All invited musical groups promise a family-friendly performance.
Blair Crimmins and the Hookers joins the summer Night Music fun at 7 p.m. on June 11. According to the city, Blair Crimmins began his music career in Atlanta with a determination to bring Ragtime and 1920s style Dixieland Jazz to new audiences. "His debut 2010 release 'The Musical Stylings Of' became a college radio sensation on WRAS Atlanta making him the most requested band on the air."
Next in the summer series is Brotherhood (Doobie Brothers Tribute band) with Guardians of the Jukebox (80s cover band) at 7 p.m. June 25. These Summer Concert Series bands will have everyone up on their feet singing and dancing. Brotherhood honors the original Doobie Brothers' sound with two drummers and a percussionist, two guitars, bass and keyboards, and "all the vocal harmonies that made the Doobies incredible sound."            Guardians of the Jukebox will be bringing the hair, clothing and music you remember and love from the 80s. They promise "The definitive tribute to MTV's Pop, Rock, New Wave and New Romantic Era."
Rhythm and Blues fans should mark their calendars now for the original Drifters on opening night of the Peachtree Corners Festival at 7:30 p.m. on July 1 at the Town Green. "We are bringing the legendary R&B group The Drifters to Peachtree Corners! This is not a tribute band but is the real thing," said Dave Huffman, Peachtree Corners Festival President.
"Think of hits like 'Under the Boardwalk,' 'Save the Last Dance for Me,' and 'This Magic Moment' and then come on out to the Town Green to hear them live. It will be a special evening celebrating the festival and the tenth anniversary of our great city."
Sailing to Denver with Trappers Cabin joins the Night Music series at 7 p.m. on July 9. Sailing to Denver describes themselves as a unique Americana / Roots-Rock band that has been recording since 2011. They can regularly be seen around town at many different venues, city concerts, and corporate events and have been known to feature amazing special guest musicians from all over the southeast.
Georgia's Joel Nettesheim's musical project, Trappers Cabin, is said to be a blend of art-rock, freak-folk, psychedelia and space rock — with plenty of surprises thrown in.
Everclear with Hushmoney helps wrap up the month at 7 p.m. on July 30. Considered a 90s Alt-Rock Band, Everclear continues to tour extensively. Fans may remember, and certainly will enjoy, Everclear's rendition of 'Santa Monica' and 'Father of Mine.' The local band Hushmoney starts off the evening. The Hard-Southern Rock band is known for playing covers of lesser-known deep cuts.
Fun for children and pets
Peachtree Corners will host a Kids Festival 2 to 5 p.m. on Saturday, June 18 at Town Green. "We'll have lots of inflatables, slides and family-focused vendors," said Wheeler. "King of Pops is coming, and the Bubble Lady and we'll have a DJ."
Children are welcome on the expanded playground and can enjoy the splash pad on hot summer afternoons. The playground is open 7 a.m. to 11 p.m. and the splash pad is operational 9 a.m. to 7 p.m. during the summer months.
Kids (or just adults) are welcome at the Town Green, along with their furry friends 11 a.m. to 2 p.m. on July 16 for Bark in the Park. The event will include vendors, special doggie treats, and fun activities only a canine can enjoy. Turns out the pups enjoy bubbles too.
Fitness fun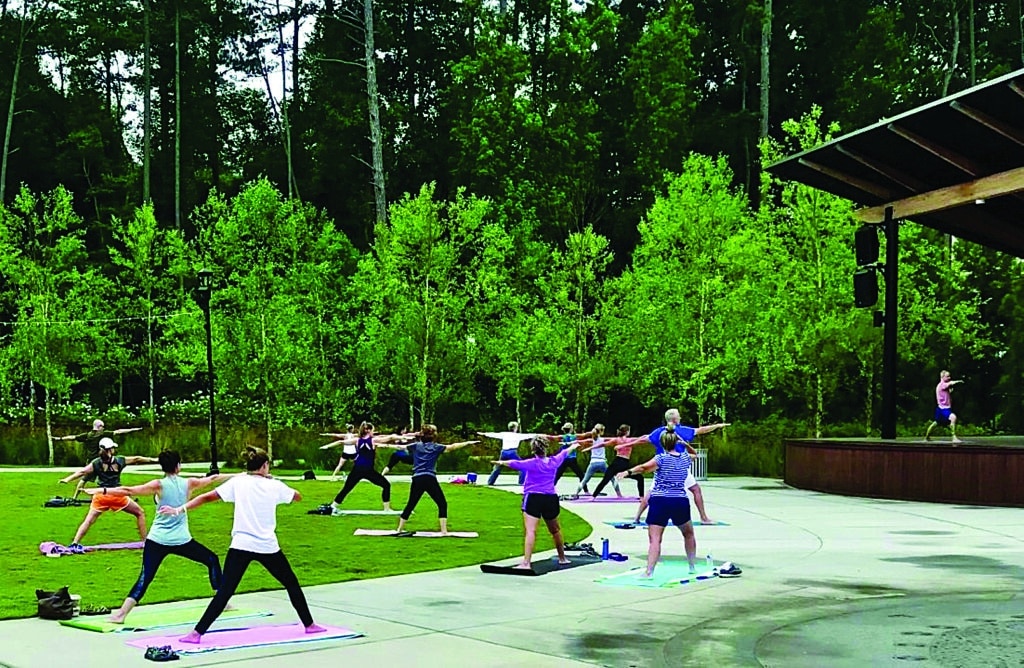 Not just for the summer months, the city offers year-round physical activities for all fitness levels.
Tuesday mornings at 8 a.m. are dedicated to Yoga on the Green. Everyone from beginners to experienced yogis are welcome to join this free class taught by David Penn from Sun Dragon Yoga. Yoga is known to help improve flexibility, increase blood flow, correct posture and helps improve mental focus. "Yoga is an ancient practice that brings together the human mind and body," according to Penn's website. "It's a practice that incorporates meditation, breathing exercises, and poses that are designed to reduce stress and encourage relaxation."
On Thursdays, exercise fans can try free CrossFit at the Green with TJ Fox of CrossFit PPG. The classes are offered 10 to 11 a.m. through September. According to their website, "CrossFit is a lifestyle characterized by safe, effective exercise and sound nutrition. It involves constantly varied functional movements performed at high intensity."
Beginning in June, North American Properties, the new owner of The Forum, is launching a Forum Fit program 6 to 7 p.m. every Wednesday through October. Kicking off the program is Club Pilates Peachtree Corners, who will be leading classes outdoors under the clock tower at The Forum.
Mat sessions of Pilates might remind first-time participants of yoga with a strong emphasis on core strength and alignment. This low-impact workout improves flexibility, balance and posture.
Look for a loyalty rewards program built into the Forum Fit offering. With every five classes attended, guests will receive exclusive prizes. For future events at The Forum. visit theforumonpeachtree.com/events/.
Play ball (or cornhole)
Sporting events can be found on the big screen at Peachtree Corners Town Green, including the Atlanta Braves versus the Los Angeles Angels at 7:20 p.m. on July 23. Additional special viewing events are announced closer to sporting dates.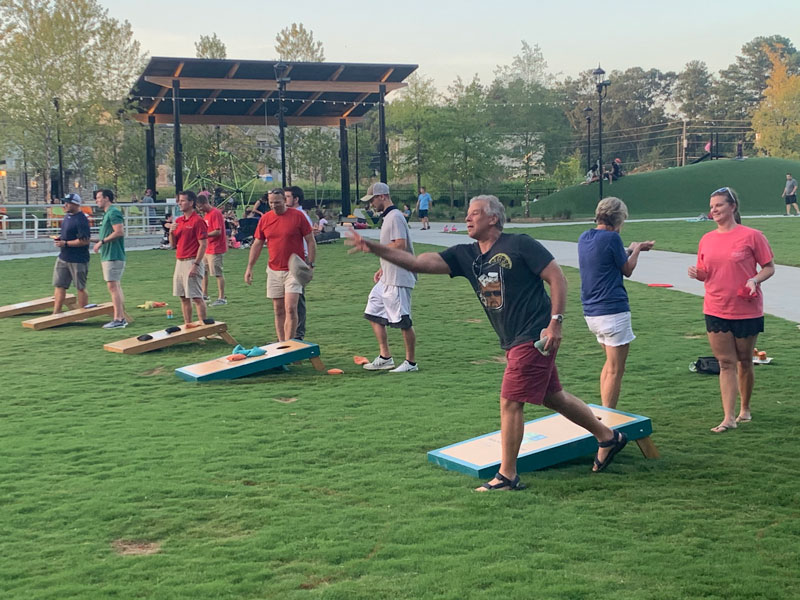 At 6:30 p.m., Wednesday nights at the Town Green, residents can bring their chairs or grab an outdoor table to cheer on their favorite cornhole team. CornholeATL, Georgia's largest and fastest growing cornhole league, will showcase four different divisions of play. The fun continues for 7 weeks beginning in June.
Hike, fish, play or grill
If all of the above is not enough, families can check out Gwinnett County Parks & Recreation's four Peachtree Corners parks for a wide variety of outdoor fun. All county parks are open sunrise to sunset. Additional information and everything to know about renting Gwinnett County Park facilities is at GwinnettParks.com. Here's a glimpse at the options.
Holcomb Bridge Park, 4300 Holcomb Bridge Road, includes a pavilion with picnic tables, grill, playground, restrooms, amphitheater, a quarter-mile unpaved trail and fishing from a river overlook.
Jones Bridge Park, 4901 East Jones Bridge Road is a 30-acre park along the Chattahoochee River that offers pavilions, grill, playground, sand volleyball court, three soccer fields, a Good Age Building rental room, restrooms, a lovely meadow and river overlook areas for fishing.
Simpsonwood Park, 4511 Jones Bridge Circle, the 223-acre park, features a chapel, pavilion, grills, a 3.1-mile non-paved trail, sand volleyball court, group camping, meadow and restrooms.
Pinckneyville Park has its park entrance at 4785 South Old Peachtree Road. Families with children playing baseball or soccer are probably already familiar with the 93-acre park which includes a seven-field baseball / softball complex, the 5,000-square foot Medlock Corporate Pavilion with catering kitchen and the Danny Cochran Pavilion. This beautiful park also boasts a dog park, roller hockey rink, free-skate area, playground, grill, fishing pond, meadow, 1.53 paved trail and restrooms.
From a separate entrance to the park, at 4707 South Old Peachtree Road, the community can access the five-field soccer complex with pavilion, grill, playground, restrooms, pond, 1.47 miles of paved trail and access to 6.6 miles of the Western Gwinnett Pathway.
A third entrance to this park, technically in Berkeley Lake at 4650 Peachtree Industrial Boulevard, leads to a Community Recreation Center with catering kitchen, pottery / art studio, hidden courtyard, rental rooms and .21 miles of paved trail that connect to the soccer complex.
The county offers a variety of summer camps at the Pinckneyville Park Community Recreation Center. Ages 5 to 6 and 7 to 13 are eligible for week-long Adventure Camps beginning June 6 through July 29. Ages 8 to 16 may also want to consider the Draw, Paint and Sculpt Camp that runs June 6-10 or the Drama Camp, July 11-15. Information and registration is available at GwinnettCommunityServices.com. ■

Community Forum to Address Crime, Safety Issues in Peachtree Corners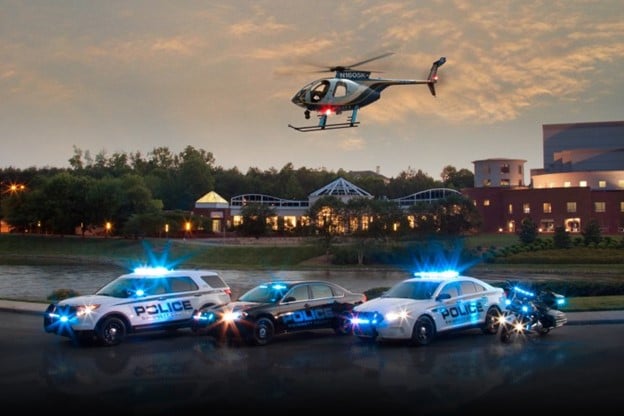 UPCCA hosts annual COPS program to allow face-to-face dialogue among residents, stakeholders and law enforcement.
Overnight car break-ins and vandalism, ruffians blocking key intersections and putting lives in danger with reckless stunts, bullying and name-calling at schools escalating to terrorist threats and violence — none of those scenarios are what Peachtree Corners residents want to see in their community. To inform residents and stakeholders of law enforcement actions to curb and eliminate this type of lawlessness, United Peachtree Corners Civic Association invites everyone to its annual C.O.P.S. Program. Set for 7 p.m. Thursday, May 26 at Christ the King Lutheran Church, 5575 Peachtree Parkway, government officials and police agencies will discuss crime prevention and present local Peachtree Corners crime statistics.
Among invited presenters are Mayor Mike Mason; the new Gwinnett County Chief of Police J.D. McClure; Major Edward Restrepo, commander of the West Gwinnett Precinct; MPO Andres Camacho, District 1 Community Oriented Police Service; a Gwinnett County Schools resource officer and other community leaders who will be available for questions and answers.
"With all that's going on in the world now, we are thankful to have our lovely pocket of relative peace here in Peachtree Corners," said Matt Lombardi, president of UPCCA. "But there's a perception that it's gotten worse for crime in the last few years."
Like many suburban areas of the country, Peachtree Corners has been victim of so called "takeovers" where groups of teens and young adults converge on a usually busy intersection and show off stunt driving like doing "donuts" and "drifting." With no regard to traffic or vehicular safety, there are often fireworks and sometimes weapons discharged as well as kids hanging recklessly out of cars.
Recently, a combined effort from several local law enforcement agencies took down one weekend gathering, but with school out and summer almost in full swing, it's inevitable that more will come.
That's one of the major topics that will be discussed at the meeting, said Lombardi, along with a look at license plate readers, the effects of crime on property values and other issues.
One topic that has been on the minds of some, said Lombardi, is the question of whether it's time for Peachtree Corners to have its own police force. As it is now, Gwinnett County police provide protection as well as the Gwinnett County Sheriff's office.
Instead of leaving the question lingering, this is an opportunity for residents to speak their minds.
"UPCCA is one of the few organizations in metro Atlanta that brings people to face-to-face with the law enforcement community," said Lombardi. "It's important to know who's protecting you and your property and how it's being handled."


Information: upcca.org

PCBA Panel Gives Insights into City's Growth, Development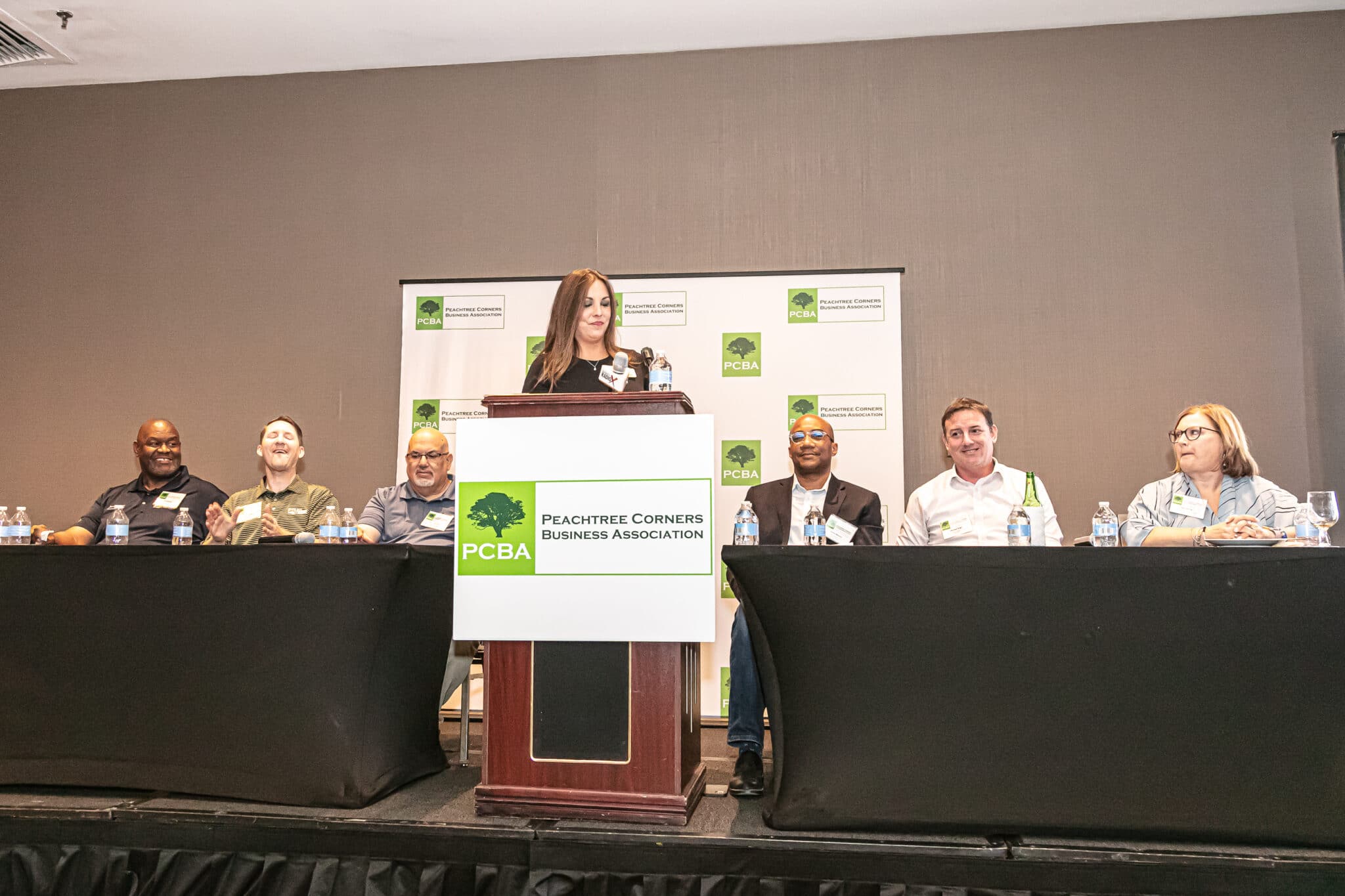 Visionaries see smart expansion for Peachtree Corners.
In a city that's a hotbed of economic development, technological advancement and residential properties, it's important for residents and stakeholders to keep informed about what's going on today and what's planned. To aid with that undertaking, Peachtree Corners Business Association convened a panel of local influencers at its April Business After Hours Speaker Series at Atlanta Marriott Peachtree Corners.
Moderated by Amanda Pearch, the CEO and principal of Forsyth Business RadioX, a community focused company that produces, promotes, distributes and markets online radio shows and podcasts for businesses, the panelists were a diverse mix of local movers and shakers which included:
Joe Sawyer, Peachtree Corners City Councilman at Large, a resident of Peachtree Corners since 1994. He recently became the first person of color elected to the City Council. Sawyer has owned Alpha & Omega Carpet Cleaning in Peachtree Corners since 2001 and has been a preacher since 1998.
Sue Storck, with North American Properties, the general manager for the Forum on Peachtree Parkway. She has been in property management since 2007 in Florida and Georgia.
James Winston, the director of construction at AHS Residential, a company that develops, builds and manages multifamily housing in metro Atlanta. He has 17 years of experience in real estate development.
Michael Pugh, a partner at the law firm of Thompson, O'Brien, Kappler & Nasuti, P.C. He concentrates his legal practice on the representation of businesses, banks, credit unions and commercial finance companies in secured transactions, financial workouts, asset recovery and liquidation and lender liability defense in both state and federal court, including federal bankruptcy court.
Louis Svehla, communications director for the city of Peachtree Corners.He has years of experience in journalism and public relations.
Rico Figliolini, a longtime Peachtree Corners resident and the publisher and executive editor of Peachtree Corners Magazine. He is also a creative director and social media strategist, three-time magazine publisher and podcast host.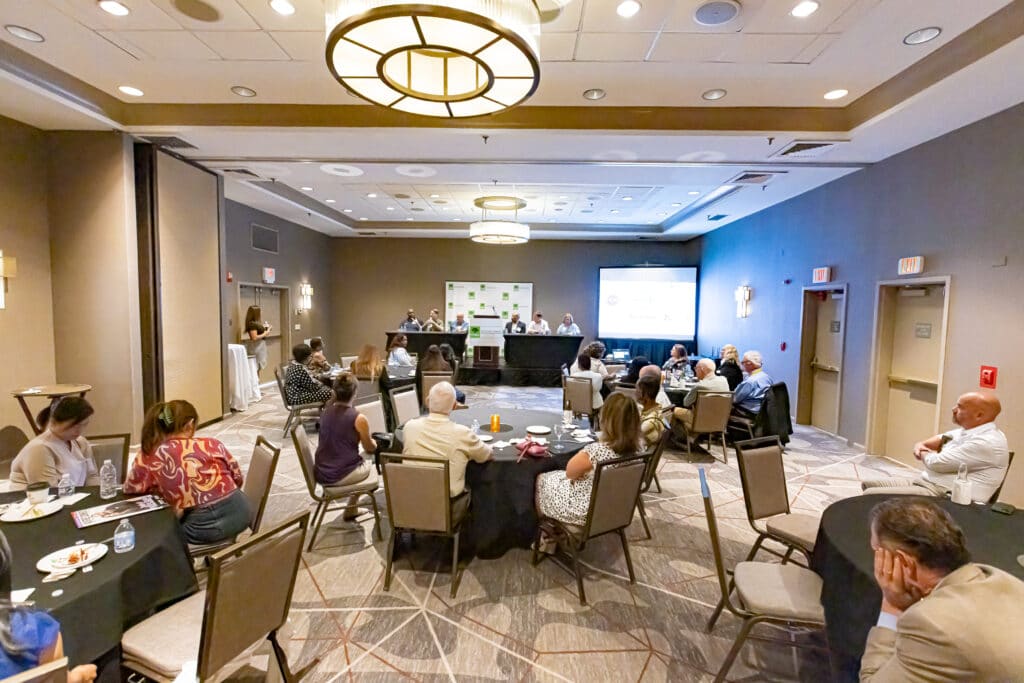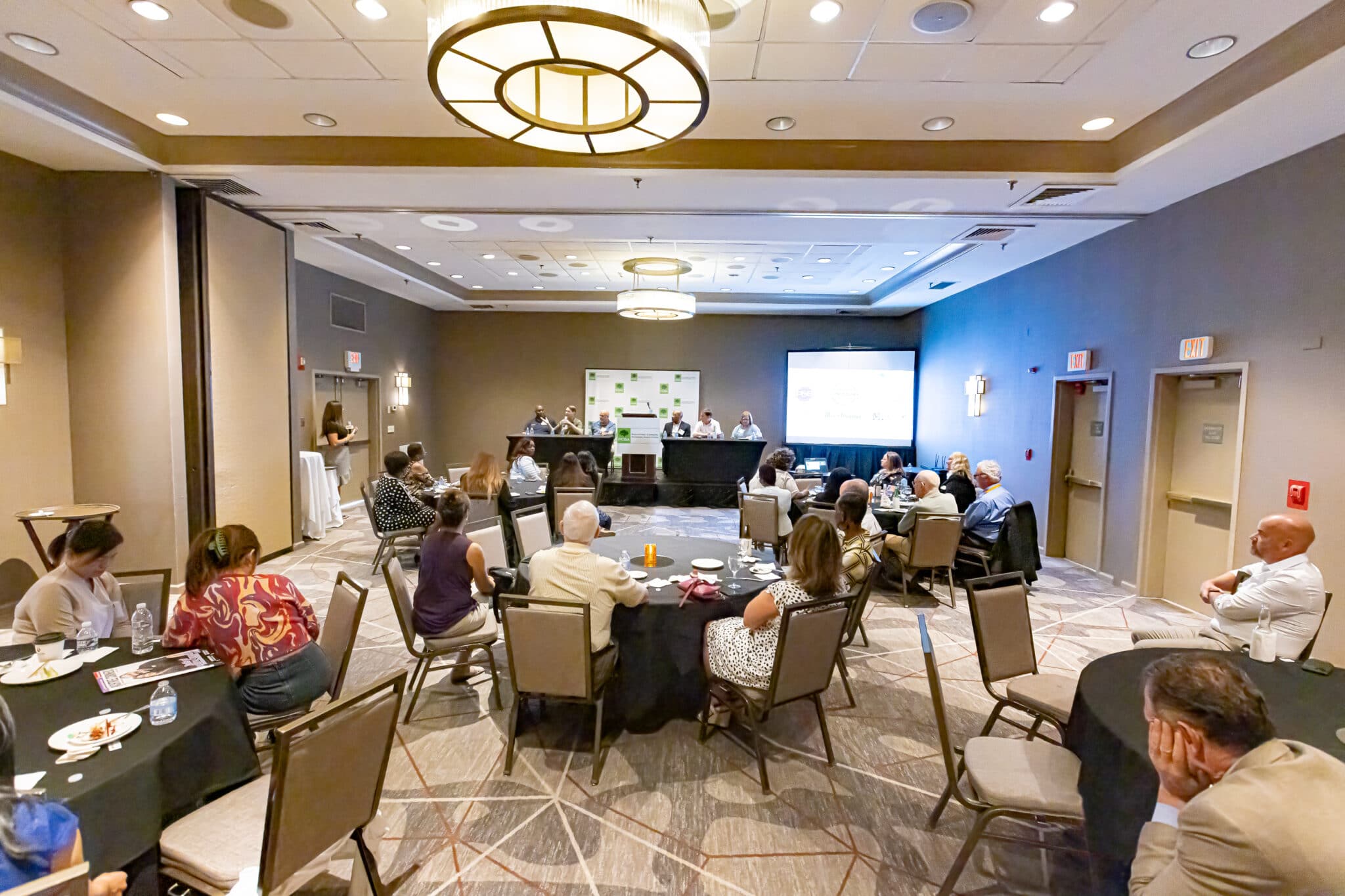 Growth opportunities
The group started off discussing some identifiable opportunities for growth in Peachtree Corners. With so much emphasis on what's happening in the northern part of the city, Sawyer said developers need to start looking to the city's south side.
"There's a lot of opportunity for growth on the south side," he said. "You see the townhomes going up and you haven't seen houses going up for a long time. That's where the next wave of growth will come."
Svehla agreed. "I think redevelopment is really the big thing. Joe got it completely right. Housing is probably not going to happen unless it's redevelopment of older neighborhoods," he said. "Just like what's happening with The Forum, the future is multi-use type facilities."
Pearch parlayed that response into a question for the home builder. "Well, the prediction is we're going to find very efficient and innovative ways of finding solutions for this housing problem that we have," Winston responded. "We know everybody is looking for… housing that's reasonably priced. We have a way of building and approaching our projects that I think is going to fit into the fabric of what this whole community is looking for. They're trying to be innovative, looking for something that's going to have an impact to the community. And we're doing just that by rehabbing, basically, an existing property."
Storck expanded on that concept with what's happening right now with The Forum. "On our side, it's experiential. …This is probably a very overused phrase, but 'live, work and play' is a trend that works," she said. "With our tenants, we have a built-in customer base. The restaurants have built-in patrons, but it's about an experience. Shopping is not… what it used to be. You don't go window shopping anymore; you have a destination. So, our plan and our goal are to bring that opportunity to the property, to be able to host larger events and gatherings, whether it's a tailgate party… or the Christmas tree lighting or concert series or a fitness series."
Talking about developers dove-tailed into Pugh's business. "One of the biggest advantages for Peachtree Corners is that it's close enough to the city [of Atlanta] so that people inside the perimeter are comfortable coming here, and since it's not in downtown Atlanta, we get people who don't want to fight traffic in town," he said.
All those factors feed into each other, said Figliolini. Having a publication that's focused on the lifestyle of a community that fulfills the demand for a high quality of life with entertainment, retail and employment opportunities nearby allows him to put more emphasis on the message than the medium.
"Print is sort of a dying business. I can say this because I've been in the business for a long time," Figliolini said. "We curate news in the community and people consume it in a variety of ways. Whether it's Twitter, Instagram, Facebook, Tik Tok, it doesn't matter. …Advertising is a long game. …Companies come to us. We have several corporate sponsors that are supporting local journalism, for example, so they're not necessarily buying advertising as much as supporting news."
Accolades and suggestions for the city
The panelists gave their perspective on what Peachtree Corners is doing right and what the city should do more of. Among the top recommendations is preparing the area for changes that have already been indicated. For example, the uptick in highly skilled jobs is affecting employment rates. Supply chain issues are challenging consumerism and access to technology is making a difference on how people live their lives.
"Roughly 65% of the existing labor force is almost set to retire," said Winston. "So, we have to replenish that, and we also have to find ways to manage that and to find innovative ways of doing construction. We know we're going to have challenges with the labor, in addition to all the materials. …Everybody is reading the articles about how prices are going up."
Sawyer pointed out that Peachtree Corners is growing in smart ways and every new development is people centered. "I think we are probably one of the smartest cities, as far as technology. …What other city in the South has an app that, when you sit at a red light, the app on your phone tells you when the light is changing?" he said.
"A couple of months ago, we had Transportation Secretary Pete Buttigieg here to study our transportation sector," added Svehla. "Everybody wants to come to Peachtree Corners because of all the innovative things that are going on here. I'm working to try to give Raphael Warnock an opportunity to see Curiosity Lab. …We don't really have to reach out to anyone anymore because the word is out that we're the most diverse city in the state."
Perspectives on the future
In looking ahead, all the panelists agreed that Peachtree Corners has a solid future outlook and growth strategies. Pearch asked the panelists where Peachtree Corners, in general — and their industry, specifically — will be in three years, five years and 10 years.
Storck said, "The retail world is different, because some ways, the retail world hasn't changed. We still have the brick and mortar as well as Amazon, so there are parts that will stay the same. But I think in three years, we are we are going to be fully redeveloped and we are going to be moving at a very fast pace. [The Forum] is going to be hosting 200-plus events a year and we are going to have opened quite a few new retailers. In five and 10 years, we'll still continue that course. Because everything is cyclical and we go through changes, we have to adapt as well."
Pugh added, "The legal industry is the dinosaur of all industries. If the legal world has adopted something, it's been adopted across the board. I think that law firms' sizes are going to shrink. I think that office space is going to shrink, and I think more and more attorneys and more and more businesses are going to go paperless. …I think that more and more are going to start incorporating the use of [artificial intelligence] in their in their work, where typically you would have a new associate coming out of law school doing research eight hours a day. You now have a computer program that does it for you."
Winston noted, "Nowadays, with an age of social media, [job seekers] are able to see so many other options more easily, and people are able to tailor it to make it more marketable. That's not always what you see in the construction industry. …You could start off learning mechanical, HVAC work, plumbing or electrical and branch off into a completely different sector of that same industry, or branch off more into real estate, because it really is part of the same pie at the end of the day."