The Peachtree Corners Festival 2022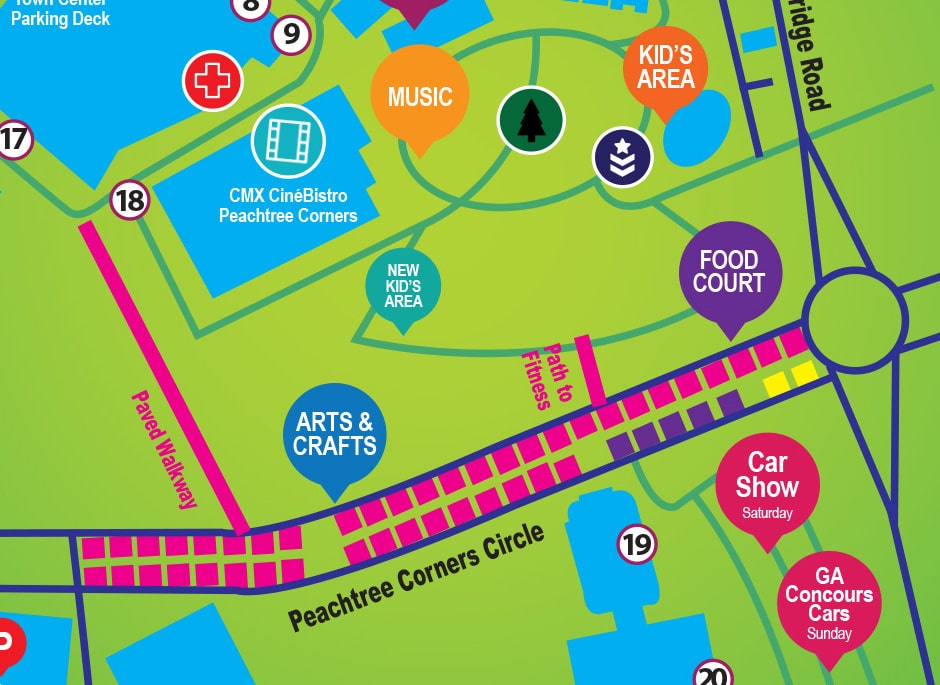 Returns Triumphantly for Its 11th Year, the Second year at Town Center
July 1-3 is gearing up to be an exciting weekend for Peachtree Corners. Not only is it the lead up to Independence Day, but it's also the 10th anniversary of Peachtree Corner's founding. Why not celebrate it all at the 11th annual Peachtree Corners Festival? Enjoy food, entertainment, music and art with your family and friends — not to mention, the festival (and parking) is free and open to the public.
The Peachtree Corners Festival has been a staple of Peachtree Corners since before the city was even officially, well, a city. The festival is a nonprofit "dedicated to bringing a safe, wholesome and family-friendly festival to the City of Peachtree Corners," according to peachtreecornersfestival.com. It's volunteer-run, so its success is due to the passionate citizens who are driven by pride for their homes as well as its sponsors. Funds earned by the festival are directed towards beautification and education projects in Peachtree Corners.
Dave Huffman has been involved with the festival for 10 years and served as its president for nine. He said that it can be stressful at times to handle the hundreds of details that go into planning a festival, but the volunteers make it manageable, and the sponsors' funding makes it all come to fruition.
"As our city has grown, the festival has kept pace with that growth," Huffman said. "That makes the work a bit more every year, but when we see the smiles of our attendees and hear good things from our vendors and sponsors, it makes it all worthwhile and we start to think about how we can make the next year even better!"
As the saying goes, it truly takes a village. Huffman cited several members of the Peachtree Corners Festival team who make the dream come true, including Arts Director Ayanna Graham, Music Director Becky Lyon and the First Lady of Peachtree Corners, Debbie Mason, as vice president.
"Debbie was one of the founders of the festival and spearheads our work with the many sponsors we depend on," Huffman said. "She is wonderful!"
This year, the festival will return to the Town Green located in the Town Center development, which has become the entertainment hub of the city. Due to the tight fit and muddiness that the festival experienced last year, though, it will also be returning to its roots in a sense: while the Town Green will still host music and kids' activities, a section of Peachtree Corners Circle will be blocked off to make room for the booths, food court and classic car show.
Saturday's Classic Car Show and Sunday's Georgia Concours d'Elegance will be located in the Hexagon building parking lot next to the food court.
The weekend-long event will kick off with a concert at 7:30 p.m. on Friday, July 1, followed by a festival on Saturday from 10 a.m. to 6 p.m. and Sunday from 12 p.m. to 5 p.m. Read on for more information about what to expect from this year's Peachtree Corners Festival.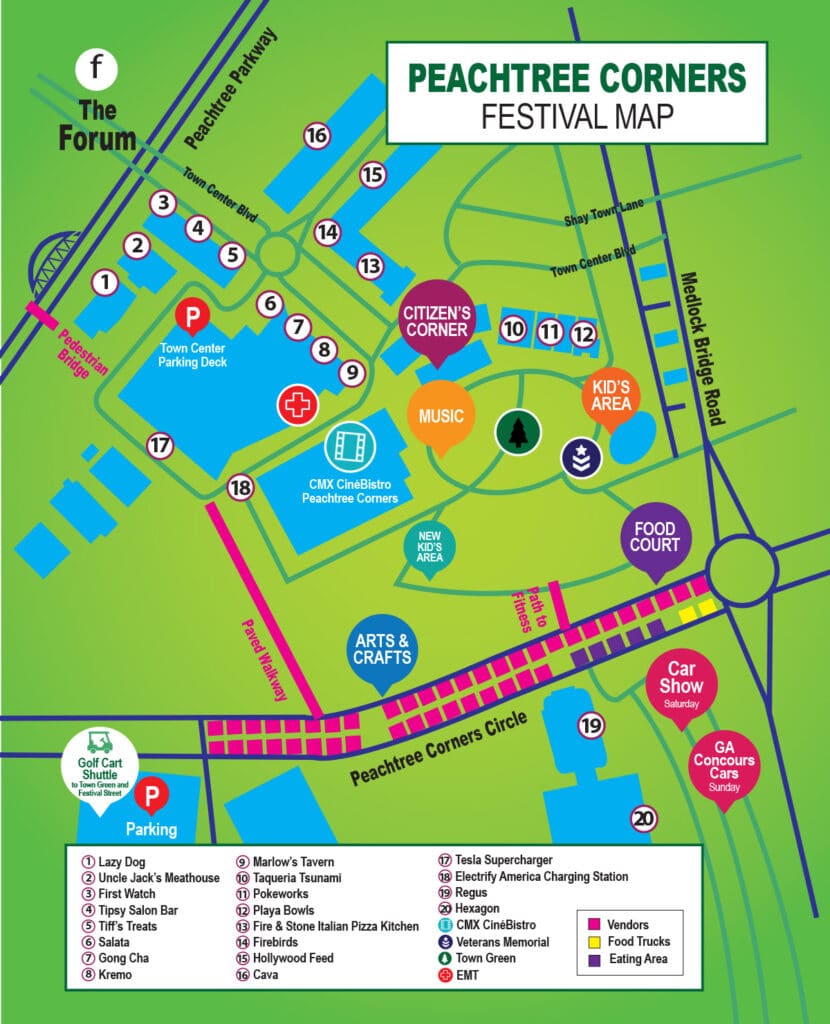 Music
The Saturday and Sunday entertainment lineup will be one of the highlights of the festival, according to Huffman. Lyon has carefully evaluated and selected entertainers from a myriad of submissions. Festival attendees are encouraged to bring picnic baskets and coolers full of food and non-alcoholic beverages to enjoy during the perfor­mances.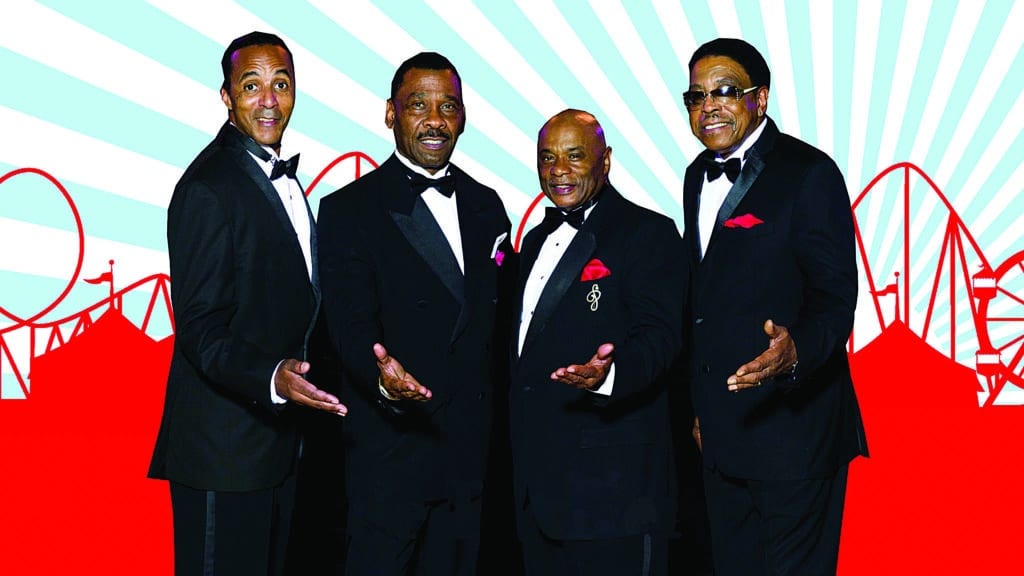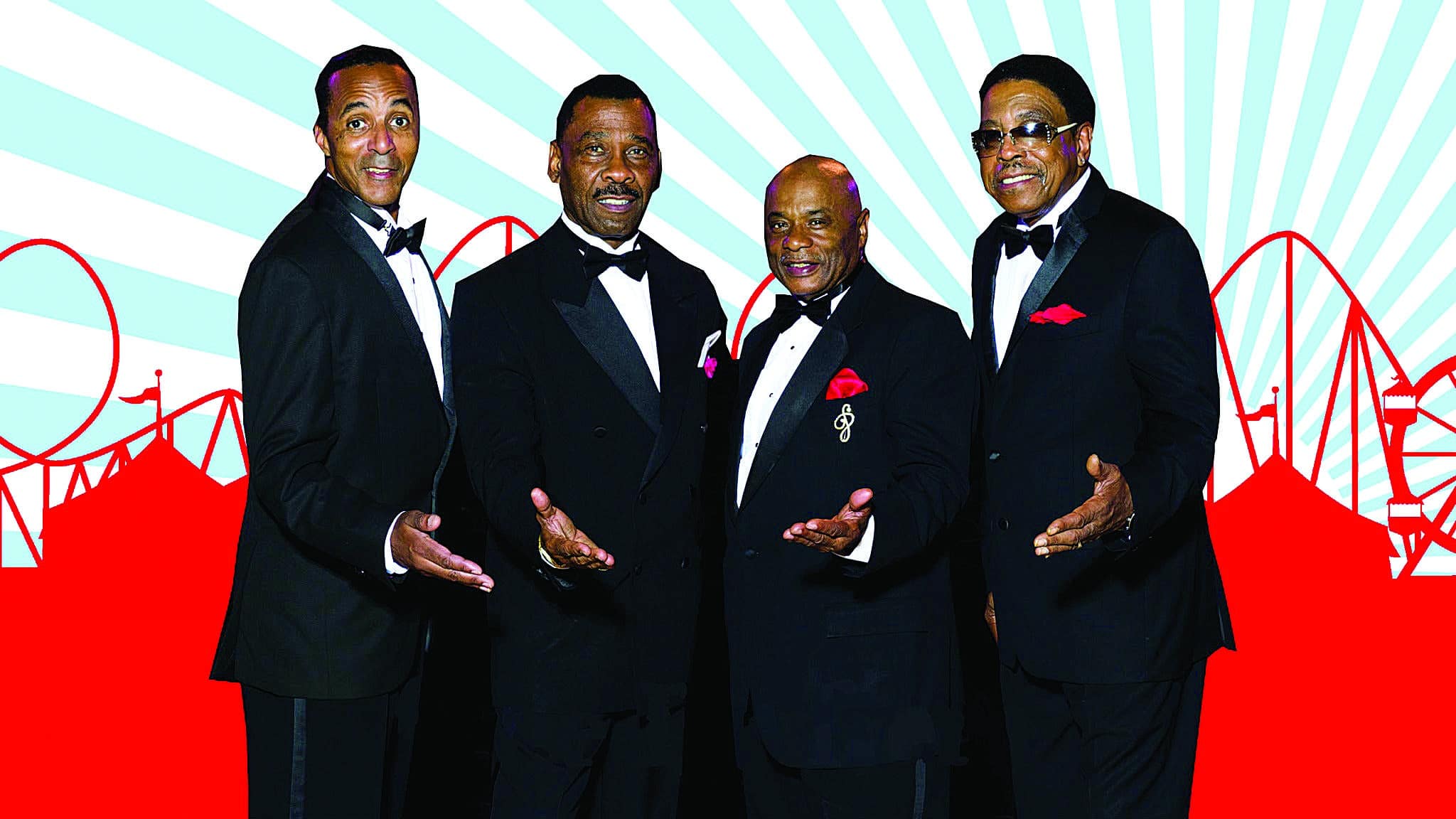 The Friday night headliner has been announced as the iconic R&B group of the 50s and 60s, The Drifters. Best known for their classics "Under the Boardwalk," "Save the Last Dance for Me" and "This Magic Moment," among numerous other hits, The Drifters will have you swaying and celebrating on the Town Green.
Saturday's musical lineup starts with Leah Bell Fraser, 12-1 p.m., a singer who delivers compelling original songs as well as those from some of her favorite artists, including Patsy Cline, Linda Ronstadt and Janis Joplin. A rock band from Virginia, Bulletproof, takes the stage 1:15-2:15 p.m.
They're followed by Sonic Alley, a rock and roll cover band that features classic tracks and deep cuts performed by veteran musicians from the Atlanta area, 2:30-3:30 p.m. From 3:45-4:45 p.m., the New Bridge Band will rock the house with their unique mix of familiar and eclectic songs from across the musical spectrum.
On Sunday, 12-1 p.m., Catherine Wynder performs performing Lind­sey Stirling covers, pop songs and movie soundtracks. The Hearsay will continue the celebration, 1:15-2:15 p.m., with their combination of rock and pop that has hints of 90s alternative, pop-pun, and modern indie music.
More musical acts will be finalized soon, so please check peachtreecornersfestival.com for the latest updates.
Cars, Bikes, Hot Rides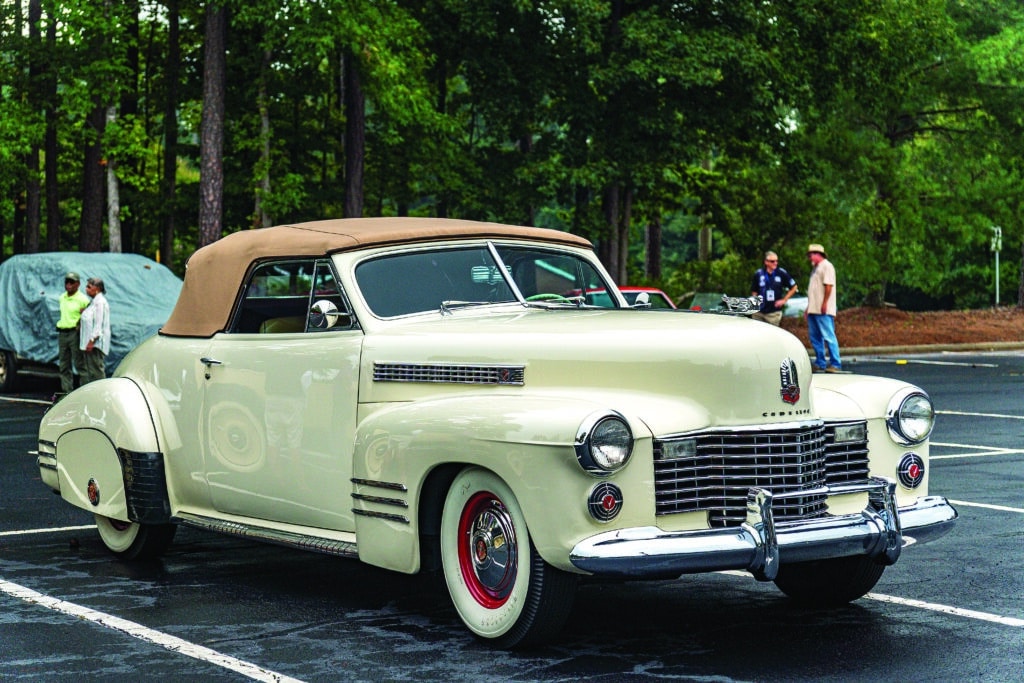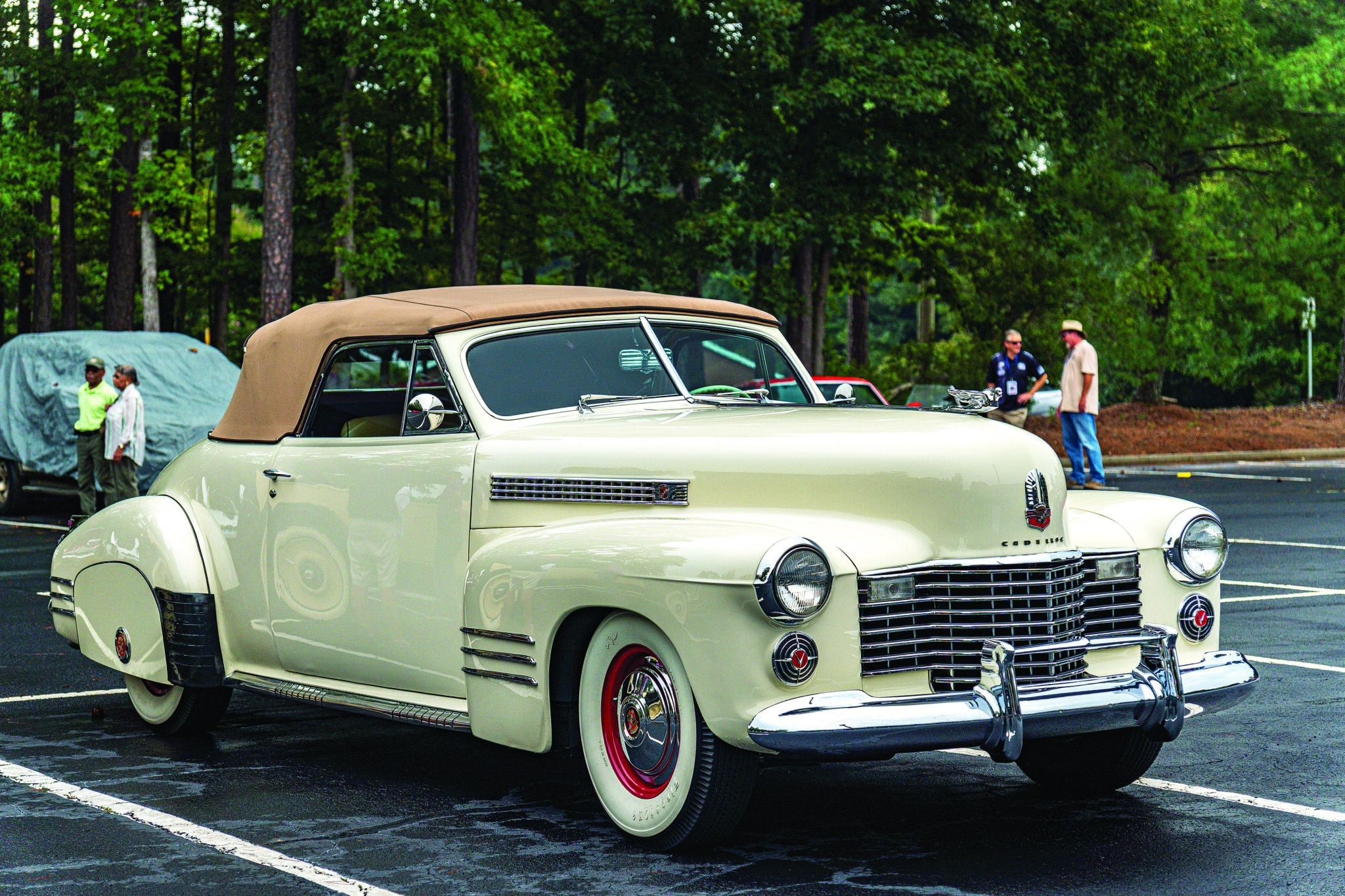 The Classic Car & Bike Show ("classic" for both the types of cars it represents and its traditional presence at the Peachtree Corners Festival) will take place on Saturday, July 2, from 10 a.m. to 4 p.m. It's free for spectators; if you decide to register your car or bike on-site, you'll only pay $15. The awesome vehicles will be lined up at the ready for you to photograph and admire. Meanwhile, trained judges will assess which rides are worthy of the coveted Top Car & Bike Awards and Top Class trophies. Enjoy food, a DJ and fantastic door prizes.
Georgia's Concours d'Elegance will exhibit on Sunday, July 3, from 12 noon to 4 p.m., and admission is also free. Here, you'll be witness to a lot of rare, collectible and vintage cars. The special "Sneak Peak" will show what's coming in 2023 to Atlanta.
A classic car is more than merely a car. It's an aesthetic, an artwork, a relic of history, a feat of technology. Concours d'Elegance brings that glorious showmanship and craftsmanship directly to you — and for free at the Peachtree Corners Festival. Support Peachtree Corners' Concours with your attendance this year so that even more beautiful motor vehicles can be brought in next year and continue to unite our community in the pursuit of beauty.
Arts, Crafts and More
Local artisans and business owners will represent their wares at the festival. They'll be selling everything from home goods to jewelry to crafts, so be a good neighbor and shop 'til you drop!
Built by Bees: Tim Haratine started his honey business in 2015 with two goals: to make customers and employees happy, and to do so by promising good products and great value. All of Built by Bees' many delicious products use raw honey and earn repeat customers. Visit builtbybees.com.
Chili P. Designs: Owner Julia channels her artistic skill and love for her family into creating beautiful wood signs perfect for home decor. Gift a design to a family member or display it in your own home for guests to admire. More at chilipdesigns.com.
Goddess Luxe: Necklace chains of delicate gold or silver, rings embedded with dazzling crystals, elegantly shaped earrings: this shop lives up to its name and makes jewelry fit for a goddess. See the collection at goddessluxejewelry.com.
Discover Atlanta Chinese Art: Godwin Kou and Kuansoi
(Christine) Kou are both accomplished painters and calligraphers dedicated to sharing authentic Chinese art with the world. Their work is delicate and striking while staying pure and unconfined. Go to discoveratlantachineseart.com for info.
Kettlerock Brewing: You can support this new, up-and-coming, family-run brewery boasting good stories and great beer with a purchase of their shirts or mugs. Go to kettlerockbrewing.com.
Knox Carter Kandles: The 100% soy candles melt into a gorgeous marbling so, with their pretty packaging and wide variety of scents, they look just as incredible as they smell. More info at knoxcarterkandles.com.
Puppy Present Designs: Specializing in matching collars and leashes for all sizes of dogs, your puppy is sure to be the prettiest at the park. Find their shop on Etsy.
Reminis Soaps: Stacey, the maker of Reminis Soaps, began her soap-making journey in 2016 because she was looking for a solution to her oily skin and post-shower itchiness. Now she handmakes beautiful, delicious-smelling soaps using only all-natural ingredients. Check out reminissoaps.com.
Whatnot Bear Mobile: This business is family-owned and operated. It began with the purpose of bringing children support and joy. Make your own child happy at the festival by coming home with a fuzzy friend! Find more at whatnotbearmobile.com.
XOC Designs: Specializing in a variety of materials to handmake stunning furniture and other homewares, you're sure to wow your guests with these pieces. Browse xocdesigns.com for details.
Ziparoos: Committed to a sustainable home, Ziparoos makes and sells multi-purpose, reusable storage bags — but they also sell other eco-friendly products that are perfect for the kitchen or cleaning around the house. And they come in cute prints, so they're fun for the whole family!
Find the full vendor list on the Exhibitor page at peachtreecornersfestival.com.
Food and Beverage Vendors
Whatever you're craving, Peachtree Corners Festival is serving it up. From sweet treats to cool down in the heat or a little spice to intensify your day, the food court has you covered.
Speaking of sweet and spicy, Chocolate & Spice Eatery will be dishing it out both ways. Their Caribbean-French-Brazilian fusion-inspired offerings include islander's sorbet served in pineapple, a Creole low country boil served with your choice of protein and vegetables, savory Brazilian barbecue and, of course, the classic festival food — turkey legs. Find them at facebook.com/chocoandspice.
Or chew on this: Chew-on Chuan stands out at festivals with their Latino-Asian fusion street food, and the Peachtree Corners Festival is no different. Smack on Asian street skewers (your choice of protein) with a side of mango salsa and tortilla, Dominican empanadas that sound so good they'll make your mouth water just looking at the ingredients list, yucca fries, Thai Tom yum soup, scallion pancakes and grilled corn in a 13-spice barbecue sauce. Yum! Check them out at facebook.com/chewonchuan.
For more can't-miss-it, gotta-have-it festival food, check out Tasty Yum Yum. Not only do they have the classics — fried Oreos, funnel cake, sweet tea and ice-cold lemonade — but they'll also be selling hearty stuff like rice and peas, steamed cabbage, loaded fries, sausage, Philly cheesesteak and chicken any way you want it: popcorn chicken, chicken on a stick, jerk chicken, curry chicken–yum! Visit them on Instagram.
Thirsty? Phoenix Roasters will be roasting up a full espresso and cold brew bar. If you haven't tried a nitro-based craft drink yet, this festival will be your chance! Get details at phoenixroasters.coffee.
What's lunch without a snack, or dinner without dessert? After your meal, top it off with national award-winning homemade ice cream from Daddy O'Brien's Irish Ice Cream Pub. Find out more at daddyosicecream.com.
If ice cream's not your taste, Sweetacular Treats will have every other treat available to choose from, including popcorn, cotton candy, candied pickles and apples, Rice Krispies, cake, soda and lemonade.
Sponsors
It cannot be said enough times how important sponsors are to making the Peachtree Corners Festival great. This year's sponsors can be found by clicking on the Sponsors page at peachtreecornersfestival.com; from there, you can click on each of their logos and be directed to more information. Notably, the Title Sponsor is the City of Peachtree Corners, and Peachtree Corners Magazine has been recognized as a Silver Sponsor. Come visit our table when you attend the festival.
Call for Volunteers
Need to complete volunteer hours this summer? Part of a service group and looking for a direction to channel your goodwill? Or just need to kill some time this season?
The Peachtree Corners Festival is volunteer-run, and volunteers are still being sought. With so many fun things to do all weekend, there are multiple avenues to get involved, no matter what your interests are — whether that's assisting with the car show, distributing water to thirsty festivalgoers, setting up vendor booths or managing the hospitality suite.
Volunteers need to be above the age of 18 or have parental permission if younger. Volunteers will receive a commemorative T-shirt and pride in having supported their home city. Sign and return the 2022 volunteer waiver form via the Volunteer page on the festival's website, peachtreecornersfestival.com.

Peachtree Corners Installs Little Free Library in Memorial to Benjamin "Lloyd" Cloer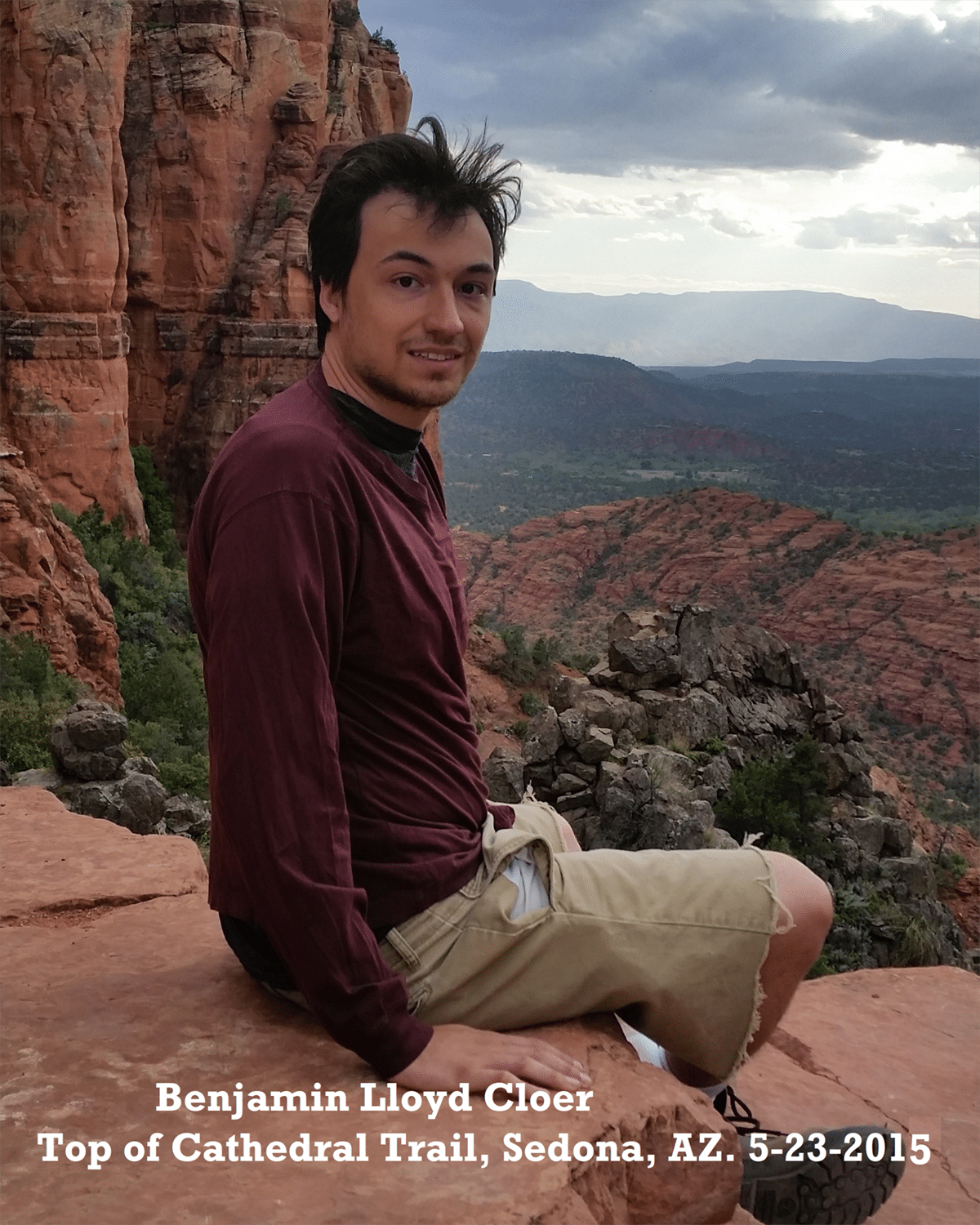 On May 17, the City of Peachtree Corners installed a Memorial Children's Little Free Library at the Town Green in the Children's Corner. The little library was donated by Steve Cloer on behalf of his son, Benjamin "Lloyd" Cloer.
The little free library encourages kids to take a book and leave a book to encourage increased literacy and the love of reading. The library was paid for with funds Benjamin had acquired during his lifetime and was designed and built by Benjamin's father. It will be registered as an official Little Free Library and will be part of a program that provides over 150,000 libraries in more than 120 countries. 
Benjamin, a Norcross High School (NHS) graduate in 2011, lost his life in an act of senseless gun violence on November 10, 2019. While at NHS, Benjamin was an Honor Student, President of the Science Club, Co-Founder and Co-President of the Philosophy Guild, a member of the Math Team and a violinist in the Orchestra. He earned numerous academic awards and achieved an SAT score that put him in the top 2% of students in the nation.
Following high school, Benjamin was awarded an academic scholarship to attend Pomona College in Claremont, Cal. In 2015, he earned a Bachelor of Science in Neuroscience with a minor in mathematics.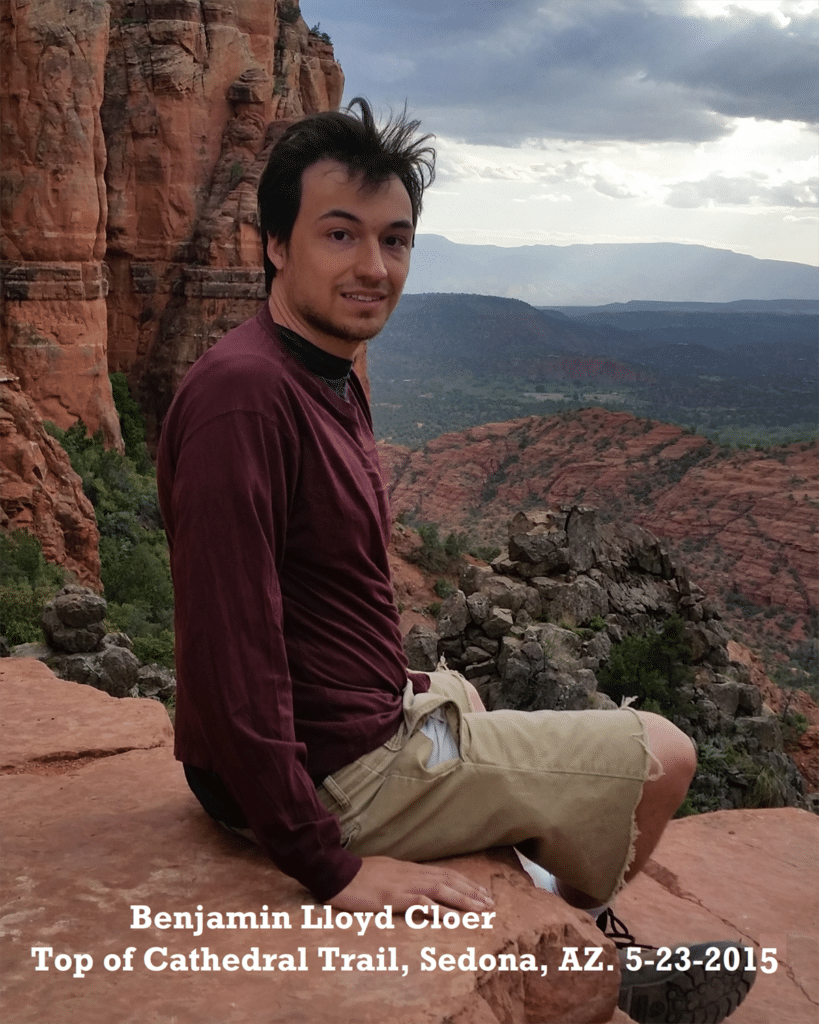 After completing his undergraduate degree, Benjamin continued to pursue his education at Georgia State University as a full-time student. In the fall of 2018, he entered the Master of Science in Artificial Intelligence (MSAI) program at the University of Georgia. In the fall of 2020, Benjamin was planning on attending Georgia Tech to pursue his Doctorate in Artificial Intelligence.
At 26 years old, a few weeks before he was to complete the requirements for his master's degree in AI at UGA, Benjamin's life was taken. Benjamin received his master's degree in AI from UGA posthumously in May 2020.
Benjamin is described by those who knew him well as someone filled with compassion and caring for others. He had an innate empathic ability to feel when someone was in need. Many people have described him as being "an old soul."
Friends of the Cloer family created an endowment, the Benjamin Lloyd Cloer Endowment for AI. Thanks to everyone who has or will donate, there will forever be a "Benjamin Lloyd Cloer Endowment for AI" at UGA. The endowment began offering grants in the fall of 2020 to students in financial need who are studying artificial intelligence.

Peachtree Corner's Goal: The Best Streets, Sidewalks, and Multi-Use Trail System in Gwinnett County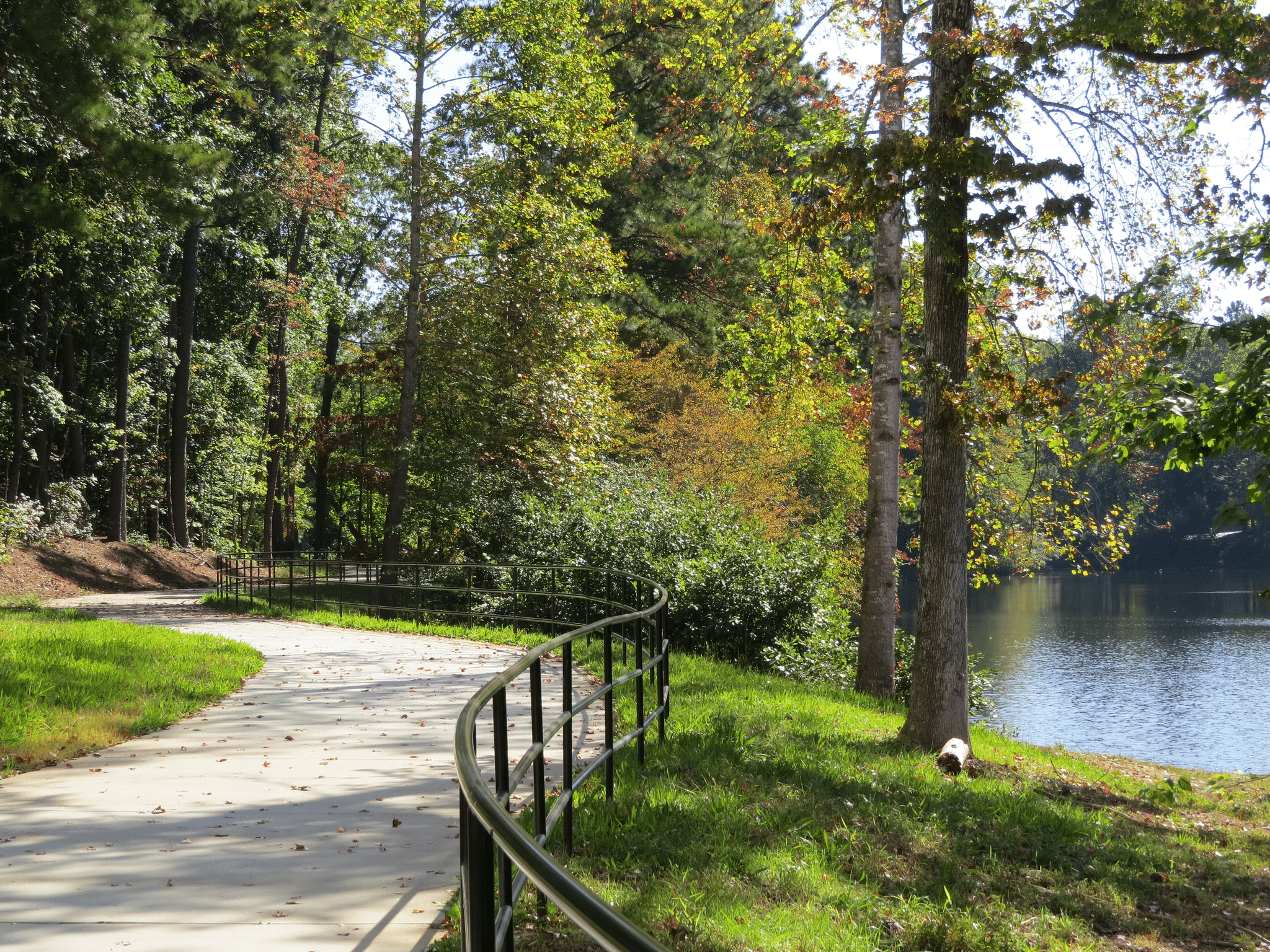 Since the City was founded in 2012, Peachtree Corners has taken these goals very seriously: One, we want our citizens to be safe driving on the best streets in Gwinnett County, and two, we believe in having a walkable community.  With this in mind, we have planned several projects for the creation of new sidewalks and multi-use trails.
To ensure that the City can provide the best streets for our residents, we have conducted a technical analysis of each street to prioritize the order in which those streets are resurfaced.  State-of-the-art imaging technology called Laser Crack Measurement is used to develop a Pavement Coefficient Index (PCI) for each street. Each neighborhood is given an average PCI for all its streets, and all neighborhoods are prioritized based on those averages.  The City performed its most recent analysis in October of 2022.   
In April of this year, the City began work on its scheduled 2023 Street Paving projects. The following neighborhoods are currently scheduled for paving in 2023.
Chattahoochee Station
River Valley Station
Spalding Hollow
Neely Meadows
Spalding Bluff
Holcomb Bridge Station
Spalding Chase
Peachtree Square Townhomes
These neighborhoods may not be paved in the order above, but Contractors will post signage in the specific neighborhoods before work begins.
In addition to roads, the City plans for the construction of more sidewalks and multi-use trails.
The location of new sidewalks and multi-use trails is based on the needs and gaps within our current network. We have been focusing on connections to businesses, schools, bus stops, and other public facilities as well as worn paths we have noticed throughout the city that show a clear need for sidewalks. 
Below is the list of sidewalks that will be under construction this summer:
Woodhill Dr
Meadow Rue Dr
Parkway Lane
Jay Bird Alley
Green Pointe Parkway
The Corners Parkway
Additionally, we have several sidewalks that are currently under design:
Jay Bird Alley
SR 141/Peachtree Parkway
Jones Bridge Circle
Multi-Use Trails that are currently under construction are in Technology Park, at Town Center, and the Riverlands Path, located on East Jones Bridge Road and Medlock Bridge Road.
In the future, the City will work towards the design and construction of the following multi-use trails:
Burdell Branch: This portion of the system will connect Engineering Drive south to Woodhill Drive. An existing segment of Corners Connector currently ends at Engineering Drive and Peachtree Parkway in front of the Corners Fine Wine & Spirits and RaceTrac. This project will extend that trail infrastructure south to the Chick-fil-A area and its adjacent shopping centers.
Farrell Creek: Will consist of approximately 2.13 miles of 10′ to 12′ concrete multi-use trail. It is proposed to run from Peachtree Corners Circle west of Peachtree Parkway to Engineering Drive. This trail would run around two water features along Triangle Parkway and an additional water feature north of Engineering Drive.
Crooked Creek Trail North: Crooked Creek Trail North is composed of 7 segments totaling approximately 4.04 miles. The segment is planned to run along Crooked Creek from the area around Peachtree Corners Circle to Spalding Drive. In addition to the planned 7 segments, there is one alternative segment (.17 miles) that may be constructed as part of the project.
Crooked Creek Trail South: Crooked Creek Trail South is composed of 7 segments totaling approximately 2.95 miles. The segment is planned to run from Peachtree Parkway West to Peachtree Corners Circle. It will be located along Holcomb Bridge Road from Peachtree Parkway to the intersection of Jimmy Carter Blvd. From that intersection, it will move along Crooked Creek to Peachtree Corners Circle.
That's a brief update on the status of paving, sidewalks, and multi-use trails in the City. Although there will be some delays and inconvenience, please bear with us as we complete our current paving schedules. We want our citizens to be confident that we are making progress on our goal of having the best streets, sidewalks, and multiuse trails in Gwinnett County.
Stay safe,
Mike

How will drones be used in the city, new City Budget is coming up and City Marshals are ready to be hired.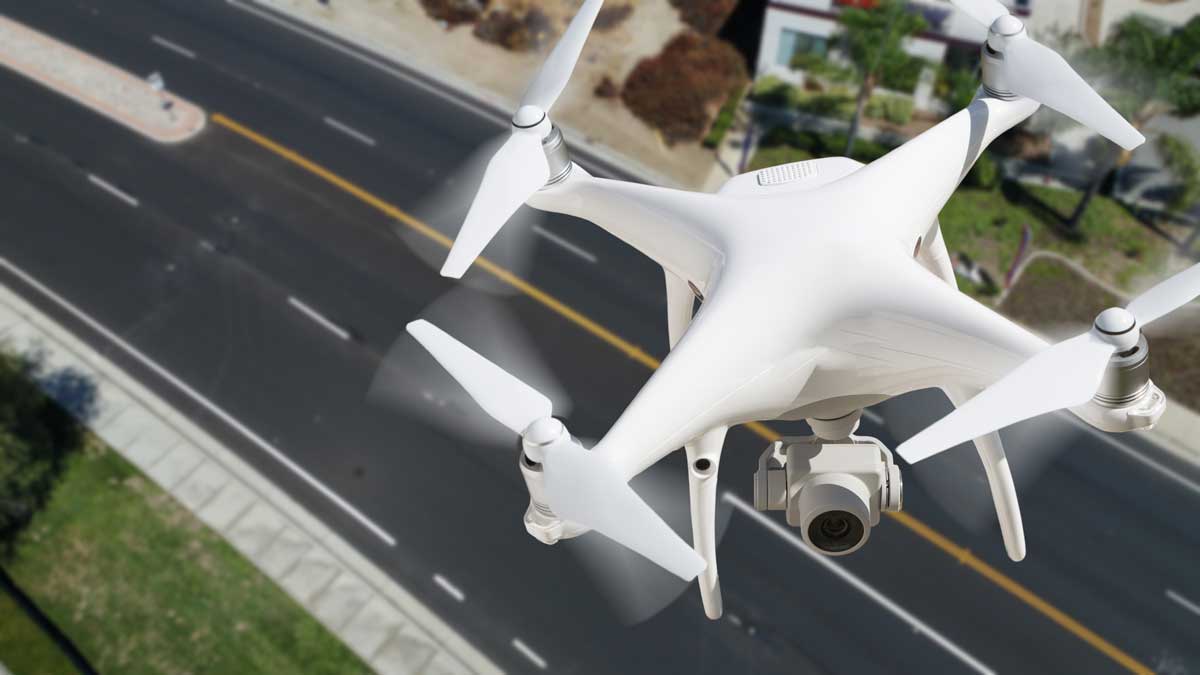 The city of Peachtree Corners, Georgia has been continuing to make strides in technology and community development. In the latest episode of "Prime Lunchtime with The City Manager," Brian Johnson shared several updates and plans for the city.
The Curiosity Lab Criterion Road Race
During the Curiosity Lab Criterion Road Race, Spoke Safety officially unveiled their new road safety technology. This device enhances safety for vulnerable road users by allowing for two-way communication between the device and automobiles, providing safety messages to drivers.
The event was livestreamed internationally, and Audi became an official partner in the project. The partnership will explore the enhancement of the vulnerable road user technology to make it better, easier to use and scalable.
Pickleball feasibility study
The city is considering building a 40-50 court pickleball facility and has commissioned a sports facility consulting firm to conduct a feasibility study. They will determine the market demand and economic impact. The study is expected to take a month, and results will be presented to the mayor, council and interested parties in early summer.
"Clearly there's a demand," Brian Johnson shared. "The question is, is it enough for the city to end up putting any time, energy and money into facilitating something? And we want to make sure that we are shooting at the bullseye that we need to."
The city marshal system
Additionally, the city is starting a city marshal program, which will begin with three post-certified marshals. The job announcement and requirements will be posted in May with interviews to be conducted in June. The program is expected to start in July, and the marshals will be based in City Hall.
The city marshals will have access to brand new hybrid vehicles, drones and the fūsus technology. The marshals will have the same authorities as any other police officer but be limited by policy. The Mayor and council will establish the policies and limitations on what the city marshals will be able to do.
Budget, housing, dog parks and more
During the May City Council Meeting, the budget for the upcoming fiscal year will be officially presented to the city. The budget includes increased funding for street resurfacing, multi-use trail activity and housing redevelopment in the south part of the city. The housing redevelopment project aims to acquire foreclosed and dilapidated properties and build affordable starter homes with equity control to make them accessible to more residents.
The city is using federal funds from the ARPA and will work with the Gwinnett Housing Authority for this project. The purchase price of these homes will be controlled through agreements with the building entity to prevent prices from getting out of hand. This will help fill the demand for starter homes in the area and remove squalor, vacant homes and foreclosed homes.
The city is constructing a dog park at the Town Center with two separate halves for big and small dogs. The park will be made of Astroturf to prevent dogs from digging and getting muddy. There will also be shade structures and seating areas for owners.
After the last event on the summer event calendar, the Town Center will undergo construction to relocate playground equipment and improve drainage. The playground equipment will be organized into two different areas for younger and older children.
North American Properties recently had the groundbreaking for the upcoming Forum redevelopment. The first section of the interior parking spaces will be removed to finish the Linear Park. In addition, there will be new outdoor seating and the parking deck will start construction in the late 2023 season.
FAA and drone programs
The city is working with the drone regulation team of the FAA to help create a local drone activity regulation. The FAA is interested in how it can handle multiple drones using the same wireless signal, even when beyond visual line of sight.
Peachtree Corners and the FAA will work with partnerships with T-Mobile and Deutsche Telecom to utilize the 5G wireless environment in the City. The City Marshals will also be working with projects related to law enforcement and the use of drones. The goal is to help the FAA issue regulations on private drones.
Overall, Peachtree Corners is a city that is making significant investments in technology and community development. With all of these upcoming plans, it is clear that the city is working to improve the lives of its residents.