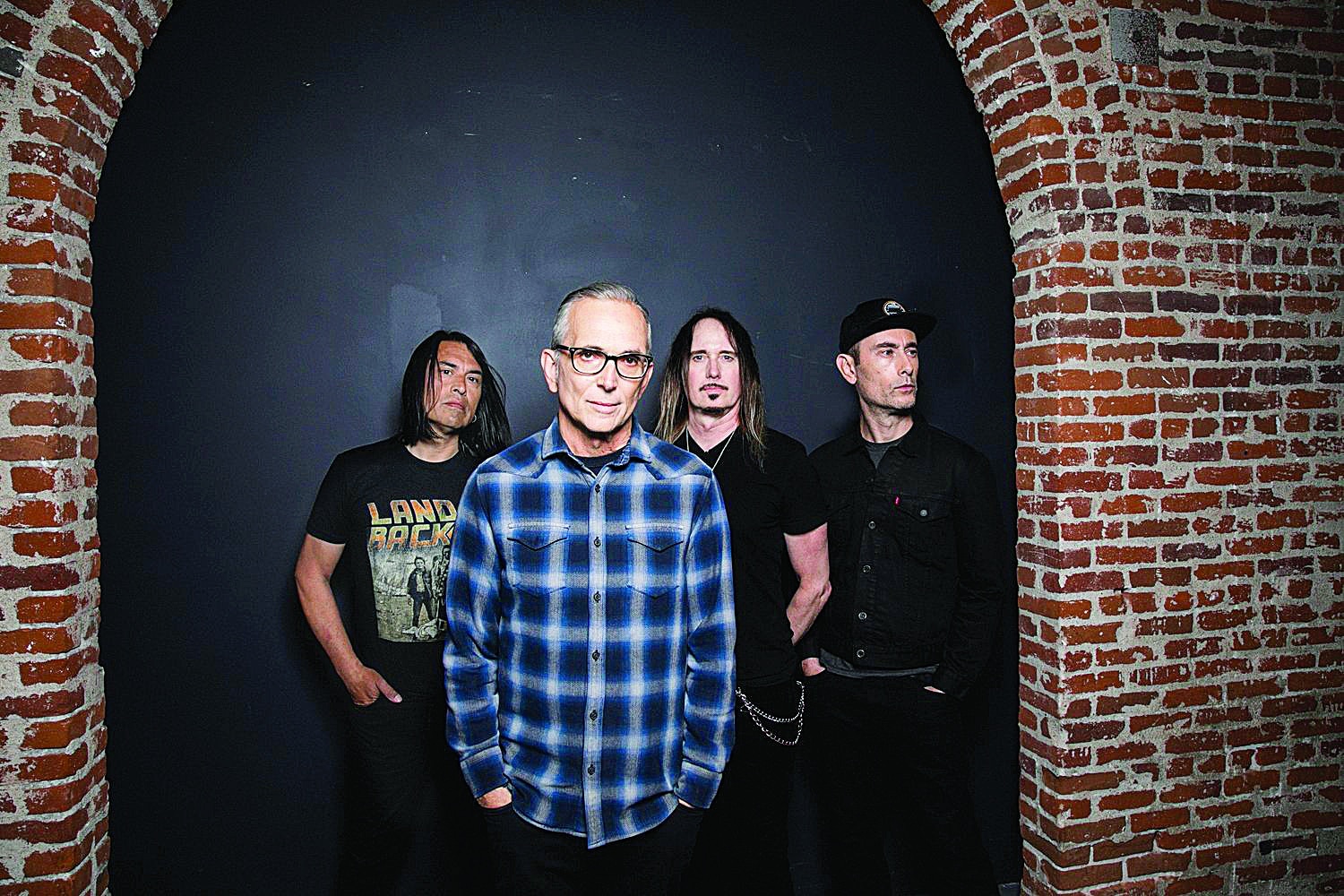 Save the gas and enjoy the local concerts and events
Peachtree Corners residents can save gas and avoid escalating airfare prices by enjoying the many summer activities right at home. From the various trails and parks nearby, to a flurry of regular activities at the Peachtree Corners Town Green (and soon to be regular events at The Forum), fun for all ages abounds.
It's a significant year for Peachtree Corners as it celebrates its 10th anniversary as a city. Now that the pandemic is largely a thing of the past, residents can count on a regular schedule of activities, all of which can be found on the city's calendar at tinyurl.com/PTC-Calendar.
According to Diana Wheeler, Peachtree Corners Community Development Director, "We are trying to help the community become accustomed to consistent timing of events at the Town Green."
She noted that residents can enjoy a meal or snack at any of the more than 15 eateries located in the Town Green before or during an event. Most restaurants will even deliver food to the Town Green during a local concert. "Dinner and a movie or a show… Hopefully, people will come out and enjoy themselves," added Wheeler.
Free music events at Town Green
The second Saturday of each month is dedicated to local bands in the Night Music Series. Residents might even spot a neighbor on stage from time to time. Larger, touring bands can be found on the last Saturday night of the month in the Summer Concert Series. All invited musical groups promise a family-friendly performance.
Blair Crimmins and the Hookers joins the summer Night Music fun at 7 p.m. on June 11. According to the city, Blair Crimmins began his music career in Atlanta with a determination to bring Ragtime and 1920s style Dixieland Jazz to new audiences. "His debut 2010 release 'The Musical Stylings Of' became a college radio sensation on WRAS Atlanta making him the most requested band on the air."
Next in the summer series is Brotherhood (Doobie Brothers Tribute band) with Guardians of the Jukebox (80s cover band) at 7 p.m. June 25. These Summer Concert Series bands will have everyone up on their feet singing and dancing. Brotherhood honors the original Doobie Brothers' sound with two drummers and a percussionist, two guitars, bass and keyboards, and "all the vocal harmonies that made the Doobies incredible sound."            Guardians of the Jukebox will be bringing the hair, clothing and music you remember and love from the 80s. They promise "The definitive tribute to MTV's Pop, Rock, New Wave and New Romantic Era."
Rhythm and Blues fans should mark their calendars now for the original Drifters on opening night of the Peachtree Corners Festival at 7:30 p.m. on July 1 at the Town Green. "We are bringing the legendary R&B group The Drifters to Peachtree Corners! This is not a tribute band but is the real thing," said Dave Huffman, Peachtree Corners Festival President.
"Think of hits like 'Under the Boardwalk,' 'Save the Last Dance for Me,' and 'This Magic Moment' and then come on out to the Town Green to hear them live. It will be a special evening celebrating the festival and the tenth anniversary of our great city."
Sailing to Denver with Trappers Cabin joins the Night Music series at 7 p.m. on July 9. Sailing to Denver describes themselves as a unique Americana / Roots-Rock band that has been recording since 2011. They can regularly be seen around town at many different venues, city concerts, and corporate events and have been known to feature amazing special guest musicians from all over the southeast.
Georgia's Joel Nettesheim's musical project, Trappers Cabin, is said to be a blend of art-rock, freak-folk, psychedelia and space rock — with plenty of surprises thrown in.
Everclear with Hushmoney helps wrap up the month at 7 p.m. on July 30. Considered a 90s Alt-Rock Band, Everclear continues to tour extensively. Fans may remember, and certainly will enjoy, Everclear's rendition of 'Santa Monica' and 'Father of Mine.' The local band Hushmoney starts off the evening. The Hard-Southern Rock band is known for playing covers of lesser-known deep cuts.
Fun for children and pets
Peachtree Corners will host a Kids Festival 2 to 5 p.m. on Saturday, June 18 at Town Green. "We'll have lots of inflatables, slides and family-focused vendors," said Wheeler. "King of Pops is coming, and the Bubble Lady and we'll have a DJ."
Children are welcome on the expanded playground and can enjoy the splash pad on hot summer afternoons. The playground is open 7 a.m. to 11 p.m. and the splash pad is operational 9 a.m. to 7 p.m. during the summer months.
Kids (or just adults) are welcome at the Town Green, along with their furry friends 11 a.m. to 2 p.m. on July 16 for Bark in the Park. The event will include vendors, special doggie treats, and fun activities only a canine can enjoy. Turns out the pups enjoy bubbles too.
Fitness fun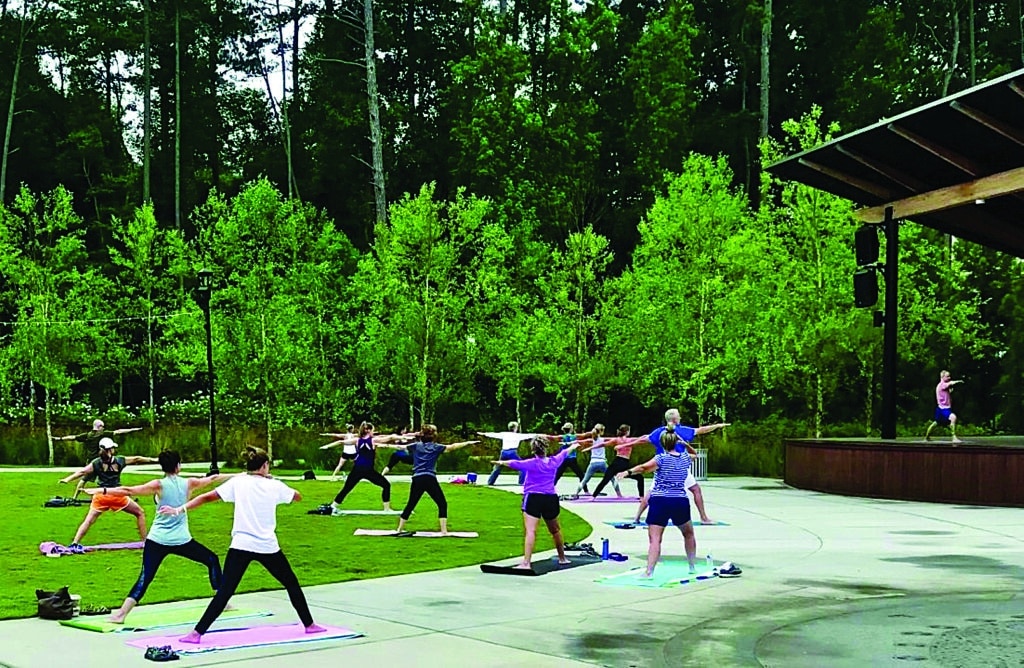 Not just for the summer months, the city offers year-round physical activities for all fitness levels.
Tuesday mornings at 8 a.m. are dedicated to Yoga on the Green. Everyone from beginners to experienced yogis are welcome to join this free class taught by David Penn from Sun Dragon Yoga. Yoga is known to help improve flexibility, increase blood flow, correct posture and helps improve mental focus. "Yoga is an ancient practice that brings together the human mind and body," according to Penn's website. "It's a practice that incorporates meditation, breathing exercises, and poses that are designed to reduce stress and encourage relaxation."
On Thursdays, exercise fans can try free CrossFit at the Green with TJ Fox of CrossFit PPG. The classes are offered 10 to 11 a.m. through September. According to their website, "CrossFit is a lifestyle characterized by safe, effective exercise and sound nutrition. It involves constantly varied functional movements performed at high intensity."
Beginning in June, North American Properties, the new owner of The Forum, is launching a Forum Fit program 6 to 7 p.m. every Wednesday through October. Kicking off the program is Club Pilates Peachtree Corners, who will be leading classes outdoors under the clock tower at The Forum.
Mat sessions of Pilates might remind first-time participants of yoga with a strong emphasis on core strength and alignment. This low-impact workout improves flexibility, balance and posture.
Look for a loyalty rewards program built into the Forum Fit offering. With every five classes attended, guests will receive exclusive prizes. For future events at The Forum. visit theforumonpeachtree.com/events/.
Play ball (or cornhole)
Sporting events can be found on the big screen at Peachtree Corners Town Green, including the Atlanta Braves versus the Los Angeles Angels at 7:20 p.m. on July 23. Additional special viewing events are announced closer to sporting dates.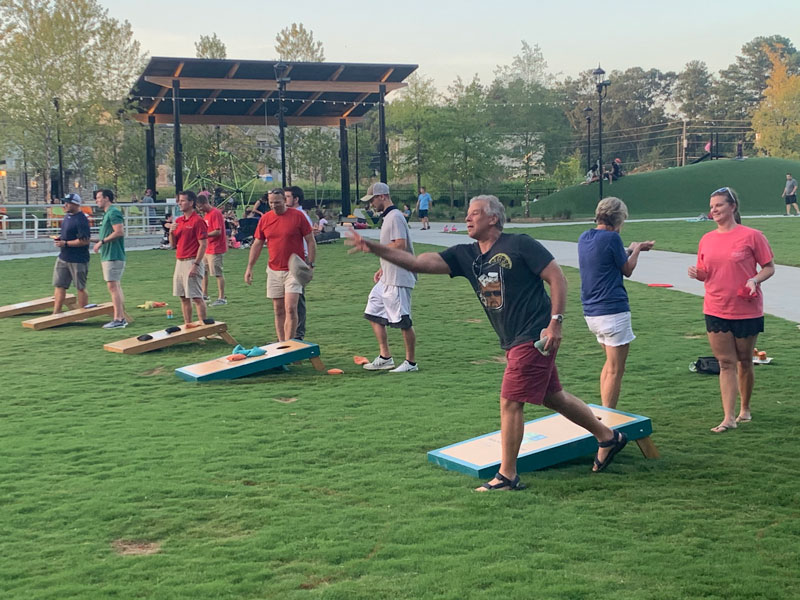 At 6:30 p.m., Wednesday nights at the Town Green, residents can bring their chairs or grab an outdoor table to cheer on their favorite cornhole team. CornholeATL, Georgia's largest and fastest growing cornhole league, will showcase four different divisions of play. The fun continues for 7 weeks beginning in June.
Hike, fish, play or grill
If all of the above is not enough, families can check out Gwinnett County Parks & Recreation's four Peachtree Corners parks for a wide variety of outdoor fun. All county parks are open sunrise to sunset. Additional information and everything to know about renting Gwinnett County Park facilities is at GwinnettParks.com. Here's a glimpse at the options.
Holcomb Bridge Park, 4300 Holcomb Bridge Road, includes a pavilion with picnic tables, grill, playground, restrooms, amphitheater, a quarter-mile unpaved trail and fishing from a river overlook.
Jones Bridge Park, 4901 East Jones Bridge Road is a 30-acre park along the Chattahoochee River that offers pavilions, grill, playground, sand volleyball court, three soccer fields, a Good Age Building rental room, restrooms, a lovely meadow and river overlook areas for fishing.
Simpsonwood Park, 4511 Jones Bridge Circle, the 223-acre park, features a chapel, pavilion, grills, a 3.1-mile non-paved trail, sand volleyball court, group camping, meadow and restrooms.
Pinckneyville Park has its park entrance at 4785 South Old Peachtree Road. Families with children playing baseball or soccer are probably already familiar with the 93-acre park which includes a seven-field baseball / softball complex, the 5,000-square foot Medlock Corporate Pavilion with catering kitchen and the Danny Cochran Pavilion. This beautiful park also boasts a dog park, roller hockey rink, free-skate area, playground, grill, fishing pond, meadow, 1.53 paved trail and restrooms.
From a separate entrance to the park, at 4707 South Old Peachtree Road, the community can access the five-field soccer complex with pavilion, grill, playground, restrooms, pond, 1.47 miles of paved trail and access to 6.6 miles of the Western Gwinnett Pathway.
A third entrance to this park, technically in Berkeley Lake at 4650 Peachtree Industrial Boulevard, leads to a Community Recreation Center with catering kitchen, pottery / art studio, hidden courtyard, rental rooms and .21 miles of paved trail that connect to the soccer complex.
The county offers a variety of summer camps at the Pinckneyville Park Community Recreation Center. Ages 5 to 6 and 7 to 13 are eligible for week-long Adventure Camps beginning June 6 through July 29. Ages 8 to 16 may also want to consider the Draw, Paint and Sculpt Camp that runs June 6-10 or the Drama Camp, July 11-15. Information and registration is available at GwinnettCommunityServices.com. ■
Peachtree Corners Partners with Fusus to Launch Connect Peachtree Corners Camera Registration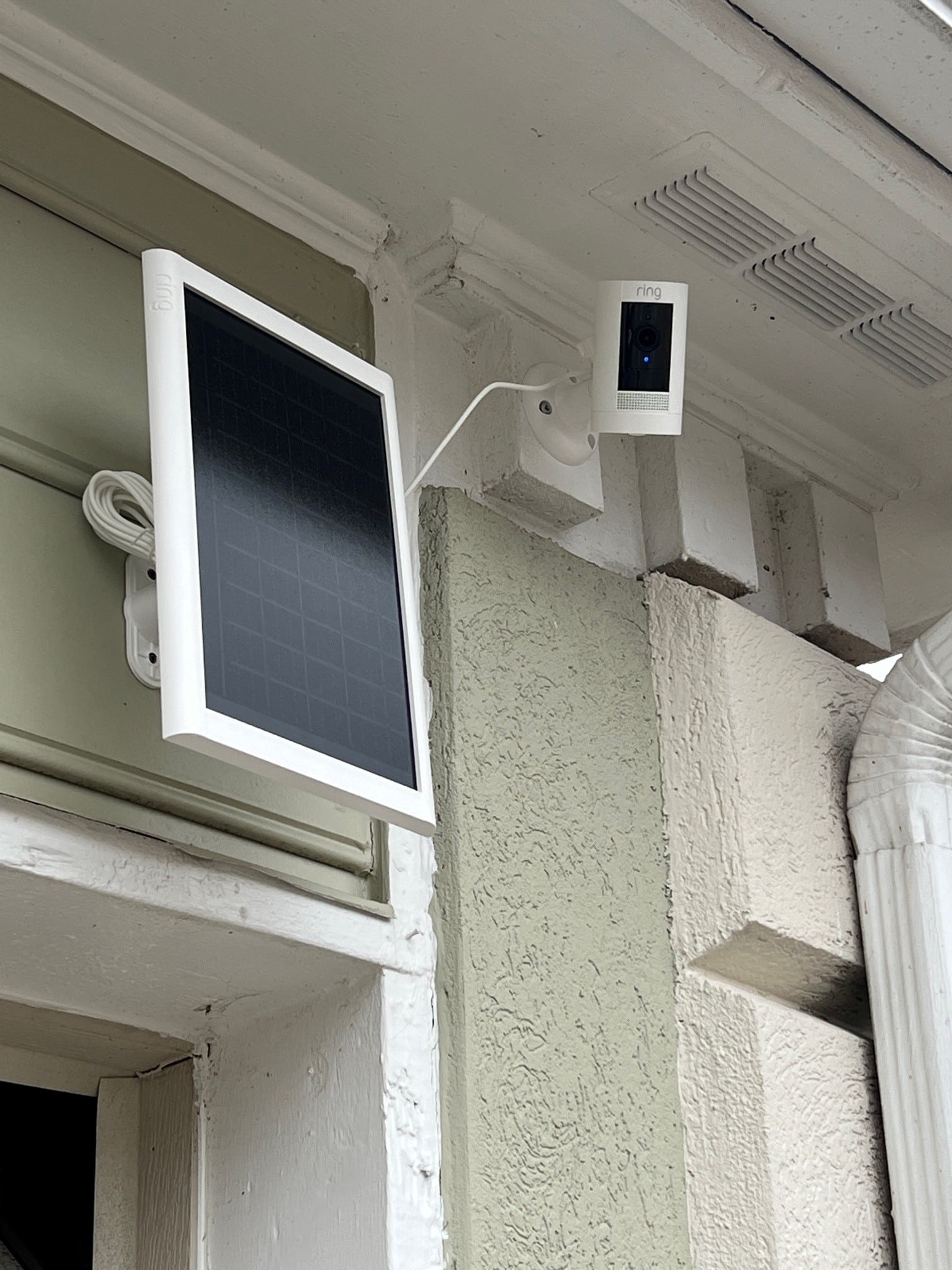 The City of Peachtree Corners has partnered with Fusus to provide enhanced public safety services to local businesses and residents. Fusus is a nationally recognized public safety technology provider that has operated out of its headquarters in Peachtree Corners since 2019.
Fusus is currently in use by cities and agencies nationwide including the Atlanta Police Department. The partnership between Fusus and the City will increase the efficiency of law enforcement and public safety responses by building a community-based public safety ecosystem.
The partnership begins with the launch of Connect Peachtree Corners, a tool that allows residents to register the location of their private home security cameras. The registration of a camera is completely optional and does not provide access to the camera to anyone.
The camera registration simply allows for the creation of a city-wide camera map for use by law enforcement. If a crime occurs in the city, law enforcement will be able to reference the map, and if they feel it is beneficial, they may contact a homeowner to request access to footage.
"We're excited to partner with the City of Peachtree Corners to create increased public safety innovation found in most major cities, right here in our backyard. And where more appropriate than our hometown, the "Silicon Orchard," to provide some of the most progressive, cutting-edge community safety tools available," said Chris Lindenau, CEO of Fusus.
Peachtree Corners residents and businesses are encouraged to visit Connect Peachtree Corners Residential Camera Registry to learn more about the program, access the frequently asked questions and register their security cameras.
"As a city government, we take the issue of public safety very seriously. There are not many things more important," said City Manager Brian Johnson. "This partnership and associated camera registry program will allow us to support law enforcement with a new technology tool and will lead to increased public safety throughout the City."
The Fusus platform and the Connect Peachtree Corners camera registry will serve as a central point for our local law enforcement and first responder agencies. It will bring all personnel and emergency operations centers under one umbrella and provide them with video and data information that will integrate directly with 911 Computer Aided Dispatch (CAD) systems.
Temporary Closures, Portions of the Town Center Parking Deck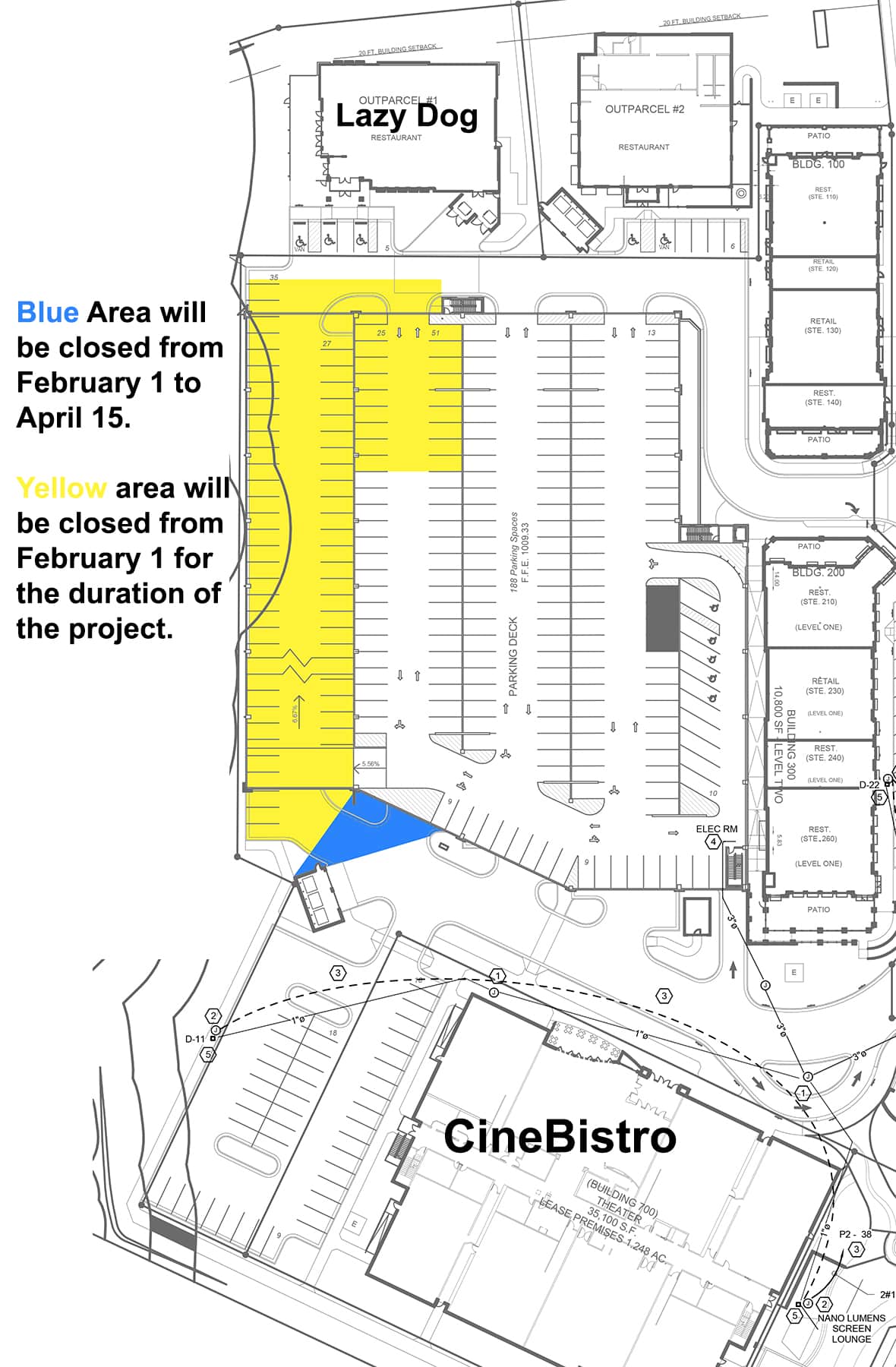 Beginning February 1st, 2023, portions of the parking deck located in the Peachtree Corners Town Center will be closed to perform maintenance and area improvements.
On February 1st, portions of the lower-level southernmost sections of the deck will be closed. This closure will affect the entrances immediately in front of Lazy Dog Restaurant, the entrance entering the lower deck closest to the CineBistro parking lot, and the southern ramp section in the area of the electric vehicle charging stations.
The entrance closest to CineBistro is expected to be reopened mid to late April. The remainder of the closures will continue through late Spring.
During this time, the vehicle charging stations will also be inaccessible.
We apologize for any inconvenience.
PCBA donates $4,000 to Corners Outreach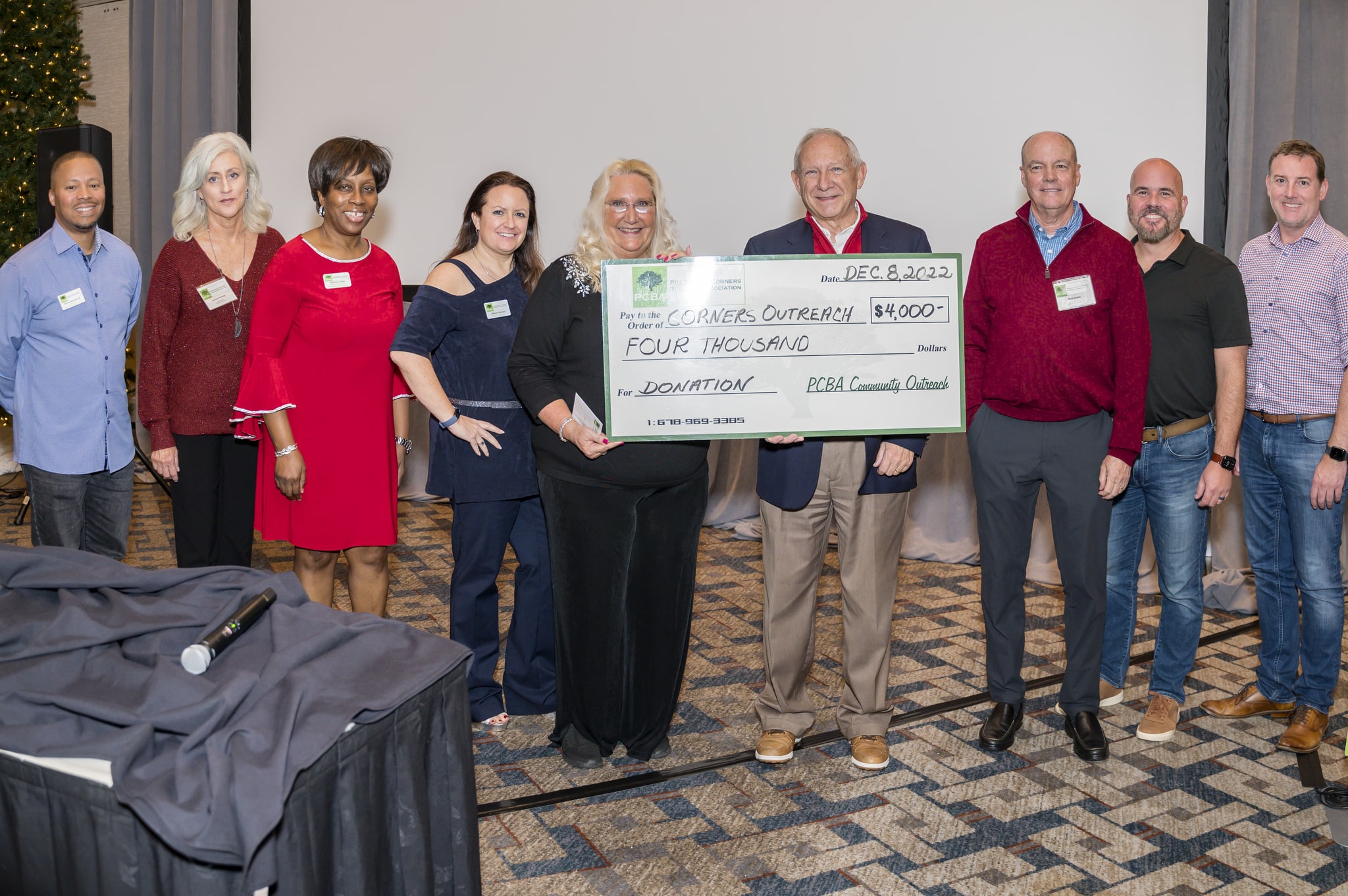 The Peachtree Corners Business Association awarded a check for $4,000 to Corners Outreach at their December Year End Celebration!
The mission of Corners Outreach is to equip metro Atlanta's underserved students of color and their families to lead full lives through educational development and economic opportunities.
"The PCBA is proud to donate a check for $4,000 to one of the three charities we raised money for at our annual charity event.  Our Outreach Committee and Board are impressed with Corners Outreach programs including Corners Academy, Workforce Development, Family engagement, and Corners Industry.  With the PCBA celebrating our 10-year anniversary, we are more committed than ever to find ways to engage and bring our community together in a meaningful way", says Lisa Proctor, PCBA President. 
Funds for the PCBA Community Outreach program are raised throughout the year from PCBA membership, sponsorship, and our annual charity event.  Donations and scholarships are awarded at their monthly events so the members can learn more about these organizations.