Tim Perry with More About What's Coming to The Forum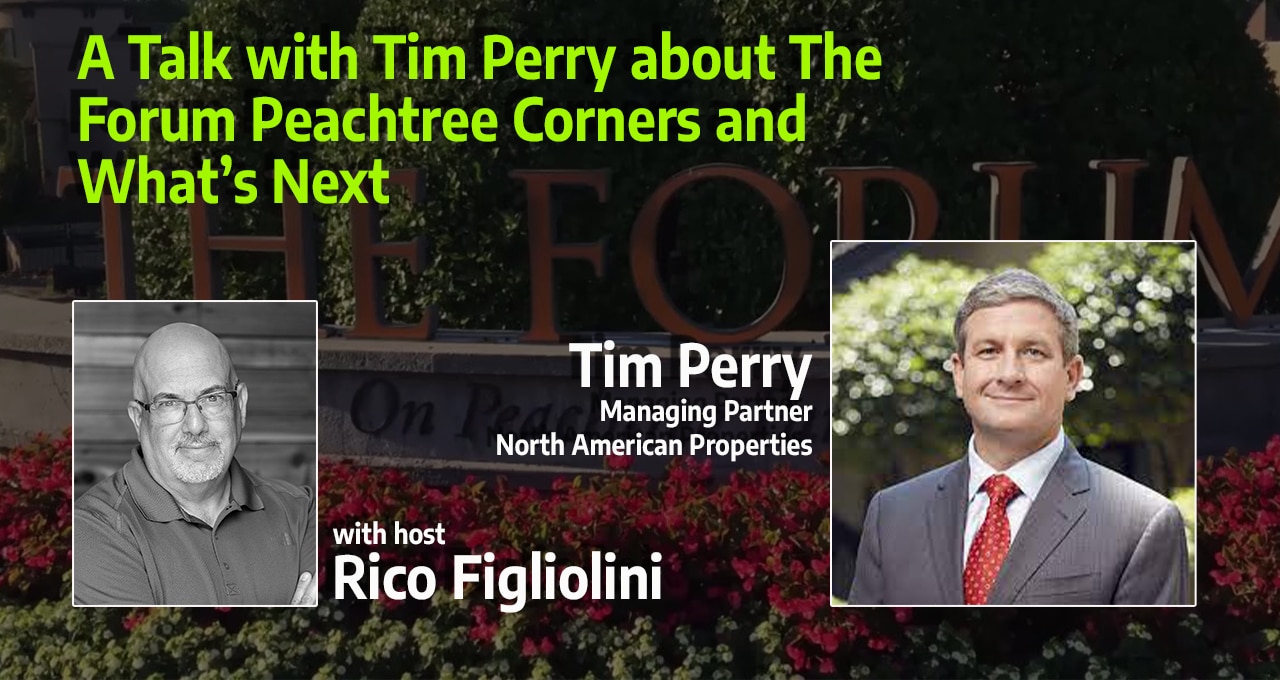 Management is already running The Forum as if it's Avalon. Starting with the basics like landscaping and security, but also the Friday Night Live music, new tenants are arriving like High Country Outfitters, the multi-family development on the town center side will likely start next summer, plus new businesses coming into a part of the 80,000 sq feet of office space. Learn more through our podcast with Tim Perry, Managing Partner of North American Properties.
Resources:
The Forum Website: https://theforumpeachtree.com
The Forum Facebook: https://www.facebook.com/theforumptc
"We've been excited about the Forum for years, even though we just purchased it earlier this year. And (we're) excited about working with Peachtree Corners because it's such a great community."

Tim perry
Timestamp (where to find it in the podcast):
[00:00:30] – Intro
[00:02:22] – North American Properties in The Community
[00:05:58] – New Types of Retail Coming
[00:08:48] – Breaking Ground on Residential
[00:11:00] – Plans for the Office Space
[00:13:49] – How the Economy Affects Real Estate
[00:22:57] – Making the Details Matter
[00:26:00] – Closing
SCROLL DOWN FOR THE VIDEO
Podcast Transcript:
[00:00:30] Rico: Hi everyone, this is Rico Figliolini, host of Peachtree Corners Life. I appreciate you guys joining us. We have a great guest today, Tim Perry, managing partner of North American Properties. Hey, Tim, how are you?
[00:00:42] Tim: Doing great, Rico. How are you today?
[00:00:44] Rico: Good. Beautiful day, when we're recording this live. Hopefully this will be an evening when people view it. Tim's the managing partner of North American Properties, owners of as many people know the Forum now. But before we get into this interview, I just wanna say thank you to our corporate sponsor, EV Remodeling Inc. and Eli, the owner and resident of Peachtree Corners. They've been a great supporter of our journalism in the magazines and these podcasts. So just want to do a shout out to him. They do design-to-build and they'll come in, remodel everything about your house inside and out. Done great work. He's on Houzz if you've ever used that. Houzz.com. Check him out. Check him out at EVRemodelingInc.com as well. And for transparency's sake, I also wanna say that the Forum is a supporter and advertiser in Peachtree Corners Magazine as well. So now that we've gotten that out of the way. We've been talking about the Forum, this stuff going on for probably six to eight months. So I'm glad that you're on this podcast sharing with me a little bit about what's gonna be going on over the next year or so. At this point, I think people are a little bit used to seeing stuff going on at the Forum, like the Friday Night Live music, some of the local bands you're bringing in. Kind of neat. And I know Ted's Montana Grill participates with popup bar set up there so people can actually go drink and enjoy some music. Across the way from Town Center on a Friday night. How's that going? Now that you guys own everything, zoning has been approved and all that, how are you guys doing with that, all this so far?
[00:02:20] Tim: Well thanks for having me on today, Rico.
[00:02:22] Rico: Sure.
[00:02:22] Tim: We've been excited about the Forum for years, even though we just purchased it earlier this year. And excited about working with Peachtree Corners because it's such a great community. Operationally, I mean, you can look down at our track record. In fact in gosh, 2011 when my predecessor and I, Mark when we bought Atlantic Station. These properties or the opportunity that is created by the lack of past investment is what we do. So it's front loaded from an expense standpoint. You spend the first year or so, or more, really activating the property and spending the money to build that community connection. And then you have to build in the physical infrastructure you need to actually execute it longer term. So while we're doing Friday Night Music and things now, we're having to repurpose parking lots and streets and everything in order to do it, versus actually having the public realm. The lack of public realm at the Forum, like Avalon or Atlantic Station or others, it created the opportunity for us to bring the public realm there and have somewhere to host these in the future. So you just have to kind of plow through it and embrace the community. And that's what leases space, and that's what attracts the merchants, and that's what attracts the restaurants that turn this into long term. So we're running the Forum like it's Avalon, even though the leasing has you know, trails certainly that merchandisers are showing that activation.
[00:03:43] Rico: Right. Yeah. And I think most people know at this point in Peachtree Corners traveling through the Forum, that there were as many as, I think 20 storefronts empty at one point. And of course, just also to be fair, there were people that were opposed to some of the zoning adjustments and stuff. But in the end, I mean, driving, creating, and keeping the way the Forum is by before you purchased it, just didn't make business sense, right? Buying it, redeveloping it. I mean, you guys have a track record with Atlantic Station, Colony Square. You've done the Avalon from ground up in Alpharetta. And prior to us starting this podcast, we were talking like you mentioned, front loading that investment. Getting people used to, I mean, you guys supported really well, Light Up The Corners. And I think that's a perfect example. Better than it's been done before. Giving way more space to it than it was given by the prior owners of the Forum. Now I think that was a great first step that you guys gave. Just, it was a good experience, I think, for most people.
[00:04:46] Tim: Well, thank you. Yeah. We're getting there for sure. And the additional zoning and all that we went through for the approvals for the public realm and the additional parking. All of those components really are gonna create the space where we can activate. And then the additional density, whether that's filling up the office space that's there, or it's bringing 381 residents, or it's bringing people in the hotel to the property. It's not just the people that are there, it's them and bringing their friends and bringing their family and their kids' friends.
[00:05:16] Rico: Right.
[00:05:16] Tim: And then the community. And that coupled with having a great public space is what makes it all successful. And the retailers and the merchants are responding to our plan, which is very active on the north end and very active around the plaza. In front of Grace and Belk. And now it's merchandising. It's filling in the food, the beverage, the patios, and that retail run. Because ultimately successful retail all sort of has a track effect. You go up one side of the street, you come back down the other side of the street, yeah. If you get off that track, it's why malls work, right? You go to a two story mall, you go down the mall and you go upstairs, you come back. That's why when you see a third story in a mall, it's almost always empty. There is a certain habit to how people engage with the property. And we want that to start and finish there in the plaza.
[00:05:58] Rico: Yeah, I get that too because, for example, my middle child, 24 years old, she goes to the Forum basically for Lulu Lemon, Ulta, and that's about it. Once she gets there and she leaves. I mean, she doesn't really eat there. Maybe she gets her, I don't even know if she gets her eyelashes done there or not. But those are the two stores that she basically goes to. And then, but she loves Avalon. She goes there with her friends all the time. And they'll stroll around after dinner and stuff. So I get that because her generation is not gonna be doing that track because there's not enough. There's not the right retail, I think. You could have enough retail, but if it's not the right retail. So tell us a little bit about that. I mean, it's not just retail, right? I mean you're looking, I think, at also bringing entertainment of a sort, besides concert and music. But tell us a little bit about the type of retail that you're starting to get besides Chopped and now I just saw High Country Outfitters is coming.
[00:06:56] Tim: High Country Outfitters is coming. We've got a brewery that's looking at taking a spot. We have a distillery that's looking at putting an onsite distillery there as well. As we know, we've got a food hall on the north end. LuLu Lemon is working to expand right in that location as well. And then it's fortifying the tenants that are there. And then from the entertainment side, it's not, there's not a space to do anything that's a really large format. There's no theater, there's no bowling alley type thing. But that, there's a niche now, and I call it competitive socializing, right? And it's been around forever. We just kind of gave it a name. And it's bowling, it's golf, it's darts, it's ax throwing. It's all of these different things you can do. It's pickle ball, it's tennis, it's corn hole leagues bringing all that into the mix, both from a tenant and an activation standpoint. People want to do it, I want to go out and I want to play a game or watch a game with my friends. So there's a whole niche around this sort of competitive socialization of a retailer that's coming as well. And then the soft goods piece follows. And the Forum's always had the demographics and the density of the market to support it. That was the original reason it was built. And now it's just putting in the newer, more emerging brands into the center and that kind of retail run. I've said this to you before, is you walk down one side, you work the track. You sort of get to where, maybe where Lulu is and you look down, you're like, ah, there's nothing else down there. And you turn around, right?
[00:08:18] Rico: Yes.
[00:08:18] Tim: You've gotta extend that track. So the improvements that are on the north end by the office are meant to pull you. Kind of go down and come back through. So that retail run will be built, but kind of get filled out soon.
[00:08:29] Rico: Yeah, interesting. Because I know when I go there and I want to park and I need to get something, it's almost like, do I wanna go down that stretch because there's, maybe I wanna get something at Jason's Deli. But I have to go all the way down there for that and there's nothing else along the way that would be of interest. Except for the chocolatier, because I'm a nut with that, but.
[00:08:47] Tim: Right.
[00:08:48] Rico: But yeah, I understand. And you're right, that competitive piece, entertainment piece. I mean, it's such a big thing now. I mean, you're getting VR, XR type places coming where you can eat, drink, and go play. And that's the attitude everyone, I think a lot of kids that grew up over the last two decades are adults now, right? They want to, everything's a gamification of something. So they want to be able to be out there and enjoy themselves and do all that. And I know bringing like 381 apartments to the Forum itself is going to help with that. In fact, you know, what's the timeline on that? I know for a different timelines on there. Any thought about when that breaks ground?
[00:09:30] Tim: Well, it's really the residential that the city approved for us on both sides of 141, right? So that's a lot of residents that are coming and pieces that are now going to connect the bridge and hopefully draw people back and forth. I know this weekend, is it a Prince cover band?
[00:09:44] Rico: Yes, I think so, yes.
[00:09:46] Tim: That there on the Town Green. Now, I'd love to see people parking on the Forum side and walking over. It should be a beautiful weekend, I think. So hopefully that works. But using that as a transit piece going back and forth. So it's really the residents on both sides that fuel both sides, again, of the property. So we're excited to have those. We're excited to have the hotel and that just brings more people into it. But the gamification of everything is important. So next summer is roughly when we hope to begin the public realm improvements. And we want to start, we want to have those tenants open. The new tenants open, that will announce as we sign leases. New tenants open for the holidays in 24.
[00:10:25] Rico: 24, okay.
[00:10:26] Tim: Just building space or public realm, is not as, it's not that time consuming. But once we get a space and you hand it over to a tenant, there's still a four to six month process for a tenant to put their stuff in, and FF&E, and decorate, whatever else. So there's that entire stretch, you kinda have to add onto the end of the landlord's work with projects. And then the part with the multi-family side, being the east side of 141 can start as early as next summer. And then on the Forum side, that is probably a 2025.
[00:10:56] Rico: Alright.
[00:10:57] Tim: And the hotel may move more quickly than that
[00:11:00] Rico: Really? Okay. Getting back to a little bit about the office space, there's about 80,000 square feet. I didn't realize how much square feet there was of office space there. And most people don't even think about that, like I said, unless they go into Innovative Help there, the dentist, Dr. Talley. Or unless they have a professional service they're going to over there. But most people don't even think about that. How is that? What plans do you have there? I don't even know what the vacancy rate is right now. But what plans do you have there moving forward?
[00:11:29] Tim: We've signed our first lease. It's a pediatric medical use, pediatric dental use. So we've got that. And the building there above Trader Joe's, there's three floors. It's got a fair amount of medical space, which is great. It's convenient, it's embedded in the neighborhood. There's nothing like taking your kid to the doctor and then going down to the chocolatier, right? For a little snack.
[00:11:48] Rico: Right.
[00:11:49] Tim: It'll make you forget about that shot, right? So it's a great place. It's a great use for it. And then there's, there's a lot more space though above like Pottery Barn on the second floor. And previously, about half of that is leased and the other half was part of the Spa Sydell. You remember Spa Sydell?
[00:12:04] Rico: Right. Yes, yes.
[00:12:06] Tim: And so we've actually gutted that space and opened it up to use it as office rather, than a service provider. It was very chopped up. We were already talking with a tenant about that space. We've been talking to one tenant where we would've to move a bunch of people around that would take a lot more space than we even have. So demand in a mixed use environment for office is always really strong. And if you look at all the uses top to bottom, whether you're a guest for a few hours because you're there shopping or dining, or you're a guest overnight in the hotel, or for a year, right?
[00:12:40] Rico: Right, right.
[00:12:41] Tim: As an apartment resident or for multi years as an office tenant, everyone wants the same thing. They want what's outside their door. Not what's inside their door. So, the retail, it pulls people through a retail and creates sale, which creates a longevity to those tenants. So when your daughter goes back, there's always her favorite store where she's gonna go and shop. Same with restaurants. She's always going to have her favorite restaurant that's going to be there. And for those who don't know Grace is closing and rebranding and reopening. But the business itself sold. It wasn't anything that we instigated. It was something we were told. It sold, and we're really looking forward to working with the new owners there.
[00:13:20] Rico: Yeah, I think they're the same owners of Stäge is what I understand. Or associated somehow with them.
[00:13:26] Tim: That's correct, that's correct.
[00:13:27] Rico: And I think it's a French oriented restaurant. Somewhere along those lines, from what I understand.
[00:13:32] Tim: So we're excited about that. And that's such a great corner. You know, businesses evolve over time. We're really happy to have a fresh face in that corner. With the Plaza, it's gonna be such a key corner. Everybody parked in the deck and everyone going to and from cars. Everyone getting either car valet or coming to an event, it's gonna be right outside their door.
[00:13:49] Rico: Yeah, they're going to have a lot of value there, I'm sure for that. And I know Grace 1720, I mean, they've been there, they were there a long time. So it was, I think the owners just wanted to sell at that. I think they've gotten to that point, the original owners, I think. But that's cool. So, people are looking at the economy right now, right? A little bit. They're looking at some inflationary stuff. Who knows what's gonna happen over the next 24 months or so. There's so many people. And even the people that are supposedly experts have been getting it wrong, for a while now.
[00:14:19] Tim: Right.
[00:14:19] Rico: It seems. Yeltsin, I think just admitted that she was wrong a little bit about her predictions a year or two ago. How does that affect the Forum moving forward and stuff? Do you hear anything on that or is that even an issue at this point?
[00:14:32] Tim: Well we're very fortunate to have a large institutional partner. And the rise in interest rates alone isn't impacting the Forum because there's no debt on it. So we're blessed not to have that increasing cost as a detriment to our ability to execute on the plan. And because we've set out with a business plan to do all of this in closing, all of that was capitalized as part of what we've agreed to go forward and do. So there are still a lot of things to work through with the city. I mean as we said during the development. Entitlements aren't designed right?
[00:15:07] Rico: Right.
[00:15:07] Tim: You still have to get through and spend the design dollars and the permitting and the approvals and everything with the community review and zoning, design review. So we're working through that with the city right now on different components. I think from a tenancy standpoint, there's definitely risk, right? There's tenants, regardless of what they are, tend to swing sometimes strongly, one way or the other from let's not do anything and wait to, oh my gosh, I've gotta do 200 new units across the country this year. I've gotta get going.
[00:15:36] Rico: Right.
[00:15:36] Tim: And what we've seen is some slow down. Not everyone's leaning in to, expanding as fast as possible. But good location, good real estate, is fundamentally good real estate. So there may be locations for national tenants that aren't moving forward, but something like a Forum, an Avalon or Avenue East Cobb or some of our other projects are not those. Just amount of interest, the amount of expansion. Especially at this point, rather than five years down the road when it's probably more expensive to lease space there but there's less of it. At this point, the real good real estate continues to lease. And the Forum, the Forum is catching that. There's a flight to quality in almost all economic downturns. And that means office, right? You have a lot of options. I want to go the A location or the A property or the A product. And the Forum is the A location, the A product, in an A property. So it's kind of all of the, checks all those boxes.
[00:16:34] Rico: Yeah, it makes sense. I mean, it really, within the city of Peachtree Corners, it's actually the only A retail besides Town Center, right?
[00:16:41] Tim: Right.
[00:16:42] Rico: So if you're coming to Peachtree Corners, I mean, this is the place to do it, I guess, right?
[00:16:46] Tim: Collectively with Town Center, that's what creates the A location. That's what creates if you're talking about downtown Peachtree Corners. And that's how we sell it, and that's how everyone should think of this is downtown Peachtree Corners. This is my amenity. This is where we take our family. This is where we take our friends. This is where we go to spend some time. And now soft goods want critical mass, and there's not critical mass at the Town Center side. So that's where the Forum would be different than Town Center. And not compete directly. I mean, there's still a need for that QSR and that Center on both sides.
[00:17:16] Rico: For sure. And I think as people, as I've spoken to people at business association meeting chambers and other business people. The economy may shift and do certain things, but that doesn't mean every business is affected the same and equally by that. And I think you're right. I mean, there are a lot of businesses taking this opportunity now. Because it makes sense to be able to do what they need to do. Because like, you're right, five years from now, even if we get into a recession at some point within the next year or two. We come out of a recession. It's not, businesses don't stop, right? If they're fundamentally a good business and they've planned out and they've budgeted out what they're doing, they're not going to stop.
[00:17:58] Tim: Right.
[00:17:58] Rico: They're just gonna keep going because that makes sense. Unless it was done, unless that decision was done on bad principle, right?
[00:18:05] Tim: Quality and talent, right? I mean, companies want to, you've gotta keep your talent. Because there is a backside to this.
[00:18:11] Rico: Right.
[00:18:12] Tim: And you know, the most valuable commodity we all have is our time. Our time and our talent. So keeping it all together and staying the course. That's the reason we only buy you know, really well located class A locations. Even if the property has fallen out of that classification, we can bring them back. And you look at Colony Square and Midtown, these are 50 year old buildings.
[00:18:30] Rico: Yes.
[00:18:31] Tim: But from an occupancy and from a leasing, from an occupancy and from a rental standpoint, they compete with the class A market. Just things, the products that are 10 years old, right? So it competes in that sector because of the quality of the location, the quality of the experience. The amenity downstairs.
[00:18:46] Rico: That's right. I agree with that. I mean, before the rezoning there were people talking about, oh, do we want multifamily there? And what's that going to do and stuff. And after, I guess some experts out there, like after you get three cycles of tenants, then it falls apart. And I look at that and you look at the apartments in Peachtree Corners, most of them are like garden apartments. We don't have mid-rise apartment buildings in Peachtree Corners. It's a whole different animal. And especially where it's going to be located. It's a whole different animal. It's almost like when discussing, people would tell me, yeah, but then in seven years it's going to be bad. And it's like, what does that mean?
[00:19:24] Tim: Right.
[00:19:24] Rico: That means, if that happens, the whole downtown area is bad, is what you're saying.
[00:19:28] Tim: And because where one goes the other follows. But we're not gonna let that happen. You know, if you keep the street, if you keep the life. We say it all the time. We're not leasing space, we're leasing lifestyle. And that's the difference between a garden apartment and this. You know, if somebody's either need to live here because of something, then there's a big wide market. I can live in a lot of different places. If there is a desire to live somewhere because I want to live that life. Then there are very few. And that's where the resident profile is so different in a mixed use property. It's older. It's almost driven more by, well it is, it's driven by their lifestyle. I want to go downstairs and have wine. I don't want to cook. I want to go to the beach for two or three months at a time, but I still need to come up here and meet a client. Or just my doctor, my friends, my golf course are all here so I need that. And it's not, that's true in every market. We see it at Avalon all the time. Unless someone moves out and moves to the beach full time, they typically move into a town home or something that's right around Avalon or downtown Alpharetta. And we have the same thing. Just last week, we had a grand opening, a grand reopening, a celebration of our redevelopment. Almost identical to the Forum called Birkdale Village. That's up in Huntersville, North Carolina. Just north of Charlotte up on Lake Norman. Almost identical. I mean, if you go to BirkdaleVillage.com, and if you look at that. The stage, the sound, the concierge, it's all going to look almost the same. So go check it out. In fact, it's a beautiful property. We just opened it last week. And I was there and talking with someone who was attending. And they were a resident, they were in their fifties. They had a house at Hilton Head. They had sold their house across the street of the country club and were building a house in Bluffton. And they wanted a home base next to their doctor, their friends and their kids who lived in that park. But they wanted to lock and leave, and they wanted to be able to walk downstairs and sit outside on a beautiful day or what else and not drive. And not drive, right? And that's the profile. And it's very consistent when you get into these mixed use. I guess everyone is a resident by choice, because you can choose wherever you wanna live. But it's really a renter by choice because they have an option of owning or buying.
[00:21:36] Rico: Oh yeah. One of my writers lives in downtown Duluth. Him and his wife saved quite a bit of money. He likes writing for me part-time in about stuff going on in Duluth. He just started and he lives right on, like right there in downtown.
[00:21:50] Tim: Right.
[00:21:51] Rico: And they rented it. They thought, let's test out this. We could always go to a different rental place down the block if this one doesn't work out. So they're testing out stuff and they love living downtown. They just go down to the restaurants, they go to the concerts on the town green there in Duluth. It's a beautiful area. You know, it's a nice downtown, but that took a while to build up that downtown.
[00:22:12] Tim: Right. And we'll see how the recession affects ownership because it's more expensive to own. Which means there's typically, you know, it's kind of a slow down. And one thing has to reset. Either the price of homes have to come down or your interest rates have to come down. Either way, kind of supply, marketing. It kind of slows down a little bit. And I think that'll create probably a net zero effect. People who stay in a resident, an apartment longer because they think they can get a deal on a home, they maybe willing to sell less. People still have to move.
[00:22:41] Rico: Right.
[00:22:41] Tim: Or they may say, you know what, we're going to hang out here and wait for the recession to blow over so I can get a lower rate and afford more home than what I may be able to afford now. So it's gonna be interesting, but it's the same kind of tenant, resident profile in both those cases.
[00:22:57] Rico: Yeah, and I think also the way that you all look at, just the look of a place also. I mean, I could see the difference in even the plantings of the flowers when you guys first took over. Whereas before it almost looked like, they just did minimal planting and then later it looks like, wow, this, did they build that up? Or is this just more flowers there? Just the little things like that to me because I notice those things make a difference. Because that tells me they're paying attention to the detail.
[00:23:26] Tim: Yeah.
[00:23:26] Rico: High Country even, their facade is a lot different than the other places.
[00:23:31] Tim: Right.
[00:23:31] Rico: The other stores there.
[00:23:33] Tim: You eat with your eyes, right?
[00:23:34] Rico: Yeah, I mean.
[00:23:35] Tim: We say it all the time. That's kind of a big evolution. Tenants, these neutral colors and just slap a sign up on the building.
[00:23:43] Rico: Yeah.
[00:23:44] Tim: It all looks the same. That's not the current market. I mean, if you look at Avalon, that's, we broke ground at Avalon in 2012, I mean ten years ago. Look at all those different storefronts. And now each of those. I guess it was '13, so almost ten years ago, nine years ago. Each of those storefronts as you put new tenants in will express itself. And that's a really important part of creating that eat with your eyes, that experience.
[00:24:09] Rico: Yeah.
[00:24:10] Tim: I like to say, I'm glad to hear you say you notice those things. If everything is right, you don't notice anything, right?
[00:24:16] Rico: Right.
[00:24:17] Tim: You walk through it, and it feels good. I don't know why it feels good. I can't say it feels good because of the flowers or the lights or the music. It just feels good. But if you walk through and it feels bad, you know exactly why it feels bad. And so, those things, people notice when something's wrong. And when it's right, they don't tend to. They just, it just feels good. So we like to hear people notice when things are wrong, because that means we can go and attack it and fix it. We've been doing that ever since we closed in March. Glad to hear it makes a difference. I mean it's gum on the sidewalks to flowers, to planting, to music, to lighting. To consistent uniforms. Even with outside vendor, like the custodial team. It's that one vision, one shared understanding of what excellence means and a strive to create it.
[00:25:05] Rico: Yeah, I've noticed that. I've noticed the uniforms. I noticed security, more security. They're dressed in a certain way also. Which is good. I mean, people want to feel safe as well, right? To where they go.
[00:25:17] Tim: How many real estate owners have a grooming standards in their operating manuals, right? You know? So not a lot.
[00:25:24] Rico: Yeah. No, no. And you have apparently.
[00:25:27] Tim: And we have. Right. We have to say everything matters, right? Good enough, never good enough, so.
[00:25:32] Rico: Yes. No, I love the idea of Disney World, Crown Plaza. The idea that when people, the way you say when people step on the property, you want people to feel welcomed and safe and know that they're gonna be taken care of. So it's all good.
[00:25:47] Tim: We want them to come back, right? We want them to come back. We want people to say, this is my Forum. It's not mine, it's yours. It's yours because you want to come use it. And if there's something wrong with your property, your Forum, tell us what it is.
[00:25:59] Rico: Right.
[00:25:59] Tim: We'll fix it.
[00:26:00] Rico: Cool. Well, we've been talking to Tim Perry, managing partner of North American Properties. Just a lot going on there and I know there's a lot more going on behind the scenes that you probably can't talk about. Retail partners that may be coming in that slowly your team will be sharing who they are at some point. Anything else you wanna tell us, Tim, about things moving forward that you'd like to share that we haven't touched upon?
[00:26:24] Tim: We're gonna start our holiday activation this year. So November 18th is actually our tree lighting and our holiday parties. We'll have an event that day. I want everyone to come out, park on both sides, walk across the bridge, use it, come over. And we really look forward to getting on the true design right? I mean, not just the renderings and things people have seen in the papers, but the plans ready so we can get this thing moving next year. But we're looking forward to the holidays this year. We're looking forward to some great new announcements. Keep coming out to the events. That's the best way to stay engaged with what's going on with the property. And in 2024 we're all gonna have a plaza and a whole list of events and new breweries and wineries and distilleries and retailers to enjoy. And it seems like a long time on the front end, two years from now, we're gonna go, wow, it seems like yesterday. But we're really big on doing what we say we're gonna do. And we've been saying what we're gonna do now we're gonna go do it.
[00:27:20] Rico: Yeah, time flies. Seems like it's going to take a while, but by the time we get there, you know, it'll be like, wow. This is the way it's gonna look, okay.
[00:27:28] Tim: Right, right.
[00:27:29] Rico: So cool. Anyone that wants to know more about what's going on at the Forum, you could check, follow the social media, the Forum at Peachtree Corners. Right, the Forum at Peachtree Corners. They have a new logo, obviously, I think listeners should know a bit more about that. So follow them on Facebook as well. They have a newsletter, I believe. I think you all have a newsletter that can be signed up on, on your website.
[00:27:51] Tim: You can sign up on the website for email blasts and newsletters and that kind of stuff. And follow our social media. We have a social media coordinator on every property as well as marketing, event planning, and all that kinda stuff. So we're really active on social media. Follow it, that's the best way to know what's going on. That or the webpage. That's both from physically what's going on as well as events and what's coming, what's going on there.
[00:28:12] Rico: Right.
[00:28:13] Tim: Follow us, I look forward to engaging there more.
[00:28:15] Rico: Yeah, lots of music on Friday night, so keep that going too. And it's great to see the businesses participating like Ted's Montana Grill and stuff on doing that popup for drinks. And of course follow us, Peachtree Corners Magazine and our social media. Subscribe to our newsletter, you can find that on our website at LivingInPeachtreeCorners.com because we're always covering what's going on here in the city of Peachtree Corners. Check out our magazine, our latest issue, somewhere around here, is coming out and it's the pets issue. We are currently working on Southwest Gwinnett Magazine in our 19 under 19 edition. 19 kids that you should be looking out for, things that they're doing. And in the Peachtree Corners magazine, we'll be doing the faces of Peachtree Corners in the next issue. And so some top leaders and community people that are doing great things here in the city, business people and others. So check us out, follow the Forum. Tim, I appreciate, you're a busy guy. You have lots going on all over the country, I'm sure. But I appreciate you spending the time with me this morning to be able to do this podcast interview.
[00:29:23] Tim: Absolutely. We travel a lot, but this is home. Two years from now, we're gonna drive through home and we're gonna be proud, Rico.
[00:29:28] Rico: Yeah, you live up in Johns Creek, so I mean, right? You're right close to us. Cool. So everyone, thank you again. Tim, stay with me for a minute. I just wanna say thank you again to EV Remodeling Inc. for being a sponsor, a corporate sponsor, supporting our journalism. The publication, as well as the podcast that we do. Thanks, Eli. Check them out. They do great work. Eli lives here in the community. This is a Peachtree Corners based business. Lots of remodeling work they've done. Some actually pretty nice stuff that they've done, so check them out. EVRemodelingInc.com. Thanks again, Tim.
[00:30:04] Tim: Thank you.

Redevelopment, Solis Apartments, Updates on the City Marshal and Siemens Partnership [Podcast]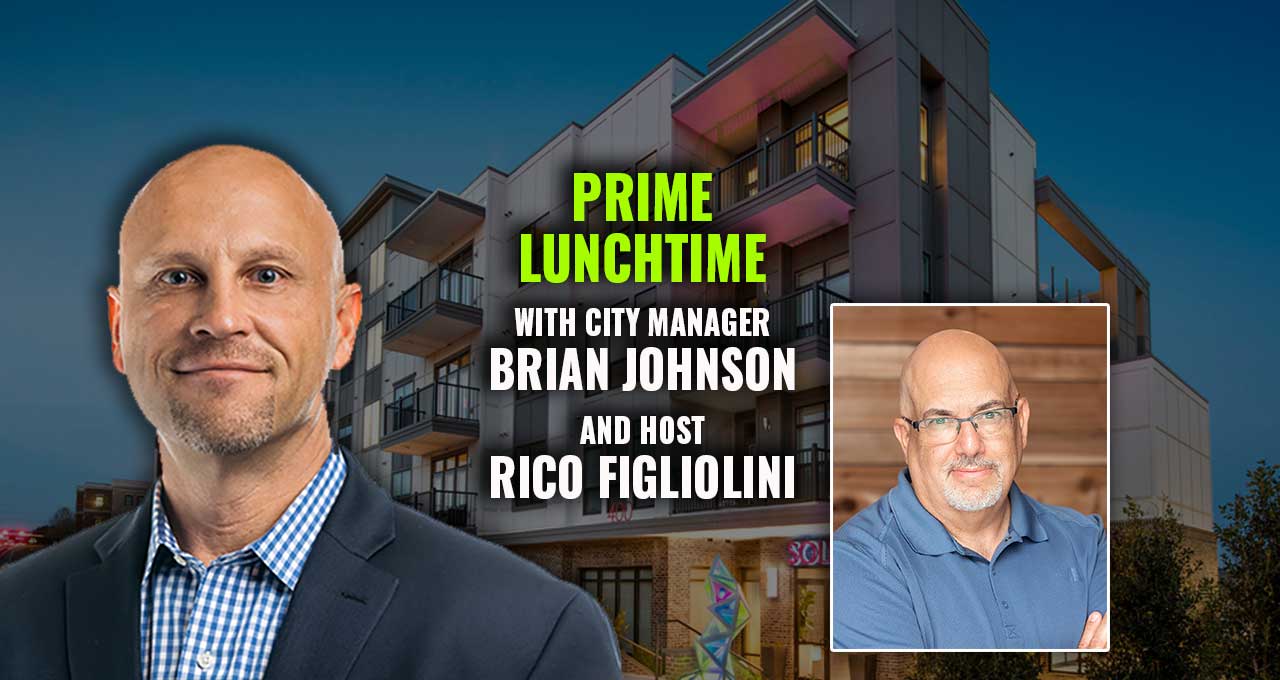 From potential redevelopment plans for the Ingle Shopping Center to cutting-edge collaborations with Siemens, this episode uncovers how Peachtree Corners is positioning itself as a hub of innovation and progress. Discover how the city is attracting international businesses, utilizing additional real estate, and embracing the latest advancements in public safety technology. Join us as we explore the thriving landscape of Peachtree Corners on this episode Prime Lunchtime with the City Manager.
Timestamp:
[0:00:00] – Introduction and Sponsorship Acknowledgment
[0:02:00] – Discussion about the Ingle Shopping Center Redevelopment
[0:11:54] – Discussion about the Roberts Property Redevelopment and Solis Apartments
[0:19:34] – Updates on the City Marshal Department
[0:28:20] – Partnership with Siemens and Economic Development
[0:32:58] – Closing
Podcast Transcript
Rico Figliolini 0:00:00
Hi everyone. This is Rico Figliolini, host of Peachtree Corners Life, and today we have Prime Lunchtime with City Manager Brian Johnson. Hey Brian, thanks for joining me.
Brian Johnson 0:00:10
Thanks for having me.
Rico Figliolini 0:00:11
For sure. Before we get into the show, we're going to be talking, just to wet your taste buds a little bit, everyone. We'll be talking a little bit about the shopping center, the Roberts property behind Chase Bank, what's going on there, as well as the progress on the City Marshalls. But before we get to that, I just want to say thank you to two of our lead sponsors. One is EV Remodeling Inc. They're a local company owned by Eli. Eli has done a great job with home remodeling. Anything from $10,000 to $100,000 in work from your backyards to whole house build outs. So check them out. They're at EVRemodelinginc.com, does great work there. Second one, the second lead sponsor is Clearwave Fiber who's come on board. They do a lot of the business internet work here in the City of Peachtree Corners. They have over a thousand plus customers, both business and residential. And you can check them out by going through our links, go to our website, you'll see their ad there and click right through to them. And that's Clearwave Fiber. So thank you to those guys for supporting us in what we do here. Now let's get on to doing this every month. Guess part of we're going to talk about with Ingles is that we've talked a little bit about this on another podcast. And we have an article out that came out this morning as we're taping this. And we talked a little bit about the Ingle Shopping Center possible redevelopment, and it's really coming from the owners of the property. So tell us a little bit exactly how this is being talked about because I know this has come up several times over the past few years.
Brian Johnson 0:02:00
Well, economic development projects or the pursuit of economic activity are always hard to talk about because they're moving targets. There's lots of considerations going on. You've got land acquisition and negotiations and different developers or owners kicking tires, seeing what. So it's always difficult because at any point in time, short of having an inked deal, these things could fall apart. So I only say that to say that it happens. And sometimes all it takes is a word or phrase and done. Not quite as accurate. All of a sudden people, the community thinks that it's going one direction. You're like, hold on. So this is no different in that the work that's being done, the development that's happened at the Town Center, the redevelopment of the Forum under North American properties ownership has gotten a lot of people excited about possibilities of growth and capitalizing on increased activity that those two sites are generating. And a lot of the property owners that have current existing commercial property adjacent to or near the Town Center and Forum have approached us recently to discuss possibilities. Hey, how might we change or redevelop our property in a way that's beneficial to the Town Center, and we can benefit from the Town Center and Forum's activity. And so the Ingle Shopping Center parcel development and the owners of it are no different. They have discussed with us possibilities. And when this happens, sometimes the city, given that we have in house capabilities of doing this, we know the zoning better than anybody else.
Brian Johnson 0:04:13
We know setback density requirements, all that stuff. We can sometimes come up with renderings and conceptual site plan possibilities that it's easier for us to do than a consultant working for the property owner. And so, in the case of Ingles, in our discussions with the owner of possibilities, we in house generated just a few ideas, not ones that were generated at the request of that development or the owner, but the owner was very open to yeah. If you could show us how it might lay out differently, we could consider it. And obviously, since Ingalls is the anchor tenant there, we all know it as that, and that's a significant corporate tenant of the.
Rico Figliolini 0:05:09
To. So then people know because they may not know CVS is an out parcel, not part of that property, if you will. So is the Duncan Baskin Robbins store that's separate also, I believe, right? No, that one's part of so the.
Brian Johnson 0:05:28
CVS is an out parcel.
Rico Figliolini 0:05:30
Correct. Okay. And the old McDonald's, is that also separate?
Brian Johnson 0:05:35
Well, it is separate. In our renderings, we just made an assumption based on the owner saying they have a relationship with McDonald's corporate office because it's owned by McDonald's corporate. It's not owned by a you know, again, but that's why in economic know, for you to master plan something sometimes to make assumptions of certain things. And so the assumption was that that would be, if this happened, would be acquired and would be added to the block of property that's just there. And so some of the renderings did have a newer, somewhat smaller footprint for Ingles. It would be like, hey, Ingalls, there would be a smaller footprint built closer to 141 for Ingles to move from their current footprint into a smaller version in which there are some locations that Ingalls has a smaller footprint but has not been discussed with them. They haven't requested they are not the one requesting any kind of a footprint. You know, you just never know. It's not uncommon. We've done this with some of the other ones as well. But this is what happens. And this is oftentimes, to a degree, how North American properties redevelopment activities at the Forum happened is we generated the city with the previous owner before North American got it. We generated some suggestions in the forms of site plan renderings that got the wheels turning. Ultimately. It was one where the previous owner said that's great, we're going to sell it.
Brian Johnson 0:07:21
But when we sell it, we're going to share the fact that the city is open to some change based on the rendering shared. So these are all very fluid situations which unfortunately, oftentimes more than not, they don't serialize but miss 100% of the shots you don't take. So we're open to trying. So that's kind of where we are with that, which is nothing may ever happen or there could be a significant upgrade.
Rico Figliolini 0:07:54
And the owner is not a REIT. The owner is a local business group.
Brian Johnson 0:07:58
No, the owner is a Canadian company.
Rico Figliolini 0:08:00
It's a know, you know, we did talk about it on a podcast and an article about possibly coming from Ingalls, but this was really from the owners of the development of the property there. Now it's the mean, I think it was about a year ago, maybe a year and a half ago. They also talked about maybe putting gas pumps at one point similar to what Kroger's has over there. So interesting. But even if anything were to mean, obviously before even ground would break, could probably take two years, I bet, because of rezoning and stuff like that.
Brian Johnson 0:08:42
Yeah, probably not. Well, for them to go vertical with buildings right now, there literally is nothing. So it would have to start from scratch. You'd end up having to do site plan, come up with use, go rezoning, and then that's when you get the design professionals of architects and engineers that are going to need many months, probably a year to actually generate the construction documents. Then you got to go to construction. And even if you move the angles to a building that's more forward facing on 141, you would have to construct the new building. And then after they move into the new space, then go back and demolish the existing space to put the new use there. Which is why the Forum is fully redeveloped as probably a five year process because you've got new build and then you've got some demolition and then you're fitting pieces into existing properties. Redevelopment is always a lot more challenging and time consuming than new builds.
Rico Figliolini 0:09:51
Well, and you have that whole big right behind Inglesh. You have that whole big not empty, but you have the warehouse park behind Ingles that takes the trucks in that can turn around and stuff. That's a whole big driveway, if you will, back there. I don't know if anyone's really driven back there. It's huge back there. So even to move that building forward, even on a smaller footprint, you still have to accommodate trucks coming in and stuff. I don't even know, you know, where the setback is, a valley part near the parkway.
Brian Johnson 0:10:21
I don't know if that's a big ditch along 141.
Rico Figliolini 0:10:25
Yeah, that probably would have to bet you that could get filled in or something. I bet you that's part of that discussion, I would think.
Brian Johnson 0:10:32
Well, it is. We've actually looked at that before because it's horrible, but it is not easy. If it was easy, we would have done it. It is over a million dollars just to fill it in because of the utility work that you've got power lines, power poles, you've got drainage under it, and being used as a detention facility, a holding facility for extra water when it rains hard. So we've looked at it, but yes, redevelopment of the whole thing might include that just to get more real estate, developable real estate. Sure, yeah, big thing may or may not happen. But right now this is pretty common when there's an interested owner who's like, look, I'm in this to make money. Like everybody is on these things. And I'm willing to consider what redevelopment changes I might be able to do to ultimately maybe be a better value add to the Town Center Forum and then they can derive more. Maybe they have a use that makes people want to walk over to that location, whereas right now it's more of a drive to destination.
Rico Figliolini 0:11:54
Yeah, interesting, because even some of the renderings that the city drew up and even their rendering that we've put out on our website that we've seen that was out there, it would be a multi use. So there's multiple could be multiple stakeholders in it because one of the things was inactive living maybe seven story tower, six story, whatever would be the center of it, and then retail around it, possibly offices. So it might be two, three floors addition to that. So more use out of that property going vertical like you've mentioned before. Yeah, for sure.
Brian Johnson 0:12:33
Definitely closer to 141.
Rico Figliolini 0:12:35
Right. Because there's all that space. So going from something like that, which is speculation, possible redevelopment going to something consuming. Yes, not just that, but just everything that goes into it. Public hearings, I guess, and all that stuff. Right. So let's go to somewhere that is pretty much set already to a degree, because it was part of the North American property deal with the Forum and Town Center. So the property that's commonly known to some people as Roberts property, charlie Roberts that owns the land that's behind Chase Bank and H and W Steakhouse, that property was rezoned, I think absorbed into the multi use plan that's there. Right. And then allowed to be departments, I forget how many units, 260 plus maybe somewhere like that. So that was approved, that was all okay. The deal didn't work through for some reason, whatever that reason is, with North.
Brian Johnson 0:13:38
American Properties and Charlie Johnson interest rates and borrowing money. But yes, that side of the road was an out parcel to North Americans Forum redevelopment.
Rico Figliolini 0:13:52
Right.
Brian Johnson 0:13:52
And so they changed or that deal fell through.
Rico Figliolini 0:13:58
And so now there's a new buyer. And I heard that it was going to close. And you just confirmed before we got on that it closed. So who's the new buyer? Tell us. A little bit because there will be apartments there. I mean, that's what it's zoned for. So it's not like it's a question anymore.
Brian Johnson 0:14:15
That's correct. And they're going to be building what is materially. The same thing that was the same renderings that were presented to council. There's some subtle tweaks to the exterior, but generally that product, and it's a residential developer named Or Pappas. And so that's who closed on the property. And so they are going to construct those units as presented to council during the entire North American property application.
Rico Figliolini 0:14:52
Now, most people don't know that business, but they own is it Solas? Solis.
Brian Johnson 0:15:00
Yes. Correct, Solis.
Rico Figliolini 0:15:02
And that's what type of apartment is it? Solace Apartments, I guess. I know there's one in Sugar Hill that's an active apartment community.
Brian Johnson 0:15:12
It says they've got property on Swanee Town Center.
Rico Figliolini 0:15:16
Swanee Town center, right?
Brian Johnson 0:15:18
They've got property up Brian Johnson Creek that they've developed. So this is what they do. They're a quality developer. We were pleased on who it was sold to.
Rico Figliolini 0:15:29
Yeah, I've seen some of the Solace properties are very nice properties, very sort of luxury driven a bit.
Brian Johnson 0:15:35
Yes, it's a higher end building. And this is structured parking, as you know, pedestal parking, where your parking deck is underneath the units. And yeah, so again, we were pleased that who was sold to and they've met with us. And their intent is to start site work late this year.
Rico Figliolini 0:16:00
Oh, really? Okay. So they're going to start doing work. And so the property that's by north of the wine store, corner Wine and Spirit, that's a different property. But they've been out of the ground. They're already selling at this point, I think it's been about, what, a year maybe, that's been built. Yeah. Broadstone at Peachtree corners. So they have a beautiful website and they've been already doing pre sales on it. And to some degree it has almost the same look, I think, as Solace Properties does to a degree. But I remember the renderings, I guess that were put out for that. So I'm going to probably put that in the show notes for those that are listening because I think there were some renderings on there.
Brian Johnson 0:16:47
You can pull the application for North American property, the rezoning application and the renderings for that side of the road are going to be generally, I mean, again, the toilet where I do know that they're lightening up the colors a little bit dark. And I think that there, again, might be very subtle tweaks, but there are no material changes. So I think that would be fair to put that out because it has to be in material compliant or general compliance with that rendering and also with.
Rico Figliolini 0:17:23
The conditions on it. If I remember correctly, there was individually wired units. There was a bunch of things in there like that.
Brian Johnson 0:17:30
That's correct. EV charging stations. They also have to connection across the creek.
Rico Figliolini 0:17:37
That's right.
Brian Johnson 0:17:38
Okay, walk directly across the creek from the property and not have to go out to the sidewalk on 141 and walk up.
Rico Figliolini 0:17:47
So that could be out of the ground really in a year and a half to two years.
Brian Johnson 0:17:51
Yeah. Look, right now they're starting the architectural actual construction document design of the building because they don't need to go back to the conceptual stuff.
Rico Figliolini 0:18:04
Right.
Brian Johnson 0:18:04
So, yeah, I wouldn't be surprised if nine to twelve months, they're going vertical, which is pretty quick from not having gone through rezoning or whatever. So, I mean, site work in November or December is fast. Yeah.
Rico Figliolini 0:18:24
Cool. So, yeah, people should be aware of that. That 260 plus units and doesn't need any rezoning or anything. But this company is a good company from the properties that people can see around, like in Sawani or Sugar Hill in these places. Will that have retail also I forget now if that had any retail space on there. So it's strictly apartments. Cool. Now I passed by the Forum every once in a while. I'll go through there at least once a week and stuff. They're already vertical with two story framework, metal framework for what we call the jewel boxes that they're going to have there. And they've already announced that they're going to have a food hall by Palatan Row, I believe, which should be great. I've seen some of the stuff they've had at Colony Square. It's all good. Chef driven brewery, also centered around a brewery area within that. So they're moving along, but we don't see anything else coming there besides that north end piece right now through until next year, I guess.
Rico Figliolini 0:19:34
Have they suggested to you that they're going to break down on anything else? The beginning of right, sure, but other.
Brian Johnson 0:19:42
Than that, the next thing would be sometime late summer. Well, we're kind of late summer, fall sometime they're going to probably break ground on the parking deck, which is that behind Belts, behind Belk. And that will be the next project, because they can't remove any more of the middle parking stalls until the new parking deck is built, because then they would be below the parking threshold that they need to properly service the property. So the next thing would be the parking deck, which would run into say, summer of next year. And at that point then they could transition back into removing the middle parking stalls and continuing down towards the small event area that they'll build right in front of Belk.
Rico Figliolini 0:20:37
Okay. All right, cool. Sounds like they're on track to do everything that they said they would be doing. All right, so why don't we also segue a little bit into well, it's not segue, really, but the city marshal system is moving along. We've talked about it several times over several podcasts and of course we want to set expectations because you just don't stand up a city marshal without regulations, without equipment, without office space, without officers without a chief of police, if you will. So there's a lot still going on. I had thought, even myself, I had thought maybe the end of July that we would see marshals on the street, but that's not really the case. Things take time. So tell us a little bit where the city is at right now with us.
Brian Johnson 0:21:24
And I appreciate you bringing that up, because for those who may have seen read, watch city council meeting, we have to go through a series of steps within what state law requires as a city for us to stand up a public safety component unit of the city. And so we had to adopt an ordinance and creating the department it's created. And we have two of the three positions that we have funded this year have been filled. But for those who have seen that, like you said, to manage expectations, I don't want there to be anybody who thinks or is expecting to see them out. Really just all over the community doing all sorts of things right away. It's important to remember two things. One City Marshal Department is a supplement to Gwinnett County Police Department. It is not to replace I mean, we as residents of Petrie Corners are paying for Gwinnett County police because Gwinnett County is allowed to charge the police millage rate inside our city limits to fund the police department of the police officers out of west precinct that provide police coverage. We are not changing that. And we have every intention at the city to continue to expect to get services because we're paying for them. But as you and I have talked about Rico, there's gaps, and that's where the marshals are now. So that's one thing is reminding everybody that the other one know we have to stand up and go through all the policy intergovernmental processes that any brand new law enforcement agency would have to go through. Because these marshals are post certified sworn marshals, which means an example would be they have the authority to take away somebody's civil liberties. If you commit a prime and they detain you. Well, to do that, you've got to have a policy on use of force.
Brian Johnson 0:23:43
What's the escalation of force and when can you use it and when can you not? Just one example of many policies that have to be adopted. Body cam. Are we going to require it or what's the policy on when it's turned on and off? How long are we going to store the data, things like that. Are they going to have a role in or what's their role in interacting with the community? Are they going to be our primary points of contact with HOAs, things like that. We've got to get them fitted for uniforms, order the equipment, the vehicles, get the vehicles wrapped. I could go on and on.
Rico Figliolini 0:24:28
And so there's a list of things, I mean, even access to. There's all the cameras we have around the city. Do you give them access to that? How is this going to work?
Brian Johnson 0:24:41
So it is a process, but even at the end of the process, again, I can't beat that dead horse enough. This is to supplement. This is to be a force multiplier to Gwinnett PD. Gwynette PD is still our primary police department. The marshals are not going to be responding to 911 calls.
Rico Figliolini 0:25:02
Right.
Brian Johnson 0:25:02
That's still Gwynette PD, those kind of things. But we've got intergovernmental agreements that we're going to have to enter into with or amend existing ones like Gwynette PD or the sheriff's office and things like, you know, we're getting there. We're getting there to where these assets can really know, kind know, vectored to areas that know, spring up and could use a little bit of extra assistance to what? FPD. But we're not there yet. And so we've got to do this very carefully because this kind of stuff is you can get into trouble if you don't do it. Right. Expectation management, as you said.
Rico Figliolini 0:25:47
Right. So setting those expectations, when do you think they have any estimate of when the first cars may be out on the street? Will it be the end of the year?
Brian Johnson 0:25:57
Yeah, I would say by the end of the calendar year. You're going to start seeing the cars out in a little bit more. Six months from now is probably a good time. We'll have the chief marshals position filled by then. That job announcement is going to go out probably tomorrow.
Rico Figliolini 0:26:16
Okay.
Brian Johnson 0:26:20
I think by the end of this calendar year is fair. There may be a little few areas that they're not quite involved in for another period of time into next year. Because mind you, as a supplement, they're going to be in areas that Gwynette PD isn't really very active in. For instance, use of drones in problem areas when FPD has too many constraints that have the resources to be able to do it. Ours will. Interesting, our marshals will be using drones as a supplement when there are situations where it makes sense. And in addition to that is as a location for there to be some innovative use of drones in the public safety space. Because of our partnerships with Curiosity Lab and the infrastructure have in place, including the our recent meetings with their regulatory team in DC. They're very interested in using our marshals or collecting data our marshals will generate on some of the innovative ways to use it as they write regulations around the use of drones for public. So we might be helping write policy here just because we're going to be more flexible and department as big as Gwinnett is, they just don't have the same opportunities that we will with us being smaller.
Rico Figliolini 0:28:01
Well, for sure. And having Curiosity Lab here and the ability to partner with different companies to do cutting edge work in public safety is just enormous. Very exciting to be able to get down that and to be able to provide that sense of safety and security to a community and to be able to see how far we could go with that cutting edge technology. So the other thing that there's always a lot of things going on here. One of the largest, I guess the largest current largest employer, Siemens, has finally come into partnership with the city eastward corners. We've talked about that a bit before. So tell us a little bit about what that means to have, at least at this point, the largest employer, Intuitive Robotics, will be once they've completed. But Siemens being now being a partner, what does that mean? What does that do for the city?
Brian Johnson 0:28:59
Well, when you have an employer that's approaching 1000 employees within your city that is a major player in the technology space, whether it's facility technology, electric and Emobility technology, they're all over. They've got a lot of fingers in tech and they're North American headquarters for, well, people don't know they're a German based company, german headquartered company, International. But their North American headquarters for their facility technology, their smart facility technology, is here in Peachtree Corners and their worldwide headquarters for electric mobility is here in Peachtree Corners.
Rico Figliolini 0:29:47
Right.
Brian Johnson 0:29:48
And it's always been a little bit, I guess you could say, embarrassing that our largest employer was not a partner with us, the Curiosity Lab. And it's a matter of navigating the labyrinth of international companies and where decisions are made and things like that. But we finally ended up getting opportunities to see the value each could provide the other. And so now they have some of their new innovative EV charging stations both here in the city for use by customers. But also they're going to have a significant play in the EV multimodal expansion that we have here at park, that we're finally coming to a point where we can start construction. That was the half a million dollar grant that former US. Representative Carolyn Bordeaux got for us to build this multimodal center. And so it's going to have all things EV coming together at one location. And Siemens will have a significant play in the development of that site for them to test and enhance some of their technology. So we're mean, in the course of what, two months. It's our second German based international company that we have a partnership with after Audi. So yeah, good.
Rico Figliolini 0:31:17
I mean, anyone that follows the city or Curiosity Lab on LinkedIn can see all these posts about companies coming here, even us going to countries like Israel and other countries that we've been to. So a lot of international businesses are just seeming to find the little city of Peachtree Corners, which isn't so little anymore, really. Right?
Brian Johnson 0:31:42
Well, we're certainly punching above our weight class, but yeah, we're a soft landing pad for international companies. And guess what? Some of those, when they land here, we actually convince them to stay here.
Rico Figliolini 0:31:57
And there's your economic development so it's paying off and I think the city is also continuing to look at other avenues. I mean obviously this is smart technology, this is good high end stuff but we're also doing smaller things that is going to know an economic impact but also good things for the community. Like just recently the Atlanta Sci-fi Film Festival decided with the city as a sponsor to be able to come out here and instead of doing it in the city of Atlanta, the Atlanta Sci-fi Film Festival is going to be hosted here in, you know, nice decent festival and very different from what we normally might see here. So it's good to see that type of stuff happening and I'm sure there's other things along the way that we haven't even know about yet so can't wait to see. But I do appreciate you coming through with all this information Brian and helping.
Brian Johnson 0:32:53
Always a pleasure Rico, thanks for helping keep our citizens informed.
Rico Figliolini 0:32:58
Yes. Appreciate you being here. Thanks Brian and everyone else that's listening. Appreciate you joining us. If you have any comments or you want to hear other subjects that we should be talking about let us know. At some point. I'd love to be able to do this a bit more live. This is a simulcast live feed. You may be seeing this on or you may be seeing this on demand but at some point we may be doing a live feed question and answers or submitted questions ahead of time or maybe live. As we're doing this, I'm still trying to figure out the logistics on that and how we're going to do it. Twitter or X, who knows where it might be that we might do this. Maybe it's Instagram Live. Maybe it's Facebook Live. We'll take comments and Brian is more than willing to answer those or if he can't let us know. So we're looking forward to doing some of that. So thanks again for being with us and catch us in the magazine that's going to be coming out shortly. Peachtree Corners magazine will hit in about a week actually next Tuesday it's hitting the post office so you'll see the latest issue coming out. Thanks everyone.

On topic with Alex Wright: Ingles Shopping Center, Tech Park Acquisition, Public Safety and More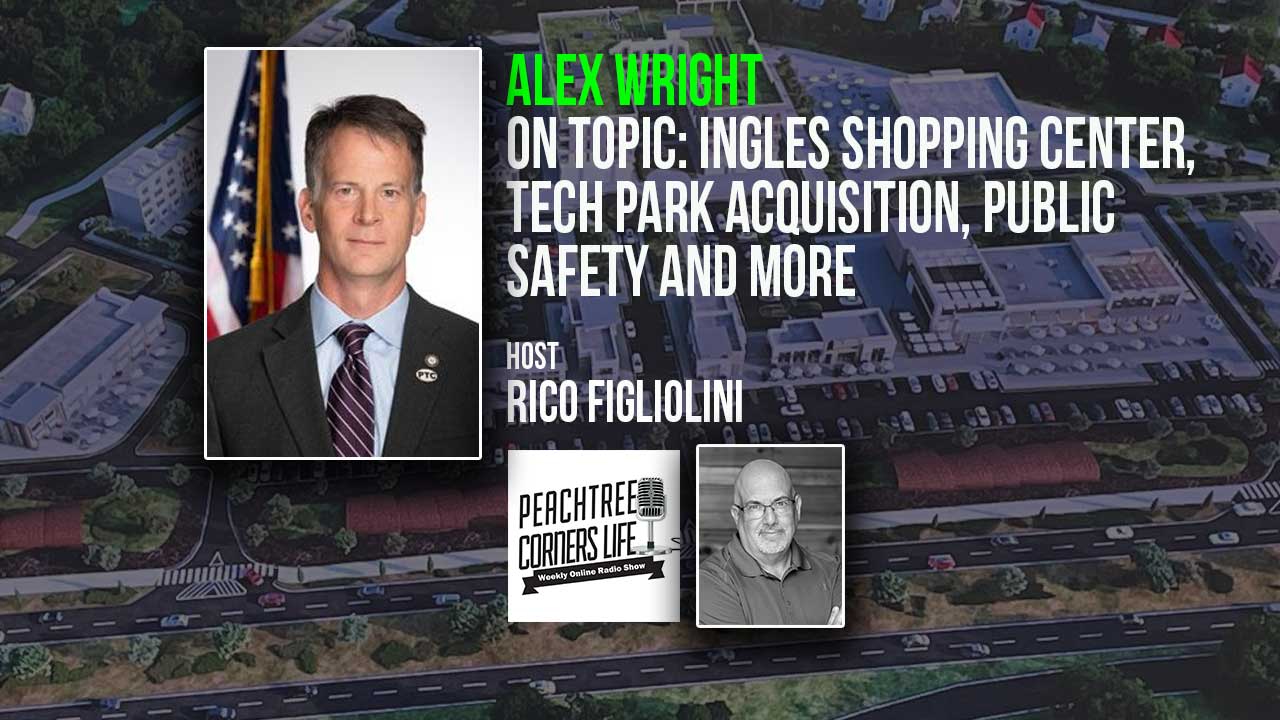 City Councilman Alex Wright and I discuss a proposal from the owners of the Ingles Shopping Center for redevelopment and other housing developments in Peachtree Corners. Plus, we discuss a new Tech Park acquisition for the city, public safety, the new City Marshal system, a possible Pickleball Complex and its economic impact, and more.
Resources:
Decathlon Info
Promotion Video for Decathlon
The First 48 Episode
Timestamp:
[00:00:30] – Intro
[00:04:06] – Closure of Anderby Brewing
[00:05:56] – The Pickleball Complex and its Economic Impact
[00:09:13] – Ingles Shopping Center and Housing Developments
[00:26:07] – More on Zoning and Developments
[00:31:24] – City Marshal System and the Hiring Process
[00:45:30] – October Decathlon Event
[00:48:37] – Closing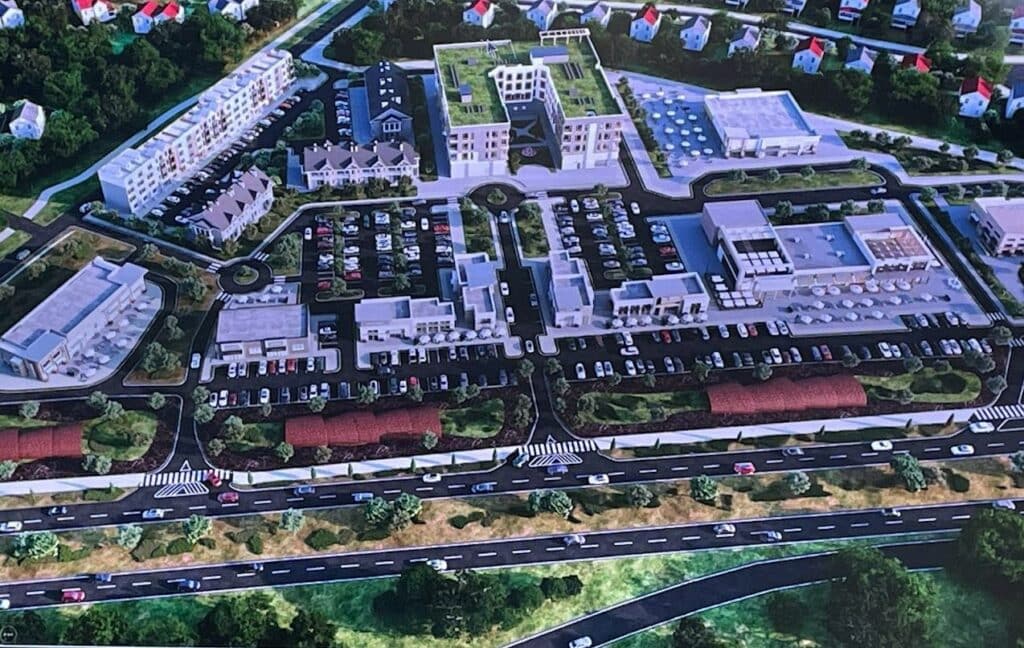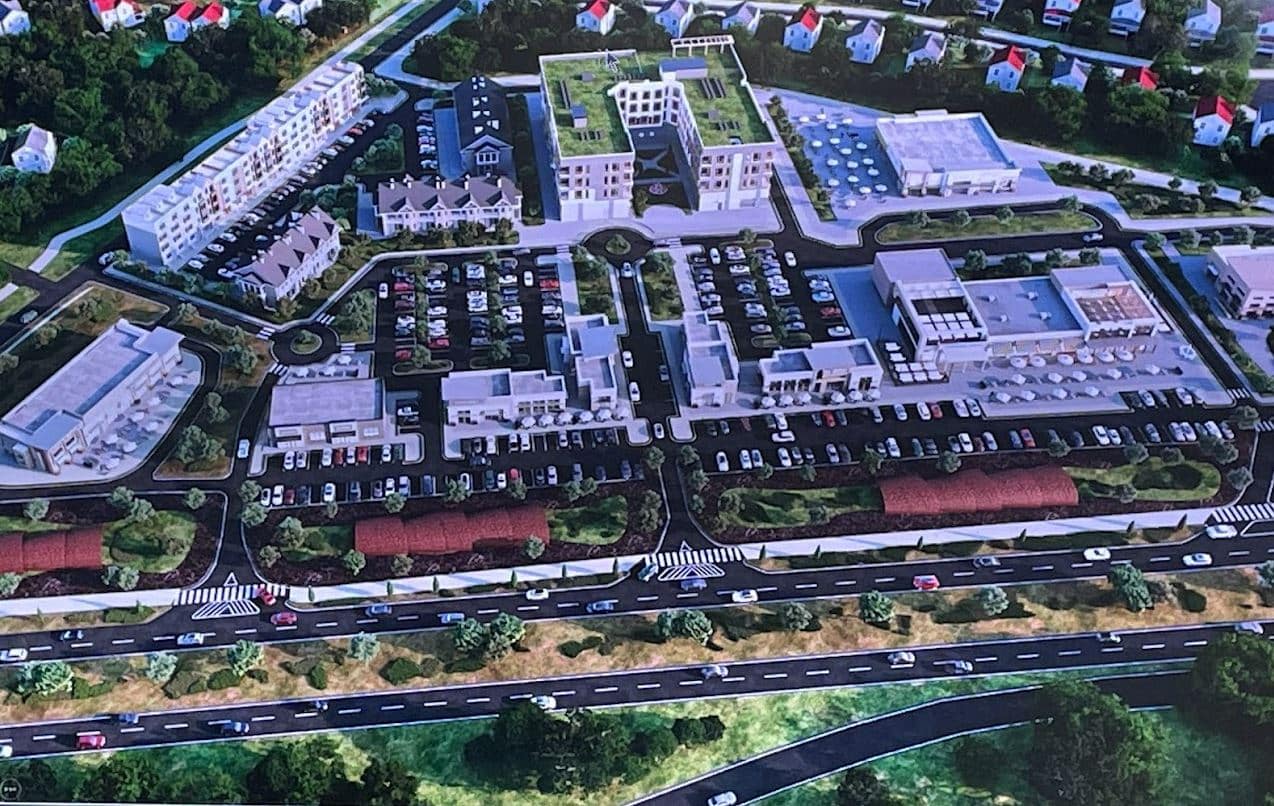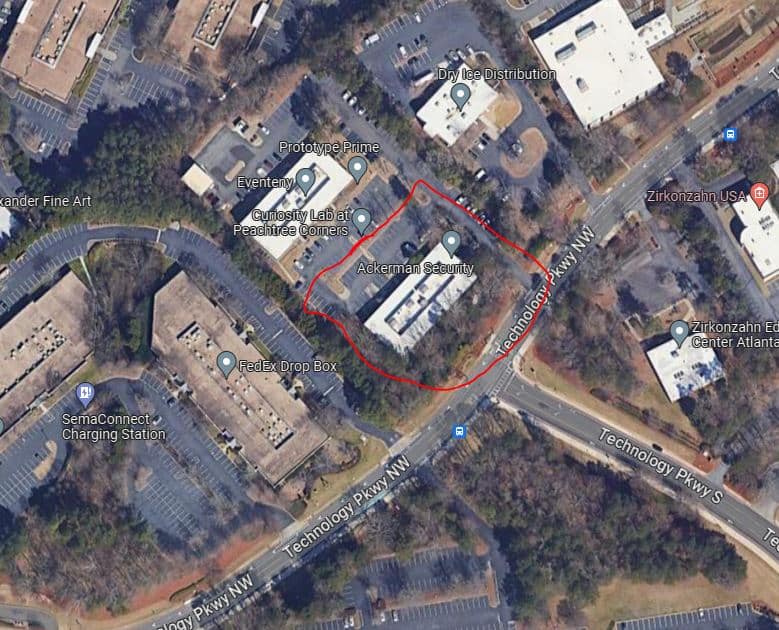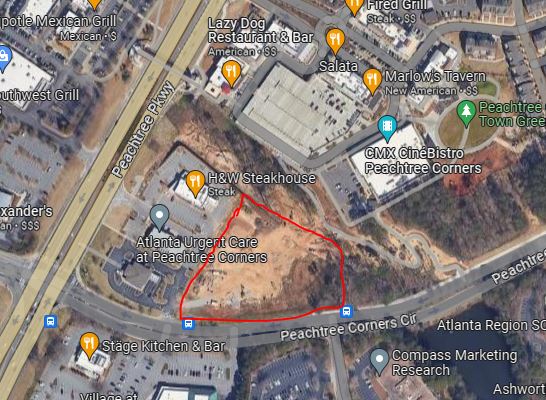 ---
Podcast Transcript
Rico Figliolini 0:00:00
Hi everyone. This is Rico Figliolini, host of Peachtree Corners Life, a monthly podcast with different people, different individuals that influence the things that go on in this city. And today we have a special guest, City Councilman post three, Alex Wright. Hey Alex, thanks for joining us.
Alex Wright 0:00:17
Thanks for having me. It's good to be back.
Rico Figliolini 0:00:19
Yes, it's always good to be able to talk to people that know what's going on because I don't know everything and to get it from those that are plugged in would be fantastic. But before we get into today's question and answer and things that are going on I'd like to ask you about, I just want to say thank you to our sponsors. We have two. EV Remodeling Inc. and Eli, who owns that company, and lives here in Peachtree Corners. They are a terrific company that does design and build from ground up remodeling, whether it's your bathroom or your whole house. EV Remodeling does a great job and they're local to Peachtree Corners and they've been a great sponsor of ours. If you go to their website, EvRemodelingInc.com, you'll see some great work that he's done, some videos. You'll get to know a little bit more about Eli and the work they do and check them out because remodeling is their business. Second is a new sponsor of our corporate sponsor and that's Clearwave Fiber. They've joined us over the last month or two becoming a good supporter of ours, our journalism, our podcast, they are here in Peachtree Corners throughout the state of Georgia, really, and the Southeast. But they're really big here in the city of Peachtree Corners with more than 5000 businesses that they do work with right here in the city of Peachtree Corners, providing services, launching the fiber optic setup that they have. And they've been a clear supporter of the City, of Curiosity Lab, of the recent Criterion Road race that was happening here and they've been a good strong supporter of what goes on in the city and a good sponsor. So I want to welcome them. You can find the link in our profile to Clearwave Fiber for the Peachtree Corners Life. So check them out and see what they can do for you, whether you're a business or even a resident. So check that out. So let's get right onto it. It's amazing the things going on in this city and the stuff that I don't always know about because I don't know everything. Even though we publish Peachtree Corners magazine, we do these podcasts. But Alex is on here because specifically because I subscribe to his newsletter that he puts out every so often and there's things in there that Alex has brought up and I just want to know more about. So thank you Alex, for putting out that newsletter to your list of residents and people that follow you. I want to say thanks for doing it.
Alex Wright 0:02:49
It's definitely a good way to stay in touch with people. Obviously you can reach out to a lot of people at once versus being on the ground. That's not always the most efficient way to communicate.
Rico Figliolini 0:03:03
No, but doing that and quite frankly, even have life podcasts like this and articles that we put out. I mean, all this stuff that we put out, the content that we put out comes from knowing what's going on in the city, whether it's from Brian Johnson, the city manager, or Mike Mason, the mayor, or you or Eric Chris or any of the other councilmen, the great people that work for the city Peachtree Corners as well. So got to say that. So there's a lot of things going on, and I know you plugged into quite a bit of it because of your position. So I guess let's start right off. Well, first things first. I hadn't acknowledged this before as far as and to Be brewing, unfortunately, they're closing their doors. Actually. They've closed their doors as of the weekend of July 4, set to see them go and close up shop like that. I think they may be doing things in the business and the industry still, but and to Be brewing is is no longer a place, I understand. How do you feel about when things like that happen? They were one of two brewers in the city.
Alex Wright 0:04:06
Yes. I'm kind of a risk averse person to a certain extent myself, so I'm always impressed when people are willing to kind of follow their dream like that and put so much at risk to do that. It's kind of inspiring in a way. So you hate to see it when it doesn't work out, though. I was over there actually the day closed, talking to one of the owners, and she was telling me that they're going to continue to be in the, I guess the brand business, if you will, where I think outsourcing some of the brewing of their brands. So they're still going to be around in that regard. And she said that might lead to depending on how successful that is, just to stay in that route. So you alluded they're not going. It's just that bricks and mortar location unfortunately won't be available anymore.
Rico Figliolini 0:04:57
Yeah. Too bad because they've been around for, I think it's been four years.
Alex Wright 0:05:02
Yeah. I think they went in there right before COVID and obviously that wasn't part of their business plan. I think they were counting on a lot more office workers right there in Tech Park stopping by.
Rico Figliolini 0:05:15
Yeah. And that blew it during COVID But they sounded like they were coming back at a point. But I guess once you go through that, sometimes it's never coming back. That was a whole year and a half and they thought they were coming back. There was March 2020 when everything looked life. It was coming back. And then all of a sudden things shut down again, like three months later.
Alex Wright 0:05:37
Yeah. Every time I would drive by there. It seemed like they had a good, decent round. So I I don't know the details, but it's I'm not a big beer drinker, but I did like going there just for the I was talking about newsletter. Just had kind of a fun vibe. You could bring your dog or kids. It's just very welcoming place.
Rico Figliolini 0:05:56
Yeah, no, the owner is precedent. His wife and the other people that worked there very passionate about what they do. I mean, he was doing stuff in his kitchen before he got to the brewery, so it wasn't like he just decided to do it. He was passionate and still is, I think, with what he's doing. So the other thing that we're talking about, business is closing, businesses opening. Maybe there's been a feasibility study that may be finished by this point or not. I don't know about a potential pickable complex. Private public partnership, possibly maybe 30, 40, 50 courts. So there's a company that was hard to do that feasibility study. I think I was at one of several meetings, stakeholders or shareholders, I guess, to give feedback or to give their point of view on it. So have you learned anything more or do you have a thing you want to talk about as far as how you feel about it?
Alex Wright 0:06:50
Nothing really new since that meeting that you're talking about. I think we actually both were that one.
Rico Figliolini 0:06:55
Yes, correct.
Alex Wright 0:06:57
So still waiting to hear back from that company, though I'm obviously very interested in the money part of it, but I suspect there's a lot of, whether it be cities or companies or whoever, thinking just like we are, like, hey, this is a huge opportunity. And I've used the analogy of 25 years ago, search engines, there's so many of them. And Google basically won that. Now it's a verb, but you got to get there first and kind of establish your dominance, if you will. It's the kind of way I'm thinking about this, where if we wait a couple of years to see what happens, someone else is going to. When I say get in there, I think what we're looking at is not just say, let's have ten public pickleball courts. I guess that's an option. It's more of an economic redevelopment opportunity in maybe an area that I mentioned my newsletter, like down Holcomb Bridge, where because it's got a good if you think about that intersection, Holcomb Bridge, and say, 141, that's only four, actually, probably about 4 miles to 285. So good access to the interstate. Wright but if you built a complex there, I think Brian's probably mentioned this on one of your podcasts, where the ability to host big tournaments, you can bring a lot of people into town for that. I don't think we're just envisioning just pickleball ball courts, but something where it's a destination unto itself, almost, where you've got locals going there, whether they're playing or not, just to hang out. So you've got your local crowd that be there all the time and then layer on top of that the tournament aspect, that could bring in a lot of activity for the city, hotel rooms and restaurants and things like that. So my thought is if the numbers look good, you got to move quick because someone else is going to move quick as well. So the quick you get in there, you'll get the word out, hey, we're almost like a dog mark in this territory. Like, hey, we're here, and other people will say maybe just move on. We don't want to cannibalize.
Rico Figliolini 0:09:13
I think you have to if you're going to go in, go in big the expression, I guess, yeah. I think part of that discussion was obviously private public partnership versus the city running it. City doesn't want to have a parks department or anything where they're going to do ten pickable courts and have to maintain it. Right. And if it's going to be a pickable complex or center, it's really maybe an entertainment complex that has pickleball restaurants, maybe playgrounds, maybe certain other amenities that draw besides the pickleball. I would think Wright or something along those lines.
Alex Wright 0:09:51
Yeah, that whole Holcomb Bridge corridor, if you will. Literally almost from day one, the city has tried all kind of different things to get, I say redevelopment, some kind of I always use the example of over. I used to work, I still work over in Cobb County, but worked near Franklin Road, which street of kind of dilapidated apartments. Marietta came in, bought several of those up, tore them down and they said, hey, here's some dirt, come in, try to attract come in. They got landing. United's Training Facility there. Home Depot did a big data center there. The reason I mentioned that is you really just need say one thing to come in, make a big splash and it can create redevelopment. I mean we're already seeing that, like with the town center where areas around that they want to be near that. I use the analogy or the metaphor of an anchor, people want to be near it. And we've had several different things that just didn't come to fruition, unfortunately in that area. But kind of the way I look at this is we inject some of the money deal, but to your point, we're not owning it, we're not running it, but if it's enough to make the numbers work for a private company, then ultimately the ripple effect more than pays for the money we would inject into it.
Rico Figliolini 0:11:15
It's similar to, I guess, the town center when that first happened. I mean the city bought property there and then eventually sold it to the developer that developed the property there. And I guess we own certain portions like the parking deck and the town center, but the surrounding part of that town center versus the green and the veterans monument probably.
Alex Wright 0:11:35
Yeah. So that land originally was 21 acres, we ultimately ended up with eight. And the reason that kind of worked out that way was the developer to kind of make their numbers work, they wanted to build apartments. And for that particular piece of land, we had just bought it to stop apartments. It was like, okay, that doesn't really make any sense. So to make the numbers work, we said, well, we'll keep these eight acres and do these other things with it. So that's an example of they need to show a return on their investment. The city doesn't have to do that. So those eight acres, we can say, well, three years, we're going to have an ROI that pays for that. But I would argue that by basically putting that money out there to hold that property, to build the green, which the developer didn't even want to build because he couldn't monetize it without the green, that was just another kind of almost a shopping center. The Green is really the difference maker there. And so that's the difference what government can do. They can invest money and they don't have to have a private equity firm that's breathing down their neck to pay. Where's our 22% annual return, right?
Rico Figliolini 0:12:40
Especially when it's a developer that's just a retail developer that has no interest in managing really the place. I mean, I understand Fuqua Development probably wants to sell most of what they have already. It's just they don't want to be a mold developer, right. Or retail developer like that. They want to flip it. So that worked out great. I mean, we get we there are concerts there with 5000 people showing up. There's all sorts of events that go on. I know that at the beginning, some people were vocal about why is the city doing it? Why are they spending money, why are they buying that land? But to me it was similar to life. The Simpson Wood Park. Why did the city put up a million dollars to help that purchase or get involved in it? Well, that was also going to be sold to apartment developers, or to developers, I should say, because I don't know if apartments would ever have been able to be zoned there. But it's still a park because the county came in and bought it and is managing it versus the city being having a parks department and doing it. So there's potential out there. And then you have North American properties right, that bought the Forum and they're committed to it. They're willing to put green space. They're willing to put a stage in there. They're willing to do things similar to Avalon. And I know there's always another side to that. People don't want that type of density coming or that type of traffic coming. But you know as well as I do, the Forum was heading south with almost 17 vacant storefronts. At one point, you were part of the group that decided that that made sense North American Properties being there. Right.
Alex Wright 0:14:23
The purchase of that, someone definitely needed to buy the forum. The previous owner, I think, was a REIT out of Boston. We had approached them about this green idea in the middle and even said, we'll help fund that because we were so worried about the Forum and they had no interest, which I found baffling was like, we're offering to literally almost give you money and you don't want it. So someone that sat incompetently run it's good that North American Properties bought the property. There are aspects of vision that I'm not crazy about, but as a whole, one of the things I did like about North American Properties was unlike most of the other developers that we've interacted with, mr. Perry definitely had a vision beyond just their little piece of property that this whole downtown Peachtree Corners life idea had. I liked that because I agree that there's some synergies between the two properties and he got that that these other folks were just looking for that return every quarter. So NetNet it's definitely good that they ended up with the property.
Rico Figliolini 0:15:34
So talking about also that whole area, Alex, I think that whole area, I think, has an overlay. That's an entertainment overlay, if I remember correctly, right, that includes the Forum, includes town center, then goes into where Lidl is and also includes the Ingle shopping center, that whole part there, which is what we are calling the downtown area, essentially. Correct. So to that effect, there's other things going on. For example, ingle shopping center. At one point, Ingles came in, they wanted to see if they can do gas pumps there, similar to, let's say, Costco's or Kroger's. That was denied probably for a variety of reasons. But now the owner of that shopping center, not just Ingles, but everything that's in it, has approached the city, I guess. Tell me a little bit about what's going on there, what they're looking to do.
Alex Wright 0:16:26
Wright so just back up just a second. Sure. They have developers that will approach the city kind of a regular basis, all kind of stuff. For example, a lot of the office parks near the town center, we've had people approach and say, hey, we're interested in doing some kind of mixed use because they want to be near the town so much, the town center as the town green. They want to be near the activity there because people life, I think people naturally like to gather and be part of what's going on. So it just happened to be that in the case of Ingles, that the council was given a briefing about this. And it's not so much that the staff is saying, well, we're not going to tell the council about this and we're going to tell them about this. It's just there's so many that they try to be prudent about, okay, we think this one is serious enough to loop you in on some conversations. And so basically the update was Ingles lease apparently is coming up the next year or so. The owner kind of looked at the situation, said, all right, well, we obviously don't want to lose Ingles. But Ingles was telling them is we'd like a smaller footprint. Apparently that's the thing now in new grocery stores is a smaller footprint, more like a sprouts size. So they were looking to not so much leave, but shrink their footprint. So I think the owner looked at this as an opportunity. We're looking to better monetize this property. We see what's going on at the forum with the redevelopment. We see the town center. They probably hear about some of the other things behind the scenes that are potentially on the horizon. And they wanted to approach this. What they did, they approached the city and said a lot of times the way this will work is they'll say, we've got this kind of rough idea of what we might want to do. Do you think that the council would be open to that? Obviously the staff has no idea the council is going to vote on anything, but normally have a good pulse of life. I might have a certain view of how I want things to be in five years and some of my colleagues different view and good staff is going to going to know that. And so that helps to be able to tell a potential developer, hey, we don't know exactly what will happen, but this is kind of the sense we have and it helps them determine whether to move forward with a proposal anyway, kind of the pitch, if you will, that they put out. There was, again, another mixed use development which would include a housing component. But one of the things that made this different than some of the other ones we've seen is it included a senior living component. And at least it's just my opinion, but we are in really short supply of that. I know we've got Waterside, which is coming online, but I hear a lot of people say it's more than I want to pay and I'd rather live near things I could walk to. What a lot of people I know we spend a lot of time trying to attract young professionals. But if you follow demographics, the United States had a below replacement birth rate for almost 50 years. It's kind of been masked by immigration, but you're seeing this happen all across the world. So the point, point of my story is that in absolute numbers, there's less 18 year olds today than there were ten years ago, 20 years ago. But the number of people that are 65 and older continues to go up. So we really need to give that some attention as well. We want places for those folks to stay versus having to leave Peachtree Corners. So when I heard that, I was very interested in that proposal because I think we've got a big housing shortage in that area. And I think we've got a big housing shortage for people, younger people who want to own versus just rent. Most people, if they're 28, they're not going to move into a $500,000 house. That's just difficult.
Rico Figliolini 0:20:29
I think you had said active living community.
Alex Wright 0:20:33
Yeah. So this isn't like at least my interpretation of it wasn't assisted living or memory care. Like what you're talking about active people, maybe they're 55 and they want to move out of their 5000 square foot home into something smaller, which I know Waterside has got that as well. But they've got more some other stages as well. I don't think this included that is significant housing piece that was the grocery store would stay but shrink the retail. So all the retail, the grocery store, it would move up closer to 141 and then the housing and maybe some other things could go further back. So you ultimately would take some of that cement that's unused right now and put it to good use. When I say good use, they're going to be able to monetize it. So it's a win for them.
Rico Figliolini 0:21:29
I think they had a rendering you shared in your newsletter.
Alex Wright 0:21:32
Yes, there was actually several renderings. That one was just one of probably like four or five. We saw different kind of combinations of things.
Rico Figliolini 0:21:42
Okay.
Alex Wright 0:21:43
The other ones were a little more like drawings, more so this one looked more appealing to the eye, I guess to illustrate what is possible.
Rico Figliolini 0:21:52
I was looking to see if I could put that up. What I'll do is I'll include that in our notes, show notes, so people can see that what that picture looks like. And actually we have a writer that's doing some work on this. I think she interviewed you already. Or we'll be reaching out to you.
Alex Wright 0:22:08
Yeah, I talked to her earlier, either earlier this week or late last week we had spoken. Right.
Rico Figliolini 0:22:14
So we'll have a bit of an article on that with the picture. Certainly I would think I would hope also with something life that that maybe there's a possibility at looking actually even looking at the rendering right now is CVS and Dunkin Donuts. Those are not out parcels or are they to that process?
Alex Wright 0:22:34
Those two parcels are not owned by the guy who owns the company that owns the shopping center.
Rico Figliolini 0:22:40
Got you. Okay. So those are ad parcels along with the former McDonald's property that's on the other side.
Alex Wright 0:22:46
That's correct. And also the daycare center is also separate.
Rico Figliolini 0:22:52
So it's just everything other than that the parking lot and then that strip around Ingles and all the shops along that park. Correct. Is what we're talking about. Okay. Hoping there might be equity type housing. There life condos, but versus granted it's active living apartments, but versus another set.
Alex Wright 0:23:15
Of apartments, I got the impression that you never know what someone's going to propose but that they understood that, hey, there's been a lot of apartments approved recently that we're looking for some balance. So I think that was communicated as well, that we prefer at this point an equity product. I'm not retirement age, but if I was, if I was going to downsize maybe I'm an apartment briefly, but probably want to own something or at least have that opportunity. Because I talked to the city manager sometime about this, where if you're trying to create activity, whether it be at the forum or the town center, I mean, who better to have than an active, retired person who's got plenty of time on their hands and probably a lot of disposable income to give that kind of all day activity that places want to have where they're from nine in the morning till ten at night. There's people moving around. I think the trick with the ingles is how do you transport people around where they're not having to constantly get in their car? You know, that's something, I mean, listen.
Rico Figliolini 0:24:29
Lawrenceville is city of Lawrenceville is doing something downtown that they're looking to be able to provide, like a walkable supermarket in the downtown area versus having to drive to a huge place where there's a Walmart or a publix. Just having a local neighborhood grocer like you said, life the size of Sprouts or something much smaller.
Alex Wright 0:24:50
Well, those, the people that live in the town homes over at the Town Center, if you think about they can walk to a grocery store. I think there's a dentist at form. They're ready to walk across those doctor's office. They could just about walk to anything they wanted to. So there's some of that vibe already going on that's very convenient to just you don't have to hop in your car, right?
Rico Figliolini 0:25:14
So getting onto that more, of course there's the flip sides of these things, right? The more density, people don't want more density, more traffic. There's already a bunch of traffic going up John's Creek, never mind trying to get into Peachtree Corners. Life but the next development is what some people call Charlie Roberts property, which is, I think you called it the dirt hole behind Chase. That's that empty lot that everyone sees if they've ever been to Chase or look at HWD Steakhouse that's looking to hire, by the way, if anyone's interested. And that's right near Town Center. I mean, that's all in the ground. And I think that is definitely zoned for apartments at this point because it's part of that multi use track now. And they could go up seven stories, I think, or six stories or something like that. So tell us what's going on there because that sounds like there's a movement.
Alex Wright 0:26:07
At least going sounds life that property, mr. Roberts has owned it for I guess, 20 plus years and probably about 2016 he approached the city about getting it zoned from, I think it was commercial. He wanted to get it changed to apartments anyway. That was a big discussion, and the compromise was you can have some apartments, but it's got to be connected to kind of like a boutique hotel. It was all going to be kind of the same building. And the zoning, he had four years to basically start coming out of the ground, and if he didn't, the zoning would revert back to commercial. And so I think within like a year or so, he had gotten a hotel brand to go in.
Rico Figliolini 0:26:56
Indigo. I think it was the indigo.
Alex Wright 0:26:59
And shortly thereafter, the world flipped upside down with COVID and no one's staying in hotels. And that blew his plan up, no fault of his. And by the time the four years came, he wasn't able to pull that off. So it reverted back to commercial. And I don't know all the details behind the scenes, but some time goes by, north American comes into the picture as part of their Peachtree Corners Life downtown idea. They also looked at that property as part of that larger development of how do we create activity feet on the ground. So it got rezoned from commercial to apartments. Now, Mr. Roberts company is the one that got the rezoning. Even though that night at the meeting north American if you didn't really know what was going on, you would have thought that they were the one getting the rezoning, which kind of made sense because their plan was as soon as it got rezoned, they would buy it and it would be part of their plan.
Rico Figliolini 0:28:00
So that rezoning was never done on condition of the purchase. That was rezoned, period.
Alex Wright 0:28:06
Right. There was no time limit. There was no conditions anyway. So get the Rezoning plans to sell it to North American, and then interest rates start to go up on everybody, and it starts to make the financing problematic is my understanding, which I think that's case for all of us, our own personal finances or stuff's costing more now, whether it be inflation or interest rates. Anyway, so North American, they basically didn't have the money lined up or the numbers didn't make sense at this point because of those two things. And so that deal fell through. So then I suspect at least what we were hearing kind of behind the scenes was Mr. Roberts was floating it around to other potential buyers and kind of heard through the Great Vine recently that he had found a buyer. I don't have the name in front of me.
Rico Figliolini 0:28:57
I think it's Tur. Villager Papas.
Alex Wright 0:29:01
Yeah, I'm not familiar with the company, but I heard from various sources that deal would close at the end of July. And if you kind of been paying attention over the last few months that I call it the Dirt hole, it went from having huge mounds of rocks and debris in it to totally cleaned off, ready to build. So obviously there was stuff going. On behind the scenes. And now when it closes, I suspect that will move pretty quick because the zoning is already there. All they have to do now is get building permits from the city.
Rico Figliolini 0:29:37
Really? Okay.
Alex Wright 0:29:38
Probably I don't know how long that takes, but suspect that if I bought a piece of property, I'd want to get it to use as quickly as possible. They get the buildings built the quicker the money comes in.
Rico Figliolini 0:29:50
So I think if anyone wants to know what type of properties they do if you go if you search Sola, S-O-L-I-S Suwani, you'll see the type of apartments they do. They're all over the southeast. The biggest things is they have probably about 15 communities either planned or in place in Georgia. Swani, Sugar Hill, Decatur, kennesaw, Dumwoody, Dunwood, Gainesville. Bunch of places, I think. Sugar Hill 294 class A apartment with 12,000ft of retail and restaurants. I don't know if they're looking to do if that ever came up in that conversation either, but that's in Sugar Hills Town Center. So they're doing stuff in these places. All right, so then we'll find out, I guess towards the end of the month, if they close on that.
Alex Wright 0:30:42
Yeah, like I said, that was all just I think these are pretty good sources that have been talking about this.
Rico Figliolini 0:30:49
And I think that was zoned. Not only was that enveloped or taken into the multi use track of what Town Center is right. I think it was included into that. And they're zones for similar unit count, probably 200. And if I remember right, 200 and 7280 apartments.
Alex Wright 0:31:06
Yeah, something in the mid upper 200s.
Rico Figliolini 0:31:08
Right. Okay. Either way, that would have been there whether it was North American properties or a new developer.
Alex Wright 0:31:16
Yeah. Once they got that rezoning back in September, there's going to be apartments eventually with somebody.
Rico Figliolini 0:31:24
Okay, cool. Let's talk a little bit about I think the city Marshall system is going to be stood up the end of this month or the beginning of August is what I understand.
Alex Wright 0:31:35
So the new fiscal year began July 1, and that's really the first year we had money budgeted for this. So there'll be three officers. My understanding is two have already been interviewing. They've identified two. I don't know if they've officially been hired, but they've got two that are been offered jobs, I guess you could say, got you. And then the third, which would be, I think the head person, will come on a little bit later this year. So then there'll be three initially, right?
Rico Figliolini 0:32:11
Three marshalls.
Alex Wright 0:32:13
Yeah.
Rico Figliolini 0:32:13
I mean, they still have to work through. I think some of the original some of the preliminary stuff was done, like type of cars, equipment, some stuff. But there's a lot going to this. Right. Office spaces.
Alex Wright 0:32:26
Yeah. So we're going to obviously have to expand the footprint of the government. Some of that will be upstairs. City hall at the top level is private company rents from the city, which actually been a great deal for us because it's basically been almost like a duplex. Right? They're paying for the mortgage force. Yeah. And then we're buying another building over near the old City Hall that'll give us some additional capacity.
Rico Figliolini 0:32:55
That one's across from Curiosity Lab. Right. That's wright on the street side, I guess.
Alex Wright 0:33:01
That's correct. And then on that whole kind of complex, if you will, those two buildings, a lot of flexibility.
Rico Figliolini 0:33:08
So there'll be more on that as we get more details to segue into why, to some degree, this wasn't necessarily why, but conversations I had with city manager information from before makes sense for us to have a city marshal system because they can do things that Gweneck County Police either weren't able to or really not shouldn't be tasked to. Like code enforcement maybe, and stuff like that. And to be able to, the city can sort of put their police force where they feel most necessary.
Alex Wright 0:33:42
Wright yeah, that's all very accurate. The Gwinnett County Police, I think they're budgeted for 930 officers, and I want to say they're staffed right now in the upper six hundred s. And I don't think that's unique to Gwinnett County. There's an issue across the nation with we could spend all day speculating on the why of that. But anyway, they're not able to be fully staffed right now. So if you're down, say, 30%, you just going to prioritize where you're sending folks. Sure, we have an intergovernmental agreement with Gwinnett County. They provide our police services, but we don't have any control over what they do. We can ask, hey, can you do this, can you do that? But they ultimately have to make decisions beyond what's best for Peachtree Corners life because the west precinct is pretty large area. So it's been a combination of the things you mentioned. One they're just understaffed, and then they also have been directed by the legal department of Gwinnett County that if there are any ordinances in a city that are city specific, that they are not to enforce those. And an example of this, several years ago in a neighborhood here in Peachtree Corners, there was apparently a pretty big party going on really loud, and people nearby called when that county showed up and there was, I guess a city specific ordinance regarding I think it was the noise. I don't know all the details. And basically the police officer said, this is a code enforcement issue I'm not allowed to involve. And so he left and then the party continued unabated. There was a lot of people upset about that. That's just to illustrate an example of where think about it, if you're having that party and you know the police aren't going to do anything, some people it could easily spin out of control. So it's not something you want to have happen. Again, that's just anecdotal but it illustrates where those are two issues we've got. And I think a third part. We've had some things over the last couple of years, some of these intersection takeovers where people would get frustrated and in some instances, the police did a great job. They got there and arrested a ton of people. And then there's some other instances where because of other commitments in the west precinct, they didn't show up for quite a while because they just didn't have the resources, the stuff to go to the residents and say, hey, there's nothing we can do about it. They expect more. So I think some of what we're doing is us trying to, in a measured way, respond to, okay, we are doing something, we're creating resources that we can control. With these three marshals been at a stop at the intersection takeover? No. However, we're showing that we get it, that people are frustrated. And I just got our crime from Gwinnett County just today, and it only goes through May. So this is an update from my newsletter, but the numbers through May for the first five months type one crimes, which are the more serious kind, up 60% year over year through April is only 39%. So maybe May is anomaly, I don't know. But that's not a good trend.
Rico Figliolini 0:37:05
That's in the city proper and Peachtree Corners. Yes, those types of crimes include felonies, robbery, burglary.
Alex Wright 0:37:18
They could be property crimes as well, you know, breaking into a car or, you know, simple assault. But yeah, they're definitely the more serious kind, the one that people that's the stuff you read about on next door where someone's window got smashed in or it's the kind that really make people feel unsafe.
Rico Figliolini 0:37:37
Yes. And then obviously we won't get into it. But then there's the crimes unreported, like smash and grab, three or four people running into a store, taking what they please.
Alex Wright 0:37:49
Right.
Rico Figliolini 0:37:50
We could go through that and spend more time on it, but that's okay. Yeah. Hopefully I understand we'll be plugged into to some degree with Fusis maybe even. And we're adding cameras, led cameras and stuff. Not Led, I mean LPRs, I think.
Alex Wright 0:38:07
We'Ve got to say 50 of the LPRs. Maybe it's not that many. We've also got 82 cameras at the town center. Like literally almost every inch of that is covered. And I think the city manager said the forum is going to get in on the Fusis program. I have mixed feelings about the cameras because you've got the kind of the creeping Big Brother aspect, but then on the other hand, there's a force multiplier. I don't know if you saw the thing that was on an E a few days ago about there's a show called 48 Hours. I don't normally watch it, but it was about the young man who got murdered at the QT, I guess it was last year. And so this is like a national show. Very interesting because it went into the whole gist of the show is for crimes to be solved, you basically have to get on top of things within 48 hours because then things start to go cold. And so they had all of the characters from what happened with all the police officers, the families, they had video of these people being interviewed at the police headquarters. They showed how they tracked them down with the cameras and it was fascinating. So I would encourage we get done. I'll shoot you the link, but it's really interesting. But it showed the power of the cameras. That was the key for them tracking these guys down, using cooperating with other municipalities to track these cars down.
Rico Figliolini 0:39:34
Yeah, remember the I mean, I haven't seen that. I'll share that in the show notes as well. But I knew that they were able to track them down into Atlanta through cameras and other things and fuses with part of it. But that would be great to see that back behind the scenes stuff.
Alex Wright 0:39:50
It was very interesting because some of it was recreated, but they had all of the police officers that were involved in it kind of acting, if you will, recreating what went down. It was very well done.
Rico Figliolini 0:40:04
Wow, cool. I think within a decade, you can't hide anymore. At some point, if you're in the city causing crime, I mean, it's going to be tough unless you have a bandana on your face or something, a mask. And even then, I think, from what I understand, from what Fusis is doing even, and the technology out there, that they can pretty much fingerprint a car based on dense colors. So you don't even have to see the license plate anymore almost to be able to ID a car eventually using AI. And the way they track these things, especially the muscle cars and the stuff that the guys that do the spinning of the wheels of the street takeovers, I mean, they're not doing it with cheap cars. They're doing with these big cars, these really bulk down, pimped out cars and stuff. I'm sorry, that's the Brooklyn and me, it just came out on that. But okay, cool. So, I mean, there's just a lot going on and you hit upon the acquisition of the property in Tech Park for the city that's going to happen and it's just other things going on. We still have zero millage rate. Yes, quite a bit of money, unspent money in the bank. Is it $59 million or something?
Alex Wright 0:41:22
That's correct. Now, to be clear, a lot of that money, it's not just we can spend on anything there. Some of it is earmarked. When I say earmarked, it's money specifically has to be spent, say on stormwater or on lost money. It's got requirements. We've created some specific savings funds for different things. So it's not just all laying around. We can go crazy and it's unallocated. But we are in a very strong financial position. One of the ratios that I like to mention that apparently in city finances is one of the things they measure is they look at, they call the general fund, which would be things other than Sploss and stormwater and say, well how much money do you have saved versus what they call operating budget. So if our operating budget is let's say $20 million, well if we had $20 million say, that means basically twelve months of savings. If you think about it in your own personal life, sure. The gold standard in municipal finances is roughly three months. So we on a regular basis are at and beyond twelve months of that. So that's a good measuring stick that you can kind of compare against cities across the nation. So to think that we're able to do that with a zero millage rate and I would argue probably the main reason is because we've got so many businesses here. If you look at your business to kind of residential balance, we're about 60 40. If you went up to say, Johns Creek, it's more like 80 20, which is the reason their property taxes, they've got one and we don't. So we're a very unique municipality in that regard. So that's one of the reasons that is so important. The council is so focused on, hey, how do we help revitalize tech part because that's the golden goose, if you will, that keeps us able to have a zero military. And that's ultimately where your average person is going to pay attention to what's going on is when suddenly say, hey, we're going to start taking money from you. They'll perk over and say, hey, what the heck is going on? You don't want to do that.
Rico Figliolini 0:43:41
Spoken to a few people about like just because it's Technology Park and its offices doesn't mean it can't be revamped into something a bit different. I'd love to see this college campuses that have offshoot. GSU has a satellite campus in Dunwoody, I think. And there's no reason why Georgia Tech for example, can't have a satellite campus here in Peachtree Corners taken over several buildings. I mean there's things like that that can happen if it's attractive enough for certain places, right?
Alex Wright 0:44:14
Yeah, no absolutely. I know the mayor has been a big proponent of trying to get the Gwinnett College or Gwynette Tech I can't remember to open up a campus Peachtree Corners life that I don't know the stats of that, but literally from day one, he has been an advocate for getting a local college presence here, which I think would be a great idea.
Rico Figliolini 0:44:33
Yeah, especially if it's a technology based type of school. So yeah, I can see that. That would be great. The only other thing I would love to see is an art theater center, a complex of some sort.
Alex Wright 0:44:47
Be surprised if that I think that's probably going to happen. I don't know the timing but I'm just speculating here that. I would bet you in five years that the city's got some type of facility. Again, it'd probably be like a private public partnership, something like that, if not sooner, is kind of my speculation.
Rico Figliolini 0:45:07
Good to say. Good to hear. All right, so before we end, I know it's sold out, I think, so there's no more places for it. But the Decathlon, the third annual Decathlon that you're really invested and involved in and actually started was the founder of it, if you will. Can you tell us that's coming up in October? October 21.
Alex Wright 0:45:30
That's correct. October 21. So it's held over at the fitness trail out the town green. And if you've never there's a new playground there. If you ever kind of venture into the woods beyond the playground, that's where all the fitness trail is. And kind of the origins of that. Not to go into too much detail, but I'm a member of the Y, and they used to have kind of a similar concept at the Y to raise money, and it was meant different things inside the Y. But basically the way it works is you would have ten events at the decathlon, and you had five minutes at each obstacle, if you will, and the quicker you finished it, someone will record your time, and then the rest of the five minutes was your rest, if you will. So it's almost like capitalism. The harder you go, the more time off you got. So anyway, they would add up all the times, composite. Whoever had the lowest time was the winter. So we took that idea out to the fitness trail, and it's very much a niche kind of thing, because some of the obstacles, like climbing ropes, most people can't do that. It's often kind of difficult to explain to people what it is. But I'm pretty excited because we sold out, like, in a month. And the reason there's only a certain number of slots, because the capacity to handle a lot of folks is just kind of limited. But the word is spreading to kind of cross the north metro area. We've got a waitlist. And my biggest concern always is rain, because nothing I can do about that. The week leading up on just kind of a nervous rate, like, please don't rain. But yeah, they got some really impressive people that come out and do it. It makes you realize how old you are when you see some of these ladies. I'm pretty excited about it. Definitely have a passion for it. I love going out to the fitness trail. I'll just be walking through there and you'll see people of all ages trying to do different things. And if you think about kind of our state of physical fitness, if you will, like in the country where my own kids, they're on video games or whatever, where you see people out doing something, I love to see that. Especially like the younger kids, even if they can't necessarily climb a rope, they're intrigued through stuff, whether the playground, whatever. It's great seeing that.
Rico Figliolini 0:48:01
Just get out there and do something, right.
Alex Wright 0:48:04
Do something.
Rico Figliolini 0:48:05
So 72 available slots, all gone. There's a waiting list now, and we'll have the Hype video, if you will, on our show notes. This way people can see what it's all about rather than trying to envision it. So it's a great video. I think Titan Pictures put that one together.
Alex Wright 0:48:22
Yeah, jim Stone did some videos from last year's, and most of the people in there are local residents that you might recognize. That's the other thing that's kind of neat about it is very much a local kind of a community building activity.
Rico Figliolini 0:48:37
Very cool to see it. We've come to the end of our time together. This a little longer than we had planned, so I appreciate you hanging in there with me, Alex, and talking through this. Yeah, no, I think hopefully everyone listening to this or reading the synopsis of this, because we'll be doing a short piece on this as well. Will know quite a bit more about what's going on in the city. So appreciate you being with me, Alex. Thank you.
Alex Wright 0:49:03
Yeah, thank you.
Rico Figliolini 0:49:04
Stay with me for a second as I just close out. I just want to say thank you to everyone. If you're listening to this on Audio Life, Apple podcast or something, like or review us, give us a star rating because this way people can find us. If you're listening to this on YouTube or our Facebook page, feel free to share it with people or tag people in the comments that may want to find out a little bit more about what's going on in the city of Peachtree Corners. Again, I want to thank our sponsors, EV Remodeling Inc. You can find them at evremodelinginc.com. And Clearwave Fiber. You can find them also on our link in our profiles as well. Thanks again and hope to see you soon.

On Topic: City Budget, City Marshals, FAA and Drones and Dog Parks [Podcast]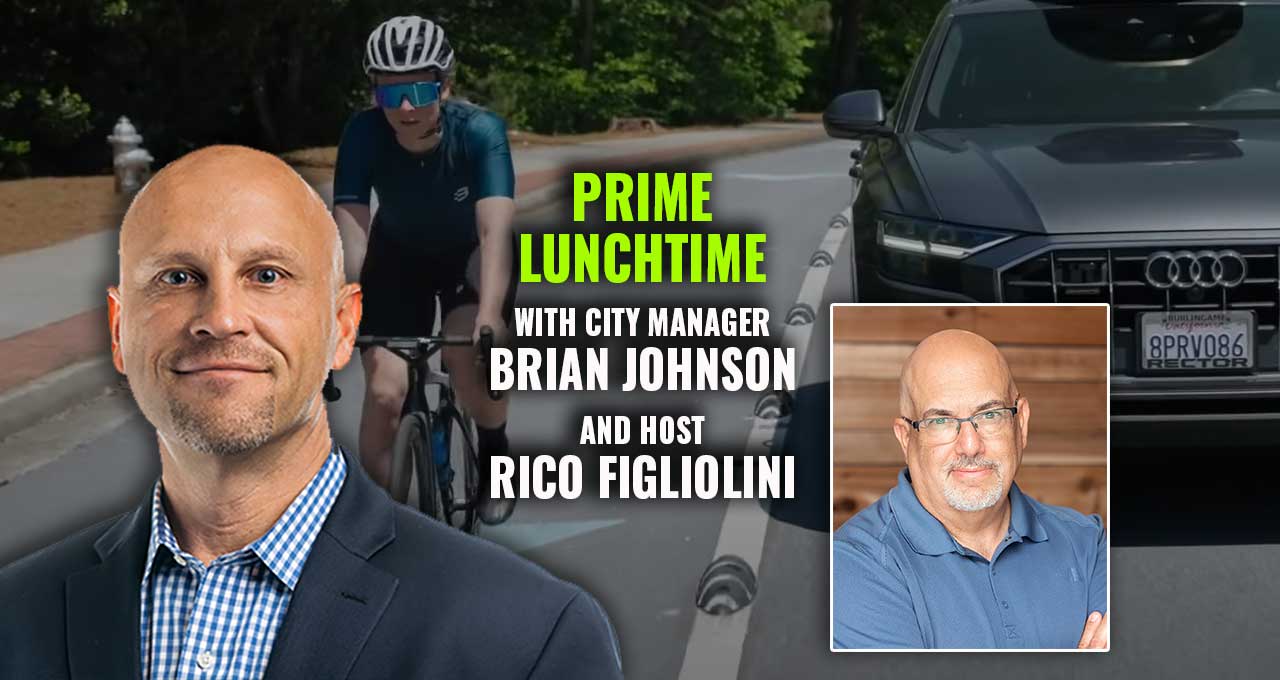 Brian Johnson, the city manager of Peachtree Corners, Georgia, shares exciting updates and plans for the city's technology and community development. From the successful Curiosity Lab Criterion Road Race to the construction of a new dog park and housing redevelopment, this podcast offers a glimpse into the innovative projects and partnerships that are transforming the city. Johnson's insights also shed light on how Peachtree Corners invests in its residents' safety, well-being, and quality of life.
Timestamp:
0:00:00 – Intro
0:01:11 – The Curiosity Lab Criterion Road Race
0:12:34 – Pickleball Feasibility Study
0:16:46 – The City Marshall System
0:20:44 – Budget, Housing, Dog Parks, and More
0:31:50 – FAA and Drone Programs
0:33:59 – Closing
Podcast Transcript:
Rico Figliolini 0:00:00
Hi, everyone. This is Rico Figliolini, host of Peachtree Corners Life. And today we have Brian Johnson. Hey, Brian, thanks for showing.
Brian Johnson 0:00:05
Rico, how are you?
Rico Figliolini 0:00:08
Good. Been a busy week for you, I'm sure.
Brian Johnson 0:00:10
A lot of them are lately.
Rico Figliolini 0:00:12
Yes, seems to be. Before we get right into it with Brian, city manager here at Peachtree Corners, let's just say thank you to EV Remodeling Inc. for being a corporate sponsor of ours. Eli, who is the owner of the company, lives here in Peachtree Corners. They do great work, check them out. They've been a great supporter of our work as well. We appreciate them for doing that. You could check out EVRemodeling.com and see all the great work that they're doing here in the City of Peachtree Corners as well as throughout the metro area. So, Brian, it's been weeks leading up to the event. Last night we're recording this a day after the Curiosity Lab Criterion Road Race, which was a big event here in Peachtree Corners as part of that speed week that Atlanta is holding and midweek on what started out as a rainy day. But I understand everything went well and phenomenal stuff. Why don't you give us a little detail about how it went?
Brian Johnson 0:01:11
Well, as you remember, when we've talked about this was a result of a conversation and a meeting that we had here at the city when we were at the Consumer Electronics Show in Vegas. And we met with a company called Spoke Safety that has created a device that can allow for enhanced safety for what are termed vulnerable road users, and that are essentially anybody who is on a roadway that's not in an automobile. So this would be everything from motorcycles down to people who use E-Scooters to bicyclists and even pedestrians. But this device, which is about the size of a pack of cards, allows for there to be two way communication between where this device is and an automobile. And so it'll basically be telling cars, hey, here is where this vulnerable road user is, and it can receive signals as well to where a car is like, fine, well, this is where we are. And so it can create basic safety messages to where in the case of bicyclist, if you had this device with you and you were approaching a car from the right, the driver of the car would get an alert saying, bicycle approaching on the right. And this company had come up with this technology and they wanted or needed some location that had the infrastructure in place to facilitate the deployment and the demonstration of this technology. And they already had a relationship with Audi and with Qualcomm. And we started talking and I said, well, we have proper city streets to be able to support this at Curiosity Labs. The streets inside of Curiosity Lab can do it. And they got excited. And so then there was talk about, all right, if this is going to be the world's first deployment demonstration of this technology. We make this into a significant event. How can we make sure that when it's deployed, it's done well? And I had some experience both as a participant back when I did a lot of cycling, and as the city manager of a community that had a long standing Criterion event every year, the Sunny King Criterium in Anniston, Alabama. And so I said, what if we did a Criterion here in Peacetree Corners and use that as an opportunity? And they loved it. So the result was, in a very short period of time, we were able to secure a date right in the middle of Speed Week, in between the two weekend events of Athens Twilight and the Sunny King and get a midday event. And we had a Criterium here that was part of the official USA Criterium annual calendar this year. And we had all the racing teams come out here and we created this Criterion. And in between the pro women's and pro men's event, we officially unveiled this technology, deployed it on a public street, did it live streaming. This event was live streamed internationally, and the result of it was a successful deployment. We now have an official partnership with Audi Phenomenal. Yes. We will now be exploring the enhancement of this vulnerable road user technology in a way that we can make it better, make it easier to use and to help scale it up so that we can improve the safety of those vulnerable road users that are on the roadway. Maybe one day, if this technology works out, and the theory behind it is sound, but so if it works out, look back and think that we played a small part in helping improve the safety on our roadways.
Rico Figliolini 0:05:14
Yeah, it's amazing. It's just the fact that the city is able to do that and provide this atmosphere, this environment, to be able to do that type of testing. I mean, everything starts out with the device. I can actually see this device becoming smaller or maybe even morphing into being able to use it as an app on phones already with GPS locations and stuff. But it has to start somewhere. I'm glad the city is able to provide that environment. And that's just crazy that Audi is now an official partner in this stuff. There aren't that many car companies out there, right? So to have to be able to have Audi come and say, we want to be an official partner here, that's just awesome.
Brian Johnson 0:05:56
It has to go all the way to Germany. It's Volkswagen Group is who owns Audi. So I had to go all the way over there for them to bless off on it. But they did because we have an environment that they're really not finding elsewhere. Audi, like the big other Big OEMs, has their own private test track for their vehicles, sure, but this is to do testing with this vulnerable road user technology. And you need public streets and you need the public. So we'll play a small part. We'll put some of these devices on our public works vehicles. We'll put them in our city Marshall vehicles, and we'll even have our public works employees who are mowing the lawns or the mowing out like Peacery Parkway. Now, you may brought up a good point. This technology is great. And Audi's testing was for the messages that there's like a cyclist approaching from the right or whatever to come up on the dashboard of the car. So that's where Audi is really wanting to have cars coming off the assembly line with the ability to receive these messages. Just where you would where if your check oil light came on or whatever, and it could even be audible if you want it to be. But as we know that even if every single brand new car coming off the line had this, it's going to be 25 plus years before we flush out most of the existing cars that don't have that technology. How do we scale this sooner? And you hit it right on, and that is through an app. We talked about it once before. Even if I am going somewhere, somewhere in town, especially closer to Atlanta, where it's getting more dense, even if I know exactly where I'm going, you know what I will still do? I'll pull my phone out and I'll pull the up or Google Maps for the traffic because I want to know, all right, I know how to get there. But is traffic bad? Do I need to take a different route? If you can get we can get this technology to come up messages inside of like Waze or Google.
Rico Figliolini 0:08:11
Perfect.
Brian Johnson 0:08:12
Everybody will be able to use this. So that's how we scale this. So again, we're going to do our small part of making our ecosystem available for this type of technology to hopefully become and everything.
Rico Figliolini 0:08:27
Yeah, that makes sense. I can see the applications even if it doesn't get into ways. Although small companies like this that start off get bought out by larger companies, right, because they get absorbed into their environment, like you said. So this way Waze can be able to provide that information to the driver. I mean, sometimes I'll put on Apple Map and stuff like that, always just because I may be on the phone and I want the system to be able to tell me, remind me.
Brian Johnson 0:09:01
That's exactly right.
Rico Figliolini 0:09:02
Yes. My wife says that I don't even. Have to think of where's my next turn, because I'm just a good point. Because otherwise you have to be aware of everything around you at every single minute, which I'm not a bad driver, I think a good driver, but it's like auto assist, right? So I think that's where we're going. So, yeah, if it can be in an app like that or I can even see Uber let's say a lyft looking at that and saying, you know, our drivers this is a propensity maybe, I don't know what the data shows, but they don't want the drivers hitting people and having problems too. So I could see a big company like that looking at this also and saying, you know what, that's not a bad add on to what we're doing.
Brian Johnson 0:09:52
Yeah, that'd be great points. But at the end of the day we had a pretty cool event. Had a couple of hundred people here as spectators, especially near the end of the evening around seven to around 945 when it ended. And that was with being a first time event. Wasn't great weather and isn't in our downtown. I was a little bit worried that the turnout would not be there but was we had food trucks here, we had some companies showing off some other types of technology. The racing teams were out here big and pro racers loved the course. They thought it was very technical and very unique and we had racers from all over the world australia, New Zealand, Europe, all over the country. It was a pretty cool thing. Puts us on the map. It gave our community a unique event go to and we were putting Curiosity Labs ecosystem to use. So all in all, a good event couldn't do it without rock star staff that put it on. And when you surround yourself with smart people and the tell you the resources they need and you get it to them and get out of their way, it can do some great stuff. So I got an unbelievable staff and the obviously mayor and council the support us, they are open to new things like this. They well attended throughout the course of the day because it started with amateurs 03:00 we even had the small kids race. Five to seven year olds and then like eight to ten year olds and they got on their bikes and the had started here and then at the starting line. And it's always cool to see those kids, everything from the kids who don't pedal yet, they just use their feet down with training wheels and others bike and so that was cool too. So it was a good event.
Rico Figliolini 0:12:02
It takes a lot of logistical work to get this put together, especially in that short amount of time that you guys had.
Brian Johnson 0:12:09
Early February is when we decided to do it. Yeah, pleased with it. So I think right now we're probably leaning forward in the saddle on doing it again. I don't really have a reason not to so other than just the time and energy it takes to set it up. But anyway, good things happening here. Never a dull moment.
Rico Figliolini 0:12:34
No, for sure. And we should hit upon a few of these things as some quick bursts because there are quite a few things well, not quite a few things, but there's always a lot of things, but there's four elements that we just want to hit real quick on. We've dove into them in more detail before, but just to give an update on it. So we discussed at one point about pickleball looking at possibly a 40 or 50 court facility here in Peachtree Corners. And I think the largest is what I found the largest in the metro area was 25, I think, or something when I was checking stats on that, of what was available. So feasibility study happening, not happening. Where is that going?
Brian Johnson 0:13:18
Yes. So we talked about it. Yes. For us to do this right, to not shoot too high, too low, we brought some professionals in. So it's a sports facility consulting firm that does feasibility studies. So we've commissioned this firm to do one. It'll take about a month and ultimately they'll come back and they'll tell us what is the market we're competing with, what's the demand out there? What can we expect as far as special events and how much economic development activity? What about ongoing, what size does it need to be? Are we going to cannibalize something if we do it? All of the things to consider and then based on that, mayor and council can look at it, make a decision on does the city want to facilitate doing something? Maybe we do and it's smaller than we thought because of whatever. Maybe we shoot for the stars and we want to do it, who knows? But got about a month and when they present the results, I'll end up organizing a meeting and invite kind of the people in Peachtree Corners that are involved in Pickleball and care about it. Everything from even you as you've gotten more interest in it, to people who play it a lot, to companies who are looking to maybe even be involved in managing it if we do it. Just kind of get everybody together and let them hear the results and we'll see where it goes from there.
Rico Figliolini 0:14:48
Cool. So we'll see that study sometime after that. Four weeks probably at a city council meeting, I guess, or a public meeting.
Brian Johnson 0:14:57
To be honest with you. I'll probably have the results presented before that at a different meeting and then go in front of council because council is going to need to make a decision based off of it. That would be more of what they do at the city council meeting is say, all right, we heard the results, we've had a chance to digest it. This is what we're going to do about it. So I'll probably just have schedule an evening one night or maybe a lunch one. And it's going to be inviting the people who have reached out to me and are involved and have been like, man, I played a lot, what can I do? To whatever people who care about it? Those are the ones who are going to want to hear the results so maybe we do it over lunch one day and have some pizzas or whatever and do something like that. But yeah, sounds good. End of May. Beginning of June.
Rico Figliolini 0:15:54
We'll have the yeah, I mean, there's quite a few. It's amazing how many businesses in the metro area and certainly there's a few in the corners that are pickleball oriented within the industry and coaches, registered coaches and stuff like that.
Brian Johnson 0:16:10
Just announced the Pickleball League. Now I'm sorry, Atlanta just created a pickleball league.
Rico Figliolini 0:16:16
Yes, I heard that. This is the Atlanta law and tennis.
Brian Johnson 0:16:24
Yeah. So clearly there's a demand. The question is, is it enough for the city to end up putting any time, energy and is what usually happens, money into facilitating something. And we want to make sure that we are shooting at the bullseye that we need to and it's not too big, too small, whatever.
Rico Figliolini 0:16:46
I love the fact that the city not only looking at cutting edge technology, but they're looking at other areas that might be great for our citizens and also the impact that it gives to this community. So got to love that. We also talked about city marshall in a couple of podcasts, the city marshall system. So it finally sounds like we're starting to move on it. And you were saying that May 1. What's happening?
Brian Johnson 0:17:10
May 1, beginning of May. So it's in the budget. Council seen the rough draft of the budget and as we talked about before, they supported it. So we're going to stand up a city marshall program and it'll start with three. And so I'm going to start putting out the job announcement out there with the requirements and sometime beginning of May they'll go out and the the June time frame is when we'll be doing the interviews and job offers and July 1, when our next fiscal year starts. Now there's the money in the budget to start standing it up. So sometime in July we'll start having actual uniformed city marshals here and they'll start filling in those gaps that we talked about before that we kind of feel the need to have filled. So the step in council feeling like they're doing everything they can to try to make the city as safe as we can and they're going to be post certified. We talked about just like Gwynette police. Duluth police, they will have the same exact authorities as any other police officer. Where they will be limited is by policy. So policy that we adopt, mayor, council adopt will end up being the one that keeps establishes their left and right limit. So for instance, by policy we're not going to have them out on roadway shooting radar guns and riding speeding tickets. Will they have the authority to do that? Absolutely. But we're not going to have the do that because that's not going to be in their job description as the city marshal is defined by policy. So that's how we're going to orient their activities through those policies.
Rico Figliolini 0:18:55
So the city has already gotten all the logistics down and stuff. Do you know where they're going to be? Sort of office out of, if you will.
Brian Johnson 0:19:03
Yeah, it'll be out of City Hall. We actually, because of the lead time, purchased the vehicles. We purchased one truck. F 152 Ford Police Interceptor Explorers. They're hybrid. They're all hybrid vehicles.
Rico Figliolini 0:19:20
Oh, cool. Okay.
Brian Johnson 0:19:21
Not all EV. Trying to get like what's the Ford pickup truck? All EV? What is that? The, I don't recall anyway. But they have an all EV pickup truck. The lead time was like a couple of years. That wouldn't work. We got hybrid. The truck will be outfitted in a way that we can have a drone take off from the back. We will be integrating a lot of drone stuff with the city Marshals as a technology asset for them to use to maybe do things preemptively. Maybe they fly them over problem areas helping to prevent hopefully, but if not solve criminal activity or do certain things. We've gotten some of those. They'll be housed in City Hall. Okay, so got renovation going on to reconfigure some of the interior spaces of the building to facilitate their activity. And they'll have a room here where they'll be able to pull all the images off of all of our flock cameras and all the other video cameras and the fūsus system.
Rico Figliolini 0:20:40
So we'll be connected to the fūsus system.
Brian Johnson 0:20:43
Absolutely.
Rico Figliolini 0:20:44
Excellent. Good deal. Talking about budget, that's coming up, right? Because it's the June budget, the annual.
Brian Johnson 0:20:51
It is the May City Council meeting is when we'll officially present the budget to council and community will be able to comment on what they hear. So that will be at the May Council meeting and then in June is when council will adopt it budgets. There's not a lot of surprises. Obviously one of the big ones would be the City Marshall program. One of the other byproducts of that is we're bringing the city attorney position in house. No longer be an employee of a separate law firm just because when you combine what additional municipal court activity we're going to have in addition to all the Curiosity Lab stuff, we just need to have legal counsel here all the time. There's just too much going on. And so it doesn't make sense to always try to pay the overhead to a law firm when you've got somebody who's here all day every day anyway. But yet they're not here. They're an attorney of another firm. So that's a byproduct of it. There's no financial hit. It's just moving. Instead of paying a third party, it's.
Rico Figliolini 0:22:05
Bringing yeah, probably better. The cost probably be a little better anyway.
Brian Johnson 0:22:11
Yeah, there's a little bit of now you've got the cities having to pay health insurance and other things. So we don't pay the overhead for that to the law firm. We're doing it in house. So it's a wash for all intents and purposes. A couple of things in there maybe of note, definitely got we've increased the amount of money we're putting towards street resurfacing. We've got more money in there for multi use trail activity. Trying to do more of that. Really focusing on some of the bigger sections like Crooked Creek down the south side of the city. We've got a couple of projects that we're looking to do on the south side we've talked about. One is some trailheads and public amenities along Peachtree Corners circle in between Holcomb Bridge and PIB. That would be part of that. We've got money there. We've got some money. A couple of million dollars set aside to do some housing redevelopment in the south part of the city to look for properties that are in foreclosure and in a state of disrepair. And the city may end up looking to acquire property and then turn around and have call it starter homes built to help with some of the housing.
Rico Figliolini 0:23:40
So we're talking about affordable starter homes versus three quarter of a million dollar homes.
Brian Johnson 0:23:45
Correct. That's what I'm saying. We would end up because we're involved, we'll be able to make it to where it truly is a starter home and it's an equity it would be equity product. It would still be home.
Rico Figliolini 0:23:57
Right.
Brian Johnson 0:23:58
But yes, there would be some sort of a home value control set on it so that the market doesn't push it to a point where it's another example where it's unachievable for.
Rico Figliolini 0:24:13
So would it be similar to like, I don't know how Habitat for Humanity works, but would it be like a lottery system in a way because otherwise the market will push that. Right.
Brian Johnson 0:24:23
Well, you use one of the best examples is one of the partners we would look to work with is Habitat.
Rico Figliolini 0:24:28
Okay, cool.
Brian Johnson 0:24:29
That's exactly, Gwinnett Housing Authority has programs where they'll come in and they'll build houses and it'll be specifically oriented to a particular demographic. It's an equity product, it's a new home. But you control the purchase price through the agreement you have with the entity building it's saying you can't sell this for a value above X because that's not the intent of why we're doing this.
Rico Figliolini 0:24:58
Yeah, otherwise that would just fail at that point. Right. For being what you exactly.
Brian Johnson 0:25:03
We're not filling a housing demand in that particular income strata in this way. We have some of the money set aside from the ARPA funds.
Rico Figliolini 0:25:15
I was going to say. So there's federal funds also for that.
Brian Johnson 0:25:18
And so the intent would be remove substandard housing stock from our roles and replacing it with new stock, but that it's got to control so that it doesn't get out of hand price wise. And so now we've, in a small way filled the demand for starter homes in an area and at the same time we've removed some cases squalor or vacant homes or foreclosed on homes. And so it's a win win. So there's money in there to do some work there. On the south side, we've also got there's going to be a dog park constructed at the Town Center.
Rico Figliolini 0:26:01
I heard that. That's cool. A small dog, big dog, or are they going to be like.
Brian Johnson 0:26:09
There are going to be two separate halves to it. It'll all be Astroturf inside there. So it's not going to be like just a fence around woods, but it'll be there at the Town Center in the woods. Probably the best way to get there would be to walk in from the side parking lot, that's surface parking lot next to Cinnabistro. Yeah, it'll be down there in the woodline. That'll be about the area.
Rico Figliolini 0:26:37
That'll be interesting. Artificial turf for the dog park.
Brian Johnson 0:26:43
Well, if you don't do artificial turf, you start getting into dogs digging. It can get muddy. If it's rain, it starts to defeat the purpose. So it will be Astroturf on the inside, and there will be a separation. There'll be two different ones, one for bigger dogs, one for smaller dogs. There'll be shade structures inside, seating areas for the owners in there so that'll go in over the summer.
Rico Figliolini 0:27:10
Okay.
Brian Johnson 0:27:11
Then right after the last event on our summer event calendar, I think it's the last weekend in November, we will do two things. One is we will be removing and relocating some of it. The very first three playground pieces of equipment that went out to the Town Center was the slide. And then you've got those two playground pieces. That area will be relocated in a tot playground, like oriented for four years, and younger will go in that area. So you'll have the call it the succession of age where you have four and under will be in that area. Then if you go five to whatever age you'll go to where the Qantas is and the big stuff. And then theoretically, if you outgrow the Qantas and everything as like my 14 year old son would tell me that's kid stuff, he'll go want to go to the fitness trail? And him and his buddies like to see who can climb the ropes, navigate some of those obstacles the fastest or whatever. But for a kid, if you adhere to the rules and the ages or whatever, you have kind of a succession of difficulty, if you will. So that won't start until after the last one because that'll be a little bit of a mini construction area, and we don't want to do that. The other thing we're going to do is at the same time, after the same event is we will be closing the inside of the sidewalk that forms the big circle there for the Town Green.
Rico Figliolini 0:29:00
Okay.
Brian Johnson 0:29:00
We're going to be removing all the soil and replacing it with a drainage field. Because if you've been out there, you can tell that when it's lumpy. And the reason is that way is because when it was put in. Originally our private partners just put grass over what was existing. And what was existing is the clay that we have here in Georgia. And when you put a lot of weight on the clay, when it's wet, what will happen is it'll squish down and then when it dries out, it hardens so it doesn't go back to where it was. And then there's no drainage that's been placed in there. So we're going to remove all the bad clay soil we're going to put back in. It's kind of like the French drain type of underground drainage field to allow it to drain away and then put good dirt, no clay, and then put sod back. We're going to try one more time with the good soil and drainage to actually have real grass. Sod otherwise putting Astroturf into it. But it's got a different feel. It's always nice to sometimes have grass we'll see, but we're not averse to if we can't keep it, we can't keep the grass. If it's being used too much, trampled on too much. We may have to go to the artificial turf, but right now we're going to put back sod but that'll happen in December, January time frame.
Rico Figliolini 0:30:33
Right.
Brian Johnson 0:30:33
And hopefully that so we'll have one more season where it'll still be a little lumpy and everything.
Rico Figliolini 0:30:41
I think people will be fine.
Brian Johnson 0:30:45
Those two things are not going to happen until after the concert series done. So we don't interrupt any the dog park is not interrupting anything. So that'll happen. So, yeah, more stuff with the Town Green. And then of course at the time of this recording, a couple of hours from now, the Forum North American Properties is having the groundbreak. Yeah, they're groundbreaking on the first phase of the Forum's redevelopment and they're going to removing the first section of interior parking spaces and put in the first section of the Linear Park. And then they're going to put in the food hall and the outdoor seating there at the north end of the Forum. So that'll be happening. The parking deck will be start construction on it sometime later on this 2023 season. And so once that is finished, they'll then be able to remove the remaining three quarters of those parking spaces and finish the Linear Park. So the Forum is moving ahead as well. So we got some stuff going on still.
Rico Figliolini 0:31:50
Yeah. Interesting. Well, lots of stuff to probably keep going. I know you were in DC a few weeks ago about with the FAA, and so I know that you were talking about more drone activity projects probably coming. Why don't we make that the last thing? What quick hits can you tell us about that, about the FAA, the drone programs that you think might be coming here?
Brian Johnson 0:32:12
Based on a visit that we had from the deputy administrator of the FAA who is in charge of drone regulation. He had been out here at Curiosity Lab once he invited us back to DC to meet with the entire drone regulation team for the FAA to talk about what Curiosity Labs ecosystem might offer to the FAA as it looks to figure out how to regulate this type of thing. And they're in the business of needing more data and data in certain areas. And so we discussed and have come up with some areas where we can really help them out. Areas partnering with T Mobile, Deutsche Telecom and their 5G wireless environment here. FAA is very interested in how well it can handle multiple drones using the same wireless signal, especially when it gets beyond visual line of sight where the drone operator can no longer see directly drone. We're going to do some stuff in that space and then our city marshals are going to end up doing some things around law enforcement and the use of drones, which is a different area of regulation that they've got to get into. So we're going to be doing some things to help them ultimately come to a point where they can feel like they can start issuing regulations on some of this stuff. It's the wild west to think about it. There's a lot of regulations have to be created for private drones. One day they just become so common that everybody walks out, throws up their own drone and starts doing the thing. Well, if everybody's doing it, how do you keep becoming a problem?
Rico Figliolini 0:33:59
And it's been out there a while, so it's interesting how long it's taken to get that regulation place. People are talking about AI and how long regulation will be in place for that. Who knows? It'll be another decade before we say, that cool. Just a lot of stuff going on in the city of Peachtree Corners. You guys are busy and have a vision and I'm just excited to see these things happening. So Brian, I appreciate you coming out every month giving us all thanks for having me.
Brian Johnson 0:34:28
Again, thanks for providing us this opportunity to let everybody know of the cool things that our great community has going for it and what we're doing to leverage to make it even better. So appreciate it.
Rico Figliolini 0:34:39
Yeah, no worries. Thank you again and thank you to EV Remodeling Inc. For being a great corporate sponsor of ours and the work that we do in both in print and the podcast. So check them out. EvRemodelingInc.com. Brian, thank you so much and we leave your comments if you have any, in the comments below. And stay safe out there. We'll see you next time. Thanks, guys.