Tim Perry with More About What's Coming to The Forum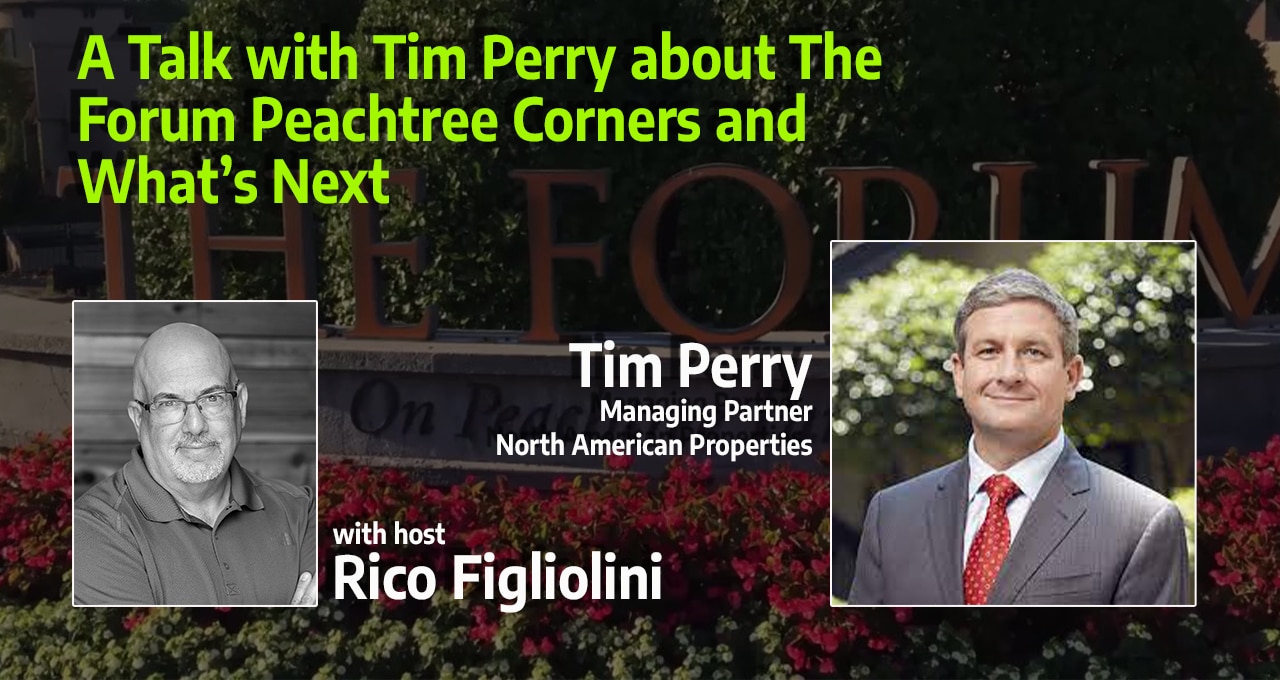 Management is already running The Forum as if it's Avalon. Starting with the basics like landscaping and security, but also the Friday Night Live music, new tenants are arriving like High Country Outfitters, the multi-family development on the town center side will likely start next summer, plus new businesses coming into a part of the 80,000 sq feet of office space. Learn more through our podcast with Tim Perry, Managing Partner of North American Properties.
Resources:
The Forum Website: https://theforumpeachtree.com
The Forum Facebook: https://www.facebook.com/theforumptc
"We've been excited about the Forum for years, even though we just purchased it earlier this year. And (we're) excited about working with Peachtree Corners because it's such a great community."

Tim perry
Timestamp (where to find it in the podcast):
[00:00:30] – Intro
[00:02:22] – North American Properties in The Community
[00:05:58] – New Types of Retail Coming
[00:08:48] – Breaking Ground on Residential
[00:11:00] – Plans for the Office Space
[00:13:49] – How the Economy Affects Real Estate
[00:22:57] – Making the Details Matter
[00:26:00] – Closing
SCROLL DOWN FOR THE VIDEO
Podcast Transcript:
[00:00:30] Rico: Hi everyone, this is Rico Figliolini, host of Peachtree Corners Life. I appreciate you guys joining us. We have a great guest today, Tim Perry, managing partner of North American Properties. Hey, Tim, how are you?
[00:00:42] Tim: Doing great, Rico. How are you today?
[00:00:44] Rico: Good. Beautiful day, when we're recording this live. Hopefully this will be an evening when people view it. Tim's the managing partner of North American Properties, owners of as many people know the Forum now. But before we get into this interview, I just wanna say thank you to our corporate sponsor, EV Remodeling Inc. and Eli, the owner and resident of Peachtree Corners. They've been a great supporter of our journalism in the magazines and these podcasts. So just want to do a shout out to him. They do design-to-build and they'll come in, remodel everything about your house inside and out. Done great work. He's on Houzz if you've ever used that. Houzz.com. Check him out. Check him out at EVRemodelingInc.com as well. And for transparency's sake, I also wanna say that the Forum is a supporter and advertiser in Peachtree Corners Magazine as well. So now that we've gotten that out of the way. We've been talking about the Forum, this stuff going on for probably six to eight months. So I'm glad that you're on this podcast sharing with me a little bit about what's gonna be going on over the next year or so. At this point, I think people are a little bit used to seeing stuff going on at the Forum, like the Friday Night Live music, some of the local bands you're bringing in. Kind of neat. And I know Ted's Montana Grill participates with popup bar set up there so people can actually go drink and enjoy some music. Across the way from Town Center on a Friday night. How's that going? Now that you guys own everything, zoning has been approved and all that, how are you guys doing with that, all this so far?
[00:02:20] Tim: Well thanks for having me on today, Rico.
[00:02:22] Rico: Sure.
[00:02:22] Tim: We've been excited about the Forum for years, even though we just purchased it earlier this year. And excited about working with Peachtree Corners because it's such a great community. Operationally, I mean, you can look down at our track record. In fact in gosh, 2011 when my predecessor and I, Mark when we bought Atlantic Station. These properties or the opportunity that is created by the lack of past investment is what we do. So it's front loaded from an expense standpoint. You spend the first year or so, or more, really activating the property and spending the money to build that community connection. And then you have to build in the physical infrastructure you need to actually execute it longer term. So while we're doing Friday Night Music and things now, we're having to repurpose parking lots and streets and everything in order to do it, versus actually having the public realm. The lack of public realm at the Forum, like Avalon or Atlantic Station or others, it created the opportunity for us to bring the public realm there and have somewhere to host these in the future. So you just have to kind of plow through it and embrace the community. And that's what leases space, and that's what attracts the merchants, and that's what attracts the restaurants that turn this into long term. So we're running the Forum like it's Avalon, even though the leasing has you know, trails certainly that merchandisers are showing that activation.
[00:03:43] Rico: Right. Yeah. And I think most people know at this point in Peachtree Corners traveling through the Forum, that there were as many as, I think 20 storefronts empty at one point. And of course, just also to be fair, there were people that were opposed to some of the zoning adjustments and stuff. But in the end, I mean, driving, creating, and keeping the way the Forum is by before you purchased it, just didn't make business sense, right? Buying it, redeveloping it. I mean, you guys have a track record with Atlantic Station, Colony Square. You've done the Avalon from ground up in Alpharetta. And prior to us starting this podcast, we were talking like you mentioned, front loading that investment. Getting people used to, I mean, you guys supported really well, Light Up The Corners. And I think that's a perfect example. Better than it's been done before. Giving way more space to it than it was given by the prior owners of the Forum. Now I think that was a great first step that you guys gave. Just, it was a good experience, I think, for most people.
[00:04:46] Tim: Well, thank you. Yeah. We're getting there for sure. And the additional zoning and all that we went through for the approvals for the public realm and the additional parking. All of those components really are gonna create the space where we can activate. And then the additional density, whether that's filling up the office space that's there, or it's bringing 381 residents, or it's bringing people in the hotel to the property. It's not just the people that are there, it's them and bringing their friends and bringing their family and their kids' friends.
[00:05:16] Rico: Right.
[00:05:16] Tim: And then the community. And that coupled with having a great public space is what makes it all successful. And the retailers and the merchants are responding to our plan, which is very active on the north end and very active around the plaza. In front of Grace and Belk. And now it's merchandising. It's filling in the food, the beverage, the patios, and that retail run. Because ultimately successful retail all sort of has a track effect. You go up one side of the street, you come back down the other side of the street, yeah. If you get off that track, it's why malls work, right? You go to a two story mall, you go down the mall and you go upstairs, you come back. That's why when you see a third story in a mall, it's almost always empty. There is a certain habit to how people engage with the property. And we want that to start and finish there in the plaza.
[00:05:58] Rico: Yeah, I get that too because, for example, my middle child, 24 years old, she goes to the Forum basically for Lulu Lemon, Ulta, and that's about it. Once she gets there and she leaves. I mean, she doesn't really eat there. Maybe she gets her, I don't even know if she gets her eyelashes done there or not. But those are the two stores that she basically goes to. And then, but she loves Avalon. She goes there with her friends all the time. And they'll stroll around after dinner and stuff. So I get that because her generation is not gonna be doing that track because there's not enough. There's not the right retail, I think. You could have enough retail, but if it's not the right retail. So tell us a little bit about that. I mean, it's not just retail, right? I mean you're looking, I think, at also bringing entertainment of a sort, besides concert and music. But tell us a little bit about the type of retail that you're starting to get besides Chopped and now I just saw High Country Outfitters is coming.
[00:06:56] Tim: High Country Outfitters is coming. We've got a brewery that's looking at taking a spot. We have a distillery that's looking at putting an onsite distillery there as well. As we know, we've got a food hall on the north end. LuLu Lemon is working to expand right in that location as well. And then it's fortifying the tenants that are there. And then from the entertainment side, it's not, there's not a space to do anything that's a really large format. There's no theater, there's no bowling alley type thing. But that, there's a niche now, and I call it competitive socializing, right? And it's been around forever. We just kind of gave it a name. And it's bowling, it's golf, it's darts, it's ax throwing. It's all of these different things you can do. It's pickle ball, it's tennis, it's corn hole leagues bringing all that into the mix, both from a tenant and an activation standpoint. People want to do it, I want to go out and I want to play a game or watch a game with my friends. So there's a whole niche around this sort of competitive socialization of a retailer that's coming as well. And then the soft goods piece follows. And the Forum's always had the demographics and the density of the market to support it. That was the original reason it was built. And now it's just putting in the newer, more emerging brands into the center and that kind of retail run. I've said this to you before, is you walk down one side, you work the track. You sort of get to where, maybe where Lulu is and you look down, you're like, ah, there's nothing else down there. And you turn around, right?
[00:08:18] Rico: Yes.
[00:08:18] Tim: You've gotta extend that track. So the improvements that are on the north end by the office are meant to pull you. Kind of go down and come back through. So that retail run will be built, but kind of get filled out soon.
[00:08:29] Rico: Yeah, interesting. Because I know when I go there and I want to park and I need to get something, it's almost like, do I wanna go down that stretch because there's, maybe I wanna get something at Jason's Deli. But I have to go all the way down there for that and there's nothing else along the way that would be of interest. Except for the chocolatier, because I'm a nut with that, but.
[00:08:47] Tim: Right.
[00:08:48] Rico: But yeah, I understand. And you're right, that competitive piece, entertainment piece. I mean, it's such a big thing now. I mean, you're getting VR, XR type places coming where you can eat, drink, and go play. And that's the attitude everyone, I think a lot of kids that grew up over the last two decades are adults now, right? They want to, everything's a gamification of something. So they want to be able to be out there and enjoy themselves and do all that. And I know bringing like 381 apartments to the Forum itself is going to help with that. In fact, you know, what's the timeline on that? I know for a different timelines on there. Any thought about when that breaks ground?
[00:09:30] Tim: Well, it's really the residential that the city approved for us on both sides of 141, right? So that's a lot of residents that are coming and pieces that are now going to connect the bridge and hopefully draw people back and forth. I know this weekend, is it a Prince cover band?
[00:09:44] Rico: Yes, I think so, yes.
[00:09:46] Tim: That there on the Town Green. Now, I'd love to see people parking on the Forum side and walking over. It should be a beautiful weekend, I think. So hopefully that works. But using that as a transit piece going back and forth. So it's really the residents on both sides that fuel both sides, again, of the property. So we're excited to have those. We're excited to have the hotel and that just brings more people into it. But the gamification of everything is important. So next summer is roughly when we hope to begin the public realm improvements. And we want to start, we want to have those tenants open. The new tenants open, that will announce as we sign leases. New tenants open for the holidays in 24.
[00:10:25] Rico: 24, okay.
[00:10:26] Tim: Just building space or public realm, is not as, it's not that time consuming. But once we get a space and you hand it over to a tenant, there's still a four to six month process for a tenant to put their stuff in, and FF&E, and decorate, whatever else. So there's that entire stretch, you kinda have to add onto the end of the landlord's work with projects. And then the part with the multi-family side, being the east side of 141 can start as early as next summer. And then on the Forum side, that is probably a 2025.
[00:10:56] Rico: Alright.
[00:10:57] Tim: And the hotel may move more quickly than that
[00:11:00] Rico: Really? Okay. Getting back to a little bit about the office space, there's about 80,000 square feet. I didn't realize how much square feet there was of office space there. And most people don't even think about that, like I said, unless they go into Innovative Help there, the dentist, Dr. Talley. Or unless they have a professional service they're going to over there. But most people don't even think about that. How is that? What plans do you have there? I don't even know what the vacancy rate is right now. But what plans do you have there moving forward?
[00:11:29] Tim: We've signed our first lease. It's a pediatric medical use, pediatric dental use. So we've got that. And the building there above Trader Joe's, there's three floors. It's got a fair amount of medical space, which is great. It's convenient, it's embedded in the neighborhood. There's nothing like taking your kid to the doctor and then going down to the chocolatier, right? For a little snack.
[00:11:48] Rico: Right.
[00:11:49] Tim: It'll make you forget about that shot, right? So it's a great place. It's a great use for it. And then there's, there's a lot more space though above like Pottery Barn on the second floor. And previously, about half of that is leased and the other half was part of the Spa Sydell. You remember Spa Sydell?
[00:12:04] Rico: Right. Yes, yes.
[00:12:06] Tim: And so we've actually gutted that space and opened it up to use it as office rather, than a service provider. It was very chopped up. We were already talking with a tenant about that space. We've been talking to one tenant where we would've to move a bunch of people around that would take a lot more space than we even have. So demand in a mixed use environment for office is always really strong. And if you look at all the uses top to bottom, whether you're a guest for a few hours because you're there shopping or dining, or you're a guest overnight in the hotel, or for a year, right?
[00:12:40] Rico: Right, right.
[00:12:41] Tim: As an apartment resident or for multi years as an office tenant, everyone wants the same thing. They want what's outside their door. Not what's inside their door. So, the retail, it pulls people through a retail and creates sale, which creates a longevity to those tenants. So when your daughter goes back, there's always her favorite store where she's gonna go and shop. Same with restaurants. She's always going to have her favorite restaurant that's going to be there. And for those who don't know Grace is closing and rebranding and reopening. But the business itself sold. It wasn't anything that we instigated. It was something we were told. It sold, and we're really looking forward to working with the new owners there.
[00:13:20] Rico: Yeah, I think they're the same owners of Stäge is what I understand. Or associated somehow with them.
[00:13:26] Tim: That's correct, that's correct.
[00:13:27] Rico: And I think it's a French oriented restaurant. Somewhere along those lines, from what I understand.
[00:13:32] Tim: So we're excited about that. And that's such a great corner. You know, businesses evolve over time. We're really happy to have a fresh face in that corner. With the Plaza, it's gonna be such a key corner. Everybody parked in the deck and everyone going to and from cars. Everyone getting either car valet or coming to an event, it's gonna be right outside their door.
[00:13:49] Rico: Yeah, they're going to have a lot of value there, I'm sure for that. And I know Grace 1720, I mean, they've been there, they were there a long time. So it was, I think the owners just wanted to sell at that. I think they've gotten to that point, the original owners, I think. But that's cool. So, people are looking at the economy right now, right? A little bit. They're looking at some inflationary stuff. Who knows what's gonna happen over the next 24 months or so. There's so many people. And even the people that are supposedly experts have been getting it wrong, for a while now.
[00:14:19] Tim: Right.
[00:14:19] Rico: It seems. Yeltsin, I think just admitted that she was wrong a little bit about her predictions a year or two ago. How does that affect the Forum moving forward and stuff? Do you hear anything on that or is that even an issue at this point?
[00:14:32] Tim: Well we're very fortunate to have a large institutional partner. And the rise in interest rates alone isn't impacting the Forum because there's no debt on it. So we're blessed not to have that increasing cost as a detriment to our ability to execute on the plan. And because we've set out with a business plan to do all of this in closing, all of that was capitalized as part of what we've agreed to go forward and do. So there are still a lot of things to work through with the city. I mean as we said during the development. Entitlements aren't designed right?
[00:15:07] Rico: Right.
[00:15:07] Tim: You still have to get through and spend the design dollars and the permitting and the approvals and everything with the community review and zoning, design review. So we're working through that with the city right now on different components. I think from a tenancy standpoint, there's definitely risk, right? There's tenants, regardless of what they are, tend to swing sometimes strongly, one way or the other from let's not do anything and wait to, oh my gosh, I've gotta do 200 new units across the country this year. I've gotta get going.
[00:15:36] Rico: Right.
[00:15:36] Tim: And what we've seen is some slow down. Not everyone's leaning in to, expanding as fast as possible. But good location, good real estate, is fundamentally good real estate. So there may be locations for national tenants that aren't moving forward, but something like a Forum, an Avalon or Avenue East Cobb or some of our other projects are not those. Just amount of interest, the amount of expansion. Especially at this point, rather than five years down the road when it's probably more expensive to lease space there but there's less of it. At this point, the real good real estate continues to lease. And the Forum, the Forum is catching that. There's a flight to quality in almost all economic downturns. And that means office, right? You have a lot of options. I want to go the A location or the A property or the A product. And the Forum is the A location, the A product, in an A property. So it's kind of all of the, checks all those boxes.
[00:16:34] Rico: Yeah, it makes sense. I mean, it really, within the city of Peachtree Corners, it's actually the only A retail besides Town Center, right?
[00:16:41] Tim: Right.
[00:16:42] Rico: So if you're coming to Peachtree Corners, I mean, this is the place to do it, I guess, right?
[00:16:46] Tim: Collectively with Town Center, that's what creates the A location. That's what creates if you're talking about downtown Peachtree Corners. And that's how we sell it, and that's how everyone should think of this is downtown Peachtree Corners. This is my amenity. This is where we take our family. This is where we take our friends. This is where we go to spend some time. And now soft goods want critical mass, and there's not critical mass at the Town Center side. So that's where the Forum would be different than Town Center. And not compete directly. I mean, there's still a need for that QSR and that Center on both sides.
[00:17:16] Rico: For sure. And I think as people, as I've spoken to people at business association meeting chambers and other business people. The economy may shift and do certain things, but that doesn't mean every business is affected the same and equally by that. And I think you're right. I mean, there are a lot of businesses taking this opportunity now. Because it makes sense to be able to do what they need to do. Because like, you're right, five years from now, even if we get into a recession at some point within the next year or two. We come out of a recession. It's not, businesses don't stop, right? If they're fundamentally a good business and they've planned out and they've budgeted out what they're doing, they're not going to stop.
[00:17:58] Tim: Right.
[00:17:58] Rico: They're just gonna keep going because that makes sense. Unless it was done, unless that decision was done on bad principle, right?
[00:18:05] Tim: Quality and talent, right? I mean, companies want to, you've gotta keep your talent. Because there is a backside to this.
[00:18:11] Rico: Right.
[00:18:12] Tim: And you know, the most valuable commodity we all have is our time. Our time and our talent. So keeping it all together and staying the course. That's the reason we only buy you know, really well located class A locations. Even if the property has fallen out of that classification, we can bring them back. And you look at Colony Square and Midtown, these are 50 year old buildings.
[00:18:30] Rico: Yes.
[00:18:31] Tim: But from an occupancy and from a leasing, from an occupancy and from a rental standpoint, they compete with the class A market. Just things, the products that are 10 years old, right? So it competes in that sector because of the quality of the location, the quality of the experience. The amenity downstairs.
[00:18:46] Rico: That's right. I agree with that. I mean, before the rezoning there were people talking about, oh, do we want multifamily there? And what's that going to do and stuff. And after, I guess some experts out there, like after you get three cycles of tenants, then it falls apart. And I look at that and you look at the apartments in Peachtree Corners, most of them are like garden apartments. We don't have mid-rise apartment buildings in Peachtree Corners. It's a whole different animal. And especially where it's going to be located. It's a whole different animal. It's almost like when discussing, people would tell me, yeah, but then in seven years it's going to be bad. And it's like, what does that mean?
[00:19:24] Tim: Right.
[00:19:24] Rico: That means, if that happens, the whole downtown area is bad, is what you're saying.
[00:19:28] Tim: And because where one goes the other follows. But we're not gonna let that happen. You know, if you keep the street, if you keep the life. We say it all the time. We're not leasing space, we're leasing lifestyle. And that's the difference between a garden apartment and this. You know, if somebody's either need to live here because of something, then there's a big wide market. I can live in a lot of different places. If there is a desire to live somewhere because I want to live that life. Then there are very few. And that's where the resident profile is so different in a mixed use property. It's older. It's almost driven more by, well it is, it's driven by their lifestyle. I want to go downstairs and have wine. I don't want to cook. I want to go to the beach for two or three months at a time, but I still need to come up here and meet a client. Or just my doctor, my friends, my golf course are all here so I need that. And it's not, that's true in every market. We see it at Avalon all the time. Unless someone moves out and moves to the beach full time, they typically move into a town home or something that's right around Avalon or downtown Alpharetta. And we have the same thing. Just last week, we had a grand opening, a grand reopening, a celebration of our redevelopment. Almost identical to the Forum called Birkdale Village. That's up in Huntersville, North Carolina. Just north of Charlotte up on Lake Norman. Almost identical. I mean, if you go to BirkdaleVillage.com, and if you look at that. The stage, the sound, the concierge, it's all going to look almost the same. So go check it out. In fact, it's a beautiful property. We just opened it last week. And I was there and talking with someone who was attending. And they were a resident, they were in their fifties. They had a house at Hilton Head. They had sold their house across the street of the country club and were building a house in Bluffton. And they wanted a home base next to their doctor, their friends and their kids who lived in that park. But they wanted to lock and leave, and they wanted to be able to walk downstairs and sit outside on a beautiful day or what else and not drive. And not drive, right? And that's the profile. And it's very consistent when you get into these mixed use. I guess everyone is a resident by choice, because you can choose wherever you wanna live. But it's really a renter by choice because they have an option of owning or buying.
[00:21:36] Rico: Oh yeah. One of my writers lives in downtown Duluth. Him and his wife saved quite a bit of money. He likes writing for me part-time in about stuff going on in Duluth. He just started and he lives right on, like right there in downtown.
[00:21:50] Tim: Right.
[00:21:51] Rico: And they rented it. They thought, let's test out this. We could always go to a different rental place down the block if this one doesn't work out. So they're testing out stuff and they love living downtown. They just go down to the restaurants, they go to the concerts on the town green there in Duluth. It's a beautiful area. You know, it's a nice downtown, but that took a while to build up that downtown.
[00:22:12] Tim: Right. And we'll see how the recession affects ownership because it's more expensive to own. Which means there's typically, you know, it's kind of a slow down. And one thing has to reset. Either the price of homes have to come down or your interest rates have to come down. Either way, kind of supply, marketing. It kind of slows down a little bit. And I think that'll create probably a net zero effect. People who stay in a resident, an apartment longer because they think they can get a deal on a home, they maybe willing to sell less. People still have to move.
[00:22:41] Rico: Right.
[00:22:41] Tim: Or they may say, you know what, we're going to hang out here and wait for the recession to blow over so I can get a lower rate and afford more home than what I may be able to afford now. So it's gonna be interesting, but it's the same kind of tenant, resident profile in both those cases.
[00:22:57] Rico: Yeah, and I think also the way that you all look at, just the look of a place also. I mean, I could see the difference in even the plantings of the flowers when you guys first took over. Whereas before it almost looked like, they just did minimal planting and then later it looks like, wow, this, did they build that up? Or is this just more flowers there? Just the little things like that to me because I notice those things make a difference. Because that tells me they're paying attention to the detail.
[00:23:26] Tim: Yeah.
[00:23:26] Rico: High Country even, their facade is a lot different than the other places.
[00:23:31] Tim: Right.
[00:23:31] Rico: The other stores there.
[00:23:33] Tim: You eat with your eyes, right?
[00:23:34] Rico: Yeah, I mean.
[00:23:35] Tim: We say it all the time. That's kind of a big evolution. Tenants, these neutral colors and just slap a sign up on the building.
[00:23:43] Rico: Yeah.
[00:23:44] Tim: It all looks the same. That's not the current market. I mean, if you look at Avalon, that's, we broke ground at Avalon in 2012, I mean ten years ago. Look at all those different storefronts. And now each of those. I guess it was '13, so almost ten years ago, nine years ago. Each of those storefronts as you put new tenants in will express itself. And that's a really important part of creating that eat with your eyes, that experience.
[00:24:09] Rico: Yeah.
[00:24:10] Tim: I like to say, I'm glad to hear you say you notice those things. If everything is right, you don't notice anything, right?
[00:24:16] Rico: Right.
[00:24:17] Tim: You walk through it, and it feels good. I don't know why it feels good. I can't say it feels good because of the flowers or the lights or the music. It just feels good. But if you walk through and it feels bad, you know exactly why it feels bad. And so, those things, people notice when something's wrong. And when it's right, they don't tend to. They just, it just feels good. So we like to hear people notice when things are wrong, because that means we can go and attack it and fix it. We've been doing that ever since we closed in March. Glad to hear it makes a difference. I mean it's gum on the sidewalks to flowers, to planting, to music, to lighting. To consistent uniforms. Even with outside vendor, like the custodial team. It's that one vision, one shared understanding of what excellence means and a strive to create it.
[00:25:05] Rico: Yeah, I've noticed that. I've noticed the uniforms. I noticed security, more security. They're dressed in a certain way also. Which is good. I mean, people want to feel safe as well, right? To where they go.
[00:25:17] Tim: How many real estate owners have a grooming standards in their operating manuals, right? You know? So not a lot.
[00:25:24] Rico: Yeah. No, no. And you have apparently.
[00:25:27] Tim: And we have. Right. We have to say everything matters, right? Good enough, never good enough, so.
[00:25:32] Rico: Yes. No, I love the idea of Disney World, Crown Plaza. The idea that when people, the way you say when people step on the property, you want people to feel welcomed and safe and know that they're gonna be taken care of. So it's all good.
[00:25:47] Tim: We want them to come back, right? We want them to come back. We want people to say, this is my Forum. It's not mine, it's yours. It's yours because you want to come use it. And if there's something wrong with your property, your Forum, tell us what it is.
[00:25:59] Rico: Right.
[00:25:59] Tim: We'll fix it.
[00:26:00] Rico: Cool. Well, we've been talking to Tim Perry, managing partner of North American Properties. Just a lot going on there and I know there's a lot more going on behind the scenes that you probably can't talk about. Retail partners that may be coming in that slowly your team will be sharing who they are at some point. Anything else you wanna tell us, Tim, about things moving forward that you'd like to share that we haven't touched upon?
[00:26:24] Tim: We're gonna start our holiday activation this year. So November 18th is actually our tree lighting and our holiday parties. We'll have an event that day. I want everyone to come out, park on both sides, walk across the bridge, use it, come over. And we really look forward to getting on the true design right? I mean, not just the renderings and things people have seen in the papers, but the plans ready so we can get this thing moving next year. But we're looking forward to the holidays this year. We're looking forward to some great new announcements. Keep coming out to the events. That's the best way to stay engaged with what's going on with the property. And in 2024 we're all gonna have a plaza and a whole list of events and new breweries and wineries and distilleries and retailers to enjoy. And it seems like a long time on the front end, two years from now, we're gonna go, wow, it seems like yesterday. But we're really big on doing what we say we're gonna do. And we've been saying what we're gonna do now we're gonna go do it.
[00:27:20] Rico: Yeah, time flies. Seems like it's going to take a while, but by the time we get there, you know, it'll be like, wow. This is the way it's gonna look, okay.
[00:27:28] Tim: Right, right.
[00:27:29] Rico: So cool. Anyone that wants to know more about what's going on at the Forum, you could check, follow the social media, the Forum at Peachtree Corners. Right, the Forum at Peachtree Corners. They have a new logo, obviously, I think listeners should know a bit more about that. So follow them on Facebook as well. They have a newsletter, I believe. I think you all have a newsletter that can be signed up on, on your website.
[00:27:51] Tim: You can sign up on the website for email blasts and newsletters and that kind of stuff. And follow our social media. We have a social media coordinator on every property as well as marketing, event planning, and all that kinda stuff. So we're really active on social media. Follow it, that's the best way to know what's going on. That or the webpage. That's both from physically what's going on as well as events and what's coming, what's going on there.
[00:28:12] Rico: Right.
[00:28:13] Tim: Follow us, I look forward to engaging there more.
[00:28:15] Rico: Yeah, lots of music on Friday night, so keep that going too. And it's great to see the businesses participating like Ted's Montana Grill and stuff on doing that popup for drinks. And of course follow us, Peachtree Corners Magazine and our social media. Subscribe to our newsletter, you can find that on our website at LivingInPeachtreeCorners.com because we're always covering what's going on here in the city of Peachtree Corners. Check out our magazine, our latest issue, somewhere around here, is coming out and it's the pets issue. We are currently working on Southwest Gwinnett Magazine in our 19 under 19 edition. 19 kids that you should be looking out for, things that they're doing. And in the Peachtree Corners magazine, we'll be doing the faces of Peachtree Corners in the next issue. And so some top leaders and community people that are doing great things here in the city, business people and others. So check us out, follow the Forum. Tim, I appreciate, you're a busy guy. You have lots going on all over the country, I'm sure. But I appreciate you spending the time with me this morning to be able to do this podcast interview.
[00:29:23] Tim: Absolutely. We travel a lot, but this is home. Two years from now, we're gonna drive through home and we're gonna be proud, Rico.
[00:29:28] Rico: Yeah, you live up in Johns Creek, so I mean, right? You're right close to us. Cool. So everyone, thank you again. Tim, stay with me for a minute. I just wanna say thank you again to EV Remodeling Inc. for being a sponsor, a corporate sponsor, supporting our journalism. The publication, as well as the podcast that we do. Thanks, Eli. Check them out. They do great work. Eli lives here in the community. This is a Peachtree Corners based business. Lots of remodeling work they've done. Some actually pretty nice stuff that they've done, so check them out. EVRemodelingInc.com. Thanks again, Tim.
[00:30:04] Tim: Thank you.
Is a City Marshal System in the City's Future and Updates on the DDA and RDA [Podcast]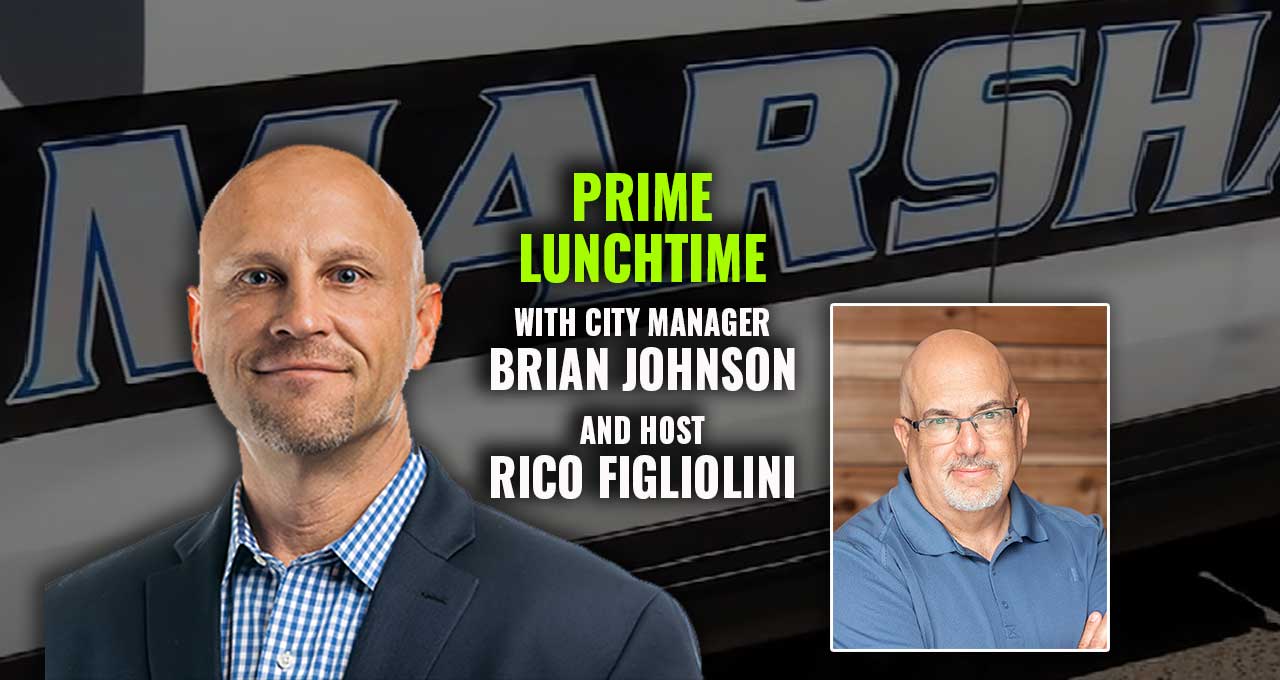 Is a City Marshal system in our future and what would it look like?
After a short hiatus, Rico Figliolini and Brian Johnson are back with a new episode of Prime Lunchtime with The City Manager. There's a lot of new and exciting information about what's happening in the City of Peachtree Corners. Today's topics include; a possible future City Marshal System, The Redevelopment Authority and Downtown Development Authority plans, honorary road names, and much more.
Timestamp:
[00:00:30] – Intro
[00:02:44] – City Marshal Office System
[00:13:19] – The Authority of Future City Marshals
[00:18:58] – How the City Will Fund the City Marshals System
[00:23:37] – Honorary Roads Vs. Renaming a Road
[00:27:30] – Downtown Development Authority
[00:30:40] – Redevelopment Authority's New Ideas
[00:36:57] – Closing
"One of our most sacred services as a city that we provide is to do everything we can to make sure this community is safe. A place to live, do commerce, recreate, and (City Council) felt like this will better provide that service."

BRIAN JOHNSON
SCROLL DOWN TO YOUTUBE VIDEO
Podcast Transcript
[00:00:30] Rico: Hi everyone, this is Rico Figliolini, host of Peachtree Corners Life, and today Prime Lunchtime with the City Manager. Hey Brian, how are you?
[00:00:38] Brian: Rico. Good, how are you?
[00:00:40] Rico: Good, good. Much better. I finally got Covid. I'm on the other side of it, so everything's all good. Before we get into the show, let me just introduce our sponsor, EV Remodeling Inc. They've been a corporate sponsor of ours for over a year now, both for the publication and these family podcasts that I do. So I want to thank them. Based in Peachtree Corners. Eli is a Peachtree Corners resident. Great guy, does great work. You can visit them at EVRemodelingInc.com and find out a little bit more about how he does design, build, and can renovate your entire home. So check him out. I want to thank him for being our corporate sponsor. We have a lot to discuss. I mean, within the scheme of things, we haven't done this. We skipped a month. It was kind of quiet and stuff but there's always new stuff. And certainly this podcast, we're gonna be discussing the city's look at activating a City Marshall system as well as discussing honorary road names and looking at the RDA and DDA, that's the Downtown Development authority and the Redevelopment Authority and what they're going to be doing. Let's lead off with the City Marshall, the activation of that. I know this is in response to the concerns that citizens have had maybe not directly with the carjacking that happened at the QT and the death of a young man there. And of a young student at Norcross High School. Granted that was, he had left Norcross High School, and that was, I believe off campus that happened. But two violent crimes that occurred. Listen, the city of Atlanta all over the city, there's, you can get notifications from 11 Alive at least five, six times a day of things happening. We're thankful that the City of Peachtree Corners is not facing that type of crime wave or activity. But I find that this is somewhat of an innovative way of doing this. Instead of a full on police force doing something that could be a little different and still have the authority of the police. So Brian, tell us a little bit about how this came about and how you'd be looking at this and what you were tasked to do.
[00:02:44] Brian: So, you're right, you hit on some of the origins of getting to this point. We have had some unfortunate incidents of late with deaths. There's been some other crime and it's not uncommon as we densify. As Metro Atlanta grows Peachtree Corners is growing. And the more people you have in an area, there's just more opportunities for bad actors. So this unfortunate rise in these kind of things. And, you know, property crime is still our main criminal activity type here, but we are just becoming more and more of a target for bad actors. We've had intersection takeovers not too long ago, where you've got these car clubs that are seizing control of an intersection and doing all sorts of dangerous things with automobiles. You've had instances like that, even the failed carjacking that resulted in that death was a group of teens who specifically were targeting communities that had more affluence and better automobiles that they could do that slider crime where, you know, somebody's pumping gas, or in this case filling air in their tires not near the driver's side, and they slide into the seat. Because oftentimes the cars are left running, or at a minimum the keys are left in the ignition. So as a community, these instances and incidents rightly get the community, you know, like, hey, what's going on? It seems like there's more of it in a compressed period of time. And so we've started to notice this ourselves. And you've started to see within the last year or so more services and capital assets the city has brought into or brought to bear to help fight or prevent crime. Probably the best example of that would be of late the LPR camera system that we put throughout the city. Which our partnership with fūsus, a local Peachtree Corners Tech Park Atlanta based business that's created a software platform that allows cameras of any type and owned by private entities. That if they give permission can be tied together to create a video surveillance net, if you will, for use by the police. But those efforts were ways for us to start saying, hey, are we doing as much as we can? And we deployed technology and we'll continue to. That technology does work. We would prefer it to prevent crime. That's the best crime is the one prevented. But even in the case of these two murders, our LPR cameras, the fūsus network, tying those and other privately owned cameras that voluntarily became part of the network. They ended up being the method in which the police were able to identify the gunman and find the gunman. So they work. Unfortunately, they were used after a crime was committed. We'd like to do things to prevent it, but that's examples of what we've done so far. But then of recent times, council tasked me with presenting back to them in my opinion, based on all the experts I brought to bear, are we doing absolutely everything we can to make sure Peachtree Corners is a safe community to prevent or call it deflect crime away from our community? Are we doing everything and there were or is, since this hasn't gone live yet, there is some areas in which there's a gap. And some of those areas get into, everything from as good of a job as Gwinnett County Police Department's West Precinct is doing. And they're gonna remain our official police department, no doubt. But they're handcuffed with everything from staffing shortages to even policy constraints that a countywide police department has. That if we had something that was solely focused on the city doesn't have. And so there are sometimes gaps in the ability to direct resources based on Peachtree Corners specific needs. The enforcement of local ordinances and not countywide ordinances. And so I had to honestly, based on the assessment that my team came up with, honestly say that we weren't doing quite everything and there was this gap that we needed to fill. And so there's two ways to fill it. One is to stand up our own police department, which we do not want to do. And when Gwinnett PD does have the resources, they are providing a great service for us. But the other way to fill this gap, and this gap is a gap kind of between code enforcement officers, which are specifically oriented to enforcing local code and local code only and law enforcement, that's enforcing state law. There is a gap. The gap can be filled if we stood up what we're calling City Marshal office, very similar to what Sugar Hill has. Beauford has both Gwinnett municipalities that have an arrangement with Gwinnett PD, but they identified a gap between their code enforcement and law enforcement that they wanted to fill. So very similar to that, and that is to stand up this program. And the positions would be filled by POST certified officers. POST standing for police officers standard and training. Which is to the, you know, average viewer here is police academy. Having gone through police academy and all the training and to maintain all the certifications that you need to have certain authorities that a code enforcement officer who's not POST certified will not be able to have. And so the intent here is to have some people who are able to fill this gap by the authority vested in their position. And be able to be controlled by the city so that they can be directed in areas that might be really important to Peachtree Corners, but it's not, Gwinnett PD does not have the resources to specifically address. A good example of late would be, you mentioned the shooting of the Norcross High School student. That was partly driven by Norcross High School students leaving school during school hours. Truancy, if you will. And there is a truancy problem, of students cutting class and cutting through the woods into the back of businesses that border Norcross High School. Those businesses are being adversely affected. The shooting was an unfortunate result of it. But the truancy continues on students that are trespassing and then doing things like destroying property, dealing drugs, doing drugs.
[00:10:32] Rico: Right. And we were talking a little bit about that before too. About how school security are really not able to stop a kid from leaving the school short of tackling them, if you will.
[00:10:44] Brian: Well they can't even do that. I mean, Rico, you're right.
[00:10:47] Rico: I know I'm being facetious.
[00:10:48] Brian: Yeah, yeah. Yes.
[00:10:49] Rico: They can't touch a kid. I understand. So some of these kids are not respectful of rules maybe, and they'll leave the school anyway.
[00:10:55] Brian: That's right. And when they don't have a support network at home the school is limited to what it can do in the hours that it has the student. And so the discipline within there is certainly been newsworthy recently. But beyond that, when there are instances where they know and have evidence that the kid skipped school, they weren't in class or whatever. You know, they're limited in what they can do. And so it's going to continue to be a problem. Not to say that every school doesn't have it, but these, some of these students who potentially are bused there so they don't have transportation or whatever. They're just going and they're cutting into the woods and they're creating problems for local businesses. Now I bring that up to say there's going to be a lot of little things brought together to help deal with this. But what we don't currently have is, Gwinnett County PD does not currently have enough staff to run a presence patrol for certain hours of the day where it's more problematic. And so if we had an internal City Marshal, and it's important to us because it's important to these businesses. I can tell City Marshall I want you to go out to the school and I want you to do a presence patrol say during the hours where there's gaps in these kids' schedules, they have a free period, and that's where they tend to cut class and I want you to be driving around the back of those businesses. I want you to be a deterrent to those students. And I want you to be a resource for those. This will allow us to do those kind of things. This will allow us to detain somebody until a Gwinnett Police Officer gets there to arrest them. If they were a witness to the commission of a crime, it allows local code to be enforced at a level that a non post certified code enforcement officer cannot do. And it allows code to continue to make sure that the city is looking in the way it does that buildings are built safe, that properties maintain properly, all that stuff. They continue to do this and now we have, right now it looks like it'll probably be three City Marshals.
[00:13:16] Rico: Is that to cover a 24 hour period, by the way?
[00:13:19] Brian: No, we're not needing to run 24 hour at all. That's again what Gwinnett PD is tasked with. 911 still operates the same. But another example would be the enforcement of the city's alcohol licensing process. Those who serve alcohol have to get an alcohol license and oftentimes alcohol can be the problem of why certain businesses are not operating properly. Enforcing of that, maybe even pulling license of establishments that are not being good actors. That is a function that unfortunately without City Marshals, we have to coordinate with Gwinnett PD. Because they're the ones that have to have the authority to enforce certain parts of that. So we depend on that. Massage parlors and licensing of those and trafficking is something that we currently have to use Gwinnett PD. Even when law enforcement gets it to a certain point, we have to stop there because we don't have POST certified officers that would have that. This will allow us to address those. So it's filling that gap that right now exists. We don't have to stand up a police department. We have a good police department. They're strained by some policy and staffing. But we can, in addition to the technology we're using, we can have our own individuals who have the same authorities. They're going to exercise them in a very narrow area.
[00:14:48] Rico: Right.
[00:14:49] Brian: They don't have the same authorities as Gwinnett PD. And it'll allow us to fill that gap. And that is what I presented to council and that is what council said, we like it. Go back and give us the exact details, the table of organization and equipment of how it'll look. And that's what I'm doing. But the concept of standing this up, council said one of our most sacred services as a city that we provide is to do everything we can to make sure this community is safe. Place to live, do commerce recreate, and they felt like this will better provide that service.
[00:15:27] Rico: Right. So just on a couple of little details, detail things, just clarification for some people. POST certified means they've gone through the police academy, the same police academy every other police officer has to go through. Same type of training. How to interact with individuals and all that stuff.
[00:15:46] Brian: Use of force.
[00:15:48] Rico: Correct.
[00:15:48] Brian: The steps of escalation. All the same stuff. Now, mind you again. By policy, we're going to end up restricting them to a very narrow left and right limit. And that's the gap that we currently have. So they're not gonna be going out. The only time I see them working off hours would be if we're having problems with certain things and they need to be out then. But code enforcement does that by, just so that you know already, is they sometimes code infractions are done after business hours. And so we have a cycle of, there's a code enforcement officer that works a weekend day every month. They rotate through, but generally speaking, they're still the normal eight to five type of code enforcement. This will be the same.
[00:16:37] Rico: Same on this. Three officers probably working at the same time through the week.
[00:16:42] Brian: Mostly. Yep.
[00:16:43] Rico: Individual cars for each one of them. Working closely with, or when they need to, with Gwinnett Police.
[00:16:49] Brian: Oh, absolutely.
[00:16:50] Rico: And if they end up arresting someone, they're not really arresting someone. They're going to detain them, most likely in the back of the Sheriff's car
[00:16:58] Brian: Rico. A very important point is, we're not wanting to get into starting to arrest under our authority. Even though the city has that authority and these officers would have been properly certified to do it. Gwinnett PD is going to still be our police. So these will have the authority, but they, at most would detain temporarily until a Gwinnett PD officer showed up to actually arrest. So, we're not wanting to get into where you start having unnecessary use of force and all that stuff. No.
[00:17:33] Rico: Okay. And as far as fūsus goes, or the eye in the sky real cloud crime center.
[00:17:39] Brian: Real cloud crime center, right. And just so that you know also that program, the official Connect Peachtree Corners program. First week of January is going to be the big push where we're going to start encouraging, because it'll be set up and ready to receive, encouraging everybody that has video camera to at a minimum, register their camera to let Gwinnett PD know you have one. So that if there is a crime in the area of that camera, Gwinnett will know exactly who has cameras in the area, how to contact them to request the video feed of a particular time period. That will be the connect PTC through fūsus, that program will be opened up first week of January. So yes, that is a critical part of the City Marshals because now they also would end up being able to monitor video feeds. Including the city's, we've got what, 82 cameras out at the Town Center now. They will be able to use that. It's going to be a resource for them to use. And, we can charge people and run them through municipal court. So yeah, these are all assets that we want to better utilize or more utilize than what Gwinnett PD has the resources to do.
[00:18:58] Rico: And I know that some people may ask this, so this will be an important question. How will this be funded? This additional police force, if you will, or sherriff force. It's within the same budget, right? I mean, there's no, someone's gonna say, does that mean that the mil l age rate will start existing or something? So tell us.
[00:19:16] Brian: Thank you for teeing that very, very important question up for me. It's very important to know that this is all being done within the current and anticipated revenue streams that the city gets on an annual basis. Meaning we can afford it within our own budget. Which is a very important point. I mean, we're very proud that we're the second largest municipality in Georgia with no city property tax. And Council does not want to be the first council to levy that. So that was an important part of my proposal to them. Their first question was, alright, great. Sounds good. We see the gap. We see why you're recommending this to fill the gap. Can we afford it? And, you know, I needed to know that before. And the great answer was yes, we can. We were generating enough fun balance year after year that the run rate for three positions, we can afford. We'll have a one time large capital, we're going to have to purchase three police cars, uniforms, some equipment. But once you purchase it, you're just building in our every, however long, we're gonna have the life cycle of a police car. Especially one that's not doing high speed chases or whatever. It's a pretty long one. But yeah, we'll have that and then it'll just be the annual run rate. But it is not going to at all, result in any, none of our services are going to result in us having to levy a city millage rate.
[00:20:46] Rico: Cool. Alright. So if anyone has questions on this, they should put comments in the comments, depending where you're watching this or listening to it. Or reach out to us and we'll be doing a further in-depth article on this.
[00:20:58] Brian: And Rico. It's important to note that while council, considering public safety to be a sacred responsibility that council has. So they will not leave any stone unturned, which is why they're supportive of this. But the exact details, the exact table of organization and equipment is being done right now. So there are a few details that I may not know yet. This is anticipated to be part of the FY 2024 budget, which starts July one of 2023. So July one of, this coming July one would be, the first time that it would end up becoming a live program because I'm building it into next year's budget. Which is what starts July one of next year. So this isn't something that's going to happen in a couple weeks or even a couple months. We're looking at six months from now.
[00:21:54] Rico: Okay. Alright. Planning. Everything needs a plan and it takes time to do these things.
[00:22:00] Brian: I mean, think about simple things like we've got to get in and lay out all of the policy stuff so that our insurance provider, the general liability insurance provider for the city can include this type of activity in our insurance plan. I mean, you know, people are, you don't think about that until you get into it. And you know, are we going to have, require body cams so when they're interacting with somebody that camera's on. And how do we write the policy so that when they, even though they have the same authority as a police officer, we're saying, no, this is your lane you're going to operate in. We've gotta write got to policy. And so, there's a lot of work involved. But you know, what I just told you is essentially the program. And again, we're not the first to do this. Sugar Hill would be a great example of a decent sized city, not quite our size, but I think their last census was 25, 30,000 people. But they, Gwinnett PD is their police department provider through an intergovernmental agreement like we have. But they also have City Marshals to fill this gap. And so our program would be very similar to those, but it allows the city to be able to control assets, to fill gaps that right now we can't really fill either very easily. Or in some cases can't fill really at all.
[00:23:25] Rico: Alright. So more information to come on this. Like you said, there's logistical issues that you have to deal with. And even interviewing officer candidates for the position.
[00:23:37] Brian: Exactly.
[00:23:37] Rico: Yeah, so there's a whole bunch of stuff. It all takes time. Let's move on a little bit towards something a little different about new policy that's going to be put in place or being looked at to put in place about honorary roads versus renaming a road. So tell us a little bit about where that might be going and how that's come about.
[00:23:54] Brian: So we had some requests of late of having certain people that have a prominent place in this city's existence or the population of the area. An example of that would be, you know, Paul Duke. Very prominent name in the creation of, or the population of the area, creation of Tech Park and in the city. We've had some other instances where there's an individual that played a prominent role and their family or friends or others are like, we should rename a street. And while that is done and it's all fine, renaming streets are not always a popular thing to do and certainly can be complicated. And can cost people money. You rename a street of a business is on and they can have stationary with their address, business cards. You rename a street that a person is getting their prescriptions mailed to them, and they're worried that it won't get mailed to them in the right place when it changes. So to be careful, and as a result of me laying out to council when they said, hey, City Manager, what about these requests? Should we? I was like, you know, you can. It's your right. But I laid it out. They were like, yeah, what other options are there? And there's one, and there's an honorary street name. And that is, you could have Main Street be the street name. Then even on the street sign underneath it, it could be the honorary Rico Figliolini Way. You know, or whatever. And so they liked that idea because it doesn't change any of the addresses or anything, but it does recognize somebody. My community development director, Diana Wheeler, created a great policy on who would qualify. Like, I believe in the policy, you can't be alive. You've got to have certain things. So the certain criteria for it, and that's what the policy is going to be. So when somebody comes to the city and says this, we can say, no, we don't entertain formal street renaming. But we do have an honorary street name program or policy, here's what it is. And if the individual that you're considering it being renamed qualifies, then well council can consider it and they vote on it, yes or no. And a different colored sign that would go, I guess above the main street name.
[00:26:14] Rico: Right. It sounds like that's where it would be. I've seen them done before like that, where they're above the main road name. Like a little smaller. So it's less confusing, I guess. Alright. So, and that's probably, that's a policy that might be put in place in, I'm sure in the next City Council meeting.
[00:26:30] Brian: Well, it'll get voted on this Tuesday, just to remind you.
[00:26:32] Rico: This Tuesday.
[00:26:33] Brian: Our December Tuesday Council meeting is moved earlier because of Christmas. So this coming Tuesday, that's when they're entertaining it. And based on their feedback at the work session when the policy is presented to them, I anticipate it'll unanimously be approved. And so then we will, in fact on the same agenda, we have the very first official request for a street to be named. And it was to commemorate Perry P. Nesbit. The Nesbit family were one of the earliest settlers of Peachtree Corners. And so, that'll actually be on the agenda after council considers the street renaming policy. So, I guess in theory, they could deny the street naming policy and then the Perry P. Nesbit request that would, obviously can't happen. But I don't anticipate that happening. Because, you know, council's seen all the details so that could happen as early as Tuesday.
[00:27:30] Rico: Alright, cool. Two other things that are going on, or organizations. One's the Redevelopment Authority, and the other one's the Downtown Development Authority. So let's take the DDA first, because you all are also filling some slots on those authorities currently. But part of the DDA right now exists. The mapping exists as an overlay. And the city council wants to be able to expand that it sounds like, to further go south on Peachtree Parkway towards Target and Dick's Sporting Goods. Why expand it? And what does that mean, as far as, how that would affect the underlying area?
[00:28:10] Brian: So cities and counties, in probably all 50 states, they utilize authorities. Pseudo-governmental entities with boards of director appointed by the local governing authority, City Council, County Commission to oftentimes their goal is to facilitate economic development under certain column policy focus. So a Downtown Development Authority would be focused on facilitating economic development activity in an area defined as the downtown. And then a Redevelopment Authority would be doing the same thing, but they would have a redevelopment area of operation. And they're really looking at areas that were developed once, but maybe it's ran its lifecycle and their job is to facilitate activity in areas that have had initial activity. It's not undeveloped wooded lots. These are, could be parcels or areas of a city that are seeing a decline in activity in that area. Or there's a new better development they can consider. These authorities are created because they have certain flexibilities that the government itself does not have. And so they're tools that cities and counties use because they're more flexible. They can do things with developers that the city cannot do directly. A good example of that would be, Rico you could be a developer with one really innovative, awesome idea. You want to partner with the city to do something. The city is interested in doing it, and the city's got to put money, or say it's going to construct some aspect of it. Say we're going to build a parking deck for your development as part of a public-private partnership. If the city does it, by law we have to bid it out. Or if we were doing a public-private partnership bid. We have to bid it out and we have to give it to the lowest qualified bidder. If you aren't the lowest qualified bidder, we lose the right to work with you. Even if we thought your idea was the best. Authorities, like an RDA or DDA, can sole source. They don't have to do that.
[00:30:37] Rico: They can move faster, also. There's less red tape on that.
[00:30:40] Brian: Absolutely. And you know, sometimes the board members of these things that they have one focus. Whereas council is asked to do stuff all over the map and you know, they don't sometimes have the time, energy, and focus to do some of this. And so they essentially delegate certain objectives to these authorities. And then these authorities run with it based on the, kind of objective constraints council gives them. And so these two boards they both exist. Of course at the end of the year we're having to reappoint board members to other stuff too, like the planning commission, the zoning board appeals. But these two, why they're probably unique is the DDA had three member and three slots open that council needed to fill. There were two people moved away, one passed away. And the DDA which played an integral role in the city initially, the Town Center was done through our DDA. The DDA was the one who brokered all of the public-private partnership stuff. But when it was done, we kind of shifted focus to the redevelopment authority and the south side of the city. Which is the zone, kind of the area of the city that the RDA was told, go forth and come up with a plan to enhance economic development there. And the DDA to finish up with them, the initial downtown area was drawn relatively small. Kind of around the Town Center, Forum area and that's about it. We needed to expand probably down to the Target, Dick's Sporting Goods, Publix area. Probably the most important part of that is by expanding it down there, it will encapsulate Tech Park. And Tech Park needs to be in the DDA's area of concentration because they are going to be tasked with really rolling up their sleeves and seeing what we can do to continue to help Tech Park get reimagined. How can we utilize Curiosity Lab to fill vacant office space or to redevelop certain lots. They're going to be a force multiplier and they're going to be tasked with going and meeting with property owners and asking questions like, is the city doing everything it can to help you grow and be healthy? Meeting with developers to come up with creative ways to maybe develop their lots or fill vacant office space. And so that's going to be their mandate. And we needed the board to be filled. And so they're going to be filled, and that's their mandate. And then the RDAs mandate, which is going into year two, they finished up a year in which they took their area of concentration, they did a big year long assessment of opportunities within it, and they presented those opportunities to council last month. And there were a couple of really good ideas and the lowest hanging fruit was taking inspiration from how the BeltLine has been used to revitalize areas of Atlanta. To do the same with our multi-use trail, which is our version of it. And they identified some areas along the Peachtree Corner Circle, kind of in between Holcomb Bridge Road and PIB for there to be some trailheads created for the trail system, but also for vehicles to be able to park at these trail heads. Then to become a community recreational amenity connected to our trail. And that will help spurn some of the redevelopment in the area. Maybe some enhancements or upgrades to some of the apartment complexes in the area. Maybe they're getting better tenant. It becomes more enticing for people to live in the area because there are recreational amenities right there. Just like the BeltLine did in Atlanta. We want to do it right here. And so that's the first, they have a number of ideas. But that one council has appropriated about 2 million for them to go ahead and acquire and construct some trail heads. Do the final design and construct these trail heads and start moving the trail off of these trail heads to ultimately connect to what'll be, I think with all said and done, what we have identified, if it all goes well, it'll be about a 20-ish mile trail system throughout all of the city.
[00:35:25] Rico: Wow. That's very big. Is the 2 million from SPLOST or general funds, or how is that?
[00:35:30] Brian: It's a mix of a number of them. There's certainly some SPLOST, there's certainly some storm water money because you've got some of the improvements are it's gonna be done along Crooked Creek, that area. So some of the construction is storm water. So it's a mix of revenue streams so that they have real money to do a real project. And it's exciting. They took a year and they really came back to council with some really good ideas. Some are big and would be a very large, potentially larger mountain than the city's prepared to do right this second. Which we didn't want them to, you know, sky was the limit. Some of them are intermediate that they're within reach, but there's a few more things that we need to do. And this one was pretty simple. I mean, it's a go out and acquire property. These are properties that are generally not developable because they're in the floodplain stream buffer areas. Acquire it, design these trail heads, construct the trail heads, and let's start. Let's create this community amenity and let's start capitalizing on it and use it to lift the entire area up and make it better.
[00:36:39] Rico: Cool. Sounds great. The RDAs, are those other suggestions, are the plans, were they presented at City Council?
[00:36:46] Brian: Yes sir.
[00:36:46] Rico: At some point? So they're available somewhere for other people if they want to see what other ideas the RDA has in mind for the coming few years. Okay, cool.
[00:36:55] Brian: They're on our website.
[00:36:57] Rico: Excellent. Great. So we've covered quite a bit. The biggest thing to me is the City Marshal system. And as you've explained that before, I mean, this wouldn't start until likely July 1st, which is the budget year for the city. And out of the existing funds, no extra funds are necessary. So it's working out of the surplus of money the city has already on an ongoing basis. And city leadership has done a great job in keeping that surplus, to me it seems. And be able to have a good, strong budget to be able to do some of these things without having to raise any taxes or anything. So all good stuff, good leadership. Brian, it's a pleasure to always talk to you about these things and finding out more about what the city's doing.
[00:37:38] Brian: Thanks for the opportunity to keep our stakeholders as educated as we possibly can. And hey, have a great holiday. I hope everybody has a great, safe, enjoyable holiday, and we'll be ready to hit the ground running beginning of next year.
[00:37:53] Rico: Yeah. Let's not forget the end of the year is coming. And by the way, anyone that's checking their mailbox, hopefully you'll see a new copy of Peachtree Corners Magazine. Faces of Peachtree Corners. It's about 20 people that help make this city a better place to live in. So check it out. Good talking to you Brian. Everyone enjoy the holidays. Be safe out there because God knows, even if you're looking around, sometimes things can happen. So stay safe. Hug your family, you know, make sure you're around, because you never know what might happen. Thanks guys.
Local Award-Winning Fantasy Author Ellie Raine Talks About Writing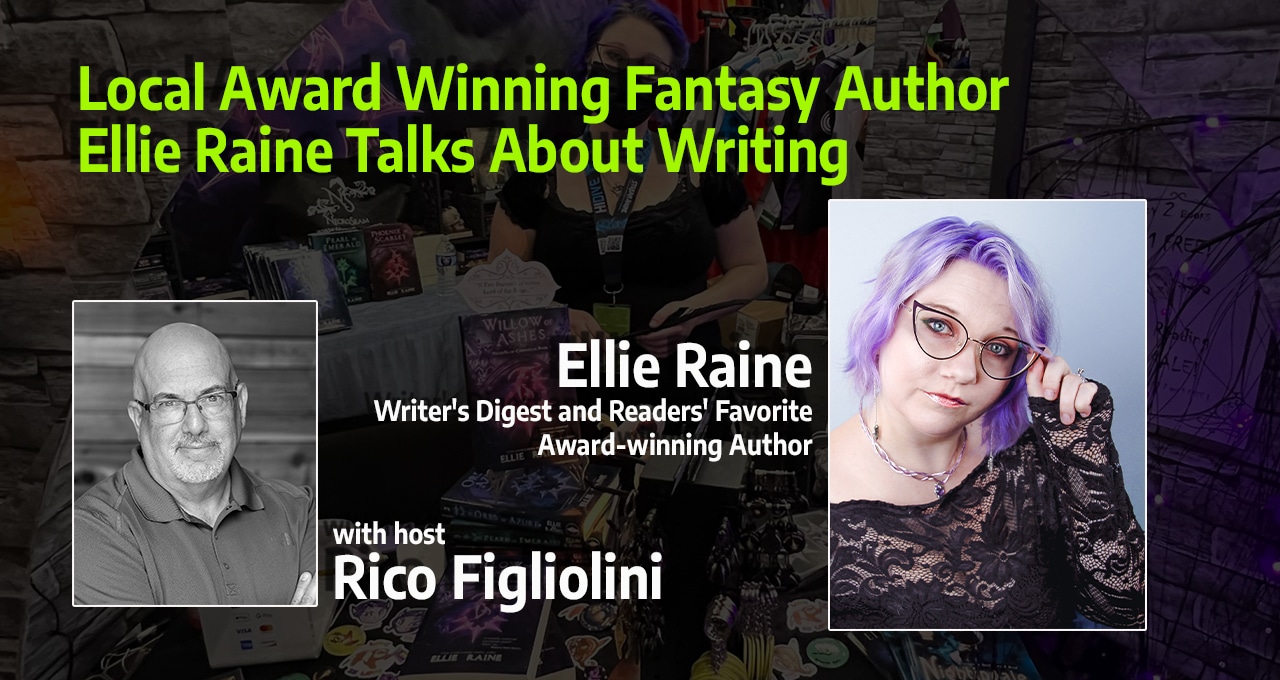 Ellie Raine is the award-winning author of the Adventure Fantasy series "The NecroSeam Chronicles." Raine grew up in a family of book lovers, comic readers, and video gamers in the suburbs of Georgia and lives in Peachtree Corners where she attended Norcross High School.
In addition to writing, she has designed and created merchandise, art, and music related to her amazing fantasy series.
We talk about how she started, what inspired her and how she grew her craft and readership.
Resources:
Ellie Raine's Website: https://www.ellieraine.com
Necroseam Website: https://www.necroseam.com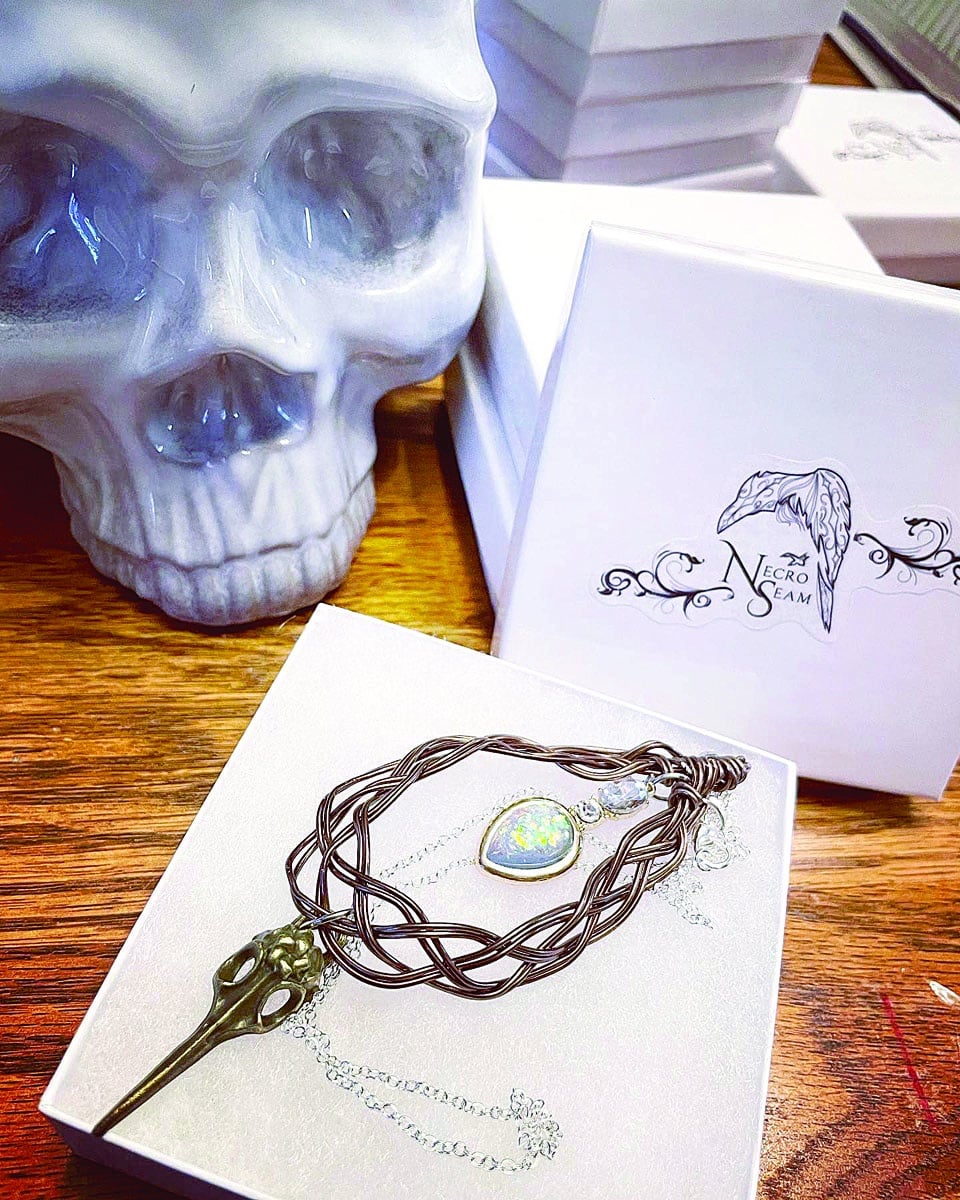 "Part of my process is kind of combining different arts into one unified piece. Because I like having the art with it and it kind of helps me think about and get a sense for who the character is, what their story is, what their personality is… There's something about combining different creative things into one work that makes you connect with it more. It touches on all the senses."

Ellie Raine
Timestamp, where to find it in the podcast:
Intro
Ellie's Background
Art, Music, and Writing
Ellie's Creative Process
Necroseam and Other Projects
Ellie's Self-Publishing Journey
Marketing, Merchandise, and Community
Closing
Scroll down for the video podcast
Podcast Transcript
[00:00:30] Rico: Hi everyone. This is Rico Figliolini, host of Peachtree Corners Life. We have a great guest today, a Peachtree Corners resident and author Ellie Raine. Hey, Ellie.
[00:00:39] Ellie: Hi.
[00:00:39] Rico: Thanks for joining. Glad you're with us. Before we get into the interview and introducing Ellie further, let me just say thank you to our sponsor, our corporate sponsor, EV Remodeling Inc. And Eli, the owner. They've been a sponsor of ours now for over a year, both of the magazine and and our journalism, and these family of podcasts. So they're here in Peachtree Corners, based out of here. They're really well rated on Houzz.com, if you use that to plan your remodeling work and stuff. So check them out. Eli, great guy. He has a great website, so you should go there. You'll be able to see a lot of what he's done, videos as well as pictures. Better than most of these remodeling places. And he does design to build, so everything you need under one house. EVRemodelingInc.com is where you can find them. So thank you Eli. So Ellie Raine is an author, she lives here in Peachtree Corners, and just to give you a little background. She has nine titles, at least as of this past summer. Nine titles in her name, right? You have a series, a five book epic fantasy series with two prequels in it. You are a two time winner, recognized by the reader's favorite in the International Book Awards, and first place in the fantasy division for Writers Digest self-published awards. That was 2019. You know what, I took, you have a personality quiz online to see what knight…
[00:02:01] Ellie: You took it?
[00:02:02] Rico: I took it, yes, and I am blade sworn. A nd the funny part is the author that wrote this Ivy Marie Clark, that interviewed you for our print magazine had taken that same personality quiz and she was the same knight. So must be the same personality, I guess. We're nurturing people, it was cool. So thanks for putting that there, you guys should check it out. It's funny because it's a small world. I saw you at the Peachtree Corners Festival, you had a booth there. And that's how I got to know you. I bought your book, you autographed it, thank you. The next time I saw you after that was at the anime weekend, Atlanta. You had a booth there at the exhibit and also I was walking that, yeah.
[00:02:43] Ellie: Yeah, it was very unexpected.
[00:02:45] Rico: Yeah. I know. I can imagine. But it is a small world and I was there doing interviews with three voice actors for my podcasts. But tell us, you know, how long have you lived in Peachtree Corners? Let's start there, a little background about who you are Ellie.
[00:02:59] Ellie: Alright, that's kind of an interesting question. I actually was born and raised in Norcross, Georgia. And then it kind of became Peachtree Corners sometime around my high school years, I think.
[00:03:14] Rico: Wow.
[00:03:14] Ellie: So technically I've been in Peachtree Corners since it existed, I guess.
[00:03:21] Rico: Okay. Yeah, you were probably incorporated into it when the city decided to become a city.
[00:03:27] Ellie: Yeah, basically. It was a very interesting change because there was a lot of questions about what do I put on my address for my mail?
[00:03:35] Rico: Yeah. Yeah. Some people still use Norcross, believe it or not. So even companies do that, so this field, no one knows Peachtree Corners even after 10 years.
[00:03:43] Ellie: Yeah. So, you know, I went to Norcross High even though I didn't live in Norcross anymore, according to the new city.
[00:03:53] Rico: Well, Norcross is only like one block out of the city at this point.
[00:03:57] Ellie: Yeah. For my old house, well my parents are still there. So we just basically could walk to high school if we wanted to. We never did want to though, because you know, I'm not a morning person, so.
[00:04:11] Rico: No, I can't imagine. You're probably more of a night person I bet.
[00:04:14] Ellie: But yeah, I went to Peachtree Elementary, I went to Pinckneyville Middle School, and I went to Norcross High school. Went to college, got married. I think we, moved to Alpharetta at some point for a year. Went to Duluth for a couple years, and now we're back in Peachtree Corners. And I've got a child now, so, it's all fun. .
[00:04:36] Rico: Is it back to Peachtree Corners because of the Covid? Or did you?
[00:04:40] Ellie: We were looking around for a house and this was right before. I think it was before Covid, or maybe it was during Covid. Either way, it was right before the housing prices just skyrocketed and we found a house in Peachtree Corners right smack dab in the middle of where both of us used to live. Because my husband is also from Peachtree Corners.
[00:05:00] Rico: Wow.
[00:05:01] Ellie: Yeah, we went to high school together and we've been dating since then, so.
[00:05:04] Rico: So were you writing in high school? Where'd you get this bug? This, it is a bug, right? Deciding to do this, to write.
[00:05:11] Ellie: What's weird is I never thought of myself as a writer back in school. I have dyslexia, I'm slightly autistic, and I was a slow reader in my viewpoint. But apparently I was comparing myself to my avid reading family. So according to all my friends no, no, no, you read a lot. But writing wise, yeah, I didn't expect to be into writing. I think I took like a, some kind of contest thing in middle school for writing and I got like a judge's award for it. But I didn't consider myself a writer because it was just a thing I did for school and then I went to college.
[00:05:46] Rico: Okay. I was gonna ask.
[00:05:48] Ellie: Yeah, I went to college for game art and design. So I wanted to create this story into a video game originally.
[00:05:55] Rico: Okay.
[00:05:56] Ellie: And they had a creative writing course in the Art Institute of Atlanta while I was doing that. I didn't know what to write, so I just started writing my video game idea into a book form and I absolutely loved it. Yeah. So like art is, I have a love hate relationship with it. I really love to draw, but what I really love is just creating the story and creating the characters behind it. So art tends to make me angry the more I do it because it doesn't fully hit, the way that I want it to. So it makes me angry. But when I was writing, I was calm and I was happy with writing.
[00:06:40] Rico: Happy with writing, that's good.
[00:06:42] Ellie: Yeah, so that's when I switched gears and moved on to English and all that.
[00:06:47] Rico: Yeah, okay. That's interesting. And the fantasy aspect of it?
[00:06:52] Ellie: I was raised on fantasy. It's basically the main genre that I absolutely adore. I grew up with Terry Pratchett, Discworld series. I grew up with dragons all over the place. Yeah, my parents just have these giant bookshelves all over the house filled with fantasy books.
[00:07:11] Rico: Oh wow.
[00:07:11] Ellie: And science fiction. But I was more into the fantasy stuff because magic, dragons, swords,
[00:07:17] Rico: King Arthur, Harry Potter, Final Fantasy?
[00:07:20] Ellie: Oh yes.
[00:07:21] Rico: As far as games and stuff. And you played Zelda, I'm assuming, and stuff like that?
[00:07:25] Ellie: Yep. All the good classics I guess you would call them.
[00:07:29] Rico: Are you into Game of Thrones? Talking about dragons.
[00:07:32] Ellie: Yeah. I mean, I read the first book. I still need to read the rest of them. I watched the show and everything, but I know that obviously it diverts from the rest of the, the series. So I kind of want more dragons. But you know, that's me. It doesn't mean it's bad. I still like it. Yeah, I still like it. I just wish there were more dragons.
[00:07:51] Rico: Who's your favorite author today? Like new authors that you might have? Are you still consuming? Like, do you still consume fantasy? Do you still read a lot? So, who now are you reading that's new maybe or new to you?
[00:08:03] Ellie: New, I don't know if Brandon Sanderson counts as new.
[00:08:07] Rico: Yeah, he probably doesn't. He's been around for a long time.
[00:08:11] Ellie: Yeah. He's not that new, but like, so Sanderson. Rachel Aaron is another favorite of mine. She's done The Legend of Eli series and The Heartstrikers series. It's about dragon shifters.
[00:08:22] Rico: Okay. Okay. But you know, I was gonna say, you, not to jump, but we're gonna jump around here probably a little bit. You have something in common with Sanderson because when I got to reading some of his stuff, I realized through interviews that he had and blog posts and stuff that the author it's not just the books. I mean, he makes most of his money, probably more than the books, but in merchandise. And it's kind of interesting how people have gone to that. I mean, Star Wars with Disney World and Disney World with their merchandise. It seems like if you're writing, at least today, if you don't have merchandise that you're just being a disservice to yourself. Because hey, if I can listen to an audible book and pay one credit for it, I keep wondering how much the author is making on that book. So you have a tremendous amount of merchandise. Do you design some of that yourself or?
[00:09:10] Ellie: I design most, if not all, of it.
[00:09:13] Rico: Okay, but you have necklaces, pendants, and all sorts of things going on.
[00:09:17] Ellie: Yeah, some of it's handmade with the braided bookmarks and some of the jewelry. Because I just can't seem to pick one. That's why I need to, I need something to do with my hands, so I just do it.
[00:09:29] Rico: Is that because of the creative side that you have, the drawing? I mean, do you sketch them out before you do it actually?
[00:09:34] Ellie: Sometimes. It's usually best if I do, but I don't always sketch it out first. But it does turn out much better if I do.
[00:09:43] Rico: When you got into writing and fan tasy was where you started, obviously with this. You have five books and two prequels on that series or on your best series, I guess. Tell us a little bit about that. Necroseam, is that the way you pronounce that? Tell us a little bit about how that came to you and what that story's about.
[00:10:00] Ellie: Yeah. So, it goes back to high school. I just started drawing characters and started creating stories surrounded by these characters that I would draw. And the first one started with the main character, Xavi er. So it's what I would be doing in math class instead of equations.
[00:10:17] Rico: Okay.
[00:10:19] Ellie: So part of my process is kind of combining different arts into one unified, I guess, piece. Because I like having the art with it and it kind of helps me think about and get a sense for who the character is, what their story is, what their personality is. And I also am a musician. I really like creating songs. I like writing songs into the stories. And if you look at our audio books I actually have the narrators produce and sing. The songs that are in the books, so we've got that whole deal going on. I don't know, there's something, there's something about combining different creative things into one work that just kind of makes you connect with it more. It kind of touches on all the senses.
[00:11:08] Rico: Do you have a Spotify playlist?
[00:11:10] Ellie: Actually we do.
[00:11:12] Rico: You do? Okay.
[00:11:13] Ellie: That's because my bestie slash narrator Krista, kind of started that. And she was like, these are the songs I kind of feel like would go really well with the, like, reading the books. And I was like, this is really fun. So we just started randomly gathering music that could fit with the books while reading.
[00:11:33] Rico: Right. So do you start the process actually drawing a character? Like when you think up of a character, do you sit there and draw the character first?
[00:11:41] Ellie: Most of them, yeah.
[00:11:42] Rico: And do you do, I'm assuming you do some sort of, different writers have different ways of doing this, I guess. From the ones I've interviewed and read about. Do you create like a background, the backstory? Do you write that out at all? Do you like create who they are, where they came from? Pros and cons of who they are and stuff? Do you create any of that before you get into the writing some of it? Or does it expand as you write?
[00:12:04] Ellie: A little of both. It really just depends on the character. If it's the main, like the main crew of the protagonists and their friends that are part of the party, you kind of need to know every single one of them first. Their backgrounds, where they're coming from, their personality, all of it. When it comes to secondary characters, then it's a little bit easier to kind of work that in as you're going. You can just go back in the editing and make it line up earlier.
[00:12:32] Rico: Do you also plot the stuff?
[00:12:34] Ellie: Oh, absolutely.
[00:12:34] Rico: The story ahead of time?
[00:12:35] Ellie: Yep. Absolutely. So, I call it an acre point plotting where I have a master outline of events that I want to happen.
[00:12:45] Rico: Okay.
[00:12:45] Ellie: And I know always where I'm going to end. So I start with where it's going to end. And I did this for the entire series overall. So I knew where I was going to end. Then I went to figure out how I was gonna begin, and then I had one major point for the middle, which would be book three.
[00:13:05] Rico: Okay.
[00:13:06] Ellie: And once I had those three down, beginning, middle, end. Or, end, beginning, middle, however you want to do it. Once I had those down, I would kind of go into sort of more of a micro bullet point anchorings for beginning, middle, end, for the beginning. Beginning, middle, end, for the middle. Beginning, middle, end, for the end, type of thing. Sometimes I had to change what happened and then I had to like move it around because I would get to a plot point that was supposed to happen like books later. But once I got to the point in the writing itself I realized, oh, I've gotta do this now. So sometimes you've gotta be a little bit flexible with it, because otherwise if it doesn't feel natural while you're in the story, then it's probably not going to translate well for readers.
[00:13:55] Rico: Not surprising. It seems like every author, the book also is alive, right? So the book is actually guiding, almost like you're living there. It's almost like one author I know said they can't wait to see where their character's gonna take them. I mean, what's your, as far as your process layout, let's go there a little bit. Do you have a word count or an hour count? I mean, how do you pace yourself and where do you put yourself when you write your stories?
[00:14:17] Ellie: I try and do one sentence a day. Some days I can't do anything because you know, administration. Gotta do all that social media work.
[00:14:28] Rico: Did you say one sentence a day?
[00:14:31] Ellie: One sentence. That's the goal. So I set small goals that are very achievable.
[00:14:37] Rico: Okay.
[00:14:37] Ellie: And it's actually a trick. It's like a brain chemistry trick, loophole, creating productivity.
[00:14:44] Rico: Okay.
[00:14:44] Ellie: So one sentence a day goal. You do the one sentence. And because you have achieved the goal you set out to do, you get a hit of dopamine in your brain. Which you know is like, oh, I finished my goal and now you feel great. You're feeling wonderful. And guess what? Now you feel so good that you can keep going.
[00:15:07] Rico: That is interesting. That actually, I can see that.
[00:15:10] Ellie: And the more you add onto it, the more sentences you do. It's like, I got so much done today. I exceeded my expectations of what I was going to do today. And it kind of just tricks your brain into thinking that you're, you can do more. And you did like such a great job that you've just gotta keep going. And it gets you excited about it. So it's like a fun little trick.
[00:15:33] Rico: Yeah, I like that. I think I'm gonna use that on my daily thing. I have a to-do list that grows every day and sometimes there'll be days where I've done a lot of work. But none of it is on my to-do list. And I can see that if I do one of those items on that, I'll probably get that dopamine feel and keep going.
[00:15:52] Ellie: Yeah, it's, it is a fun work around.
[00:15:54] Rico: Yeah. And so in the process then, how long does it actually take to complete your first draft of a novel? I know the rest of it could take long, depending on edits. But on your first draft of a novel, how long does that take?
[00:16:07] Ellie: Well, back in the day, it used to take three months to finish a first draft, then another three months of editing. So six months to basically come out with a book. But nowadays with a child, it's been a lot harder and much slower. So, it takes a lot of time to finish something when you don't have childcare. So, yeah.
[00:16:30] Rico: Yeah, I can imagine.
[00:16:31] Ellie: So. It's, I don't even know yet. I've been able to finish a couple short stories, but as far as book-books go, I don't know yet. Because I'm still in the middle of like three of them.
[00:16:43] Rico: So are you doing, so the short stories that you're doing, are you getting those published online? Or how are you doing, how do you handle that with your readers?
[00:16:53] Ellie: Well this recent one just got accepted into an anthology. But I can't really disclose much of that, because you know, NDAs and all that.
[00:17:01] Rico: Sure.
[00:17:01] Ellie: But so that's going through, not myself. That is for an anthology. The other short story I have, I don't know what to do with it yet. It's just kind of sitting there in the ether. Waiting for some kind of opportunity for it to have a purpose.
[00:17:18] Rico: Okay. But it's good to keep writing though. And I didn't even think about short stories being a good conduit. Have you ever done novellas?
[00:17:26] Ellie: Oh yeah. Actually I've done, let's see, 1, 2, 2 novellas. I guess this one up here is more of a traditional novel, so yeah. So my novellas range about 40,000 to 45,000 words. And one of them is the prequel to the main series, and another one is actually the first book in a series of a paranormal noir.
[00:17:53] Rico: Okay. Are you using that to sort of jumpstart that series? I'm imagining it's going to be a series of books.
[00:17:59] Ellie: Yeah. I mean, at first I actually wrote this for one of my publishers a couple of years ago. And it was supposed to be 30,000 words according to the contract, but I ended up overshooting to like 40, 42,000. And then eventually I just did a second version for myself.
[00:18:18] Rico: And we'll have a link in the podcast for people to go check the books out. Now, you had an interesting way I think of going about this really. You got published in the traditional sense of the word, a traditional publisher. But then you decided to go the self-publish route after that. Do you want to share a little bit about that, how that worked for you? I mean, other people that might have an interest in writing or are writing might want to look at and listen to this to see what you did.
[00:18:43] Ellie: Right. So I did start with two traditional publishers for two different stories. And for the main fantasy series the first book, it was with a small publisher and things were great. And then the second book came. It came time to publish the second book and they came back saying that it was too big for them to afford to print. So, they had to make it an ebook only or I had to split it in half. And I tried splitting it in half, and then I realized that splitting it in half for the second book meant I would have to do that for all the other books later in the series because they were all as big or bigger than that book.
[00:19:28] Rico: Right, right.
[00:19:29] Ellie: So I tried doing that, splitting everything in half. And you know, trying to fill in the gaps of, you know, oh, well now this needs a conclusion. Now this one needs a beginning and things like that.
[00:19:39] Rico: Right.
[00:19:40] Ellie: And it just was not working. It kind of broke my excitement about the story. I basically fell out of love with it being broken up like that. Because when I outline each of the books, I'm very exact about where the arc is, where it's going, and what is considered like the whole arc. And splitting it in half just kind of threw off the rhythm and it threw off the pacing and it just felt soulless. Because I kept trying to push in just this random, empty spacing of content to try and make it the right size for compensation and it just was not working. So eventually I asked for the rights back for book one and I just took it back and put everything back together and just did it all myself.
[00:20:33] Rico: Wow, okay. So now you're self-publishing, but people can find your books on the traditional places, right? Amazon, you even have all your books, or a decent amount on Audible, I guess people can listen to them too.
[00:20:47] Ellie: Yes. We have two audio books out right now. We are more than halfway through the third one. So it should be out by the end of this year or January latest. I can't properly describe how much I love these audio books. They've ruined audio books for me. Like, my narrators are just so amazing that I actually like the audio books better than the actual physical books.
[00:21:14] Rico: That's funny.
[00:21:14] Ellie: So yeah, I cannot recommend the audio books enough. And you know, check out my narrators, they are amazing voice actors.
[00:21:22] Rico: Some of these, I mean, when I listen to audible books, I mean some of them are performances.
[00:21:27] Ellie: Yes.
[00:21:27] Rico: That's what you have to look at them as. They're not just reading the story, they're performing that story.
[00:21:31] Ellie: Yeah. And for this story, which is very much action adventure, it really suits it.
[00:21:37] Rico: That is cool. So are you working along the same chronicles that you've started or are you looking to getting to a different storyline? Are you launching a new story?
[00:21:48] Ellie: Both. I've got some extra stories, different timeline in the Necroseam world. Different characters planned, ready to go. Some of them I've started. But I have other stories in other worlds that I've been kind of working on.
[00:22:03] Rico: Okay, alright. The writer never stops. And you've also written a book for young readers as well. So I think that's called A Ballad of the Ice Fairy?
[00:22:13] Ellie: Yes, I also did the illustrations for that.
[00:22:15] Rico: Beautiful work too. I was looking at it. Very nice work. And that's available as well on demand. I'm assuming you self-published that as well?
[00:22:22] Ellie: Yes. We actually had to go through a different printer other than KDP Amazon or IngramSpark. We didn't like the quality of their images and their paper wasn't really that good for children's book illustrations. So we went with a different printer and right now you can only get it directly on our website.
[00:22:43] Rico: Oh, as a digital edition? Oh, you mean the book itself?
[00:22:46] Ellie: The book itself.
[00:22:47] Rico: Okay. When you publish by a traditional publisher they have a marketing department, but the author still has to go out, do book signings, do your own promotion. You have to cultivate your own followings too. The traditional publishers, I don't think do that as much as they used to anymore. But so you're actually also going to a lot of different events. We saw you, like I said, at Anime Week in Atlanta, and that was surprising. But not surprising because a lot of fantasy writers do those types of things. But it looks like you've been, since the summer, I guess you've been to places like Savannah Mega ComicCon, Key City Steampunk Festival, Multiverse Fandom Convention. I haven't heard of that one. The Conjuration, which is November fourth and sixth, just passed. And people can listen, find you, follow you on most of the social media, I guess. TikTok, Instagram, Facebook, YouTube. Do you do trailers for your books?
[00:23:39] Ellie: Yeah I've done a couple trailers. I kind of prefer the audiobook trailers now to be honest, because they just, they're more engaging.
[00:23:46] Rico: Sure. And people can go online to your store though. I mean just like Sanderson sells swords and other things for his stuff. Which is interesting because he does it out of, I think he does it out of his house or something, is what I understood. Or maybe the pick and pack of it is somewhere else. Do you find that's actually helped you more?
[00:24:04] Ellie: Oh my gosh, yes. Man, having the weapons is one of the dreams, man. One of the dreams. Just need the, need a bit more funding for that, so.
[00:24:14] Rico: Yeah, yeah. It's a lot different. But the jewelry part and some of the other stuff you do it's kind of neat to draw people right into that story. I had seen someone else, I think it was a local Georgia writer that does novels. And she actually created jewelry specifically for each of the books that she wrote. So it comes actually with that piece of jewelry and the book packaged together which is kind of interesting. So do you want to share anything else with us as far as writing methods or other things that you do? Have you gone back to Norcross Highschool? By the way, the media center, if you've ever gone back to talk about your books to students there?
[00:24:48] Ellie: I've never considered that. Is that a thing I can do?
[00:24:52] Rico: Yeah. Yeah, you can. I'm pretty sure you can. I know.
[00:24:55] Ellie: I don't even know who to talk to about that, to be honest.
[00:24:57] Rico: You probably go to the head of the media center, at Norcross Library. They had Mayra Cuevas I think. She was a CNN producer and she wrote a book, a series of books, I think. And there were young adult novels actually from the Hispanic, Latinx point of view. And she was one of the speakers a couple of years ago there. But they do sometimes do that. And I know the Gwinnett Public Library actually does, not only in person, but online having authors come in and stuff like that. It's kind of neat. I think young kids or adults, I mean, 30% of young adult novels are read by adults. I think those are adults that want to get back into their young, into the youngness of where they were, maybe.
[00:25:35] Ellie: Yeah, I think it's also because young adult books don't take themselves too seriously. So they…
[00:25:40] Rico: Yes.
[00:25:41] Ellie: They know they can have more fun with it. So if the author is having fun, the reader's gonna have fun.
[00:25:45] Rico: Right. For sure. I mean, I'm into, I have three kids and I'm into, we watch everything from Studio Ghibli, every movie. And because of them I'm into anime and there's a whole variety of anime from light slice of life to the stuff like Death Note. I mean, they're all different from American animation, that's for sure. So what else can you share with us as far as maybe that we haven't touched upon as far as writing style or what you do as a writer?
[00:26:09] Ellie: As a writer? I mean, I feel like we've kind of covered that pretty extensively, but I could talk more about why the merchandising is so important.
[00:26:17] Rico: Yeah, let's do that. How did that start?
[00:26:20] Ellie: I mean, this is just my observation from it, but the reason why I think merchandise is so important is mostly because it's an indication that there is a community or can be a community created from this work. And I think having a community around a series is what makes a series successful. It kind of brings people together, it gives them something to talk about it kind of helps them get into the immersive nature of that story and of that series.
[00:26:51] Rico: Interesting. One of my kids, she just finished her masters in psychology and she's into fantasy books and stuff like that. What she grew up on was like the Warrior Books, these are cat warriors and stuff. And what she's found is that she would go online and play some fantasy role games and stuff, even now, she's 24. Because it's fun it's mindless sometimes. And as she's doing it, she's meeting people and she's talking to them. Like there's, could be like, she has a group of, I think six or seven people they have discussions unrelated almost to what they're doing. It's just a community they built around that. She's starting an online discord book club to talk about some of the books they all have in common that they'd like to read. Which is again, social media, so and that's where I wanted to get to. Social media is kind of an interesting platform place that writers did not have before. And I don't even as it was coming in, I don't think, I mean yes, Stephen King will be on Twitter and he has millions of followers and he can tweet stuff. But do you find social media is helping you? Which platforms do you find more beneficial to you?
[00:27:49] Ellie: Yeah. Social media definitely, I think is the only way that has helped any kind of visibility, online at least. Conventions are always going to be the top, like biggest visibility jumpstarters. But online social media is pretty necessary. I haven't had too much success with Twitter, but I have had some people meet me from Twitter specifically who came to the shows to come see me because they followed me on Twitter and or TikTok or Instagram. So there are some individuals that I do actually only talk to in those platforms because that's where they are. So I think as an author, you need to go where your audience is.
[00:28:35] Rico: Okay. Makes sense. Do you use Reddit at all?
[00:28:38] Ellie: I'm scared of Reddit. It terrifies me.
[00:28:43] Rico: Dark web. There's an underlying layer in there somewhere.
[00:28:49] Ellie: Yeah. I used to go on there a lot to try and figure it out how it worked, you know?
[00:28:55] Rico: Right.
[00:28:56] Ellie: But, after learning about it, it just terrified me more.
[00:29:00] Rico: I thought NextDoor, which is one of these neighborhood apps was bad, but Reddit is really bad. It's just like, my God.
[00:29:07] Ellie: Well, if there's a lot of fireworks that go on around here, so you know, every time you see a post on a Neighborhood or something, or Ring, it's just like, I heard gunshots. And it's like, yes, those are really fireworks.
[00:29:23] Rico: That's true. I didn't think about Ring after, I just installed that and I didn't realize I was part of a community all of a sudden. I'm getting ring messages like your dogs, some dogs missing or gunshots. Yeah. It's unbelievable.
[00:29:34] Ellie: Oh yeah. No, it's been super useful whenever our cats escape. It's like, hey, we need our cat, have you seen him?
Right, right.
[00:29:41] Rico: You know the other thing that goes on, one of my other kids also, he's 19, he actually has been writing since he was 16. So he goes online. He used to use, I think it was WhatsApp, was one of them, was one of these online writing communities, you could serialize chapters and stuff. And he's still writing. He writes every night. He's 19 and he hopes to be able to be a creative writer. To make a living at it, that's the thing.
[00:30:02] Ellie: Yeah, I was about to say, it sounds like he already is.
[00:30:05] Rico: Well, he's, I mean, he has 200 followers right now that are like his beta readers essentially. And he is into fantasy and sci-fi. I think he's shifting a little bit more to sci-fi than fantasy. But it is a field that I think today, I mean, he looks at it and says can I make a living at this or not? If I can't, what do I have to do to make a living to be able to still write regularly? How do you find that? How do you balance that? You have a child, I know it takes you longer now to write. Your child will get older, be in school at some point, preschool and stuff. So it will get easier a little bit. But how do you juggle life like that?
[00:30:40] Ellie: With much difficulty and defiance. Basically it's one of those things where if you really love something, then you basically have to fight for that time. You have to fight to find time to do it. If you really love it that much and the things that are more important to you, you will find a way and a time to do it. But I can't really give advice on how to go about that because everybody's situation and brain chemistry is different. So I guess the best I can say is you've just gotta find what works best for you. Find the method that is uniquely perfect for you.
[00:31:25] Rico: I think you gave good advice before about that one sentence goal though.
[00:31:30] Ellie: It's a good trick.
[00:31:31] Rico: Yes, and I can see people doing that. I can see, you get that one sentence done and you feel like, wow, okay, cool.
[00:31:37] Ellie: It's worked for me so.
[00:31:39] Rico: Well, we've been talking to Ellie Raine. She's a self-published author, that has nine books, I think, right? Nine books to your name. Merchandise. She's going strong.
She's already, well, third audio, audible book, coming out. We're looking forward to seeing a lot more from you. I do appreciate the time you've given us. Why don't you tell everyone that might be interested where they can find more. We'll have these links, but where should they go to find more about you?
[00:32:04] Ellie: Sure. You can go to either EllieRaine.com or Necroseam.com. That is N-E-C-R-O-S-E-A-M.com. So we have a blog. You can find me on TikTok, Instagram, Twitter, Facebook. It'll all be on the website.
[00:32:22] Rico: Great. And if you have any questions for Ellie, obviously message her through through social media or put comments if you're listening to this on Facebook. You can put your comments in that in the spot on Facebook. Again, thank you Ellie. I appreciate your time. Good luck and have a great career. Looking forward to seeing more books from you.
[00:32:40] Ellie: Me too.
A Conversation with Ruwa Romman on a Broad Range of Issues and Being Muslim in America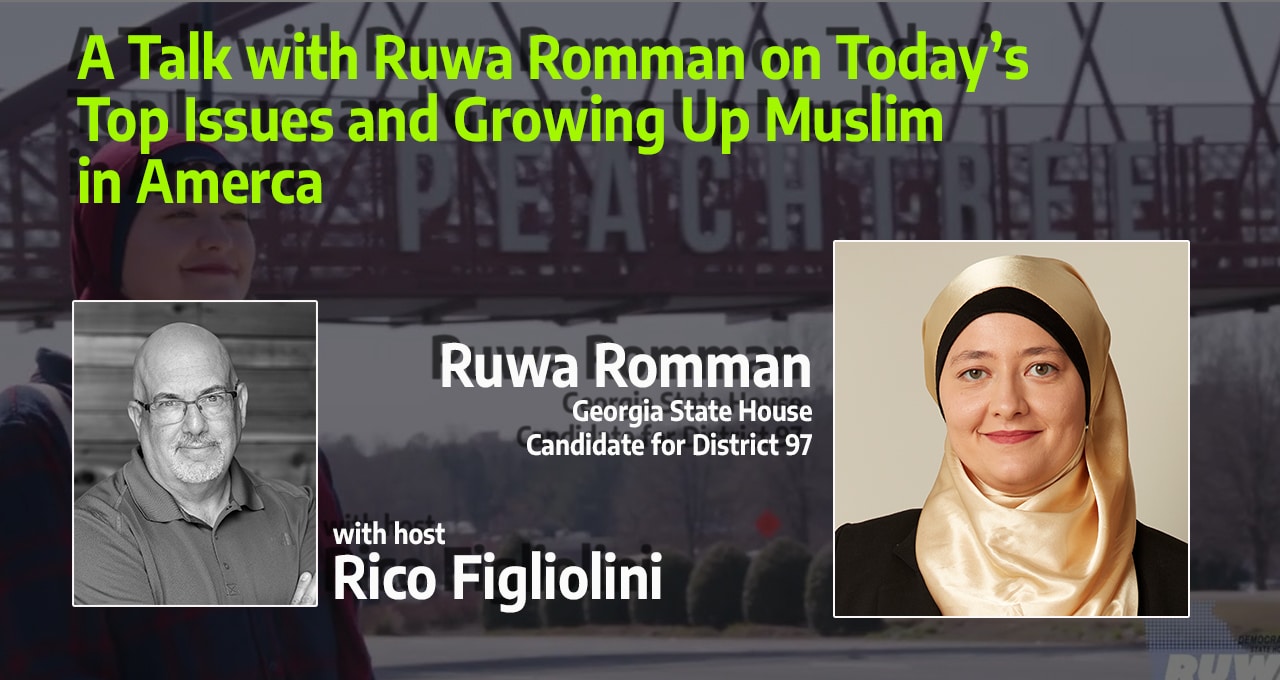 Ruwa Romman is the Democratic nominee running to represent Georgia State House District 97. During our conversation, she addresses the most pressing issues for the residents of Berkeley Lake, Duluth, Norcross, and Peachtree Corners, and growing up Muslim in the American South.
Resources:
Ruwa's Website: https://www.ruwa4georgia.com
Timestamp (Where it is in the podcast):
[00:00:30] – Intro
[00:00:55] – About Ruwa and Her Background
[00:03:53] – Dealing with Bullying, Discrimination, and Rumors
[00:15:08] – Education Issues
[00:21:51] – Economic and Employment Issues
[00:27:19] – Opinions on Healthcare
[00:32:35] – Concerning Community Safety
[00:39:45] – Voter ID Laws
[00:45:30] – Combating Misinformation
[00:47:08] – Ruwa Asks for Your Vote
[00:48:16] – Closing
"We live in a digital age where anyone can write anything and send out anything that they want with little to no consequence… I would hope as constituents, as people who care about our society, that we start to more critically think about some of the things that are being sent to us. The one rule of thumb that I've started to implement for myself is if somebody tells me about a problem and is only scaring me about it, and they're not offering me a solution, then they're not going to fix it. They just want to fear monger me into a vote. And so please, think about the world around us. How much control does the person that is leveraging this issue actually have on that issue? And ask those critical questions of them."

Ruwa Romman
SCROLL DOWN FOR VIDEO
Transcript of the podcast:
[00:00:30] Rico: Hi everyone, this is Rico Figliolini, host of Peachtree Corners Life. Thanks for joining us. I appreciate you coming out. This is one of those podcasts where I'm interviewing a candidate that's running for office that certainly could affect us here in Peachtree Corners if they win their seat. So I want to introduce Ruwa Romman, she's a candidate for Georgia House 97. Hey Ms. Roman, how are you?
[00:00:52] Ruwa: Hi, I'm great. Thank you. And thanks for having me. How are you?
[00:00:55] Rico: Good. It's a beautiful day today. Now this may be streaming on another day, but it's a really nice, sunny day. A little cold, and I think we hit that frost in the morning at about 30, 31 degrees. But before we get into Ruwa Romman's campaign and who she is and stuff, let's just say thank you to our sponsor. Corporate sponsor who supports journalism like this, podcasts and our magazines. And that's EV Remodeling Inc. And Eli, who's a resident here in Peachtree Corners, it's a business based in Peachtree Corners. They do a lot of remodeling. If you're familiar with Houzz, H-O-U-Z-Z.com, that's a place where you could go online and find out all the latest types of remodeling that's going on. He's part of that. You could check his reviews there. He does a great job here, great corporate citizen and great community citizen as well. So check out EVRemodelingInc.com. Now that we've gone through that, and of course, Peachtree Corners Magazine and Southwest Gwinnett Magazine supports this endeavor as well. So Ruwa Romman, you're a Democratic nominee looking to represent this district. In fact, District 97 takes up Berkeley Lake, Duluth, Norcross, and Peachtree Corners here in Gwinnett County. And if you're elected, you'd be the first Muslim woman in this Georgia State House as well. Tell us a little bit about you. I know you were raised here in the district practically, I think, right?
[00:02:19] Ruwa: Yeah, so I was originally born in Jordan and my family and I moved to Georgia when I was about seven, eight years old. And my family established a business actually right here in Gwinnett about 25 years ago shortly after that. But that meant that we were trying to settle in, trying to figure out where we wanted to live. So I moved around a lot. We lived in Fulton, Forsyth. I was a public school kid, so it was sort of one of the few constants in my life. I've essentially lived a majority of my life in Georgia. Went to DC for three years to get my Master's in Public Policy and came right back.
[00:02:51] Rico: And you went to Georgetown University, I think, right?
[00:02:54] Ruwa: Yes, I did.
[00:02:55] Rico: Cool. Your background and your studies are in what field?
[00:02:58] Ruwa: It's sort of, I look back on my journey and it's very interesting because I feel like it builds an arc almost, of everything connecting together. So after I graduated from high school, I went to Oglethorpe University, which is literally down the street from me. Like if I take a left outta my neighborhood and keep going straight, I'm at the university. That's where I met my husband. I worked for several civil rights organizations and nonprofits. So I worked for Points of Light, which was an organization started by Bush Senior to increase civic engagement. I worked for CAIR Georgia, which is a Muslim civil rights group. And I worked for the Georgia Muslim Voter Project, which was established to increase civic engagement particularly in the Muslim community, but within immigrant communities as a whole. And then I went to grad school, got my Master's. And then I worked for a professional management company, which I don't say the name just because I'm running for office and out of respect for them and the corporation. But yeah, I'm currently working full time for them.
[00:03:53] Rico: Okay, neat. Going through the public school systems, I gotta ask. Because certainly, I'm first generation American in my family. I was born here, in Brooklyn, New York I was born. My parents came from Italy. They're immigrants. Typical immigrant story, right? Four kids in my family, we all grew up, we're all over the country. I mean, one's in Canada even now. But you know, growing up with language and stuff like that on my end, should have been easy because I was born in the States. Because my family spoke Italian in the household when I grew up young, I was speaking Italian and English. Almost a brooklynese, if you will. Yeah, it was sad. They had to bring my mother in to say, he needs to learn English and stop speaking Italian to some degree, you know? So being Italian in New York is a lot different. Being Muslim in Georgia is probably a lot different also. So how did that affect your life growing up? How does that affect your life now?
[00:04:47] Ruwa: Yeah, so I'm actually the oldest of four. So it's really interesting that we both had the same number of siblings. Yeah, I'm the oldest of four. I've got two brothers and a sister. And moving around a lot meant that I was exposed to different types of community. My mom tried really hard to make sure that we knew our culture. And a lot like you, we didn't speak English at home. I had younger siblings and my mom felt that it would be unfair that they wouldn't be able to learn. We spoke Arabic at home, so she felt it would be unfair if they didn't know Arabic. So she would pretend not to understand us, the whole nine yards. And she taught us to read and write. So I'm, because of her, I'm actually fluent in both English and Arabic. But then the biggest shift for me, I was kind of oblivious to people's reaction to me. I started wearing a headscarf when I was really young because I really wanted to. My parents were actually really concerned for my safety. They were like, please don't like, just wait until you're a little bit older. And I was a stubborn child, for lack of a better way to describe myself. And I said, well my parents said, don't do this, so now I'm going to do this. So I was in middle school and I started wearing my head scarf. And a couple years after that we moved to Forsyth County Georgia. And Forsyth County, at least where I lived, was very different at the time. I think a lot of people like to paint the south with a broad brush, but that wasn't, it was a little more complicated than that. I was stereotypically, I was one of three non-white kids in my entire eighth grade class. Which meant that, you know, people have stereotypes about Muslims. They would call me a terrorist. They would point out my house as the bomb lab.
[00:06:16] Rico: Oh my God.
[00:06:17] Ruwa: But simultaneously, yeah, it was not fun. And the first black kid I ever met in Forsyth County was sophomore year of high school. It's very different now. My sister goes to the same high school that I go to and her experience is night and day from mine. But it really taught me a couple of things. One, it taught me that not everybody is militantly hateful. Some people just don't know any better. And if you give them a chance and you talk to them, you'd be surprised at how open and understanding they can be. Obviously that wasn't fair for a child to have to deal with, but it really did teach me how to talk to people very different than me and who don't agree with me on anything. And the second thing that it taught me was the importance of knowing who you are and just really living within your identity. Because I don't think that I could have gotten through all of that sort of bullying and that experience growing up had I not been comfortable in my own skin. And I was very lucky as a kid to have a support system around me that let that happen. When I say my teachers saved my life, this is exactly what I'm talking about. They were some of the first people to step in when students were being too much. But they did it in a way that didn't increase the harm. Instead they used it as a learning opportunity, a teaching opportunity for me and my fellow students of, how can we do this better? Why is this not okay? And truly it's because of them that I had gotten through that part of my life.
[00:07:35] Rico: You're fortunate. I mean, I believe the school system has a lot of great teachers, but sometimes not. And so I think you were fortunate then, that that was the case. And I can see that. I mean, I see it unfortunately in adults that speak about Muslim experience and stuff. And they know nothing about the Muslim experience. Not that I know enough, but I'm, I feel educated a little bit, at least on it. And from coming from an immigrant background and seeing what my parents had to face also. And sometimes what I faced even. And people look at me and say like, you're white, what's the difference? No, no. You know, Rico Figliolini, italian, people remember the Sopranos from HBO? And I'm like, no, we're not all monsters. You know, and so, there's a bit of that sometimes.
[00:08:22] Ruwa: Exactly. And I do wanna say my primary election, I think was the kind of election that I wanted to have. Where it was very much on the who's gonna work really hard? What are the policies that matter to the people the most? And we really ran on our merits. I felt like JT and I really ran a good campaign where it stayed clean and we were able to go back to that ideal of what politics should be. Unfortunately, this time around, that's not what's happening. So we found out this weekend that people in my district received a mailer saying I have ties to terrorism. And the way I explain it to people is that, it's shocking and upsetting and we have to absolutely respond to it. But at the same time, it's one of those things where, unfortunately, my threshold is so high. That it was just like an extra to-do list on my list to deal with, right? And to explain why we had to deal with it. When I worked for CAIR Georgia, CAIR Georgia is a Muslim civil rights organization.
[00:09:18] Rico: And that's spelled C-A-I-R. Wasn't that?
[00:09:21] Ruwa: Yes, C-A-I-R. Yes. The Council on American-Islamic Relations. I helped start the Georgia chapter. The Georgia chapter didn't exist. I mean, it was kind of there as like a board, but we weren't offering any services. And I had just graduated college like two years earlier, and this was at the time when then candidate Trump was like, we need to shut down all Muslim immigration. And then a year later signed the first iteration of the Muslim ban. So we weren't sleeping. Like, that's not an exaggeration. There were people who were stuck at airports whose entire lives were upended. And my team and I, brand new team, just started out this organization were like in airports translating. There was a grandfather that was trying to, he visited the states multiple times from Syria. Like this wasn't his first time visiting, but this one time he actually did need to be here because he needed life saving cancer treatment that his family was completely paying for. And he was banned. It delayed his treatment, and it really, really jeopardized his life. So when people say that she's got ties to terrorism because of that, it shows some pretty intense ignorance. Because not only has CAIR been investigated because of these conspiracy theories, we actually had anti-Muslim groups infiltrate the organization and put people on our payroll who were eventually outed like 13 years later because we were so boring and they couldn't find anything on us. Like it was your typical like non-profit drama office stuff and whatever. But it wasn't what, It wasn't exciting. It wasn't what they were looking for. And so they actually outed the guy earlier this year. Because they're like, we're not getting anything juicy off of them. This is useless. So, but again, I do want to go back to the point about why we responded to it. It's because one, network is really important, good work. And two, my life was put in danger. We didn't have an office. And so at the time it was pretty easy to find where I lived and who I was. And I was targeted by an armed militia. We all were. We were put on like multiple hit lists.
[00:11:12] Rico: Is that something that was reported to the authorities?
[00:11:15] Ruwa: Yes. Yeah.
[00:11:16] Rico: How did you know you were on multiple hit lists?
[00:11:19] Ruwa: So we had a GBI agent. Each of us was assigned a GBI, a Georgia Bureau of Investigation agent who anytime we received a threatening phone call or voicemail or whatever the case may be, we had to submit it to them. So each of us basically had a file of just threats that were accumulating over that year, year and a half.
[00:11:38] Rico: And how long ago was that? Or is that recent?
[00:11:41] Ruwa: So it was 2015 and it continued until I went to my graduate program, or maybe 2016. 2016 until I went to my graduate program. Even when I went to DC I was still getting the phone calls until about 2018. So it was about two years of just constant, you know, my social media was always full of comments. My emails were always full of comments. Our inbox was always full of comments. Which is again, quite unfortunate because, like every organization we were dealing with having to provide services for the people that needed them. We were dealing with your typical office stuff of like how to properly set up as an organization, what strategy works best, all of those typical things. And on top of that, I'd call my GBI agent and be like, hey, I just got another one. Here you go, so.
[00:12:21] Rico: Wow. Now just to let people know, I mean, obviously when I interviewed John Chan, your opponent in this race for the 97. Because there's no incumbent for this seat. This seat is a brand new seat.
[00:12:34] Ruwa: Yeah, it was actually mostly Beth Moore's old district and then partly Bonnie Rich's old district. So yeah.
[00:12:39] Rico: So it's brand new. So John Chan was a guest, for those that haven't seen the episode, you should probably look at it. Running also for the seat. And towards the tail end of that interview, he mentioned that you were part of CAIR Georgia, which is recognized, according to him as a terrorist organization. I think it was by Syria? By some foreign country. I forget which country.
[00:13:01] Ruwa: Yeah, he said the UAE designated us.
[00:13:03] Rico: The UAE. That was it. Sorry. That was it.
[00:13:05] Ruwa: No, no no, you're good. He said the UAE designated us as a terrorist organization. Which the last time I checked, we live in the US. The UAE is not a civil rights friendly country.
[00:13:16] Rico: No, by far.
[00:13:17] Ruwa: So it's not surprising that they would want to designate a civil rights organization as a terrorist organization.
[00:13:23] Rico: In fact, before this interview I went online. Anyone can go online and go search. I did not find anything disparaging about CAIR Georgia on there or the organization.
[00:13:33] Ruwa: What you'll find, by the way I really care about internet literacy and mis- and disinformation. There are literal think tanks whose entire, for a while it was like a 300 million industry to increase fear about Muslims in America. And they literally would fundraise off of, let's find the terrorists among us. And we'd see these, like, it was truly like that's how they would fundraise. And they went after everyone. I mean, they went after CAIR Georgia. They went after an organization called Islamic Relief whose literally only job is to feed and house poor people. That's truly all that they do. And I think there was a comment on the last podcast that was like, I can link to everything that John Chan mentioned today. And so I went to look at the organization that she cited. And the first thing about it that you read is that it's an anti-Muslim think tank. And I lived in DC, I know these think tanks. I know how they operate. I know how they're structured. We know how this stuff works. But unfortunately for a typical person who's reading, they don't know that, right? They never walked down K Street. They never saw like what these buildings look like or who these people are that there's people sitting behind their computer.
[00:14:34] Rico: Right and there's no transparency about who funds them and such. Which is, which is a bad thing because anyone can be funding anything secretly through third party corporations into a pack or a think tank even. Alright, good. So, I just wanted to make sure we got that out of the way.
[00:14:50] Ruwa: I appreciate it. No, you're good. Thanks.
[00:14:52] Rico: Cool. So now let's get onto some real issues. I think, that will matter as far as if someone wants to vote for either one of you, so this way they can see where you guys sit.
[00:15:01] Ruwa: Also this detracts from the issues. We have so much happening in our communities and I'm like, we don't have time for this. But anyway, I digress.
[00:15:08] Rico: Yes, just it's the economy stupid. So anyway, let's start with education. Let's go there first, okay. So I know that education is on your website, one of the first items someone will look at and see. And you talk about teachers, you talk about reinvestment in schools and stuff. So tell us a little bit, because this is of the biggest budget in education, that's 50% of Georgia's budget according to your website. And I know we rank, everyone knows and we hear the stories that we rank 38 at the bottom, maybe even lower depending on how you actually look at that statistic. So tell us a little bit about what your campaign would like to see and how in practical purposes, what you would specifically suggest.
[00:15:53] Ruwa: Yeah, I firmly believe that teachers are the cornerstone to our education system. I think technologies come and go, I think teaching methodologies evolve over time. But the ones that stay, the ones that are in that building the longest are truly our teachers. And that's why I really do stress paying them better, because we really don't pay them well. And one of my favorite things that I learned recently is that Georgia has a multi-billion dollar budget where we could give teachers an $11,000 raise tomorrow and not raise a single cent in taxes. $11,000. It wouldn't be a one time bonus like Governor Kemp did, it would be a consistent raise that would stay over time. And that's truly one of the first things because we're losing teachers at a rate that is just astonishing. I know some teachers that are actively applying to my company. We've seen an influx of teachers that want to just get out of the profession completely and not just go to a different school. Which tells us that it's not like a particularly bad administrator or administration. It's the profession itself. But if you invest in teachers and you invest in that pipeline, that means a couple of things will happen. One, you're able to retain teachers better. Two, you're able to then recruit more teachers to decrease classroom sizes. And three, the students now get more attention from their teachers. But also the reason I'm so stuck on public schools isn't just because of my personal experience, but also what that personal experience looked like. A good chunk of my public education was in Forsyth County. I had access to five different magnet programs. One of them, and not all of them were like STEM and STEAM and stuff like that. One of them was a culinary program. One of them was a robotics program. One of them was a career based program. And it was all within a public school system that every child had access to, regardless of their income level. And that's what I want for students. It's not that I'm saying one size fits all and let's just throw money at the problem and it'll go away. What I'm saying is that if you invest in your people, they are and can be very innovative and can give students the kind of opportunities that I had. Which was truly an incredible education.
[00:17:51] Rico: Peachtree Corners itself, and Norcross, and the parts that you'll represent if you were elected. I mean, we have good schools here, right? To a degree. It varies, obviously, depending. Peachtree Elementary, Norcross Elementary, you have, although you also have the IB program at Norcross, you have Paul Duke's STEM, High school. Which is not a testing school, you don't have to test to get into that school. So it's a school that you can attend and get into STEAM. And also allows, in that particular case, kids to learn like 3D printing, coding, actually graduate or possibly get a job right out without going to college. So paying more. I know, you know, listen, Kemp has done the refunds, the state refunds to families and stuff. Which is a good thing. But you know, everyone can debate on where to put that money. And education certainly would be at, I know that Gwinnett County has empty slots and they can't fill it. I mean, probably because they can't get enough applicants actually into it. Yes, more pay would be helpful. But what else do you think should be done there?
[00:18:56] Ruwa: Yeah, so I love when people ask me what else, because a lot of things I've talked about are multi-prong approaches. So you also have to look at the sort of teacher pipeline as a whole. In order to become a teacher you have to become certified. There are a lot of hurdles to becoming fully certified. Some of it financial, some of it just a support system for people as they're going through their education. And there are grant and student loan forgiveness programs for teachers that I think if we were able to reduce the timeline of those for people to see that payback of it a lot faster, we would see a lot more people entering this profession. Versus now where I get the student loan forgiveness program is there, but it's 10 years. And when you're a kid who decided to become a teacher and you're constantly paying this loan, even though it is adjusted for your income, it's still an extra expense. What if we did a five year loan forgiveness? Because then that teacher pay isn't as intense for them to feel, especially in a rising, where everything is rising in cost would be really great. Additionally, is there a way to have people working maybe under a mentorship program or something so that the certification requirements are adequate enough that they are able to be good teachers, but they're not cumbersome? Like are we asking for too much based on the level that a teacher is teaching? How much certification do they actually need? What are these schools offering, especially some of our public universities within their education? Are there classes that they're taking that they don't have to be taking? They can save time and money on and get them into the classrooms more. But it really does come down to respect. I think that the other piece of this, so money, the pipeline itself of educating our teachers. But then also how we treat our teachers. I had mentioned this during the Peachtree Corners debate. I have watched the disrespect, and the harassment, and the threatening of teachers that has increased over the past year, year and a half, maybe two. We need to stop that. Period. It is a cultural shift that needs to happen. We need to actively call it out and support our teachers, and it needs to come from our state legislatures.
[00:20:54] Rico: Okay. Are you seeing that mainly from parents? Or parents and kids?
[00:20:59] Ruwa: It's sort of one of those things where, and I want to be clear, most parents are awesome. The parents I'm seeing are very supportive of teachers, but there's a very small but vocal minority that is doxing teachers, that is calling for surveilling teachers. And of course that's going to permeate to their students, right? If you're a kid and your parent is constantly talking badly about your teacher, you're more likely to disrespect your teacher in the classroom. You're more likely to misbehave in the classroom. You're less likely to listen to your teacher, whether as an authority figure or as someone to teach you. And so we need to change this culture that we have as politicals. As a whole, by the way, across the board. Of talking to teachers more, respecting them more, and treating them like the professionals that they are.
[00:21:42] Rico: Cool. Yeah, I agree with you on most of those points. It's a tough profession. I can't see being one of them. I don't, I wouldn't have the patience for it.
[00:21:50] Ruwa: Me neither.
[00:21:51] Rico: That's a tough thing. Economic opportunity. We have a tremendous amount of inflation right now. Interest rates have gone higher, gas is going a little higher. I mean, that's a fluctuating thing. And unemployment is low. And it's ridiculously low and to the point where, businesses, like where was I just now? I went to a local gas station that's fairly new and they just opened and I went to gas up, gassed up. I went to go into the convenience part, which is brand new, beautiful looking. Couldn't go in. There was no staff.
[00:22:23] Ruwa: Yeah.
[00:22:24] Rico: They just couldn't hire anyone, I guess. I mean, it's just crazy. So how can we deal, how can a state, at the state level. I mean, we're feeling that in Norcross. I constantly, when I go to Dunkin Donuts, they don't have enough employees. When I go to Town Center and I see a sign in the window that literally says $15 an hour, where they would never put out that sign. How can the state help local cities combat that and other issues?
[00:22:52] Ruwa: So again, with my multi-prong approaches, and sorry for my dog, she's excited.
[00:22:56] Rico: No, you're good.
[00:22:57] Ruwa: We need to talk about the facts first and foremost. The fact is that a million people died of Covid and millions more are disabled because of complications from Covid. The reason I know that is because I'm experiencing long-term Covid symptoms. None of my blood levels are normal, every time I go to the doctor's office, like something new. So it's real and it's impacting people. And a lot of the jobs that you mentioned, are very strenuous jobs. On my campaign, we're offering $17.50 an hour to canvas. We're actually working to up that to 20 for the last couple of weeks hoping to get like a grant for it. But even still, that is not enough for a lot of people. And I don't think any of us expected this kind of lower unemployment rate because we thought, oh, the economy is struggling, so therefore X, Y, and Z. But it's also important to recognize that a lot of these local stores. Some of them are corporations of course, but a lot of these mom and pop stores are competing with large corporations. These large corporations can offer healthcare. They can offer benefits in a way that a small business cannot afford. And in a place like Georgia, and again, I've lived in DC, it's uniquely bad and expensive on healthcare. So if a mom and pop shop wants to compete with a company to hire people, it just simply can't afford to because healthcare is so expensive. And we're leaving billions of dollars on the table in Medicaid that you and I paid for in our taxes, that could really help ease that burden and bring down some of those private insurance costs that we're seeing. And that's one way that we can help mom and pop shops compete because then they can offer a benefit they can afford to then bring back some of those people from the private corporations. But we also need to think a little bit more long term about, again, our students, our education system, our future generations, so that they are equipped to enter the workforce. Maybe even faster, but making sure they can have a living wage if they do leave school early, because that's the unfortunate part. If you have a high level of education, you tend to be paid very high. So we also need to fix that disconnect of, we want more people in the labor force, but we also want them to be able to afford to live. And so how can we, like you said, those apprenticeship programs. You know, my sister currently, which I didn't do in high school, but I think it's really cool. Two of her days in high school now are working at a clinic. She gets an opportunity to get real world experience as a high schooler before she even graduates. So there are ways that we can think about this creatively, but we also, again, for me, it's all about the safeguards, right? Like making sure that kids aren't being exploited, that they're getting these opportunities, and that we're fixing this labor problem at the same time. By sort of having people, or at least mom and pop shops, be a little more competitive, increasing the labor market. Because a lot of people are about to retire and I don't think we're ready for that.
[00:25:31] Rico: Right. I think people retired during Covid even. Because they found that this is the perfect time, let's just get out of it. And I appreciate the apprenticeship program idea because I see that in Europe. I see companies now beginning to, large companies like Bosch and some other companies, beginning to talk about that. Because not every kid can go to college. Not every kid wants to go to college. Not every kid can strive through four years of college and then come out. I mean, I've seen kids come out with a degree and then not do the work in that degree. I mean, so what's the point? If you could come out of a school within, through an apprenticeship program and making 70, 80,000 possibly even. Like HVAC or electrician or plumber. There are definitely jobs like that. And they can't get enough people, it seems. So do you see the state being able to step in to some degree to help with those types of apprenticeship programs?
[00:26:24] Ruwa: Yeah, the state, there were a few pilot programs that started as early, that I know of in 2015. The problem with the pilot programs was we didn't put proper safeguards in place so that students were being pushed to leave the apprenticeship program early, and then they were stuck in a lower income bracket because the company that they were on offered them like $12 an hour, which to them was a lot of money. And then they grew up and they wanted to buy a house and wanted to start a family and realized, oh shoot, I can't live on my high school pay anymore. And so we need to make sure that if a company wants to take advantage of those apprenticeship programs that they commit to allowing students to finish their degree in full before they pull them out. Because you know, apprenticeship programs come with certificates and degrees and stuff that you can then take with you to other companies and be able to shop around for a job. And so that's a very important piece that I don't think we have fully invested in. Because it, a lot of people were like, oh, this might not be great for my child.
[00:27:19] Rico: Yeah. I agree with you. There's different problems in different states, right? New York State has a lot of unions, which is not a bad thing, but can be a bad thing. So it can be a detriment or an impediment, depending on how you look at it. And it can be good. Georgia doesn't, right? Georgia is a right to work state or work at will state, depending on how you technically want to call it. So I agree with you. I believe in free market, but you have to make sure there's oversight because people will take advantage. Totally. Healthcare, you mentioned that before about affordable and accessible healthcare. So the state of Georgia is not part of accepting the expanded Medicare system. I mean, I can understand part of that reasoning, even though the federal government will pay for 90% of that cost, at least for the first few years or first two years. And then after that, the state will have to pick that up. We can't pay for everything. We can't do $11,000 increase in pay for teachers and then do this and that. So how do we handle healthcare?
[00:28:19] Ruwa: Yeah, so the interesting thing about our current surplus is that the immor, amortization, I can never say that word. But the rate on it actually would replenish the fund even as we use it. The thing is we have a real opportunity in Georgia right now. These surplus funds came mostly from ARPA funds and other pieces of legislation that President Biden had signed into law recently. So we have a windfall and a real opportunity to invest in our people. And no one is saying that we can pay for everything tomorrow. But the idea is that if we have this opportunity, we're able to make these investments now for a better future without raising taxes and that are sustainable and long term. Why wouldn't you? And that has been my question over and over and over again is, this is a moment where we can really fix a lot of these problems we've been having in Georgia. I would say that have gotten worse since 2008. But our rainy day fund is fully funded. All of our budget items are fully funded and we still have this surplus. So on the issue, and again, this is something that I think a lot of people, I appreciate and understand that we do live in sort of a capitalist society and a free market system. But healthcare is not something that can be controlled by the free market because it's an inelastic good. If I had diabetes, I can't just decide not to purchase insulin because it's too expensive. That's not an option for me because I will die. It is that simple. And so when we treat healthcare as a typical market good, we end up with a lot of market inefficiencies. I do understand economics because I spent a good chunk of my public policy learning economics which I think a lot of people think, oh, she's just a kid and she's idealistic, and oh, she's very cute. But no, I know the principles I'm talking about. I just don't share the values of people should die because they couldn't afford insulin. Which by the way, Medicaid is just one solution, right? Again, I like to talk about multi-pronged approaches. Georgia's also bad on public health. We don't teach our people when to go to the emergency room versus their primary care doctor versus an urgent care. And that causes a lot of strain on our hospitals that is exacerbating the closures. So if somebody needs insulin, they're probably better off going to an urgent care clinic than they are going to an emergency room. But you know what would be even better is if we could give them insulin, right? If we could give them an inhaler for their asthma so they're not ending up costing thousands of dollars instead of whatever the cost of the medication is.
[00:30:36] Rico: Absolutely. But hospitals have to accept, there are people without insurance, right? I forget what the number here is in the state of Georgia. So you can't go to an urgent care, likely, or a doctor maybe, because you feel you'd have to pay there for sure. Whereas a hospital has to take you. Although depending on which hospital you go to, they may also shift you out.
[00:30:56] Ruwa: Right, right.
[00:30:57] Rico: And they're not allowed to. But the people that don't know that, don't know that.
[00:31:01] Ruwa: Oh, of course. But we're talking about tears of people, right? Like if the people who have insurance instead of going the emergency room all the time, they went to these other doctors, then that's one less critical in the emergency room, so on and so forth. But then again, if you have a public healthcare option that people have access to, then they don't even go to the emergency room at all because they have access to insulin. And if we're gonna really have a serious conversation about the market, having a public health option that is competitive in the market forces health insurance companies to stop price gouging. Because again, we don't really have a choice in, we have the illusion of choice in health insurance, but they've all consolidated into like two or three companies I think now. I mean they've got like subsidiaries, but that's not choice to me. They're literally running a muck with the market and doing whatever they want to do, and no one is stopping them.
[00:31:48] Rico: Agreed, agreed. I know someone that's going for a diagnostic mammogram, I think it's called. A screening mammogram, actually. There's different levels of that, right? So I saw the sheet and there's no pricing on it. There's no price transparency. The interesting part that we know how much it costs, it actually costs less going and paying in cash out of pocket then if you went with your insurance in hand. I'm like, now why is that? Why does it cost less for me to pay out of pocket let's say, versus going through the insurance. And then you see when they send you the explanation of benefits, it's like a horrendous amount. It's like, but that's not your bill. But it is your bill because in a way, you're gonna end up paying it.
[00:32:30] Ruwa: Right. Why did a bandaid cost me? What was it? $200 the other day kinda thing.
[00:32:35] Rico: It's ridiculous. Let's go on to, let's try crime and safety. So public safety, community safety, that's the new phraseology used. Community safety because that's just about the public, I guess. It's about how we keep our community safe. So here in Peachtree Corners, I mean, there are things that happen. Shootings at extended stay hotels and other places. And there was a shooting at the QT not too long ago, if you may remember that. Three perpetrators tried to do a carjacking. The kid, 29 year old that used to coach, I think at Norcross High School, didn't want his car jacked. And it was on Peachtree Parkway, really busy intersection. And I think for a lot of people, a wake up call to, like, it's not just other places. It happened here. Now those three were found within a month, I think. All three of them were arrested and I guess they're going to be fully prosecuted, supposedly. We'll find when that goes. But part of it was technology was being used. Fūsus is a Peachtree Corners company that does crime center in the cloud, computations and uses algorithms and video cameras and such. They're one of many companies, right? They're based here. Those three were found because of some of these efforts. Using technology to track people to be able to find them. I know there was a point of people wanting to defund the police. Do they need an armed vehicle carrier to bring the people in? I don't know. But how should the state work with local cities to make sure that technology can be used? Because it's effective. And to be able to look at how the police operate. Also, in a social environment where maybe police aren't needed and maybe a social worker is needed, or a social professional is needed, maybe even in concert with a police officer. Because I wouldn't want to send somebody out to a domestics disturbance by themselves without a police officer. Because those things can turn deadly. So how would, Romman handle this as a State House Rep?
[00:34:40] Ruwa: I do want, there's a couple things I want to say here about this conversation and then I want to talk about my solutions. One of the things that has been very upsetting to me around conversation about public safety and crime is it has almost felt like some people have been giddy that that shooting happened. Because then they can go, oh my god, crime Democrats and defund the police. Somebody died that day. And the lack of sensitivity around that conversation, frankly, has been very upsetting to me. It's also important to note, like you said, that the perpetrators were apprehended pretty quickly. And that's due to investment by our county commissioners, who are all Democrats, by the way. None of them are defunding the police. That are supporting law enforcement in a way that does increase public safety. So I'm really glad you mentioned it that way because while it is scary and terrifying, I mean, I've always gone to that QT. The Forum mall is like one of the first malls I ever went to as a kid, right? You hang out with your friends, you're supposed to be in a safe space. But we need to look at public safety holistically from a prevention and a response perspective, like you said. So a lot of these extended stays, what can we do to make sure that people have affordable housing? Including first responders, by the way. A lot of first responders can't afford to live where they're serving. That's not good for public safety and doesn't increase trust. The second piece of it, like you said, is mental health and social workers that are useful, that do have to be escorted by police officers. Like I said, my husband's a part-time first responder, and if it's a shooting scene, police always go and clear the scene before they're able to support anyone that's been hurt. So that's like a, again, a holistic approach. At the same time, we have to make sure that the public, we are focused on community and public safety in a way that doesn't increase harm. And what I mean by that is you mentioned the technology, you mentioned how there are these really awesome and cool tools that we have in our back pocket that we can apprehend criminals. We also need to make sure that our privacy is continued to be protected. And this is coming from me as a woman, right? If I go to my OB-GYN tomorrow and that OB-GYN happens to also provide abortion as a service, do I then become a suspect for the state based on our new laws? Even if I'm not pregnant, even if I'm not whatever. How can we make sure that those safeguards are in place so that we can adequately respond to crimes? While making sure that completely innocent law abiding citizens aren't ensnared in that system of suspicion that only the wealthy are able to get out of quickly and be able to overcome. The other piece, and I know I was attacked on this recently, I think. I'm not really sure. On cash bail was, our prisons and jails are overflowing. Especially our jails. And it's because nonviolent offenders can't afford to pay their bail even if they didn't. This is only people who've been charged of a crime. They haven't been convicted of a crime. And I had a friend the other day tell me they work for like an ankle monitoring business company type thing. They said that they had to put an ankle monitor on a murder suspect because they didn't have space in jail to hold that person. And they know for a fact that the people in that jail are nonviolent criminals. That they could be let out with those ankle monitors instead, but they just can't afford it. And so when you put money and tie it that closely to freedom, it doesn't make any of us safer. In fact, it's actually putting a lot of us more in danger. So going back to that holistic approach, I was talking about. It's, support our first responders better, and I think I would add social workers to that term as well. Increase their certification along with that increase in pay so that there aren't any bad actors in that type of workforce and field. And two, how do we support these new technological innovations while protecting innocent, average everyday citizens? And three you know, educate the public on how to be a part of that community safety approach of how do we care for one another? How do we look out for one another? I think is sometimes something that we don't always talk about.
[00:38:20] Rico: Yeah, true. I think that depending on the community and outreach, you find a lot of that from the faith institutions reaching out, providing services, jobs, how to find a job. To people that may not know how to find a job. So there's a lot of that going on in certain communities, there's more than in other communities sometimes. I agree with you on the privacy. I think technology is moving faster than legislation can catch up with and right? And unfortunately there are legislators that are older than me out there that don't even understand the technology and what the privacy issues. It's a very complicated, right? It's very complicated. There's a lot of gray areas. I know the idea of cashless bail, people are like, no, no, that's bad. And you get a TikTok video of someone that you know, smashed someone to the ground, and now they have a brain injury and it's a misdemeanor, and why are they on bail or cashless bail? Well, that's just bad judgment call. Some of it has to just be like, the judge has to realize there has to be some latitude in what's done, right? Everyone picks the extreme of a problem.
[00:39:29] Ruwa: Exactly.
[00:39:30] Rico: And say that's the problem. So yeah, I get what you're saying. And I like the fact that multi-prong is important because it's not a black and white thing.
[00:39:38] Ruwa: I'm a nerd like that, yeah. I tend to geek out on policy because I'm like, you've gotta address the whole thing not just bits and pieces of it.
[00:39:45] Rico: Yeah, yeah. No, I agree. I love talking shop. So let's go to voting rights because that's a big thing for me too. Because sometimes when I have to pay by check, I have to show an ID.
[00:39:56] Ruwa: Sure.
[00:39:56] Rico: When I go pick up drugs, I have to show an ID. There's some things I have to show an ID for. And I fervently believe, when I go to vote, I should show my ID. That makes sense. Now what that ID is can be you know, it's a government ID or your driver's license or something like that. But I believe that if we're gonna enforce that, then we should actually make it as easy as possible for these people to get their IDs.
[00:40:22] Ruwa: Right.
[00:40:22] Rico: If that means you know, drop it off by Door Dash or something then that's good. You know, it's alright. You know, because as long as you do the initial thing and you have a picture and you have a fingerprint and you say you're IDed. You're good to go, right?
[00:40:37] Ruwa: Yeah.
[00:40:37] Rico: So what do you, how do you feel about that?
[00:40:39] Ruwa: Yeah, so full disclosure on this, I actually did, my master's was on voter ID laws and voting in general. And I looked at every single county in the 48 contiguous United States to look at the impact of voter ID laws. One of the most interesting things about my findings is that it wasn't necessarily the voter ID law itself that reduced turnout, which by the way, I used some of the strictest models I could. We were all shocked that my findings were, to get really nerdy like statistically significant, in the fact that there's a negative correlation between voter ID laws and turnout. But the caveat and the nuance there is the type of voter ID law that was implemented. So in other states what they do is, they have voter ID laws, but they also allow somebody who goes to vote to prove their identity in a different way. They can sign an affidavit, they can look them up in an already existing system. There are so many different ways that somebody can prove their identity right then and there so they don't leave and can't come back to vote, that doesn't prevent them from voting. And that's the biggest piece of nuance I think that a lot of people miss on the voter ID laws is, nobody is saying that we shouldn't verify who is voting. That's like 101, like you've gotta trust but verify, right?
[00:41:51] Rico: Right.
[00:41:52] Ruwa: But one, of the billions of ballots that researchers in this field have looked at over time, there has been no voter fraud. And when there has been voter fraud, it's immediately been found and none of it has ever flipped an election. Period. Those are facts. I get that we live in a society where I can write whatever I want on the internet. But there are people who study this and they have been looking at this in a way, way, way deeper than I can in a quick Google search. And so you're right. There are ways to write these laws where we're securing our elections without preventing people from voting. One of them is making sure they get IDs. That's what they do in Mexico. Mexico has a very strict ID law, but they ensure that every citizen in Mexico gets an ID. To the point that they have like the people who are census takers, kind of like what we saw during the census, their only job is to deliver IDs. They literally go to the highest mountains, to the deepest slums.
[00:42:41] Rico: There you go. Right, and that's what we should be doing too, then if we're gonna be forcing that. And I like the idea of multiple ways to validate someone's identification.
[00:42:50] Ruwa: Right.
[00:42:51] Rico: Using other means. But that also means the state would have to step in to some degree. We're a county by county, right? Every county uses their own election thing, whatever they want to use. Whether it's a ballot receipt or a scanned ballot or whatever it is. There's too many ways to do this from county to county that it becomes difficult unless you're going to be able to make some sort of broad ID that's accepted by every county, right? I mean.
[00:43:18] Ruwa: Which exists, like, that's what the driver's license system is. And county officials do have access to those records, by the way. So during my day job, I've got various clients, a lot of them are federal agencies and some of this stuff really is just technological supply chain process. Boring stuff that you just need to put in some time, effort, and yes, funding into. But it makes life so much easier in the future.
[00:43:39] Rico: Yeah. And I think that makes sense. So I agree with you on most of your points there. There's a lot of valid places, valid ways to be able to say who you are. And the only thing I have is that I've been out of Brooklyn, New York when I was part of the Democratic machine, became a Reagan Democrat later. But in New York, and most anyone that's listened to me often enough knows I worked for Chuck Schumer when he was a congressman early on for a year, just doing constituency work, but worked in politics. You know, people should be more afraid of how votes are suppressed, people's rights are taken away, not physically, but just by mailings. Of if you get slammed with enough mailings, you become so immune to it that you're like, I don't even want to go vote. I know lots of young kids that don't even, they five years into their voting ability and not once have they gone to vote. So there's so many other ways to get people to vote. And that's, voter ID is not really one of them.
[00:44:39] Ruwa: You're speaking to my heart here. I mean, I always tell people you know, a lot of people say, what's the point of getting politically involved? And I remind them that there have been races, like in Virginia, the state legislature stayed Republican for an extra two years because of the equivalent of a coin toss. Like it was a tie and they had to break the tie. And we have our city council race up here in Duluth was decided by four votes. So I have a hard time believing that this doesn't matter. But you've also gotta build political power during off years so that if somebody, including me, doesn't do what you elected them to do, you're able to vote them out and get a better person in.
[00:45:12] Rico: Yes. People love to complain and I love to say, well, if you haven't voted then. And I know people get tired of that, but you know what, if you haven't voted, it doesn't matter. I don't care, and I wanna hear you. It's like that type of thing. Because, and then people say, well, it doesn't mean anything, but those four votes in Duluth it meant something.
[00:45:29] Ruwa: It matters.
[00:45:30] Rico: Right. Could have been something else. There's so many other issues we could talk about and we're running into 50 minutes right now, almost an hour. And I do want to give you an opportunity to ask for that vote. Is there a particular burning issue that we haven't touched on that you wanna spend a couple of minutes on?
[00:45:45] Ruwa: This is sort of a very meta issue, I think. But I really want to encourage, listeners and voters to reach out to their candidates and hear from them directly. Trust me, I know a lot of money goes into marketing. I have to fundraise for it. I get it. But you know, my number is on our website. My email's on our website. If you leverage that, I will respond to you. And the reason I say that is we live in an, in a digital age where anyone can write anything and send out anything that they want with little to no consequence. And as you saw even during this podcast, we had to spend the beginning of it dispelling a rumor that someone took five minutes to write and say. And that kind of stuff really does detract from the real issues. And I think, I would hope as constituents, as people who care about our society, that we start to more critically think about some of the things that are being sent to us. So I think the one rule of thumb that I've started to implement for myself is if somebody tells me about a problem and is only scaring me about it, and they're not offering me a solution, then they're not going to fix it. They just want to fear monger me into a vote. And so please, think about the world around us. How much control does the person that is leveraging this issue actually have on that issue? And ask those critical questions of them. Again, I have solutions and ideas. I think that with my expertise in everything, I can do a lot. A lot of good in this work, but I'm also not naive and I know my limitations. I don't wanna over promise and underdeliver kind of thing.
[00:47:08] Rico: Let's go right into you asking for the vote, then. We might as well, let's go right there. And tell people where they can find you.
[00:47:15] Ruwa: Yeah. So, as I mentioned, my name is Ruwa Romman. I'm running for Georgia State House District 97. You can find out more about me at Ruwa, R-U-W-A , the number four, Georgia spelled out, .com. So Ruwa4Georgia.com. There you'll find a form that you can reach out to me directly. You can ask questions, we can have great conversations. And more importantly, I really, really hope that I've earned your vote and that you will vote. Early voting is happening right now and ends November 4th. Gwinnett County does provide early voting on both weekends, between now and then. And then the last day to vote is November 8th. I urge you to vote early so we can help you if you run into any issues. And if you do, contact us. But thank you for giving me the opportunity to meet you, talk to you, let me come to your home and knock on your door. It has been a true privilege doing this work.
[00:48:00] Rico: Cool. And where can they find out, what's your website and your social media address?
[00:48:05] Ruwa: Right, so it's all the same. Ruwa, R-U-W-A, the number four, Georgia is spelled out. So Ruwa4Georgia. And it's dot com. It's every handle. I'm learning TikTok, so I'm making a fool of myself there, but trying to have fun.
[00:48:16] Rico: Alright, cool. Hang in there with me while I just close out. Thank you everyone for attending this podcast, listening to it on iHeart, Spotify, or watching it on Facebook or YouTube. You can find more of these types of podcasts, either by searching Peachtree Corners Life on Apple, or wherever you find podcasts. Or by just liking our Facebook page which is Peachtree Corners Life. Or our YouTube channel, which is Peachtree Corners Magazine. Leave your comments. I'm sure Romman's team is monitoring things. So wherever you're at, if it's on Facebook and you want to leave a comment or a question, you can put it there and they should get notified about that. Check out LivinginPeachtreeCorners.com for further stuff on Peachtree Corners and SouthwestGwinnettMagazine.com as well. So we have two magazines. Thank you again for being with us. Thank you Ruwa for coming.
[00:49:06] Ruwa: Thanks for having me.