New Smart Technology Connects Vehicles To Traffic Signals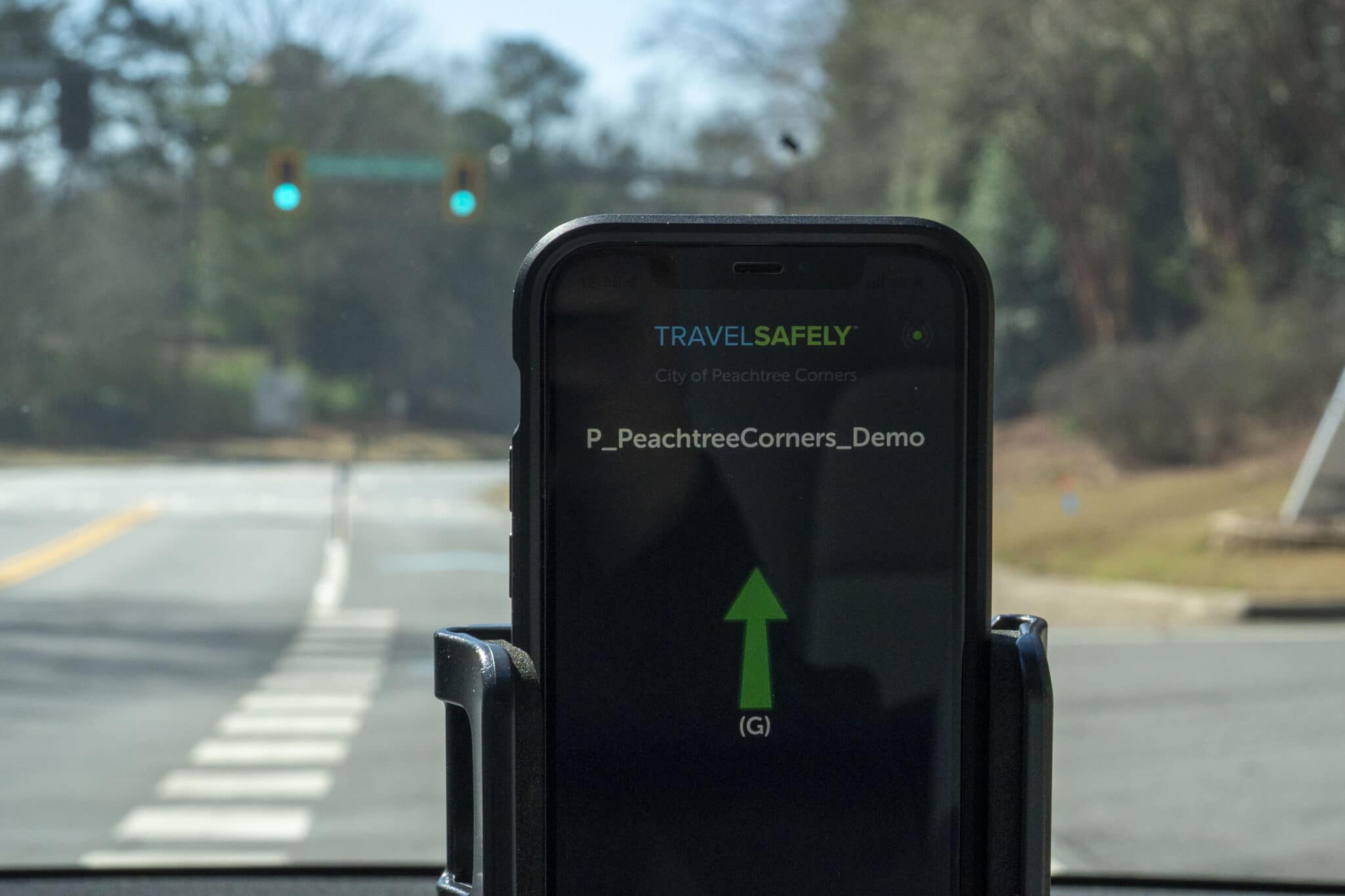 Peachtree Corners is among the first communities to use cutting-edge systems to alert distracted drivers to traffic lights turning red and increase traffic flow efficiency by letting motorists know it's time to go when signals are about to turn green.
The city of Peachtree Corners continues its development as a city of the future with the introduction of one of the nation's first smart city environments powered by real-world connected infrastructure and 5G technology. The cutting-edge technology helps combat the rise of distracted driver accidents and decreased traffic flow by alerting motorists of pending red lights and impending green light changes.
City officials in early March announced that telecommunication company T-Mobile, Applied Information, a Gwinnett County-based engineering consultant and Temple Inc., a leader in the intelligent transportation systems industry, are introducing 5G-connected vehicle technology that enables traffic signals to communicate with any vehicle on the road by way of a mobile app.
This technology enables two-way communication on T-Mobile's 5G network between the traffic signal and devices such as smartphones, tablets and vehicles equipped with on-board-units. Anyone can download the app on iPhone or Android platforms and utilize this aid in the designated Peachtree Corners area, according to city officials.
The TravelSafely smartphone app provides audible warnings about potential red light running and alerts drivers to get ready for green. Communications from the vehicle to the traffic signal can enable normal calls for a green light or green light preemption – or even priority in special cases, such as public safety.
With the area being one of the most diverse in the country, the app provides warnings in several languages along with English. Korean, Hindi, Simplified Chinese, French and German are available depending on the phone settings of the user.
"The evolution from 4G to 5G brings revolutionary advances in the performance of connected vehicle applications. This powerful collaboration enables the industry to accelerate the pace of change for the better and make for safer travel for all," said Bryan Mulligan, president of Applied Information in a statement.
Taking the technology a step further in community safety, emergency vehicles will have the ability to pre-empt traffic signals allowing them to avoid red lights and respond quicker in potential life-threatening situations.
"First responders used to have to push a button to change traffic lights," said Brandon Branham, Peachtree Corners' Chief Technology Officer. "This is one way to make that action more efficient."
Mulligan is also executive director of the Infrastructure Automotive Technology Laboratory (iATL), the world's first facility for developing connected vehicle applications for both vehicles and traffic control devices such as traffic signals. The primary function of the iATL is to serve as an engineering technical facility for testing connected vehicle application functionality and performance between the transportation infrastructure and motor vehicles, the infrastructure and vulnerable road users, motor vehicles and vulnerable road users and other configurations.
Located in Alpharetta, the IATL is sponsored by Applied Information Inc.
This new endeavor lines up perfectly with Peachtree Corners' vision as a destination for technology.  
"As another strong reflection of Peachtree Corners' leadership as an innovative smart city in the United States, we're excited to offer smart connected infrastructure relevant to our citizens, city employees and visitors by enabling any vehicle to receive communications from 5G-connected traffic signals," said City Manager Brian Johnson in a news release.
Driverless Shuttles Coming
As further reflection of the city street of the future coming to life, four autonomous shuttles operated by mobility-as-a-service leader, Beep Inc., integrate Applied Information's C-V2X technology into their fleet for safe and precise navigation, as well as real-world data collection, according to a press release. Multi-modal interoperability at intersections, as well as testing signal prioritization for the autonomous shuttle fleet, are just a few examples of critical situations. As transit operations and the need to safely test autonomous platforms while efficiently moving people around cities continues to grow, these real-world applications and tests help drive society forward.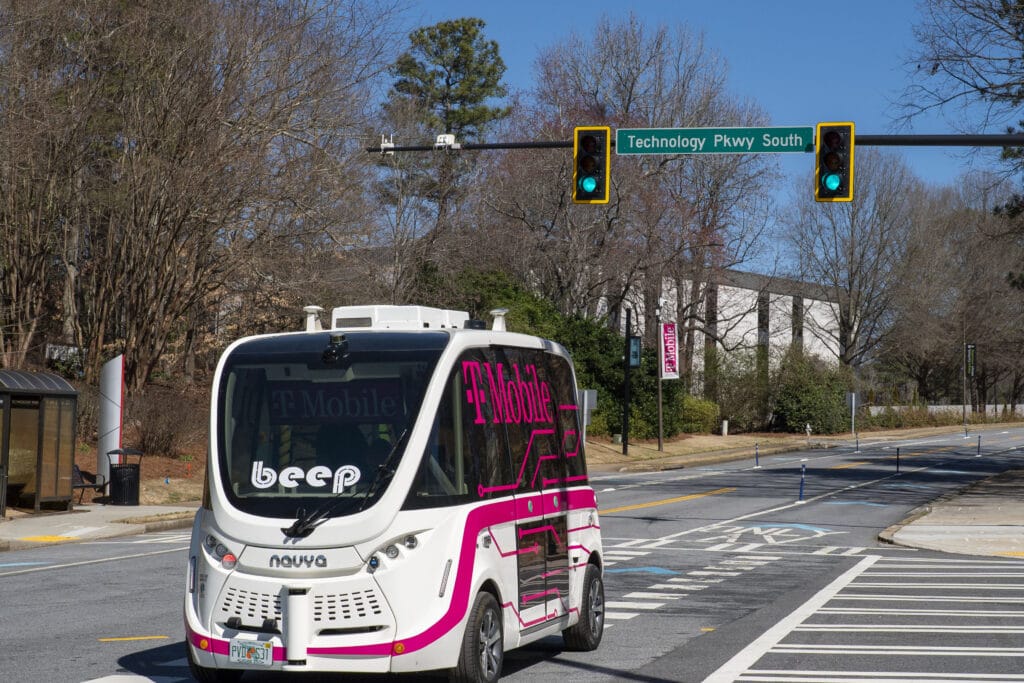 Using the current county bus route through Technology Park, a new driverless shuttle will loop through six stops, said Branham.
He added that eventually, the route will extend onto Highway 141 and into the Town Center.
"We have the experience of safely testing autonomous platforms in real-world use cases within the first smart city environment in the United States. Completing the vehicle-to-infrastructure equation with communication between drivers, pedestrians, roadside units, traffic signals, buildings and other city-owned infrastructure is critical for both driven and driverless vehicles. Advanced C-V2X technology on our platforms elevates each vehicle's awareness of its surroundings and is invaluable as we develop more unique technologies to further elevate safety and advance the AV industry," said Joe Moye, CEO of Beep in a written statement.  
Data collected from this deployment will help roadway operators and traffic technology developers better understand the performance of the 5G network to deliver safety messages to drivers and directly to equipped vehicles, the news release pointed out.
"The future of 5G technology is being realized with each innovation, in large part due to strong partnerships such as ours with Peachtree Corners at the Curiosity Lab. This step forward in safety technology is an integral moment in our pursuit of more connected and more autonomous vehicles, said     Dave Bezzant, vice president of T-Mobile for Government.
City Manager Johnson agreed.
"Cellular vehicle-to-everything (C-V2X) technology isn't just a concept here, it's a reality that all people can experience just by downloading an app on their smartphones. This is truly the city street of the future, reminding us again of how important it will be for key elements of a city to communicate with each other to elevate safety and improve the daily lives of residents," he said in a statement.
The collaboration is part of a partnership between the Curiosity Lab at Peachtree Corners and the Infrastructure Automotive Technology Laboratory to accelerate the development and deployment of connected vehicle safety applications and transportation infrastructure technologies.
The two organizations, along with development partners such as T-Mobile, will share assets and facilities on projects involving automakers and technology innovators to develop and rapidly mainstream new safety systems for mobility. The partners will also promote the region as a hub for connected vehicle innovation and work to attract future development and early deployment to the area.

Peachtree Corners Takes Down 'Street Takeover'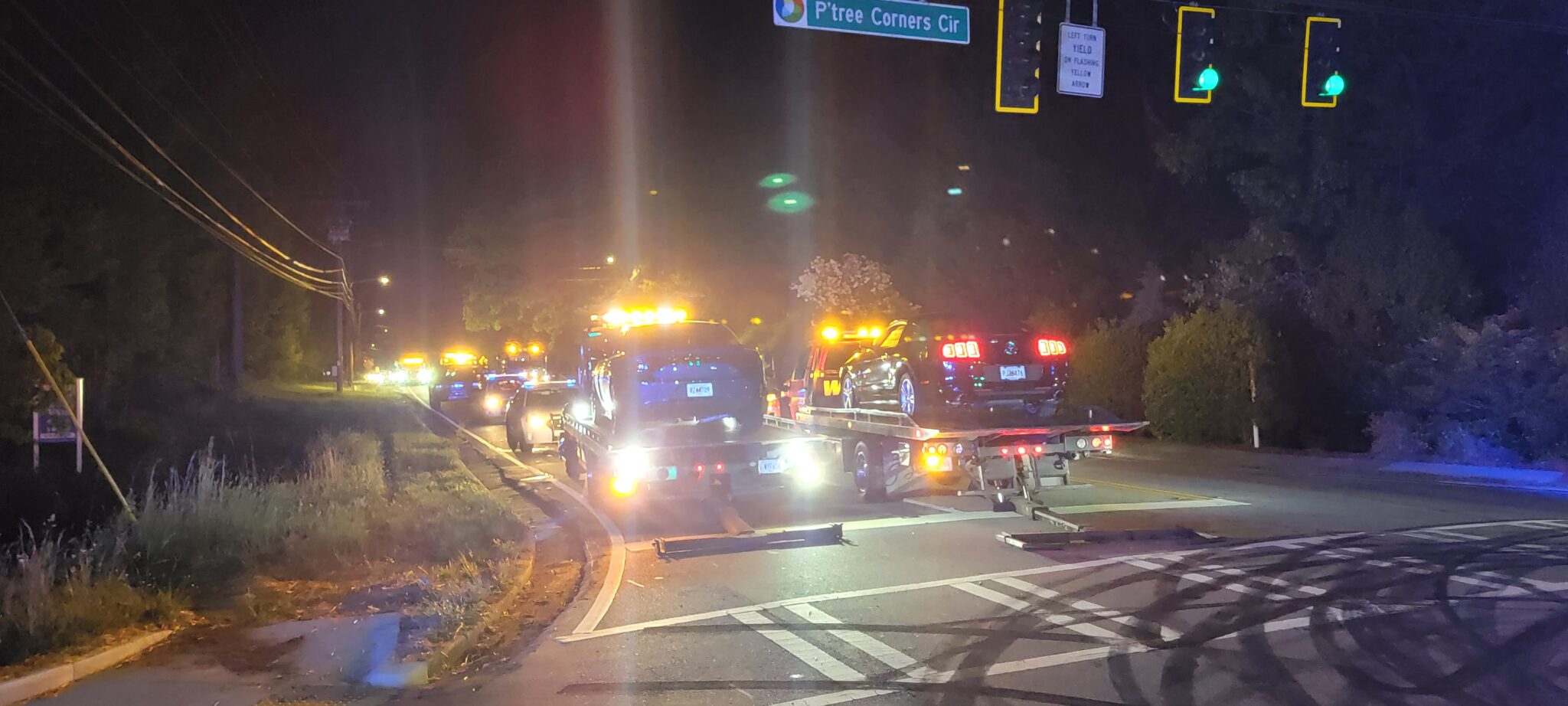 Coordinated efforts by several local law enforcement agencies sent a message that mayhem won't be tolerated here.
Anyone who's been caught in the mayhem of an illegal street takeover can attest that the speed of the cars, the noise, smoke and adrenaline of the crowd can make a ten-minute occurrence feel like a nightmare. An unsuspecting motorist recalled her encounter with a street takeover around 7:30 p.m. on Easter (April 17) at a busy Peachtree Corners intersection.
"We had an unfortunate front-row seat to some sort of very carefully planned event that took place in the intersection of Peachtree Parkway and East Jones Bridge/Medlock Bridge," she wrote on Nextdoor.
She described how about 75 cars stopped traffic both ways on 141 (Peachtree Parkway). The license plates were taped over to avoid identification by the city's newly installed plate readers. They took turns doing "donuts" and other crazy stunts. Tires were squealing and sparks were flying. There was a good deal of smoke as well. They also set off fireworks adding to the chaos.
It was a spontaneous event, the Nextdoor poster recalled, it appeared to be very well planned. There were also people in cars taking videos. One couple was standing on top of their car.
"Honestly it was terrifying to me. I was unable to get out of the area but I did back up a bit to put some distance between us and the action. I was in the turn lane trying to go left on E Jones when the light turned red and I stopped right where it was all going on," she wrote.
When a lone police car showed up, the group started to break up and go their separate ways. The poster was able to continue to her destination, but not before being shaken up and scared for her safety.
"The possibility of injury or death was real. Kids (teens or young adults) were hanging out of the windows of the cars which were going crazy fast. Kids were all over the area where the stunts were taking place. Of course, all the people like us who were caught in the incident were in danger of being hit as well," she added.
This type of scenario isn't unusual and law enforcement officials across the country are concerned that as spring stretches into summer, there will be more of these incidents.
Recently, an effort among several Gwinnett County agencies thwarted a large takeover on Sunday, May 1 which resulted in 88 arrests. Responding to the intersection of Peachtree Corners Circle and Spalding Drive, officers blocked 26 vehicles. Gwinnett County Police and officers from nearby Norcross and Lilburn as well as off-duty officers from surrounding areas were on hand to lend assistance.
When the smoke cleared, 68 adults and 20 juveniles were taken into custody. The cars were impounded and five handguns were found. Nobody was hurt, but a pizza delivery driver who got caught in the middle of the madness had his car's windows broken.
"This exceptional response and coordination amongst numerous agencies achieved incredible results. The Gwinnett Police Department recognizes the hazard these illegal street racing activities pose to the motoring and pedestrian public," the police department said in a release. "These dangerous and reckless activities will not be tolerated. We are committed to keeping the streets of Gwinnett County safe for all residents and visitors."
City of Peachtree Corners officials echo that sentiment and vowed to keep the streets safe.
Although often referred to as "street racing," there's very little actual racing involved, Peachtree Corners City Manager Brian Johnson said during a podcast of "Peachtree Corners Life," a product of Peachtree Corners Magazine.
"As a reminder for those who don't understand … what we're talking about these [are] really intersection takeovers. … There is a degree of street racing in it. Not necessarily like two cars racing each other like Fast and Furious but street racing that cars [are] doing aggressive driving in the interest of sensationalism," said Johnson.
He said besides doing it for the thrill, these "car clubs" create videos and post them on YouTube.
"The more outrageous the event is, the more views they get. The more views they get, the more money they get from ad revenue. And the more money they get, the more they can pimp their cars," Johnson said. "They will take over an intersection by basically timing when they all hit usually wide, four-way signalized intersections because they need a lot of real estate in the middle and they all will have cars that stop at the light."
The lead drivers will go into the middle of the intersections and do outrageous stuff. They do drifting circles, donuts and all sorts of dangerous tricks. These aren't trained stunt drivers and they could easily lose control of the car. And as the Nextdoor poster described, the perpetrators often try to make the spectacle flashier with fireworks and sometimes shooting guns.
Although it isn't unique to Peachtree Corners or even the state of Georgia, they happen all over the country. He went on to vow that the city along with law enforcement won't tolerate the activity here.
After the Easter incident, Johnson had a conversation with Gwinnett County Police Major Edward Restrepo, who is the precinct commander of the West Precinct. Officers that patrol Peachtree Corners are out of that precinct. Johnson and Restrepo talked about putting an end to the street takeovers.
"You can imagine that this is a very resource-intensive thing to stop," Johnson said. "If you remove the … discharging of a firearm component, these are … misdemeanors only."
And when the participants flee, there is a county-wide policy against the pursuit of drivers that are not in the commission of an active felony or violent crime. So when officers show up, everyone gets away. Oftentimes there's a scout further down the road that radios the group that the police are coming.
The two men identified a few locations where they put high-definition video cameras. The trap was set. Then early Sunday morning at approximately 4:49 a.m. Gwinnett County communications received a call referencing street racing activities occurring around Peachtree Corners Circle and Spalding Drive. West Precinct officers responded in a coordinated approach from different areas to the intersection. They put down spike strips to impede drivers from getting away.
Although the crimes won't merit huge fines or lengthy jail time, Johnson said he hopes it sends a message that Peachtree Corners is serious about keeping people safe.
"A couple of months ago … there was the sense that there's really nothing you can do because it's a misdemeanor [and] the policy is not chasing after misdemeanors," said Johnson. "It was just one too many times."
Johnson added that he hopes the fines and impound fees will be enough of a deterrent to keep the street takeovers out of Peachtree Corners.
Anyone who has information about these incidents or any other crime is asked to call detectives at 770-513-5300 or Crime Stoppers, which lets tipsters remain anonymous, at 404-577-8477. More information is available at stopcrimeATL.com. There is a cash reward offered by Crime Stoppers for information that leads to an arrest and indictment.

Bourdeaux Brings Big Check To Peachtree Corners Mobility Hub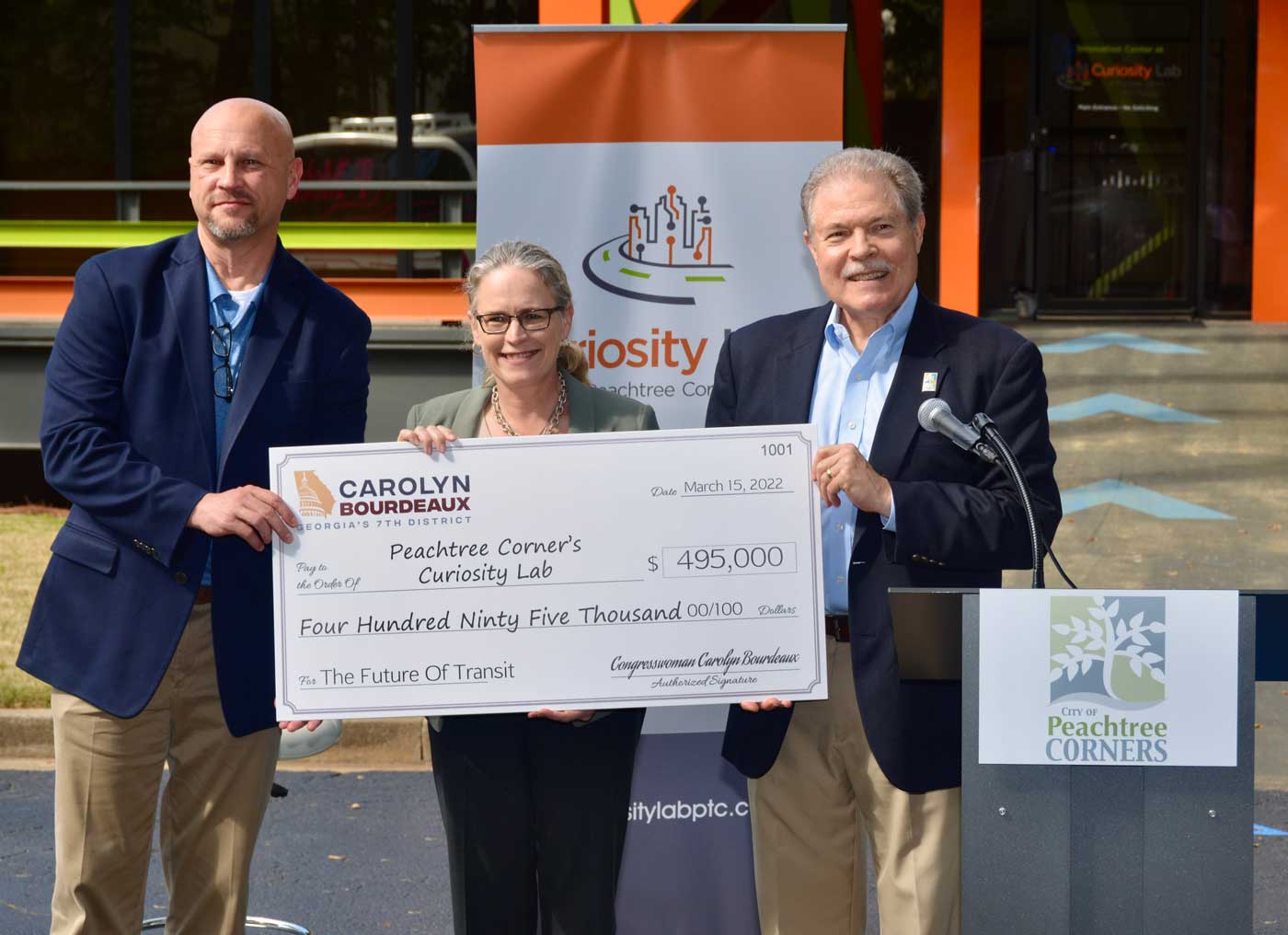 Federal funds will help further establish the city a leader in the smart city space.
There aren't many of us who can write a check for nearly half a million dollars, but Rep. Carolyn Bourdeaux came to Peachtree Corners Curiosity Lab on May 3 to do just that. Even though it wasn't from her personal bank account, she worked hard for more than a year to ensure that the people in Georgia's 7th Congressional District got the funding to continue developing the smart technology that has put it on the map.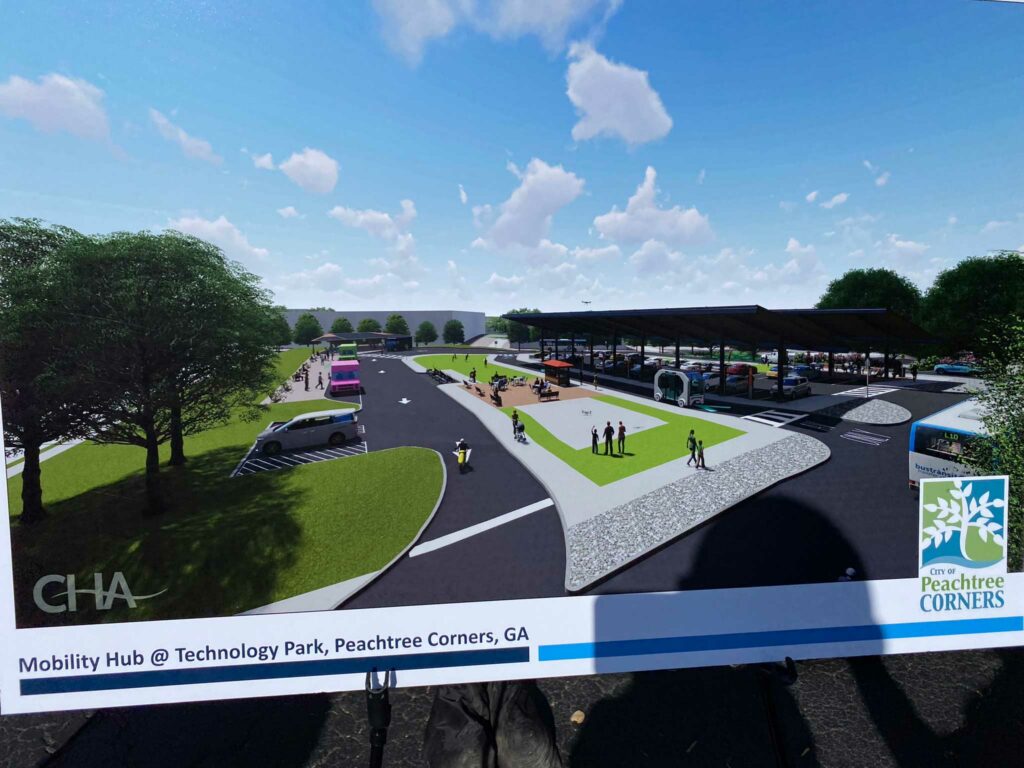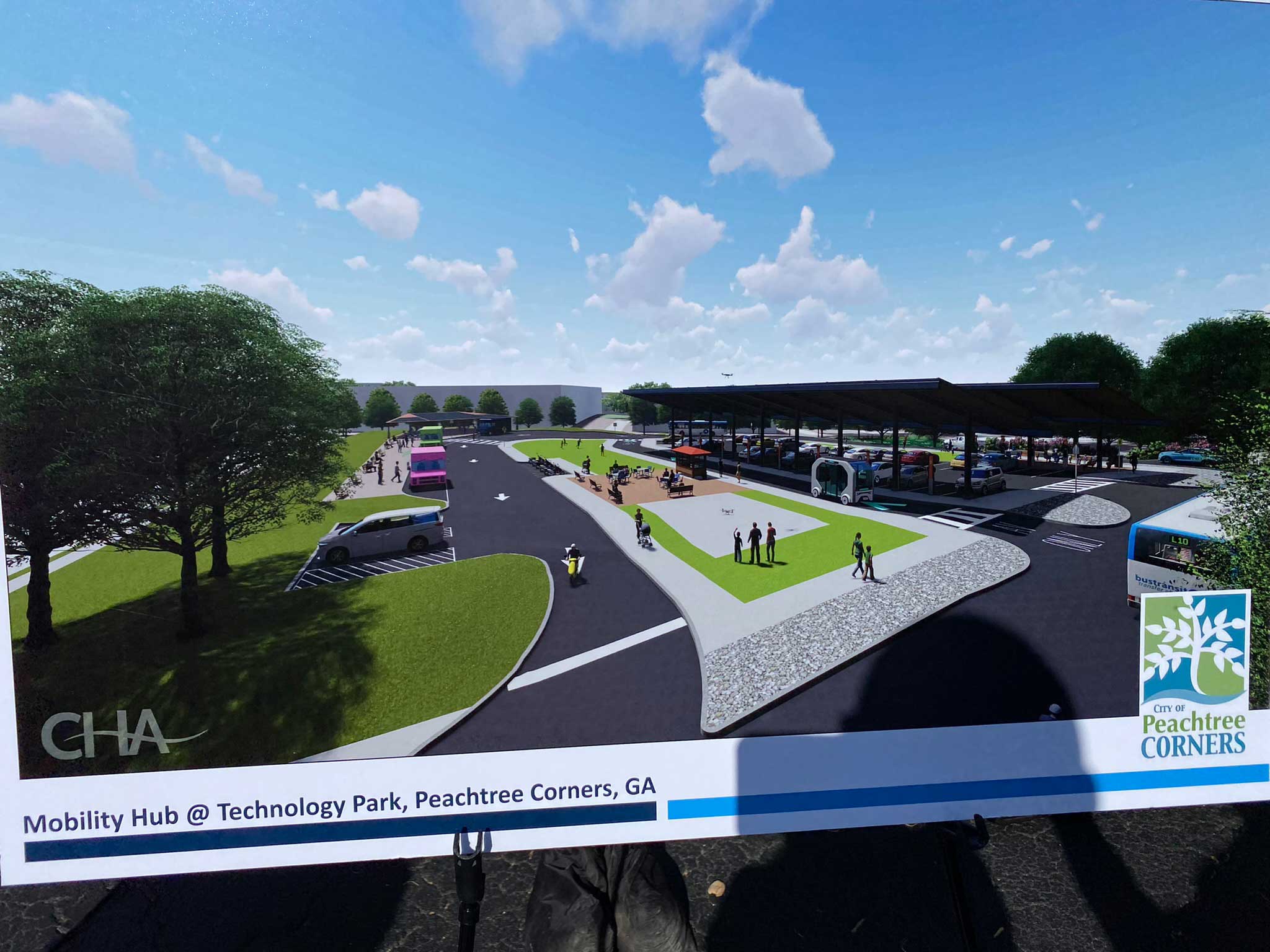 In spring of 2021, Bourdeaux submitted 10 funding requests for important community projects to the House Appropriations Committee. The recently passed Consolidated Appropriations Act of 2022 includes funding for all 10 of her community projects, including $495,000 for Peachtree Corners' Curiosity Lab Mobility Hub. This funding will allow the tech companies housed there to continue their work on improving community transit options to better accommodate autonomous vehicles, drones and other clean-energy vehicles.
"I am honored to be able to present Peachtree Corners' Curiosity Lab with almost half a million dollars to improve this mobility hub that they are developing. We want to do this because we really need to innovate around transportation. And we need to innovate in ways that promote the green economy," she said. "And it's important that our community be on the forefront of this."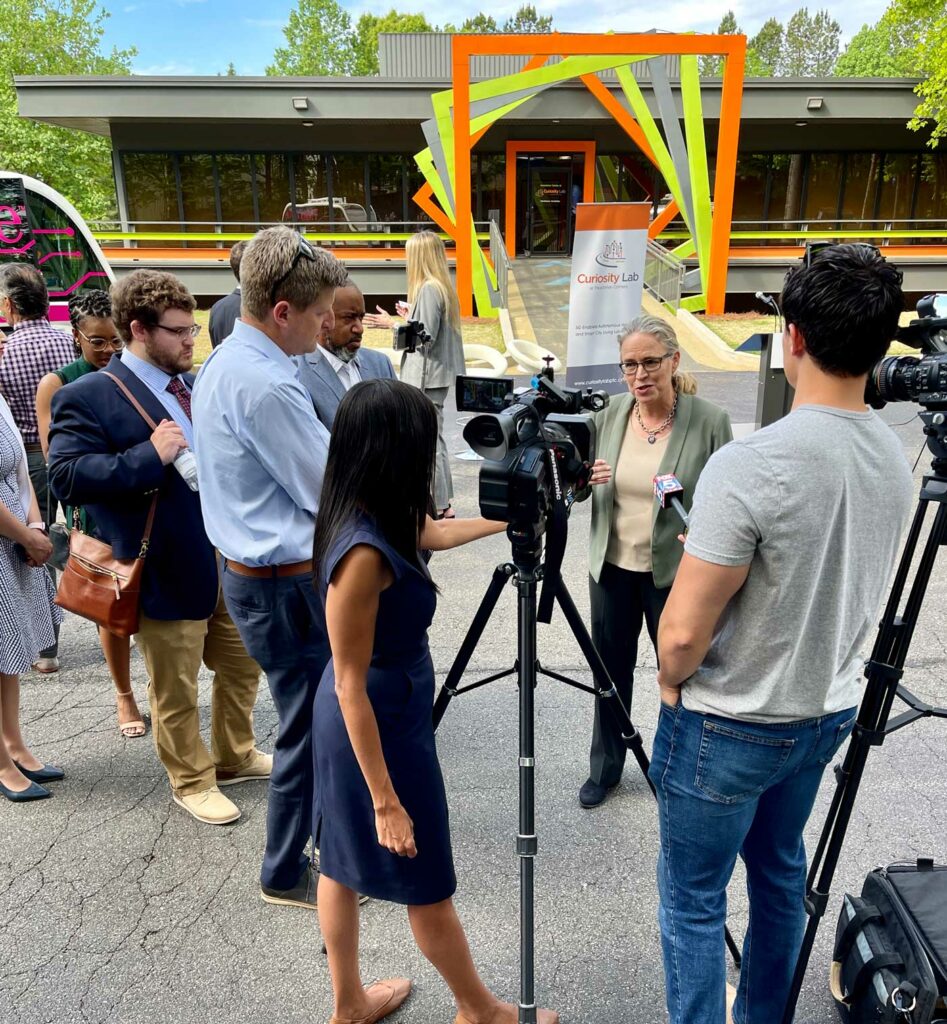 Bourdeaux pointed out that this funding will be used for sitework and furniture furnishings, as well as providing docking and refueling stations for solar electric power and other alternative energy vehicles. With these federal dollars, the innovators at Curiosity Lab will help accommodate mass transportation while integrating bicycle and pedestrian access.
The technology isn't just cool space-age gadgetry. It's a solution for cost-effective last mile connectivity for low-income individuals who may need to ride public transit and have been paying a higher rate than others. It can be an equalizer for the have-nots to become closer on par with the haves.
Peachtree Corners City Manager Brian Johnson agreed that federal support is paramount in this type of undertaking.
"These kinds of things only happen when you do have the support all the way up to the federal government," he said. "Some of this stuff like autonomous vehicles, which are regulated by the National Highway Transportation Safety Administration, and drones, which are regulated by the FAA, fall under the U.S. Transportation Secretary."
Johnson added that at the insistence of Bourdeaux, U.S. Secretary of Transportation Pete Buttigieg personally visited the Peachtree Corners facility to gain first-hand knowledge of what's possible.
"There is a rendering of a property that again is only a couple 100 yards up the road on our track and it is going to create an electric vehicle multimodal facility," Johnson said. "So, all things electric vehicle are going to come together at this one location thanks to these resources that the congresswoman helped us get."
What was once only a dream — and a prototype — is already functioning here. Everything from electric buses and autonomous vehicles fast electric vehicle charging stations to electric bikes and scooters are all coming together at one location to help with mobility in a more sustainable, environmentally friendly way.
Bourdeaux is proud of what's happening locally, not only for what it's doing to further the community, but also for how it can affect the entire world.
"Just this morning, my sister texted me that in India and Pakistan there are parts of those countries that are 120 degrees. Right now. That's not survivable for human beings over a long period of time; we really do face this threat of climate change," she said. "So, we need to get out there and innovate in these kinds of ways that promote that green technology. And by doing that, by doing good things like that, our economy will also flourish."

Peachtree Corners Reports Public Works Project Roundup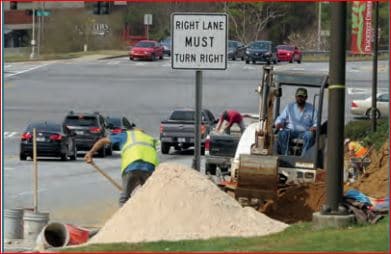 Major construction of sidewalks, road improvements, city enhancements set for completion by year's end.
In the overview of the FY 2022 Budget, the city of Peachtree Corners outlined a mission to create, enhance, and maintain the city infrastructure.
"For the past seven years, the City Council has been persistent in its focus on providing the resources and support to address our infrastructure needs from paving and sidewalks to the addition of stormwater. The continues the aggressive progress on the capital paving plan along with significant investments into sidewalk improvements and will continue the implementation of the stormwater capital improvement plan," it stated.
Recently, the city made good on this promise by providing an update on several specific activities that support the spending of $2 million for paving of city roads, $1 million for improvements and maintenance to the stormwater drainage system, and $950,000 in new sidewalks and streetlights.
Gunnin Road Sidewalks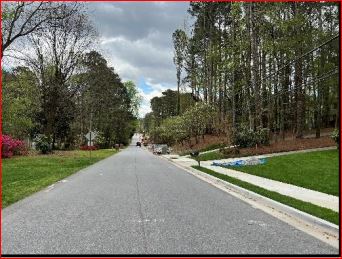 The project includes adding sidewalks on the west side of Gunnin Road from Spalding Drive to Willbanks Drive.
The Peachtree Corners City Council approved a contract a year ago for the city's 2020 Local Maintenance and Improvement Grant and Special Local Option Sales Tax sidewalk program for sidewalks on Gunnin Road. Council awarded a $723,388 contract with Construction 57 Inc. The 2020 Local Maintenance and Improvement Grant from the Georgia Department of Transportation paid $421,439.56 of that total. The project includes constructing concrete sidewalk, curb and gutter, storm drainage improvements, retaining walls, and grading.
Like many construction projects around the county, it has been delayed due to supply shortages, construction schedules, and the impact of COVID.
City officials anticipate a new completion date sometime this spring.
Local Maintenance and Improvement Grant Sidewalk Program
Sidewalk installation has begun on the east side of Jones Mill Road from Green Pointe Parkway to Peachtree Corners Circle, both sides of Peachtree Corners Circle from Peachtree Industrial Blvd to Jones Mill Spur and Engineering Drive from SR 141 to the next driveway. This sets up for a future trail opportunity. The project also includes a speed table on Town Center Boulevard. The budgeted cost for expenditures this year are $700,000.
When all 11 originally approved sidewalk projects are complete, they will add nearly 32,000 feet of sidewalks to Peachtree Corners streets. The original plan from 2017 included:
• Corners Parkway
• Crooked Creek Road
• Frank Neely Road
• Holcomb Bridge Road
• Jay Bird Alley
• Peachtree Corners Circle multiuse trail
• Peachtree Corners Circle
• Spalding Drive
• Technology Parkway
• Technology Parkway South
• Winters Chapel Road
In addition to installing sidewalks, two pedestrian crosswalks with rapid flashing beacons were also part of the 2017 plan. The project is near completion and should be finished by this spring.
Bush Road and Medlock Bridge Road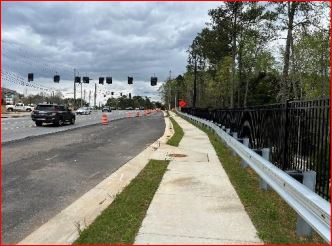 The intersection improvement project at Bush Road and Medlock Bridge Road adds an extra through lane on Medlock Bridge Road and an additional slip lane from Bush Road onto SR 141/Peachtree Parkway. It comes with a price tag of $1.2 million from the FY 2022 budget.
This project includes:
Two lanes added to northbound Medlock Bridge Road to accommodate a left turn lane
Through lane leading to SR 141 South
Through lane to East Jones Bridge Road
Through and right turn lane leading to both Bush Road and the slip ramp leading to North SR 141
Second right turn lane added to Bush Road that leads directly to the SR 141 slip ramp
New traffic signal installed to aid in the operation of these new lanes
Widening and traffic signal on Medlock Bridge Road and Bush Road
In addition, this project also includes a new concrete sidewalk, island, curb and gutter, asphalt paving, drainage improvements, modular block retaining wall, overhead signs, ornamental fence and ornamental trees.
Although most of the work is completed, there are still several remaining components to finish:
Overhead utility relocation
Traffic signal installation
SR 141 slip lane construction
Concrete island and ADA ramp construction
Final asphalt layer installation
Guardrail, sod, decorative trees, ornamental fence, signing and marking
Remaining Schedule/Milestones (estimated):
Georgia Power to set three joint-use poles and five utility poles – Mid December 2021
Traffic Signal Installation
Overhead facilities relocated to new poles by Georgia Power, Comcast, AT&T, Zayo – February 2022
Existing pole removal by Georgia Power
Guardrail, signs, fencing, trees, filling gaps in sidewalk, curb and gutter, sod, final asphalt paving and striping
Even though the list appears to be daunting, the project has an anticipated completion date for this summer.
Town Center Corners Connector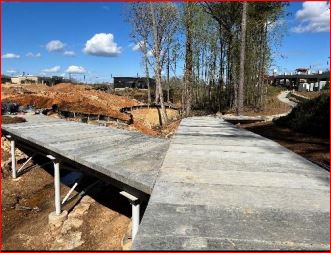 The FY 2022 Budget includes funding to complete two segments of Corners Connector, the multi-use trail system. The Town Center segment will connect Peachtree Parkway and Peachtree Corners Circle and provide a pedestrian link from both roadways to the Town Green. The FY 2022 Budget also includes funding to complete the planning and engineering for two additional segments of the Corners Connector: Crooked Creek Trail and Engineering Trail.
Although construction is still ongoing, it is scheduled for completion this summer.
Bankers Industrial Bioretention and Stormwater Installation
The project will install 10 linear bioretention cells/bioswales totaling up to 13,00 square feet along Bankers Industrial Drive.
Although several stormwater systems within city limits are maintained by the state or the county, the city of Peachtree Corners is tasked with maintain the stormwater drainage system within the city's right of way and stormwater pipe systems in residential subdivisions with recorded drainage easements dedicated to the city that are attached to the right of way.
The city accepting a bid proposal in March and the project is currently under utility relocation. The contractor will start immediately upon completion. The project is set to be completed this summer.
Town Center Enhancements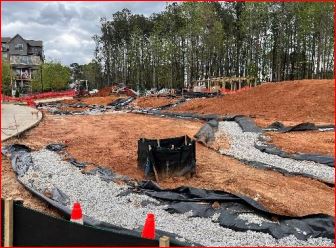 Construction is underway for a new playground at Town Center including walls, sidewalks and shade structures. So far, drainage lines have been installed and grading is ongoing. Soil testing for the playground foundation is also underway.
The project is scheduled for completion this summer.
Spalding Drive Widening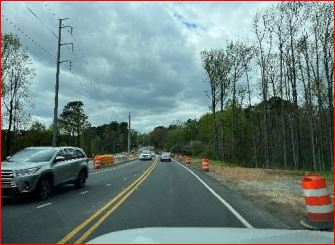 Spalding Drive is set for widening from Winters Chapel Road to Holcomb Bridge Road. The project also includes the widening of the bridge over Crooked Creek.
"If you've ever driven on Spalding Drive between Winters Chapel Road and Holcomb Bridge Road during rush hour, you've probably experienced significant delays and extended wait times, said Councilmember Phil Sadd in advance of a Town Hall meeting addressing city improvements. "At the town hall meeting, we will provide an overview of the Spalding Drive project and explain how it will help improve traffic flow and increase pedestrian safety."
This year's budget included $900,000 from the city to be paired with planned GDOT improvements to the intersection of Spalding Drive and SR 140.
Construction is underway but it had a slight delay in April 2021. The issues were resolved in June 2021 and construction is ongoing. Completion is scheduled for this fall.
East Jones Bridge Riverlands Trail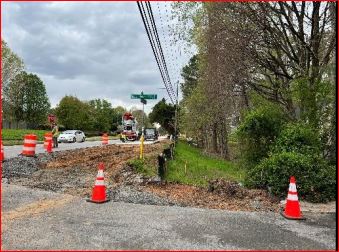 As part of the city's continued commitment to the expansion of the Corners Connector Trail System, the East Jones Bridge Road Multi-Use Trail Project is now underway.
This project consists of approximately 1.65 miles of 12-foot-wide concrete multi-use trail connecting SR 141/Peachtree Parkway to Jones Bridge Park. Construction began at SR 141 and continues north until completion at Jones Bridge Park. Some adjustments and stormwater revisions had to be located near Broadgreen.
The scheduled completion date is sometime this fall.