Norcross High Cheerleader Doesn't Let Obstacles Stand in her Way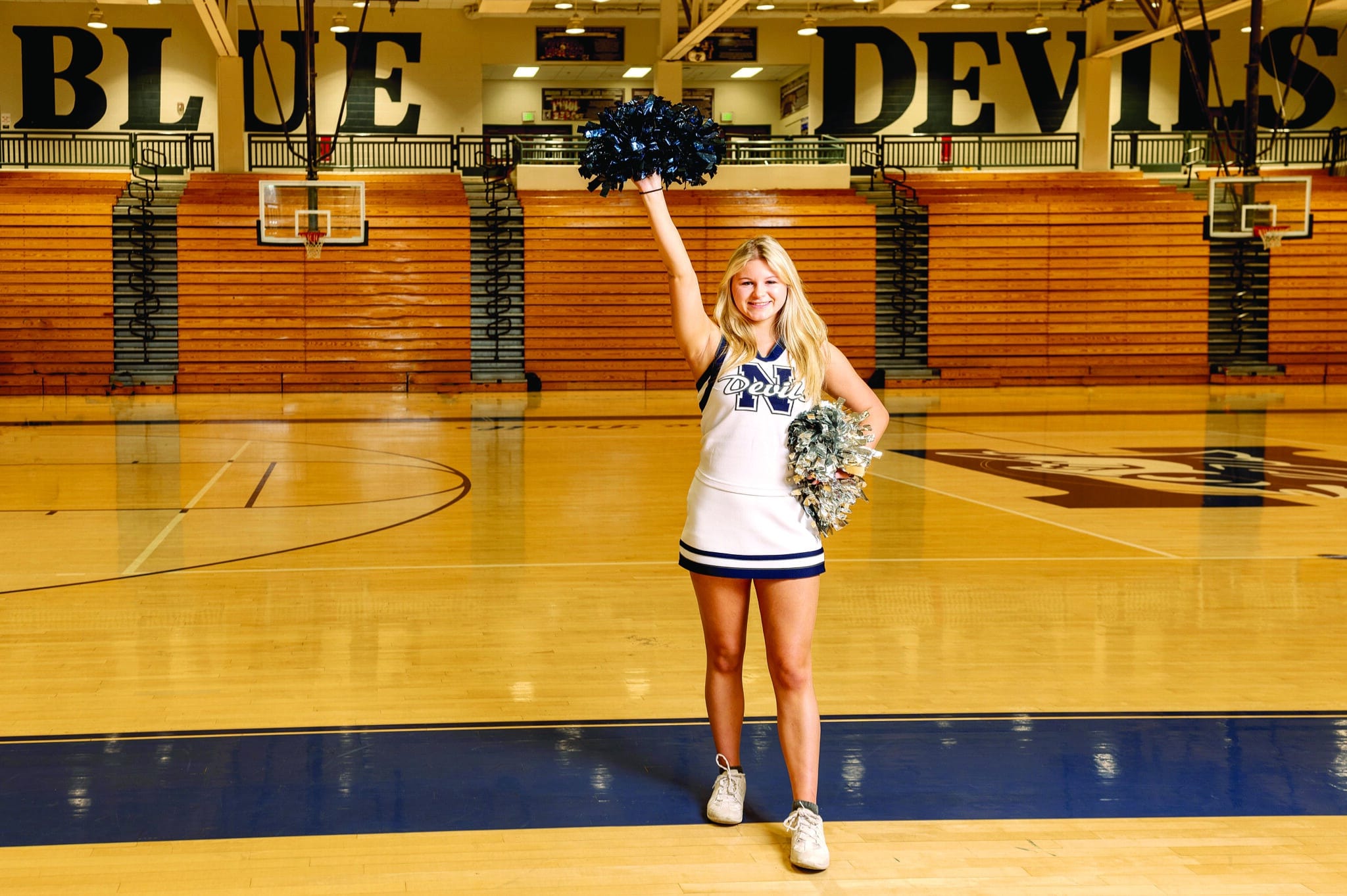 A Q&A with Norcross High School Cheerleader Cameron Syprett
Cameron Syprett is a senior cheerleader at Norcross High School (NHS) who has spent most of her life managing Type 1 diabetes. Peachtree Corners Magazine caught up with her about overcoming that challenge as a cheerleader and her aspirations of going to law school and becoming an attorney.
PCM: How did you get into cheerleading?
Cameron: I always really liked being on stage and stuff, so I started with competition cheerleading and switched over to sideline when I got into middle school. I was 10 when I first started.
PCM: Have you done any other sports?
Cameron: Just cheerleading at Norcross. I've done a little bit of soccer when I was younger.
PCM: What are some obstacles or challenges you've encountered since you started cheerleading?
Cameron: I'm a Type 1 diabetic. I was diagnosed with that when I was 8 years old. Cheerleading is one of those sports where you're out there the whole time, and there was one time at a game when my blood sugar went really low and I went to sit down and I didn't have anything on me. My friend up in the stands had to go run and find a snack and bring it to me. With cheerleading, it's super important that I'm checking my blood sugar and getting insulin. If my blood sugar is too high, I could get delirious, and if it goes too low, I could pass out, so that's definitely an obstacle when it comes to cheerleading. I always have insulin on me. I always have a glucose monitor and try to keep snacks on me in case my blood sugar goes low, but having that insulin on me is the most important thing.
[Cheerleading is] such a great program to get involved in. All the coaches are
amazing. It's so amazing to be a part of
the team like that. All the girls are so
supportive, and I've made some of
my best friends from cheer.

Cameron Syprett
PCM: Do you have to be on a strict diet?
Cameron: It doesn't affect it a lot. For the most part, I can eat anything I want as long as I get insulin for it.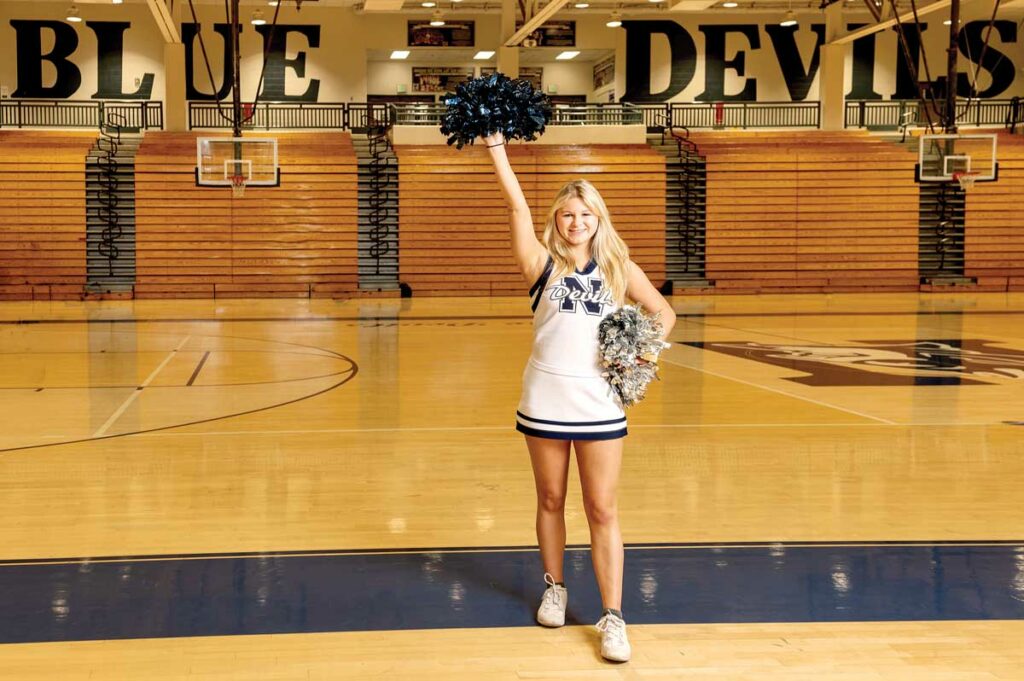 PCM: What are the best memories you'll take away from your time at NHS?
Cameron: Honestly, this team is so amazing. Our coach, Chandler
Williams, she was new this year, she's one of the most amazing people and just having her as a coach was such a great experience. One of the most fun experiences we had was this year we had to travel to Lowndes for a game. It was a four-hour bus ride there and four hours back, and we lost the game, but being able to spend that time with my teammates was really fun.
PCM: What do college plans look like for you?
Cameron: I'm definitely going to a bigger Division I school. Florida is definitely a top choice, one of my favorites. I'm waiting to hear back from them, and I've gotten into some other places I'm definitely considering. I'm not planning on cheering in college. I'd love to be able to cheer in college, but I want to go to a DI school and that just wouldn't be an option.
PCM: Any career fields that you're interested in?
Cameron: I really love medicine and I really love law, so I would love to do something that combines the two, maybe doing medical malpractice law or something.
PCM: What made you interested in that field?
Cameron: Both my grandparents were lawyers, and I've always loved the idea of just being able to help out people. It's just always been right in my mind, being a lawyer, something I've always been drawn to.
PCM: What does a typical day look like for you?
Cameron: I have four [International Baccalaureate Diploma Programme] classes at school and I do work-based learning, so after fourth period, I get to work. I work at Planet Smoothie Peachtree Corners, so during cheer season I would work till about 2:30 and then go to practice, but now I just work later or work a closing shift and then after that, it's homework and time with family, all that stuff.
PCM: What are your favorite subjects?
Cameron: I really like math and science. I really enjoy biology and chemistry. Right now, I really like my calculus class, and I love history as well.
PCM: When you get some free time, how do you like to unwind?
Cameron: I love hanging out with my friends, watching movies with my dad — that's how we bond; me and my mom work out together — just spending time with my family and my dog.
PCM: Any favorite movies or books?
Cameron: Right now, I'm really loving the Marvel series. I'm trying to watch them all in chronological order. Anything my dad likes to watch, I watch it with him, so a lot of action movies and stuff like that.
PCM: What are your favorite foods?
Cameron: I love Greek food. I did a mission trip there when I was a freshman. The cuisine they have there is absolutely amazing. They have the best food. I also love Italian food and sushi.
PCM: What's something about you that most people don't know?
Cameron: I'd say my Type 1 diabetes. I don't talk about it a ton. Only my close friends know about it. It's something you can't see on the outside, so people don't really know about it until you tell them, so a lot of people don't understand the mental and emotional stuff that goes into it. They just think you prick your finger and get shots, but it's a lot more than that.
PCM: How so?
Cameron: It can just be mentally draining because you're constantly having to check your blood sugar and you're constantly seeing these numbers that are good or bad. It can take a toll on you. With diabetes comes other symptoms that can be life threatening, so you constantly have your life in your hands and you're having to manage it by yourself.
PCM: What advice would you give to younger girls considering cheerleading?
Cameron: I would say 100% do it, even if you don't have any experience. It's such a great program to get involved in. All the coaches are amazing. It's so amazing to be a part of the team like that. All the girls are so supportive, and I've made some of my best friends from cheer. It goes by so fast; you just have to enjoy it.

Norcross High School Student Lisa Van Ness named a National Merit Scholarship Semifinalist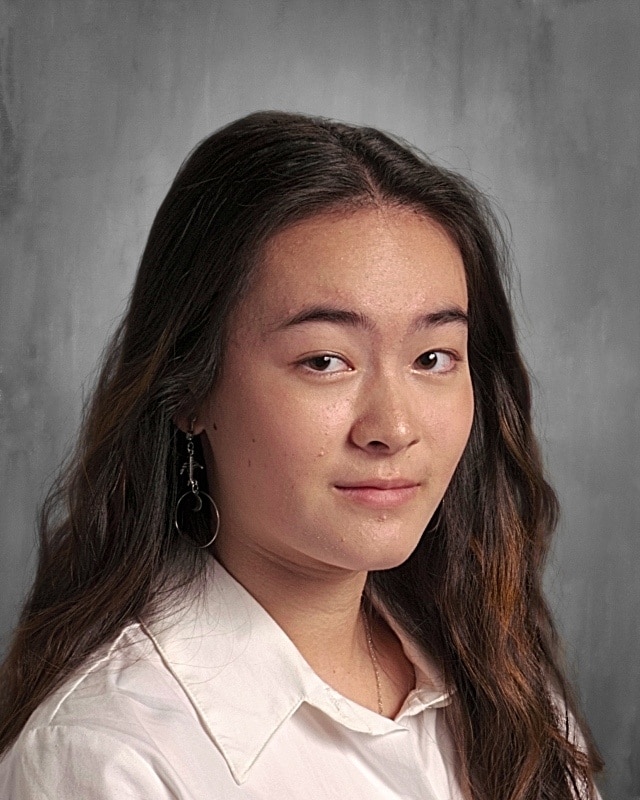 Officials from the National Merit Scholarship Corporation announced the names of 56 Gwinnett County Public Schools (GCPS) semifinalists considered for the 69th annual National Merit Scholarship Program.
One of these semifinalists is Lisa Van Ness, a senior at Norcross High School. Van Ness excels in all academic areas but really enjoys her STEM classes. 
Besides her success in the classroom, Van Ness is a member of the school's color guard for the marching band and has spent three years on the cheer team.
She is also an accomplished pianist and enjoys dancing, reading and baking in her free time.
Over 1.3 million juniors from 21,000 high schools entered the 2024 National Merit Scholarship Program by taking the 2022 Preliminary SAT/National Merit Scholarship Qualifying Test.
Van Ness is among 16,000 semifinalists from across the nation competing for National Merit Scholarships worth almost $28 million and offered next spring.
To become a finalist, the semifinalist and the high school must submit a detailed scholarship application.
They must provide information about the semifinalist's academic record, participation in school and community activities, demonstrated leadership abilities, employment, honors and awards.
A semifinalist must have an outstanding academic record throughout high school, a recommendation by a high school official, write an essay and earn SAT scores that confirm the student's earlier performance on the qualifying test.
National Merit Scholarship winners of 2024 will be announced in four nationwide news releases beginning in April and concluding in July 2024.

Mayor Mason Visits BIA Charter School for Mayor's Reading Program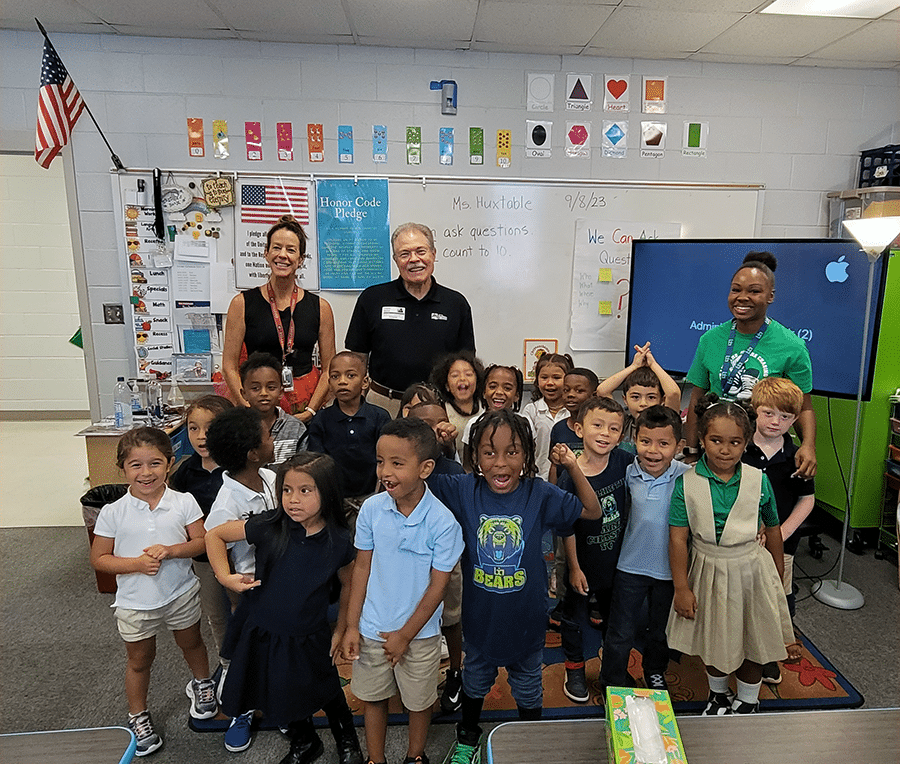 On Friday, September 8, Peachtree Corners Mayor Mike Mason visited the BIA Charter School to read to the kindergarten class of Meredith Huxtable.
The mayor visited BIA as part of the Mayor's Reading Club. Launched in August, the program is designed to support literacy skills and early reading success for children in Georgia cities.
During his visit, the mayor read "Georgia Caroline Visits City Hall," and answered student questions. Following his reading of the book, the mayor took part in an interview conducted by the school's morning news team, that was broadcast to the entire school.
The Mayor's Reading Club was developed by Georgia City Solutions and is designed to foster partnerships between the city, county, local nonprofits, schools, libraries and businesses. Other elected officials, city staff, youth and community members can participate in the program as guest readers.

Four Wesleyan School Faculty Members Named GISA Master Teachers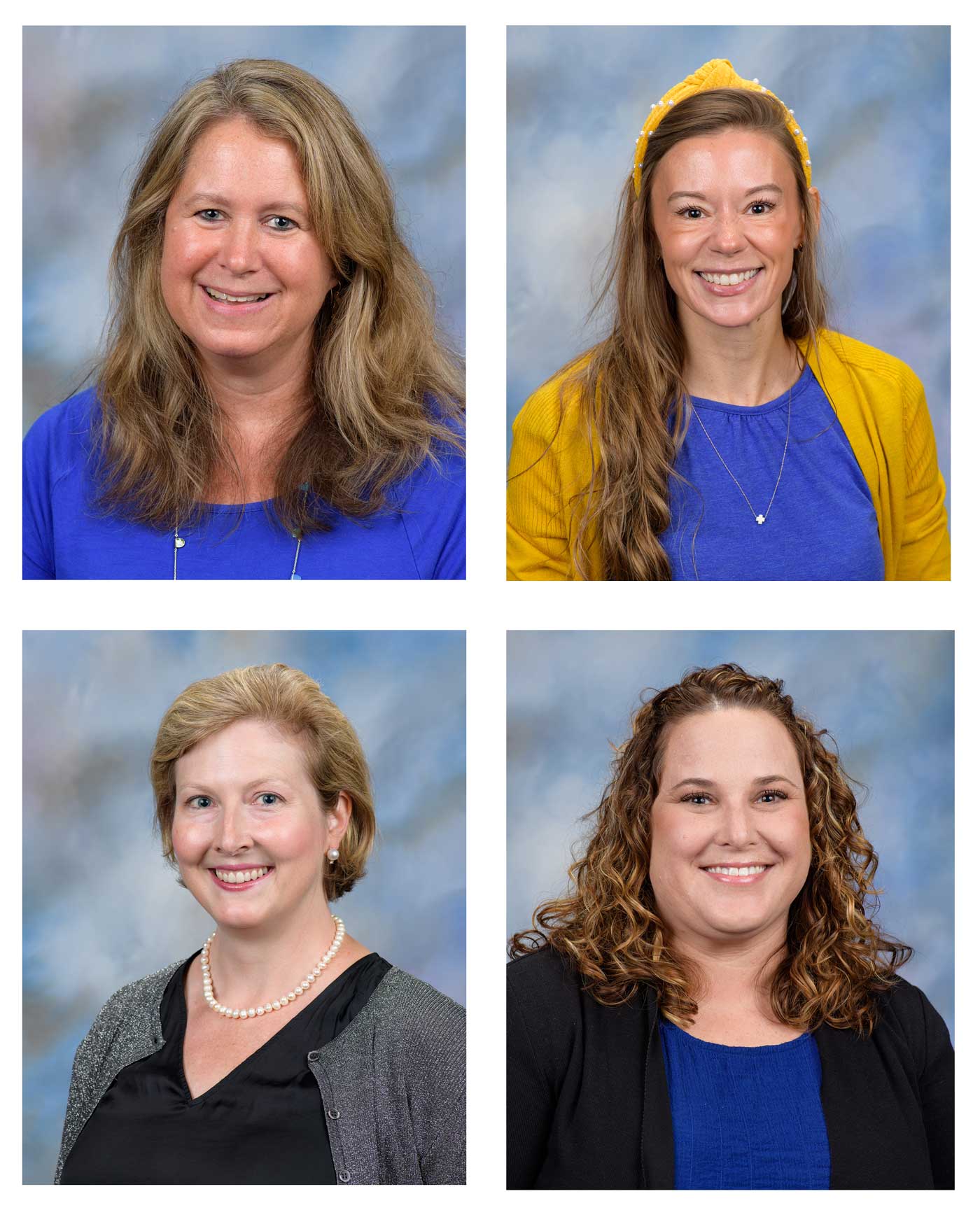 The Georgia Independent School Association (GISA) recently named four Wesleyan School faculty members GISA Master Teachers.

After completing a comprehensive application process through GISA this past spring, the following teachers were honored:
Juliette Ball, lower school lead teacher;
Paige Glass, lower school lead teacher;
Suzanne Ragains, a high school modern and classical languages teacher and
Laura Riester, middle school math teacher.
To be accepted into GISA's Master Teacher program, candidates must submit a portfolio featuring three examples of outstanding work related to the classroom and collaborating with other educators.
The final part of the application is an unedited video of the candidate's classroom teaching as well as five letters of recommendation from colleagues, administrators, parents and students.
"We are delighted that GISA has acknowledged the hard work of these committed educators through the Master Teacher program," said Chris Cleveland, Wesleyan Head of School.
"Juliette, Paige, Suzanne, and Laura are outstanding classroom teachers and have been impacting the lives of Wesleyan students for many years. They are each deserving of this honor."