Norcross High Cheerleader Doesn't Let Obstacles Stand in her Way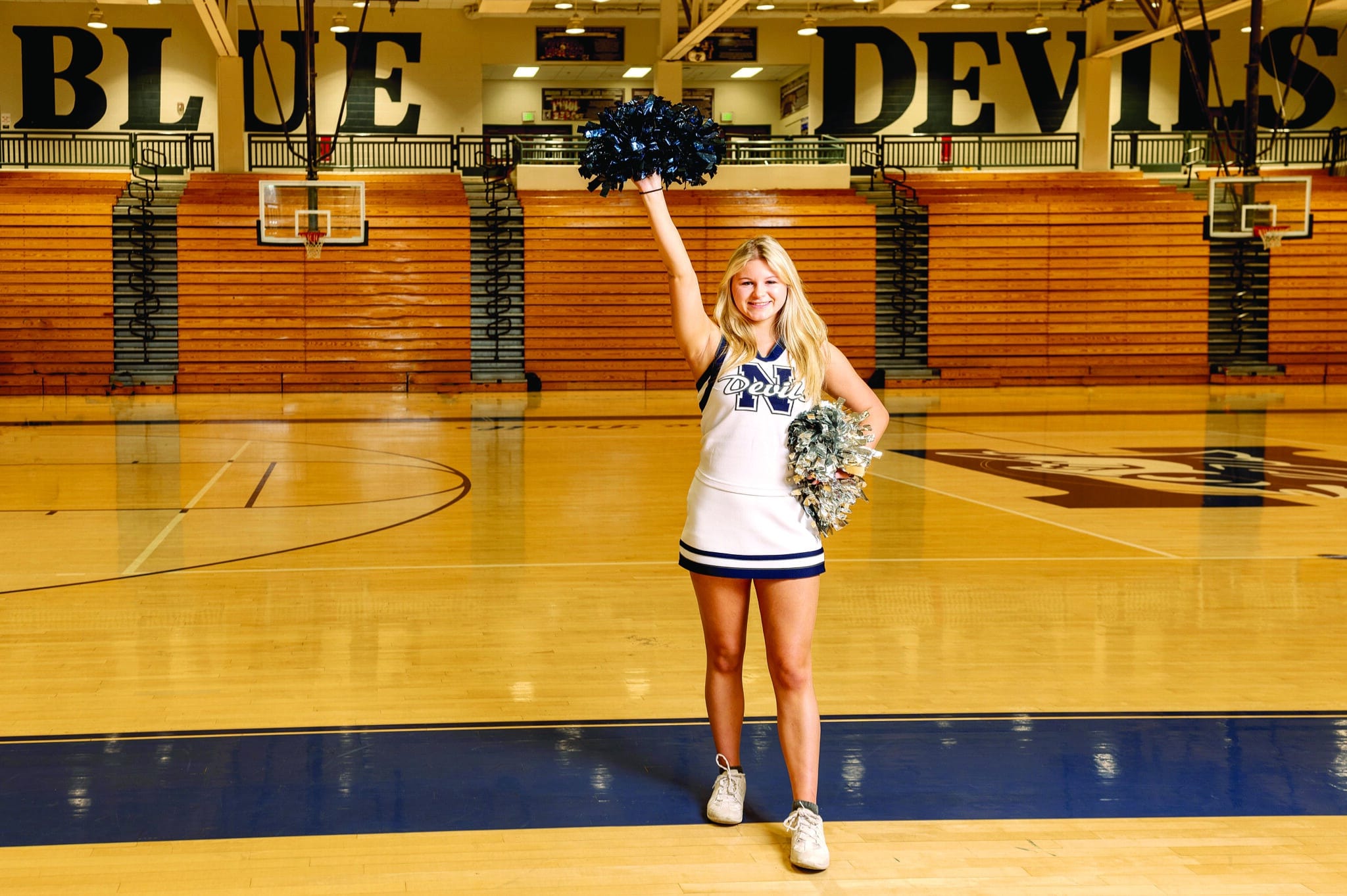 A Q&A with Norcross High School Cheerleader Cameron Syprett
Cameron Syprett is a senior cheerleader at Norcross High School (NHS) who has spent most of her life managing Type 1 diabetes. Peachtree Corners Magazine caught up with her about overcoming that challenge as a cheerleader and her aspirations of going to law school and becoming an attorney.
PCM: How did you get into cheerleading?
Cameron: I always really liked being on stage and stuff, so I started with competition cheerleading and switched over to sideline when I got into middle school. I was 10 when I first started.
PCM: Have you done any other sports?
Cameron: Just cheerleading at Norcross. I've done a little bit of soccer when I was younger.
PCM: What are some obstacles or challenges you've encountered since you started cheerleading?
Cameron: I'm a Type 1 diabetic. I was diagnosed with that when I was 8 years old. Cheerleading is one of those sports where you're out there the whole time, and there was one time at a game when my blood sugar went really low and I went to sit down and I didn't have anything on me. My friend up in the stands had to go run and find a snack and bring it to me. With cheerleading, it's super important that I'm checking my blood sugar and getting insulin. If my blood sugar is too high, I could get delirious, and if it goes too low, I could pass out, so that's definitely an obstacle when it comes to cheerleading. I always have insulin on me. I always have a glucose monitor and try to keep snacks on me in case my blood sugar goes low, but having that insulin on me is the most important thing.
[Cheerleading is] such a great program to get involved in. All the coaches are
amazing. It's so amazing to be a part of
the team like that. All the girls are so
supportive, and I've made some of
my best friends from cheer.

Cameron Syprett
PCM: Do you have to be on a strict diet?
Cameron: It doesn't affect it a lot. For the most part, I can eat anything I want as long as I get insulin for it.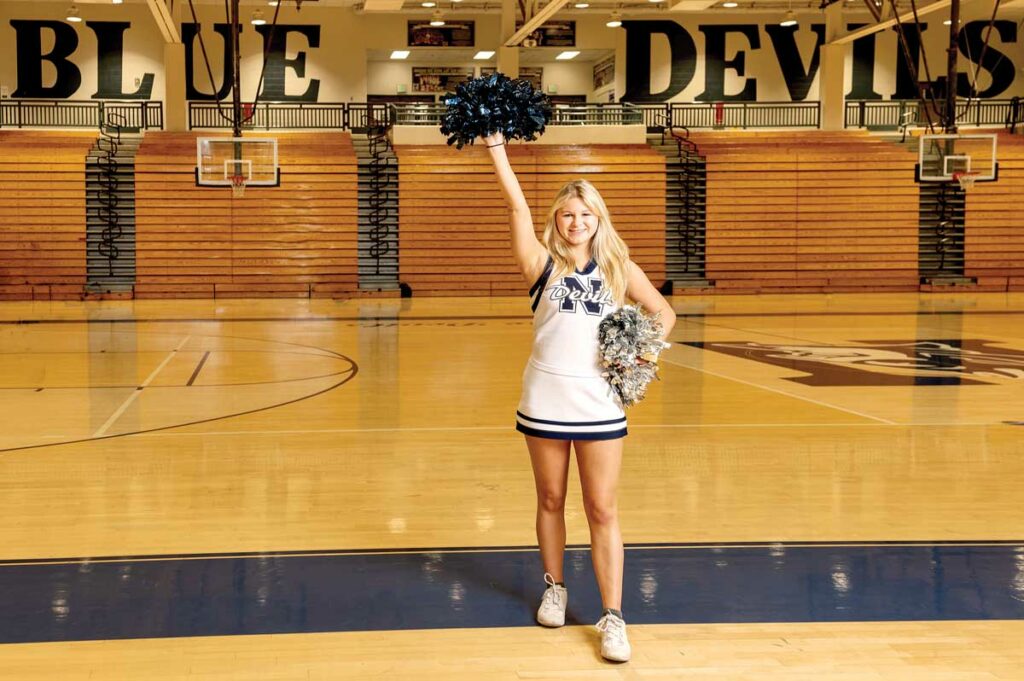 PCM: What are the best memories you'll take away from your time at NHS?
Cameron: Honestly, this team is so amazing. Our coach, Chandler
Williams, she was new this year, she's one of the most amazing people and just having her as a coach was such a great experience. One of the most fun experiences we had was this year we had to travel to Lowndes for a game. It was a four-hour bus ride there and four hours back, and we lost the game, but being able to spend that time with my teammates was really fun.
PCM: What do college plans look like for you?
Cameron: I'm definitely going to a bigger Division I school. Florida is definitely a top choice, one of my favorites. I'm waiting to hear back from them, and I've gotten into some other places I'm definitely considering. I'm not planning on cheering in college. I'd love to be able to cheer in college, but I want to go to a DI school and that just wouldn't be an option.
PCM: Any career fields that you're interested in?
Cameron: I really love medicine and I really love law, so I would love to do something that combines the two, maybe doing medical malpractice law or something.
PCM: What made you interested in that field?
Cameron: Both my grandparents were lawyers, and I've always loved the idea of just being able to help out people. It's just always been right in my mind, being a lawyer, something I've always been drawn to.
PCM: What does a typical day look like for you?
Cameron: I have four [International Baccalaureate Diploma Programme] classes at school and I do work-based learning, so after fourth period, I get to work. I work at Planet Smoothie Peachtree Corners, so during cheer season I would work till about 2:30 and then go to practice, but now I just work later or work a closing shift and then after that, it's homework and time with family, all that stuff.
PCM: What are your favorite subjects?
Cameron: I really like math and science. I really enjoy biology and chemistry. Right now, I really like my calculus class, and I love history as well.
PCM: When you get some free time, how do you like to unwind?
Cameron: I love hanging out with my friends, watching movies with my dad — that's how we bond; me and my mom work out together — just spending time with my family and my dog.
PCM: Any favorite movies or books?
Cameron: Right now, I'm really loving the Marvel series. I'm trying to watch them all in chronological order. Anything my dad likes to watch, I watch it with him, so a lot of action movies and stuff like that.
PCM: What are your favorite foods?
Cameron: I love Greek food. I did a mission trip there when I was a freshman. The cuisine they have there is absolutely amazing. They have the best food. I also love Italian food and sushi.
PCM: What's something about you that most people don't know?
Cameron: I'd say my Type 1 diabetes. I don't talk about it a ton. Only my close friends know about it. It's something you can't see on the outside, so people don't really know about it until you tell them, so a lot of people don't understand the mental and emotional stuff that goes into it. They just think you prick your finger and get shots, but it's a lot more than that.
PCM: How so?
Cameron: It can just be mentally draining because you're constantly having to check your blood sugar and you're constantly seeing these numbers that are good or bad. It can take a toll on you. With diabetes comes other symptoms that can be life threatening, so you constantly have your life in your hands and you're having to manage it by yourself.
PCM: What advice would you give to younger girls considering cheerleading?
Cameron: I would say 100% do it, even if you don't have any experience. It's such a great program to get involved in. All the coaches are amazing. It's so amazing to be a part of the team like that. All the girls are so supportive, and I've made some of my best friends from cheer. It goes by so fast; you just have to enjoy it.
Seven Norcross High School Students Named as National Merit Semifinalists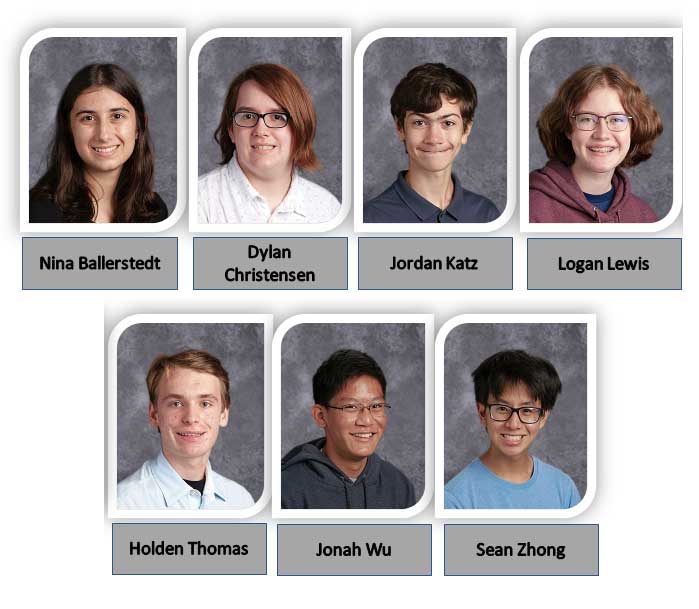 Nina Ballerstedt, Dylan Christensen, Jordan Katz, Logan Lewis, Holden Thomas, Jonah Wu and Sean Zhong — all students at Norcross High School — have been named as Semifinalists for the National Merit Scholarship Program.
The Semifinalists were determined by the students' scores on the 2021 Preliminary SAT/National Merit Scholarship Qualifying Test (PSAT/NMSQT). They are among 16,000 students from across the nation competing for National Merit Scholarships worth nearly $28 million that will be offered next spring.
To become a Finalist, the Semifinalist and the high school must submit a detailed scholarship application, in which they provide information about the Semifinalist's academic record, participation in school and community activities, demonstrated leadership abilities, employment, and honors and awards received. A Semifinalist must have an outstanding academic record throughout high school, be endorsed and recommended by a high school official, write an essay and earn SAT scores that confirm the student's earlier performance on the qualifying test.
National Merit Scholarship winners of 2023 will be announced beginning in April and concluding in July.
Four Wesleyan School Faculty Members Named GISA Master Teachers

The Georgia Independent School Association (GISA) has named four Wesleyan School faculty members GISA Master Teachers, the school announced on September 7. Laura Jensen (lower school lead teacher), Dr. Ruthie Colegrove (middle school fine arts), Pam Sanchez (middle school foreign language), and Ted Russell (high school social sciences) were all selected after completing a detailed application process through GISA this past spring.
From Left to Right: Laura Jensen, Dr. Ruthie Colgrove, Pam Sanchez, Ted Russell
To be accepted into GISA's Master Teacher program, candidates must submit a detailed application.
Applicants must also submit a portfolio of three tangible examples of outstanding work related to the classroom and to sharing and collaborating with other educators. The final part of the application is an unedited video of the candidate's classroom teaching utilizing best practices and five letters of recommendation from colleagues, administrators, parents, and students.
"We are delighted that GISA has acknowledged the hard work of these committed educators throughthe Master Teacher program," said Chris Cleveland, Wesleyan Head of School. "Laura, Ruthie, Pam, andTed are outstanding classroom teachers and have been impacting the lives of Wesleyan students formany years. They are each deserving of this honor."
Wesleyan teacher in group that climbed Mount Kilimanjaro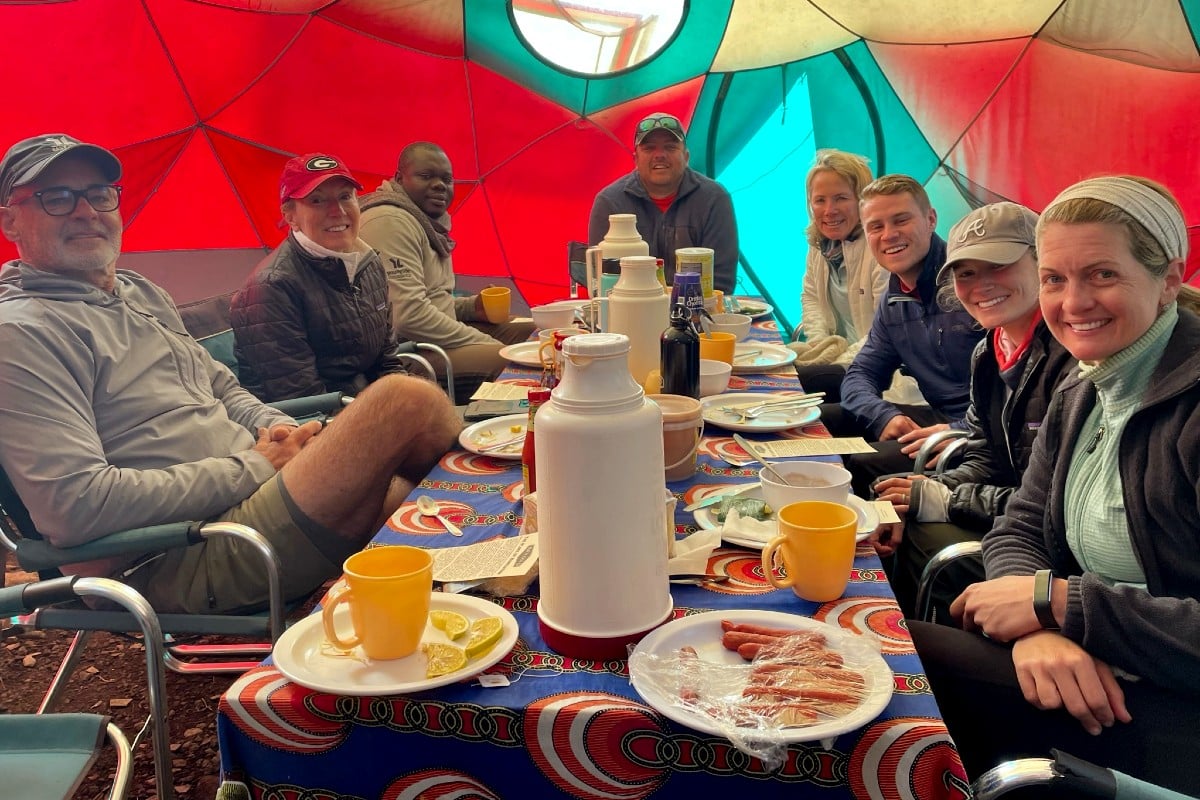 [Gwinnett Forum Editor's note: the following account of a lifetime mountain climb is from the Pre-First teacher at Wesleyan School. She is also the wife of Ryan Jensen, pastor of the Lawrenceville Presbyterian Church, and the mother to two, Camille, 10, and Knox, 8. The Wesleyan summer Sabbatical Grant encourages faculty to pursue a lifetime of learning. Faculty members may apply for grants for scholarly work. She was awarded the grant in 2019, but because of the pandemic not able to complete it until 2022. Total cost of the climb was $6,495, but for travel, shots, insurance, etc., the total was $10,000.]–eeb
This June I climbed Mount Kilimanjaro in Tanzania with Beyond Adventures, bringing to fruition a 20-year dream!
Our group of eight climbers required four guides and 20 porters. Our lead guides have been climbing Kibo, the highest of Kili's three peaks, for over 20 years with 250+ trips to the summit. Their knowledge and experience put us at ease. Our porters faithfully cooked, set up tents, pumped water and carried equipment on their backs, shoulders, and heads.
The hike took us through Kilimanjaro's four climate zones – rainforest, moorland, alpine desert, and glacier. We tackled each day with conversations, as our group bonded instantly. We learned about the mountain and its beauty from our guides.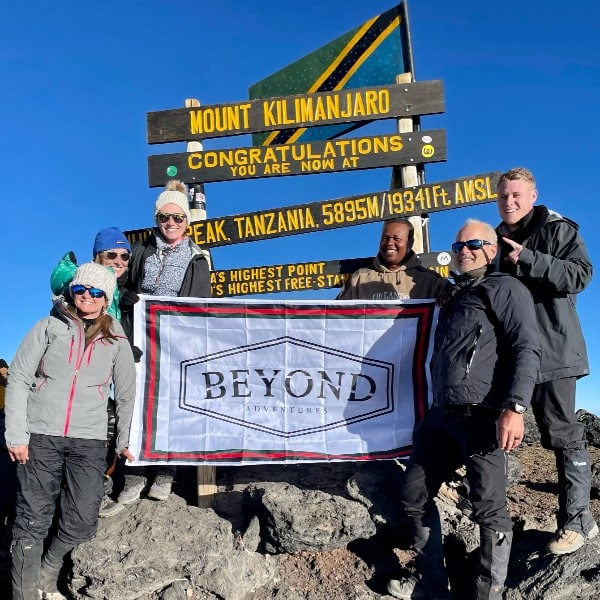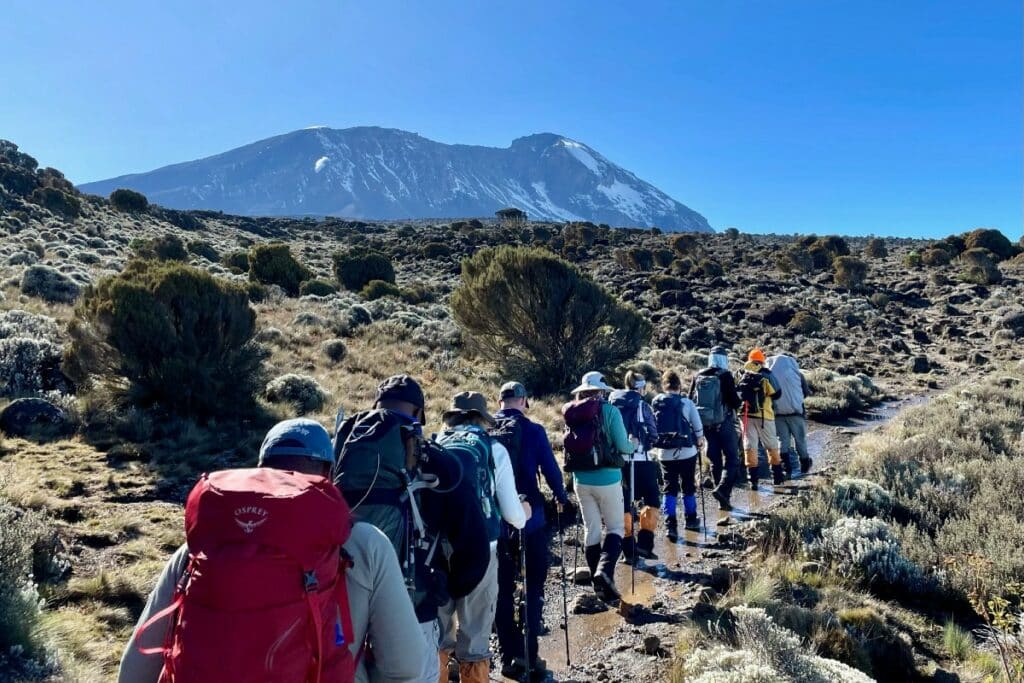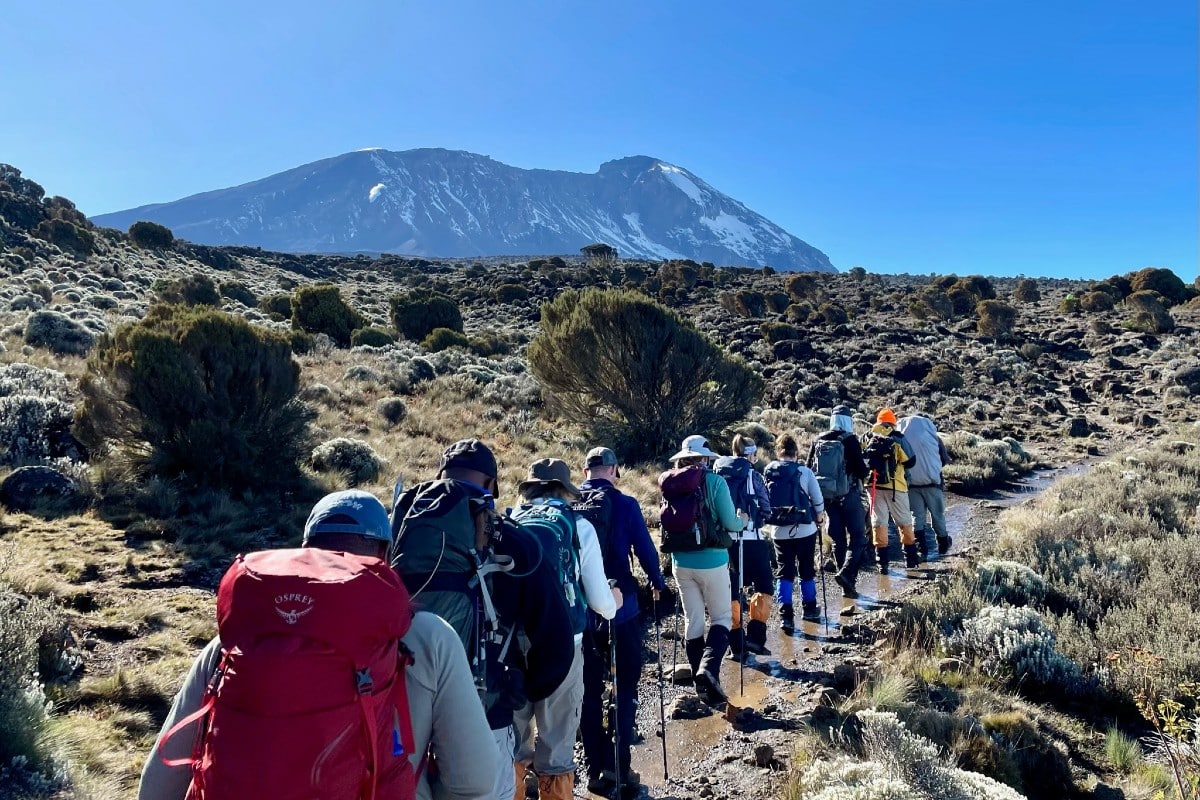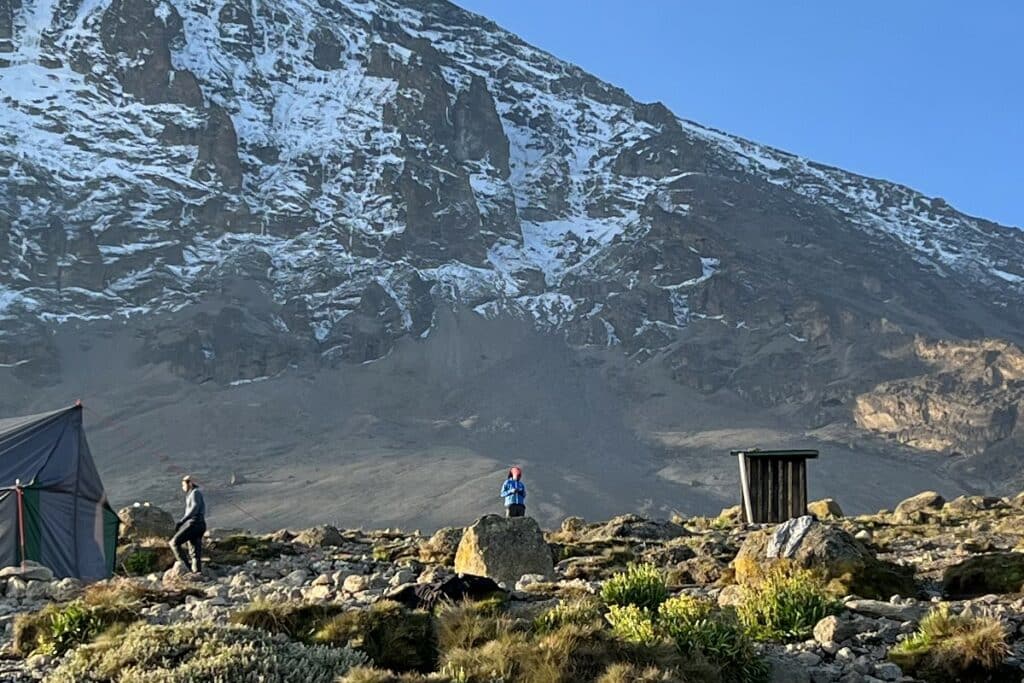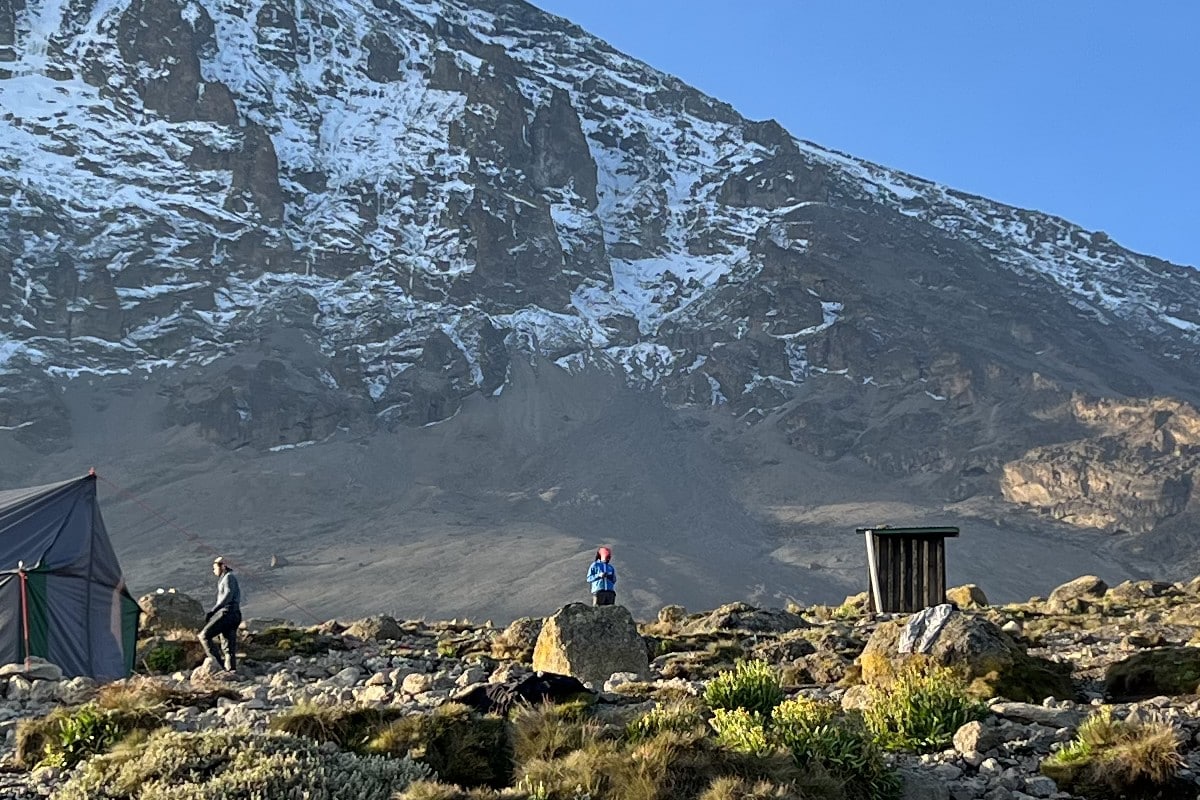 Walking the moors.
Each day began with a delicious breakfast, prep for the climb, and praying for the day ahead. We set off silently to reflect on our experience. Our second day, I was so surprised to see the mess tent set up at lunchtime with tables, chairs, and a hot meal prepared. Afterwards we headed to higher altitude for acclimatization before descending into the valley to sleep.
Meanwhile, our porters broke everything down, raced past us yet again to the next camp, and set everything up for the evening. Lead guide Gabriel would say at our rest stop, "Okay guys, let's go home!" We arrived to cheerful porters, a bustling campsite, and time to rest. Our days ended around the table, reflecting on the day, and receiving details for tomorrow. Early bedtime to the sounds of our porters finishing the day laughing and talking in Swahili helped us drift off to sleep.
We hiked for five days through stunning and rugged terrain. We challenged our bodies to acclimate to altitudes and slept on inclines in a tent. We celebrated our successful scaling of an 800 foot vertical rock wall. Each day I grew more aware of the impending final push to the top.
We rested at 16,000 feet before waking at 12:30 a.m. for a 1:30 a.m. departure. We left under a full moon with headlamps lighting the way. Our guides and summit porters carefully watched our every step. After five hours of hiking, we began to glimpse a breathtaking sunrise over the horizon. We continued all the way to 19,354 feet at Uhuru Peak. After congratulations and photos, we quickly began descending to 13,000 ft. for a final night of camping.
Our last morning brought a celebration of gratitude – singing, dancing, giving out tips, and a prayer over the guides, porters, and their families in both English and Swahili. A long day of steep descent was filled with stories, laughter, and sore muscles.
The team rejoices at the summit.
We hiked quickly through the moorland and back into the rainforest. It had rained recently and left the trail very slick. After walking "pole, pole" (slowly, slowly in Swahili) for 5½ days, this rapid pace for 7,000 feet down the mountain felt like a sprint! Despite the rapid pace, we all tried to look around to appreciate the lush beauty of our surroundings, listen for the sound of monkeys and hornbills, and soak up these final moments together on the trail. Arriving at elevation 6,000 feet officially ended our trip. After final hugs, high-fives, and thank you's for our guides and porters, we boarded a bus to head back to Arusha.
Reaching the summit I will always remember. Yet the greater gift was spending time with the amazing group that included not just those of us climbing, but the crowd of witnesses who loved and served every step of the way.
Written By Laura Jensen
This material is presented with permission from Elliott Brack's GwinnettForum, an online site published Tuesdays and Fridays. To become better informed about Gwinnett, subscribe (at no cost) at GwinnettForum