Our Summer Camp Issue 2022 Is Coming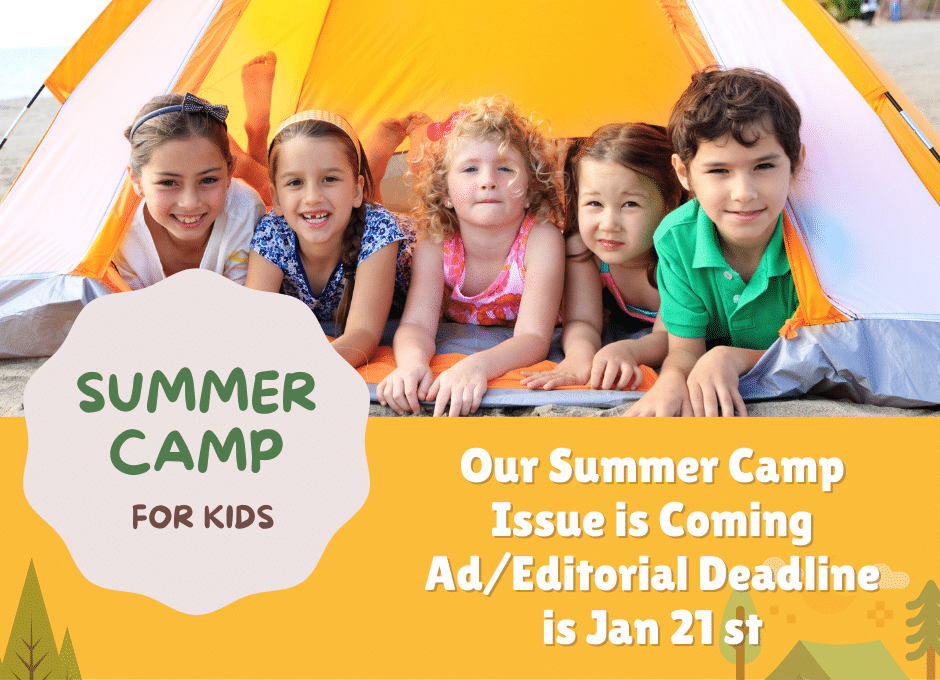 Every year we feature a series of articles about Summer Camps and this year is no different. Even during this time of uncertainty parents want to know what camps are happening this summer and how they are prepared for health and safety.
Advertising in Peachtree Corners Magazine helps you reach our city residents. Our oversized magazine is mailed directly to over 19,000 households. You can reach them beginning with our February/March issue (deadline January 21) and continuing through the next TWO issues (April/May and June/July 2022.)
To advertise in print, on our website, in our weekly newsletter, and through our social media presence please contact Julie Davis via email, or call 678-905-6601.
MJCCA Summer Day Camps: Innovative Virtual Camp Lineup in June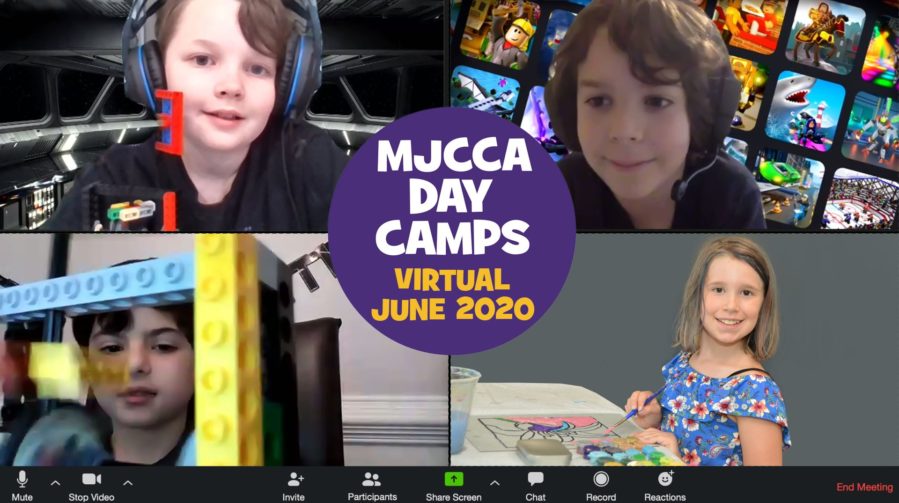 Citing the health and safety of campers and staff amidst the Coronavirus pandemic, the Marcus Jewish Community Center of Atlanta (MJCCA) has pivoted from its traditional in-person day camp program, a mainstay in the metro Atlanta community for countless years, to an innovative and diverse offering of virtual camps aimed at keeping stay-at-home campers engaged in meaningful physical and social activities throughout June. The MJCCA has leveraged strategic partnerships with area experts throughout Atlanta, including the Alliance Theatre, Bach to Rock, Bob Rathbun, Bricks4Kidz, Kids TV International, Painting with a Twist, and Whiz Kids Learning. The center tentatively plans to resume in-person camp activities at Zaban Park in late June.
According to MJCCA CEO Jared Powers, "We immediately recognized the struggle parents in our community were having in terms of keeping their children safe, involved, and entertained while at home. We knew we were going to have to completely reimagine one of our most popular programs, day camps, and be as creative as possible in order to make this work. If the campers couldn't come to us just yet, we would bring camp into their home. Creating integral connections between campers — and between the JCC and our families who depend on us — is what we do best, and I am deeply satisfied that we have achieved that goal."
All virtual camp programs will be held Monday – Friday via ZOOM from 9:30 – 11:30 am; Drama Camp will be held weekdays from 9:00 am – 4:00 pm.
CAMP CONNECTION FREE TO ALL REGISTERED PARTICIPANTS!
Throughout the quarantine, MJCCA Day Camps has kept campers and their families entertained and engaged with weekly online content. They will continue to offer a free Camp Connection program each weekday afternoon from 2:00 – 3:00 pm. Here, campers will enjoy a special Camp Connection with their favorite day camp directors who will be leading a fun, creative activity via Zoom. A supply list will be posted weekly on the MJCCA Day Camps Facebook page to give parents plenty of time to gather supplies for different projects. Participants must be registered in advance to participate in these daily, no-cost activities, which include:
Mondays: Arts & Crafts
Tuesdays: Cooking and Edible Art Projects
Wednesdays: Fun Fitness Activities
Thursdays: Science and Tinker Projects
Fridays: Shabbat Celebration, Challah Making, and Songs
"I am incredibly proud of this amazing virtual day camp experience our team has put together for our campers. From drama to music, LEGO to art, game coding to sports broadcasting, we've chosen some of our most popular camps and made them available virtually. While we all agree that nothing can take the place of an in-person camp experience, we think this is the next best thing and are confident that our campers will stay engaged, active, and connected to their friends. During this time of fear and uncertainly, the impact that this creative programming will have on our community is immeasurable," said MJCCA Day Camps Director Jodi Sonenshine.
Virtual specialty day camp offerings include:
ROCK CITY CAMP: MUSIC AND MOVEMENT WITH BACH TO ROCK
Offered weeks 1 – 4 in June
For: Rising K – 3rd Graders
Instructor/Camper ratio: 1:15
Whether your child is a budding rock-star or an aspiring classical soloist, Rock City Online is the place for them to experience real music education. Through dynamic musical and movement-based activities, exposure to instruments, and musically inspired story-time, budding young musicians will develop the skills needed to read music, play simple rhythms, and develop fine motor control skills that are essential for future success in playing an instrument. Please note: an internet connection and a computer or tablet are required at home.
LEGO CAMP WITH BRICKS4KIDZ
Offered Weeks 1-4
Rising 2nd – 5th graders
Instructor/Camper Ratio: 1:15
Week 1 Theme: Star Wars
Week 2 Theme: Amazing Animals
Week 3 Theme: STEM Heroes
Week 4 Theme: Brick City Engineers
Campers will enjoy building LEGO projects with their very own LEGO kits as they progress through a week-long story. Kids will share their creations, and work in breakout groups to get much-needed socialization and work as a team. Each camp will end with students receiving a diploma via e-mail during a Zoom-based graduation ceremony. Please note: an internet connection and a computer or tablet are required at home and each camper will receive a 'Camp in a Box' supply package via curbside pick-up at the MJCCA on the Sunday before each session.
DIGITAL BUILDERS CAMP: MINECRAFT MANIA WITH WHIZ LEARNING KIDS
Offered Week 1 and Week 3
Grades: Rising 2nd -8th graders
Instructor/Camper Ratio: 1:12
In this tech camp partnership with Whiz Learning Kids, campers will use the popular Minecraft program
to design and build all sorts of exciting worlds and digital creations. With individual and team-based challenges, campers will learn key technical and problem-solving skills and tap into their creativity as they build their way through the week! Please note: an internet connection, a computer or tablet, and a valid Minecraft license are required at home.
VIDEO GAME DESIGN CODING CAMP WITH WHIZ LEARNING KIDS
Offered Week 2 and Week 4
Grades: Rising 2nd – 8th graders
Instructor/Camper Ratio: 1:12
In this tech camp partnership with Whiz Learning Kids, campers will work in Scratch and other computer
coding programs to learn how to create characters, backgrounds, and stories for a complete gaming experience. Instructors will help the campers use problem-solving to work through programming challenges and use their creativity in an interactive medium. The final games our campers create will be compatible on any PC or Mac computer. Please note: an internet connection and a computer or tablet are required at home and software will be provided.
DIRECTOR'S CUT CAMP WITH KIDS TV INTERNATIONAL
Offered Week 1 and Week 3
Grades: Rising 3rd – 8th graders
Instructor/Camper Ratio: 1:15
Campers will write, film, and edit their very own movies. The experts from KIDS TV International will guide them through the moviemaking process, while allowing them to explore their creativity, develop acting and technical skills, and work quickly and effectively to achieve an excellent finished product in the form of a DVD that will be mailed home within two weeks. Please note: an internet connection and a computer or tablet are required at home.
SPORTS BROADCASTING CAMP WITH BOB RATHBUN
Offered Week 2
Grades: Rising 3rd– 8th graders
Instructor/Camper Ratio: 1:10
Campers will learn the ins and outs of sports broadcasting. the Atlanta Hawks' own Bob Rathbun. With more than 20 years of television and broadcasting experience, Rathbun will teach campers all about editing, writing, producing, and on-air reporting and directing. Please note: an internet connection and a computer or tablet are required at home.
CANVAS CREATIONS WITH PAINTING WITH A TWIST
Offered Week 2 and Week 4
Grades: Rising 3rd – 8th graders
Instructor/Camper Ratio: 1:20
In this camp led by the experts at Painting with a Twist, campers will create different masterpieces each day and bring their own canvases to life! An artist will lead each class and walk campers through the painting process step-by-step and all supplies will be provided. No experience is needed, just your child's desire to use their imagination and have fun! Please note: an internet connection and a computer or tablet are required at home and supplies will be provided via curbside pick-up at the MJCCA.
INTRO TO SONGWRITING CAMP WITH BACH TO ROCK
Offered Week 1 and Week 4
Grades: Rising 4th – 8th graders
Instructor/Camper Ratio: 1:15
In this one-of-a-kind virtual experience, Bach to Rock will teach campers how to write chord progressions, song lyrics, construct melodies, and perform their masterpiece! By the end of our week-
long adventure, these future stars will be performing with ease and on their way to their first Grammy!
BEGINNER UKULELE CAMP WITH BACH TO ROCK
Offered Week 2 and Week 3
Grades: Rising 4th – Rising 8th graders
Instructor/Camper Ratio: 1:15
Campers will learn the basics of ukulele in an interactive, virtual group setting. Through games, music theory, and performance, campers will start playing songs quickly! Led by Bach to Rock, this week-long camp will culminate in a virtual performance! Students will learn and play together in a team-like atmosphere, motivating and encouraging each other to practice and perform. Please note: a ukulele, an internet connection and a computer or tablet are required at home.
DRAMA CAMPS WITH ALLIANCE THEATRE
Offered Weeks 1-4
Rising K – 8th graders
Instructor/Camper Ratio: 1:12
Options include:
Creative Drama Camp (Rising K – 3rd)
Musical Theater Camp (Rising K – 8th)
Performing Arts Camp (Rising 2nd – 8th graders)
The MJCCA's signature Drama Camp meets the Alliance Theatre in this singular program second to none. Budding actors will collaborate with other artists, learn about performance, and make lasting memories. Screen time is about 2-4 hours per day and daily activities will include physical and vocal warm-ups, drama games, movement and performance rehearsals, crafts, and self-filmed assignments. Drama Camp will culminate in a final sharing at the conclusion of each week, Friday at 3:00 pm via Zoom. Please note: an internet connection and a computer or tablet are required at home and everything you need for this camp will be shipped to you, including all art supplies, templates for crafts, activity sheets, and books.
More info at mjccadaycamps.org/camps-programs
Summer Camps Are Coming in the Virtual and Real World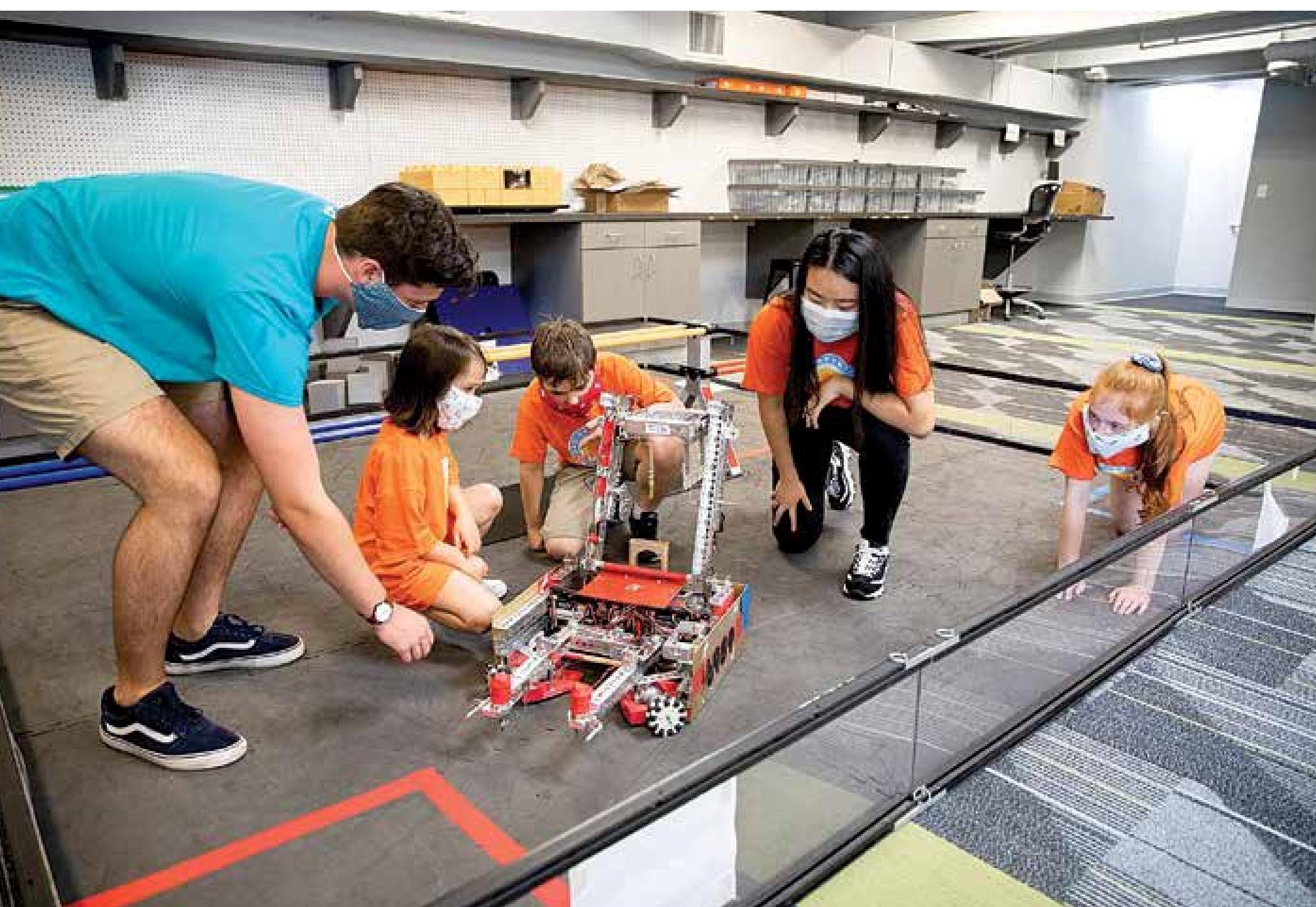 Summer is upon us and with camps opening their doors soon, with proper restrictions, it is time to look into which camp your kiddos would love!
Autry Mill
Camp Autrey Mill gives children the tools to safely explore the natural environment. Instill an appreciation of history and nature through crafts, games, puzzles, and historical artifacts. Find inspiration in preserving the past and in what is under a log. Choose from Discovery Camp (Age 4), Adventurer (Age 5-11), History Adventurer (Age 6-11), or the Jr. Counselor Program for former campers ages 12 and 13. Start the adventure at autreymill.org/programs/kids/summer-camp/
Camp Flashback
Have unplugged summer fun and learning at Dunwoody's authentic history camp, at the 1870 Donaldson-Bannister Farm. Experience first-hand how kids lived in the Olden Days, with farm activities like hand-churning butter and ice-cream, as well as milking and feeding goats. It's a small camp with 25 campers max, spread across 3 acres of land so following social distancing and other protocol should be do-able. More information available at Campflashback.org
Camp Evergreen
Camp Evergreen is a Christian camp located in the serene mountains of North Georgia near Lake Burton. It is wilderness centered and believes nature can speak on its own without extras. Programming intentionally leaves out bells and whistles and focuses on creative, fun approaches to all activities. Hike to campevergreen.org
Centennial Aviation Academy
This program is the perfect outlet for any young aviation enthusiast to learn more about airplanes and what it takes to become a pilot. These two-day camps provide youth with a behind-the-scenes look at private and commercial aviation, and conclude with a real flight with your child at the controls! Take flight to Centennialaviationacademy.com to find out more.
Club SciKids
Unfortunately ClubSciKids cancelled all camps this year. Instead, for a science-filled summer camp experience at home you can purchase a ClubSciKids Camp in a Box! Each box contains all the materials you would need to complete all the experiments you would do at camp. Themes include The Science of Toys, Exploring Our Solar System and more. Recommended for scientists 6 and up but little ones can enjoy with adult guidance. Information at Clubscikidz.com/summer-camp-in-a-box/
Greater Atlanta Christian Camps
GAC Summer Camps will begin the week of June 15. Please check regularly for updates. Virtual camps and camp programs will be added as safety guidelines allow. At a glance, six weeks of camp will likely be offered, with 30+ specialty camp programs for ages 5 to 18. From fun and athletic day camps to Garden Camp, Flag Football and more, there is something for everyone. More information at greateratlanta-christian.org/summer-camp/summer-camp.
Dunwoody Nature Center
These day camps for Rising K-5 offer the quality connection with nature that parents would expect. Themes to explore are Birds of a Feather, Creek Week, Incredible Insects, Reptiles Rock!, Wonderful Wetlands, Mad Scientists, and more. Half Day and Full Day camps available. Read all about it at DunwoodyNature.org­
Game Camp Nation
All in-person camps have been cancelled, but virtual camps are available with a live instructor. Got a kid obsessed with gaming and glued to the computer? Put that interest to good use with camps that support and grow STEM learning skills. Courses available in Game Design and Graphic Design. Recommended for kids ages 9-19. For best participation, an up-to-date computer with a webcam is a must. Level up at Gamecamp.com/locations/online/virtual-camp
High Museum of Art Camps
Dive into art this summer at the High! Young artists will explore the museum's galleries, create original artworks and showcase their masterpieces in a special exhibition each week. Campers will learn about the museum's collection and special exhibitions while honing their skills in drawing, painting and design. For kids in grades 1 to 8. Color the world at high.org/camp.
High Touch High Tech of Greater Atlanta
Summer day camps with a heavy dose of fun and practical science at your kid's grade level. In-person camps kick off in July, but at home science camp kits are also available. 5 different jam-packed kits with over 50 experiments, helpful videos, and optional Zoom hours for kids to ask High Touch High Tech scientists all their questions about topics like geology, space, physics and more. Unleash the power of science at sciencemadefunatl.net/camp.cfm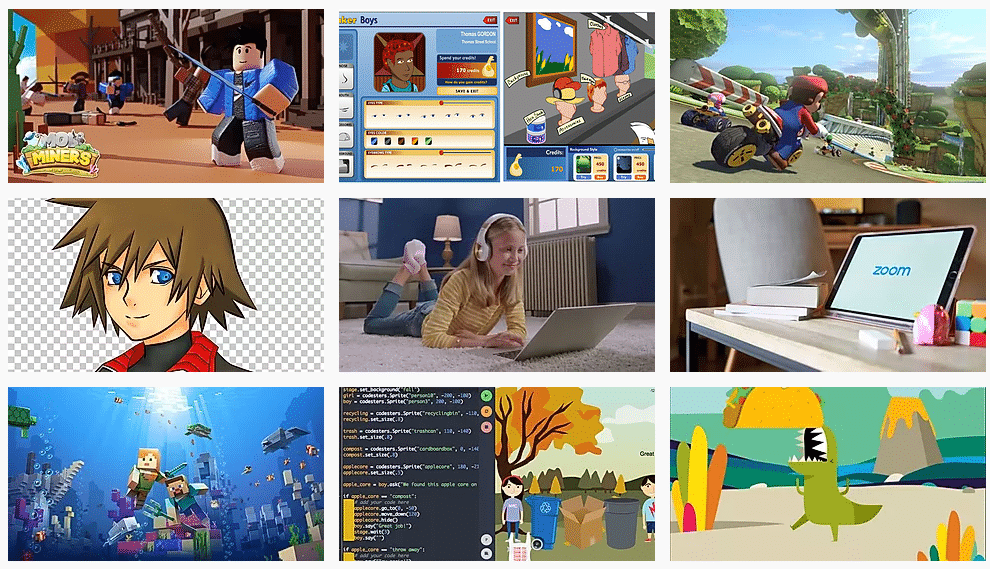 Kids for Coding
There are 17 brand new virtual camps for kids and teens ages 7-16, so set your junior coder up for success with fun skills that will serve them well in a digital world. Course offered are Scratch Programming, Machine Learning, Javascript 101, Web Development and many more. Surf the web and learn more at kids4coding.com/Georgia
L-Stringz Violin Camp
​This year due to the Covid-19 pandemic, the L-Stringz Violin Camp will now be virtual! Students will have a morning theory class followed by an afternoon performing class with a group video performance that will be given out at the end of the camp. The camp is open to elementary and middle school students of all skill levels. The May session has passed but a July session may be scheduled. Stay tuned to lstringz.com/l-stringz-violin-camp
Marcus Jewish Community Center of Atlanta Virtual Camps
The MJCCA has leveraged strategic partnerships with area experts throughout Atlanta, including the Alliance Theatre, Bach to Rock, Bob Rathbun, Bricks4Kidz, Kids TV International, Painting with a Twist, and Whiz Kids Learning to offer a variety of diverse virtual camps in June. The center tentatively plans to resume in-person camp activities at Zaban Park in late June. Read all about it at livinginpeachtreecorners.com/2020/summer-camps/mjcca-summer-day-camps/
Modeling Camp
Is your little fashionista ready for the spotlight? In-person Modeling Camp launches in August, but in the meantime Modeling Camp Online is available. Modeling Camp Online welcomes Bianca Golden, from tv's hit show AMERICA'S NEXT TOP MODEL, as its feature speaker! Seize the opportunity to learn about the industry and network with top modeling agents virtually. This three-day summer boot camp is open to campers 12 and up! Visit modelingcamp.com/online-camp.html for information.
Norcross Roller Hockey
Norcross Roller Hockey holding weekly open stick time, capped at 16 players. Register in advance at norcrossrollerhockey.com. Participants must bring their own water bottles and your own safety equipment. Further details including dates and times will be available on the website as they are finalized.
Once Upon a Ballet
Once Upon a Ballet and Musical Theater is a premier performing arts school entering its ninth year in the Atlanta area. For an active and engaged musical camp experience, Once Upon a Ballet may be the ticket.
For a virtual camp experience, Frozen Frenzy and Dance Mix-Up are both available for several dates throughout June. In-person camp openings vary by location and camps are available for ages 2-11 with camps separated into appropriate age groups. For more information on safety precautions and date details, please visit onceuponaballetatl.com
Pace Academy
Pace Academy is a rigorous private school that offers summer programming to keep kids active and engaged over the summer. The lineup of potential summer fun is extensive, from 75 virtual camps to in-person Academic Camps, Athletic Camps, Art/Theatre Camps, Driver's Education, and more. Keep up with the pace at paceacademy.org/programs/summer-programs
Project Scientist
Experience the magic of science from the convenience of home! Join Project Scientist in an immersive STEM experience, with access to leading age-tailored STEM curriculum, carefully crafted and led by credentialed teachers, and a STEM lab kit that allows students to conduct five experiments from their own lab space! Join live virtual classrooms of no more than 25 kids per teacher or enjoy the flexibility of online learning on your own time! Get going at projectscientist.org/programs/project-scientist-virtual-lab
STREM HQ
STREM HQ facilitates Science, Technology, Robotics, Engineering and Multi-media- ST(R)EM education to students with fun and analytical challenges. Fill your child's summer with engineering fun with virtual and in-person camp options. From Junior Robotics to Photoshop to Make & Take RC Cars, STREM HQ offers a unique variety of camp courses to choose from. Summer 2020 Camp placeholders can be purchased to ensure a spot in a particular camp, but are refunded in case of cancellation. Take a look at stremhq.com/2020-summer-camp-calendar
Still Waters STEAM Summer Camp
This is a fun camp with spiritual Christian elements incorporated, as well as exciting scientific experiments from High Touch High Tech. There are eight theme camps, starting in the first week of June. Themes include Scientist Academy, Doctor Academy, Coder Academy and similar career-based focuses. Still Waters has contracted the most sought-after cleaning professionals for regular, top-to bottom deep cleans. All students who register will receive a face mask and a face shield from Still Waters. More at stillwaterslearningcenter.org/steamcamp/.
Tumbles Virtual STEAM Camps and Private Playtimes
The Tumbles gym space will be open for private play times, by appointment only. Appointments will be limited to allow for deep cleaning between each appointment. Additionally, the Tumbles Virtual STEAM camps are designed to engage and challenge the minds and bodies of young children between ages 4 and 9 years old. With common household items we explore science and engineering principles, out-of-the-box mathematical thinking, and hands-on activities while utilizing kinesthetic learning. Tumble in at johnscreek.tumbles.net/camps
Wealthy Habits Financial Literacy Summer Camp
True to their motto, these personal finance summer camps "make finance fun!" Doing away with traditional and boring methods of teaching, Wealthy Habits teaches students through interactive games and activities. There are currently 3 in-person camps in different locations, one in late June and two in July. Each camp lasts 5 days and covers topics such as economics, budgeting, aspects and liabilities. There are also a number of virtual camp and learning options as well. Start the journey at wealthyhabits.org/programs/camps-2/
Summer Camp, Where Every Day is an Adventure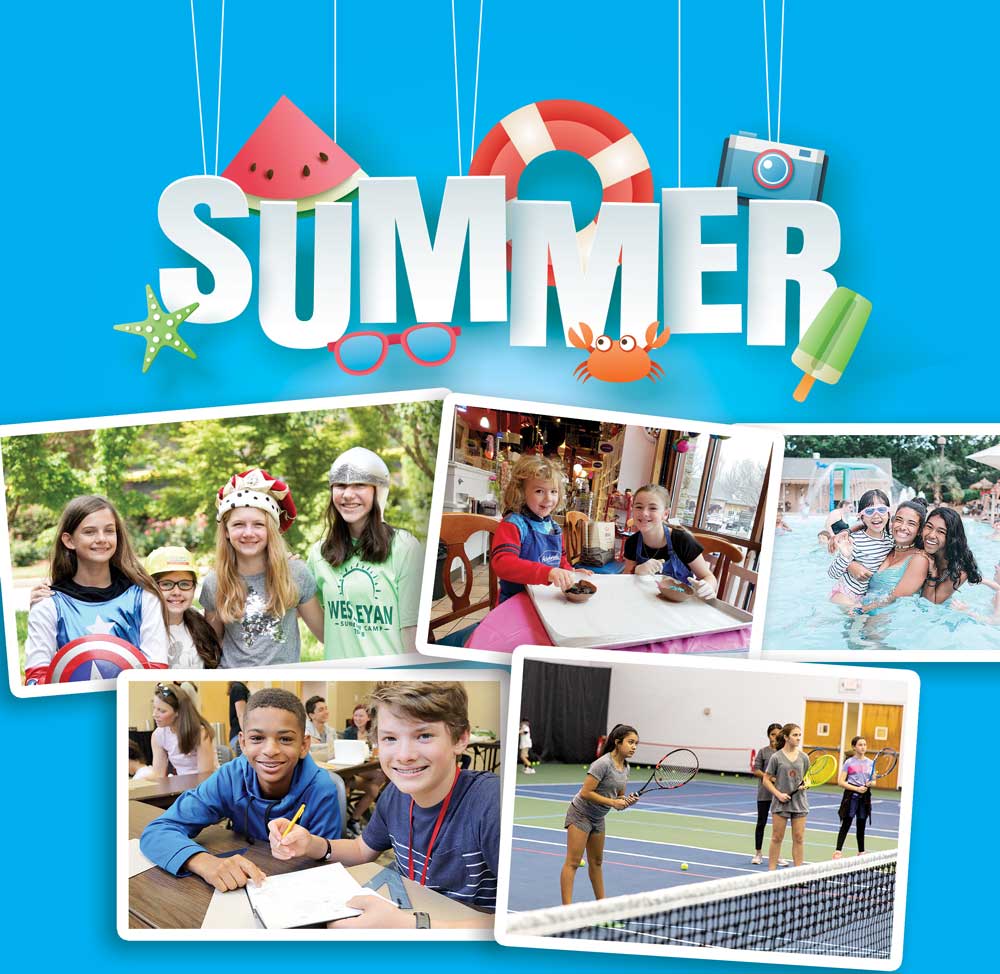 There's no reason for students to get bored during summer break. With all the camp opportunities in the Peachtree Corners area, there's bound to be something that will spark their interest and keep them active. Sure, they'll have fun, and they may even learn something new.
Don't wait to get them signed up, though. Space fills up quickly, so it's best to get registered as soon as you're able.
Schools Stay Open for Summer Fun
Even though school sessions are suspended for summer, that doesn't mean the campuses close down. Many open their doors for summer camps.
Greater Atlanta Christian (GAC) offers a variety of summer camps. There are two separate full-day camps for lower school and middle school children that include activities and field trips. In addition, GAC has camps that feature a full range of sports, fitness and specialties.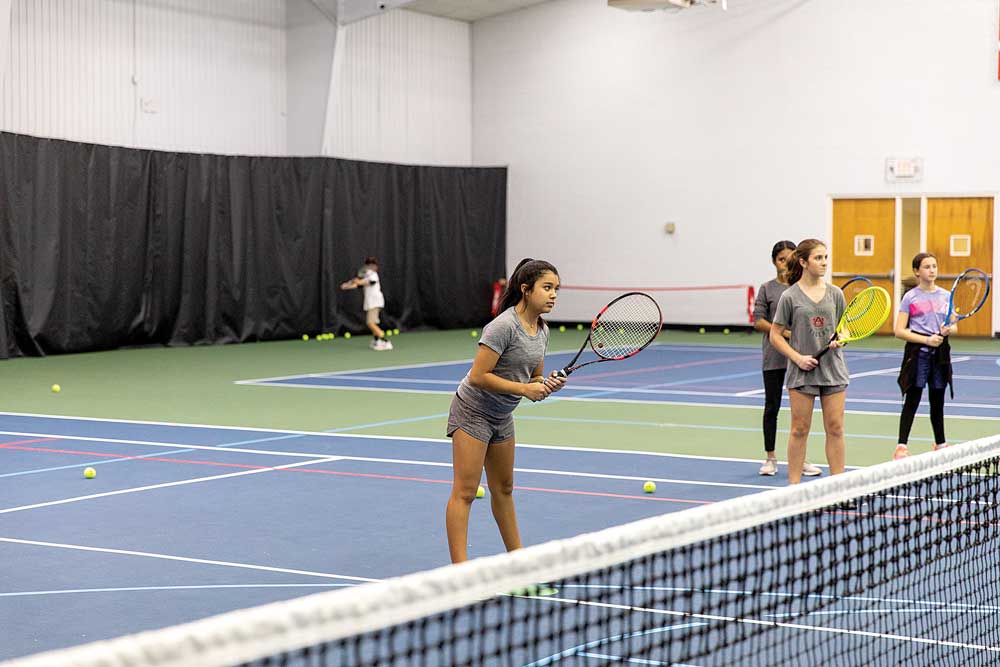 Campers can choose from baseball, flag football, cheerleading, swimming, golf and tennis. GAC is the only K-12 school in Georgia with an indoor tennis facility. It's state-of-the-art, air conditioned and winner of the 2019 USTA Outstanding Facilities Award. GAC's tennis pro also received an award: Tennis Director of The Year, State of Georgia 2019.
All kids are welcome at GAC summer camps; they don't have to be GAC students to attend. Visit greateratlantachristian.org/summer-camp for details and to register.
The Summer Adventure Club at the Primrose School of Peachtree Corners is designed for ages 5 to 12. It allows children to become artists, explorers and scientists as they're challenged by experiments and other themed activities. Register and get more info by calling the school at 770-409-8732 or visiting their website, PrimrosePeachtreeCorners.com.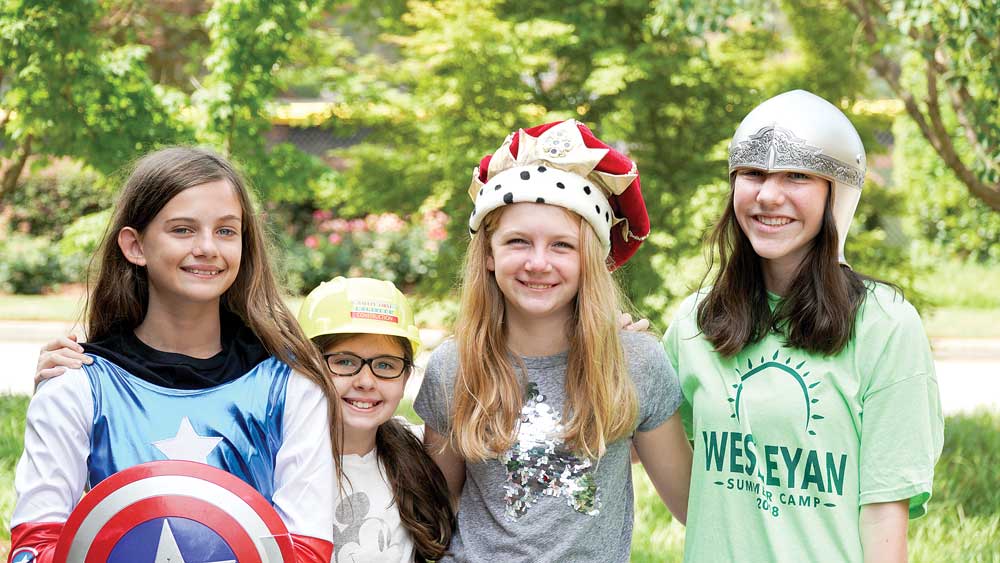 For children aged 4 to 14, Wesleyan School's summer camps run half or full day. The camps cover everything from athletics and arts to STEM and study skills. Camp topics include Adulting 101 and Intro to Babysitting, as well as architecture, cooking and baking, coding and Lego robotics, creative writing, theatre and improv, sewing, movie making and forensic science.
The sports camps include baseball, basketball, football, soccer, lacrosse, tennis and volleyball. Lunch and a snack are included in full-day camps; before and after care is also available. Campers do not need to attend Wesleyan to participate in camp. Learn more at wesleyanschool.org/summercamps.
It's worth the trip to Athens, Ga. for your child to attend camp at UGA Summer Academy. Not only do students stay academically engaged while school is out, they can explore their own interests and passions.
UGA hosts several academic camps for ages 11 to 17. A sampling of the available specialties includes animation, film, mini-medical school and game design. Registration opens Feb. 5, 2020, and financial aid is available for students based on need. Visit georgiacenter.uga.edu/youth or call 1-706-542-3537 for the full list of programs and to register.
Other Spots to Enjoy Camps
Peachtree Corners Baptist Church offers several sports camps through their recreation ministry. But there's much more, like a Beach Camp, for students who have completed grades 6 to 12, from May 31 to June 5, or Lifeway's "Concrete and Cranes" Vacation Bible School running June 8 to 12, 8:45 a.m. to 12 p.m., for children who have completed Kindergarten through grade 5.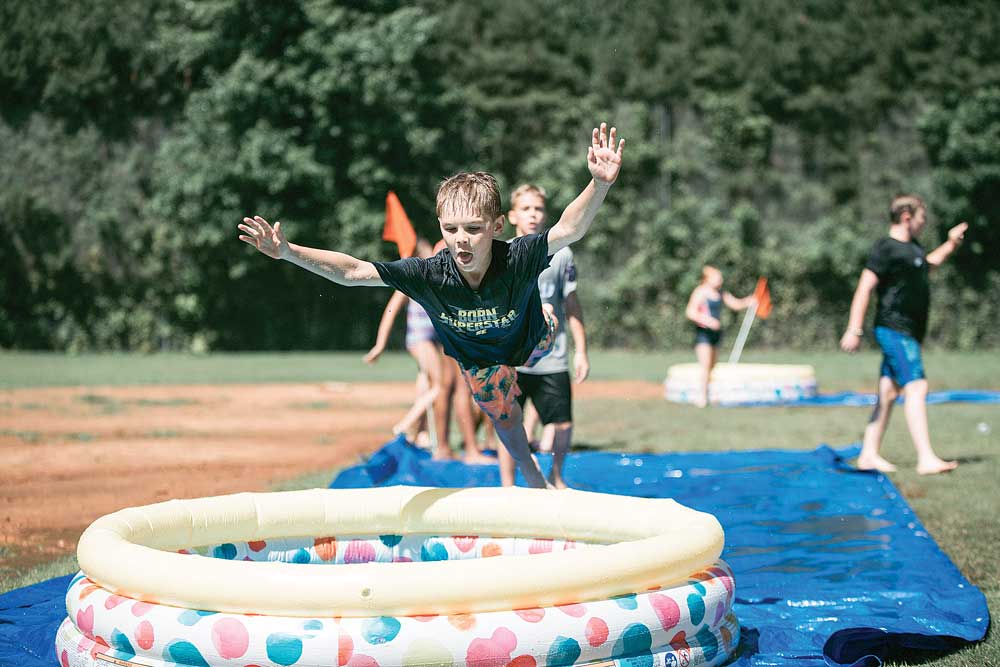 Centri-Kid Camp, July 6 to 10, will be offered at Shocco Springs Retreat Center in Talladega, Ala., for kids who have completed grades 3 to those in grade 5. Take advantage of early bird pricing through Feb. 28 for Peachtree Corners Baptist Church's Summer Daze camp for children aged 2½ to those who have completed grade 3; it runs 9 a.m.-1 p.m. on Tuesdays and Thursdays, from June 23 to July 23. Register and get additional info at pcbchurch.org.
At Robert D. Fowler Family YMCA, there are so many camp opportunities that choosing can be a challenge. Sports lovers can pick from gymnastics, cheerleading, soccer, baseball, basketball, flag football, volleyball and more. There's also swim and skate camp.
Junior Ranger Camp, a traditional camp with full and half-day options for ages 5 to 12, takes students on nature walks, canoeing and swimming in the Chattahoochee River National Recreation Area, park of the National Park Service.
That's not all. There's also half-day preschool camp for ages 4 to 6, full-day teen camps for ages 13 to 15 that prepare them for leadership, and specialty camps including STEM, film and creative arts. To find out more and register, go to ymcaatlanta.org, click on Summer Camp and choose the Robert D. Fowler location.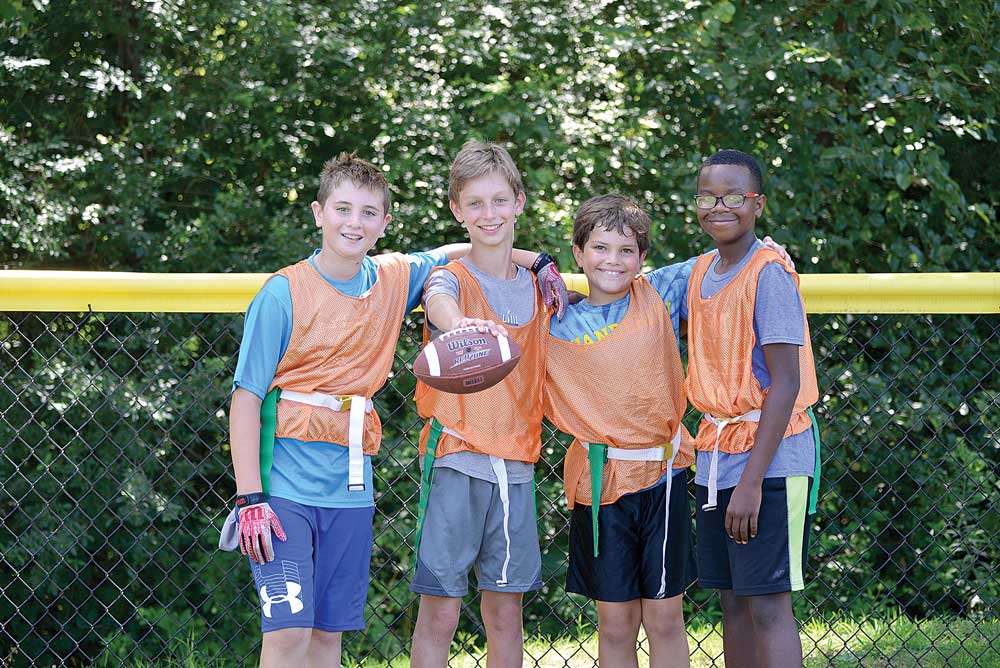 Marcus Jewish Community Center of Atlanta hosts their MJCCA Summer Day Camps for Pre-K to grade 10 students from May 26 to August 14 in three locations: Dunwoody, Intown and East Cobb. Some of the unique camps available are Sports Broadcasting, led by Atlanta Hawks' very own Bob Rathbun, and Teen E Sports, which combines the best of both the real and virtual sports worlds.
Sports camps include the Atlanta Hawks Basketball Camp with Hawks' professional team of coaches leading focused practices and games. Partnering with Concorde Fire, MJCCA Camps offer a one-of-a-kind soccer camp experience, challenging campers both technically and tactically.
Some of the new active 2020 MJCCA Day Camps are American Ninja Warrior (for teens), Bring the Hype Dance Camp, Challenger Soccer Camp, Cheer and Dance Camp and Dancing with a Purpose. Campers can also opt for MJCCA Day Camps' Camp Isidore Alterman (CIA), where they can enjoy lake activities, archery, ropes course, zip-lining, outdoor cooking, swimming and fishing. To register, go to mjccadaycamps.org or call 678-812-4004.
Gwinnett Parks & Recreation works with local instructors and sports-based companies to offer a variety of camps where kids can learn new sports and enhance their skills. Sports camps include baseball/softball, basketball, soccer, flag football and tennis.
Adventure Camp, for ages 7 to 13, and Jr. Adventure Camp, for ages 5 and 6, feature general recreation activities with a different theme each week. For example, the June 1 to 5 camp theme is Earth, Wind & Fire which will allow campers to explore the elements, and July 20 to 24's Full Steam Ahead camp will explore renewable energy with STEAM activities. Campers should bring a lunch, snack and drink daily. Camp runs from 7:30 a.m. to 6 p.m. daily, and costs $126 per child per week of camp.
Register for Gwinnett Parks & Recreation sports camps and Adventure Camps at gwinnettcounty.com. Click on Departments, then Community Services, then Parks & Recreation, then Camps and, finally, Camp Registration. You'll find the full listing of all the available options with details.
The weekly themes at Lifetime Fitness summer camps span many interests—animation, dinosaurs, glitter and slime, emojis, escape rooms, space travelers and so much more. All the activities focus on healthy eating, physical activity, character development, community connections and STEAM. Call Lifetime Fitness in Peachtree Corners at 770-449-6060 for more information and to get signed up.
Full-day camps at Camp All-American are for kids aged 5 through 17 and feature Bible study, physical activity and a wide range of specialties. Camp runs for 10 weeks and is held at Perimeter Church in Johns Creek. Day camps for students in grades 1 to 6 are held at Dunwoody Baptist Church. Get more info and register at campallamerican.com.
Special Times with Specialized Camps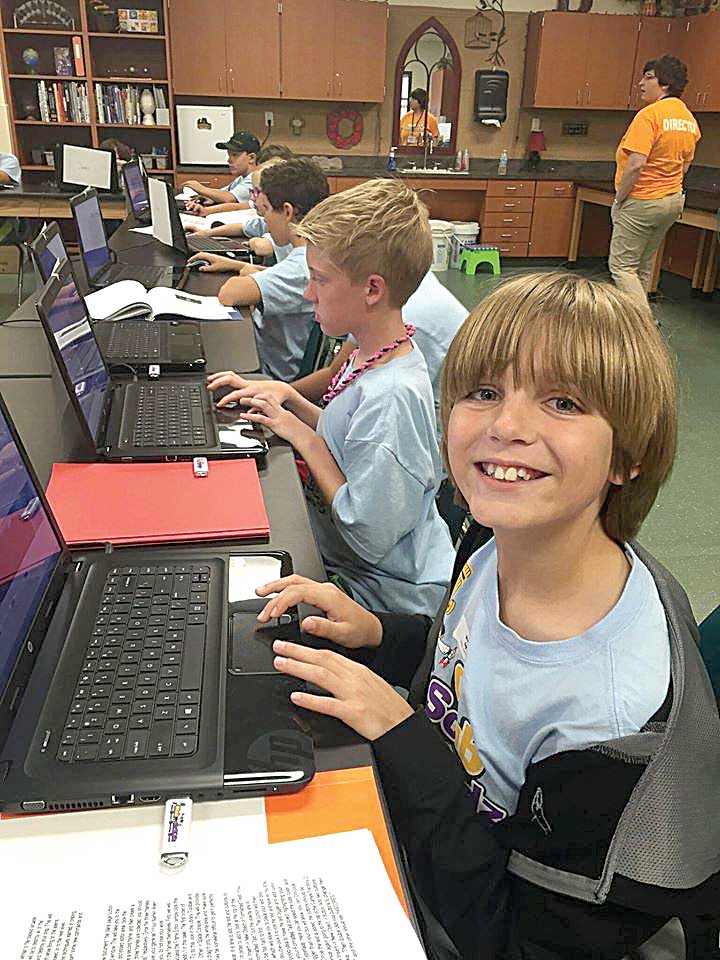 Each summer, Club SciKidz offers four themed camps for grades Pre-K to 5. Themes this year are By the Beautiful Sea, Cosmic Cookie Dough, Robot Rumble and Coding Kaleidoscope. The American Girl camp is open campers in grades 1 to 5.
Campers in grades 5 to 8 can choose from the Tech Scientific division. Concentrations include Veterinary Medicine, 3D Printing, Chemistry, Rocketry, Drones, Stop Motion Animation, Harry Potter, Minecraft with Java Programming and Advanced LEGO Robotics.
Each day, campers rotate through four classes that incorporate science, technology, art and an outdoor component. Pre-camp and post-camp hours are available. Club SciKidz camps are held at several locations near Peachtree Corners, including Duluth First United Methodist Church. Enroll and get details at ClubSciKidz.com.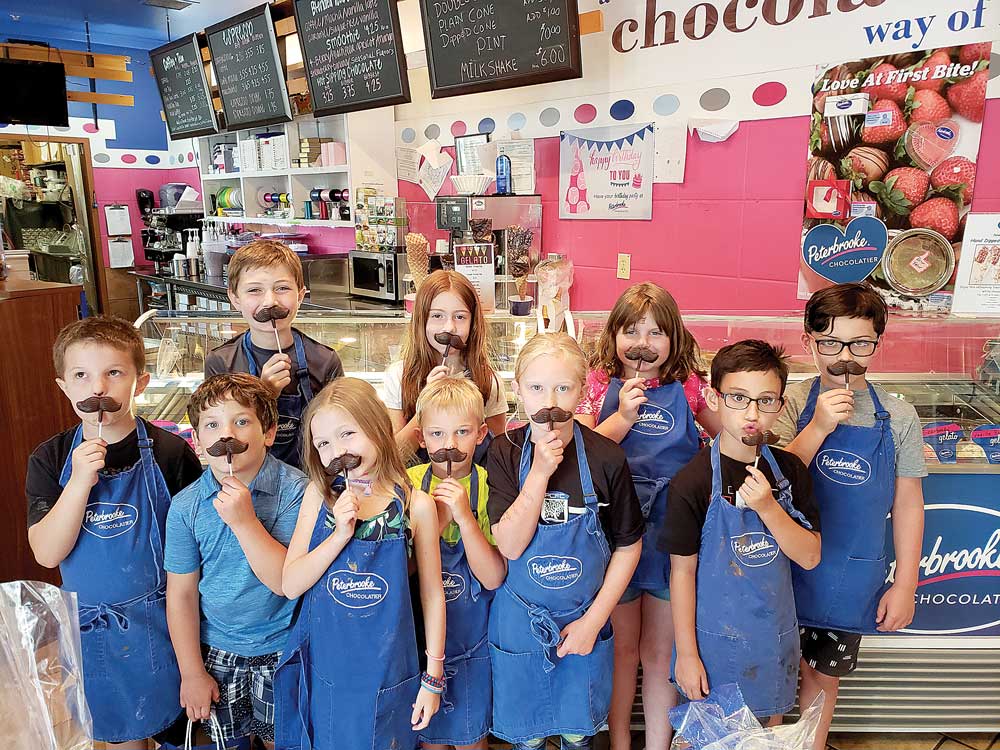 Does your child love chocolate? The answer is probably yes. Consider Chocolate Summer Day Camp at Peterbrooke Chocolatier at the Forum. Not only will campers learn all about the history of chocolate, they'll also get to be chocolatiers for the day. After dipping caramel apple, pretzels, Oreos, potato chips and graham crackers into Peterbrooke chocolate, the kids will package their creations to take home.
Camp is held every Tuesday, Wednesday and Thursday, May 31 through August 9. The daily session cost of $50 per child includes Jason's Deli Lunch and gelato for dessert, and of course, Peterbrooke Chocolate. Space is limited; call Peterbrooke Chocolatier at the Forum for details at 770-817-8118.
New this year is the Animal Ambassador Camp with Gwinnett Animal Welfare and Enforcement for children aged 7 to 14. Students can become a junior animal ambassador by learning all about pet care. The $80 per week cost includes animal interaction, arts and crafts, educational activities and special guests. Camp runs 12:30 p.m. to 4:30 p.m.; register at GwinnettAnimalWelfare.com.
At Autrey Mill Nature Preserve & Heritage Center in Johns Creek, kids are encouraged to reconnect with nature and history. Campers enjoy activities and learning opportunities while having time to explore and imagine. There are several options of full-day summer camps for campers 5 to 13 years old; half-day camps are available for 4-year-olds. Find schedules and more at autreymill.org. ■