Wesleyan Artist Market Celebrates Its Silver Jubilee in 2023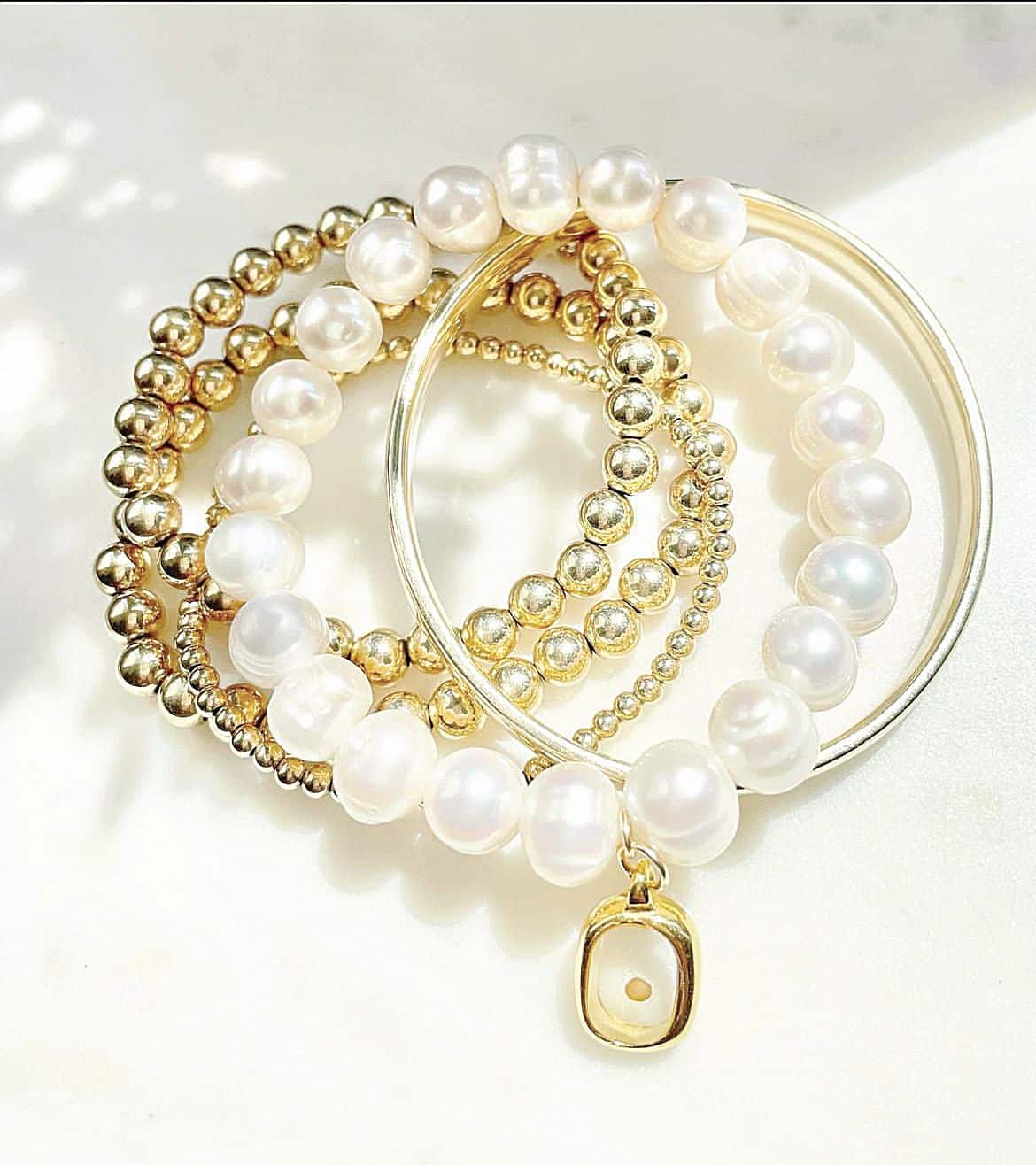 This spring ushers in the 25th annual Wesleyan Artist Market (WAM), our favorite local fine art, jewelry and fine wares show. It's set for Friday, April 28, 10 a.m.-7 p.m., and Saturday, April 29, 10 a.m.-3 p.m. at the Wesleyan School in Peachtree Corners.
Enjoy scrumptious beverages and snacks while taking in the talents of 85 professional artists from all over the Southeast and 19 student artists. This two-day event is open to the public; parking and admission are free.
Engage with artists as you hunt for works that you'll treasure for years to come. "Come to the Table," Wesleyan's hardcover cookbook with over 200 recipes, will be available for purchase. Proceeds help fund Wesleyan's fine arts programs.
This year, your support will facilitate the purchase of a new truck for the marching band, the refurbishing of a Steinway piano, new chorus risers and upgraded lighting in Powell Theater.
From casual customers to avid collectors, WAM always delights. To preview participating artists, visit artistmarket.wesleyanschool.org. Cheers to 25 years, WAM!
Spotlight on three artists
Wendy King — Poppy and Jewel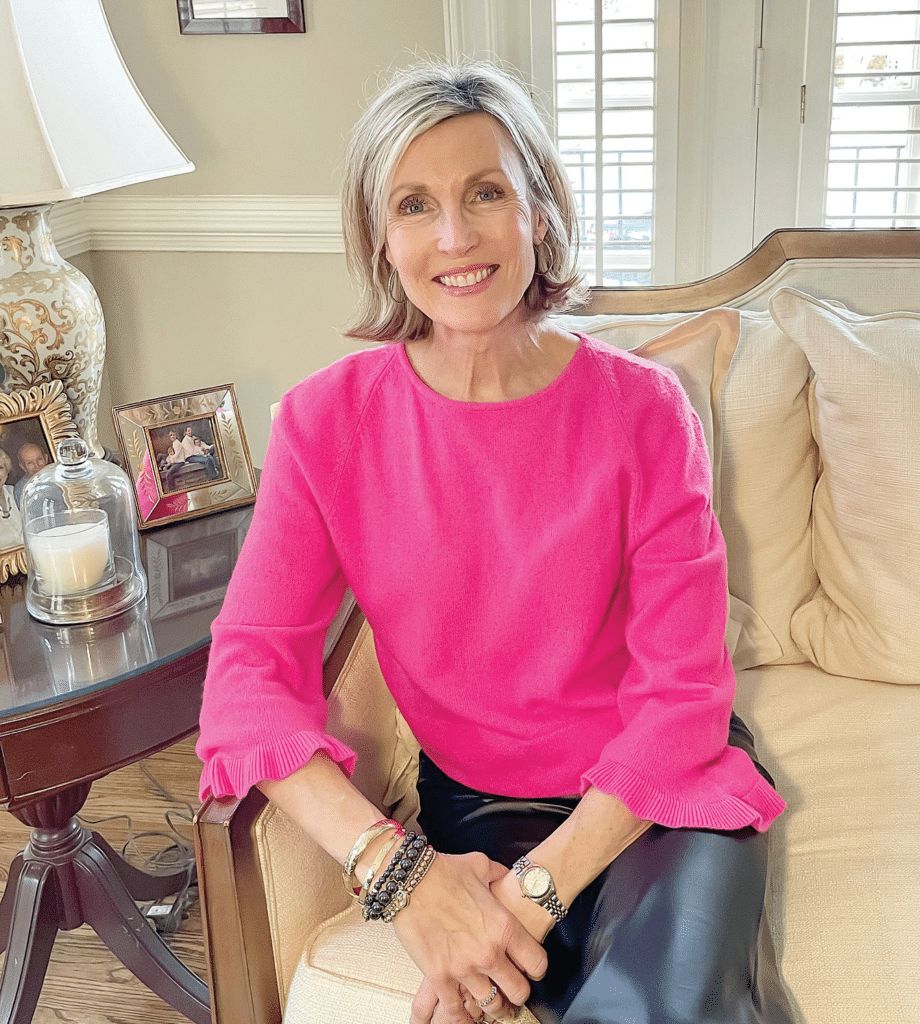 Inspirational jewelry that cuts the mustard
When Wendy King received a spherical, vintage charm containing a single mustard seed from her husband's grandmother long ago, she had no idea it would be the catalyst for starting her own inspirational jewelry line one day, nor that it would have such a profound and far-reaching impact on others.
In the 1950s and 60s, it was apparently customary to gift such charms, alluding to the parable of the mustard seed. Some were set in brooches, many hung on necklaces.
King found it was very effective to wear the sentimental trinket she had received as a reminder to walk in faith every day. She elected to sport the bauble on a stylish new bracelet and realized that women today would be more likely to benefit from continuing this tradition if the cherished charms of yesteryear with real mustard seeds inside were set in more contemporary, fashion-forward jewelry pieces.
"A lot of the religious jewelry has a similar look. I wanted to elevate it, put a different spin on it," King said.
She thought she could breathe new life into these vintage charms by using them to create contemporary jewelry pieces. "I went to antique stores, but it was like finding a needle in a haystack, especially to find them in good shape. That's when I realized I'd have to make the charms myself too," she added.
Today, her Poppy and Jewel pieces are made with natural gemstone beads like white lace agate, amazonite, aquamarine, pearl, tiger's eye, labradorite, hematite and river stone and her perfected bezels with metal finishes in silver, polished gold or antique brass. Each one contains a solitary, immortalized, goldish-brown mustard seed suspended in the center of a clear resin-filled charm.
"You don't have to see the whole staircase; just take the first step." – Martin Luther King
It's a powerful visual, to see how physically tiny a mustard seed really is. King painstakingly creates lovely earrings, necklaces and bracelets — vessels that spark the might of faith when worn.
Her jewelry line speaks with the promise that if you believe it, everything will work out for the best. Each distinctive piece comes with a card explaining the parable that inspired it.
Faith can move mountains — pass it on
Jesus says in Matthew 17:20, "For truly I tell you, if you have faith the size of a mustard seed, you will say to this mountain, 'Move from here to there,' and it will move; and nothing will be impossible for you."
It's a message that transcends all faiths and provides comfort whether you're religious or not. We all go through low points when digging deep to find the strength to triumph is vital.
Even the smallest amount of faith in an all-powerful God, or an ever-just universe, results in great things. Sometimes life's tests may seem insurmountable: divorce, job loss, infertility, illness.
That's when you must believe in your heart, without a doubt, that God or the universe is bigger than those mountains. It's hard to do in our we-have-to-see-it-now-to-believe-it society. Enter Poppy and Jewel. Cue "You Gotta Have Faith" (George Michael, 1987)
King has enjoyed witnessing the organic growth of the one-woman enterprise she started in 2016 named after her maternal grandparents who planted the seeds of faith in her. The ripple effect of customers sharing her pieces is special.
"I can't tell you how many times I've had people tell me they hear stories that grip their hearts and give their bracelets away to comfort someone in need. Then I get an email, "Well, I gave another one off my wrist. I need to restock." That's what it's for. You hear somebody going through a rough patch and you pass it on," King smiled.
The evolution of an artisan
A bachelor's degree in government administration didn't exactly allow King a creative outlet. Nor did her 12-year stint as a fitness instructor at Country Club of the South. She founded Poppy and Jewel when her kids were still in school, and she was able to ramp production up or down as needed. "Now that they're grown, I can devote so much more to it," King said.
Producing her pretty, handcrafted pieces took plenty of trial and error. "The first time I worked with the resin, I poured it, set the seed in and wondered why it was gooey. It took years of making charms that I can't use. Those little boogers float around," she laughed.
Lately, King has been working with a company to replicate the vintage charm that started it all for her. They are three samples into tweaking a spherical bauble with a metal band around it that should be available in a few months.
Behind the scenes
Removing air bubbles in the resin, stringing smaller beads one by one with a needle and thread, perfectly positioning the seeds — it's tedious work.
If the resin mixture isn't spot on and perfectly timed, it doesn't cure correctly. It's all part of learning what works. "I'm very methodical now. I follow the same steps every time. I don't want any mishaps," King explained.
This jewelry line is a true labor of love for King who has since fine-tuned her two-step resin pouring process. Still, every phase of a successful batch of charms has to be completed within a certain window. She purchases the bezels (the empty metal part), mixes the resin with hardener, pours it and positions the itty-bitty mustard seed in the center while wearing glasses and a magnifying glass.
King patiently allows it to cure, but she must also check on them at exactly the right time to be able to redirect any seeds that may have drifted. Once that stage has cured properly, a second round of resin is poured.
King prefers to work on small batches of about 100 charms at a time. "When inspiration hits, I'll go to my studio down the hall and work while those juices are flowing and I'm in that creative mindset, whether it's crack of dawn:30 or late at night," she said.
Shop Poppy and Jewel
Shop King's handcrafted jewelry in person at WAM, The Red Hound in Norcross and Alpharetta, Under the Palm Tree in Dunwoody, and Josephine's Antiques in Roswell. Electronically, visit her website, poppyandjewel.com, or Instagram account, @poppy_and_jewel.
Customizations include requests for particular colors, smaller or larger sizes. Some people bring their own beads or a broken necklace to be used. If you find a vintage charm after rifling through your family's jewelry boxes, you can have it added to Poppy and Jewel bijouterie.
"If it brings a sense of joy or hope to somebody, if I touch one person's life, then I'll keep doing what I'm doing," King declared.
Shane Miller — Artist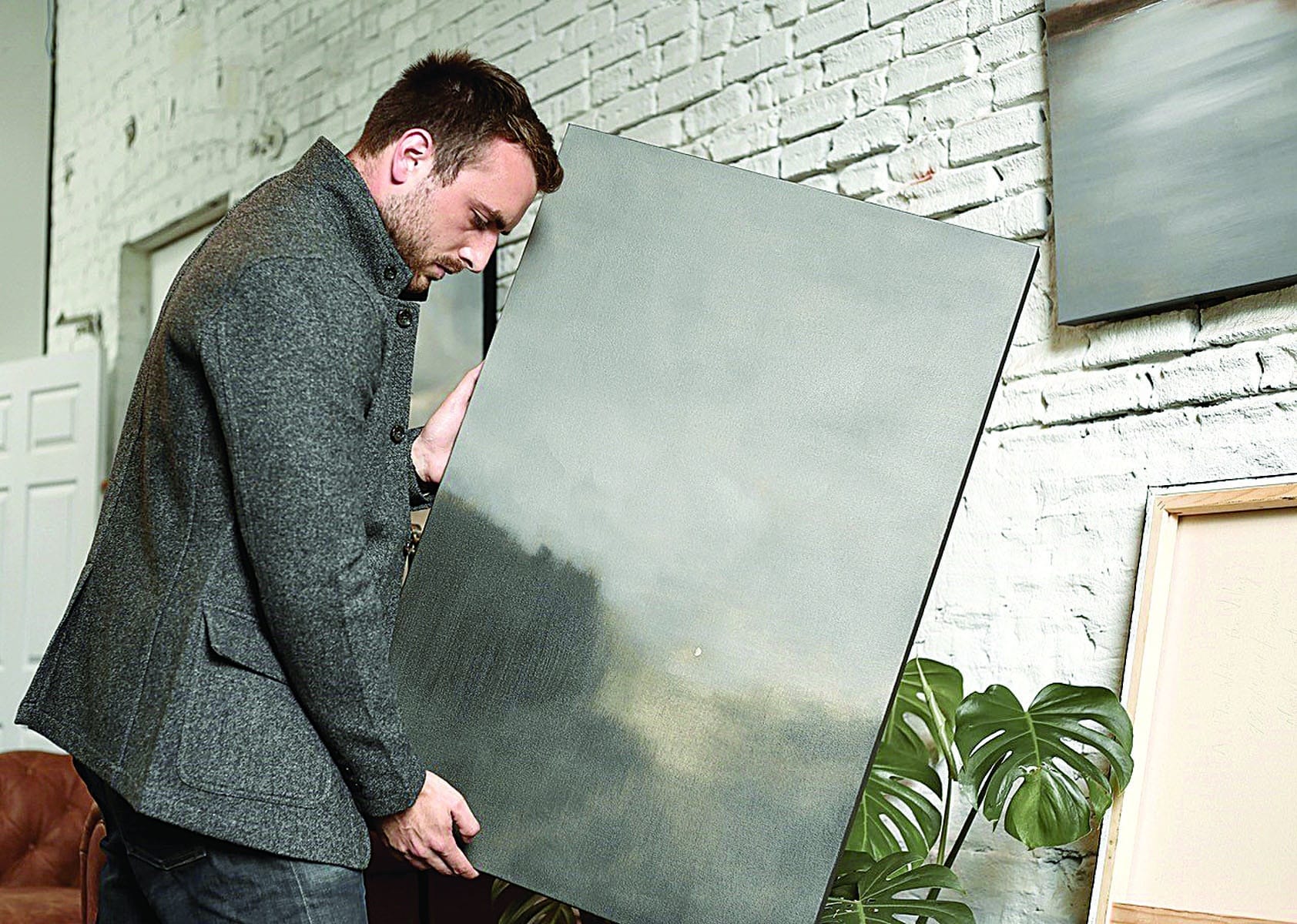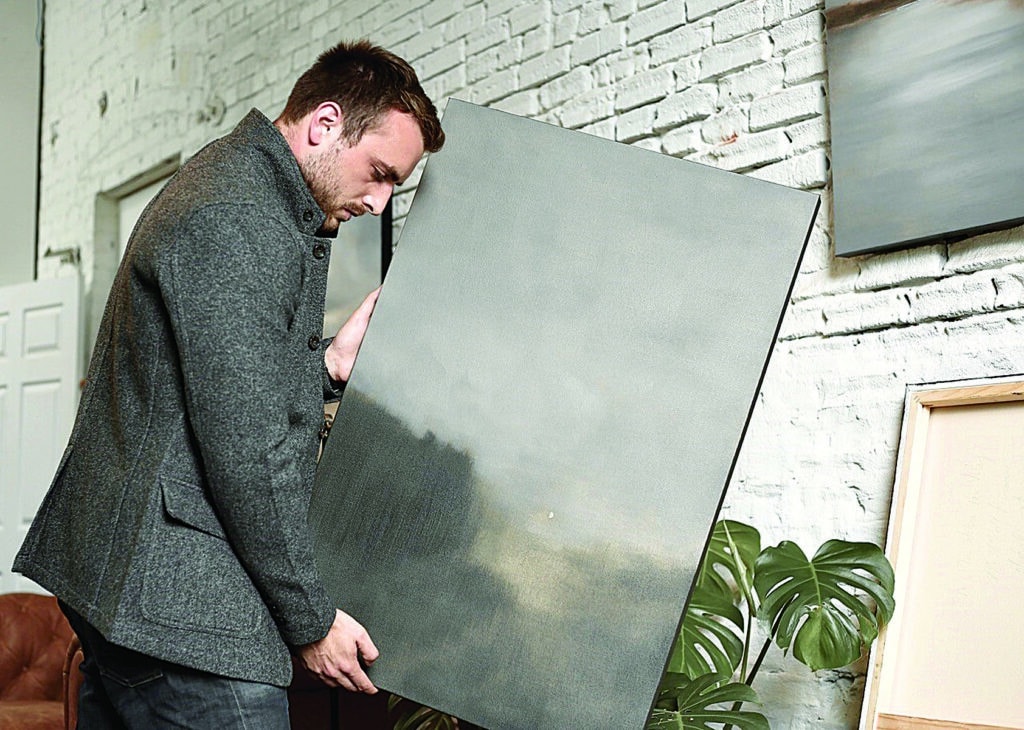 Stumble into art
Maryland native Shane Miller did just that, and he's been swimming since 2016. Miller transferred to Nashville in 2013. He always knew he'd do something creative full time, but he didn't realize it would be painting until a chance encounter at an art crawl with Paul Polycarpou, then CEO of Nashville Arts Magazine, changed his instrument from guitar to paintbrush.
Miller had already hung up his physical therapist hat after six years in the field to pursue music. His father introduced him to guitar early. He took lessons at age 10 and was giving them by 15.
Strumming for a living wasn't much of a stretch. For most, it would be a giant stretch. For musical Miller, easy peasy.
Touring on weekends with an independent artist, his year in the life of a professional musician allowed more time for painting. Eventually, the music volume decreased as the painting volume amplified.
A natural knack
"I had a watercolor tutor in high school. Before that, I'd draw on the back of my worksheets in elementary school. I have a natural knack for it," Miller stated.
Miller clearly paid attention in watercolor class where he learned the fundamentals of color theory and composition. Through college and thereafter, he painted in his spare time.
After trying different styles, he settled on creating what most resonated with him: abstract, atmospheric landscapes influenced by tonalism like those one might recall from a reverie or a distant memory, using oils on canvas.
Miller took Polycarpou up on his open-door policy for local artists. The executive was open to critiquing artists' work and had offered to introduce Miller to a gallery in town when he believed him to be ready.
True to his word, Polycarpou provided direction and in a short time, Miller signed with the Rymer Gallery. Others ensued.
Needless to say, the painter isn't missing his regimented physical therapy days. He considers his flexible schedule a dream. "I'm happy with my career. It was an interesting road getting here," he said.
The sway of social media
Curating a cohesive Instagram story and posting regularly paid off for the promising artist. The platform revealed a market for his work. Miller was both astonished and assured by people's readiness to buy paintings online.
"I've shipped work all over the world: the UK, Australia, Japan, the Philippines, Germany — all through the power of the internet," Miller said.
Studio space
Miller works out of his Germantown studio with soaring ceilings, a massive north-facing window and skylight in an old flour mill that's been converted into a business collective north of downtown Nashville.
A believer in being disciplined, he reports to his atelier daily, inspired or not, "You have to be consistent with showing up. Diving in allows creativity to start flowing."
The painter's process
Miller finds inspiration in his travels. He doesn't work from reference photos; he finds them restrictive. Surprisingly, he doesn't aim to depict any particular panorama. He paints from his imagination.
More interested in expressing himself and capturing feelings, he seeks to take viewers on a spiritual voyage. "Painting is a subconscious process for me, like meditation," he explained.
Miller paints bodies of water because, besides being visually interesting, they create lines leading the eye into the composition. It evokes turning a chapter, especially flowing rivers.
His monochromatic, non-specific landscapes act as a bridge to tap into emotions. He's pleased when people feel like they've been to "that place" in any of his paintings.
A prolific painter, his preference is to juggle about six pieces at once. "I paint skies on different days than the foreground, working in batches. I'll mix a certain color and carry it throughout multiple paintings so I'm not wasting paint. It's a nice way to streamline things and jump around through different pieces," Miller said.
Stepping away frequently when working on multiples allows him to avoid tunnel vision, "I can always reassess the direction."
Most paintings are varnished once he's done. He likes the subtle finish of satin varnish mixed with cold wax for a less reflective sheen.
Mystery blooms
"Recently I've been painting abstract florals. There aren't many rules when painting florals," Miller stated. One gets the impression he wouldn't follow any if there were. He enjoys using brighter colors than he would in his landscapes.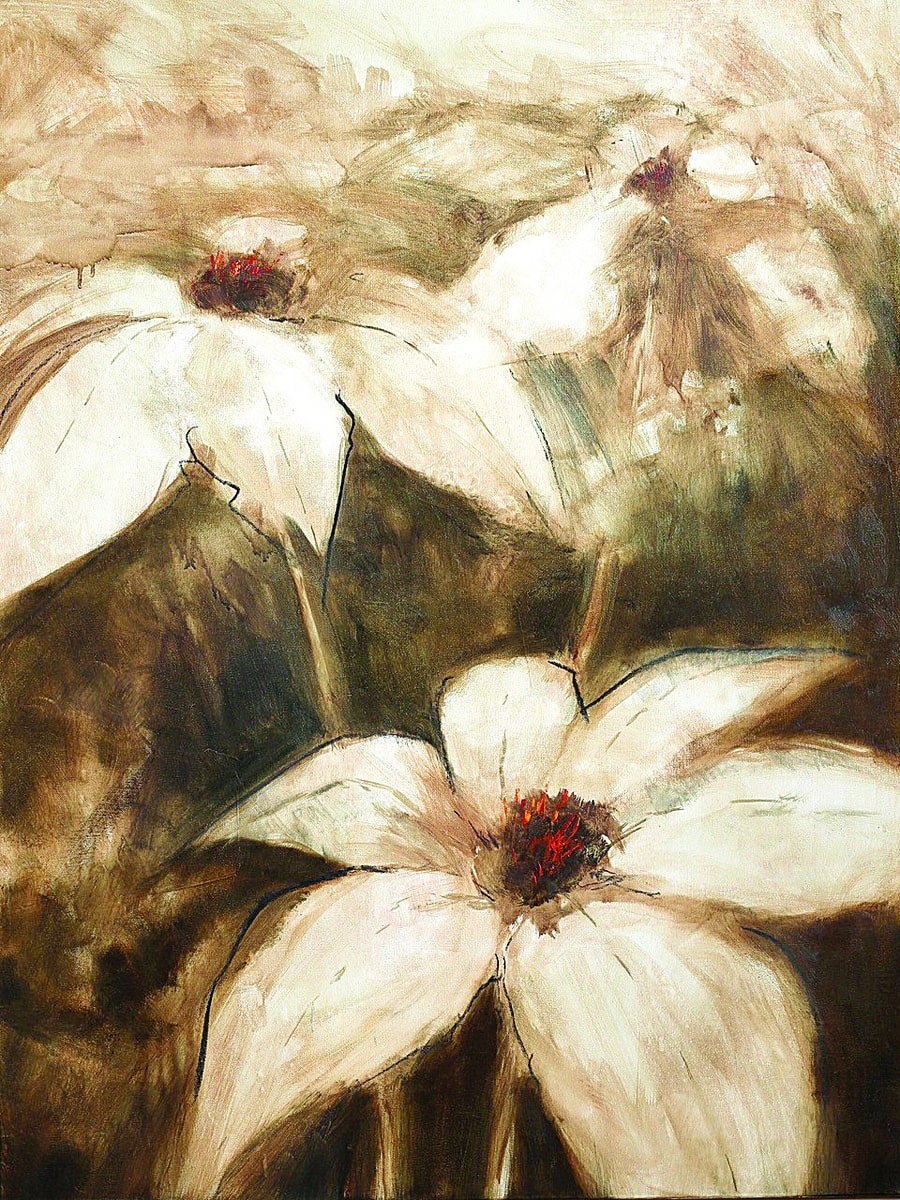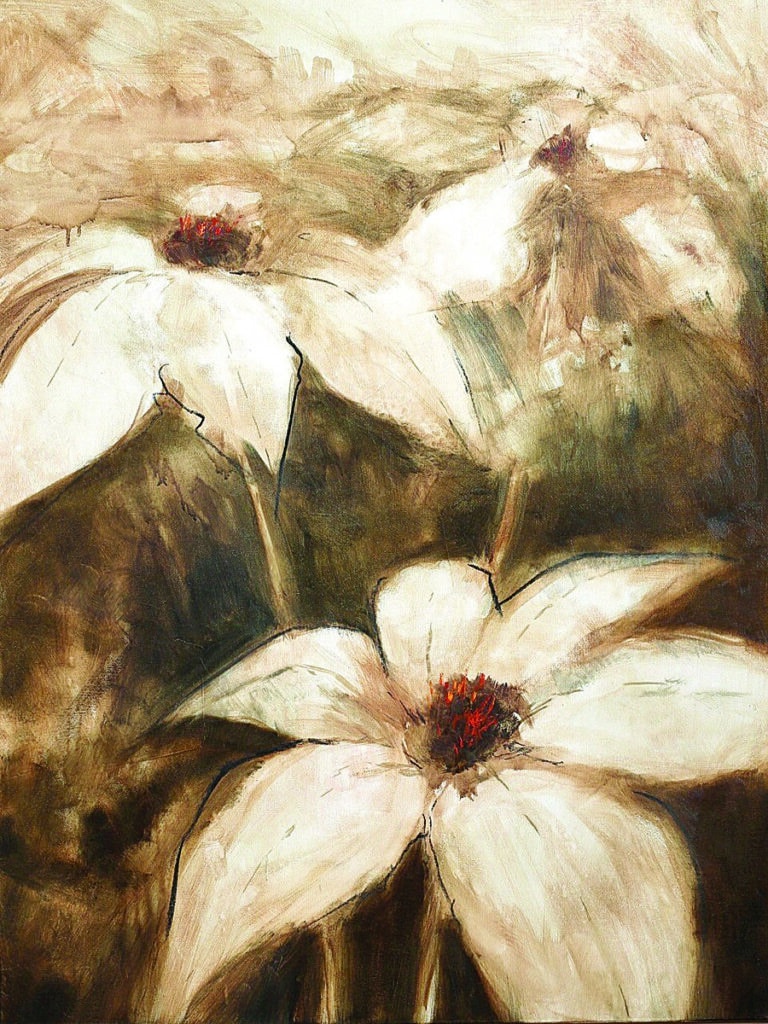 "I don't know one flower from the next. I just paint whatever shape looks great and my wife will say, "That looks like a lily." For Miller, it's about creating a composition that feels right.
A left-brained creative?
Miller has a penchant for numbers and organization. "I have systems to keep track of everything," he said. His paintings have an identifier that correlates to a spreadsheet and an internal tracking system. He can trace any piece, whether it's at the studio, at a gallery or sold.
Miller dove into the accounting cycle and relishes keeping up with his books. Documenting his endeavors makes him feel accomplished.
A logbook holds records of the colors and dates of every layer of every painting — all steps taken to achieve the end result. These come in handy when clients request something similar to one of his older works.
"Painting is a very subtle thing, especially working in layers. It could be hard to recall every step," Miller explained.
Commissions
At shows like WAM, you might not find exactly what you're looking for, but if you like his style, Miller can create a unique piece for you. One can request a painting reminiscent of a location — the Carolinas, a marsh, the coast or mountains — and any desired elements for the piece.
Miller then gets to work. A 20% deposit gets the ball rolling. Within a month, one can expect to see photos and videos of a piece for final approval.
Shop Shane Miller Art
Meet Miller and see his work at WAM. So that buyers can purchase with confidence, he is responsive to inquiries from his website, shaneartistry.com or through Instagram @shane.artistry.
"Art washes away from the soul the dust of everyday life." — Pablo Picasso
Miller espouses Picasso's sentiment. He feels painting or any creative outlet is an escape from the mundane and rejuvenates the spirit.
Jennifer Keim – JKEIM Fine Art and Lifestyle Design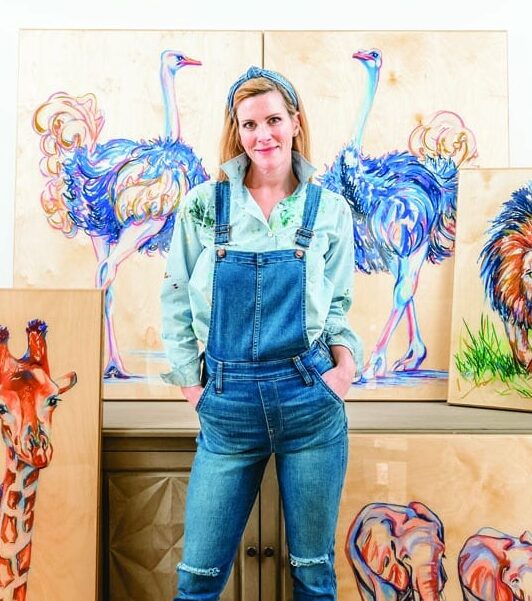 Becoming JKEIM
Atlanta artist Jennifer Keim switches between oils, pastels and mixed media to best capture her subjects' personalities. She's been fostering her artistic talent since fourth grade at the behest of the late Jill Chancey Philips, a summer camp instructor at the Columbus Museum who noticed she had something special.
Keim studied under Philips until earning a Bachelor of Fine Arts in drawing and painting at Auburn University. Philips owned the gallery and studio where Keim spent her young adult summers learning the business side of being a professional artist.
She credits her mentor for emphasizing grit and form. "It's so important understanding technique before you can evolve your style. You have to understand dimensions, perspectives and shading to bring a subject onto the page," she said.
Keim worked in advertising for practical reasons until a successful solo art show convinced her she could do art full-time. She felt "suffocated" behind the computer, so in 2007 she left graphic design for a career as a painter.
Art therapy
An unfinished space in her home is Keim's special place. Nails dot the walls where pieces have come and gone. Paint and resin splashes adorn the studio floor. Her beautiful work surrounds her on all sides.
Seeing how color and shadowing can bring the beauty of a subject up off the page has always intrigued Keim for whom painting is a creative outlet. "It feels good. If I'm a little cranky, my husband says, 'You might need to go to the studio for a bit.'"
Off to the Races
The jockeys and detailed horses of the pastel-on-wood Off to the Races series feature clean lines and vibrant colors. Keim captures the energy of the horse races. "My favorite part is doing the kickup," she said.
Fun fact: Mud can splatter up to 20 feet behind a galloping horse.
Starting with a pencil drawing is key as the nonporous wood allows for only one or two strokes of pastel. After 20 years of working with high gloss resin, Keim is still surprised by the chemical reaction that occurs when it's poured over pastels on raw wood. It enriches the woodgrain, melts the pastels heightening the colors and creates an almost 3D effect.
The family is warned before a resin session begins with "Do not enter; mommy is pouring." Then it's literally off to the races. It takes two to three minutes to precisely mix the concoction of resin and hardener and another 15 minutes to pour the epoxy before it gets too sticky.
Keim releases air bubbles with a torch and walks away for three days, hoping no bugs land on the curing resin. The finished pieces, with their glossy sheen and beveled edges, do not require a frame.
Generation Wild collection
An African safari in 2009 left Keim forever enchanted by the way of the wild — how the animals communicate, the smells, the circle of life. "It makes your heart beat in a different way. I still get chill bumps from it," she said.
Capturing animals is all in the eyes in Keim's view. "Start with the eyes. If you don't get them right, you might as well start over," she explains. "I have to feel like they're blinking at me before I can move on."
Fly Guys
"My Fly Guys collection started from my husband's grandfather's fly box in the studio. I was up late one night and started tinkering around with it. Creative moments," Keim said.
Textiles
Whose Booze? It's what Keim likes to call her set of four hand painted linen cocktail napkins with a hemstitch, each in a different color for easy glassware identification. They'll be available at WAM for the first time this year.
Keim also makes tea towels, scarves that double as cover-ups and more. The painted fabrics are durable and washable.
Shop JKEIM
Find Keim's artwork and textiles at WAM, Marguerite's in Brookhaven, B.D. Jeffries in Atlanta or visit her website, jkeim.com.
A day in the life
"I jump around like a ping-pong ball, which keeps me in the groove" is how Keim describes her workday. There are textiles drying on tables and on the floor, scarves on mannequins. It's a carefully timed game of drying stations in anticipation of the next color. Snuck in between is a layer being added to an animal piece.
She prefers coastal and mountain pieces in oils with visible palette knife blade marks. "I like to work with oil on linen or canvas with a venetian red backing. I was trained to emulate the masters," she said.
Keim keeps a supply of canvases painted with a venetian red basecoat in all sizes at the ready, in case there's something she wishes to paint immediately.
Commissions
Keim completes commissions of all sorts. Even her textiles can be personalized. Pinpointing what the client is interested in comes first. Next, learning what the space is like.
She's been known to bring an assortment of works to homes to see what size works best with the ceiling height and the environment. A 50% deposit gets a commission underway.
The best part
Keim wants her work to incite nostalgia, cheer and joy. For her, the best part about being an artist is having people connect to a piece she was inspired to create.
"You're getting a little piece of me in every one of my original works," she said. "When all those happy moments combine, that really is magical for me."
See you at WAM's 25th!
I'm positive you'll enjoy meeting these gifted artists at WAM. The show is the springtime indulgence we've all come to expect. Exhibitors are looking forward to meeting you and sharing their zeal for art with you.
Thanks for one exquisitely imaginative quarter of a century, WAM!

Wesleyan School Senior Selected for 2023 AP Art and Design Exhibit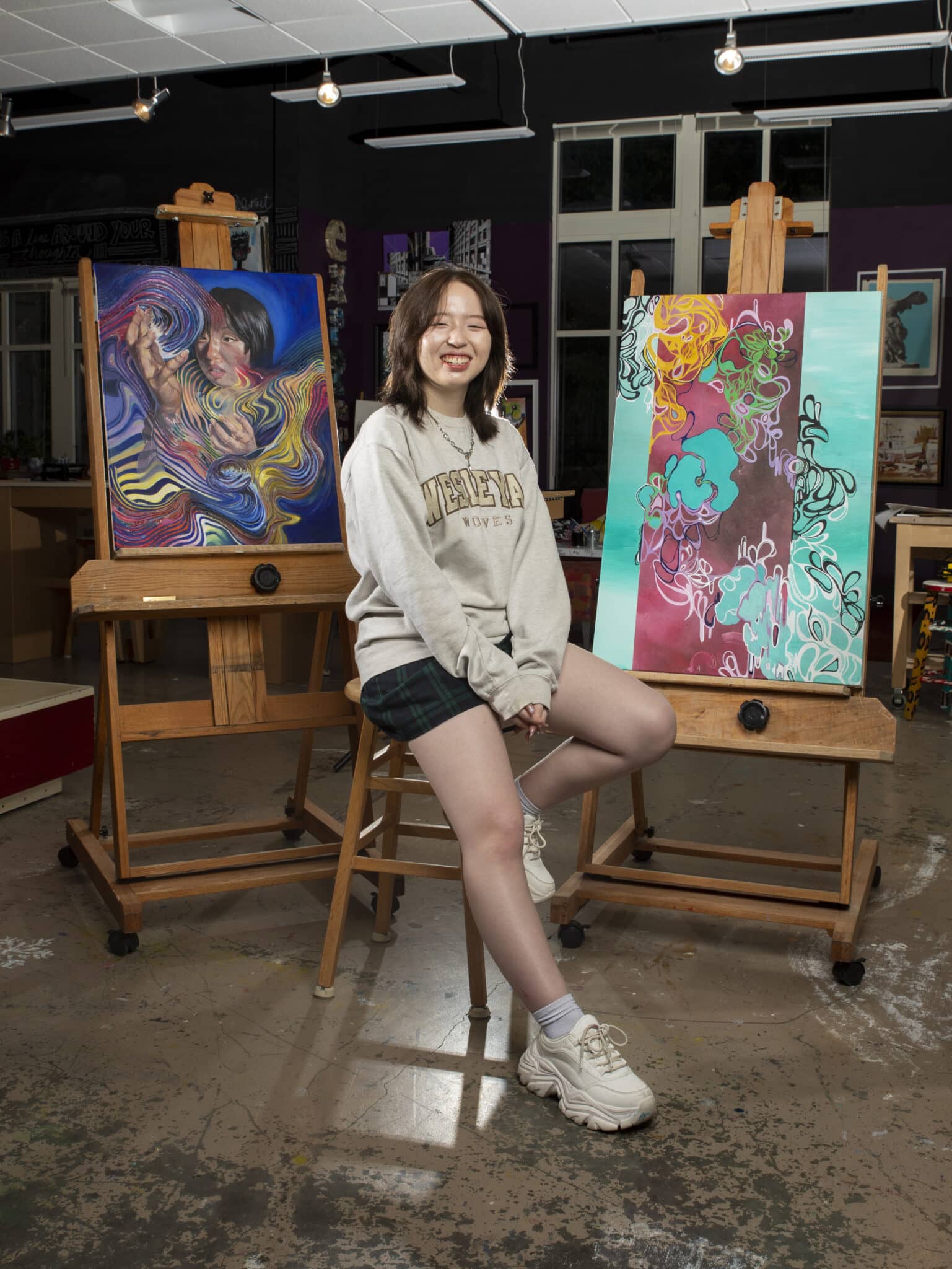 Wesleyan School senior Elizabeth Tian is one of 50 students whose artwork was selected for inclusion in the 2023 AP Art and Design Exhibit. This is an online exhibit that shows exemplary AP art portfolios selected from over 74,000 entries.
This year's exhibit features student artwork showcasing a diverse range of student ideas, styles of artmaking, materials used and conceptual as well as physical processes involved with making works of art.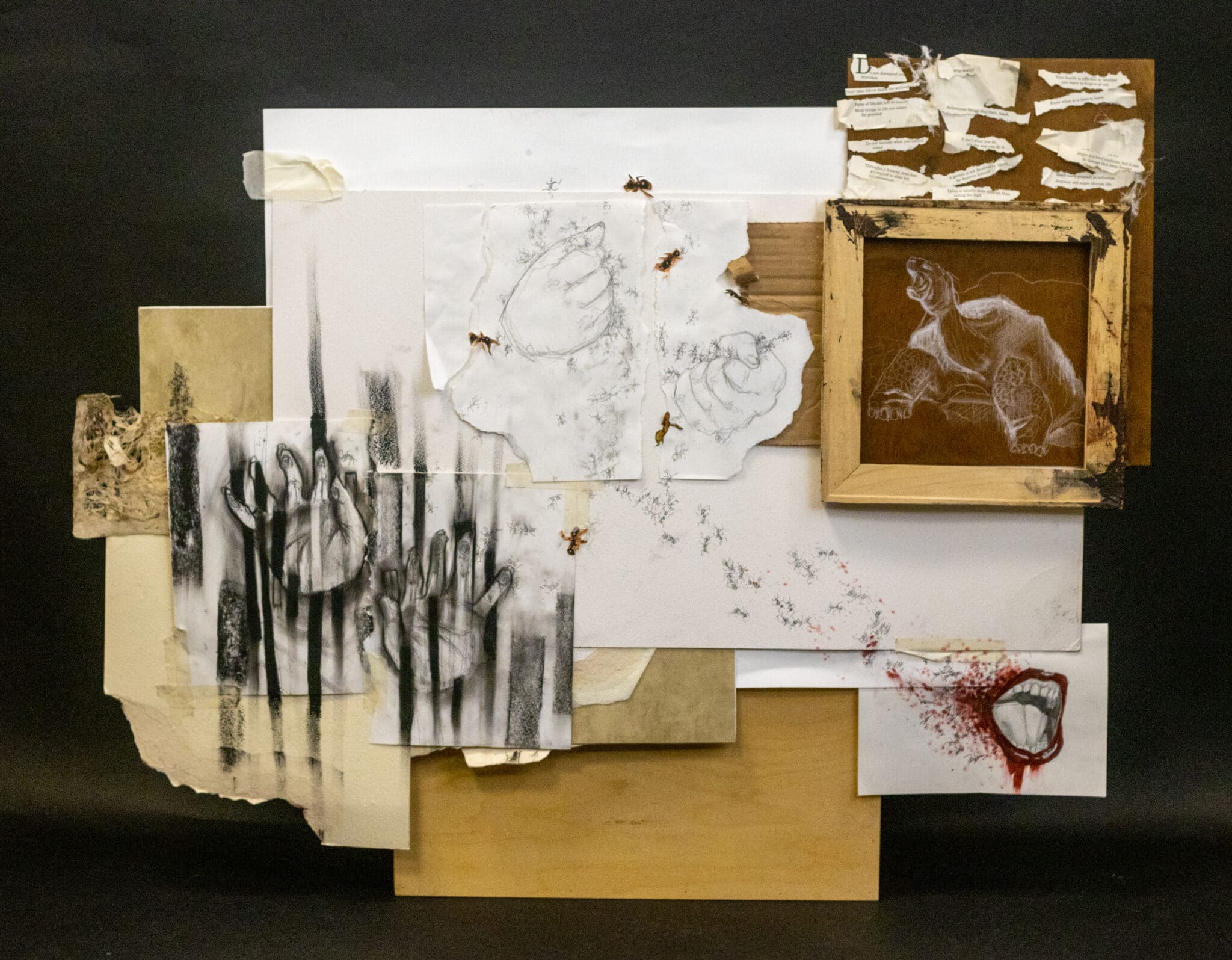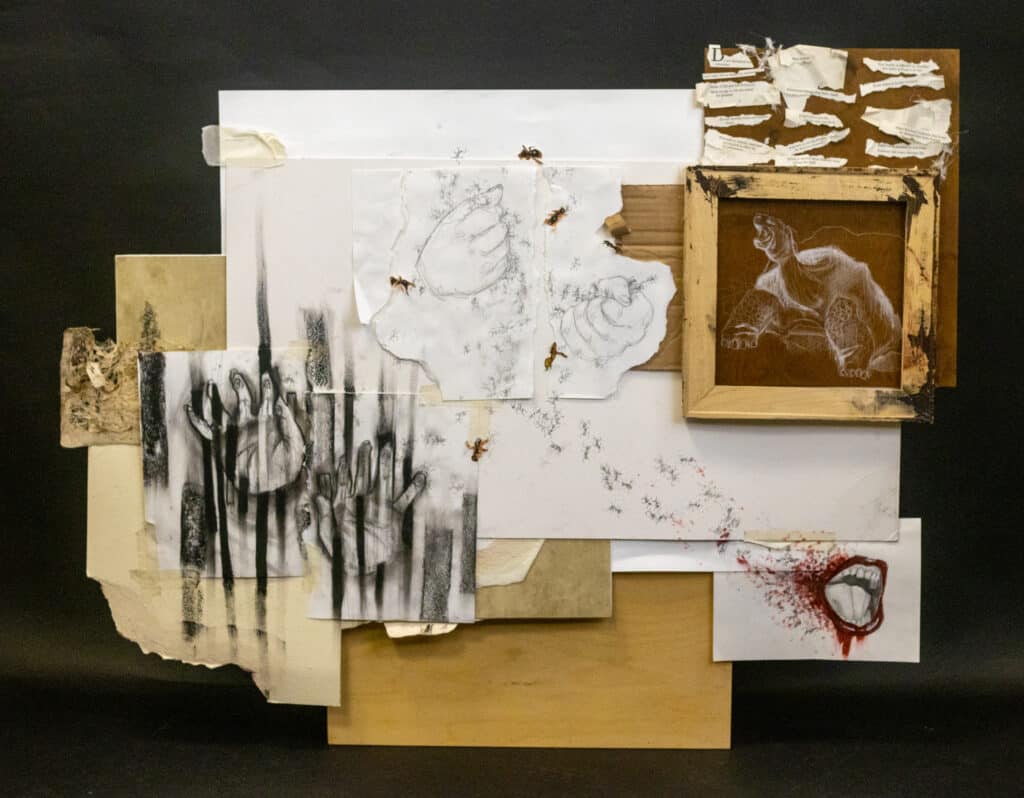 "Inclusion in this exhibit is highly selective and proves Elizabeth's brilliance in concept and technique," said Meagan Brooker, assistant director of fine arts and art teacher.
The exhibit will feature Tian's portfolio alongside a profile.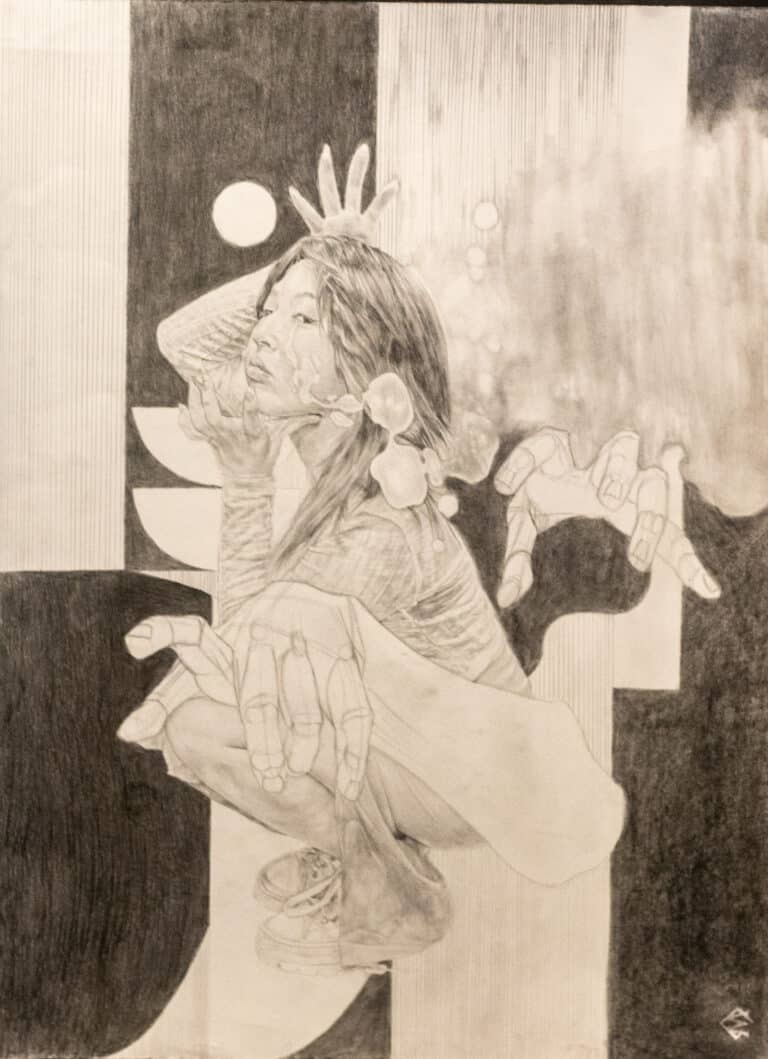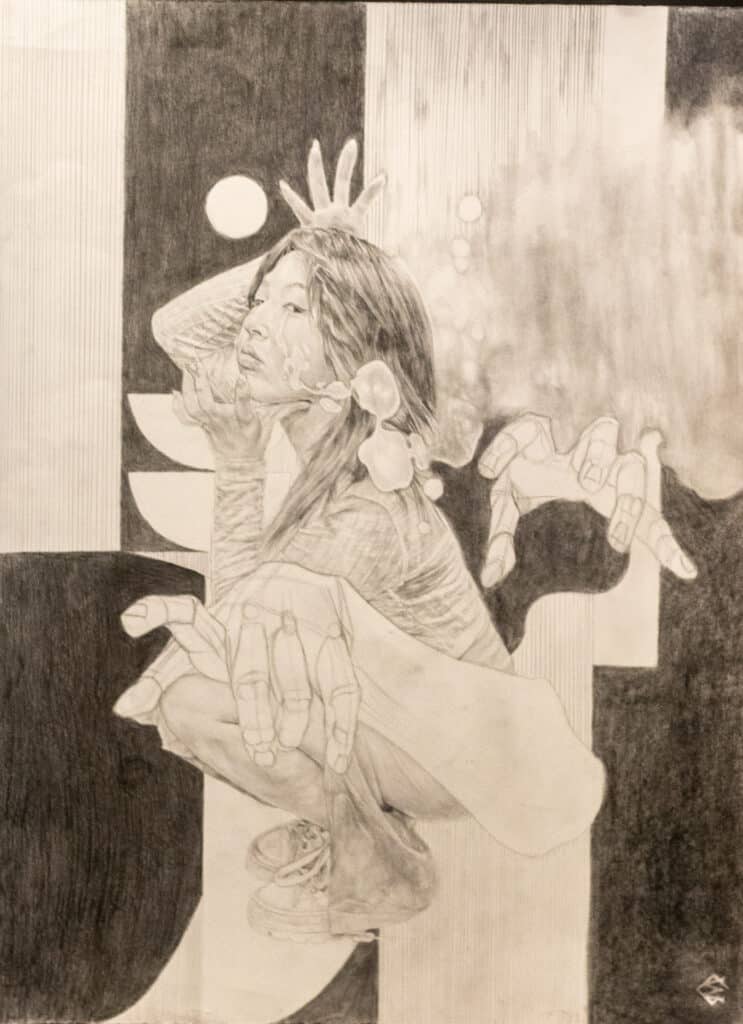 "Elizabeth is a tremendous student that works so hard and puts much thought into design. I am thankful for Ms. Brooker's dedication, guidance, encouragement and critical thinking that allows her to equip her students to grow in their artistic ability," shares Joe Koch, high school principal.
To learn more about the school, visit www.wesleyanschool.org.

High Museum of Art Presents Exhibition of 19th-Century Black Potter from the American South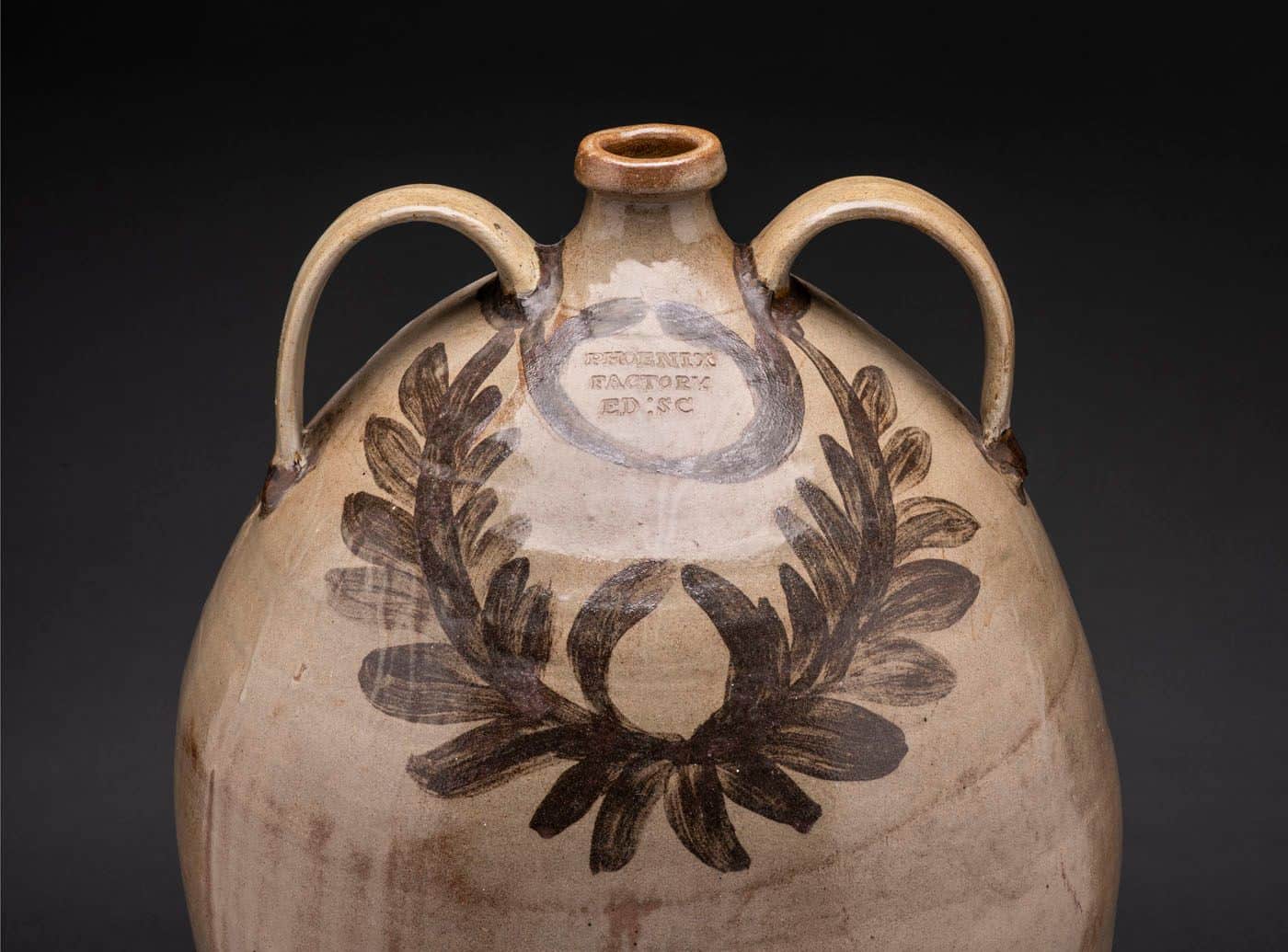 Coming this spring, from Feb. 16 – May 12, 2024, the High Museum of Art will be the only Southeast venue for "Hear Me Now: The Black Potters of Old Edgefield, South Carolina." 
The exhibition features nearly 60 ceramic objects created by enslaved African Americans in Edgefield, South Carolina, in the decades before the Civil War.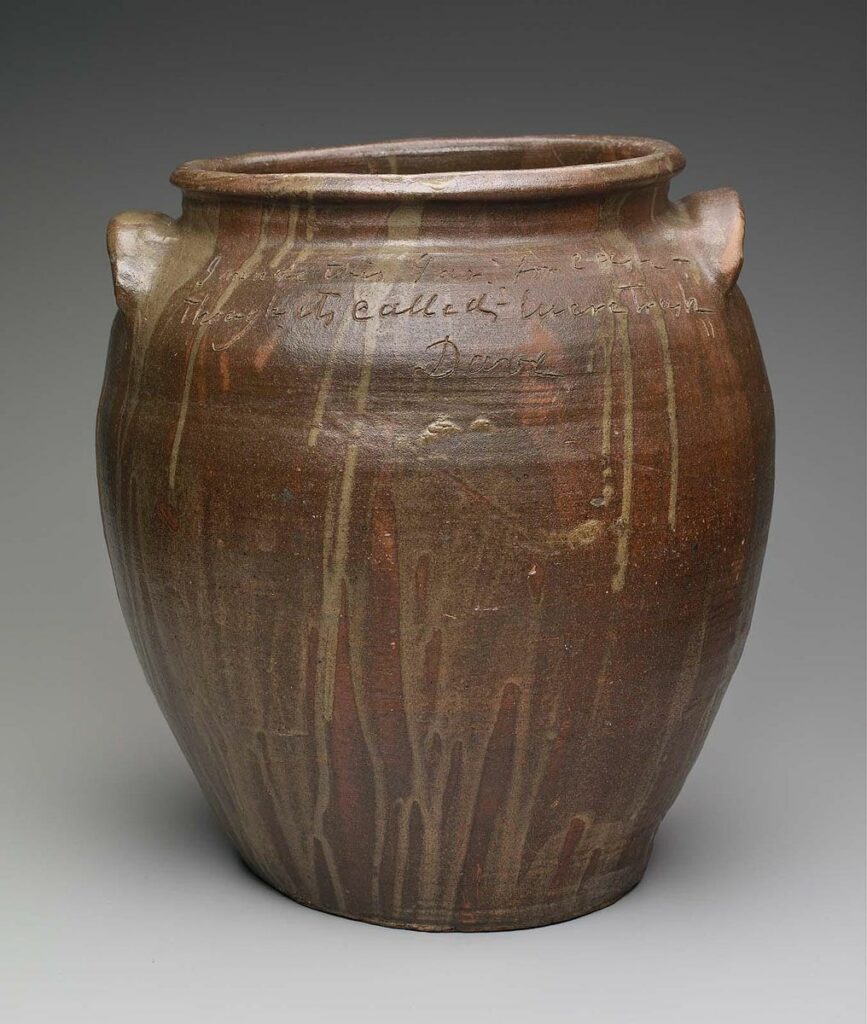 These 19th-century vessels demonstrate the lived experiences, artistic agency and material knowledge of those who created them.
The works include monumental storage jars by the literate potter and poet Dave (later recorded as David Drake, ca. 1800-1870) as well as examples of utilitarian wares and face vessels by unrecorded makers.
"Hear Me Now" will also include work by contemporary Black artists who have responded to or whose practice connects with the Edgefield story, including Theaster Gates, Simone Leigh and Woody De Othello.
The exhibition is organized by The Metropolitan Museum of Art and the Museum of Fine Arts, Boston.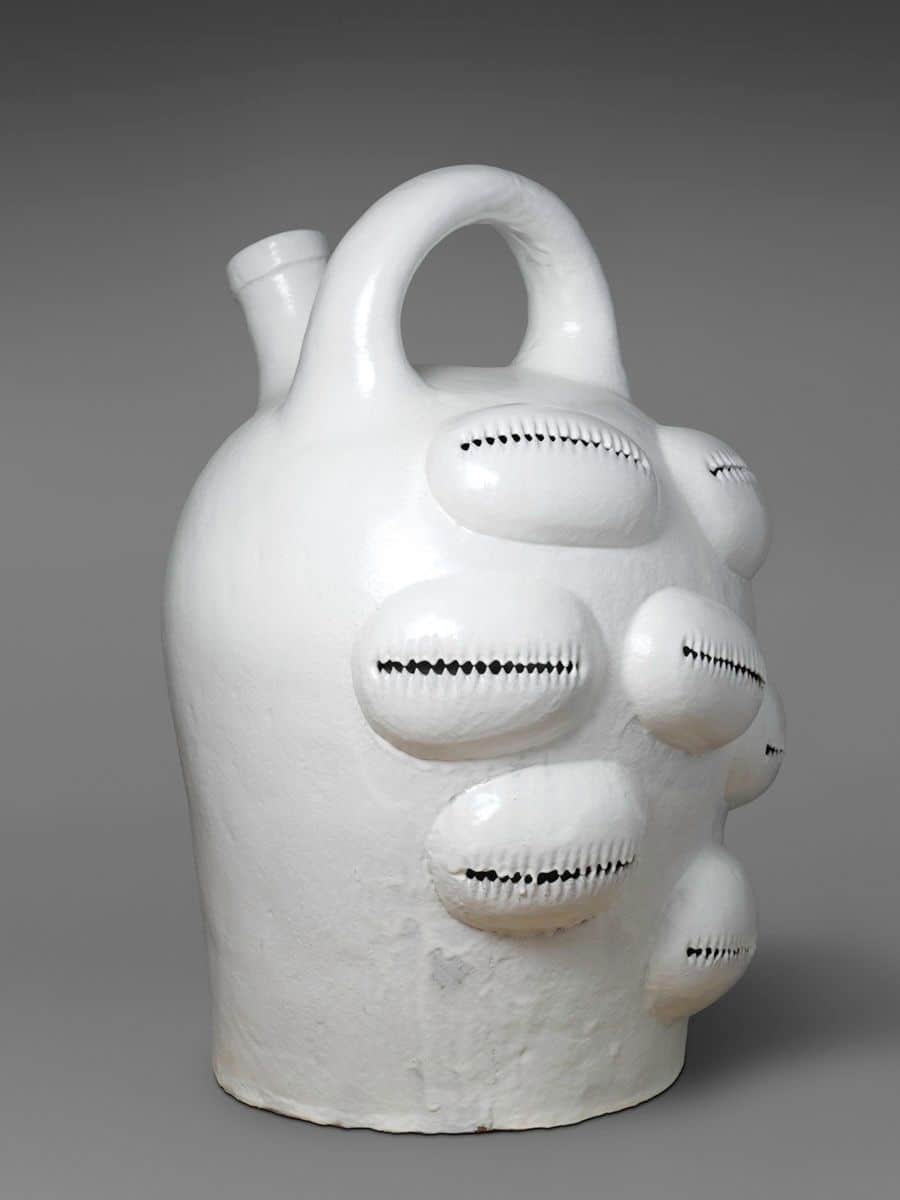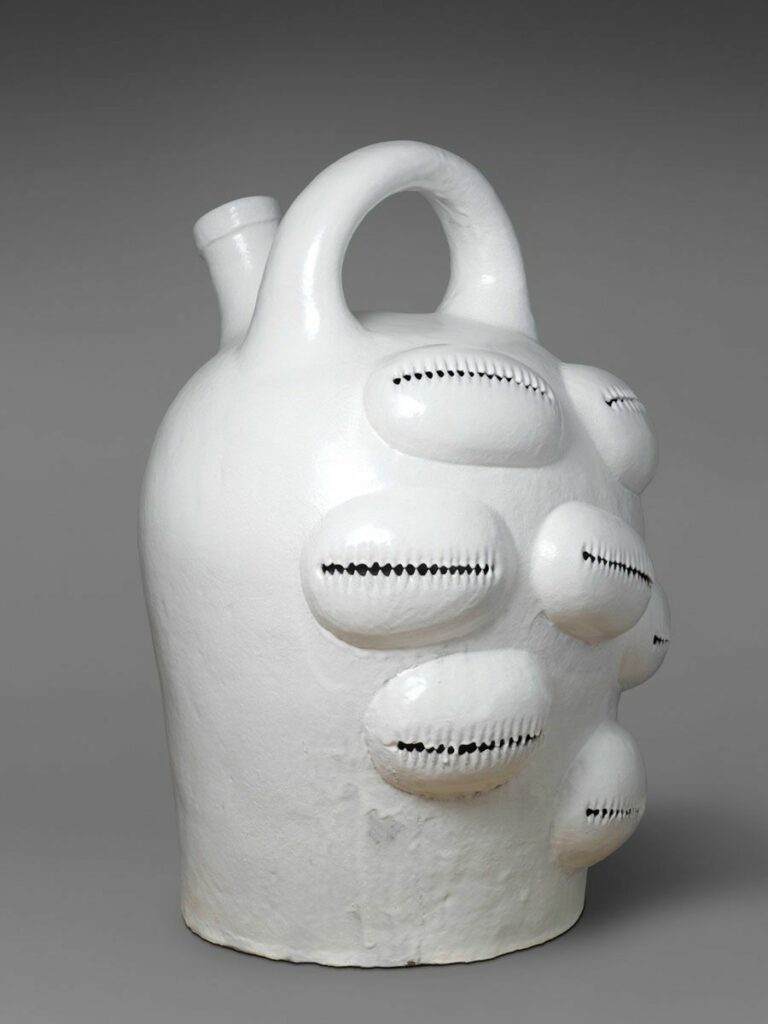 "We are honored to present this exhibition, which recognizes the innovation of Edgefield potters—a practice all the more remarkable given that their work was created under the most inhumane conditions of enslavement," said Rand Suffolk, director of the High.
"It's an important story, one that not only dovetails with the High's longstanding recognition and display of Edgefield pottery but one that should also resonate with our regional audiences." 
In the early 1800s, white settlers established potteries in the Old Edgefield district, a rural area on the western edge of South Carolina, to take advantage of its natural clays.
Hundreds of enslaved adults and children were forced to work in the potteries, bearing responsibility for the craft, from mining and preparing clay to throwing vast quantities of wares and decorating and glazing the vessels.
By the 1840s, they were producing tens of thousands of vessels each year. The stoneware they made supported the region's expanding population and was intrinsically linked to the lucrative plantation economy.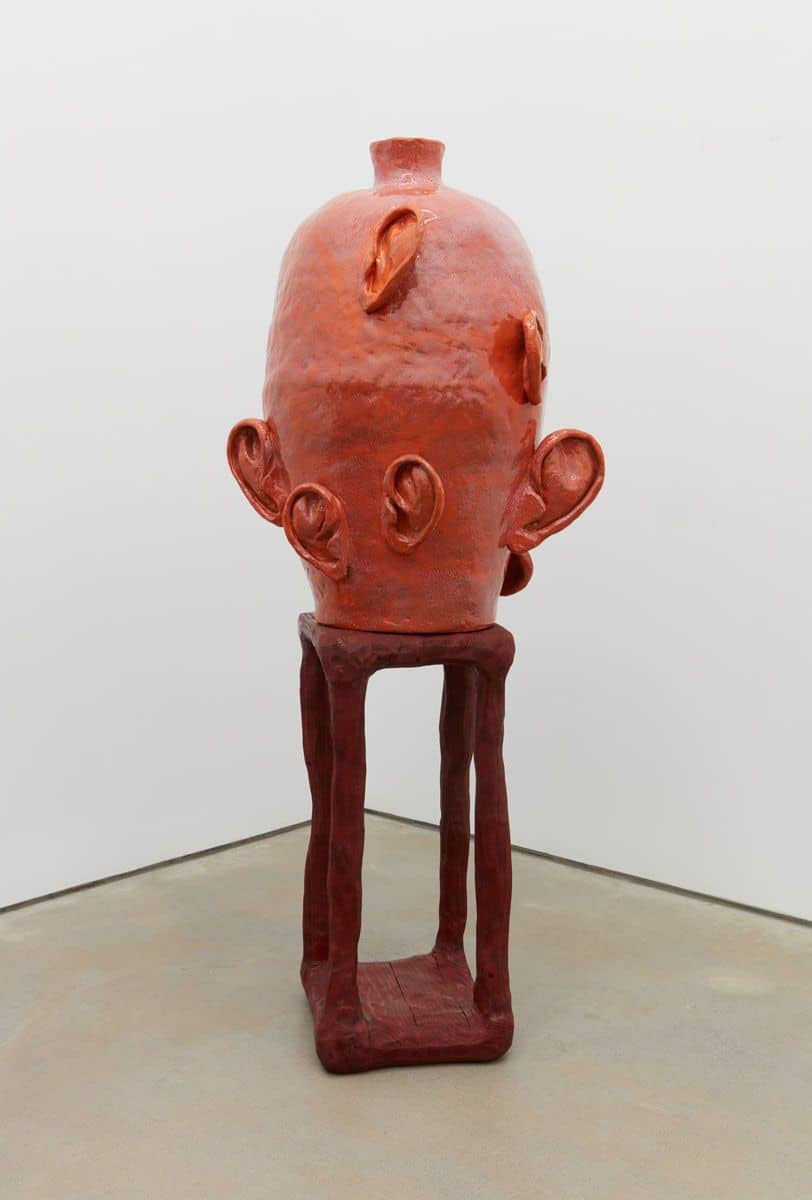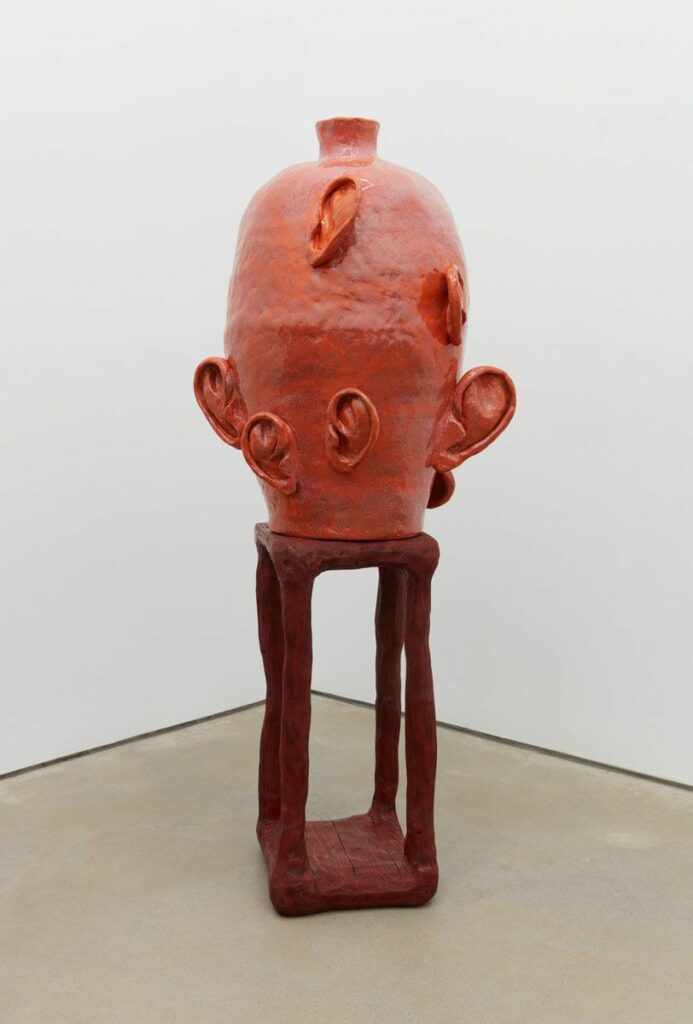 The history of slavery is widely understood in terms of agriculture, but these wares tell the story of what historians call "industrial slavery," where the knowledge, experience and skill of enslaved people were essential to the success of the enterprise.
White enslavers and factory owners often marked the wares with their names, therefore claiming the expertise of the enslaved as their own. Only some of the enslaved makers have been identified so far, and more than 100 of their names are highlighted in the exhibition. 
One identified maker included in the exhibition is Edgefield's best-known artist, Dave, later recorded as David Drake, who boldly signed, dated and incised verses on many of his jars.
"Hear Me Now" features many of Dave's monumental masterpieces, along with a video featuring Dave's newly discovered descendants Pauline Baker, Priscilla Carolina, Daisy Whitner and John Williams, in which they reflect on his work and their family connections.
Among the other exhibition highlights are 19 face vessels or jugs, which served as powerful spiritual objects and were likely made by the Edgefield potters for their own use.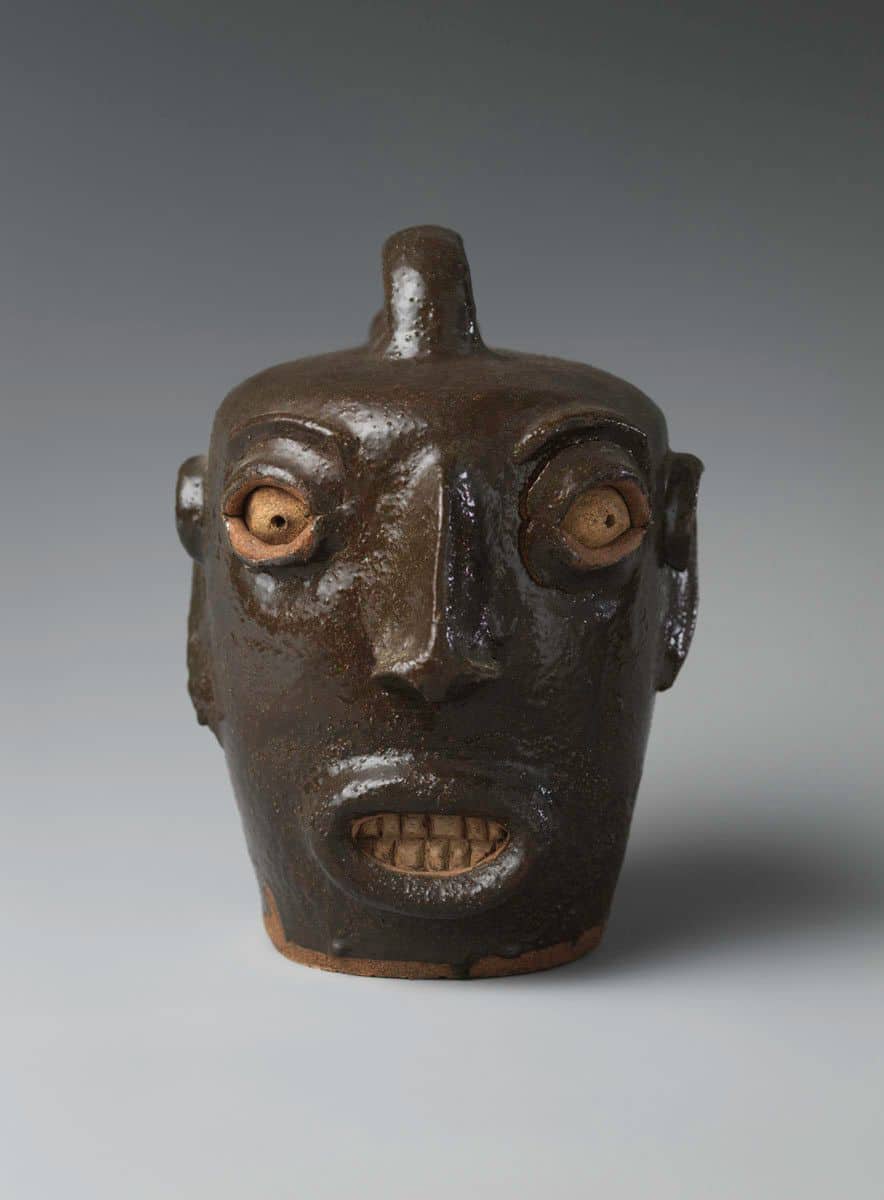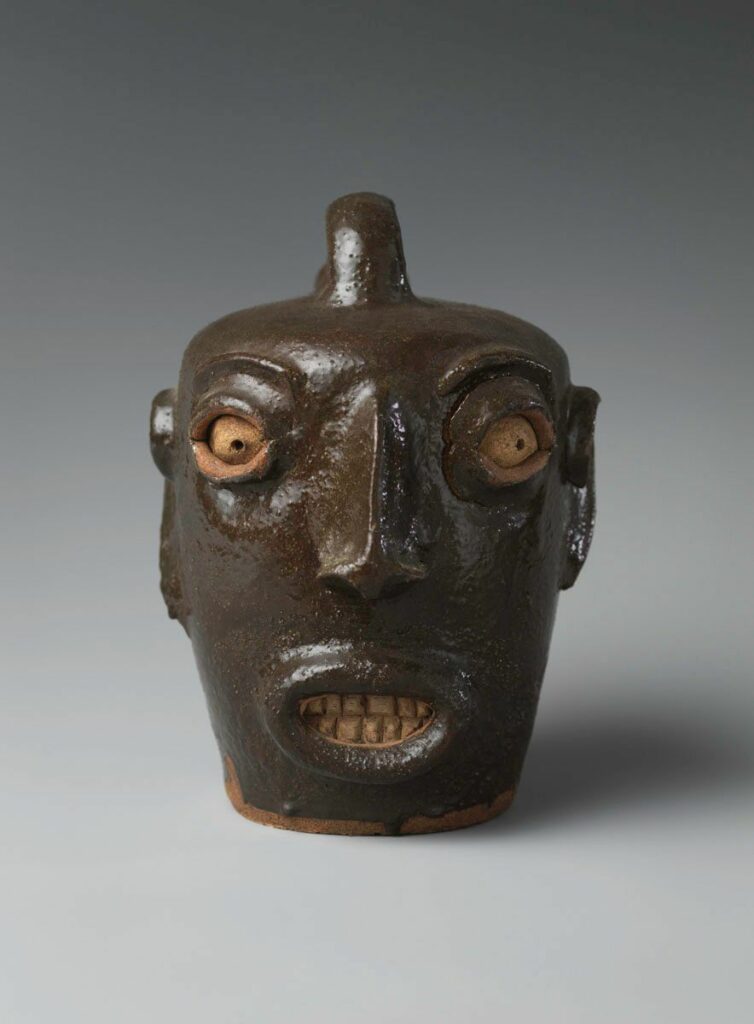 Their emergence in the region roughly coincides with the 1858 arrival in Georgia of the slave ship The Wanderer, which illegally transported more than 400 captive Africans to the United States.
More than 100 of those individuals were sent to Edgefield, where they were put to work in the potteries. Growing evidence suggests that their arrival brought African-inspired art traditions, religion and culture to the area.
The face vessels resemble nkisi, ritual objects that were important in West-Central African religious practices to facilitate communication between the living and the dead.
"Hear Me Now" examines the continuing legacy of Edgefield with works that respond to and amplify Edgefield's story.
"Hear Me Now: The Black Potters of Old Edgefield, South Carolina" will be presented in the Special Exhibition Galleries on the Second Level of the High's Stent Family Wing.

Beatrix Potter Exhibition Coming to the High Museum This Fall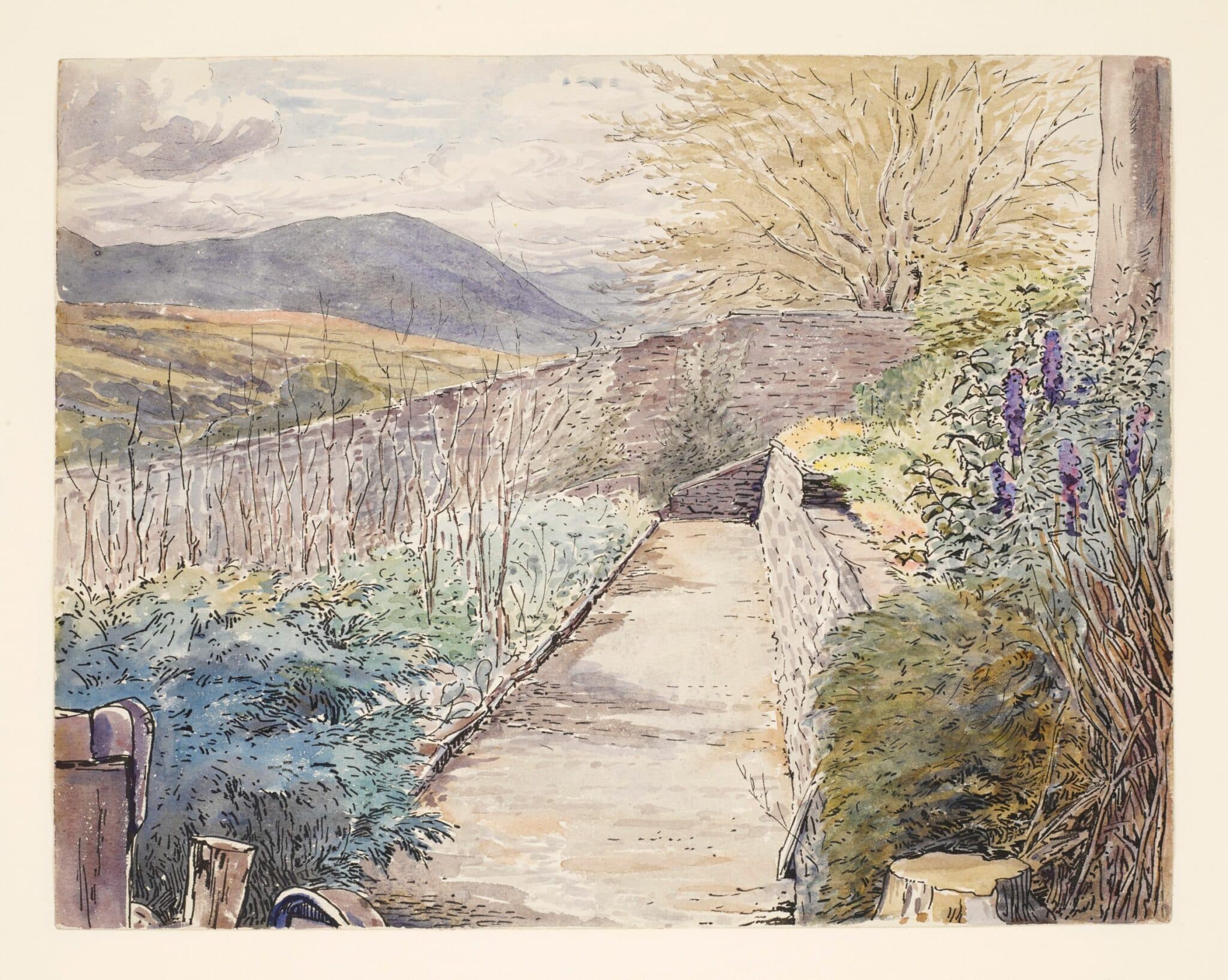 This October, the High Museum of Art will present "Beatrix Potter: Drawn to Nature." The interactive exhibition encourages visitors of all ages to explore the places and animals that inspired Potter's popular stories, such as "The Tale of Peter Rabbit." 
More than 125 personal objects will be displayed, including sketches, watercolors, rarely seen letters, coded diaries, commercial merchandise, paintings and experimental books. The exhibition will also examine Potter's life as a businessperson, natural scientist, farmer and conservationist.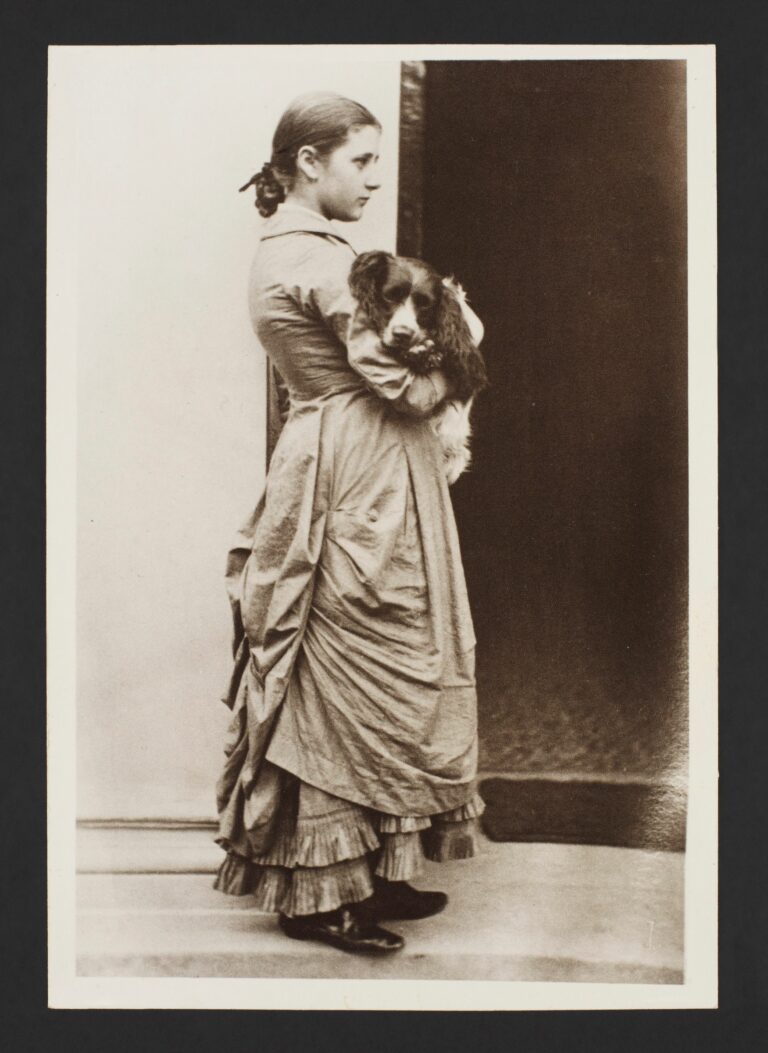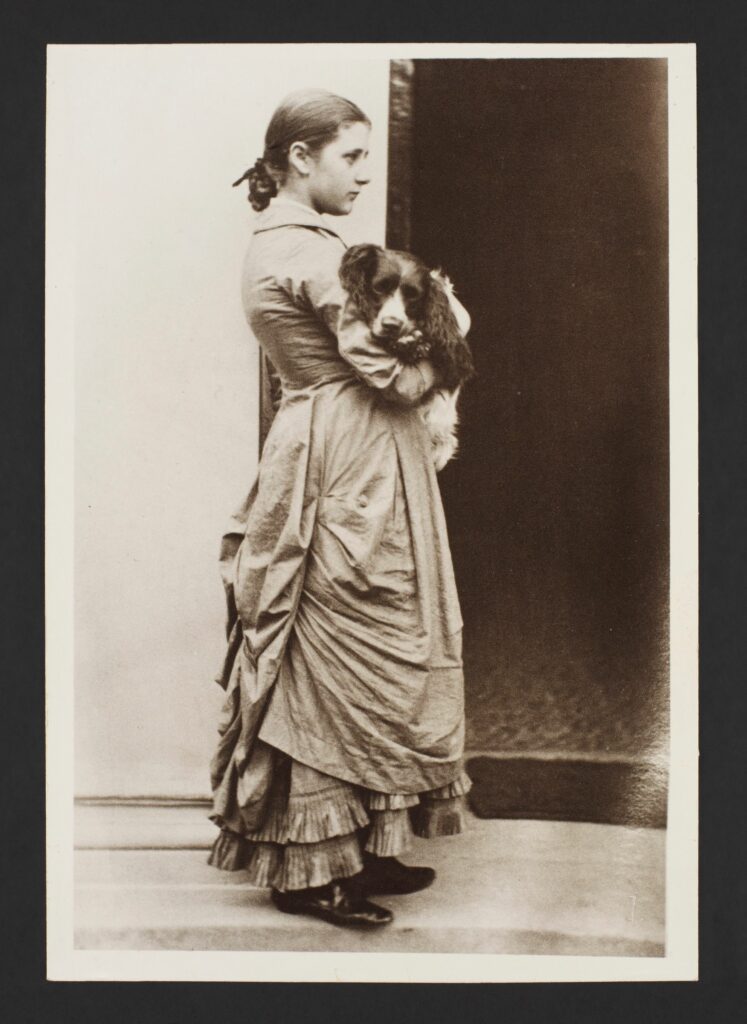 The exhibition is organized by the Victoria and Albert Museum and is the latest in the High's series celebrating children's book art and authors. 
"The High is committed to serving family audiences and connecting them to the power of children's book art, which can inspire creativity, engender empathy and teach important life lessons," said Rand Suffolk, the High's Nancy and Holcombe T. Green, Jr., director. "We are delighted to share the wonderful illustrations and stories from Potter's famous tales with our youngest visitors and explore the author's life story, which was marked by a love of learning and dedication to preserving nature for future generations."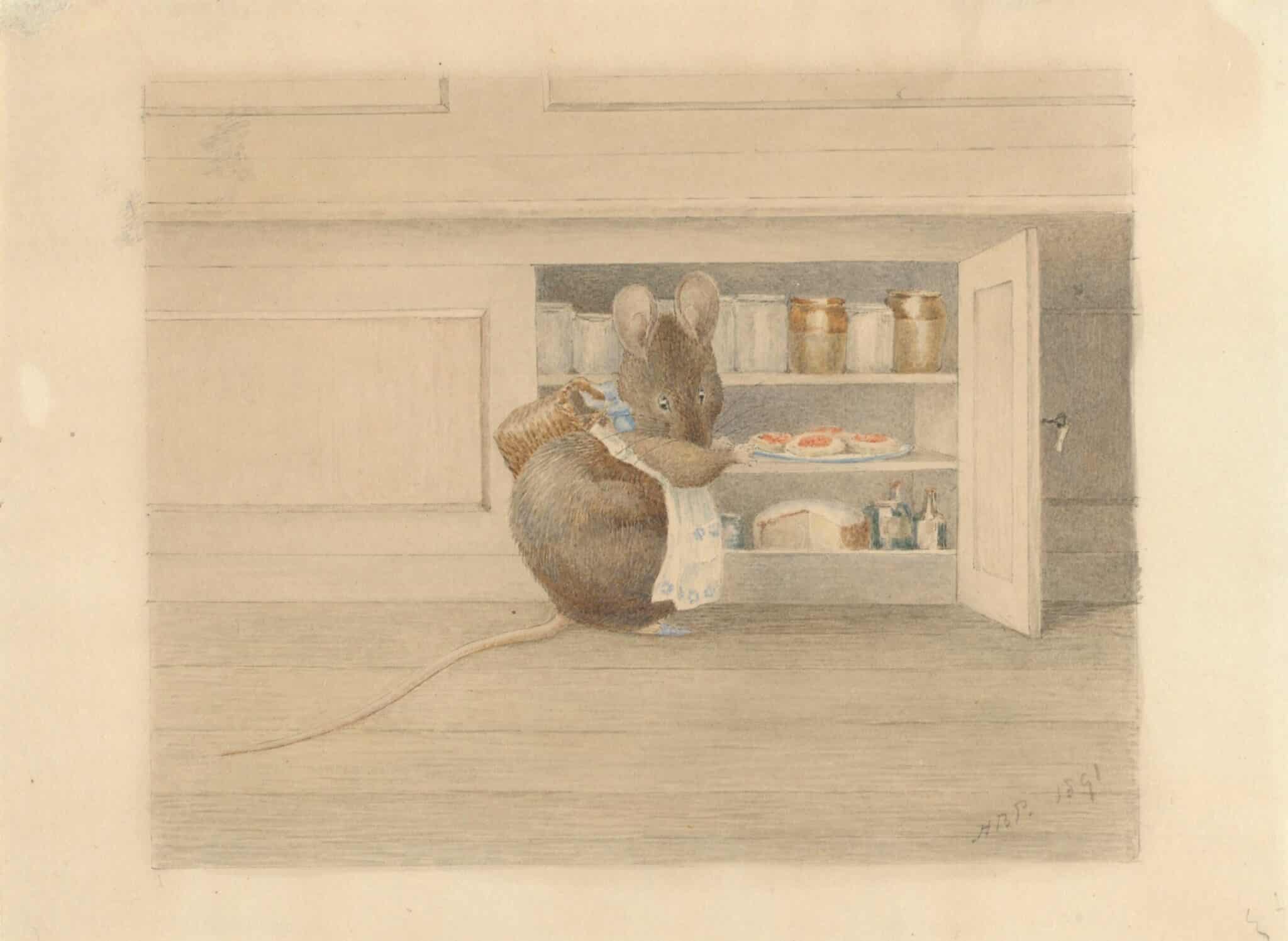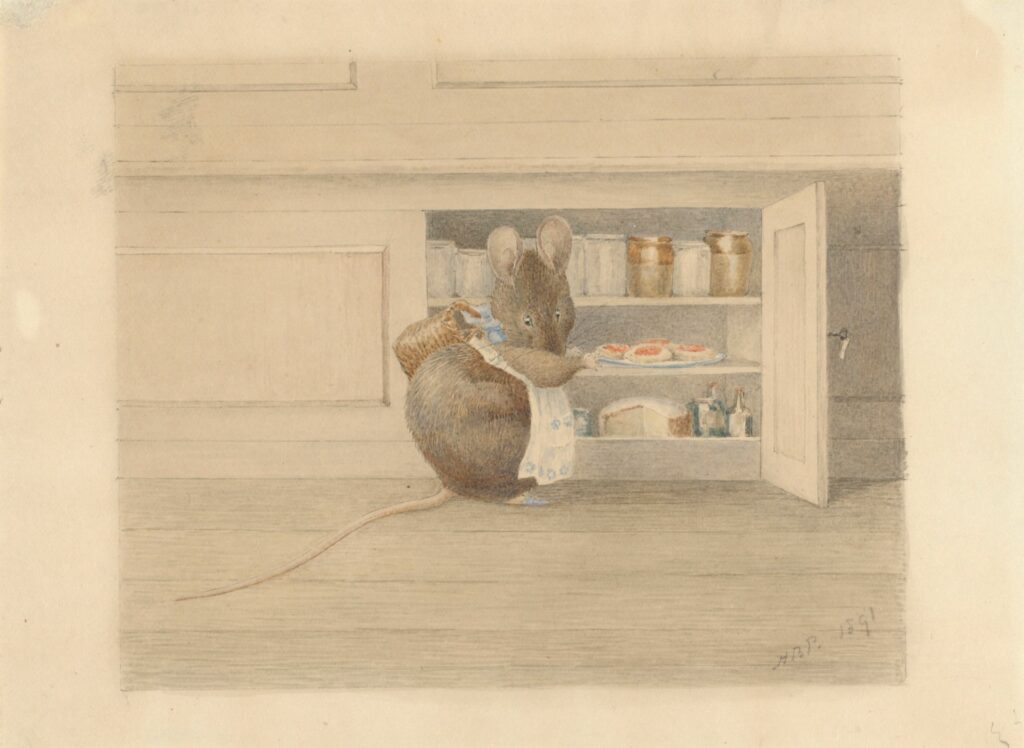 Born in London, Helen Beatrix Potter was passionate about animals and the natural world from an early age. This passion sparked her career as a world famous author and illustrator. Her interest in nature also influenced other aspects of her life, leading to significant achievements in art and science.
"Drawn to Nature" connects elements of her creative practice, from building characters and observing nature to telling stories and conserving the environment.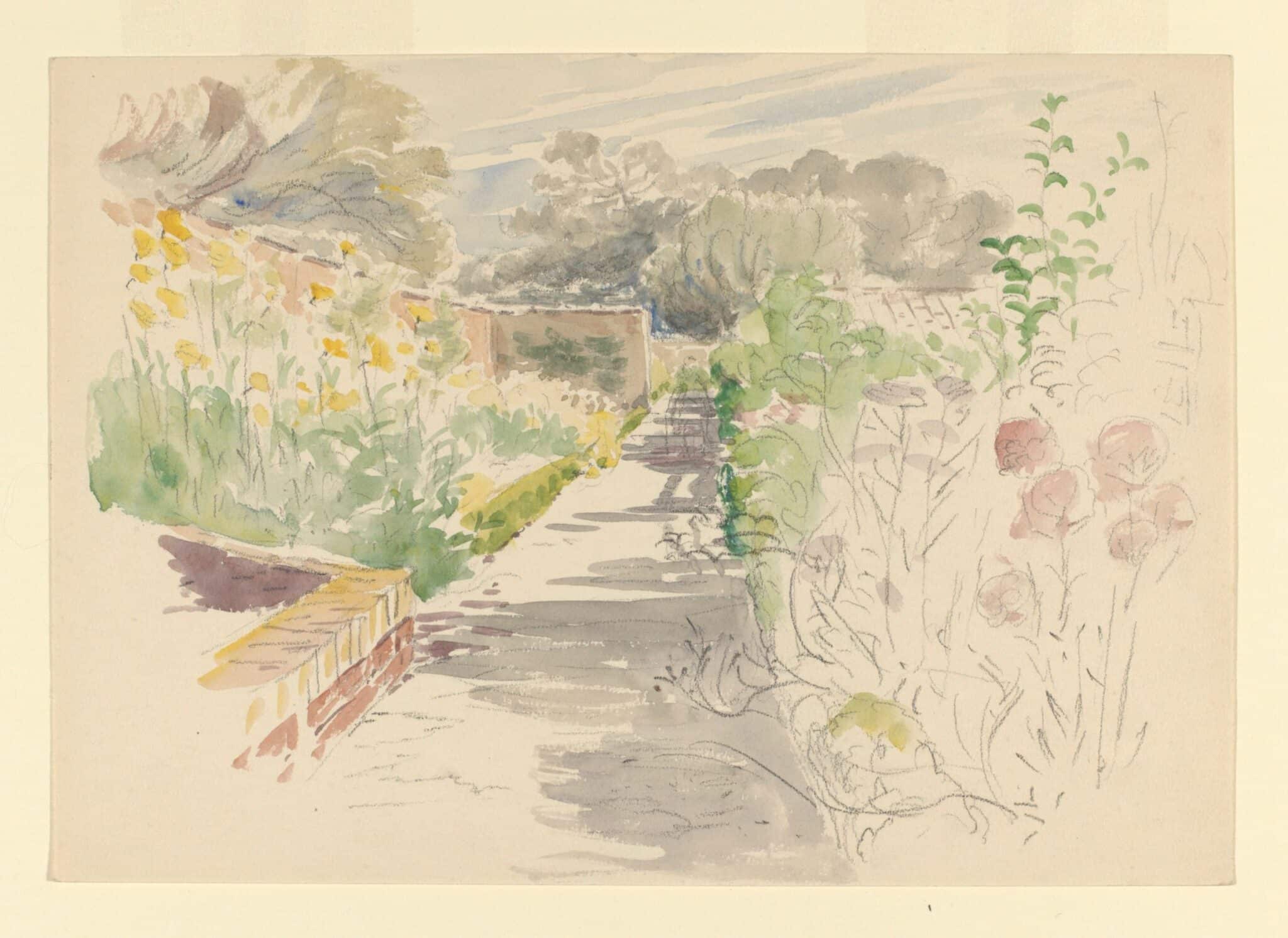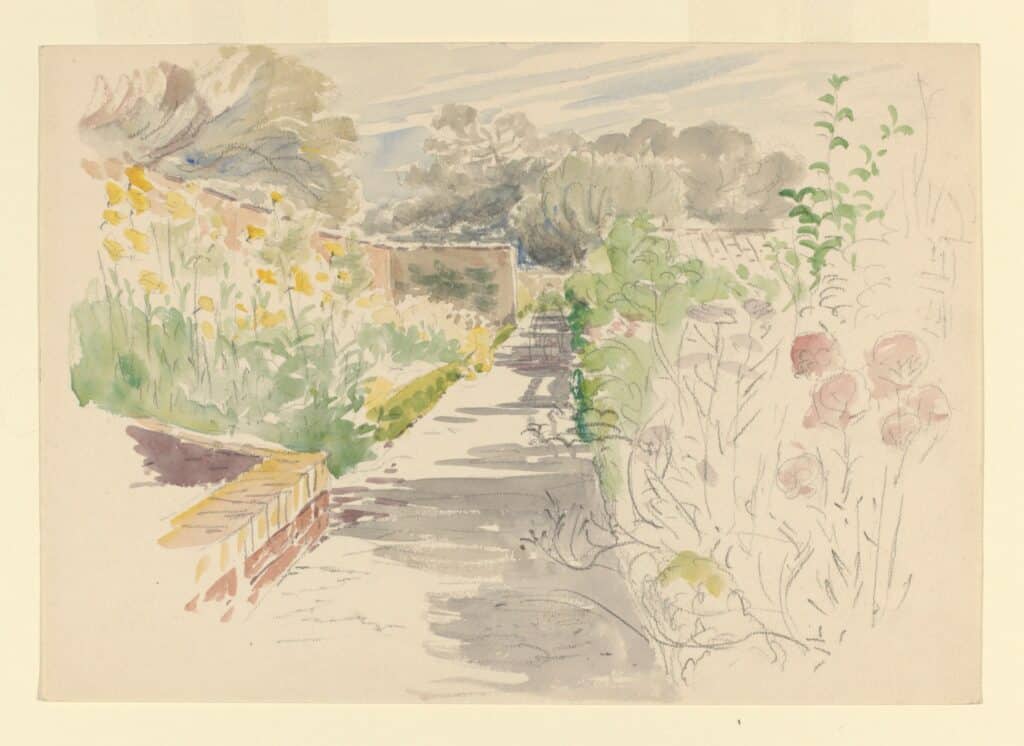 "Beatrix Potter's singularly creative life offers insights for all ages. This exhibition, part of the High's longstanding dedication to families and intergenerational learning, is designed to welcome everyone to ask what it means to see with imagination and care for our world, together," said Andrew Westover, exhibition curator and the High's Eleanor McDonald Storza director of education. 
The first section of the exhibition focuses on how Potter developed the characters that inspired her most famous stories, including "The Tale of Peter Rabbit," "The Tale of Benjamin Bunny" and "The Tale of Jemima Puddle Duck."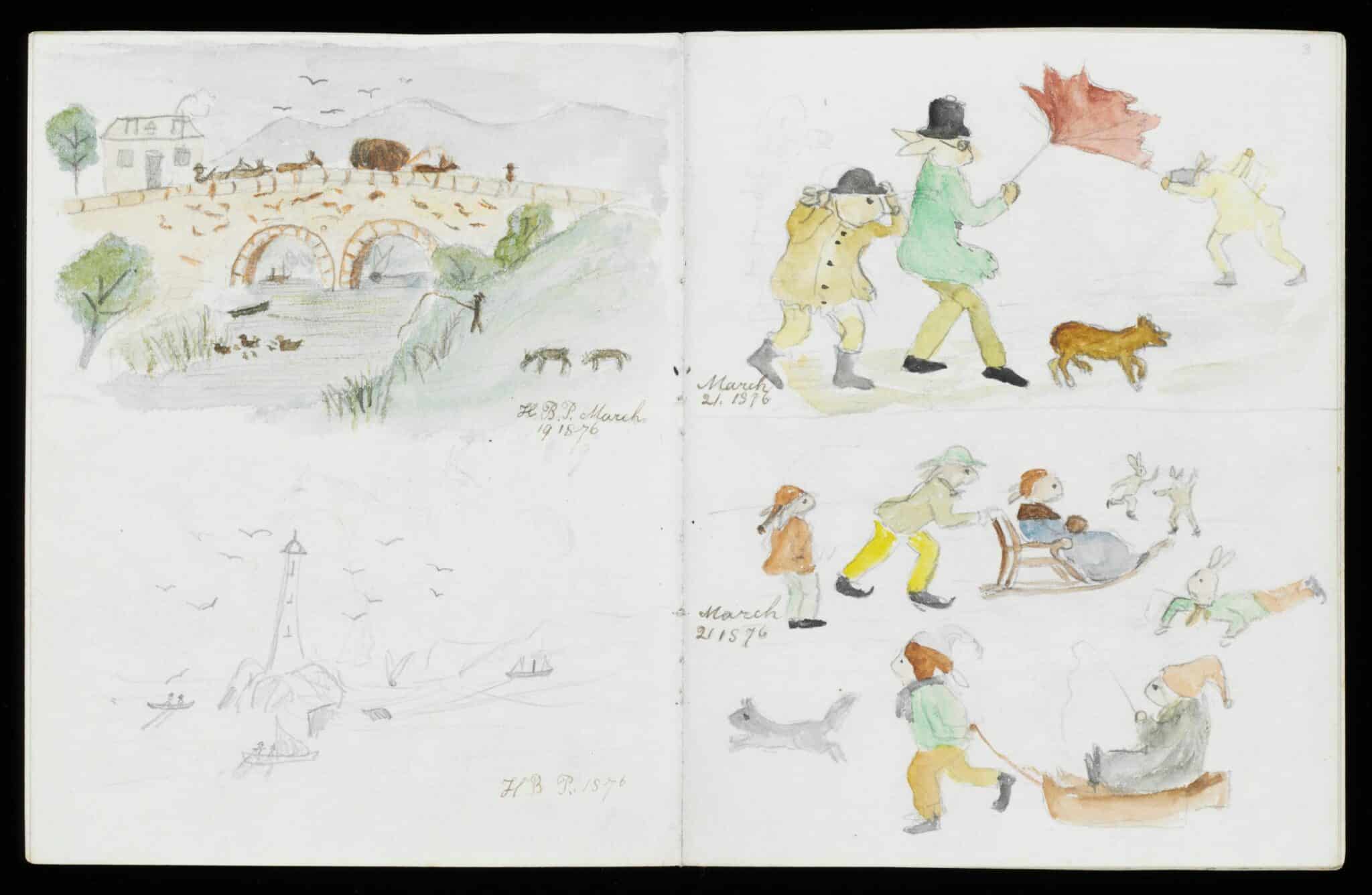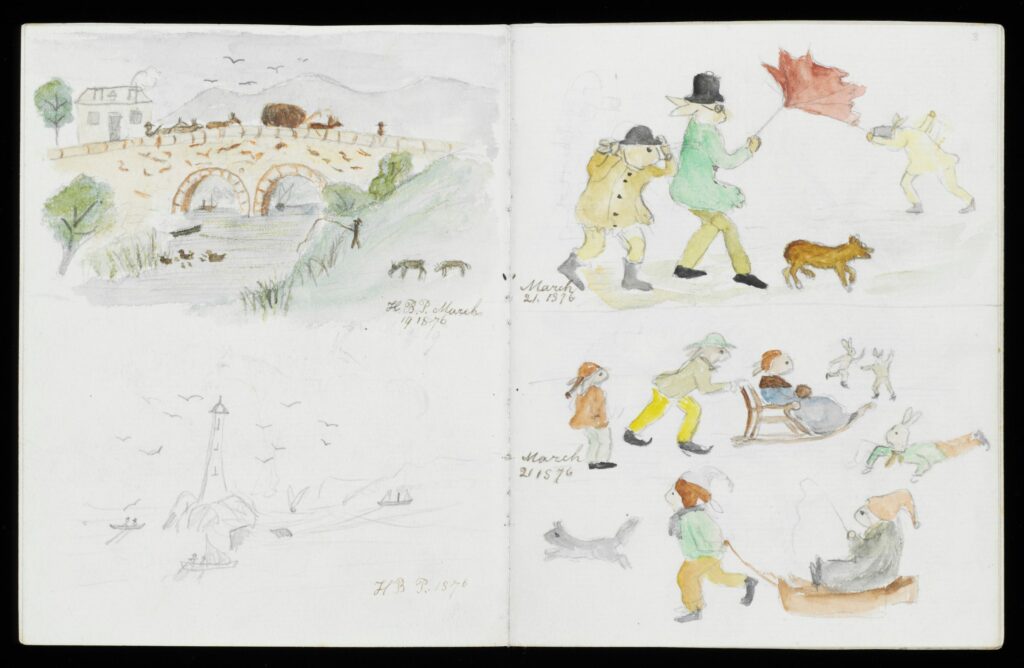 She modeled her characters on animals familiar to her, and her stories were informed by careful observations of nature. "Drawn to Nature" will include many of her original character sketches and more insight into how she built richly imagined worlds. 
The exhibit also explores Potter's scientific observations and will feature a cabinet of curiosities alongside her realistic nature drawings.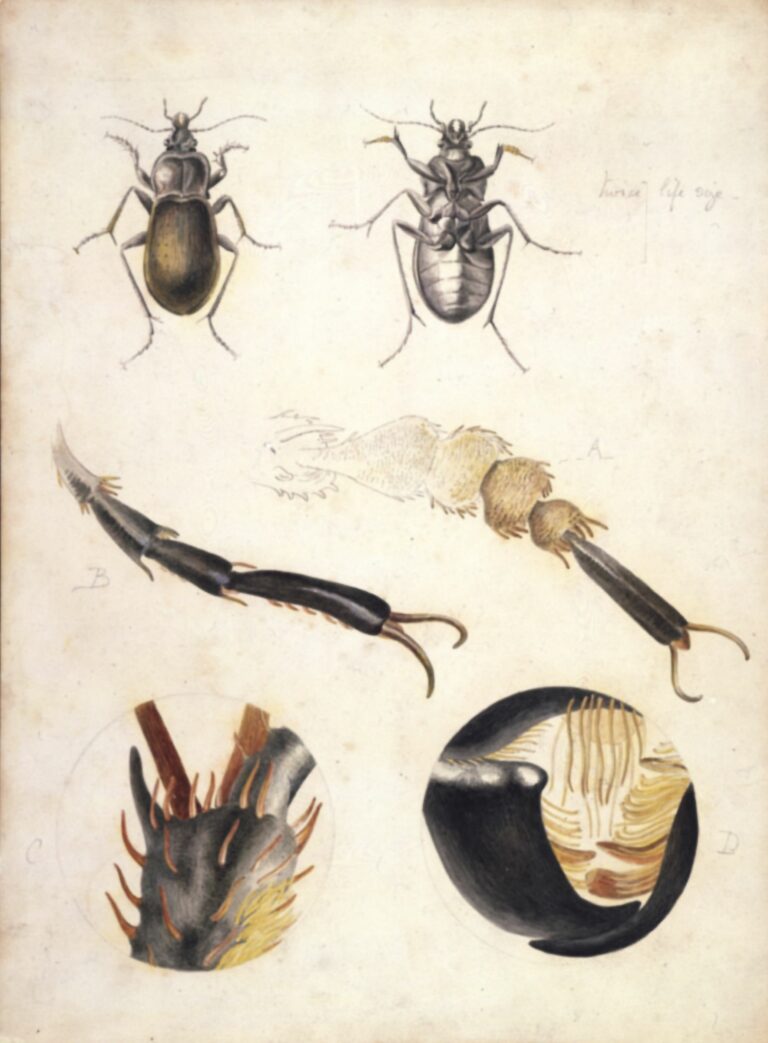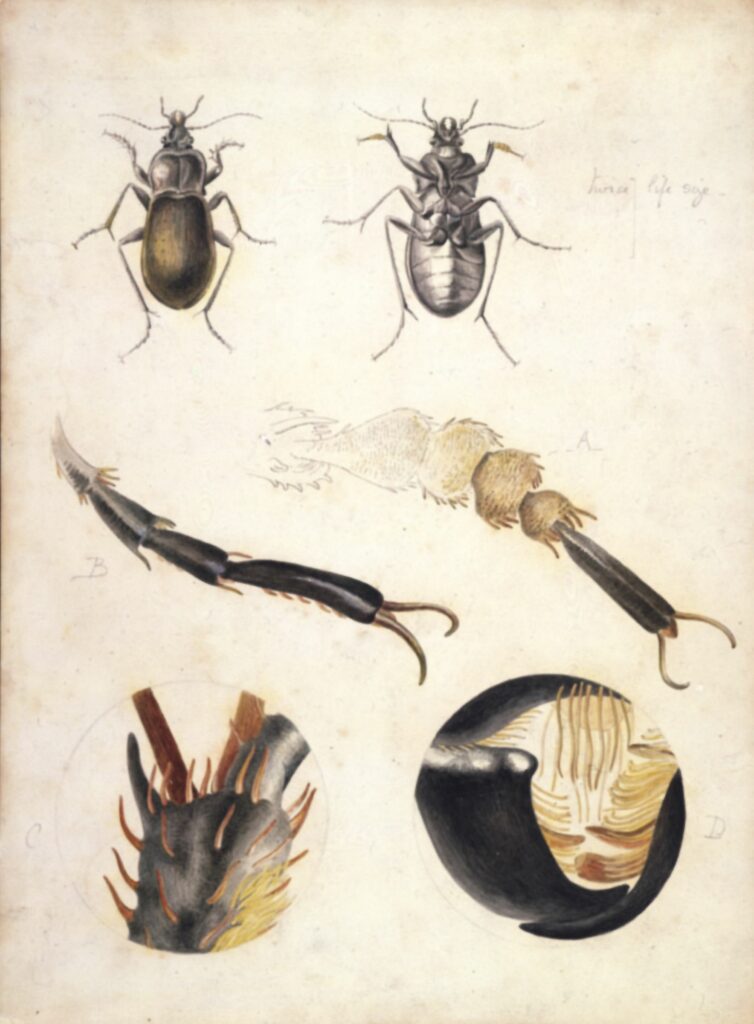 "Drawn to Nature" will reveal Potter's abilities as a storyteller, illustrator and entrepreneur. From her mid-20s, Potter translated her close observation of animals and nature into detailed pictorial storytelling. 
She also sold holiday cards featuring her drawings and designs. These letters and illustrations became the basis for her stories, and in 1902, she signed a publishing deal.
Another section of the exhibition features sketches and finished artworks from her books, including "The Tale of Squirrel Nutkin" and "The Tale of Benjamin Bunny." This section will feature a dedicated reading space to sit and enjoy Potter's children's books. 
In the exhibition's final section, watercolors, personal items and drawings will demonstrate Potter's love for England's Lake District and her work to conserve its landscape and local farming culture.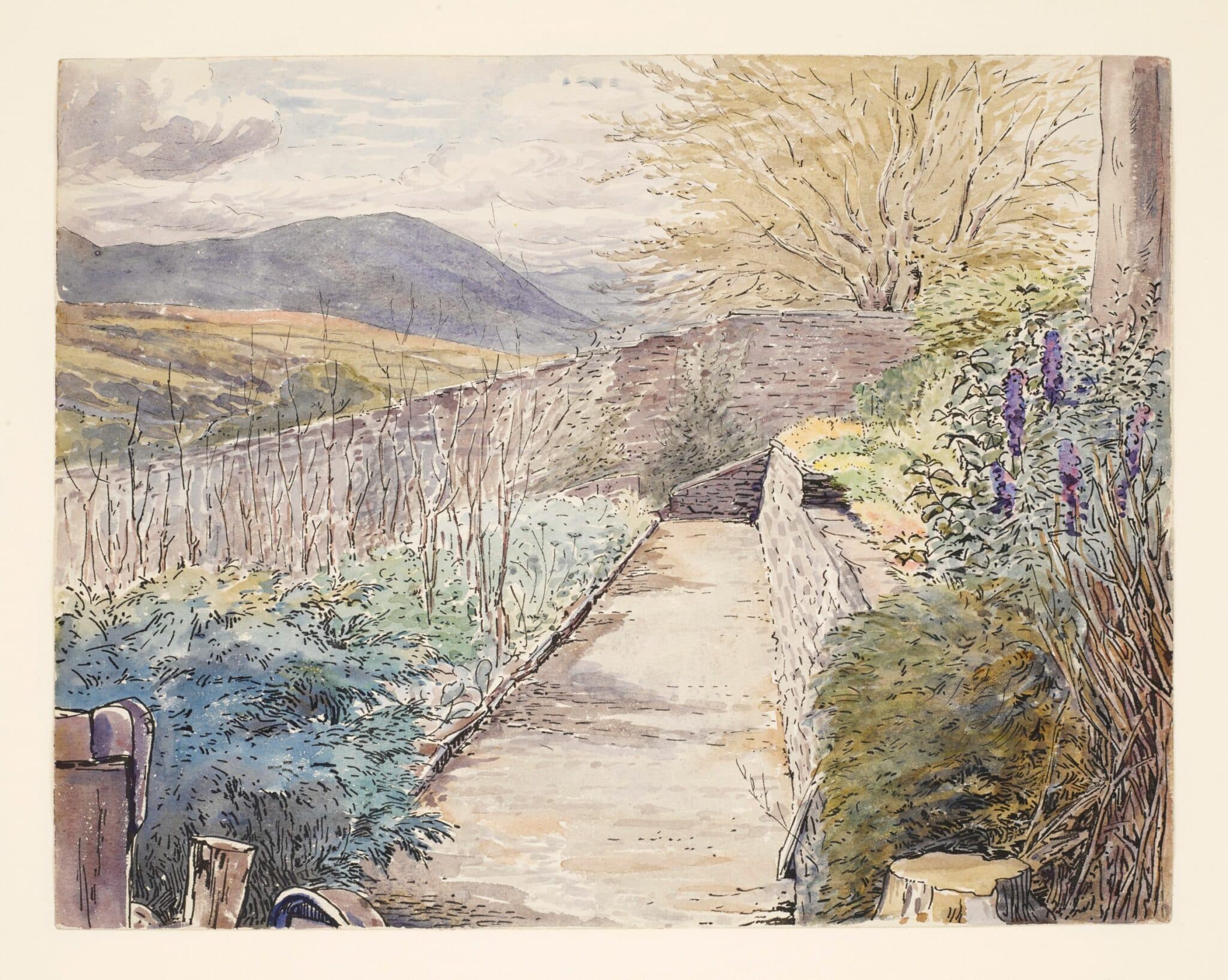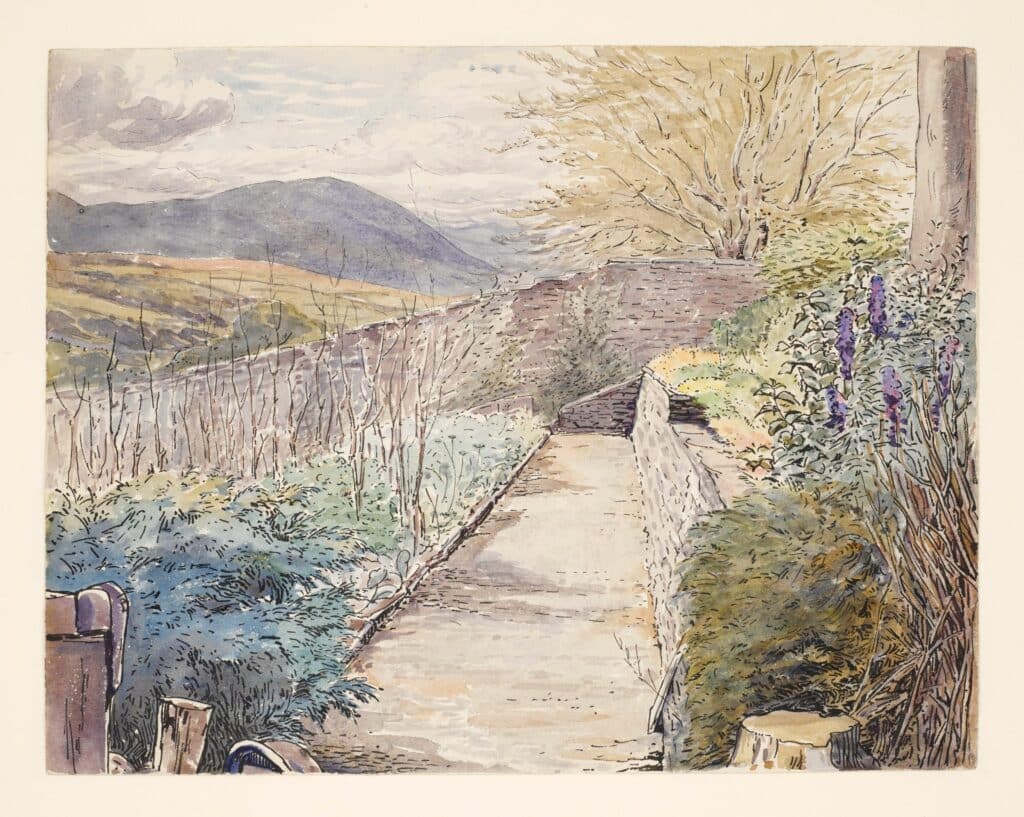 Following her permanent move there, she recognized how much locals and visitors treasured the region. When she saw modern development threatening what made it unique, she used her privilege and position to help protect the area. 
She built up flocks of Herdwick sheep, which were in danger of dying out, and ensured the landscape would be protected forever by England's National Trust. Upon her death in 1943, she left the charity thousands of acres of her own land and 14 working farms.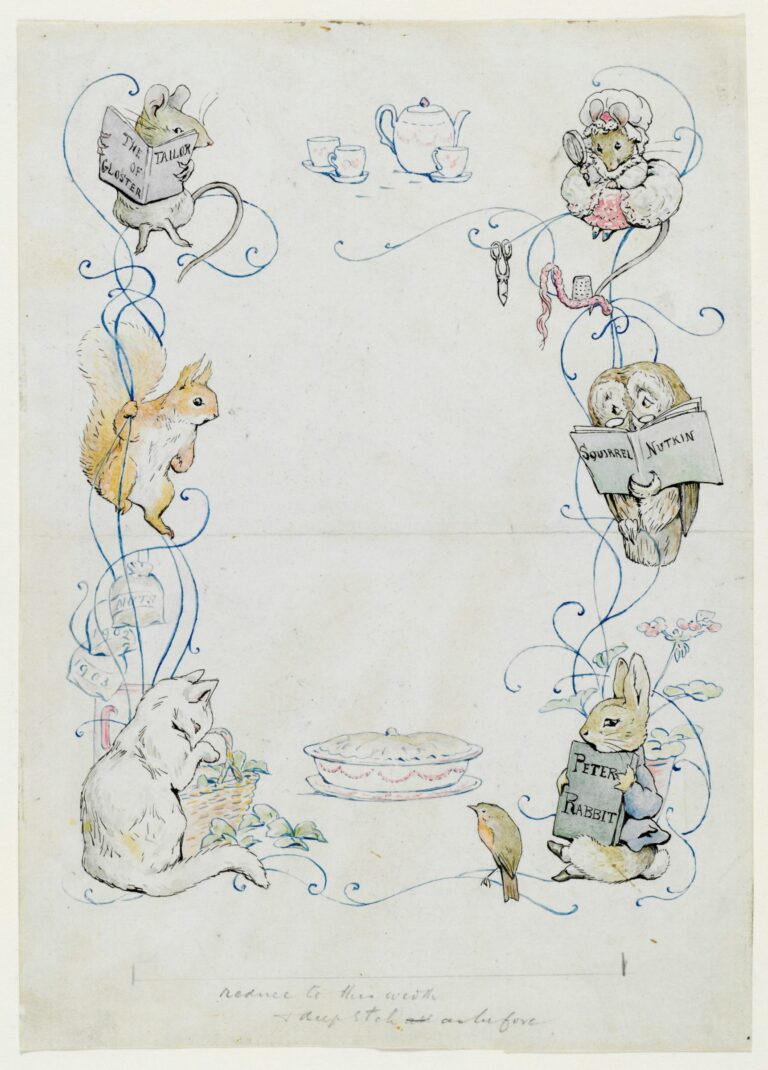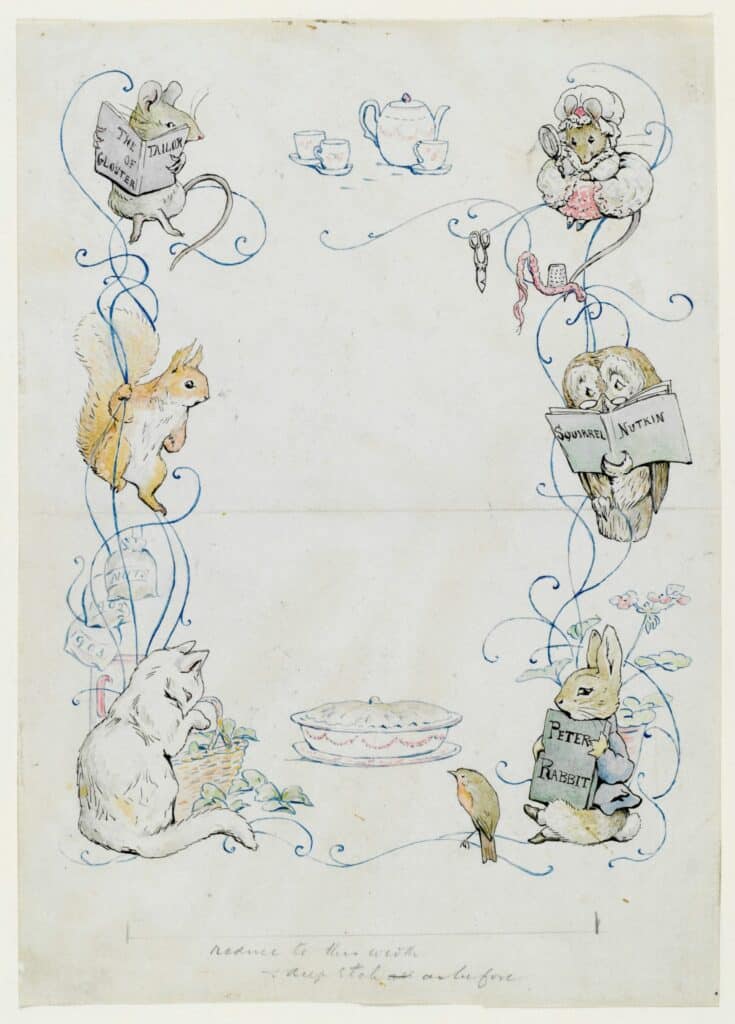 "Above and beyond the delight that Potter's book characters and illustrations bring to our lives, her creativity as a businessperson, scientist and conservationist can inspire all audiences," said Westover. "It's a privilege to share her stories and invite everyone to rediscover a beloved author and her enduring legacy."
In conjunction with the exhibition, the Alliance Theatre at The Woodruff Arts Center will present "Into the Burrow: A Peter Rabbit Tale," a musical written by Mark Valdez and inspired by Potter's stories.