Solving Space Problems and Making a Home Easier and More Enjoyable to Live In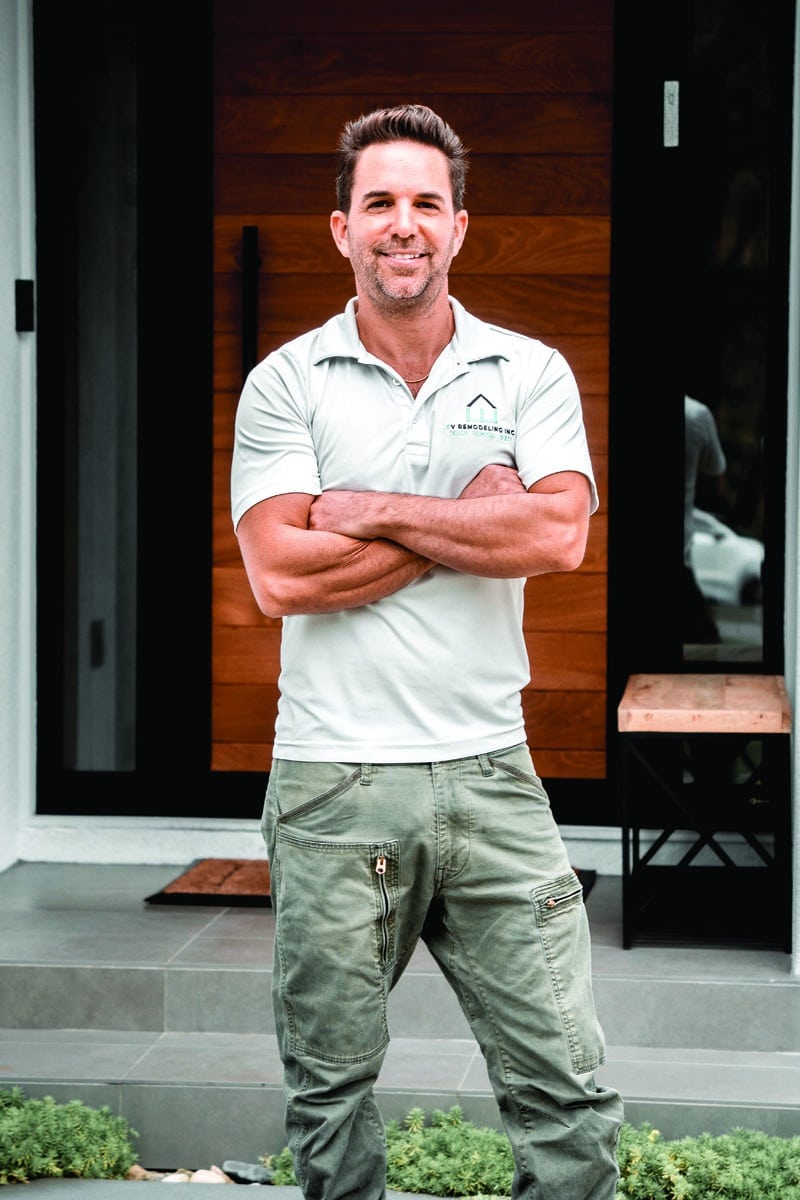 EV Remodeling focuses on a 25-mile radius around Peachtree Corners to give top-notch, personalized service.
Although Eliad Vaknin started EV Remodeling at the end of 2019 in Peachtree Corners, his years of experience and dedication to the craft go well beyond that.
"I started my business years ago, but it was a different name because I had a business partner," he said.
When Vaknin decided to strike out on his own, he made a vow to give clients personalized and individual attention. "I consult with clients throughout the project, connect them to the right architects, get the proper permits, and help them choose the designs and items that are right for them," he said. "I'm here for them every step of the way."
Although home remodeling has seen a measured increase in the last decade — especially since the pandemic hit — the process can be daunting. Vaknin said he often hears horror stories from clients about contractors who left them frustrated and wary of ever taking on another home improvement project.
"For us it's more than just another project," he explained. "Our clients deserve our time, care, and attention to detail. It's my personal goal to make sure that everyone is not just happy, but ecstatic, at the end of the remodel."
Above and beyond customer service
Vaknin recalled a customer who wasn't completely satisfied with a tile job almost two years after a bathroom remodel was finished. Of course, any kind of warranty would have expired by then.
"I contacted the subcontractor and had him fix the problem — at my cost," he said. "In my business, customer satisfaction is the most important thing. I learned early on that being able to see someone's face as they watch their house transform into their dream home is among one of the best joys in life."
It cost Vaknin about $150 out of his pocket, but the client was so pleased with the results and the seamless, hassle-free interaction, that he contracted with EV to completely redo the main level of his house.
"Since those early days I have made it our mission to make sure that everyone we work with has an enjoyable experience from beginning to end. After all, upgrading your home is something that should be exciting for you throughout the entire project," he said.
Filling a need
Nowadays, homeowners have more time to think about improving their dwellings, but a trade labor shortage has been impacting the industry for several years. It's made home renovations take longer to complete — or impossible to complete altogether — and cost more money than usual.
Since around 2018, the U.S. has seen a shortage of tradespeople for projects like kitchen remodels, bathroom remodels, flooring and electrical work. In addition, necessary supplies — including wood and metal — aren't always available due to a materials shortage.
Although he doesn't have any magic powers to keep those problems from plaguing his business, Vaknin said he treats suppliers, contractors and customers with respect.
EV Remodeling isn't the cheapest contractor in the area, but it's certainly among the most reliable. That's a value that Vaknin brought with him when he immigrated from Israel in 2009.
"My father was a contractor, and I learned the trade from him. It's always been in my veins," he said.
Vaknin started out in new home construction, building about 60 houses ranging in price from $500,000 to $1.5 million. However, he said he prefers the personal connections he has made working with existing homeowners.
"You might not ever meet the person that you built a home for," he said. "This way, I know the customer is getting exactly what they want."
Vaknin said he thinks of himself as a problem solver. "A lot of times, when you come into people's homes, they have problems that they need you to solve," he said. "It's either the kitchen is too small, the family has grown and they need additional room or stuff like that. …I help people solve problems and make their lives easier."
Focus on family and community
Although 2020 saw $420 billion spent by Americans on home improvement projects, subsequent years are projected to surpass that, according to a study last year from the Joint Center for Housing Studies of Harvard University. That same research shows that homeowners are also willing to spend more on home improvement projects.
The pandemic forced many to stay inside for months and a lot of Americans have been reluctant to return to offices. For them, having a functional, comfortable and livable home is a top priority — even in the face of higher material costs.
Vaknin continues to see a rise in remodeling projects for office space and home entertainment, but his bread and butter is still kitchens and bathrooms. That's why he said he likes to keep his business in a tight radius, about 25 miles with Peachtree Corners as the epicenter.
It has helped him give his clients the time they need since he's not spending so much time traveling around metro Atlanta. "Maybe that's what makes me different than other contractors because …I'm controlling my schedule and my time. I really can give each client the attention that they need," Vaknin said.
He recalled a family who wanted to add a bathroom for their four teenage daughters who had been sharing one bathroom. Most contractors said the only solution was to add a bathroom to the basement, although the girls' bedrooms were on the second floor.
"It was doable, but it wouldn't be convenient to have them go down three flights to get ready," said Vaknin. "I'm sure there would still be fights and arguing every morning."
He consulted with his best subcontractor and they came up with a solution to add a bathroom upstairs without increasing square footage. "It required kind of a complex work with plumbing," said Vaknin.
Everyone was happy with the solution.
Vaknin knows how important a happy home is. He has two children — a 9-year-old daughter and a 6-year-old son. He said that he and his wife, a real estate agent, hope to pass on their values to their kids.
"I will let them decide if they want to someday take over my business," he said. "But I want them to know why I do it and what it means to be a good businessman and a good member of the community."
Bathroom Renovation Photos by IMOTO, Family Photos by Oshrit Hakmon
PCBA Awards $500 to Furkids at March Networking Event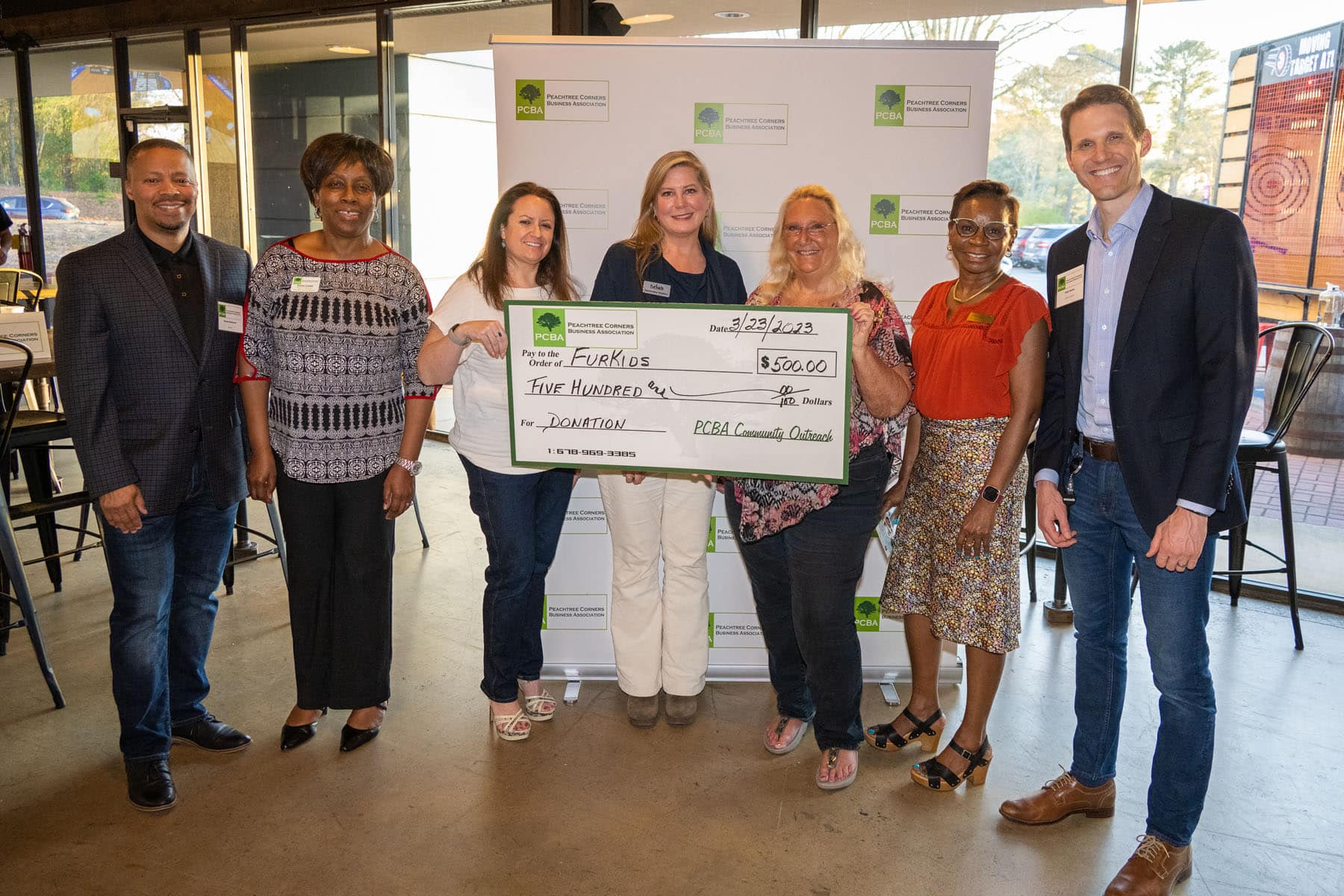 The Peachtree Corners Business Association (PCBA) March Business After Hours Event was action packed with opportunities for business networking at Anderby Brewing. Everyone enjoyed new cocktails and specialty beers while enjoying dinner from Latin Fresh as well as axe throwing from Moving Target ATL NE.
The PCBA also presented a check of $500 to Furkids in support of their efforts to care for animals while helping to find their forever homes.
"The PCBA is proud to donate a check for $500 to Samantha Shelton, CEO of Furkids in support of their efforts to rescue homeless animals, provide them with the best medical care and nurturing environment while working to find them a forever home," said Lisa Proctor, PCBA President.
"Our Outreach Committee and Board are impressed with Furkids' commitment to provide care and restoration for these special animals at their no kill shelters. With the PCBA's continuous commitment to supporting our community in a meaningful way, we are excited to be a small part of their efforts," she added.
Headquartered in Georgia, Furkids is a nonprofit charitable organization that operates the largest cage-free, no-kill shelter in the Southeast for rescued cats, and Sadie's Place, a no-kill shelter for dogs. Furkids also operates one of the only facilities in the Southeast dedicated to the care of FIV positive cats.
Furkids has rescued and altered more than 55,000 animals since its founding in 2002. Approximately 1,000 animals are in the Furkids program today, in the Furkids shelters, 10 PetSmart and Petco adoption centers, and more than 400 foster homes in the Atlanta area.
Funds for the PCBA Community Outreach program are raised throughout the year from PCBA membership, sponsorship and the annual charity event. Donations and scholarships are awarded at monthly events so members can learn more about these organizations.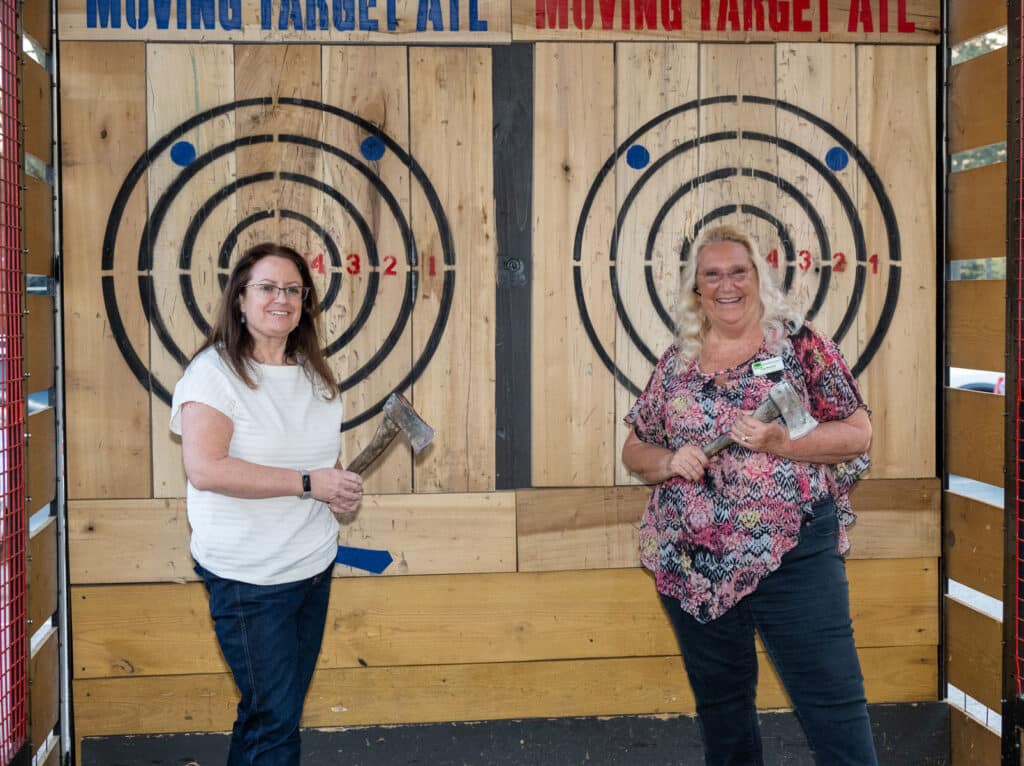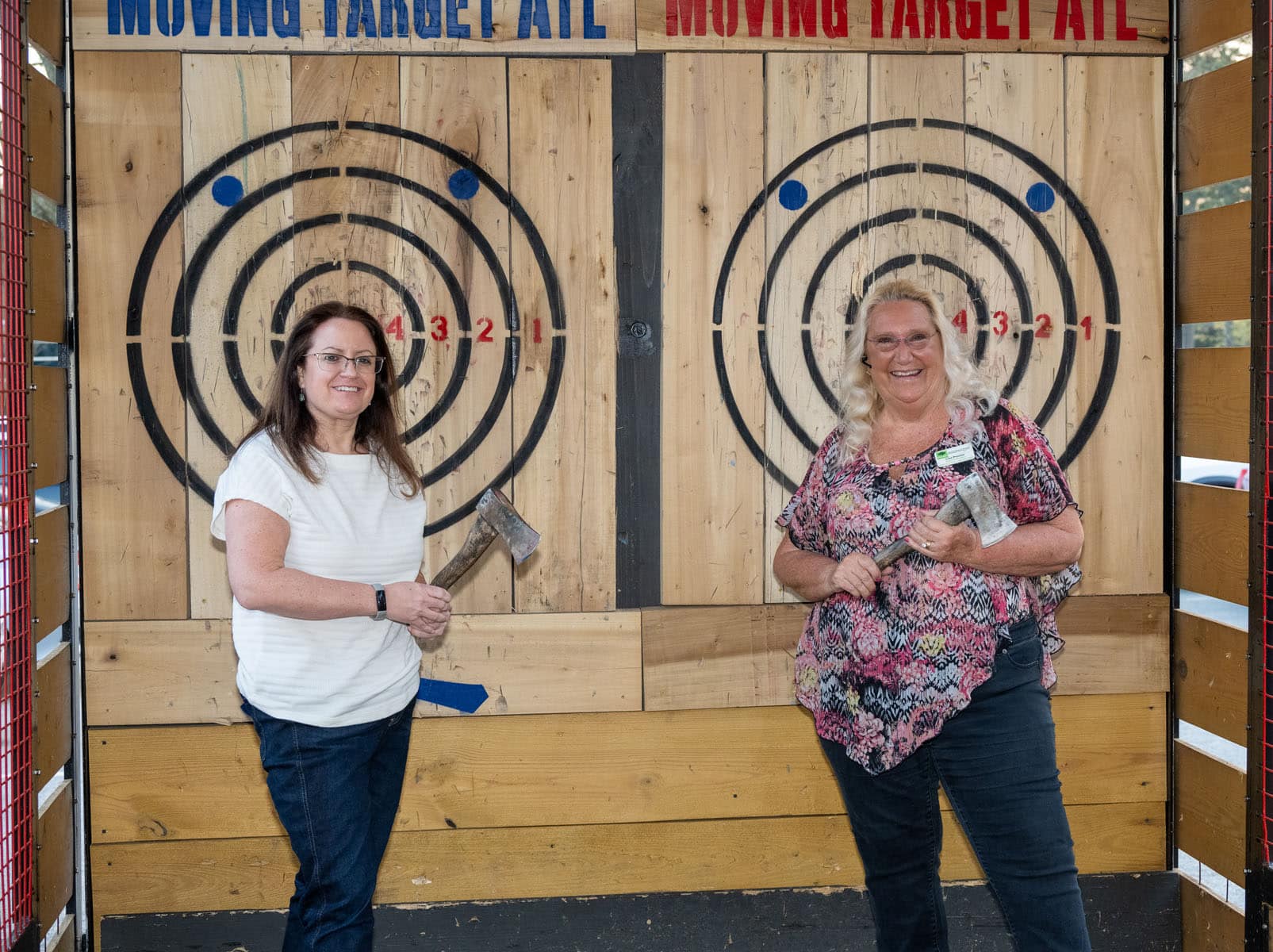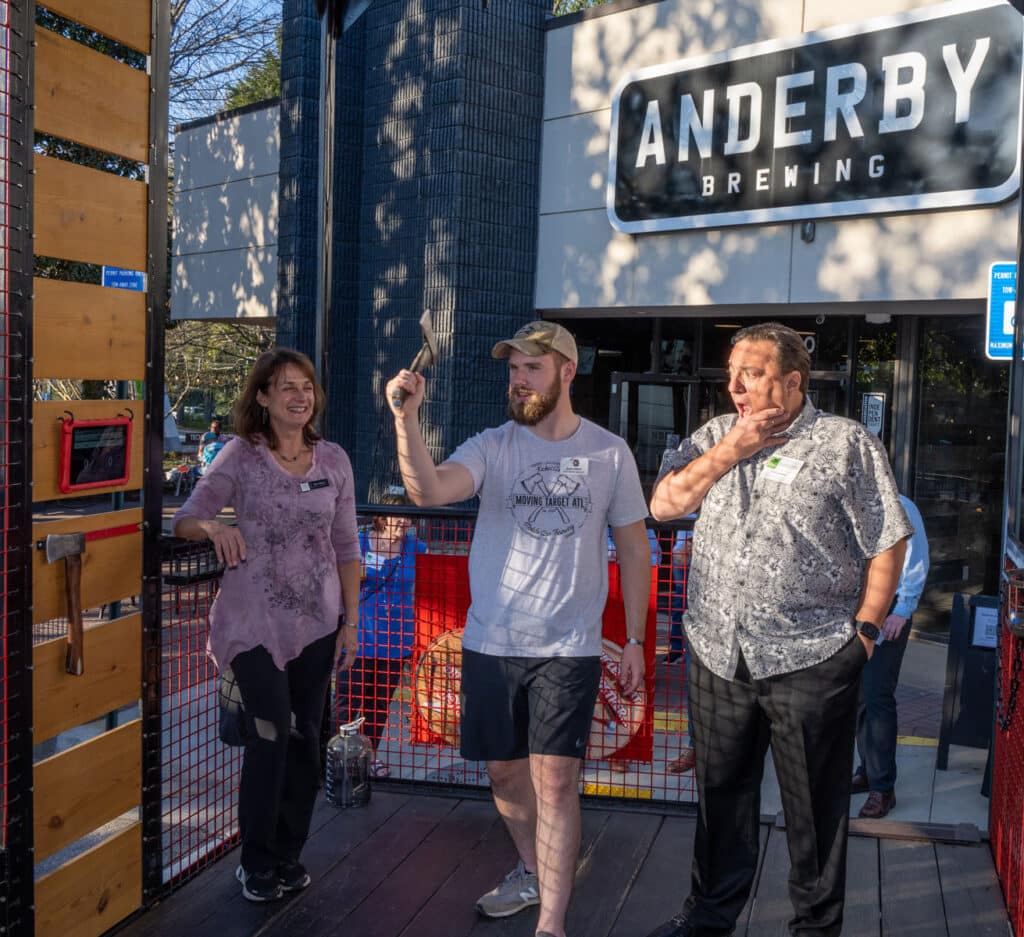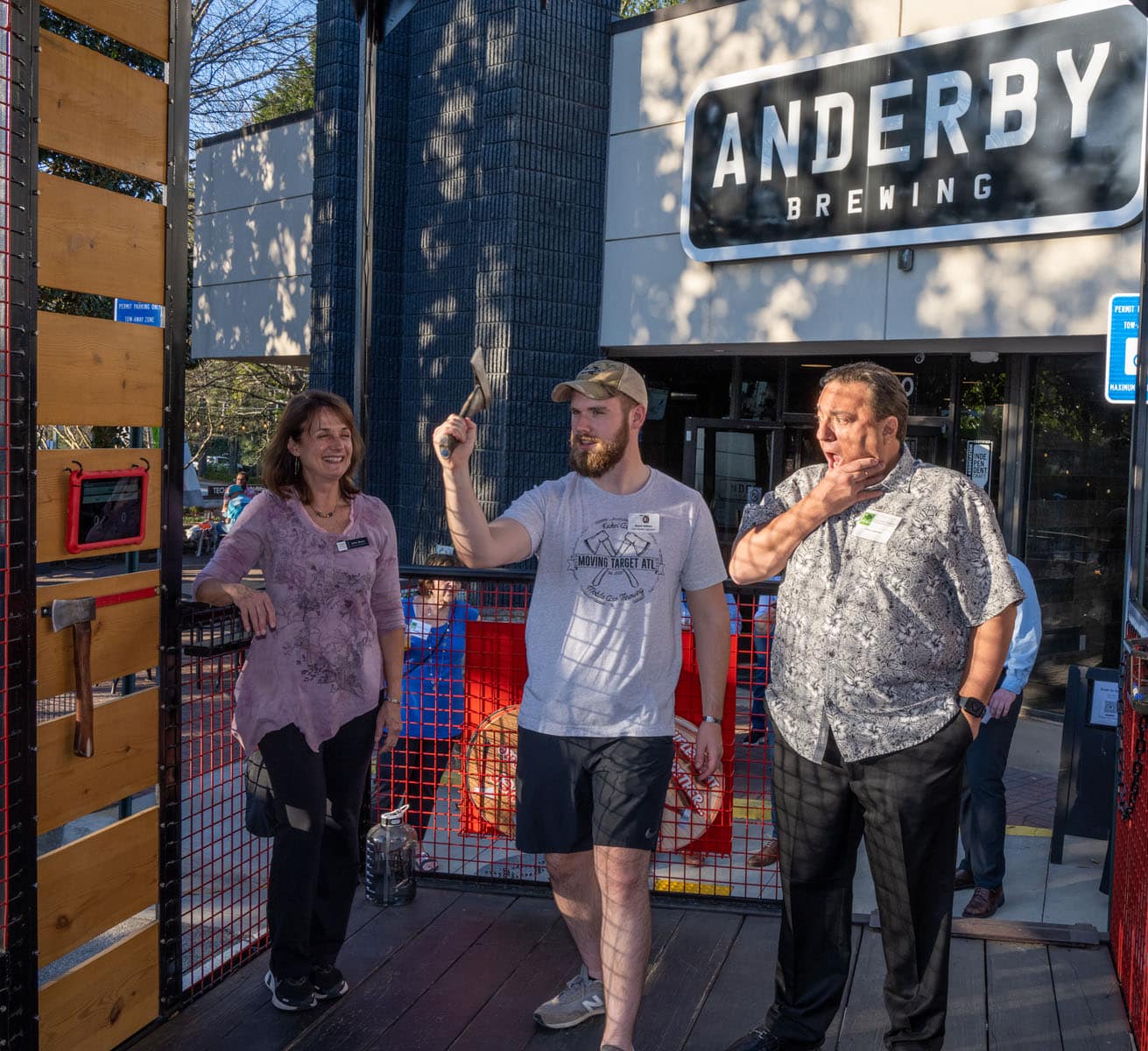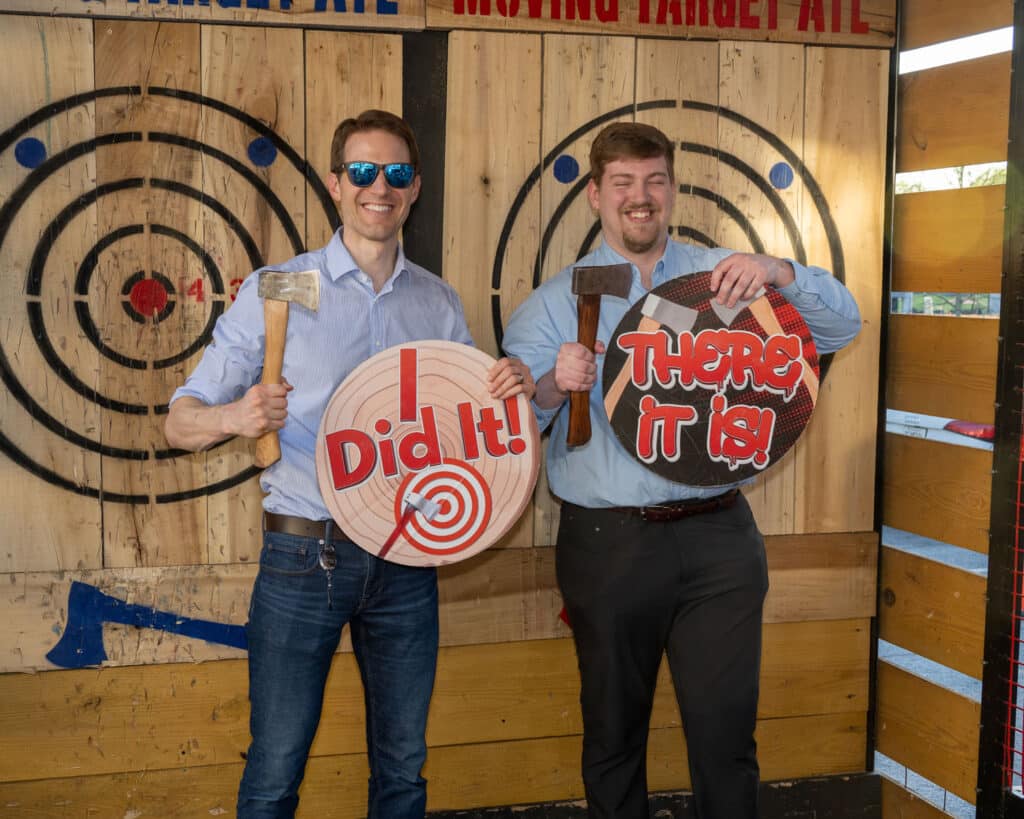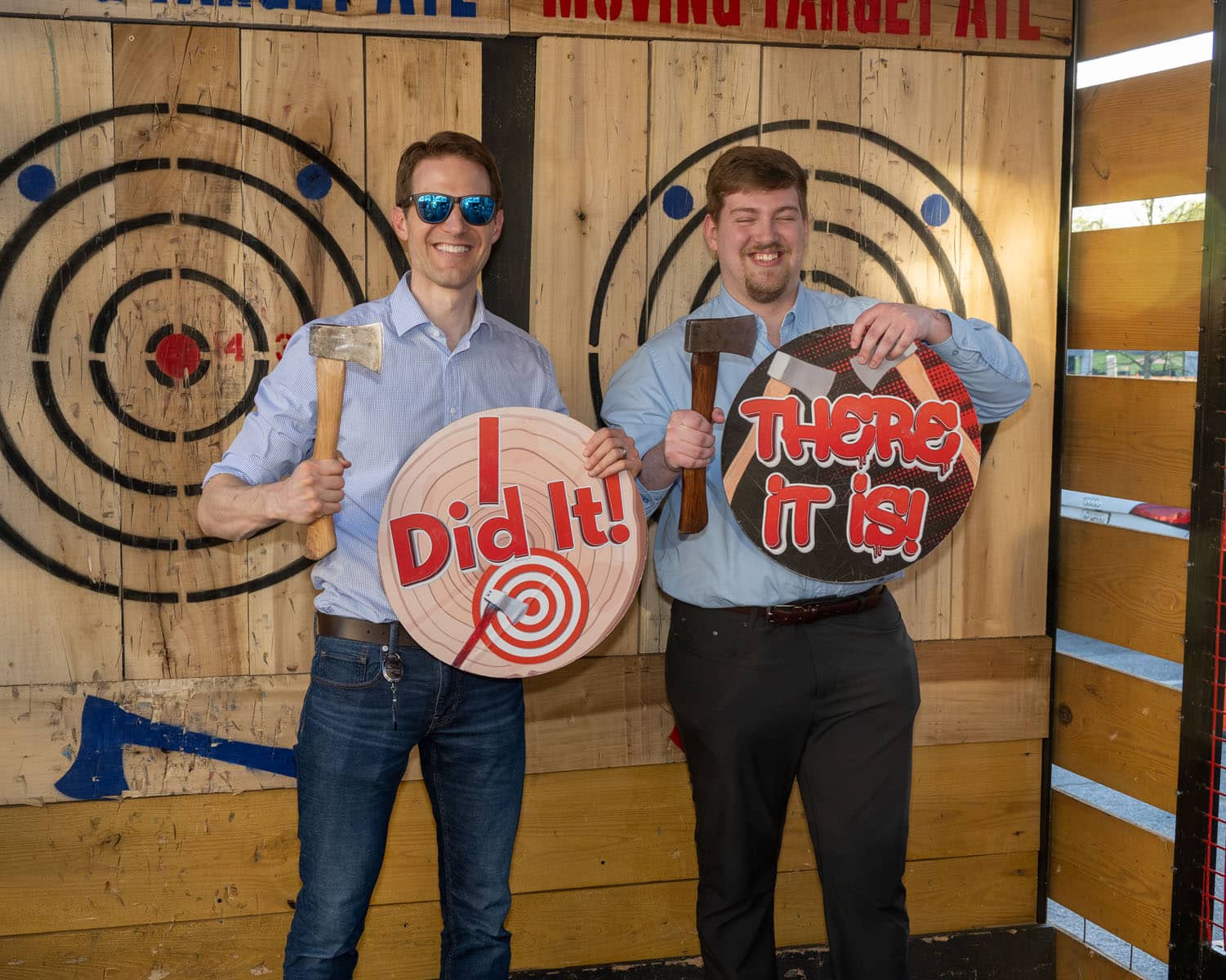 Shadow-Soft Joins Curiosity Lab as Startup Program Partner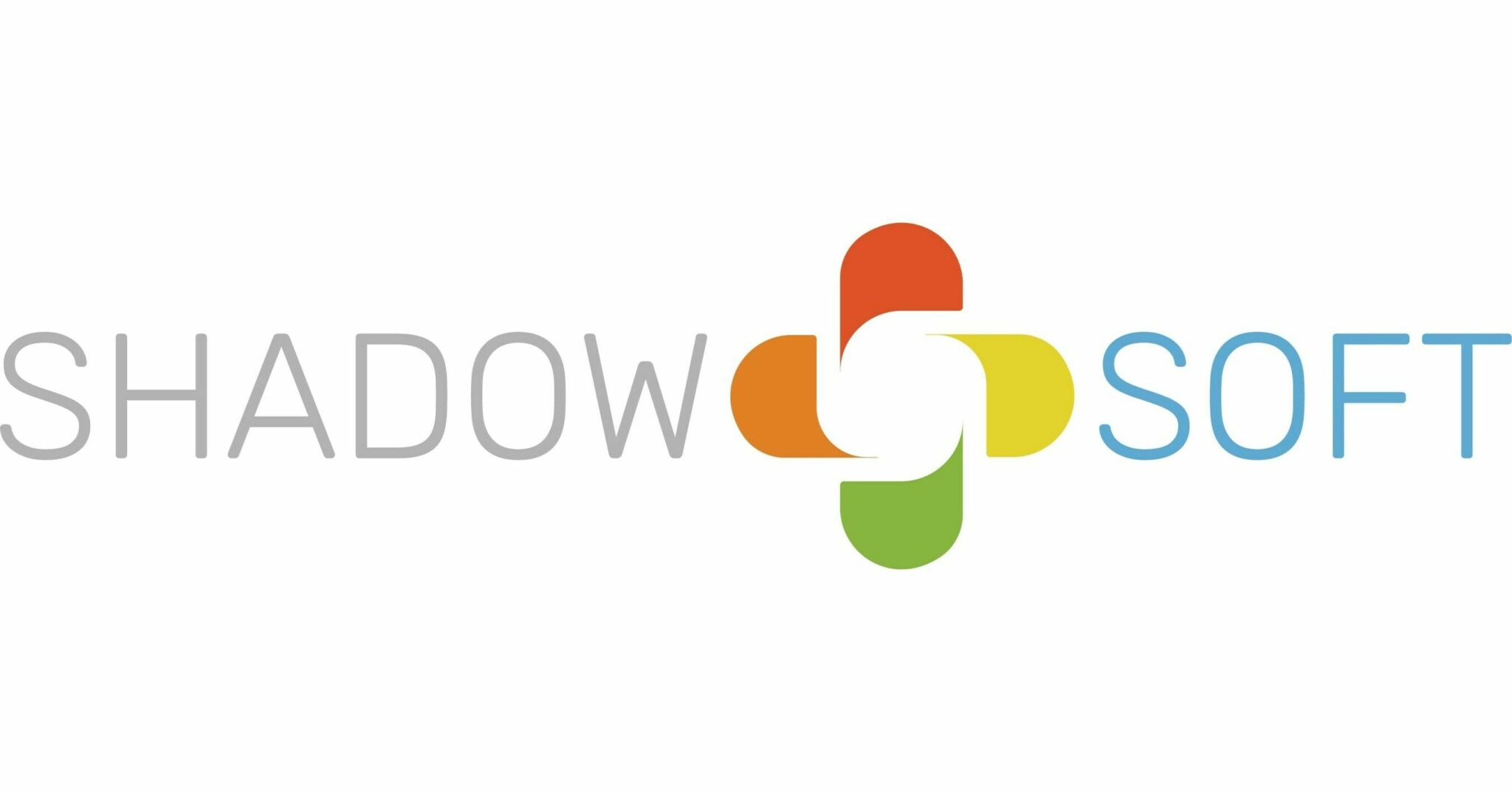 Peachtree Corners announced that Shadow-Soft has joined Curiosity Lab as a Startup Program partner, providing additional resources for startups in the lab's incubation program. Shadow-Soft specializes in helping companies modernize their infrastructure and applications with containers, Kubernetes, and the cloud for scale, speed, and cost.
"As an Atlanta technology leader, we are always looking to support companies as they grow and scale. We use proven methodologies to make sure people know where to start, identify a clear path forward and understand what open-source tools to use so they can start small, think big, and act fast," said Shadow-Soft Vice President Nick Marcarelli.
"This aligns perfectly with companies at Curiosity Lab as they begin to grow their businesses. At times it can be overwhelming for growing companies to build a stable, reliable, and secure environment. We can provide the architectural insights and engineering knowledge necessary to scale with ease," he explained.
Shadow-Soft is offering free 30 and 60-minute consultations with their team of experts to aid Curiosity Lab startup leaders in three separate areas: creating a technology blueprint to bring ideas to life, building rapid software development prototypes, and constructing a technology infrastructure to scale on demand.
"Adding Shadow-Soft to the Curiosity Lab adds an immensely valuable tool to offer our startups – complementing the opportunity they have to collaborate with some of the top technology brands in the world," said Curiosity Lab Executive Director Brandon Branham.
"One of the largest challenges startups face is scaling rapidly. When the time comes, startups will often need executive guidance when it comes to scaling their company correctly, quickly, and in an affordable way. Shadow-Soft will be able to coach our startups from the beginning of their journey to their peak growth to ensure they have long-term success."
For more about Curiosity Lab's startup programs and Shadow-Soft's startup program offerings, visit curiositylabptc.com/startups/.
PCBA Donates to WellSpring Living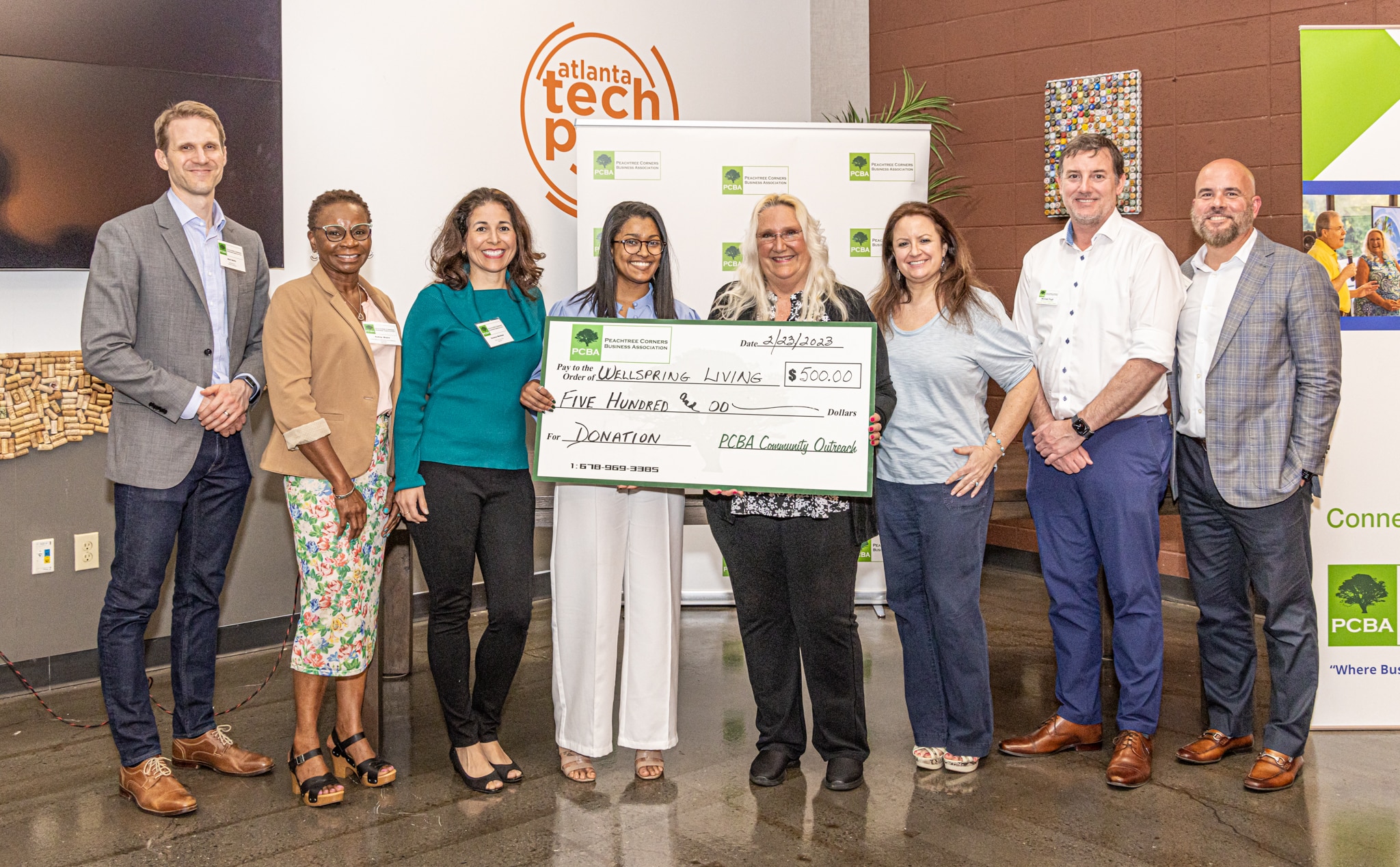 The Peachtree Corners Business Association awarded a check for $500 to Wellspring Living at their February 2023 Business After Hours Speaker Series Event!
The mission of Wellspring Living includes transforming the lives of those at risk or victimized by sexual exploitation. Wellspring Living provides community-based and residential services as well as partners with a wide range of human service organizations to ensure that each victim's needs are met. Programs include residential programs, community programs, and graduate services. Wellspring Treasures (one located in Duluth) is not just a source of revenue but a hub for communities to engage with our work and be a part of the solution to help restore lives.
"The PCBA is proud to donate a check for $500 to Wellspring Living in support of their efforts to save lives at risk or victimized by sexual exploitation. Our Outreach Committee and Board are impressed with the extent of the Wellspring Living programs and resources available in our community. With the PCBA's continuous commitment to supporting our community in a meaningful way, we are excited to be a part of the success of their survivors", says Lisa Proctor, PCBA President.
Funds for the PCBA Community Outreach program are raised throughout the year from PCBA membership, sponsorship, and our annual charity event.  Donations and scholarships are awarded at their monthly events, so the members have the opportunity to learn more about these organizations.