Good Grief: Life After Loss, Part 2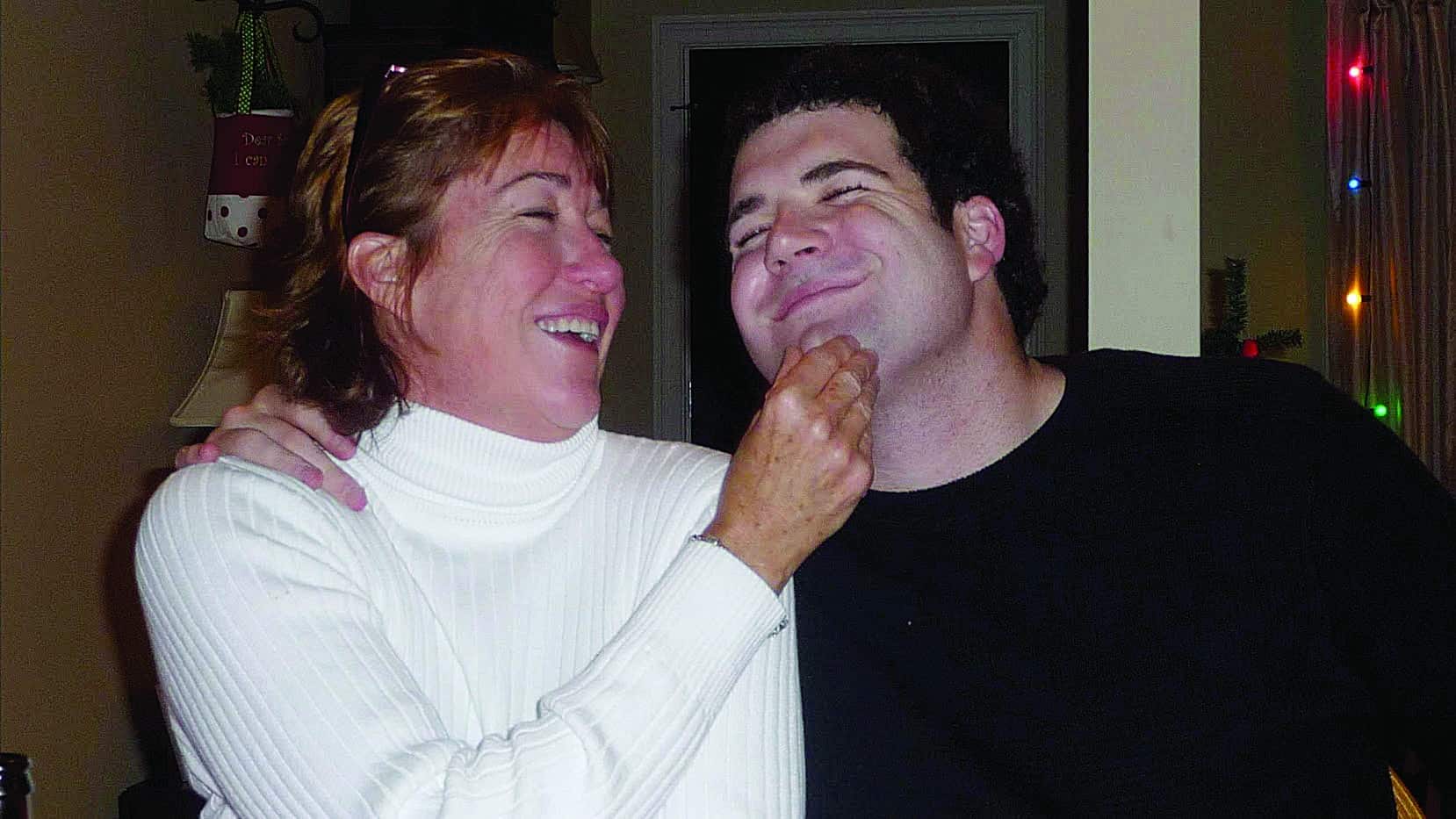 Traumatic Loss Spurs a Call to Action
Part 2 of 3
We sadly lost the legendary Tina Turner this year. The superstar didn't fear death. She believed it was just part of life.
But what happens when death is not at all part of the natural order of things? What happens when a nine-year-old child loses her mommy at the hands of an ex-boyfriend, when a mother of three is senselessly murdered or when a son in the prime of his life is lost to a drug overdose?
These unspeakable tragedies led to the making of a grief and trauma counselor, a push towards legislation to protect drivers of ride-hailing apps and the launch of an organization aimed at saving lives.
"My mom was murdered when I was nine."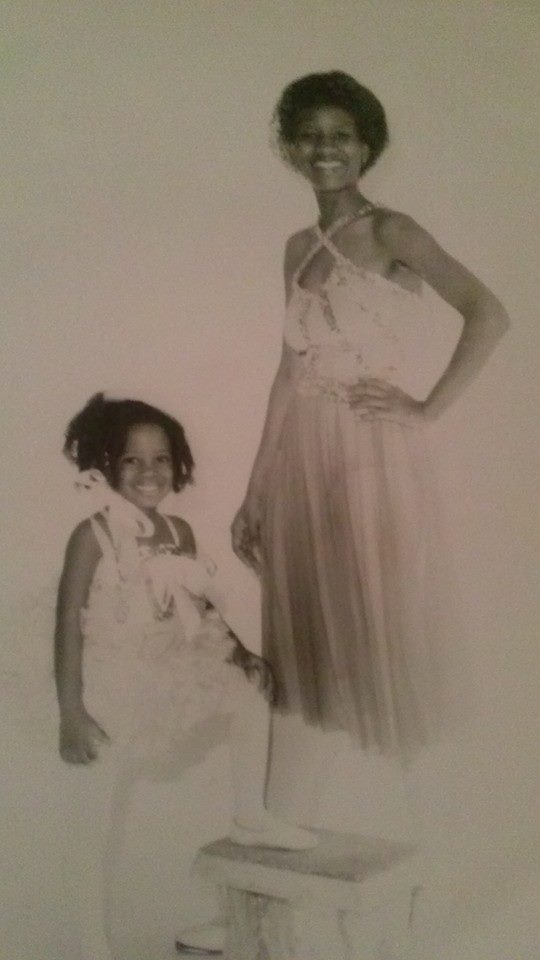 When she was a little girl, Grief, Trauma and Domestic Violence Therapist Danielle Edwards went to school one morning, not knowing she'd never see her mother again. Her mother's ex-boyfriend, Nat — whom Edwards knew well and had visited with — had been stalking her mother. He was a correctional officer.
A month prior, her mother was hospitalized after Nat assaulted her in front of their home. On the day Edwards' mom went to get a protective order, Nat followed her to a friend's house and shot both her and her friend to death.
The house was full of people when Edwards came in from playing that day; the pastor, the police, everyone was there except her mom. Her aunts were crying.
Even at such a tender age, Edwards was able to deduce her mother had been killed. Before her grandmother could share the sad news, Edwards asked, "Is she dead?"
A white rose represented her loss at the next Mother's Day brunch, but Edwards did not receive any counseling. Though her grandmother had talked to her about going to see a "different kind of doctor," her uncle didn't feel therapy was necessary.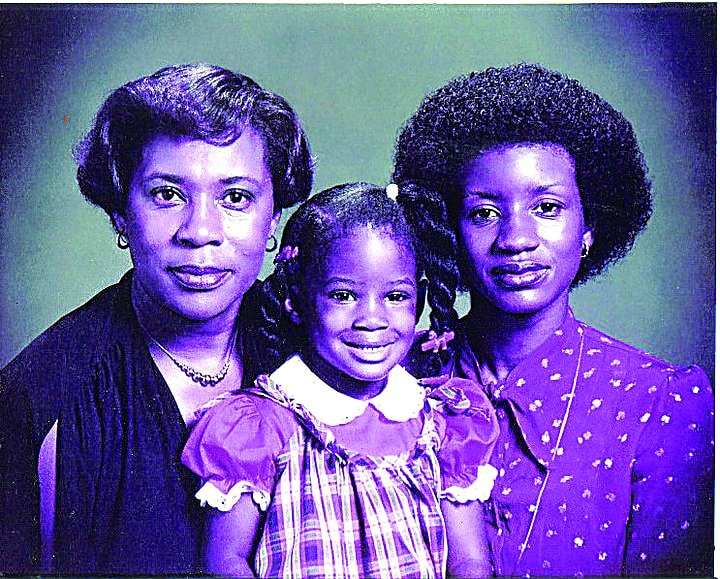 Adults ultimately make that call for children. Depending upon a family's cultural views about psychotherapy, some children may be denied services that would undoubtedly be helpful.
Domestic violence and homicide
Imagine being haunted by thoughts of what the last moments were like for a relative who was murdered.
"Finding out your loved one died in a violent way is traumatic. It feels like a violation. Someone was taken from you. You don't get to tie up loose ends or say good-bye. You can't believe this horrible thing has happened," Edwards shared.
Edwards was impacted by domestic violence and her mother's homicide as well as the subsequent grief she experienced as a child but, unfortunately, did not receive any wrap-around services.
As a child, she didn't ask a lot of questions. She understood her mother wasn't coming back and remembers being unable to go to bed alone for a while.
"I don't recall how I did immediately, but eventually I did fine. I remember looking up at the stars and asking God, "Why?" I wanted to call Heaven," Edwards recounted.
Today, Edwards is part of the Georgia Murder/Suicide Response Network and proud of the progress the state is making to provide families with the tools necessary to process this very specific type of loss and grief.
"It felt like a natural progression from my own experiences to an interest in providing grief support to others," she said.
Full circle
Thirty years after losing her mother, Edwards found herself sitting under those same stars, providing support to grieving kids at Camp MAGIK. "It felt like such a full circle moment for me," she said.
Having seen how grief impacted her own family, Edwards is an advocate for kids receiving help. "I see it in the work I do at the grief camps. Survivors need support to navigate grief as a family particularly if there are children," she said.
There's now a program through the Georgia Commission on Family Violence focused on providing assistance to people impacted by domestic violence, murder and suicide.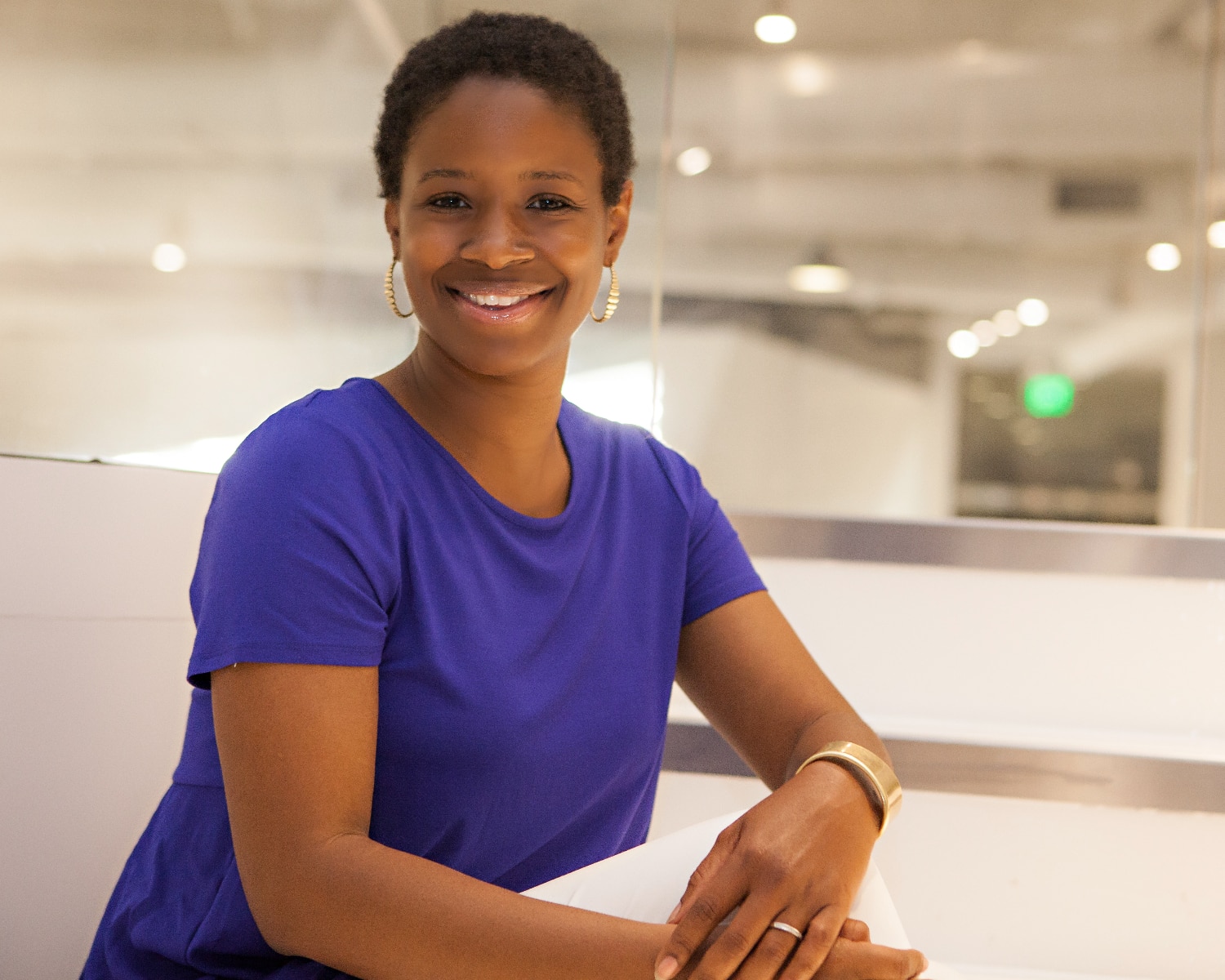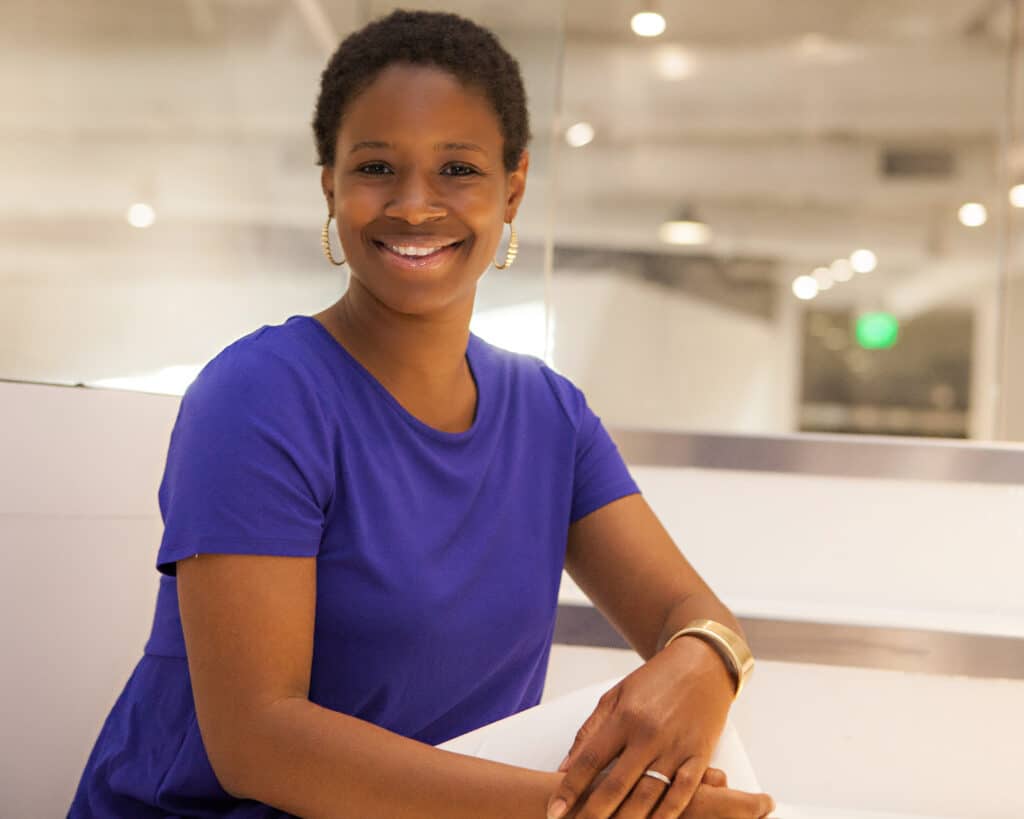 Caught in the crossfire
A 31-year-old single mother of three trying to make ends meet, Lauren Allen lost her life to a shooter one night in Lithonia. Peachtree Corners Councilman Joe Sawyer and his wife Kim were alerted that something terrible had happened to their daughter on the evening of November 21, 2022.
A friend who regularly stayed on the phone with her for safety — they were both Lyft drivers — heard the moment Lauren was shot.
"I was nervous, in a panic, pacing the floor, trying to call around everywhere," Kim said. "We tried to find out what was going on. The detectives confirmed her death at about 2 a.m."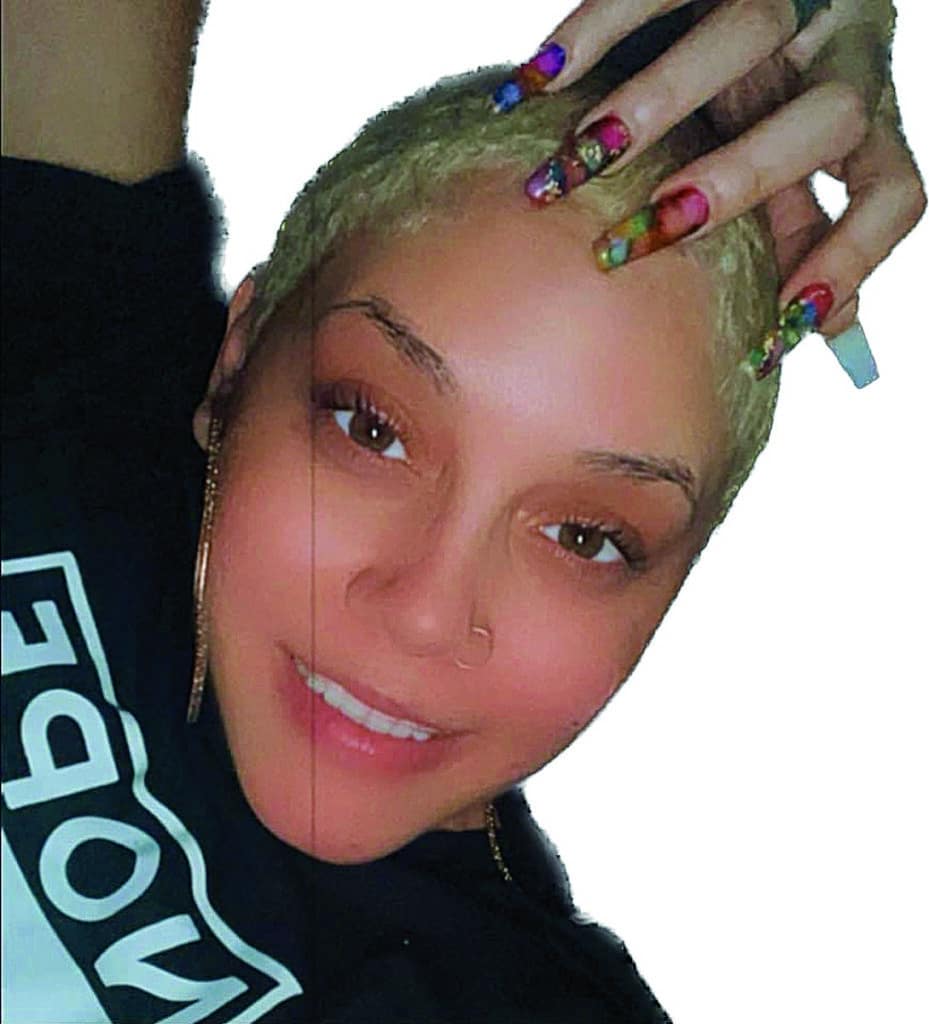 There was no getting close to the crime scene. The Sawyers relied on WSB-TV journalist Larry Spruill Jr. who was covering the story for information.
Lauren had dropped off a passenger who was disputing with the father of her children during the ride to his house. Seven months pregnant, the passenger was on her way to pick up her baby. She asked Lauren to wait for her.
"All we know is that the man came running out of the house, chasing the girl with a 22-assault rifle. He started shooting but she jumped back in the car, and they were able to get away. He chased them on foot.
"At some point, Lauren pulled over to call 911. It was dark. The man ran up to the passenger side and shot up the car. The passenger got away, but Lauren wasn't able to; she was still in her seatbelt. She was found hanging out of her car door," Councilman Sawyer shared.
Eyewitnesses reported seeing the car "light up with gunfire" and smoke pouring out of the vehicle when a door was opened. The shooter was later killed when officers returned fire at a nearby gas station.
"He didn't know Lauren was a Lyft driver. She was just doing her job," Councilman Sawyer said.
The Sawyers, tasked with cleaning out their daughter's car, were able to count at least 18 bullet holes. They found a photograph of Lauren and her kids in the car. In Lauren's place in the photo, there was just a bullet hole, but the children's images remained intact.
Lauren was torn away from her children, family and friends forever because of a quarrel that had nothing to do with her.
The power of community
The social connections forged by the Sawyers during their 34 years together have helped to sustain them in many ways during their darkest hours. Family and friends flooded their home, so they were not alone when they received verification of their worst nightmare.
"There were probably 30 people here. When something happens, we're all there — brothers, sisters, everybody," Councilman Sawyer said.
Their church group, surrounding congregations, the City of Peachtree Corners and nearby municipalities reached out to them. Atlanta Mayor Andre Dickens had a proclamation honoring Lauren delivered to her viewing. His representatives were the first to arrive.
Crowell Brothers Funeral Home collected Lauren's body from the coroner's office and sheltered Kim from seeing her daughter before she was funeral ready. "I wanted to see her, but they told me to wait, not to see her like that," Kim said.
One of her oldest friends saw to it that Lauren's makeup was just right on the morning of the service. The family is grateful to the Senior Pastor of Peachtree Corners Baptist Church, Jay Hackett, for holding Lauren's homegoing service where she was baptized.
"Grief is hard. Without the community it would've been a lot harder. We've had a meal train, donations to the Go Fund Me Account (gofund.me/28d0ee33). This made us feel loved. It's meant a lot to us and helped us make it through," Councilman Sawyer stated.
Keeping it together
With the help of a well-respected Peachtree Corners attorney, the Sawyers are seeking full custody of Lauren's children by two different fathers, rather than splitting up the siblings. They had always taken care of their grandchildren, who range in age from 8 to 13, while Lauren worked.
It's not an easy task for "Mimi" and "Papa" to care for three children but they wouldn't have it any other way.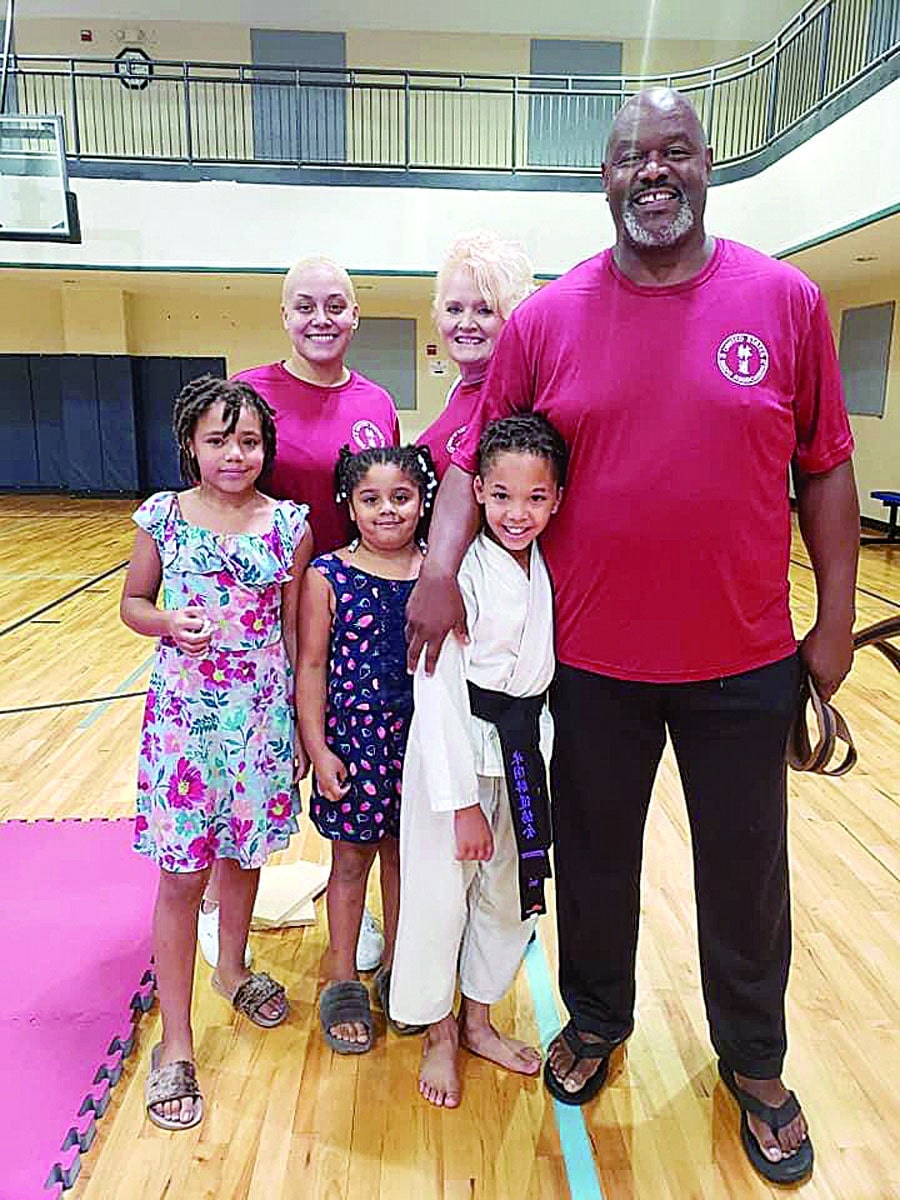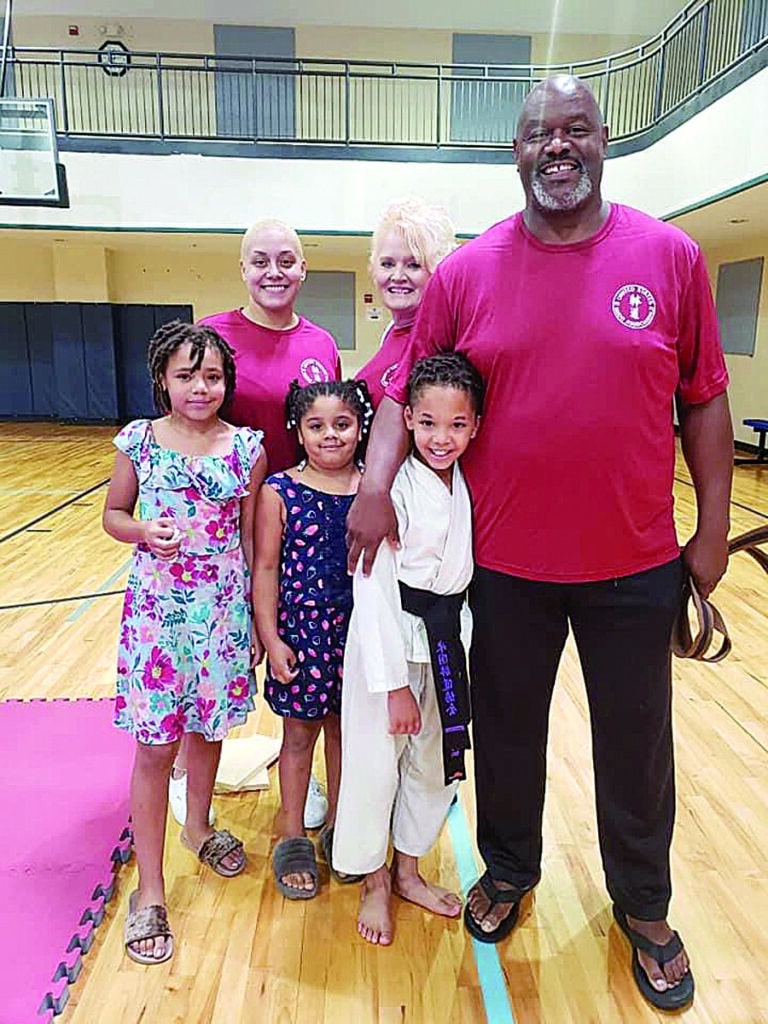 They feel it's best to keep the children together, though one of the fathers is contesting it. "We're not trying to keep him away. We want to keep her in an environment with her brother and sister. They've grown up together," Councilman Sawyer said.
In the meantime, the children are in counseling. Kelsey and Kya go to Summit Counseling Center in John's Creek. Kameron sees Jordan Yates, a licensed professional counselor (LPC) at Christ the King Lutheran Church.
The couple has been to grief counseling once but are challenged to find the time to return. They hope to join a church group in the fall.
When faith is rattled
According to Edwards, it's not uncommon for bereaved individuals to wrestle with their spirituality. The grief counselor has witnessed people who hadn't believed in a higher power begin to ponder the possibility after experiencing a loss. Conversely, she's had clients with a previously ironclad belief system become upset and unsure following the loss of a loved one.
"If you were raised not to question your faith and suddenly you are questioning, you don't know what to do with that. This is a place where you can talk about it. I'm not going to judge or tell you what to believe. I'm here to provide a space for you to work through whatever it is that's coming up," Edwards explained.
Councilman Sawyer found himself filled with hate for six months. "I hated the world. I was torn up, miserable. I couldn't sleep. I stopped praying. I was too busy asking God why he took my daughter until my sister told me I needed to get rid of my anger because as I go, my family goes," he said.
Then a friend in London called, urging him to let it go or he'd be consumed by hatred which would in turn, consume his family. When she prayed for him, it felt as though a weight had lifted. He instantly felt different.
That same day, Councilman Sawyer's sister said, "I don't know if you're ready for this, but Lauren just crossed over. She went running to daddy, calling him "Papa", and hugged him. Daddy was waiting on her in Heaven. Lauren didn't want to leave you, Joe, because she knew you were in a bad spot."
Brokenhearted herself, battling a stream of tears and trying to be strong, Kim was relieved when her spouse's fury dissipated.
"Dealing with it and living with him was not very good. Thank goodness, it's so much better," she said. The couple believes things changed for the better because people were praying for them.
To each his own grief
Together they make a strong unit, but Councilman Sawyer and his wife have had some contrasting experiences. What is healing for one can be a trigger for the other. While Kim wishes to hear the 911 call made by Lauren for example, Councilman Sawyer does not.
Hearing "I'm sorry for your loss" is comforting to Kim who finds it difficult when people avoid discussing it. Councilman Sawyer prefers the remark from Senior Pastor of Northpoint Church, Andy Stanley: "I'm not going to say anything. I don't have the words."
While Kim is tormented about not having seen her daughter on that fateful day, Councilman Sawyer feels fortunate to have spent some quality father-daughter time with Lauren on the day of her shooting.
Everyone is distinct in their grieving. "It's hard. You can be talking and all of a sudden you start crying. I see what Kim goes through. This has allowed us to spend more time together. Our marriage has gotten stronger," Councilman Sawyer said.
Life-saving legislation
Hoping to lobby Georgia State Representatives Scott Hilton and Ruwa Romman, the Sawyers plan a push to have drivers of ride-hailing apps like Lyft and Uber be allowed to carry guns. They realize it's a politically contentious issue.
According to Councilman Sawyer, it's concerning that Georgia Governor Brian Kemp passed the permitless carry gun law in 2022, allowing citizens to carry handguns in public without a license or background check. The black community has the highest rate of gun deaths in America; he fears it will only increase as more states pass the same legislation.
The couple would rather see stronger licensing laws in place. They're eager to work with both parties to achieve their goal. They don't want what befell Lauren — being helpless in the face of a gunman, armed only with pepper spray — to happen to anyone else's child.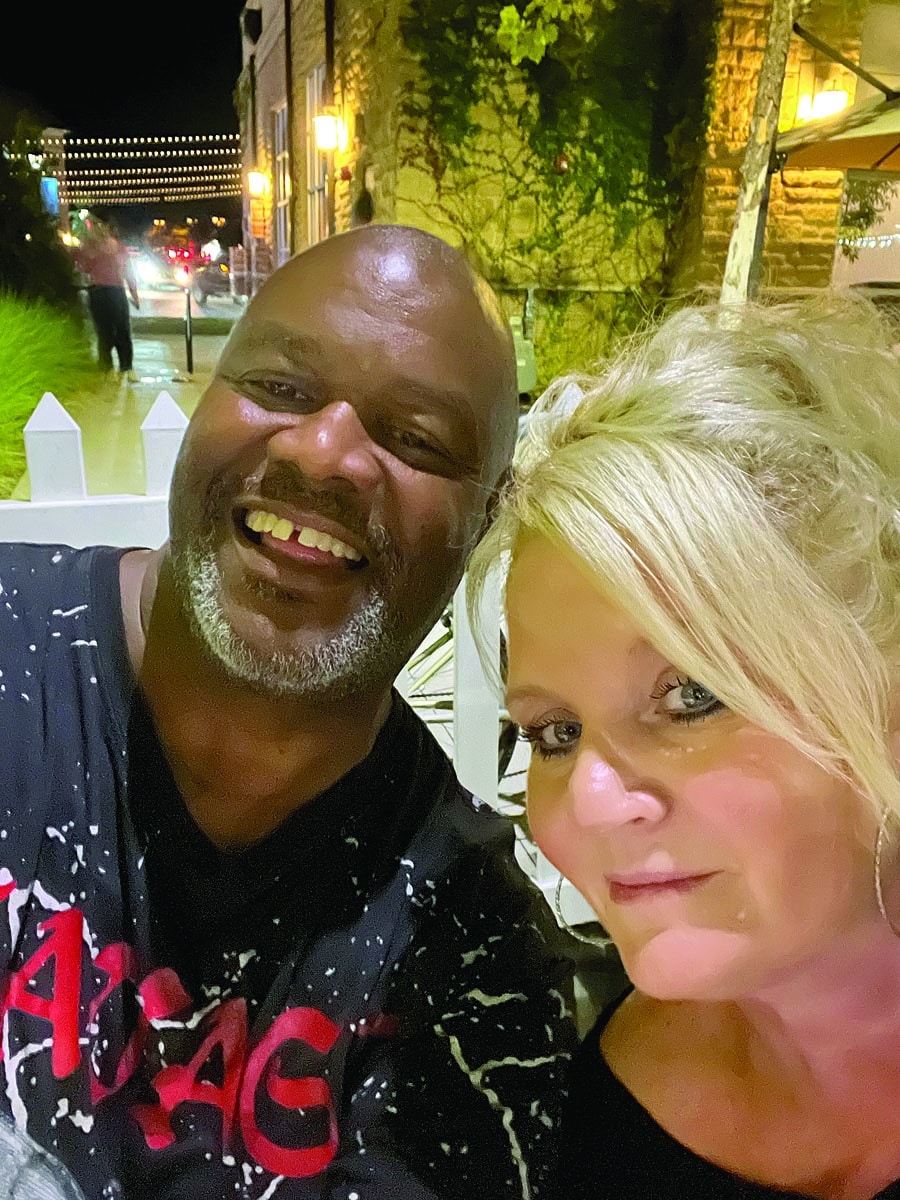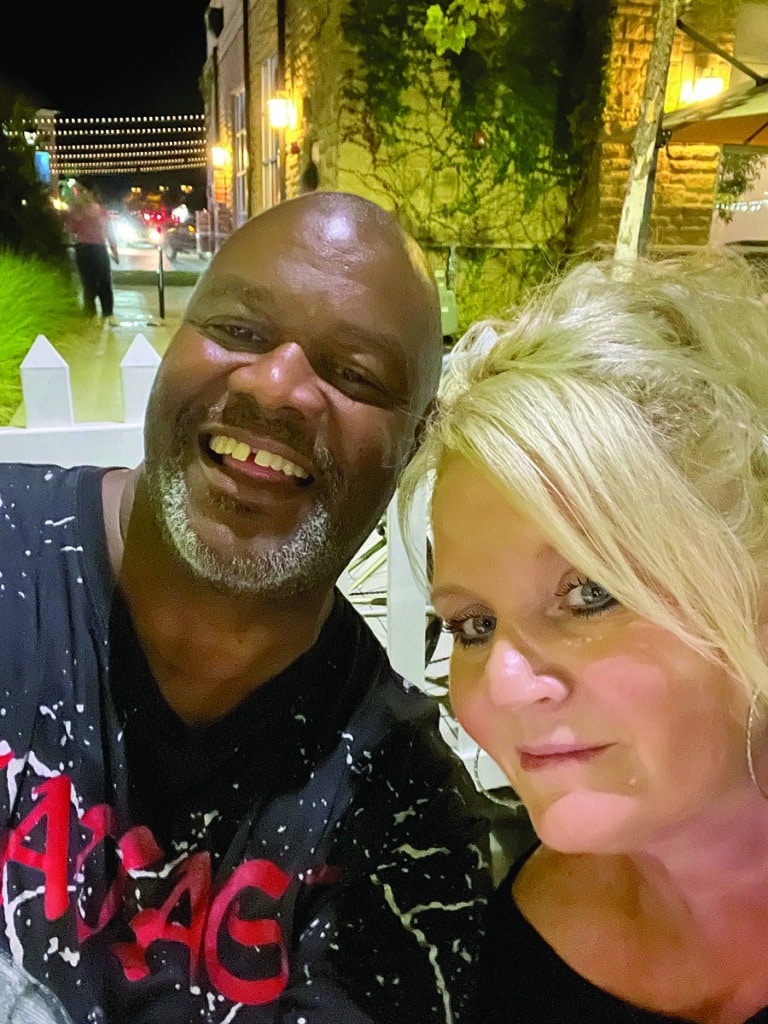 The Sawyers cited a new Atlanta-based ride-sharing app (Black Wolf) that offers a bullet-proof SUV and armed drivers who are highly trained in security. They hope others will follow suit.
"Young people are buying guns. They don't take classes. They're going out and killing. It's happening all over. It needs to be addressed," Councilman Sawyer exclaimed. "These companies have to look out for their people. We're arming the public. We have to make sure drivers are protected."
To honor their daughter's memory, the Sawyers have set their sights on getting what they hope to call "Lauren's Law" sponsored, through the House of Representatives, and all the way to the governor's desk. Fighting for the protection of these drivers is what they believe Lauren would want.
As they brace themselves to face life without her, Councilman Sawyer vowed, "I'm not gonna rest 'til I get something done."
Call 911
On April 14, 2022, Kathy Armistead also received an earth-shattering 2 a.m. phone call. "He's gone," her son's friend said. Feeney was 33 years old. He'd gone out with a friend to get some cocaine, telling his girlfriend he'd be back soon.
When jovial, sports-loving, larger-than-life Feeney collapsed while using, his friend must've panicked. He didn't administer CPR or call 911. Feeney died of cardiac arrest.
Armistead pieced a timeline together after emerging from having been frozen in grief for a month and was able to deduce that 30 to 40 minutes had lapsed before anyone dialed emergency services.
When the heart stops, the brain essentially dies after six minutes of oxygen deprivation. The hospital confirmed Feeney was brain-dead but because he was donating his body and organs, he was kept on a ventilator until they were ready to harvest everything usable the following day.
Feeney's last act was one of the most generous conceivable; multiple recipients have benefitted from his life-saving organs and tissues.
"He was a force, a handsome, 6'3", scruffy, mountainy-looking guy with a beard. He loved to let everyone know he was there and make everybody laugh. He was a live-life-to-the-fullest kind of guy," Armistead beamed.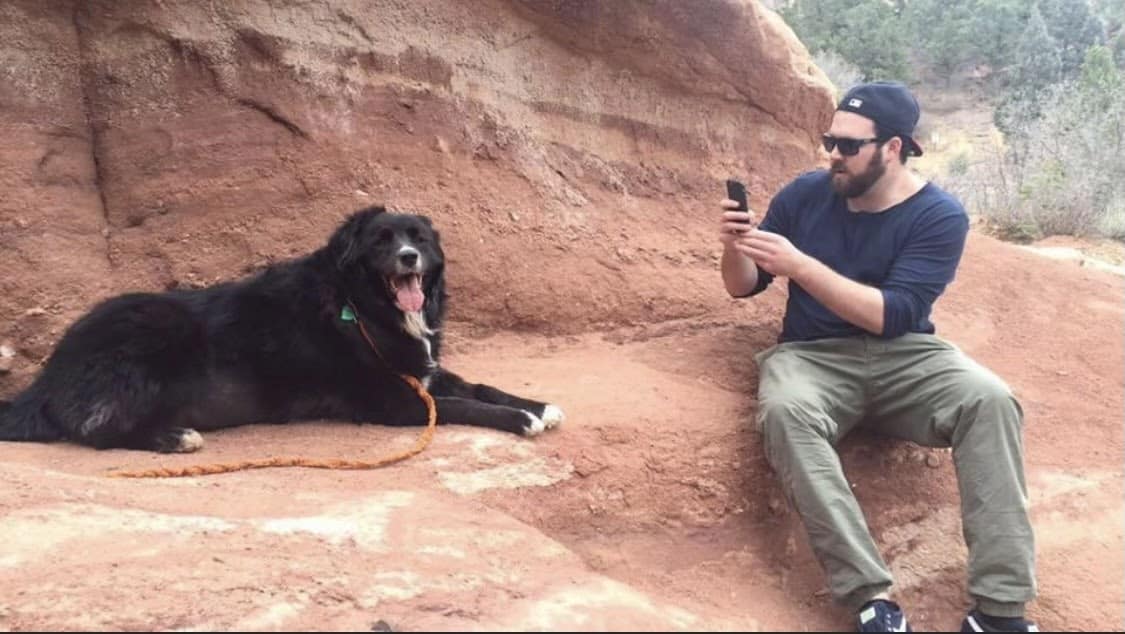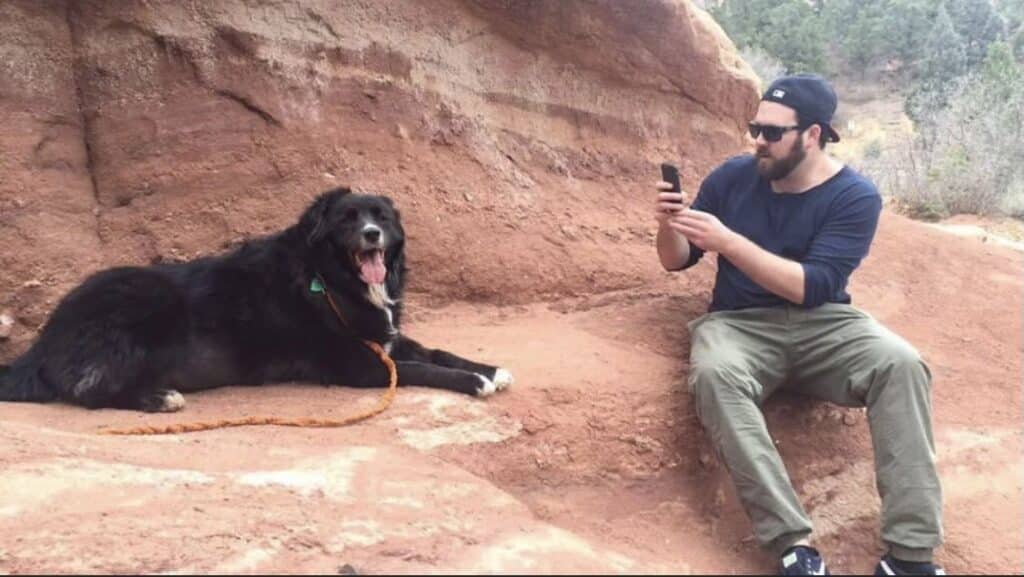 The hardest part of her loss is knowing that it didn't have to happen. Feeney may have had a second chance at life had those around him acted quickly.
A mother's good-bye
As she sat by his side in the hospital, Feeney appeared to be asleep. "He looked healthy, relaxed. He had just gotten back from the beach. He was laying like he would take a nap; his legs spread out," Armistead recounted.
She was able to talk to him, scream at him, tell him how upset she was that he was leaving her this way. "I laughed and cried. It was really good for me, but some people didn't look at it that way," Armistead said.
The most majestic animal
As doctors pulled Feeney's blanket off, Armistead spotted a bad tattoo on her son's ankle — a giraffe. "I looked at Feeney and laughed, "What the hell is this?"
Friends provided the backstory. Feeney and some former colleagues had decided to get a tattoo. When they asked him what design he wanted, he replied, "I want a giraffe. Don't you think it's the most majestic animal in the world?" That sold them on the giraffe; they all got the same one.
Never having had a tattoo, Armistead chose to get one inked onto her own ankle in Feeney's memory, but she opted for a more stylized giraffe drawn by her artistic mother.
"My daughter, my sister and I got one. Now I look down at my ankle and smile," Armistead said.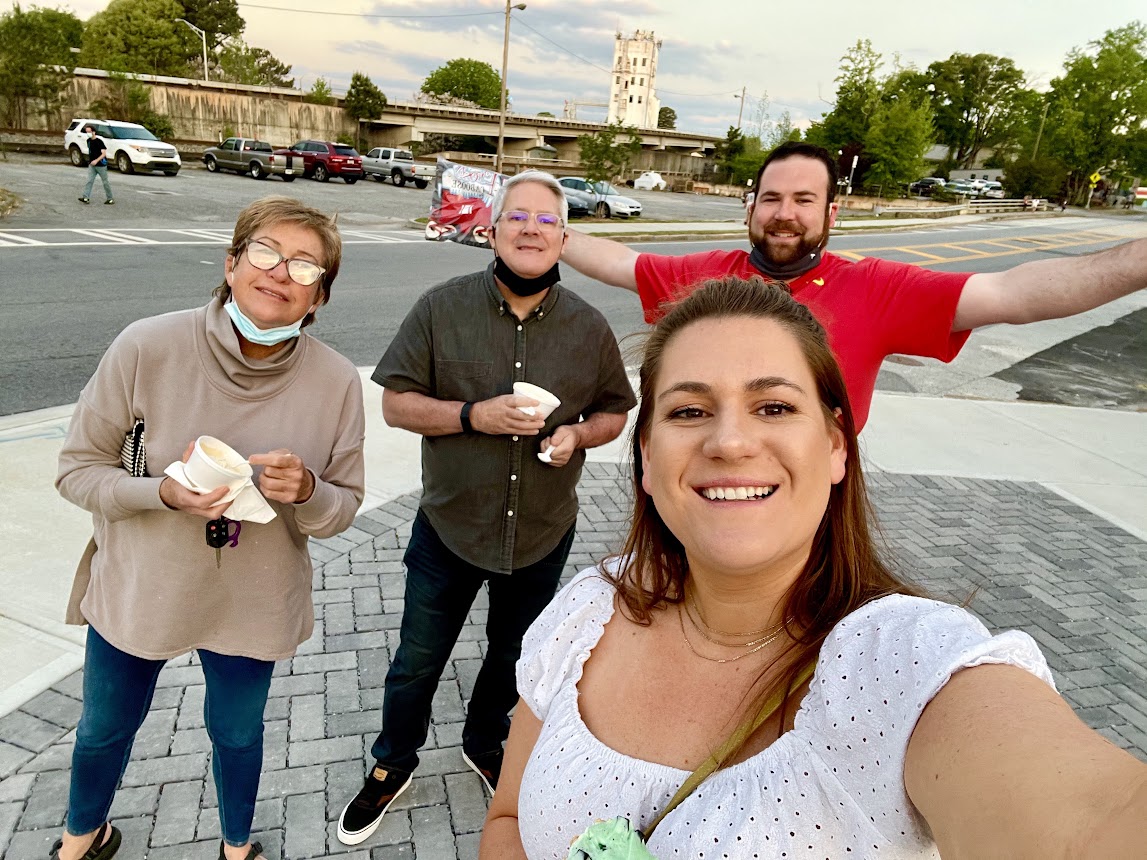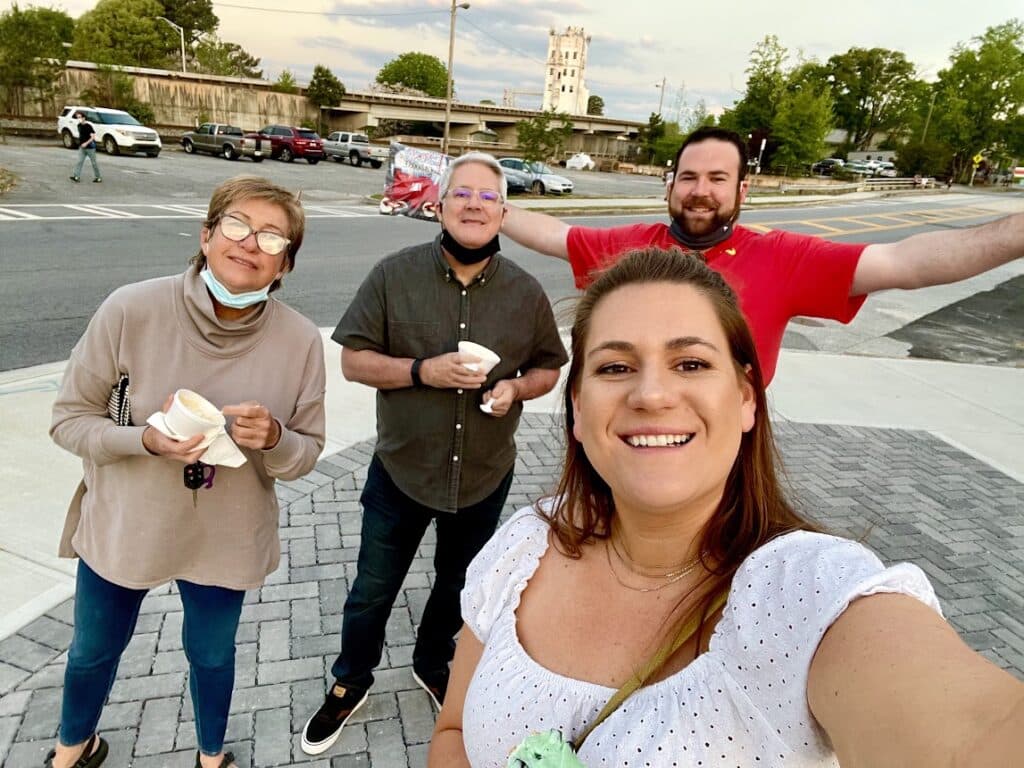 Fred joins Feeney
Feeney's dog, Fred, was at his funeral service roaming around greeting the attendees who came to pay their respects. A month later, Fred suddenly and unexpectedly passed away. It was another blow for the Armisteads, but they believe Feeney called him home.
At a loss for words
Edwards advises, "Let the bereaved person take the lead. If they want to talk about their loss, don't change the subject. You don't have to know what to say. You can just listen. If they don't want to talk, don't pry."
Armistead is alarmed at how hesitant people of all ages are to talk about tragic deaths like drug overdoses, alcohol poisoning or car accidents involving driving under the influence. "It needs to be discussed, not silenced. If we're quiet, it'll keep happening," she said.
Her 35-year-old niece has had 15 friends die since she graduated from college. A friend of Feeney's shared that he'd been to four funerals the year Feeney passed. Armistead has a friend whose son attended eight funerals in his freshman year of college.
"What's going on?! Nobody's talking about it!" Armistead exclaimed.
Determined to break the silence, Armistead explained, "I give Feeney's story body. I tell the truth about what happened. It makes a difference to the community and the world," she said. Since risky behaviors are more common among youngsters who imagine themselves invincible, bringing awareness of potential consequences to this demographic is vital.
Realizing that others may be uncomfortable or unsure about how she'll react, Armistead divulged how it's awkward for a bereaved individual when nobody asks about it.
"They think I should be over this. That may or may not be true," she acknowledged. When chatting with individuals who are mourning, Armistead suggests, "Don't gloss over it."
Guilt
What of the potential sense of shame associated with losing a child? "I think you're guilty, no matter what, when your kid dies. It's a fact. There's guilt all around it, even if you had nothing to do with it," Armistead shared.
Losing a child is the worst thing that could ever happen to someone in Armistead's view, because it's not the way life is supposed to go. She thanks God every day that she still has her daughter, Lia.
Kids may not comprehend how deeply connected parents are to them. "You have a heart string to each other. When you lose one, it's just indescribable. It tears your heart apart," Armistead sobbed.
Inertia was not an option if Armistead was to come through this tragedy. "Being active is a critical piece for me," she said. "Even when he was in the hospital, I'd have to get out and walk."
Determined to advocate for Feeney and ensure this doesn't happen to others, Armistead's beloved son was gone but her mission was born.
Founding the Feeney Legacy Project
Wishing to spare other parents from having to bear the loss of a child in this way, Armistead founded The Feeny Legacy Project (FLP). FLP is a growing grassroots, woman-led non-profit organization comprised of sisters, aunts and friends spanning in age from 13 to 85.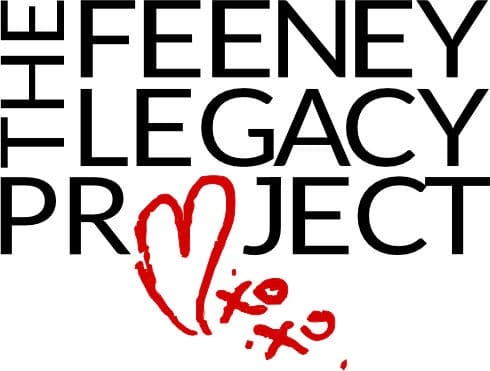 Launched on the first anniversary of Feeney's death, the organization spreads awareness about the importance of calling first responders and administering CPR immediately to anyone in medical distress.
Some might hesitate to call 911 out of fear of incrimination for being high, intoxicated or in possession of illegal substances. FLP provides education about the Georgia Good Samaritan and 911 Amnesty Laws which protect those providing emergency care from being arrested. To learn more visit feeneylegacyproject.org.
"We want people to feel safe about calling 911," Armistead said.
Some people may be unsure about how serious a medical emergency is and consider waiting it out, but acting quickly always results in the best chance of survival: Call 911, administer CPR, save a life.
No certificate needed
In January of this year, TV viewers witnessed a Buffalo Bills trainer jump into action and revive football player Damar Hamlin on the field by initiating CPR. But being someone's lifesaver doesn't require a trained professional or even a CPR certification.
FLP has looked to the good work of the American Heart Association and partnered with national organization Parent Heart Watch for accessible, inventive ways to demonstrate performing CPR. Chest compressions can be practiced on a roll of toilet paper!
"I love the idea of teaching everybody to be confident to do CPR — keep the rhythm going and don't worry if it hurts, you're saving someone's life," Armistead said.
Even if you have no idea what to do in a crisis, someone can walk you through the steps of performing CPR, if necessary, when you dial 911.
FLP is open to partnering with schools, clubs, Scouts, coaches and athletic teams to reach as many people as possible with its life-saving message.
Heartache help
The book "Finding Meaning" by David Kessler was a source of comfort for Armistead. It provides a roadmap to remembering those who have departed with more love than pain. "I hung onto that and learned a lot," Armistead said.
For several months, she addressed daily journal entries to Feeney in the early morning hours from her porch.
In many cultures cardinals are regarded as messengers from Heaven, symbols that lost loved ones are near. Armistead talks to them as though they're Feeney, alternating between telling him to stop messing with her, and thanking him for stopping by. She's always delighted in collecting cardinal figurines and ornaments.
Crying wherever she was — in the grocery store for example — is something Armistead gave herself grace for in the early days. "I did what I had to do," she said.
She and her husband, Chris, didn't attempt to process their grief jointly. "It's almost impossible to do. It doesn't work," she said. "The advice I got was: do your thing, let him do his. And that's what we've done. We've worked in our own ways," she shared. They both found grief counseling helpful.
Click here to read part one of "Good Grief: Life After Loss."
Resources
Grief Support
Children's Grief Support
The camp is free of charge. Children get a weekend of support surrounded by other grieving kids and licensed professionals facilitate groups. Caregivers can attend too.
The club brings grief groups to children 5-18 in Metro Atlanta and beyond.
This resource list is provided by:
Danielle Edwards, MSW, LCSW — Grief, Trauma and Domestic Violence Recovery
Edwards Psychotherapy and Consulting LLC.
470-668-5930, info@edwardspac.com

Local Indie Author Day is Coming Back to Gwinnett County Public Library Branches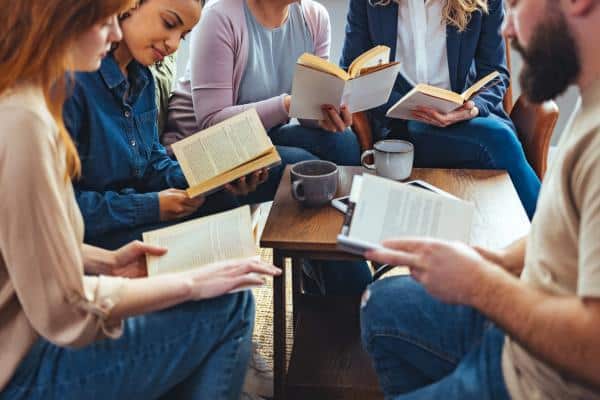 Gwinnett County Public Library looks forward to celebrating Local Indie Author Day on Saturday, November 4, 2023.
The library invites independent local authors to showcase their works with author talks, readings, book sales and signings each year. This event aims to unite libraries, indie authors and readers throughout our community.
Multiple library branches are hosting author talks or author panels. Participating branches include:
Buford-Sugar Hill,
Centerville,
Dacula,
Duluth,
Five Forks,
Grayson,
Norcross and
Suwanee.
Local Indie Author Day will begin at the Duluth Library branch at 2:30 p.m. and features authors Stella Beaver, Chere' Coen, Tamara Anderson and Cassandra Kempe-Ho.
The Norcross Library branch will host its showcase at 3:30 p.m. with authors Linda Sands and M.W. McKinley.
Check the library's event calendar for author information and times. All events are free and open to the public. For questions or comments, contact Duffie Dixon, Director of Marketing and Communications for Gwinnett County Public Library at ddixon@gwinnettpl.org.
Click here to explore more public library events happening in November.

Good Grief: Life After Loss, Part 3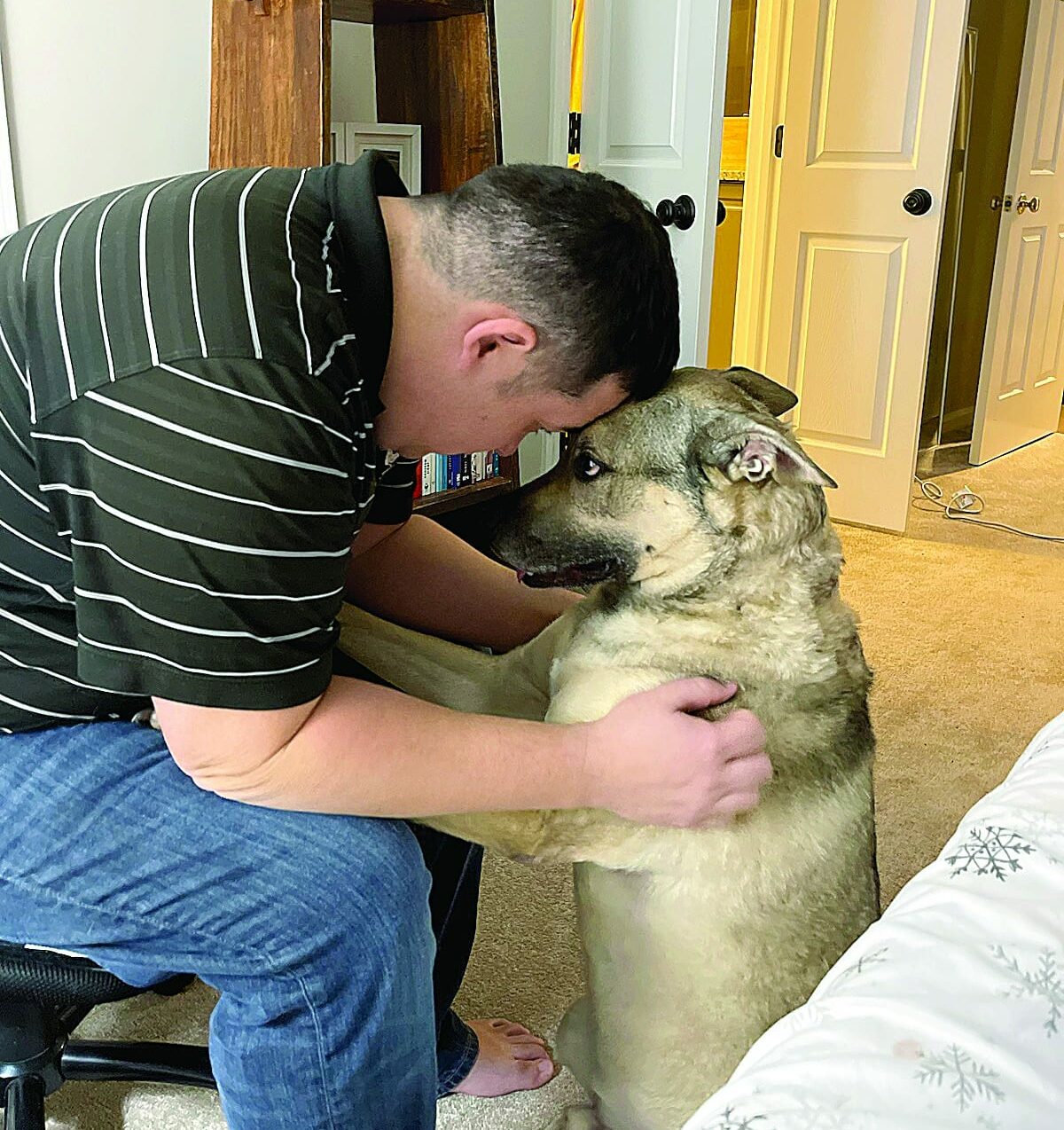 Losing Our Furry Friends
The conclusion of my "Good Grief" series seemed ideal in this issue featuring pets and their people. Paris Hilton lost her beloved chihuahua this year. In a farewell tribute on Instagram, the socialite wrote, "In 23 amazing years, she brought endless love, loyalty, and unforgettable moments to my life."
Some may not understand — eye rolls may ensue — but fellow pet people know all too well that losing a companion animal is just as heartbreaking as losing a human loved one.
"The pain I feel right now is indescribable," Hilton posted.
Yet our cultural playbook is devoid of any protocols for those mourning pets. There are no pet obituaries, no official rituals or religious ceremonies to support us through the loss of a fur baby. When such perfectly normal and deep emotions can be considered a mere overreaction by some people in our own tribe, one could argue that losing a pet is even more difficult.
The ultimate interspecies bond
Though domestic companions can be scale or feather-covered too, I spoke to the bereaved owners of the furry variety.
Thousands of years of evolution have led to dogs morphing from the wild wolves they once were into man's best friend, able to read our emotions and willing to sit, bark, roll over and play dead on command – all to please us. If you're not a pet owner yourself, you're sure to have friends with pets.
Max, tennis ball chaser extraordinaire
Long before Matt and Faith Harding had children, they had their dogs, Jazzy and Max, who were part of their lives for over 11 years. Losing them was hard.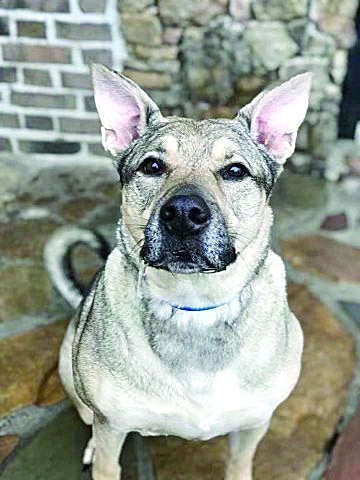 "We lost Max and Jazzy within a year of each other. We had to put Jazzy down because she was older and suffering. It was the right thing to do. What made it more difficult with Max was that it was so unexpected," Matt said.
The Hardings had been treating Max, who suffered from seizures common to Belgian Malinois. They were able to keep the seizures under control for years.
What makes a grown man cry
It was a week like any other. Faith had gone out of town. The kids and Max were left in Matt's care. Max chased tennis balls in the backyard. There were no warning signs that something was about to go terribly wrong.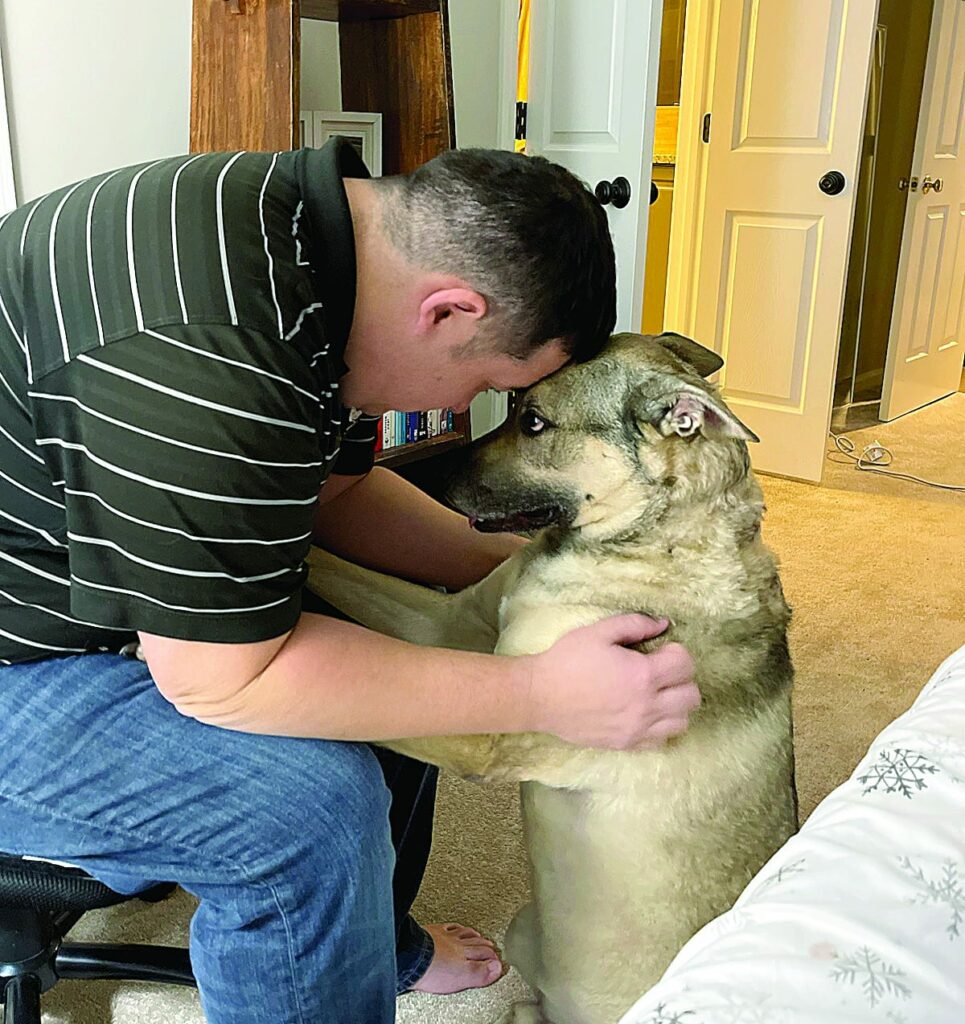 Matt found Max in his kennel when he came home one evening. It looked as though he'd had a seizure — like those he'd recovered from many times before. Matt rinsed him off and brought him back inside.
When Matt came downstairs after putting his daughter down for a nap, Max drew his last couple of breaths and passed away. "He waited for me to come back," Matt said.
Having to call Faith to share the sad news while she was traveling was heartbreaking. "After the initial shock and plenty of tears, you're stuck with trying to figure out what to do next," Matt said.
With their baby on one arm and their wailing toddler holding his hand, Matt walked the kids over to the neighbors' house. The only thing he could utter was, "Please watch them." Seeing his tear-streaked face, his neighbor took the children without hesitation.
"I had to text her and let her know what was happening. I could not even get words out of my mouth. They were a huge help and very sympathetic to what was happening," Matt shared.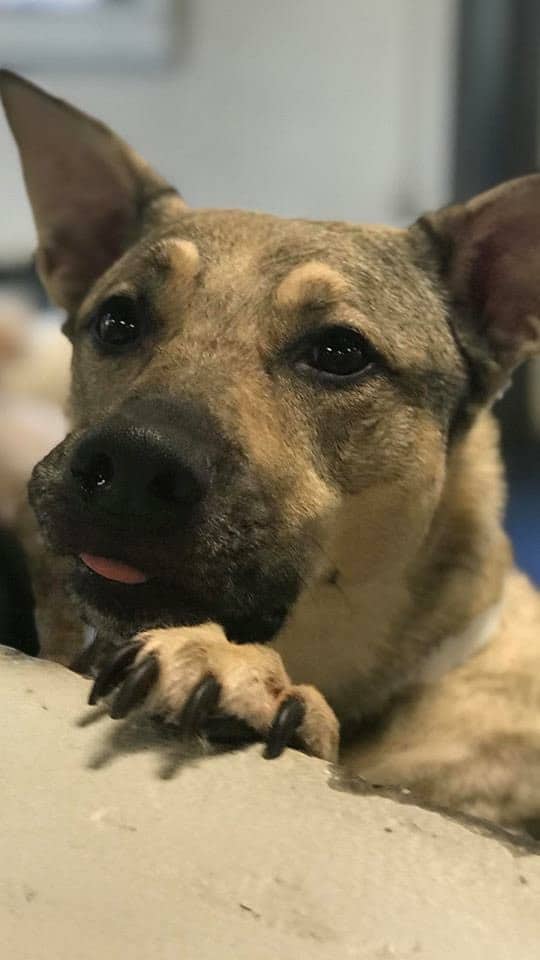 Maximize the memories
What helped the Hardings most was looking at pictures and reminiscing about their "incredible dog," Max.
"He loved people. Plenty of people reached out to tell me some of their favorite memories with him and I couldn't help but smile and laugh at how he left an impression on so many," Matt said.
Conversely, Matt viewed the act of putting away the dog beds, bowls and toys as an admission that Max was now just a memory. "I couldn't bring myself to do it," Matt confided.
"The loss of Max is still hard to think about. Faith and I budget. We have a line item for Max. We were doing the budget a couple of nights ago and couldn't bring ourselves to remove him as a line item," Matt said. "Thank you for letting me share our story."
Triple grief
Before Sandra Hutto and her siblings could spread their parents' ashes, she was faced with the sudden death of her 11-year-old Doberman, Rio.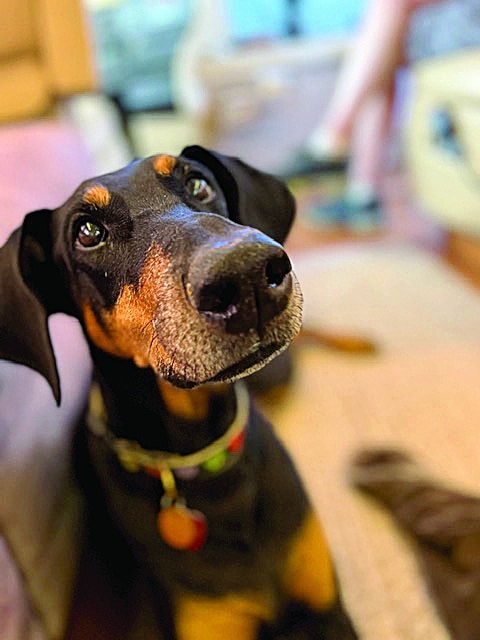 Three losses in rapid succession were a hard knock-back for Hutto. She is grateful for supportive friends and being able to process her grief with the help of her husband Mark, a psychiatrist.
According to Hutto, sharing stories about her parents was as helpful in dealing with her loss as it was funny. "There were things I didn't know. It was fascinating," she said. "Family stories are important. Apparently, my mother was kind of a floozy," she laughed.
Her aunt had shared about her mother misleading a boy to spend a day at the lake. When he asked her out, she claimed to have gotten a headache from all the sun. But later, she called another boy about going to a movie.
Hutto advised, "You have shared stories and individual stories. You can let that isolate you or bring you closer. You could say, "That wasn't my experience, I'm shutting it out," but it lets you know more about your parents. They have stories from before you were born."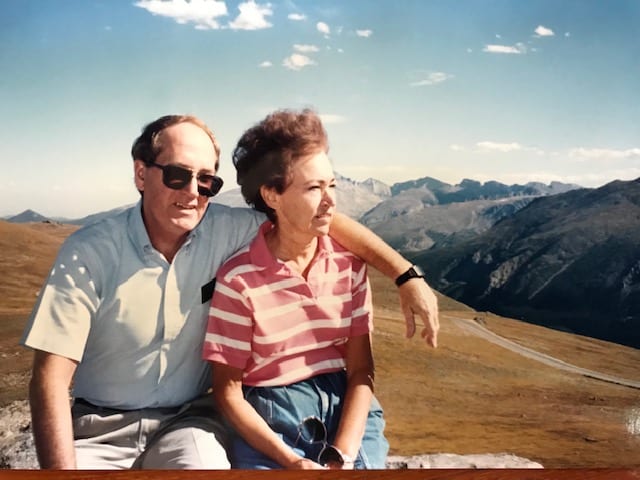 Dad and the Doberman Pinscher
Before her father's passing, Hutto and her husband took her dad on a road trip to Wyoming, along with Rio, in their 1993 Bluebird Wanderlodge to visit her sister. Unsure how her father would take to such a big dog, she was pleased when they bonded.
"He fell in love with her. Rio would get up in the middle of the night to lay down next to him. I joked with dad, "You know daddy, we do keep the dog.""
After he died, people said, "That trip was great for him. He never stopped talking about how much fun he had." That was heartwarming," Hutto said.
She danced on the sand
An American Kennel Club purebred dog, Rio's registered name is, She Dances on the Sand, after the Duran Duran song.
Bred in Germany to be the intimidating protectors of tax collectors, Dobermans are strong, intelligent dogs, able to attack on command. Rio didn't exactly fit the bill. Terrified of a neighborhood Yorkie, she'd watch him as she cowered behind Hutto.
Her tail was docked but she had natural, floppy ears. She wasn't steely-looking, but she did have a big bark. "Mostly she would try to convince people that she was neglected. She was a drama queen; such a good, funny dog," Hutto said.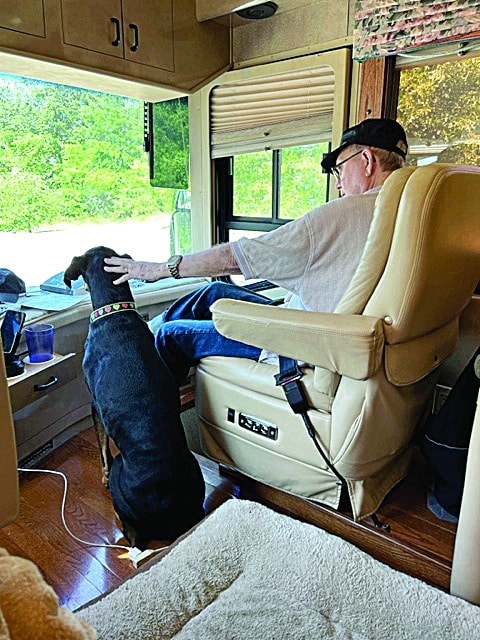 Déjà vu
Rio passed almost exactly the same way their previous Doberman, Jet had. (Jet was named after the Paul McCartney and Wings song.) Though Rio had a longer life, Hutto expressed the common sentiment among pet-owners: it's never long enough.
Rio had received a clean bill of health and a rabies shot that day. By the evening, she was restless and wouldn't settle in her bed. Mark had gone out.
"She got up and started walking around. She walked into our dining room, went around the table, her back feet collapsed from under her. She struggled to get up. She howled a couple of times and she was gone," Hutto said.
Hutto believes cardiac arrhythmia killed both Jet and Rio. Heart issues are common in Dobermans, partly because of breeding and because they're deep-chested dogs.
"Not again!" Hutto remembers shrieking as she witnessed Rio's passing. Jet had passed away in the same manner, but she was with Mark. The swift but horrible departure allows for the only consolation, "at least she didn't suffer."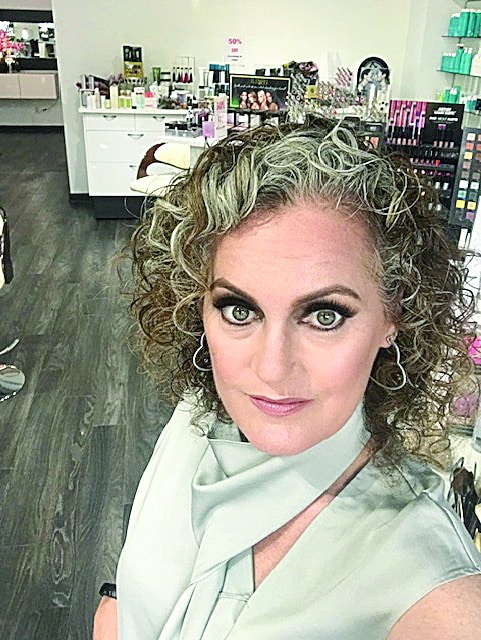 A Dobie's departure
After the ordeal of burying 70-pound Jet in the rain, the Huttos decided to have Rio cremated. They were pleased with Deceased Pet Care, Inc. in Chamblee.
"They were kind, empathetic and respectful. They knew we were in pain. They took good care of her, made a point to tell us that they cremate each dog individually, and gave us her paw print in clay," Hutto recounted.
Walk alone
"Peachtree Forest is the neighborhood to live in if you want to come back as a dog. People here love their dogs. They'll greet your dog — and then they'll say hi to you," Hutto chuckled. When neighbors learned about Rio's passing, some sent sympathy cards.
Hutto was almost thankful for a sprained knee shielding her for a while from the inevitable moment she takes her first walk alone and people will ask, "Where's Rio?"
"I'll probably bawl in the street," she predicted.
Able to better prepare for losing her parents, Hutto remarked that her grief journey is different for Rio because it was so sudden. "It was a shock and harder in some ways. It's important to talk about it so people see you can get through it," she said.
When they're ready, the Huttos plan to get another Doberman. "I'm going to name her Roxanne. You're not going to be able to help yourself when you call her. You're going to have to do the song," she said.
Paw prints on our hearts
Pets are not "just animals," as some may be tempted to say when we lose them. For those who form strong bonds with our four-legged friends, they become part of our favorite routines, our protégés, our sweetest companions, delighting us daily with joy and unconditional affection; they become family.
If the emotional connections we can form with pets are virtually indistinguishable from those we form with people, it stands to reason that pet bereavement can be on par with the grief we experience for our cherished, human loved ones. Let's remember to be kind to those grieving the loss of their pets.

Teen Cancer Survivor Aims to Raise Funds for Research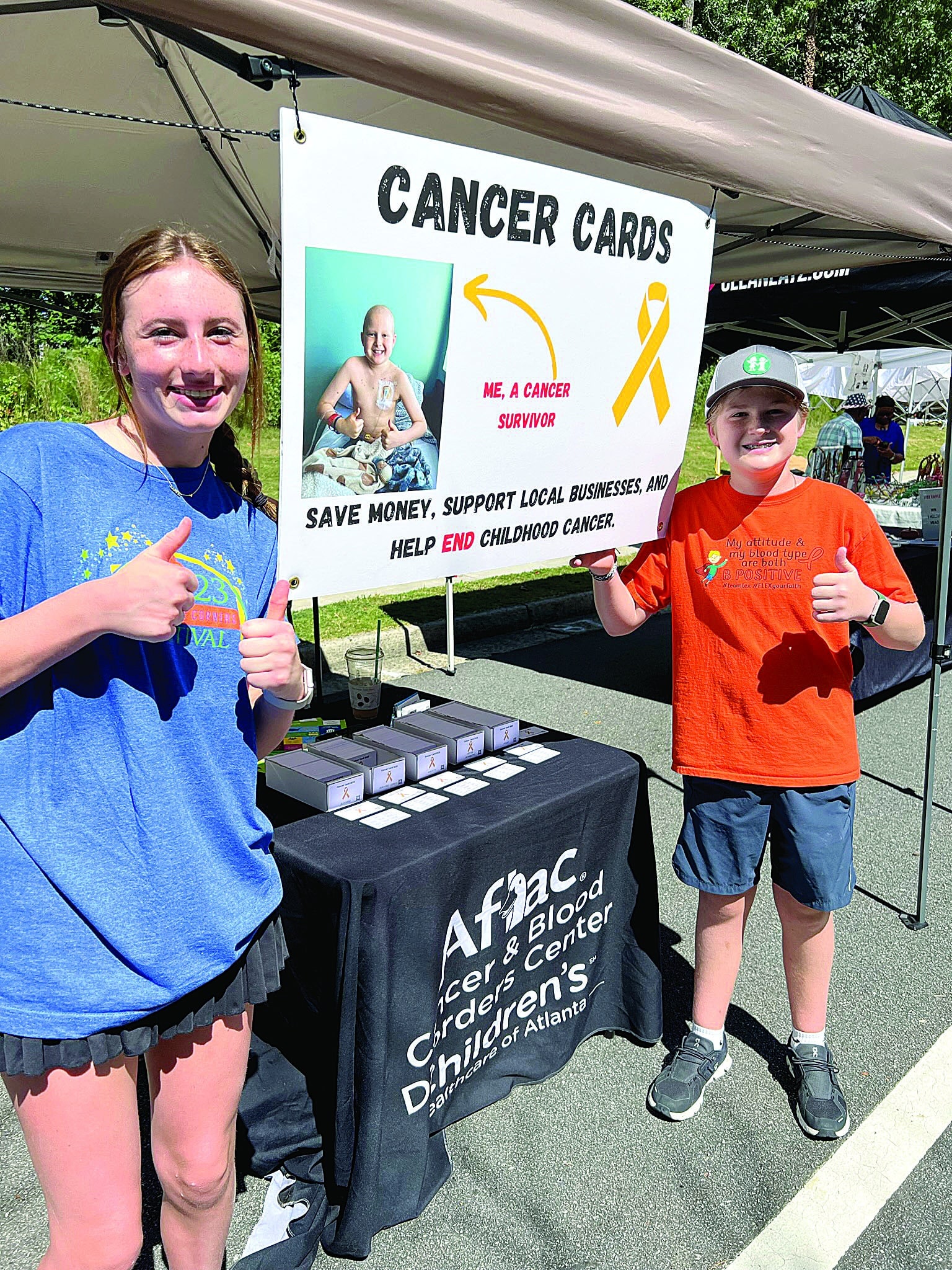 When Lex Stolle was 10 years old, he started behaving in ways that weren't like the energetic pre-teen.
"There were a lot of things that just weren't right, like I wasn't eating well. I was losing a lot of weight; I had fluid in my lungs. There were just so many problems that ultimately did lead to my diagnosis," he said referring to high risk acute lymphoblastic leukemia, or ALS.
The medical team initially told Stolle's family that there would be three and a half years of intense chemotherapy. At that time, they didn't have a complete diagnosis.
"Additionally, I would have 10 months of going in every week, taking lots of shots and pills," he said. "And then if I ever had a fever, I would have to stay in the hospital for days, weeks or even months."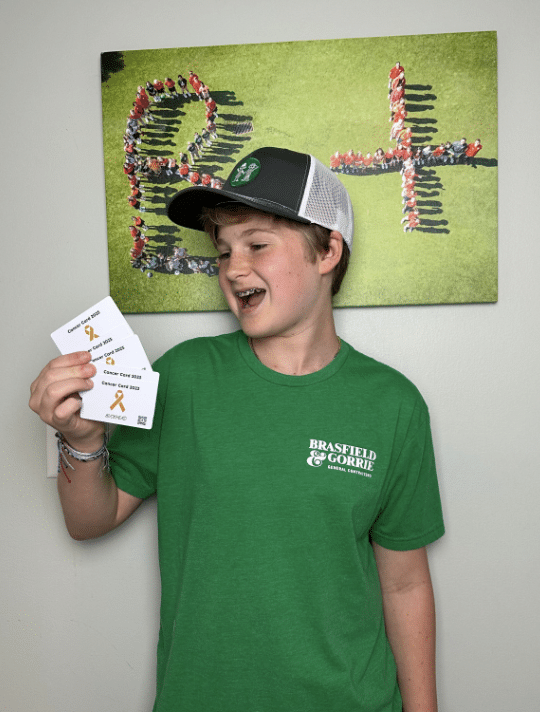 However, updated research allowed Stolle to have a year cut off his chemotherapy.
"In total, I took over 2,000 chemotherapy pills. I had about 36 spinal taps, which is where they stick a needle in my spine to send chemo to my brain. …I spent over 50 nights in the hospital. I missed 163 days of school and my fifth-grade year," he lamented — but doesn't feel sorry for himself.
Ask him how he's doing now.
"I'm awesome! I finished treatment in January of 2022. I'm a year and a half out of treatment and I'm feeling a lot better. I still go in every few months, and then I'll have to go in every year for, I think, the rest of my life," he said. "And I've started to get back into the shape that I was in — but it's still hard to be a teenager."
Paying the blessings forward
Stolle's cancer journey began in 2019. Now at 14 years old, he wants to do what he can to keep the deadly disease from other kids.
"I have always had a passion for helping others, and especially with my cancer, I know what it's like to be put through everything I went through. I don't want any kid to have to suffer, let alone someone younger," he said. "So I decided to do this project last year just for Peachtree Corners."
He's talking about his brainchild, Cancer Cards.
"Seeing so many kids go through what I did really got to me, and I felt the urge to make a difference. That's how the idea for Cancer Cards came about. …They're about the size of a credit card and they hold special discounts (between 15% off meals to free appetizers) for 9 to 12 local businesses."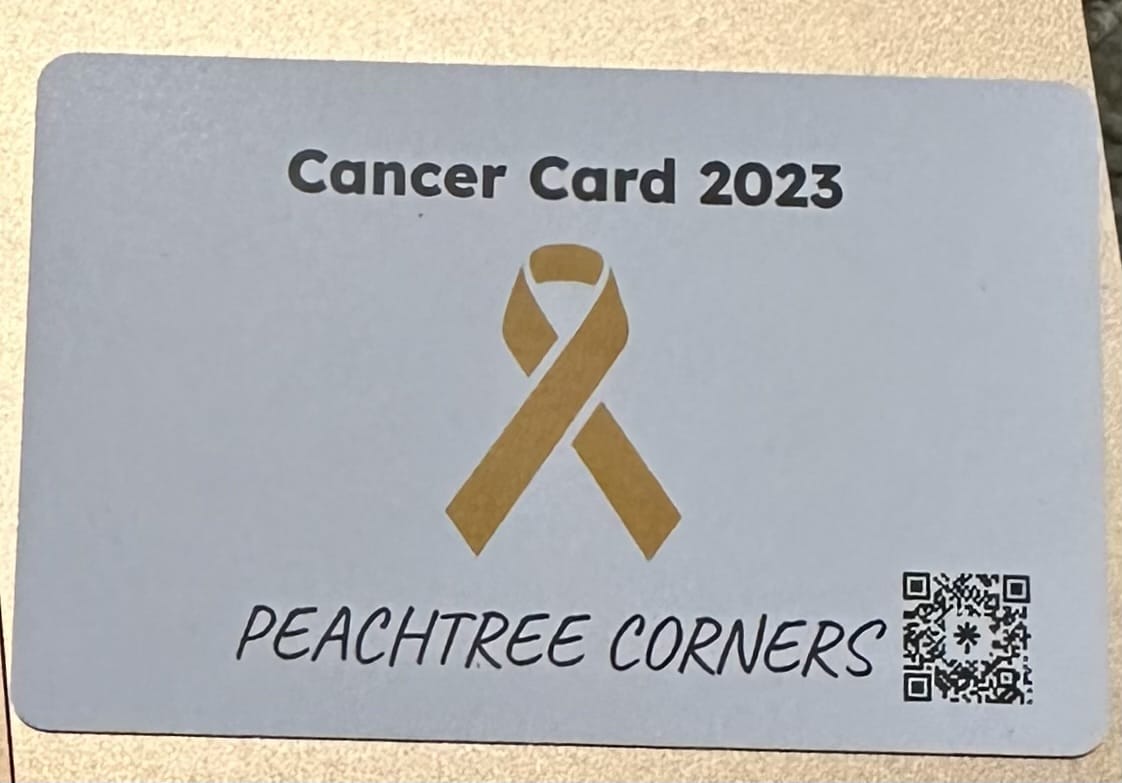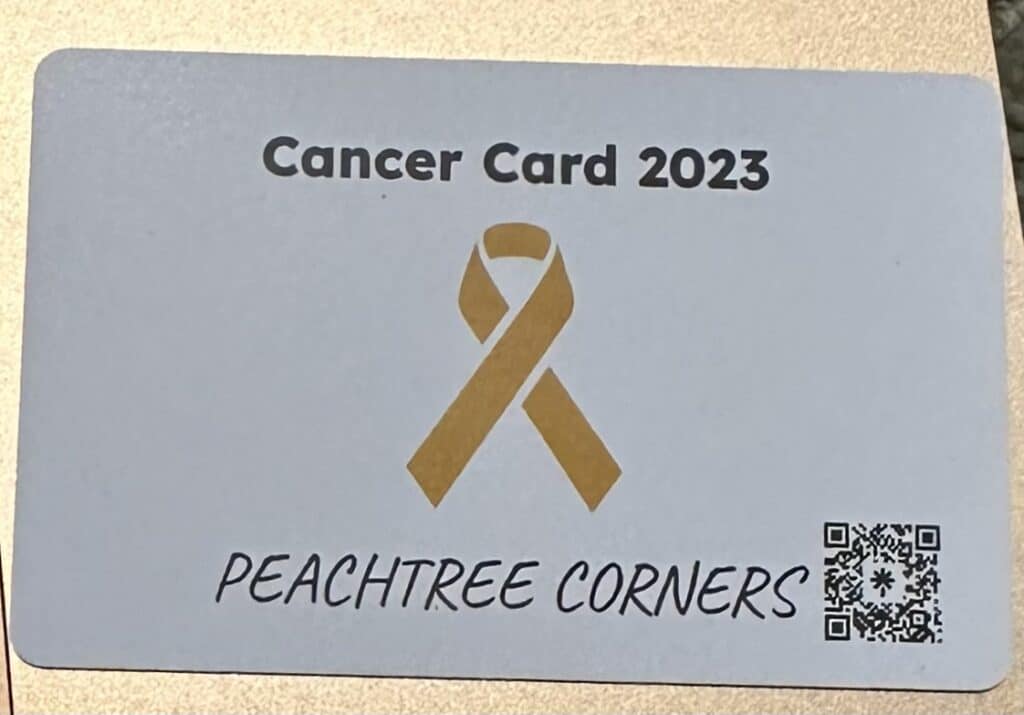 This year, he's gone beyond Peachtree Corners to include cards exclusive to Milton/Alpharetta, Marietta, Buckhead and Athens. The cards are $25 each and the money raised goes to the Aflac Cancer and Blood Disorders Center at Children's Healthcare of Atlanta — the same place where Stolle received his treatment.
"We are so proud and honored to have Lex Stolle's support of the Aflac Cancer and Blood Disorders Center of Children's Healthcare of Atlanta," said Lydia Stinson of Children's Healthcare of Atlanta Foundation. "After three long years of undergoing chemotherapy treatment, Lex was inspired to give back to help kids like him, and he has been determined to give back to Children's in so many ways."
The lengths that Children's Healthcare of Atlanta went to keep his spirits up — therapy dogs, clowns, etc. — made many of his worse days some of his best, Stolle said.
"I raised around $500 last year, but this year, I'm hoping to raise a little over $90,000," he added.
Stolle hopes the funds can help wipe out childhood cancers. "I want one day for my grandkids to not even have to think about getting cancer, or if they do get cancer, that it can be a very easy treatment," he said.
Cancer cards are on sale now and are active through May 25, 2024. They can be purchased online at cancercard.net.