What's Happening at Pinckneyville Community Center this Month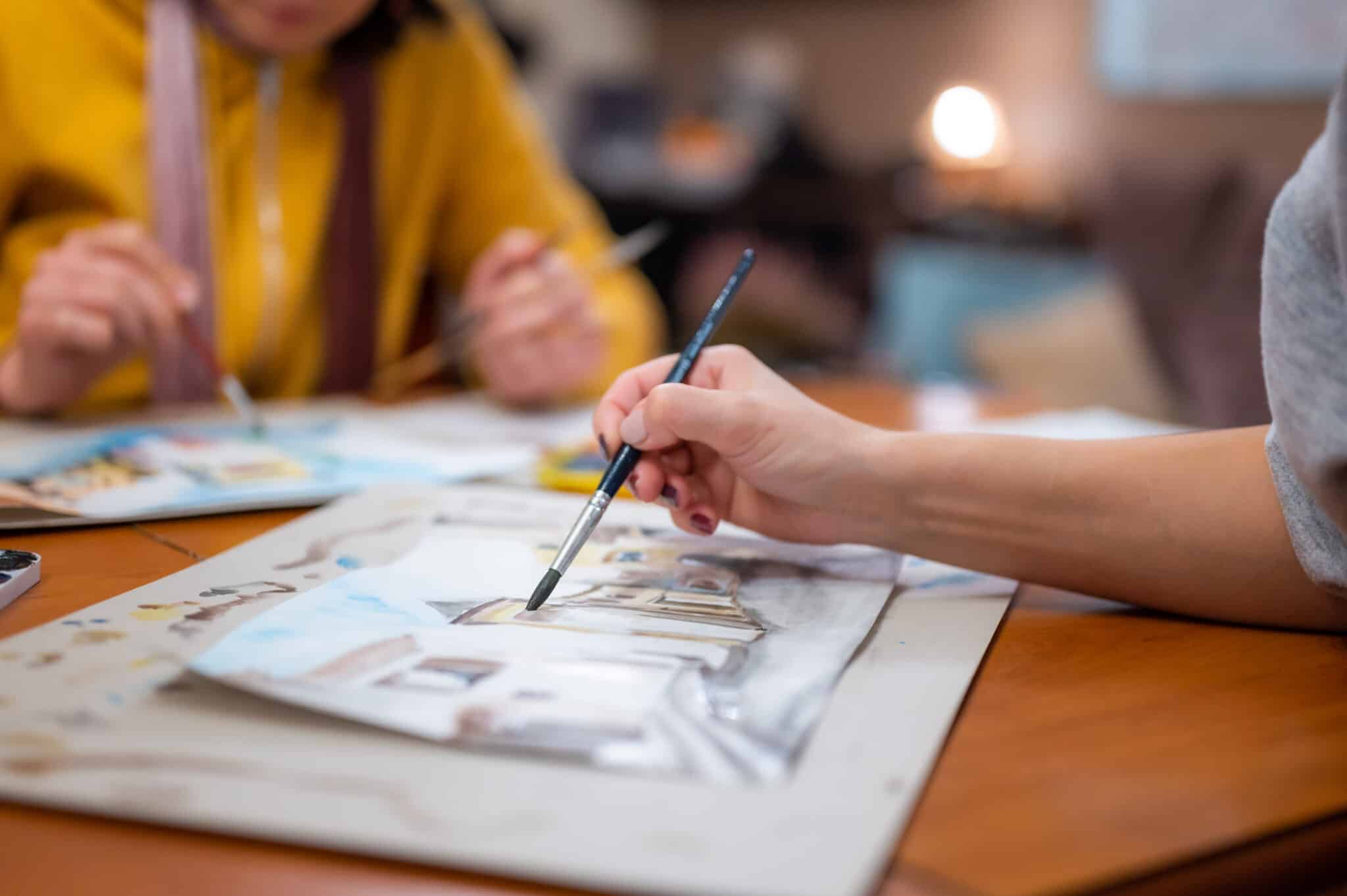 NEW! Gwinnett "En Plein Air" Park Art Challenge: We're calling Gwinnett artists 16 and older to participate in an artwork challenge! Paint an outdoor scene at one or more of the parks selected for a chance to win a cash prize. Saturday, August 5 to Saturday, November 11. Submission deadline is November 17. Please call 678-277-0920 for more information!
OFFERINGS
Adventure Days Out: We've got your school's out childcare covered. Children will have an amazing experience trying new games, exploring new skills, making new friends and most of all, having fun! 7:30 a.m. – 6:00 p.m. Ages 5-12. $30 per day.
NEW! Beginner Karate: This course consists of traditional martial arts self-defense to help students develop strength, knowledge and discipline. Our classes are safe, fun and exciting! Saturdays, October 7 – 28. 1:15 p.m. – 2:15 p.m. Ages 5/up. $88.
NEW! Basic Drawing: Students will learn the basics of line, shape, value, texture, and perspective to create finished drawings in pencil and charcoal. Students will draw subject matter provided by the instructor. Call 678-277-0920 for dates and times. Ages 18/up. $201.
NEW! Understanding Watercolor: Taught by an award-winning watercolorist, this course emphasizes techniques in watercolor. Various subject matter from still life, landscape, animals to portraits will be rendered. All levels welcome. Call 678-277-0920 for dates and times. Ages 18/up. $201.
Get Into Watercolor: Learn the basics of watercolor from a seasoned instructor! This class is designed for beginners as well as the more experienced. Master the methods of watercolor to paint basic and complex shapes; development of depth through values, perspective, color and the composition of overall painting. Students will furnish their own materials (supply list will be provided). Saturdays, October 7 – November 11. 10:00 a.m. – 12:30 p.m. Ages 16/up. $141.
Ballet–Preschool: Creative dances and imagination will help instill a love for dancing, as your toddler learns the basics of ballet in a positive and fun environment! Preschool ballet will need pink leather ballet shoes and pink footed tights, pink leotards and a pink skirt. Saturdays September 9 – 30. 10:00 a.m. – 10:45 a.m. Ages 4–5. $37.
Ballet–Beg: Expand your child's ballet abilities in this beginner class. Students will focus on developing ballet techniques and posturing. Beginner ballet will need pink leather ballet shoes and pink footed tights, pink leotards and a pink skirt. Saturdays, September 9 – 30. 12:15 p.m. – 1:00 p.m. Ages 6–9. $37.
Ballet–Int: Expand your child's ballet abilities in this beginner class. Students will focus on developing ballet techniques and posturing. Beginner ballet will need pink leather ballet shoes and pink footed tights, pink leotards and a pink skirt. Saturdays, September 9 – 30. 9:15 a.m. – 10:00 a.m. Ages 7–10. $37.
Ballet–Int: Students will reinforce their ballet techniques, physical strength, flexibility, and musicality in this intermediate level class. Dancers need pink leather ballet shoes, pink footed tights, black leotard and a black skirt. Saturdays, September 9 – 30. 11:30 a.m. – 12:15 p.m. Ages 11–16. $37.
Ballet–Adv/Pointe: This class is designed for dancers 15 or older, aimed at strengthening ballet technique, flexibility, and performance levels. More demanding and complex movements will help your student master the art of ballet. Dancers need pink leather ballet shoes, pink footed tights, black leotard and a black skirt. Saturdays, September 9 – 30. 10:45 a.m. – 11:30 a.m. Ages 15/up. $37.
NEW! Hip Hop/Jazz: Tone your body and get your heart pumping to the beats of your favorite music! Students will learn fun, innovative, and unique dance routines that will strengthen their dance skills. Each class consists of stretching, exercise, cool downs and dance choreography. Drop in any class for only $15. Wednesdays, September 13 – November 1. 6:10 p.m. – 7:00 p.m. Ages 8-12 $81.
NEW! SWEAT: This class incorporates all aspects of fitness: cardio, resistance, flexibility and core training structured in segments that focus on upper, middle and lower body exercises. This class will improve endurance, strength, muscle, tone and definition for all fitness levels. Wednesdays, September 13 – November 1. 7:10 p.m. – 7:50 p.m. Ages 18/up. $81.
NEW! 3D Printing Workshops: Unlock your child's creativity and introduce them to the exciting world of 3D modeling and printing! Our class teaches the basics of 3D design using industry-standard software, Blender and bringing designs to life through 3D printing. Participants will gain valuable skills such as problem solving, spatial reasoning, creativity and attention to detail while having fun creating their own unique 3D printed creation. A laptop and mouse are needed for this class. Required: A $10 material fee is due at the start of the class paid directly to the instructor Optional: $10/session for laptop rental fee. Please reserve ahead. Highly recommended to bring your own laptop and mouse.
3D Printing Experience: Saturdays in August, 2 p.m. – 3 p.m., Ages 6 – 18, $36
Design Thinking in 3D Printing: Saturdays, August 5 – 19, 1 p.m. – 2 p.m. Ages 6 – 18, $100
POTTERY STUDIO
NEW! Session begins September 11, registration opens August 30.
Wheel: This class is perfect for beginner pottery students who want to learn the basics of working with a pottery wheel. $22 per bag of clay required. Mondays, 6:30 p.m. – 9:30 p.m. Ages 16/up. $128.
Wheel Adv: Advanced pottery wheel lessons that build on the beginner class so you can hone your skills and perfect your craft. $22 per bag of clay required. Tuesdays, 6:30 p.m. – 9:30 p.m. Ages 16/up. $128.
Wheel/Handbuilding – Beginner: This class is for true beginners interested in pottery, both wheel and handbuilding will be explored. Try it out and explore a new art form! $22 per bag of clay required. Tuesdays, 10:30 a.m. – 1:30 p.m. Ages 16/up. $128.
Wheel/Handbuilding – Adv: This course incorporates working with a pottery wheel and hand building with clay for more experienced students. $22 per bag of clay required. Wednesdays, 10:30 a.m. – 1:30 p.m. Ages 16/up. $128.
Handbuilding: No wheel necessary in this course, learn how to work and create with your hands using clay and tools. $22 per bag of clay required. Thursdays, 6:30 p.m. – 9:30 p.m. Ages 16/up. $128.
Independent Study: Open studio session for individual pottery artists. Must complete Pottery Studio orientation prior to first visit if you are a new patron. Monday – Saturday. Ages 16/up. $100.
Independent Study ADD ON: Open studio session for individual pottery artists. Must be registered for current pottery class. Monday – Saturday. Ages16/up. $30.
*Out of county resident fees applied at time of registration*
FREE ACTIVITIES
Atlanta Gourd Patch: Create art on gourd canvases. Meeting the second Saturday of each month, 10:00 a.m. – 2:00 p.m. To register contact Kay Rozea at 470-316-8185 or kmr01@aol.com.
Atlanta Hobby Robotics Club: Come and share your robotics ideas. All ages are welcome. Meeting on the third Saturday of each month, 10:00 a.m. – 12:00 p.m. To register contact Walter Burleson at 404-932-8108 or wlenbl@gmail.com.
Senior Bridge Club: A trick-taking card game using a standard 52-card deck. In its basic format, it is played by four players in two competing partnerships. 50/up. Thursdays, 9:00 a.m. – 2:00 p.m. To register contact Mary Fender at 678-357-6709 or maryrfender@yahoo.com.
Bridge- Act II: Fourth Monday of each month from 10:00 a.m. – 2:30 p.m. For more information contact JoAnne Leisen at 571-330-4730.
Guitars for Vets: Helping Veterans cope with PTSD through music. Participants get 10 weeks of one–on–one lessons. When finished with lessons participants will receive a free guitar! Mondays, 12:00 p.m. – 3:00 p.m. To register contact Cliff Meinhardt at 404-234-8040. Visit guitars4vets.org for more information.
Gwinnett Chess Club: Chess for all ages. All experiences are welcomed. Every other Saturday, 9:30 a.m. – 12:00 p.m. To register contact Tom Emch at 770-605-0429 or ibemch@charter.net.
Last Tuesday Book Club: Join in on all the reading fun! Meets the last Tuesday of each month.

Local Indie Author Day is Coming Back to Gwinnett County Public Library Branches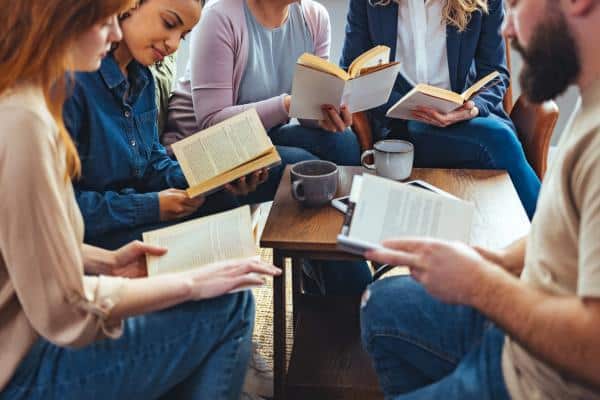 Gwinnett County Public Library looks forward to celebrating Local Indie Author Day on Saturday, November 4, 2023.
The library invites independent local authors to showcase their works with author talks, readings, book sales and signings each year. This event aims to unite libraries, indie authors and readers throughout our community.
Multiple library branches are hosting author talks or author panels. Participating branches include:
Buford-Sugar Hill,
Centerville,
Dacula,
Duluth,
Five Forks,
Grayson,
Norcross and
Suwanee.
Local Indie Author Day will begin at the Duluth Library branch at 2:30 p.m. and features authors Stella Beaver, Chere' Coen, Tamara Anderson and Cassandra Kempe-Ho.
The Norcross Library branch will host its showcase at 3:30 p.m. with authors Linda Sands and M.W. McKinley.
Check the library's event calendar for author information and times. All events are free and open to the public. For questions or comments, contact Duffie Dixon, Director of Marketing and Communications for Gwinnett County Public Library at ddixon@gwinnettpl.org.
Click here to explore more public library events happening in November.

Good Grief: Life After Loss, Part 3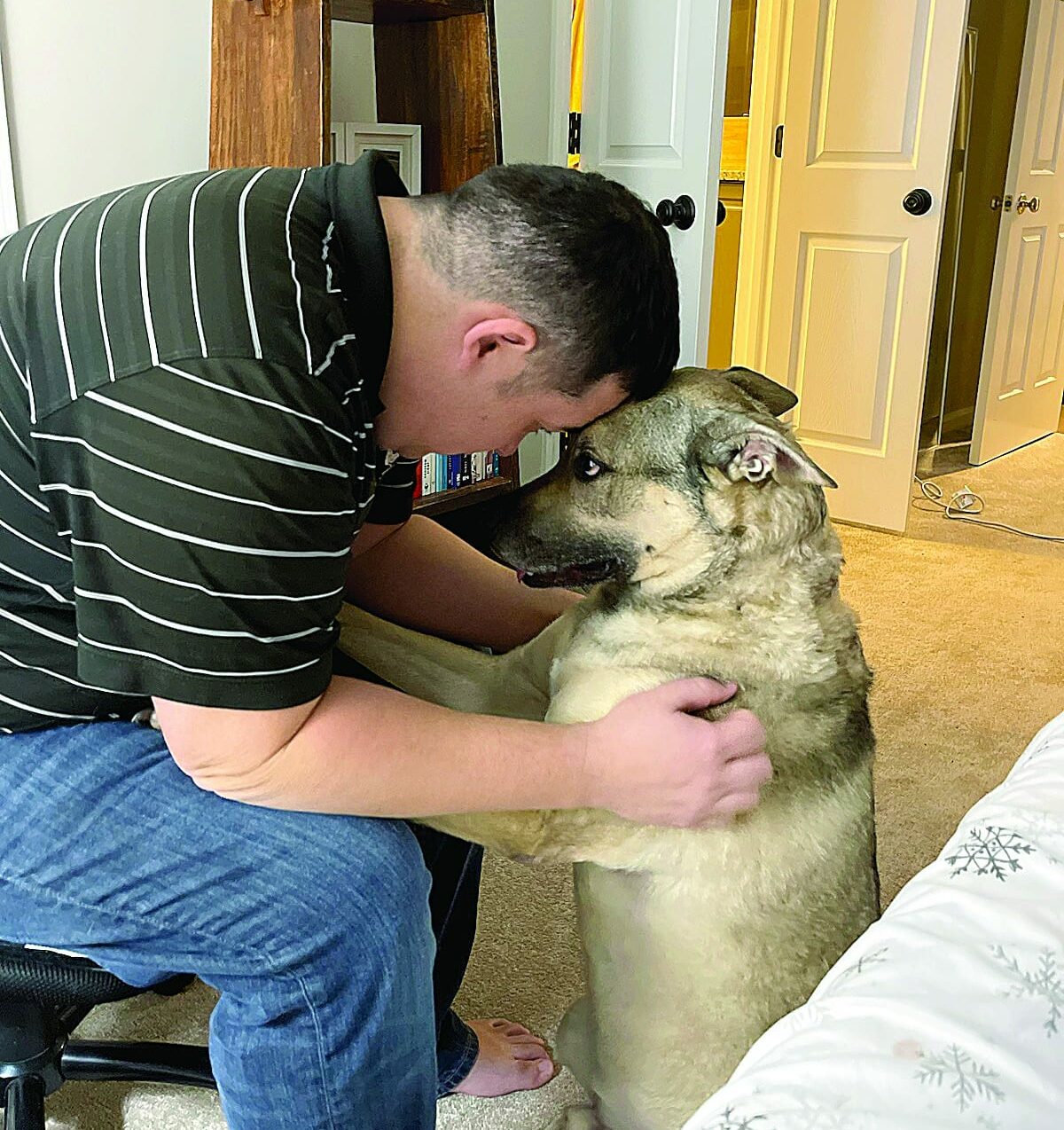 Losing Our Furry Friends
The conclusion of my "Good Grief" series seemed ideal in this issue featuring pets and their people. Paris Hilton lost her beloved chihuahua this year. In a farewell tribute on Instagram, the socialite wrote, "In 23 amazing years, she brought endless love, loyalty, and unforgettable moments to my life."
Some may not understand — eye rolls may ensue — but fellow pet people know all too well that losing a companion animal is just as heartbreaking as losing a human loved one.
"The pain I feel right now is indescribable," Hilton posted.
Yet our cultural playbook is devoid of any protocols for those mourning pets. There are no pet obituaries, no official rituals or religious ceremonies to support us through the loss of a fur baby. When such perfectly normal and deep emotions can be considered a mere overreaction by some people in our own tribe, one could argue that losing a pet is even more difficult.
The ultimate interspecies bond
Though domestic companions can be scale or feather-covered too, I spoke to the bereaved owners of the furry variety.
Thousands of years of evolution have led to dogs morphing from the wild wolves they once were into man's best friend, able to read our emotions and willing to sit, bark, roll over and play dead on command – all to please us. If you're not a pet owner yourself, you're sure to have friends with pets.
Max, tennis ball chaser extraordinaire
Long before Matt and Faith Harding had children, they had their dogs, Jazzy and Max, who were part of their lives for over 11 years. Losing them was hard.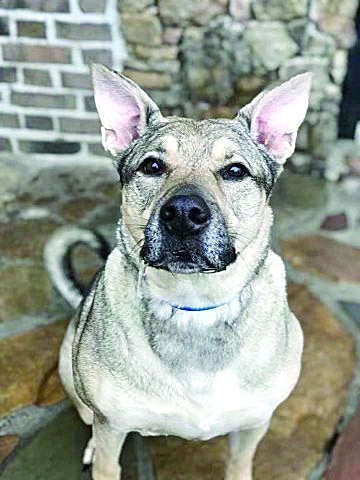 "We lost Max and Jazzy within a year of each other. We had to put Jazzy down because she was older and suffering. It was the right thing to do. What made it more difficult with Max was that it was so unexpected," Matt said.
The Hardings had been treating Max, who suffered from seizures common to Belgian Malinois. They were able to keep the seizures under control for years.
What makes a grown man cry
It was a week like any other. Faith had gone out of town. The kids and Max were left in Matt's care. Max chased tennis balls in the backyard. There were no warning signs that something was about to go terribly wrong.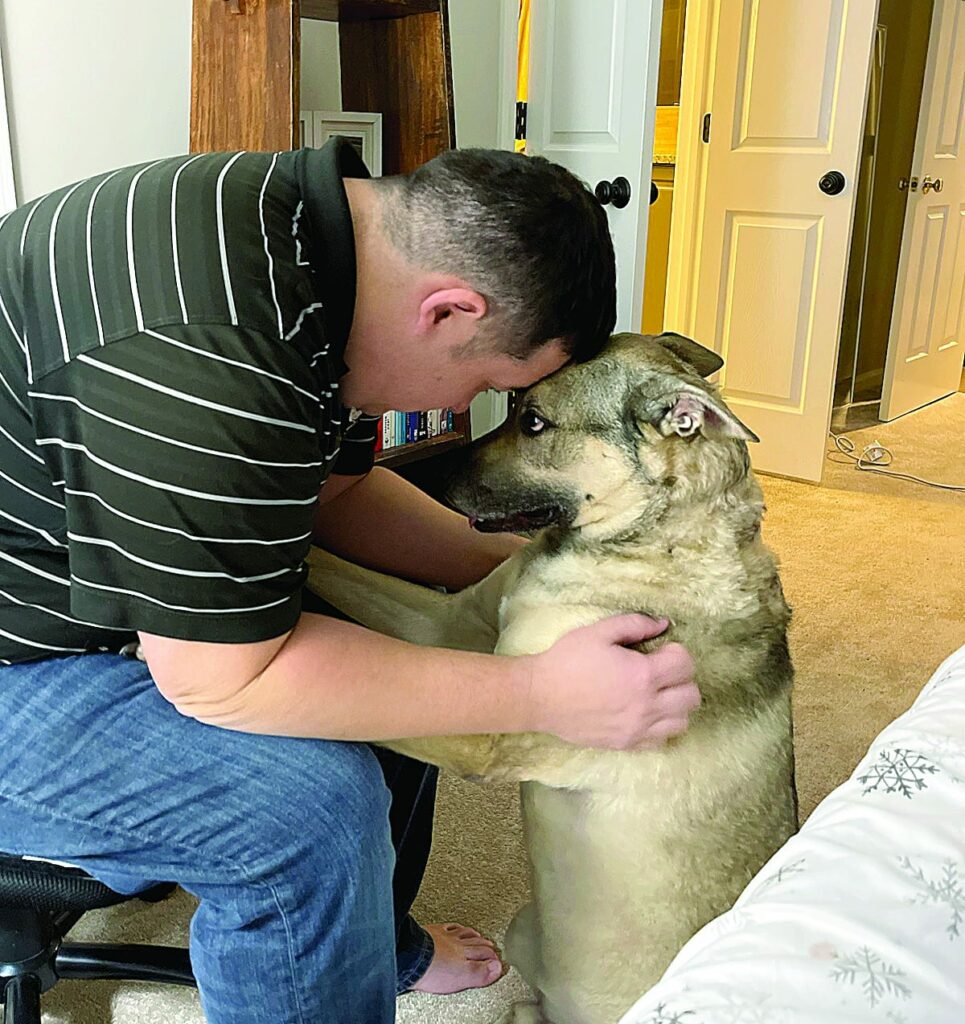 Matt found Max in his kennel when he came home one evening. It looked as though he'd had a seizure — like those he'd recovered from many times before. Matt rinsed him off and brought him back inside.
When Matt came downstairs after putting his daughter down for a nap, Max drew his last couple of breaths and passed away. "He waited for me to come back," Matt said.
Having to call Faith to share the sad news while she was traveling was heartbreaking. "After the initial shock and plenty of tears, you're stuck with trying to figure out what to do next," Matt said.
With their baby on one arm and their wailing toddler holding his hand, Matt walked the kids over to the neighbors' house. The only thing he could utter was, "Please watch them." Seeing his tear-streaked face, his neighbor took the children without hesitation.
"I had to text her and let her know what was happening. I could not even get words out of my mouth. They were a huge help and very sympathetic to what was happening," Matt shared.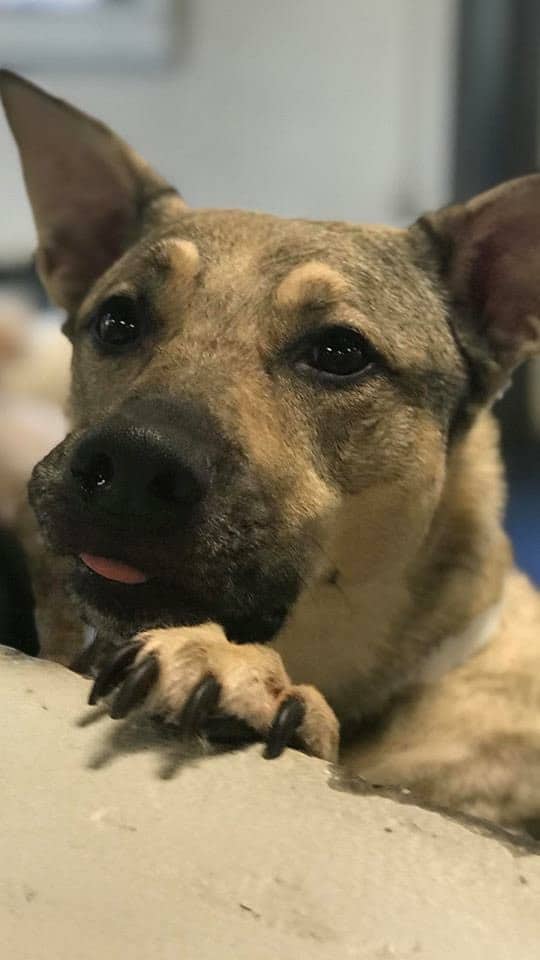 Maximize the memories
What helped the Hardings most was looking at pictures and reminiscing about their "incredible dog," Max.
"He loved people. Plenty of people reached out to tell me some of their favorite memories with him and I couldn't help but smile and laugh at how he left an impression on so many," Matt said.
Conversely, Matt viewed the act of putting away the dog beds, bowls and toys as an admission that Max was now just a memory. "I couldn't bring myself to do it," Matt confided.
"The loss of Max is still hard to think about. Faith and I budget. We have a line item for Max. We were doing the budget a couple of nights ago and couldn't bring ourselves to remove him as a line item," Matt said. "Thank you for letting me share our story."
Triple grief
Before Sandra Hutto and her siblings could spread their parents' ashes, she was faced with the sudden death of her 11-year-old Doberman, Rio.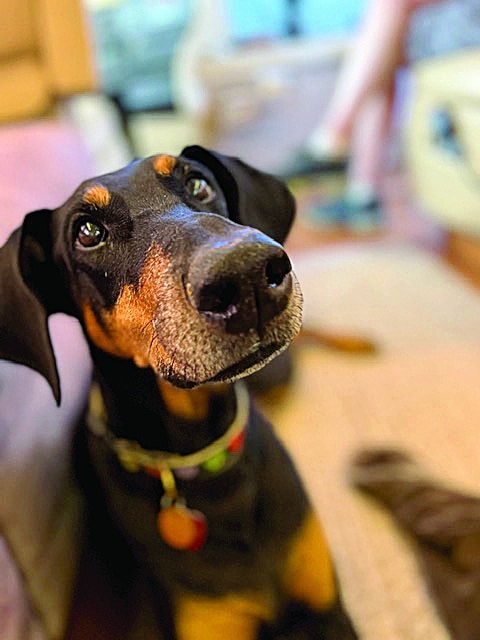 Three losses in rapid succession were a hard knock-back for Hutto. She is grateful for supportive friends and being able to process her grief with the help of her husband Mark, a psychiatrist.
According to Hutto, sharing stories about her parents was as helpful in dealing with her loss as it was funny. "There were things I didn't know. It was fascinating," she said. "Family stories are important. Apparently, my mother was kind of a floozy," she laughed.
Her aunt had shared about her mother misleading a boy to spend a day at the lake. When he asked her out, she claimed to have gotten a headache from all the sun. But later, she called another boy about going to a movie.
Hutto advised, "You have shared stories and individual stories. You can let that isolate you or bring you closer. You could say, "That wasn't my experience, I'm shutting it out," but it lets you know more about your parents. They have stories from before you were born."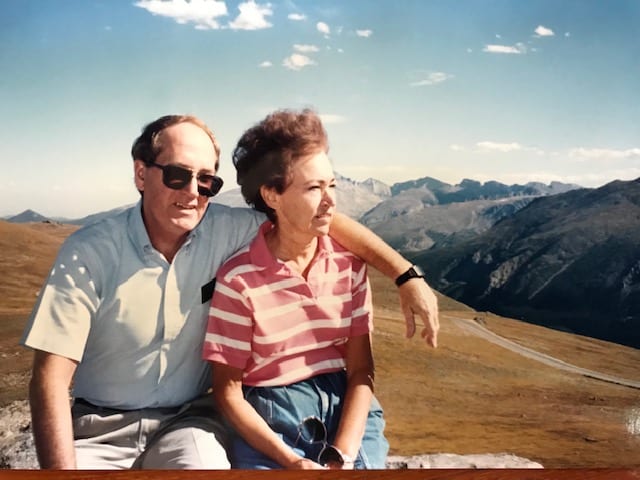 Dad and the Doberman Pinscher
Before her father's passing, Hutto and her husband took her dad on a road trip to Wyoming, along with Rio, in their 1993 Bluebird Wanderlodge to visit her sister. Unsure how her father would take to such a big dog, she was pleased when they bonded.
"He fell in love with her. Rio would get up in the middle of the night to lay down next to him. I joked with dad, "You know daddy, we do keep the dog.""
After he died, people said, "That trip was great for him. He never stopped talking about how much fun he had." That was heartwarming," Hutto said.
She danced on the sand
An American Kennel Club purebred dog, Rio's registered name is, She Dances on the Sand, after the Duran Duran song.
Bred in Germany to be the intimidating protectors of tax collectors, Dobermans are strong, intelligent dogs, able to attack on command. Rio didn't exactly fit the bill. Terrified of a neighborhood Yorkie, she'd watch him as she cowered behind Hutto.
Her tail was docked but she had natural, floppy ears. She wasn't steely-looking, but she did have a big bark. "Mostly she would try to convince people that she was neglected. She was a drama queen; such a good, funny dog," Hutto said.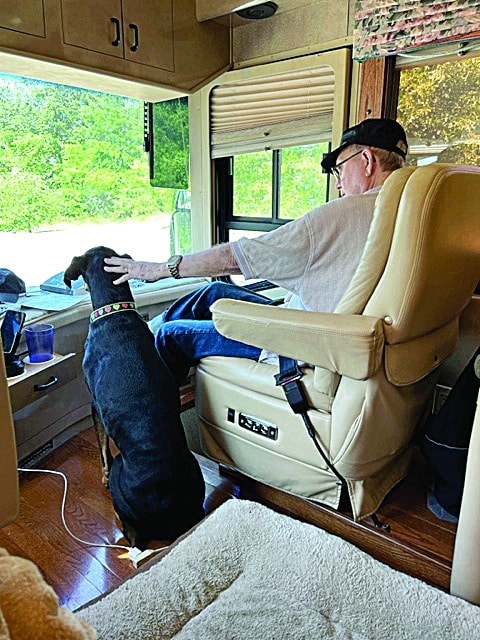 Déjà vu
Rio passed almost exactly the same way their previous Doberman, Jet had. (Jet was named after the Paul McCartney and Wings song.) Though Rio had a longer life, Hutto expressed the common sentiment among pet-owners: it's never long enough.
Rio had received a clean bill of health and a rabies shot that day. By the evening, she was restless and wouldn't settle in her bed. Mark had gone out.
"She got up and started walking around. She walked into our dining room, went around the table, her back feet collapsed from under her. She struggled to get up. She howled a couple of times and she was gone," Hutto said.
Hutto believes cardiac arrhythmia killed both Jet and Rio. Heart issues are common in Dobermans, partly because of breeding and because they're deep-chested dogs.
"Not again!" Hutto remembers shrieking as she witnessed Rio's passing. Jet had passed away in the same manner, but she was with Mark. The swift but horrible departure allows for the only consolation, "at least she didn't suffer."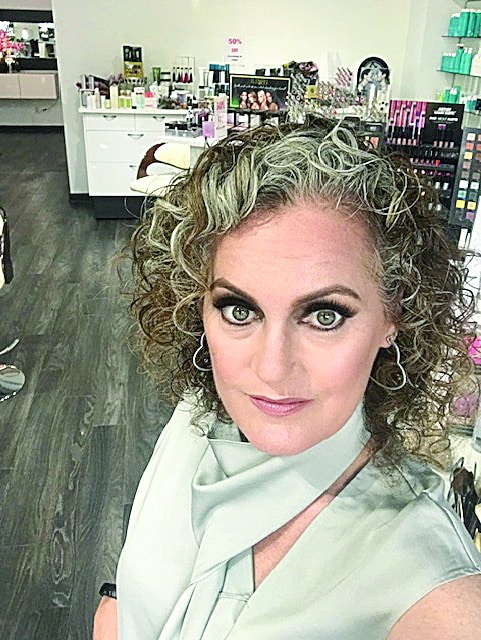 A Dobie's departure
After the ordeal of burying 70-pound Jet in the rain, the Huttos decided to have Rio cremated. They were pleased with Deceased Pet Care, Inc. in Chamblee.
"They were kind, empathetic and respectful. They knew we were in pain. They took good care of her, made a point to tell us that they cremate each dog individually, and gave us her paw print in clay," Hutto recounted.
Walk alone
"Peachtree Forest is the neighborhood to live in if you want to come back as a dog. People here love their dogs. They'll greet your dog — and then they'll say hi to you," Hutto chuckled. When neighbors learned about Rio's passing, some sent sympathy cards.
Hutto was almost thankful for a sprained knee shielding her for a while from the inevitable moment she takes her first walk alone and people will ask, "Where's Rio?"
"I'll probably bawl in the street," she predicted.
Able to better prepare for losing her parents, Hutto remarked that her grief journey is different for Rio because it was so sudden. "It was a shock and harder in some ways. It's important to talk about it so people see you can get through it," she said.
When they're ready, the Huttos plan to get another Doberman. "I'm going to name her Roxanne. You're not going to be able to help yourself when you call her. You're going to have to do the song," she said.
Paw prints on our hearts
Pets are not "just animals," as some may be tempted to say when we lose them. For those who form strong bonds with our four-legged friends, they become part of our favorite routines, our protégés, our sweetest companions, delighting us daily with joy and unconditional affection; they become family.
If the emotional connections we can form with pets are virtually indistinguishable from those we form with people, it stands to reason that pet bereavement can be on par with the grief we experience for our cherished, human loved ones. Let's remember to be kind to those grieving the loss of their pets.

Teen Cancer Survivor Aims to Raise Funds for Research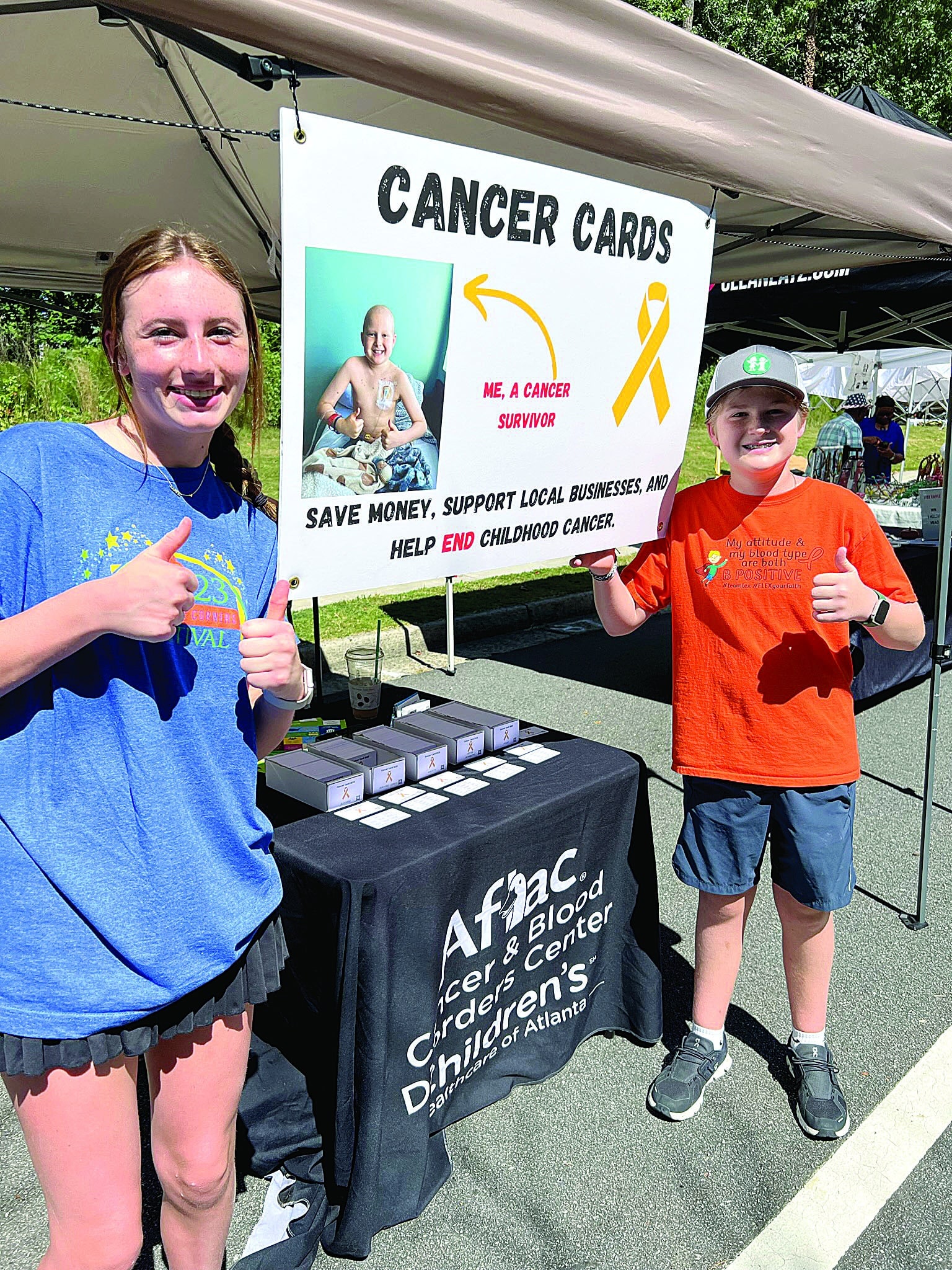 When Lex Stolle was 10 years old, he started behaving in ways that weren't like the energetic pre-teen.
"There were a lot of things that just weren't right, like I wasn't eating well. I was losing a lot of weight; I had fluid in my lungs. There were just so many problems that ultimately did lead to my diagnosis," he said referring to high risk acute lymphoblastic leukemia, or ALS.
The medical team initially told Stolle's family that there would be three and a half years of intense chemotherapy. At that time, they didn't have a complete diagnosis.
"Additionally, I would have 10 months of going in every week, taking lots of shots and pills," he said. "And then if I ever had a fever, I would have to stay in the hospital for days, weeks or even months."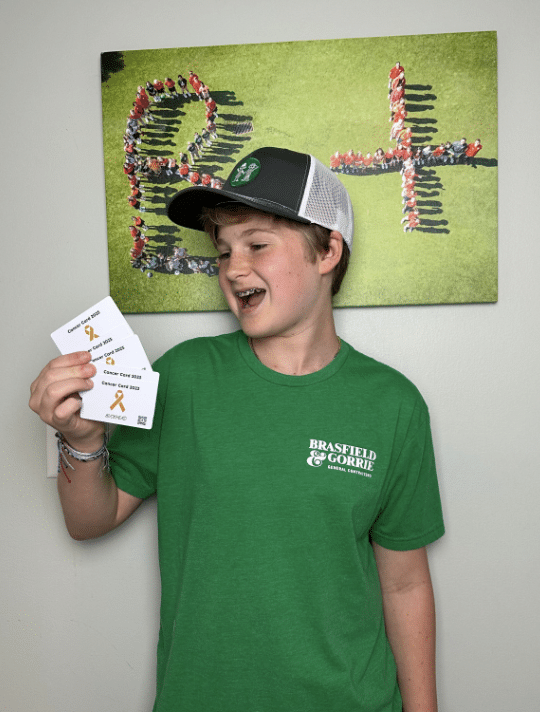 However, updated research allowed Stolle to have a year cut off his chemotherapy.
"In total, I took over 2,000 chemotherapy pills. I had about 36 spinal taps, which is where they stick a needle in my spine to send chemo to my brain. …I spent over 50 nights in the hospital. I missed 163 days of school and my fifth-grade year," he lamented — but doesn't feel sorry for himself.
Ask him how he's doing now.
"I'm awesome! I finished treatment in January of 2022. I'm a year and a half out of treatment and I'm feeling a lot better. I still go in every few months, and then I'll have to go in every year for, I think, the rest of my life," he said. "And I've started to get back into the shape that I was in — but it's still hard to be a teenager."
Paying the blessings forward
Stolle's cancer journey began in 2019. Now at 14 years old, he wants to do what he can to keep the deadly disease from other kids.
"I have always had a passion for helping others, and especially with my cancer, I know what it's like to be put through everything I went through. I don't want any kid to have to suffer, let alone someone younger," he said. "So I decided to do this project last year just for Peachtree Corners."
He's talking about his brainchild, Cancer Cards.
"Seeing so many kids go through what I did really got to me, and I felt the urge to make a difference. That's how the idea for Cancer Cards came about. …They're about the size of a credit card and they hold special discounts (between 15% off meals to free appetizers) for 9 to 12 local businesses."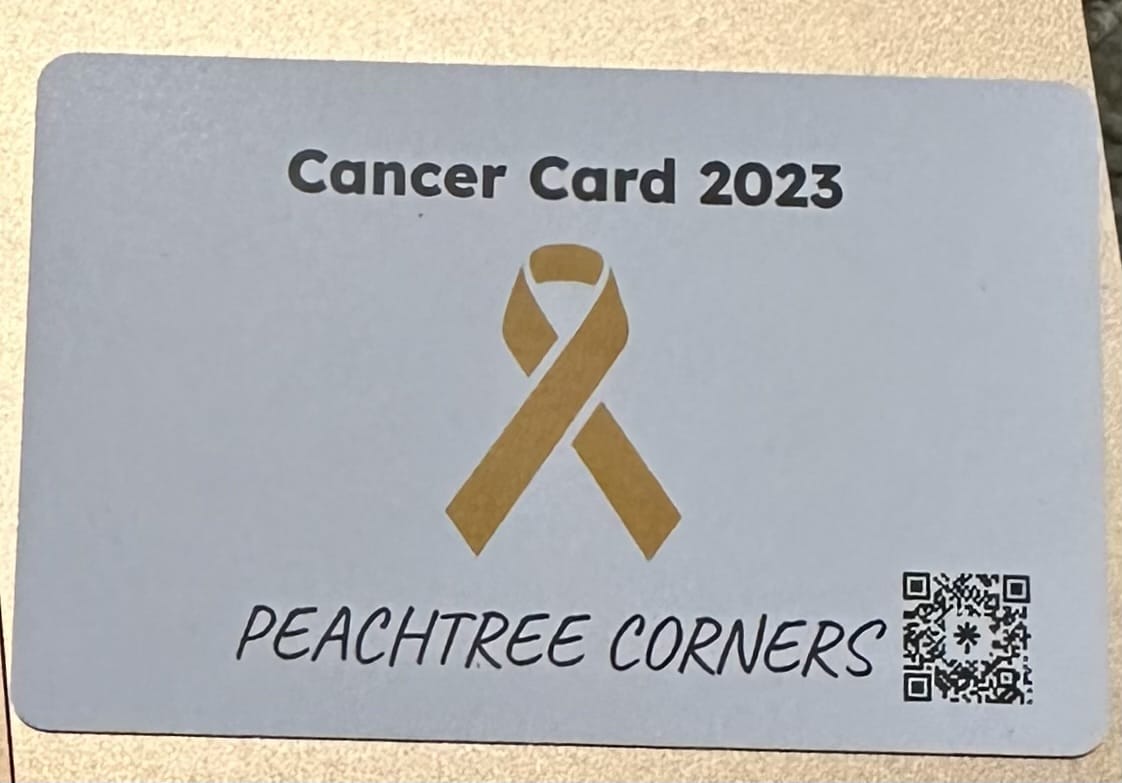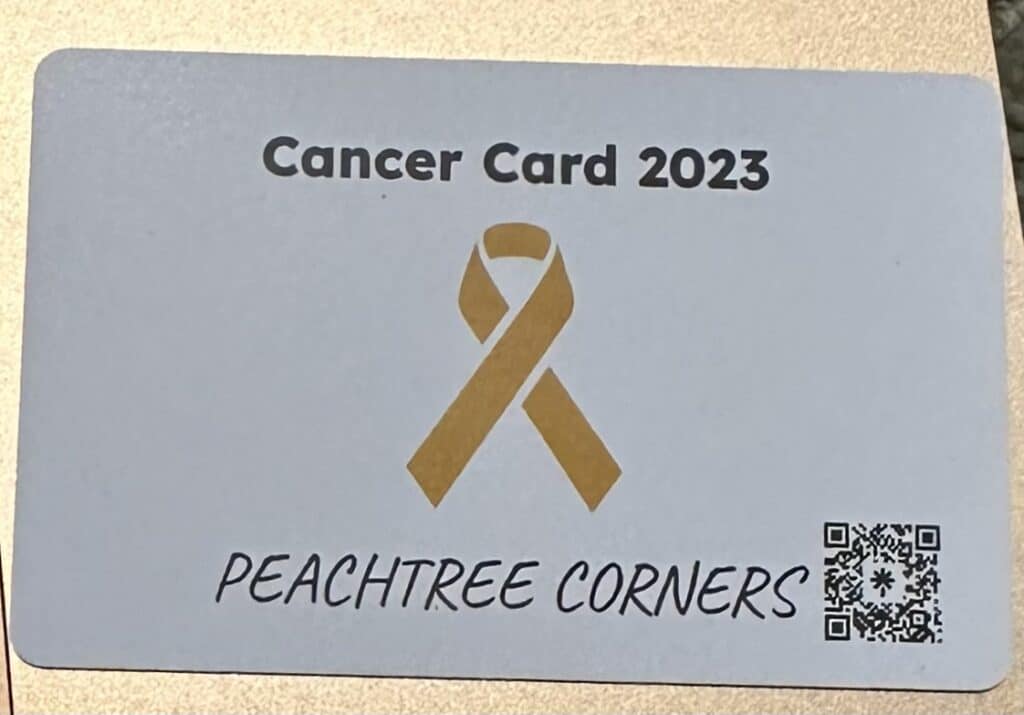 This year, he's gone beyond Peachtree Corners to include cards exclusive to Milton/Alpharetta, Marietta, Buckhead and Athens. The cards are $25 each and the money raised goes to the Aflac Cancer and Blood Disorders Center at Children's Healthcare of Atlanta — the same place where Stolle received his treatment.
"We are so proud and honored to have Lex Stolle's support of the Aflac Cancer and Blood Disorders Center of Children's Healthcare of Atlanta," said Lydia Stinson of Children's Healthcare of Atlanta Foundation. "After three long years of undergoing chemotherapy treatment, Lex was inspired to give back to help kids like him, and he has been determined to give back to Children's in so many ways."
The lengths that Children's Healthcare of Atlanta went to keep his spirits up — therapy dogs, clowns, etc. — made many of his worse days some of his best, Stolle said.
"I raised around $500 last year, but this year, I'm hoping to raise a little over $90,000," he added.
Stolle hopes the funds can help wipe out childhood cancers. "I want one day for my grandkids to not even have to think about getting cancer, or if they do get cancer, that it can be a very easy treatment," he said.
Cancer cards are on sale now and are active through May 25, 2024. They can be purchased online at cancercard.net.