Peachtree Corners Launches Second Phase of Connect Peachtree Corners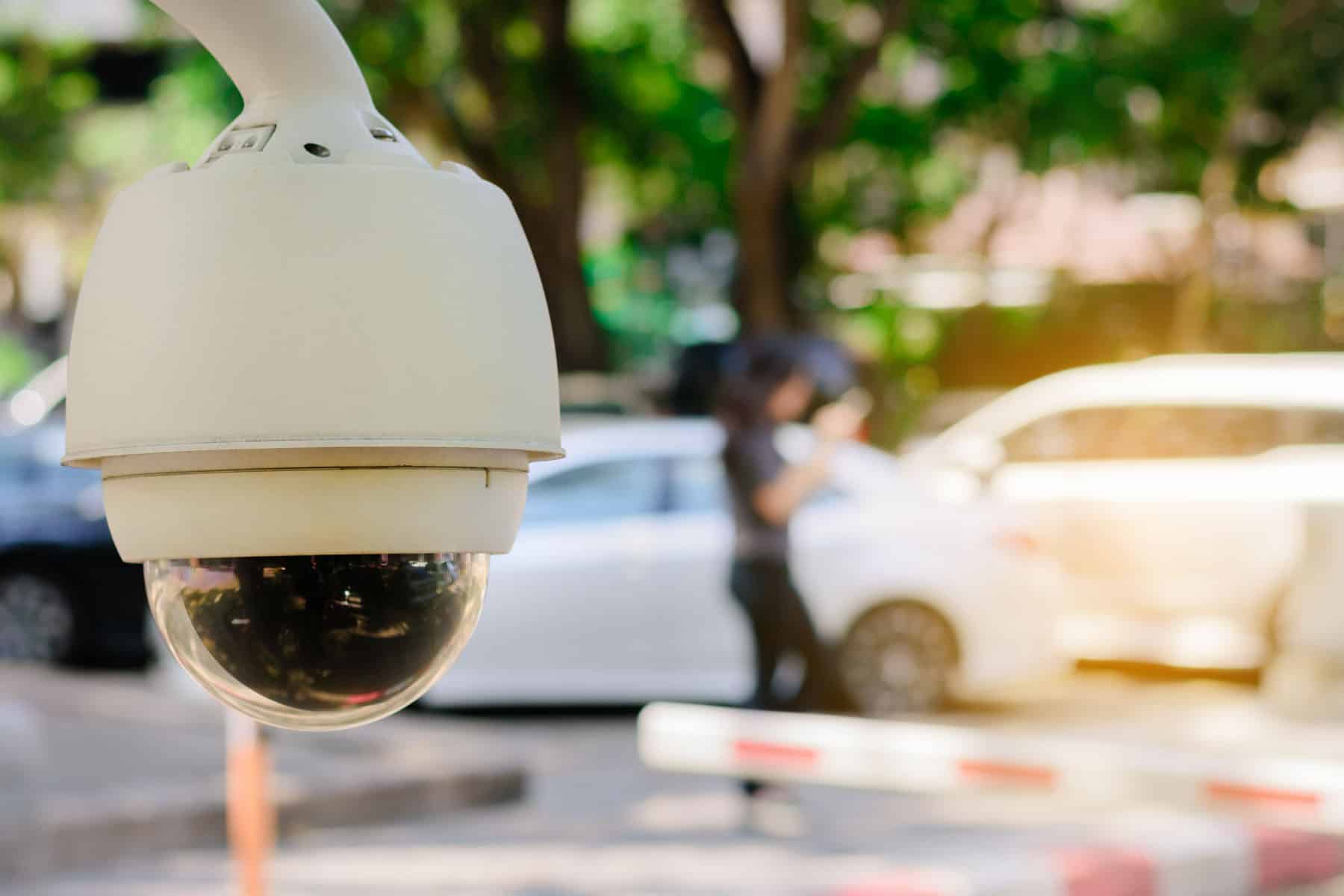 In January 2023, the City of Peachtree Corners announced its partnership with Fusus through their Connect Peachtree Corners residential Camera Registry program.
In March, the City announced that it is expanding the partnership through the offerings of the FususCORE Camera Integration Program.
"As a city government, we take the issue of public safety very seriously. There are not many things more important," said City Manager Brian Johnson. "This partnership and programs will allow us to support law enforcement with a new technology tool and will lead to increased public safety throughout the City."
Fusus provides enhanced public safety services to local businesses and residents. A nationally recognized public safety technology provider, Fusus has operated out of its headquarters in Peachtree Corners since 2019.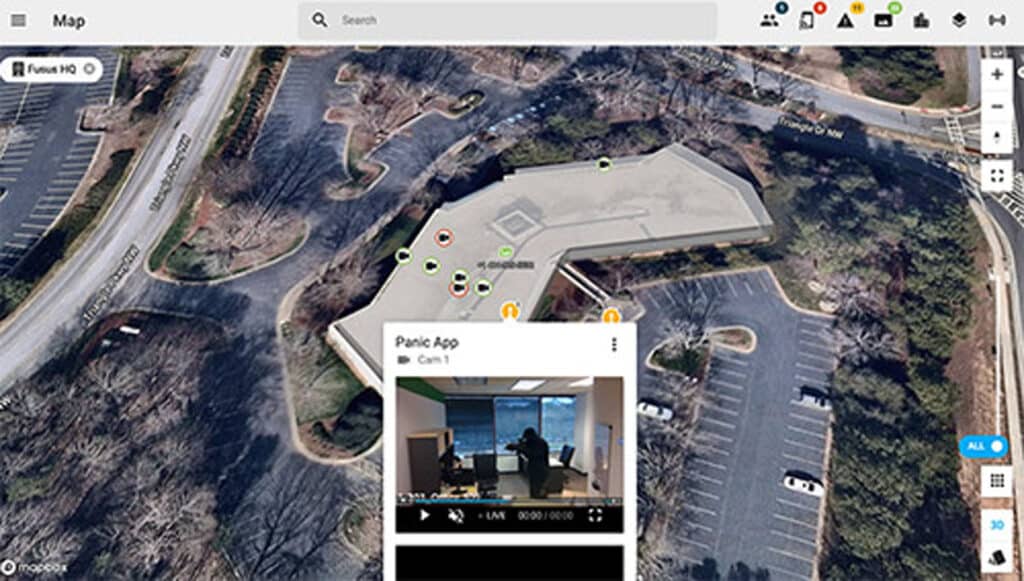 Why and where to register
For businesses, Fusus enables greater workplace safety for staff and customers. The platform improves law enforcement's ability to investigate a crime when it does happen, as well as rapidly respond in case of emergencies.
Security cameras are a crime deterrent. Sharing camera feeds with law enforcement creates a force multiplier. Knowing where a business' cameras are located via FususREGISTRY, or having the ability to access their cameras on alert via FususCORE, reduces investigative time and increases public safety.
In an active shooter situation, seconds count. Fusus virtual and physical panic buttons allow a business' staff to quickly trigger an alert to law enforcement. Camera integration enables responding officers and 911 centers to look inside buildings and gain a rapid awareness of the situation.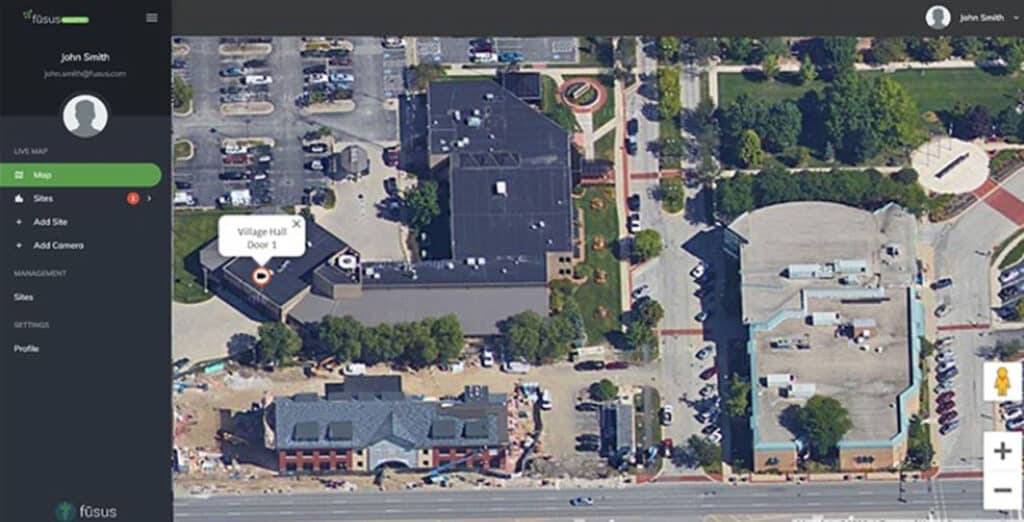 Fusus is inexpensive and easy to set up. Their FususCORE device simply plugs into a business' network; within seconds it discovers and connects to all the cameras. The software easily networks multiple buildings.
Businesses that integrate with a FususCORE set their own preferences and remain in control of their camera systems. Businesses can choose to share camera feeds on a real time or case-by-case basis.
The system keeps cameras private yet allows businesses to share them directly with law enforcement, at their discretion, when an emergency arises. At no time will any third-party, outside of Fusus and local law enforcement, have access to any camera feeds integrated into the system. For more information, visit connectpeachtreecorners.org/camera-integration.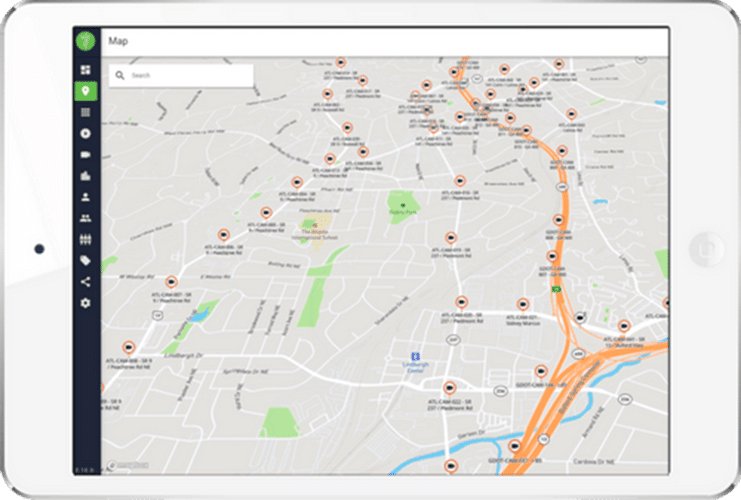 How will drones be used in the city, new City Budget is coming up and City Marshals are ready to be hired.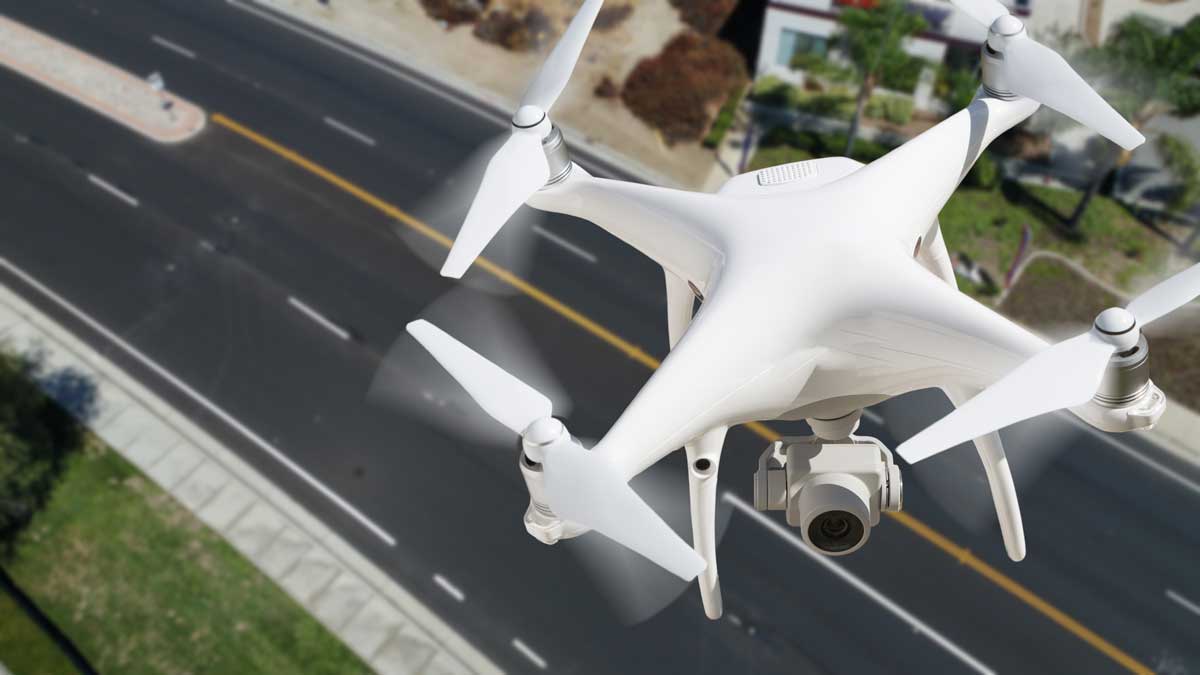 The city of Peachtree Corners, Georgia has been continuing to make strides in technology and community development. In the latest episode of "Prime Lunchtime with The City Manager," Brian Johnson shared several updates and plans for the city.
The Curiosity Lab Criterion Road Race
During the Curiosity Lab Criterion Road Race, Spoke Safety officially unveiled their new road safety technology. This device enhances safety for vulnerable road users by allowing for two-way communication between the device and automobiles, providing safety messages to drivers.
The event was livestreamed internationally, and Audi became an official partner in the project. The partnership will explore the enhancement of the vulnerable road user technology to make it better, easier to use and scalable.
Pickleball feasibility study
The city is considering building a 40-50 court pickleball facility and has commissioned a sports facility consulting firm to conduct a feasibility study. They will determine the market demand and economic impact. The study is expected to take a month, and results will be presented to the mayor, council and interested parties in early summer.
"Clearly there's a demand," Brian Johnson shared. "The question is, is it enough for the city to end up putting any time, energy and money into facilitating something? And we want to make sure that we are shooting at the bullseye that we need to."
The city marshal system
Additionally, the city is starting a city marshal program, which will begin with three post-certified marshals. The job announcement and requirements will be posted in May with interviews to be conducted in June. The program is expected to start in July, and the marshals will be based in City Hall.
The city marshals will have access to brand new hybrid vehicles, drones and the fūsus technology. The marshals will have the same authorities as any other police officer but be limited by policy. The Mayor and council will establish the policies and limitations on what the city marshals will be able to do.
Budget, housing, dog parks and more
During the May City Council Meeting, the budget for the upcoming fiscal year will be officially presented to the city. The budget includes increased funding for street resurfacing, multi-use trail activity and housing redevelopment in the south part of the city. The housing redevelopment project aims to acquire foreclosed and dilapidated properties and build affordable starter homes with equity control to make them accessible to more residents.
The city is using federal funds from the ARPA and will work with the Gwinnett Housing Authority for this project. The purchase price of these homes will be controlled through agreements with the building entity to prevent prices from getting out of hand. This will help fill the demand for starter homes in the area and remove squalor, vacant homes and foreclosed homes.
The city is constructing a dog park at the Town Center with two separate halves for big and small dogs. The park will be made of Astroturf to prevent dogs from digging and getting muddy. There will also be shade structures and seating areas for owners.
After the last event on the summer event calendar, the Town Center will undergo construction to relocate playground equipment and improve drainage. The playground equipment will be organized into two different areas for younger and older children.
North American Properties recently had the groundbreaking for the upcoming Forum redevelopment. The first section of the interior parking spaces will be removed to finish the Linear Park. In addition, there will be new outdoor seating and the parking deck will start construction in the late 2023 season.
FAA and drone programs
The city is working with the drone regulation team of the FAA to help create a local drone activity regulation. The FAA is interested in how it can handle multiple drones using the same wireless signal, even when beyond visual line of sight.
Peachtree Corners and the FAA will work with partnerships with T-Mobile and Deutsche Telecom to utilize the 5G wireless environment in the City. The City Marshals will also be working with projects related to law enforcement and the use of drones. The goal is to help the FAA issue regulations on private drones.
Overall, Peachtree Corners is a city that is making significant investments in technology and community development. With all of these upcoming plans, it is clear that the city is working to improve the lives of its residents.

Safe Ways to Share the Street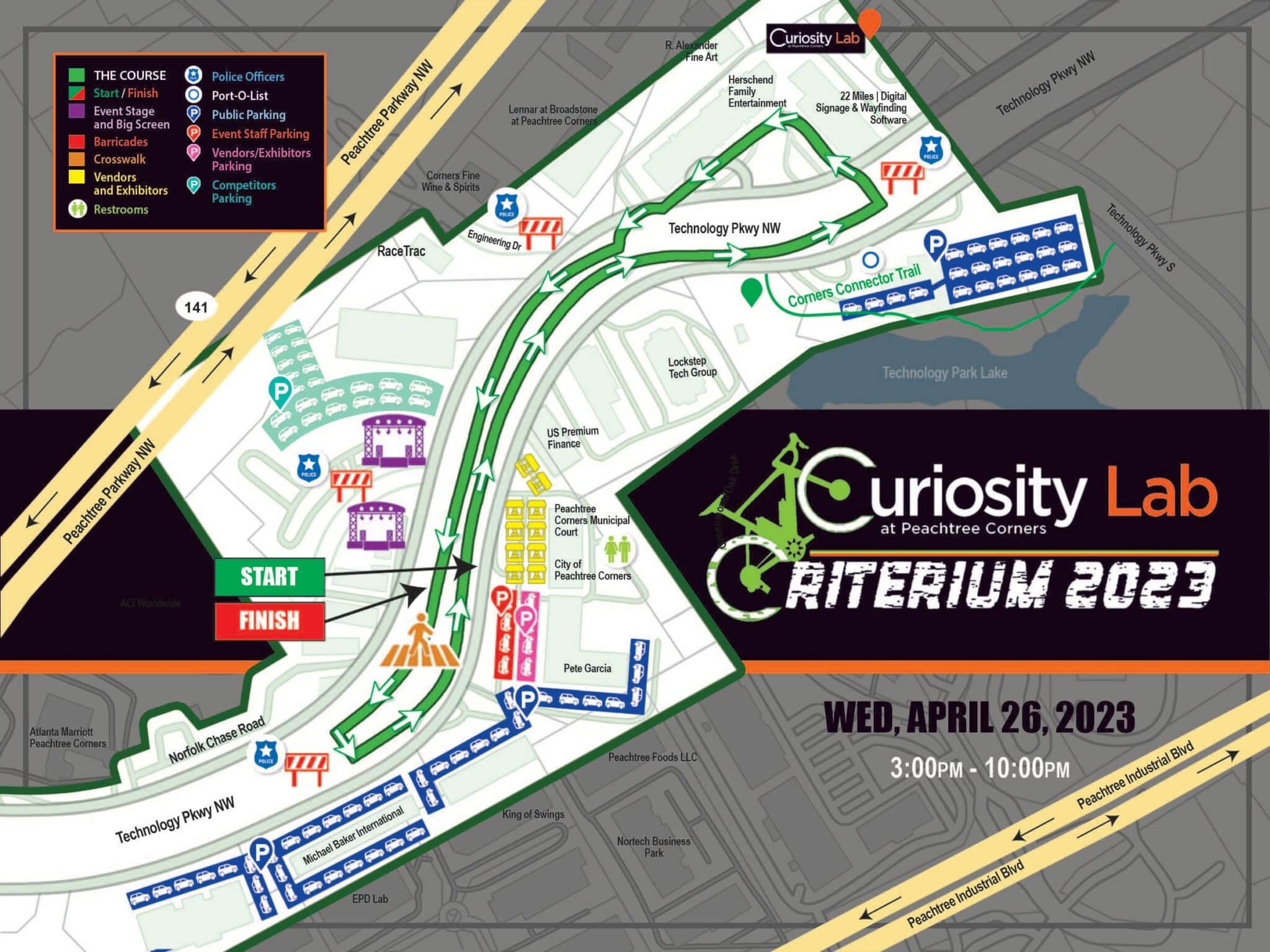 Curiosity Lab is increasing its involvement in roadway safety by partnering with companies creating technology to keep cyclists unharmed.
Whether you're a cyclist or a motorist — or both — few people disagree that there needs to be a way for both modes of transportation to safely share the road. Technology incubator Curiosity Lab and the City of Peachtree Corners have partnered with several organizations seeking ways to make that happen. 
Research and development does not have to be dry and boring. Sometimes it can be a fun as a bike ride. That's why the City reached out to a professional cycling race coordinator to bring a leg of a well-known event to Peachtree Corners.
"We've enjoyed seeing Curiosity Lab continue to generate unique opportunities for the city," said City Manager Brian Johnson. "And an opportunity kind of fell into our lap, through Curiosity Lab's partnerships and interactions, for us to have a professional cycling race here in Peachtree Corners."
There are generally three types of cycling races — indoors in a velodrome (think Olympics), a road race that starts at one point and ends at another (like the Tour de France) and a criterium, a closed race on city streets on a course that loops over the same space over and over for a period of time. That is what's coming to Peachtree Corners.
The Curiosity Lab Criterium will take place Wednesday, April 26 from 3 to 10 p.m. at Peachtree Corners City Hall. With Curiosity Lab being a 5-G enabled, 500-acre living laboratory ecosystem designed as a proving ground for mobility and smart city emerging technologies, it's the perfect location to test out safety features for road users who aren't in automobiles.
Safe travels for everyone on the road
The acronym VRU stands for vulnerable road user — all the users of public right-of-way or roads that are not in automobiles and, as a result, are less protected. Pedestrians, cyclists, people on e-scooters, mopeds or motorcycles fall under that definition.
"There is a movement within the transportation industry to represent VRUs with technology to help automobiles or the drivers of automobiles …to make them more aware of the vulnerable road users," said Johnson.
An example is the technology that allows cars to detect objects. If you're backing up and something gets in the way, the car will beep to let you know there is an object in the way. However, if an object is outside of the range of the detection technology and is coming from a direction in which you don't have detection, the automobile won't know it, because its own technology isn't picking it up.
Companies are working to make technology that will push messages to the automobile so that it knows there is a vulnerable road user in the vicinity and where it is.
"That message is called a BSM, a basic safety message," said Johnson. "It can come up on the dashboard of the car, notifying the driver of that VRU."
That technology is being deployed by a company called Spoke, which aims to transform road safety and rider connectivity by delivering a connected IoT ecosystem for vulnerable road users. Spoke has teamed up with various companies, such as car manufacturer Audi, Qualcomm as chipset manufacturer and BMC Bike, a Swiss bike manufacturer.
"All of those companies have a partnership in which they're deploying this technology, and now they have a good location to deploy it for the first time on public streets," said Johnson.
Now for the fun stuff
Besides the opportunity to put this new technology in real-world situations, sponsoring a criterium is a great way to bring a new group of people to the area and remind residents about the gem they have in their backyard.
The Curiosity Lab Criterium is part of Speed Week, a premier week-long event on the U.S. Pro Cycling Circuit that draws cyclists from around the world, including Olympic medalists and world and national champions.
In 2022, the professional men's and women's event drew cyclists from 36 states and 19 countries.
USA Cycling manages a criterium series throughout the entire country. The race calendar generally starts in the Southeast because the weather tends to be warmer than most of country earlier in the year. As former city manager of Anniston, Alabama, Johnson witnessed first-hand how the circuit works.
Amateurs, kids and spectators welcome
"When I was there, we were the very first race on the circuit," said Johnson. "So I have some experience in managing — not directly, as there is a race director that actually runs the event — but by being the city manager of a city that had it.
"Back in the day, I used to race in them. As an amateur, you can race in them," he added.
The daylong event begins with preliminary races for children, and then progresses with different categories for amateurs.
The criterium is more fan-friendly than a road race. Spectators can set up in one area and see riders go by several times. "This a very cool way to watch professional cyclists, especially when married up with things that make it unique for the family, like food trucks and vendors," said Johnson.
The play-by-play announcer for the event will be Francisco "Frankie" Andreu, who was Lance Armstrong's first roommate back when they were racing in the Tour de France. There will be bike manufacturers and displays of lots of cool new technology.
"It'll be kind of like a mini festival," said Johnson. "What this does is it gets the community a pretty unique, cool event that we wouldn't have had, had it not dropped in our path."

Ribbon Cut on Jay Bird Alley Improvements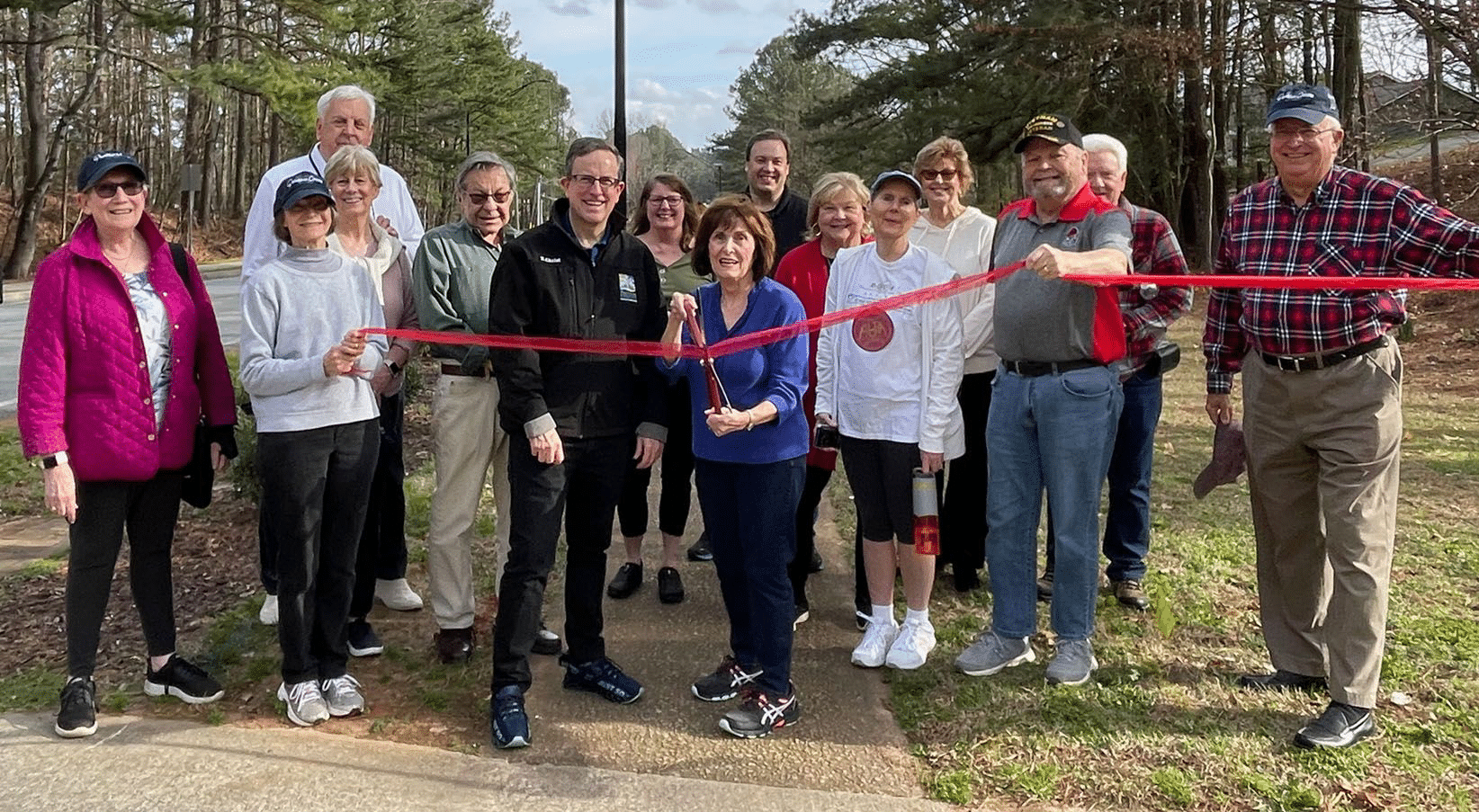 Recently, 20 residents of the Dunwoody Manor neighborhood joined Councilmember Eric Christ, who represents District 2 of the City of Peachtree Corners, to celebrate the installation of several improvements along Jay Bird Alley between Peachtree Corners Circle and Corners Way.
The Public Works project included five new high-powered streetlights installed by Georgia Power to improve pedestrian safety and hedges planted in the right of way by the City of Peachtree Corners to increase driver awareness of the edge of the road. (There is no curb along that section of Jay Bird Alley.)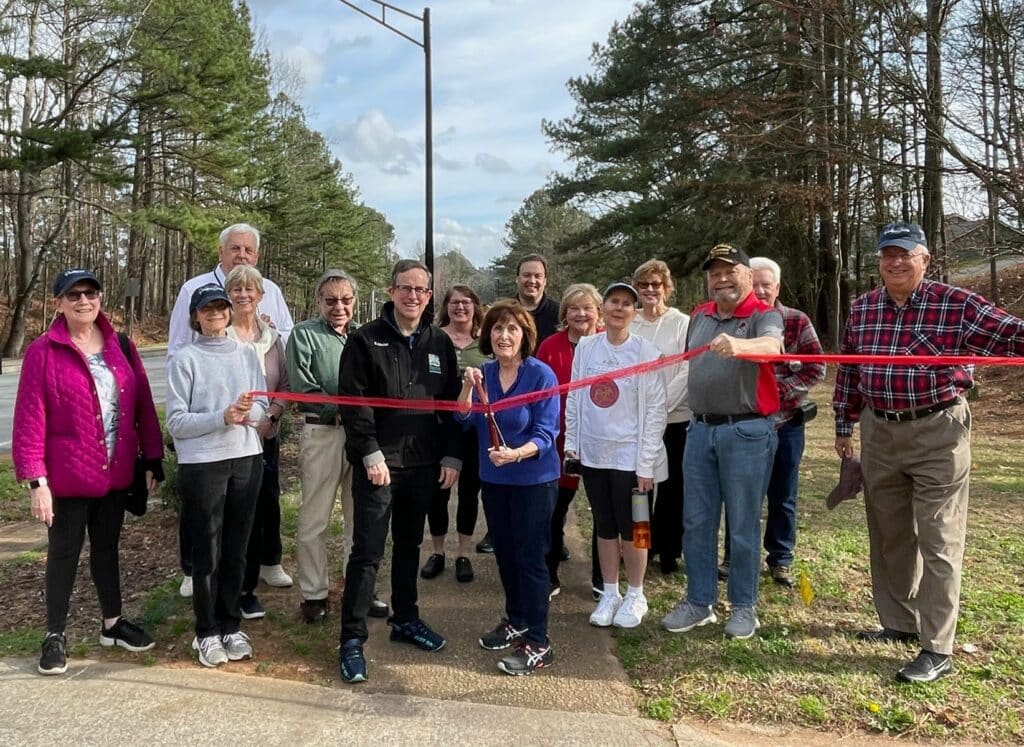 Cutting the ribbon was Susan Albright, the long-time president of the Dunwoody Manor HOA, who first contacted Councilmember Christ about the outdated and underpowered streetlights and a recurring issue with cars running off the road.
"These new streetlights are a great improvement to the City sidewalk network," said Councilmember Christ, "and the hedges have already dramatically reduced the incidence of unwary drivers leaving the road."