Peachtree Corners Gears Up for Its Third Annual Decathlon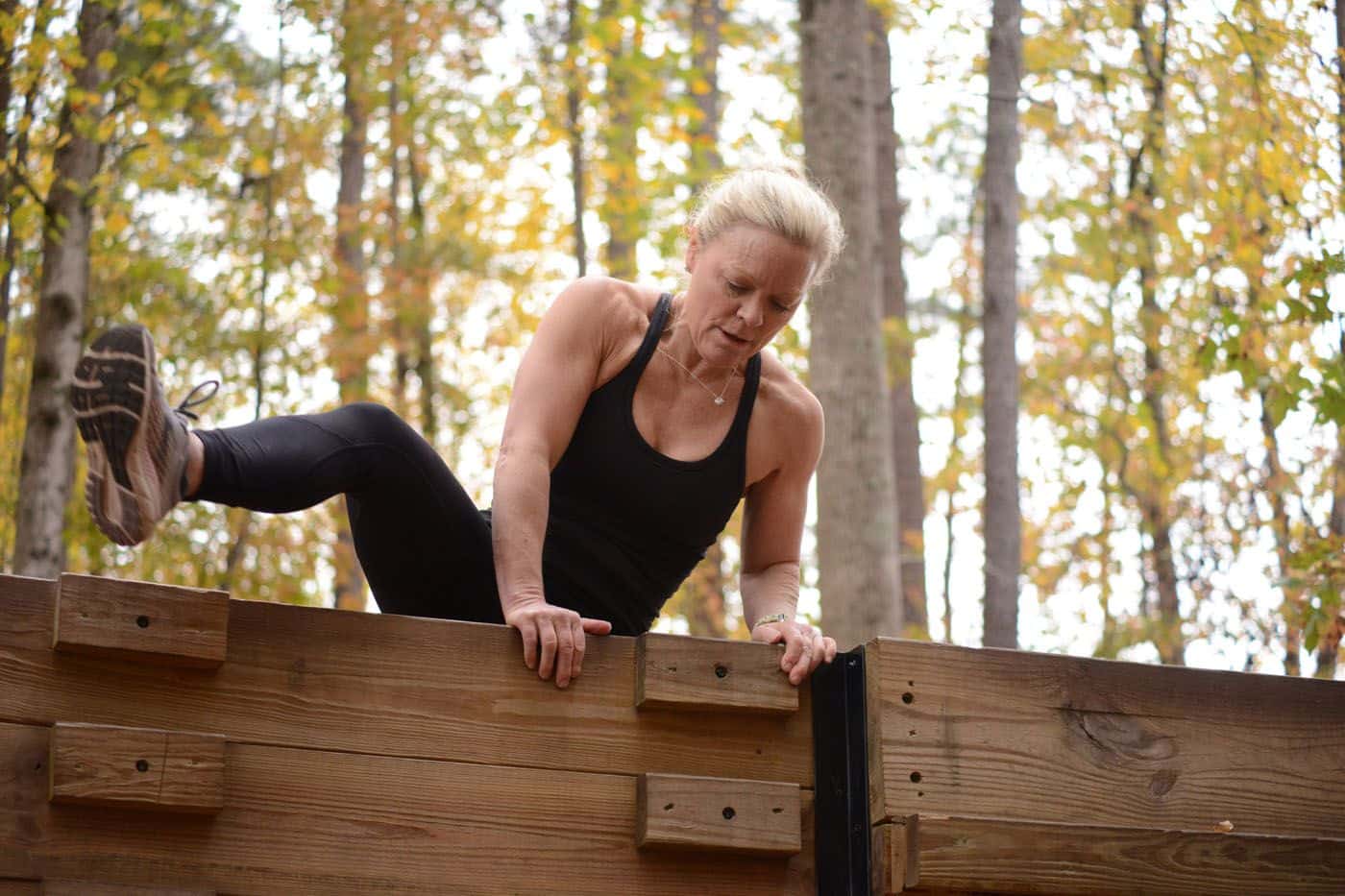 The highly anticipated third annual Peachtree Corners Decathlon is set to take place on Saturday, October 21, 2023. The event, held just off the Peachtree Corners Town Green at the Path to Fitness area, will bring together 72 participants vying for glory in 10 challenging events. 
This year's competition promises to be bigger and better, with an added team component and an impressive award ceremony scheduled at the Curiosity Lab Innovation Center.
Though the event has sold out, it was open to men and women aged 18 and older. The Decathlon is known for its intense physical challenges that test participants' endurance, strength and agility.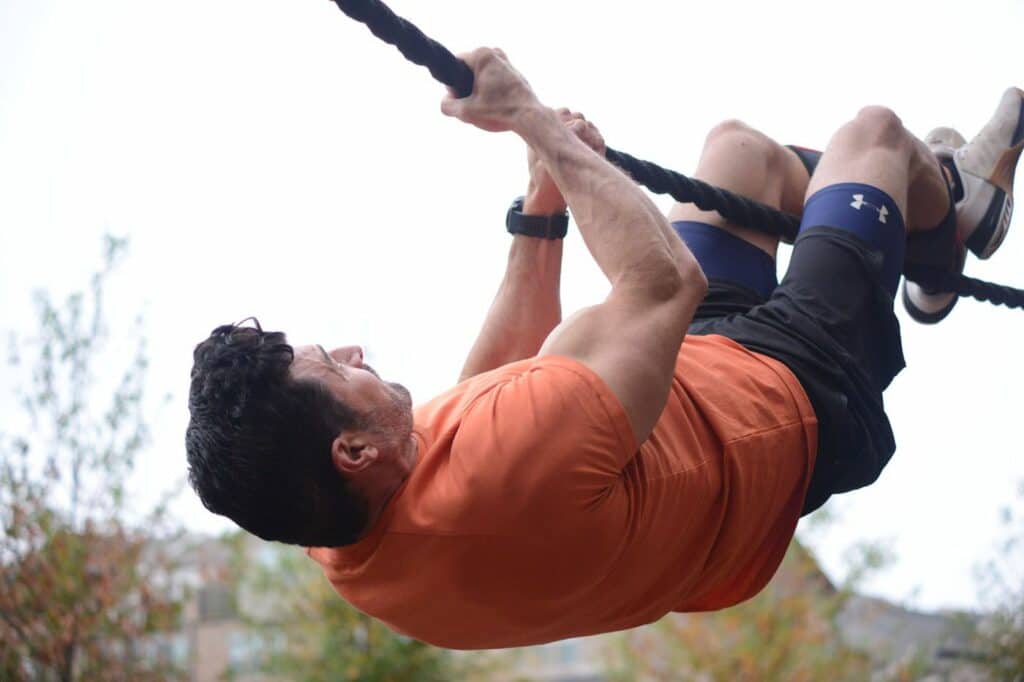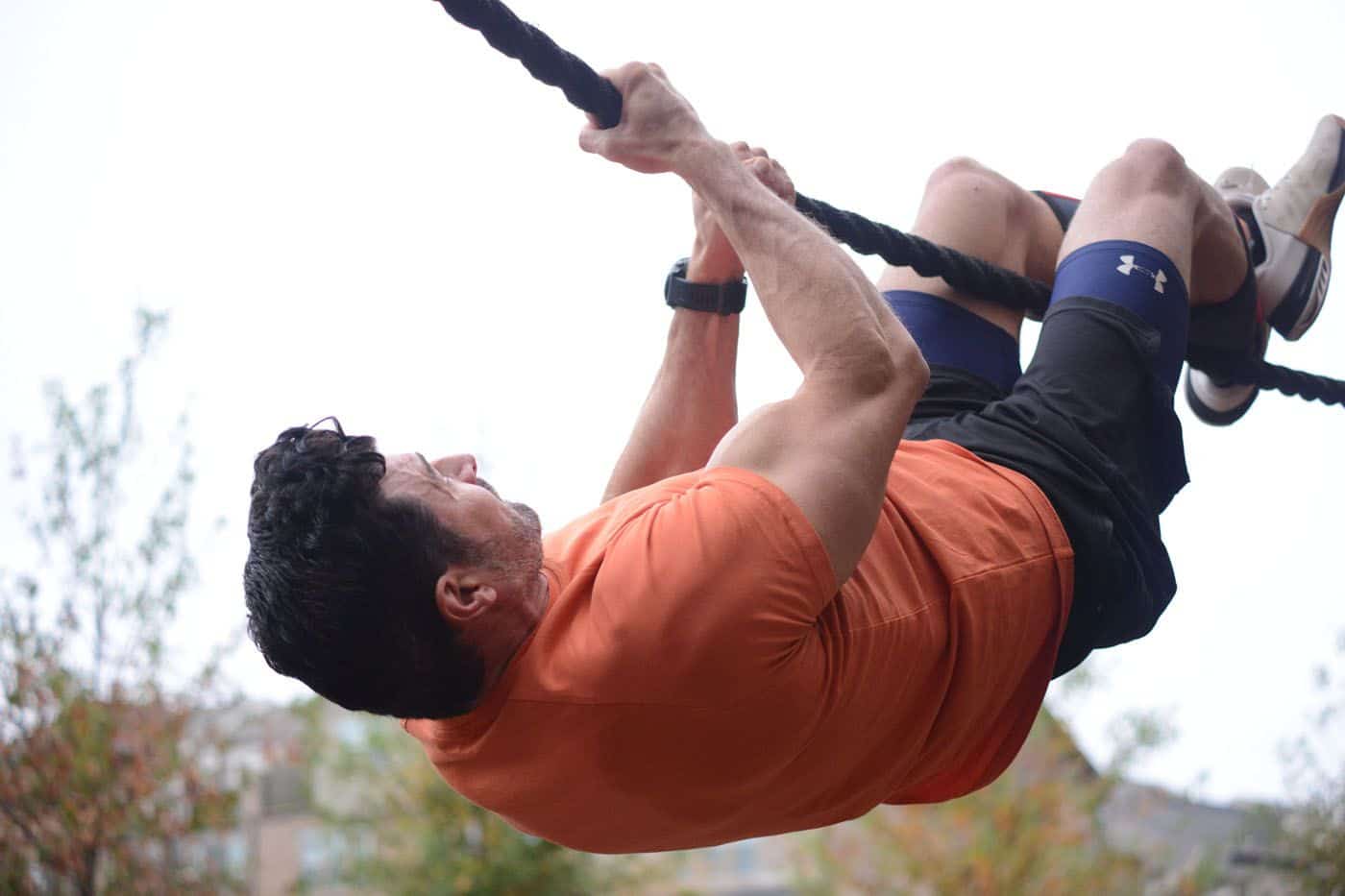 Athletes will compete against one another through a series of 10 exercises. These include the wall climb, bender, row, rope climb, box jump, rope traverse, multi-rig, sandbag carry, Olympus wall and, to finish it off, a 1/3 of a mile run.
With a rolling start every five minutes, the competition will begin promptly at 8 a.m. and continue until 2 p.m., providing a day of non-stop action. Spectators are highly encouraged to come and watch the event this year.
Building on past success
For the past three years, the Decathlon has been put together by an organizing committee composed of Alex Wright, Rich Woodfield, Jennifer Bonacci, Emily Fenn and Kristin McEwen. However, there are a number of people without which the event could not function, such as city staff and volunteers.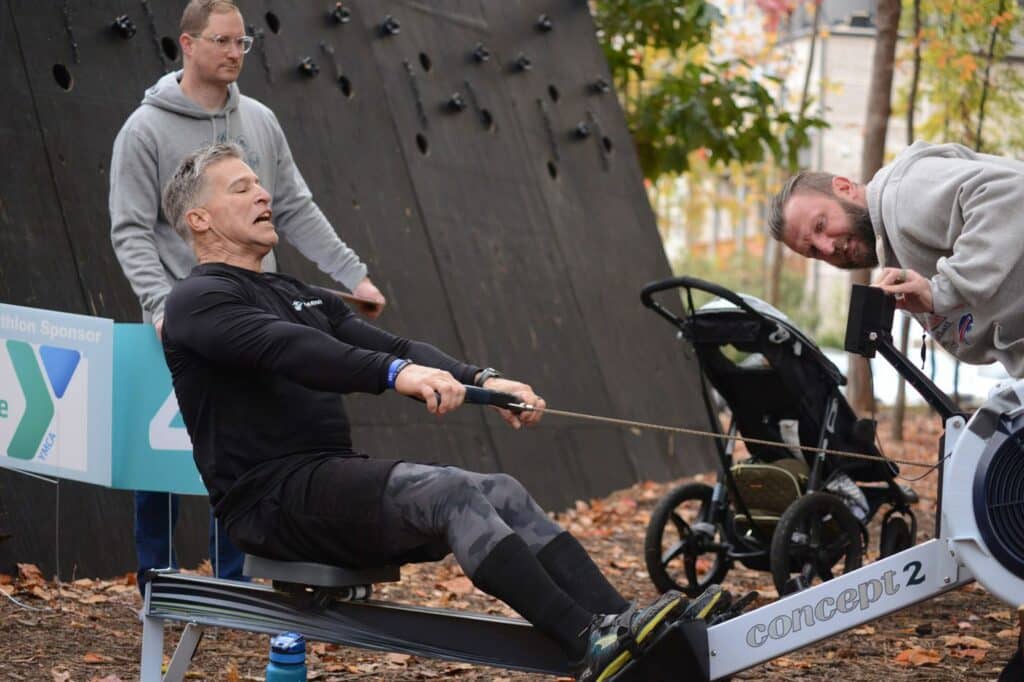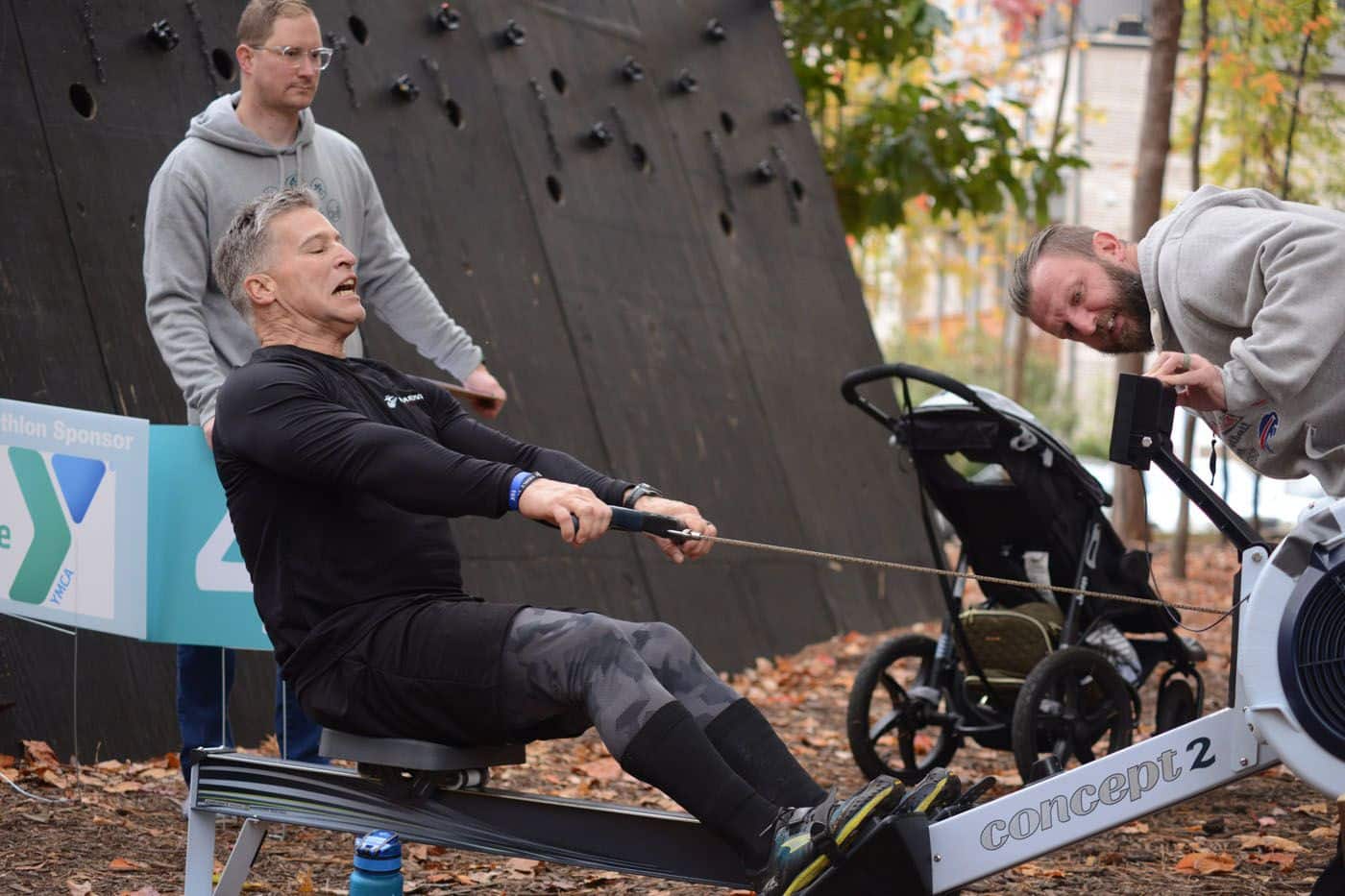 "I'm really excited about this year's event," said Wright. "The first year, I was mainly concerned about just having a decent turnout. Last year, it was building on the foundation we had built, but mainly just having things run smoother and more professionally and continuing to grow the number of racers. This year, I think what you are going to see is an elevated level of competition."
Wright was excited that the event sold out so quickly, revealing that the organizers had done a good job getting name recognition for their event in such a niche athletic field. With that, the Decathlon is starting to see some greater competition coming with the growing name.
"One of new things this year is the "Top Gym" competition," said Wright. "To qualify, a gym must have at least three female and three male competitors. The gym that has the best composite ranking (overall female ranking by combining the top three female finishers from their gym and the same for the men) wins Top Gym."
"We are having a really, really nice trophy built that the winning gym will get to keep for the year," he said, adding that the gym name and year it won will be engraved on the trophy.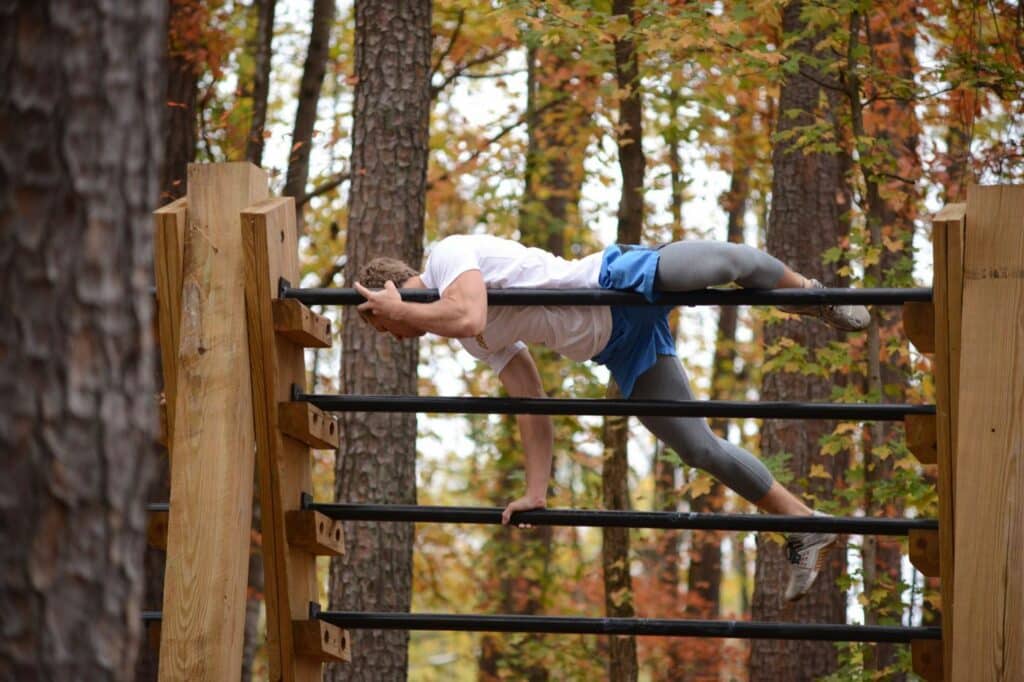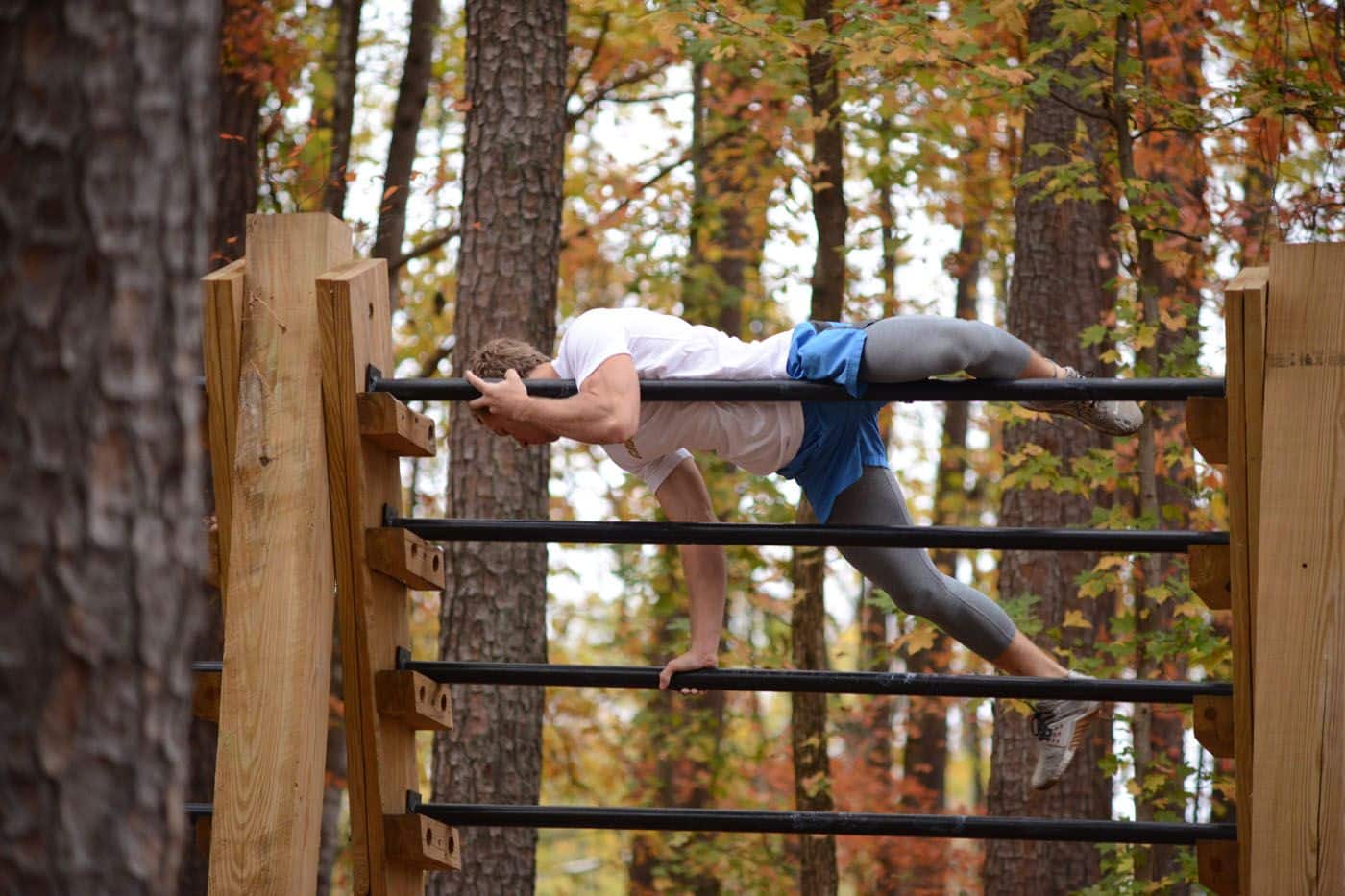 Spectators very welcome
Aside from the splendor of trophy winning, the PTC Decathlon has become an exciting community event, attracting sports enthusiasts and spectators alike.
The competition not only promotes physical fitness but also fosters a sense of community and wholesome competition among participants. It offers a platform for athletes to showcase their skills, push their limits and leave a lasting mark in the history of the PTC Decathlon.
The Decathlon has an emphasis on community even amidst its strong competition. Make sure to come out and watch this year's competition on October 21.
Find more details about the Decathlon at peachtreecornersga.gov/265/PTC-Decathlon.

Atlanta Tech Park-Based Start-Up MAGISNAT Researches the Mediterranean Diet and Eating Disorders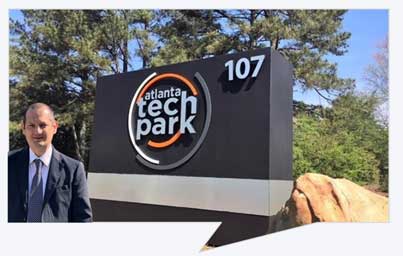 Italian company MAGI'S Lab held a launch event for its innovative American start-up MAGISNAT,at Atlanta Tech Park on June 23, 2022.
This partnership will provide crucial support for MAGISNAT to reach its goals, such as sponsorship opportunities, research and development and exploring the importance of the Mediterranean diet for health.
Atlanta Tech Park was chosen for its track record of successfully developing research projects and laying the foundation for them to grow and thrive in the U.S. market.
This prominent location in the Southeast will enable MAGISNAT to accelerate scientifically and corporately.
The event was broadcast live on the official YouTube channel of the Italian House of Deputies and the Large Café in Atlanta Tech Park. MAGISNAT's presentation was also hosted in the Press Room of the Italian Chamber of Deputies in Rome.
It was the first time that such an important institutional body decided to host an event of scientific importance on the Mediterranean diet and natural molecules.
For more information, download the event's brochure here.
This event was attended by leading American and Italian professors and researchers, who specialize in the study of certain pathologies and natural molecules.
The American researchers who participated in the conference, include:
Professor Stephen T. Connelly, University of California, who is known for his studies on natural molecules and Alzheimer's disease;
Professor Jonh Paul SanGiovanni, BIO5 Institute and School of Nutritional Sciences and Wellness at the University of Arizona, who is studying nutrient constituents of the Mediterranean diet that are essential in dealing with conditions relating to retinal degeneration;
Professor Peng Jin, Emory University of Atlanta, who focuses on the importance of natural molecules in the treatment of certain diseases; and
Professor Karen L. Herbst, Department of Medicine at the University of Arizona, who is devoting herself to the study of lipoedema, and how the Mediterranean diet is among the possible treatments for this condition.
The Italian researchers who participated in the event, include:
Professor Benedetto Falsini, Institute of Ophthalmology at the Catholic University of the Sacred Heart, Rome, who is working on nutrition in hereditary retinal degeneration;
Professor Amerigo Iaconelli, Department of Internal Medicine at the Catholic University of the Sacred Heart, Rome, who is an expert on the Mediterranean diet and its importance for people's well-being;
Professor Sandro Michelini, San Giovanni Battista Hospital, Rome, whose research discovered the first lipedema gene;
, University Polyclinic Foundation "A. Gemelli,"Medical Genetics, Rome, who is working on the study of fragile X syndrome.
Each professor expertly shared their research on the usage of natural molecules for preventive purposes regarding diseases of genetic origin and eating disorders such as anorexia, obesity, lymphedema and lipoedema.
There are still many more things that MAGISNAT has set out to do, but this event was the first step toward important collaborations between American and Italian research. For example, the partnership with Emory University in Atlanta, whose main goals are patient wellbeing, the betterment of society and the development of scientific research.
---
For further information:
Company Name: MAGISNAT
Contact Person: Matteo Bertelli MD, PhD
Email: info@magisnat.com
Address: Atlanta Tech Park
107 Technology Parkway Suite 801, Peachtree Corners, GA 30092
Website: https://www.magisnat.com/

MAGISNAT Successfully Wraps Up Inaugural Edition of "Ambassadors" Project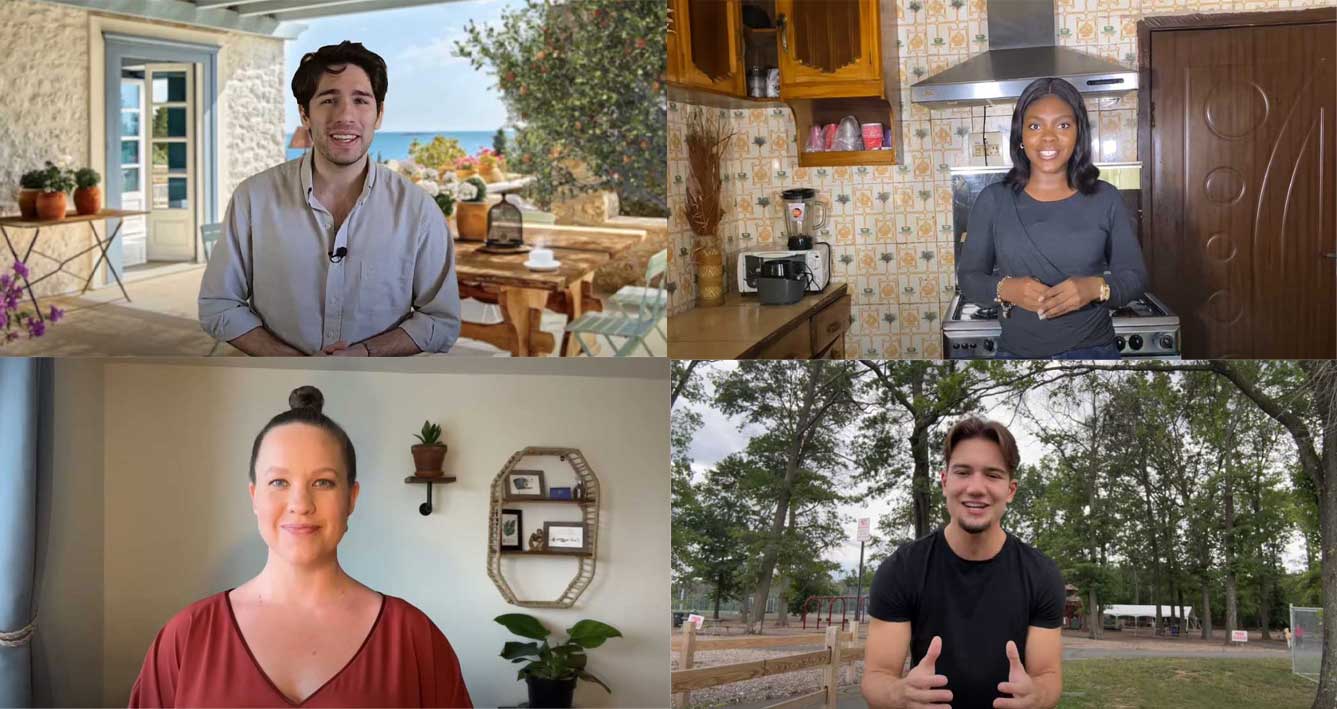 MAGISNAT, a pioneer in the wellness and nutrition sector, has finished the first edition of its groundbreaking initiative, the "Ambassadors" project.
The project, aimed at promoting a holistic approach to a healthy lifestyle, introduced four ambassadors, each contributing their expertise on the aspects of well-being.*
The debut of "Ambassadors" featured a lineup of influencers, including Victoria, the dedicated Diet and Nutrition Ambassador and Bruce, the charismatic Lifestyle Ambassador. Kimberly, the insightful Science and Nutrition Ambassador and Gianni, the dynamic Physical Activity Ambassador joined as well.
Each ambassador has already made a significant impact with their premiere episodes and presentations, which explore the journey toward enhanced well-being.*
What sets this initiative apart is its approach to creating a healthy lifestyle. It is grounded in the Mediterranean diet and tailored nutritional supplementation.
MAGISNAT also leverages OMICS testing to uncover individual-specific deficiencies. This testing allows for a personalized approach to diet, supplementation, physical activity and overall lifestyle.*
"As a journalist who's had the privilege to explore MAGISNAT's Ambassadors project, I am truly amazed by the innovative strides this company has taken towards revolutionizing the concept of well-being," stated George, who recently discovered this side of the wellness industry.
As the project grows, the four ambassadors are committed to regularly sharing their insights and tips for embracing a healthy lifestyle through MAGISNAT's social media channels. By following MAGISNAT on these platforms, audiences can ensure they don't miss a single episode of this project.
For more information and to stay updated, follow MAGISNAT on Facebook, Instagram, Youtube. You can also find the MAGISNAT online store on Amazon.
Watch the first episodes and presentations of the Ambassadors here:
Victoria: Watch Here
Bruce: Watch Here
Gianni: Watch Here
---
For more information:
Company Name: MAGISNAT
Contact Person: Matteo Bertelli MD, PhD
Email: info@magisnat.com
Address: Atlanta Tech Park
107 Technology Parkway Suite 801, Peachtree Corners, GA 30092
Website: https://www.magisnat.com/
---
*This article does not intend to provide medical advice, and the purpose of the summary of scientific bibliography is cultural insight. The article does not suggest that olive tree polyphenols, OMIC tests or dietary supplements have therapeutic or preventive properties for any disease or condition. It is not intended as advice to use the olive tree or its derivatives in any modality or for any purpose. Only a physician and/or nutritionist can provide advice in the areas of nutrition, prevention and health.

Opioid Crisis Intensifies: Urgent Call to Action from GNR Health to Combat Addiction and Overdoses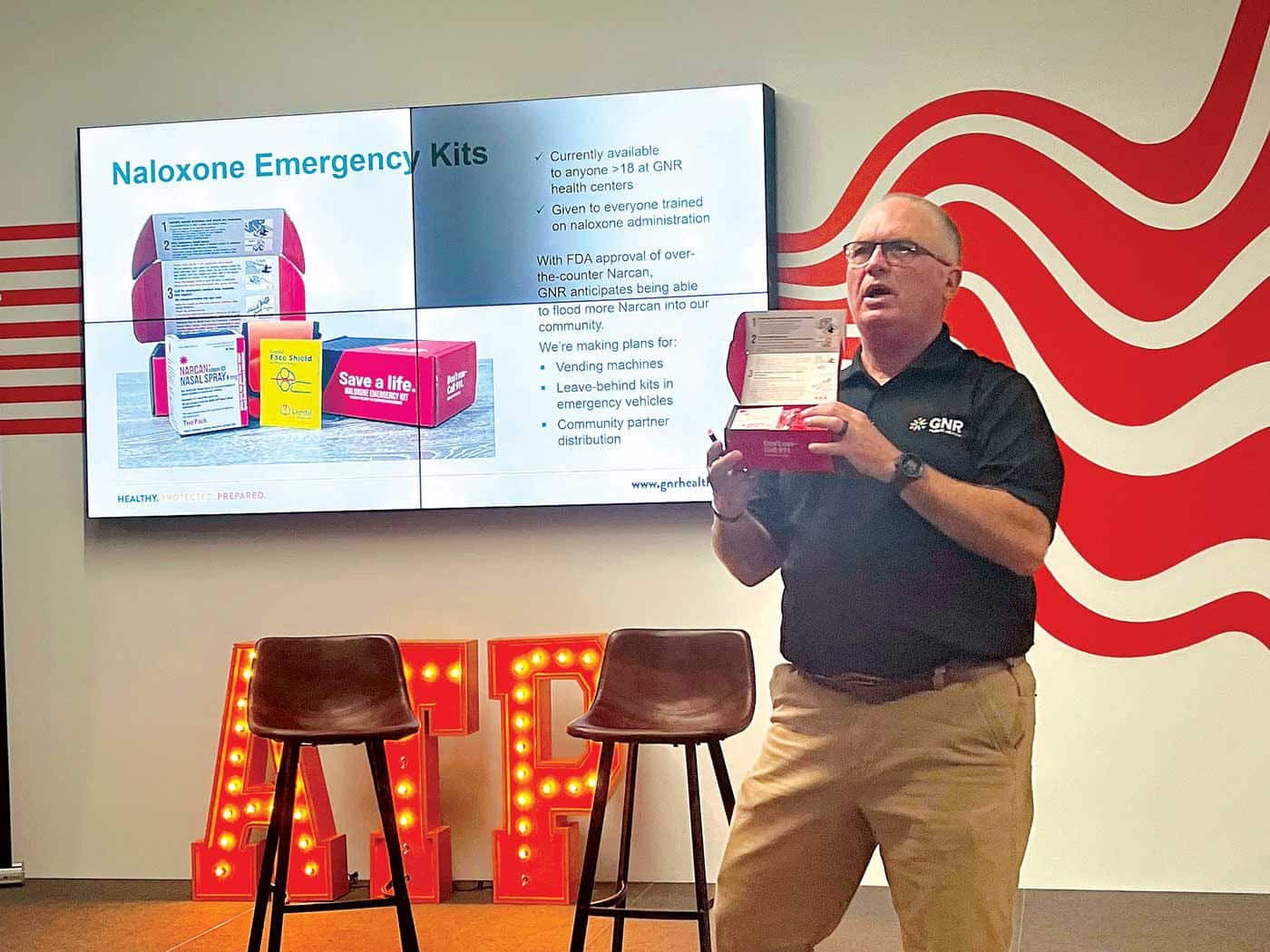 Although the opioid crisis hasn't dominated the major headlines recently, its scale and scope haven't waned; in fact, it's worsening. A new study highlighted in July in the Harvard Gazette showed that without public health interventions, the number of overdose deaths will continue to rise.
The U.S. Department of Health and Human Services reported that nationwide overdose deaths hit 68,000 in 2020 and rose to more than 80,000 by 2021. The data for 2022 has yet to be released, but researchers believe that number will hit six figures.
To increase awareness and help combat the dilemma locally, the Southwest Gwinnett Chamber of Commerce (SWGC) invited Tom Branch, Opioid Surveillance and Prevention Specialist with Gwinnett, Newton, and Rockdale Public Health (GNR Public Health), to its July Coffee Connections Spotlight Series to discuss the root causes of opioid addiction and ways to help reduce the number of deaths.
"We like to go around the community and open people's eyes to the opioid crisis," stated Branch. "It's happening everywhere; it's not limited to the homeless person living under the bridge. That's the scary part about it."
Branch shared that even though he's been a lifesaving first responder in law enforcement and the fire department, he has a family member who fell victim to opioids.
"My son is four years into recovery now. So, I can tell you, just from a stepdad's point of view, that it took him four times. But he's been clean for four years now, and we're so proud," said Branch.
Escalating drug overdoses
To put the predicament into a historical perspective, Branch pointed out that in 1991, the CDC started seeing a substantial number of overdose deaths. This increased into 2010.
"The heroin crisis really opened people's eyes," he said.
In 2018, the federal government allocated $1 billion for the opioid crisis and distributed it throughout the United States. That year, the state of Georgia received its share and distributed it to 18 different health districts. "All 18 districts have a person like me working within their group," said Branch.
GNR Director Dr. Audrey Arona searched for about six months before coaxing Branch out of retirement. When he first started, health officials had no idea that this emergency would balloon as it has.
"In 2018, they knew something was going on. The last good statistics we have are from 2021, and you can see heroin just leveled out. But opioids and other drug overdose deaths just went through the roof," Branch noted.
That led to the creation of the Overdose Map (OD Map). Now Branch's number one duty is to partner with law enforcement to track where and when overdoses occur.
"It shows where the drugs are being sold," said Branch. "Most people buy a drug, and they don't go far to use it. And if they do die or overdose, we want to know where it is. This map helps law enforcement target dealers, but it also helps prevention and treatment specialists know where they can put resources.
"If we have a hotspot in a different area and it happens certain times of the year, certain times of the month, or certain times of the day, we can interject law enforcement to go in one day, and then the next day, so prevention people can go in and try to figure out who these people are who need help," Branch stated.
Branch is part of the control enforcement group run by the Office of the State Attorney General. Its purpose is to try to figure out what the next steps are for this problem.
"One of the big steps that we've seen in Gwinnett is prosecuting people for selling drugs that are killing people," Branch stated. "Presently, there are nine people in the county jail who have sold fentanyl-laced pills to somebody in our community, and they've died."
"For instance," Branch added, "In July, we had 80 overdoses within a seven-day period. That's crazy. So, we knew something was going on. We partner with law enforcement, and then they go to the media and say, 'Hey, we've got a problem. People are trying to kill our citizens. And …if you want Narcan, here's where you can pick it up.'"
Narcan is a medicine that can reverse overdoses in people who have opioids in their systems.
Everyone's role in the solution
One area that Branch and his colleagues are working on is informing physicians that opioids don't always need to be prescribed for pain management.
Through the Prescription Drug Monitoring Program, an electronic database used to monitor the prescribing and dispensing of controlled substances, the control enforcement group wants to encourage doctors to exercise more caution when prescribing opioids.
"Please be an advocate for your family, for your children and for your friends about opioids," Branch urged. "We had a coworker whose son had his wisdom teeth taken out and the doctor prescribed him 20 opioid painkillers. The alternative is to try an over-the-counter analgesic like Tylenol or Advil and tell the doctor you don't want those strong pain medications because they're addictive," Branch explained.
"One thing I will tell you about opioids, and it's mostly oxycodone, …when [pharmaceutical companies] originally started selling this to doctors and telling them how important it was, they did not tell them how addictive it is," he said.
Another key point Branch stressed is that first responders can't physically be everywhere to administer Narcan, but saving the life of someone suspected of overdosing is so easy that almost anyone can do it.
In Gwinnett County, there are clinics in Norcross and Lawrenceville that pass out Narcan kits. There's a strategic plan in place to have them available at every health department.
"Prevention education within our community is also a major part," said Branch. "We have people in our state who don't even want to look into whether they need it, but we continue to discuss it, talk about it and try to get other people involved."
Attending events like SWGC's July Spotlight Series is one way to learn about opioid addiction and get more Narcan kits into the hands of everyday people. Branch said the only way to beat this catastrophe is to get everyone involved.
Learn More about Opioids
Georgia Crisis & Access Line
1-800-715-4225