You Are Invited to Mayor's Annual State-of-City Address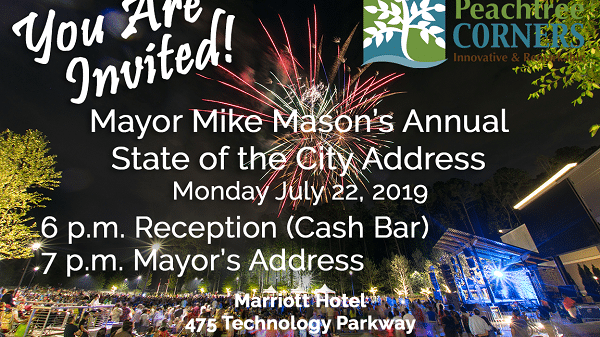 Mark your calendars and plan on attending Mayor Mason's annual State-of-the-City address on Monday, July 22, 2019, 6 p.m. – 9 p.m.at the Marriott Hotel, 475 Technology Parkway, Peachtree Corners, GA 30092. A reception with cash bar begins at 6 p.m. followed by the Mayor's address at 7 p.m.
Its been a short seven years since the city was incorporated as Gwinnett County's 16th city, yet there is little doubt that this young city has been on the move since it was officially founded July 1, 2012.
Mayor Mason is expected to highlight the city's progress — and offer a look ahead to the future of the county's largest city.
Smart City Expo Atlanta — Putting Peachtree Corners on the Map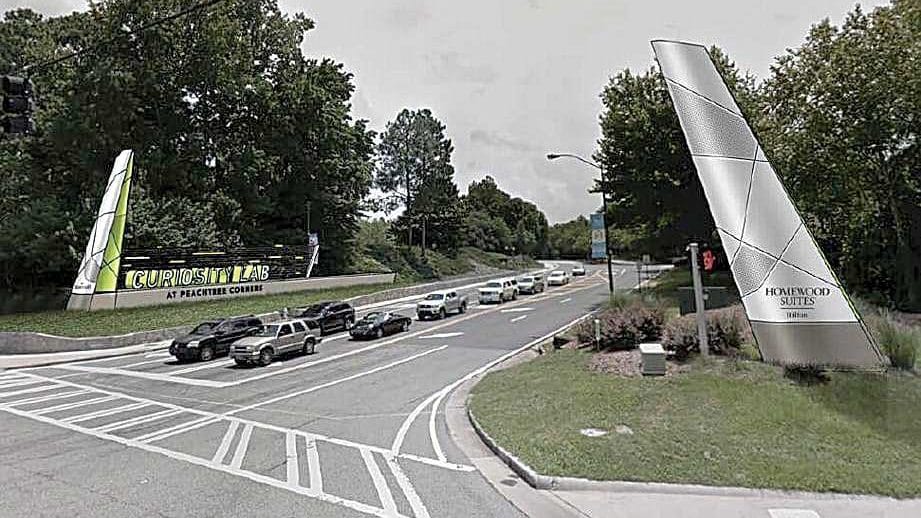 What Makes a City "Smart?"
The advancement of technology coupled with rapid urbanization continues to press for local and state governments to create better solutions for urban development. Today's metropolises are characterized by intelligent infrastructure, early-stage investments and open communication between residents and government. Smart cities leverage data to spur progress and inform better policies and processes. Can a city as relatively new and as small as Peachtree Corners be a smart city?
Does PTC Make the Grade?
City Manager Brian Johnson revealed how Peachtree Corners is uniquely positioned to have all the "smarts!" A lean operating budget, a perk of being a young city, allows for more "discretionary funds" with which the city is able to add value back to the community.
The Corners Connect app, already up and running, can tell you the local weather, traffic, events, sales, and soon it will even guide you to the nearest open parking spaces in Town Center and The Forum. Residents can pull up the app to report problems in real-time, put in a service request and then track its status. "Providing services and communication in a more convenient way for citizens," that makes us a smart city.
If you choose to enable it, Peachtree Corners has the ability to geofence. That means the app knows your location once you cross into the corporate city limits and it can automatically send you helpful information. Internally, the city uses this to monitor and improve its delivery of services. This makes our city "smart" too, and I haven't even mentioned the giant screen on the Town Green yet.
The city can turn on the 22 feet wide by 12.5 feet tall NanoLumens video wall and accompanying audio system in three seconds, at the request of a resident, as we witnessed during the recent World Cup Soccer games, when one resident asking resulted in a multitude of our neighbors gathering on the Town Green with friends to watch and enjoy the big games on the big LED display. It's a testament to Peachtree Corners' investment in smart city infrastructure.
Yet what gets Peachtree Corners a solid A+ is the important investment it has made in Curiosity Lab at Peachtree Corners. Johnson shared, "There are direct and indirect ways smart city technology is benefiting our residents. We look to stay at the cutting edge of smart city technology in a way that [is] both responsible and cost-effective…We haven't borrowed any money to do it. We [don't need] to implement city property taxes to do it, it's within our budget. But it is providing a value add…that our residents are seeing now and will continue to see in the future."
Curiosity Lab at Peachtree Corners
In keeping with its history to develop around technology, and the city's slogan, "Innovative & Remarkable," very soon, visitors and residents of Peachtree Corners may feel like they're in an episode of the Jetsons as they find themselves driving alongside autonomous cars or otherwise novel vehicles on a 1.5 mile stretch of our roads in Technology Park. The vehicles are being tested by the ground-breaking Curiosity Lab — the first autonomous vehicle and smart city living laboratory and test track of its kind in the country, featuring "not just cutting edge, but bleeding-edge technology," as City Manager Brian Johnson describes it.
This state-of-the-art testbed for smart city technologies is attracting movement to Peachtree Corners, which is precisely what city officials had envisioned.
Johnson explained, "We're deploying the Lab as a way to attract activity to Peachtree Corners. That activity is what's going to keep Peachtree Corners a great community, a community that has a healthy retail/restaurant climate, stable, high property values. It's a place where people want to come work, live, learn and play because we're giving people reasons to come to Peachtree Corners."
The Curiosity Lab will draw businesses from across the country interested in testing the limits of their next-generation mobility technology in a real-world, 5G and IoT environment, unlike traditional closed tracks where everything is level, predictable, controlled and confined to a parking lot-type setting. According to Betsy Plattenburg, Executive Director of Curiosity Lab, they've had interest from delivery and logistics companies seeking to test the delivery of food and packages in an automated fashion, using both the roadway and potentially, the sidewalk.
She also mentioned talks with some interesting drone companies, adding: "Drones can use the infrastructure and are permitted to fly as long as they're under 400 feet." Most importantly, Plattenburg revealed, "We are just going to be making a public announcement next week that we are partnering with the Smart City Conference."
If Curiosity Lab was born to attract activity to the city of Peachtree Corners, one might say it has already met with great success in its infancy. We'll soon see Fira de Barcelona — the world's leading conference on smart cities and smart urban solutions — cross the pond and arrive on our shores for the first ever American edition of Smart City Expo World Congress, debuting in Atlanta at the Georgia World Congress Center from September 11 to 13, 2019. So how does Peachtree Corners get the spotlight in the midst of an international conference of such magnitude?
Johnson described a long-standing relationship between the Metro Atlanta Chamber and Fira de Barcelona. When Fira was looking to expand to regional conferences in Asia and North America, the Metro Atlanta Chamber welcomed the chance to make a pitch for Atlanta to host the inaugural smart cities conference in the U.S.
Having spoken in Barcelona last year, as part of the U.S. delegation there, Johnson's pride could not be mistaken, "Smart City Expo Atlanta has recognized Peachtree Corners and the businesses that operate within our corporate limits, as being important to the greater metro Atlanta area and this conference."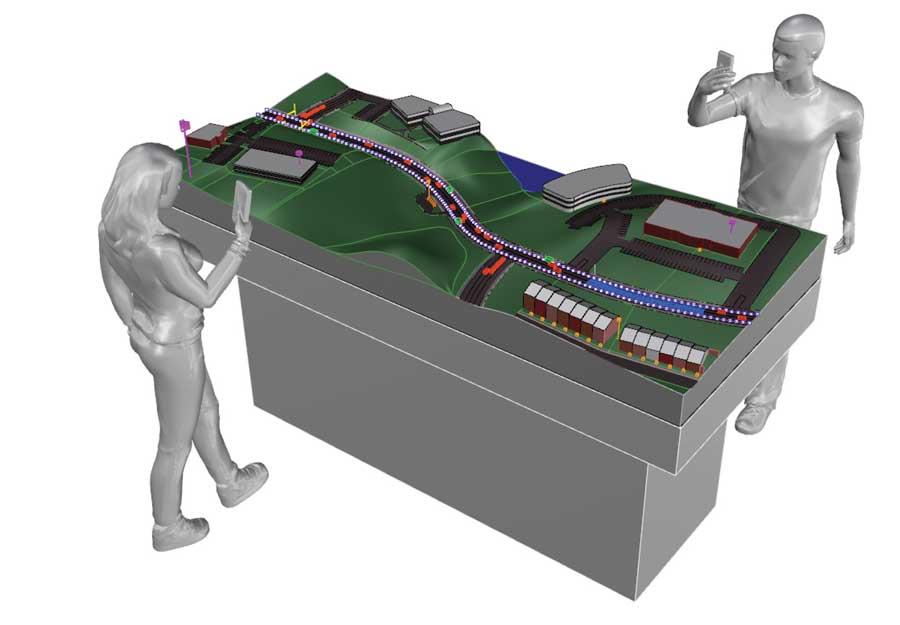 Peachtree Corners to Kick Off Smart City Expo Atlanta
Curiosity Lab at Peachtree Corners has been named the official offsite demonstration location, in addition to having an important presence in the exhibition hall at the Congress Center. On the first day of the Expo: Wednesday, Sept. 11, 10-11:30 a.m., prior to the opening events at the Georgia World Congress Center, Expo attendees who purchased tickets to the Smart City Expo and signed up to attend the demo will have been bussed to Peachtree Corners City Hall on charter buses. There, they'll witness live demonstrations of some avant-garde technology on our test track which allows for interaction with everyday vehicular and pedestrian traffic.
A number of state dignitaries are expected to be present, as this event will coincide with the ribbon-cutting ceremony for the inauguration and grand opening of Curiosity Lab. Afterwards, charter buses will return participants to the Georgia World Congress Center in time for the opening plenary of the Expo at 1 p.m.
What to Look Out For
The demo on September 11 should be something to behold. Plattenburg and her team put out a national casting call for companies who have "proven technology that is viewable," in the interest of making the demo on the morning of the Smart City Expo more exciting.
Plattenburg described the test track: "The outside lane will become the test lane. The inside lanes will be where human drivers drive. So, it's almost like a regular road exists in the middle, and the testers will be on the outside. They'll be separated by flexible bollards. The road will be painted dramatically differently on the outside lanes, and there will be excessive signage, digital and otherwise, letting you know that you're entering a test environment. So that people driving, the human drivers, you'll know that something is different. The test vehicles will be there."
"That should get people off their phones!" ■
Prime Lunchtime with the City Manager: Smart City Expo, Curiosity Lab, the city's first craft brewery and more.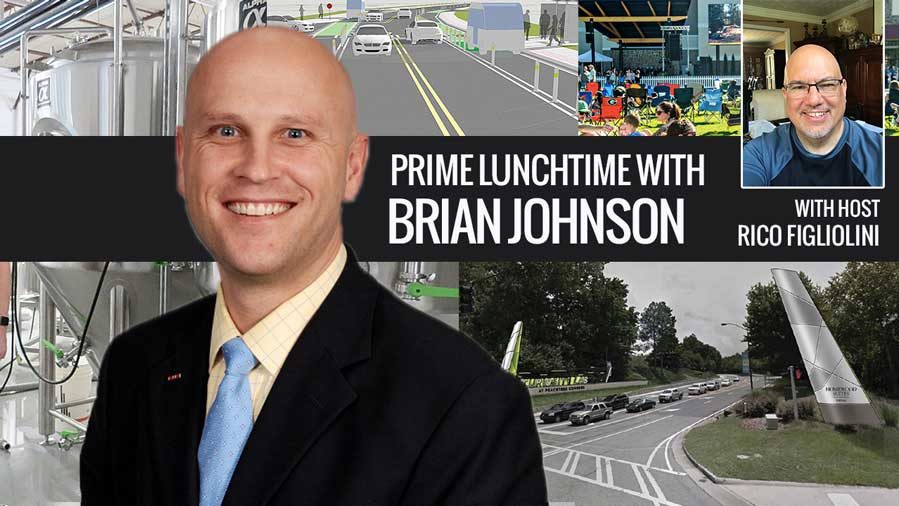 This podcast also includes information about hosting a special event for the first day of the Smart City Expo Atlanta 2019, the opening of the city's first craft brewery, upcoming developments in the city and the city's response to urban camping.
About Smart City: "It won't be long until, literally, you could be walking down the street and your phone's talking to the cars driving by, talking to the phones of other pedestrians, talking to the buildings, talking to the light pole. I mean – it's a both amazing and sometimes scary environment we're going to be in."
On the Chattahoochee River (Fiserv) development: "So it's a very complicated site both from an environmental standpoint, as well as because of its sheer size, there's a lot of, you know, back of house negotiations that the master developer has to do with lining up the team that's going to develop it. Because this is a mix of uses, so you've got different contractors that specialize in different types of housing."
On expanding the Town Green: "Essentially, the eastern side is currently in development. The city owns it, and we have wanted the town green to be activated and to watch kind of how it's playing out, and take feedback from our citizens on what we could do on that six acres to be a value add to the town green. So that discussion will be happening over the next three to six months…"
Transcript of the podcast:
Rico [00:00]: Hey! This is Rico Figliolini, host of Prime Lunchtime with Brian Johnson, city manager. We do this every month, and we have great discussion of all things going on here in the city on Peachtree Corners. Before we start, Brian, do you mind saying hi?
Brian [00:15]: Oh absolutely!
Rico [00:16]: Excellent. So a couple of sponsors. So first off, Prototype Prime, which is – we're using the studio here – the podcast studio we're at. They incubate here in the city Peachtree Corners, which is part of the Curiosity Lab at Peachtree Corners.
Brian [00:30]: It is. Curiosity Lab is really three things. It's a mile and a half-intelligent mobility and smart city laboratory which has an autonomous vehicle test track. It's a 25,000 square foot technology incubator. And it's all the technology within both the building and the one and a half mile for you to test anything from drones to, you know, autonomous, you know, vehicles to on the uh, you know, to smart city connected vehicle. I mean, anything you could think of.
Rico [01:03]: So, this place has grown since I've been doing this podcast. This is unbelievable growth over the next few months than we've probably seen. Companies coming here from all over, not only the metro area, but the country and the world. We're gonna be on the map. Peachtree Corners will be known, hopefully as well as Atlanta in some ways. So Prototype Prime, Curiosity Lab, sponsor of the podcast. And also want to thank a new sponsor that's coming on – Gwinnett Medical Center. They're now going to be insuring Peachtree Corners. You can learn more about their premier services. They're gonna be conveniently located where the old Ippolito's Restaurant used to be, and people know where that is. That's the shopping center south of the QT on that side of the road on Peachtree Parkway. So they're entering. They're going to be having first-rate primary care services and specialty services. You can find out more about that at gwinnettmedicalcenter.org/PTC. So that out of the way, there's just a lot to talk about.
Brian [02:03]: Sure there is!
Rico [02:05]: And in fact, the third sponsor on the radio – we're a media sponsor – Peachtree Magazine. Peachtree Corner Magazine. Smart City Expo, Atlanta. So that's just the – let's start off with that.
Brian [02:16]: Sure!
Rico [02:16]: It's such a huge thing.
Brian [02:19]: It is.
Rico [02:18]: You were in Barcelona last year. This is the first big expo on the North American continent for this.
Brian [02:24]: So, the Smart City Expo World Congress is the largest Smart City conference in the world. And, annually, it's in Barcelona, and it has 35 to 40,000 attendees. And it got so big that they decided to create regional, kind of affiliate or feeder ones. You know, they have an Asian one, a European one, and the North American one, which started this year because of the work that Metroland and Chamber and others did. We are lucky enough to have the very first North American version here in Atlanta. And then, given that it was here, we were able to, um, kind of brief the powers that be about what Curiosity Lab is, and they were like, "Wow! We're doing a Smart City conference and you have this living laboratory for Smart City testing and demonstration. Let's make it an official demonstration site." So we're also a partner of Smart City Expo, and we're going to be a demonstration site the morning the conference begins which is September 11th.
Rico [03:29]: Right. Three day weekend. Three day conference. And it's the first of three years that they're going to do this in such a place. And the whole idea is to be able to, not only show off Smart City IMT, you know, Internet and Memory Thing – Internet talking tower thing. Um, but it's also to bring it down to a more usable level for the common man and woman. And how sustainability, smart technology, how it affects everyone.
Brian [03:58]: Right?
Rico [03:59]: Right, not just corporations.
Brian [04:00]: No, we're at the cusp of really – the way we do, you know, anything, changing because of the ability to have, you know – to create that internet of things, which is everything being able to communicate with everything else. And we're, you know, especially with 5G rolling out, we now have a wireless environment where it can happen. And so, it won't be long until, literally, you could be walking down the street and your phone's talking to the cars driving by, talking to the phones of other pedestrians, talking to the buildings, talking to the light pole. I mean – it's a both amazing and sometimes scary environment we're going to be in.
Rico [04:43]: And it's kind of interesting because if you go onto the basic, let's say, warehouse for example, where the sustainable – what they're doing is, as you walk the warehouse floors and the warehouse – the lights come on as you walk through. Heat and other sensitivity things come on as this human person walking that area, occupying it. These are all things that can happen in a 5G world.
Brian [05:08]: They can! I mean, you literally can control everything wirelessly and not have latency issues where it's lag time. All the controls – you could have so much more on the wireless environment. We're used to 4G or even your conventional 4G LT – you could put so much on it that it starts to get, you know, have a little bit of lag, get slow. And 5G we just – we have so much more to work with. So it's an exciting time!
Rico [05:40]: So now – because we're demo aside – the Expo is in September. We're not that far where we –
Brian [05:47]: 48 and a wake up.
Rico [05:49]: Yeah, 48 days.
Brian [05:50]: Who's counting?
Rico [05:52]: How far are you going to be. Is it going to be, like, complete almost past city hall? I mean I know the whole stretch won't be completely –
Brian [06:01]: Right. With every aspect of the lab on this one and a half mile section – for every single thing to be done by then, probably not. So what we've done is – all the work we're doing, we've had them do it in a linear fashion. Normally, if some contractor is putting something in, they would – entire projects – they get to choose what order they do. In this case, we're like, "No, we need you to start at the technology parkway 141 intersection. The Marriott. And then work north and, at a minimum, we've got to get it past City Hall, because that'll be the main stretch for the Smart City Expo that people will both be coming to the demonstration site and where the demonstrations will take place. So that'll – that's the stretch we're concentrating on.
Rico [06:55]: So there'll be shuttle buses coming from the expo for people attending the demo?
Brian [07:00]: We're gonna be – we're gonna facilitate two things. You know – for those conference attendees that sign up to do this, we will have buses available to bring them up from the Georgia World Congress Center. But for attendees who are – who live close by, they won't have to go all the way and cut back. They can just go right to the site.
Rico [07:22]: So what are you planning? What demonstrations? Anything particular yet?
Brian [07:28]: Yes. So, I don't want to share the companies yet, but I can share the type of stuff. We're gonna have everything from fully level 5 autonomous vehicles, driving a track or a portion of the track. Tele-operation vehicles. We're gonna have drone autonomy – and these are autonomous. These are not, you know, done by human. Drones showing off capabilities of package and food delivery. You know, some of those kind of things. Also – other package delivery robot components. Let's see, what else have we got? We've got some connected vehicle demonstrations to show how vehicles talking to each other can actually alter the way that the car drives itself, even with a human in it. So we're wanting these companies to come in, and, again, we're kind of inviting anybody who – we got a couple of like, one company – we're not sure we can get them. But they actually have a vehicle that is – it's kind of like the smart car, you know that really small – their vehicle contracts or expands for purposes of urban use. So when you're driving it, it can – when you get in, it expands so that the wheelbase and everything is stable. But when you go to park it, you can actually – you can park it in the same size space that you could put a Harley Davidson.
Rico [09:07]: Really? All by itself? So you get out of it and itself – it's like the Jetsons.
Brian [09:14]: Yes! I mean – so, that one we'd like to have. So those are some of the things we're gonna have at this demonstration. And so it'll be, uh, interesting.
Rico [09:24]: Excellent. Lots of stuff. There's a lot of things happening here in the city, too, so we should probably talk about – besides the autonomous vehicle tries. So, I know we have a city council meeting. Um, the mayor also had a state of the city on Tuesday night.
Brian [09:44]: Monday night. Tuesday night was the city council.
Rico [09:47]: That's right. So there's a lot of things that Mike Mason talked about.
Brian [09:53]: 72 slides worth.
Rico [09:54]: Right, yeah? But he went through it fast. I gotta say.
Brian [09:57]: Oh, I mean, you know – look. We've learned, you know, we being staff have learned where the mayor's real, um, his real strength is. And he is phenomenal when, you know, you put him in that environment and he's talking with, not to, the citizens of the city. And so, yes, he knows how to, you know – we all warned him this was a lot of slides. But he went through it quick. I mean he got it done in an hour, and it was good. But he's amazing, how he can interact and just make everybody feel like they're part of the discussion.
Rico [10:36]: Oh yeah, you could see, I mean, he's not a politician per se. He came from a corporate environment, so you can see how that works. And he – there was a lot of things that he talked – he talked about the infrastructure improvements. Over 2[0 million dollars since 2[015. About the town center, about the pedestrian bridge coming online soon, probably within a month or so. We might even see ground –
Brian [10:59]: Oh yeah, I mean it's underway.
Rico [11:01]: Okay so, we'll see – and I saw – I wish I had the slide on this. I saw the picture of the newest picture, um, where the work clock. It looks fairly good, actually.
Brian [11:12]: Just saying – now you were – you were a part of all of it to begin with, so you may be better positioned than me to comment. But I, you know, our hope was – we went from the initial versions –
Rico [11:24]: The double spires –
Brian [11:26]: And to one that is maybe, you know, it's more modest, but it's not, you know…It still has a distinctiveness that you won't be like, oh yawn another pedestrian bridge. Distinctiveness, but it's not over the top.
Rico [11:43]: No. And it looks really good now, from what I saw on it. And then I saw something else somewhere about the botanical gardens that might be an offshoot walk through the bridge –
Brian [11:53]: There is. So when you go in, you know, on the south side of Lazy Dog, um, you've got the creek. And so for – we will have a path that goes along the creek but elevated. Kind of in between the creek and Lazy Dog, or the parking deck. So it'll have to be elevated. And then we're wanting to put a section that allows you to go down to that level, and then maybe put some other plant material there, make it a unique section.
Rico [12:23]: If you want to get to a cool place on a hot day, that'd be the perfect place to go. So you have that, and of course the mayor wants to talk about Georgia Tech, professional education, the on site. And we came just before, saw kids walking – they must be walking to the uh –
Brian [12:41]: Well that's the coding for kids. That's not Georgia – Georgia Tech is on the evening or weekend. This is a summer camp, so we actually have coding for kids camps that have been conducted here over the summer.
Rico [12:54]: It's cool. So you have the young kids, the high school, middle school kids, and then you have the professionals who are coming back to learn a bit more.
Brian [13:01]: Well, yeah, they are officially coders when they are done with that with the Georgia Tech diploma.
Rico [13:06]: Absolutely. There's only two – I didn't realize there's actually three Georgia Tech –
Brian [13:12]: Well that's all professional education. So Georgia Tech only teaches professional education in three locations. Their main campus, then they have their Savanna campus, and then here.
Rico [13:25]: It's amazing. I mean Georgia Tech – everyone wants Georgia Tech. The other thing that the mayor talked about and we featured in the upcoming Peachtree Corners magazine is the, uh, Anderby Brewing that just opened. We'll be up there –
Brian [13:41]: Tomorrow night is their grand – their little grand opening.
Rico [13:45]: Gotta go. This is a great craft brew –
Brian []:13:47 Craft brewery?
Rico [13:49]: Yeah! First one in Peachtree Corners. I mean, brewing their own stuff.
Brian [13:52]: Right on the end of Curiosity Lab.
Rico [13:54]: We passed them coming in. I mean, this is great stuff. I mean it's just – the funny part was the mayor saying, "We know it's near the high school, but it's far enough so it's okay."
Brian [14:05]: We had a few people bring that up. But yeah, there – you know, all that stuff said, like state law in some cases and locally and it meets all the requirements-
Rico [14:17]: Um, so there was that, um, that – we saw the things that the mayor talked about. Then we had the city council meeting on Tuesday night. So I just want to go through a couple of things. I know Lazy Dog is going to be up pretty soon. They just, um, applied for their –
Brian [14:34] Liquor license, yeah.
Rico [14:36]: And that got passed. The other thing is that uh this – I don't know what this is. The MRPA – I should know what this is.
Brian [14:45]: Metropolitan River Protection Act.
Rico [14:46]: Ah. Okay. That was for the 55 law –
Brian [14:50]: Fiserv property.
Rico [14:52]: So they got approved? Or was that public hearing?
Brian [14:54]: It did. Well, and action items. So they got it approved.
Rico [14:59]: So what does that mean to them? Because people have been asking, what is that –
Brian [15:02]: Right. So, this is a hundred plus acres of development in the Chattahoochee River corridor. So it's a very complicated site both from an environmental standpoint, as well as because of its sheer size, there's a lot of, you know, back of house negotiations that the master developer has to do with lining up the team that's going to develop it. Because this is a mix of uses, so you've got different contractors that specialize in different types of housing. They've gotta line those up, they've gotta line up financing, they've gotta come up with the timing. Because, you know, they can go as high as – and I think it's 916 total units on the…And let's just say that they did that, and they may not, but you don't – at something that big, you don't build 916 units just…You tend to do it in phases and you've gotta master plan it out, so there's been a lot of work behind the scenes. But the first thing they have to do is, they have to get a certificate allowing them to develop within the protected river corridor. That's the Chattahoochee River. So that's what this was. The city and the Atlanta Regional Commission, the ARC, together we regulate state law. Which is the Metropolitan River Protection Act. This was us approving the fact that they've met the requirements when it comes to things like – how many trees that they want to remove, or how close to the river they can add impervious surface –
Rico [16:50]: So this is going to be different size buildings. From what I understand, at least going to be four or five story buildings towards the river because that's the lower end –
Brian [16:56]: That's correct. I think they can go as high as six stories up the other end that – where no one other than, like, Country Club of the South residents could see it, which is, you know, across the river, but –
Rico [17:07]: But they'll be able to see the river. It's a great view for, I mean, no matter how you look at it – living in a place like that it's a great view. And that's –
Brian [17:16]: And I think they recognize that. I mean, look. When you're 20 miles from downtown, show me another location where you can go on a property and literally be outside the view of anything else like you can on that property. You get in off of East Jones bridge and you wouldn't even know that you're not in the middle of nowhere. Along the river. And so I think they recognize that it's kind of – it's a unique place to build residential. And so your'e right. They're going to build everything from two-story detached residential to stacked flats, to townhomes, to condos, to multistory, you know…
Brian [17:58]: What they're doing is – I think it's supposed to be 55 and older. And as you get Ricoolder, there's memory centers, supposedly will come on three years into the development and stuff like that.
Brian [18:10]: So it's moving. I mean there's no doubt about it. It's just that, sometimes people have to have a lot of talk and public hearings for them to get their first special use permit. They think that as soon as it's approved they're gonna go. That was merely for the developer to know that they can do it, then they have a lot of work behind the scenes.
Rico [18:29]: Same thing with the apartment building and boutique hotel on Town Center. I mean that was approved over a year ago or longer, and they haven't done anything.
Brian [18:39]: Well they haven't done anything that we can point to. But there's lining up financing, there's deciding who's going to build this, there's the design of what is the building exactly gonna look like.
Rico [18:51]: Right, which they still have to come back and share. Um, Instant Mechanicsville – that area is also getting rezoned from M1, which is industrial office to residential.
Brian [19:03]: Yup.
Rico [19:04]: Um, what's going on there as far as –
Brian [19:07]: Well the request – so that was just the first rating. But that said developer wants to come in and build townhomes.
Rico [19:11]: In that area?
Brian [19:13]: In that area.
Rico [19:14]: Which is the oldest part of the city, isn't it? Mechanicsville is fairly old.
Brian [19:19]: It is. As a residential area, it is. You know, Pinckneyville and the Term is, you know, older as it relates to when it was referred to back in time. I mean the intersection and Spaulding and Medlock bridge – that's, like a corner that has existed when the Pony Express came through. I mean, so, there's some older sections of – But as far as a currently existing residential community, Mechanicsville is our oldest.
Rico [19:49]: So is that taking – that's only converting – it's converting about 20 acres.
Brian [19:53]: It's converting 20 undeveloped acres but that were zoned for an industrial use.
Rico [19:59]: So is that all empty land?
Brian [20:01]: It is undeveloped, just tree, just wooden land.
Rico [20:04]: So obviously no one's looking to do industrial there. There's no demand for it, but there is for townhomes.
Brian [20:11]: I mean, there is a demand for it, actually. I mean you get out there, go along Buford highway. You know, in that area. You've got – there's new recycling's got a big wing. So there's demand, but sometimes the demand is one thing, but the political, you know, interest in facilitating that is sometimes uh – and this, these parcels are at the edge of this neighborhood, so I would imagine…I mean they haven't voted on it yet. But normally, cities very – look very favorably on somebody wanting to rezone on an intensive use like manufacturing, you know, industrial to a residential. Because most people are like, okay.
Rico [21:00]: I'm actually surprised that it was M1 to begin with and it butts up to residential – it almost never happens that way.
Brian [21:07]: It has probably happened because it was industrial to begin with and some parcels got residential.
Rico [21:14]: Um, the next thing was the consideration of ordinance for the city. Nuisances – urban camping – that's the first that caught my eye. So let's go on about that. Are we having urban campers?
Brian [21:28]: Well, I mean, so urban camping is just, you know, a municipal way of talking about people who are sleeping out in public spaces. For various reasons – probably, you know, most of the time it's done by people who are homeless and they're moving around. But, yes, we have had some problems of late in the town green.
Rico [21:54]: Oh really? In the wooded area, likely?
Brian [21:59]: Yeah, or just out on the town green itself. And so we've had, you know, fortunately, there are instances where there are people who, you could argue, make a living from moving from location to location, and begging for money from those who are frequenting establishments there. So now we've got a bunch of retail and restaurant space and a location that people are going to. And so you've got the panhandling and…so they'll do that, and they'll sleep there overnight. And so we needed to have something so it's in violation – doing so is in violation of local law because it is public property. So somebody can say "I have a right to be here." We're saying, "You do, but you can't camp there."
Rico [22:51]: In Simpson Park – because it's a park and that's a camping park – I think they allow camping.
Brian [22:58]: I'm not sure they do. I mean it's because – you know – I'm not sure they do.
Rico [23:01]: You know they let the staff –
Brian [23:05]: Yeah, but that's probably under special – part of a special event permit. Jones Bridge I think has done the same – but I think you apply and they give you a special event permit for that particular thing. They say, "Hey, we're gonna be doing this."
Rico [23:23]: Yeah, I mean you can't just show up and camp. They're pretty good about controlling some of those things like that. Alright, so there's that. There was also resolution about the call for an election qualifying and all those things that have to be done on a regular basis.
Brian [23:39]: I mean, you know, so we all know that our staggered terms are every two years. So you know, this year, four of the seven are up for re-election. And so when that's the case, we have to set certain dates um and locations for our election within the guidelines of the state sets. And so that's what that was. Was setting the qualifying period, setting the location where you would go to the polls, setting the election dates.
Rico [24:12]: So is that – these – so this election won't be part of the county.
Brian [24:16]: That's correct. This is – there will not be any county vote in November. Unless they, you know, decide to hold some special election for something. If not, it will just be at City Hall.
Rico [24:30]: Do you see that changing next year during presidential election where – because I know there was a rule passed that allows cities to approach the counties that include the same election name to save space?
Brian [24:43]: Well, so, what you're referring to is the Gwinnett County board of elections had an actual prohibition of running, managing, the election for a municipality within Gwinnett County. Which we – I know absolutely for sure that no other metro-Atlantic county is that way. I think that, of the 159 counties, Gwinnett County was the only one that had that prohibition. So you're referring to the fact that that was removed. So now, Guinnett County board of elections could provide election services for municipality for a fee.
Rico [25:26]: Right. It's a governmental arrangement system.
Brian [25:29]: Right – what hasn't happened since then is there has not been a negotiated rate and all that stuff hammered out so that a city could say, "Yep, we want you to run ours." There's a lot of, you know, there's a lot of details in that because there's a lot of differences between if the county already had to open a precinct versus they didn't have to but a city wants them to open one special. So, like, you know, if the county is already going to be holding an election anyway at a certain location, you know, I think some cities are like, "Why can't we pay you based on whatever additional cost it would be to just add a line or add a, you know, to the ballot that they're already having to –
Rico [26:21]: Because right now, essentially, next year for example, nothing changes. Most people know you go to vote for your local precinct, you go to vote for the presidency, the Senate, Congress, whatever. And for me, that would be let's say at Peachtree Corners Baptist Church is my precinct. But then I'd have to go to City Hall separately to vote for my city council people. Which is, like, really –
Brian [26:47]: Well it really came up last November when the city and Gwinnett County has a special referendum. On – well actually it was earlier this year, it wasn't last November.
Rico [26:57]: Are you talking about the March Martyr thing?
Brian [26:59]: No no no, the Sunday alcohol sales. So they held a special referendum to change the start date – was it back from 12 to 11. And we did too. We wanted to put it to our residents. So, to go and vote for that, you had to go to your county precinct. And that was going to determine whether unincorporated Gwinnett County. And that – and then you had to go to the city – to City Hall to vote on whether the city could – and that kind of is what prompted this movement to say, "Wait a second, why is this prohibition in there? We're not saying any city has to use Gwinnett County board of elections, but if there's a fair price to pay to have, you know Gwinnett County board of elections, couldn't that option be there?" And that's where we're headed, but that has not been negotiated yet. So in our case, November and Gwinnett County Board of Elections doesn't have an election this November to do right now. So it'll just be City Hall and it'll just be municipal elections. We have four positions.
Rico [28:16]: Not bad.
Brian [28:17]: Which actually – four positions are up. There may not be candidates. In which case, they would not be on the ballots.
Rico [28:24]: Qualifying is going to be next.
Brian [28:26]: It's middle of August.
Rico [28:27]: Middle of August? Long way off, but if you're thinking about something, it's time to do it I guess. Um, anything else new? I know that you had a chance to speak, but I don't know if there's anything else from your department, from the city manager?
Brian [28:42]: I didn't have any updates at that meeting, no.
Rico [28:44]: Anything else that we should be aware of that's, uh, maybe coming up?
Brian [28:48]: I mean, you know, we're gonna be talking shortly about locations to put the video cameras that we budgeted for out. You know, we've talked about here soon –
Rico [29:02]: Security cameras –
Brian [29:03]: Right. The license plate reader video cameras that we'd like to make available to police department if we've got a crime that's been committed and they want to –
Rico [29:14]: So that's all budgeted and now you're just gonna decide –
Brian [29:16]: Yeah it's all budgeted. We're just gonna decide which intersections we want to put it in. You know, that's coming up, um…
Rico [29:24]: The – I know that the mayor also talked about the acreage. Um, several different options for that – almost six acres or –
Brian [29:33]: Yes. So you know, if you go to the town green, you know, two of the four sides if you consider the green a square, even though it's a circle, but you know, two of the four sides are developed. Center Vista on one, all the shops on another. Then the north side of it will have the townhomes. They're getting ready to go vertical. But the – essentially, the eastern side is currently in development. The city owns it, and we have wanted the town green to be activated and to watch kind of how it's playing out, and take feedback from our citizens on what we could do on that six acres to be a value add to the town green. So that discussion will be happening over the next three to six months as we again keep activaty – because this Saturday night we've got the Journey cover band. You know, so, we've got some – right. We've got some good events that have happened out there already and some more to follow. And we're learning and we're taking feedback and, well, we've got some things that are, you know, will be here before – 
Rico [30:49]: So Alex Wright – city councilman Alex Wright actually pointed out a few things that people pointed out that you guys may be adjusting. For example, the playground area, which may be adding some more, um, onsite playground equipment.
Brian [31:06]: There will be. We've just gotta decide which type and of course how much.
Rico [31:13]: And shelter from the heat.
Brian [31:15]: Well yeah, so correct. The slide – that one's already done. And that one's gonna be here soon. But yes, a shade structure over the side. But those are the kind of things, you know, feedback we're taking. Even having them manage the crowds over there. Talked about we may need to rope off an aisle or two to walk, you know, across it. Because we had the Queen Nation, literally was just –
Rico [31:43]: Six thousand people. That place was jammed with people.
Brian [31:47]: It was. It was great to see, but little things – little things that we're learning and our residents are telling us. "Hey, think about this." So we're gonna continue to improve it.
Rico [31:58]: I think some of the – I think there was some landscaping where they thought maybe – a slight hill where they could do some seating actually.
Brian [32:05]: Yup. We're looking at that.
Rico [32:07]: And I think the mayor also discussed either – those six acres could either be expanded into – discussed it at one point – either part of the town green maybe becomes, or it might be a pavilion that might be able to handle a hundred people at some party –
Brian [32:22]: It could be a mix of uses. It could be on the ground floor. You could have maybe covered event space or more seating. And then higher up, you could have, you know, anything from the commercial performing art center, more seating to overlook the green. I mean, the sky's the limit.
Rico [32:40]: And I found that interesting, you know, one of the options you pointed out was that someone actually – one of the companies actually approached the city to say, "What if we did, like, a four-story building and two stories down below would be the art center, and two stories above would be office space?" And I thought that would be a great way to actually help finance – 
Brian [33:00]: That's correct. And that's why we will have and will entertain some sort of potential public/private partnership on that. Because it takes what investment we make and it, you know, it –
Rico [33:13]: Maximizes and leverages –
Brian [33:15]: It does. Just a force multiplier to let us do more with less money coming out of our budget to go to it.
Rico [33:22]: That was exciting. That part was a decent way to go actually. Earth Fare – the empty store. Anything new on that?
Brian [33:29]: Um, well actually, there is – I mean, other – the owners just contacted us recently to say they think they may have got a scenario to where they're, you know, prepared to take over the lease from Earth Fare. And have it go to another tenant. So, that's about as far as I can –
Rico [33:49]: Can't tell us? Big boss –
Brian [33:51]: It would – it would occupy the whole thing. If this one plays out.
Rico [33:58]: Okay. Part of the entertainment district, it is?
Brian [33:59]: It is.
Rico [34:01]: And related to that, maybe? Just curious.
Brian [34:03]: Potentially.
Rico [34:06]: I have to push.
Brian [34:08]: Oh, I don't blame you. I mean economic development is a tough one. You know, sometimes you get excited, but you have to be cautiously optimistic because some of these things fall through.
Rico [34:19]: Oh, for sure. For sure. We've – I've kept Brian long enough. I think he has real important meeting to go to after this regarding Curiosity Lab at Peachtree Corners. So, great and local – well not a local, international company, really. And they have a local office. So he's heading out that way. So we want to say thank you to Brian for coming out, sharing his time with us. And also to say, look out for Peachtree Corner Magazine. It's going to be hitting the post office Friday, which means you should be getting it in your mailboxes early next week, if the post office delivers it on time and it's not three weeks late. But look forward to a cover story on Titan Pictures, on the movie industry in and around Peachtree Corners. The boy scouts, the Gwinnett swim local team won the Gwinnett swim championship, which is cool. And a lot of other stuff that we have packed in there. So that's coming out and, that's it. Thank you all, appreciate it.
State of the City, Takes Us into the Future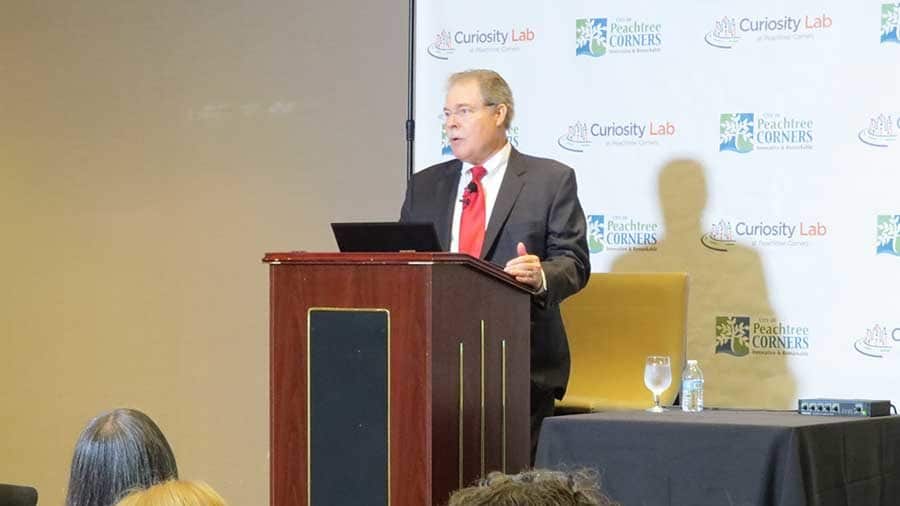 Mayor Mike Mason shares the city's accomplishments and where it's heading in terms of jobs, business growth, and a smart technology
Mayor Mike Mason delivered his annual State of the City Address to a full house on Monday night. Over 180 Peachtree Corners residents and representatives from the business community were on hand to hear his 6th annual address held at the Marriott Hotel on Technology Parkway.
In his presentation, Mayor Mason talked of the city's vision and pointed to the successful completion of the 21-acre Town Center which has brought people from near and far to shop, dine in one of the 15 new restaurants and take in the sights and sounds of the two-acre Town Green where family activities and outdoor concerts are held.
The mayor spoke about the tremendous success of the new Town Center, which created 28 new businesses and 528 new jobs. The Town Center is expected to bring in $1.3 million in annual sales tax revenue and $15.4 million in annual sales.
He pointed to the rise of home values which are up 10.6%, and the downward trend of office vacancies which has dropped from 25.1% to 19.4%.
Technology Park, which is the economic engine of the city, has seen a significant increase in new technology-based businesses that are moving into the 500-acre park. Some of the recent businesses included Brightree, a cloud-based software company which is moving into the former Honeywell location. The building is currently undergoing major renovations. ASHRAE, a top leader in developing standards and guidelines for indoor-environment control technology, is remodeling and retrofitting the old Recall building into a showcase for its latest HVAC&R. 
At his annual address, he noted that the city's efforts to create a master plan to transform Technology Park, has paid off.  First imagined in the 1970s by the city's founder, Paul Duke, the park, is being re-imagined into an innovation hub. The plan incorporates the addition of research institutions, entrepreneurial training and mentors, professional networks, enhanced walkability, public space and mixed land use.
The city's plans to add over 11 miles of multi-use trails throughout the city continues. The mayor announced a new section, the Crooked Creek Trail, that is currently in the planning stages. The 2.4-mile section is designed to help spur redevelopment along the Holcomb Bridge Road corridor. The new amenity will connect to nearby Crooked Creek Park in Sandy Springs. A majority of funding for the $2.4 million project will come from federal and state sources along with a $300,000 grant from the ARC.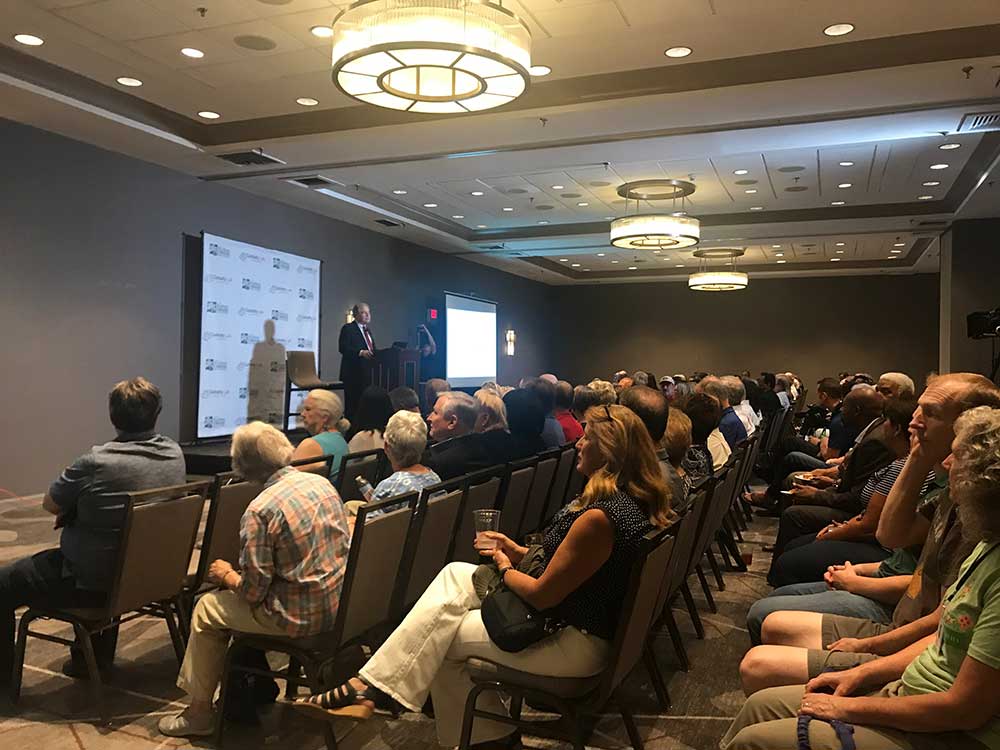 Additional Highlights:
The city has invested $20.3 million in infrastructure improvements since 2015 on roads and sidewalks including repaving over 6 lane-miles of city streets and the installation of 3.5 miles of sidewalks just last year.
City purchased 5.7 acres adjacent to the Town Green which could be developed into a performing arts facility, an expanded Town Green, event or gallery space. The public will be invited to weigh in on the possibilities for this tract of land.
Construction on the pedestrian bridge will begin in the next few months, the botanical garden will follow.
Curiosity Lab at Peachtree Corners, the city's intelligent mobility and smart city living laboratory, is under construction and drawing interest from around the globe. Consisting of a 1.5-mile autonomous vehicle test track and 25,000 square-foot technology incubator, Curiosity Lab is located within Technology Park Atlanta and expected to be complete later this year.
The city is now one of only three locations where Georgia Tech Professional Education classes are taught on-site. Students attend classes to learn computer coding and data science and analytics at Prototype Prime located in Technology Park.
Work is underway to finish the construction of the multi-use trail around Technology Park Lake and eventually connect to the Town Center.
The city's first brewery, Anderby Brewing is opening in Tech Park in late July.
In 2019 the city's Finance Department earned two coveted awards: Excellence in Financial Reporting Award and the Distinguished Budget Presentation Award.
Smart 50 Award: Among the thousands of applicants worldwide, Peachtree Corners won the 2019 Smart 50 Award in the mobility category from Smart Cities Connect for its Curiosity Lab project.
"The state of the city is great," said Mayor Mike Mason. "Soon, we'll look at designing the next phase of Town Center, finish constructing the trail around Technology Park Lake and begin work to connect to the Town Center. This year we'll complete the construction on the autonomous vehicle test track and continue our efforts to incentivize redevelopment in the Holcomb Bridge Road corridor. We will also continue adding amenities to Technology Park such as transportation, recreation, dining, housing, and education."