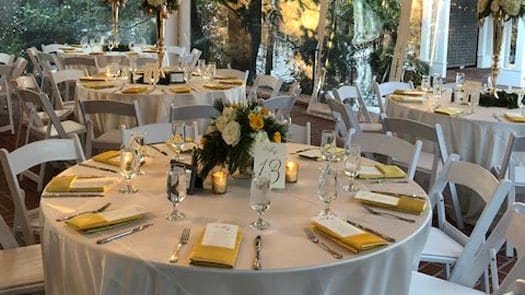 One of Fourteen included in Our Great Spaces for Your Corporate & Holiday Events
Flint Hill
539 South Peachtree St
Norcross 30071
770-263-7669 Ext. 101
magicweddingvenues.com/venues/flint-hill
Less than four miles outside of Peachtree Corners is a stately antebellum home located on a peaceful lawn in Old Norcross. If you love the idea of having a holiday party in an elegant, historic home, look no further than Flint Hill. During the month of December enjoy the tasteful Southern Elegance twist on holiday décor.
Sales Director Logan Fehrenbach described what is music to the ears of those who appreciate the charm of older homes, "…you will find this historic home abounding with character… From the original flooring, doors, and mantels, to the beautiful large wooden bar, this special event venue… is a step back in time."
Do the Jingle Bell Rock while taking a Step Back in Time
Through the paned glass windows of The Grand Ballroom where up to 180 guests can be seated, mingle, and dance the night away, one can view the manicured courtyard and access it through French doors.
The French doors also give way to The Covered Pavilion where up to 100 guests can be seated. This area can also be used as an outdoor dance floor. "Equipped with an extra bar and custom-fit sidewalls for the winter months, the covered pavilion is a grand addition to any special event," said Fehrenbach.
The Courtyard with its lush greenery can seat up to 130 guests.
The home can accommodate a cocktail style reception of up to 200 guests inside. The maximum number of guests in the home and surrounding areas is 275.
How About a Holiday Party at Flint Hill?
Flint Hill is a full-service facility that hosts customized special events. You'll meet with a complimentary Venue Coordinator who will help you with menu selections, a timeline for the event, and go over the layout of the facility, as well as the specifics of your event.
Their skilled team takes care of all of the set-up and break down, allowing you and your guests to simply show up and be present in celebrating together. This special event facility takes care of all of the necessities such as food, beverage, decor, and staffing—all in a one-stop-shop. "We strive to ensure that all of our clients have a fun and stress-free planning process with us," said Fehrenbach.
A Divine Event is the exclusive vendor of all food, beverage, décor and staffing for this property. They offer award-winning holiday menus for the month of December. "We have a wide variety of menu options from holiday menus, brunch menus, southern style menus, Indian Fusion menus, classic style menus and more! We offer multiple styles of food services including: Cocktail Party-style buffets, formal buffets, interactive food stations, plated seated and served, late night stations and dessert stations," divulged Fehrenbach.
Book it!
If you have your heart set on a particular date, it is recommended that you book 12-15 months in advance. For holiday parties, they usually book between three and five months out. However, they can host an event in as little as a 60-day booking window if the home is available.
Standard contract times for events at Flint Hill are five hours, with the opportunity to add additional time if desired. For holiday parties, however, they do offer the option of a three-hour block of time.
All event pricing is customized based on headcount, type of food service, and beverage package selections. Food and beverages are charged at a per person rate determined by the type of food service one selects and the beverage package one intends to offer guests.
Flint Hill will serve alcohol to guests 21 years of age and older. Some options include Beer and Wine, Full Bar, Coffee Stations, Signature Drinks, and Table Side Service.
Pricing for corporate or personal holiday events:
Low: $5,000
Mid: $9,000 – $15,000
High: $16,000 – $22,000
Call Sales Director Logan Fehrenbach to inquire about this beautiful, historic home as the venue for your holiday event at 770-263-7669 Ext.101.
Disclaimer: Pricing is meant as a guide and is subject to change, please check with the individual facilities directly.
Local Ingredients from Georgia Grown To Go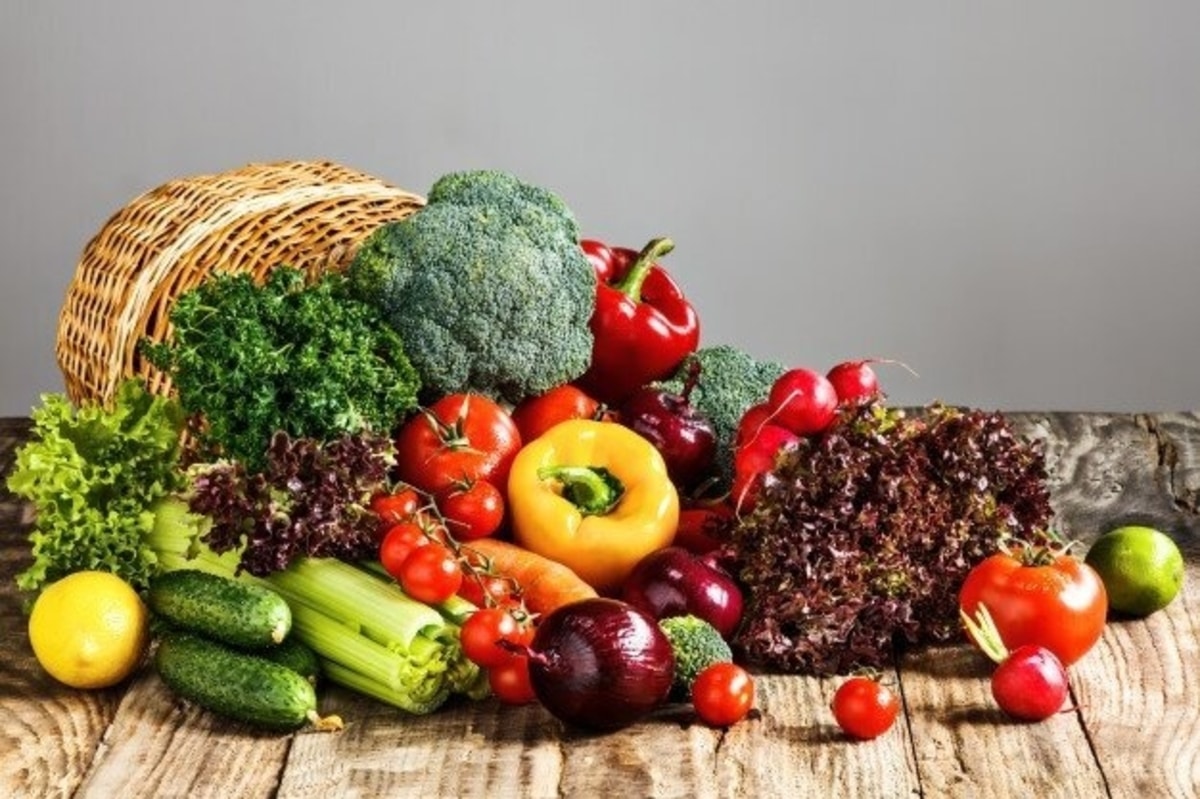 Now is your chance to stock up on fresh, local produce and meat before your Independence Day cookout. Residents can pre-order boxes of produce from local farmers for a reduced rate online at GeorgiaGrownToGo.com. The next event is Tuesday, June 30, 3-7 PM, at 4780 Hugh Howell Road, Tucker, GA.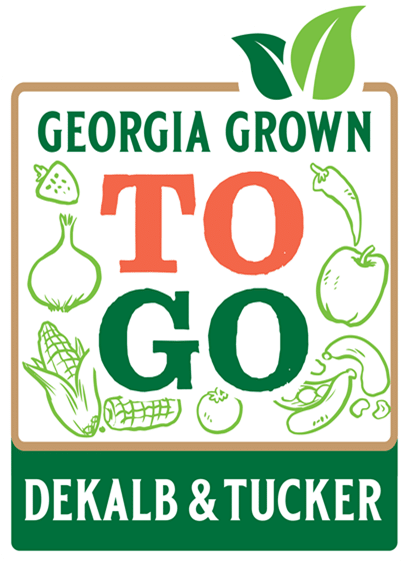 The Georgia Grown baskets will feature these fresh items: Zucchini, Yellow Squash, Bell Peppers, Cucumbers, 2lb of Vidalia Onions, Sweet Corn, Eggplant, Cantaloupe, 1lb of Jalapeno
Other items available for purchase include watermelons and boxes of beef, chicken, sweet corn, peaches, mushrooms and Vidalia onions. Whether you're grilling out or staying in for the holiday, you can support local farmers with these fresh choices.
Orders will be available for contactless pickup at the event site, and a limited supply of items will be available for same day purchase on a first-come, first-served basis. Contactless payment options, cash, credit and debit cards will be accepted. Residents can also support their community by donating a box to a neighbor or local charity.
The last event before this one was hosted in Gwinnett County at Coolray Field Thursday, June 25. Georgia Grown, an initiative of the Georgia Department of Agriculture, partnered with Gwinnett County Government, Live Healthy Gwinnett, the Gwinnett Stripers and Explore Gwinnett to host the event.
"It is because of the great support from our community leaders that our Georgia Grown To Go events have been so widely successful," said Georgia Agriculture Commissioner Gary W. Black. "We are honored to once again team up with the great folks in Gwinnett County to not only help bridge the gap between our farmers and consumers, but to also expand the offerings to include melons, protein and value added Georgia Grown products just in time for the upcoming holiday."
To learn more and place an order for upcoming events, visit GeorgiaGrownToGo.com.
Source: Press Release by Georgia Grown
The New 'Baked Kitchen' Food Truck Serves Safely Throughout Peachtree Corners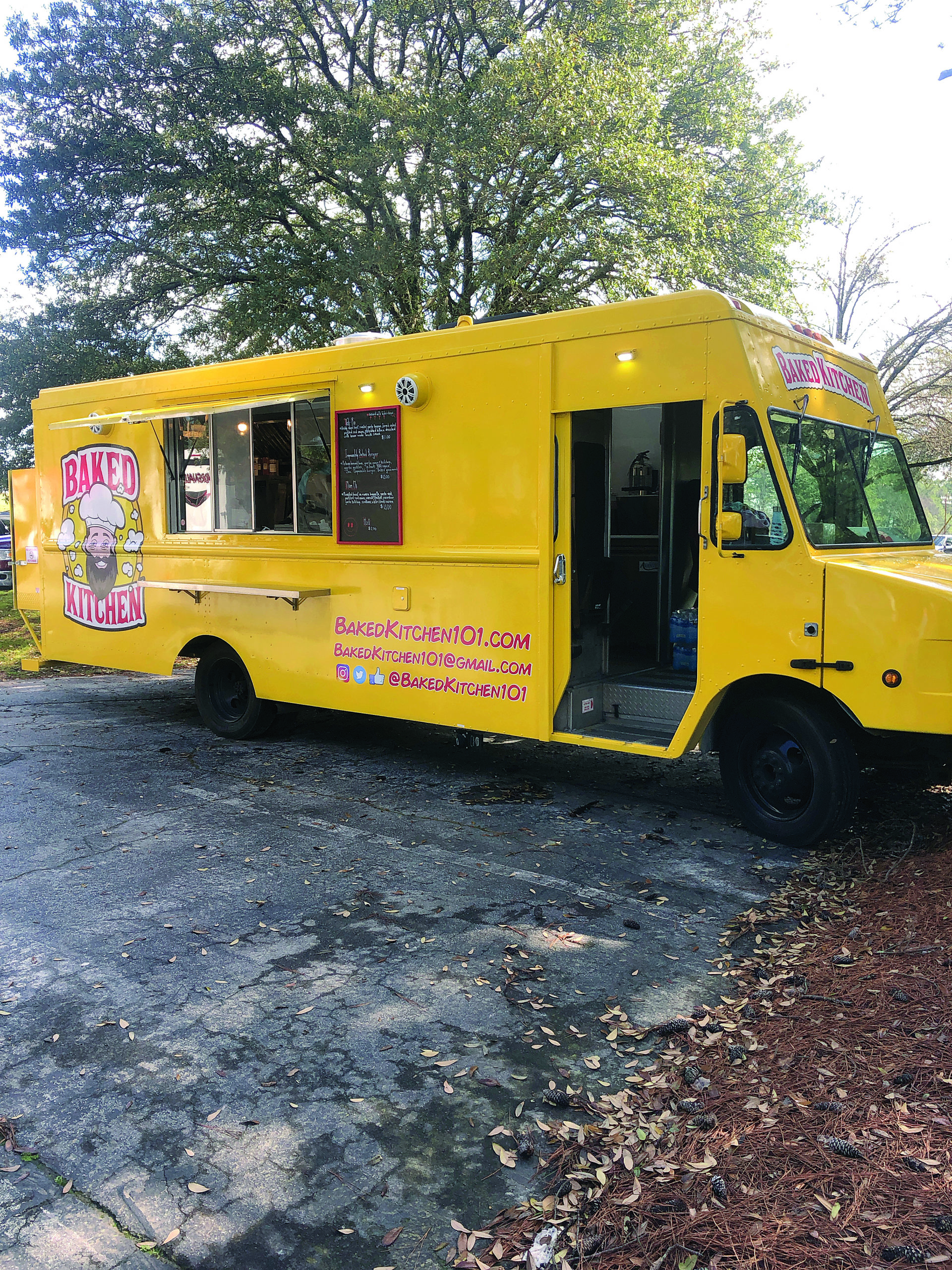 Take a bite out of something different from Baked Kitchen! Their eclectic international menu travels your taste buds, with flavorful wraps, sandwiches and desserts. The Katzef family owners have called Peachtree Corners home for 26 years. In January 2020 they invested in a food truck and started operating their business February 2020.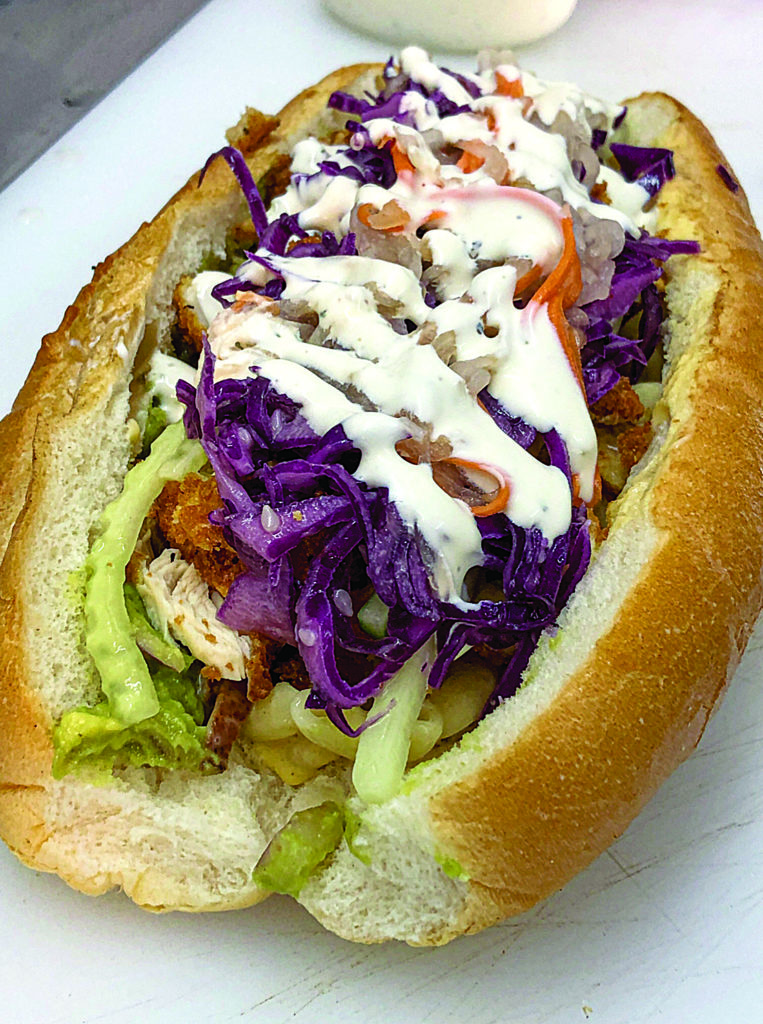 Marketing Manager Nikki Katzef had the calendar booked for events, breweries and festivals for the next few months. Then COVID-19 hit. The family came up with a plan to reach out to subdivisions and apartment complexes to offer online ordering and curbside pickup. Chef Allan Katzef cooked up a menu and Baked Kitchen was once again on the move. To find out where the food truck will be next, check out their Facebook page at facebook.com/BakedKitchen101. ■
8 Places to Get Steaks & Burgers in Peachtree Corners
Firebirds Wood Fired Grill
Firebirds Wood Fired Grill is known for their perfectly cooked meat, and their renowned Filet Mignon is no exception. This dish is center cut is wrapped in delicious applewood bacon and served with your choice of a side dish. The meat is tender and flavor-packed.
While it's on the pricey side, customers say that the quality and taste makes it all worth it. Experienced diners recommend that you pair this dish with the spinach salad or the Parmesan mashed potatoes for the best possible dining.
And with Father's Day on June 21, what better way to celebrate Dad than with delicious Firebird's specials? There are 4 ways to do just that, as outlined in our recent post "4 Ways to Celebrate Dad at Firebirds Wood Fired Grill". Dine in, cook a feast at home, or pick and choose. It's all delicious.
5215 Town Center Blvd, Peachtree Corners (770) 225-4662 | firebirdsrestaurants.com
Ted's Montana Grill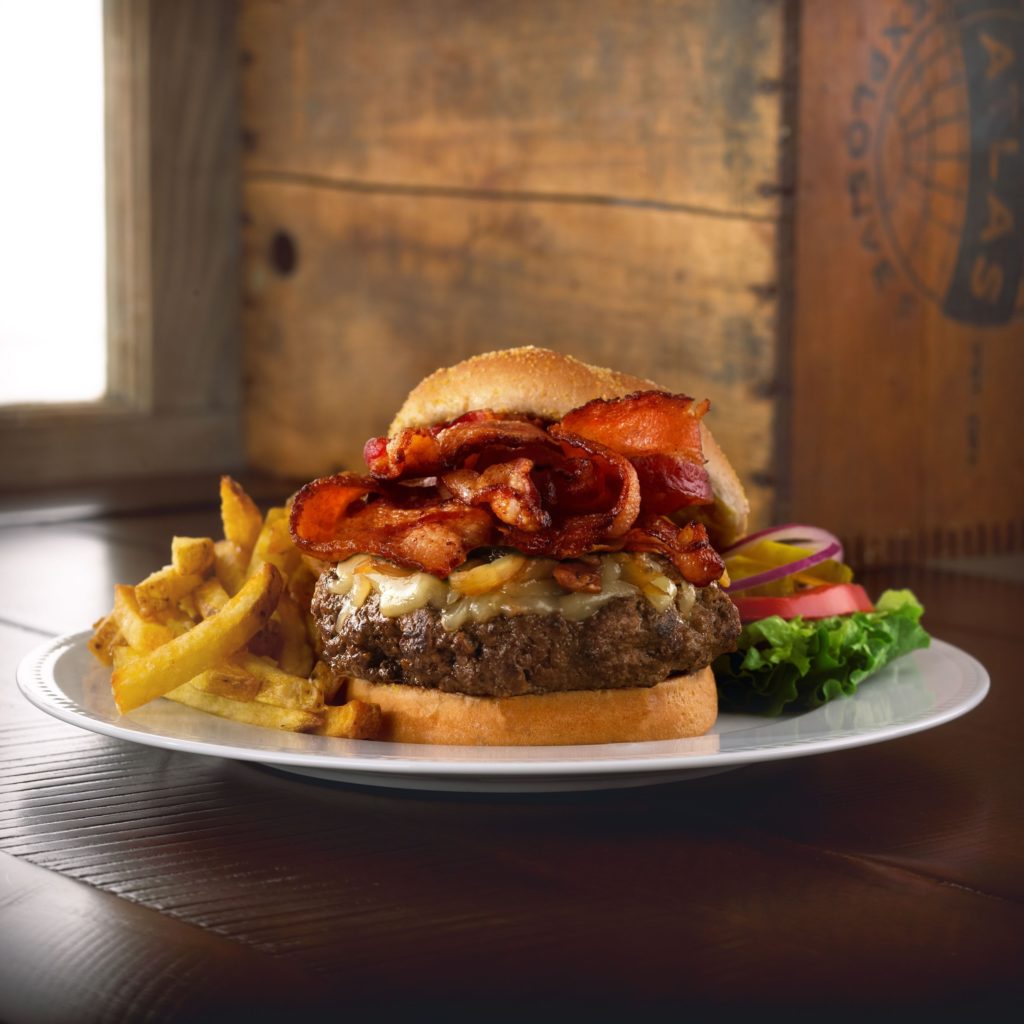 Ted's Montana Grill's world-famous Bacon Cheeseburger has everything: a perfectly cooked patty, fresh toppings and full flavor. The burger comes with the option of any of Ted's regular or premium sides, but critics say pairing it with the salt and pepper onion rings is the way to go.
For an even tastier experience, follow this dish up with Ted's Apple Pecan Crisp, which includes delicious apple pie, caramel sauce, a crunchy oatmeal pecan crust and vanilla ice cream.
5165 Peachtree Pkwy #205, Peachtree Corners
(678) 405-0305 | www.tedsmontanagrill.com
Burger Fi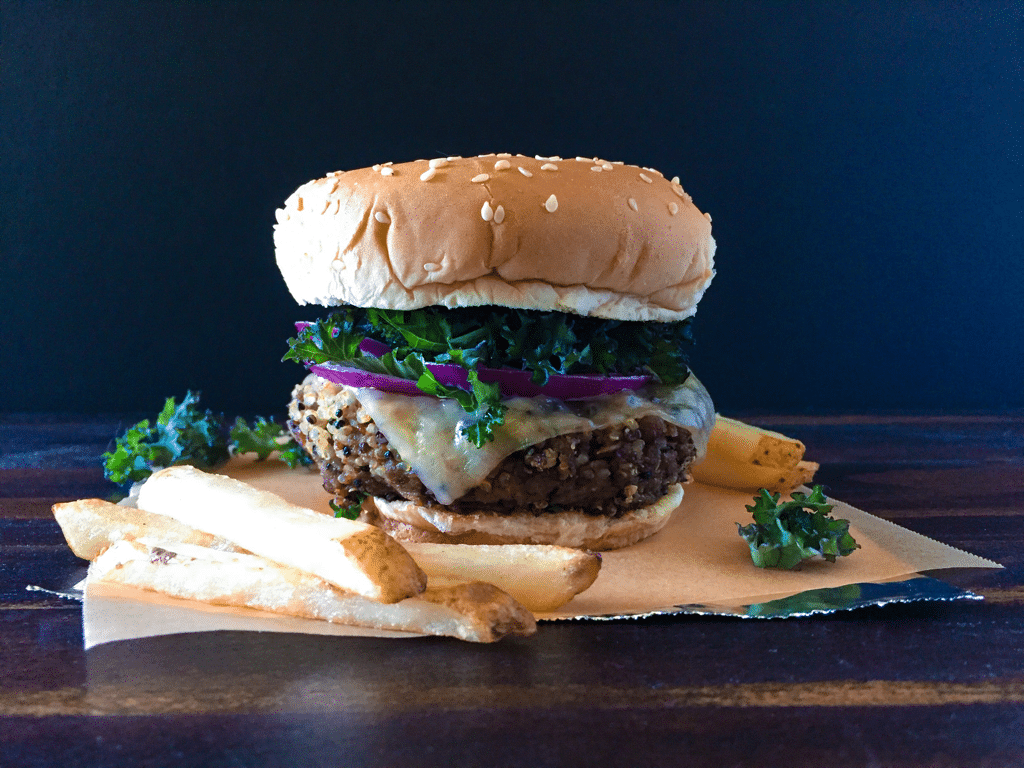 For vegetarians, or anyone who isn't a beef fan, BurgerFi's VegeFi Burger is a great option. It includes a vegan multigrain bun, a fresh-made veggie patty, BurgerFi sauce and your choice of toppings. It also comes with the option of one of the three sides: hand-cut fries, onion rings or the tasty Cry + Fry basket combo. To complete this already perfect meal, indulge in one of BurgerFi's creamy milkshakes which comes in many flavors, including Red Velvet, vanilla, chocolate, black + white, strawberry, Oreo and coffee mocha.
6141 Peachtree Pkwy #200, Peachtree Corners
(470) 375-6993 | www.burgerfi.com
Dog Days Hot Dogs & Burgers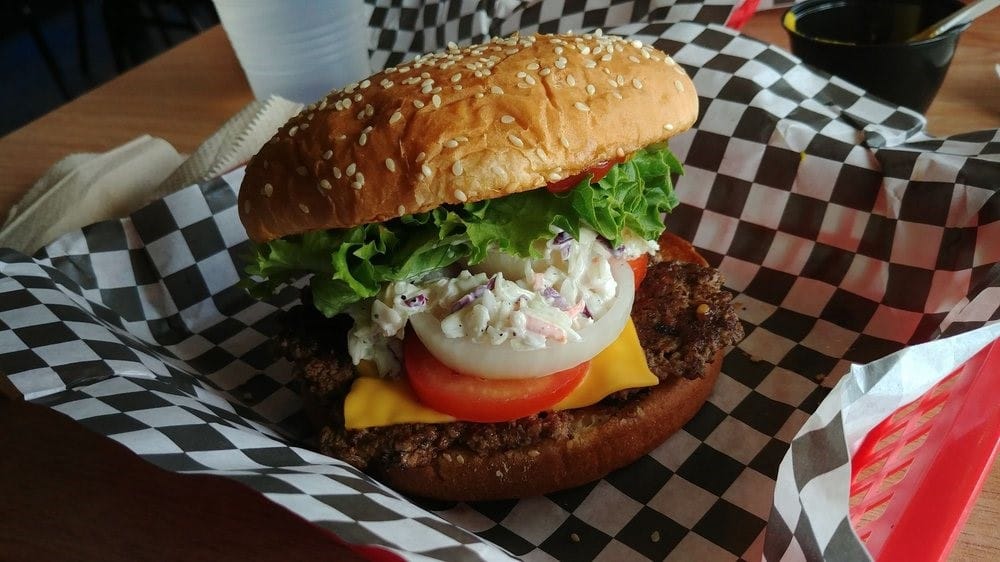 The All-American Burger comes in three patty sizes: 6-oz., 1⁄2-pound and 12-oz. It's topped with American cheese, onions, tomatoes and lettuce. It's an all-time fan favorite at Dog Days Hot Dogs & Burgers because of its unforgettable flavor and classic taste.
This meal comes with your choice of side, but experienced diners recommend the cheesy cheese totchos, which are tater tots covered with mac and cheese, cheddar, mozzarella and nacho cheese sauce.
6025 Peachtree Pkwy #3, Peachtree Corners
(770) 449-7433 | dogdayshotdogs.takeout7.com
Marlow's Tavern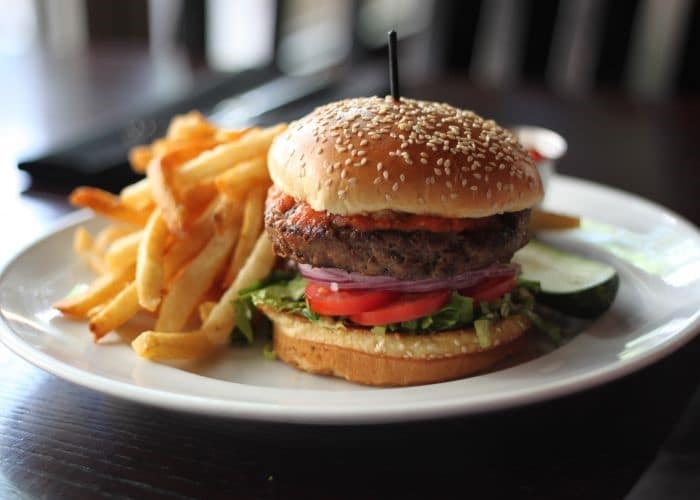 If you're dining at Marlow's Tavern, the Classic Tavern Burger is a must. While the burger is simple, the delicate seasoning and fresh toppings take it to a whole new level. The burger comes with a toasted sesame brioche roll and the delicious house-made tomato bacon jam.
Marlow's Tavern also offers a grilled chicken patty substitute for those who don't eat beef. To top off this perfect meal, order a side of Marlow's hand-cut Tavern fries.
5210 Town Center Blvd Suite 260, Peachtree Corners
(470) 550-1197 | www.marlowstavern.com
BurgerIM Gourmet Burgers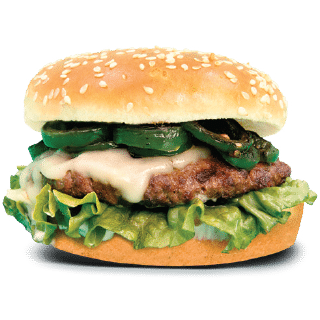 If you're dining at BurgerIM, you need to try the Spanish Beef Burger. It's a nicely grilled patty topped with grilled jalapeño, leaf lettuce and pepper jack cheese. The flavors go together wonderfully, but the jalapeño peppers add a kick of spice that isn't for everyone.
BurgerIM also offers you a choice of premium toppings, but I recommend adding bacon for some extra crunch. If you aren't sure what kind of burger you want, BurgerIM also gives customers the opportunity to try multiples with their duo or trio packs.
5135 Peachtree Pkwy NW Ste#925, Peachtree Corners
(770) 676-9358 | burgerim.com
Farm Burger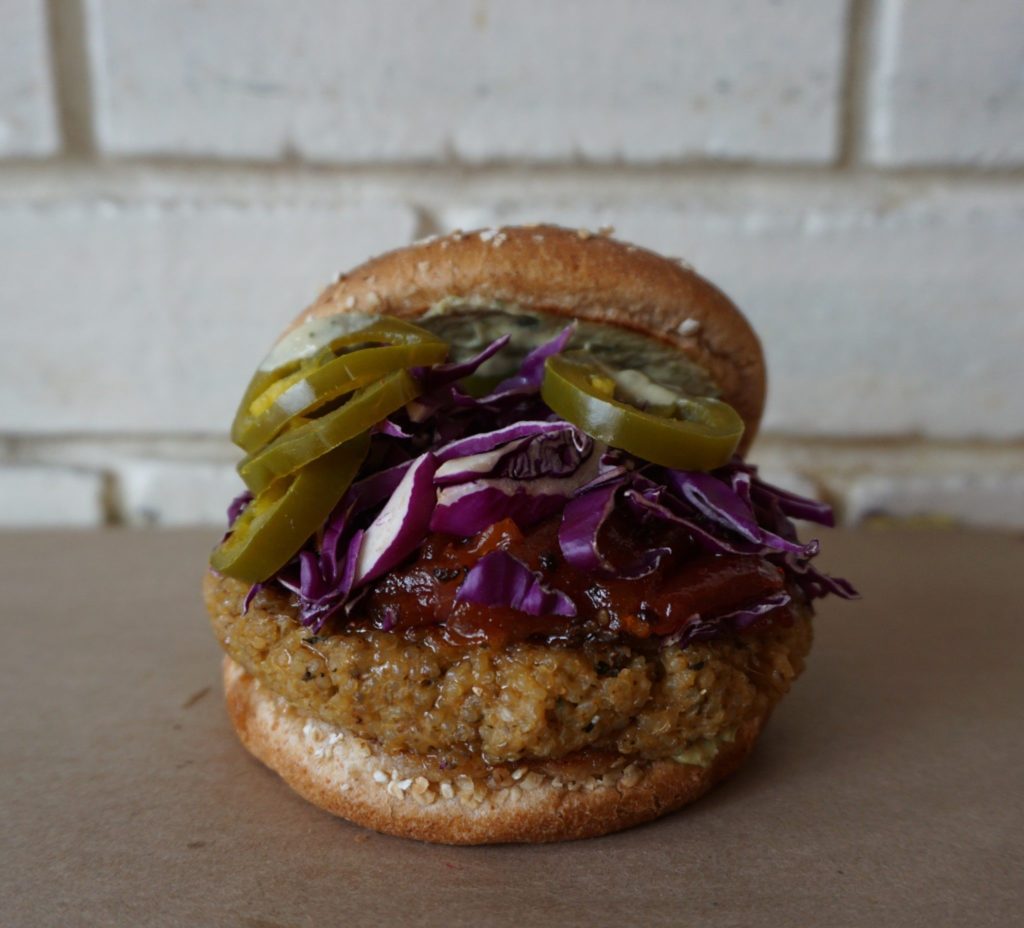 Farm Burger's No. 2 Housemade Veggie Burger is another great alternative for vegans or vegetarians. The patty is made out of quinoa, black-eyed peas, kale, roasted mushrooms, sweet potatoes and spices that pull all the flavors together.
Veggie Burger pairs well with the Farm Burger fries, which are hand-cut, tossed with spicy garlic and covered in parmesan and herbs. For dessert, indulge in the Farm Burger classic chocolate milkshake, which gets sweeter with every sip.
5170 Town Center Blvd Suite 410, Peachtree Corners
(678) 691-6222 | farmburger.com
Cheeseburger Bobby's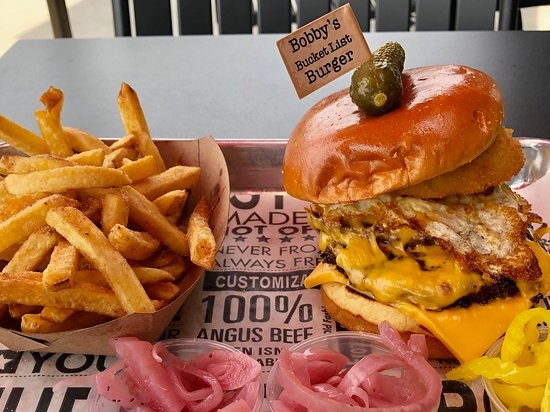 Even though Cheeseburger Bobby's classic burger is legendary, the Bucket List reigns supreme. This dish, which can be ordered off Bobby's Specialty Burger List, includes two perfectly grilled beef patties, a fried egg, an onion ring, American cheese, Bobby's sauce and a pickle.
While this sounds like a hodgepodge of different foods, the flavors meld perfectly with every bite. Pairing this burger with a side of freshly made onion rings makes the meal even more enjoyable.
6050 Peachtree Pkwy #140, Peachtree Corners
(770) 300-0032 | cheeseburgerbobbys.com
Other Bites
Redland's Grill
Suggestion: Filet Kabob
redlandsgrill.com
Pub Ten
Suggestion: Mac Burger
pub10.com/
Ba Bellies
Suggestion: Shaking Beef "Bo Luc Lac"
babellies.com
Ten Bistro
Suggestion: 50/50 Burger
tenlocalflavors.com
Three Dollar Café
Suggestion: Fajita Burger
threedollarcafe.com
Tavern at Medlock
Suggestion: California Burger
tavernatmedlock.com
JR's Log House
Suggestion: Country Fried Steak and Gravy
jrsloghouse.com
Loving Hut
Suggestion: Vegan Burger
lovinghut.us/norcross/
Mojitos Cuban American Bistro
Suggestion: Palomilla Steak
mojitosbistro.squarespace.com
Lazy Dog Restaurant & Bar
Suggestion: Bison Burger
lazydogrestaurants.com/locations/
peachtree-corners-ga