Great Spaces: Osteria di Mare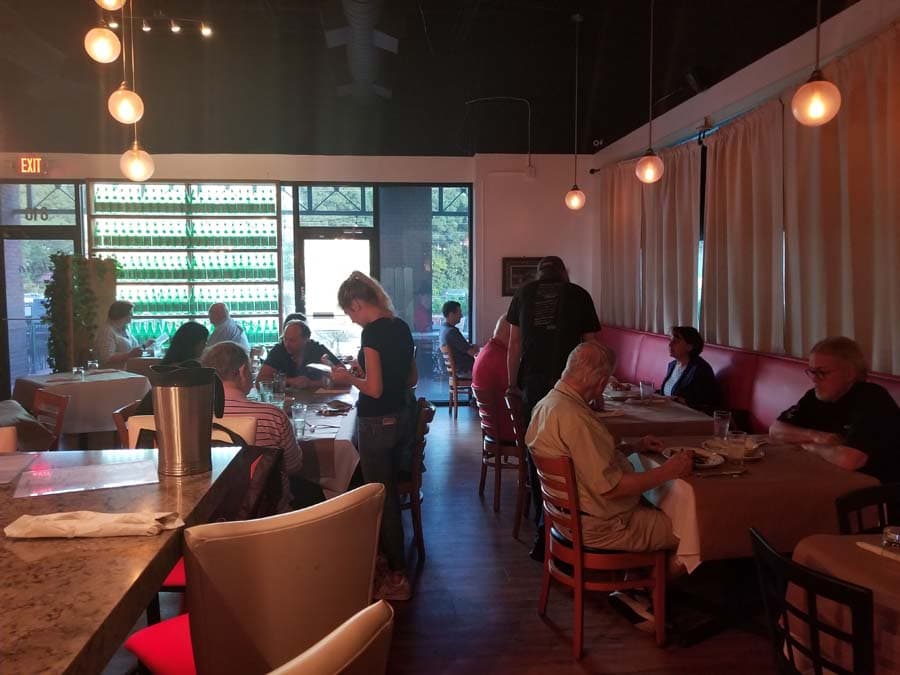 One of Fourteen included in Our Great Spaces for Your Corporate & Holiday Events
Osteria di Mare
5005 Peachtree Parkway
Peachtree Corners 30092
678-691-0344
osteriadimare.weebly.com
It's easy to understand why Miami native and Osteria di Mare Owner Andrew Hoppen knows his way around seafood. He first launched the seafood-centric Taqueria del Mar in Peachtree Corners. More recently he's also been regaling residents with this cool, little Italian spot since he opened-up two years ago.
Some of his regulars joined me at the white leather chair lined bar where I waited to speak to him in between errands. They were very friendly and raved about him as he slipped in and out of the kitchen, and zipped to and fro, pouring wine behind the bar and serving customers in the dining room. It's a cute, little spot with an exposed brick wall bearing the logo, and a wall of San Pellegrino bottles glowing green in the front window.
If you'd like to celebrate the holidays with a little taste of Italy, there are a number of ways to go about it. Hoppen and his team can be amenable to pretty much anything you have in mind in their all-scratch kitchen and provide your guests with 5-star service whether it's a corporate function or a gathering with family and friends.
"We're flexible. We can do anything from simple hors d'oeuvres, a pizza party, to steak and lobster, and anything in between," said Hoppen.
When You Have a Holiday Party at Osteria di Mare, That's Amore
While there is no private event space here, a portion of the dining room can be dedicated to your holiday gathering for no fee. So, if privacy is not a concern for you, there is room for a party of 30 people taking up two rows, during regular business hours.
If you want to reserve the entire restaurant which seats up to 80 invitees for your function, there is a minimum spend of $2000. "It's easy to get to that—food alone would do it," said Hoppen.
One can opt for either a seated dining experience or a cocktail hour style reception at Osteria di Mare.
Patrizia Winsper with owner Andrew Hoppen
How About a Holiday Party with Osteria di Mare?
This locally owned and operated Osteria can make your holiday party plans work, however simple or elaborate your vision may be.
Hosts can view the catering menu selections on their website. One can also order from the regular menu for an event. Almost everything on the menu is gluten-free. They even carry gluten-free pasta, from an Italian supplier, naturally. There are plenty of vegetarian options on the menu, and almost all of their dishes can be made vegetarian.
Good News! Osteria di Mare offers complete off-site catering from boxed lunches, to buffets, to full service with bartenders and servers. They can provide virtually anything patrons need.
Boardboxes.com is Hoppen's latest venture, providing boxed meals and highly stylized charcuterie boards of all sizes. These are the Ultimate Grand Supreme of meat and cheese boards. Imagine a 20-foot-long charcuterie board surrounded by live foliage, artistically arranged by a florist, all set up down the middle of a long table, like a table-runner, filled with an assortment of cured meats, cheeses and crackers—enough to feed 800 people! The items repeat all the way down the table, so everyone has access to the full assortment of the delicious spread.
Book it!
Depending on how extensive the party is, you could plan to have a party here in as little as two days. They're only open for dinner Tuesday – Saturday, so it would be easy enough to open for lunch on any day during the holiday season, which they often do, to allow for several corporate lunches.
Any event that fits in during their "off" hours is fine with them, in fact that's when they prefer to do most of their party business.
A private party is considered catering and treated as such. Generally, there is a per person charge. Alcohol is charged by consumption. They are open to providing drink tickets for those interested. It's a good way to ensure everyone has a maximum of two drinks at a corporate event, for example.
Low: Charcuterie platters under the $6 to $8 per person range.
$8 to $10 Appetizer bruschettas, light hors d'oeuvres and alcohol priced per whatever you order.
Mid: $12 to $18 Pastas, pizzas, including salads in place of appetizers, bread, and dessert. Appetizers can be included for an up-charge.
High: $20 to $30 Steak, seafood, pastas, a combo of anything from lower tiers, sides, salads, bread, and dessert.
Customized charcuterie platters can be built to any proportion and built-in to all of the tiers. If you'd like to get on board with a holiday party at Osteria di Mare, contact Owner Andrew Hoppen at 678-691-0344.
Disclaimer: Pricing is meant as a guide and is subject to change, please check with the individual facilities directly.
Friday Night Markets Coming to Town Green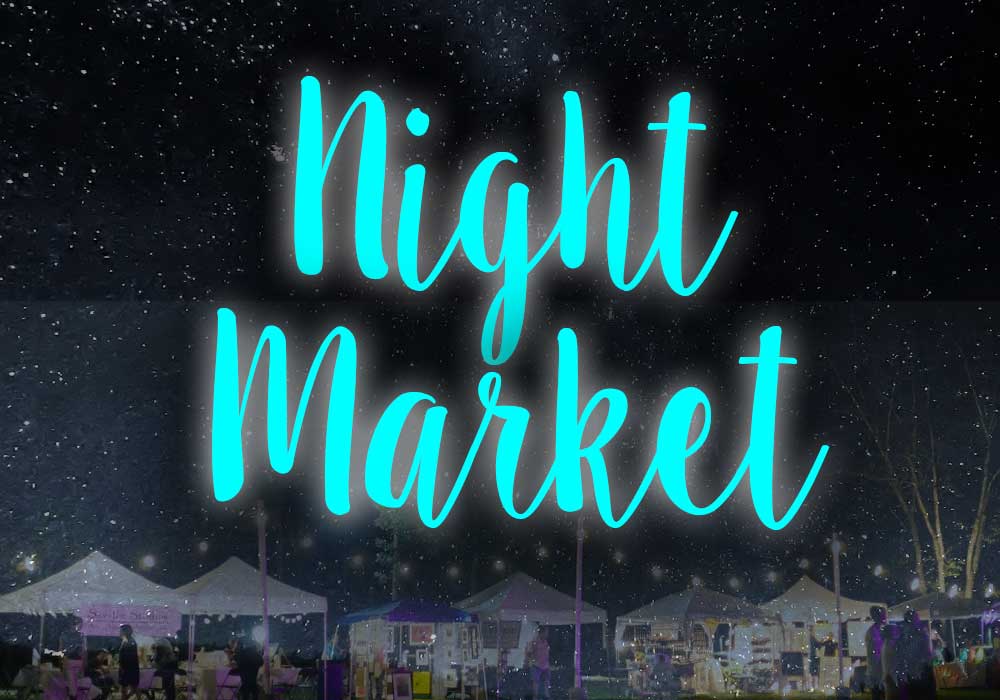 Peachtree Corners' latest planned event, The Night Market, will take place once a month on Fridays beginning in May through October from 6:30 p.m. – 9:30 p.m.on the Town Green at the new Town Center.
The Night Market will feature local farmers with fruits vegetables and natural meats, gardeners with fresh flowers and herbs and makers of all sorts of edible home goods from desserts and bread to local raw honey and homemade sauces jellies, and soaps.
A select number of local artists will also be featured monthly and showcase their locally created fine art and premium hand-crafted goods.
We are expecting an attendance of more than 500 at each for this event. Our vendor fee will be $25 per event for a 10′ x 10′ space. The dates for each month are May 8, June 19, July 10, August 7, September 11, and October 9.
If you are interested in being part of the group of vendors displaying homegrown and handmade items at the Night Market, please use this link to apply: https://www.eventeny.com/events/The-Night-Market-407/
Live music will be featured at each Night Market to add to the entertainment of the evening. Access the City Calendar for details on which band will be playing for the May, June, July, August, September and October Night Markets.
The Town Green is located at 5140 Town Center Boulevard.
6 Places to Eat Asian Food in Peachtree Corners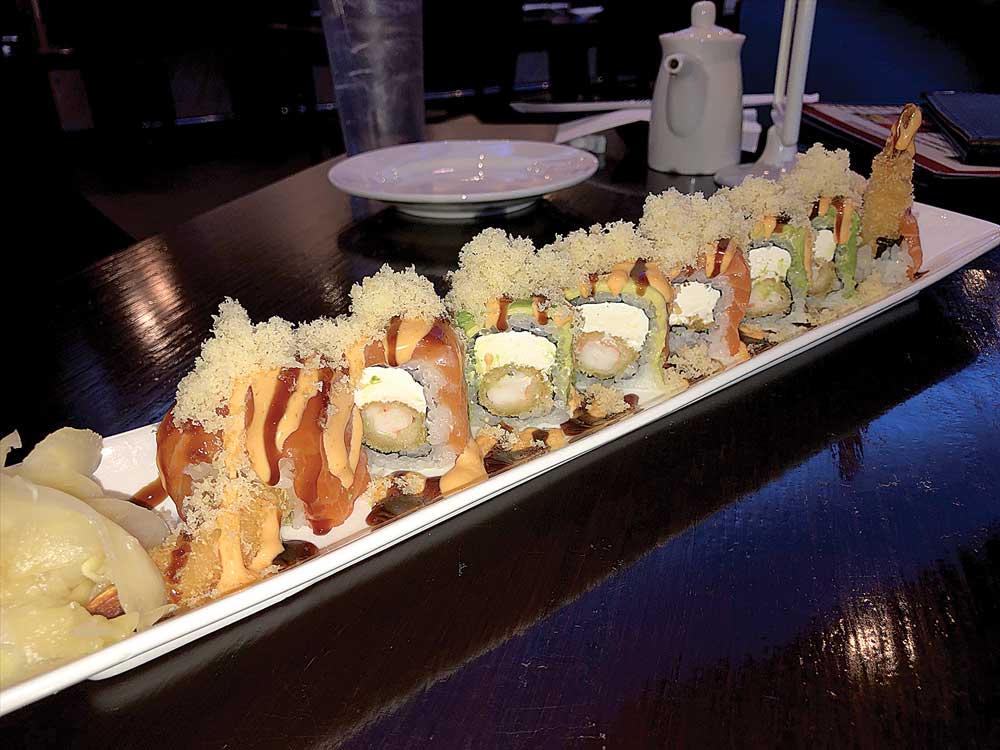 Aomi Japanese Restaurant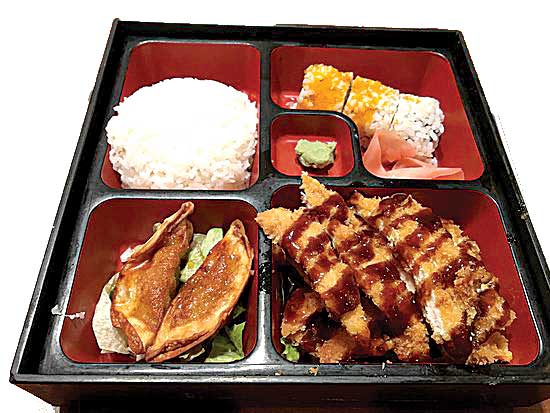 The new go-to lunch dish at Aomi Japanese Restaurant is the Chicken Katsu Bento Box. This chicken explosion is deep-fried after being breaded in their signature Japanese panko, then served with shrimp and vegetable tempura, crunchy shrimp rolls, two-piece gyoza and soup or salad. Aomi has not only perfected their lunch menu, but also their hibachi show at night! Offering a variety of meats and sides, Aomi covers all tastes for every customer.
5145 Peachtree Parkway, Suite 470A, Norcross 30092
aomijapanese.com/norcross.html
Lon U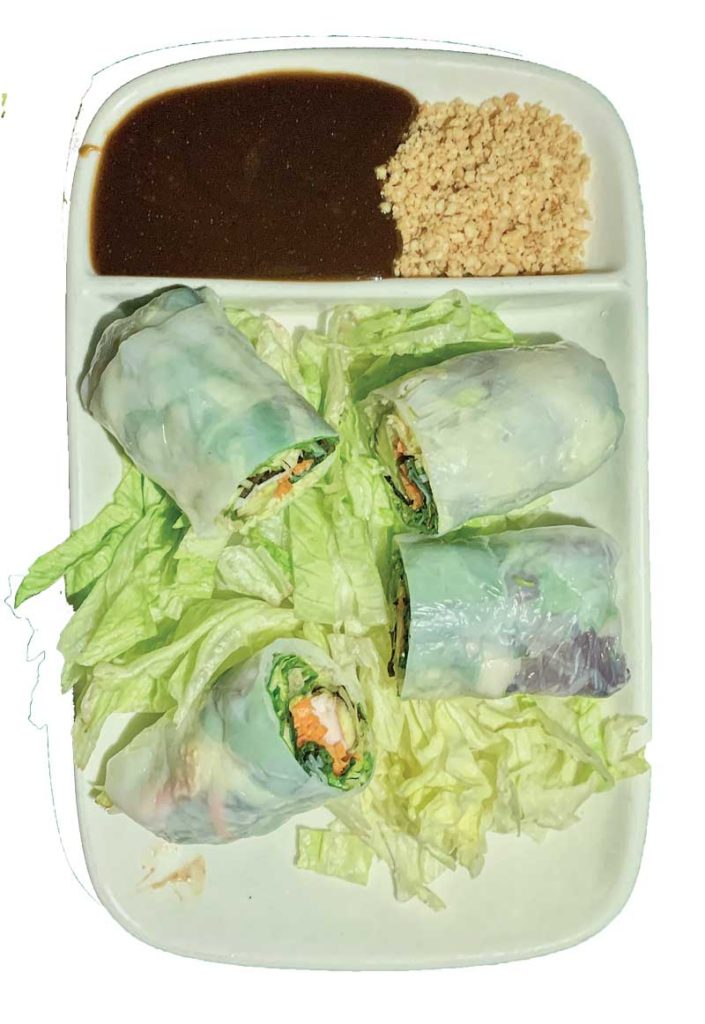 Pictured is an authentic appetizer for a Thai-style meal. The Basil Rolls are a combination of chicken, shrimp and avocado, layered in carrots, cucumbers and basil leaves. Finally, it's wrapped in soft rice paper and served with a hoisin-peanut dipping sauce. You'll experience every layer of flavor in each bite. It's a perfect way to start off your dining experience at Lon U.
5005 Peachtree Parkway, Suite 860, Peachtree Corners 30092
lonunorcrosstogo.com
Royal Bistro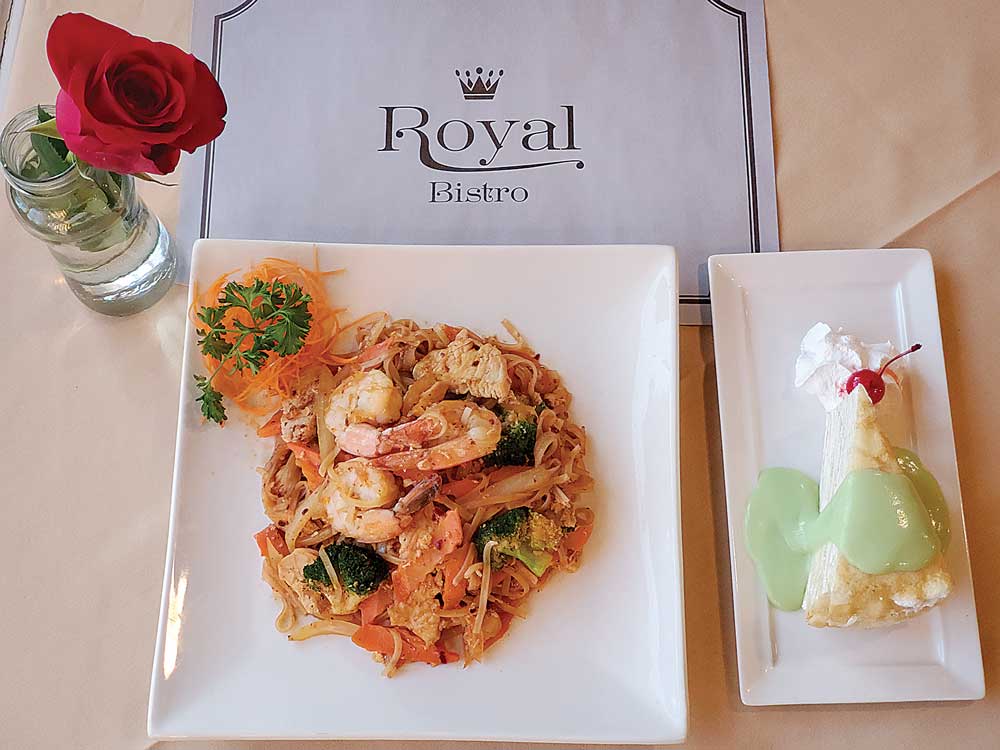 If you love a tasty blend of sweet, spicy and salty, then this is the dish for you! Recommended by the Royal Bistro chef, the lava noodles are lightly fried and accompany chicken, shrimp, eggs, white onions, carrots and broccoli in a homemade roasted chili paste sauce. This delightful meal can be prepared mild, medium, hot or Thai hot upon request.
6365 Spalding Drive, Suite A, Peachtree Corners 30092
royalbistro.net
Sushi Mito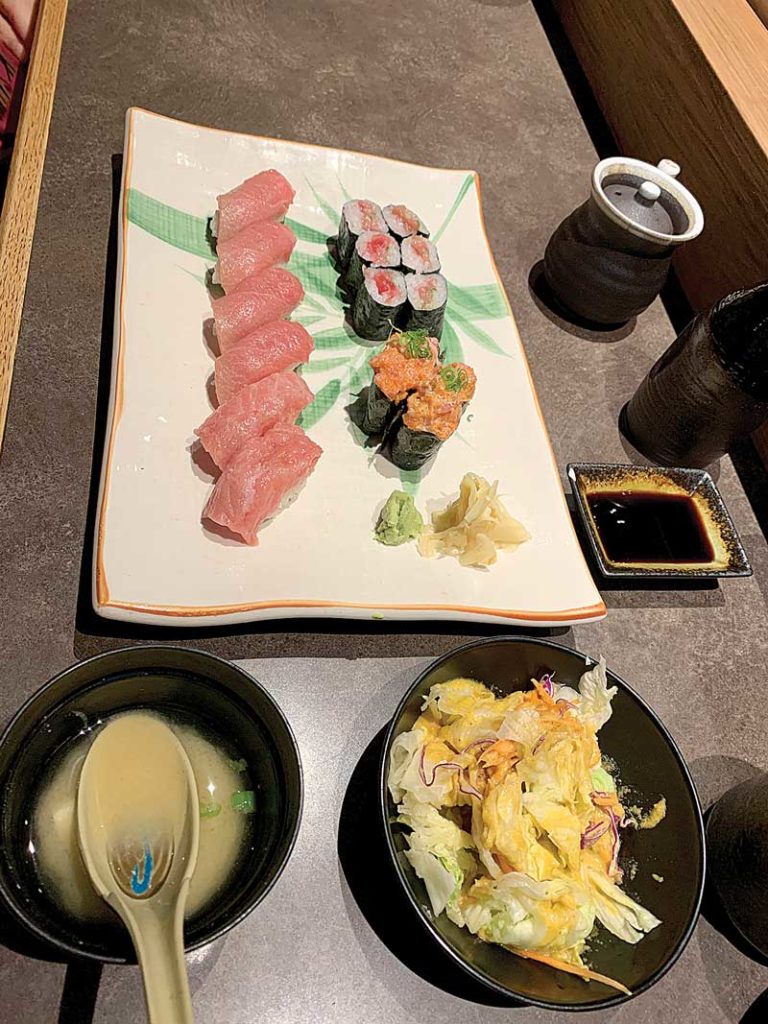 Sushi Mito, serving traditional Japanese cosine for 25 years, is proud to announce that they have a new special menu featuring the highest quality BlueFin Tuna. In Sushi Set A, toro and o toro nigiri, the most desired part of the tuna fish, is served with miso soup, salad and green tea. The menu is filled with different BlueFin combinations to suit every sushi lover's preference.
6470 Spalding Drive, Peachtree Corners 30092
sushimito.com
Sushi Osawa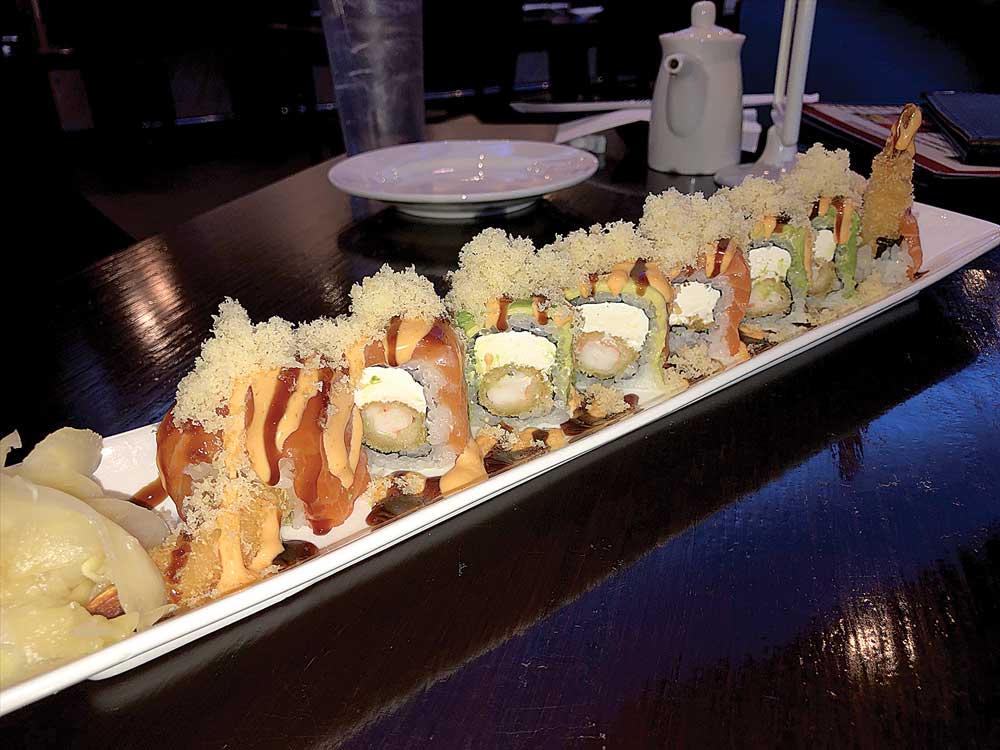 Offering an assortment of rolls, Sushi Osawa is the perfect spot for sushi lovers. The Super Crunch roll is a delicious showstopper that includes shrimp tempura and cream cheese. To top it off, this roll is wrapped in salmon or avocado, spicy mayo, eel sauce and crunch. Sushi Osawa also offers an all-you-can-eat menu, allowing customers to get their fill.
5270 Peachtree Parkway, Suite 119, Peachtree Corners 30092
sushiosawa.online
Taqueria Tsunami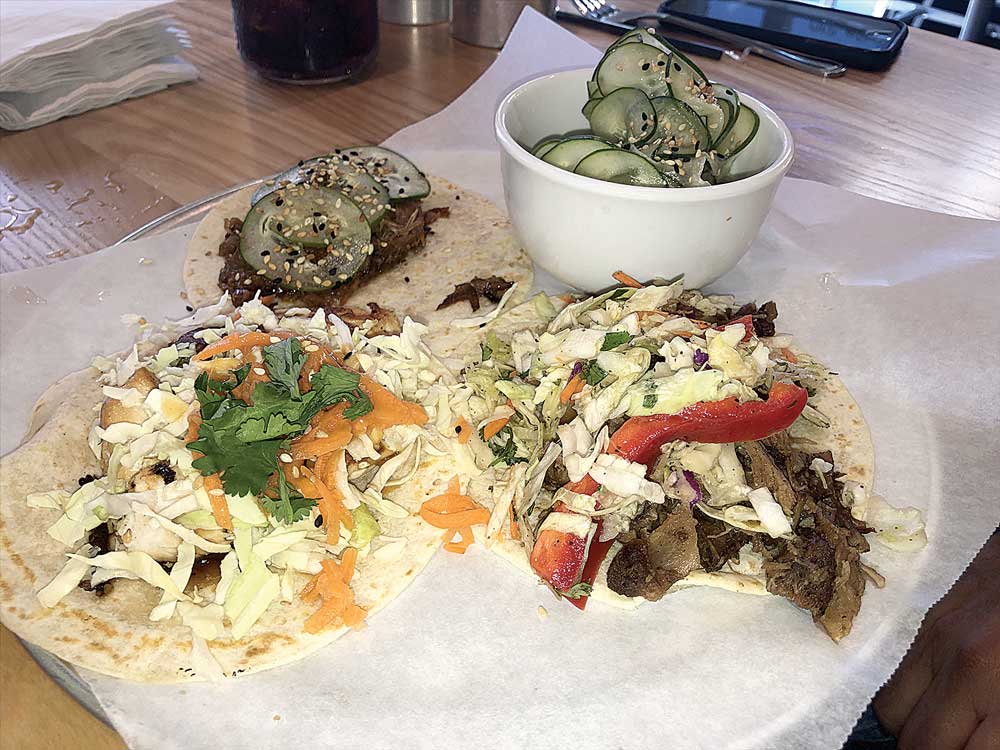 At Taqueria Tsunami, the Quatro is the way to go; you get to select three favorite tacos and a side from their delicious menu. Three highly recommended dishes are the BBQ Short Rib taco smothered in Kogi BBQ sauce; the Thai Chicken taco with cabbage and carrots; and the Rising Sun pork taco topped with Asian slaw. To complete your ultimate meal, add a side of the cucumber salad for an amazing balance to your tacos.
5160 Town Center Boulevard, Suite 510, Peachtree Corners 30092
taqueriatsunami.com
New Restaurant, Townhomes, Specialty Grocery Store Under Construction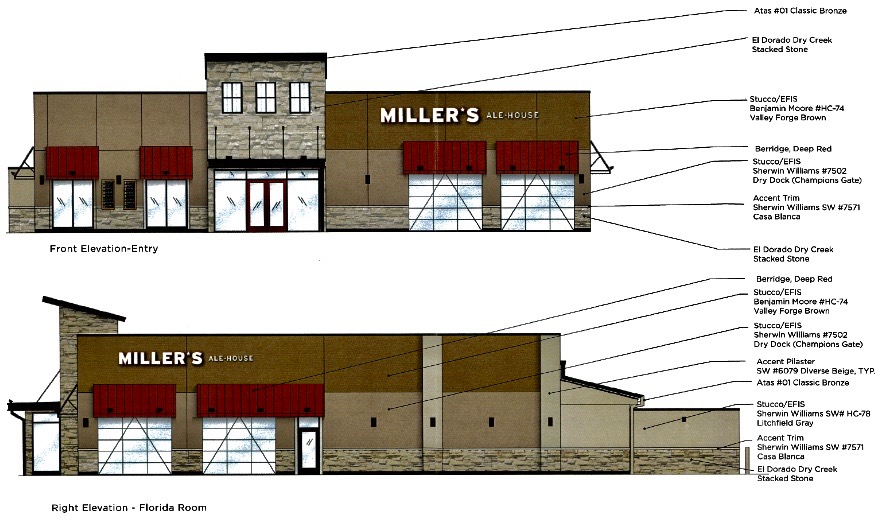 Miller's Ale House, a 7,000 square-foot restaurant, will soon break ground at its new location on Peachtree Parkway. The sports bar will be located on an out-parcel next to Taco Bell in the Peachtree Parkway Shopping Plaza. The north corner of the existing shopping center (where an existing emissions inspection station is located) will be razed for a parking lot for the restaurant. The new restaurant is part of a chain based in Orlando, Florida.
Town Center Townhomes: The first five of the 72 planned townhomes adjacent to the Town Green are now under construction. Foundations have been poured on the new 3-story brick townhomes which will offer three- and four- bedroom/3.5-bathroom floor plans. Features include brick exterior, two-car garages, gas fireplace and stainless-steel appliances, granite counter-tops in the kitchen. The development is named 5200 at Town Center. The sales office is located at the Stonington community located at 3544 Medlock Bridge Road. A full list of amenities and prices are included on the builder's website.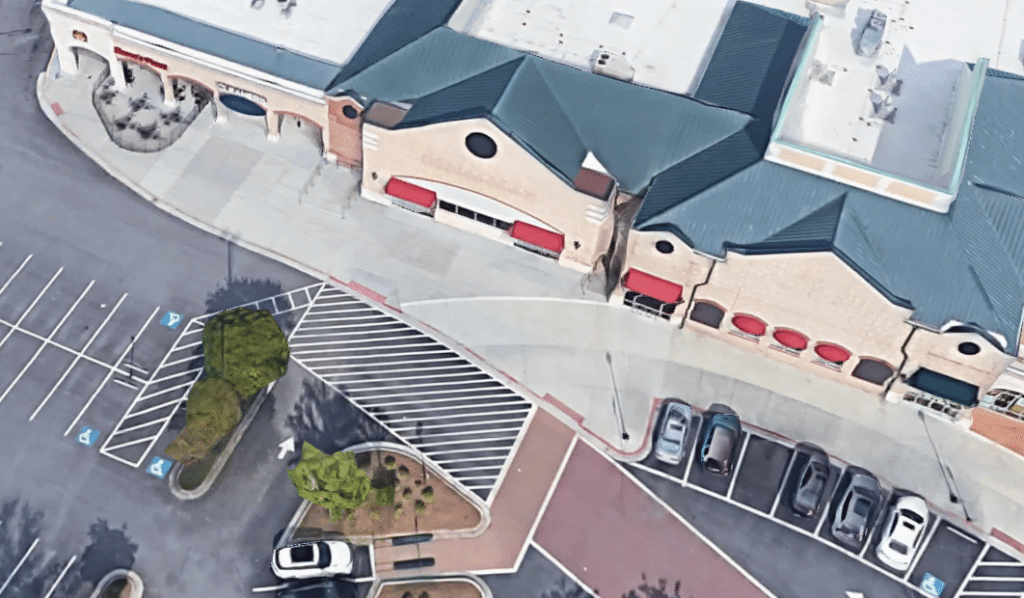 Lidl, the German discount grocer, will open in the former Earth Fare space in the Interlochen Shopping Center at 5270 Peachtree Parkway. Work is currently underway in the 23,500 square foot space but the company has not yet announced an opening date for its new Peachtree Corners location. Along with fresh produce, the discount grocer sells meat and poultry, frozen foods, bakery items, health and beauty and household essentials. The first modern Lidl store opened in 1973 in Germany; today the company operates 10,800 stores in 32 countries including more than 70 stores in the United States.
Information courtesy City of Peachtree Corners