Curiosity Lab at Peachtree Corners Wins Smart Cities Award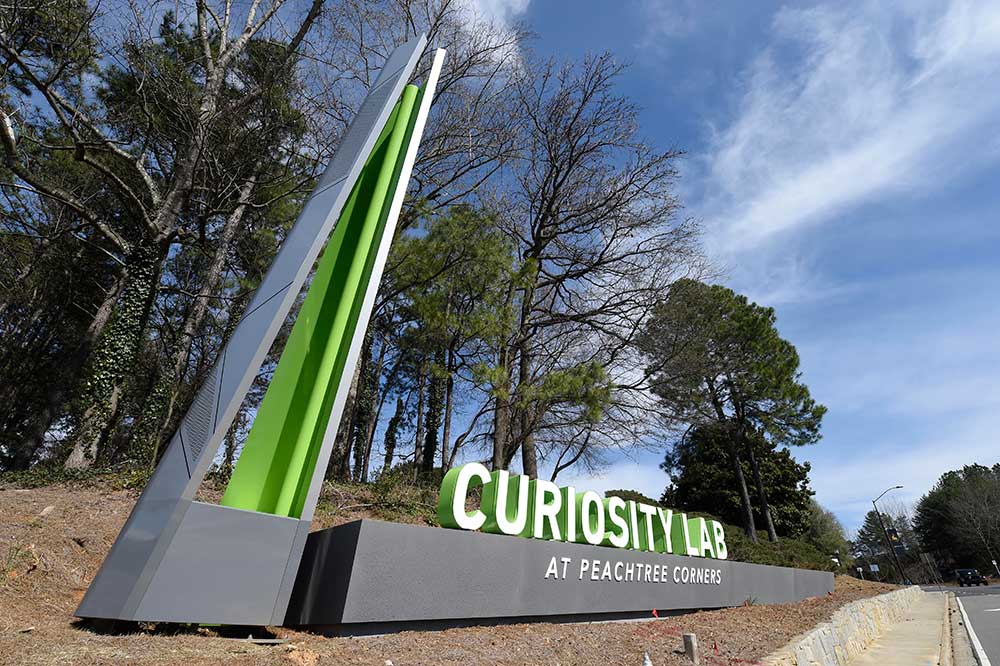 City's project wins IDC Government Insights transportation category.
The city's 5G-enabled 1.5-mile autonomous vehicle test track and smart city laboratory, Curiosity Lab at Peachtree Corners, was named the winner in the transportation category in the third annual IDC Smart Cities North America Awards (SCNAA) for its connected and autonomous vehicles project.
Curiosity Lab was one 11 category winners receiving awards for a wide range of categories including civic engagement, smart buildings, adaptive signal control technology and transportation. The awards recognize the progress North American communities have made in executing smart cities projects. The award recipients were selected following more than 2,500 votes.
"We are extremely proud that our city's Curiosity Lab has been recognized for its efforts in advancing transportation through connected and autonomous vehicles," said Mayor Mike Mason. "We have created an environment where new AV and smart city technologies can be tested and perfected. Our city is the first in the United States to offer a real-world test track for autonomous vehicle research."
Winners in the SCNAA illustrate best practice examples of urban innovation with a particular focus on the use of technology (cloud, platforms, analytics, IoT, mobile solutions) and data, unique partnerships, funding models and/or community involvement.
"Curiosity Lab is a unique economic development investment that helps advance new technologies and grow the employment base of the city," said Betsy Plattenburg, Curiosity Lab's executive director. "We have had interest in testing from both startups and Fortune 500 companies."
The winners illustrate how forward-thinking municipalities are effectively leveraging technology and innovation to offer new services and economic opportunities and to meet the needs and expectations of citizens and residents.
"It is clear from the overwhelming number of impressive responses we received, government
officials across the country are committed to implementing innovative Smart City Initiatives
designed to bring about meaningful changes to the way we live, work, play and interact," said
Ruthbea Yesner, Vice President IDC Government Insights and Smart Cities Strategies.
Transwestern Completes 100,000 Sf of Office Lease Transactions in Peachtree Corners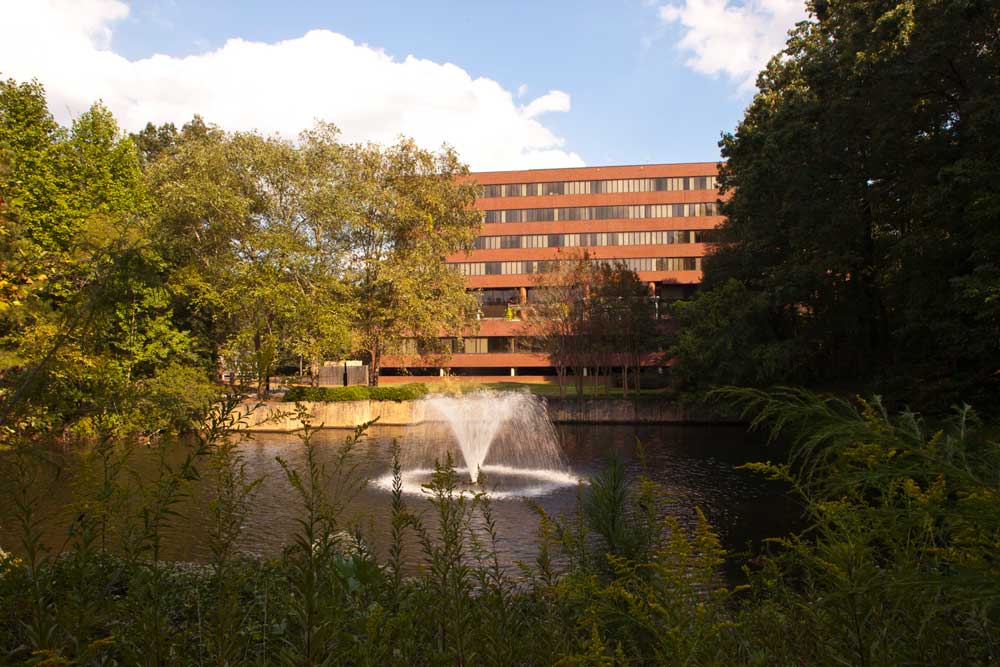 Transwestern Real Estate Services (TRS) announces its Atlanta Agency Leasing team has executed more than 100,000 square feet of new leases at Summit at Peachtree Parkway, a 179,617-square-foot, six-story office building at 5550 Peachtree Parkway in Peachtree Corners, Georgia.
Transwestern Senior Managing Directors Chip Roach and Stephen Clifton, who provide exclusive leasing services on behalf of building owner OA Development, negotiated the following transactions:
Soliant Health LLC has executed a new lease for 58,734 square feet. Represented in the transaction by Sean Coughlin of C2 Partners LLC, the national healthcare staffing company occupies more than 32% of the building.
Teradata Operations LLC, a leading provider of data intelligence and analytics products and services, has executed a new lease for 25,771 square feet. The San Diego-based company was represented by Clinton McKellar of Cushman & Wakefield in the transaction.
Randstad Professionals US LLC, one of the world's largest employee recruitment agencies, has executed a new lease for 9,467 square feet. Alison Bittel of Colliers represented the tenant in the transaction.
Capstone Hospice LLC, which services families in 18 Georgia counties, has executed a new lease for 5,347 square feet. Jeff Richardson and Jason Ferguson of CTR Partners represented the tenant in its relocation to the property.
Carlson Design Group LLC, an architectural and engineering services firm, has executed a new lease for 3,852 square feet. Adomo Piccinni of Walbridge represented the tenant in the transaction.
"In 2019, we worked with ownership to complete renovations to the lobby, corridors and elevators, and add a new conference center and fitness facility with lockers and showers to the property's already stellar amenity offerings," said Roach. "These enhancements, as well as the building's overall flexibility, have been extremely well received by prospects and tenants."
Additional amenities at the property include a 10,000-square-foot, fully furnished patio overlooking basketball and volleyball courts, and covered parking for more than 50% of vehicles.
Summit at Peachtree Parkway is located minutes from Interstate 285, providing easy access to Buckhead, Midtown and downtown Atlanta. Adjacent to the future Peachtree Corners Technology Park Trail, the property is within 10 miles of more than 10 golf courses and country clubs, and less than a mile from the new 21-acre Peachtree Corners Town Center.
World's First Self-Driving E-Scooters Launch in Peachtree Corners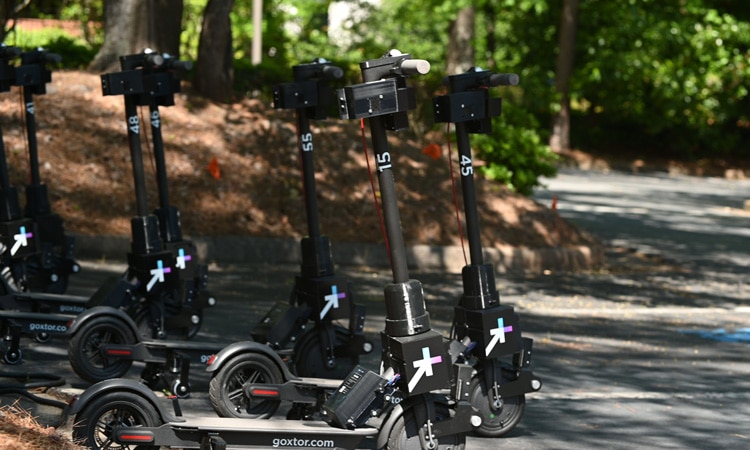 Teleoperated e-scooters will operate on public streets
In keeping with its long history of developing cutting-edge technologies, the city of Peachtree Corners announced the launch of a fleet of the world's first teleoperated e-scooter to operate on public streets The e-scooters made their debut this week.
The city welcomed the opportunity to work with Tortoise and Go X, which combined forces to offer an e-scooter that has the ability, through the use of remote tele-operators, to reposition itself back to a safe parking spot – or to respond to a call (using the company's app) for an e-scooter to be delivered right to a customer's door. The e-scooters are repositioned by Tortoise's remote teleoperators.
Peachtree Corners has been working with the two visionary companies to revolutionize e-scooter mobility for use in its city. The new technology solves two issues that have plagued the industry: 1) Finding a scooter – and 2) Returning scooters to a home base for safe parking, charging and cleaning.
The e-scooters make their debut in the city's Technology Park Atlanta, a 500-acre existing technology park that is home to over 7,000 employees. The teleoperated e-scooters will be available for use by the general public and will operate on the city's new 1.5-mile autonomous vehicle test track that runs alongside lanes used by the motoring public.
"We are excited to showcase this innovative technology," said Mayor Mike Mason. "It's another opportunity for the city to look beyond traditional transportation and seek innovative ways to improve mobility. We invite our citizens and the business community to see and experience this new technology."
The initial pilot will run for six months and marks the first time ever that teleoperated e-scooters are deployed on public streets.
This is not the first time that the city has been the site of innovative transportation technologies. Last fall, Olli, the self-driving shuttle designed and built by Local Motors, began operating along the city's 1.5-mile autonomous vehicle track. The test track is part of Curiosity Lab, the city's living lab, which offers companies a facility to test emerging technologies in a real-world environment.
This latest venture into teleoperated e-scooters is part of the city's drive to further expand its "smart city" technologies.
"An important goal for us was to ensure that residents can enjoy the convenience of using e-scooters, right here in Peachtree Corners," said City Manager Brian Johnson. "As a reflection of our commitment to making cities smarter, we didn't hesitate to partner with Tortoise to launch the first-ever fleet of self-driving e-scooters for public use. We are extremely pleased to be a partner in this innovative and world-changing technology."
Thompson Ehle to Move to New Offices at 2 Sun Court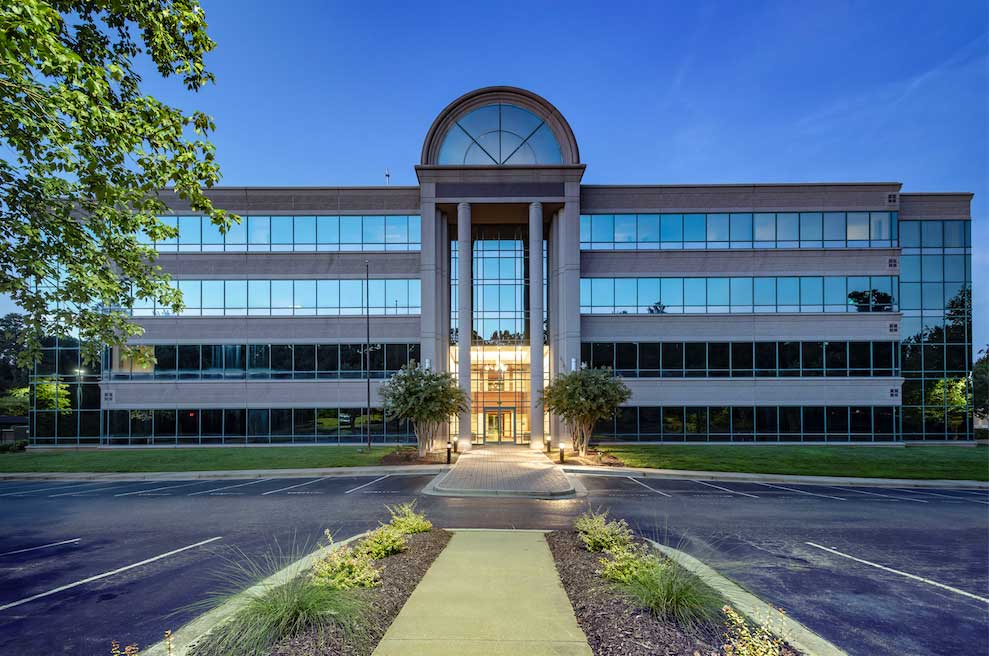 Thompson Ehle Company, a construction management and engineering firm, plans to relocate to new offices at 2 Sun Court, a 98,040-square-foot, Class-A office.
Lincoln Property Company Southeast's Matt Davis and Matt Fergus represented the owner, Redline Property Partners. CBRE's Kevin Carroll represented the tenant.
Thompson Ehle Company is a provider of construction management, fire protection, mechanical and electrical engineering services with offices in Atlanta, Ga. and Houston, Texas. Later this year, the company will take occupancy, relocating from its current Peachtree Corner's office at 50 Technology Parkway.
"We are continuing to see ongoing interest in the Peachtree Corners submarket from a number of top-tier tenants," said Lincoln's Davis. "With best-in-class amenities, Redline is committed to offering an exceptional office experience at great value for tenants of 2 Sun and we are pleased that Thompson Ehle has chosen to relocate to the building."
Ownership recently completed building-wide renovations to the lobby, corridors, common areas, elevators and restrooms, as well as creating an outdoor tenant lounge. Redline has also redesigned and upgraded the original base building systems, installed Wi-Fi connected meeting spaces and incorporated on-site food delivery programs featuring weekly revolving food trucks. Four vacant spaces remain available at the building, ranging in size from 3,154 square feet to 10,227 square feet.
"We tailored our renovation of 2 Sun to meet the needs of today's tenants in our quest to deliver an improved property that provides exceptional experience at great value," said Andrew Webb, principal of Redline. "We are honored to be adding Thompson Ehle to the building's existing group of high quality tenants."
Source: Press release from Lincoln Property Company Southeast