Three Podcasts to Tune Into, Broadcasting from Peachtree Corners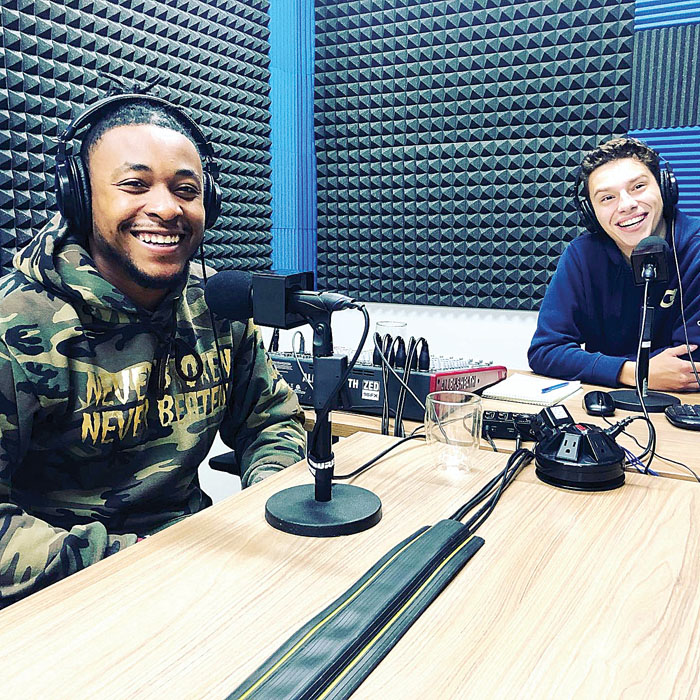 Podcasts have become an ever-popular form of entertainment to communicate exciting ideas, with 32% of Americans listening to a podcast in the last month according to Edison Research 2019. Several budding talents in the Peachtree Corners area have begun to star in, produce and edit their own podcasts.
We're spotlighting three local podcasts — and we hope our readers give them a listen.
The Nick Rodriguez Podcast
Plenty of young men feel that they have passion for and insight into the great world of sports, but few have the presence and foresight to generate a compelling podcast like The Nick Rodriguez Podcast.
Nick Rodriguez began his self-titled project late last year, concentrating on providing one-on-one interviews with people excelling in the sports industry. He and his guests dive deep into their careers, learning how they became so successful.
"I had a lot of great relationships that really helped me to experience the behind the scenes world of podcasting," Rodriguez said. "Being able to create something and find your next guest is always exciting. Each guest brings something different to the table."
What makes his podcast unique is that he covers sports on the business end as well as from the athlete's point of view. He talks to people from many angles of the arena, from media personalities and administrators to players.
When asked about some of the best interviews he could remember, he mentioned Maya McClendon, a former college volleyball player for University of Louisville and Arizona State. "She is doing amazing work, a major advocate for mental health in athletes and people in general," Rodriguez said.
Jonathan Dwyer, Atlanta native and former Georgia Tech running back currently on the Pittsburg Steelsers roster, also proved to be a memorable interview. "It was a great conversation. I learned more about him and why he chose Georgia Tech," Rodriguez said.
He added that he hopes to cover more diversity as well as higher-level athletes and players to expand the podcast's reach and appeal. Hand and hand with that, The Nick Rodriguez Podcast will be releasing merchandise officially in November, with two different types of t-shirts.
For more on The Nick Rodriguez Podcast, visit nickrodriguezpodcast.com or listen on Spotify, Tune In and other major podcasting platforms.
Product Genius with Tiffany Krumins
To say that this "Mom Genius" is a force to be reckoned with would be a mild interpretation. Tiffany Krumins' first claim to fame comes from her 2009 appearance on the inaugural episode of Shark Tank, the beloved ABC business incubator program. At that time, she presented Ava the Elephant, "…a patented singing medicine dispenser to take the fear and anxiety out of medicine time," according to her website, tiffanykrumins.com.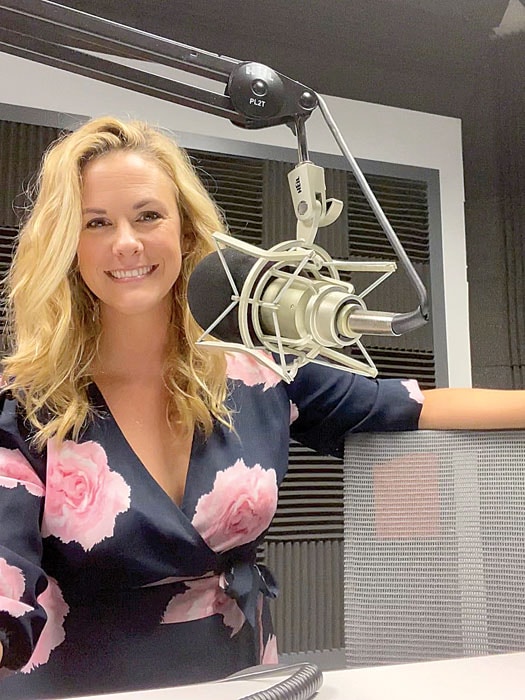 After the whirlwind success of that product, which can now be purchased at buybuyBaby and countless other favorite retailers, Krumins has turned her attention to empowering others to be creative and informed.
She founded Mom Genius, an early stage incubator for inventors and entrepreneurs that assists them in product development and brand awareness. Though the Mom Genius incubator operates in Alpharetta, Ga., Krumins produces her Product Genius with Tiffany Krumins podcast out of Atlanta Technology Park in Peachtree Corners. She has recorded it for over three years now.
"I had countless Shark Tank fans reach out for advice. I found that even when I tried to consult, there just weren't enough hours in the day," Krumins said. "While being interviewed on another podcast, the host suggested that I start my own. I wasn't interested, as I don't really love the sound of my own voice. But I realized the value in being able to share nuggets of product development wisdom with a much bigger audience, for free."
Krumins enjoys sharing from her experiences and wealth of knowledge — not just from her journey, but also from her podcast partners. Noah McNeely, an engineer from Product Quickstart, has contributed immensely to the Product Genius podcast, as well as Fulfillment Strategies International (FSI). FSI works with many of "the big guys" as a fulfillment center in Atlanta, but also supports entrepreneurs — a rare client range.
The podcast almost always covers product development topics, and Krumins said she often likes to cover the challenges facing other entrepreneurs. "I think we can all learn from each other's mistakes. We don't just cheer people on, we cover the hard things and real-talk about what it means to launch a successful product," she said.
The COVID-19 pandemic has prompted Krumins to sometimes discuss pivots that entrepreneurs might take around obstacles. She said she "highly recommends other product developers streamline their supply channels due to what we have seen with COVID-19."
In the future, Krumins hopes to take on an additional podcast partner who has relevant insights into the product development landscape that the podcast has not previously explored.
To follow Tiffany Krumins, tune into her podcast on iHeart Radio, Apple Podcasts, Stitcher and most other podcast streaming sites.
Bears, Birds, and Brews
For those seeking a unique and lighthearted sports podcast, Birds, Bears, and Brews delivers. The podcast features all things related to the Chicago Bears, the Atlanta Falcons and, of course, beer!
Hosts Asif Lakhani and Nabeel Lalani try a different beer each episode. They also recap and preview each team's most recent and upcoming games, as well as discuss other trending topics in the sports world. Birds, Bears, and Brews will be rounding up to its third year in circulation by October.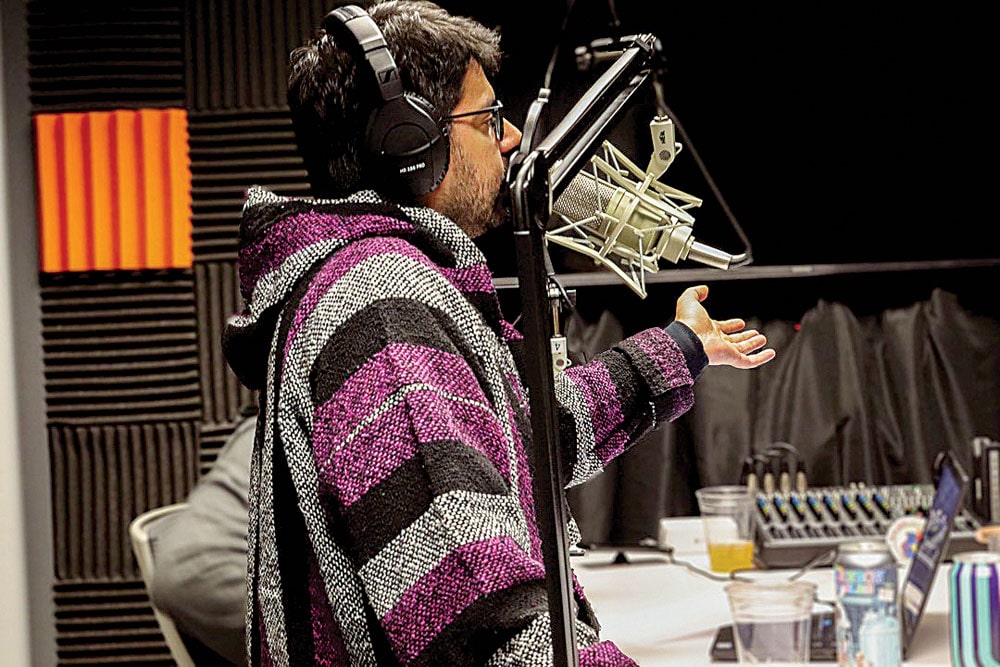 Childhood friends Lakhani and Lalani share a deep love for sports that shines through in their broadcasts. "The irony is that while we were both born in Chicago, Nabeel is loyal to their teams while I am a huge Atlanta sports fan," Lakhani said. "Our personalities mesh well together too, but there can be some difficulties there as well, so it often makes for compelling conversations."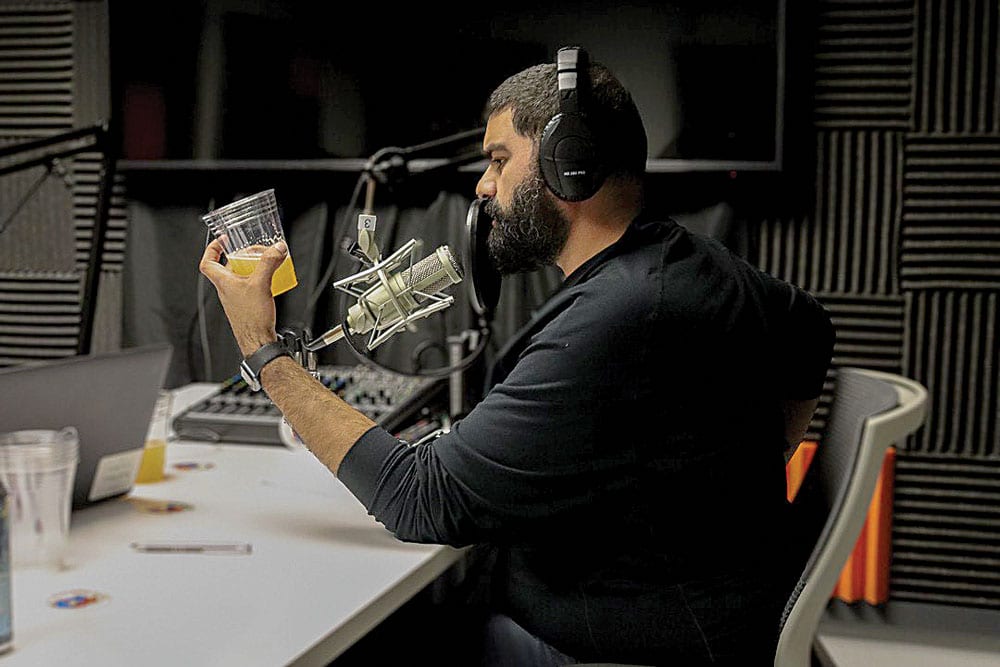 After Lakhani began his role as Marketing and Operations Manager at Atlanta Tech Park in 2018, the dream of hosting a sports podcast with his old friend Lalani finally made sense. They started creating full shows at Atlanta Tech Park, though it took a while to develop their signature style.
"I went to school for journalism at the University of Missouri, so media and communications is literally my thing," Lakhani explained. "The [podcasting] trend really took off a few years ago, and Nabeel and I launched our show just before everyone else launched theirs, it feels like. The process to conceptualize it took a few months, and the actual execution took a few tries the first go-around, but we got the hang of it eventually."
Along the way, the dynamic duo has had the opportunity to speak with some impressive guests, including Greg Schaffer, creator of Brews Brothers on Netflix, and Nabil Karim, an on-air personality for ESPN.
And don't forget the beer! They also feature local beer influencers and brewers. The podcast partners have made a point, during this time, to highlight small-to-medium businesses and breweries to show their support.
Though the sports landscape has changed drastically since the coronavirus outbreak, Bears, Birds, and Brews stays relevant with sports news updates and discussions on how sports and related businesses are adapting strategies and policies.
The future for the podcast looks as bright as a tailgate grill. The podcast partners' most immediate hope is that a complete and safe football season can be covered from now until the Super Bowl in February 2021. Ideally, local Atlanta and Chicago sport stories, athletes and personalities will also get some airtime, in addition to other interesting folks in the craft beer and sports arenas.
To keep up with Bears, Birds, and Brews, tune in on Apple Podcasts, Listen Notes and other podcast streaming platforms.
Norfolk Southern gifting historic Marco Polo railcar to Southeastern Railway Museum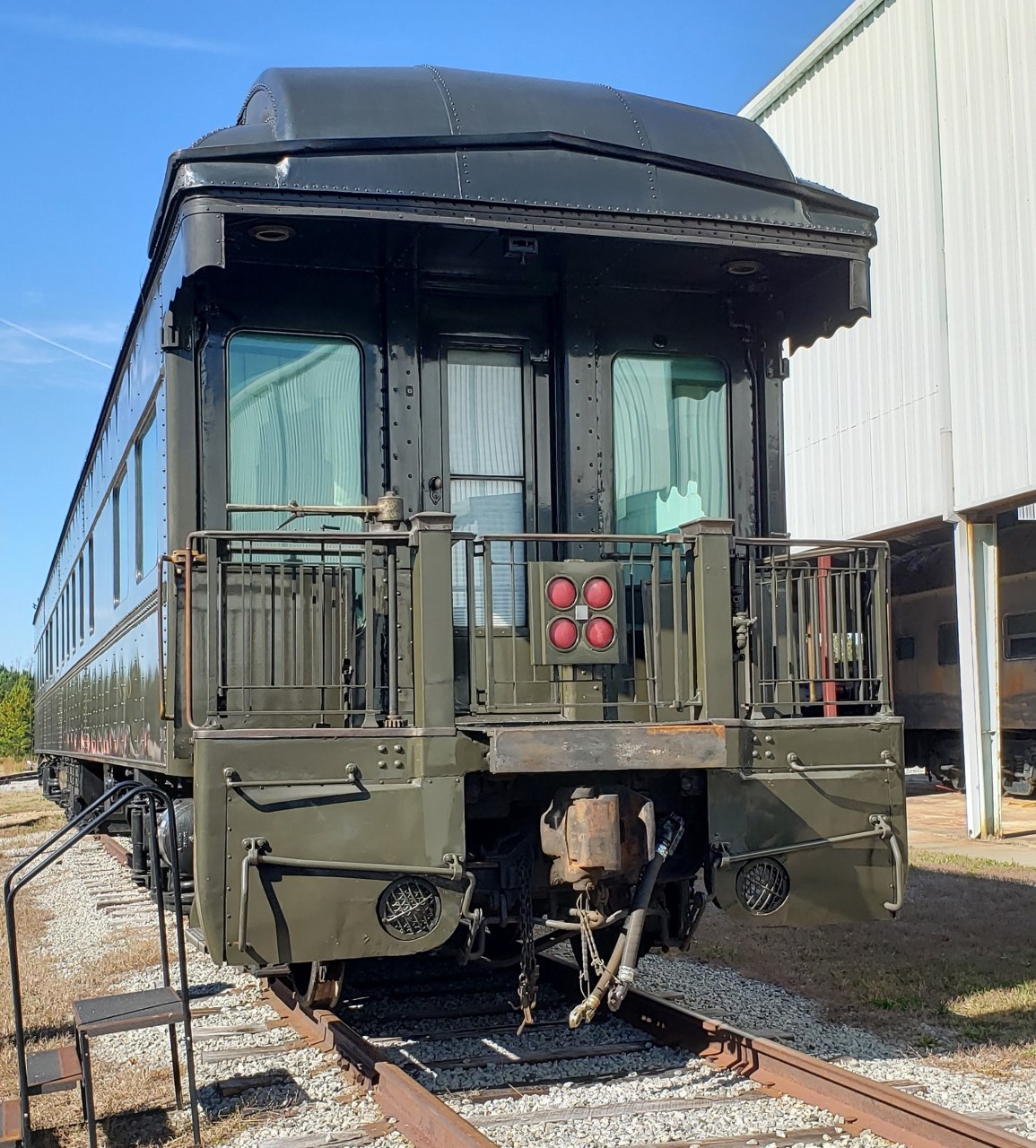 Norfolk Southern Corporation gifted the historic Marco Polo rail car, a car President Franklin D. Roosevelt used while in office, to the Southeastern Railway Museum in Duluth, Georgia.
The Pullman Company built the Marco Polo in 1927 as part of a small fleet of cars named for world explorers, reserving them for VIPs who chartered their own railcar. Roosevelt traveled in the car when he was governor of New York and later as president, using it on trips to and from Warm Springs, Georgia.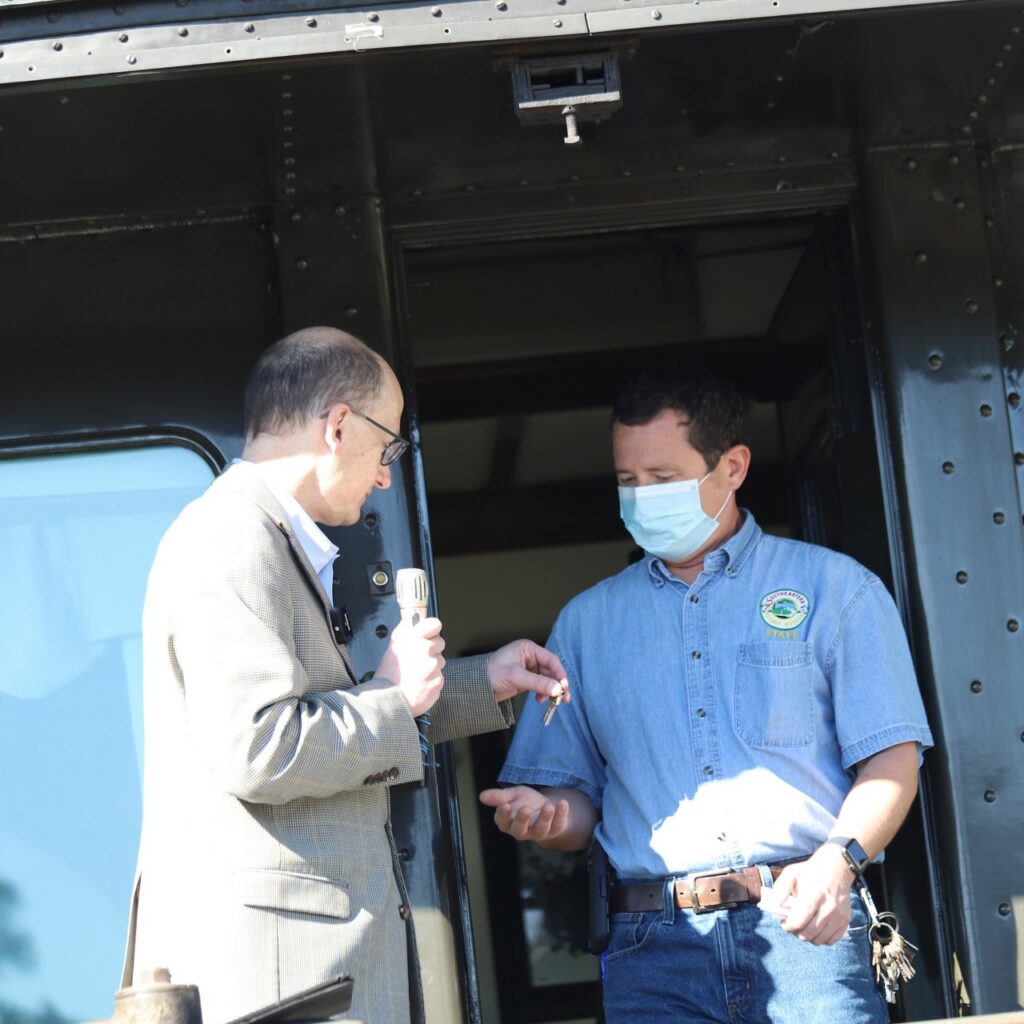 The car arrived at the museum at 11 a.m. on Nov. 14, and a brief unveiling ceremony followed. 

The museum displays the car on its 35-acre campus alongside the Superb, a Pullman car used by President Warren G. Harding.

"The Marco Polo is a critical piece of railroad history, and we are honored Norfolk Southern has entrusted us to help preserve the railcar and its story for future generations," said Sue Kelly, interim executive director of the Southeastern Railway Museum. "Railroads played an invaluable role in transporting presidents across the country. President Roosevelt had a unique connection to Georgia, and on his trips to Warm Springs, he regularly passed through Duluth and by what is today the museum, and we're excited to welcome the car back home."

The car also transported many dignitaries over the years, including Madame Chiang Kai-Shek, the wife of China's wartime president. She used the Marco Polo during a United States tour in 1943.

"The Marco Polo holds a unique place in Norfolk Southern history, and we couldn't think of a more appropriate location for the car to be displayed than at the Southeastern Railway Museum," said John Friedmann, Norfolk Southern VP Network Planning & Optimization. "As we move our headquarters to Atlanta, forging relationships with surrounding communities like Duluth and organizations dedicated to preserving railroads like Southeastern Railway Museum will be critical to making Atlanta feel even more like home."

The Central of Georgia, a Norfolk Southern predecessor railroad, bought the car in 1944 and converted it into an office. The Southern Railway assumed ownership of the car in 1963 after it merged with the Central of Georgia.

Over the years, the railroad has displayed the car, which was later renamed the Savannah, in Chattanooga, Tennessee, and at Union Station in Washington, D.C. For more than 25 years, Washington commuters walked past the Marco Polo, most not knowing the railcar's history as a predecessor to Air Force 1.

For more information about Norfolk Southern, visit norfolksouthern.com/. For more information about the Southeastern Railway Museum, visit southeasternrailwaymuseum.org/.
Source: Press Release from the Southeastern Railway Museum
Lawrenceville and Aurora Theatre celebrate "Topping Out" of new Lawrenceville Performing Arts Center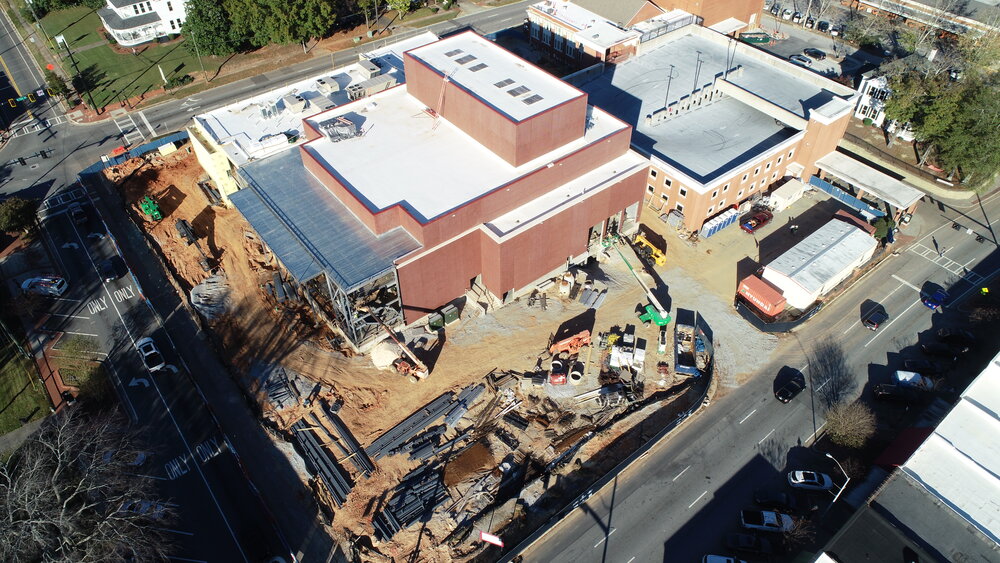 To commemorate the placing of the final structural beam for the expanded Lawrenceville Performing Arts Center (LPAC), the City of Lawrenceville Mayor and Council; Downtown Development Authority; representatives from the Aurora Theatre; Carroll Daniel Construction; Croft and Associates; and Community leaders gathered for a Topping Out Ceremony at the site of the new facility in Downtown Lawrenceville.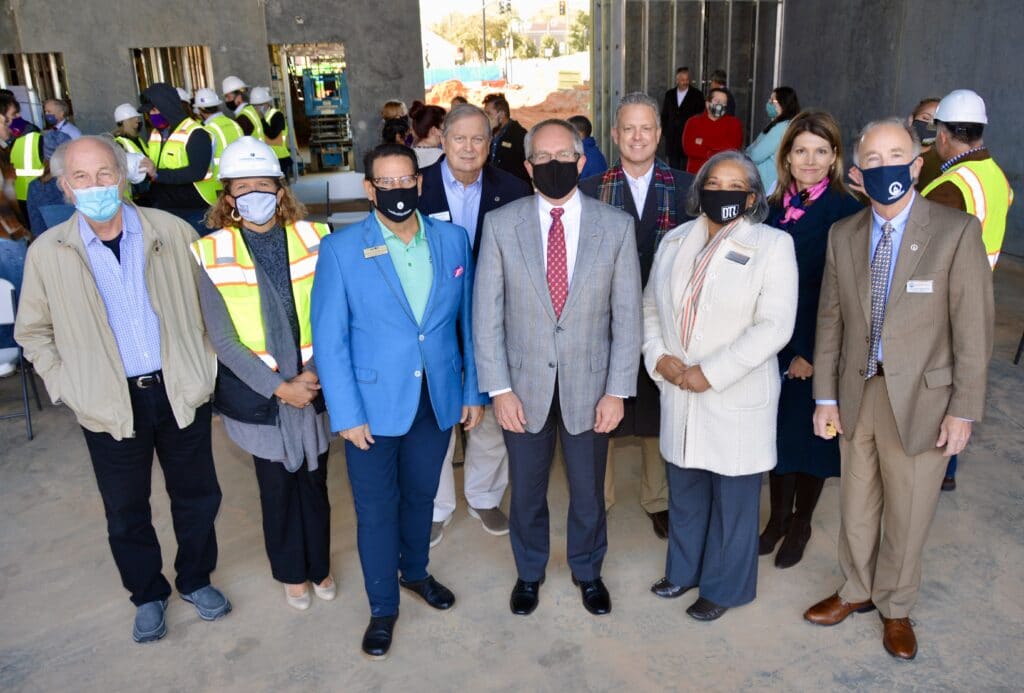 "The completion and grand opening of this facility will be a visual representation of Lawrenceville's commitment to the arts," said Mayor David Still. "A 15-year partnership with Aurora Theatre and many years of hard work on the part of numerous determined individuals have delivered a one-of-a-kind project placing Lawrenceville in the spotlight as an arts-centered community."
Construction began on the $35-million facility in June 2019 and continued throughout the recent pandemic. The 56,000 square-foot Lawrenceville Performing Arts Center will house a 500-seat theater; Cabaret; indoor and outdoor civic spaces; and rooms for office and educational programming. It will be home of the second largest professional theater company in Georgia and Gwinnett's only professional performing arts organization, Aurora Theatre. In October 2020, the City of Lawrenceville approved an additional $4-million in facility upgrades to improve air quality, offer hands-free devices, create a safe physical environment and provide appropriate sanitizing equipment for patrons, performers and staff.
Anthony Rodriguez, Co-Founder and Producing Artistic Director of Aurora Theatre shared, "The City of Lawrenceville believes in the power of art as a force multiplier that can transform community, and as the Lawrenceville Performing Arts Center prepares to open, the region will see that vision tangibly expressed … none of this would be possible without what is truly a remarkable and unprecedented partnership with the city that should serve as a model for communities nationwide."
Aurora Theatre is home to the highest level of artistic excellence in the region, serving communities and offering performing arts experiences that nurture a love of theatre in a multigenerational space. Leading the way as a performing arts venue despite industry challenges posed by the 2020 landscape, the regional theater has managed to find new platforms and open-air venues to host meaningful live events at a safe distance. While the theater is currently dark due to coronavirus concerns, Aurora Theatre continues to engage with audiences through alternative programming, including its Digital Series and Our Stage Onscreen performance initiatives.
Construction on the expanded facility is expected to be complete in the spring with a target date for opening in May 2021.
For additional information about the City of Lawrenceville, please visit lawrencevillega.org or follow the City on social media. For more information on Aurora Theatre, call the Box Office at 678.226.6222 or visit auroratheatre.com
Peachtree Corners New Town Center Pedestrian Bridge Opens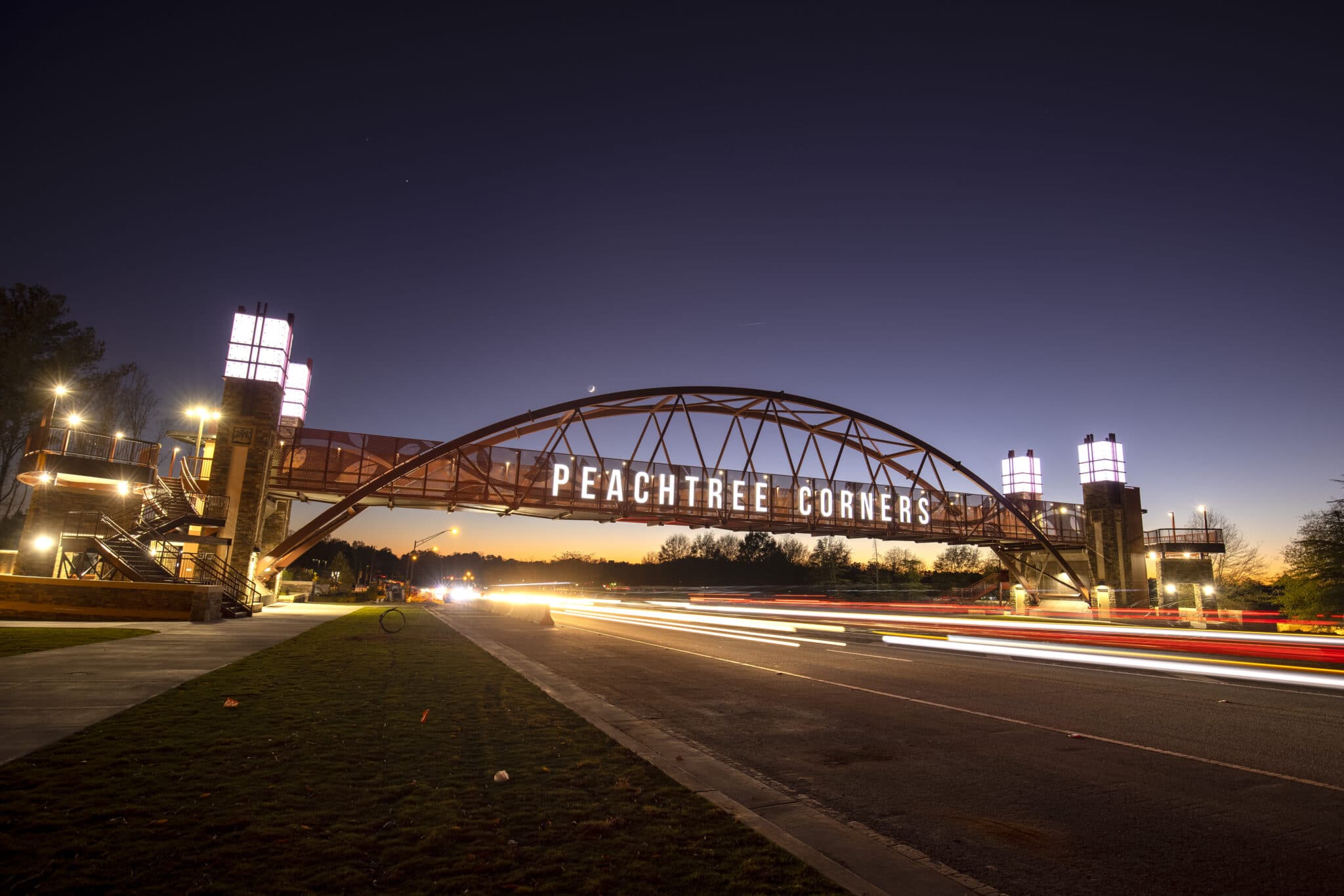 Late afternoon on November 17, Peachtree Corners celebrated the opening of its new pedestrian bridge. With a quick snip from a pair of oversized scissors by the mayor, the ribbon that stretched across the 14-foot walkway of the city's new pedestrian bridge fell away as he, along with the city council and invited dignitaries looked on.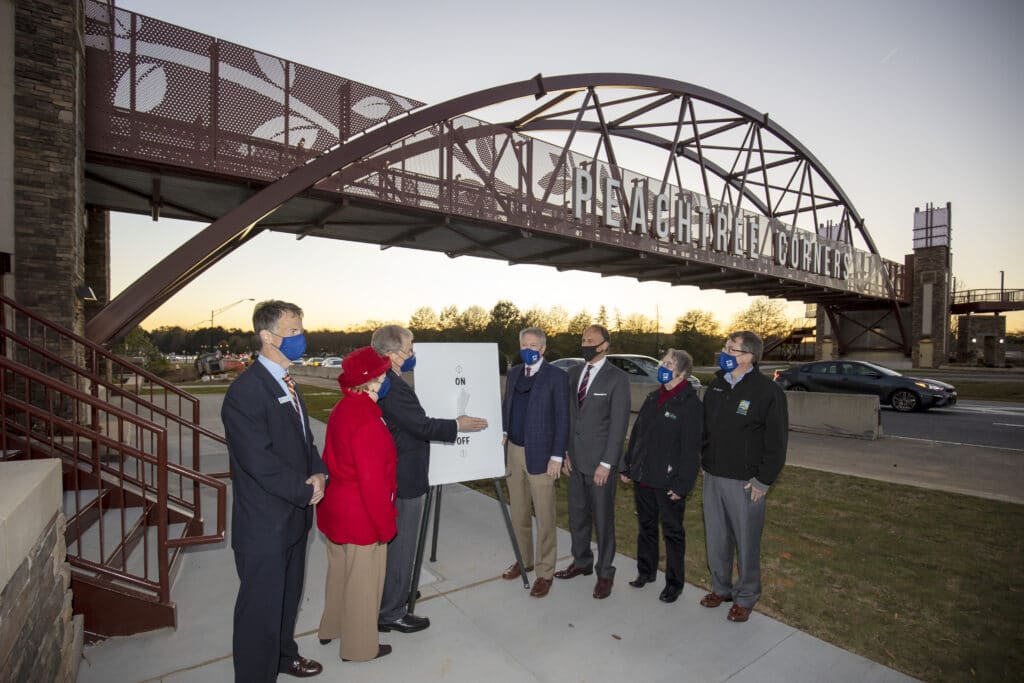 And with that, the city's long-awaited Town Center pedestrian bridge was finally officially open. It brought applause all around from Mayor Mike Mason, Council members Weare Gratwick, Phil Sadd, Eric Christ, Alex Wright, Jeanne Aulbach, Lorri Christopher, invited dignitaries and guests who had gathered in the center of the new bridge for the official celebration.
"We've waited a long time to experience this moment," said Mayor Mike Mason. "We are thankful that the city now has a safe way for our residents and visitors to cross over Peachtree Parkway to the Town Center. It was a real challenge to cross the road on foot, especially for families with young children in tow. Now everyone will be able to cross the road safely."
Prior to the bridge's deployment, pedestrian safety was a major concern for city officials.
"On the south end of Peachtree Corners, this corridor carries nearly 100,000 vehicles per day. That is second only to Interstate 85 as the heaviest volume roadway in Gwinnett County," Greg Ramsey, the city's Public Works Director.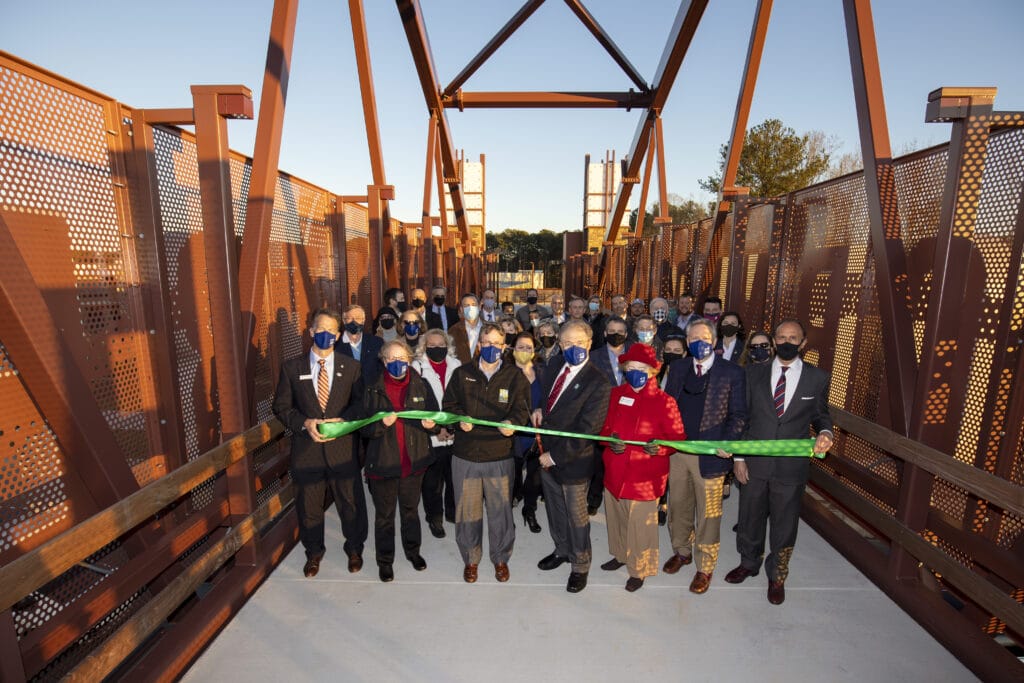 As a nod to the original Jones Bridge that once spanned the Chattahoochee River nearby, the new pedestrian bridge was designed to reflect the style of the historic bridge that a century ago carried traffic and pedestrians from Gwinnett to Fulton County. Taking a page from its history, the color of the old and new bridge are also the same.
While the city's new thrust arch style bridge is a reminder of days gone by, that's where the old and the new part ways. Designed by the local engineering firm of Michael Baker International, the new pedestrian structure features two elevators and two sets of stairs and connects the city's Town Center with The Forum shopping center. The Town Center bridge is approximately 45 feet high (from ground to the top of the arches) with a 190-foot walkway.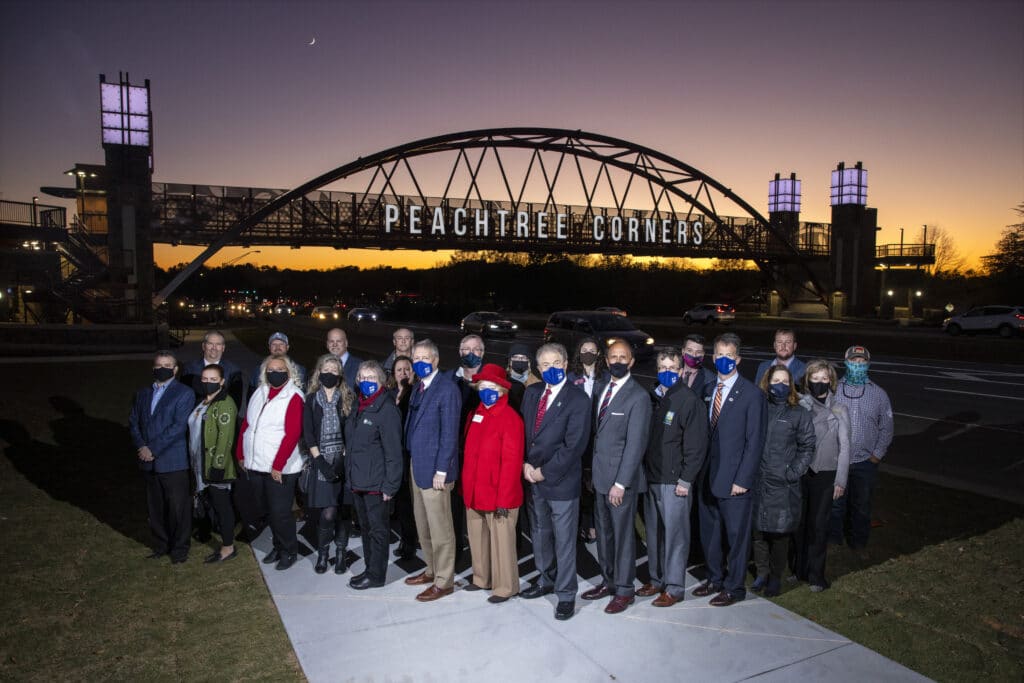 "The completion of this bridge not only provides a safe connection between two prominent shopping and entertainment districts," said City Manager Brian Johnson, "but it also provides an expansion opportunity for the city's multi-use trail system."
The idea for a pedestrian bridge evolved from one of the goals established in the city's first Comprehensive Plan. Adopted in 2013, the Comprehensive Plan identified five major goals
including the development of features that would "unify and connect" key parts of the city.
City leaders had already been discussing developing a Town Center on the 21-acre undeveloped property fronting S.R. 141 near the intersection with Medlock Bridge Road.
One major concern was how to safely connect what would become the city's downtown area with the existing Forum shopping center and the many residents whose homes were located on the west side of Peachtree Parkway. A pedestrian bridge would solve that dilemma and serve as a key link to Peachtree Corners' emerging multi-use trail.
"The bridge team is very happy to see this segment of the overall Corners Connector trail open
and available to the community," said Greg Ramsey, the city's Public Works Director. This is
now a safe and efficient crossing over a very busy highway, and its placemaking will serve the
community well into the future."
On-site construction began in fall 2019. By this time next year, the bridge will connect to a trail along the stream that is adjacent to the Town Center. That part of the Corners Connector Trail system will provide connectivity to existing trails along Peachtree Corners Circle and Medlock Bridge Road. Those trail segments connect to existing path infrastructure that stretches north to Duluth and beyond.
For the thousands of pedestrians who will use the new elevated walkway with its expansive view, the city's new bridge was well worth the wait.
Sources:
Press release by the City of Peachtree Corners
Gregory Ramsey, PE, Director of Public Works & Engineering