Medlock Bridge-Bush Road Intersection Improvements to Begin this Spring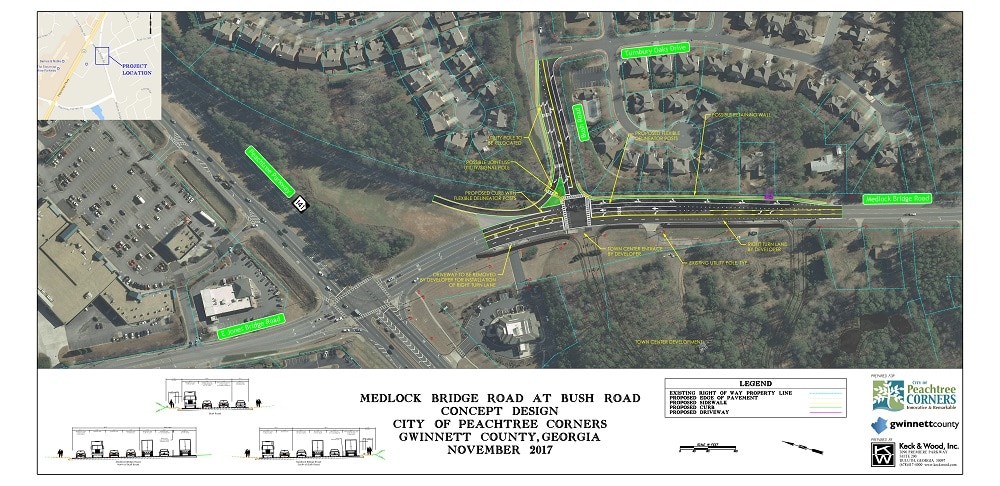 Intersection improvements are on the way for Bush Road at Medlock Bridge Road.  Operational improvements and upgrades to the traffic signal will be included, and the southbound Bush Road turn lanes will have increased capacity. 
The goal of the project is to improve vehicular and pedestrian safety and reduce congestion during peak hour travel. 
Construction is tentatively scheduled to begin in April 2020. All existing travel lanes will be maintained during construction, but intermittent interruptions due to construction activity are possible but will be minimized to the greatest extent possible.
Mayor and City Council approved a construction agreement with Vertical Earth, Inc. for just over $1.1 million. Funding for the project will come from the 2017 SPLOST through an intergovernmental agreement with Gwinnett County.

Watch for Weekend Road Closures to Install Pedestrian Bridge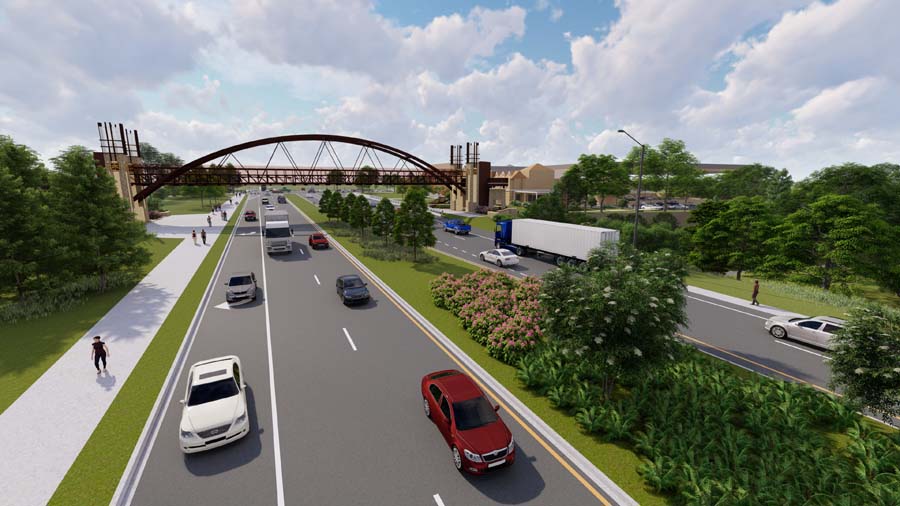 Construction on the pedestrian bridge that will connect the Town Center and The Forum is currently on schedule. To complete the project, a portion of S.R. 141 (Peachtree Parkway) will be closed to traffic during the next two weekends.

During the closures, Medlock Bridge Road and Peachtree Corners Circle around the Town Center will be used as detours for both northbound and southbound traffic.

The schedule at this point, barring any weather delays, is for the first detour to take place at 9 p.m. Friday, June 5 through 5 a.m. Monday, June 8. The actual bridge span will be installed at this time.

The second detour will take place Friday, from 9 p.m. June 12 through 5 a.m. June 15. This time will be used to pour the bridge deck and install the pedestrian panels. Keep an eye out for public updates.
Source: City of Peachtree Corners peachtreecorners.gov
Portion of Spalding Drive in Peachtree Corners to be Widened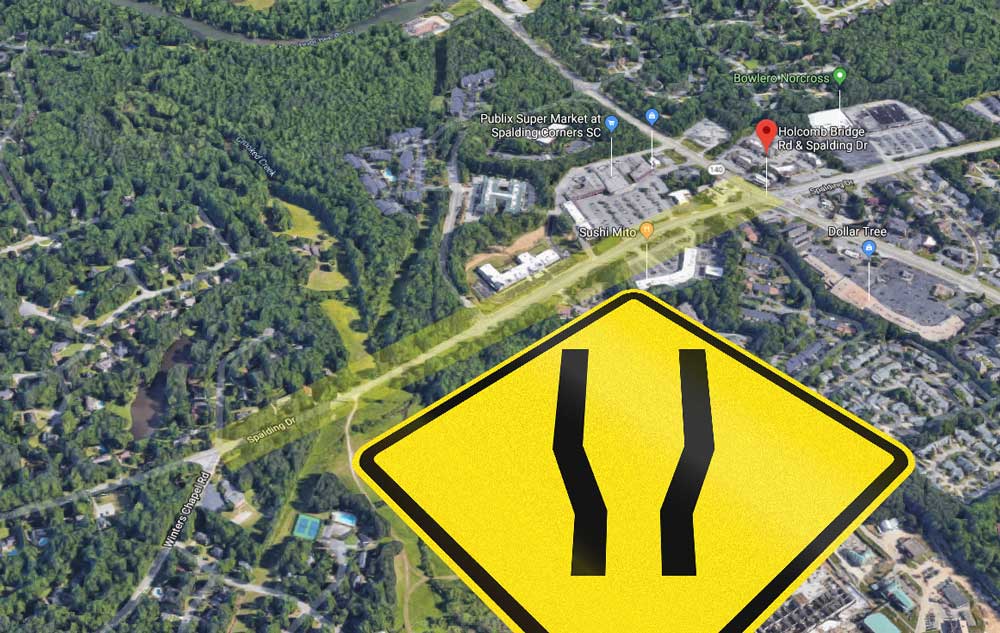 Construction is expected to begin in early 2020.
Relief is finally in sight for commuters and residents who regularly drive the heavily traveled section of Spalding Drive in Peachtree Corners from Winters Chapel Road to Holcomb Bridge Road. Plans have been approved for the project which includes road widening, replacing the Crooked Creek bridge and adding pedestrian walkways.
The work on this .6 mile of road will be partially funded through $2 million in grants issued to Gwinnett County through the State Road and Tollway Authority (SRTA). The total contracted project cost is $6.6 million and will be a coordinated effort by Gwinnett County and the cities of Peachtree Corners and Sandy Springs.
The work will involve widening Spalding Drive from two to four lanes plus a center turn lane from Winters Chapel Road to just west of the intersection with State Route 140/Holcomb Bridge Road; replacing the bridge over Crooked Creek and installing sidewalks and a multi-use path on Spalding Drive. The project also includes constructing a dedicated right turn lane from Winters Chapel Road onto Spalding Drive.
In addition, the existing traffic signals on Winters Chapel Road and River Exchange Drive will be upgraded and curb and gutter and associated drainage improvements will be installed.
"This is welcome news," said Councilmember Phil Sadd. "Spalding Drive is a very busy road that runs through our city and is used not only by our citizens but those traveling from Gwinnett County to Sandy Springs. Additionally, the new bridge and pedestrian improvements will further enhance our efforts to make Peachtree Corners a more walkable city."
The project has been awarded to CMES, Inc. Work is slated to begin in the first quarter of 2020 and is expected to take 24 months to complete.
Construction on Pedestrian Bridge Underway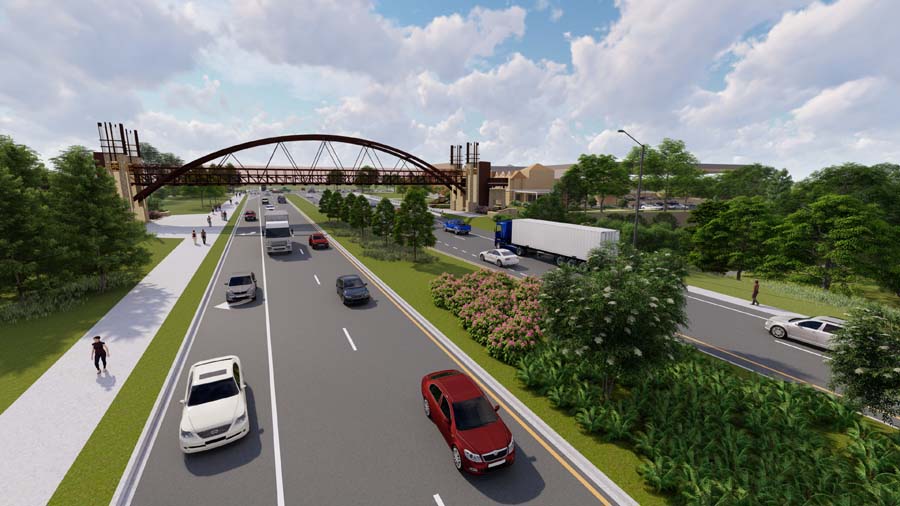 The Peachtree Parkway Pedestrian Bridge is now under construction thanks to the recent permit approval from the Georgia Department of Transportation. Construction is scheduled to continue for the next 14-16 months until completion.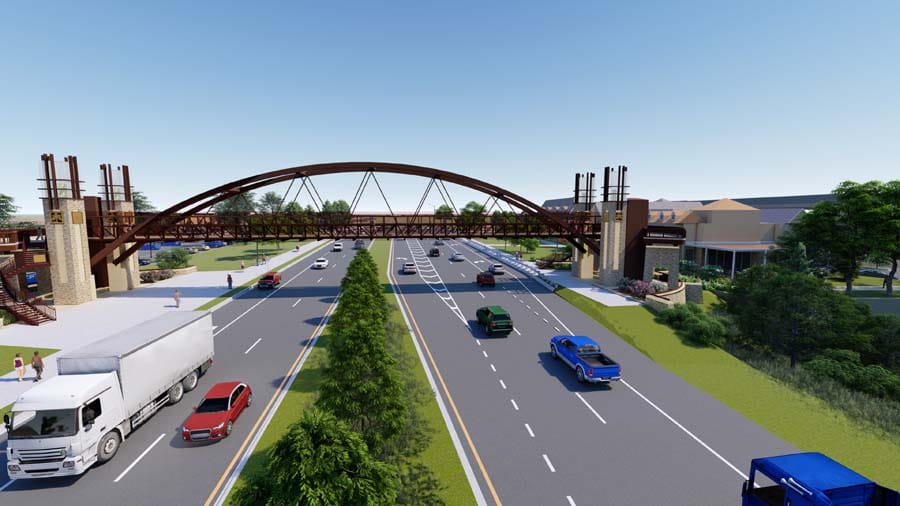 It will be a steel, thrust arch bridge connecting the multi-use path on the west side to the east side of State Route 141 that separates the Town Center and Forum developments. The design of the pedestrian bridge is intended to be a tribute to Jones Bridge, which stretched across the Chattahoochee River for decades and served as a namesake for many of the amenities and roads in the Peachtree Corners community.
Concrete barricades have been installed along northbound and southbound Peachtree Parkway that provides protection between the construction work zone and vehicular traffic. Lane closures or traffic interruptions are not anticipated, but any construction activities that require impact to the vehicular lanes will be kept to a minimum during off-peak hours only, and no permanent or long-term lane closures will be involved.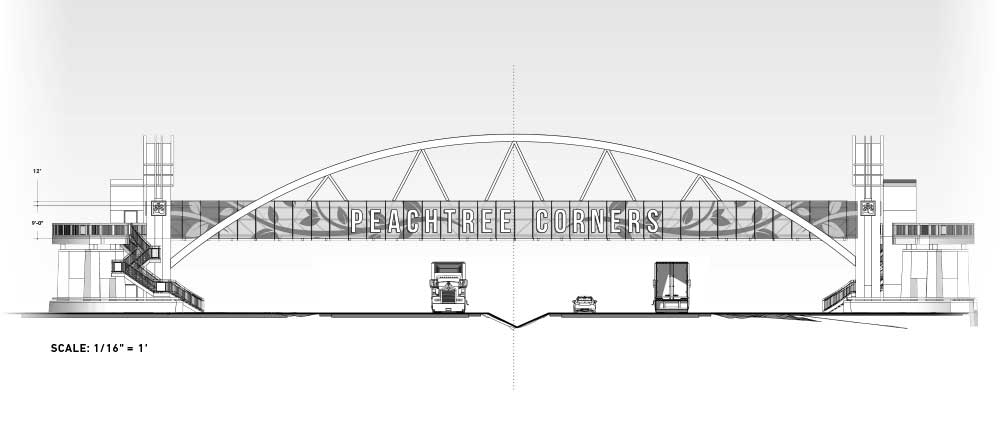 Initial construction for this project will involve driving piles for the foundation of the structural towers on each side of the bridge. The structure itself is being manufactured now and it will be delivered and installed in Spring 2020.
The installation process will require lane closures over a weekend, and information on that process and plans for detours will be disseminated as that information is finalized and the calendar approaches the scheduled dates for the work.
This post updated with final design rendering on 10/23/19