Registration is Now Open for Summer Camps at Wesleyan School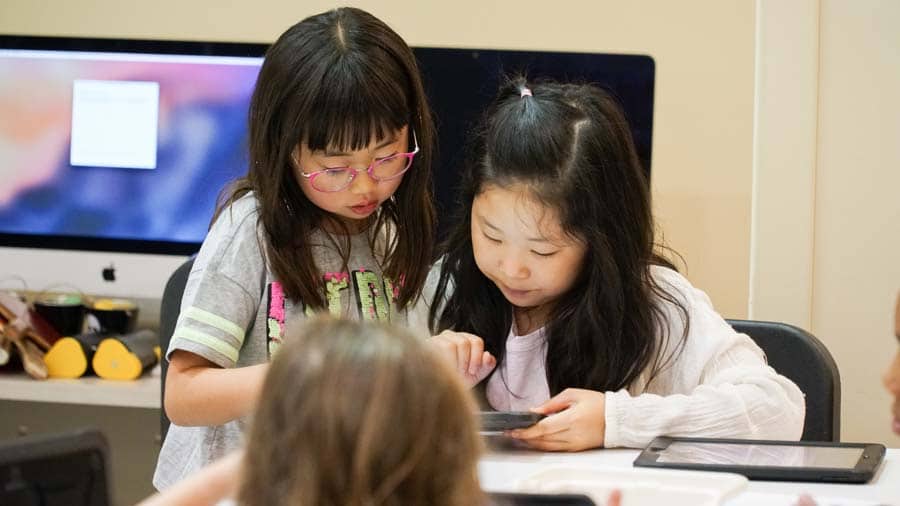 Children ages four to 14 are invited to spend this summer at Wesleyan! Registration is now open for summer camps and the programs are open to all children, regardless of where they attend school.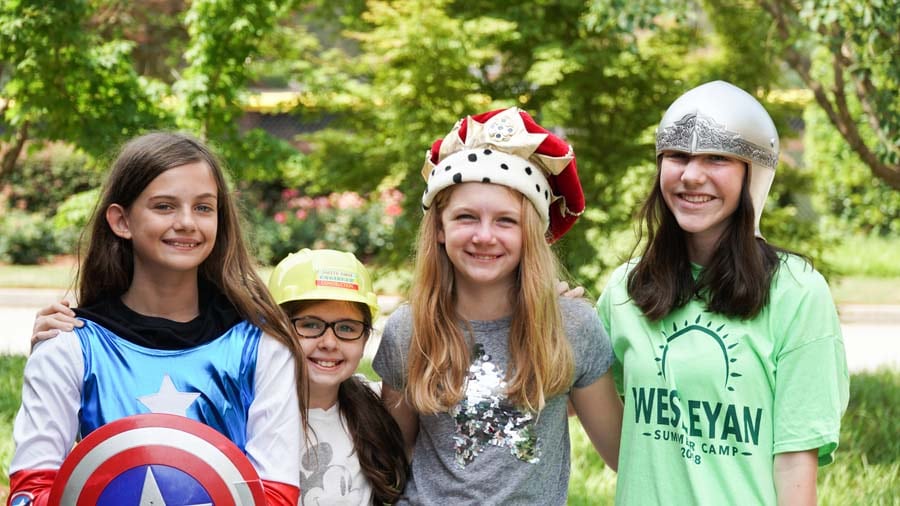 Six-weeks of camp are offered with multiple half- and full-day camps available each week. Camp topics include:
• Academics
• Adulting 101
• Athletics
• Art
• Architecture 3D Imaging
• Cooking and Baking
• Coding and Lego Robotics
• Creative Writing
• Forensic Science
• Intro to Babysitting
• Movie Makers
• Sewing
• Study Skills
• Sports Camp
• Theater and Improv
• Things come Apart
The fun begins June 1. For a full schedule and registration information for both half- and full-day camps, visit www.wesleyanschool.org/summercamps.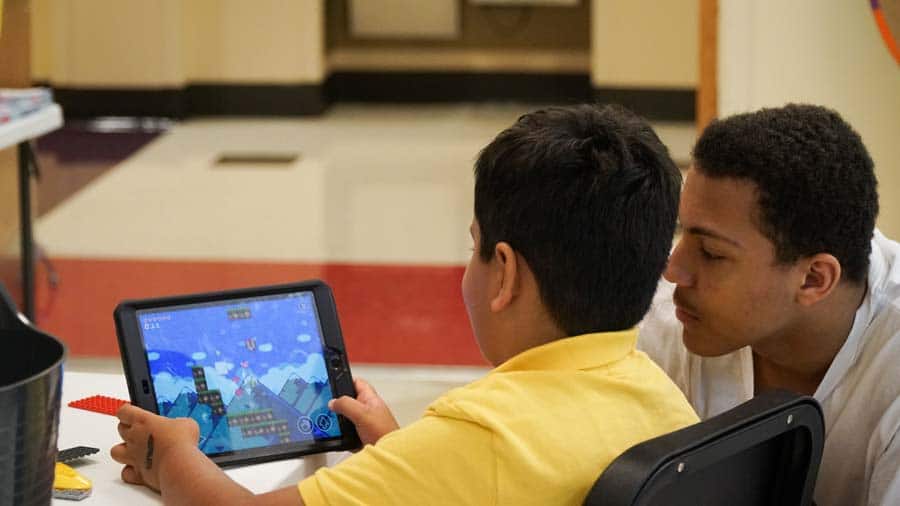 Wesleyan School is a Christian, independent K-12 college preparatory school located in Peachtree Corners, Georgia. At the start of the 2019-2020 school year, Wesleyan enrolled 1,179 students from throughout the metropolitan Atlanta area. To learn more about the school, visit www.wesleyanschool.org.
Summer Camp, Where Every Day is an Adventure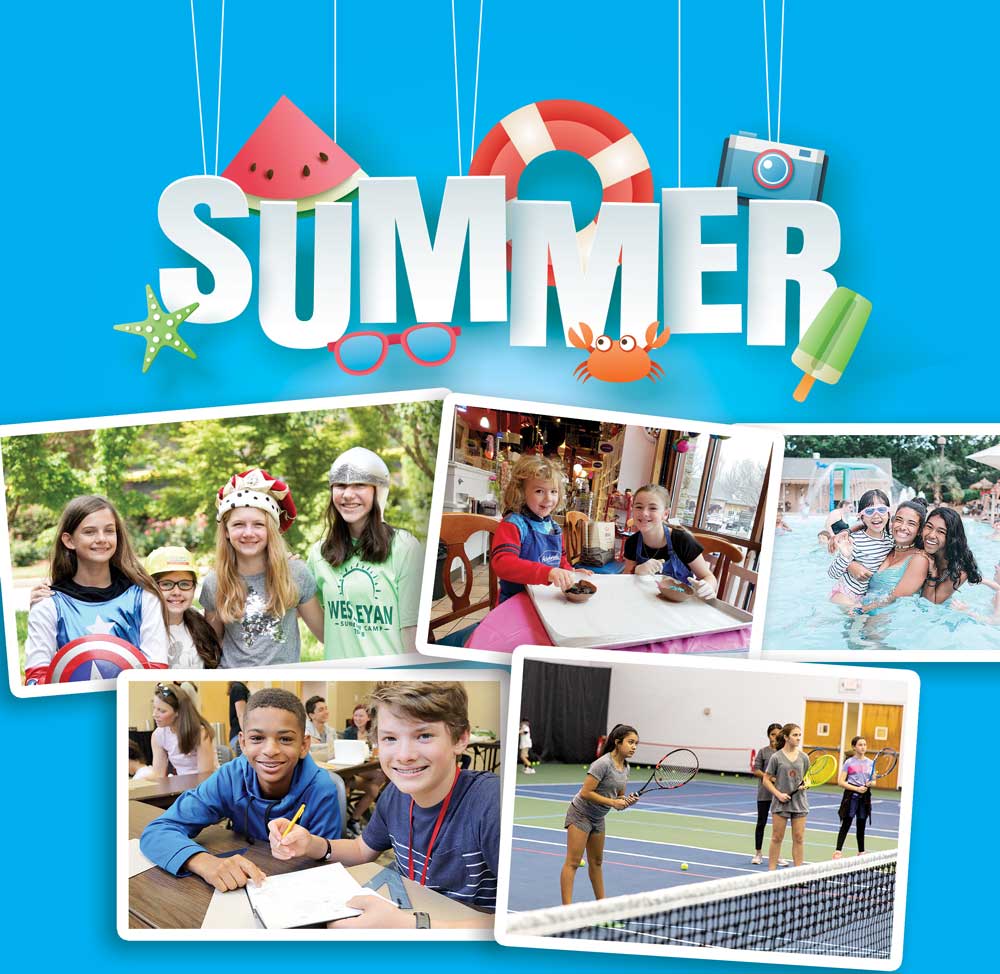 There's no reason for students to get bored during summer break. With all the camp opportunities in the Peachtree Corners area, there's bound to be something that will spark their interest and keep them active. Sure, they'll have fun, and they may even learn something new.
Don't wait to get them signed up, though. Space fills up quickly, so it's best to get registered as soon as you're able.
Schools Stay Open for Summer Fun
Even though school sessions are suspended for summer, that doesn't mean the campuses close down. Many open their doors for summer camps.
Greater Atlanta Christian (GAC) offers a variety of summer camps. There are two separate full-day camps for lower school and middle school children that include activities and field trips. In addition, GAC has camps that feature a full range of sports, fitness and specialties.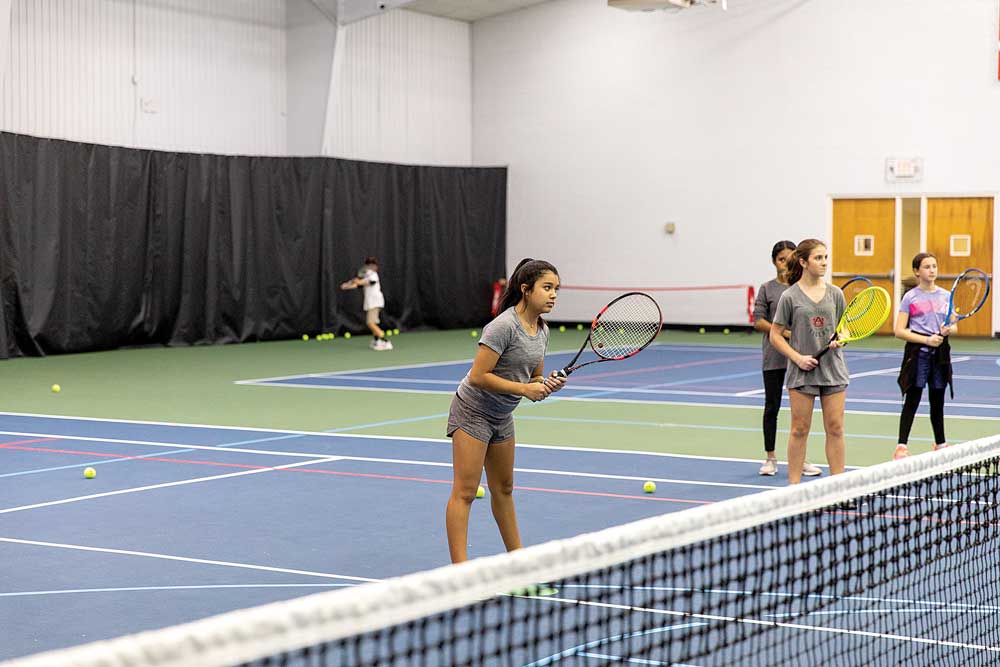 Campers can choose from baseball, flag football, cheerleading, swimming, golf and tennis. GAC is the only K-12 school in Georgia with an indoor tennis facility. It's state-of-the-art, air conditioned and winner of the 2019 USTA Outstanding Facilities Award. GAC's tennis pro also received an award: Tennis Director of The Year, State of Georgia 2019.
All kids are welcome at GAC summer camps; they don't have to be GAC students to attend. Visit greateratlantachristian.org/summer-camp for details and to register.
The Summer Adventure Club at the Primrose School of Peachtree Corners is designed for ages 5 to 12. It allows children to become artists, explorers and scientists as they're challenged by experiments and other themed activities. Register and get more info by calling the school at 770-409-8732 or visiting their website, PrimrosePeachtreeCorners.com.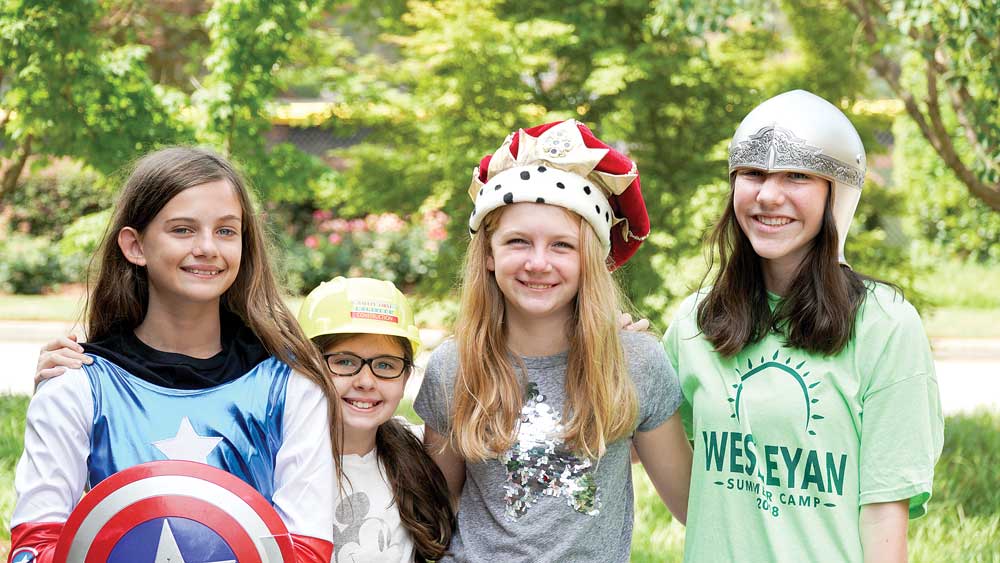 For children aged 4 to 14, Wesleyan School's summer camps run half or full day. The camps cover everything from athletics and arts to STEM and study skills. Camp topics include Adulting 101 and Intro to Babysitting, as well as architecture, cooking and baking, coding and Lego robotics, creative writing, theatre and improv, sewing, movie making and forensic science.
The sports camps include baseball, basketball, football, soccer, lacrosse, tennis and volleyball. Lunch and a snack are included in full-day camps; before and after care is also available. Campers do not need to attend Wesleyan to participate in camp. Learn more at wesleyanschool.org/summercamps.
It's worth the trip to Athens, Ga. for your child to attend camp at UGA Summer Academy. Not only do students stay academically engaged while school is out, they can explore their own interests and passions.
UGA hosts several academic camps for ages 11 to 17. A sampling of the available specialties includes animation, film, mini-medical school and game design. Registration opens Feb. 5, 2020, and financial aid is available for students based on need. Visit georgiacenter.uga.edu/youth or call 1-706-542-3537 for the full list of programs and to register.
Other Spots to Enjoy Camps
Peachtree Corners Baptist Church offers several sports camps through their recreation ministry. But there's much more, like a Beach Camp, for students who have completed grades 6 to 12, from May 31 to June 5, or Lifeway's "Concrete and Cranes" Vacation Bible School running June 8 to 12, 8:45 a.m. to 12 p.m., for children who have completed Kindergarten through grade 5.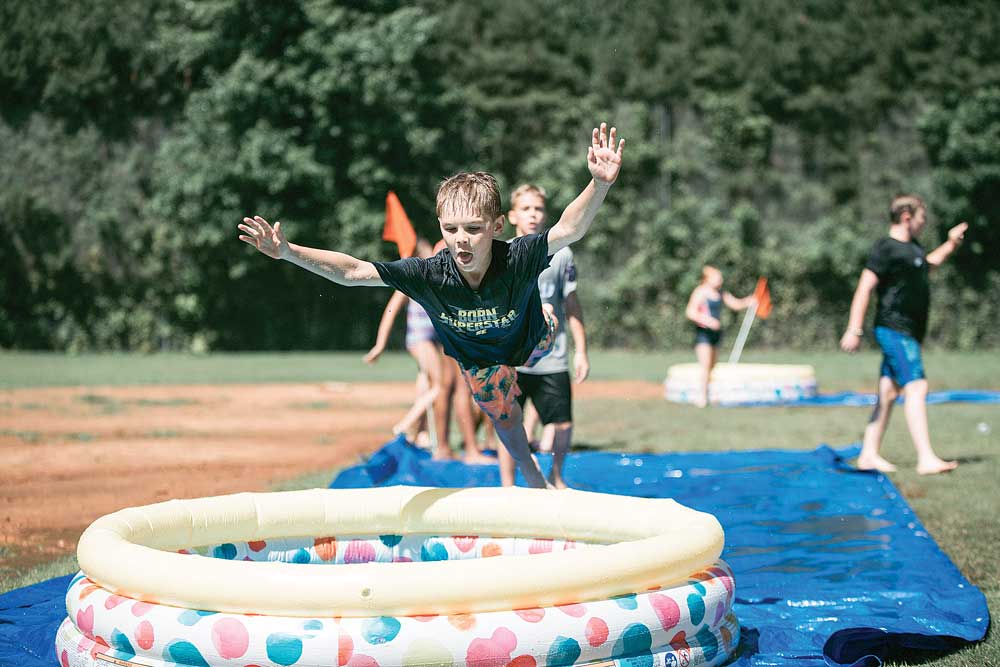 Centri-Kid Camp, July 6 to 10, will be offered at Shocco Springs Retreat Center in Talladega, Ala., for kids who have completed grades 3 to those in grade 5. Take advantage of early bird pricing through Feb. 28 for Peachtree Corners Baptist Church's Summer Daze camp for children aged 2½ to those who have completed grade 3; it runs 9 a.m.-1 p.m. on Tuesdays and Thursdays, from June 23 to July 23. Register and get additional info at pcbchurch.org.
At Robert D. Fowler Family YMCA, there are so many camp opportunities that choosing can be a challenge. Sports lovers can pick from gymnastics, cheerleading, soccer, baseball, basketball, flag football, volleyball and more. There's also swim and skate camp.
Junior Ranger Camp, a traditional camp with full and half-day options for ages 5 to 12, takes students on nature walks, canoeing and swimming in the Chattahoochee River National Recreation Area, park of the National Park Service.
That's not all. There's also half-day preschool camp for ages 4 to 6, full-day teen camps for ages 13 to 15 that prepare them for leadership, and specialty camps including STEM, film and creative arts. To find out more and register, go to ymcaatlanta.org, click on Summer Camp and choose the Robert D. Fowler location.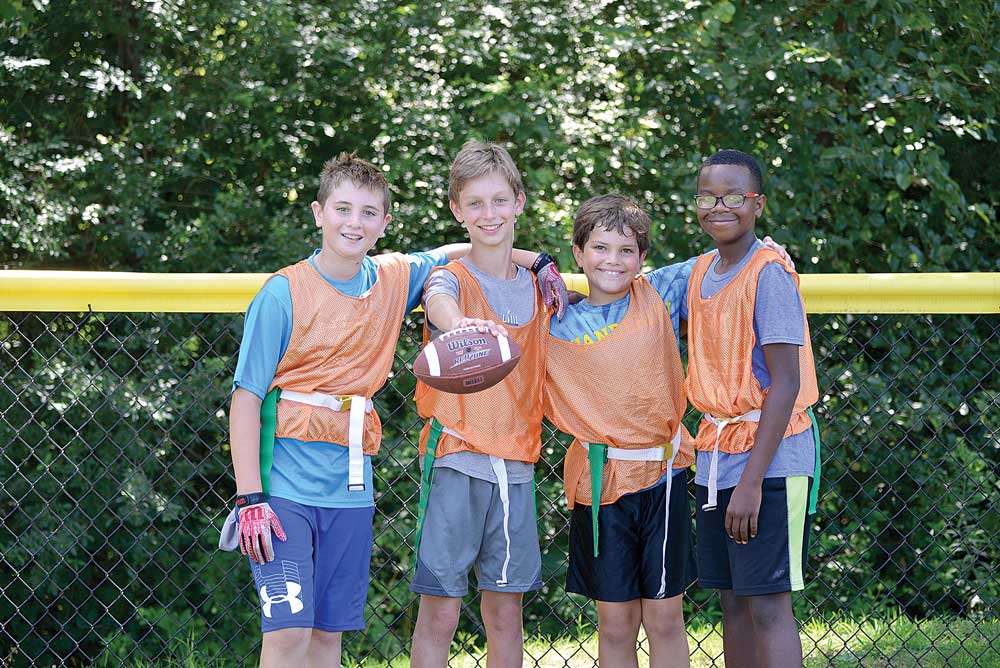 Marcus Jewish Community Center of Atlanta hosts their MJCCA Summer Day Camps for Pre-K to grade 10 students from May 26 to August 14 in three locations: Dunwoody, Intown and East Cobb. Some of the unique camps available are Sports Broadcasting, led by Atlanta Hawks' very own Bob Rathbun, and Teen E Sports, which combines the best of both the real and virtual sports worlds.
Sports camps include the Atlanta Hawks Basketball Camp with Hawks' professional team of coaches leading focused practices and games. Partnering with Concorde Fire, MJCCA Camps offer a one-of-a-kind soccer camp experience, challenging campers both technically and tactically.
Some of the new active 2020 MJCCA Day Camps are American Ninja Warrior (for teens), Bring the Hype Dance Camp, Challenger Soccer Camp, Cheer and Dance Camp and Dancing with a Purpose. Campers can also opt for MJCCA Day Camps' Camp Isidore Alterman (CIA), where they can enjoy lake activities, archery, ropes course, zip-lining, outdoor cooking, swimming and fishing. To register, go to mjccadaycamps.org or call 678-812-4004.
Gwinnett Parks & Recreation works with local instructors and sports-based companies to offer a variety of camps where kids can learn new sports and enhance their skills. Sports camps include baseball/softball, basketball, soccer, flag football and tennis.
Adventure Camp, for ages 7 to 13, and Jr. Adventure Camp, for ages 5 and 6, feature general recreation activities with a different theme each week. For example, the June 1 to 5 camp theme is Earth, Wind & Fire which will allow campers to explore the elements, and July 20 to 24's Full Steam Ahead camp will explore renewable energy with STEAM activities. Campers should bring a lunch, snack and drink daily. Camp runs from 7:30 a.m. to 6 p.m. daily, and costs $126 per child per week of camp.
Register for Gwinnett Parks & Recreation sports camps and Adventure Camps at gwinnettcounty.com. Click on Departments, then Community Services, then Parks & Recreation, then Camps and, finally, Camp Registration. You'll find the full listing of all the available options with details.
The weekly themes at Lifetime Fitness summer camps span many interests—animation, dinosaurs, glitter and slime, emojis, escape rooms, space travelers and so much more. All the activities focus on healthy eating, physical activity, character development, community connections and STEAM. Call Lifetime Fitness in Peachtree Corners at 770-449-6060 for more information and to get signed up.
Full-day camps at Camp All-American are for kids aged 5 through 17 and feature Bible study, physical activity and a wide range of specialties. Camp runs for 10 weeks and is held at Perimeter Church in Johns Creek. Day camps for students in grades 1 to 6 are held at Dunwoody Baptist Church. Get more info and register at campallamerican.com.
Special Times with Specialized Camps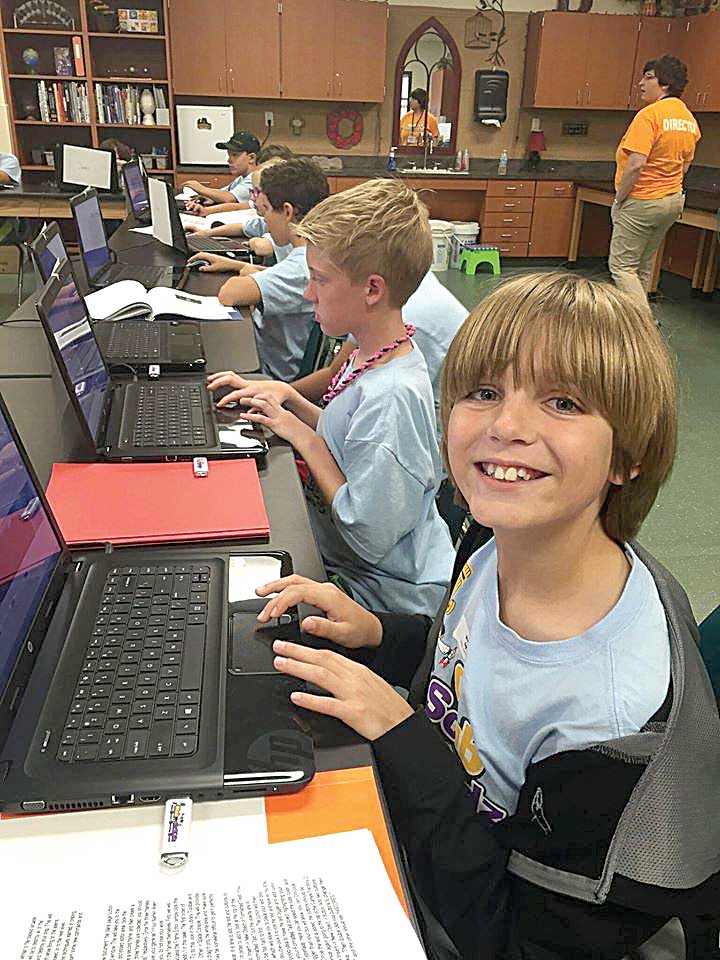 Each summer, Club SciKidz offers four themed camps for grades Pre-K to 5. Themes this year are By the Beautiful Sea, Cosmic Cookie Dough, Robot Rumble and Coding Kaleidoscope. The American Girl camp is open campers in grades 1 to 5.
Campers in grades 5 to 8 can choose from the Tech Scientific division. Concentrations include Veterinary Medicine, 3D Printing, Chemistry, Rocketry, Drones, Stop Motion Animation, Harry Potter, Minecraft with Java Programming and Advanced LEGO Robotics.
Each day, campers rotate through four classes that incorporate science, technology, art and an outdoor component. Pre-camp and post-camp hours are available. Club SciKidz camps are held at several locations near Peachtree Corners, including Duluth First United Methodist Church. Enroll and get details at ClubSciKidz.com.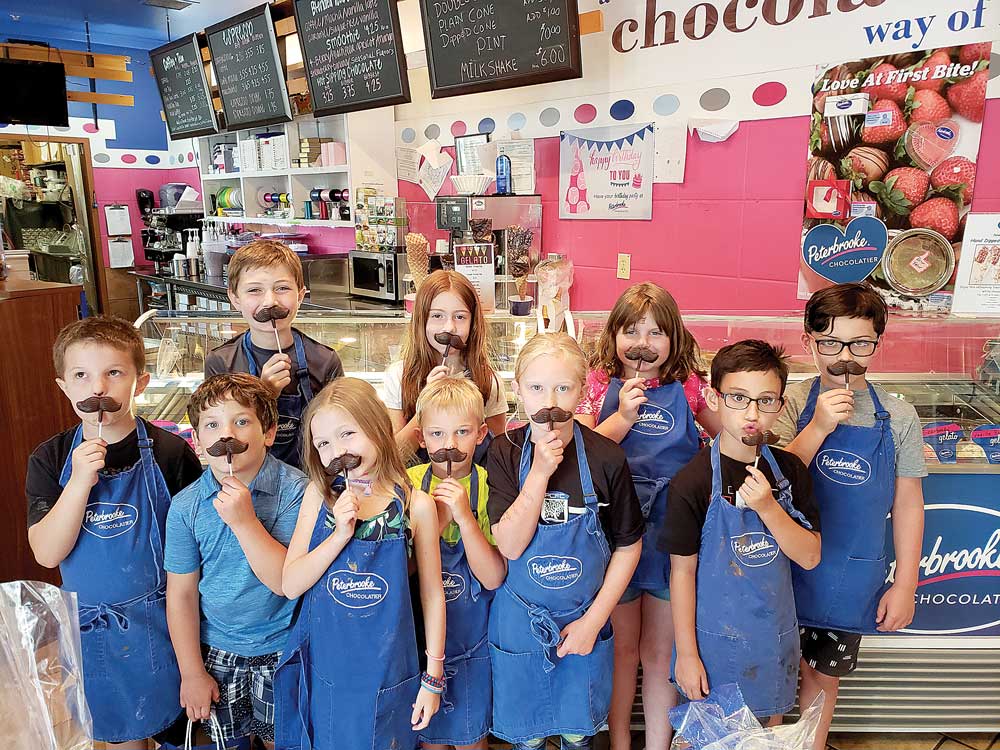 Does your child love chocolate? The answer is probably yes. Consider Chocolate Summer Day Camp at Peterbrooke Chocolatier at the Forum. Not only will campers learn all about the history of chocolate, they'll also get to be chocolatiers for the day. After dipping caramel apple, pretzels, Oreos, potato chips and graham crackers into Peterbrooke chocolate, the kids will package their creations to take home.
Camp is held every Tuesday, Wednesday and Thursday, May 31 through August 9. The daily session cost of $50 per child includes Jason's Deli Lunch and gelato for dessert, and of course, Peterbrooke Chocolate. Space is limited; call Peterbrooke Chocolatier at the Forum for details at 770-817-8118.
New this year is the Animal Ambassador Camp with Gwinnett Animal Welfare and Enforcement for children aged 7 to 14. Students can become a junior animal ambassador by learning all about pet care. The $80 per week cost includes animal interaction, arts and crafts, educational activities and special guests. Camp runs 12:30 p.m. to 4:30 p.m.; register at GwinnettAnimalWelfare.com.
At Autrey Mill Nature Preserve & Heritage Center in Johns Creek, kids are encouraged to reconnect with nature and history. Campers enjoy activities and learning opportunities while having time to explore and imagine. There are several options of full-day summer camps for campers 5 to 13 years old; half-day camps are available for 4-year-olds. Find schedules and more at autreymill.org. ■
Local churches offer Vacation Bible Schools and other summer fun for kids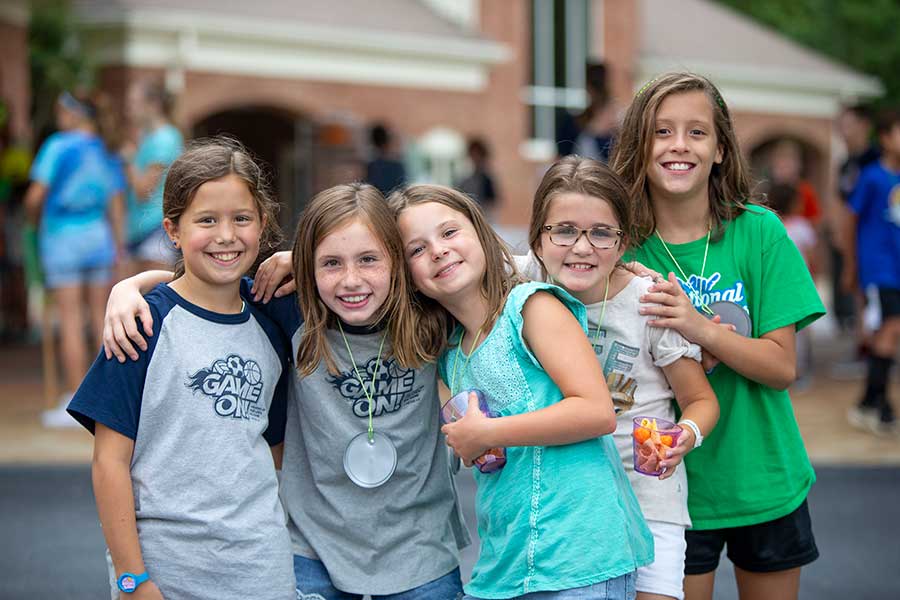 Many of the churches serving the Peachtree Corners community are providing ways to help students develop spiritually, socially, physically and academically while school is out. In addition to Vacation Bible Schools, there are camps, sports clinics and other activities on the calendar.
Christ the King Lutheran — YeeHaw Weekend
YeeHaw Weekend Vacation Bible School at Christ the King Lutheran Church is a stampede of fun that celebrates God's greatest gift — Jesus. The Vacation Bible School will be held Friday through Sunday, July 26-28. Friday, 5:30-8:30 p.m., and features a Chick-fil-A dinner. The Saturday afternoon program runs from 2 to 4:30 p.m., and Sunday morning, 9-11 a.m., includes a Waffle House breakfast.
Registration is open now, and there's a free music CD/download for those who register by July 1. The cost is $5 per camper, with a family maximum of $15. For more information and to register, visit ctklutheran.org or call 770-449-1211.
Peachtree Corners Baptist — In the Wild
This year's Vacation Bible School at Peachtree Corners Baptist Church is In the Wild. The free community event is open to children who have completed kindergarten through 5th grade. The program runs Monday through Friday, June 10-14, 8:45 a.m. to 12 noon each day. Registration is open and can be accessed through pcbchurch.org.
To accommodate working parents, After-VBS Camp is available Monday through Friday, June 10-14, 12 noon to 5 p.m. The camp is for students who've completed 1st to 5th grades at a cost of $150. There will be fun games, as well as trips to Glow Galaxy, Monkey Joe's, West Gwinnett Aquatic Center and Chuck E. Cheese. Please note that limited space is available.
Several other kids' events are offered at Peachtree Corners Baptist Church this summer, too. There's a Sports Camps and Clinics for kids and teens in June and July. The list includes Basketball Camp (June 3-6 and July 22-25), Baseball Camp (June 24-26 and July 8-10), Pitcher and Catcher Day (June 27 and July 11), Dodgeball Day (July 26). For specifics on sports camps, go to pcbchurch.org, scroll over 'Connect,' click on 'Sports' and then 'Camps and Clinics.'
Kids Night In, on Wednesday, June 19 from 6 to 9 p.m., invites students who've completed kindergarten to 5th grade for a movie night in the Collide Studio. After a pizza dinner, there will be popcorn to snack on while everyone watches the animated movie "The Lion King." Children are encouraged to wear PJs and bring their pillow and blanket. Kids Night In is free and no registration is required.
Visit pcbchurch.org or call 770-582-2450 for information and to register for VBS, camps or special events.
Simpsonwood UMC—ROAR: Life Is Wild — God Is Good VBS
This summer, the theme of Vacation Bible School at Simpsonwood United Methodist Church is ROAR: Life Is Wild — God Is Good. The program is offered exclusively for children from 4 years old (as of Sept. 1, 2019) through students who have completed 5th grade.
ROAR runs Monday through Friday, July 15-19, 9:30 a.m. to 12:30 p.m. at Simpsonwood UMC, 4500 Jones Bridge Circle, Peachtree Corners 30092. Go to simpsonwoodumc.org or call the church at 770-441-2181 for details or to register.
Mary Our Queen — Cool Kingdom Party
At Mary Our Queen Catholic Church, kids are officially invited to spend a royal week with the King and Queen of Heaven and Earth. Children participating in Cool Kingdom Party, a Catholic Vacation Bible School, will learn all about Mary and how she leads people closer to her Son, the King of Kings.
This royal week is offered for children aged 4 years old (by June 1) to 5th grade, and is offered Monday through Friday, June 24 to 28, from 9 a.m. to 12 p.m.
The cost is $40 per child; families of three or more children should contact the church for possible family discounts. Each child requires a separate registration. Mary Our Queen Catholic Church is located at 6260 The Corners Parkway, Peachtree Corners 30092. Call 770-416-0002 or go to maryourqueen.com to register and get additional info.
Landmark Church — Supernatural Kids: Bringing Heaven to Earth
An exciting and fun-filled Vacation Bible School, Supernatural Kids: Bringing Heaven to Earth will be presented at Landmark Church. It's an awesome opportunity for children, aged 5 to 12 years old, to experience a supernatural encounter with God.
The week-long experience runs Monday through Friday, June 10-14, from 8 a.m. to 12 noon. Through Supernatural Kids, children will be able to discover who they are and connect with God through the Bible.
For older kids, aged 8 to 18 years, Landmark Church offers AOTM (All Over The Map) Drama Troup Camp Tuesday through Saturday, June 18 to 22, from 9 a.m. to 12 noon. They're invited to come to develop drama skills and discipline, experience teamwork and commitment and build friendships while enjoying games and learning to walk with Christ Jesus. The camp ends with a special cast party!
Landmark Church, 3737 Holcomb Bridge Road, Peachtree Corners 30092. Find out more and get registered at landmarkchurch.org or by calling 770-449-5956. ■
Summer Meals Program Coming to Gwinnett Parks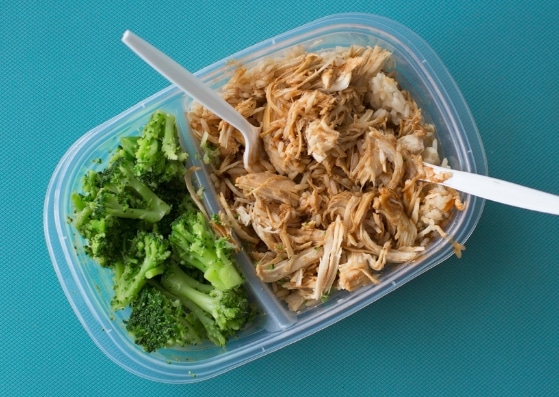 A program to make sure children have access to healthy meals during summer break is coming to three Gwinnett County Parks and Recreation locations. The Gwinnett County Board of Commissioners on May 7 approved a memorandum of understanding with the nonprofit Georgia Nutritional Services, Inc. to serve as the sponsor for the federal Summer Food Service Program at no cost to the County.
Where it will be offered
As the sponsor, GNSI will secure Meals for Kids to serve as the food vendor for the program. The meals program will be offered at:
Best Friend Park Gym, 6224 Jimmy Carter Blvd. in Norcross; Lilburn Activity Building, 788 Hillcrest Road in Lilburn;
Rhodes Jordan Park, 100 East Crogan St. in Lawrenceville.
What Age Group
The Summer Food Service Program will be available for children age 18 years and younger and those age 19 years and older who have a physical or mental disability. The program will provide a free daily meal and snack for summer camp attendees and will be open to the public as well.
The program will run weekdays June 3 through June 28 and July 8 through Aug. 2 (no service July 1-5).  Lunch will be served from 11:30 a.m. to 12:30 p.m. and snack from 2:30 p.m. to 3 p.m.
For a location to be eligible for the Summer Food Service Program, the site must be located in a Board of Education school cluster where more than 50 percent of its students receive free or reduced lunch.
District 4 Commissioner Marlene Fosque said as an added benefit, all three parks are in close proximity to a transit bus stop for easier access by participants. "I am proud of Gwinnett County Parks and Recreation for expanding its healthy lifestyle programming to include providing nutritious, accessible meals for children," said Fosque.
For more information about the Gwinnett County Parks and Recreation, visitwww.GwinnettParks.com.