Tough-Love Teacher Preps NHS Drama Students for Stage and Life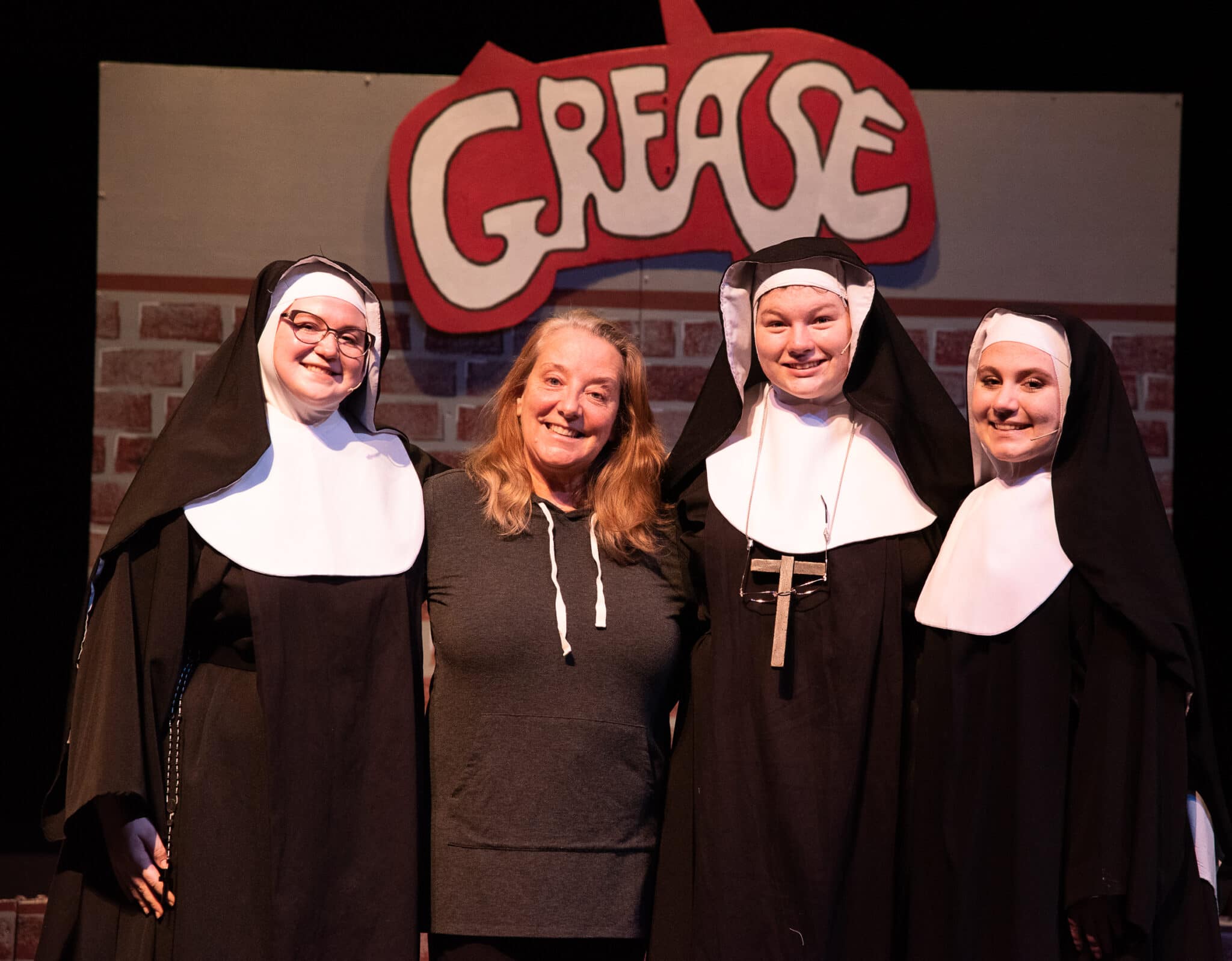 Photos by Richard Phillips.
Gina Peverley Parrish, Norcross High School (NHS) Theatre Director, is the first to admit it. She's strict. She doesn't coddle kids. She would never hand out a participation trophy.
Her Thespian Troupe members must become familiar with all aspects of theatre, from lighting to sound. They make their own costumes and build next-level sets. They're expected to show up for rehearsals after school and on weekends and to give every performance everything they've got.
"When a student who is thinking about auditioning for a show asks me if it is hard work, my response is, 'You bet it is,'" Parrish said. "Nothing makes me more proud than when someone says after a show how shocked they were that they were watching a high school show. It seemed so much more professional than they had imagined. In class and at rehearsal, we want to have fun, learn about theatre, and always demonstrate a strong work ethic."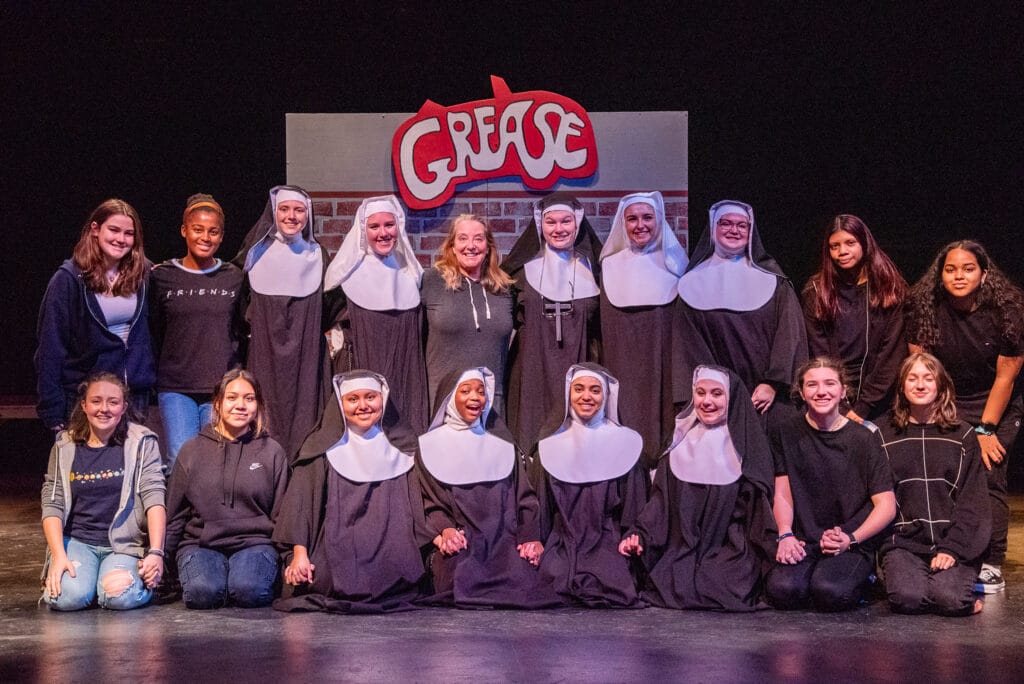 For Parrish, now in her 30th year of teaching drama at NHS, this has been a recipe for success. The NHS Thespian Troupe slayed at Georgia High School Association competition this fall, taking first place at the Region 7AAAAAAA One-Act Play State Championships with a performance from the musical comedy "Nunsense."
Claire Sauls, a junior, won Best Actress, and seniors Makena Hilsmier and Ella Bullock were named to the competition's All-Star Cast.
Earlier this fall, Claire was cast in the 2022 All State Theatre Opening Number Production for the Georgia State Thespian Conference.
While sweet, these victories are par for the course for Parrish, who was inducted into the national Educational Theatre Association's Hall of Fame in 2017 and who's seen some of her students become professional actors.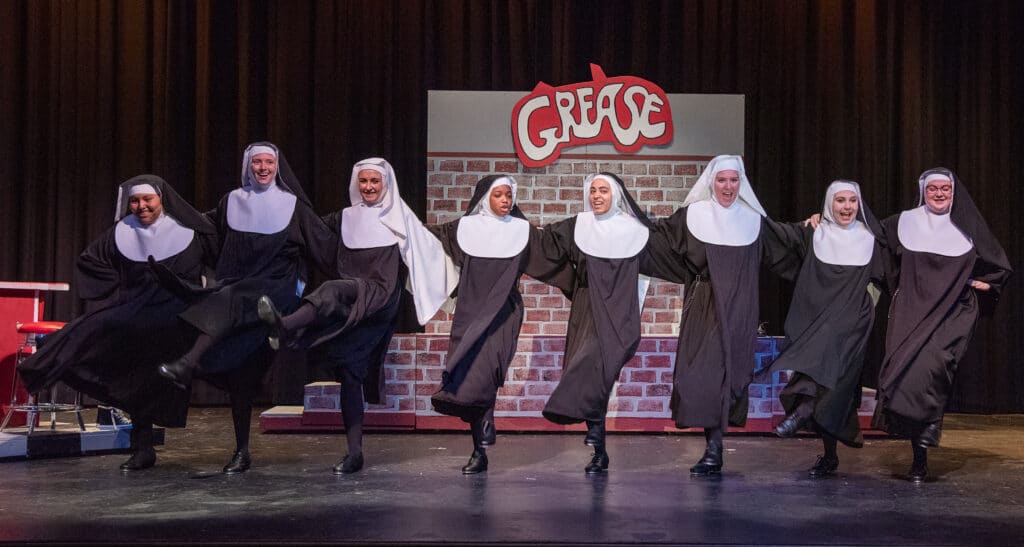 "We've won our region many times, been to state many times. We won one state championship, in 2009. For me, once we get to state, to be honest, it's not whether we win or not. It's that the kids get there, and they do the very best job that they can do," she said.
'You learn how to command a room'
Claire plans to go into an arts field after high school and enjoys the competitive aspect of theatre troupe. "You get the chance to feel what a true competition is like … which will be really helpful in the real world," she said.
Of the drama program, she said, "I love how many opportunities are given to me. There's always a chance to do better roles and learn fundamentals like dancing and singing."
Ella and Makena aren't planning drama-related careers, but they say theatre education has helped them in many ways.
For Ella, the program has been a great way to make friends and she said it has boosted her organizational skills. "You take on a lot of responsibilities in drama and I think that really prepares you for the outside world," she said.
Makena says the program "helped me come into my own as an actor, as a performer, and well, as just a person."
Drama is also helping her prepare to become a teacher, she said. "You learn how to be confident with yourself. You learn how to command a room. I'm one of the co-presidents of our troupe, so I'm really working on my leadership, work ethic and team-building skills," Makena said.
A family at school
The two seniors' mothers, Kristi Bullock and D'Anne Hilsmier, are Drama Booster Club co-presidents. "For the last couple of years, we have been joined at the hip, planning and organizing the needs for the drama department and students," Bullock said.
She credits the troupe's success in large part to Parrish's leadership, which she says goes well beyond what happens on stage.
"She's like a football coach. … She can be very direct. There's lots of tears and laughter and she doesn't hold back criticism. She's truly just trying to make them their best self on stage," Bullock said. "So it can be challenging, but the reward is when they get the standing ovations and they win the region competition and all that kind of stuff."
Claire appreciates the wealth of knowledge that Parrish, known by the nickname "Pev," shares with her students. As Makena puts it, Parrish is "just all around an amazing teacher."
After working in theatre in New York City and Virginia, Parrish decided she wanted to teach high school theatre and got her Master's in Education from the University of Virginia.
She taught in Orange, Va. for three years, moved to Duluth in 1992 and then began teaching at NHS.
"High school is a last chance for a lot of kids to do a little bit of everything," Parrish said. "I have a bunch of football players and water polo players that will be auditioning for our spring musical, 'Grease,' so that's kind of fun."
She's proud of NHS Drama "and the many graduates who have moved on and become productive members of society."
"Our theatre program, much like that of sports, band and others, gives students a family at school — an outlet and place to belong. For some, if it were not for their extracurricular activity, they might not have stayed in school," Parrish said. "That is one of the things I am most proud of, being a part of an amazing group of teachers who care so much about their kids and give all they have to ensure their success."
In Their Own Words
Actors Chandler Massey and Brad Benedict are both alumni of the NHS Thespian Troupe.
Massey, a three-time Daytime Emmy Award winner, is a regular on the soap opera "Days of Our Lives" and has appeared in several drama series. Benedict is an actor, producer and a regular on the prime-time series, "The Oval."
Peachtree Corners Magazine asked the actors to share a highlight of their time in the troupe and tell us how the drama program and teacher Gina Parrish impacted their lives. We also asked them for a message for current students.
Brad Benedict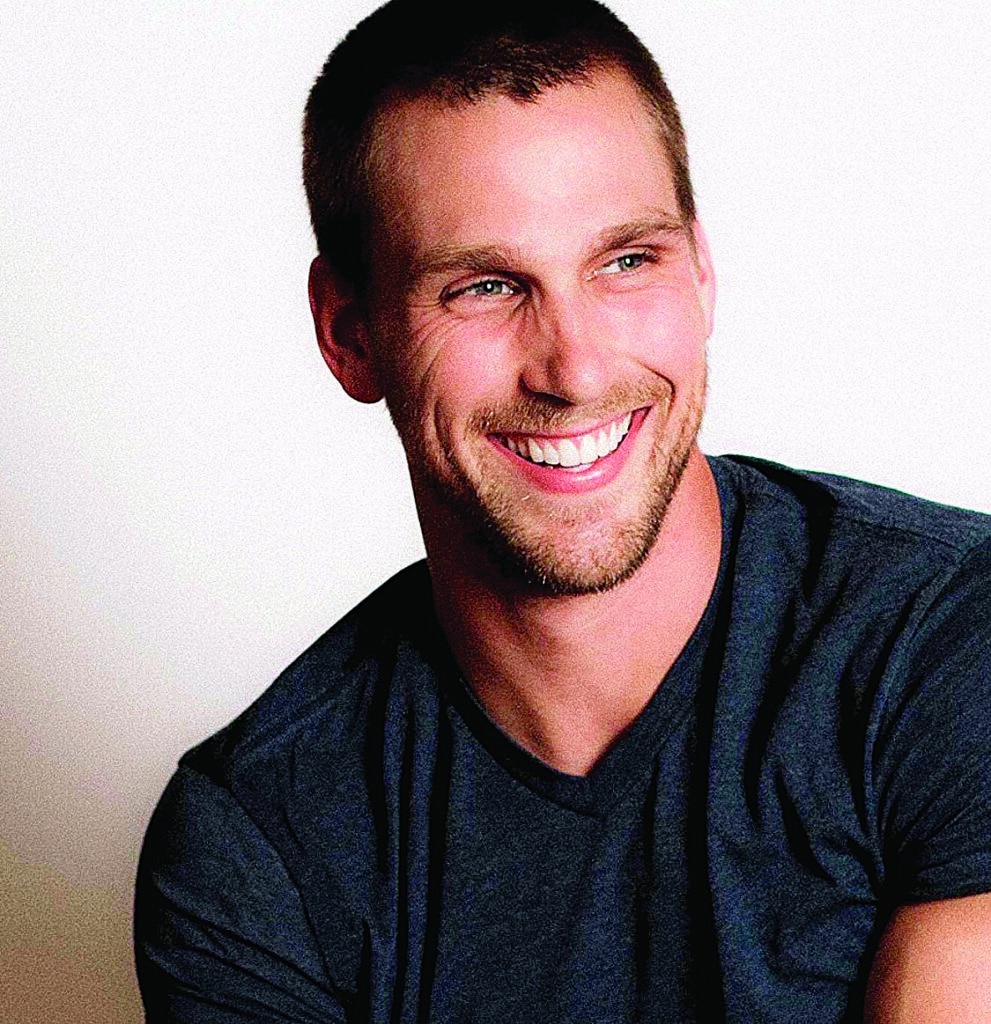 Participated in Norcross Theatre in the spring of 2003 and graduated from NHS in 2004.
The highlight of my time in Norcross Theatre was the spring musical my junior year, "Bye Bye Birdie." I had no formal acting experience going in, and ended up being cast in the leading role, Albert Peterson, with several song and dance numbers. A memory for a lifetime.
Benedict with Gina Parrish. Bye Bye BIrdie (NHS) 2003. OVAL on BET
Norcross Theatre changed my life forever. It was the first, and only time, I ever auditioned for any acting role before moving to Los Angeles to pursue a professional acting career. "Bye Bye Birdie" gave me my first real taste of the stage and performance, and I immediately fell in love. It was one of the scariest things I had ever done to that point, but also one of the most rewarding and character building.
I was a completely green actor who Ms. Pev, as we called her during my days at NHS, was willing to take a chance on and groom and believe in. In doing so, she had a hand in changing my life forever for the better. Her gamble on casting me, and willingness to help me grow, instilled a sense of belief in my soul that, by putting myself out there, and with a lot of hard work, I could achieve anything. She ignited a spark that I have carried with me ever since that has led me to take chances, bet on myself, choose the path less traveled, and, in turn, has brought overflowing fulfillment to my life. I am forever grateful.
OVAL on BET. NHS Drama, Bye Bye Birdie (NHS) 2003.
I'm currently living my dream as a cast member on a TV show, created and directed by Tyler Perry, called "The Oval," that airs on BET Networks. We just finished filming our fourth season last week. I also filmed a movie that will be released on Netflix in 2022 called "A Jazzman's Blues," where I play a small-town sheriff in the 1940s. 'Jazzman' is probably the project I am most proud to have been a part of to date.
To all those students with a big dream, I leave you with this quote by Theodore Roosevelt that has meant so much to me:
"It is not the critic who counts; not the man who points out how the strong man stumbles, or where the doer of deeds could have done them better. The credit belongs to the man who is actually in the arena, whose face is marred by dust and sweat and blood; who strives valiantly; who errs, who comes short again and again; … who spends himself in a worthy cause; who at the best knows in the end the triumph of high achievement, and who at the worst, if he fails, at least fails while daring greatly, so that his place shall never be with those cold and timid souls who neither know victory nor defeat."
Chandler Massey
Participated in Norcross Theatre from 2006-2009 and graduated from NHS in 2009.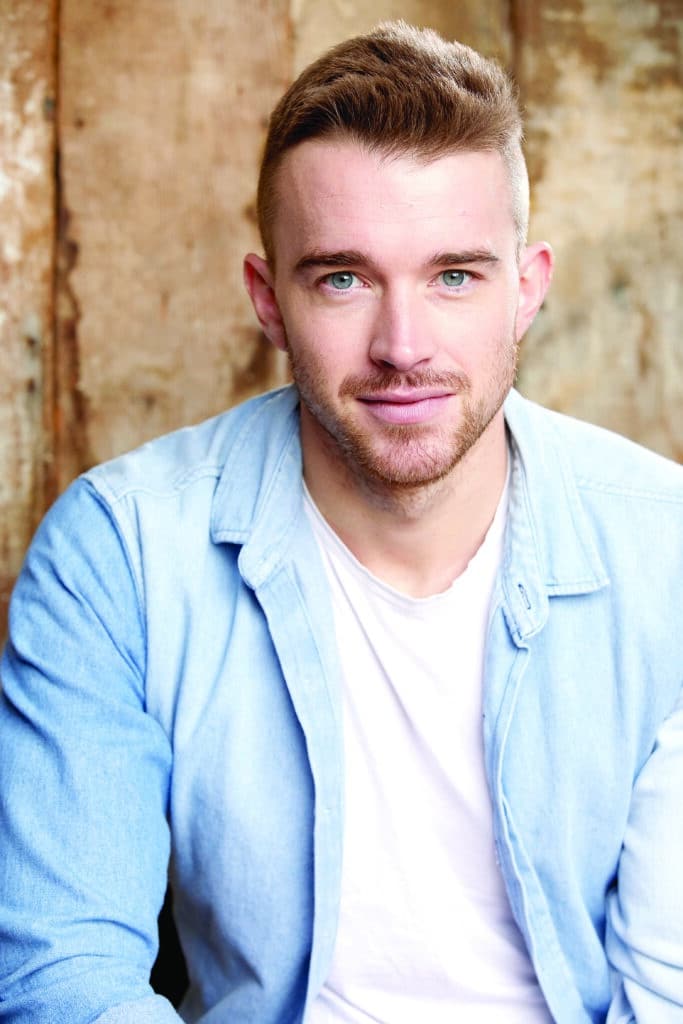 My favorite moment would probably be playing the lead in the musical "Little Shop of Horrors" my sophomore year. It was my first big role and helped me gain a lot of confidence.
It feels weird to type Gina Parrish, so I will just refer to her as Pev from now on (we all called her that).
Massey's time at Norcross High School.
If it weren't for Pev, I would be a financial analyst (or something similarly dry) right now. She gave all of us misfit theater kids a home, a place where we felt we belonged and could contribute in a meaningful way. She was a drill sergeant, and she cared more about us as individuals than any teacher I have ever had. She transformed me from a child with crippling social anxiety to a young man who didn't think twice about singing and dancing in front of hundreds of members of the community.
The Norcross Theatre wing felt like it existed on a different plane than the rest of the school, a consequence of the incredible environment Pev fostered. She demonstrated to all of us the value of developing a strong work ethic. She instilled in us a love of working together to create something bigger than ourselves. It wasn't even about acting, or singing, or dancing. It was about us, a group that for the most part didn't fit in anywhere else. She gave us a home, and thanks to her I had the resolve to pursue a career in the arts.
I'm not really good at giving advice, but I will say that at some point you will stumble upon something that makes hours feel like minutes. One sure path to a meaningful life is to pursue that thing despite the difficulties and obstacles that will inevitably rise up to challenge you.
Memorable Moments of Parrish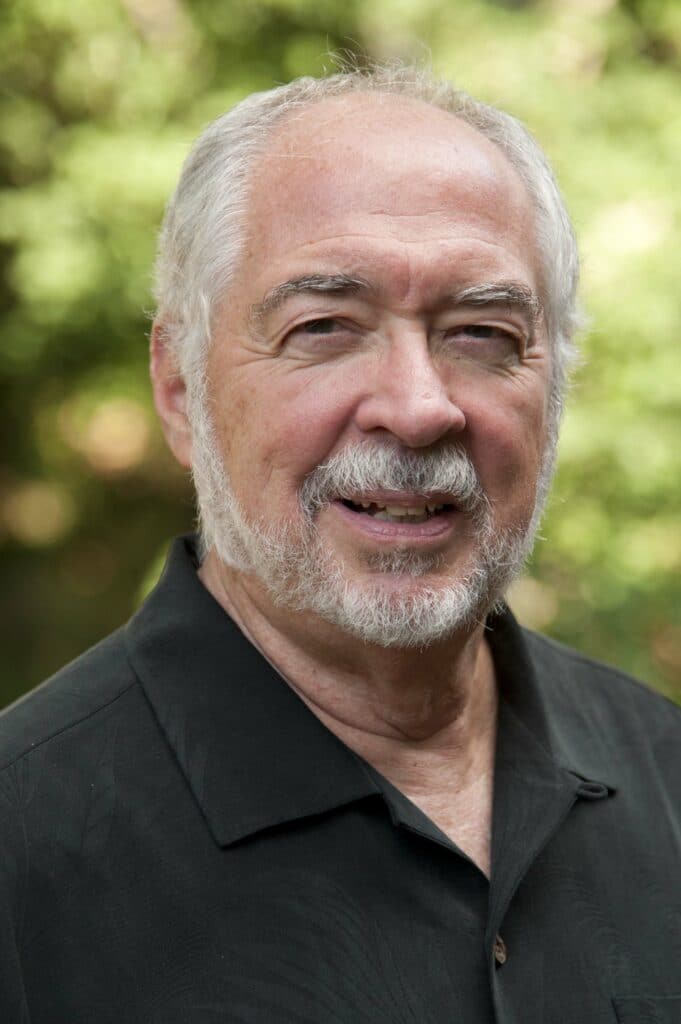 Gina Parrish is a very accomplished Drama Director and pushes her students to be the best they can be. I've seen her frustrated with them, yelling at them and at the same time loving them and encouraging them fully. That's the Gina Parrish I knew some 25 years ago when she did a Community Play inviting adult actors to be a part of the cast for "Fiddler on the Roof".
I happened to be one of those cast members who was given the role of "Lazar Wolf the Butcher" while my 10th Grade Daughter played the role of my "Dead Wife". Gina also cast some very accomplished local adult actors in that play along with parents such as myself. It was one of the most memorable experiences of my life.
When I walked into that Theatre yesterday and spoke to Gina and saw what she had done with these High School Thespians, the awards and fame they have received was noticeable immediately. I also saw many of the theatrical techniques she instilled and directed into some very talented youth, so much like I experienced 25 years ago.
I came to tears yesterday when Gina asked me to critique the play. I told them how much I appreciated their talents and saw so much of what I knew to be Gina's hand at making a memorable performance. I also told them that they will always remember their days at Norcross High School Drama and will always appreciate what Gina gives them in the way of encouragement to be the best they can be.
Support the Troupe!
A message from Kristi Bullock, NHS Drama Booster Club co-president
"First and foremost, come to our shows. We rely on ticket sales and there's nothing that makes a better show and experience for the students than to have a full theatre. That is why they exist!
Second, when at the show, buy concessions including fresh popcorn! All proceeds go to NHS Drama and fund future shows — the bigger the budget, the better the show."
The Booster Club also asks for donations to the Brady Bullock Memorial Scholarship Fund, which benefits NHS Drama seniors. The scholarship honors the memory of Bullock's son and his love for the drama program. Brady lost his battle with brain cancer in his junior year.
For more information, contact Bullock at kbullock@tropicalsmoothie.com.
Upcoming productions
The NHS Thespian Troupe typically puts on four shows each year. Their One-Act play has already been presented.
■ The musical comedy "Nunsense" will be performed Dec. 9-12.
■ "The Wizard of Oz: Youth Edition," runs March 3-6, 2022.
■ The musical "Grease" will be presented May 5-8, 2022.
Keep up with the troupe at nhs-drama.com and on Facebook, Instagram, Twitter and Snapchat.
Saturday Night Live Music at Town Green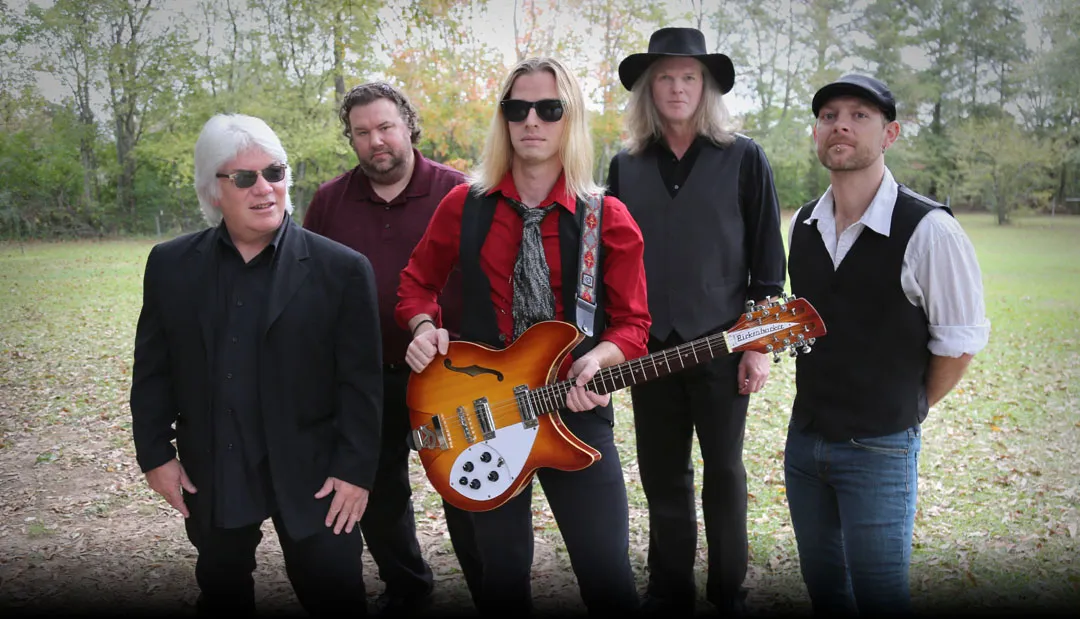 Saturdays, August 13, September 10 and October 8. 7 p.m.
Admission is free. Every month through October, bands and tribute take to the stage on Town Green.
August 13: The Wildflowers — The Wildflowers are America's premier Tom Petty & the Heartbreakers tribute band. With a passion for Petty's music, they bring music lovers the songs they adore. Be sure to go to peachtreecornersga.gov and click on the calendar for details.
September 10: The Artisanals! with Rosey — The Artisanals! are missionaries of rock and roll that bring their explosive live show to stages around the country. Rosey is a singer-songwriter and rock 'n roll soul siren who has toured with Morcheeba and Melissa Etheridge.
October 8: Anniversary Celebration with Marcy Playground — 90s alternative rockers Marcy Playground are most known for their 1997 platinum album that included the hit "Sex and Candy," but they also have noted songs on soundtracks for movies such as Cruel Intentions and Antitrust.
Major Rodin Exhibition at the High Museum of Art This Fall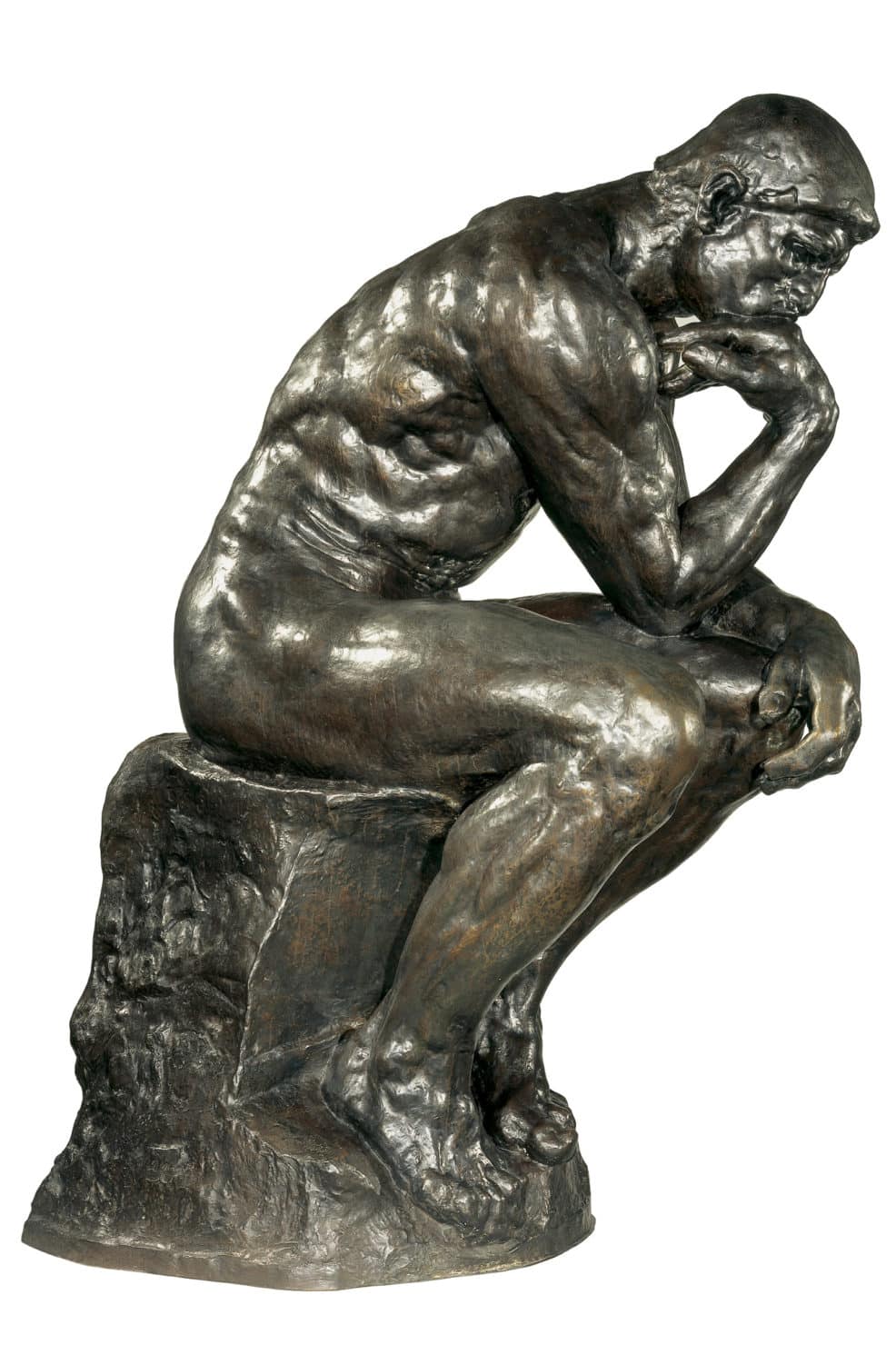 Auguste Rodin (French, 1840-1917) is one of the most celebrated sculptors of the modern age, represented in museums and private collections across the globe. However, this was not always the case. From his first sculpture to enter an American museum in 1893 and culminating with his popular revival in the 1980s, "Rodin in the United States: Confronting the Modern" — on view at the High Museum of Art Oct. 21, 2022-Jan. 15, 2023 — follows Rodin's rise to eminence in America due in large part to the collectors, critics and curators who helped make it happen. The exhibition will also reveal Rodin's incredible daring and inventiveness as he continually pushed against and beyond traditional notions of sculpture. 
"Though now holding pride of place in major American museum collections, and renowned for its distinctive aesthetic, it's perhaps only in the last 40 years that Rodin's work has become recognized as among the greatest achievements in Modern art," said Rand Suffolk, Nancy and Holcombe T. Green, Jr., Director of the High. "This exhibition takes the audience on a journey, as Rodin's reputation builds, declines and rises again. It's a fascinating story, illustrated by many of Rodin's most striking and beautiful works."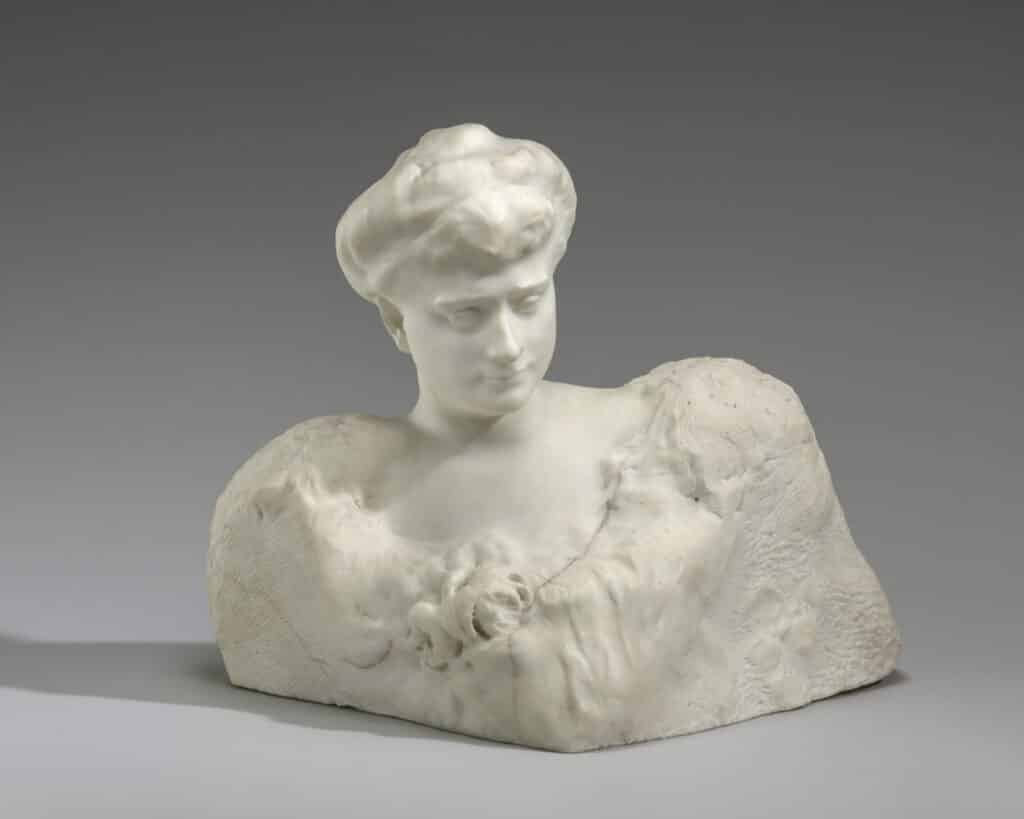 The 45 sculptures and 25 works on paper in the exhibition encompass many of Rodin's best-known compositions, including "The Thinker," "Monument to Balzac" and "The Kiss," as well as less-familiar subjects and an exceptional number of his expressive and probing drawings. The works show Rodin working across an array of media — from terracotta and plaster to bronze and marble — and illuminate his creative process, from studies and maquettes to completed works.
"All of us have stood awestruck in front of Rodin's more-than-life-size figures, like the 9-foot 'Monument to Balzac' or the massive, 2,000-pound 'Thinker'," said Claudia Einecke, the High's Frances B. Bunzl Family curator of European art. "But it is a testament to Rodin's unsurpassed power of evocation that even diminutive figures, such as the 5-inch 'Female Torso' or a 6-inch portrait head of the actress Hanako, can impress us with the same physical energy and monumental presence. Visitors will be delighted to see the breadth of Rodin's work in this exhibition and to learn how he came to be among the 20th century's most revered artists."
Rodin's path to acceptance in the United States was a complicated, winding one, and the stories of the collectors and institutions that embraced his work reveal a desire to look beyond the conventional to confront, and embrace, the modern.
Rodin first gained significant attention in the United States in 1893, when the Metropolitan Museum of Art made the first acquisition of his artwork by an American institution. That same year, he made his controversial debut at Chicago's World's Columbian Exposition with three marble sculptures, which were quickly judged too provocative and moved to a private space that was only accessible by request. As the exposition progressed, however, the censorship propelled public interest in his work.
This notoriety sparked an early-20th-century collecting frenzy, promoted by noted philanthropist Katherine Seney Simpson, avant-garde performer Loïe Fuller, and collector Alma de Bretteville Spreckels, among others. The exhibition details the intriguing confluence of these Rodin enthusiasts and the roles they played in generating interest in his art.
In the 1920s and 1930s, many American museums made important acquisitions of Rodin's work, further fueling avid interest in the artist. However, these institutions tended to display his more finished, narrative subjects. The majority of his seemingly unfinished, fragmented or more "erotic" works — appreciated today for their daring and modernity — were consigned to storage, where they languished for years. By the Second World War, enthusiasm for his work had waned and critical sentiment regarding his art shifted, leading museums to relegate his sculptures to less prominent places or remove them from the public eye.
In 1954, Museum of Modern Art Director Alfred H. Barr Jr. requested a bronze cast of Rodin's "Monument to Balzac" for the museum's collection, which spurred scholars and critics to reappraise Rodin's works. Nearly 30 years later, the National Portrait Gallery's 1981 exhibition "Rodin Rediscovered" ushered in a resurgence of appreciation for Rodin's art in the United States, which continues today.
"Confronting the Modern" traces these ebbs and flows of Rodin's American popularity and includes loans of key works from more than 30 museums and private collections across the country. These works include:
The Metropolitan Museum of Art's "Bust of St. John the Baptist" (bronze, original model 1880, cast 1883), the first Rodin work to enter an American museum collection.
The marble bust "Katherine Seney Simpson" (1903), which immortalized Rodin's early advocate, who was instrumental in developing the Met's Rodin collection and donated her private collection of his art to the National Gallery of Art upon her death.
Bronze sculptures "The Thinker" (cast 1928) and "The Kiss" (cast 1888) from the Baltimore Museum of Art's collection. "Rodin in the United States" marks the first time that the Baltimore Museum of Art has loaned "The Thinker" to an exhibition.
The Museum of Modern Art's "Monument to Balzac" (cast 1954), which instigated renewed interest in Rodin's work.
Drawings related to some of Rodin's most famous compositions, such as "The Thinker" and "Ugolino and His Sons."
A group of diminutive plaster studies exploring the expressive power of the human hand, which were gifts from the artist to the Met's Rodin Gallery, established in 1912.
"Rodin in the United States: Confronting the Modern" will be accompanied by a fully illustrated, 260-page catalogue edited by exhibition curator Antoinette Le Normand-Romain, with contributions by Christina Buley-Uribe, Patrick R. Crowley, C. D. Dickerson III, Laure de Margerie, Véronique Mattiussi, Elyse Nelson, Jennifer A. Thompson and Nora M. Rosengarten. The book is published by the Clark Art Institute and distributed by Yale University Press, New Haven.
The exhibition will be presented in the Cousins Family Special Exhibition Galleries on the Second Level of the High's Wieland Pavilion.
Exhibition Organization and Support
"Rodin in the United States: Confronting the Modern" is organized by the Clark Art Institute, Williamston, Massachusetts, and guest curated by independent scholar Antoinette Le Normand-Romain.
This exhibition is supported by an indemnity from the Federal Council on the Arts and the Humanities.  Funding for this exhibition is provided by Troutman Pepper.
High Museum of Art's Highball Cocktail Competition Fundraiser 2022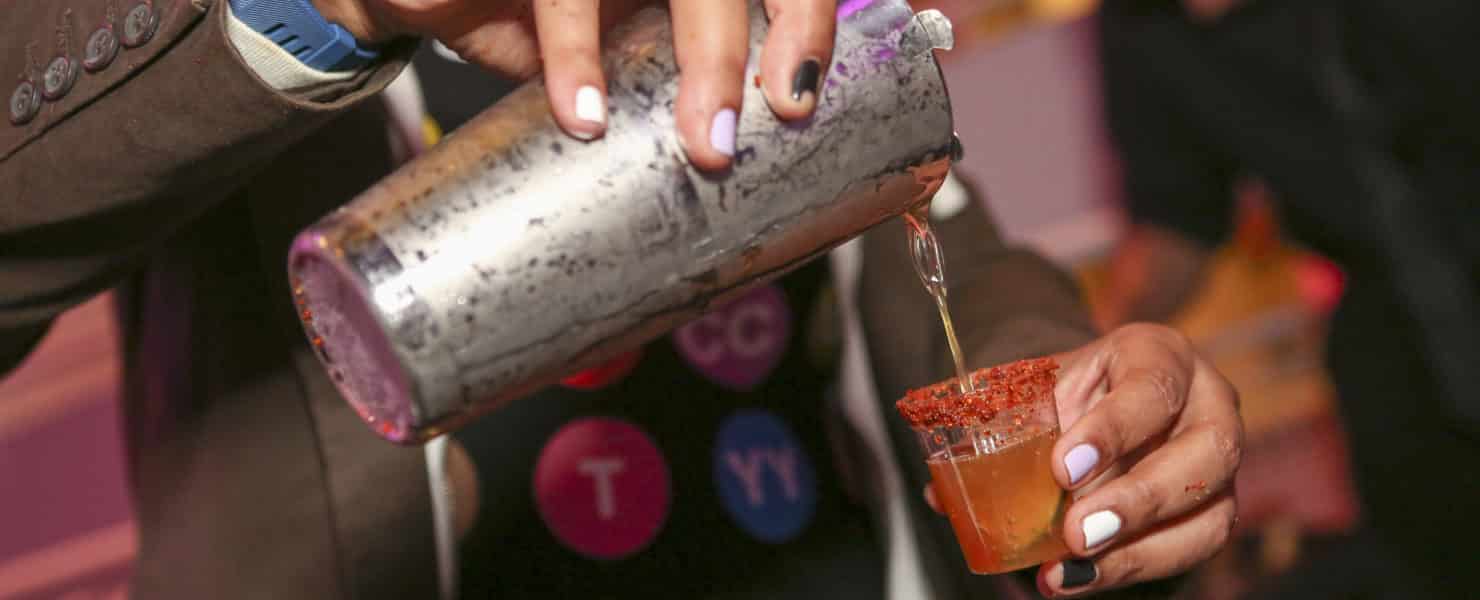 Toast to Fairy Tales and Storybooks at the 2022 Highball Fundraiser
The High Museum of Art will invite more than a dozen of Atlanta's most notable mixologists to compete at this year's Highball, an exclusive craft cocktail competition fundraiser featuring themed sips, delectable bites and lively music on August 14 from Noon to 4 p.m. at The Foundry at Puritan Mill, 916 Joseph E. Lowry Blvd NW, Atlanta, GA 30318 .
This year's theme is "Fairy Tales and Storybooks." Each mixologist is asked to create their best themed drink for judges and guests to vote on. Early bird and VIP tickets will be available on July 1, and general admission tickets go on sale July 14. Visit high.org/event/highball-2022 for more information and to purchase tickets while they're available.
"Highball is always a highly anticipated event for the Museum, not only because of the creativity presented by participating bartenders but also because of the community's enthusiastic support for the arts," said Allison Chance, the High's Director of Development. "We cannot wait to taste the imaginative concoctions competitors create while revisiting our favorite childhood tales with each drink."
The 2022 Highball will feature 16 of Atlanta's top bartenders, who were hand-selected by the event's host committee:
Each bartender will unveil an original cocktail recipe at the event to compete for Highball's top honors. Guests are invited to sip each cocktail and vote for their favorites. Local judges, talent agent Mara Davis, 2019 Highball winner Erika Moore and Thrillist writer Joshua Robinson will score each cocktail based on five categories: appearance, taste, complexity, balance and originality. They will then combine votes to select the winners: Luxury Mixologist, Top-Shelf Mixologist and Classic Mixologist. In addition to bragging rights, each winning bartender will receive a cash prize.
Guests will enjoy music by DJ Dmark and storybook-inspired bites by Dennis Dean catering throughout the afternoon.
Doors will open at Noon for VIP access, with general admission beginning at 1 p.m. Cocktail enthusiasts age 21 and older are encouraged to attend; all proceeds will benefit the High Museum of Art. Early bird tickets are $65 for High Museum of Art members and $85 for not-yet-members. Beginning on July 14, regularly priced tickets will be available at $75 for Museum members and $95 for not-yet-members. VIP tickets are $125 each. Tickets may be purchased online at high.org/event/highball-2022.
Guests are encouraged to flaunt their favorite Sunday brunch-chic attire for the occasion.