Pets and Their People 2021: Fun Stories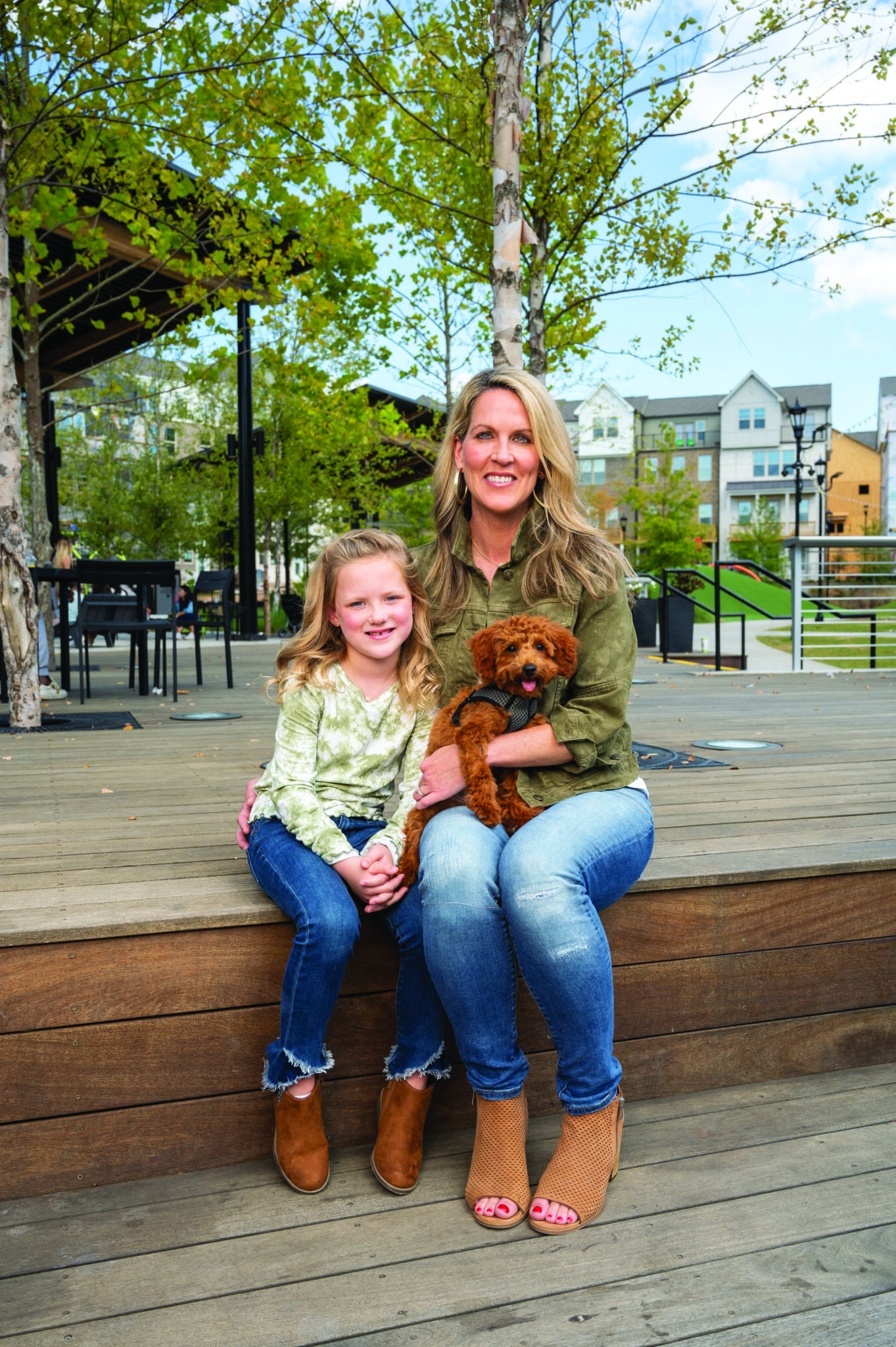 If you have the privilege of knowing a true-blue pet lover, you may grow a little weary from hearing about how sweet, special, smart and sassy that person's perfect prince or princess is. And if you happen to have a pet and can't think of anyone in your life that talks your ear off about their precious friend, then chances are you are the guilty party. But why wouldn't you?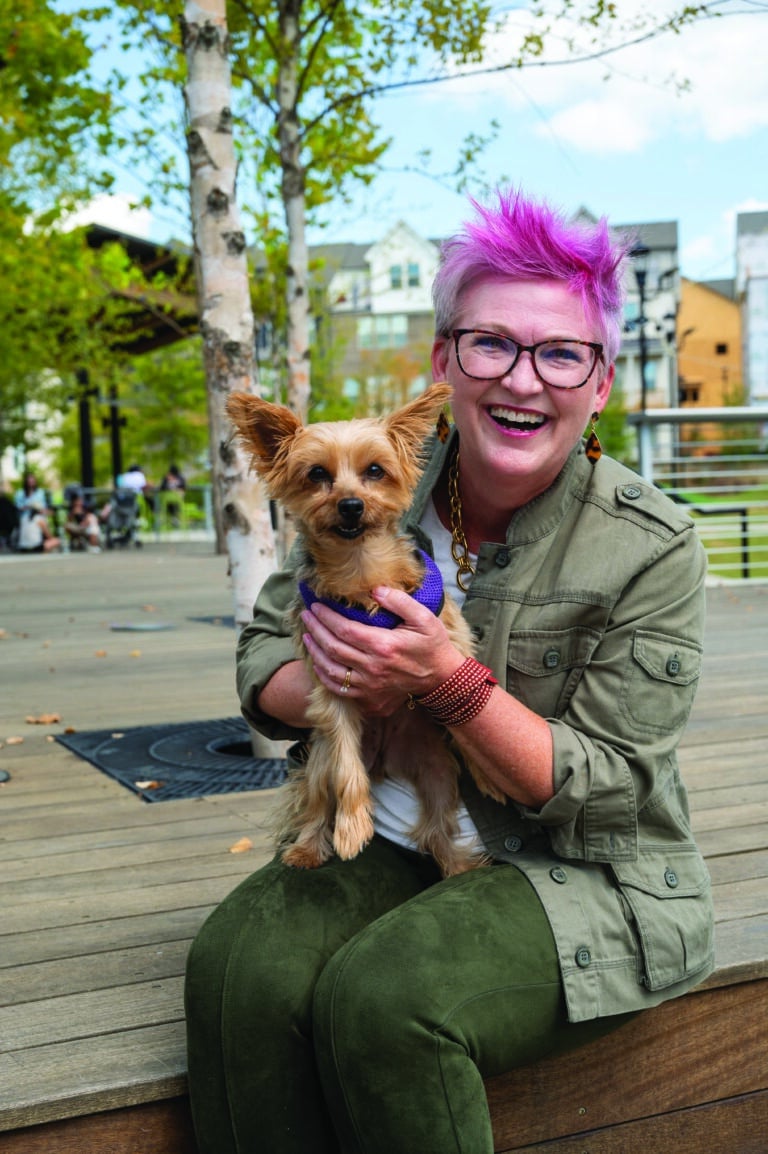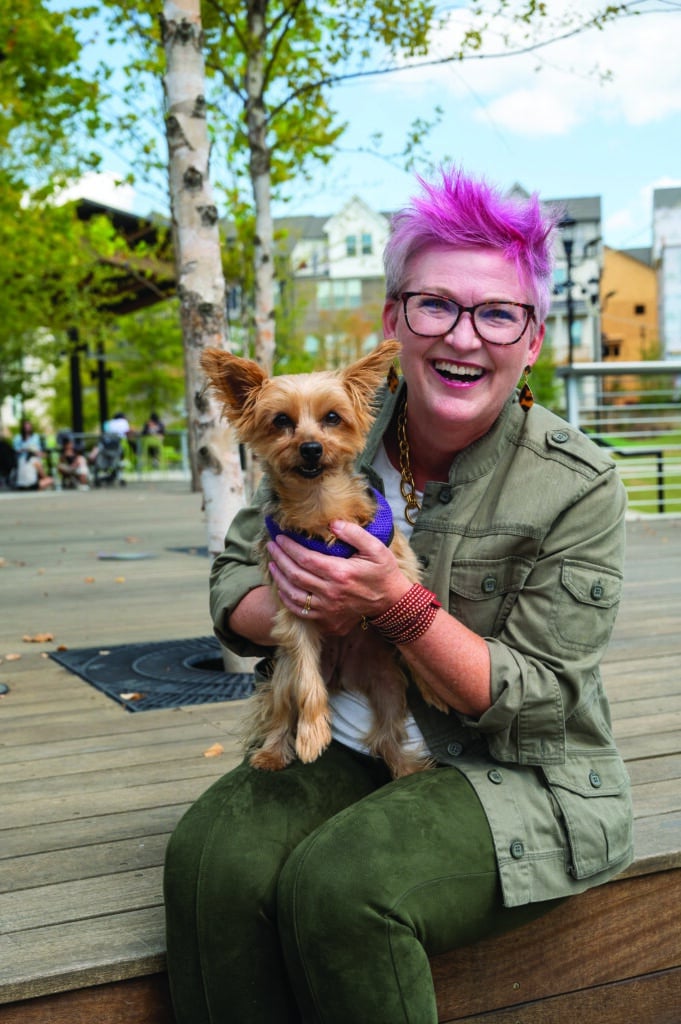 As the writer of this piece, I definitely call myself out. Play some Where's Waldo in the Pet Gallery and see if you can find me and my fur-son Snoopy posing for the camera at my May wedding.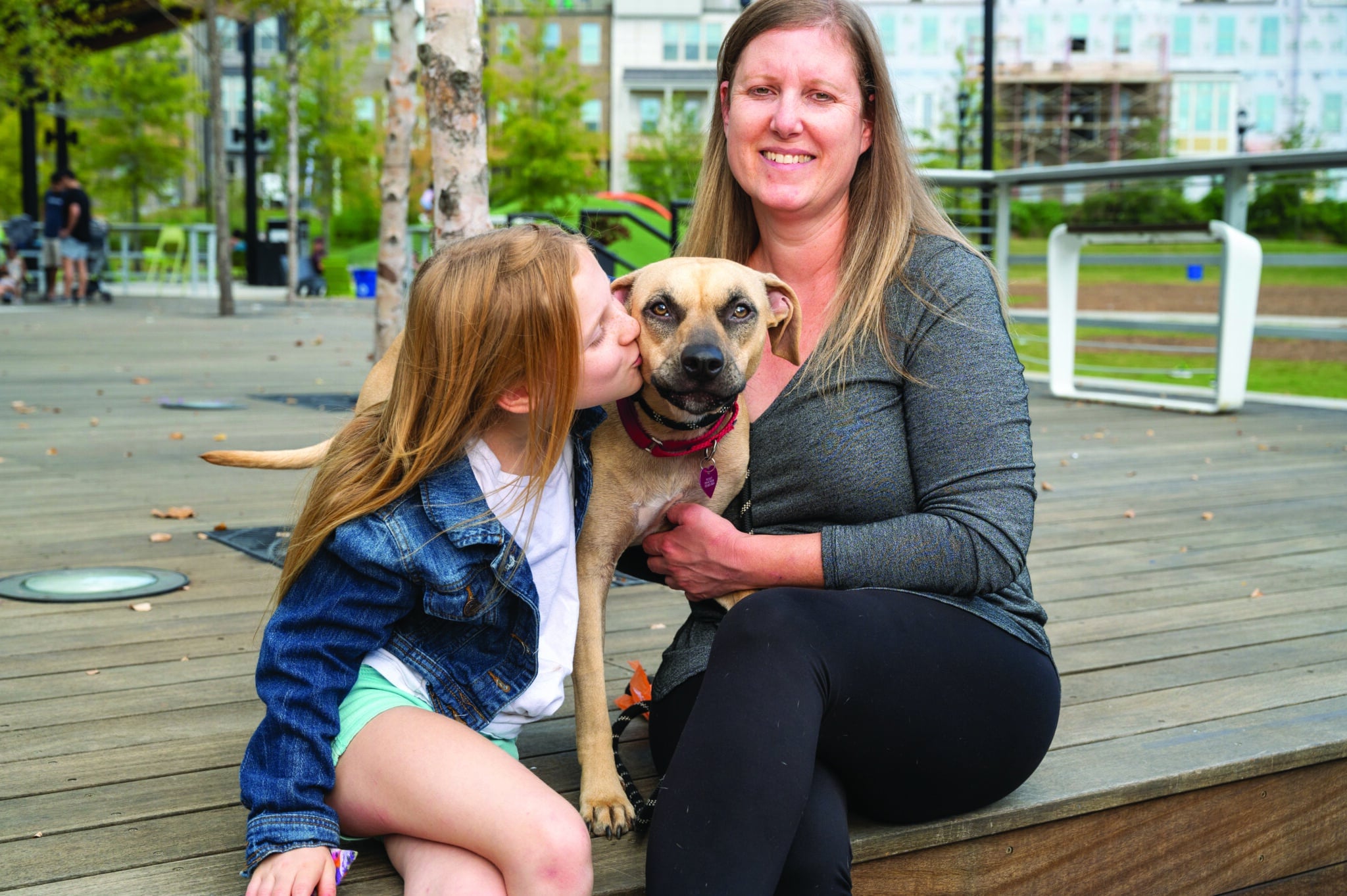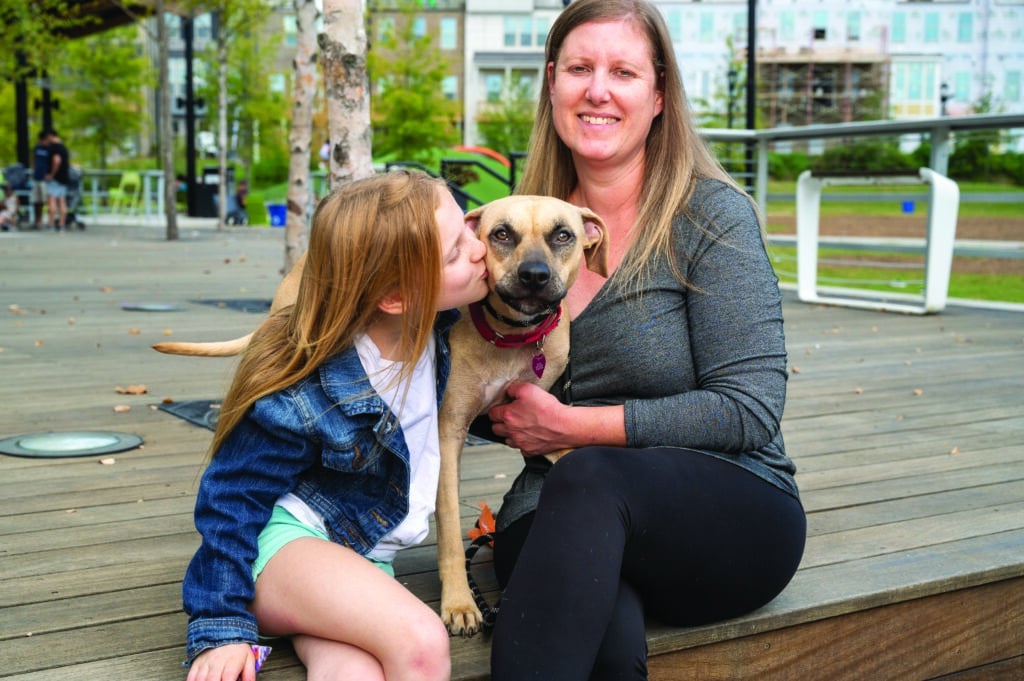 Pets add color and love to our lives when often the world seems gray and cold. So bragging about these wonderful companions is natural and well-deserved.
That's what our annual Pets and Their People Giveaway is all about. Congrats to our three lucky winners who received all kinds of goodies from our great local sponsors.
■ The grand prize of a $150 gift card for Pet Suites of America, a $150 gift card for Pet Wants plus a $125 VISA gift card went to Hollie McCoy, @hollie.mccoy.
■ The second prize of a $100 gift card for Peach Paws Animal Hospital, a $25 gift card for Lazy Dog Restaurant plus a $100 VISA gift card went to Dawn Gartin, @dawngartin.
■ The third prize of a $100 gift card for Pet Suites, a $25 gift card for Lazy Dog Restaurant plus a $75 VISA gift card went to Danna Gemer.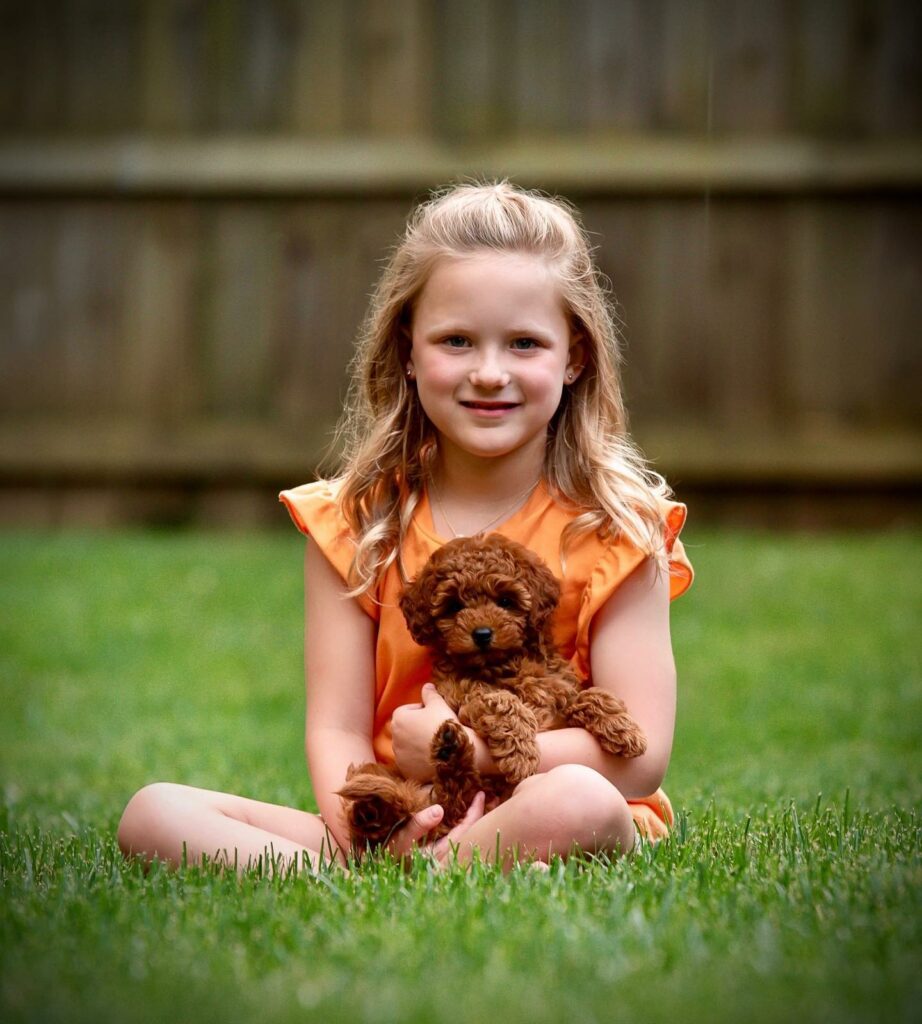 A new Teddi bear
Quinn is 6 years old and has wanted a dog ever since she could talk. She loves dogs! My husband and I both travel for work so we didn't want to get a dog for a while. Quinn is an only child and kept asking for a dog, so we finally told her we would get her one by the end of this year.
Quinn was on the swim team this summer with the Spalding Corner Sharks. The county meet was held at Georgia Tech in July. We told Quinn if she won first place in the backstroke, we would go ahead and get her a dog. Well, she won first place in the county meet!
She was so excited that she won and was getting her very own dog. Mom started looking a different breeders and decided on the cutest mini goldendoodle in Ohio, then flew there to pick up the most adorable little girl puppy that looks just like a stuffed Teddy bear. She did so good on her first Delta flight.
Quinn and the puppy both fell in love during their first meeting. We decided to name her Teddi! They have been inseparable ever since.
— Hollie McCoy, Grand Prize Giveaway winner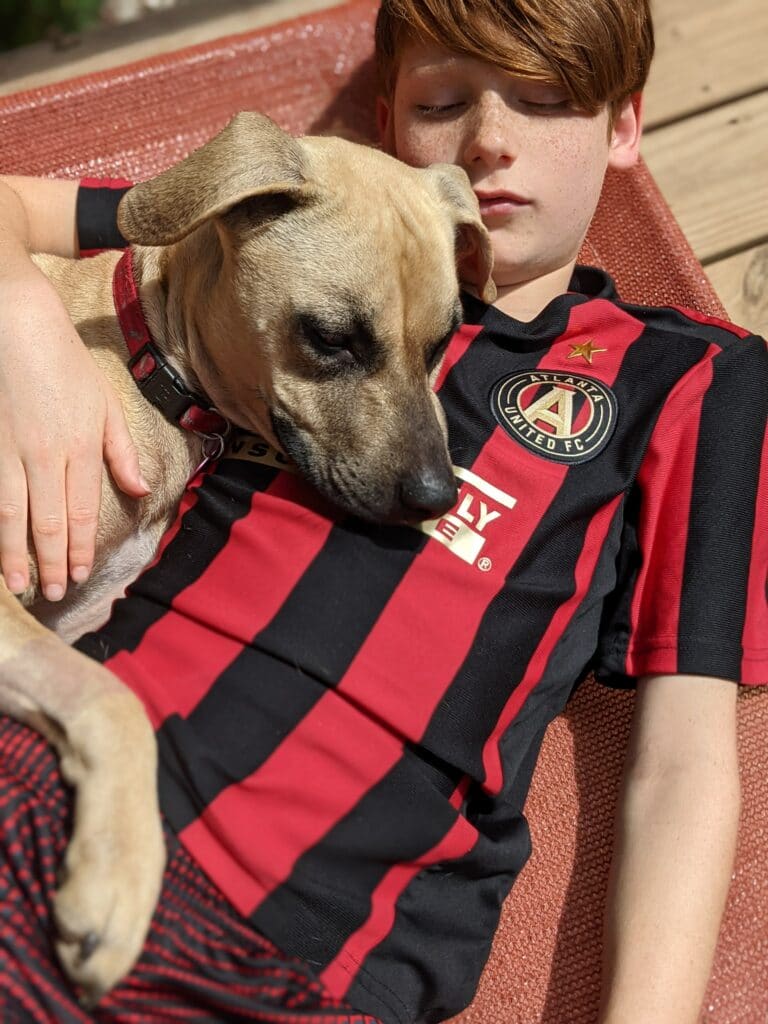 The foster "failure"
I have been involved with dog rescue for many years and have fostered lots of dogs. Bexley was another foster and although they are all amazing, she was special! She's laid back, friendly, sweet and just all around a great dog. She fits perfectly with our family. I just couldn't imagine giving her up! So she became our failed foster.
Bexley's favorite activity is to sun bath on the deck. Her other favorite activity is to get belly rubs. Bexley is generally really good but she's a hunter, so she brought us a few "gifts." I know it's her instinct but it's so gross!
Some of Bexley's best traits are that she loves other dogs and since I'm a pet sitter and I foster dogs, that's really important. She's a lover and a snuggler! If we sit on the couch she has to sit half on the couch and half on a person. My husband calls her "Bexleaner" because she leans on us on the couch. Her best trait is that she's so laid back, which is perfect for our family. She goes everywhere with us, from road trips to soccer games, because she is so easy going. What can I say? She's perfect.
— Danna Gemer, Third Prize Giveaway winner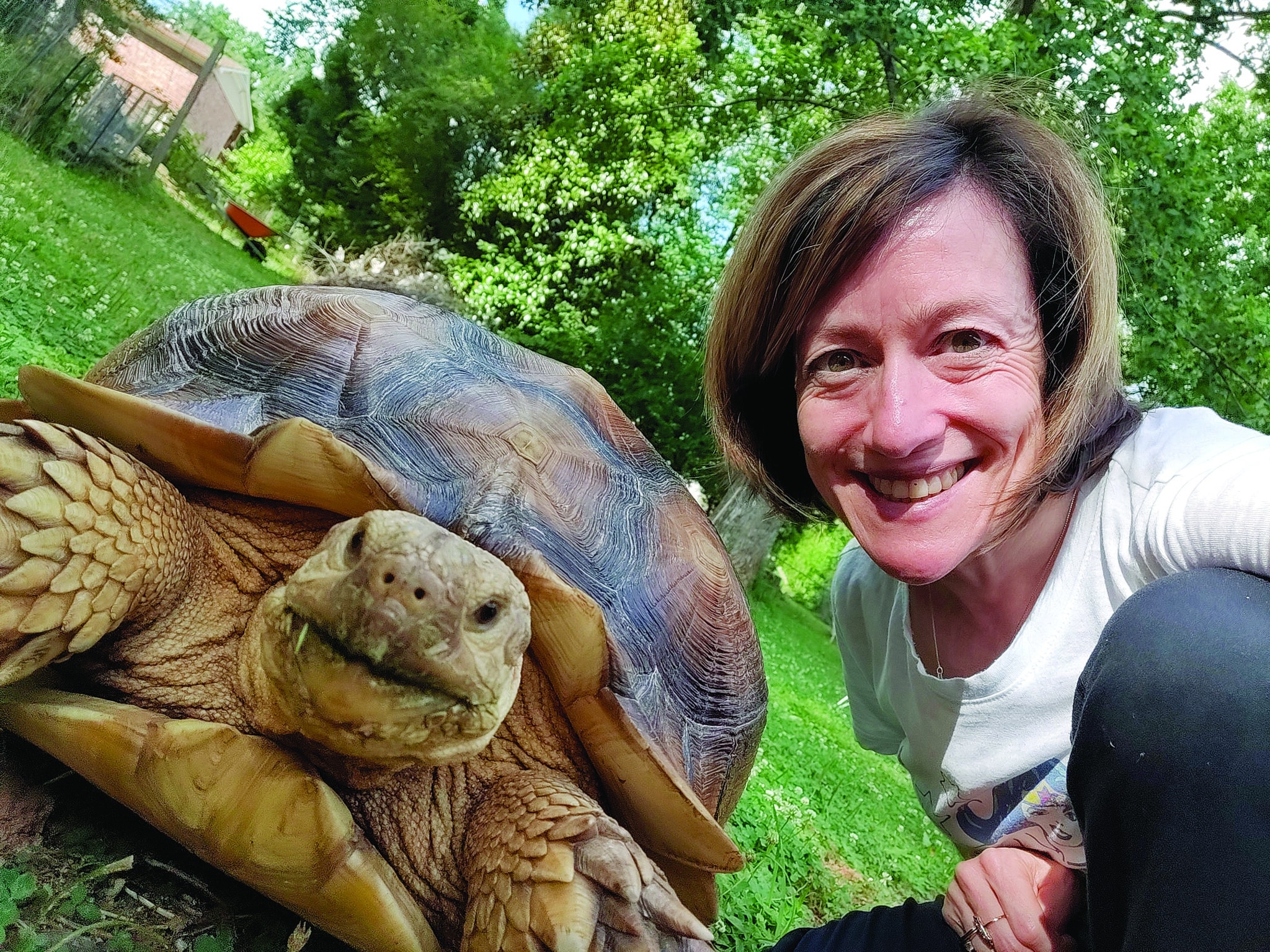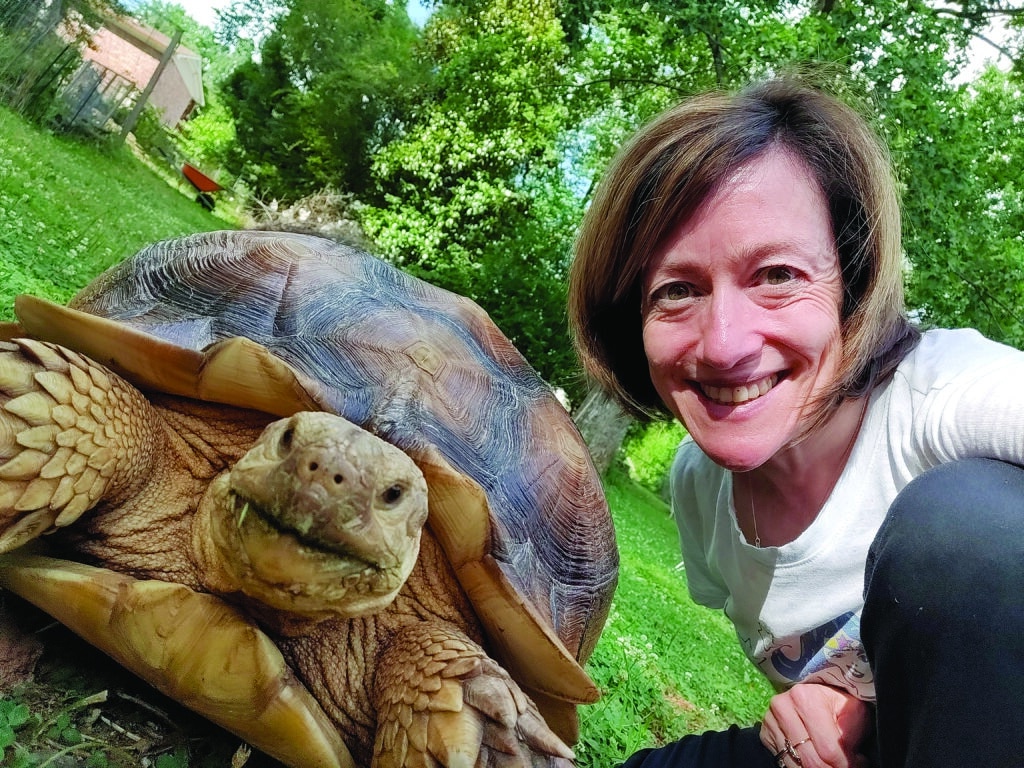 Totally tortoise
Penelope (@pthesulcatatortoise) is a creature of love! She was a Valentine's gift that my husband and I made each other. We both love turtles and tortoises, and when we saw on Facebook that Penelope was in need of a new home, we quickly decided to jump in.
Fun fact: Penelope hatched one day after our 6-year wedding anniversary in July 2017.
Nestled into a little plastic container, on top of a heating pad and surrounded by St. Augustine grass and dried flowers, Penelope made the long journey from Texas to Georgia in a FedEx Reptile Shipping box, right into our Peachtree Corners home. And, as we're talking about a turtle who doesn't value speed over everything else, she arrived a day late, on February 15.
Can you believe she only weighed 124 grams then? Now, at the "toddler" age of four years — and after many meals consisting of grass, weeds, hay, dandelion leaves, prickly pear cactus and hibiscus flowers — she reached 45 pounds. And like all Sulcata tortoises, she will grow her whole, and hopefully long, life, which can last 100 years or more!
She likes taking walks in our neighborhood where she has become a true celebrity! People walking or even driving by stop to take pictures of her and ask questions. Penelope makes people smile. Many people of all ages have said she "made their day."
— Daniela Britton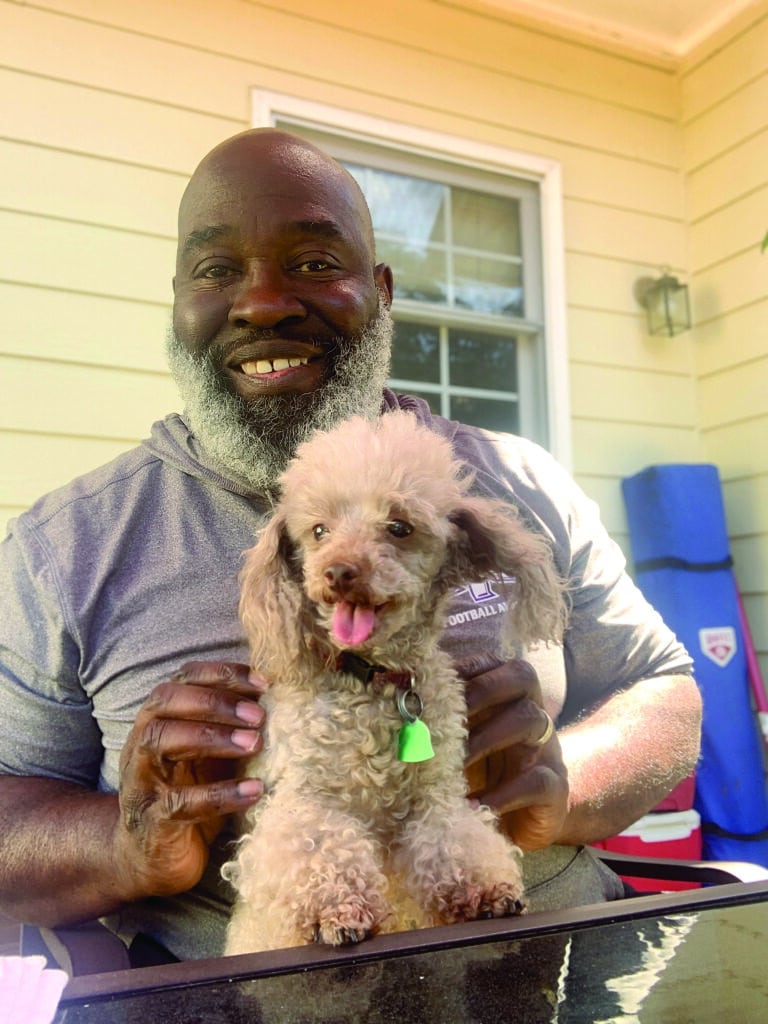 The happy Odd Couple about town
Cocoa is our 8-year-old Teacup Poodle. Cocoa was born on my birthday, and she has been part of our family since she was seven weeks old. My wife calls Cocoa my 'second wife' in the way she constantly stays in my presence from the time I enter our home until I go out again. I recently retired, so Cocoa is in bliss because of me being home most of the day now.
Her funny moment is how when we leave the house, she perches on top of the couch back until we return. Over the years when we travel, Cocoa has had the pleasure of being boarded with her parents Nemo and Blondie at our cousin's home, who gifted Cocoa to us.
I must be the laughing joke of our Wyntree subdivision as I, a 250 lb. musclebound former running back, eagerly walk our 4-pound Teacup Poodle daily. What a sight!
— Allen Lawrence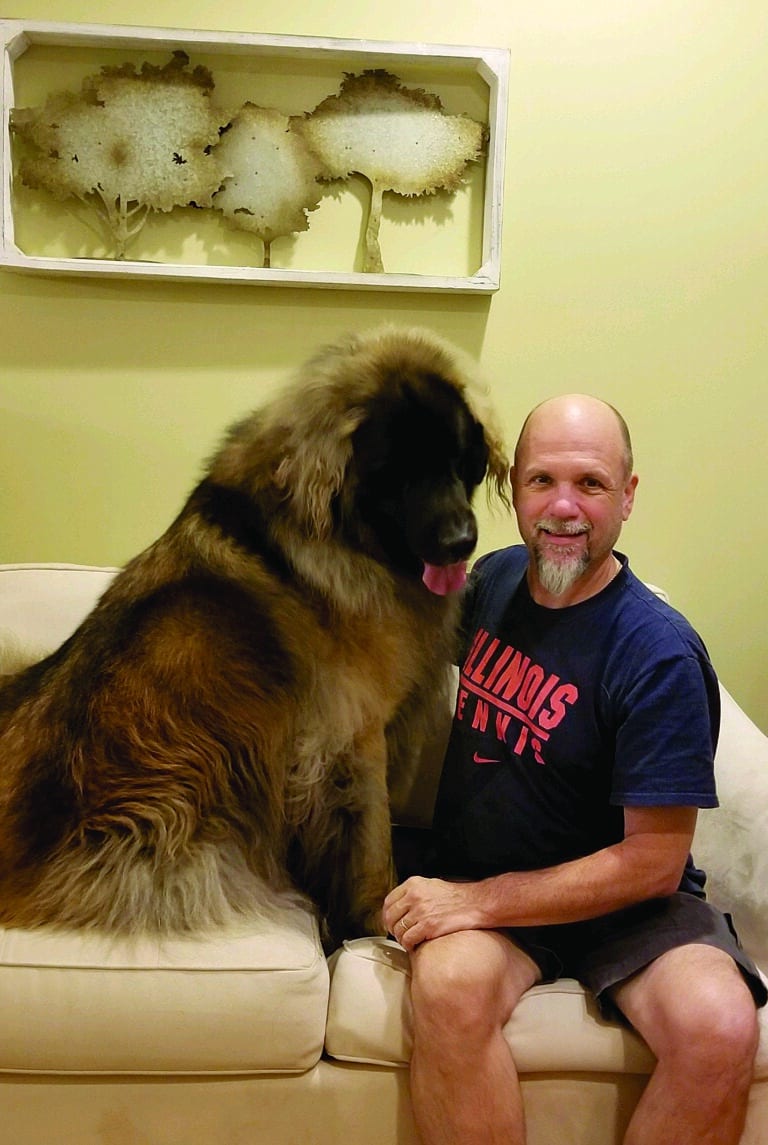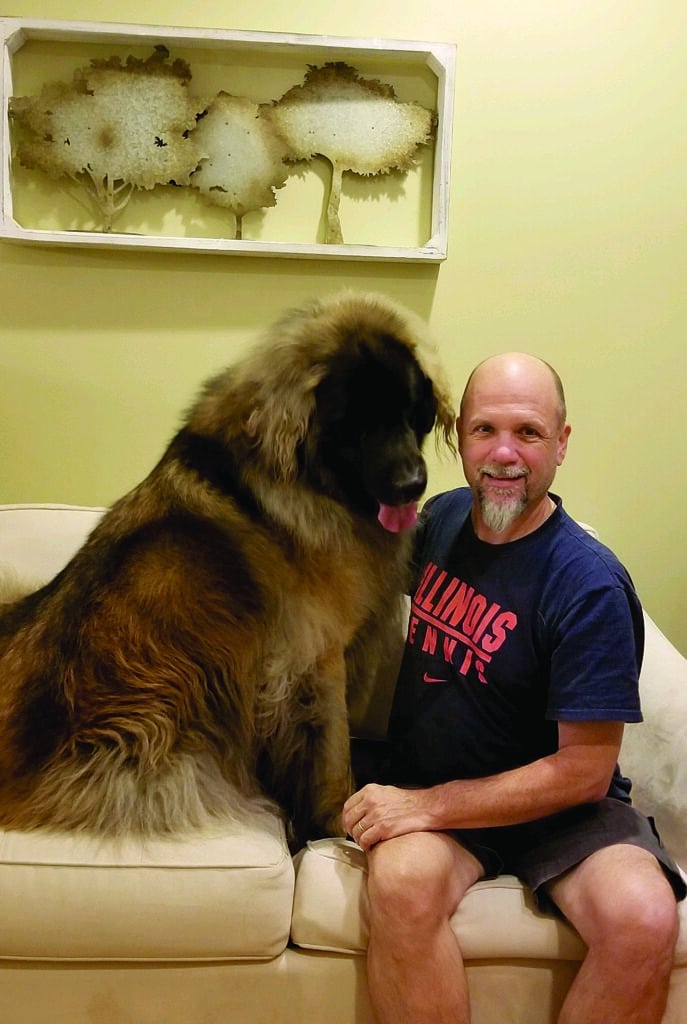 Brewing up love
We ran across an article in a magazine about the Leonberger and fell in love with the breed. Brewski is our fifth Leo; we have a fourth, Killian, as well, but he has hip issues, so we are not able to bring him places.
Our Leos are so laid back and calm. Brewski is a big hit at a lot of the local breweries that have popped up and allow dogs to join their owners. He is an instant conversation starter because of his size, but he is also very sweet and loves to meet other dogs. Throughout the year we will bring him up to the Town Center on a cool evening, the kids love come by and pet him, and we also enjoy answering the multitude of questions that come with having a dog of his size! He is truly a Gentle Giant.
— Connie Kane
Going to microbreweries is Brewski's favorite activity — a German dog that loves breweries, shocking! There are usually lots of people and lots of dogs to keep him entertained. He has visited Cultivation, Anderby, Kettlerock, StillFire, Six Bridges, Truck and Tap, Social Fox and Tucker Brewery.
— Michael Kane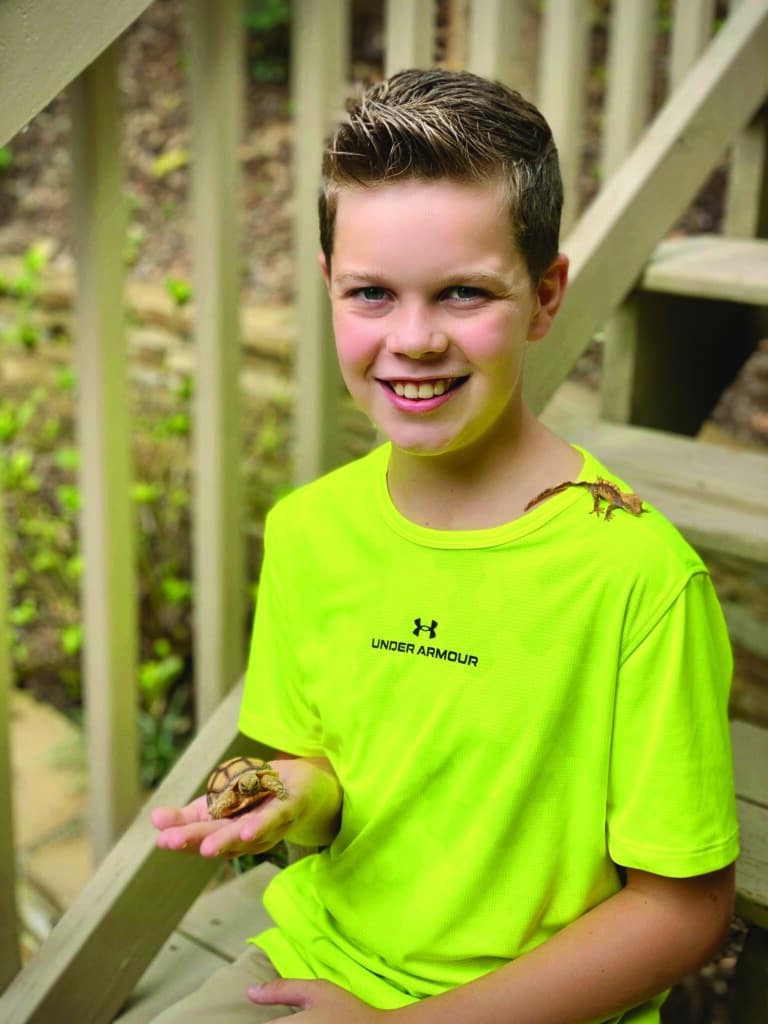 Lawson the Lizard King
Lawson is a reptile enthusiast. He has always loved catching creatures since he could walk and talk. Recently, he added two new pets to his reptile collection. Kiwi is a Sulcata tortoise and a lifelong friend since she can live up to a 100+ years. Stuart, his crested gecko, is his latest addition that he purchased at Repticon.
Lawson's favorite thing to do is go herping (searching for reptiles and amphibians) with his best friend, Tristan. They even have started their own YouTube page, Global Reptiles! We can't wait to see what pet reptile he adds to his growing collection!
— Heather Parton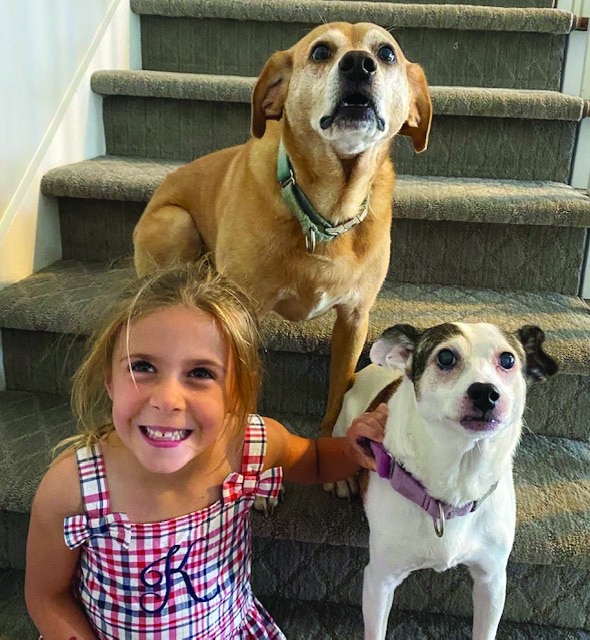 Who rescued who?
Our two rescue dogs, Spencer and Daisy, are so loved by our family! Spencer is originally from Tennessee, and we adopted him after he was brought to Massachusetts through the Operation Roger program (truckers bringing rescue dogs to the Northeast). He has now lived in Massachusetts, Georgia, New Hampshire and then back to Georgia!
Daisy was surrendered when she was 5 years old because she was "too loving". My wife brought her home first as a foster and she never left…we figured how bad could a loving dog be? Well, Daisy is definitely "too loving," but she completed our family of five. Although they avoid water at all costs, Spencer and Daisy love to go on walks, car rides and explore Simpsonwood with us!
— Kevin Hilson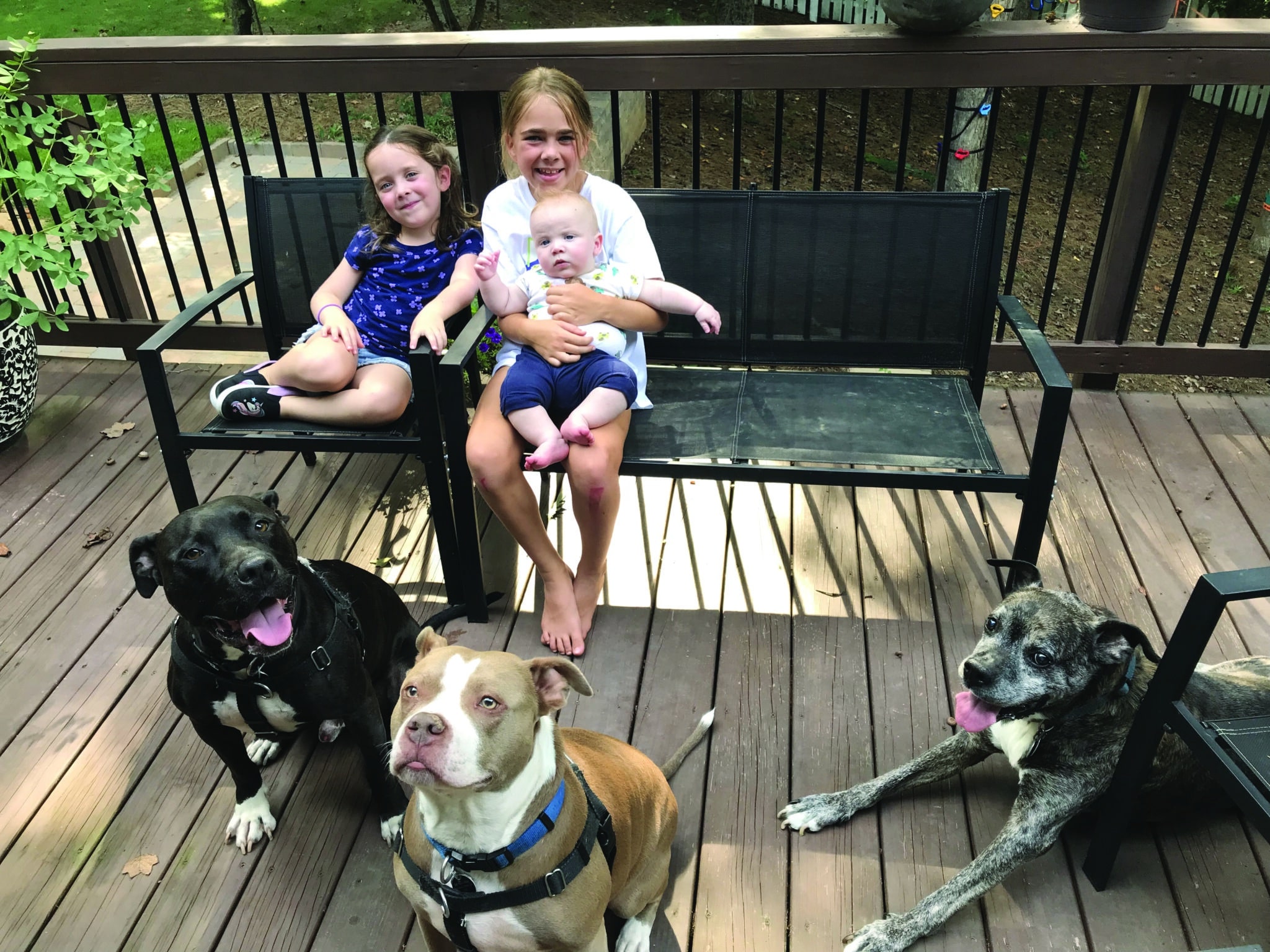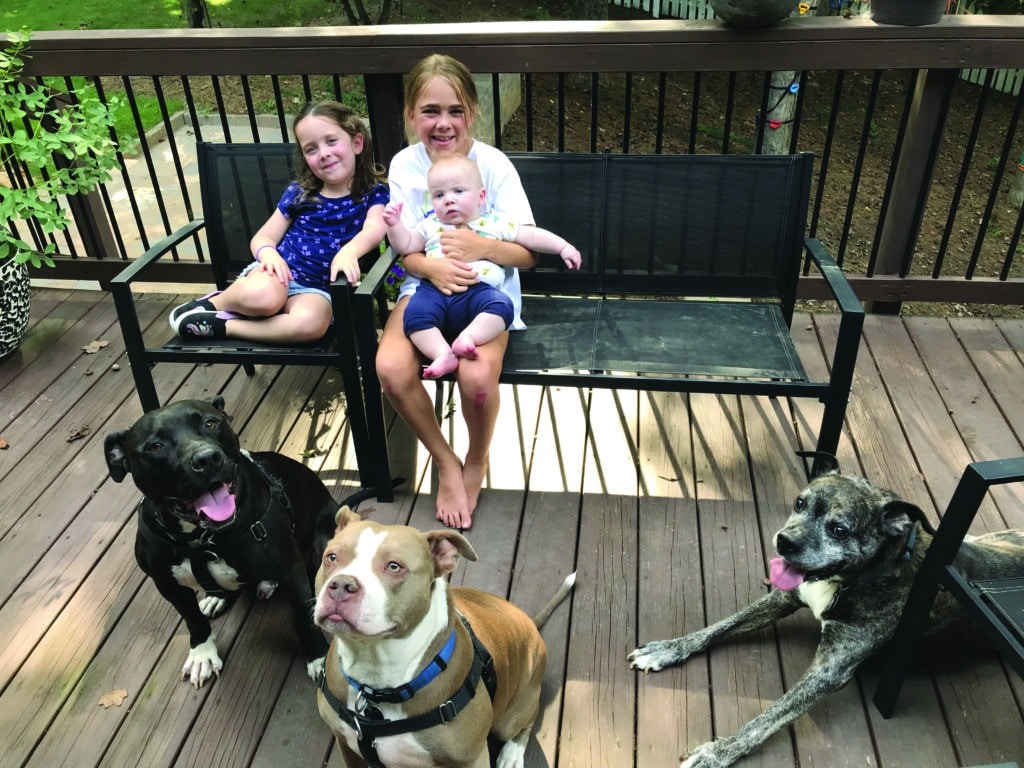 An ever-growing pack
We have always been big advocates for rescue animals and always seem to gravitate towards the pup with the hardest life, starting with the adoption of our dog Hudson in 2008. When we decided it was time for a second dog, we chose to adopt a puppy since Hudson didn't seem to like most other adult dogs.
In November 2018, we went into Lifeline Animal Project's Dekalb Shelter (@lifelineanimalproject) to meet our new puppy, Hank. While we were spending time with him in the shelter's family visitation room, I could see across the hall into a run of kennels.
A huge, handsome block-headed Pitbull was in the kennel next to the window — sitting quietly, staring at us. He was so stoic and regal. I commented on how gorgeous he was, but we quickly reminded ourselves that Hudson would not be accepting of another adult male dog.
We continued our visit, this big guy watching us the whole time. For months after that, the image of the beautiful black Pitbull at the shelter crossed my mind more than a few times.
Several months later, in March 2019, we brought Hank and Hudson to the Rescue Dog Games at Piedmont Park. My friend who runs Little Donkey Supply had a tent set up. While we were checking out her tent, a foster mom with Lifeline was walking her new foster dog, the same handsome black dog I still remembered from the shelter months prior! I knew it was him the moment I saw him.
We absolutely never intended to have more than two dogs, but we all marveled at the situation and agreed it was a sign. Since all the dogs seemed to get along very well at the park, we made arrangements for the new guy to come to our house and spend time with Hudson and Hank in their environment.
Two weeks later we had adopted our third rescue dog: Henry. We learned that he had spent nearly a year in the shelter before Miss Margery took him in as a foster. He suffered significant trauma before he found his way to the shelter as evidenced by significant scarring on his neck and face and a partially missing left ear.
We had to give him extra special love and grace as he adjusted to living in a home with a family. He's definitely been a handful at times, but we know, without a doubt, he was meant to find us and become part of our family.
— Heather Reich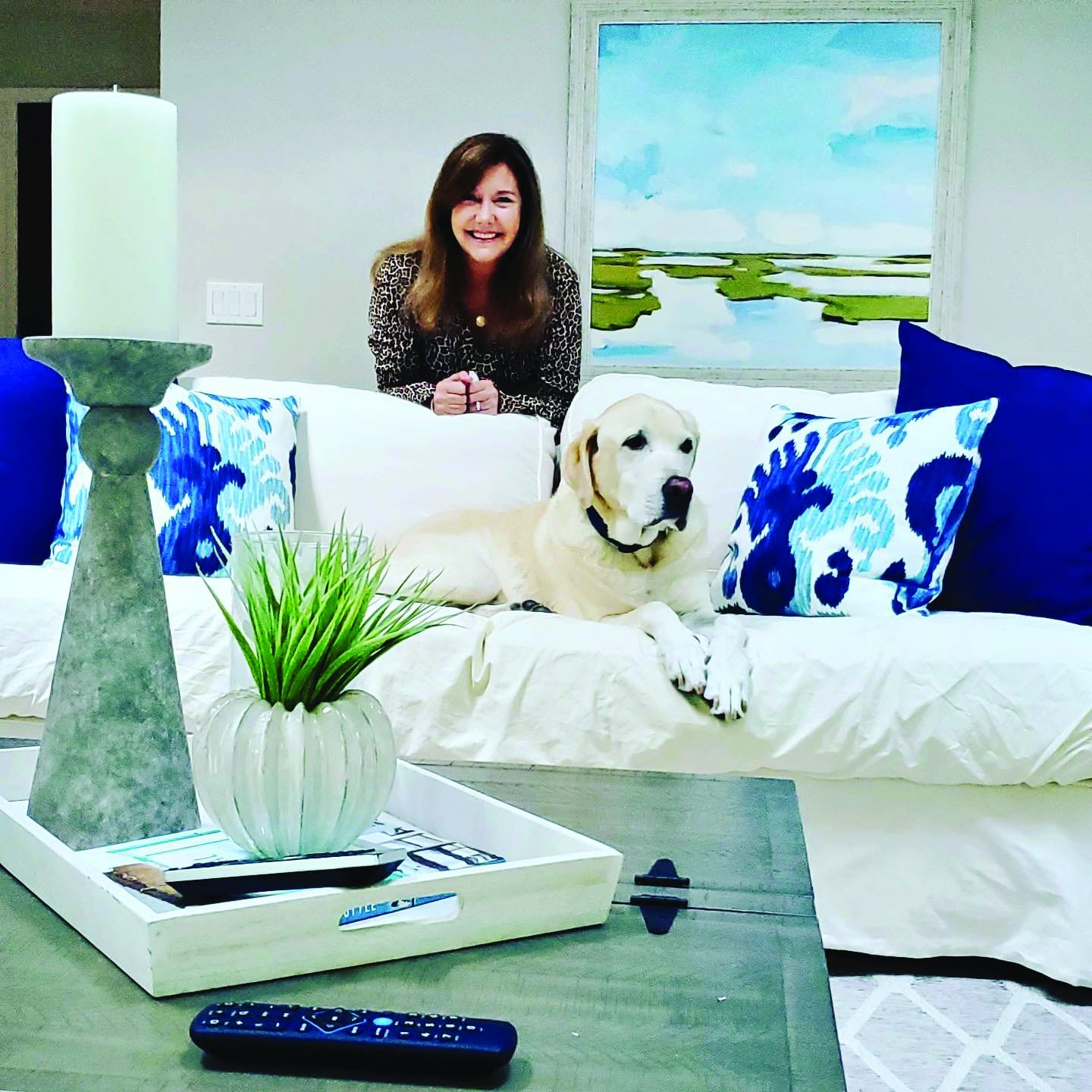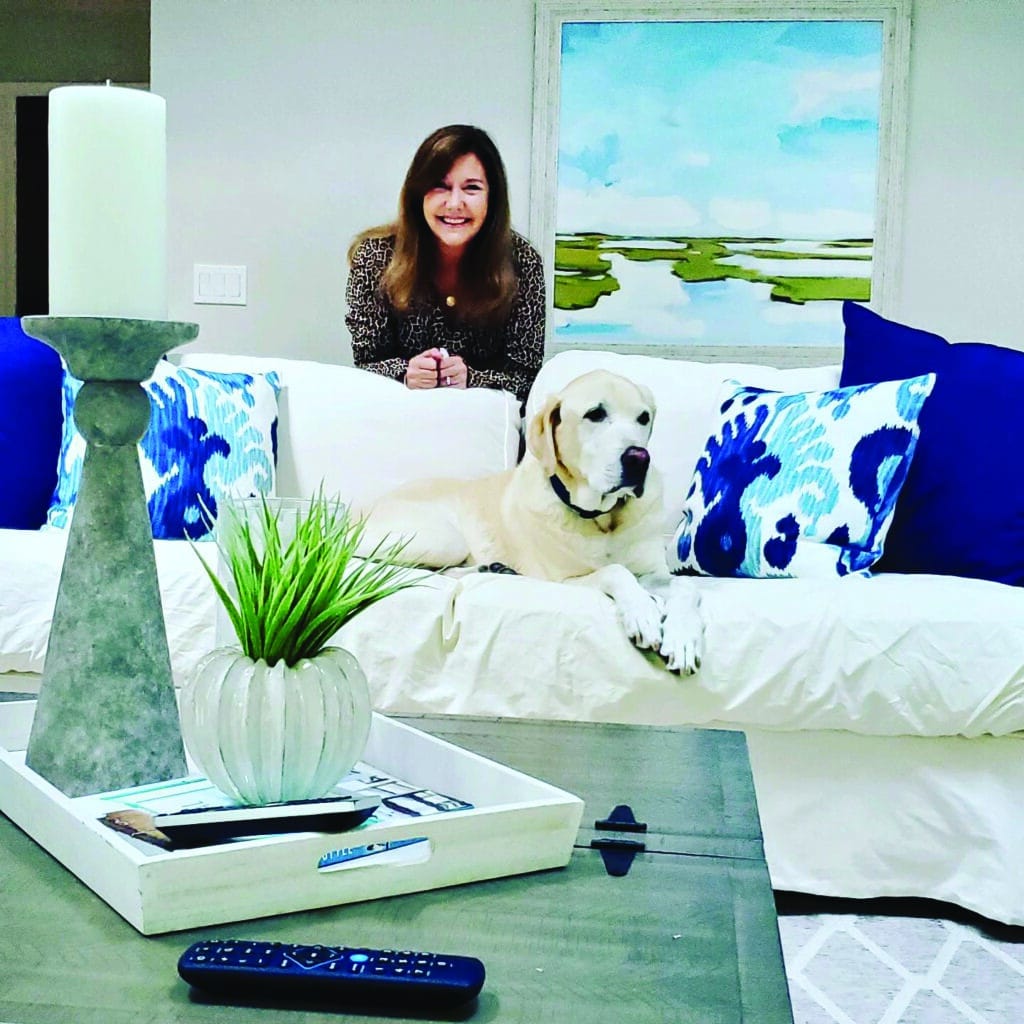 Zac attack and the bus brigade
Back in January of 2012 a sweet neighbor named Jo Ann Warner called me to say there was a beautiful Lab at Dekalb Animal Control in need of adoption. We had lost our chocolate Lab, Taz, a few months earlier. He was also a rescue and the best dog; we were devastated when he died.
Jo Ann convinced me to go at least meet Zac, so we headed over to animal control. When they brought Zac out, he was carrying a tennis ball, and to this day that is his favorite toy. He always has one in his mouth or nearby.
Zac had been picked up by the dog catcher and appeared to have been on the run for a while. He was missing a toe and had bullets from a BB gun in his chest. He was young, our vet guessed him to be around a year old, and a rare breed of Lab — technically a white Lab, not yellow. He was about 85 pounds at the time, but quickly grew to about 105 once he had a safe home and regular meals.
Zac loves walks, dropping his tennis ball in our pool, trips to our beach house "Z's by the Sea" in Hilton Head, and the couch we got for him in our bedroom. He is devoted to his family, our two other rescue dogs, and to anyone who will pet him.
Zac rarely gets into trouble, but when he was younger, he did tend to eat things he shouldn't, most notably underwear. He once pooped out a pair of my daughter's panties while we were standing at the bus stop. It definitely wasn't his finest moment…but highly entertaining to all the kids and parents standing there waiting on the school bus!
— Cindy Zetzsche
Visit the full Pets and their People Giveaway 2021 Gallery!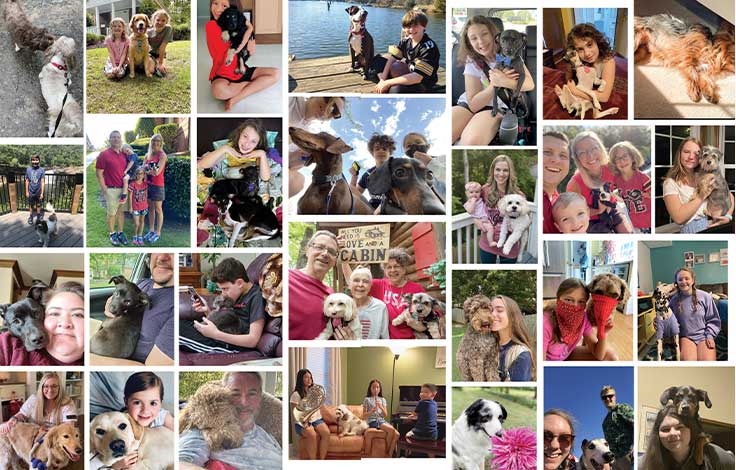 PCBA Awards $500 to Furkids at March Networking Event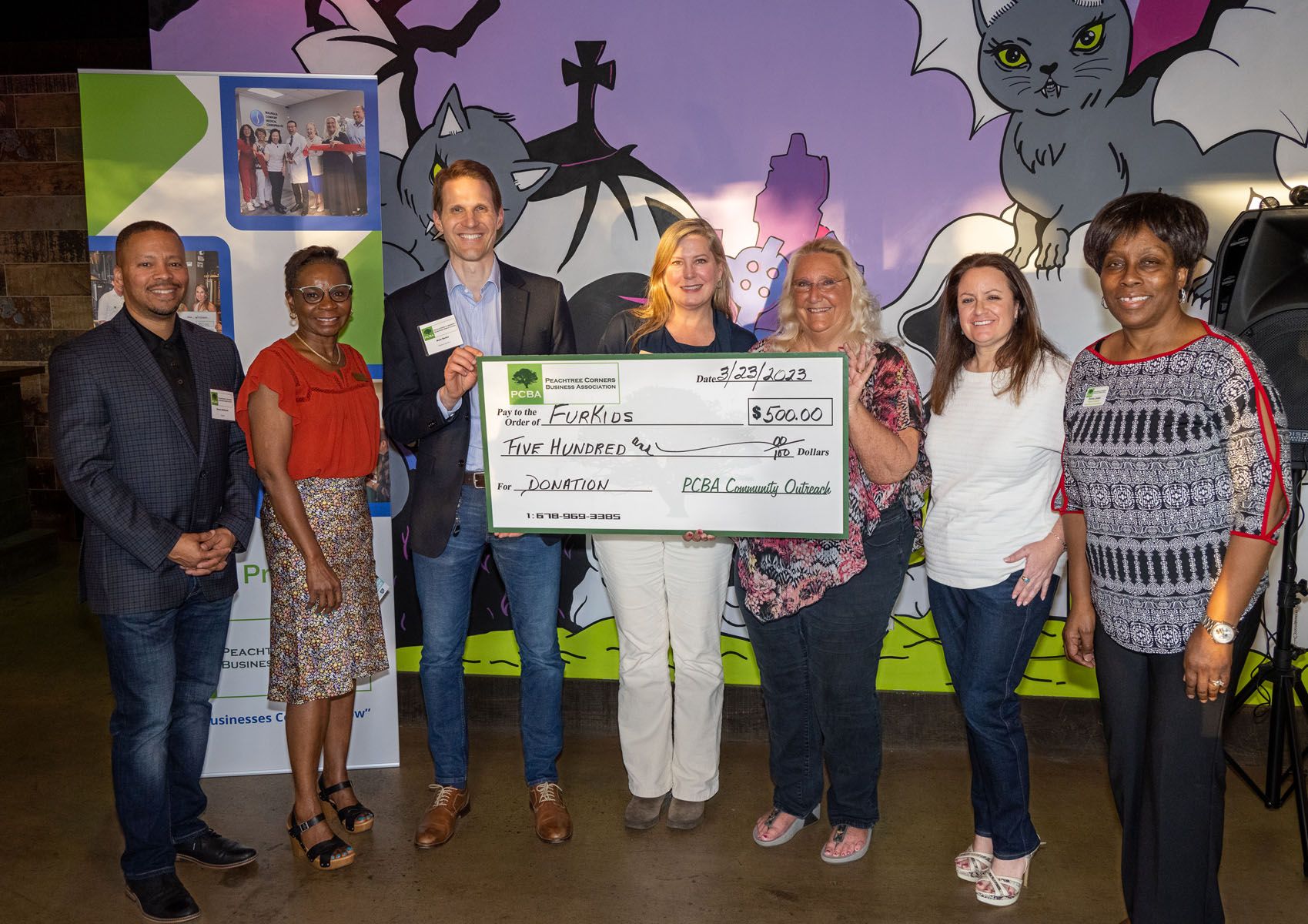 The Peachtree Corners Business Association (PCBA) March Business After Hours Event was action packed with opportunities for business networking at Anderby Brewing. Everyone enjoyed new cocktails and specialty beers while enjoying dinner from Latin Fresh as well as axe throwing from Moving Target ATL NE.
The PCBA also presented a check of $500 to Furkids in support of their efforts to care for animals while helping to find their forever homes.
"The PCBA is proud to donate a check for $500 to Samantha Shelton, CEO of Furkids in support of their efforts to rescue homeless animals, provide them with the best medical care and nurturing environment while working to find them a forever home," said Lisa Proctor, PCBA President.
"Our Outreach Committee and Board are impressed with Furkids' commitment to provide care and restoration for these special animals at their no kill shelters. With the PCBA's continuous commitment to supporting our community in a meaningful way, we are excited to be a small part of their efforts," she added.
Headquartered in Georgia, Furkids is a nonprofit charitable organization that operates the largest cage-free, no-kill shelter in the Southeast for rescued cats, and Sadie's Place, a no-kill shelter for dogs. Furkids also operates one of the only facilities in the Southeast dedicated to the care of FIV positive cats.
Furkids has rescued and altered more than 55,000 animals since its founding in 2002. Approximately 1,000 animals are in the Furkids program today, in the Furkids shelters, 10 PetSmart and Petco adoption centers, and more than 400 foster homes in the Atlanta area.
Funds for the PCBA Community Outreach program are raised throughout the year from PCBA membership, sponsorship and the annual charity event. Donations and scholarships are awarded at monthly events so members can learn more about these organizations.

Read the October/November Digital Edition Today!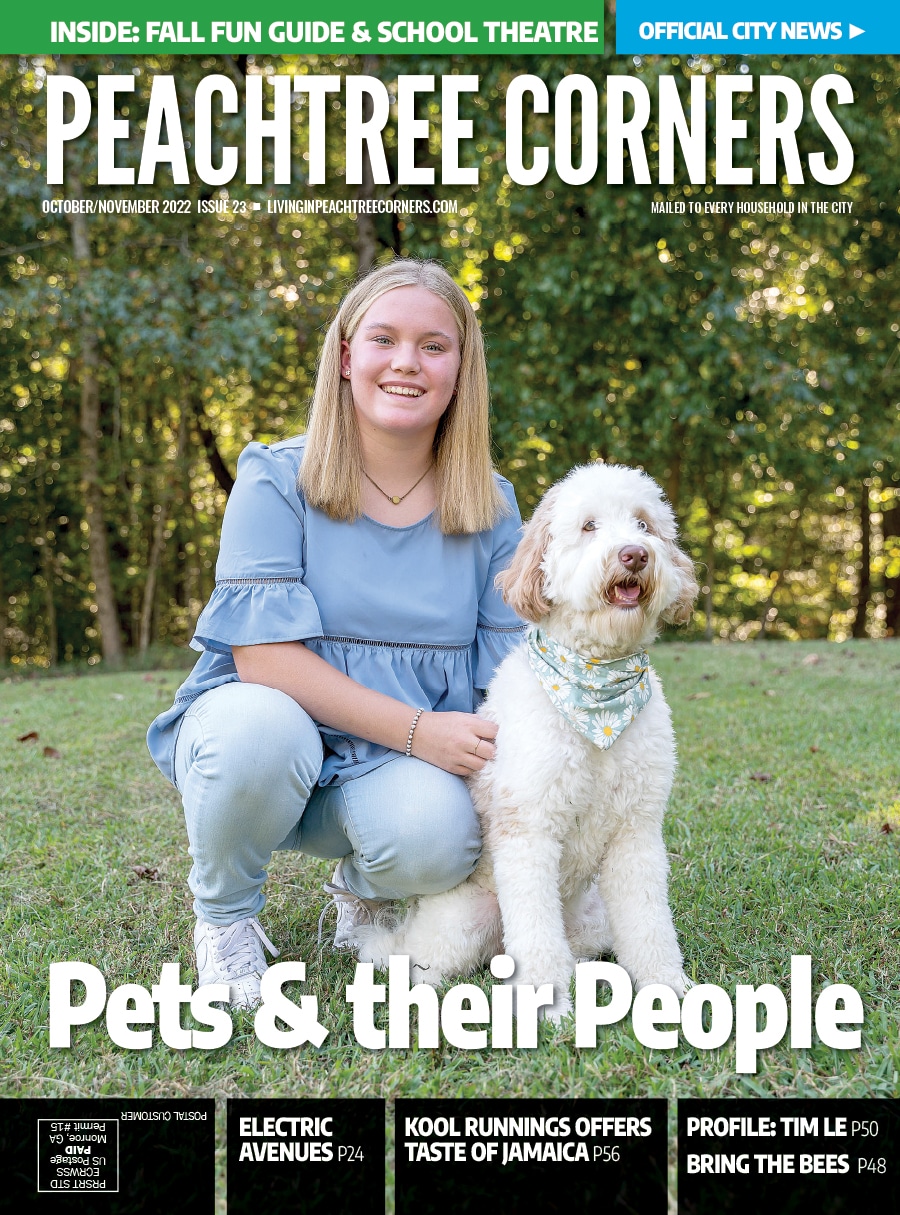 The latest issue cover story is Pets & their People.
In the issue:
Electric Avenues – PTC First Electric Car Show
School Theatre
Food: Kool Runnings Jamaican Food
New restaurant openings
Fall Fun Guide
Education News
Business News and briefs (Southwest Gwinnett Chamber, Peachtree Corners Business Association
Profile: Tim Le
Georgia Romance Writers
Christ the King Craft Fair returns for the 35th Year

Pets and Their People 2021: Gallery