Electrifying Peachtree Corners: City offering community incentives on EV chargers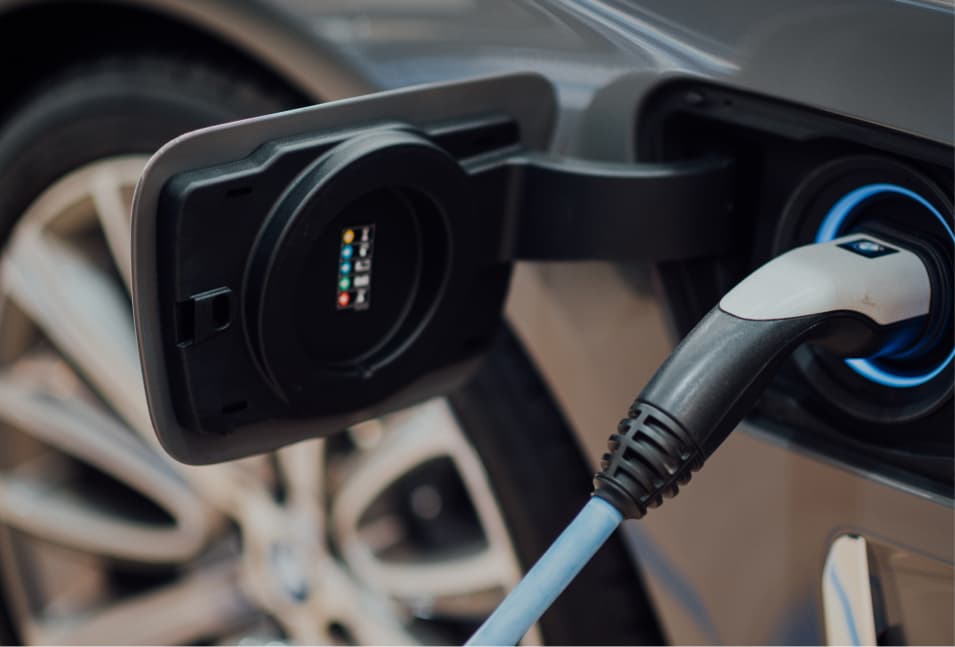 This year is turning into a pivotal one for electric vehicle sales as numbers of EVs sold have increased substantially over previous years. For Peachtree Corners residents and business owners in the market for an EV, it also means researching and deciding among the myriad of choices of EV chargers which can be
overwhelming.
To assist the community, a dedicated website, "Electrifying Peachtree Corners," has been developed to provide a guide through charging solution questionnaires and resources to help understand and evaluate EV charging choices. The new website offers special charging solutions that are only available to its residents and businesses.
For the average first-time EV owners, plugging in to a charger seems simple enough but not all chargers are equal. Some chargers can be installed simply by plugging into a standard wall outlet, while others require a custom installation. Then there is the question of speed. How quickly will you need to charge your vehicle; overnight, within a few hours or minutes?
For business owners wading into the EV world, there are even more options. Will the EV charging stations be used to charge an EV fleet for business use, to support employees and to attract customers? Choosing the best EV charging station for business use can be a formidable undertaking.
To understand and analyze the maze of information on EV charging stations, Peachtree Corners city leaders worked with Hubject, an international company promoting emission-free mobility, to issue a request for proposals from electric vehicle supply equipment manufacturers. Through this proposal, the city received responses from 23 electric vehicle charging companies from across the globe. Through this process, the city and Hubject are now able to offer useful information and discounted pricing on charging infrastructure via a dedicated website for its residents and businesses.
"Electric vehicle charging is an important aspect of EV ownership," said Assistant City Manager Brandon Branham. "The website provides a guide with step-by-step guides that cover all key issues for both residential and business use."
Recognizing the continued popularity of electric vehicles, last fall the city introduced its 16- vehicle charging plaza located at the Town Center. The plaza is the second largest in the state with 12 Tesla V3 Superchargers, two 350 kW chargers and two 15 kW chargers.
"We are pleased to be able to offer this information to our residents and businesses," said Mayor Mike Mason. "We continue to strive to live up to the city's tagline, 'Innovative and Remarkable' by offering beneficial technology solutions and opportunities."
Jacobs, Peachtree Corners, and Qualcomm Collaborate to Deploy Cellular Vehicle-to-Everything Technology in the City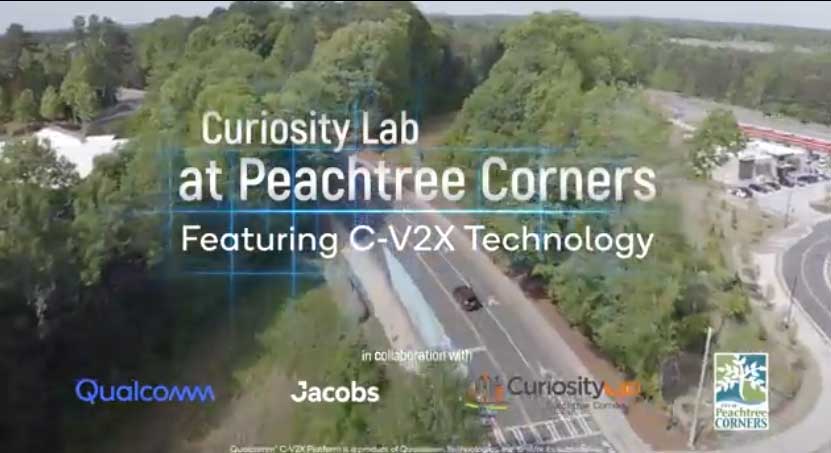 The city of Peachtree Corners and its Curiosity Lab utilize Qualcomm Technologies C-V2X solutions to enable advanced traffic efficiency and roadside safety
Jacobs, Peachtree Corners and Qualcomm Technologies, Inc. today announced joint efforts to deploy end-to-end smart solutions in one of the nation's first smart city environments powered by real-world connected vehicle technology and infrastructure. As a part of the working relationship, Qualcomm Technologies serves as ecosystem enabler by providing technology solutions, while Jacobs manages the installation commission project delivery. The program aims to demonstrate the continued momentum of smart cities and spaces, with Peachtree Corners serving as a model for other municipalities as they look to deploy smart solutions and programs.
Peachtree Corners is home to one of the nation's most advanced smart city ecosystems, with smart connected technologies actively being developed and deployed in real-world conditions. Its Curiosity Lab is home to technology developers and companies enabling the future, while smart connected solutions are being deployed across the community, bringing the region to the forefront in the development of next-generation, Internet of Things (IoT) technologies. Jacobs, Peachtree Corners and Qualcomm Technologies are working together to deploy the company's technology solutions, focusing initially on roadside infrastructure, traffic management and road safety, with the implementation of Cellular Vehicle-to-Everything (C-V2X) technology. As a part of the program, the city will work with Commsignia to feature roadside units (RSUs) equipped with Qualcomm Technologies' C-V2X solution. Utility vehicles equipped with Qualcomm Technologies' C-V2X solutions will also be utilized to demonstrate vehicle-to-infrastructure (V2I) direct communications.
The implementation of C-V2X within the smart city environment not only demonstrates the benefits of C-V2X communications in a real-world setting at scale but showcases C-V2X's safety critical communication capabilities needed to meet the evolving needs of transportation.
"We are pleased to be working with Jacobs and Peachtree Corners to build out a progressive smart city deployment. This implementation further exemplifies the value and leadership in the Qualcomm® Smart Cities Accelerator Program ecosystem and streamlined end-to-end deployment model capabilities," said Sanjeet Pandit, senior director, business development and global head of Smart Cities, Qualcomm Technologies, Inc. "This C-V2X program with the Curiosity Lab and Jacobs not only highlights the ability to implement digital road infrastructure to optimize traffic and enable safer streets across global cities, but our continued commitment to offer advanced solutions for traffic safety. This project is paving the way as an example of what communities can replicate and I expect these advanced end-to-end solutions to be an integral part of future smart city and smart connected spaces rollouts."
"In addition to procuring, installing and testing the Internet of Things infrastructure, we're bringing planning expertise to help Peachtree Corners realize its smart city vision," said Jacobs People & Places Solutions Senior Vice President and Regional Director Tom Meinhart. "From procurement to closeout, Jacobs and our partners work to improve safety and connectivity, while enhancing digital infrastructure and smart capabilities in the city."
C-V2X direct communication is designed to serve as a key feature for safety and mobility applications. Additionally, C-V2X aids in enabling cleaner and sustainable mobility alternatives as the technology is expected to reduce greenhouse gas emissions between 5-20%, according to the 5GAA.
C-V2X is globally compatible with 5G networks and complements other Advanced Driver Assistance Systems (ADAS) sensors, such as cameras, radar and Light Detection and Radar (LIDAR). The C-V2X direct communications is designed to offer vehicles low latency communications for vehicles to broadcast to other vehicles, roadside infrastructure and, in the future and with further optimizations, to pedestrians and other vulnerable road users without the involvement of a cellular network, or cellular network subscription, by operating in globally harmonized 5.9 GHz ITS spectrum.
"We're delighted to welcome Qualcomm Technologies to Peachtree Corners – reinforcing our shared leadership in bringing the smart city vision to life in the United States," said Brandon Branham, assistant city manager and chief technology officer of Peachtree Corners. "We've always stressed the importance of smart connected infrastructure to support all parts of an ecosystem – from autonomous vehicles and shuttles deployed for residents, pedestrians crossing the road, smart traffic management, public safety to other areas of everyday life. Qualcomm Technologies' industry-leading C-V2X technologies will greatly elevate our infrastructure, making it second-to-none for both technology developers and our residents as we connect more of society and business."
Through the Qualcomm Smart Cities Accelerator Program, Qualcomm Technologies has acted as a catalyst in enabling end-to-end smart deployments and the digital transformation of smart cities and smart connected spaces globally. Peachtree Corners intends to roll out additional smart solutions in the future by collaborating with Qualcomm Technologies smart cities ecosystem and Qualcomm® IoT Services Suite verticals.
For more information on the Peachtree C-V2X project, please log onto Qualcomm C-V2X site. To schedule a briefing with city leadership, contact Peachtree@GoDRIVEN360.com.
About Jacobs
T-Mobile, Georgia Tech and Curiosity Lab Team Up to Fuel 5G Innovation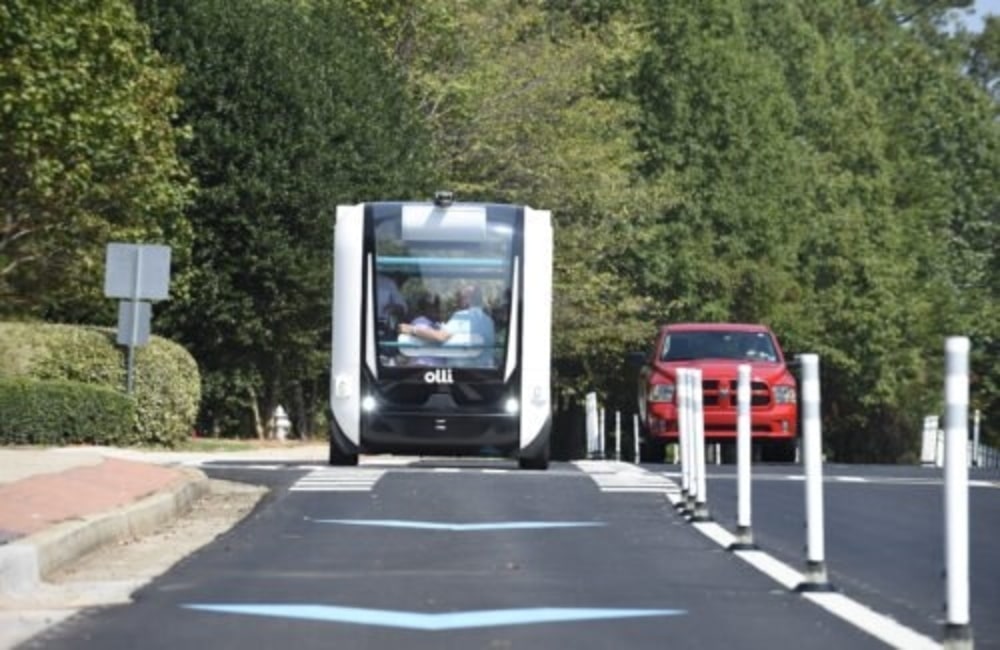 T-Mobile (NASDAQ: TMUS) and Curiosity Lab at Peachtree Corners, in collaboration with the Georgia Institute of Technology, announced the creation of the 5G Connected Future incubator program designed to support the growth and development of entrepreneurs and startups as they work to build the next big thing in 5G.
The new 5G incubator is located in the city of Peachtree Corners' 500-acre smart city technology park, a living lab powered by T-Mobile 5G where more than 8,000 people live or work. The facility features a 25,000 square foot Innovation Center and 3-mile autonomous vehicle test track. T-Mobile has deployed its Extended Range 5G and Ultra Capacity 5G network across the park enabling developers to build solutions in a real-world environment. Here developers will build and test new 5G use cases such as autonomous vehicles, robotics, industrial drone applications, mixed reality training and entertainment, remote medical care, personal health and fitness wearables and more.
"What a match-up! America's leading 5G network, the brilliant minds of Georgia Tech and the most advanced living lab in the country – now that's a powerhouse combination," said John Saw, EVP of Advanced & Emerging Technologies at T-Mobile. "We cannot wait to see the innovation that occurs as entrepreneurs and developers build the next big thing in 5G backed by these world-class resources."
The new incubator, managed in collaboration with Georgia Tech's Advanced Technology Development Center (ATDC), is an expansion of the T-Mobile Accelerator and part of the Un-carrier's efforts to fuel 5G innovation. T-Mobile supports numerous initiatives to help startups and entrepreneurs develop, test and bring to market groundbreaking new 5G products and services. T-Mobile Accelerator is an award-winning program founded in 2014 that originated in the smart city corridor of Kansas City.
Companies participating in the 5G Connected Future program will work directly with technology and business leaders at T-Mobile Accelerator, Georgia Tech and Curiosity Lab as they build, test and bring to market new products and services that unleash the potential of T-Mobile 5G. ATDC is a globally recognized technology incubator. The 5G Connected Future vertical is the fourth of its kind at ATDC and follows other targeted programs in health, retail and financial technologies.
"In addition to the normal startup concerns, entrepreneurs in the 5G space face a unique set of challenges such as regulatory issues at the state and local levels, network security, and integration testing," said ATDC Director John Avery.
ATDC brings a unique framework that combines its startup curriculum, coaching, connections, and community, as well as direct access to Georgia Tech resources, research expertise, and student talent, to help entrepreneurs learn, launch, scale, and succeed. In this effort, ATDC will offer programing, recruit and evaluate startups and hire staff to manage the vertical in Peachtree Corners.
"This collaboration is a great opportunity for ATDC and Georgia Tech, the city of Peachtree Corners and Curiosity Lab, and T-Mobile, a Fortune 50 company, to create a unique collection to work with these companies, refine their ideas into scalable companies, and bring these solutions to market more quickly," Avery said.
Such a partnership underscores "Georgia Tech's commitment to enabling tomorrow's technology leaders, which remains as strong as when ATDC was founded 41 years ago," said Chaouki T. Abdallah, Georgia Tech's executive vice president for research. "Innovation cannot take place in a vacuum, which is why entrepreneurs and startups require the knowledge and resources provided through partnerships such as ours."
"The City of Peachtree Corners and Curiosity Lab continue to affirm our commitment to technology innovation through programs, partnerships and engagements with industry leaders such as T-Mobile and Georgia Tech," said Betsy Plattenburg, executive director of Curiosity Lab. "These two organizations were instrumental in the launch of Curiosity Lab and our continued collaboration will create opportunities for the next-generation of intelligent mobility and smart city entrepreneurs."
T-Mobile 5G, A Platform for Innovation
With its supercharged 5G network as the foundation, T-Mobile is working to fuel 5G innovation and build the 5G ecosystem. The Un-carrier collaborates with universities and standards bodies to support 5G research and development. In addition to running the award-winning T-Mobile Accelerator, it also operates the T-Mobile Ventures investment fund and is a co-founder of the 5G Open Innovation Lab.
Startups interested in joining the 5G Connected Future program can apply here.
Source: T Mobile Press Release
USA's first road solar panels installed in Curiosity Lab at Peachtree Corners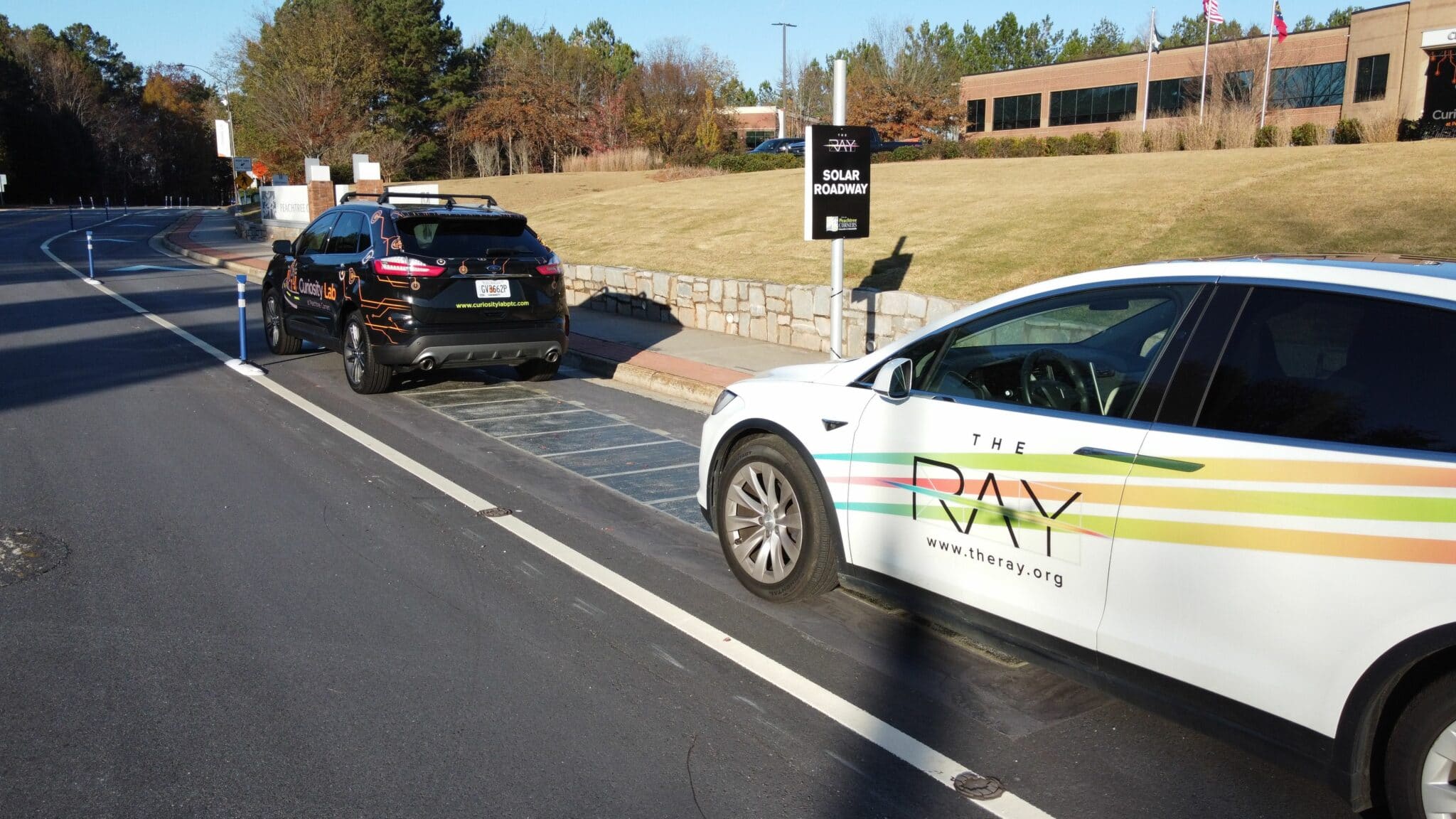 Curiosity Lab Peachtree Corners – the nation's first smart city environment powered by real-world infrastructure and next-generation connectivity – today unveiled the city's new solar roadway system which produces energy for a solar-powered EV charging station located at city hall. The installation also marked the first road surface-powered solar panels to be activated in a United States city.
The solar roadway is located in a section of Technology Parkway's autonomous vehicle test lane and was provided to the city through a partnership with The Ray, a nonprofit living laboratory and proving ground located along an 18-mile stretch of Interstate 85 spanning between LaGrange and the Georgia/Alabama state line.
The new system at Peachtree Corners will produce more than 1,300 kilowatt-hours of electricity annually for a Level 2 EV charger at city hall at no cost to EV motorists. The charger is also equipped with an energy storage system for nighttime charging.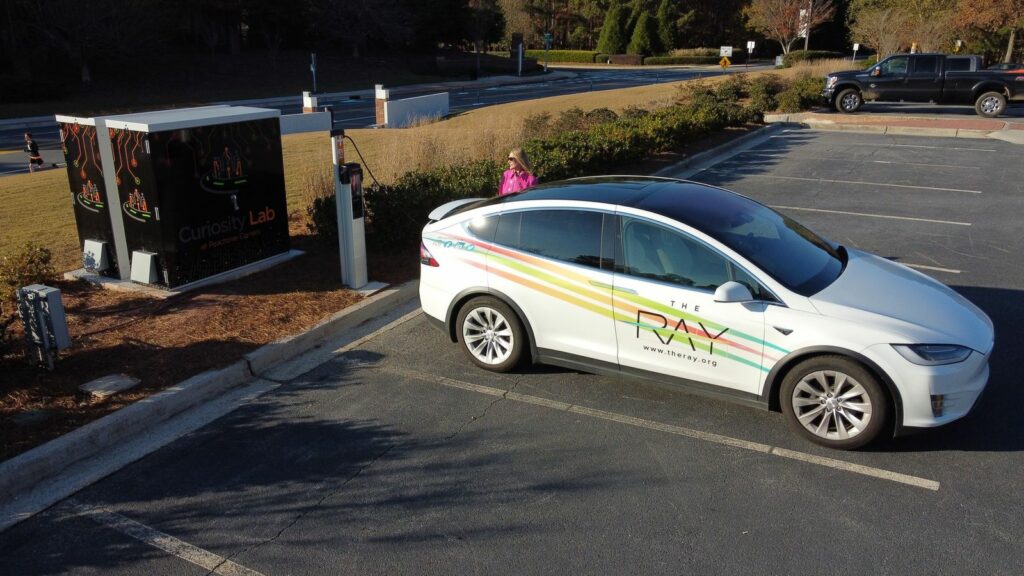 The Wattway solar roadway panels, manufactured by French transportation innovator Colas Group in partnership with the French National Solar Energy Institute, were engineered to be more durable and efficient – resulting in a 21 percent performance increase over previously deployed panels.
Solar roadway brings renewable, off-grid, Level 2 EV charging to City Hall; use of charger is free to motorists.
French-engineered road surface solar panels, installed for the first time on an American city street, may power more parts of the city in the future – from streetlights to other cityinfrastructure, including backup for grid outages
Solar roadway system highlights the city's leadership in testing the latest green-energy, offgrid technologies in a smart city environment
"As further reinforcement of Peachtree Corners' leadership in introducing and developing the latest technologies in a real-world environment, we're excited to have been working with The Ray to install the country's first road surface solar panels manufactured by Wattway, within our one-of-a-kind autonomous vehicle lane," said Brandon Branham, chief technology officer and assistant city manager of Peachtree Corners. "While this new form of 100-percent green, renewable energy will begin with supplying power to an EV charging station, our vision is to begin to power more existing infrastructure across the city, off-grid. We look forward to installing more panels throughout, which may include sidewalks, bike lanes and many more surfaces."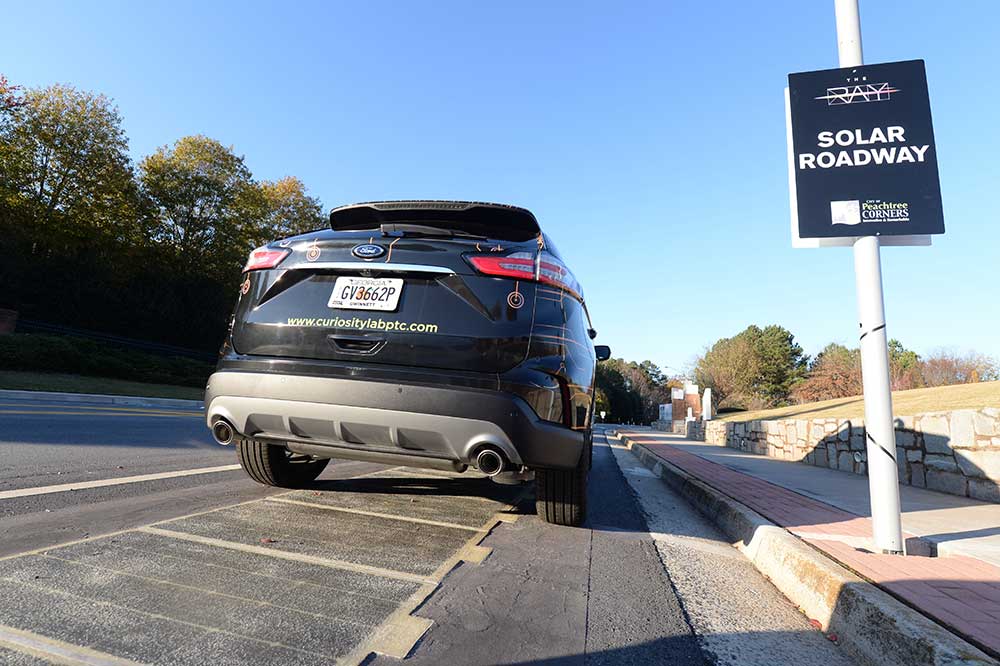 "We are thrilled to be installing a solar road for the first time in an American city," said Harriet Anderson Langford, founder and president of The Ray. "Our entire organization, with the help of key corporate partners, is dedicated to advancing the future of transportation infrastructure around the world. We have had lots of success using roadways, as well as unused interstate right-of-way, to generate massive amounts of electricity for EVs. Proving this technology in an environment like Peachtree Corners helps us further demonstrate its effectiveness while moving us toward implementation on a larger scale."
The Ray was a 2018 Finalist for the Fast Company "World Changing Ideas Award," and was featured on The Weather Channel as one of "Ten Best Ways to Save the Planet!"
Source: Press release by the City of Peachtree Corners