French tech company helps compatriots expand into U.S.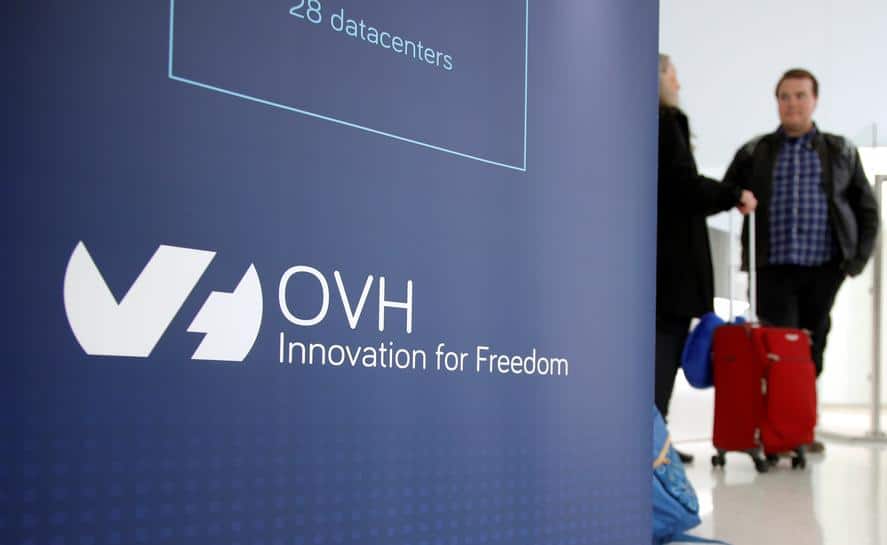 OVHcloud US, a global leader that offers access to flexible, secure and cost-transparent cloud services, has joined the French-American Chamber of Commerce-Atlanta and La French Tech – a French government-supported ecosystem of startups, investors, decision-makers, and community builders – as a member organization. The company is poised to bring its cloud solutions to other members that are expanding into the United States through the Curiosity Lab in Peachtree Corners.
"The FACC and La French Tech Atlanta are delighted to welcome OVHcloud US to our family of companies. As the premier French cloud computing company, and as the official cloud provider for the City of Peachtree Corners, Georgia and its Curiosity Lab – one of the most unique smart city ecosystems in the country – we hope this partnership will further broaden cross-Atlantic relationships. Our goal is to help French startups to accelerate their growth in North America. This new partnership opens exciting opportunities for flexible cloud solutions and opportunities for meaningful collaborations," said President of La French Tech Atlanta, Board Member of the French-American Chamber of Commerce and French Trade Advisor, Sebastien Lafon.
OVHcloud US and FACC will both maintain a presence in the innovation center facility at Curiosity Lab to encourage French startups to actively collaborate with many of the world's brightest technology companies and developers within the smart city ecosystem, as well as prove out their technology in a unique and live environment featuring city-owned connected infrastructure that cannot be replicated in a laboratory. The new relationship and co-location of the organizations will enable companies to work together on some of the most advanced emerging smart city use cases leveraging bare metal cloud, private cloud, public cloud, and platform-as-a-service offerings in both hybrid-cloud and multi-cloud settings.
"OVHcloud opened a US division to enable its European and worldwide customers entering the North American market to take advantage of the same technologies and services they've trusted for more than 20 years without having to rethink or retool their cloud strategy," said OVHcloud US General Manager Jeffrey Gregor. "Fast forward to today, we're proud to be a key player in one of the hottest tech hubs in the country … bringing the power of open cloud solutions that give CIOs and developers superior interoperability, higher performance, easier migration, high-level security, and price predictability versus other big names."
Information: us.ovhcloud.com.

Business Association and City Work Together for Community Success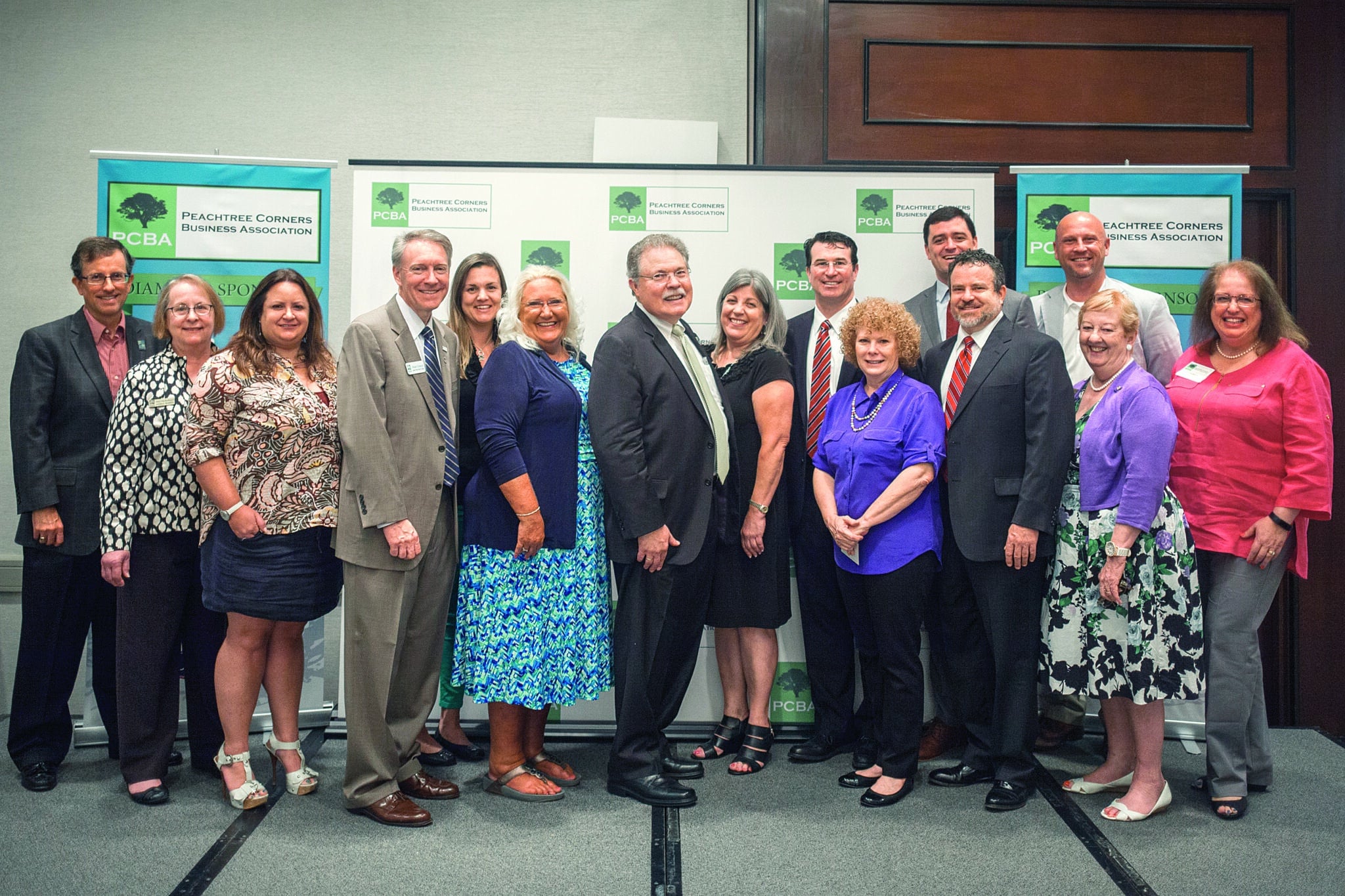 Peachtree Corners Business Association celebrates 10 years of making us better
Asking which was established first, the City of Peachtree Corners or the Peachtree Corners Business Association (PCBA) is kind of like asking which came first, the chicken or the egg. While philosophers, religious scholars, scientists and the like ponder the chicken and egg question, there is a correct answer to the former. PCBA is a few months older than the city itself.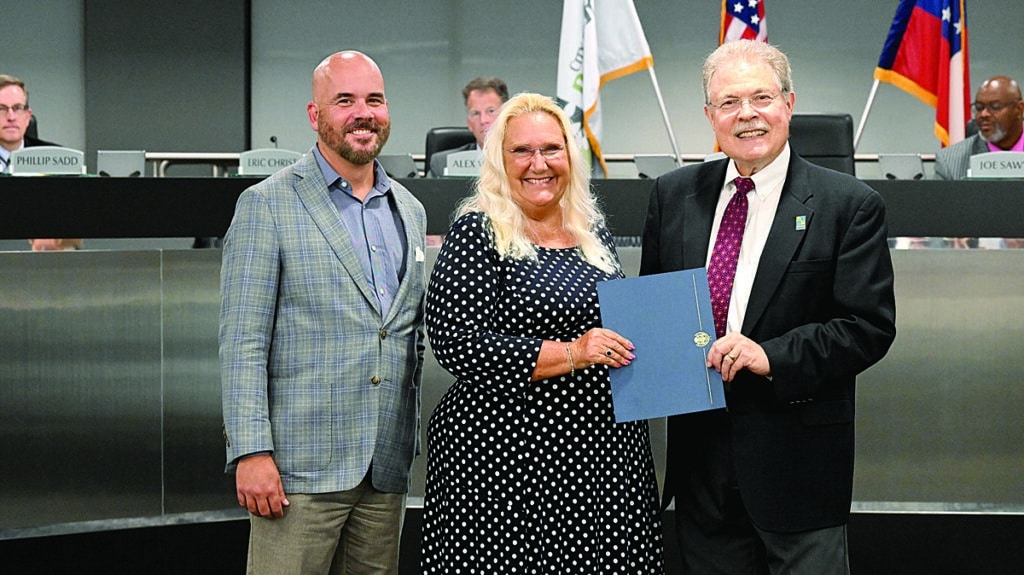 That's significant because they are interdependent.
"When the City of Peachtree Corners was founded in 2012, the PCBA and the city recognized the importance of having an organization focused on our business community," said President Lisa Proctor. "The PCBA was established as an integral part in growing and developing our business community with all businesses that want to do business within our community."
Peachtree Corners Business Association is a business membership organization that focuses on innovative approaches, programs, shared resources, community outreach and opportunities for its member businesses and professionals to connect, develop, grow and prosper.
Just like its motto says, it's "Where Businesses Come to Grow!"
Local businesses strengthen the community
Any Economics or Political Science course will point out the symbiosis of local businesses and local governments. Cities need businesses to contribute expertise and resources in support of public/private funding solutions for special projects.
Locally owned businesses provide many economic benefits to a community, such as:
■ Local businesses are owned by people who live in the community and are less likely to leave. They are more invested in the community's future.
■ Increasing local businesses means creating more jobs to encourage more people to stay in the area. This not only allows people to work closer to home, but also improves the quality of life for the community by increasing city revenue, creating a more self-sustainable community and connecting the community together.
■ Locally owned businesses also build strong communities by sustaining vibrant town centers, linking neighbors in a web of economic and social relationships and contributing to local causes.
The list of positives can go on and on. It's important to note that these benefits from supporting local businesses are at risk of being measurably reduced by the increase of national chain competition.
PCBA strengthens local businesses and the city
The PCBA is made up of businesses of all sizes and types who want to expand their reach and grow their business within Peachtree Corners and the greater metro-Atlanta area. According to its website, PCBA affords its members the opportunity to:
■ Gain exposure and brand awareness for their businesses,
■ Highlight their businesses,
■ Generate new customers and forge relationships,
■ Support local businesses, and
■ Give back to the community.
That last item on the list, giving back to the community, is a huge part of what the Peachtree Corners Business Association does. Through its Community Outreach Program, it has donated over $115,000 and awarded 15 scholarships to deserving charities and students over the last 10 years.
10th-anniversary celebration
To celebrate its 10-year anniversary, PCBA is pulling out all the stops to raise as much money as possible to help three more charities. "This year, we're focusing our fundraising efforts on local charities that are addressing three important needs — community, health and education," said Proctor.
The annual charity event, Celebrating 10 Years and Touchdowns Charity Party, is set for Sept. 22 from 5:30 to 8 p.m.
"It's going to be our best one yet and we would love for [everyone in the community] to be a part of it," said Proctor. "There will be plenty of time for business networking, enjoying tailgating activities including a cornhole tournament, a live auction, drawings, food and adult beverages as we raise money for three great causes and award a check that evening to another local charity."
Tickets for the fundraiser are on sale now and there are sponsorship opportunities. Perhaps best of all, a silent auction is underway that features one-of-a-kind items, such as a football signed by Peyton Manning and another signed by Rob Gronkowski; a boxing glove signed by Mike Tyson; trips to Hilton Head, The Biltmore and more distant destinations like Sydney, Australia and Greece.
There are also adventures, including a supercar driving experience and a chance to swim with sharks. Visit peachtreecornersba.com/about-charity-event to get details, register for the charity party or place bids for the silent auction.
Focus on Local Charities
The Peachtree Corner's Business Association is proud to focus its fundraising efforts on three local charities.
Corners Outreach has a mission of equipping Atlanta's underserved students of color and their families to lead full lives through educational development and economic opportunities. It offers three paths to impact the community: volunteering, donating and becoming a customer. All three paths change lives and are accomplished through: Corners Academy — early learning, elementary tutoring and teen development; Workforce Development — basic needs, life skills, job skills and educational advancement; Family Engagement — adult workshops, food assistance and health services; and Corners Industries & Staffing — sustainable living wage and career advancement certification. More at cornersoutreach.org.
Paint Gwinnett Pink 5K is a celebration of survivorship, while raising awareness and funds for breast cancer programs at Northside Hospital Gwinnett. Community support and donations fund Northside Hospital Institute cancer patients in Gwinnett County by providing improved access to cutting-edge imaging technology for earlier diagnosis, mamograms, transportation and other assistance needed for cancer treatments. Funds raised in 2022 will go to the installation of additional imaging units.
The event is the largest 5K supporting breast cancer in Gwinnett County. The annual Paint Gwinnett Pink 5K Walk/Run is held at Coolray Field in Lawrenceville every October. The 2022 event will be held on Saturday, October 15. More at paintgwinnettpink.com.
A. Worley Brown Boys & Girls Club provides an environment where all youth feel safe and secure to dream, discover and develop. It works with hundreds of kids and teens each year to help them reach their full potential. The programs focus on helping kids succeed in school, live healthy and become leaders.
The club focuses on a variety of programs including culinary arts and gardening, STEM, computer coding, music studio/music production, photography/film production, visual and performing arts, fashion and design, creative writing/comic book creation, science, career readiness, a Diplomas to Degrees program, tutoring and homework support, toastmasters, sports and character and leadership development clubs. More at bgcma.org/club/aworley/.

A Little Italy in Peachtree Corners
Makes Extending an Olive Branch a
Symbol of Health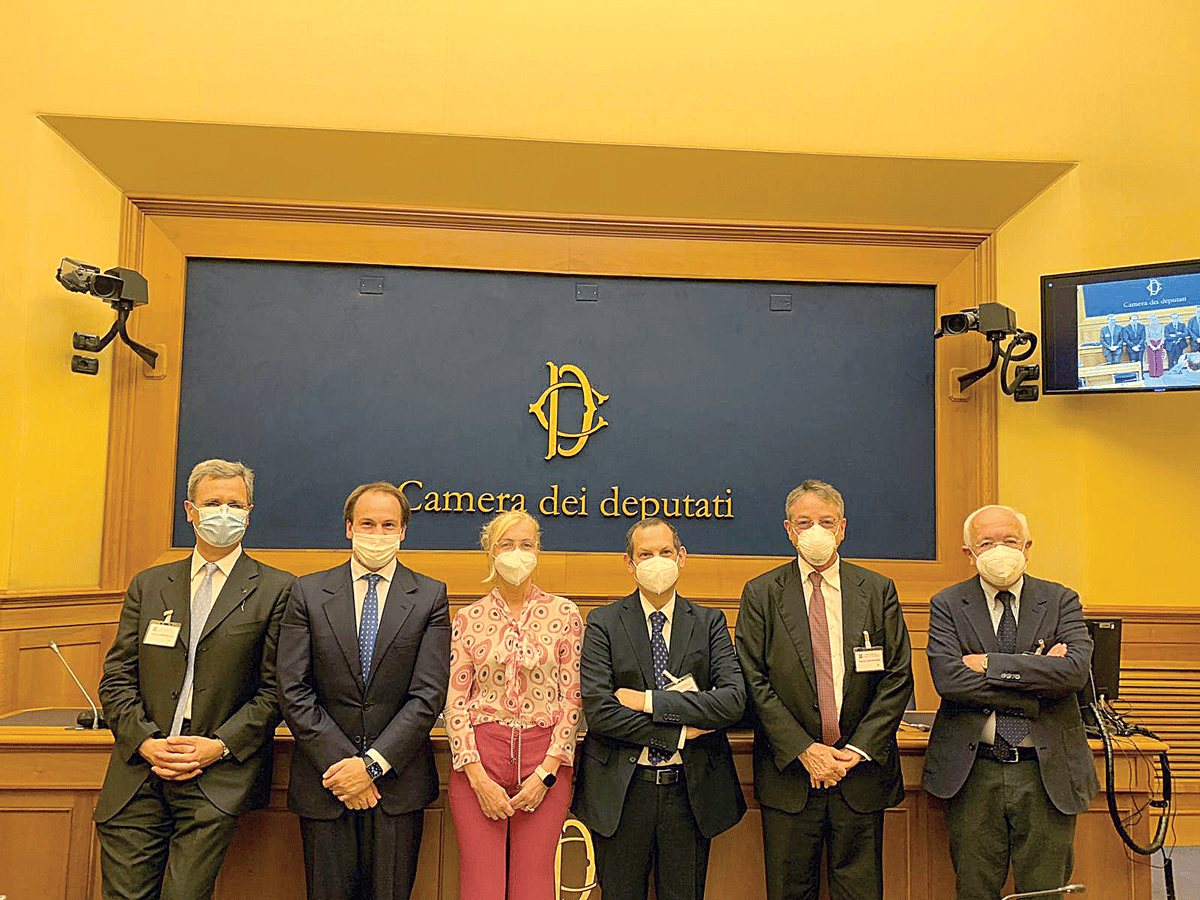 Conceivably, one day soon, we'll be driving through Peachtree Corners taking in views reminiscent of the Italian countryside. As our gaze falls upon stretches of olive groves, we may think we're in Italy for a second — until we realize this phenomenon in our ever-avant-garde metropolis is due to its ideal geographic location, favorable to the cultivation of olive trees, and the ingenious collaboration of forward-thinking Italian and American researchers working to extract from olive oil its most beneficial molecules, a gift as precious as gold for our health.
The newest virtual member of Atlanta Tech Park is the brainchild of Dr. Matteo Bertelli, founder and president of the Italian MAGI Group since 2006. MAGI specializes in the research, diagnosis and treatment of rare genetic diseases. His spin-off at Atlanta Tech Park, MagisNat, unites academics on opposite shores of the Atlantic in a promising mission to combat disease using natural molecules.
Capitalizing on the health benefits of the Mediterranean Diet
Applying molecular genetics and metabolomics in the study of natural substances extracted from foods typical of the Mediterranean Diet (MedDiet), MagisNat is finding ways to zero in on its long-known health benefits and make good use of its disease-preventing properties. The active components of polyphenols and flavonoids found in olives, tomatoes and citrus fruit for example, can be extracted to produce dietary supplements scientifically proven to prevent an array of pathologies.
The fledgling company has already produced two supplements which will be available soon, Garlive Oral Spray and Garlive Recovery tablets with vitamins, both formulated with hydroxytyrosol derived from olive extracts to support a healthy immune system.
The international launch
On June 23, 2022, a MagisNat conference took place in the press room of Palazzo Montecitorio, seat of the Italian Chamber of Deputies in Rome, Italy. Atlanta Tech Park simultaneously hosted the event stateside. Professors from both sides of the pond spoke at the official launch about this promising collaboration to further investigate the disease-preventing properties of the MedDiet.
Bertelli said he appreciates the staff at our local accelerator whose role he considers invaluable. "Without opportunities like those provided by this business incubator, small companies like ours could never start," he said. "I cannot express how grateful I am to those who conceived and developed this organization called Atlanta Tech Park in Peachtree Corners."
We've all heard about the health benefits of the MedDiet but what exactly is it?
Let's begin with what it's not. It's not a rigid, calorie-counting, restrictive fad diet, but rather a modo di vita, or a lifestyle approach consisting of more traditional meal preparation using a wide variety of nutrient-dense foods, and the prioritization of physical activity, social gatherings and relaxation.
The MedDiet was actually coined in the 1950s by American physiologist Dr. Ancel Keys. Keys was dedicated to studying the influence of diet on health. After his famous Seven Countries Study, he concluded that replacing dietary saturated fat with polyunsaturated fat reduces cardiovascular heart disease.
In 2013, the MedDiet was recognized by UNESCO as an Intangible Cultural Heritage of Humanity because of how and what the diverse populations along the Mediterranean Sea Basin eat. In turn, the World Health Organization has classified it as a diet that protects against cardiovascular disease.
Apparently, coming together with a network of family and friends to enjoy meals consisting of fresh, seasonal and local food, mostly fruits, herbs, whole grains, nuts, vegetables, legumes, fish and seafood and olive oil with moderate amounts of milk and wine — mainly red, with meals — improves heart health, body mass index and cognitive function, while decreasing the risk of developing type 2 diabetes and even certain cancers. It's also important that sugar, red meat and processed meat are consumed sparingly.
Perhaps the old adage needs a little tweak: "You are what and how you eat."
Natural molecule-based treatments show promise across a variety of diseases
In Rome, Italy, Dr. Pietro Chiurazzi, affiliated with the University Polyclinic Foundation A. Gemelli, discussed how olive mill wastewater (OMW) could be used to create supplements containing powerful antioxidants. Instead of the idiomatic expression, 'Don't throw out the baby with the bathwater,' think: 'Don't throw out the hydroxytyrosol with the OMW.' Chiurazzi studies the treatment of the rare, late-onset neurodegenerative disease FXTAS, characterized by tremors and an ataxic (uncoordinated) gait.
At the Università Cattolica del Sacro Cuore (Catholic University of the Sacred Heart) Institute of Ophthalmology, Dr. Benedetto Falsini has a pilot study underway to rescue retinal cells before they succumb to inherited degeneration.
In Sacro Cuore's Department of Internal Medicine, Dr. Amerigo Iaconelli aids patients with metabolic syndrome, diabetes, thyroid dysfunction, osteoporosis and obesity.
Dr. Sandro Michelini of San Giovanni Battista Hospital scrutinizes pathologies that cause lymphedema, a blockage in the lymph system causing swelling of the arms or legs.
The President of the Macula & Genoma Foundation in New York, Dr. Andrea Cusumano, employs this new and unusual approach to rescue photoreceptors in a pursuit to prevent and reverse blindness. Cusumano advances the field of ophthalmology in Italy, Germany and the U.S.
Bertelli credits Dr. Stephen T. Connelly with getting this venture off the ground, "He devoted an enormous amount of time to the birth of this spin-off," Bertelli said of Connelly, Associate Clinical professor at the University of California San Francisco, who is eager to embark on the fight against Alzheimer's Disease.
Emory University Dr. Peng Jin chairs the Department of Human Genetics, School of Medicine in Atlanta. He too examines neurodegenerative disorder treatment, especially Fragile X syndrome with tremor/ataxia. "Professor Peng Jin agreed to test the effects of olive tree polyphenols on fruit fly models in preventing FXTAS," Bertelli shared, extending a personal message of thanks to Jin.
Dr. John Paul SanGiovanni of U. Arizona's BIO5 Institute explores chemistry of Mediterranean foods linking this information to receptors in the body that keep cells working optimally, showing promise for those afflicted with blinding age-macular degeneration (AMD). He's identified links between the AMD-related MMP-9 protein and ferulic acid, a chemical found in fennel, oregano, olives and chickpeas.
With locations in Tucson, Arizona and Beverly Hills, California, Medical and Research Director
Dr. Karen L. Herbst of Total Lipedema Care, is passionate about helping patients with connective tissue disorders. Lipedema is an inflammatory disease resulting in the deposition of fibrotic subcutaneous adipose tissue characterized by excess fat accumulation in the lower part of the body.
As varied as their areas of expertise and as geographically dispersed as all the participating researchers may be, they're linked in the intent to employ the science behind MagisNat, the application of natural molecules to cure maladies and improve patient health.
Under the Georgia sun
There's much yet to be discovered about the beneficial effects of using these natural molecules in living organisms, but the stage is set and conditions are promising for fascinating developments in science and research at MagisNat in Peachtree Corners.
Consider the MagisNat spin-off, yet another component of la dolce vita in our innovative city. Mangiate bene (eat well) and let's toast to medical breakthroughs that once seemed like science fiction becoming a reality on our own turf.
Salute! (Cheers!) ■

PTC Anchors ATL Unlocked Event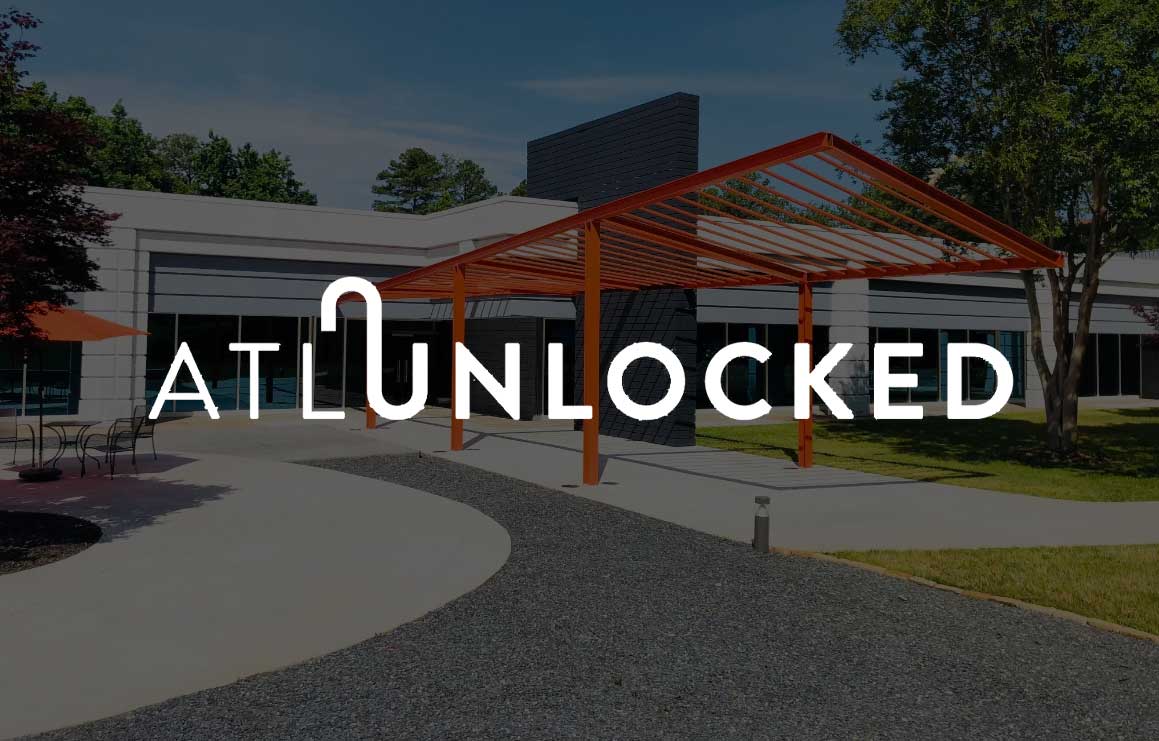 One of the 'smartest' cities in the world welcomes start-ups, entrepreneurs and innovators to join the future.
Anyone who knows anything about technology has heard of Silicon Valley. But how many people, especially those right here in Metro Atlanta, have heard of Silicon Orchard? Did you know that you are in the midst of it?
Peachtree Corners has become the epicenter for smart technology startups and is one of the few locations in the world where smart city technology — including driverless cars, smart cameras, an artificial intelligence-controlled infrastructure and millions of internet-of-things sensors — come together in one place. And the technology is not just in a lab; it's being deployed throughout the city.
There's an autonomous shuttle that takes riders on a 1.5-mile loop through Technology Park. Even the electric scooters, which anyone can borrow to get around town, automatically show up when called and then drive back to their home base after their human riders have been dropped off.
So it's no wonder that Peachtree Corners is the last leg of the ATL Unlocked event.
ATL Unlocked is a groundbreaking partnership between the Metro Atlanta Chamber and the region's leading innovation and entrepreneurship centers. It transforms metro Atlanta into an accessible ecosystem where creators, innovators, founders and entrepreneurs thrive. It opens the doors to the region's diverse community and connects people, resources and spaces, according to organizers. As it does, ATL Unlocked encourages knowledge sharing across diverse perspectives and greater access to the vital resources our region has to offer.
Literature explaining the event said that ATL Unlocked is activated through the ATL Unlocked Tour, a series of events that invites entrepreneurs to experience different innovation centers and districts across the metro and connect with the people within them. Entrepreneurs visit centers outside of their home space so they can get to know the offerings and communities of different innovation centers and districts while building familiarity and mutual trust.
"We are honored to host the final leg of ATL Unlocked in Peachtree Corners. This event showcases metro Atlanta's innovative ecosystem of which we are proud to be a leader," said Peachtree Corners Mayor Mike Mason. "I look forward to welcoming the diverse group of innovators, entrepreneurs and business owners to the wonderful things we are doing in Peachtree Corners and at Curiosity Lab."
The Tour
Buckhead: Hosted by Atlanta Tech Village
The tour kicked off on May 23 in Buckhead, home to the fourth largest entrepreneurial and startup tech community in the country. Atlanta Tech Village (ATV) is a thriving innovation community that has launched two unicorns. The area has deep connections to Atlanta's business and investment community and is engineered to increase a startup's chance of success.
Downtown / Westside: Hosted by Russell Innovation Center for Entrepreneurs
This area is becoming home to numerous global technology companies, including Microsoft, and to major universities, including Georgia State University and historically Black colleges and universities (HBCUs) located in and around the Atlanta University Center (AUC). It hosted the second part of the tour on June 21. It's the heart of Black entrepreneurship in the south. The Russell Innovation Center for Entrepreneurs (RICE) is at the center of this area, providing an economic mobility engine that offers space and resources to help Black entrepreneurs and small business owners innovate, grow and build wealth.
Midtown: Jointly hosted by ATDC and CreateX
Midtown Atlanta has been called the hottest innovation neighborhood in America. The third stop on the tour took place here on July 21. The area mixes technology and creativity. It's home to countless startup, corporate innovation centers and incubators — and top ranked universities, including Georgia Tech and SCAD. ATDC, Georgia's technology business incubator, is fostering technological entrepreneurship through curriculum, coaching, connections and community. Create X extends that support to Georgia Tech students, empowering them to launch successful startups.
Alpharetta: Hosted by Tech Alpharetta
Located just north of Atlanta, the Alpharetta suburb is a thriving corporate innovation, e gaming and technology community that includes nearly 35% of 'Where Georgia Leads' technology companies. The fourth installment of the tour takes place here on August 18. At Tech Alpharetta, some of the leading technology companies in the district are working together to shape the future of the technology industry in the region.
Peachtree Corners: Hosted by Atlanta Tech Park
A suburban community where infrastructure and local government have facilitated innovation for years, Peachtree Corners rounds out the tour. Curiosity Lab is an economic development city initiative to provide space and resources to advance intelligent mobility, IoT and smart city technologies. Neighboring Atlanta Tech Park is a collaborative workspace and accelerator that offers connections, advising and resources for growth phase companies.
ATL Unlocked at Atlanta Tech Park
107 Technology Parkway Northwest, Peachtree Corners 30092
Thursday, September 22, 5-7 p.m.
Admission is free. Reservations are required. Register at atlantatechpark.com/product/atlunlocked-event-ticket/.