The Secrets to Israel's Start-up Ecosystems Success Through the Eyes of a PTC Local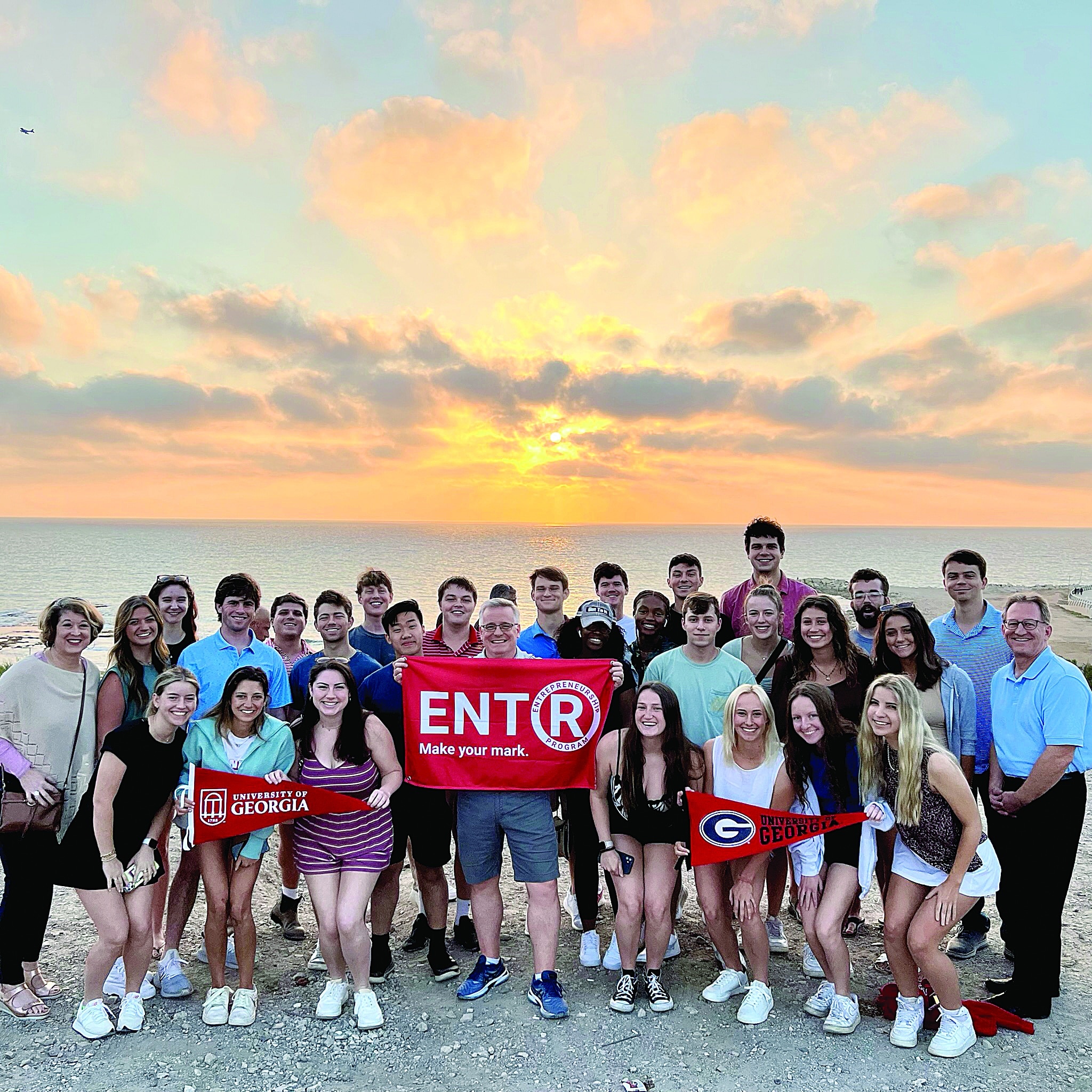 UGA entrepreneurship students seek the secrets to Tel Aviv's startup success.
Contribution by Stevie Bramble
About 6,000 miles across the Pacific Ocean, perched on the easternmost part of the Mediterranean Sea, lies Tel Aviv, Israel, a seemingly small entrepreneurial society that has transformed the start-up ecosystem worldwide. Israel has attracted large multinational companies such as Google, IBM, Apple and Fujitsu to their nation due to their start-up success, and it's continuing to grow today.
The successful start-up nation attracted University of Georgia's first study abroad group of Entrepreneurial students to spend time and learn about the ecosystem of entrepreneurship. They spent weeks studying the social and institutional infrastructure that supports one of the world's busiest start-up hubs. By visiting companies such as Monday.com and Overwolf, the students received an abundance of entrepreneurial knowledge from CEOs and employees in the tech sector.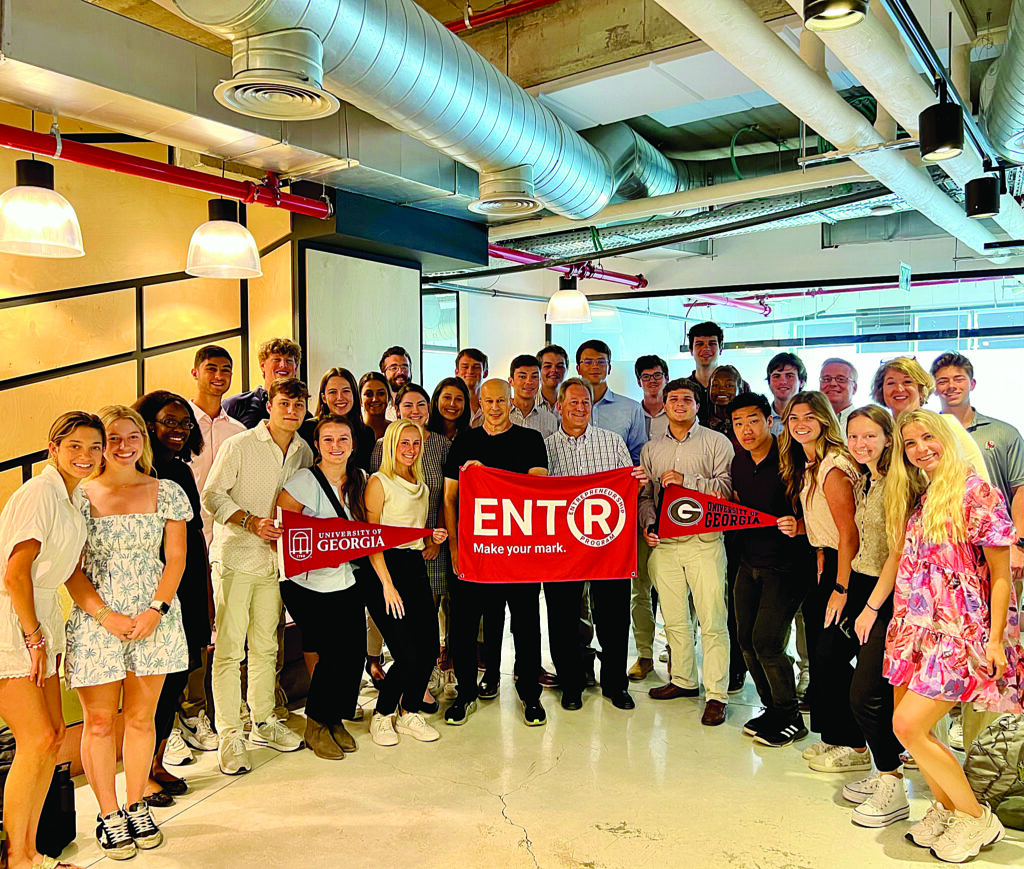 "I wasn't sure what to expect in Israel. However, I was so overwhelmed with the amount of knowledge I was able to grasp in three weeks," said Stevie Bramble, a rising UGA fourth-year student studying marketing and entrepreneurship. "Everyone in the cohort was excited to learn about this unique business environment, and the community was willing to teach us about it."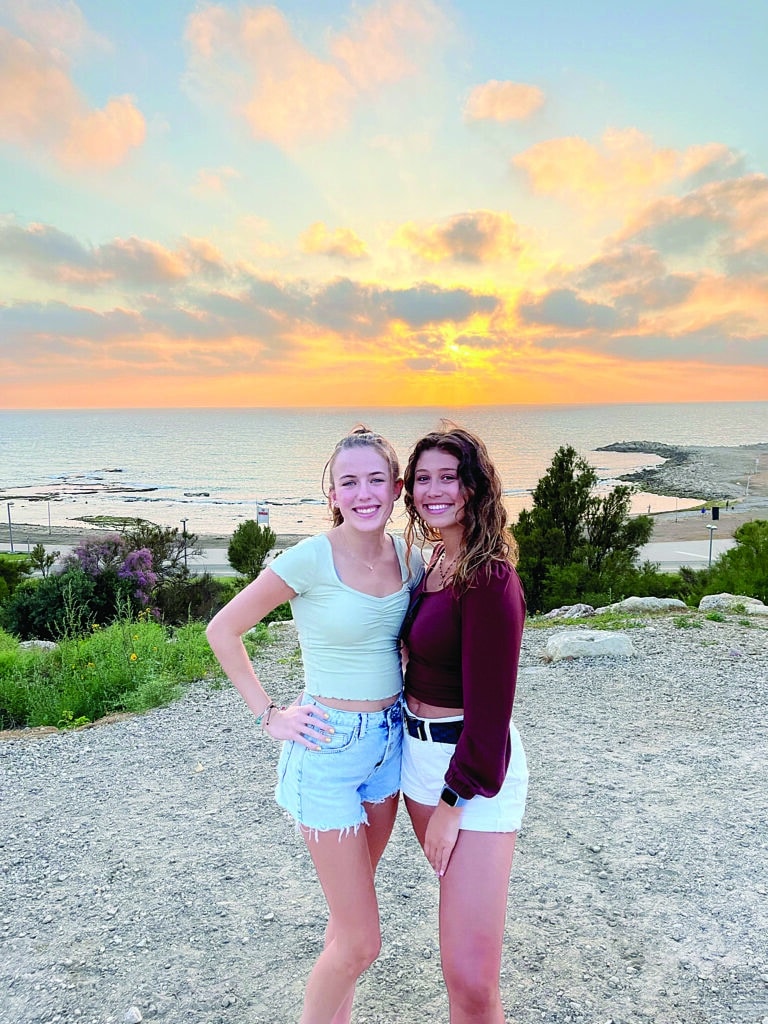 Bramble was one of 28 students who participated in the study abroad Maymester in Tel Aviv, partaking in two courses: The Study of Diverse Entrepreneurship and Innovation Ecosystems. Although the majority of students are pursuing a degree through the Terry College of Business, the trip included all majors.
Some other students are majoring in engineering, fashion merchandising, communications and international affairs. The program ensured a mix of people from all over UGA's campus to embrace differences.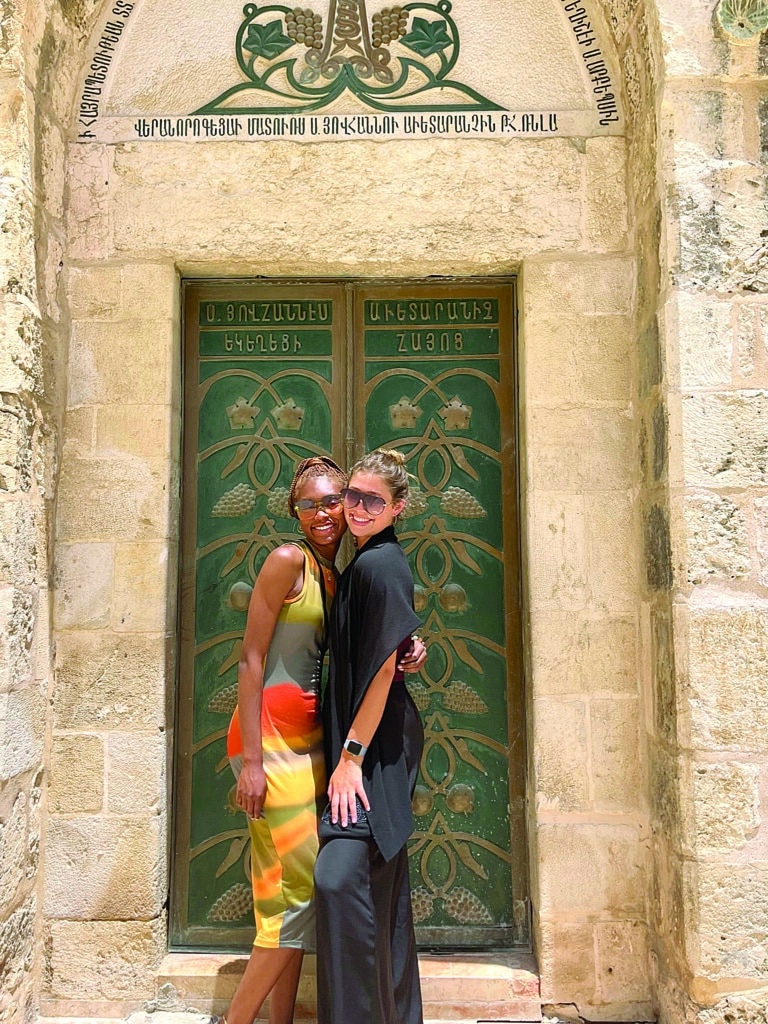 Survivalist engine
According to Shahar Sorek, Israel is a "survivalist engine." Sorek is the CMO of Overwolf, one of the businesses the students visited, and he spoke on Israel's ecosystem. He mentioned that the Israeli people have persevered through hardship and furthermore, have produced a community of assertive and risk-taking individuals motivated to work hard and survive for the future.
Right: At the Overwolf Office in Tel Aviv. Top row: Lindsay Mangum, Alex Boulogne, Kaleb Thibodeaux, Laura Neely, Ben Brown and Nina Boone; bottom: Stevie Bramble.
Left, Shahar Sorek, CMO at Overwolf
Adding on to this, Bramble learned that Israel has a military service that all Jewish men and women are required to partake in, called the Israel Defense Forces (IDF). After their 18th birthdays, they must serve for two to three years before pursuing any secondary schooling or leaping into the workforce. While Americans cringe at the words 'mandatory military time,' Israeli's embrace it.
"The army brings people together because everyone in Israel has to do it," said Hannah Laskow, the influencer marketing manager of Overwolf. " Israel is only 74 years old so it is pretty small, creating a tight community that is willing to lean on one another."
Laskow met with Bramble one-on-one during the trip to discuss Israel's ecosystem in depth. She mentioned that the IDF has different sectors, including, but not limited to, a tech sector and a combat sector.
The tech sector is where most of the multinational companies such as Google and IBM recruit. It's imperative to Israel's ecosystem to require the IDF due to the massive amount of talent being injected into society constantly.
In the Study of Diverse Entrepreneurship course, the students had the opportunity to create a plan to maintain Israel as a major hub for start-ups. One of the groups came up with a plan to create technology boot camps for individuals coming out of the IDF who participated in non-tech sectors to gain tech knowledge and fix the lack of talent issue. The students were able to solve some real-world issues happening around them, and it was reported to be one of their favorite projects.
In Israel, to be risk-tolerant is to survive. That's why the majority of individuals are able to go anywhere and meet others who share an entrepreneurial mindset with ideas and thoughts like their own.
Bramble and the rest of the group met with creators of start-ups, ranging from small local incubators to larger global companies, including Monday.com and Overwolf. Some of the speakers had taken multiple businesses public and now run large tech incubators. The group took away key points toward understanding the 'survivalist engine' they call Israel.
The key to success: failure
According to the students, there was one standout speaker. Yuval Tal, founder and president of Payoneer and BorderFree, made time in his busy schedule to talk to the UGA students about his new tech incubator, Team8, and how to survive in a fast-paced start-up nation like Israel.
The student's key take-away from his speech was the acceptance of failure. Tal mentioned that start-ups take risks, and with risks comes failure. He drove home the point that success doesn't come without many failures.
"Having the drive to keep going is what matters the most," said Tal. The students presented him with questions about Israel's ecosystem, teamwork and his own personal failures.
Tal mentioned his biggest failure was letting go of people and regretting it down the line. Tal hinted that one person he let go went on to start their own business and become successful in the sector he was working in himself. The lesson for the students was that it takes courage to work with and hire people who are smarter and better than yourself. However, it is imperative to do it because it will make your business better.
He also stated that "courage is over intelligence," meaning that it takes a person to become bigger than their ego to keep going forward even when it seems difficult. The take-aways from Tal were the importance of believing in yourself, having courage and accepting failure.
After considering Laskow's insights about the IDF, it is clear how Israel has become a high-demand place for multinational companies to set up research and development centers. The riskiness ingrained into the Israeli people from birth is beneficial in their workplace life, especially after their experiences in the IDF.
The IDF fosters a place where people must fail and learn from their mistakes to survive. It seems that Israel has mastered its survivalist engine perfectly. As many say "I'm Tirzu, Ein Zo Agadah" which translates into English as, "If you will it, it is no dream."
Future trip planned
The University of Georgia plans to host another trip to Tel Aviv, Israel in 2023 through the Entrepreneurship Program. For more information, please visit terry.uga.edu/entreprenuership.

Waramaug Hospitality Acquires Atlanta Marriott Peachtree Corners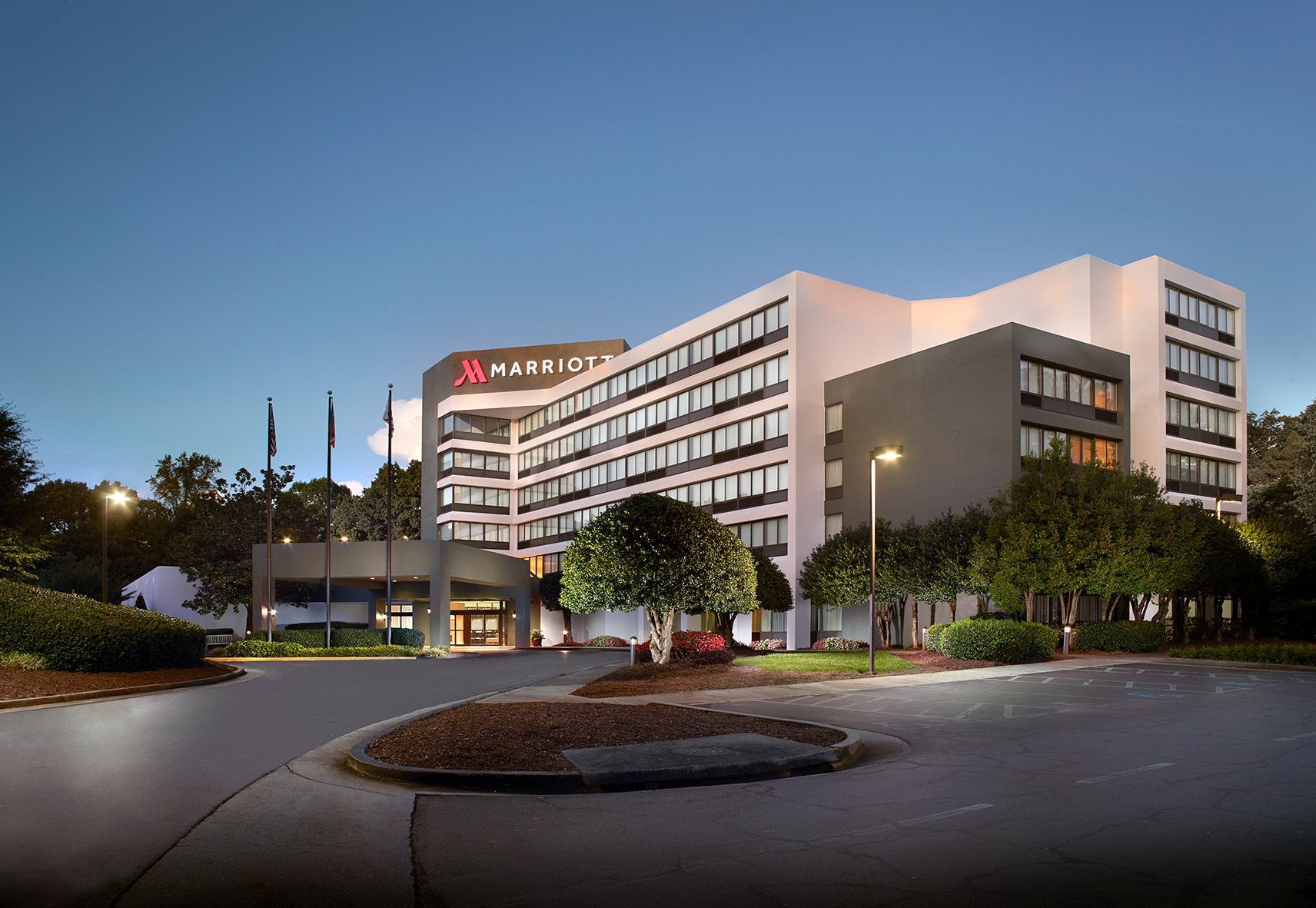 Waramaug Hospitality, a privately held investment firm focused on select-service and full-service hotels, announced on Aug. 23, it acquired the Atlanta Marriott Peachtree Corners. 
The 222-room Atlanta Marriott Peachtree Corners features a fitness center, indoor pool and outdoor fire pit seating area. All meeting and event spaces are equipped for various events, from industry conferences to happy hours and lifecycle events.
"As the second full-service Marriott Hotel and 16th Marriott-branded property in our portfolio, said Ferit Ferhangil, Principal of Waramaug Hospitality, "we see tremendous revenue growth opportunities for this asset in a thriving market."
The property, which will now be managed by Aimbridge Hospitality, is located within Technology Park, a regional technology and innovation hub. The 500-acre campus is a destination for technology innovation in the Southeast and home to over 2,300 businesses ranging from tech startups to Fortune 500 companies.

AJC names Cornerstone Christian Academy the Top Small Workplace in Metro Atlanta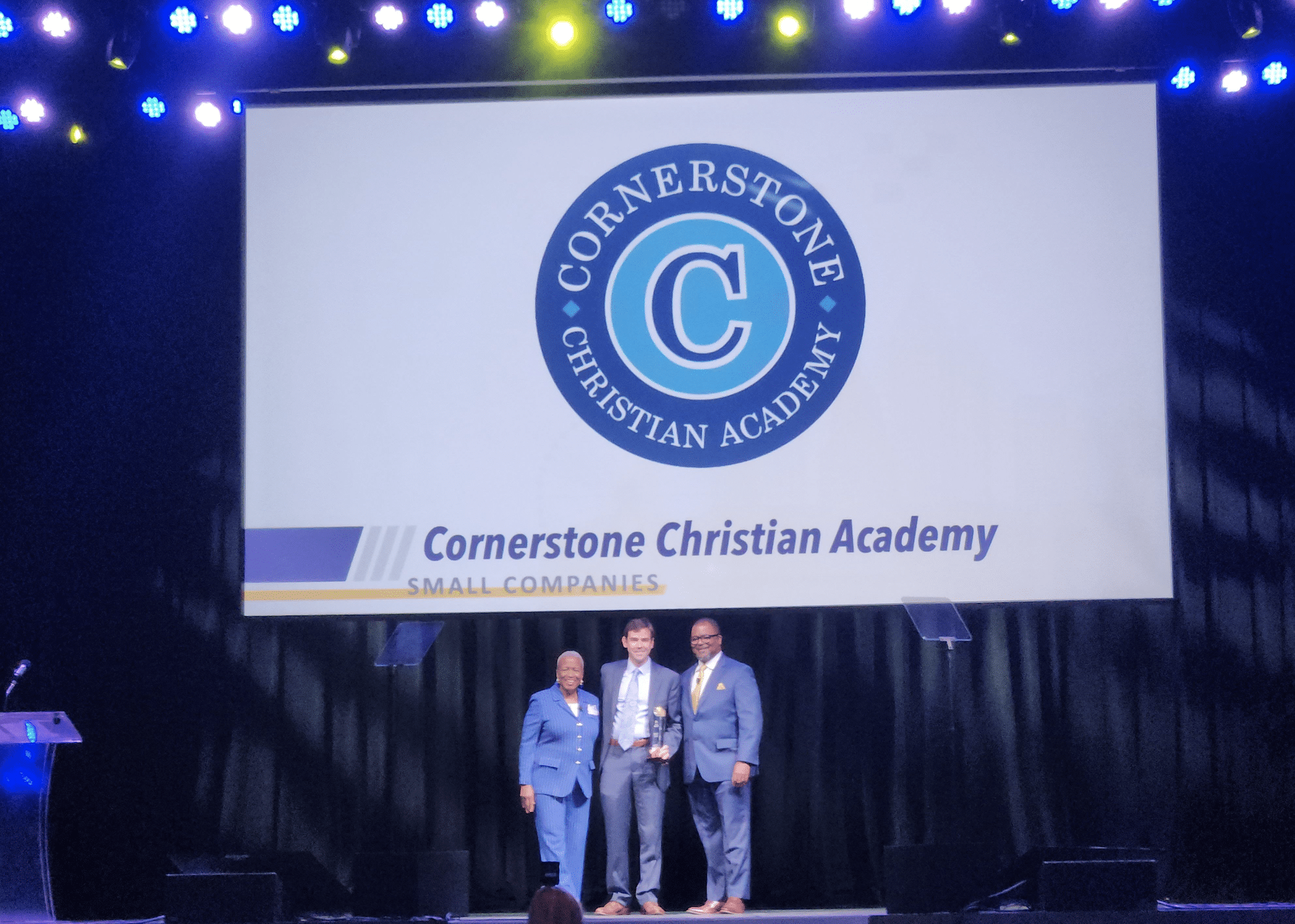 For the 13th consecutive year, The Atlanta Journal-Constitution and Energage have released their list of Top Workplaces in metro Atlanta. On August 10, Cornerstone Christian Academy, based in Peachtree Corners, was named the #1 Small Workplace in the metro area for 2023.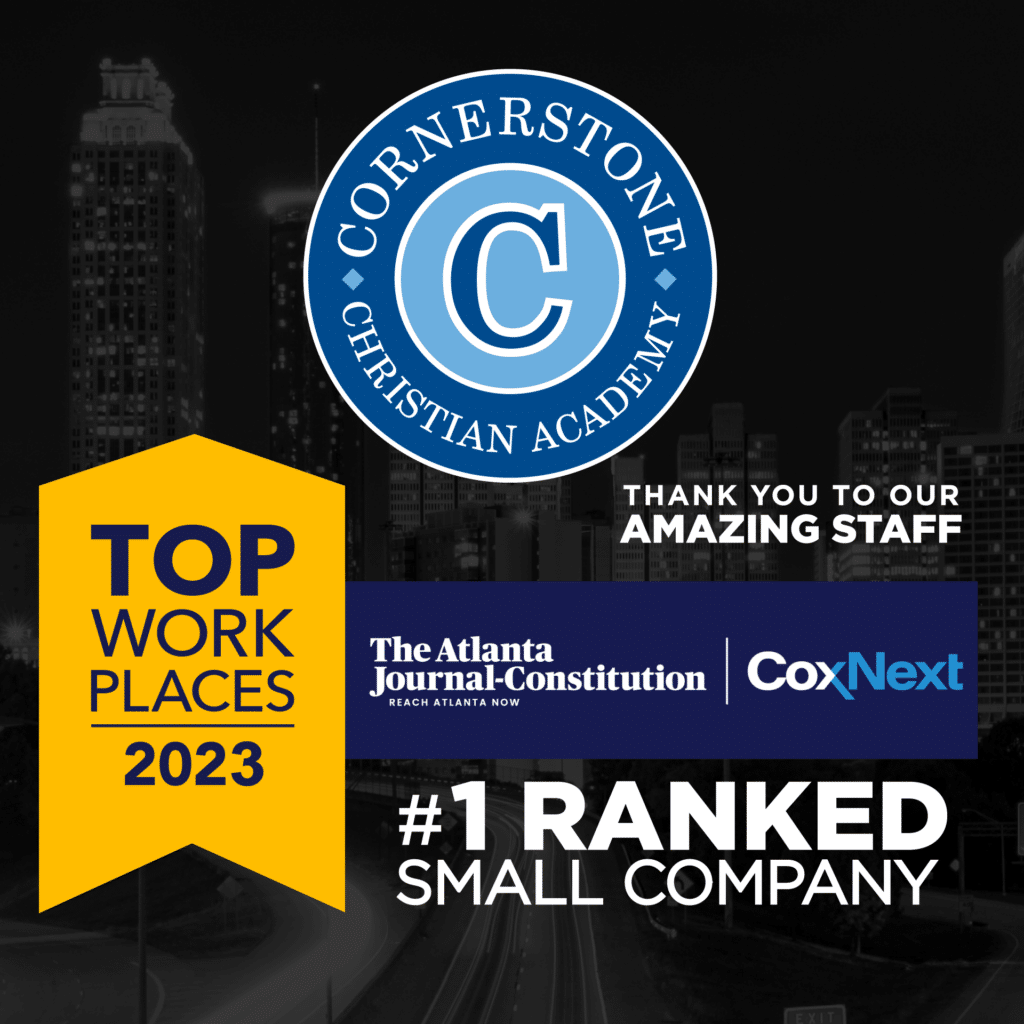 The honorees were determined based on employee feedback gathered from a third-party, anonymous survey. The survey measured multiple factors critical to the success of any organization. Of nearly 8,000 companies that applied, only 332 businesses were chosen to participate.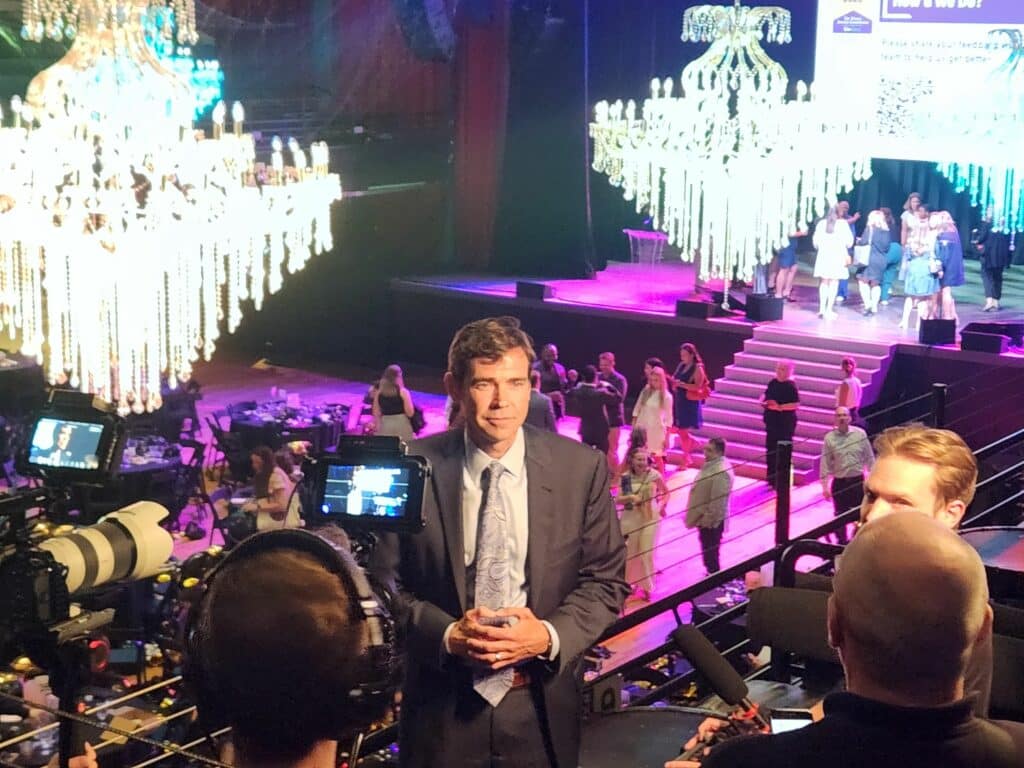 Colin Creel, Headmaster at Cornerstone, stated, "We were extremely humbled to hear that we were not only named on the list, but ranked first among small companies. I am very thankful our staff has received this public validation of the amazing work that occurs here at Cornerstone. Our staff deserves all of the accolades they are receiving; Cornerstone is a very special place because of them."

Premier Racquet Sports: A Holistic Approach to Tennis Pro Shops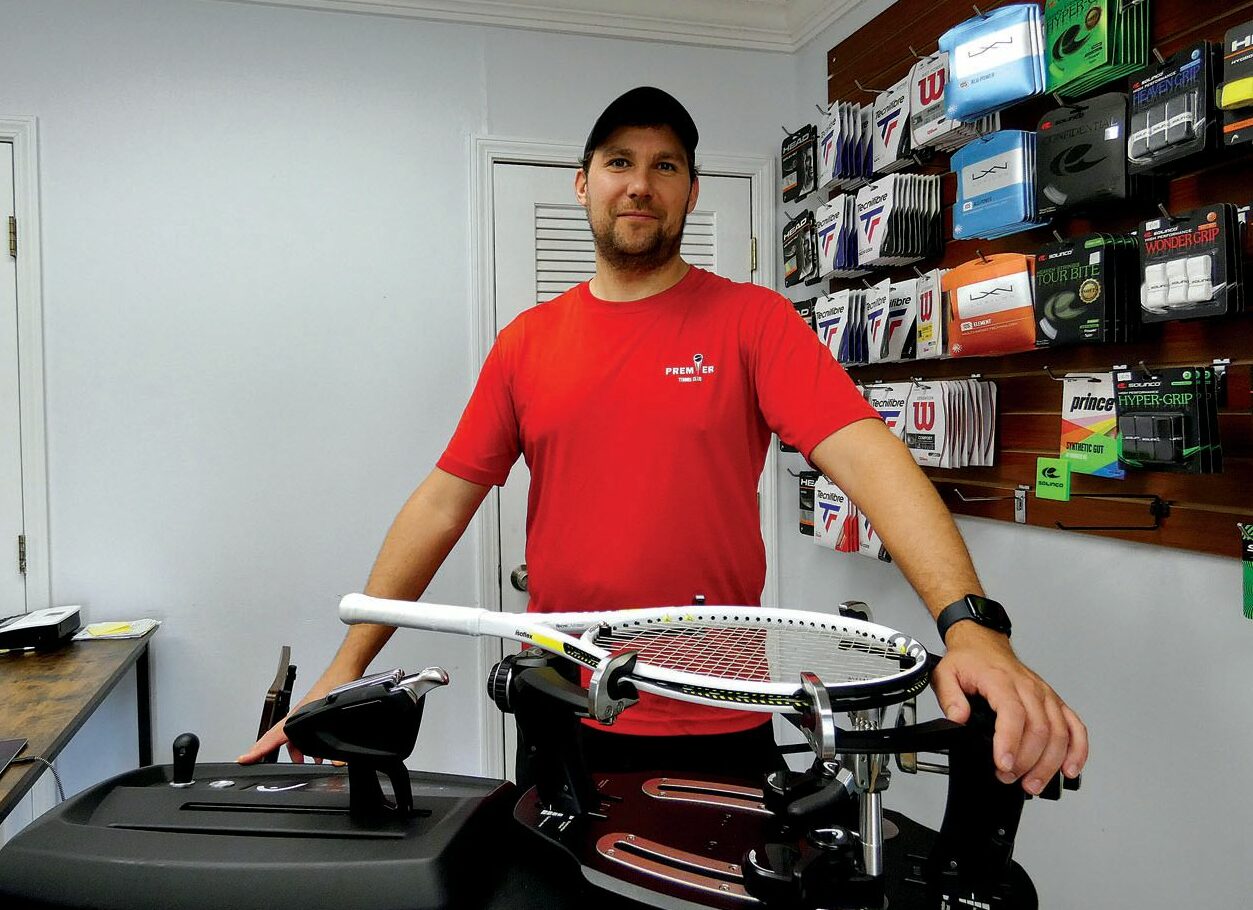 Calling all racquet sport lovers! Premier Racquet Sports, a tennis pro shop, recently opened on March 15 in Peachtree Corners off Spalding Drive.
This is Premier Racquet Sports' second location in Atlanta, the other being in Dunwoody. However, this pro shop brings something unique and special to the competition wherever it lands.
Founded by Corey Matney, with partners Claude Badowski and Bobby McMahan, Premier Racquet Sports is a shop with an emphasis on a community-driven approach to the racquet sports industry.
In an industry where it can be overwhelming and daunting to adventure into the realm of pro shops, Premier Racquet Sports aims to break the status quo by making tennis available to all.
"Our goal is anyone who comes in, whether you've never played tennis before, never played pickleball before, or you are basically a professional, you will have time spent with you explaining what's the best kind of choice for you," said Badowski. "Learning about customers as a person and trying to really build a relationship makes it so that we can help people long term rather than just transact with them."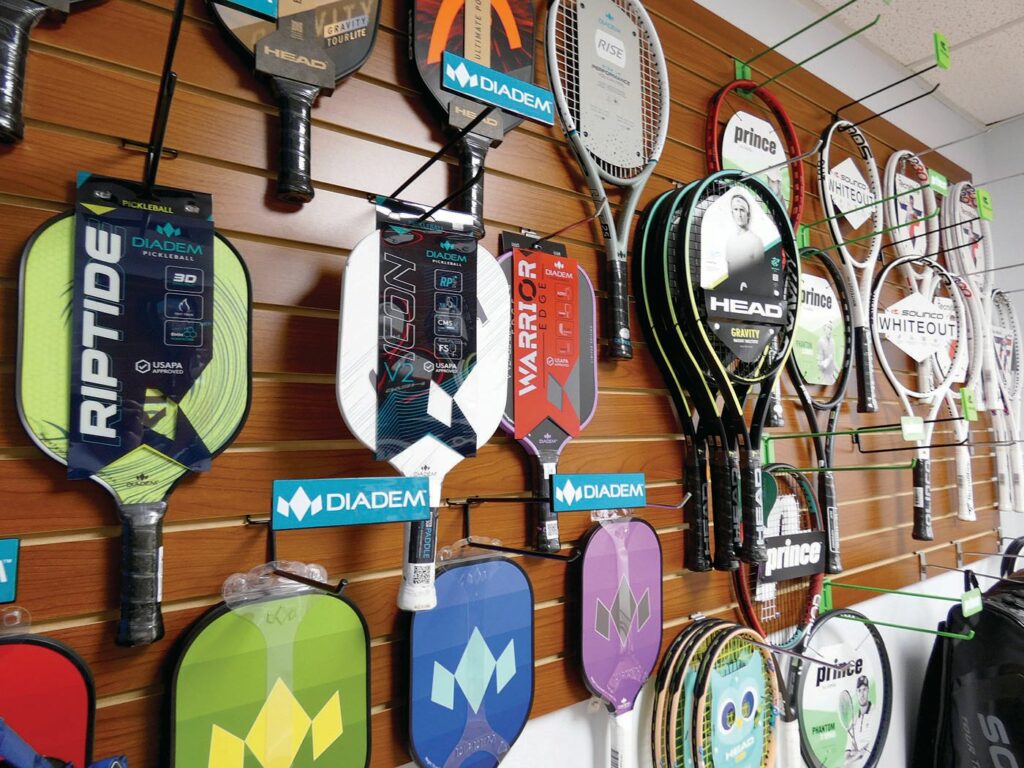 More than a business
Matney began stringing rackets in high school to be able to afford tennis lessons and eventually went into college playing Division I tennis. Not only did a passion for the sport drive him to create Premier Racquet Sports, Matney also found an intense need for a friendly business based in the racquet industry.
"…to be able to offer the community high-level technical services and be able to have everyone feel like they're getting the same treatment that a professional tennis player would when they come into a tennis shop, and meet their needs," said Matney.
As a long-term tennis player, Matney found that service at pro shops could feel impersonal, furthering his drive to create a pro shop that was more than just a shop.
One way the shop has accomplished this objective is through occasions such as demo days, events where the shop will demo rackets and bags while also running free tennis drills.
"It's a great chance for people to talk to us about what's the best racket for them and what's the best string for them to hit with it," said Badowski. "They get to feel the difference, because there's hundreds of rackets out there and thousands of string and string combinations. It's very rare for people to be able to try them all and get instant feedback …they can feel the difference."
Additionally, Premier Racquet Sports will have their next demo day on July 14. This event will feature all Wilson products as well as Wilson's new racket called the Shift.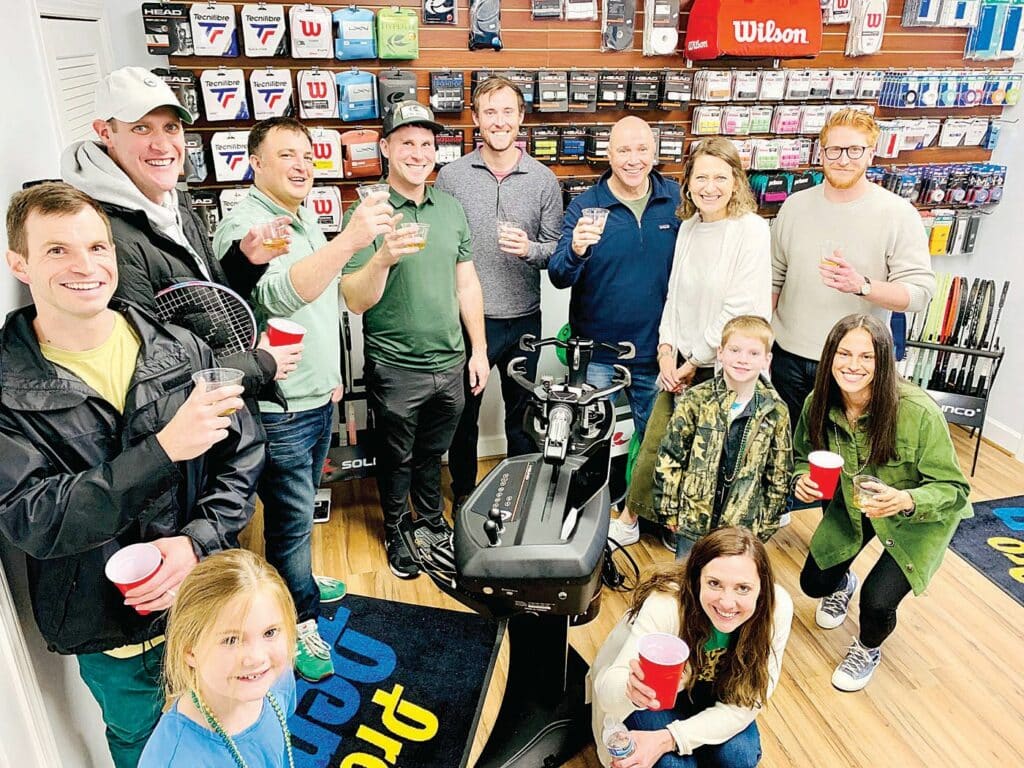 In-store action
However, this level of care and concern extends beyond their demo days. By walking into Premier Racquet Sports, customers are making their choice of supporting a business that keeps their clients in high regards.
"All of us enjoy being able to help players explore and go down the pathway of finding the right equipment for them," said Matney. "This is mostly stringing, but also rackets, shoes or any portion of the necessary tennis items; just being able to have that connection to the player and have them know that we are a sounding base for their questions and will help them find what they need."
Premier Racquet Sports prides itself on its collection of all things tennis. Within their store, they carry all major brands, rackets, shoes, grips and over 250 varieties of string. They claim to be able to have anything a player may desire shipped to their store within two days, too.
Welcome Premier Racquet Sports to the Peachtree Corners community by stopping by, whether you are a tennis expert or a novice.
Learn more about Premier Racquet Sports here.