The Forum faces store closings; new owner, new openings may spark turnaround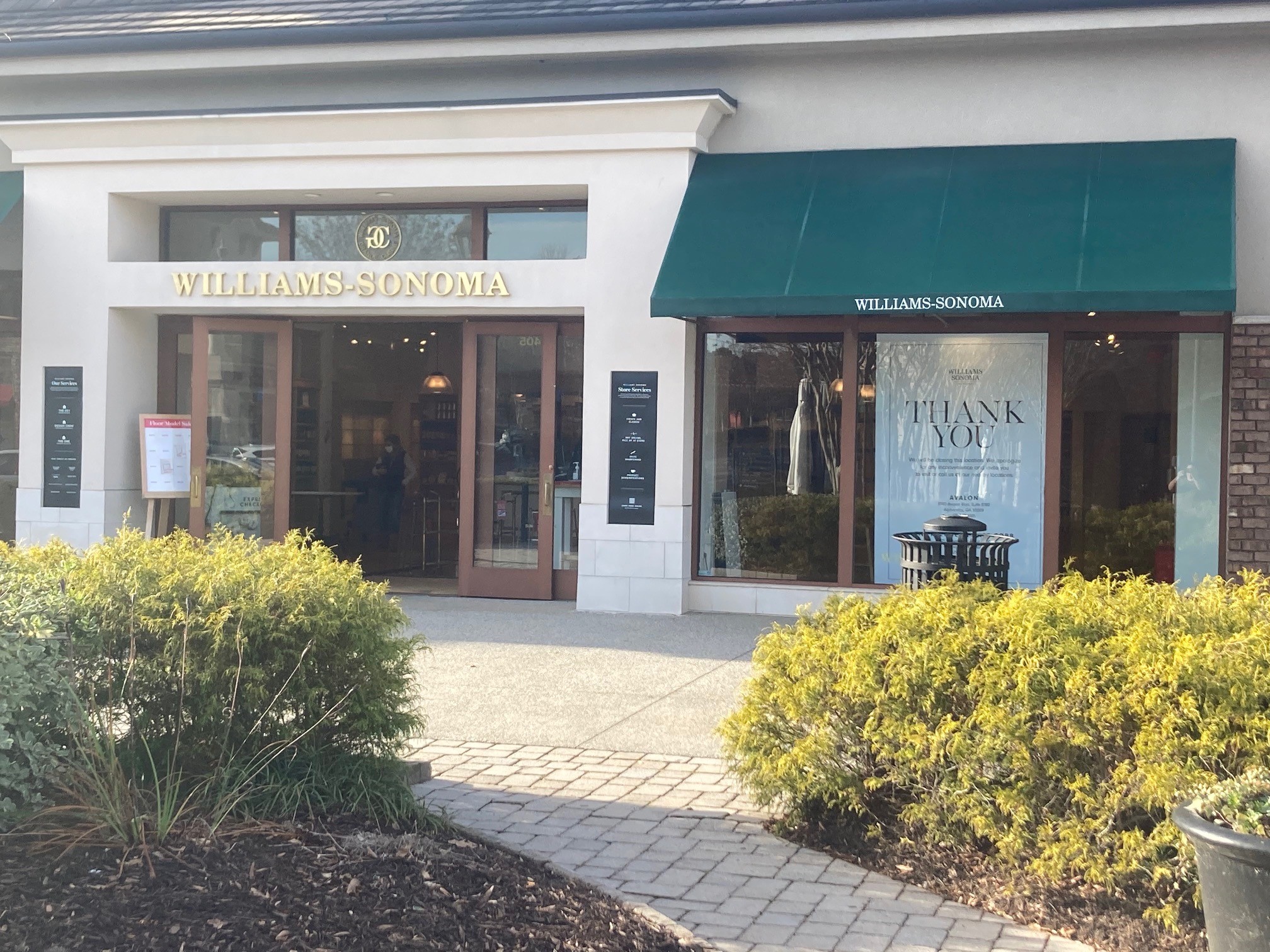 After nearly 20 years, Williams-Sonoma is in the process of closing its location at The Forum in Peachtree Corners. In the same mall, affordable women's clothing store Dress Up has already closed its doors to shoppers.
Lindsey Hymel, marketing manager at The Forum, confirmed Dress Up has ended its lease, and the store is no longer listed on The Forum's website.
Hymel said she could not comment on the status of Williams-Sonoma, the kitchenware and home furnishing company based in California that has two other metro Atlanta store locations in Alpharetta and Marietta. As of this report, the store is still operating at The Forum.
However, Williams Sonoma has placed a sign in its window announcing that it is closing soon and is in the process of selling off its current inventory.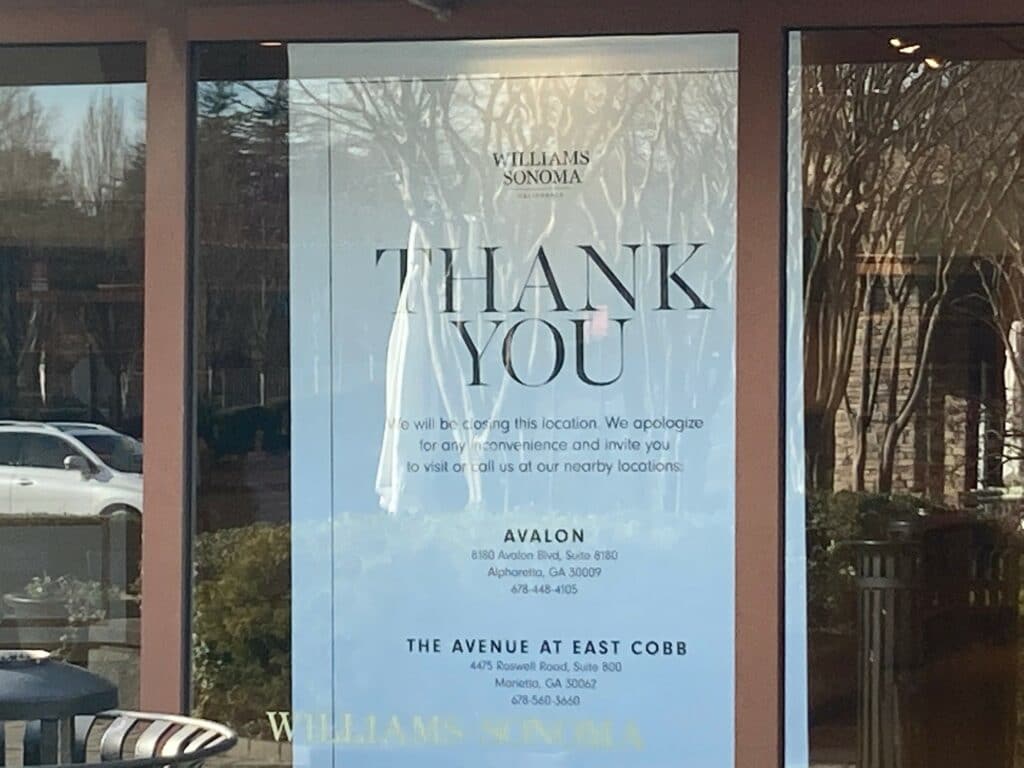 Mario Mireles, an Atlanta-based commercial real estate property manager who has no specific knowledge of the Williams Sonoma situation, speculated that the closure could be due to a combination of poor sales and lease longevity.
"Williams-Sonoma, like some of the better-known names in The Forum has a very favorable lease deal — usually only pays a small percentage of sales as rent, both due to the low overall occupancy of the property and the landlord's desire to keep the well-known stores in the property as a method to attract other retailers," Mireles said. 
"Due to its longevity at the property, Sonoma may have well been on a month-to-month agreement that is easily terminated. Depending on the location as well as the chain's regional and national performance, retailers like Sonoma are opportunistically culling their locations as circumstances allow them. They could devote those resources to another store and see a sizeable increase in sales."
New mall owner rumored
The Forum is currently managed by commercial real estate firm Bayer Industries, but a new opener could be announced soon, according to District 3 City Councilman Alex Wright
In an interview with Peachtree Corners Magazine, Wright said the most likely buyer could be North American Properties, which owns the Avalon mall in Alpharetta as well as the Atlantic Station mall in downtown Atlanta and Avenue East Cobb in Marietta.
A recent analysis by Forbes magazine shows that as the world moves toward a post-pandemic phase, physical retail is on the rise again. Even with online shopping becoming more prevalent, there is still an overall increase in demand for retail real estate.
New stores could appeal to fitness community 
While The Forum is losing two stores, it's already added a new one, and two more are on the way, according to a press release.
Versona, a women's fashion boutique owned by The Cato Corporation, opened to the public on Dec. 16 and became the brand's ninth location in Georgia. The Forum location is managed by Norcross resident Tina Cehic and is open from 10 a.m. to 9 p.m. Monday through Saturday and noon to 6 p.m. on Sunday.
"Versona promises to be a fun shopping experience where women can find unique, on-trend styles at a great value," said Cato Corporation president and CEO John Cato. "We are excited about our newest Versona store opening at The Forum on Peachtree Parkway."
The other two stores could catch the eye of the health and fitness community within Peachtree Corners. Club Pilates, a studio fitness center that offers full-body workouts and a diverse range of classes, will take over the space previously occupied by Gigi's Cupcakes, while Chopt, a chain restaurant specializing in inventive salads and sells 17 house-made dressings, will take up a portion of the former Atlanta Bread Company.
Hymel said there are monthly pop-up fitness classes at The Forum, which indicates Club Pilates will fill a big need within the Peachtree Corners community.
"Peachtree Corners is already a fitness community," she said. "Once a month, we'll bring in a gym to do pop-up fitness, and that's already gone well."
Out of 100 metropolitan areas, personal finance website WalletHub ranked the Atlanta area at No. 23 for active lifestyles making it an attractive market for fitness-related businesses.
Pilates is a low-impact, mind-body exercise routine that works to strengthen muscles and improve posture and flexibility.
According to its website, Club Pilates offers nine types of Pilates classes as well as a range of equipment that includes TriggerPoint foam rollers, TRX springboards, EXO-chairs "and other equipment designed to build strength, mobility and stability."
Keeoma Page, owner and operator of the Club Pilates location at The Forum, said Club Pilates brings affordability to what is normally an expensive workout method.
"Pilates is super-expensive, and Club Pilates allows it to be affordable," Page said. "Everyone has their own piece of equipment, which is totally unheard of. Club Pilates scaled it in a way so they could bring Pilates to the masses."
Club Pilates thrives from its membership packages, Page said, and she's already had more than 50 people sign up well ahead of its spring opening. The club offers packages of four classes a month, eight classes a month, or unlimited classes.
Page said she has been looking for the perfect venue since she became the owner of her franchise three years ago. The location at The Forum will be the 14th to open in the metro Atlanta area.
"It's such a perfect fit for Peachtree Corners," she said. "People already know about it. I'm not introducing anything they haven't already heard of. It's a very active area."
Club Pilates and Chopt will also be located near the Press Blend Squeeze juicer, Hymel said, making The Forum a one-stop destination for people looking for a good workout and a healthy meal.
"They'll all be next to each other, so it's really going to be a good mix for that fitness-minded community," Hymel said.

Waramaug Hospitality Acquires Atlanta Marriott Peachtree Corners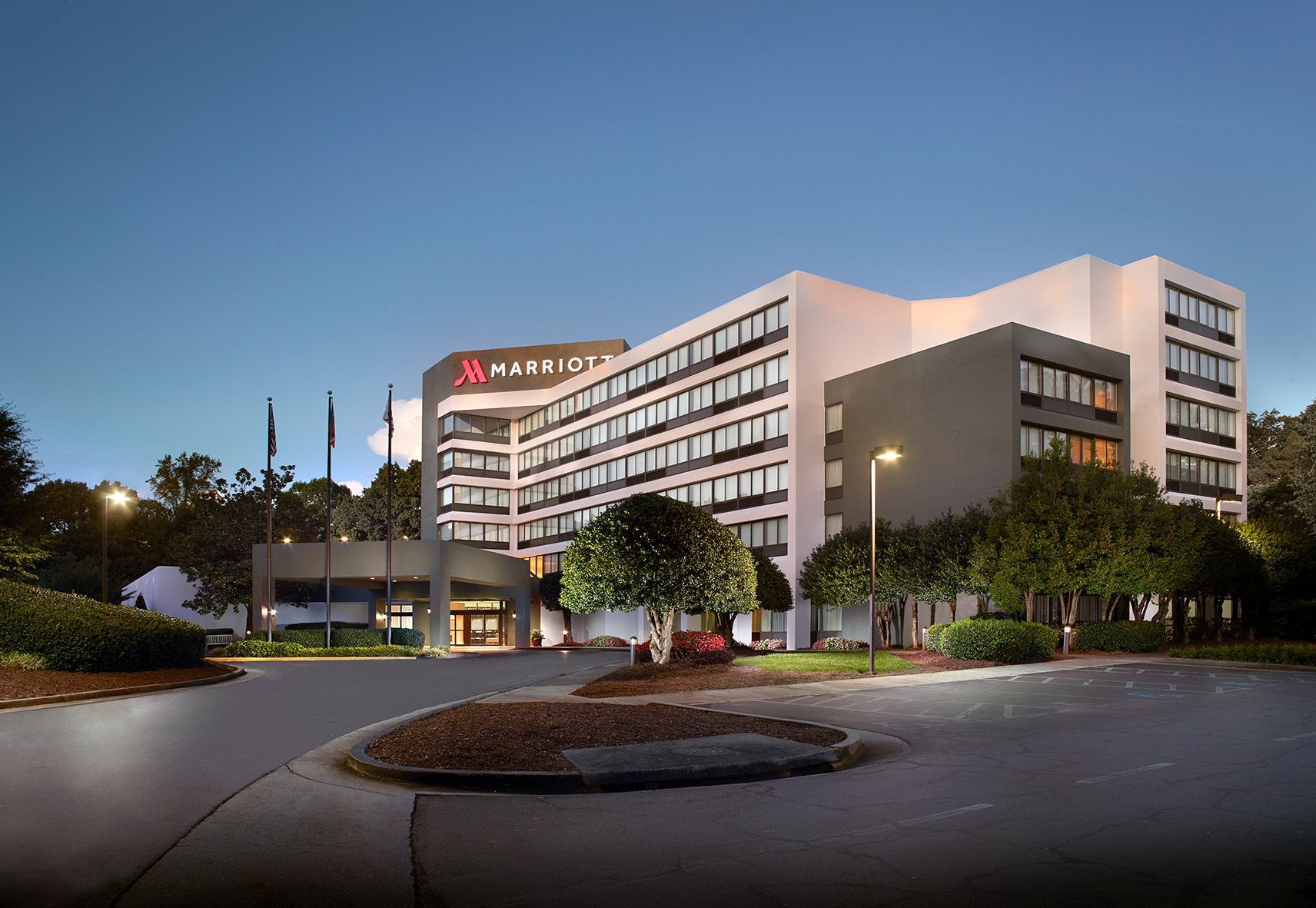 Waramaug Hospitality, a privately held investment firm focused on select-service and full-service hotels, announced on Aug. 23, it acquired the Atlanta Marriott Peachtree Corners. 
The 222-room Atlanta Marriott Peachtree Corners features a fitness center, indoor pool and outdoor fire pit seating area. All meeting and event spaces are equipped for various events, from industry conferences to happy hours and lifecycle events.
"As the second full-service Marriott Hotel and 16th Marriott-branded property in our portfolio, said Ferit Ferhangil, Principal of Waramaug Hospitality, "we see tremendous revenue growth opportunities for this asset in a thriving market."
The property, which will now be managed by Aimbridge Hospitality, is located within Technology Park, a regional technology and innovation hub. The 500-acre campus is a destination for technology innovation in the Southeast and home to over 2,300 businesses ranging from tech startups to Fortune 500 companies.

AJC names Cornerstone Christian Academy the Top Small Workplace in Metro Atlanta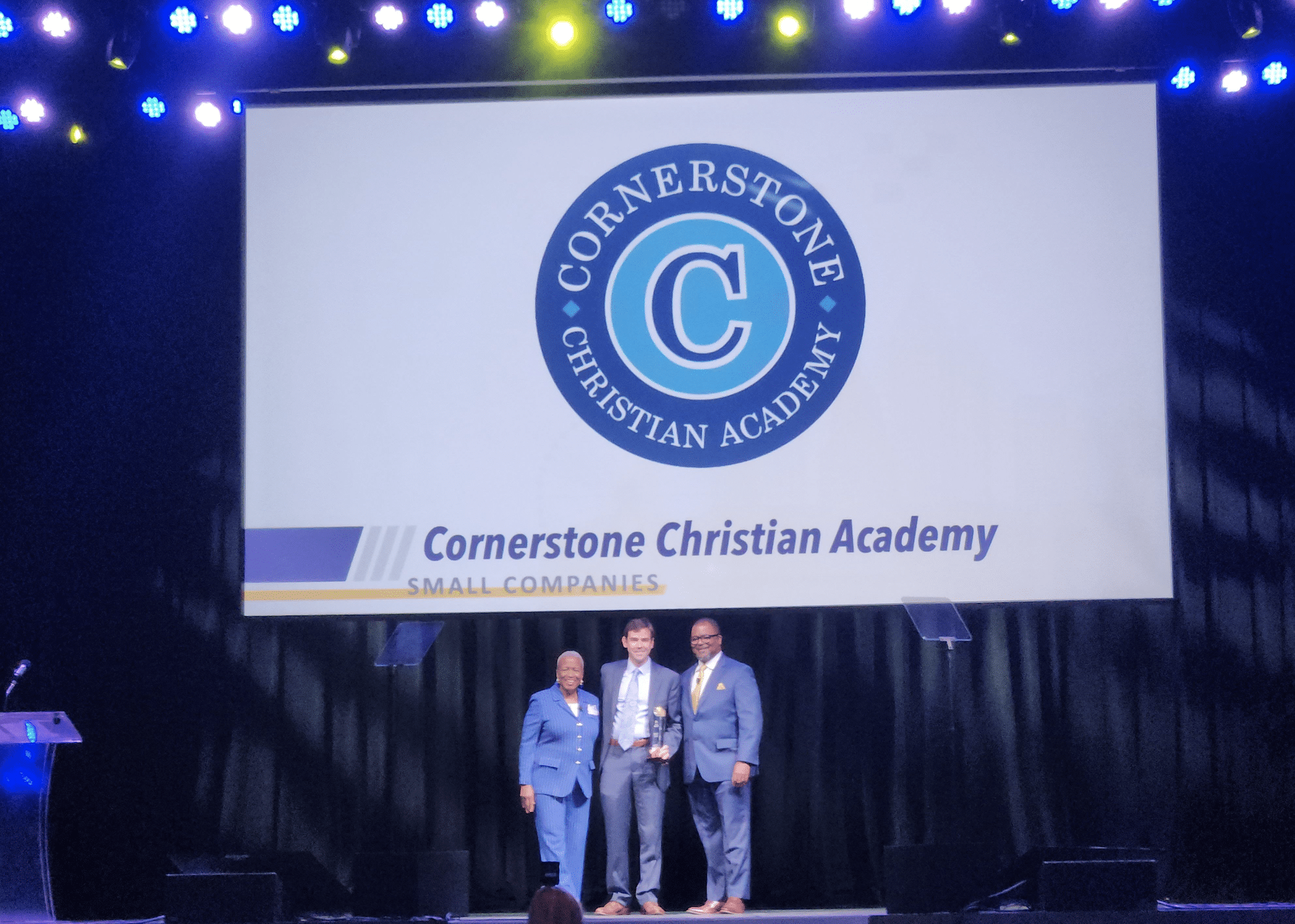 For the 13th consecutive year, The Atlanta Journal-Constitution and Energage have released their list of Top Workplaces in metro Atlanta. On August 10, Cornerstone Christian Academy, based in Peachtree Corners, was named the #1 Small Workplace in the metro area for 2023.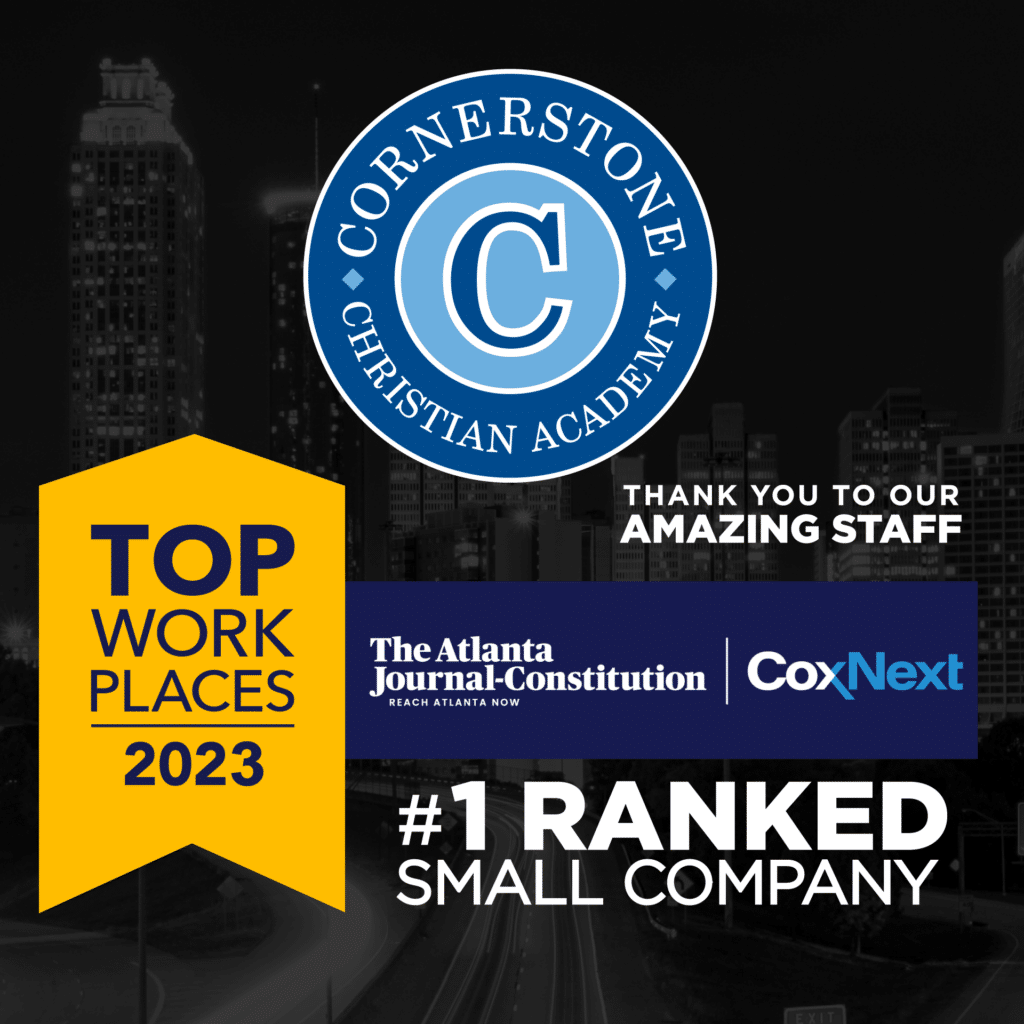 The honorees were determined based on employee feedback gathered from a third-party, anonymous survey. The survey measured multiple factors critical to the success of any organization. Of nearly 8,000 companies that applied, only 332 businesses were chosen to participate.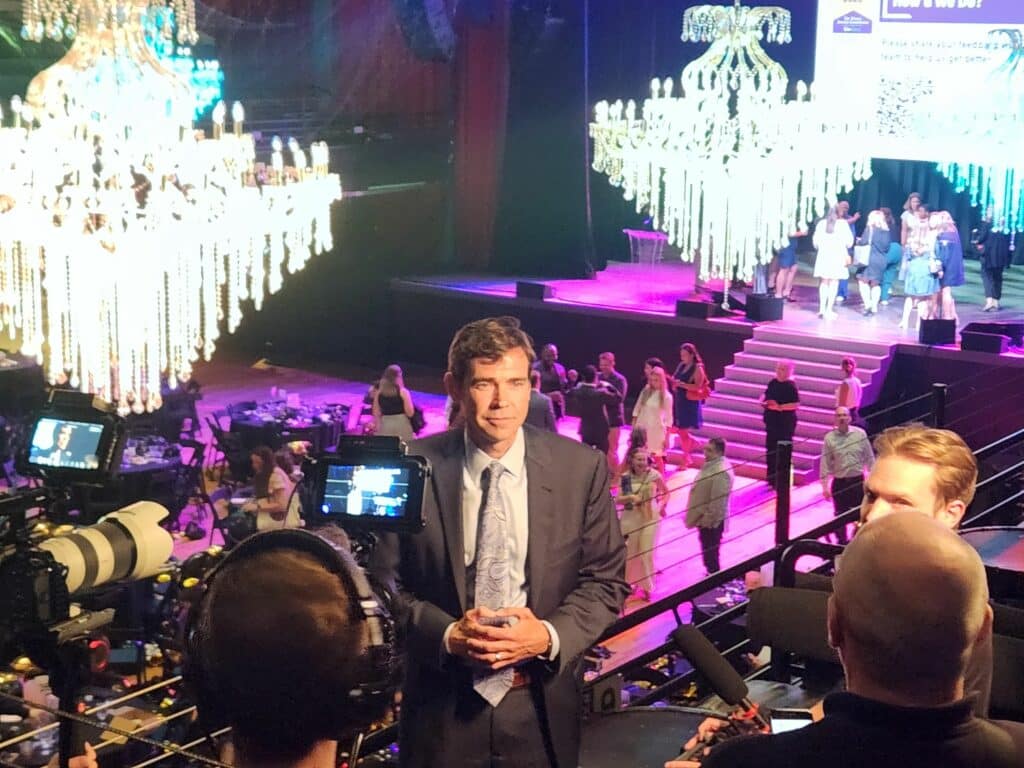 Colin Creel, Headmaster at Cornerstone, stated, "We were extremely humbled to hear that we were not only named on the list, but ranked first among small companies. I am very thankful our staff has received this public validation of the amazing work that occurs here at Cornerstone. Our staff deserves all of the accolades they are receiving; Cornerstone is a very special place because of them."

Premier Racquet Sports: A Holistic Approach to Tennis Pro Shops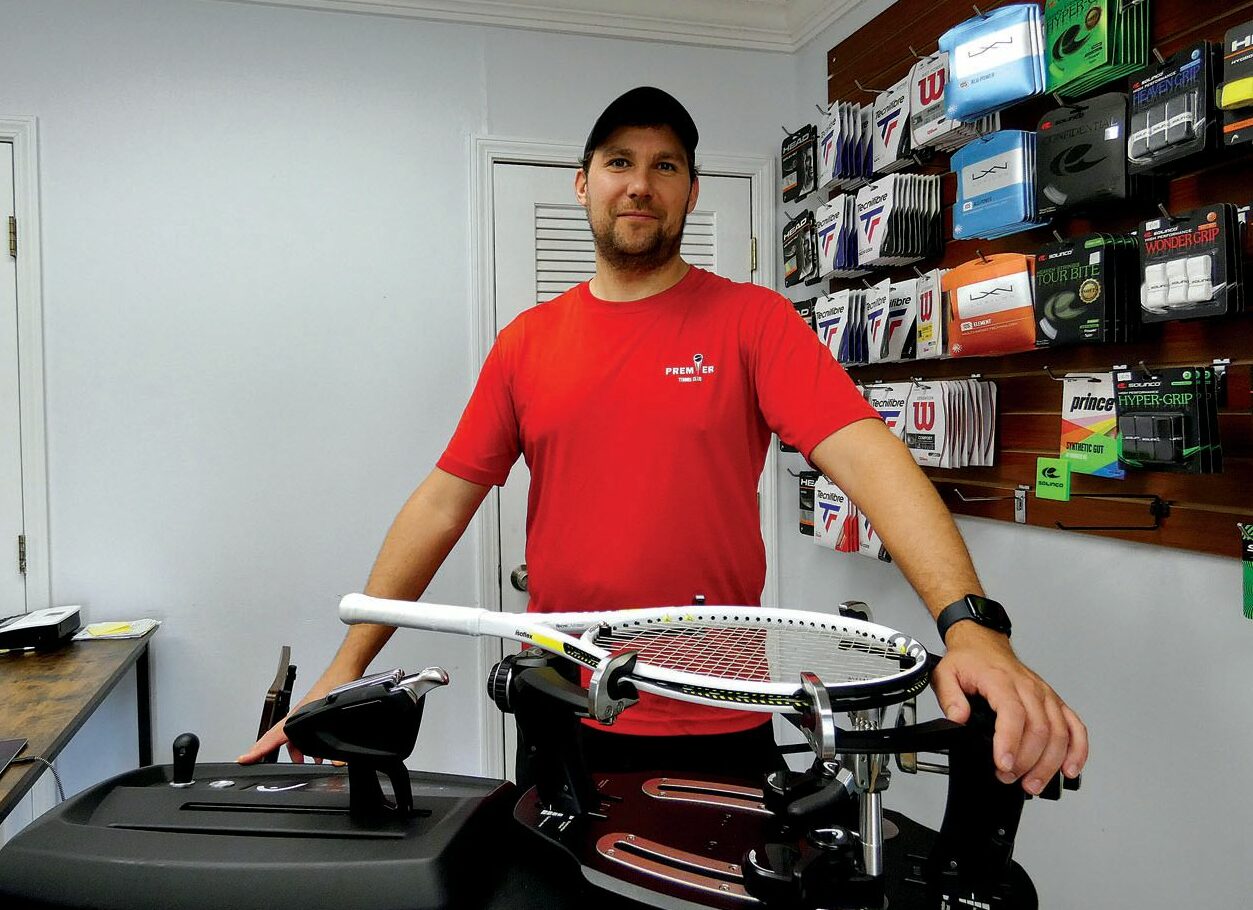 Calling all racquet sport lovers! Premier Racquet Sports, a tennis pro shop, recently opened on March 15 in Peachtree Corners off Spalding Drive.
This is Premier Racquet Sports' second location in Atlanta, the other being in Dunwoody. However, this pro shop brings something unique and special to the competition wherever it lands.
Founded by Corey Matney, with partners Claude Badowski and Bobby McMahan, Premier Racquet Sports is a shop with an emphasis on a community-driven approach to the racquet sports industry.
In an industry where it can be overwhelming and daunting to adventure into the realm of pro shops, Premier Racquet Sports aims to break the status quo by making tennis available to all.
"Our goal is anyone who comes in, whether you've never played tennis before, never played pickleball before, or you are basically a professional, you will have time spent with you explaining what's the best kind of choice for you," said Badowski. "Learning about customers as a person and trying to really build a relationship makes it so that we can help people long term rather than just transact with them."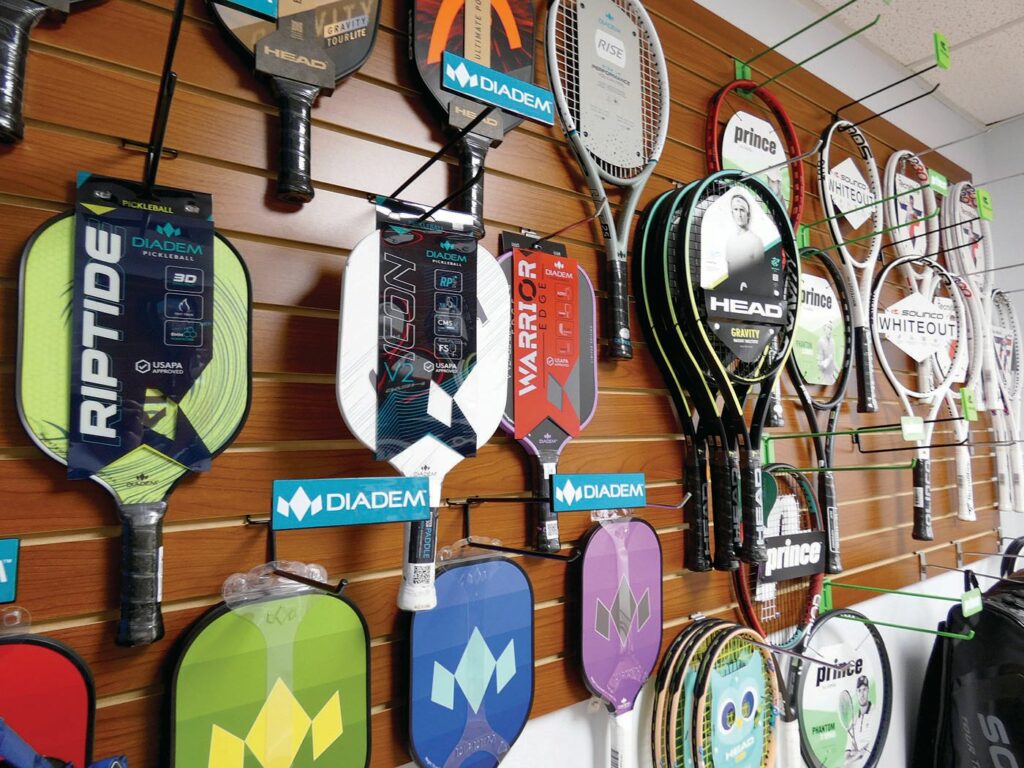 More than a business
Matney began stringing rackets in high school to be able to afford tennis lessons and eventually went into college playing Division I tennis. Not only did a passion for the sport drive him to create Premier Racquet Sports, Matney also found an intense need for a friendly business based in the racquet industry.
"…to be able to offer the community high-level technical services and be able to have everyone feel like they're getting the same treatment that a professional tennis player would when they come into a tennis shop, and meet their needs," said Matney.
As a long-term tennis player, Matney found that service at pro shops could feel impersonal, furthering his drive to create a pro shop that was more than just a shop.
One way the shop has accomplished this objective is through occasions such as demo days, events where the shop will demo rackets and bags while also running free tennis drills.
"It's a great chance for people to talk to us about what's the best racket for them and what's the best string for them to hit with it," said Badowski. "They get to feel the difference, because there's hundreds of rackets out there and thousands of string and string combinations. It's very rare for people to be able to try them all and get instant feedback …they can feel the difference."
Additionally, Premier Racquet Sports will have their next demo day on July 14. This event will feature all Wilson products as well as Wilson's new racket called the Shift.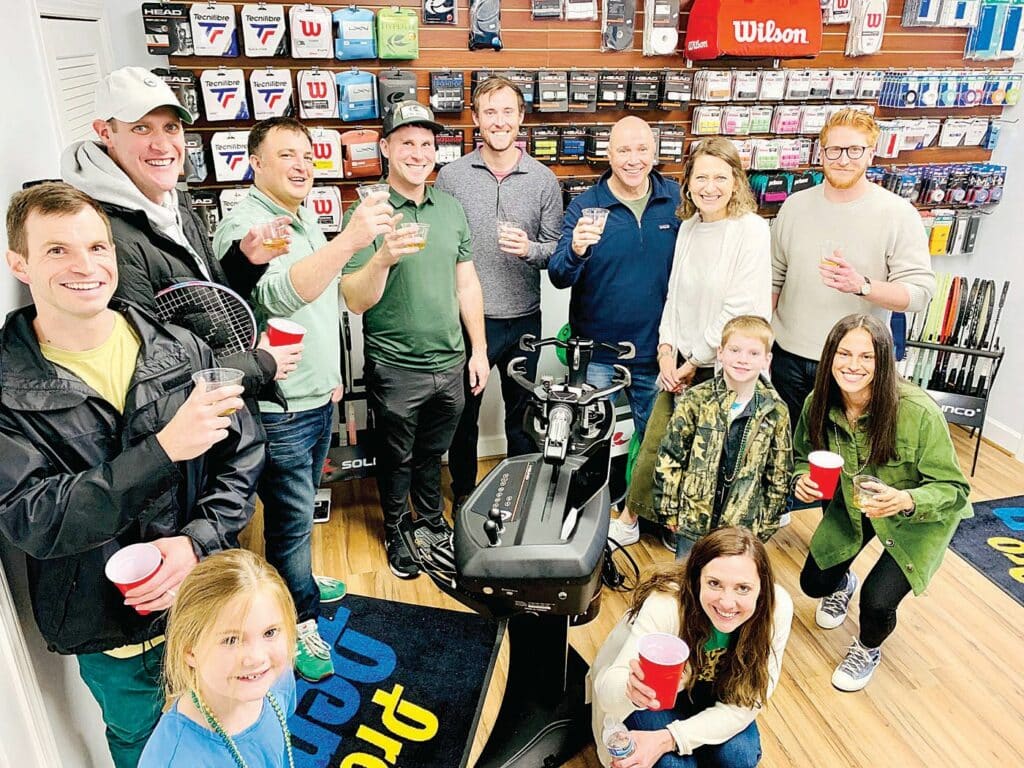 In-store action
However, this level of care and concern extends beyond their demo days. By walking into Premier Racquet Sports, customers are making their choice of supporting a business that keeps their clients in high regards.
"All of us enjoy being able to help players explore and go down the pathway of finding the right equipment for them," said Matney. "This is mostly stringing, but also rackets, shoes or any portion of the necessary tennis items; just being able to have that connection to the player and have them know that we are a sounding base for their questions and will help them find what they need."
Premier Racquet Sports prides itself on its collection of all things tennis. Within their store, they carry all major brands, rackets, shoes, grips and over 250 varieties of string. They claim to be able to have anything a player may desire shipped to their store within two days, too.
Welcome Premier Racquet Sports to the Peachtree Corners community by stopping by, whether you are a tennis expert or a novice.
Learn more about Premier Racquet Sports here.