Community Forum to Address Crime, Safety Issues in Peachtree Corners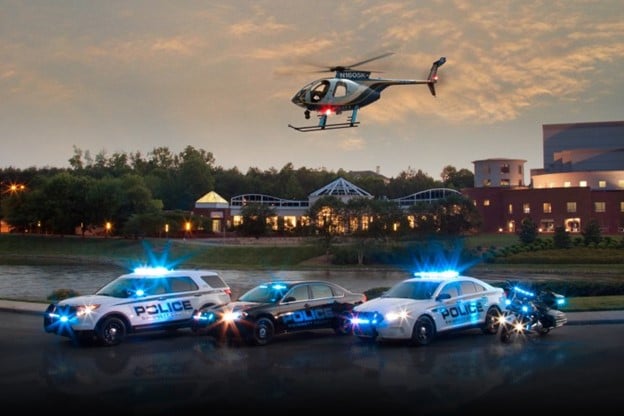 UPCCA hosts annual COPS program to allow face-to-face dialogue among residents, stakeholders and law enforcement.
Overnight car break-ins and vandalism, ruffians blocking key intersections and putting lives in danger with reckless stunts, bullying and name-calling at schools escalating to terrorist threats and violence — none of those scenarios are what Peachtree Corners residents want to see in their community. To inform residents and stakeholders of law enforcement actions to curb and eliminate this type of lawlessness, United Peachtree Corners Civic Association invites everyone to its annual C.O.P.S. Program. Set for 7 p.m. Thursday, May 26 at Christ the King Lutheran Church, 5575 Peachtree Parkway, government officials and police agencies will discuss crime prevention and present local Peachtree Corners crime statistics.
Among invited presenters are Mayor Mike Mason; the new Gwinnett County Chief of Police J.D. McClure; Major Edward Restrepo, commander of the West Gwinnett Precinct; MPO Andres Camacho, District 1 Community Oriented Police Service; a Gwinnett County Schools resource officer and other community leaders who will be available for questions and answers.
"With all that's going on in the world now, we are thankful to have our lovely pocket of relative peace here in Peachtree Corners," said Matt Lombardi, president of UPCCA. "But there's a perception that it's gotten worse for crime in the last few years."
Like many suburban areas of the country, Peachtree Corners has been victim of so called "takeovers" where groups of teens and young adults converge on a usually busy intersection and show off stunt driving like doing "donuts" and "drifting." With no regard to traffic or vehicular safety, there are often fireworks and sometimes weapons discharged as well as kids hanging recklessly out of cars.
Recently, a combined effort from several local law enforcement agencies took down one weekend gathering, but with school out and summer almost in full swing, it's inevitable that more will come.
That's one of the major topics that will be discussed at the meeting, said Lombardi, along with a look at license plate readers, the effects of crime on property values and other issues.
One topic that has been on the minds of some, said Lombardi, is the question of whether it's time for Peachtree Corners to have its own police force. As it is now, Gwinnett County police provide protection as well as the Gwinnett County Sheriff's office.
Instead of leaving the question lingering, this is an opportunity for residents to speak their minds.
"UPCCA is one of the few organizations in metro Atlanta that brings people to face-to-face with the law enforcement community," said Lombardi. "It's important to know who's protecting you and your property and how it's being handled."


Information: upcca.org
Peachtree Corners Receives Sixth Straight Distinguished Budget Presentation Award
Temporary Closures of Portions of the Town Center Parking Deck Through Summer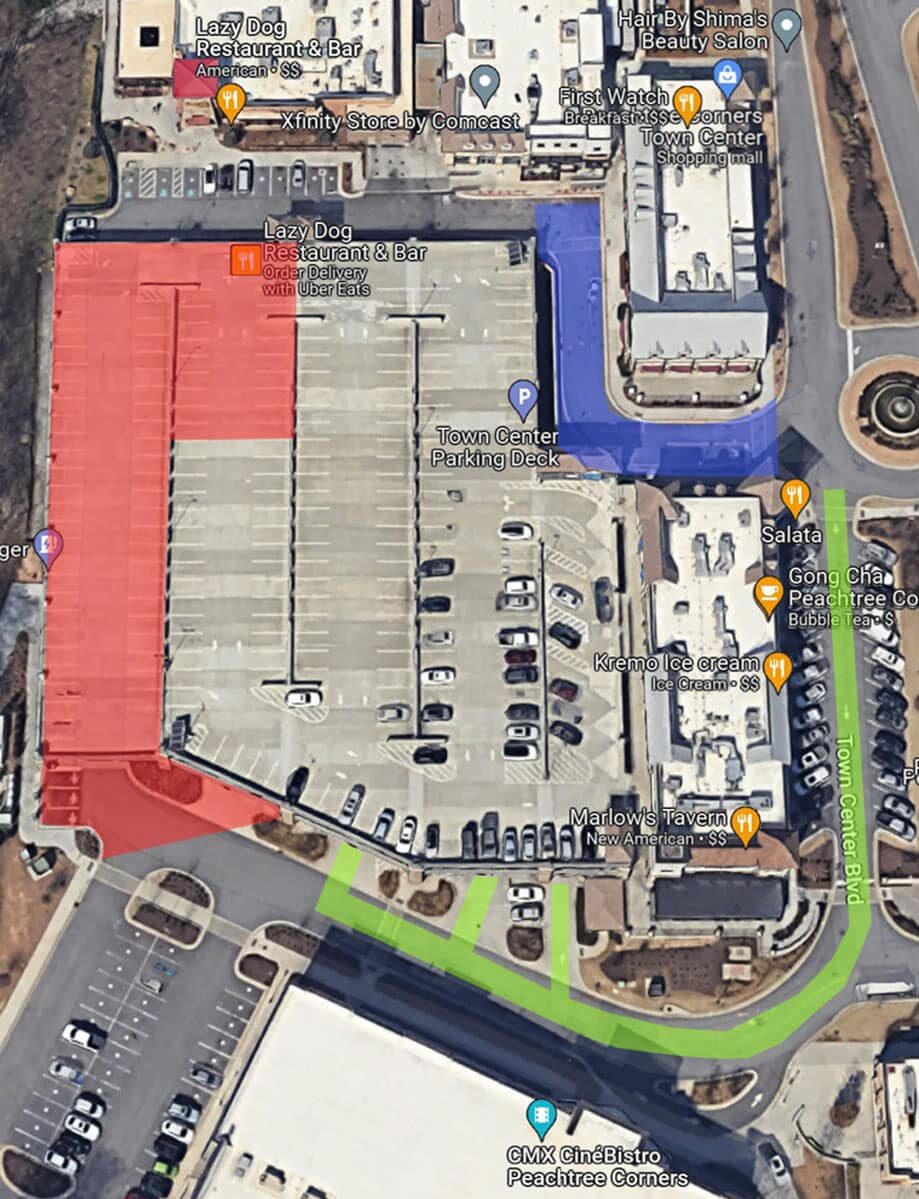 Beginning March 21, 2023, portions of the parking deck located in the Peachtree Corners Town Center will be closed to perform maintenance, repairs and area improvements.
These closures will affect the entrances immediately in front of Lazy Dog Restaurant, the entrance entering the lower deck closest to the CineBistro parking lot, and the southern ramp section in the area of the electric vehicle charging stations.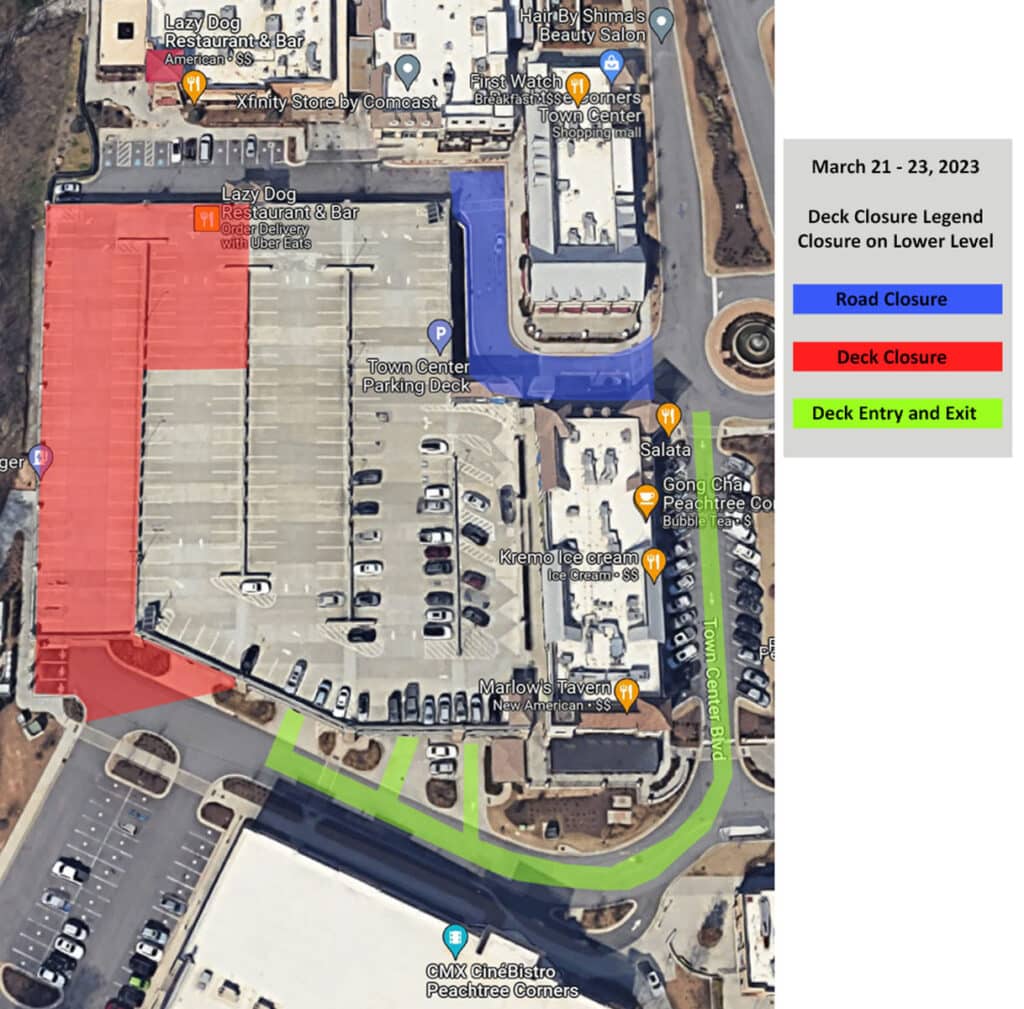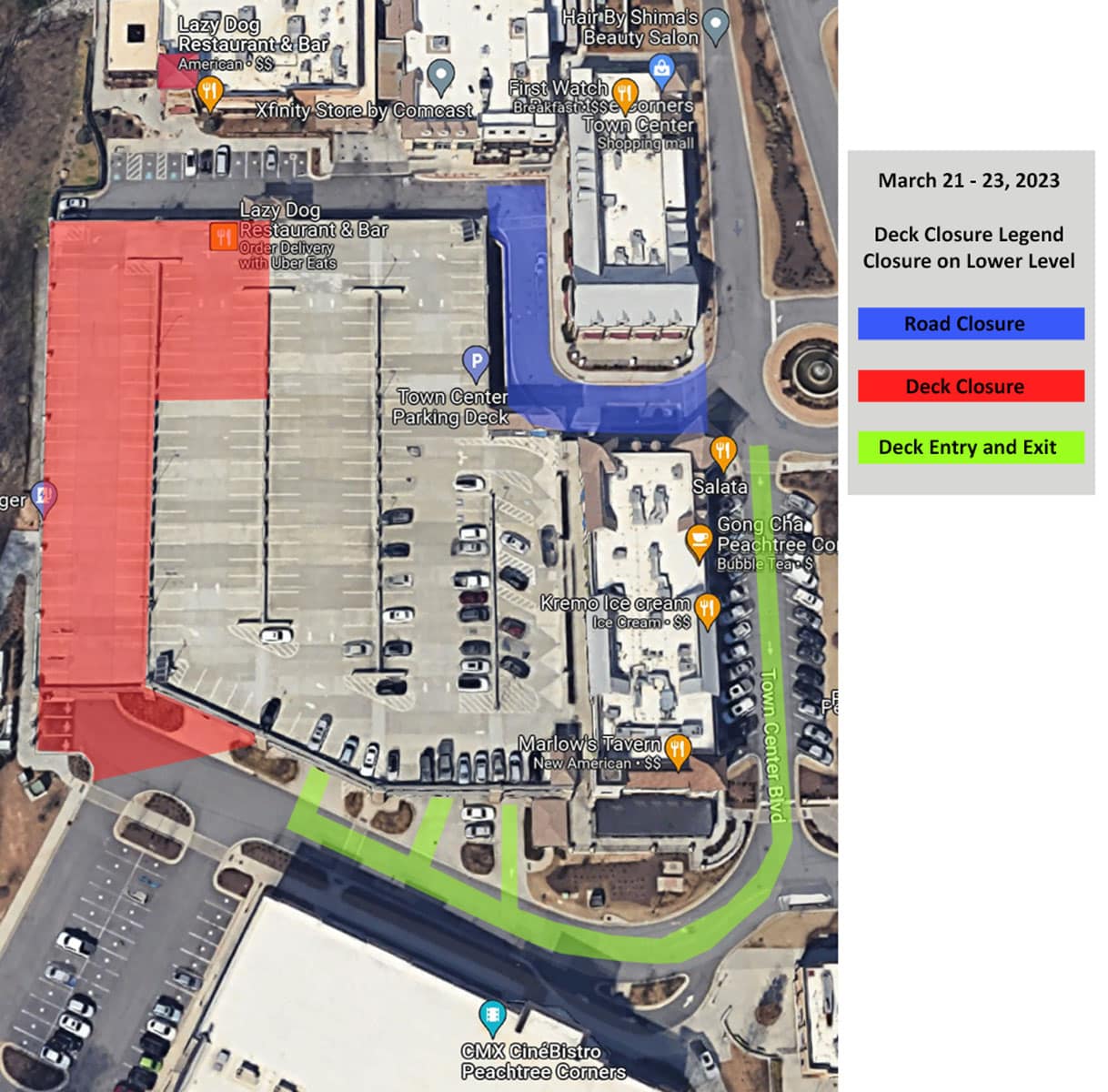 During the closures, from March 21 to March 23, all entry into the deck must be done through the lower deck entrances across from CineBistro.  The entrance nearest the traffic circle fountain will be temporarily closed to facilitate materials delivery for the project.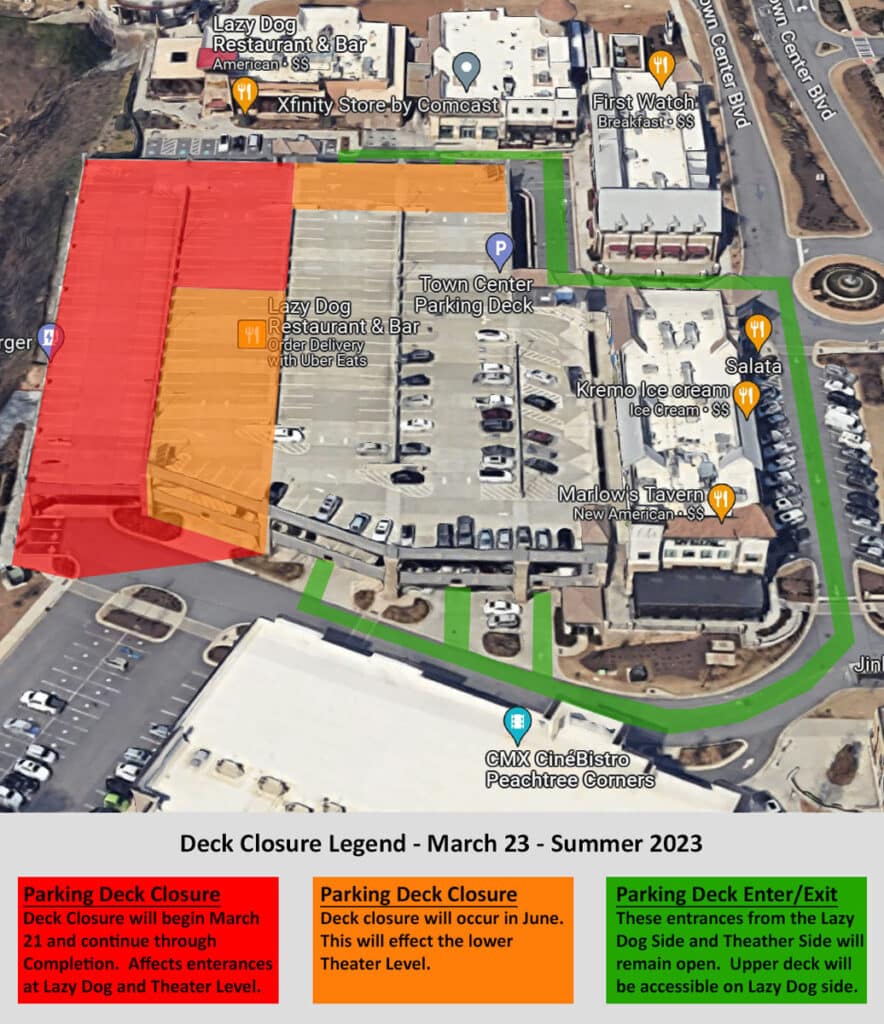 Following delivery, this entrance will be reopened for the duration of the project. Additionally, the ramp providing access to the upper level of the deck will remain open throughout the project.
During this time, the vehicle charging stations will also be inaccessible.
Peachtree Corners City Council Recognizes GCPD Officers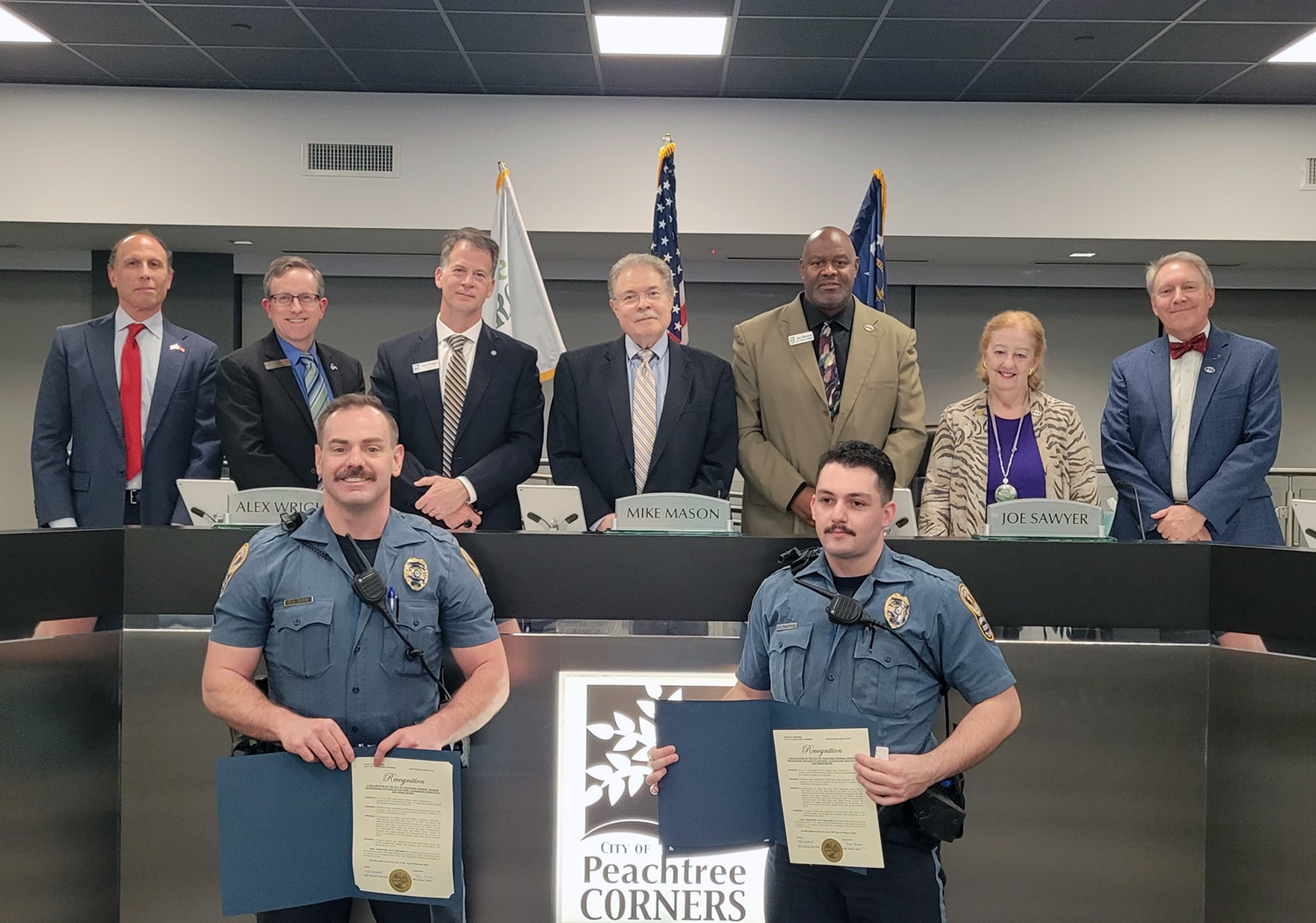 During the Council Meeting on February 28, the City of Peachtree Corners recognized three Gwinnett County Police Department Officers — Officers Dillon Burk, Aleksandar Panayotov and Amber Brown — for their actions last November.
The three officers worked quickly to stop alleged suspects involved in victimizing Peachtree Corners businesses.
City Manager Brian Johnson issued the following Proclamation:
A Declaration of The City of Peachtree Corners, Georgia Recognizing Officers Dillon Burk, Aleksandar Panayotov, and Amber Brown
WHEREAS, On Nov. 8, 2022 West Precinct officers were dispatched to a burglary at the SS Food Mart and Vape. A video was obtained showing four suspects smashing the front door.
WHEREAS, Detectives were contacted by Officer Burk, who recognized one of the suspects in the video as a juvenile he had previously been arrested on a shoplifting call alongside an adult.
WHEREAS, On November 12, Officer Burk and Officer Panayotov performed a traffic stop on a car with plates that did not match the vehicle. The driver was the adult female previously arrested for shoplifting with the juvenile. There was a book bag in the car that the officers recalled seeing in the burglary video. The female was taken to headquarters and interviewed by Officer Burk and Officer Brown. During the interview, the suspect disclosed her involvement in the burglary, as well as the location of the stolen goods, which were at the juvenile's home.
WHEREAS, A search warrant was obtained and stolen items were found. The female suspect was charged with burglary and contributing to the delinquency of a minor.
NOW, THEREFORE, BE IT DECLARED by the Mayor and Council of the City of Peachtree Corners that these officers be recognized for their good police work, for without it, the suspects would have likely continued victimizing businesses in Peachtree Corners.
SO DECLARED on this the day of 28th day of February 2023.